Bali, a popular travel destination in Southeast Asia, is known for its beautiful blue water, perfect white sand beaches, and entertaining beach clubs. 
Most travelers come to Bali for a few weeks, backpacking through the hidden gems of Bali in the north and relaxing with the Bali vibes. However, not every one of us can afford to take a long vacation. Some people might just have 5 days to travel, some might have 10 days. 
For that reason, I have written this 10-day Bali itinerary, for those who want to see the best of Bali in a short period amount of time. 
So let's find out the Balinese temples you'll visit, the waterfalls you'll chase, and most importantly, the beaches you'll swim in your 10 days in Bali.
The Bali sightseeing map is the map we will follow for our 10-day Bali itinerary. Click on the toggle on the top left corner of the map to see all the attractions we will be seeing in Bali.
Each color means a different area of Bali. We have a total of 5 colors for 5 different areas: Canggu, Seminyak, Ubud, Nusa Penida, and Sanur.
Each color also has recommended activities for where you will stay in Bali, such as trying a Babi Guling (suckling pig) restaurant or visiting a waterfall. 
If you have any questions on how to use this interactive map, leave a comment down below.  
You might have noticed we skipped Kuta in our 10 days in Bali itinerary. Why?
Kuta is the closest area to Depensar, where the Bali airport is located. Naturally, a lot of visitors' first stop in Bali is Kuta. But honestly, I spent more than a month in Bali and I regretted every moment I was in Kuta.
Spending time in Kuta is a frequent mistake for first-timers in Bali.
Ugly, dirty, traffic, and filled with drunk tourists chugging Bintangs, Kuta is not what Bali is meant to be. It is not the paradise that we see on the internet. It is not the trendy stylish cafes. And it is definitely not the turquoise water and white sand beaches.
More overcrowded than an NYC subway during rush hour, I highly recommend skipping over Kuta.
How To Get Around in Bali
Before we get started with the first thing on our perfect 10-day Bali itinerary, you need to know how to get around in Bali and the cheapest way in doing so.
Bali is still very lacking in infrastructure considering the number of tourists it is getting every year. There are no buses, no trains, and the best way to travel around is with one of the mopeds or scooters. Seldomly, you will encounter some buses but with the traffic and the narrow roads of Bali, you won't get anywhere without wanting to pull your hair out. 
The most convenient and easiest option to travel around Bali is by renting a scooter. If you rent one, make sure you know how to drive it properly. There are way too many tourists getting into motorcycle accidents in Bali.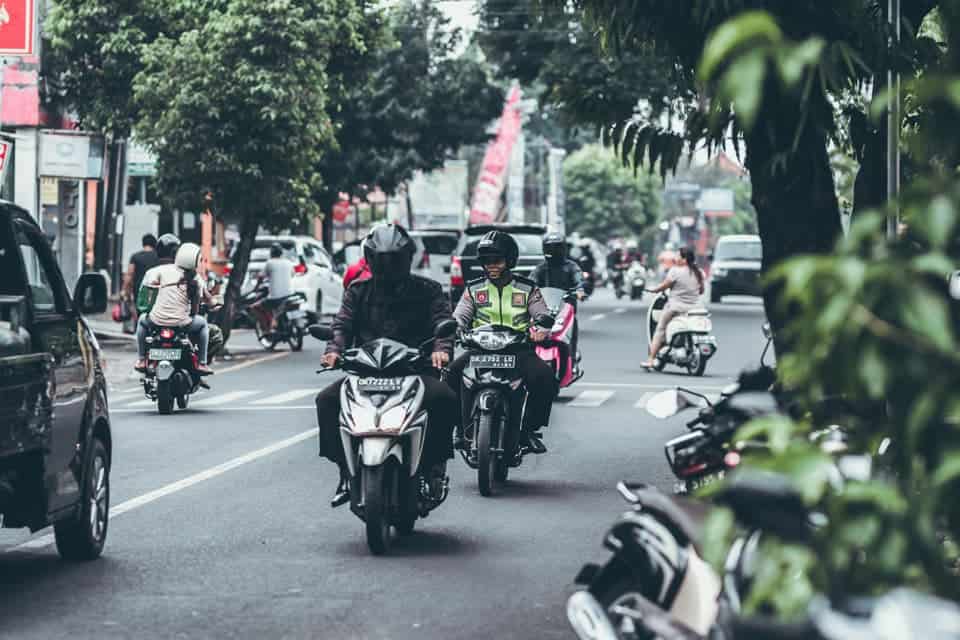 Uber-like services are also available in Bali through apps like GoJek and Grab. Install both apps before you go to Bali. These apps are generally reliable except for some places in Bali that have a taxi mafia, meaning that GoJek or Grab is not allowed to pick up passengers there.
It is recommended to get a Sim Card when you first arrive in Bali. They are cheap and abundant throughout Bali.
Another great option is to rent a car and a driver. Some of the attractions in Bali, especially the ones in Ubud, are spaced out. It is actually wise and recommended to rent a driver and a car for 8-10 hours and take you to as many sights as possible. They are also not as expensive as you think. 
The Perfect 10 Days in Bali Itinerary
Day 1: Sanur, The Calm Beautiful Port City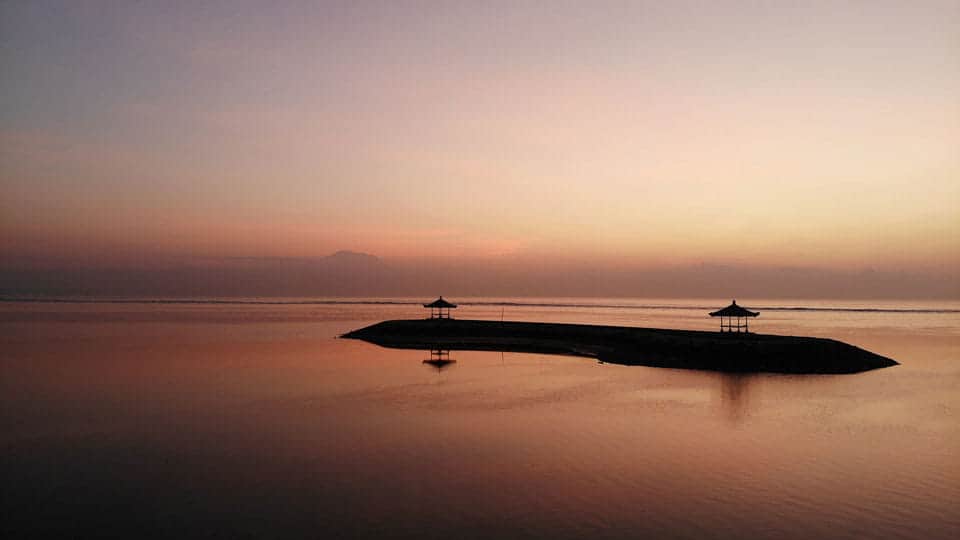 Welcome to Bali, or the locals like to call it, Balifornia! I hope you are excited to spend 10 days in Bali! You will be arriving at Ngurah Rai International Airport in Denpasar, a small and easily-navigated airport. If you go out and grab an airport taxi to your accommodation in Sanur, you will be overcharged 4 to 5 times.
This is why I told you to install GoJek and Grab before your arrival. Use the airport Wi-Fi and use GoJek or Grab to get yourself a taxi to Sanur.
If you cannot use the app for some reason, walk outside of the airport area and grab a Bluebird taxi. Those taxis are the local taxi and will be just affordable as the ones through the apps. They are blue and say the word "Bluebird" on the side. 
Our first destination is in the eastern part of Bali. Sanur, a relatively quiet port city, is a great starting point for your Bali trip. Many visitors make the mistake of going straight into Kuta and getting stuck there. Don't be one of them. Sanur is also the place where you will be taking the ferry from Bali to Nusa Penida tomorrow!
Things to Do in Sanur, Bali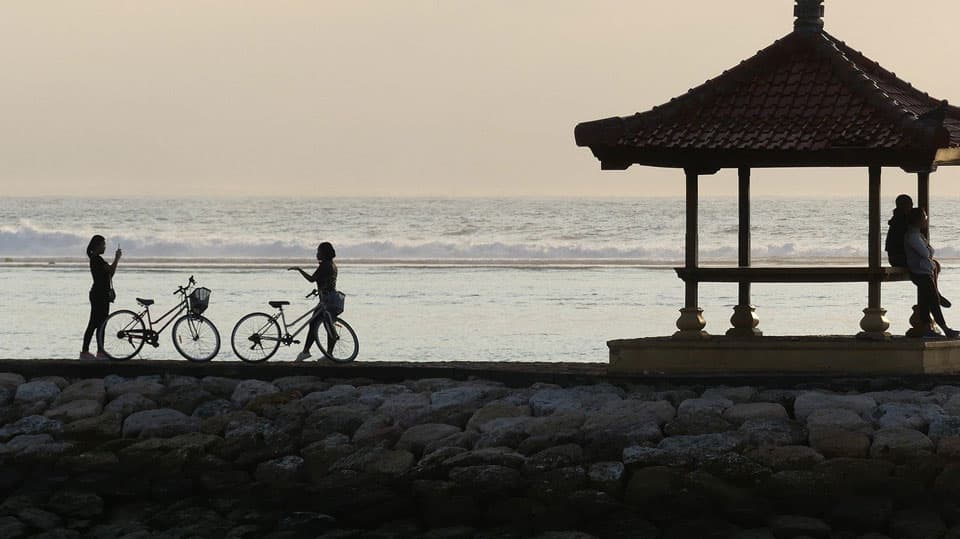 Depending on when you arrive in Sanur, you might not have much time on your first day in Bali. Walk around the neighborhood and check out the beaches in Sanur. They are much cleaner than the ones in Kuta.
If you have the time, I highly recommend you to visit Balangan Beach. A dreamy beach known for its dramatic cliffs and turquoise water, it is no surprise that there are so many pre-wedding photoshoots here.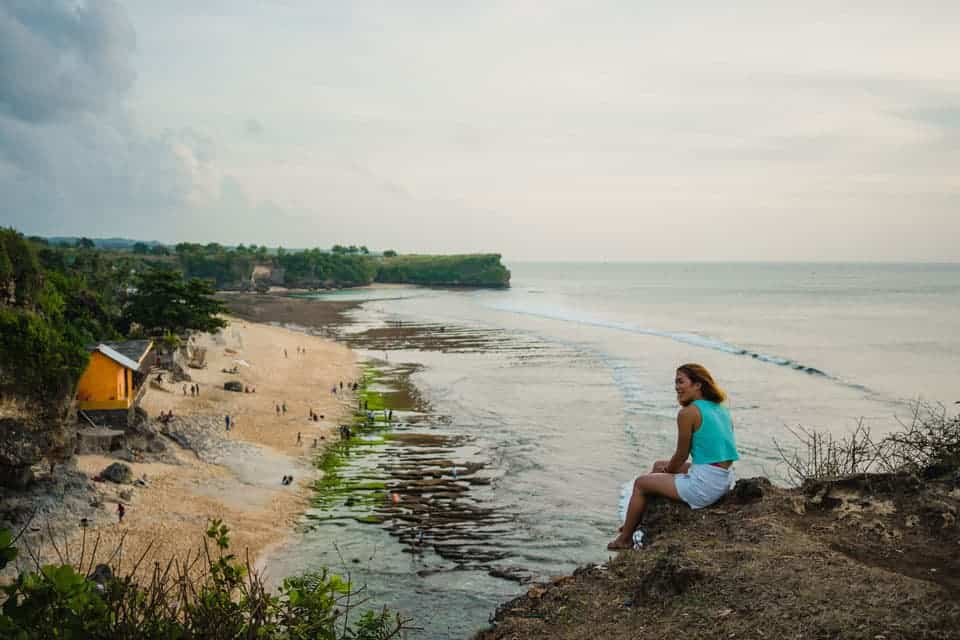 Experience your first sunset in Bali at Jimbaran Beach. The end of the Jimbaran Beach is lined with some of the best seafood restaurants in Bali. Enjoy a lovely sunset seafood dinner on the sand of Jimbaran beach as you watch the sun fade under the horizon.
When the sun sets, the restaurants will bring candles to light up your table. It is a very romantic moment and perfect for anyone on Bali for his or her honeymoon. After you enjoy your seafood dinner, feel free to walk along the Jimbaran beach to one of the bars for a drink.
Don't get too drunk tonight though because you will need to wake up early tomorrow!
An affordable homestay that features dormitory beds, Ning Homestay is the best hostel in Sanur. With a quiet environment and comfortable beds, guests can have a good night's sleep here. If you want to be social and meet friends, you can also do so in their beautiful backyard!
Located close to the best restaurants in Sanur and only 100m from the beach, Asoka Hotel & Suite's location is one of the best in Sanur. Each spacious room has its own balcony or front porch that guests can relax on. Tired of sitting on the balcony? Then jump into their amazing pool!
Paraigata Villas Resort is hand-down one of my favorite luxurious and boutique hotels in all of Bali. Each spacious villa has its own private garden and individual swimming pool in the back, lounge chairs where you can relax, and a designated place for yoga. If you are on your honeymoon in Bali, look no further. This is the place for you.
Day 2-3: Nusa Penida Island, The Hidden Gem of Our 10-Day Bali Itinerary
Nusa Penida is a small island of paradise located 45 minutes off the coast of Bali. Known for its jaw-dropping cliffs, amazing landscapes, lush scenery, turquoise water, and white sand beaches, Nusa Penida is a place you must visit on any Bali itinerary. 
To get to Nusa Penida from Bali, you will take a ferry from the Sanur port. If you stayed at Sanur the night before, it should be within walking distance from your hotel. The first boat from Sanur to Nusa Penida is at 7:30 AM. Try to get there as early as possible. If you can catch the 7:30 ferry, that is optimal.
Before you go to Nusa Penida, make sure you take a lot of cash with you. Though there are ATMs on the island, they are rarely functional. If you get seasick easily, take a motion sickness pill before you go. Always travel with a multi-purpose medicine kit. 
The best way to get around in Nusa Penida is by driving your own scooter or moped. If you are not experienced, you also have the option to rent a private driver and a car. It is not as expensive as you think. 
Because it might be difficult to travel in Nusa Penida, I recommend getting a tour beforehand!
Things to Do in Nusa Penida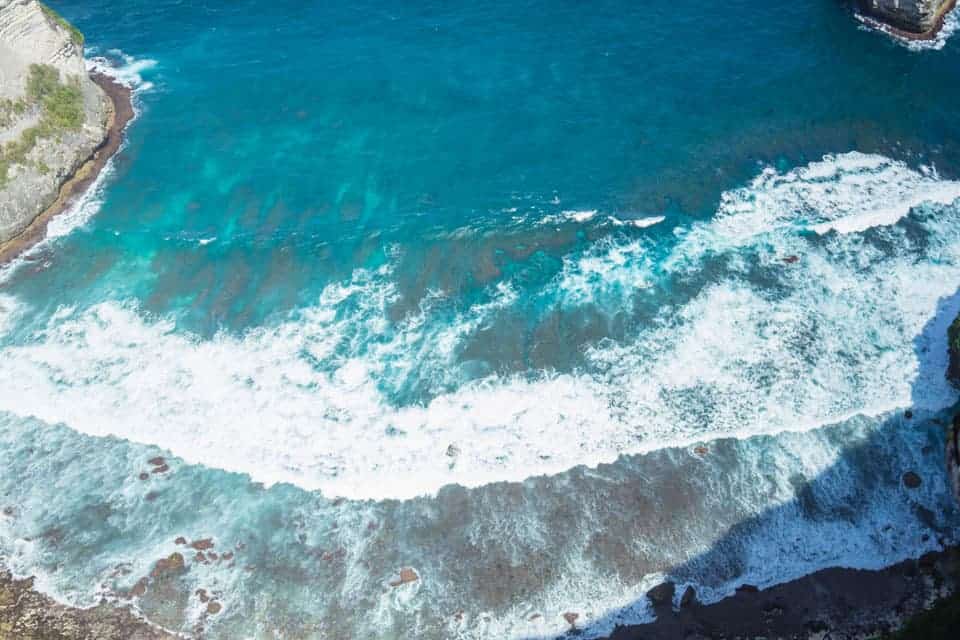 Below I'll talk about some of my favorite things to do on Nusa Penida. On your second day on Nusa Penida, you have the option to visit the nearby Nusa Ceningan and Nusa Lembongan.
1. Kelingking Beach
The famous dinosaur head beach you have probably seen on Instagram. Worth it to hike down to the white-sand beach below!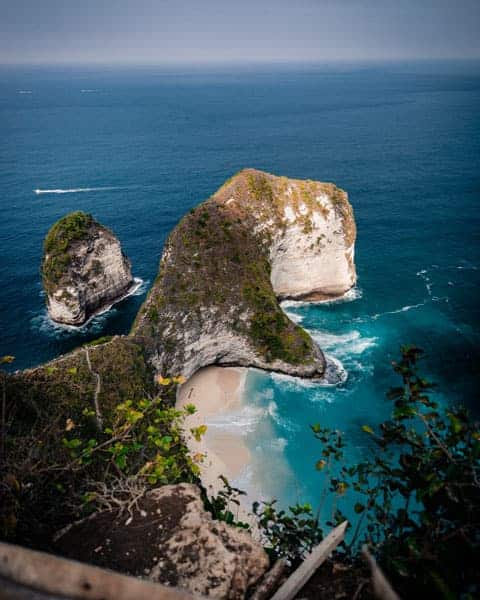 Peguyangan Waterfall takes you on a short hike on a blue wooden trail around the edge of the island. You will see some of the best views on the island and at the bottom is a temple that the locals visit. Don't forget to jump in the natural pools at the bottom!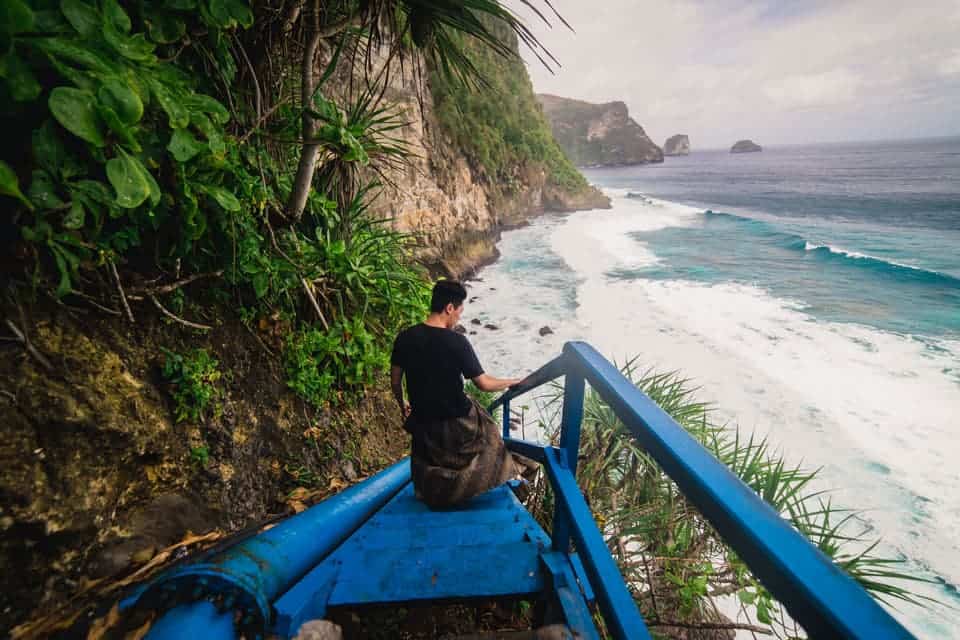 3. Angel's Billabong / Broken Beach
Angel's Billabong and Broken Beach are some of the top places to visit in Nusa Penida. The Broken Beach is a little cove on the side of a very beautiful archway that lets water in and out.
Located on the eastern part of Nusa Penida, it is difficult to pair a visit to Atuh Beach with other attractions of Nusa Penida. Though if you have extra time, I would highly recommend visiting Atuh Beach and its sweeping views!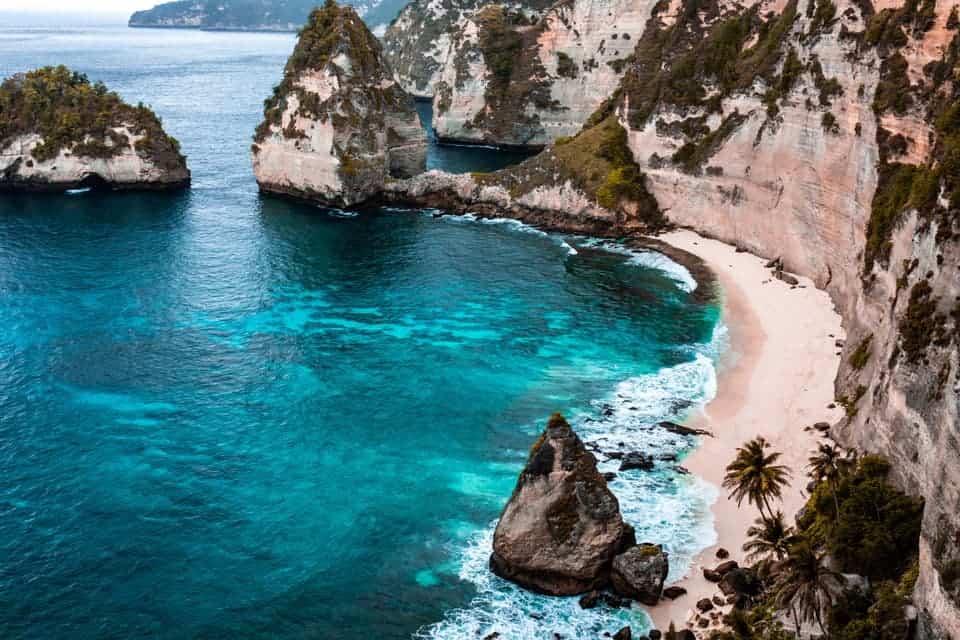 Other notable attractions in Nusa Penida are Crystal Bay, Manta Point, and the Goa Giri Putri Temple. Crystal Bay is a nice relaxing beach where visitors can snorkel around. Manta Point is a diving point where you can enjoy scuba diving and get close to the manta rays. If you do not wish to dive, occasionally you can also see them from the surface. Goa Piri Putri Temple is the famous cave temple in Nusa Penida.
If you head over to Nusa Ceningan and Nusa Lembongan, make sure you check out Devil's Tear and the Blue Lagoon. Both of those places are some of the most beautiful places in Nusa Lembongan and Nusa Ceningan, respectively.
Where to Stay in Nusa Penida
Choosing the right place to stay in Nusa Penida is imperative for having a good stay. That is because infrastructure is really lacking and you want your accommodation to be able to supply you with all the things you need. In general, the northern part of Nusa Penida is better to stay as it is closer to the harbor and has more establishments there. Here's a complete guide on where to stay in Nusa Penida.
Nuansa Penida is by far the best hostel in Nusa Penida. Featuring an outdoor swimming pool area with lounge chairs, guests can relax under the beautiful Indonesia sun. The hostel also has a bar and a restaurant, both serving amazing food and drinks at an affordable price. Their common area is also a great social place to meet other travelers.
For the price you are paying, Asoka Bungalows is an amazing deal. Featuring beautiful wooden huts with individual outdoor porch area to relax, Asoka Bungalows is as good as it can get for being affordable. Nevermind, I lied. It also has an amazing swimming pool where guests can enjoy their stay!
Daphila Cottage is one of the best luxury hotels in Nusa Penida. Featuring an amazing swimming pool where you can have a sweeping view of the sea, guests will surely have an unforgettable time here. Daphila Cottage is more than just a scenic hotel. It also features an on-site restaurant and friendly staff that will assist you on your adventures in Nusa Penida.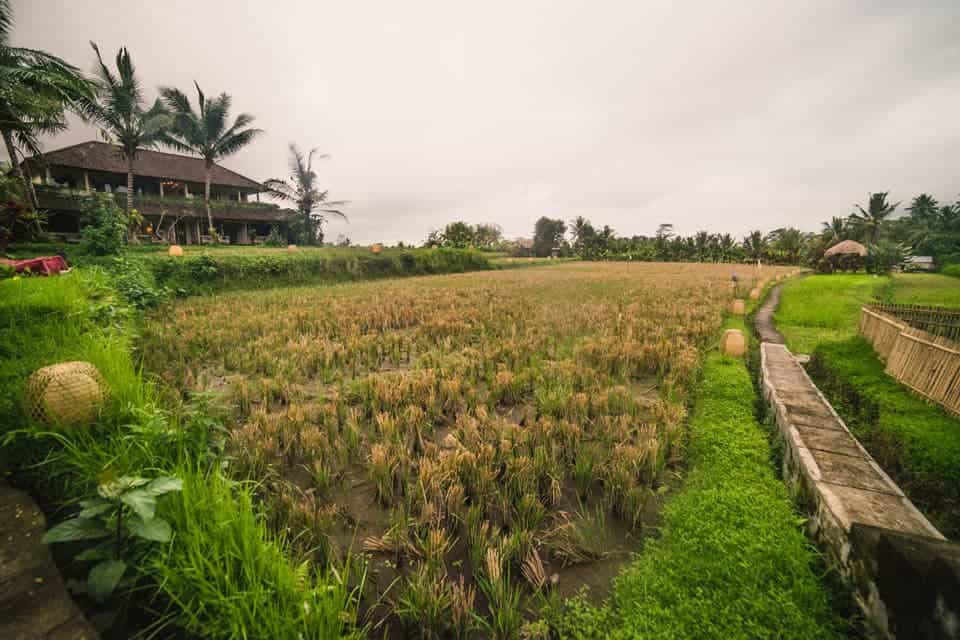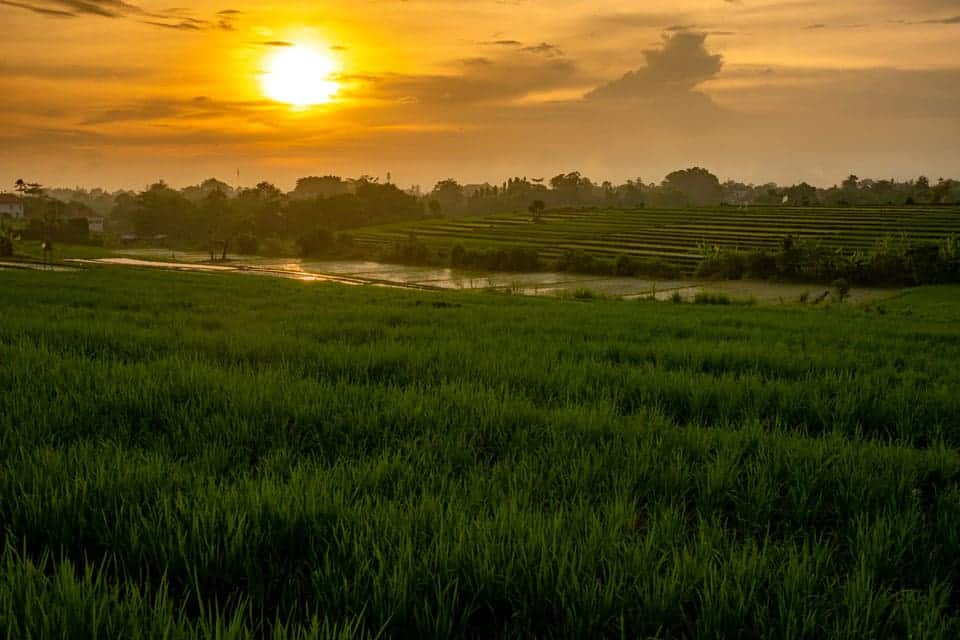 Canggu is a resort village surrounded by jaw-dropping beaches and scenic rice terraces. Home to many digital nomads, yogis, and surfers, Canggu is one of the most popular destinations in Canggu. Relaxing beach clubs, beginner and expert waves for surfers, and healthy hippie restaurants and cafes, there are plenty of amazing things to do in Canggu.
It is the chill vibe that defines Canggu. Canggu feels like a proper vacation town, especially after so much sightseeing in Ubud.
Come to Canggu, stay at a uniquely-designed villa, catch some waves or just walk along the beach and have some amazing food. Canggu is the proper place to relax in Bali.
Things to Do in Canggu, Bali
1. Take a trip to Tanah Lot Temple
Tanah Lot Temple is one of the most iconic and photographed temples in Bali. Due to its location on top of a rock around 20 meters from the edge of the coast, the Tanah Lot Temple appears to be its own island floating on the water during high tide. Come here and learn about the complicated history of the Tanah Lot Temple, which actually translates to land and sea temple. 
Though you might not want to bring your partner because of the myth around Tanah Lot.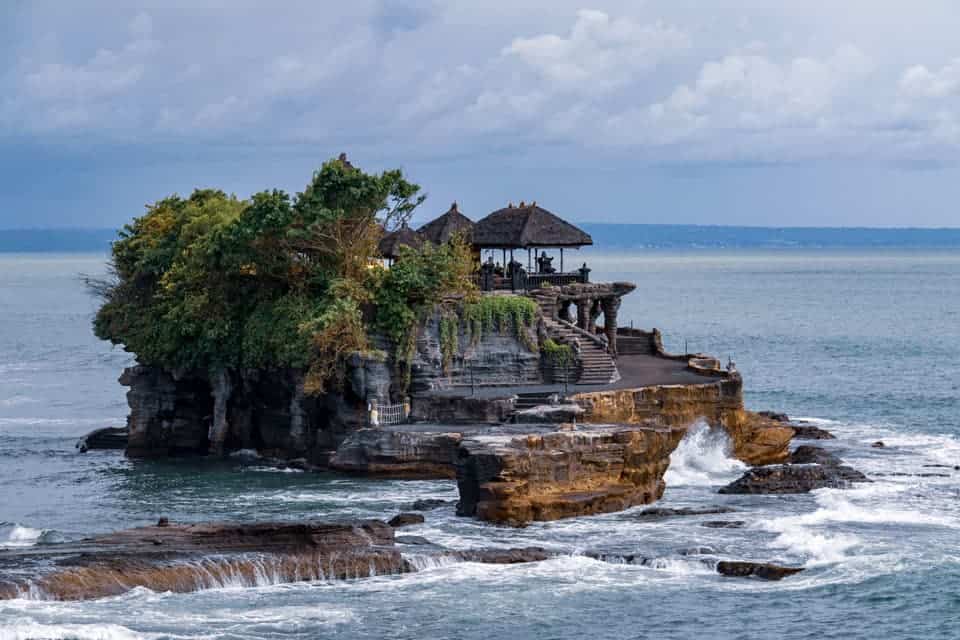 2. Spend an afternoon at La Brisa Beachclub
Located on the popular Echo Beach, La Brisa is one of the coolest beach clubs to hang out in Bali. Featuring hand-crafted wooden decor, relaxing bean chairs, and locally-grown food, La Brisa is an absolute paradise to spend the afternoon in.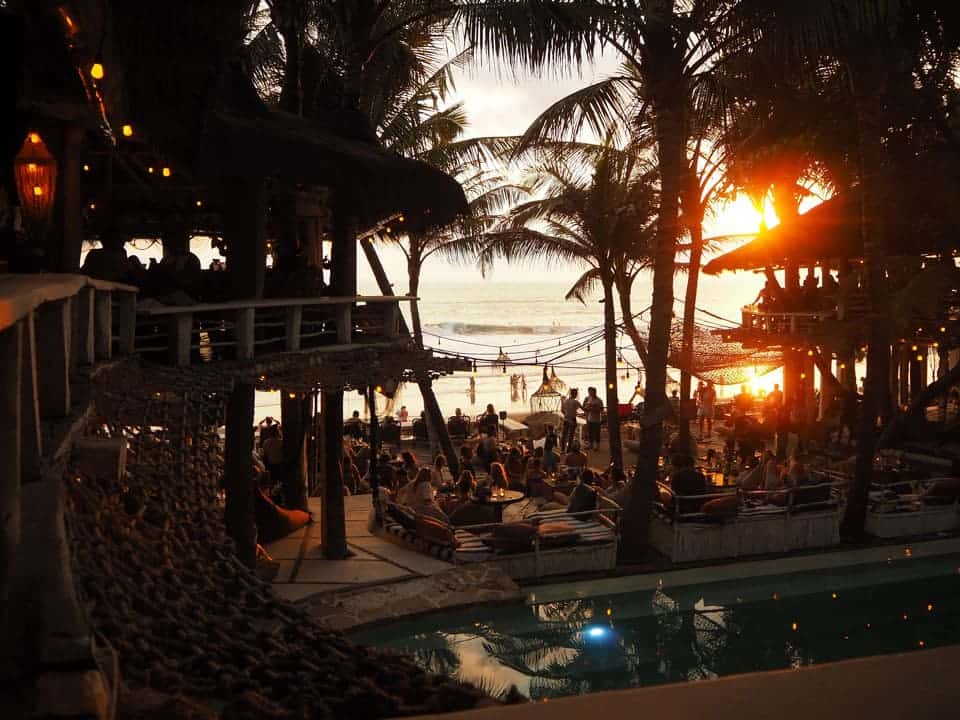 Canggu is home to some of the most amazing beach clubs in Bali and The Lawn is no exception. Amazing food, great vibes, and a beautiful infinity pool facing the ocean, you will undoubtedly have a good time in The Lawn. It is one of the best places in Canggu to watch the sunset, as the black-sanded beach contrasts with the vibrant colors of a Balinese sunset.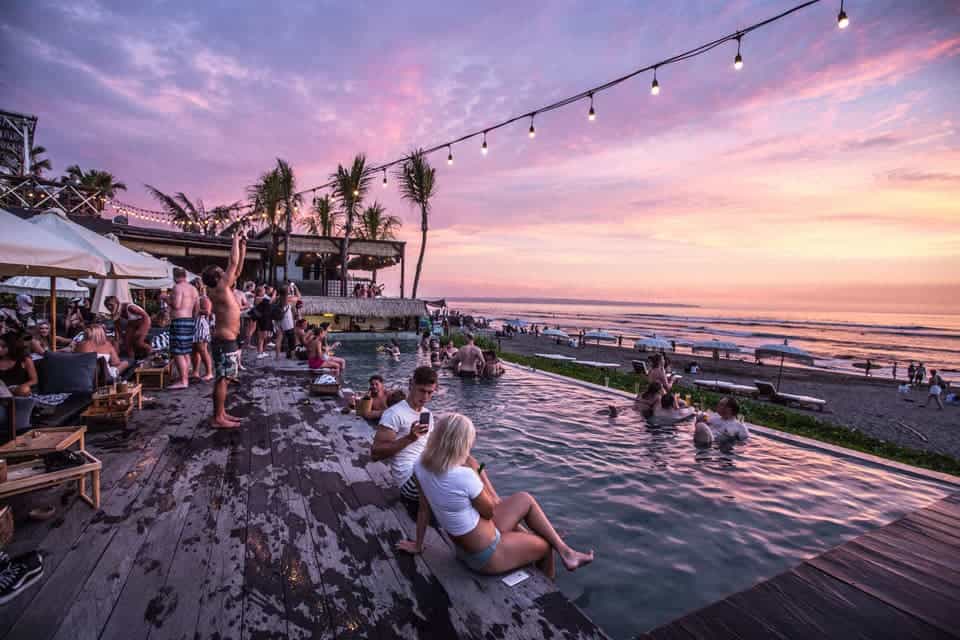 4. Go Surfing (or Learn to Surf)
The beaches in Canggu are beginner-friendly. Take advantage and learn how to surf! You won't have any difficulty finding surf shops or instructors in Canggu because they are literally around every corner!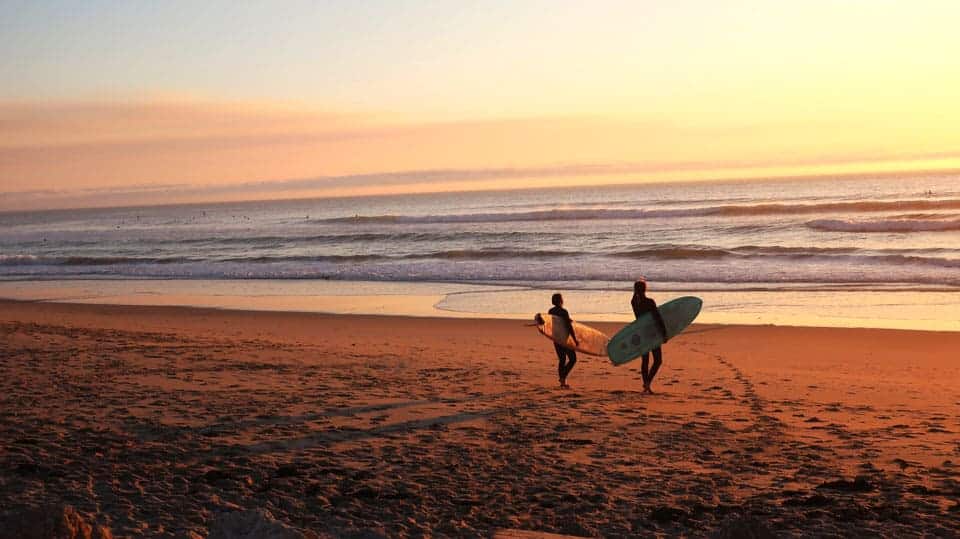 5. Party at Finns Beach Club or Old Man's
If you want a proper night out, head over to Finns Beach Club, arguable the fanciest beach club in Canggu. There isn't really a minimum spending at Finns Beach Club but expect to spend a lot of money. Their drinks are as pricey as the ones you will find in New York City. As a result, Finns Beach Club attracts high-end customers.
If you want a more relaxing time meeting locals and other travelers in Canggu, head over to Old Man's. An affordable bar located next to Batu Balong Beach, Old Man's is usually packed and the atmosphere is social and inviting. The drinks are also much more affordable at Old Man's.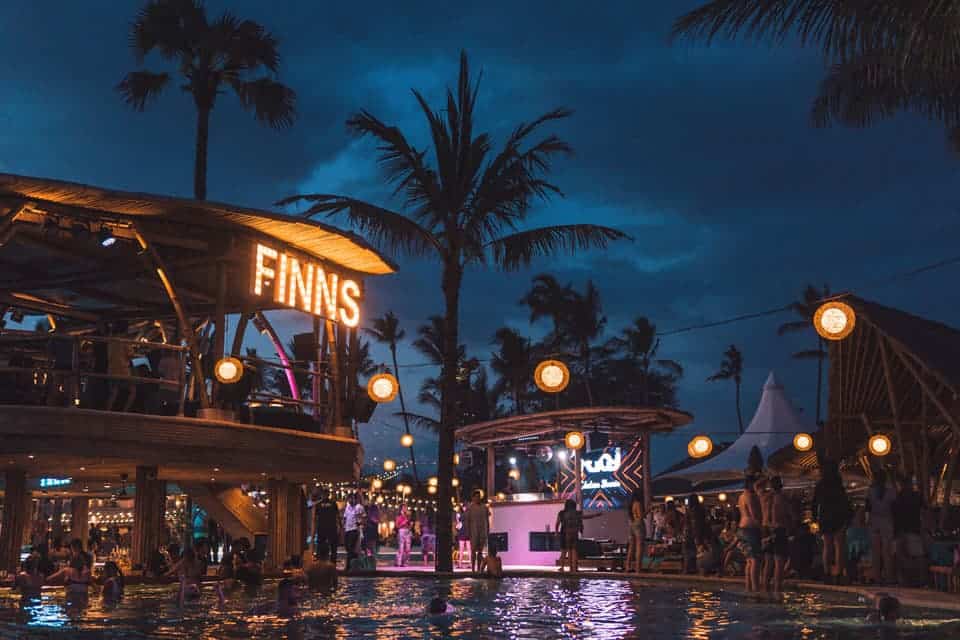 Where to Stay in Canggu, Bali
Kos One Hostel has the facilities and decor of a 5-star villa but the price and atmosphere of a hostel. From the sun terrace area to the restaurant, everything in Koz One Hostel is so well-decorated. The beds are also very comfortable and spacious for a hostel. With my common areas to socialize, this hostel is very easy to make friends.
A beautiful hotel located close to Echo Beach, Eastin Ashta Resort Canggu is a top accommodation in Canggu. Its beautiful modern design infused with specks of Balinese culture is much more refreshing than seeing the usual gray walls. Its high-class restaurant serves some of the best food you can find in Bali yet at an affordable price. Did I mention the relaxing swimming pool with sun loungers?
Located right on the Berawa beach, staying at Haven Suites Bali is guaranteed to turn your Bali 10 days trip into a heavenly beach paradise. The staff at this luxury hotel in Canggu will go out of their way to assist you and make sure you have a pleasant stay. The design of the rooms are immaculate and my favorite part has to be the iconic bathtub in the rooms, a popular photo location for Instagram.
Seminyak will be the last stop on your Bali in 10 days itinerary. Seminyak is a high-end resort area located directly south of Canggu. An area with fancy restaurants, posh nightclubs, and extravagant hotels, expect to pay as much as you would in western Europe or the United States in Seminyak
Not as busy and crowded as Kuta in the south, many travelers come to Seminyak to enjoy a relaxing time on the chill beaches, shop at the fancy shopping malls, and try out the trendy cafes.
I have to be honest, Seminyak is almost overtaken by foreigners because the prices are so high around here. Clubs such as Lafavela and Mexicola have also started targeting foreign audiences, with a shot of tequila costing 14 USD.
If you are looking for an authentic Balinese experience, you will hardly find that in Seminyak. 
Things to Do in Seminyak, Bali
1. Chill out at the Double Six Beach
Grab your friends and head out to the most famous beach in Seminyak, Double Six Beach. Lounge in one of the bean bags, eat some Bakso(Balinese fish balls), and chuck a cold beer or coconut. Surfers can also catch some waves at the Double Six Beach.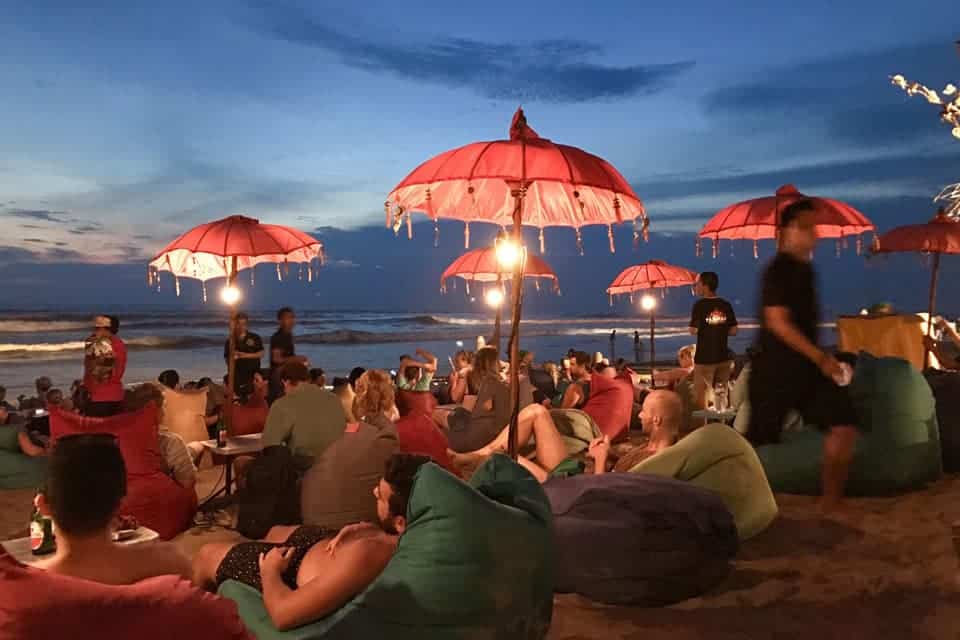 2. Visit The World-Famous Potato Head Beach Club
You cannot spend 10 days in Bali and not visit the famous Potato Head Beach Club. Two infinity pools, a swim-up bar, and numerous palm trees to give off the vacation vibes, Potato Head Beach Club is the perfect spot to relax for a day. Close your eyes as you lay on their sun sunbeds as you listen to the sounds of the waves.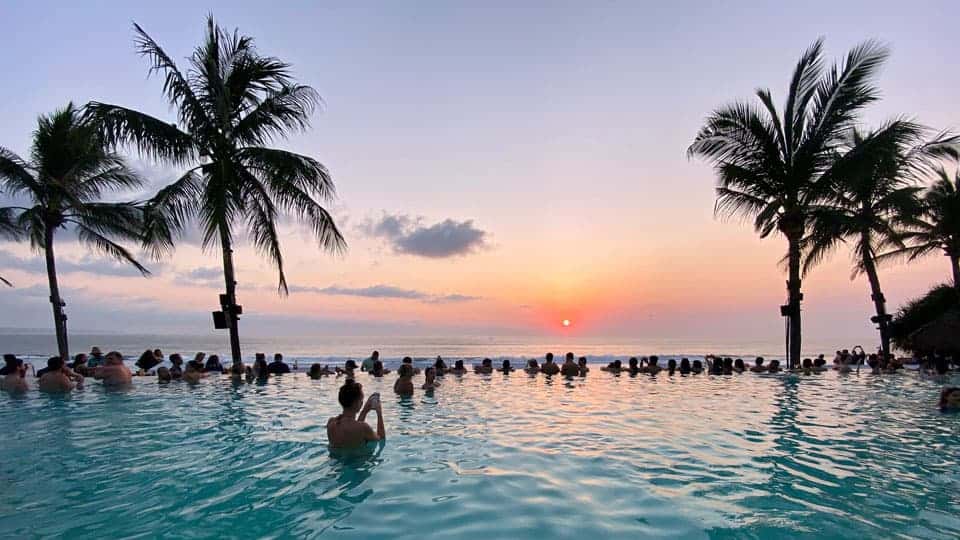 3. Try Balinese Cusine Such as Babi Guling (Suckling Pig)
If you didn't get a chance to try Babi Guling in one of the warungs (local restaurants) in Ubud, worry not. Seminyak is also home to one of the best restaurants for this Balinese delicacy, namely Warung Babi Guling Pak Malen.
5. Visit the Trendy Cafes and Restaurants!
Seminyak is concentrated with trendy cafes and very aesthetic restaurants. My favorite ones are Nalu Bowls, Sea Circus, KYND Comunity, and Cafe Organic!
Where to Stay in Seminyak, Bali
A chic hostel with a gorgeous swimming pool, Socialista Lifestyle Hostel is one of my favorite places to stay in Bali. With comfortable beds that offer lots of privacy, guests can enjoy a good night's sleep. Guests that want to socialize can meet other travelers in the bar and restaurants or at their daily events! 
Located next to Seminyak Beach, Grandmas Plus Hotel is an affordable hotel for anyone looking for convenience in Seminyak. The reception and the staff go above and beyond to make sure you have a pleasant stay by answering any questions you might have. Their cooking class and yoga session are fun activities that guests can enjoy!
Double-Six Luxury Hotel Seminyak is one of the most high-end hotels you can stay in Seminyak. A classy rooftop cocktail bar with views of the Double Six Beach and the Indian Ocean, it is one of the best places to watch the sunset with a delicious cocktail in your hands. Their attentive staff will make sure you have a good time and goes the extra mile if you have a special occasion such as anniversaries, birthdays, or honeymoons. Along with their massive pool and state-of-the-art gym, guests can properly relax at Double-Six Luxury Hotel.
Like this post? Don't forget to save it on Pinterest! 🙂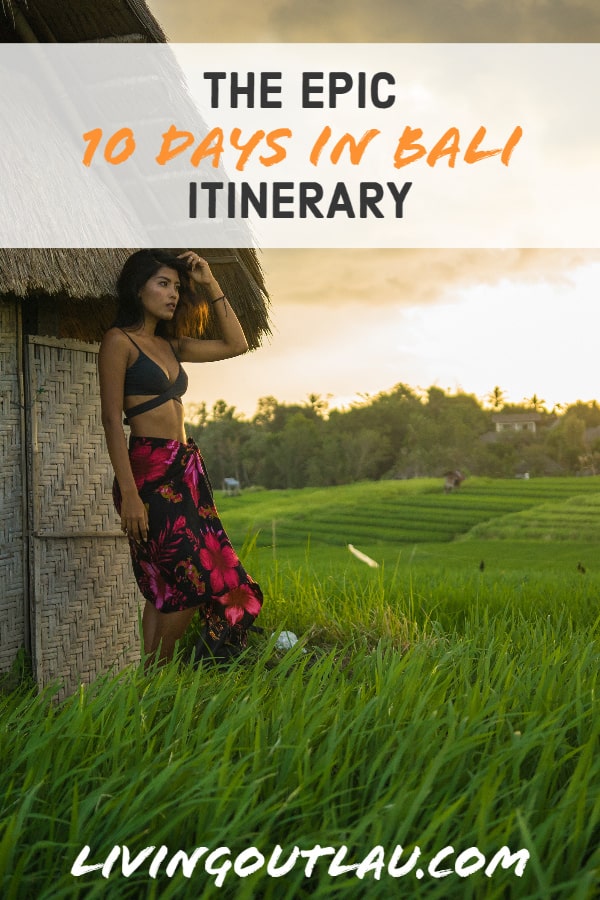 You can directly arrange a shuttle from Seminyak back to Bali's airport (Ngurah Rai International Airport. You can also use apps like Grab or GoJek.
I hope this 10 days Bali itinerary has helped you plan your exciting Bali trip.
Any questions? Leave them in the comments!
Disclaimer: Some of the links above are affiliate links. That means if you book or make a purchase through the links, we will earn a small commission at no extra cost to you! The money will help run this site! Thank you 🙂