Looking for the best Airbnb in Bali for your ultimate vacation? We are here to help.
Known for its surreal beaches, lush nature, and amazing rice fields, Bali is undeniably one of the most popular travel destinations in the world. Consequently, there is a neverending number of accommodations and deciding where to stay in Bali is more difficult than ever.
We know that staying in the perfect place in Bali is part of the quintessential Bali experience. That is why we have created this Bali Airbnb guide to help you plan your perfect trip!
Below we have handpicked 15 of our favorite Airbnbs in Bali that you cannot miss. This list includes private pool villas, charming cottages, exotic treehouses, and more!

Enjoy! 
---
Where to Stay In Bali?
Before we pick out the perfect Bali Airbnb, you must first decide which area in Bali you would like to stay in. Bali is a big island and not all the attractions are concentrated in one area. Getting from one popular area of Bali such as Kuta to another such as Ubud could take over an hour!
Ideally, if you have the perfect Bali itinerary, you would spend a few days in each place before moving to the next one, sampling bits and pieces of the island. However, if there is something you really prefer, such as nature, nightlife, beach, and etc, then you must carefully select where you should stay in Bali.
Here we will talk about the 4 most popular neighborhoods to stay in Bali: Ubud, Canggu, Seminyak, and Kuta!
Ubud – Lush Landscapes Nestled In The Balinese Jungle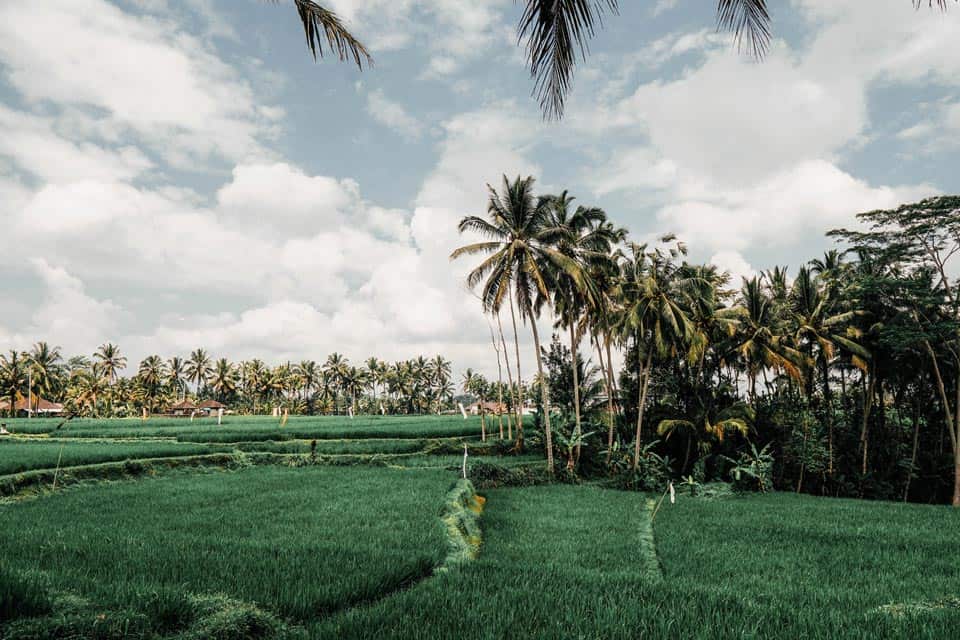 Nestled in the Balinese jungle, Ubud is our favorite place to stay in Bali. Surrounding Ubud are some of the most amazing waterfalls in Bali, such as Nungnung Waterfall, Tegenungan Waterfall, and Tukad Cepung Waterfall.
Not only will you find the best nature in Ubud, but the town and the surrounding area is filled with culture. Guests will find numerous temples in and around Ubud, something that is lacking in Seminyak and Kuta.
Guests looking for some of the most charming private pool villas in Bali will find them in Ubud, hidden behind wide stretches of rice fields (such as the Tegalalang Rice Terrace) or towering trees.
If your idea of a Bali trip is exploring some of its stunning nature (no beaches though), engaging in Balinese culture, and staying at an idyllic villa, Ubud is the ideal place for you.
Canggu – Hippie Surfer Paradise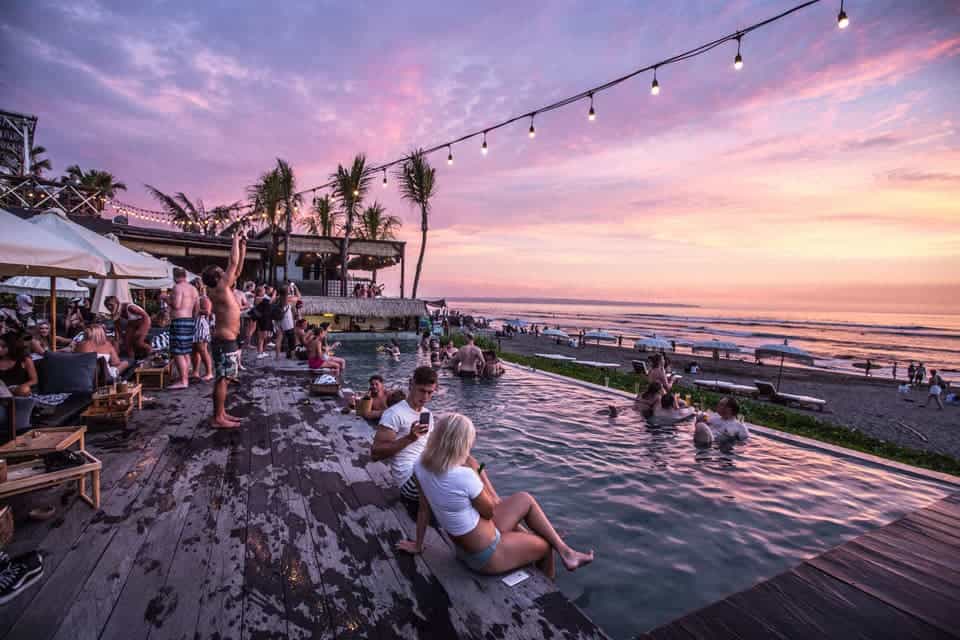 Next to some of the best waves in Bali, Canggu is a popular area to stay in Bali for surfers, hippies, and anyone that enjoys a laid-back vibe. This neighborhood is dotted with some of the most pristine beaches in Bali (equally as beautiful as Nusa Penida) that aren't always overrun by tourists.
In Canggu, you will find lots of trendy restaurants and cafes, most of them serving nutritious health foods. Canggu is also home to some of the most popular beach clubs in Bali, such as Finn Beach Club and La Brisa. Many of these are great places to chill out and catch the sunset, or party it up at night!
A sucker for beaches? Check out Nusa Penida and its unspoiled beaches!
Seminyak – Best Nightlife in Bali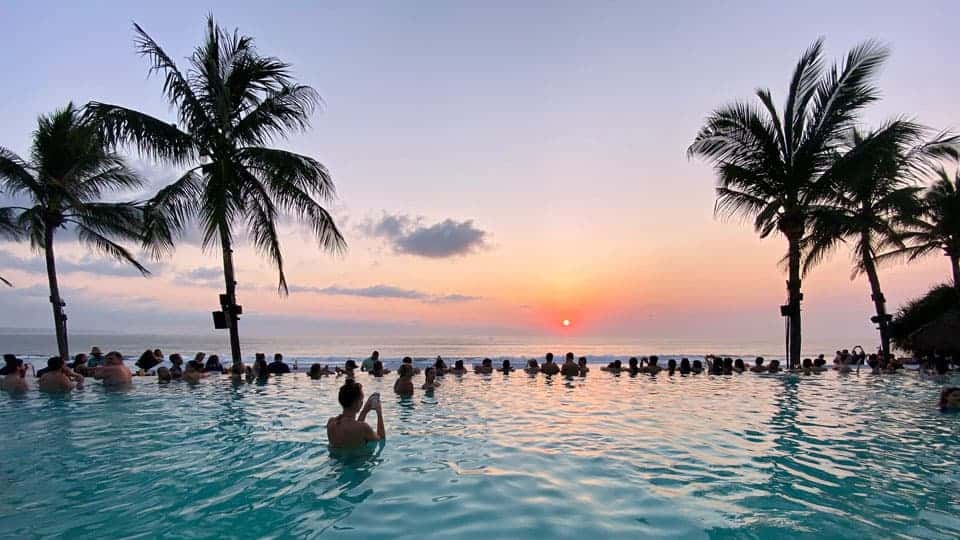 If you want to party till sunrise and dance till you get blisters on your feet, then Seminyak is the perfect place to stay. Known as the most upscale neighborhood in Bali, Seminyak is filled with western restaurants, boutique shops, and trendy cafes.
If you are traveling Bali on a budget, you might want to avoid Seminyak. We got a shot of tequila for 200k IDR (~14 USD) at a club! Some of the most luxurious hotels in Bali are located in Seminyak. So if you want to stay somewhere in Bali for a special occasion, Seminyak might just be the perfect place.
Seminyak beaches, though not as tranquil and clean as the ones in Canggu, are incredible places to hang out during the day. Our favorite beach in Seminyak, the Double Six Beach, is a popular spot for locals and tourists alike.
Seminyak might be one of our least favorite places to stay, as it is overrun by tourists and the Balinese culture here is slowly diminishing. Consider that when picking a place to stay in Bali.
Kuta – Closest Area To The Bali Airport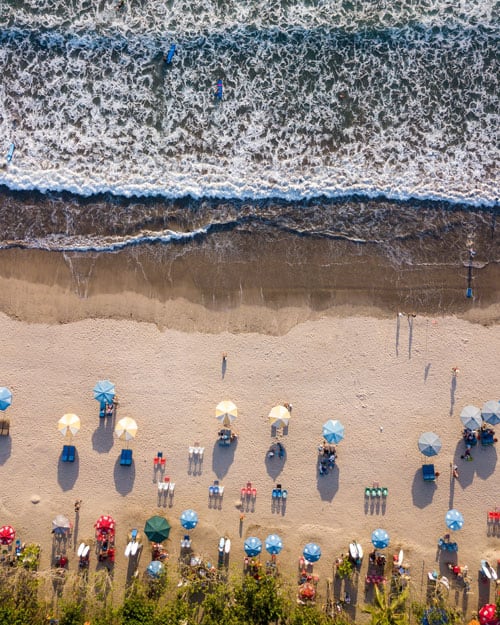 Kuta is an area in Bali that is loved and hated at the same point. As the first developed area in Bali, Kuta is arguably the busiest place on the entire island. Usually, busy isn't necessarily a terrible thing, but in Kuta, it is.
Pollution, traffic, and noise flood this highly-touristy neighborhood in Bali, and it isn't exactly what you imagine when you dream of an island escape. Kuta has the highest concentrations of bars, nightclubs, and hotels on the island. If you are someone that likes to party and has the energy to go go go all the time, Kuta might suit you.
The only redeeming feature of Kuta is its proximity to the Ngurah Rai International Airport (Bali Airport) and its easy access to some decent beaches. It is also within walking distance of one of the biggest malls in Bali, if you are into that sort of thing.
But for us, we prefer to stay one or two nights in Kuta before heading off to another region.
---
Want A Quick Tip On The Best Bali Airbnb In Each Area?
Best Airbnb In Ubud – CAHAYA Skai Joglo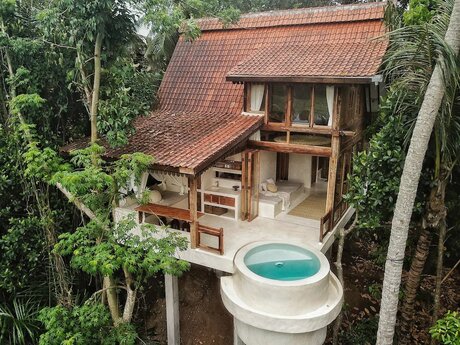 Best Airbnb In Seminyak – Loft Style Villa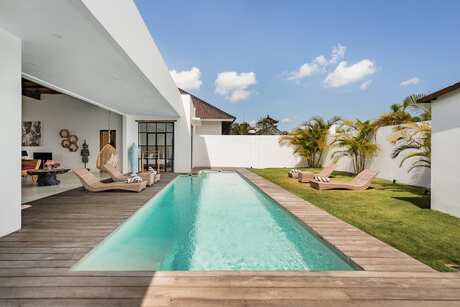 Best Airbnb In Canggu – FELLA Villa
Best Airbnb In Kuta – Dulang Village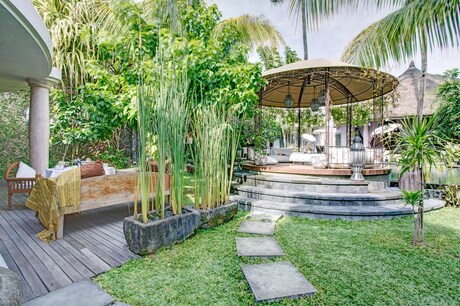 ---
Best Airbnbs In Bali
Best Airbnbs In Ubud, Bali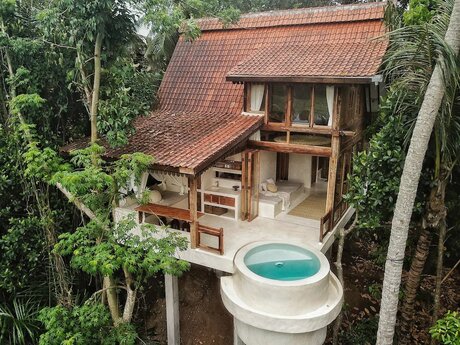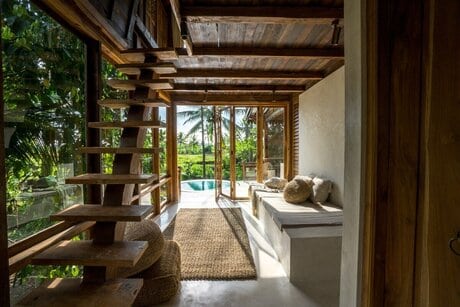 (Images Courtesy of Airbnb)

There is no better Airbnb in Ubud than a private pool villa, and CAHAYA Skai Joglo provides exactly that. Floating amongst the treetops of Ubud's lushest greenery, guests are blessed with some of the most amazing rice paddy views.

Built using reclaimed wood from 100-year-old homes, CAHAYA Skai Jogle offers unique decor unlike any other. All the material used in the construction of this villa is locally sourced and crafted by local artisans.

The result? An incredible private villa that oozes rustic charm.

Staying in the CAHAYA Skai Joglo is an experience on its own, and we highly recommend adding it to your Bali itinerary!

Because of the rope bridge to the entrance, open pool, and a high drop from the pool's edge, this Airbnb might not be suitable for anyone traveling with children. It is, however, one of the best honeymoon Airbnbs in Bali!

CAHAYA Skai Joglo is not located inside Ubud city, but a 10-15 minute drive away. While you do have the utmost privacy and unspoiled nature, it does mean you need to have a way to get to Ubud city.

Maximum Guests: 4 Guests

Click here for more details!
---
2. LIFT – George Orwell Treehouse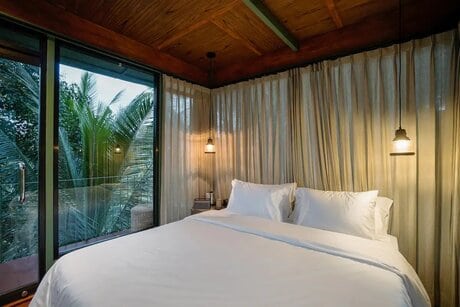 (Images Courtesy of Airbnb)

While there are many unique Bali Airbnbs, none is as extraordinary as the LIFT – George Orwell Treehouse. If it was your dream to live in a treehouse as a kid, now you can make your dream come true at this Ubud Airbnb!

Guests staying in the George Orwell Treehouse at LIFT will have two floors to themselves. The lower floor is the bathroom and shower, where guests will be provided high-quality amenity products. The floor above is the bedroom and balcony, where guests can admire the views and listen to the jungle!

In addition to your own personal treehouse, there are other incredible shared facilities. The half-moon pool and the sun lounging area are perfect for anyone looking to get a tan on or escape the Balinese heat. Hammocks and more lounging areas are scattered throughout the property grounds.

This treehouse is perfect for guests looking to indulge in the finest nature Bali has to offer!

Maximum Guests: 2 Guests

Click here for more info!
---
3. Pondok Prapen Private Pool Villa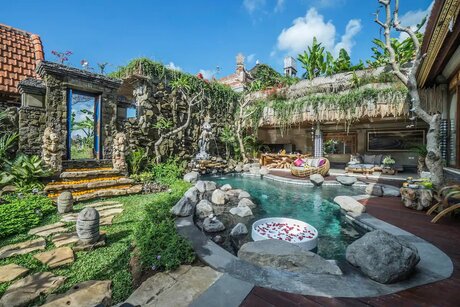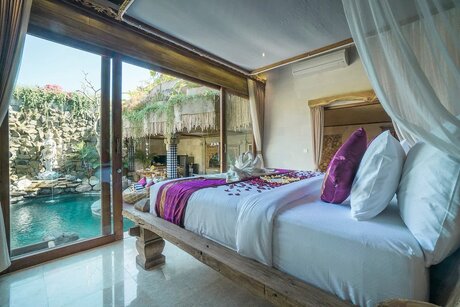 (Images Courtesy of Airbnb)

Pondok Prapen Villa in Ubud is perfect for travelers that enjoy a balance of luxury and nature. Perfectly decorated with stone pathways, exotic plants, draping vines, this gorgeous 2-bedroom Airbnb will make you never want to leave Bali!

Wake up to a refreshingly dip in your own private pool, followed by an iconic complimentary floating breakfast (You can't say you have been to Bali until you have one of these).

When you are ready to explore Bali, the center of Ubud is only a short walk away. Within walking distance are some of the best things Ubud has to offer, such as Ubud Art Market, amazing eateries, boutique shops, and more!

Come back after a tiresome day of exploring Ubud to a luxurious floating-flower bath to soothe your aching limbs. Drift off in your heavenly king-size bed and repeat again the next day!

Maximum Guests: 4

Click here for more information!
---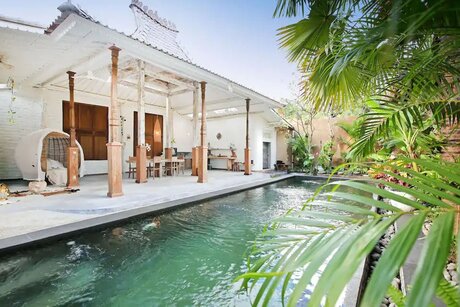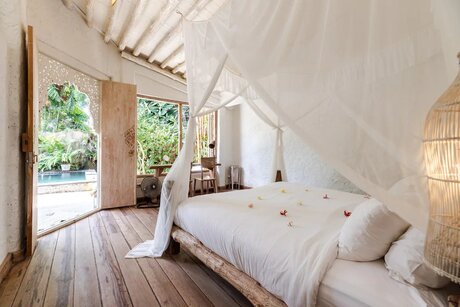 (Images Courtesy of Airbnb)

This Tropical Oaxis Luxe Villa is the definition of a Bali paradise. Whether you are in Bali for an exotic honeymoon, regular vacation, or an intimate retreat, this gorgeous villa will meet (and probably exceed) your expectations!

With a lush garden and a spacious private pool, guests will the utmost peace and quiet in this delightful Airbnb. Though this Airbnb only accommodates a maximum of 3 guests, the sizable living areas can easily fit a family or two!

When you are not having your floating breakfast in your large pool or enjoying your private poolside cabana, head over to the center of Ubud, which is only located a 15-minute walk away. For those that don't want to walk, there is a scooter-hire place nearby and drivers on stand-by at the bottom of the steps.

(But please don't rent a scooter in Bali unless you know how to drive one!)

This villa in Ubud is built around the pillars of a 200-year-old antique joglo, a traditional vernacular house of the Javanese (another island in Indonesia) people. The decor and architecture of this accommodation just ooze charm like no tomorrow!

Maximum Guests: 3 Guests

Click here for more photos and availability!
---
Best Airbnbs In Canggu, Bali
1. BATUKARU Private Pool Suite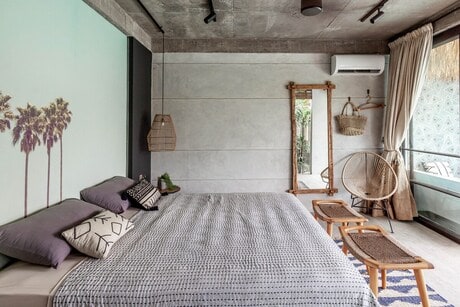 (Images Courtesy of Airbnb)

At BATUKARU, guests will find luxury in the private pool and water sunken sunbed, tranquility om the views of the serene rice fields, and comfort in their soft king-size bed.

When you are not enjoying its heavenly features, this Airbnb's prime location allows you to explore Canggu very easily.

Watch an epic sunset from the breathtaking Batu Baloong Beach, which is only a few minutes away by walking. Enjoy a reinvigorating class of yoga at Samadi Bali, a yoga studio 5 minutes away by walking. There are also numerous trendy eateries, surf shops, cafes, and bars nearby!

After a tiresome day of exploring Canggu, return to your tranquil Airbnb. Jump in your private pool or enjoy a luxury outdoor rain shower between palms.

Finish off your day on the hotel-quality mattress and top-quality bed linen!

This Canggu Airbnb does not have its own kitchen. But don't worry if you can't do any cooking, there are plenty of restaurants nearby to make your hungry stomach happy!

Maximum Guests: 2 Guests

Click here for more details!
---
2. Designer Luxury Bali Villa In Canggu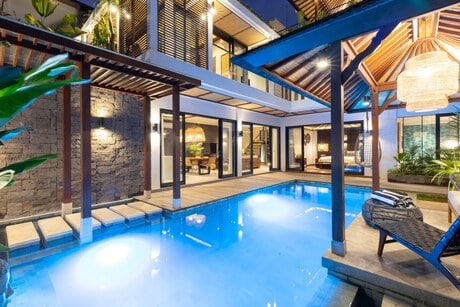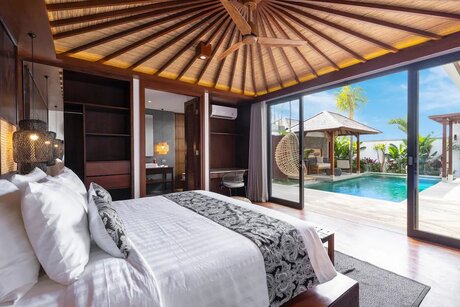 (Images Courtesy of Airbnb)

If your idea of a Bali trip is nothing but luxury on top of luxury, then this Designer Luxury Bali Villa in Canggu is ideal for you. With its contemporary and minimalistic design, this Airbnb in Canggu is a testimony to the modern ages of Bali.

Come enjoy tropical Bali with a nice relaxing swim in your large private pool. Dry off on one of the sun loungers and soak in that heart-warming Balinese sun. Head up to the roof and enjoy a dramatic sunset in your rooftop lounging area. Life is good in this Canggu villa.

Though this isn't exactly one of the cheapest Bali Airbnbs, it does have the ability to accommodate 7 guests in its 3 bedrooms. This makes it easy more affordable for anyone traveling with family or friends.

Within a 5-minute walk from this villa is the famous Jalan Pantai Berawa Street, where guests will find some of Bali's best restaurants, bars, cafes, boutique shops, and more. The must-visit Finns Beach Club is only a few minutes away on foot!

Maximum Guests: 7 Guests

Click here for more info!
---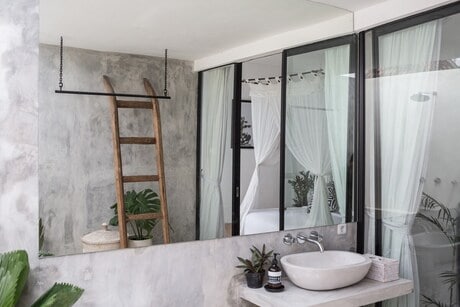 (Images Courtesy of Airbnb)

While there are many Airbnbs in Canggu, none is as aesthetic as FELLA Luxury Beach Villa. With gorgeous reading nooks, a lovely pool, an immaculate garden, and stylish touches throughout, guests will find the perfect stay here!

This villa's prime location allows you to visit Canggu easily (that is if you want to leave your dreamy Airbnb). The Batu Boloong Beach (one of the best beaches in Bali) is located a short 5-minute walk away. Famous beach clubs such as The Lawn and Old Man's are only a 2-minute drive away.

FELLA Luxury Beach Villa is one of the few Canggu Airbnbs that can accommodate up to 6 guests in its 3 bedrooms. This makes it the perfect Bali getaway for anyone traveling with family or a big group of friends!

Don't worry, there is always enough space for everyone to lounge around comfortably and enjoy the ultimate Bali experience!

Maximum Guests: 6 Guests

Click here for more information!
---
4. 2-Bedroom Design Villa Near Berawa Beach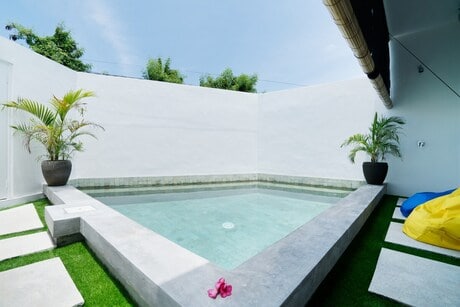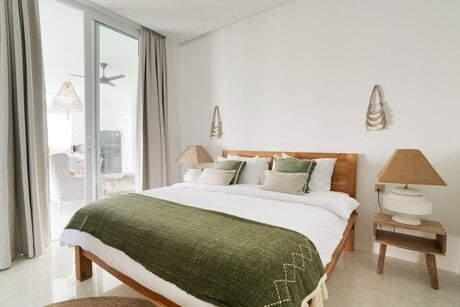 If you are looking for a modern and cozy Airbnb in Canggu, then consider this 2-bedroom private pool villa. The soft pastel colors throughout the Airbnb create a very soothing aesthetics for the eyes, so guests will naturally find themselves at home here.

Though guests will inevitably fall in love with the decor, it is the private pool area that deserves all the rave. Perfectly-sized for a small group of guests, days will fly by as you lose track of time in your own personal paradise!

In fact, this villa in Canggu can accommodate a total of 4 guests in its 2 bedrooms. This is perfect for small families or groups of friends who want to explore Bali together!

This Bali Airbnb is ideal for digital nomads or anyone working from home. Located on a quiet street of Canggu, guests will have the peace and privacy needed. The WiFI is also one of the fastest and most stable in all of Bali.

When you are not enjoying your private villa, exploring Canggu is easy due to this villa's excellent location. Berawa Beach is located less than a 10-minute drive away. Many cafes, bars, restaurants, grocery stores, are located within walking distance away.

Maximum Guests: 4 Guests

Click here for more photos and availability!
---
Best Airbnbs In Seminyak, Bali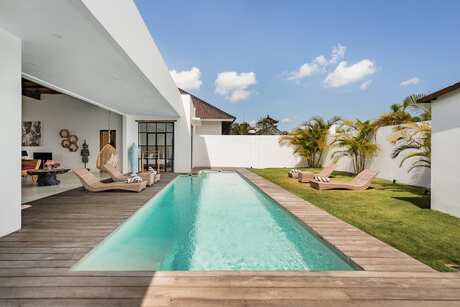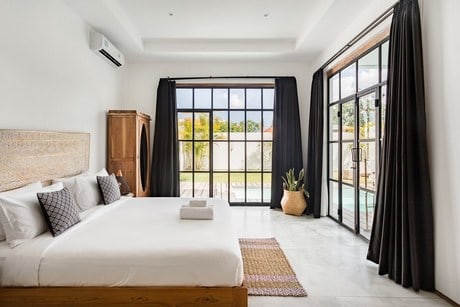 (Images Courtesy of Airbnb)

There are numerous incredible Airbnbs in Seminyak, but not many can compare to this Loft Style Villa with a private pool. Inspired by a mixture of architecture, guests can find brick, steel, and wood finishes along with traditional Balinese artwork.

Staying in this Seminyak villa is like living in a fairytale and a museum at the same time!

The most defining feature of this villa is unquestionably the expansive courtyard. With a big enough pool to do laps and a sun lounging area, guests won't find anything but paradise here.

With the ability to accommodate up to 6 guests in its 3 bedrooms, this Airbnb is ideal for big families or groups of friends. However, if you enjoy the added privacy and luxury, this Airbnb can be your perfect romantic getaway!

If you are strong-willed enough to resist the charm of this villa and leave the villa, you will find yourself among the best of what Seminyak has to offer. The best bars, cafes, restaurants, are all within walking distance away. The beach is only 5 minutes away from this villa!

Maximum Guests: 6 Guests

Click here for more details!
---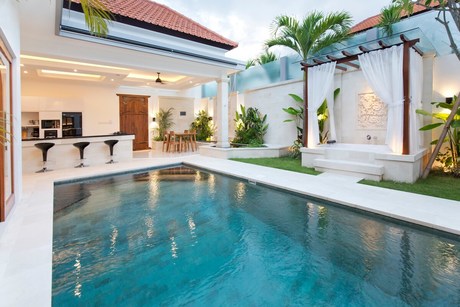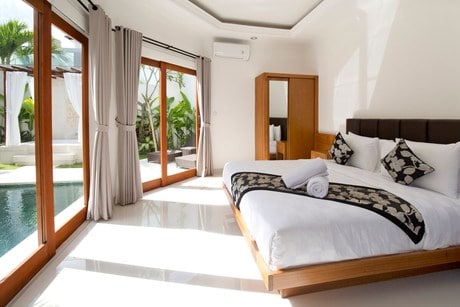 (Images Courtesy of Airbnb)

Villa Mia Tiga is ideal for any travelers looking for the finest experience in Bali. Featuring a cozy living area, a private pool, comfortable king-size beds, en-suite marble bathrooms, two bathtubs, a jacuzzi, a koi pond, and a fully equipped kitchen, it has the ability to transform any Bali trip into an unforgettable vacation!

Located in the popular Oberoi area within the district of Seminyak, guests are 350 meters away from Oberoi Street, where they will find top-notch restaurants, boutiques, and spas. This allows this villa to sit in a quiet and peaceful neighborhood but be close to the best attractions of Seminyak.

The closest beach is only about a 10-minute walk away!

A complimentary airport transfer from the Ngurah Rai Internation Airport (Bali airport) is included when you book this Airbnb. If there is anything that is for sure about Bali, it is how much of a headache the Bali airport can be!

Maximum Guests: 4 Guests

Click here for more info!
---
3. Villa Maria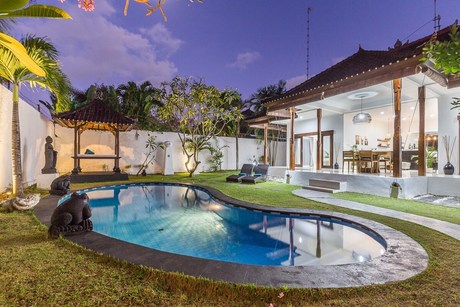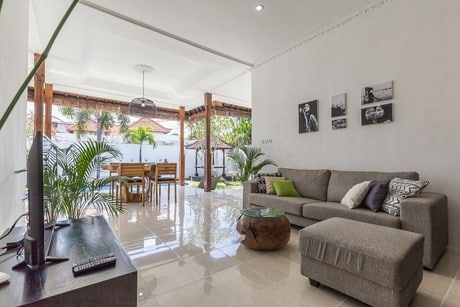 (Images Courtesy of Airbnb)

Villa Maria is a brand new 2-bedroom villa located in the most prestigious area of Seminyak (Oberoi).

The beach (and the famous Ku De Ta bar) are located only 400 meters away, allowing guests to catch the gorgeous sunset with ease. After sunset, wander around the Seminyak's famous food street, which is only 200 meters away from this Seminyak Airbnb!

Though its location is incredible, it is just one of its amazing features. In the tropical garden is a beautiful private swimming pool, perfect for guests to just relax and daydream the days away.

The open-air living room allows guests to enjoy meals in the temperature weather of Bali, or watch TV with the sound of raindrops in the back!

Whatever you decide to do in this Seminyak Airbnb, you will find nothing but comfort and luxury here!

Maximum Guests: 4 Guests

Click here for more information!
---
4. 1-Bedroom Private Pool Villa Next To Beach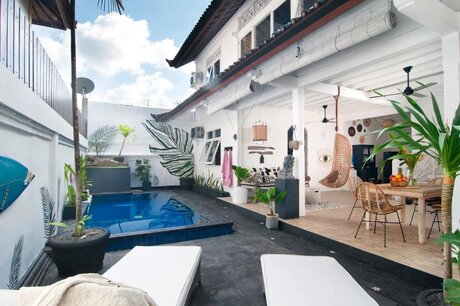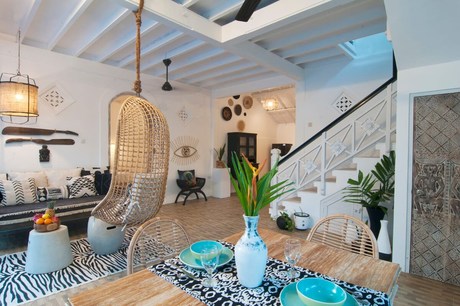 (Images Courtesy of Airbnb)

Looking for a cozy little private pool villa in Seminyak? Look no further. Villa Flamingo is a 1-bedroom villa located in the heart of Seminyak, only an 8-minute walk away from the beach. Guests will also find cafes, markets, spas, shopping night, life, yoga, and more within close proximity to the villa.

When you are not catching sunsets on the beach with a mojito in your hand or partying hard at some of Seminyak's best beach clubs, you can find the utmost comfort in your 2-floor villa.

Uniquely decorated with cute and Balinese elements, Villa Flamingo boasts a homey atmosphere incomparable to any Bali hotel. Stay for a few days and you will wish that this is your home instead!

Maximum Guests: 2 Guests

Click here for more photos and availability!
---
Best Airbnbs In Kuta, Bali
1. Dulang Village 1 At Kuta Beach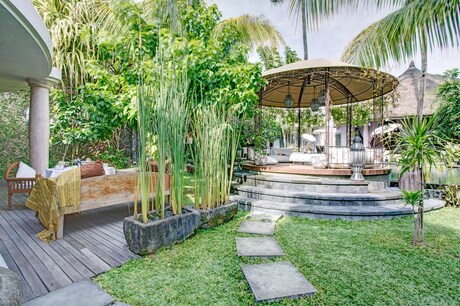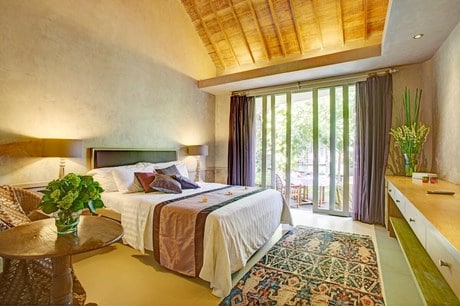 (Images Courtesy of Airbnb)

Unique Airbnbs in Kuta are lacking, but we are so glad to introduce you to Dulang Village. Located 3 minutes away from Kuta Beach (the best beach in Kuta), 2 minutes away from the famous Beachwalk Mall, this Kuta Airbnb is as good as it can get.

Beginner surfers or anyone eager to try can find the perfect waves and lessons at Kuta Beach.

The arrangement of this Airbnb is quite unique. This affordable villa has 2 cottages for rent (and you are looking at one of them now). You have the option to book both cottages and have your own private villa, or book one out and use the swimming pool as a shared facility.

Or if you are lucky and no one is saying in the other cottage, then you get your own private pool.

The most iconic features of this accommodation are the fairytale-like courtyard, pristine swimming pool, and overall idyllic atmosphere. Guests staying at Dulang Village can order directly from the adjacent Fat Chow, an incredible restaurant serving all types of Asian cuisine.

Maximum Guests: 3

Click here for more details!
---
2. Cute & Charming Villa In Kuta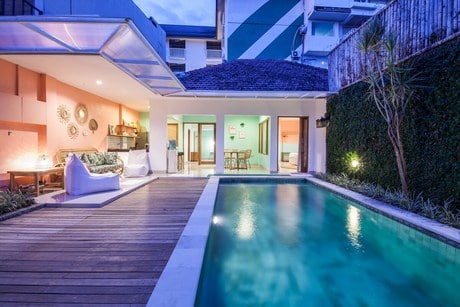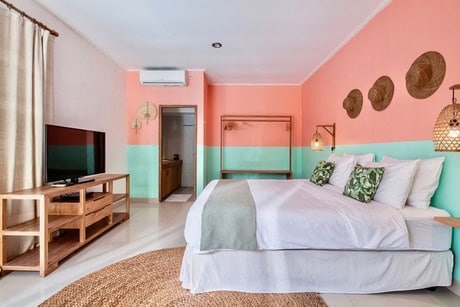 (Images Courtesy of Airbnb)

A rare find in the center of Kuta, this 2-bedroom Airbnb in Kuta offers guests a serene haven amongst the crazy hecticness of Kuta.

Find peace and quiet as you soak in your private swimming pool in a pristine courtyard. Sit along the poolside and soak in that glorious Balinese sun. Invite your friends over to have a nice gathering and cook up a homemade meal from the fully-equipped kitchen.

With the cute and cozy decor, this Airbnb in Kuta offers a homey vibe unlike traditional hotels in Bali. Stay for a few days and you will undeniably fall in love with this place, extending your stay for days after days!

This vacation home in Bali is located 5 minutes off the main strip in Kuta (Jalan Legian), where you will find all the cafes, restaurants, bars, spas, and more! Located a 15-minute walk away is Kuta Beach, the perfect place for beginner surfers or to watch the sunset!

Maximum Guests: 4 Guests

Click here for more info!
---
3. Blue Lumbung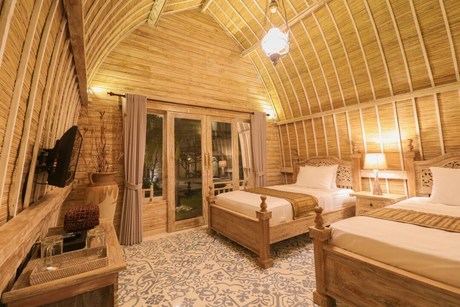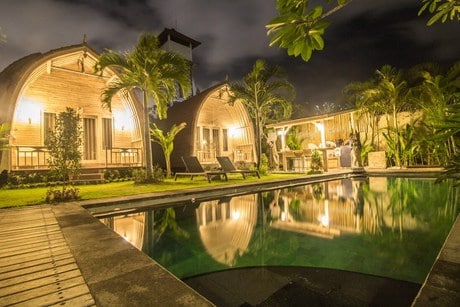 (Images Courtesy of Airbnb)

For anyone looking for a Bali villa experience but don't want to spend a lot of money, consider the Blue Lumbung Airbnb. When staying in this Bali Airbnb, guests have their own private and cozy cottage and a pristine courtyard with a shared pool.

This certainly isn't a honeymoon villa in Bali, as you share the common areas with other guests. However, the courtyard is spacious enough for every guest to feel like they have their own private space, even when they are outdoors.

When you are not relaxing by the refreshing pool, explore Kuta Beach, which is only a 5-minute walk away. In fact, this accommodation in Bali is so close to the beach you can hear the waves at night. What a dreamy way to end the night!

But before you rest your tired bodies on the heavenly beds, go for a refreshingly outdoor shower. Wash the day away as you gaze on the blissful moon and shining stars from your shower!

Maximum Guests: 2 Guests

Click here for more information!
---
Like this post? Don't forget to save it on Pinterest!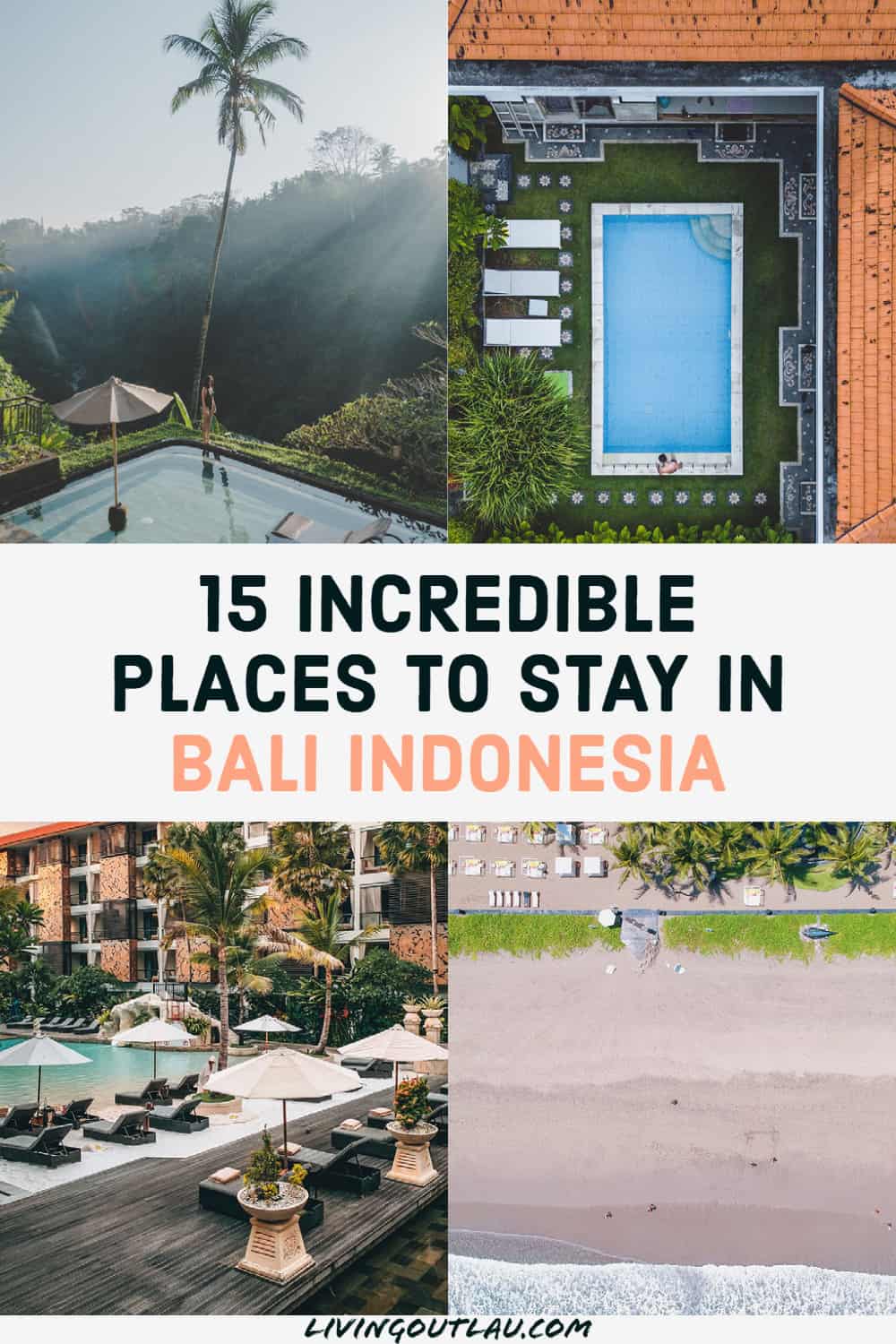 ---
Picking the perfect Airbnb in Bali is no easy task. With so many great choices to pick from, I hope our guide has helped you out!

Any question? Leave a comment!
Disclaimer: Some of the links above are affiliate links. That means if you book or make a purchase through the links, we will earn a small commission at no extra cost to you! The money will help run this site! Thank you!