Planning a visit to Tukad Cepung Waterfall? Wonderful!
As one of our personal favorite waterfalls in Bali, Tukad Cepung is everything we hoped for in Bali: lush, wild, and enchanting. The waterfall takes you through narrow gorges where you have to climb over epic rock formations with water up to your waist.
It was the adventure we were hoping we'd get in Bali.
This is why we want to write this guide so we can share with you one of our favorite natural attractions in Bali.
Read on to find out why you should visit Tukad Cepng Waterfall, how to get there, entrance fee, best time to visit, tips for visiting, and more!
---
Tukad Cepung Waterfall Quick Facts
Entrance Fee: 15,000 IDR (pay at the ticketing booth)
Opening Hours: 8 AM to 6 PM
Best Time to Visit: Early Morning (Before 11 AM)
How Long Does It Take To Get From Ubud: 45 minutes by car or motorbike
Hiking Time From Parking Lot to Waterfall: 20 minutes
---
Why Visit Tukad Cepung Waterfall?
Tukad Cepung Waterfall is one of the most "Instagram-worthy" and beautiful waterfalls in Bali.
Its most stunning feature is the heavenly sun rays that seep into the canyon at the bottom of the falls, creating an unworldly environment. Combined with an epic open-cave formation, you have the perfect photo opportunity.
Besides being a wonderful photo spot in Bali, Tukad Cepung allows visitors to explore some of the famed lushness of Bali. How often do you get to go on an adventure through a canyon, wade through rivers and arrive at a waterfall?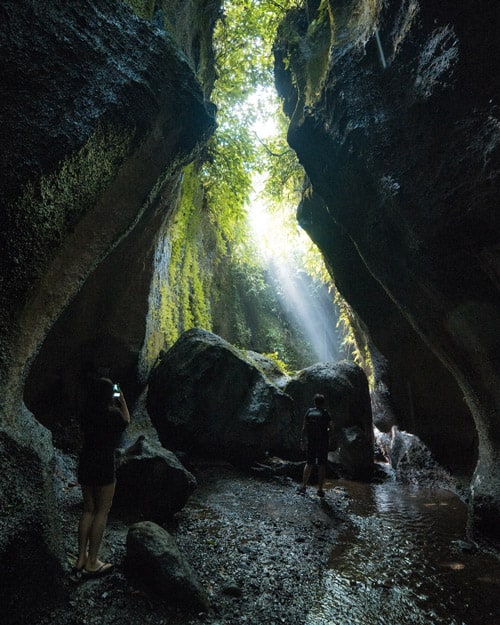 ---
How To Get To Tukad Cepung Waterfall?
Tukad Cepung Waterfall is located in Bangli Regency, about 45 minutes by car from the touristy city of Ubud. Though it is possible to visit Tukad Cepung from any of the popular places to stay in Bali such as Canggu or Seminyak, it will add a considerable amount of travel time.
Basing yourself in Ubud is highly recommended for a trip to Tukad Cepung Waterfall. Ubud is also a great place to see other Bali waterfalls, such as the Goa Rang Reng Waterfall and Tibumana Waterfall.
There are 3 ways on how to get to Tukad Cepung Waterfall:
Renting A Motorbike
Surprisingly, renting a motorbike is one of the most economical options when visiting Tukad Cepung Waterfall.
Costing about 50k IDR (~3.5 USD) per day, it is perfect for anyone traveling Bali on a budget. Travelers will find an abundance of motorbike rental shops in Ubud, and if not, you can always ask the reception at your accommodation. They will surely know someone that is renting their motorbike.
If you are staying in a luxury private pool villa in Ubud, you might even have a complimentary motorbike for use!
However, foreigners getting hurt on motorbikes is incredibly common in Bali. Don't rent a motorbike unless you are confident in driving one!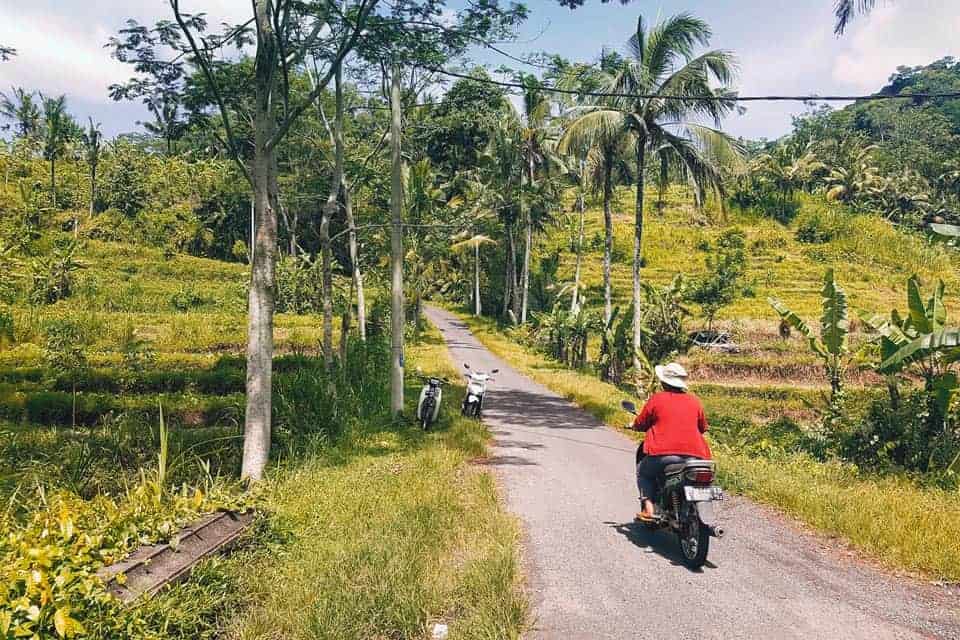 Hiring A Driver For A Day or Half-Day
If you prefer extra comfort and money isn't an issue, then consider hiring a driver for a day. Surprisingly, this option is not too expensive, especially if you are traveling with friends or can find others to share the transport with.
Allot an extra 15-30 minutes if you are considering hiring a driver. Because of the traffic in Ubud, there are often delays, especially if you are not on a scooter!
Many tour agencies throughout Ubud will offer driver-hiring services. Your accommodation will also likely offer this type of service, albeit at an extra cost.
You might be tempted to just get a Grab (Uber for Bali), but DO NOT do it. Grab is common and available in big cities like Ubud, but you won't find a Grab to come back! You will risk being stranded at Tukad Cepung!
If you hire your own private driver, you can even use it to plan your personal Bali itinerary and visit additional places in the area such as Nungnung Waterfall, Tegalalang Rice Terrace, and more!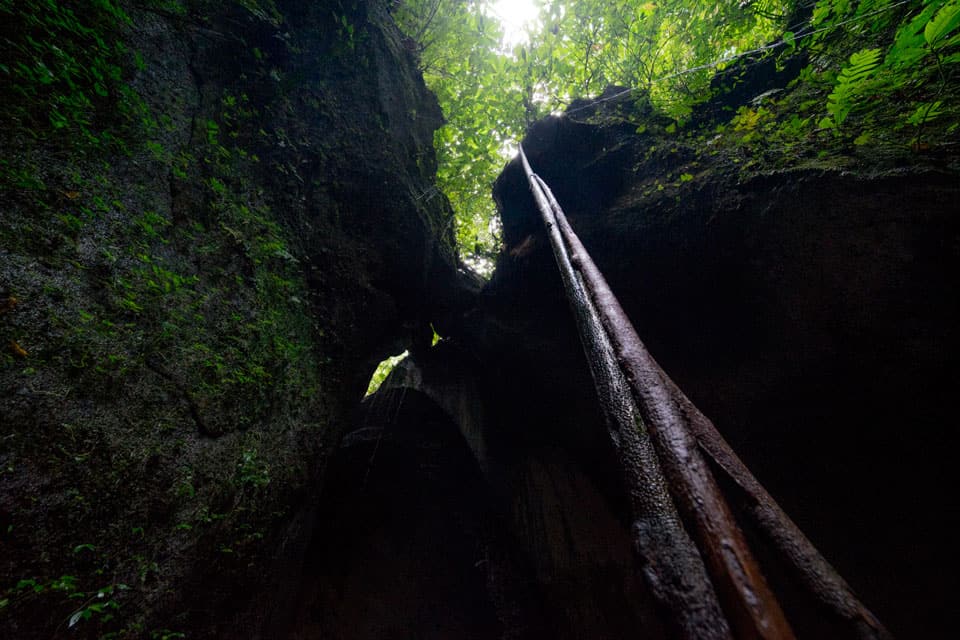 Waterfall Tour
A Tukad Cepung Waterfall tour is one of our least favorite options to visit this beautiful waterfall in Bali.
Why? Because Tukad Cepung is a rather hidden gem in Bali, tours are infrequent. They also come visit at the busiest time, which means you are not getting a nice photo without at least a random stranger in your shot.
The tours arrive around mid-day, which is the worst time to experience the epic sun rays at the waterfall
The only pros are that Tukad Cepung tours are quite affordable and save you the hassle of booking everything!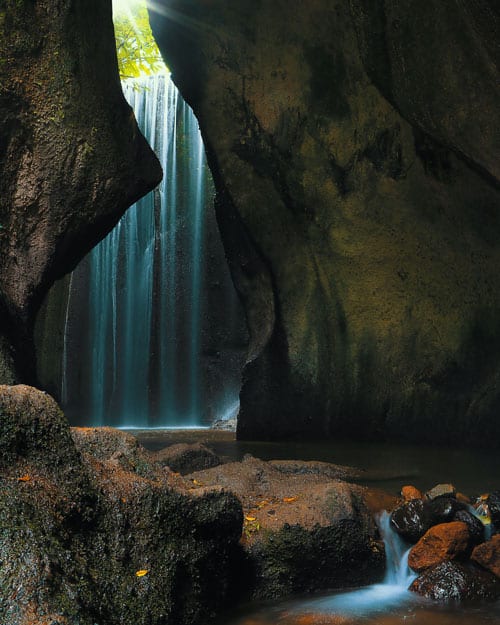 ---
Tukad Cepung Waterfall Entrance Fee
The total entrance fee for Tukad Cepung Waterfall is 15k IDR. Parking is free of charge, but locals have been trying to scam tourists by making them pay. This usually happens before you get to the official parking lot.
If you are in doubt, just head towards the ticketing booth and ask them where you should park.
---
Hiking Up And Down To The Waterfall
Once you have purchased your ticket for Tukad Cepung at the ticketing booth, the fun officially begins! The waterfall is located at the bottom of the canyon, and there are over 200 steps to arrive at the bottom.
It is important that you go slowly and carefully during this part because the steps are usually wet (because you are close to a waterfall). If you are an elder or have mobility issues, just take it slow. The trip is worth it.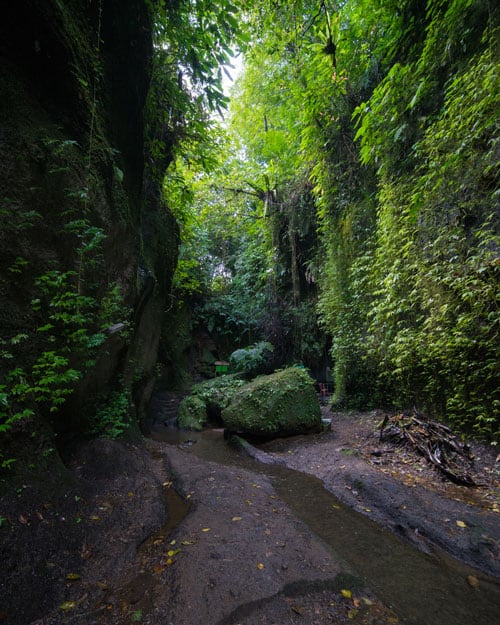 Once you have arrived at the bottom of the narrow gorge, a forested trail will take you inside a cave-like system. The light rays seep through the numerous small openings and create surreal visuals, especially if you are visiting in the mornings.
As you navigate through the canyon, you will pass through rivers that will get up to your knees. It is essential that you bring some water shoes with you, as the sharp pebbles hidden under the water can hurt. Be prepared to get wet!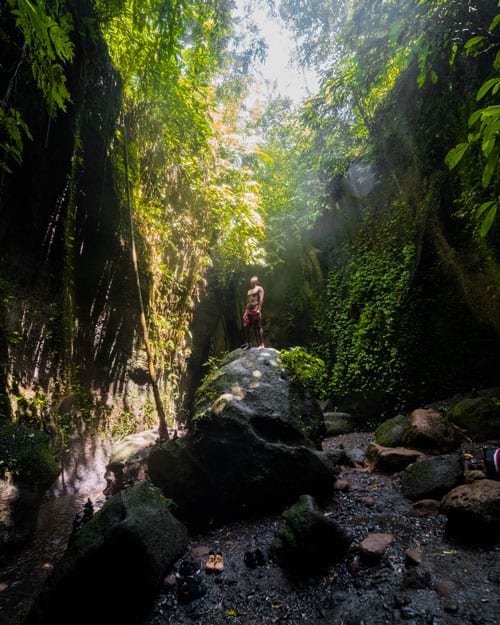 After reaching a wide-open area with an abundance of light, you will finally arrive at the Tukad Cepung Waterfall.
As a relatively small waterfall, Tukad Cepung would not be considered jaw-dropping. However, with the canyon framing its curves and the sun rays seeping in, it is like a page out of a fairytale.
You can swim in the Tukad Cepung Waterfall but it isn't particularly deep, making it difficult to get a proper swim. Tukad Cepung is more of a place for a photo rather than a waterfall for swimming!
---
Best Time To Visit Tukad Cepung Waterfall
The best time to visit Tukad Cepung are usually early in the morning or later in the evening. This way you can avoid the crowds that are present during the middle of the day.
If you are visiting Tukad Cepung, chances are, you want to see the leaking sun rays that enter the canyon.
The middle of the day is the worst for this phenomenon because the light needs to hit it from an angle.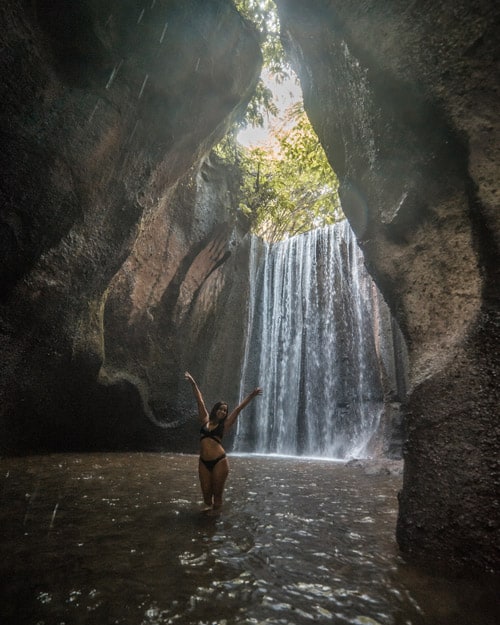 Best Time For The Sun Rays
If you want to see the sun rays, the best time to visit is in the morning from 8:30 AM to 11 PM. This way you can beat the crowd and see the glorious sun rays flooding the cave-like system.
Once 11 AM hits, the Tukad Cepung tours will start arriving.
Arriving in the late afternoon is a decent alternative if you cannot visit in the morning. There won't be nearly as many sun rays but at least you won't see a huge crowd. Of course, you'll also want to visit on a sunny day.
However, keep in mind that the Tukad Cepung Waterfall opening hours are from 8 AM to 6 PM.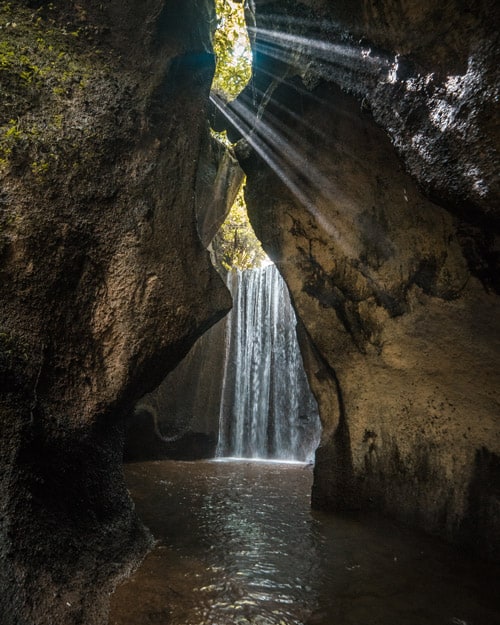 ---
Tips For Visiting Tukad Cepung Waterfall
Bring Water and Snacks – The hike up and down to the Tukad Cepung Waterfall will drain your energy and dehydrate you, especially in the Balinese heat. We recommend bringing some snacks and at least 1 liter of water alone for the waterfall. There is also a small restaurant at the top of the waterfall where you can buy some food and drinks!
Wear Water Shoes – Water shoes are considered a must for a trip to Tukad Cepung. Because you will be walking in knee-high water, you won't want to ruin your regular trainers or sneakers. Without any type of shoes, the sharp pebbles beneath the water might injure you. Bring some water shoes to protect your feet. Thick socks and flip-flops work as well!
Take a Dry Bag – Dry Bag is something you might want to consider bringing to Tukad Cepung, especially if you have things that cannot get wet. As you approach the waterfall, it will get misty and getting wet is unavoidable. Remember, you are likely going to have to get into waist-deep water!
Use A Wide Lens – To take a photo of the sun rays with the waterfall, you'll need a wide-angle lens to capture both. The maximum focal length we recommend is 24 mm.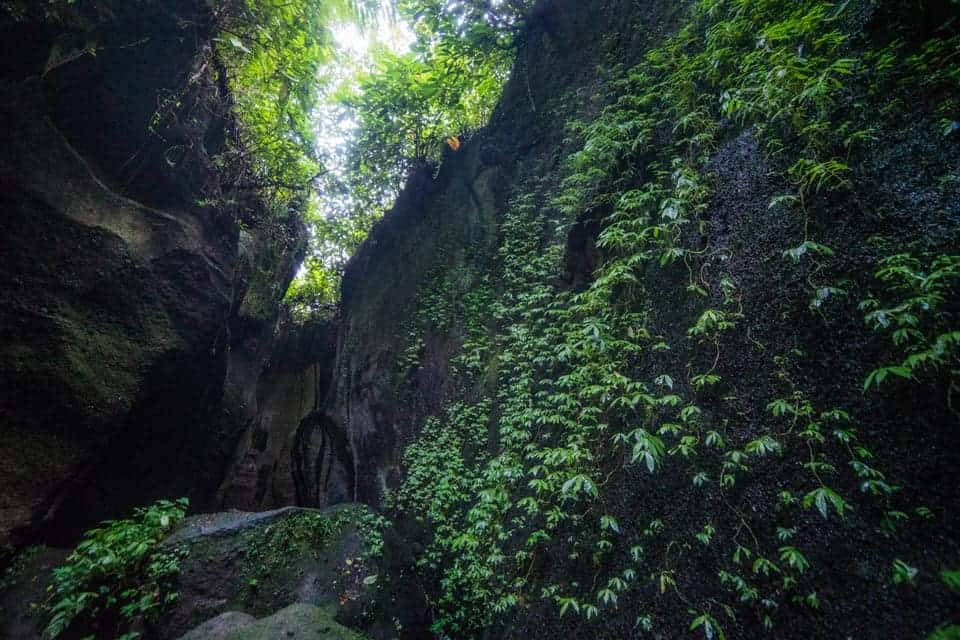 ---
Like this post? Don't forget to save it on Pinterest!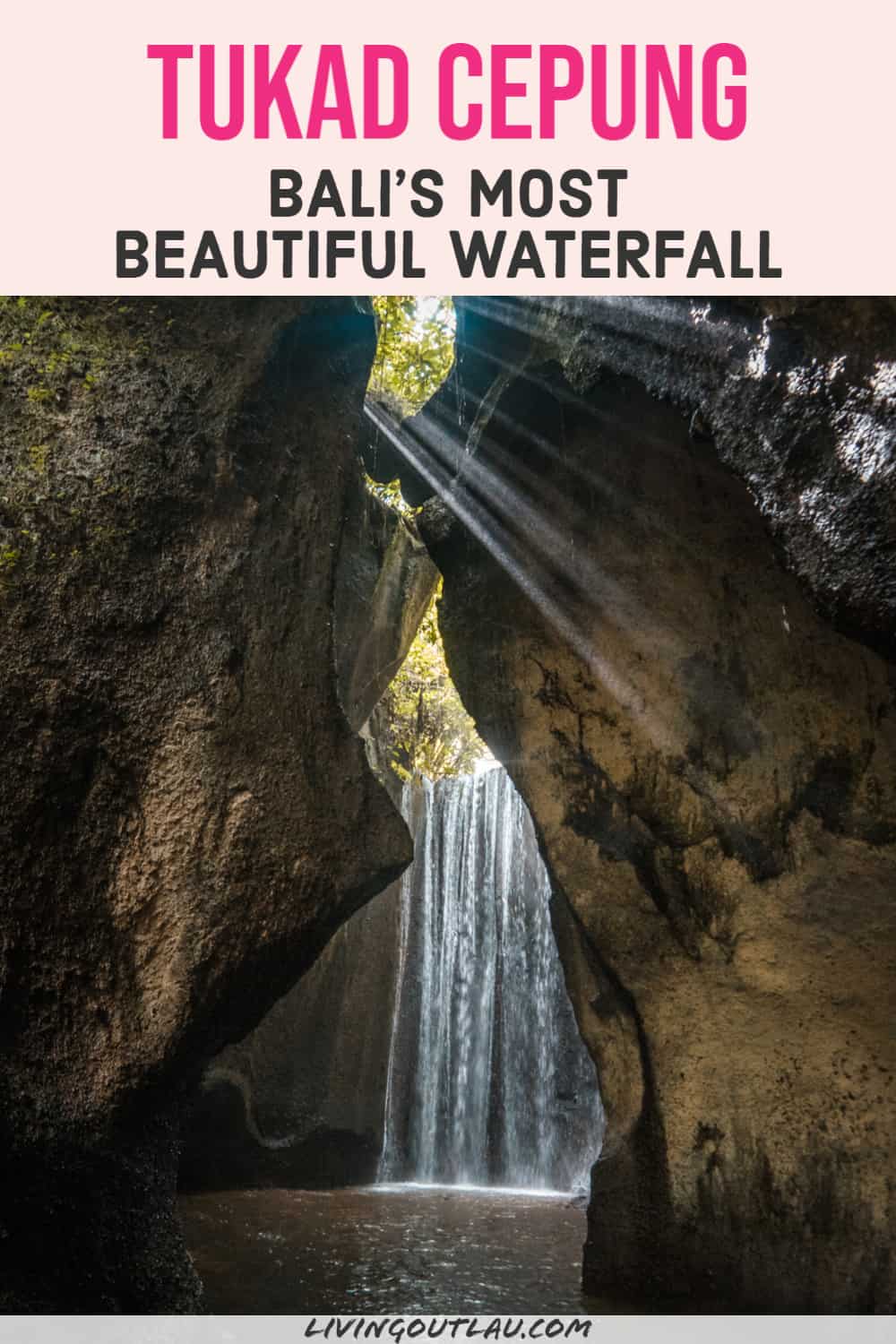 ---
This concludes our guide to Tukad Cepung Waterfall in Bali! Why are you waiting for? Pack your boots, book your flights, and go chase that waterfall!

Any questions? Leave them in the comments!
Disclaimer: Some of the links above are affiliate links. That means if you book or make a purchase through the links, we will earn a small commission at no extra cost to you! The money will help run this site! Thank you!