If you are looking to experience some of the best beach clubs in Seminyak, then you are in the right place.
There aren't many things that are better in life than lounging around on a plush sunbed, refreshing cocktail in hand, with the sound of the crashing waves of the Indian Ocean in the background, all whilst being blazed in the perilously addictive Balinese sun.
This is what Seminyak, on Bali's southwestern coast, is all about – soft golden beaches, crystal clear waters, and a vibrant, thriving beach club scene.
These stylish beach clubs have been popping up along Seminyak's coast for many years now, with some going on to become absolute must-dos on any Bali itinerary. But with plenty of Bali beach clubs to choose from, which one should you be going to?
After having the chance to experience some of the most amazing Seminyak beach clubs, here are the top 10 that we recommend!
---
What are the Best Beach Clubs in Seminyak?
1. Mari Beach Club
Kicking things off on our list is none other than the coastal indulgence of Mari Beach Club which is inspired by the gorgeous organic shape of Bali's natural surroundings.
From your entrance into 'The Dome', a completely bamboo traditional Balinese structure resembling the island's famous mountain Gunung Agung, to the vibrant rice terraces that are an inspiration to Mari's unique layered design, through to the gushing rapids of the Ayung River represented by the twisting tidal pools near the beach edge, Mari' Beach Club has an elegantly distinctive style.
It reminded us of the famous beach club in Uluwatu – Sundays Beach Club.
If you start feeling a little peckish, you're in very safe hands as Martin Loving, the executive chef has curated a tantalizing new menu for 2023 that celebrates the best of fresh, seasonal Mediterranean and Japanese produce.
Boasting a casual, laidback ambiance right on the breezy beachfront, you can enjoy dishes like salt-crusted sea bass, pan-seared grouper, and a freshly prepared sashimi platter of dry-aged kingfish, tuna, red snapper, scallops, and salmon.
If you'd prefer your food and cocktails direct to your daybed, that's also possible, meaning you don't have to lift a finger.
2. KU DE TA
Synonymous in sophistication is the iconic Ku De Ta, a wonderous beachfront experience in Seminyak that, for almost 20 years, has been one of the best beach clubs in Bali.
Its stunning beachfront location ensures an incredible backdrop for your day out by the sea, with a huge variety of comfy daybeds and soft sinking beanbags for you to melt away the day on, in between cooling off in the elongated pool or stretching your legs on the soft, golden sands of Petitenget Beach.
Unlike Mari Beach Club, Ku De Ta has a much more modern feel to it, with furniture and décor all to an 'urban-chic' design.
As the orange Balinese sun begins to set behind the ocean, Ku De Ta's atmosphere transforms from a laid-back yet lively day club ambiance to an electric hub of night-time entertainment, with local and international DJs hosting weekly events that provide unforgettable memories to those lucky enough to be in attendance.
3. Potato Head Beach Club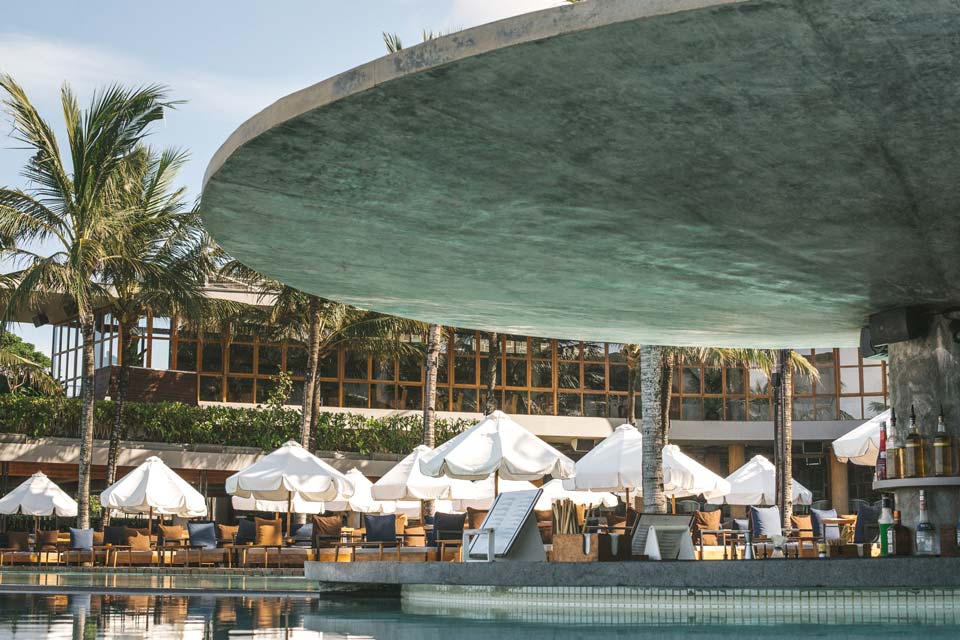 Potatoe Head Beach Club is one of the most famous beach clubs in Bali. Decorated in traditional Balinese style, its massive expanse of open-plan luxury allows the breeze from the Indian Ocean to cool things down in the heat of the day.
In between lounging around on the huge daybeds, a dip in one of Bali's most impressive infinity pools is certainly on the cards. Lined with a series of beautiful tropical palm trees and plants, the long beachfront infinity pool blends seamlessly into the ocean and is the ultimate place to chill out and sip on your cocktail.
Much like Ku De Ta and Finns Beach Club over in Canggu, Potato Head Beach Club is particularly famous for its entertainment once the sun sets, with the infinity pool area becoming a beachfront dancefloor with world-famous DJs like Peggy Gou, Fatboy Slim, and Disclosure all having played here.
4. SugarSand
With the spectacular success of the famous beach clubs in Seminyak and beyond, SugarSand is a relatively new concept muscling in on the beachfront entertainment space.
With an open-planned rustic interior, SugarSand fuses the best of Bali's restaurants, bars, and event spaces with a location that's pretty much as close to the Indian Ocean as you can get – but without actually going for a swim!
If you're fancying an elegant candle-lit date night meal by the sea, SugarSand is the one. If you're just wanting some sunset drinks before wandering along Double Six Beach, SugarSand is the one. If you're wanting to just relax by the beach all day on a daybed with excellent food and service rather than laying on the sand, SugarSand is the one.
Part of the opulent Hotel Indigo, SugarSand is quite literally a do-it-all space that'll leave you wanting to go back day after day, especially for the scrumptious Japanese-inspired cocktails and food.
Read More: Ubud or Seminyak: Which One Is Better?
5. Cocoon Day Club
Tucked along the famous laid-back vibe of Double Six Beach is now one of Bali's prettiest beach clubs, Cocoon.
Revamped and renovated following a complete three-year closure through the pandemic, endless spotless white daybeds, cabanas, and traditionally-designed umbrellas are available, all beautiful to look at and relax on, with the turquoise of the pool and the vibrancy of the green from the plants, trees, and bushes providing a stunning contrast that's a real treat for the eyes.
Following a soft launch in May 2023, Cocoon is now fully reopened and firing on all cylinders with a mouth-watering food and drinks menu to match. Before its closure a few years ago, Cocoon focused on Asian-fusion flavors with Mediterranean flair so expect something similar but more refined following its reopening.
6. Infinity Beach Club
The next of the best beach clubs is the epitome of a hidden gem and is certainly one that not many people know about. Tucked away at the rear end of the five-star resort of The Seminyak Beach Resort & Spa is the Infinity Beach Club.
Whilst it's technically not a standalone beach club, the infinity pool of the resort has been turned into what majorly resembles a beach club, with multiple cabanas, day beds, and parasols for anyone to enjoy and to relax under just off of the main drag of Seminyak Beach.
Infinity Beach Club is a great beach club in Seminyak for families and those with younger children. There's no loud music and it has exceptionally easy access to the beach.
Delicious food and creative cocktails are also served at Infinity with favorites like club sandwiches, burgers, and hot dogs being served alongside pizza, pasta, and larger main courses like grilled swordfish, half spring chicken, and Indonesian classics like Mee Goreng & Nasi Goreng.
7. La Plancha Bali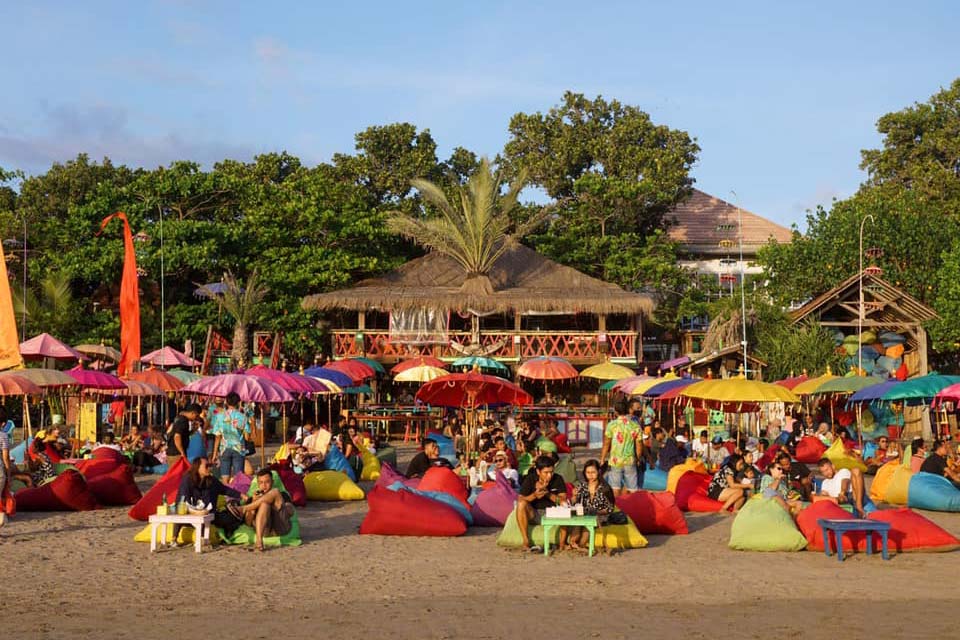 On-the-beach vibes don't come any better than here at La Plancha. Whilst not really a beach club per se, it's still one of the best destinations in Seminyak to come for some relaxation on the beach with tasty food and cocktails.
The one thing that separates La Plancha from the rest of Double Six beachfront spots is the incredible array of colored umbrellas. Not only are they really pretty to look at, but they have colored fairy lights that turn on once the sun sets and it fills the entire beach area with a warming light.
The food here is also scrumptious, with plenty of Spanish-inspired tapas and dishes to choose from.
There's no swimming pool, but you don't need one because you are quite literally just a few feet from the waves of the ocean. We'd recommend coming to La Plancha in the afternoon so you can relax in the sun, perhaps cooling off with a quick swim before retreating to your bean bag for Seminyak's famous sunset and some upbeat Latin music from the resident DJ.
8. Chez Gado Gado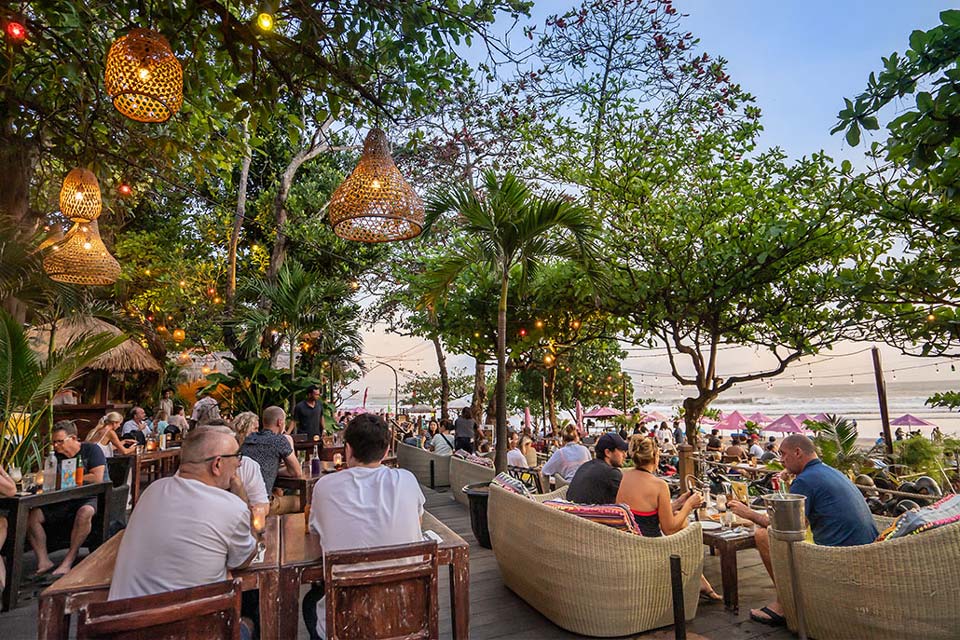 Much like La Plancha, Chez Gado-Gado is another incredible beachside restaurant and lounge that just elevates any dining experience and makes it that little bit more special.
Perched right on the beachfront with incredible views of the white sandy beach of Seminyak Beach and the crashing waves, it's the ideal destination if you're trying to impress.
For over thirty years, Chez Gado-Gado has been serving up Bali's finest pan-Mediterranean fusion cuisine, and its success is evidenced by the packed tables every day of the week.
Seafood platters are the star of the show, with jumbo prawns, pan-seared mahi-mahi, and grilled lobster all making an appearance, with Indonesian classics thrown in for good measure too.
You'll see a wide range of people at Chez Gado-Gado, from tourists on their holidays to couples enjoying a romantic dinner with a view, together with locals enjoying the best of what this buzzing area of Bali has to offer.
Read More: Is It Safe In Bali For Travelers?
9. Sanje Restaurant and Lounge
What Sanje Restaurant and Lounge lacks in beach club vibes, more than makes up for it in dining elegance. If you want to make the most of your surroundings, then dining al-fresco with a beautiful panorama of Seminyak Beach is certainly one way to go about it.
Using local ingredients for a Mediterranean-inspired menu, the food at Sanje is genuinely off-the-charts good. Candlelit tables and live music also add to the sophisticated ambiance and with a smart-casual dress code, you'll need to scrub up well to be seated.
Before booking a table, it'd be a good idea to enquire about any particular themed events that they might be running. Fisherman's Night is an example that makes use of the amazing assortment of seafood delights that get pulled directly out of the ocean opposite. Barbequed to order, it would be a wonderful way to celebrate a special occasion.
10. MoonLite Kitchen and Bar
If you've been to South East Asia, you'll know of the luxury hotel brand of Anantara. Throughout the region, Anantara's are the pinnacle of luxury but with an added Asian twist. The attention to detail in these hotels is second to none, and it's evident even from just eating at MoonLite Kitchen & Bar – Anantara's answer to the rooftop restaurant.
It's gorgeously designed, making full use of the incredible view over Seminyak Beach and the ocean, and is an upscale and trendy alternative to dining on the sand.
It's not just decadent dinner that you can get here either, being part of the Anantara Hotel, it's also open for breakfast too. A huge buffet spread is laid out for guests, only using the finest of ingredients for dishes.
Sunset is by far the most popular time to come to MoonLite though, with the stunning deep orange sunset melting into the ocean the highlight of what is to be an extraordinary evening of excellent food, well-made drinks, and great live music.
---
Map of The Best Seminyak Beach Clubs
---
Beach Clubs In Seminyak FAQs
What Are The Best Beach Bars in Seminyak?
The best beach bars in Seminyak are Ku De Ta, Potato Head Beach Club, Woobar, and Alila Seminyak Beach Club.
Where Is Seminyak?
Seminyak is a popular tourist area located on the west coast of Bali, in the southern part of the island. It's situated north of Kuta and Legian, and south of Kerobokan and Canggu. The nearest airport to Seminyak is Ngurah Rai International Airport (also known as Denpasar International Airport), which is approximately 10 kilometers (6.2 miles) away.
What Is The Best Beach Club For Families in Seminyak?
The best beach clubs for families in Seminyak are Potato Head Beach Club, SugarSand, Infinity Beach Club and KU DE TA.
---
The beautiful beaches of Seminyak have produced some of the most extraordinary beach clubs in Bali. Whether you are looking for a beachfront restaurant, a laid-back beach club, or something luxurious and opulent, you'll surely find something in Seminyak for you!
Disclaimer: Some of the links above are affiliate links. That means if you book or make a purchase through the links, we will earn a small commission at no extra cost to you! The money will help run this site! Thank you!