Planning a trip to Bali and deciding whether you should visit Ubud or Seminyak? We are here to help.
The main difference between Ubud and Seminyak is that Ubud is known as the cultural hub and Seminyak is known as a beach paradise. Ubud has lush landscapes, traditional arts and crafts, and spiritual wellness retreats while Seminyak has more upscale amenities such as high-end shopping, chic restaurants, and a vibrant nightlife.
Of course, that is just an oversimplification of what Ubud and Seminyak are like. After being in both places many times on our travels, we've decided to write this article to compare and contrast Ubud and Seminyak so you can decide which is the better destination for you to visit or stay!
What Is Ubud Like?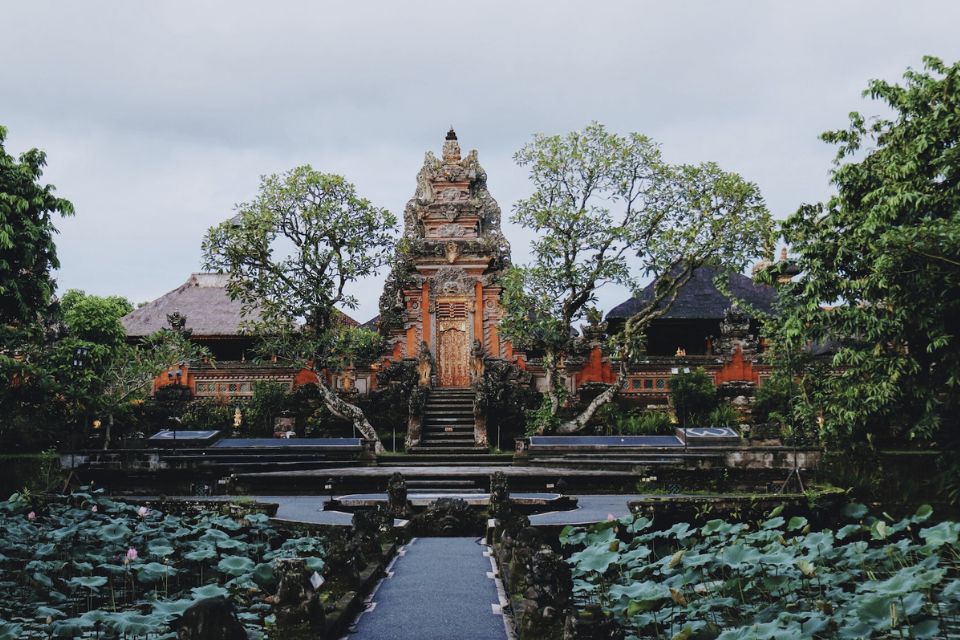 With hanging vines, decaying moss-covered stone walls, and temples around every corner, Ubud feels like you're in a game of Temple Run or busting through the tombs in Tomb Raider. It's an incredibly unique place in Bali.
Ubud is widely considered the cultural heart of Bali and, as a result, is becoming increasingly popular and has plenty of art galleries and shops, two huge markets, and plenty of museums.
Outside of Ubud itself, you've got incredible terraced rice fields and several stunning waterfalls. It is a great base to explore some of the best waterfalls in Bali.
For the most part, Ubud provides a very much welcome calming respite from the hectic streets of Denpasar, Kuta, and Seminyak, though, at the crossroads of Ubud Palace, it's still the same old motorbike, scooter, minivan, and car traffic jam that is ever so typical of Bali.
What Is Seminyak Like?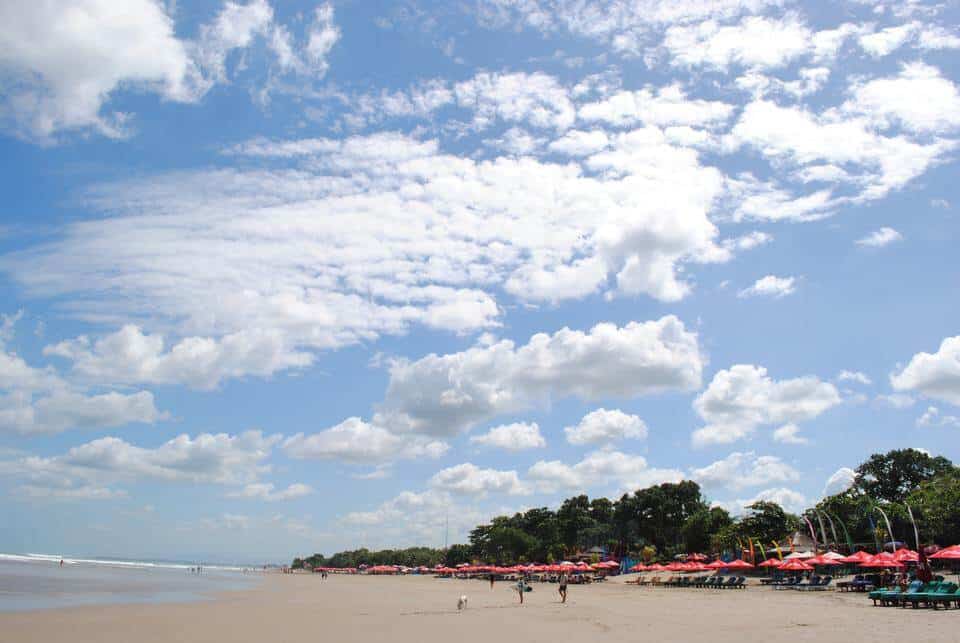 Located in southern Bali, Seminyak is an incredibly lively beach resort town that's essentially situated within the madness that is Denpasar.
Seminyak is teeming with life practically 24/7, with the area being particularly famous for its vibrant nightlife and just an all-rounded, more upscale version of nearby Kuta.
There is an array of luxury beach clubs in Seminyak like Ku De Ta, Potato Head Beach Club, and Cocoon for you to relax on by day, and a range of beach bars and restaurants for you to indulge in by night.
The three beaches of Seminyak (Seminyak Beach, Double Six Beach, and Petitenget Beach) are all wide and expansive, with several restaurants and bars perched right on the sand for you to eat and enjoy, and the accommodations you can find in the area are also some of the best on the island.
Ubud or Seminyak: How Do They Compare and Contrast?
Which Is Better for Staying?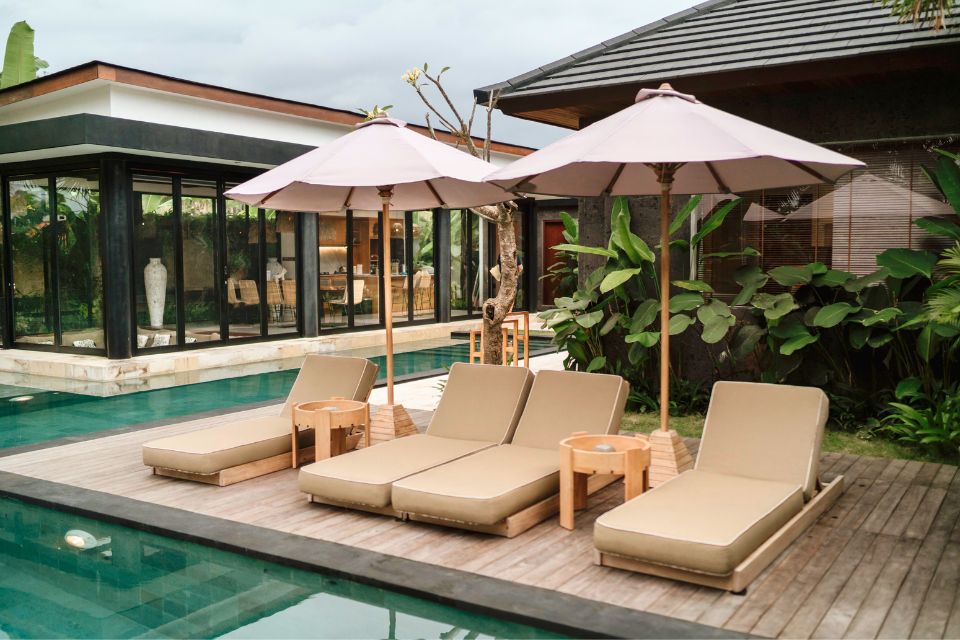 As we've discussed, Ubud has a more laid-back, almost spiritual-like atmosphere that's just really captivating, with plenty of boutique hotels like Kamandula, health and wellness resorts like COMO Shambhala, and gorgeous villas surrounded by lush green vegetation.
You'll primarily be surrounded by dense areas of jungle and terraced rice fields, so Ubud's great if you like being engulfed in nature with a good dose of the typical Balinese hustle and bustle.
Seminyak is far livelier and has a much more trendy atmosphere. The accommodations in Seminyak are also different, focusing on luxury beachside resorts like The Seminyak Beach Resort, modern beachfront villas, and upscale chain hotels like Anantara or the Courtyard by Marriott.
You're also much closer to Bali's airport, which is handy for when the inevitable comes, and it's time to head home after your beach holidays.
Which destination is better for staying hugely depends on your preference here, so we'll have to give this one a tie.
Read More: Best Treehouses in Bali You NEED To See!
Which Is Better for Nightlife?
Seminyak is undoubtedly a better place for nightlife than Ubud. You've got the luxury beach clubs like Ku De Ta and Potato Head Beach Club that allow you to relax like royalty by the swimming pool by day and party by night, the amazing feel-good nightclub/bars of Motel Mexicola and La Favela, as well as the standard bars that line the main streets and some rooftop venues too like the Double Six Rooftop.
Ubud's nightlife, on the other hand, is more subdued. There are several popular bars, like the Laughing Buddha Bar and No Mas Bar, that stay open until around midnight or 1 am, though apart from that, there aren't a lot of options.
Ubud's nightlife is more focused on the traditional Balinese dance performance called the Legong Dance, which you'll be able to see at Ubud Palace every evening from 19:30 – 21:00.
Which Is Better for Shopping?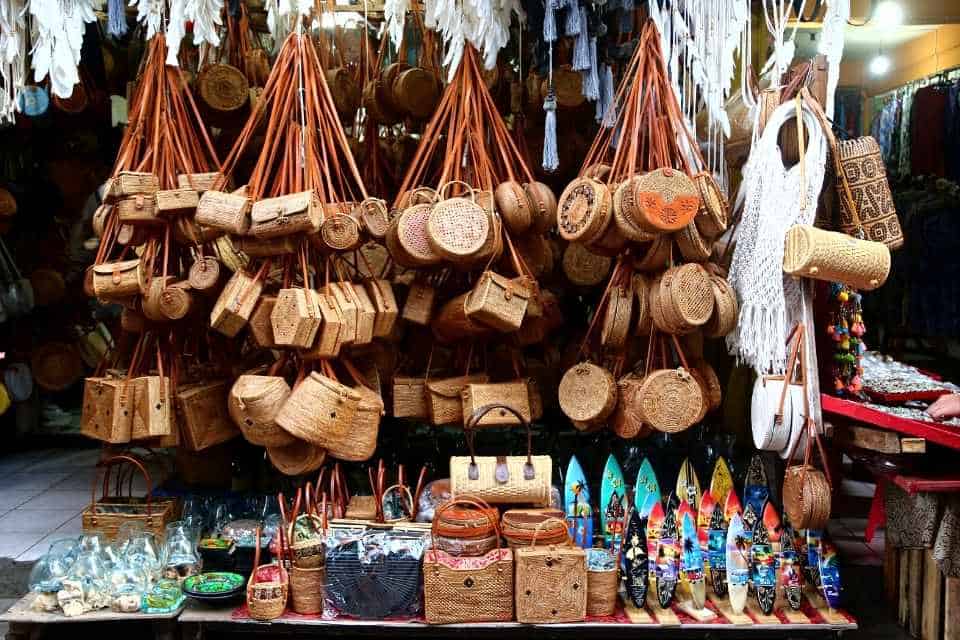 Ubud and Seminyak are both great for shopping, but Ubud is better for more unique gifts, whereas Seminyak is better for more general shopping.
The vast majority of Ubud's streets are filled with quaint little boutique shops selling all sorts of handmade arts and crafts, to jewelry, all the way through to tables, chairs, and decorative pieces for your home.
The markets in Ubud city center are also always busy with plenty of unique items to take home, with traditional Balinese knives being top sellers, as are hand-woven dream catchers.
Seminyak is a similar story, albeit with more upmarket shops and brands and less so smaller souvenirs for friends and family. You'll be able to find mid to high-priced clothes and handmade jewelry and accessories along plenty of Seminyak's streets.
Seminyak Village is also popular, which is essentially an open-air shopping mall that houses some international brands like Aldo, Birkenstock, and H&M alongside local brands.
Because we prefer a shopping experience that is more local and authentic, we like shopping in Ubud more than Seminyak.
Read More: 10-Day Bali Itinerary: The Best of The Island
Which Is Better for Culture?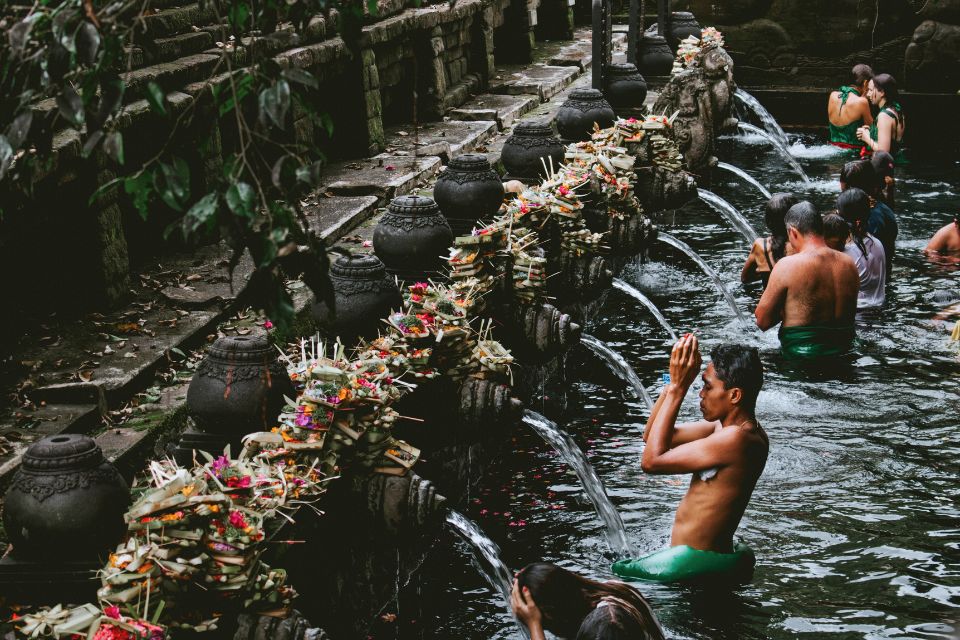 There is a clear winner in terms of culture, and it's Ubud. We've mentioned the graceful Legong Dance, which can be seen at the Ubud Palace, but how about visiting the holy water temple of Tirta Empul?
Founded in 962 AD and dedicated to the Hindu God Vishnu, visitors to Tirta Empul (including tourists) can enter the two purification pools and dip their heads under a multitude of water spouts. These spouts are meant to cleanse your soul and purify those that complete the ritual.
To be completely honest, there's not a lot of culture in Seminyak. As we've discussed, it's more built for the holidaying tourist as opposed to seeing the cultural sights. The closest thing to Balinese culture in Seminyak is probably Pura Petitenget.
Dating back to 1876, the Pura Petitenget is a significant temple in Balinese Hinduism as it, along with a few others dotted around the island, guards Bali from evil spirits, hence its location right next to Petitenget Beach.
Which Has Better Attractions?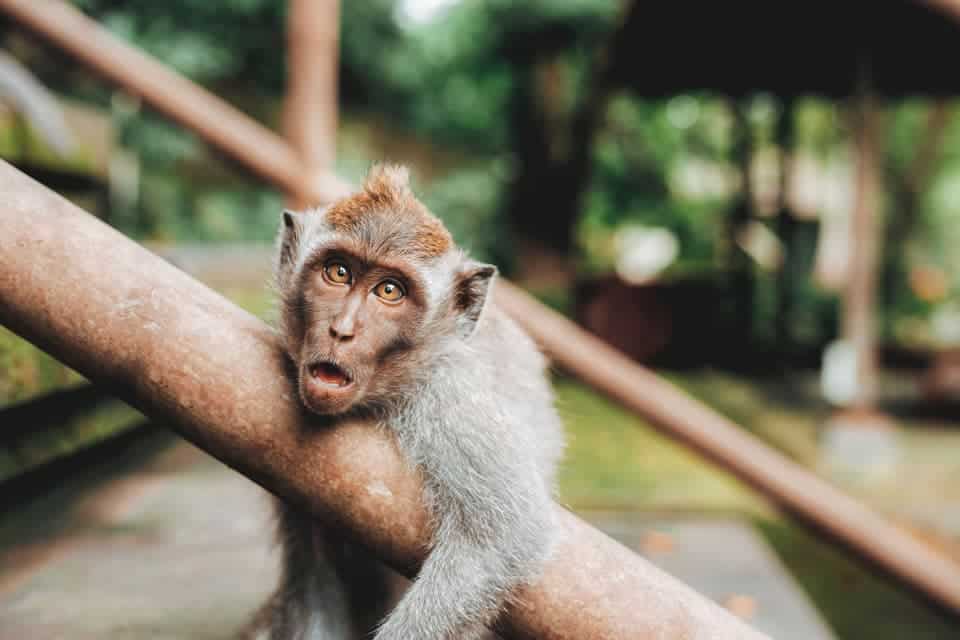 Ubud has a wonderfully diverse range of attractions and is therefore the better place. There are plenty of cultural and historical sights like Goa Gajah Elephant Cave, the Ubud Royal Palace, and the Tirta Empul temple.
If you'd like to see some mischievous monkeys, head over to the Sacred Monkey Forest Sanctuary, where you can watch them in their natural habitat, and who can forget about the Instagram-worthy, picture-perfect Tegalalang Rice Terraces?
Read More: Canggu vs Ubud: Which Is Worth Visiting More?
And of course, you have Cretya Ubud, a luxury day club with several swimming pools overlooking the stacked rice terraces. Also, don't miss out the chance to try one of the cooking classes in Ubud!
Seminyak is one of Bali's better destinations for beaches, shopping, and nightlife. Seminyak's three beautiful beaches namely, Seminyak Beach, Petitenget Beach, and Double Six Beach, are all beautiful to visit and spacious with soft sand and lovely clear water.
Get a bargain or two down at the Flea Market, or grab some new clothes for your wardrobe at Seminyak Village. After watching the sunset, indulge in Seminyak's famous nightlife in one of the many bars and restaurants that come alive in the evening.
We generally prefer Ubud over Seminyak when it comes to things to do. But one of the biggest differences between the two places is that Seminyak is next to a beach and Ubud is not. Keep that in mind when deciding!
Read More: Seminyak or Kuta: Which One Is Worth Visiting More?
Which Is Better for Honeymoon?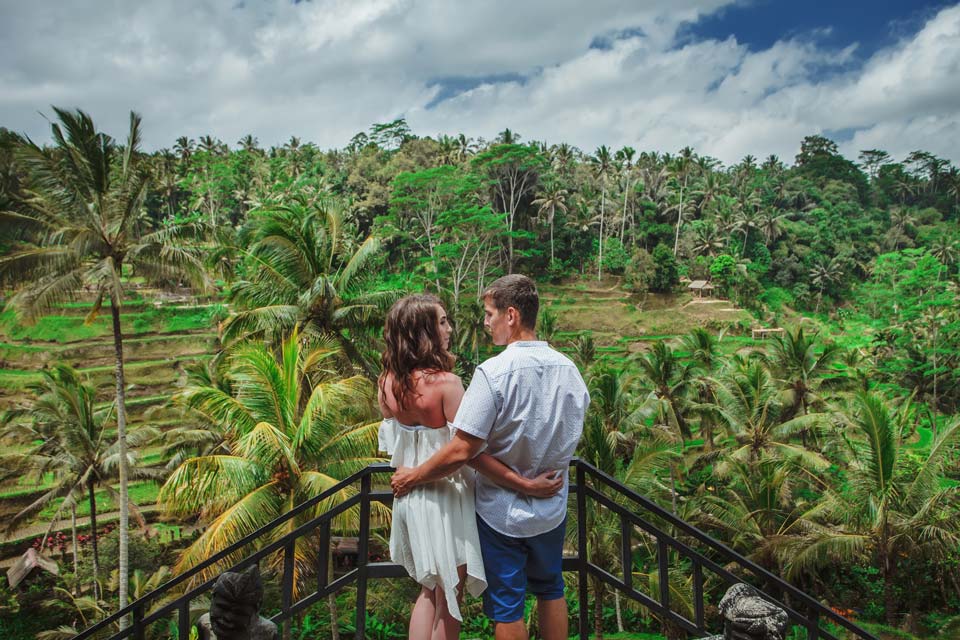 Both Ubud and Seminyak provide a very tropical and very unique destination for a honeymoon. Ubud's gorgeous natural surroundings of the gushing river valleys, green vegetation, and spotless rice terraces will be perfect for those seeking peace and tranquility, especially if you stay in a wellness resort or spa.
Not only would it be the ultimate peaceful retreat, but also be very romantic too, ensuring you can fully focus on spending quality time with your newlywed.
Seminyak would also be a superb destination for a honeymoon. If you can afford it, you'll be able to stay right on the beach, in a stunning beachfront villa or a luxury beachfront resort, taking long strolls along the shoreline.
Your villa or resort could even arrange private candlelit dinners for you on the beach or enjoy the best of the famous beach clubs there. Seminyak is also great for eating out as there are so many excellent restaurants serving up such a diverse range of cuisines, with live music and a vibrant atmosphere to match.
So when it comes to honeymoon, it will largely depend on whether you want an accommodation near the beach or one nestled in the jungle!
Which Is Prettier?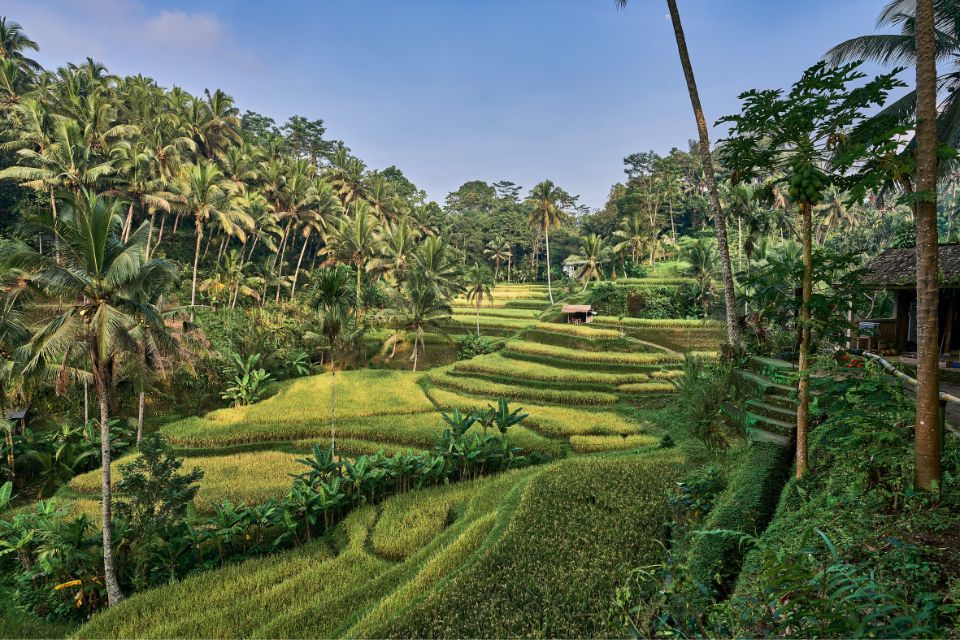 Without a doubt, Ubud is much prettier than Seminyak. Apart from the beachfront, Seminyak is not very pretty at all. It's very much built up and constantly busy with scooters, cars, and minivans, with the only break in the concrete jungle being along the beachfront.
If you're looking for a pretty destination, Seminyak is not going to be at the top of your list. That being said, the beach is beautiful, with a huge, long stretch of golden sand and crashing waves in the background.
Sunset in Seminyak is very pretty, and you can enjoy it from one of the many beachfront bars and restaurants along Double Six Beach.
The natural beauty of Ubud is one of the main reasons why people flock here. It's a world apart from the hustle and bustle of the Denpasar area, with gushing river valleys and scenic countryside that's dotted with typical Balinese architecture and temples everywhere you go.
Which Is Better for Nature?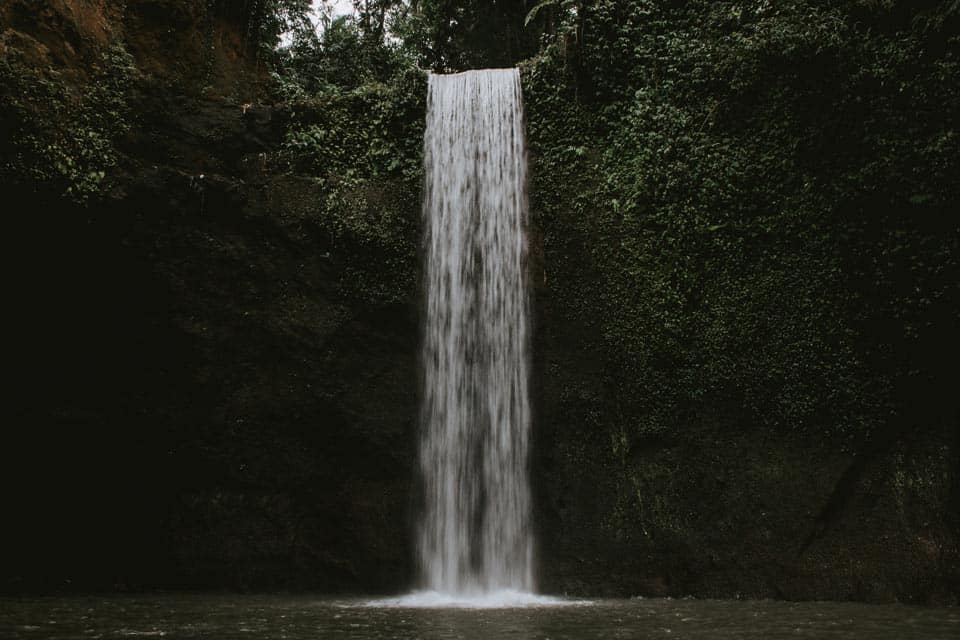 Again, similar to how pretty both destinations are, Ubud reigns supreme when it comes to nature too. We've already mentioned the stunning stacked rice terraces of Tegalalang, but there's plenty more to the city's natural landscape.
Being relatively high-up and further inland, Ubud and the surrounding region are home to many stunning waterfalls like Tegenungan, Tibumana, and Tukad Cepung. If you're a bit of a hiker, Ubud also has several hikes for you to get your steps in for the day.
Campuhan Ridge Walk is the most popular, following the ridgeline through rice fields and with stunning views.
Because of how built up Seminyak is, it barely has any nature. The only place you can really go to is the beach!
Read More: Canggu Vs Seminyak: Which Is Better?
Which Is Better to Live Long-Term?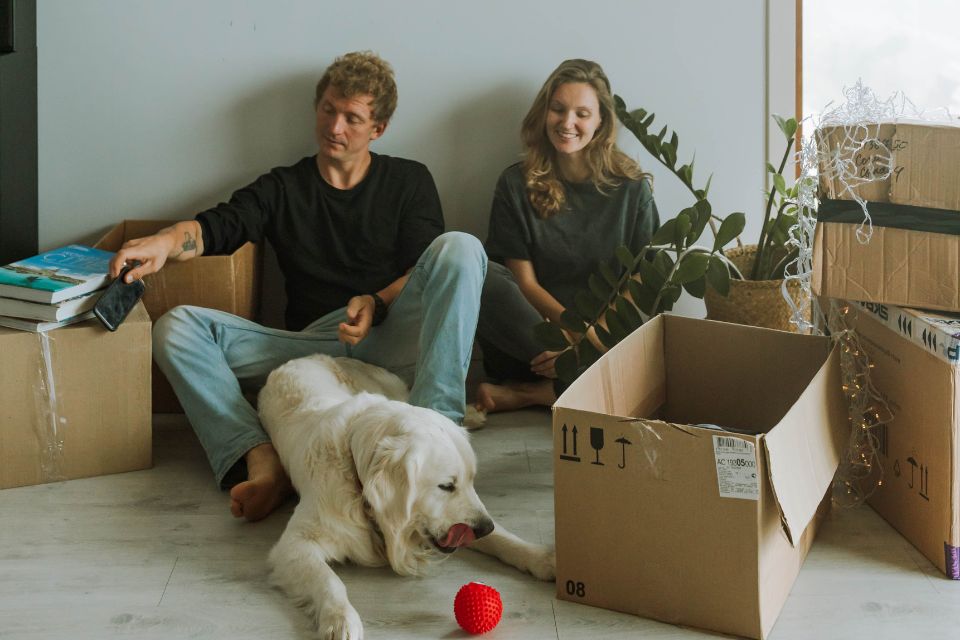 Deciding between Ubud or Seminyak for long-term living is a tough choice but I'm siding with Ubud. Ubud would be a gorgeous place to live, surrounded by the natural beauty of Bali and everything that comes with it.
There's also a huge variety of things to do there and some excellent bars and restaurants. Ubud is quite far inland, though, and has no beach nearby and is also quite far from the airport.
Whilst Seminyak is no match for Ubud in terms of nature, the busy southern area of the island also has its benefits. You're very close to the beach, which is great for relaxing and taking long strolls, and the buzzing nightlife and lifestyle that will come with living in a place like Seminyak.
These factors will appeal to some, plus you've also got proximity to Denpasar Airport and boat ports for day trips.
Which Is Better for Digital Nomads?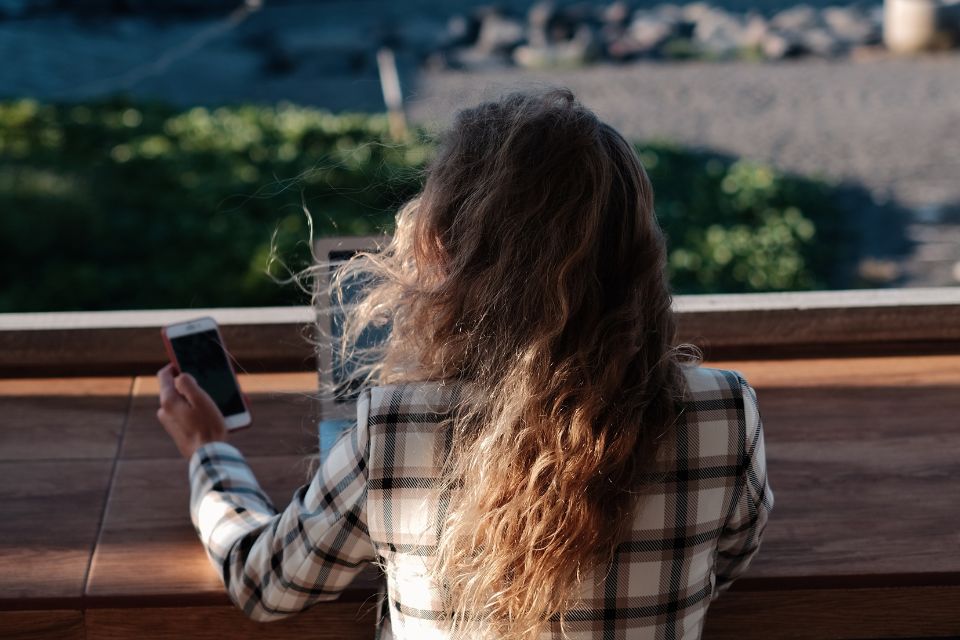 Ubud is a great choice for digital nomads because of the slower pace of everyday life. You're also surrounded by the best of Bali's nature, so you're never far from a peaceful walk to clear your head.
The city's infrastructure is decent, and there are several great co-working spaces and cafes like Outpost & BeLuna.
Seminyak has a much more developed and modern infrastructure, with high-speed internet and a well-established co-working community that you'll be welcomed into with open arms.
Biliq is an excellent co-working space that's relatively small, but it means you'll be able to knuckle down and get work done. Kembali Innovation Hub is also an excellent place to base yourself on busy days.
There's plenty of parking, and it has all of the amenities you need, like meeting rooms, a garden, and even a silent room.
Both Seminyak and Ubud are great for digital nomads. If you want more of a community, Seminyak is generally better. But if you prefer a more laid-back lifestyle surrounded by nature, then choose Ubud!
Ubud or Seminyak Comparison Table
| Category | Ubud | Seminyak |
| --- | --- | --- |
| For Staying | X | X |
| Nightlife | | X |
| Shopping | X | |
| Culture | X | |
| Attractions | X | |
| Honeymoon | X | X |
| Aesthetics | X | |
| Nature | X | |
| For Living Long-term | X | |
| For Digital Nomads | X | X |
Ubud or Seminyak FAQs
How Far Is Ubud From Seminyak?
The distance between Ubud and Seminyak is approximately 30 km (18.6 mi). It usually takes about an hour to travel between the two places, but always allot extra time as the traffic can be quite bad in Bali.
Where Should I Go First Seminyak or Ubud?
When visiting Bali, heading to Seminyak first is a good idea because you can enjoy the hustle and bustle of the place without comparing it to Ubud's tranquillity. Enjoy strolls along the beach, local food and take it all in before leaving for the natural beauty of Ubud.
Is Ubud Worth Visiting?
Ubud in Bali is definitely worth visiting. It's often celebrated as the cultural heart of Bali, known for its traditional arts and crafts, historic temples, and lush green landscapes. It's one of the most popular destinations in Bali among wellness enthusiasts, yogis, and nature lovers.
Is Seminyak Worth Visiting?
Seminyak in Bali is definitely worth visiting. This upscale beach resort area in Bali is known for its stylish luxury hotels, high-end shopping, sophisticated dining scene, and vibrant nightlife. Seminyak's beaches are wide and sandy with high waves for surfing. They also have plenty of beach clubs that are perfect for watching the sunset!
---
So, Which Is Better: Ubud or Seminyak?
Deciding whether Ubud or Seminyak is better is a difficult task. Generally speaking, we prefer Ubud more than Seminyak because of its richness in culture, laid-back lifestyle, and proximity to stunning nature.
While Seminyak does have its own charm such as beautiful beaches, extravagant dining options, and luxury shopping opportunities, it lacks the culture that many travelers seek.
But nonetheless, if you have the time, it is definitely worth visiting both Ubud and Seminyak!
Disclaimer: Some of the links above are affiliate links. That means if you book or make a purchase through the links, we will earn a small commission at no extra cost to you! The money will help run this site! Thank you!