If you haven't been to Bali, you are definitely missing out. Known for some of the craziest parties, extravagant beachfront bars/clubs, and stunning beaches, Bali is one of the most popular Southeast Asia backpacking destinations.
But did you know outside of that, Bali has some of the most beautiful natural scenery? Bali is known for some of the most majestic waterfalls in the world. With over hundreds of waterfalls in Bali, how do you know which ones to choose?
Below we have chosen three best waterfalls that you do not want to miss when you are in Bali. So when you are done sipping that mojito in Seminyak or chugging that Bintang in Kuta, let's chase some waterfalls.
How to Get to the Waterfalls in Bali?
Infracstructure in Bali is really lacking. There is absolutely no trains and the bus system only takes you to major towns. Even though apps like GoJek and Grab (equivalent of Uber) will take you around most of the popular cities in Bali, they will not take you to these waterfalls as they are quite isolated. And if they do, you will definitely not be able to get a Uber at the waterfalls to go back. This means that it is a little harder to reach them, but that also means they will be a lot less touristy.
Option 1: The most economical option and also the most adventurous is to rent a scooter. They go for about 60k IDR or 4-5 USD a day. No it is not true that if you can ride a bicycle then you can ride a scooter. Accidents happen quite often with foreigns on scooters. The good thing is, it is quite easy to learn how to. Unless you are confident and know how to ride a scooter, I would not recommend this option. If you do decide to pick this option, you can rent a motorbike in the less congested town of Ubud and ride from there. Ubud is the closest town to these waterfalls.  
Option 2 is to rent a car and a driver for a day. As crazy as that sounds, sometimes this is the best option if you are travelling with friends. You could rent a driver and a car for ~500k IDR or 35USD a day. The driver will then take you to all the places you want to see. It is the least riskiest and most comfortable option.
Option 3 is to go through a tour agency. You really have to be lucky with this one. Most of them don't provide tours to the less-known waterfalls. Tours are usually only available to the more famous waterfalls such as Tegenungan waterfall and Gitgit waterfalls. But trust me, these ones are better. 
The 3 Best Waterfalls Near Ubud in Bali, Indonesia
Location: Gianyar regency
Time for travel: Only ~30 minutes Ubud!!
Only 30 minutes from the touristy town of Ubud, it is very easy to pair this waterfall with other activities such as Tegalalang Rice Terrace or the Sacred monkey forest sanctuary in Ubud. Similar to most of the waterfalls in Bali, there is a hike down to the waterfall. This one is an easy 10-minute hike to the bottom but it does get a little harder towards the end. It is very quiet especially if you arrive in the morning. Chances are that you will have the entire waterfall to yourself.
Get underneath the waterfalls and feel the gush of clean refreshingly water rush over you. And then have a friend or a local take a photo for you at one of the most picturesque waterfall in the world.
Note: The rocks underneath the waterfalls are extremely slippery!! A lot of people have hurt themselves!! Be careful when you walk across them!!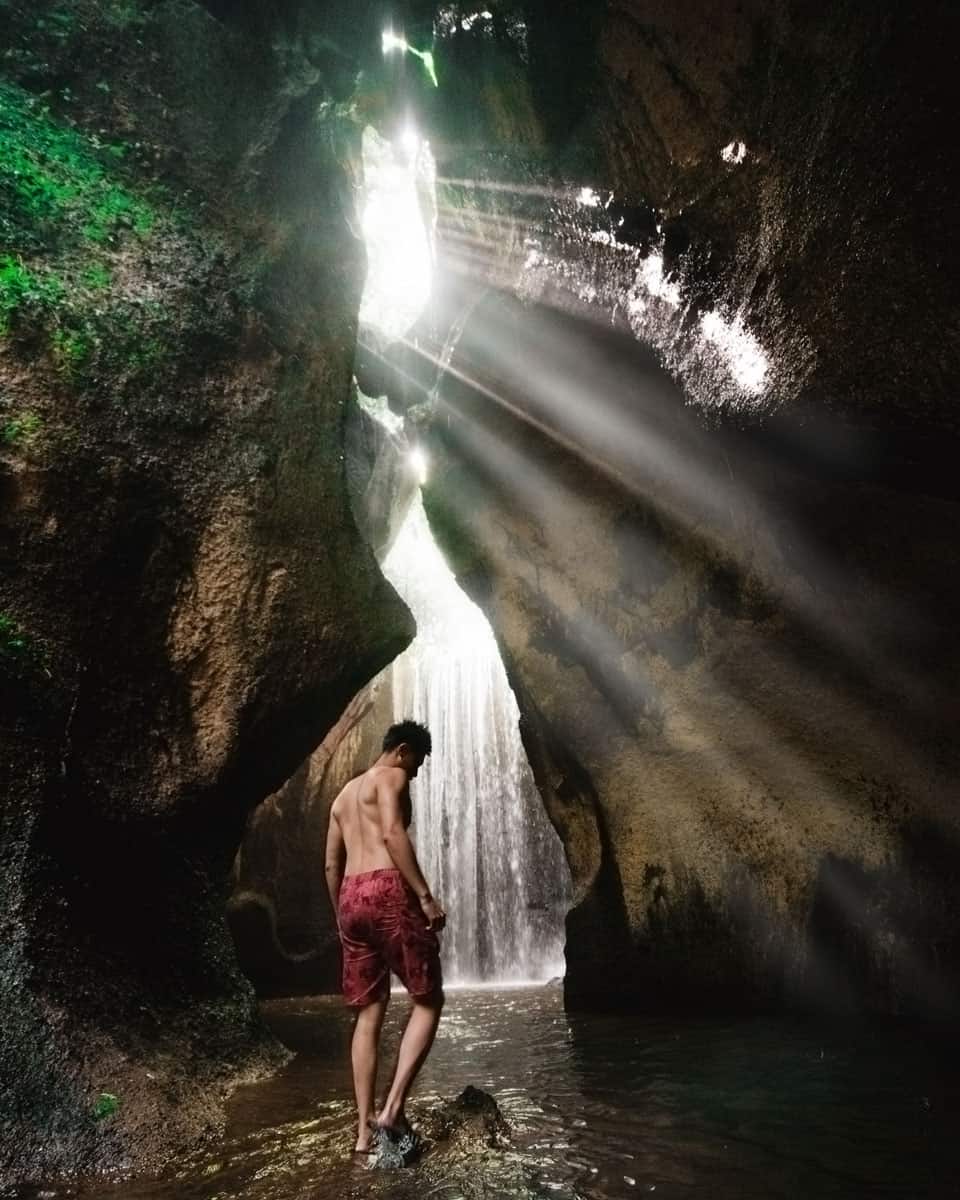 Location: Bangli regency
Time for travel: ~1 hour from Ubud
Located about an hour from Ubud, Tukad Cepung is a hidden waterfall in the forest. Mainly visited by the locals, this waterfall will have you dazzled. The hike is only about 15 minutes but it does include large steps with no guardrails. Elderly and children are not recommend to do this hike. However, when you reach the end of the steps, you will enter a cave-like system where the water could get up to thigh-high. So do expect to get wet but definitely bring footwear such as watershoes or socks to help you get to the end.
Once you enter the "cave" part, look up and see the water trickling down the walls, and admire the magical sun rays that managed to sneak into the small crevices of the cave. Slowly (and carefully) continue your journey till the end where you will be rewarded by the a truly breathtaking masterpiece of nature. The space in this "cave" is quite tight at certain places so it could be difficult to get that photo you wanted.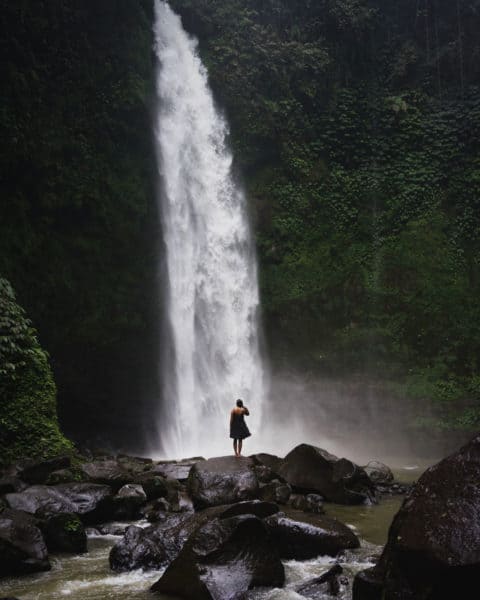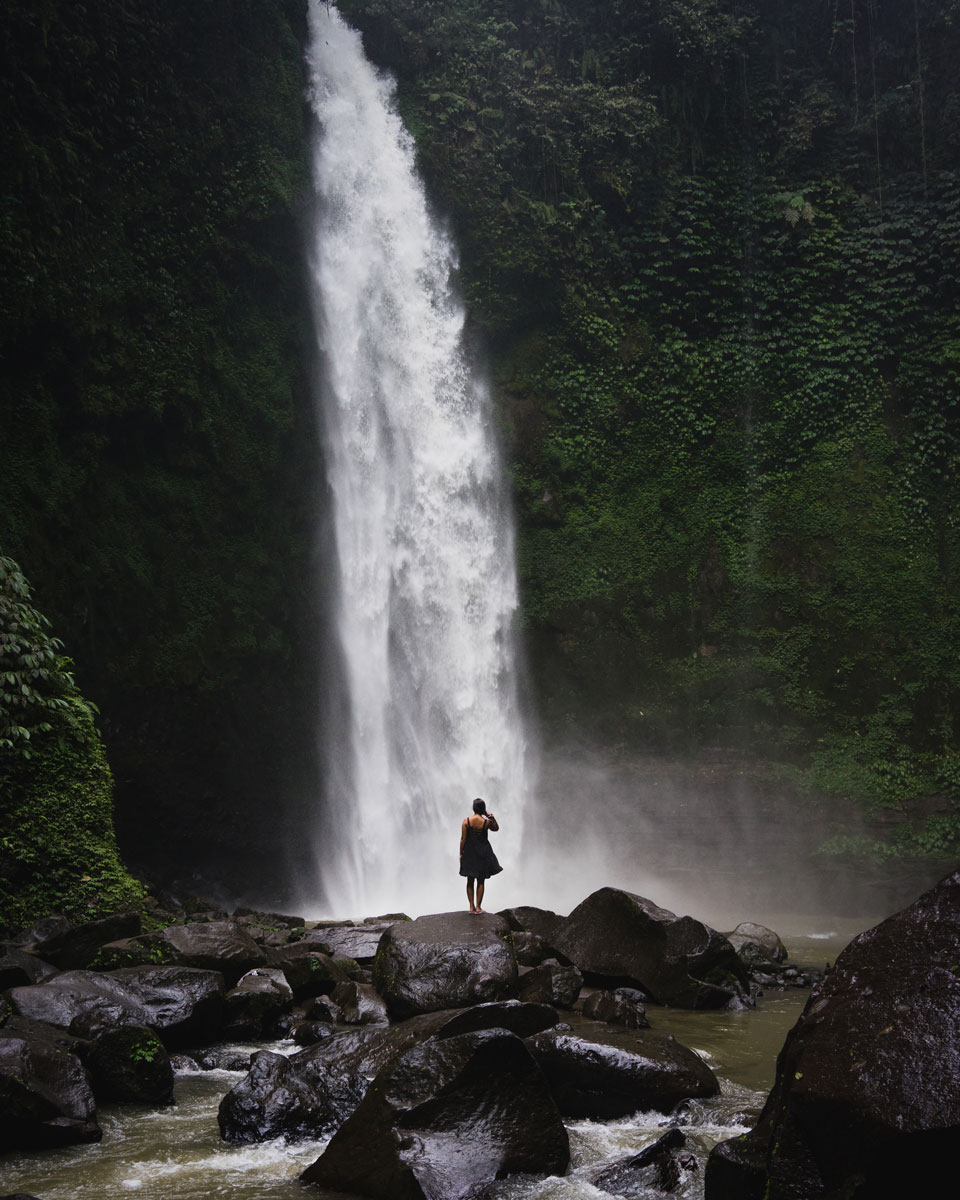 Location: Badung Regency
Time for travel: ~75 minutes from Ubud
Located a little more than an hour from Ubud, Nungnung is one of the highest Bali waterfalls. Entailing a strenuous 500-step hike to the bottom of the waterfalls, you are rewarded with one of the most mythical waterfalls I have ever seen.
This place completely blew me away.
If there is one thing you must do in Bali, this is it.
When we were there, we saw approximately 10 people there within the span of 2 hours. That's it. That is the definition of a hidden paradise. On the way down, you are blessed by a lush green scenery that will take your breath along with the steps.
Once you are at the bottom, the crashing of the water will mesmerize you. If you dare stand too close, you will be slowly overwhelmed by the wrath of the waterfall in the form of water mist. Within seconds, your clothing will be soaked (if not already from the hike), and your face will feel like it was in a rainstorm. Technically, you could swim in the waterfall but I highly advise against doing so. The currents are strong and there are lots of huge rocks. Just admire this natural beauty, take a few breathtaking pictures, and prepare yourself for the "fun" hike back up. This is something you do not want to miss in Bali.
I loved this so much I wrote a whole guide on Nungnung waterfall. Come check it out!
Looking for tours in Bali? Here's our suggestions:
If you want the easiest access to the best waterfalls in Bali, you will have to stay in the city of Ubud. Here are our recommendations on where to stay in Ubud.
Low-Budget Accommodation
Kayuni Hostel – Clean rooms and comfortable mattresses. Dorms rooms also have curtains for privacy. Great location and amazing free breakfast are only some of the features they have! Find out the rest yourself 🙂
High-Budget Accommodation

Adiwana Resort Jembawan – Breathtaking views of the jungle from the pool. Facilities are everything you need and more. Staff is friendly and helpful. No wonder this is one of the highest-rated hotel in all of Ubud.
Like this post? Don't forget to save it on Pinterest! 🙂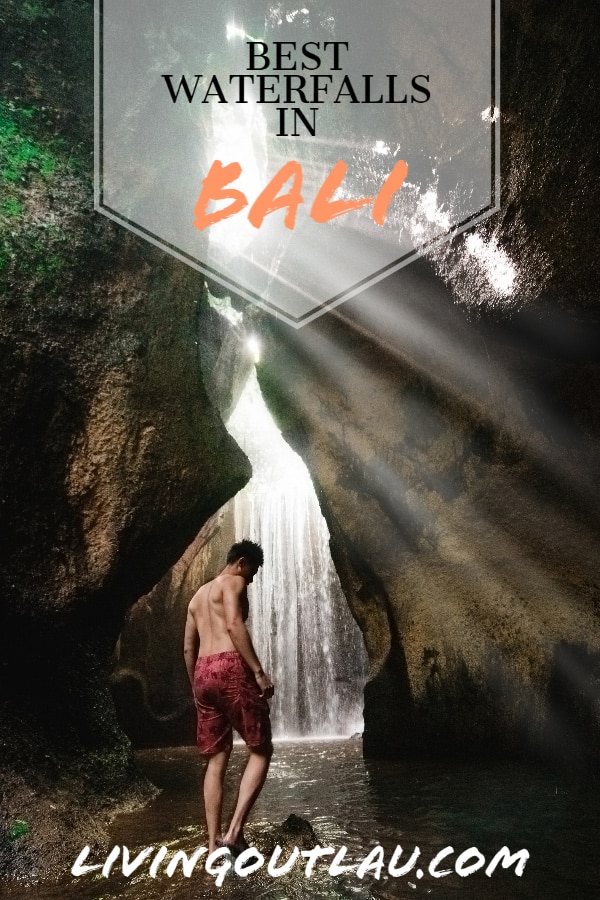 Those are some of the best waterfalls you do not want to miss! Have you been to any of them? Let us know in the comments!
Disclaimer: Some of the links above are affiliate links. That means if you book or make a purchase through the links, we will earn a small commission at no extra cost to you! The money will help run this site! Thank you 🙂