Known for some of the craziest parties, extravagant beachfront clubs, and stunning beaches, Bali is one of the most popular Southeast Asia backpacking destinations.
Outside of that, did you know that Bali has some of the most majestic waterfalls in the world? No Bali itinerary is complete without a visit to one of these wonderful falls. However, with many incredible waterfalls in Bali, how do you know which ones to choose?
Below we have chosen the 15 best Bali waterfalls that will leave you awestruck! So when you are done sipping that mojito in Seminyak or chugging that Bintang in Kuta, let's chase some waterfalls.
---
Best Waterfalls in Bali
Note: Air Tejun means "waterfall" in Balinese!
1. Sekumpul Waterfall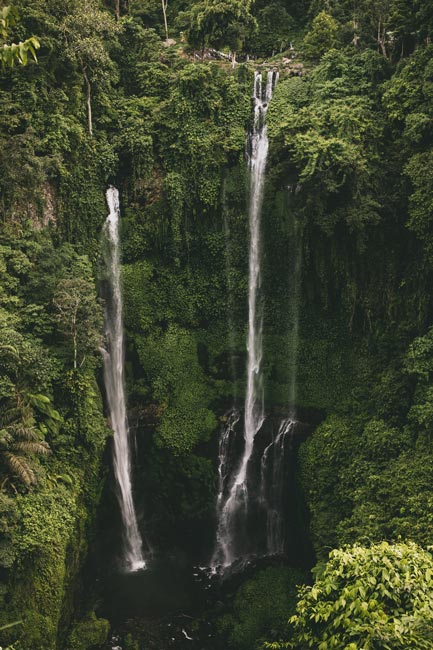 Some have called it the 'king' of waterfalls in Bali; an island already world-renowned for its fascinating falls. It's Sekumpul waterfall, the northern Bali landmark that is well worth the trip.
Actually made up of seven different waterfalls (sekumpul means 'collection'), the fall is about 80 meters (260 feet) tall, with two major streams gushing down amidst lush greenery.
It's a huge experience – the power of this waterfall is almost unparalleled, but it's also an attraction in itself, as you can stop along the way for a refreshing coconut (or a Bintang or two), wander the rice paddies or do that really 'Bali' Instagram thing: the swing.
Sekumpul also has a more contentious claim to fame – the most expensive waterfall on the island. Costing at least 200,000 IDR (14 USD) per person, that's since you need to cross a number of private swathes as you walk there, with each owner wanting their 'cut' for your journey across.
Like most waterfalls in Bali, the earlier you can visit the better. As one of the most popular waterfalls in Bali, you'll definitely find crowds here so try to get there before 8 AM. Plus, if you get there early, you can quickly hop over to Sekumpul's sister fall, Fiji waterfall (Lemukih Falls), only a 10 minute walk away.
Because of its popularity, Sekumpul Waterfall has become a location with many tourist traps. When you are nearing the Sekumpul Waterfall Parking Lot, you will start to see signs with the word "Registration" on them. These signs are simply scams to get tourists to pay a non-existent "registration fee".
Avoid those and head for the official ticketing counter.
Time For Travel: 2 hours from Ubud or Canggu
Entrance Fee: 200k IDR
Opening Hours: 8 AM – 4 PM
Swimmable? Yes
2. Banyumala Twin Waterfalls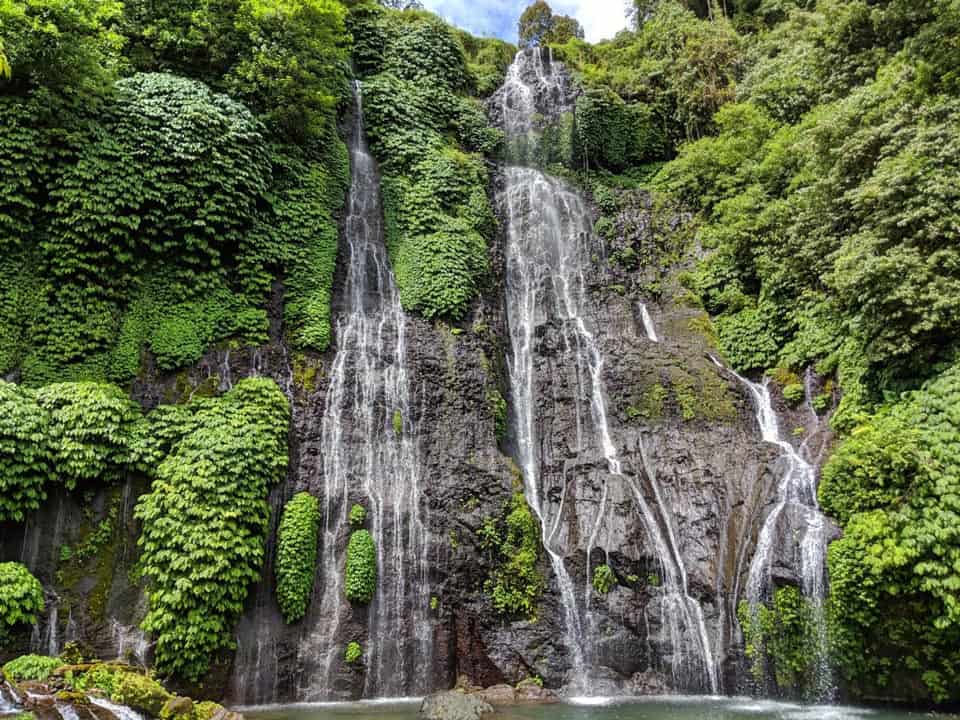 Banyumala Twin Waterfalls, located in Wanagiri of North Bali, is a small and breathtaking waterfall surrounded by greenery. The waterfall is tucked behind a residential area and only a 10 minute walk from the parking lot.
While the cascades aren't the highest, they are approximately 35 meters (114 feet) tall. The larger fall splits into two narrower falls which is why "twin" is in the name. Since Bali is humid on most days, visitors cool off and swim at the bottom of the falls area. Or, they hang out on the rocks or walk along the bridge to enjoy the picturesque scenery.
Banyumala is not on the typical tourist path, so transportation is needed to get to the falls. Either ride a motorbike or hire a driver from Ubud, Seminyak, or another area. Allocate at least 1.5 hours one-way from Ubud. Staying overnight in the area is possible, so the travel distance will be shorter.
Visit the waterfall at any time of the day. It's not crowded, so there may only be a handful of visitors during the time of visit.
Time For Travel: 1.5 to 2 hours from Ubud or Canggu
Entrance Fee: 30k IDR
Opening Hours: 7 AM – 6 PM
Swimmable? Yes!
3. Aling Aling Waterfall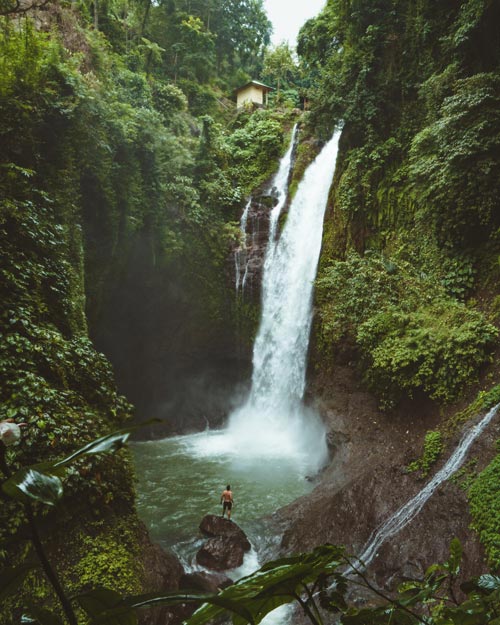 Located in North Bali, Aling Aling Waterfall is a great alternative to crowded waterfalls in Ubud.
It is recommended to take a day trip to Aling Aling because this spot has four waterfalls, all of which have separate access, so you will need at least a couple of hours to enjoy all of them.
When you get to the entrance of the waterfall, you will have two options, either pay 125,000 IDR for a guided tour of the waterfall which allows for cliff jumping, or pay 20,000 IDR for a self-guided tour that doesn't allow jumping off cliffs or swimming.
To get to the waterfall, you have to walk down a path along beautiful rice terraces before you arrive at the point where you can take photos of the beautiful falls. It is highly recommended to put on shoes with a good grip because the path down can be wet and very slippery.
If you plan on jumping or sliding down Kroya Waterfall located near Aling Aling, don't forget to bring a GoPro with you. Also, make sure to bring a towel and a dry set of clothes with you.
One of the closest towns to Aling Aling is called Bedugul, and if you want to stay longer in North Bali, you can rent one of the hotels there. In addition, there are many tours that include a visit to Aling Aling Waterfall as part of their package.
However, if you decide to travel to Aling Aling on your own, try to arrive early so you could have the entire place to yourself!
Aling Aling is located about 2 hours away from Ubud and Canggu; 2.5 hours from Uluwatu and 1 hour away from Munduk.
Time For Travel: 2 hours from Ubud or Canggu, 1 hour from Munduk
Entrance Fee: 20k IDR for viewing or 125k IDR for cliff jumping and swimming
Opening Hours: 8 AM – 5 PM
Swimmable? Yes
4. Banyu Wana Amertha Waterfall
One of the best hidden gems in Bali is certainly Banyu Wana Amertha Waterfall. Unlike some of the island's more popular waterfalls, you won't be competing with others for photos, nor will you arrive to find the pools crowded. Saying that, it can't hurt to arrive early and have it all to yourself!
Banyu Wana Amertha Waterfall can be found in the Sukasada region of Bali, north of Ulun Danu Beratan Temple. Since the two are just 20 minutes away, you can combine the two on a day trip around Northern Bali. There are an additional three waterfalls found nearby in the valley but this is the most scenic.
The charm of Banyu Wana Amertha Waterfall is the lush jungle and greenery that surrounds it. Getting there requires a downhill hike which will be rewarded by a dip in the pristine pools. The greenery extends to the waterfall itself where tall cascades flow through moss and other flora and fauna.
This Bali waterfall is best visited by a scooter hired in Ubud or Canggu which are 1.5 hours and 2 hours away respectively.
5. Gitgit Waterfall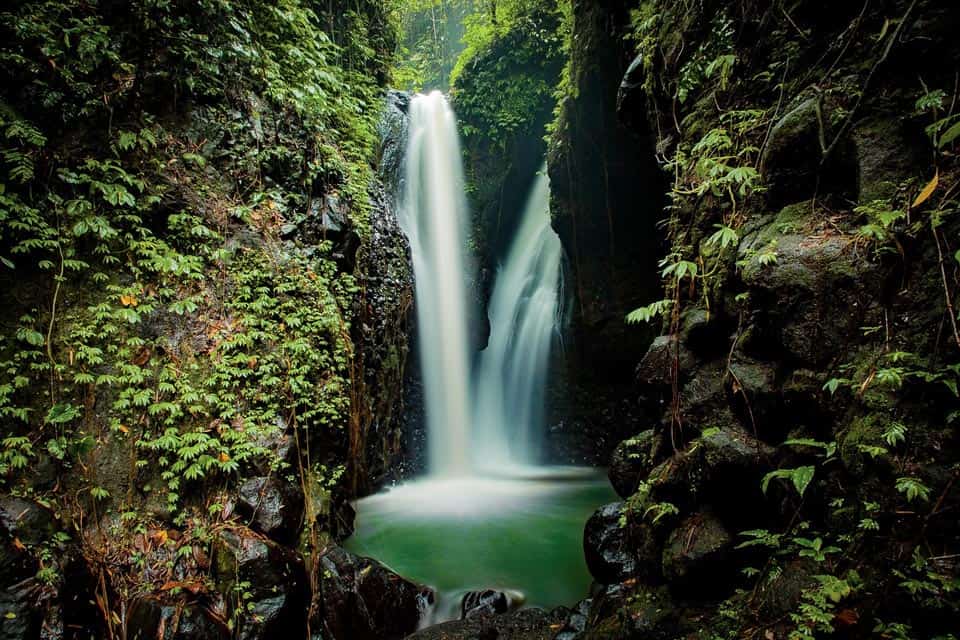 Gitgit Waterfall is a breathtaking waterfall located in the Northern region of Bali. In fact, it is one of the most popular places to visit in Northern Bali.
Measuring 35 meters high, Gitgit Waterfall is by no means one of the tallest waterfalls in Bali. Its attractiveness lies in the beautiful double waterfall, nice natural swimming pools, and incredible foliage along the path. (Un)Lucky visitors might even see some monkeys along the way.
Similar to over-popular places in Bali, there are scammers preying on unaware tourists. When you arrive, a local "guide" might offer you his services to take you to the waterfall. The hike from the entrance to the Gitgit Waterfall is only 15 minutes, so don't fall for the scam!
No guide is needed to visit the Gitgit Waterfall.
Time for travel: 1 hour 45 minutes from Ubud or Canggu
Entrance Fee: 20k IDR
Opening Hours: 7 AM to 5 PM
Swimmable? Yes
6. Kanto Lampo Waterfall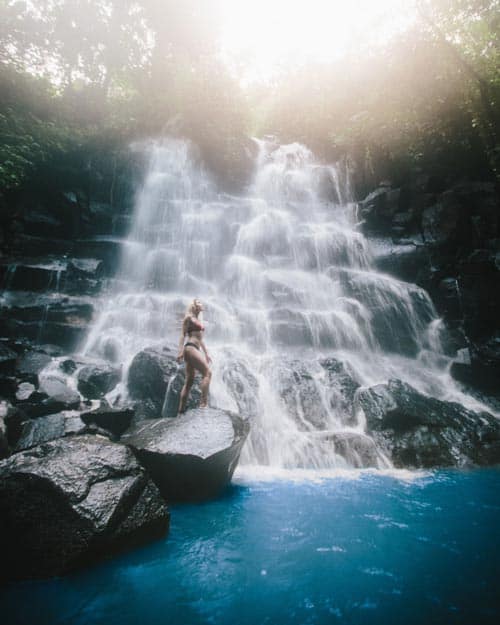 Only 30 minutes from the touristy town of Ubud, Kanto Lampo is one of the best Ubud waterfalls. Visitors can easily combine a visit to Kanto Lampo Waterfall with other attractions in Ubud such as Tegalalang Rice Terrace or the Sacred Monkey Forest Sanctuary.
Kanto Lampo Waterfall is considered one of the best Instagram-worthy locations in Bali. With the powerful waterfall smashing onto the rock surfaces, it creates the perfect photo opportunity. In fact, there is a location there waiting to assist you with that. You will have to give him a small tip afterward.
Because the area around Kanto Lampo isn't too big, we highly recommend you visit early in the morning to avoid the crowds. With a big crowd, it is nearly impossible to enjoy this beautiful waterfall.
Be careful when walking underneath the water. The rocks are very slippery and many visitors have hurt themselves!
Similar to many of the other falls in Bali, there is a hike down to the waterfall. Luckily, this hike around is only 10 minutes long through some (steep) steps. The entrance cost to Kanto Lampo Waterfall is 20k IDR.
Time For Travel: 30 minutes from Ubud
Entrance Fee: 20k IDR
Opening Hours: 8 AM to 5:30 PM
Swimmable? Yes
7. Tukad Cepung Waterfall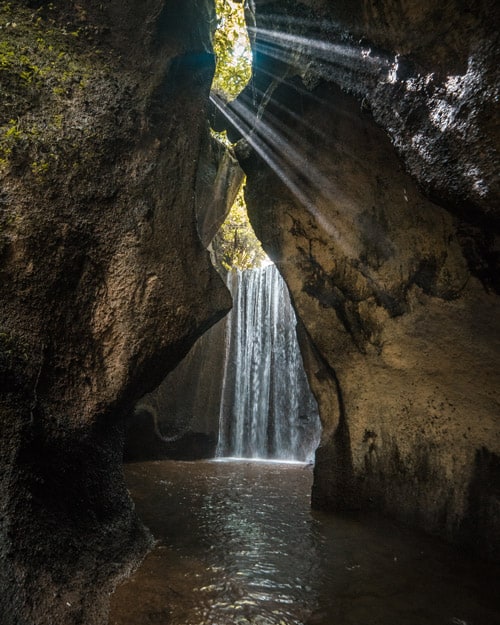 Located about an hour from Ubud, Tukad Cepung is a hidden waterfall nestled in a narrow canyon.
Statistically, Tukad Cepung Waterfall isn't as impressive compared to the other magnificent falls in Bali. But because of the adventure of traversing through knee-high water and a cave-like system, it creates a unique experience unlike any other.
The hike starts with a 15-minute downhill through large steps with no guardrails. Travelers in Bali with kids or elders might want to reconsider visiting this waterfall.
Once you reach the end of the steps, you will enter a cave-like system where the water could get up to thigh-high. Expect to get wet and bring water shoes or an extra pair of socks to help you get to the end.
Once you enter the "cave" part, look up and see the water trickling down the walls, and admire the magical sun rays that managed to sneak into the small crevices of the cave.
Slowly (and carefully) continue your journey till the end where you will be rewarded by a masterpiece of mother nature. The space in this "cave" is quite tight at certain places so it could be difficult to get that photo you wanted.
Visit early in the day when the sun is at its optimal location, allowing more sunrays to enter the canyon.
8. Nungnung Waterfall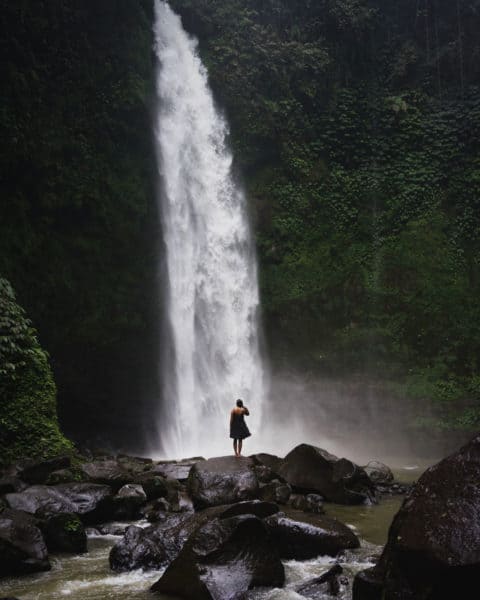 Located a little more than an hour from Ubud is our favorite waterfall in Bali, the Nungnung Waterfall. At 50 meters (165 ft) tall, Nungnung Waterfall is one of the highest Bali falls.
Visitors must endure a strenuous 500-step trail to the bottom of the waterfall before they are properly rewarded. Lush scenery and jungle-like vibes will accompany them during the way.
Once you are at the bottom, the crashing of the water will mesmerize you. If you dare stand too close, you will be slowly overwhelmed by the wrath of the waterfall in the form of water mist.
Within seconds, your clothing will be soaked (if not already from the hike), and your face will feel like it was in a rainstorm.
Technically, you could swim in the waterfall but I highly advise against doing so. The currents are strong and there are lots of boulders. Just admire this natural beauty, take a few breathtaking pictures, and prepare yourself for the "fun" hike back up.
Though one of our favorite places in Bali, we were surprised to find how quiet it was. In the span of 2 hours, there were approximately 10 people there!
At the parking lot of Nungnung Waterfall, there is also a swing for visitors to go on!
Location: Badung Regency
Time for travel: 1 hour from Ubud, 75 minutes from Canggu
Entrance Fee: 20k IDR
Opening Hours: 9 AM to 4 PM
Swimmable? Yes, but strong current
9. Tegenungan Waterfall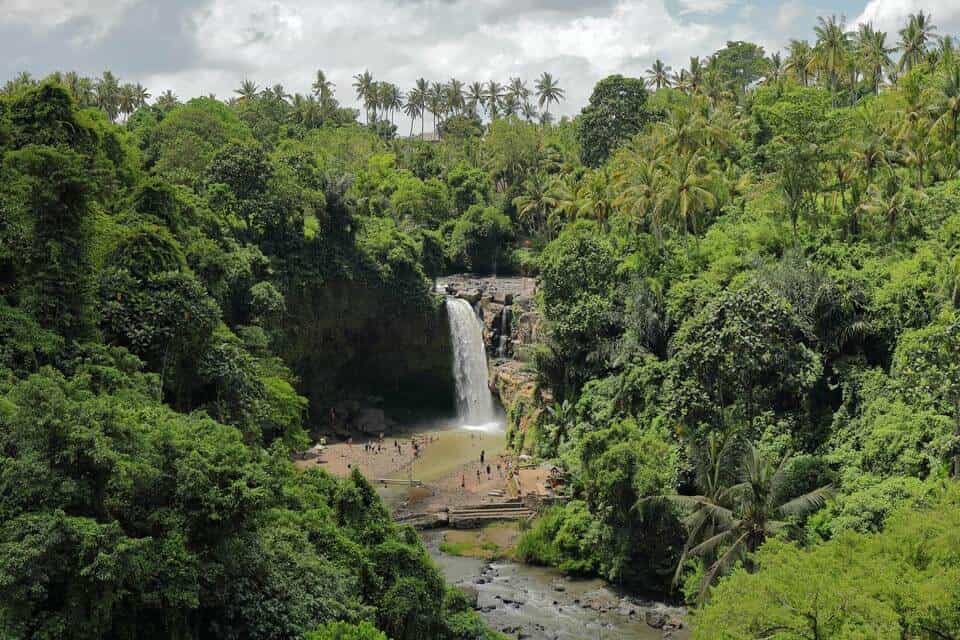 Tegenungan waterfall is arguably the most famous waterfall in Bali. Located only 20 minutes from Ubud, Tegenungan is a popular waterfall among tourists visiting Bali for the first time. If you want to avoid the crowds, make sure to go there early!
In order to reach the waterfall, you can either rent a scooter or if you're not comfortable with driving you can hire a private driver. Tegenungan waterfall is open every day from 6:30 AM to 6 PM and an adult ticket costs 15,000 IDR.
Getting down to the waterfall is a bit of a workout as you need to go down on a 100-step-long staircase. It only takes around 5-10 minutes to get down and you can instantly take a dip in the water at the bottom.
Don't forget to take a bathing suit with you! There is a toilet where you can change and you can also find a few stalls around the waterfall selling snacks and drinks.
Time for travel: 20 minutes from Ubud
Entrance Fee: 20k IDR
Opening Hours: 6:30 AM to 6:30 PM
Swimmable? Yes
10. Tibumana Waterfall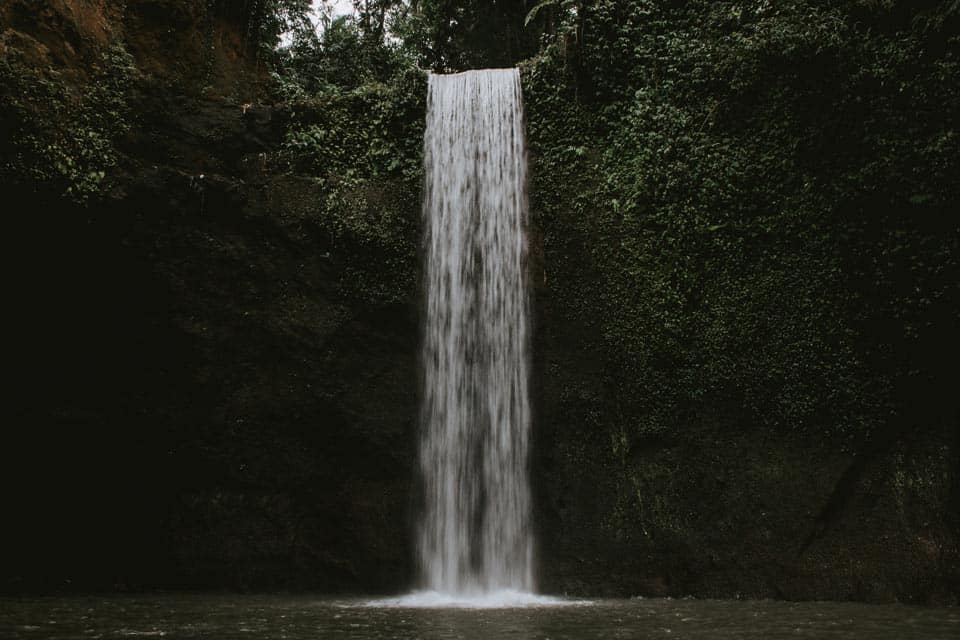 The beautiful Tibumana waterfall is located close to Ubud and is one of the popular Ubud waterfalls. Via concrete stairs, you'll walk about 10 – 15 minutes until you reach Tibumana waterfall.
This path is surrounded by exotic Balinese vegetation which makes you feel completely immersed in nature. You will pass one other waterfall which is also definitely worth a stop. The path continues over a bamboo bridge before you get to Tibumana waterfall.
Once arrived, you will see its perfect straight form, a feature that makes this waterfall so unique and beautiful. There is a natural pool where you can take a dip in to cool off, but be careful with the powerful water. It can hurt you if you come too close.
If you want to keep your belongings safe while exploring Tibumana waterfall and its canyon, then there are lockers for rent for 5,000 IDR.
Time for travel: 30 minutes from Ubud
Entrance Fee: 15k IDR
Opening Hours: 6 AM – 6 PM
Swimmable? Yes
11. Leke Leke Waterfall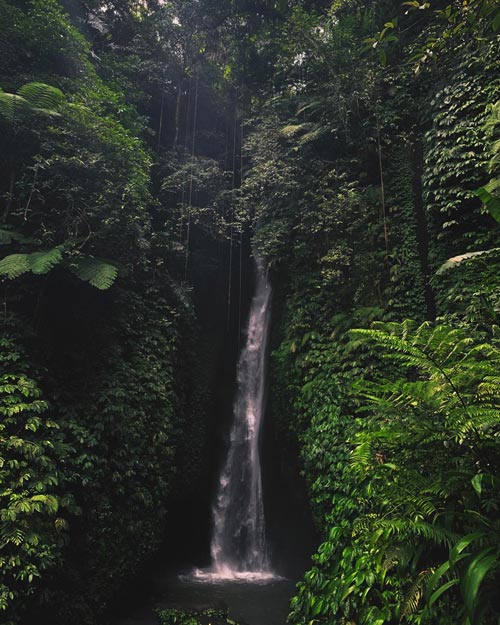 Located an hour away from Ubud is one of Bali's most tranquil waterfalls, Leke Leke Waterfall. Unlike other Bali waterfalls, the beauty of Leke Leke Waterfall isn't its power or height. In fact, it is quite the opposite.
This quaint waterfall is situated among some of the lushest landscapes in Bali. Surrounded by jaw-dropping greenery, a visit to Leke Leke Waterfall will guarantee you a serene moment with nature, especially if you visit early in the day.
This thin waterfall empties into a small shallow pool, perfect for a refreshing swim! Because of the tight spaces at Leke Leke Waterfall, we highly recommend you to arrive early in the day and enjoy this place in peace and quiet.
The cost to enter Leke Leke Waterfall is 50k IDR for foreigners and 25k IDR for locals. Once you enter, you have to hike for 15 minutes through a mixture of steps and dirt paths to reach the waterfall!
Location: Tabanan Regency
Time for travel: 1 hour from Ubud
Entrance Fee: 50k IDR
Opening Hours: 7 AM – 5 PM
Swimmable? No, pool too shallow
12. Kuning Waterfall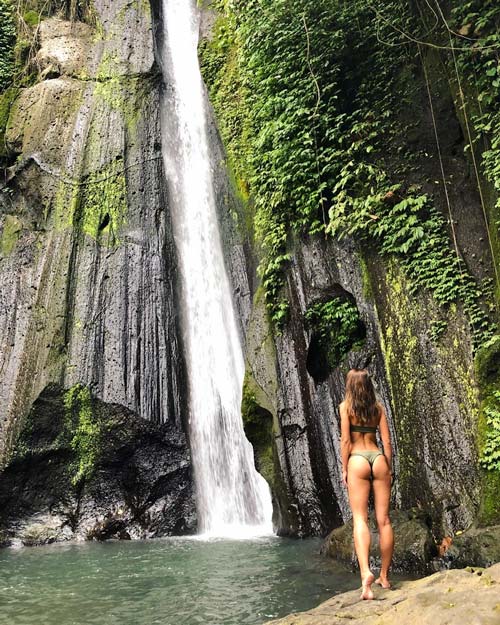 Kuning Waterfall, sometimes called the Yellow Waterfall, is one of the newly discovered waterfalls in Bali. When you visit this waterfall, you won't find the typical crowds like you do in Tibumana or Tegenungan.
But I am sure this won't continue for long, as Kuning Waterfall's beauty is unparalleled. Situated in the heart of the jungles of Bali, this 25-meter high waterfall is surrounded by lush greenery that brings the waterfall to life.
Combined with the lack of crowds, it truly feels like you have discovered something beautiful when you arrive at the bottom of the falls.
However, getting to Kuning Waterfall isn't exactly an easy task. Not only do you have to drive 1.5 hours from Ubud, but once you arrive, you have to descend a set of steep stairs built on the side of a cliff.
Those stairs are not always in the best condition, and when they are wet, could pose some challenges.
But when you complete the 15-minute hike to the bottom of the waterfall, you are not only blessed with the beauty of Kuning Waterfall, but rock pools where you can swim. Just be careful swimming in those as the currents can be quite strong.
13. Munduk Waterfall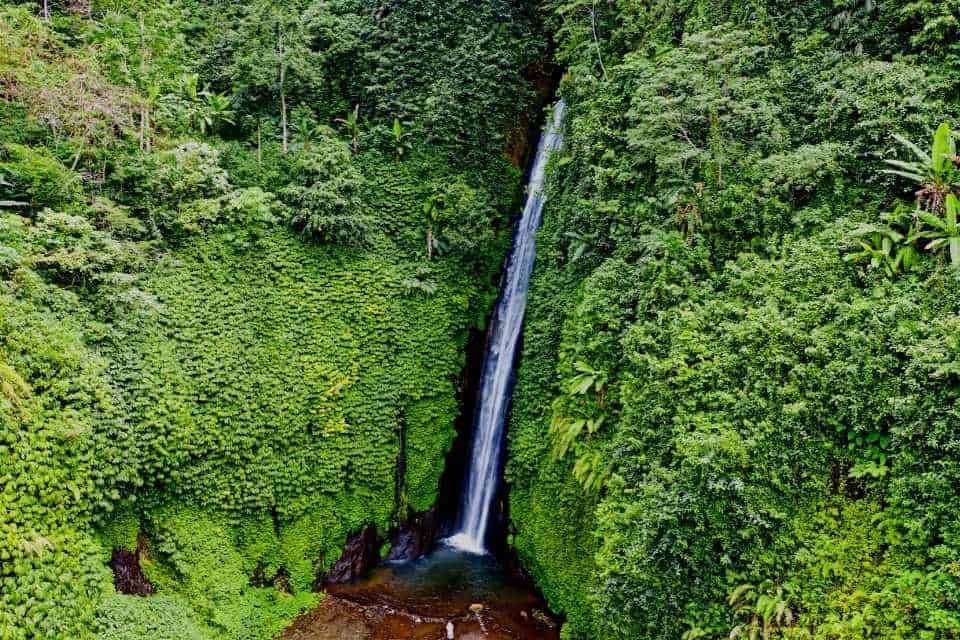 Munduk Waterfall is one of the best waterfalls in Northern Bali and earned its name for being one of the waterfalls located within the village of Munduk.
In fact, the Munduk Waterfall is one of the four waterfalls that are in Munduk, and there is a 2 to 3 hour trek that allows you to visit all of them. This is perfect for a day trip from Ubud, or even Canggu, if you don't mind driving that far.
The four waterfalls in Munduk are: Laangan Melanting Waterfall, Munduk (Red Coral) Waterfall, Labuhan Kebo Waterfall, and Golden Valley Waterfall (which will talk about below). There is also an option to visit each individually, if you don't want to do the long trek.
The Munduk Waterfall is one of the best in the family, as it is surrounded by the lush rainforest of Northern Bali. It is also easily reachable from the parking lot via a 10-minute walk on a well-paved path. Anything looking for things to do in Bali with kids mustn't miss a visit to the Munduk Waterfall.
Time for travel: 1.5 hours from Ubud, 45 minutes from Lovina
Entrance Fee: 30k IDR
Opening Hours: 6 AM to 6 PM
Swimmable? Yes
14. Golden Valley Waterfall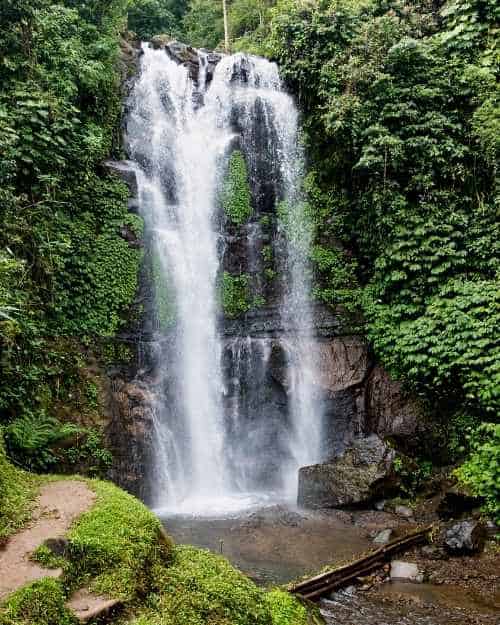 The Golden Valley Waterfall is one of the four waterfalls in Munduk Village, a place known in Bali for its lush rainforest and rolling hills. The scenery at Golden Valley Waterfall is no different.
As we have mentioned above, the Golden Valley Waterfall can be accessed via a 2 to 3-hour trek that visits all four waterfalls of Munduk. If that is too long for you, you can park the car (or scooter) at the Golden Valley Waterfall parking lot and hike 15 minutes to the bottom of the falls.
Golden Valley Waterfall features a twin waterfall and a shallow pool at the bottom. Though this pool is quite shallow, it doesn't stop visitors from jumping into the waterfall and getting wet. It is unlikely that you'll be able to get your full body into the pool.
But what makes this one of our favorite waterfalls in Bali is the cafes around it. Not only do these cafes offer decent food and a refreshing drink on a hot Bali day, but they also boast incredible views of the Golden Valley Waterfall. Visitors can dine, drink, and relax with the sound and sight of one of Bali's most Instagrammable places!
Location: Munduk, Banjar, Buleleng Regency
Time for travel: 1.5 hours from Ubud, 45 minutes from Lovina
Entrance Fee: 30k IDR
Opening Hours: 6 AM to 6 PM
Swimmable? No, very shallow
15. Goa Rajah Waterfall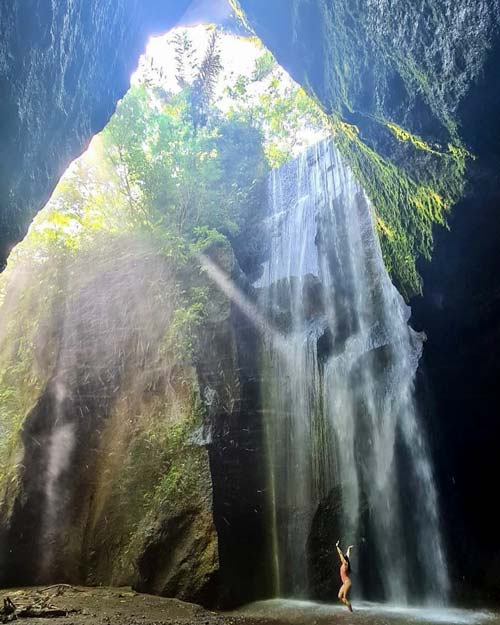 Bali is full of unique attractions, but the Goa Rajah Waterfall definitely deserves a top spot. This East Bali waterfall is situated inside a cave, and the surrounding greenery makes it so atmospheric. Seeing this waterfall is an experience on its own.
From the parking lot, the waterfall is reachable by a 15-minute hike through the canyon. The trail starts quite steep but levels off, so it isn't entirely too difficult to get to. But at the time of writing, this waterfall is completely free to enter, which means there are no funds for maintaining the path.
In fact, the path is often damaged with parts of the bamboo missing. For that reason, we do recommend going in with a sense of adventure. But for those that do reach the Goa Rajah Waterfall, we promise you won't regret it!
As a hidden gem, you are likely to have this place to yourself, especially if you visit early in the morning!
Location: Jehem, Tembuku, Bangli Regency
Time for travel: 45 minutes from Ubud, 1 hour 30 minutes from Canggu, Seminyak or Kuta
Entrance Fee: Free (but will probably change when it gets more popular)
Opening Hours: 24/7
Swimmable? Yes, but very shallow
---
Best Bali Waterfalls Map
As you can see from the Bali waterfalls map, the locations of these waterfalls are pretty spread out throughout Bali. Most of these waterfalls are located in the northern part of Bali, somewhere most tourists won't have the time to venture into.
The attractions in green are waterfalls that can be visited easily from Ubud. Though the red-colored ones are also reachable from Ubud, they require 2+ hours of transit one way. We recommend staying somewhere in northern Bali if you want to visit the waterfalls in red.
We have sorted out our list by the best Bali waterfalls and the best waterfalls near Ubud, so that you can plan your visit accordingly. Some of the most northern waterfalls are about the same travel distance from Ubud or Canggu.
If you want to know more about these waterfalls, make sure to click on the map. You can even save it to your own device by clicking the star next to the name of the map!
---
How to Get to The Waterfalls in Bali?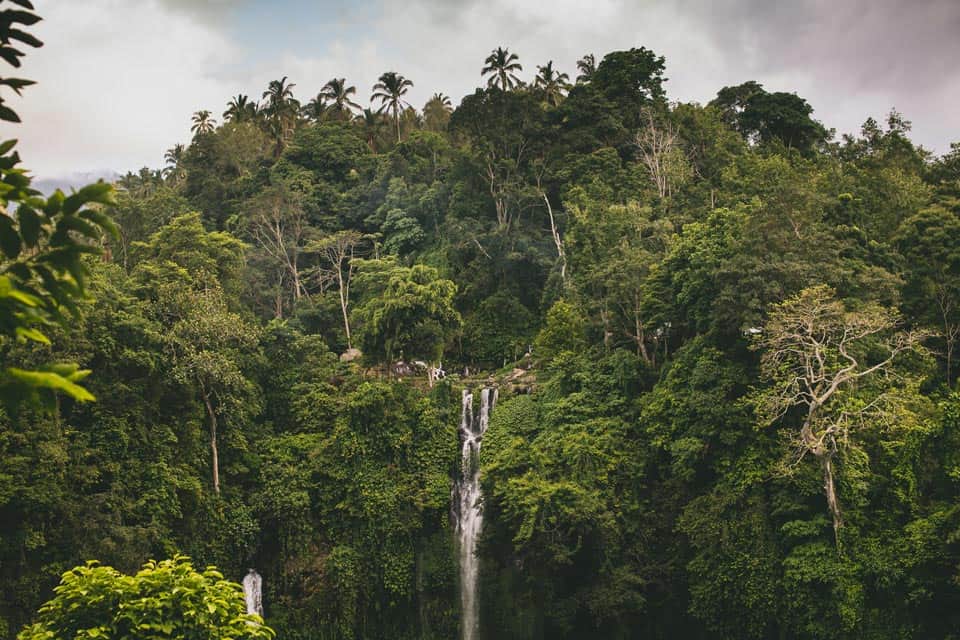 The infrastructure in Bali is not the best.
With not really any kind of public transportation (except for the seldom buses), visitors are left with no other options than using taxi-hailing apps such as GoJek or Grab (similar to Uber), renting your own scooter in Bali, or hiring a private driver and car.
Though the taxi-hailing apps can get you around most of the major towns such as Ubud, Canggu and so on, the drivers are usually reluctant to take you to the outskirts of town where the waterfalls are located.
And if they do, it will be nearly impossible to get a ride back from the waterfalls. That leaves us with 3 options to get to these waterfalls in Bali.
Read More: Is There Uber In Bali Now?
Option 1: Renting A Scooter
The most economical option and also the most adventurous is to rent a scooter in Bali. They typically go for about 60k IDR or 4-5 USD a day and you can find them easily through the numerous scooter rental shop throughout town.
But beware, just because you can ride a bicycle doesn't mean you can ride a scooter. Accidents on scooters are incredibly common in Bali, especially with foreigners! Unless you are confident and know how to ride a scooter, I would not recommend this option.
It is also "illegal" to ride a scooter in Bali unless you have the proper license. Usually, the police won't stop you (they aren't very common in Bali). If they do, they usually don't want to arrest you and would prefer some money (bribe) instead.
We were stopped by a police imposter (we only found out after) and had to give him a lot of money…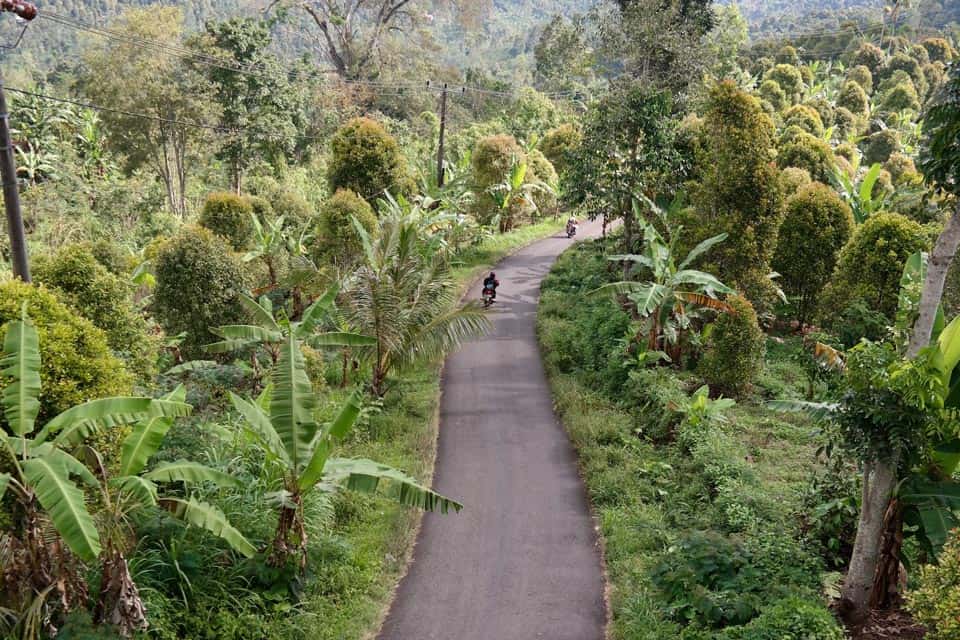 Option 2: Renting A Car & Driver In Bali
Option 2 is to rent a car and a driver for a day. As crazy as that sounds, sometimes this is the best and most economical option if you are traveling with friends. You could rent a driver and a car for ~500k IDR or 35 USD a day.
Not only can you visit the North Bali waterfalls, but you can also pair them with other places that are far from where you are staying.
This is the least risky and most comfortable option. And because it is so affordable, we highly recommend this option!
Option 3: Tours Via A Travel Agency
The last option is to go through one of the tour agencies in town.
Personally, we aren't huge fans of organized tours because it doesn't give us the flexibility to visit the waterfalls during an optimal time. It also means you will often have huge crowds and nothing ruins nature more than getting smacked in the face by selfie stickers.
Tours are available for some of the more famous waterfalls in Bali, such as Tegenungan, Tibumana, and Gitgit. If you want tours of lesser-known waterfalls, you have to get pretty lucky.
If it comes to getting a tour to the waterfalls, we recommend just chartering a car instead. It will be around the same price but you get the flexibility to decide when and where to go.
Read More: 100 Waterfall Quotes For Social Media!
---
Where to Stay in Ubud, Bali
If you want the easiest access to the best waterfalls in Bali, we recommend you to stay in Ubud. That way, you can visit the best waterfalls in Ubud before venturing further up north!

Here are our recommendations on where to stay in Ubud.
Best Hostel In Ubud – Gypsy Lust Hostel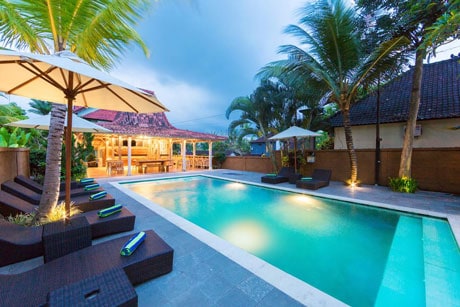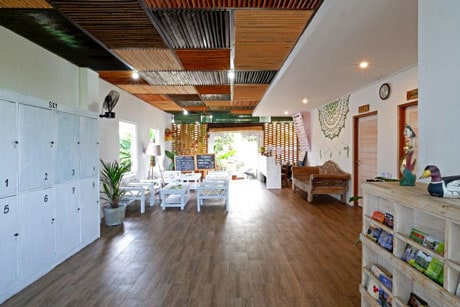 Located in Ubud Center, Gypsy Lust Hostel provides guests with affordable accommodations close to some of the best attractions in Ubud.

Guests can enjoy a nice relaxing day in the pool or lounging near it, indulge in some delicious food in their on-site restaurants, and make some new friends through their social atmosphere.

The hostel only features shared dormitory-style rooms, so if you are ready to mingle, this hostel is perfect for you. The beds are capsule-styled with a curtain so every guest can have some privacy.
---
Best Hotel In Ubud – The Sankara Suites & Villas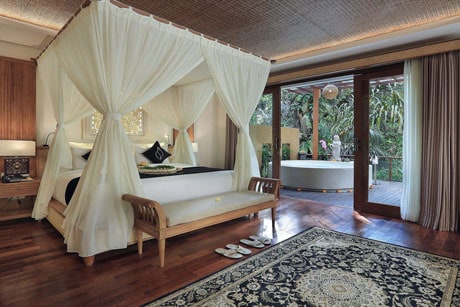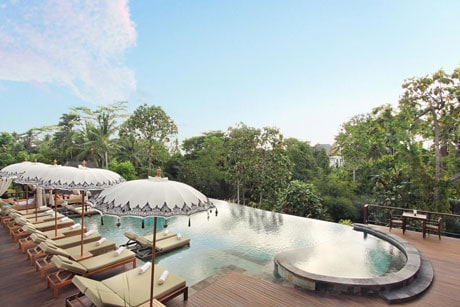 Take your Bali vacation to the next level with a stay at The Sankara Suites & Villas in Ubud. Featuring a shared infinity pool with stretching views of the pristine Balinese jungles, guests are guaranteed to leave an amazing impression.
Depending on the rooms you pick, it might even come with your private pool with amazing views.
When you are not enjoying the pools of this hotel, relax in their spa, check out the yoga pavilion, or enjoy some delicious food from their restaurant. The services at Sankara will pamper you and treat you like kings and queens.
A helpful staff is always ready to assist you with any questions you might have about Bali and to make your stay as comfortable as possible!
---
Like this post? Don't forget to save it on Pinterest!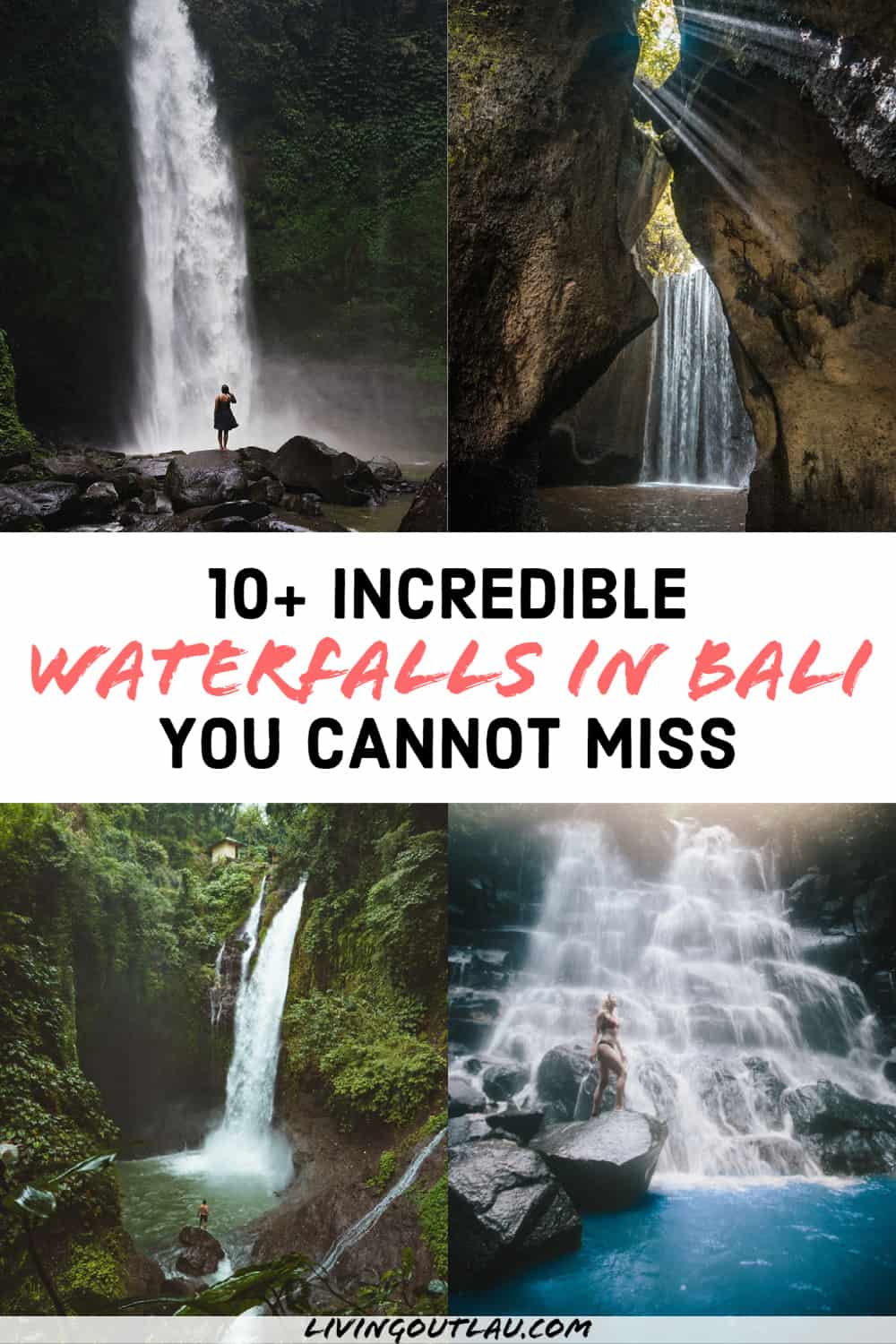 ---
This concludes our guide on the 15 best waterfalls in Bali. Chasing waterfalls is one thing you must do in Bali. Make sure you don't miss some of the epic ones we have mentioned above!

Have you been to any of them? Let us know in the comments!!
Disclaimer: Some of the links above are affiliate links. That means if you book or make a purchase through the links, we will earn a small commission at no extra cost to you! The money will help run this site! Thank you!