If you're making an itinerary for Bali, then at least one of either Seminyak or Kuta will certainly make it onto your list.
Seminyak and Kuta are two of the most popular neighborhoods in Bali with plenty of attractions and accommodations for tourists.
The two areas are adjacent to each other (Kuta is situated south of Seminyak) and share plenty of similarities, but there are also plenty of differences underneath the surface.
The main difference between Seminyak and Kuta is that Seminyak is generally more suited to those looking for more luxury, with its trendy bars, boutique accommodations, and upscale beach bars, beach clubs, and nightclubs.
Kuta on the other hand is a little bit more rugged and run-down, with its crowded beach and older, budget-friendly hotels and guesthouses.
That's not to say Kuta isn't a good place to visit, it's just that on the whole, Seminyak is just a nicer place to be. There is a better standard of accommodations, nicer restaurant options, and Seminyak's beach is cleaner and more relaxed too.
But visiting both Seminyak and Kuta have their own pros and cons, which is what we'll be talking about in this article!
So let's get to it!
---
What Is Seminyak Like?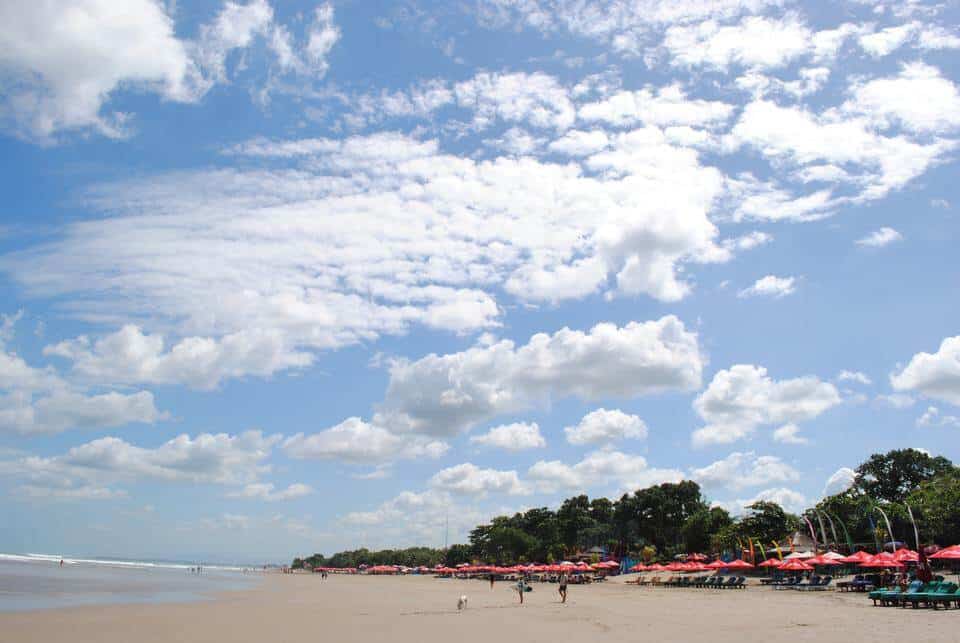 Just a short 20-minute drive north of the super busy town of Kuta is the equally busy town of Seminyak.
Both Kuta and Seminyak have many similarities, with the main one being that they are both extremely busy areas thanks to heaving traffic and their overall energetic and lively atmosphere.
There's a huge number of busy bars, nightclubs, boutique hotels, and beach clubs such as the famous Potato Head Beach Club down on Seminyak Beach, all combining to make it the party capital of the island.
Once you've finished partying the night away, you'll be able to head back to many well-known Western-branded luxury hotels or resorts, like the Sheraton, Marriott, and Grand Mercure.
It has to be said, Seminyak is a superb place to visit for a few nights if you're after a chilled day by the beach followed by a lively alcohol-fueled night.
Unlike other places in Bali like Canggu for example, you'll find a wide variety of people in Seminyak. You'll notice families on their holidays, backpackers making the most of the cheap alcohol, and even locals just after a good time mingling with the diverse mix of people.
---
What Is Kuta Like?
Kuta is located just a short 5-minute drive away from Ngurah Rai International Airport in South Bali and because of this close proximity, many people choose to stay in Kuta at the start or end of their trip.
Much like Seminyak, Kuta is a bustling town with chaotic and congested traffic at all times of the day. There's a myriad of small roads, lanes, and alleys to get lost down, with the bars and restaurants along Jalan Legian, the island's main "strip".
It's just set back from the sands of Kuta Beach, so after dining at one of Kuta's many options you can take a leisurely beachside stroll before heading back to your hotel.
There's a wide range of accommodation options, from hostels and hotels, right to some luxury resorts like The Anvaya Beach Resort.
Again, similar to Seminyak, Kuta is famed for its lively nightlife that comes alive once the sun goes down, and the many restaurants and bars that line the streets begin to fill with tourists looking to enjoy their evening with freshly made cocktails, live music, and a night of dancing and fun.
---
Seminyak vs Kuta: How Do They Compare And Contrast?
Which Is Better For Staying?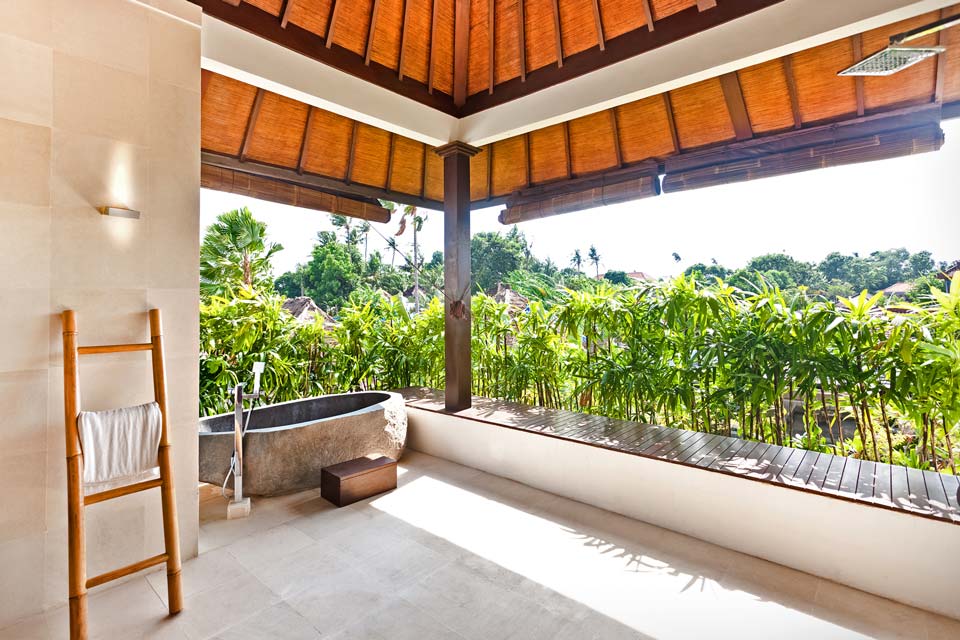 So, as we've mentioned already, both Seminyak and Kuta are quite similar in a lot of ways because they are adjacent to each other. This makes them quite hard to split apart, but in terms of which area is better for staying in, Seminyak is generally better than Kuta.
Seminyak is a much more refined experience with a number of large five-star resorts like The Seminyak Beach Resort and Double Six Luxury Hotel, as well as just an overall more upscale vibe.
You'll usually be able to get these luxury resorts, hotels, and Bali's best private pool villas for great value too, especially when you compare accommodation prices in Western countries. These deals can usually be found outside of the peak season which runs from April through to August.
Kuta is still a great place to stay though as it's also got several great resorts as well as cheap hotels, a range of superb nightlife options, and the same busy atmosphere that Seminyak has.
We found that the congestion in Kuta can be a little bit overwhelming. Along with the noise and pollution that comes with it, Kuta might put some people off, especially families looking for a nice relaxing time.
But the bonus? Kuta is a short drive to Bali's Ngurah Rai International Airport, which is handy for when you first arrive, or for when you're departing.
Which Is Better To Stay, Seminyak or Kuta?
Seminyak
Which Is Better For Nightlife?
For nightlife in Bali, both Seminyak and Kuta are always the top two choices and are widely considered to be the island's party hotspots.
But when it comes to deciding the better nightlife between the two, I think this would completely depend on the type of night out you are wanting to have. Each person is different and what you deem to be a great night might be someone else's version of a bad one.
Seminyak's nightlife options tend to be a little bit more refined. Several luxury beach clubs in Seminyak stay open until late like Ku De Ta and Potato Head Beach Club, quirky Latino-themed bars like Motel Mexicola and La Favela, and even several rooftop bars and lounges for you to take in the beautiful views such as Above Rooftop Lounge & Bar and the Double-Six Rooftop.
Kuta's nightlife has a similar energy, but the vibe usually attracts travelers that is looking for something "cheap and cheerful".
Most of the nightlife options in Kuta aren't as refined as the ones in Seminyak, and although you don't need to spend so much money, the experience might not be what you are seeking.
So for more upscale places, pick Seminyak. For cheaper nightlife, pick Kuta.
Which Is Better For Nightlife, Seminyak or Kuta?
Tied
Which Is Better For Shopping?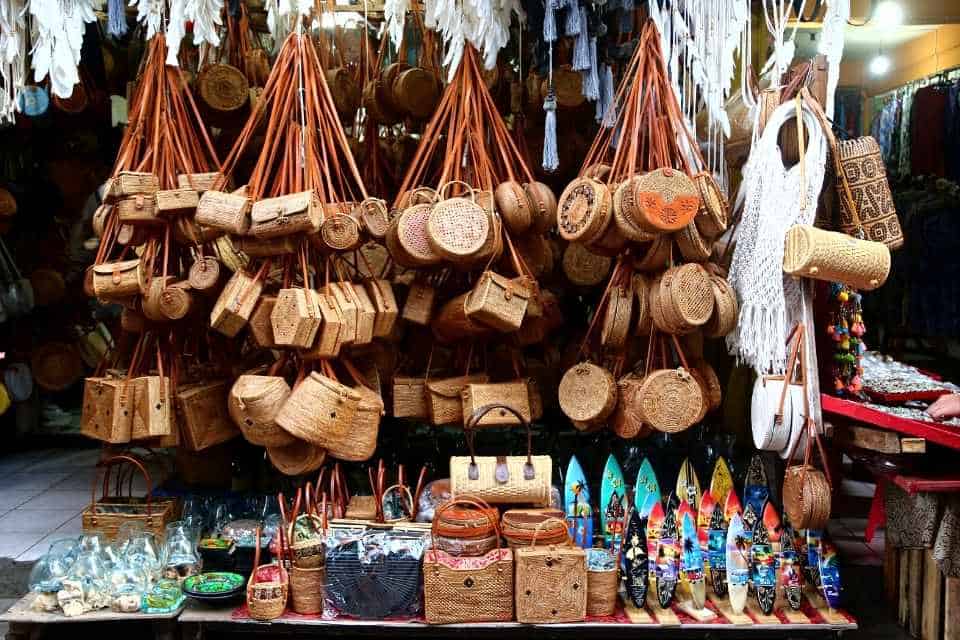 Much like the nightlife, which area between Seminyak or Kuta is better for shopping depends on what kind of items you are looking for.
Sticking with the more upscale theme, the Seminyak area features a lot more boutique shops that sell everything from handmade jewelry and clothing to beautiful straw hats and bags made from natural Balinese materials.
You'll also find the well-designed mall 'Seminyak Village' here, which is the best place in the area if you're looking to shop in some more well-known international brands like Aldo, Birkenstock, and H&M alongside more local luxury brands.
Kuta on the other hand is known more for its busy markets and street-sellers all vying for your business. You'll be able to find all kinds of small gifts and souvenirs here like unique lighters, beaded bracelets, artwork, and clothes.
Kuta has a mall too, the 'Beachwalk Shopping Center' which is one of Bali's biggest and most luxurious shopping malls.
If you're after typical Bali souvenirs to take home, then Kuta is the spot. If you're looking for more independently designed gifts then you should head to Seminyak.
Which Is Better For Shopping, Seminyak or Kuta?
Tied
Which Is Better For Beaches?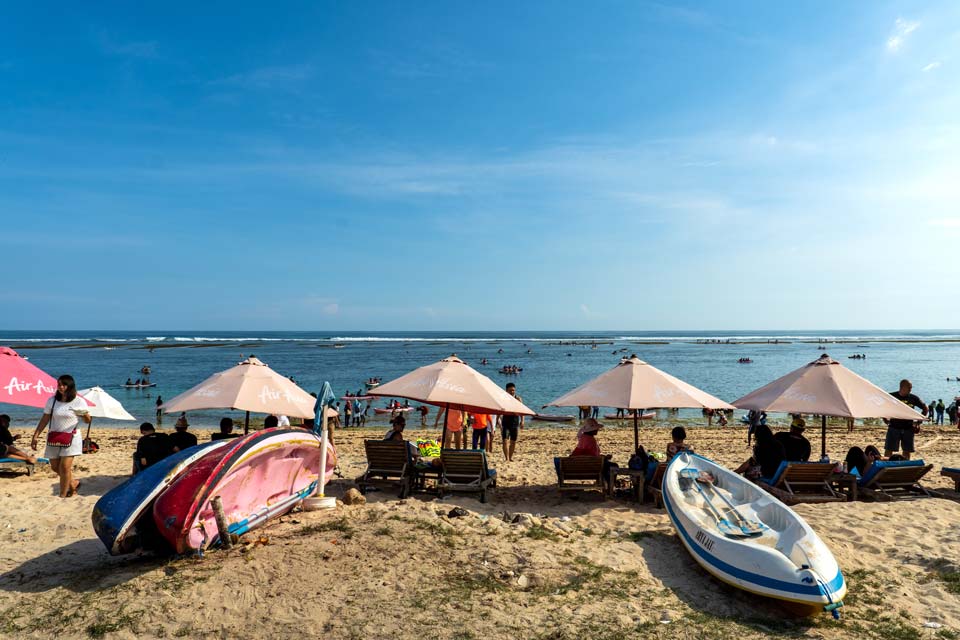 Being just a short drive away from one another, Seminyak and Kuta effectively share much of the same stretch of white sand. It's super wide, and when it's high tide you can walk out for miles. Well not quite miles, but you get the gist.
Kuta Beach and Legian Beach are much busier than Seminyak's Double-Six Beach and Seminyak Beach. Kuta's beaches are lined with independent vendors selling cold drinks and simple food like the famous Nasi Goreng.
You'll also find surfing "instructors" (aka Bali cowboys) wanting to give you a surfing lesson or two and get you riding Bali's famous waves.
That's not to say that Seminyak's beaches are void of people though, quite the opposite in fact. Multiple bars and restaurants line the boardwalk with colorful beanbags on the beach for you to relax on, with La Plancha being one of the most popular.
It's the best place to watch the famous Seminyak sunset, with great music from a live DJ and even better food.
One of our favorite things to do in Bali is getting a coconut or a cocktail and sitting on one of the bean bags on Double-Six Beach in Seminyak.
Kuta and Seminyak beaches are very similar in terms of the quality of the sand and waves. But Kuta is a little bit more lively while Seminyak is usually a bit more relaxed. So this category will have to be a tie because it depends on your preference.
Which Has Better Beaches, Seminyak or Kuta?
Tied
Which Is Prettier?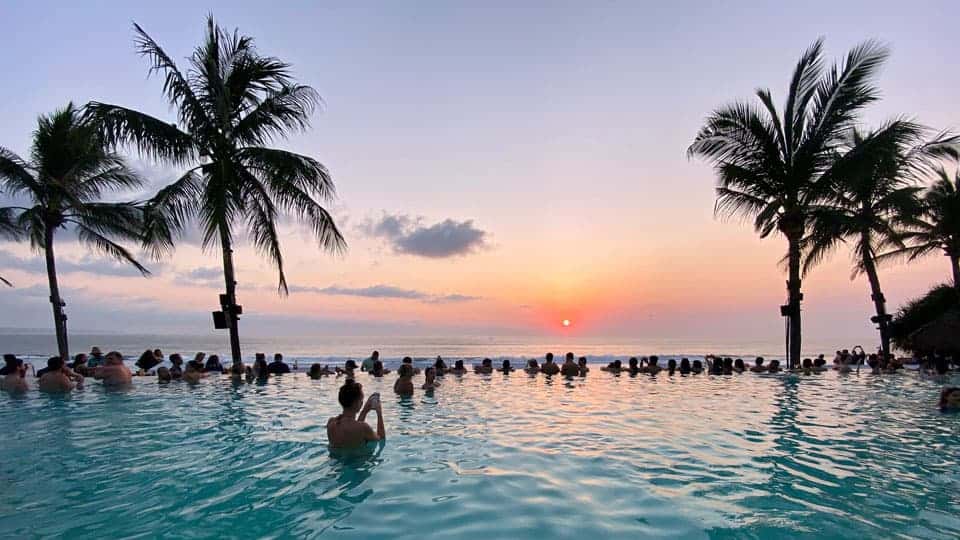 Before visiting Seminyak or Kuta, it is worth noting that neither Seminyak nor Kuta stands out for being pretty. But between the two, Seminyak tends to be arguably prettier than Kuta, thanks to the trendy design of a lot of the cafes, restaurants, and shops that line the streets.
As we've already mentioned, Seminyak's beach is quieter, more tranquil, and also contains far less plastic and rubbish on it than Kuta Beach does.
The accommodations in Seminyak also add to its charm too, with traditional Balinese-designed guest houses and villas dotted around, and even the odd rice terraces too which is a strange sight considering you're in a dense city environment.
Walking around Kuta, you get the impression that it might've been a little more attractive maybe 10 or 15 years ago. There are a lot of closed-down shops and buildings that have been left in disarray which only adds to the overall feeling that Kuta has perhaps had its heyday.
Which Is Prettier, Seminyak or Kuta?
Seminyak
Which Has Better Things To Do?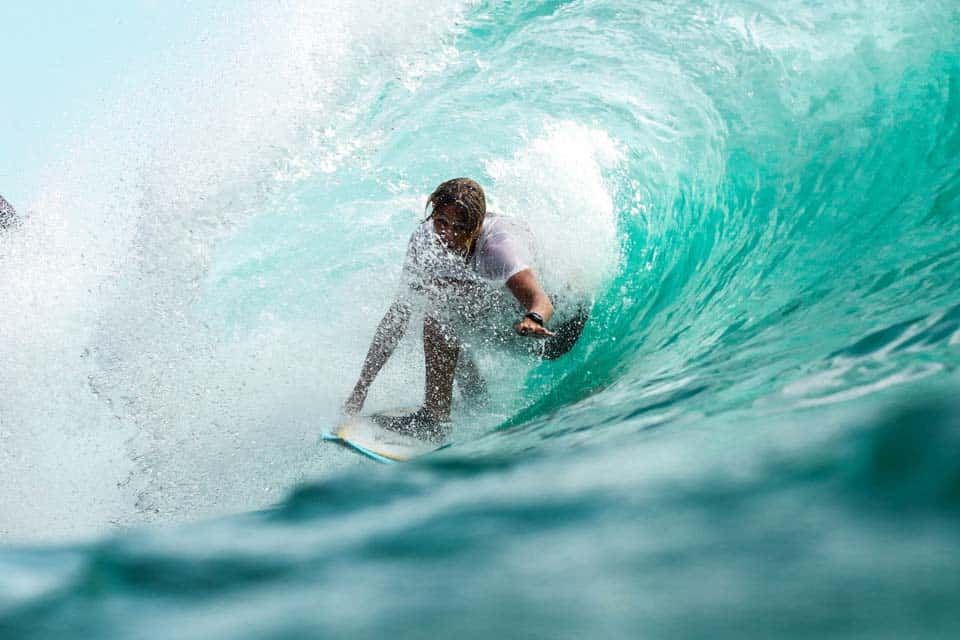 Being one of the most popular destinations in Southeast Asia, there's a whole heap of things to do within the island's hotspots of Seminyak and Kuta.
Kuta is arguably the more "fun" destination, with lively bars and restaurants all focused around the Kuta Beach area as well as one of Asia's best water parks, Waterbom Bali.
You can also try your hand at surfing, with a huge number of surf schools along Kuta Beach willing to teach you how to ride some of Bali's famous waves.
Seminyak is a little more an upmarket area than Kuta, with a range of stunning beach clubs like Potato Head and Ku De Ta with Bali's best infinity pools that are perfect for relaxing all day by the beach, world class restaurants such as The Plantation Grill and La Lucciola, and designer boutique shops all over the area.
It's a great place to shop until you drop, eat delicious food, and relax by the beach, with a little bit of Bali's famous nightlife sprinkled in for good measure.
This is a tough one to call, and as they both have great things that the other doesn't, we're going to call it a draw.
Which Has Better Things To Do, Seminyak or Kuta?
Tied
Which Is Better To Live Long-Term?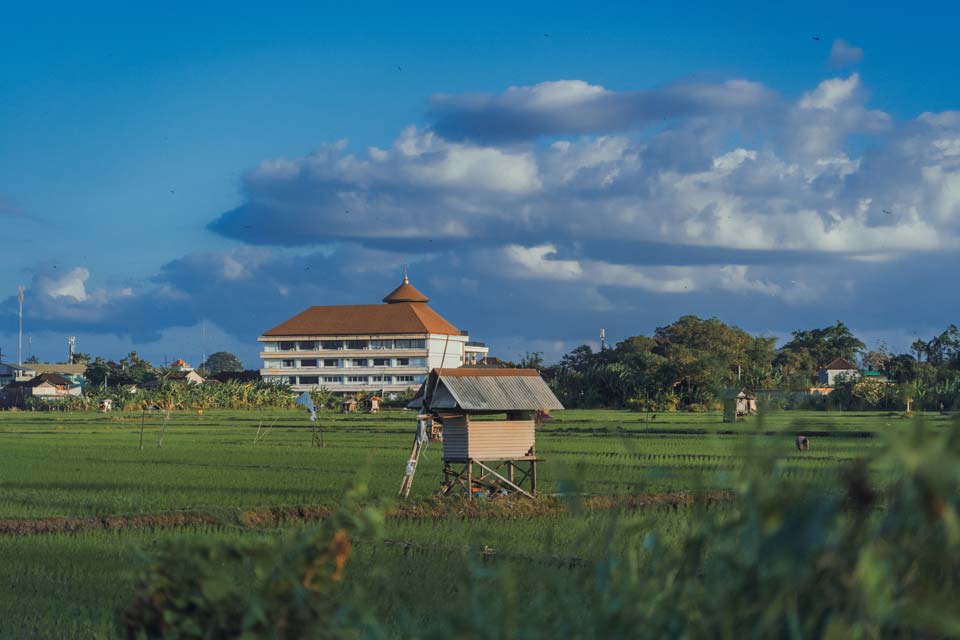 If you have to live long-term in either Seminyak or Kuta, we would recommend Seminyak simply due to the overall atmosphere of the area.
Kuta is great for a few days in Bali, but if you'll be there for any serious length of time the traffic congestion, noise, and narrow ugly streets will be unbearable. Plus being constantly hounded by the street vendors that think you're on holiday will become very annoying.
Whilst Seminyak does have both of these issues, they're just on a far lesser scale as things are a little bit more spaced out and less crowded. As Seminyak is a nicer place overall, you'll likely pay a bit more for an apartment than you would in Kuta, but for us, it would be worth it.
You'd also be closer to other areas of Bali like Ubud and Canggu too, for when you want to explore.
Which Is Better To Live Long-Term, Seminyak or Kuta?
Seminyak
Read More: Ubud or Seminyak: Which Is Better?
Which Is Better For Digital Nomads?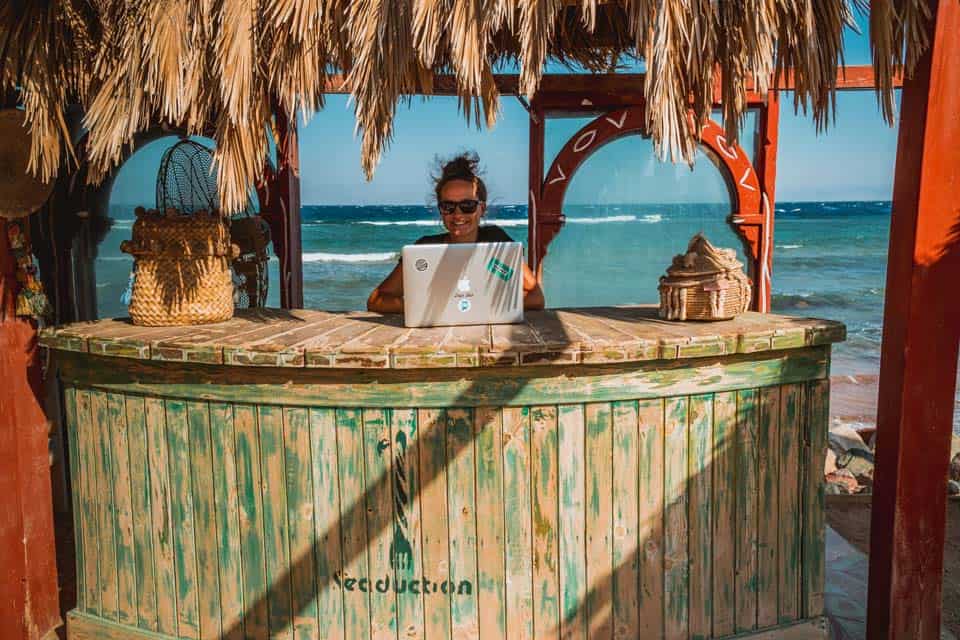 Seminyak is better than Kuta for digital nomads. Kuta is built around tourists, and as a result, there aren't very many co-working spaces and chic cafes like there are in Seminyak.
Biliq is one of the best co-working spaces in Seminyak as it's in a great location and the overall design of the space is just really well thought out.
There's a tiny pool for you to dip your feet in and also has excellent business facilities like meeting rooms and private office space. You'll also meet other friendly digital nomads here too.
In terms of the lifestyle, you'll have access to Seminyak's beautiful beaches, and the town also has plenty of yoga studios, spas, and fitness centers making it easy for nomads to stay active.
This is all in addition to the fantastic selection of bars and restaurants that make Seminyak famous.
Which Is Better For Digital Nomads, Seminyak or Kuta?
Seminyak
Read More: Seminyak vs Canggu: Which Is Better?
---
Seminyak or Kuta Comparison Table
| Category | Seminyak | Kuta |
| --- | --- | --- |
| For Staying | x | |
| Nightlife | x | |
| Shopping | x | x |
| Attractions | x | x |
| Aesthetics | x | |
| Things To Do | x | x |
| For Living Long-term | x | |
| For Digital Nomads | x | |
Seminyak or Kuta FAQs
How Far Is Kuta From Seminyak?
Kuta and Seminyak are directly adjacent to each other, so the distance between the two neighborhoods can be as little as a few meters (if you are at the border of the two areas). But generally speaking, approximately 5 to 6 kilometers separate the Kuta and Seminyak.
Is Seminyak Worth Visiting?
Seminyak is definitely worth visiting. It is one of the most popular areas in Bali, thanks to its vibrant nightlife, endless shopping opportunities, and plenty of entertainment options. Visitors can explore its plethora of trendy cafes and restaurants, or simply just relax on one of its nice beaches!
Is Kuta Worth Visiting?
Kuta is worth visiting, but only for a few days. The area is home to plenty of shopping opportunities, nice beaches, and very crazy nightlife. However, the congestion, noise, and pollution will soon get to you and you'll want to leave as quickly as possible.
So, Is Seminyak or Kuta Better To Visit or Stay?
All things considered, Seminyak ultimately reigns supreme over Kuta in pretty much every department. Kuta is still a great place to visit, with its busy street life and abundance of bars and restaurants, but overall, Seminyak is just a better place to visit.
Is Bali Safe?
Yes, Bali is generally safe for travelers. Violent crimes are very rare, though travelers do have to be aware of petty crimes such as theft and pickpockets.
---
So, Is Seminyak or Kuta Better To Visit or Stay?
All things considered, Seminyak ultimately reigns supreme over Kuta in pretty much every department. Kuta is still a great place to visit, with its busy street life and abundance of bars and restaurants, but overall, Seminyak is just a better place to visit.
Our expert suggestion is to stay one or two days in Kuta when you first arrive in Bali because of how easy it is to get from the airport to Kuta, then make your way to Seminyak, Canggu, and Ubud!
Disclaimer: Some of the links above are affiliate links. That means if you book or make a purchase through the links, we will earn a small commission at no extra cost to you! The money will help run this site! Thank you!