If you are traveling to the Indonesian island of Bali, chances are you'll have heard quite a lot about Canggu and Seminyak. They're just a short 20-minute drive from one another, both have access to a wide and long beach, and both also have plenty of restaurant and nightlife options for you to indulge in.
But if you have to visit just one, which one should you pick? Canggu or Seminyak?
The main difference between Canggu and Seminyak is that Seminyak is a much busier place with restaurants, bars, pubs, and clubs, all open until the early morning. On the other hand, Canggu is more laid-back. The beach is quieter and less developed, the traffic is less intense, and there aren't as many nightclubs and bars blasting music all night long.
Because they are so close to each other, there are a lot more similarities than more people think. But underneath the surface, the subtleties are what make all the difference. And having lived in both Seminyak and Canggu, we've decided to write this blog post to compare and contrast Canggu and Seminyak, two of the most famous destinations in Bali.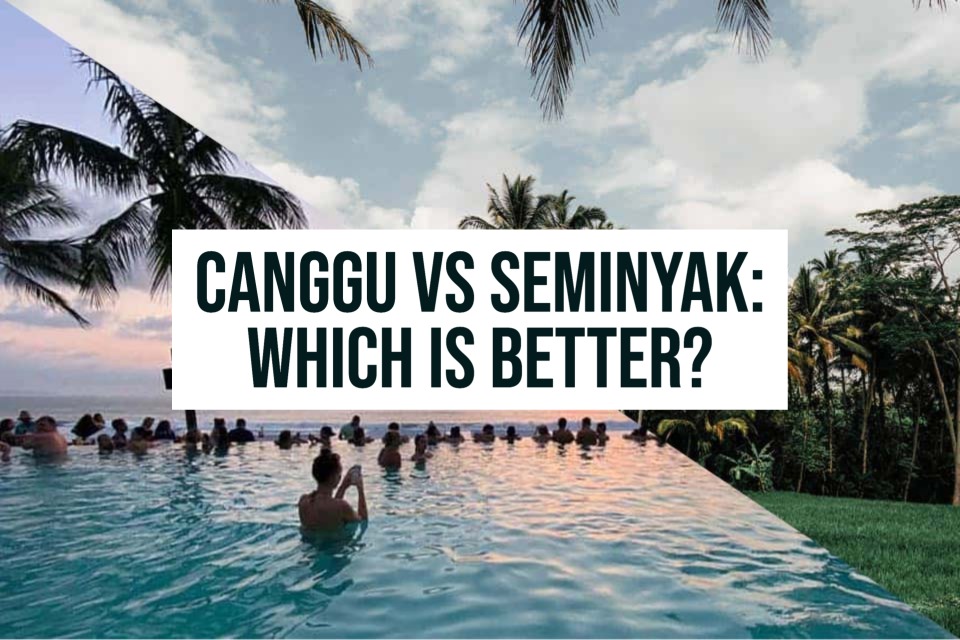 ---
What Is Canggu Like?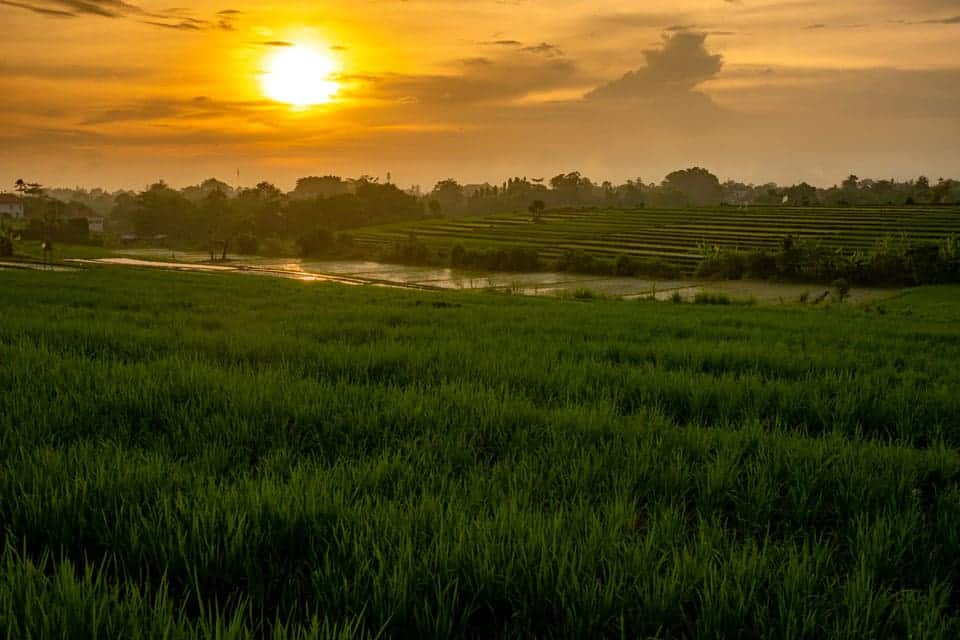 Canggu is a surfer's paradise. But don't be expecting bright white sand, as it's far more rugged than that, but that's its beauty. A volcanic black sand beach known as Echo Beach is the town's highlight, with several beachside "shacks" ready and waiting to serve you ice-cold drinks.
After all, there's nothing that sums up Bali quite like relaxing on a huge, comfy beanbag watching surfers hit waves twice their size, all whilst sipping on a Bintang (famous Indonesian beer) or two.
Coming off of the beach, there's no shortage of options when it comes to cafes and restaurants. In fact, Canggu is Bali's café capital as there are just so many lining the streets.
Whilst Canggu is not as bar and nightlife focused as Seminyak or Kuta, there are still some superb places for you to grab a drink or cocktail, with these located mostly around the beaches, like at Finns Beach Club.
You'll see plenty of foreigners in Canggu that have made this town their home, and who can blame them? It's far less busy than Seminyak and there's an amazing relaxed feel about the place. Outside of the built-up area of Canggu itself, you're also surrounded by lush green rice paddy fields.
In a sense, it's almost like the best bits of Bali have been rolled into one and placed in Canggu.
Read More: Is Canggu Still Worth Visiting?
---
What Is Seminyak Like?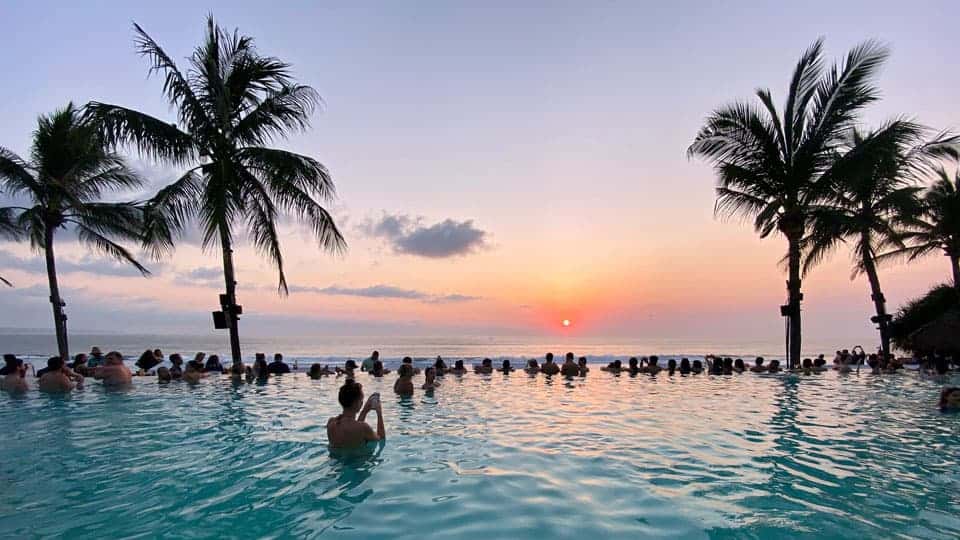 Located just a short distance north of the hustle and bustle of Kuta, I think Seminyak actually shares more similarities with Kuta than with Canggu, mainly due to the heavy traffic and general vibrant atmosphere of the area.
It's heavily focused on catering to the tourist and is also known for being Bali's party hotspot, with places like Potato Head Beach Club hosting huge beach parties on Seminyak Beach.
Think bright lights and big nights, Seminyak is a great place to stay for a few days in Bali if you're looking to have a good time once the sun goes down. You'll also find plenty of big-name resorts and luxury hotels here in Seminyak like Sheraton, Marriott, and Grand Mercure.
Naturally, this combination attracts a wide variety of people including young backpackers looking to let loose, families on their holiday, all the way through to locals looking for a fun place to hang out with their friends for the evening.
---
Canggu Vs Seminyak: How Do They Compare And Contrast?
Which Is Better For Staying?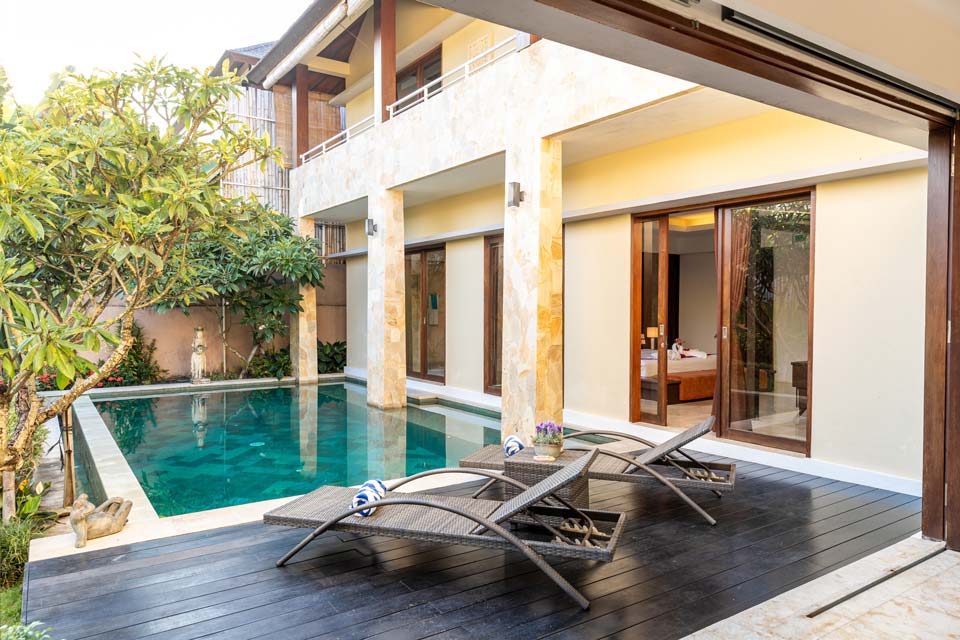 Both Canggu and Seminyak are very popular destinations among tourists and locals alike as they are both two of the best places to visit in the south of the island, along with Uluwatu. But if we were to pick one, it'd probably have to be Canggu.
There are some beautiful independent accommodations available in Canggu – some include the best water villas in Bali, for excellent prices which just tip it over the edge for me. It's always good to support local businesses, especially after Covid-19, and by staying in Canggu you'll be doing just that.
Seminyak has an abundance of stunning accommodations as well, from some of the best private pool villas in Bali to amazing resorts. However, the environment might be too busy and intense for travelers that are looking for a relaxing holiday.
Yes, the nightlife in Seminyak is probably better than Canggu, but you can do that from Canggu since they are only a short drive from each other.
Which Is Better To Stay, Seminyak or Canggu?
Canggu
Which Is Better For Nightlife?
One of Bali's biggest selling points is the diverse nightlife scene that you'll find in all areas of the island. There's one clear winner between Seminyak and Canggu when it comes to nightlife, and it's undoubtedly Seminyak.
Though Seminyak is far from sleepy during the day with beach clubs like Potato Head Beach Club and Ku De Ta (and its gorgeous Bali infinity pool), the neighborhood comes alive at night.
With its unforgettable Latin theme, Motel Mexicola is one of Bali's most famous places to let loose, as is La Favela, another South American-inspired nightclub. Outside of the big hitters, there is a huge range of bars, pubs, and clubs all battling for your custom throughout the area, at all times of the day.
Canggu on the other hand is much more reserved and focused more on its food scene. There's everything from traditional Indonesian "Warung-style" eateries to Vietnamese cafes overlooking the rice paddies, right through to your trendy Instagram-worthy three-course meal restaurants.
With that being said, if you are on the hunt for some cocktails in Canggu, you won't have to look far. Old Man's Bar, located right next to Batu Balong Beach is a popular choice, especially among travelers.
La Brisa is one of our favorite beach clubs and where we love to watch the sunsets in Bali. COMO Beach Club and Echo Beach Club are great spots too, and of course the famous Finn's Beach Club, one of the best beach clubs in the world!
Which Is Better For Nightlife, Seminyak or Canggu?
Seminyak
Which Is Better For Shopping?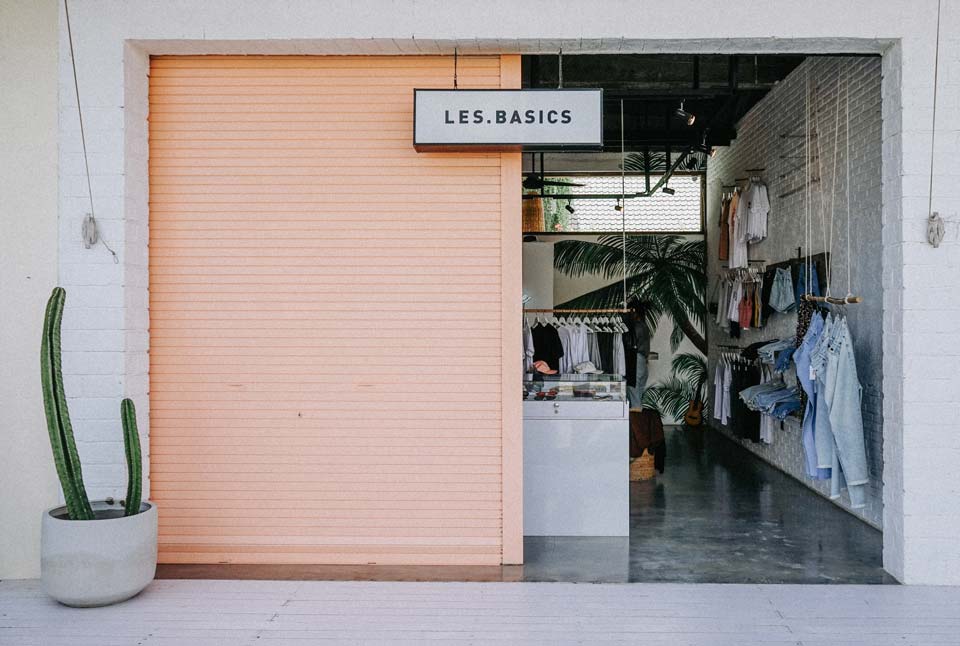 No Bali itinerary is complete without going shopping. It's one of the main ways many locals make a living.
Whether it's through the massive amount of boutique shops selling vintage clothes and gorgeous hand-crafted jewelry, market traders selling the typical touristy souvenirs, all the way through to the self-sufficient sellers that stroll across the beaches selling a mix of both, Bali offers a unique shopping experience unlike anywhere else.
If you're needing to do some shopping, then your best bet is almost certainly going to be Seminyak. It's so much more built-up and developed than Canggu is, and of course, this means a lot more shops and more variety in products.
You'll find plenty of independent shops thriving here, alongside big-name clothing brands, and even a large mall named Seminyak Village. On top of those options, you've also got Seminyak's Flea Market which is a must-visit if you're wanting some souvenirs for yourself or your loved ones back home.
Canggu is still a decent place to do some shopping though, but you'll be limited to small boutique shops and the markets. Don't be too disheartened though as the markets here are some of the best on the island.
Love Anchor is a quaint little 'bazaar' that's jam-packed and full of your typical Balinese products such as straw hats, knitted bags, handmade jewelry, and clothes. La Brisa, the beach club we mentioned earlier, also hosts a beautiful little market every Sunday full of locals selling small gifts and street-food options.
Which Is Better For Shopping, Seminyak or Canggu?
Seminyak
Which Is Better For Surfing?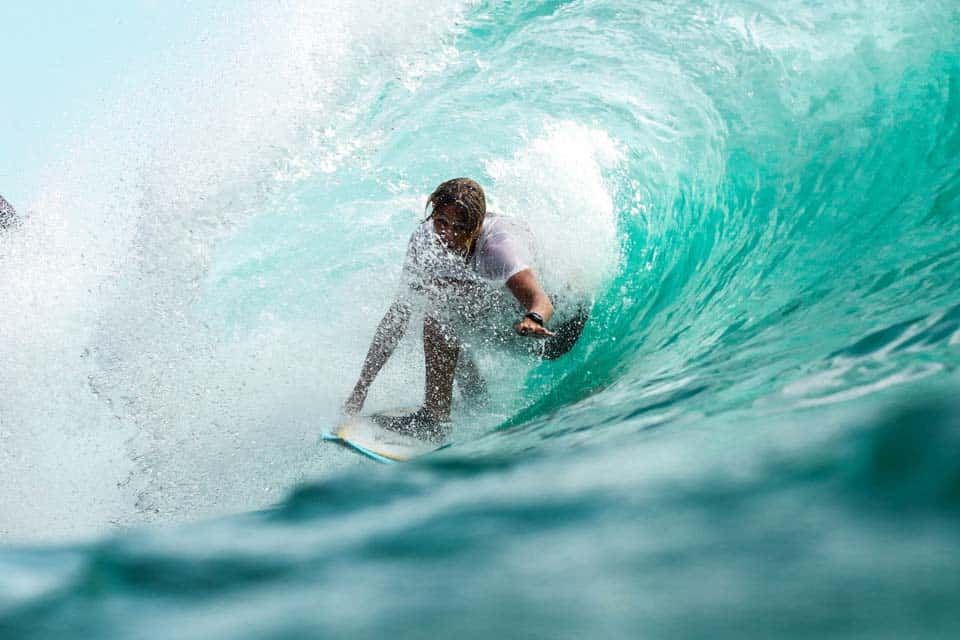 With some of the best surfing spots in the entire world located in Bali, it's little to no surprise that surfing here is a way of a life. Tourists come from all corners of the world to ride Bali's waves and the Balinese locals are so enthusiastic about teaching newcomers.
If you're an experienced surfer, Seminyak and Canggu might not be your top picks for a surf destination. However, don't write them off just yet as you can still have a great time catching some decent-sized waves and fine-tuning your skills here.
If I was to pick one though, it'd have to be Canggu. You get the feeling the town is built around the surf culture and beach life, and the waves of Batu Bolong beach are perfect for beginners and for the more experienced. They're large enough to be exciting but not so powerful that it's dangerous, and there are no large underwater rocky sections here either.
Once you're done with the waves, you can relax on the colorful beanbags or up on the decking at one of Batu Bolong's chilled beachfront bars. If you're not satisfied with the waves at Canggu, then you'll be hard-pressed to find better and bigger waves down in Uluwatu.
Which Is Better For Surfing, Seminyak or Canggu?
Canggu
Which Is Prettier?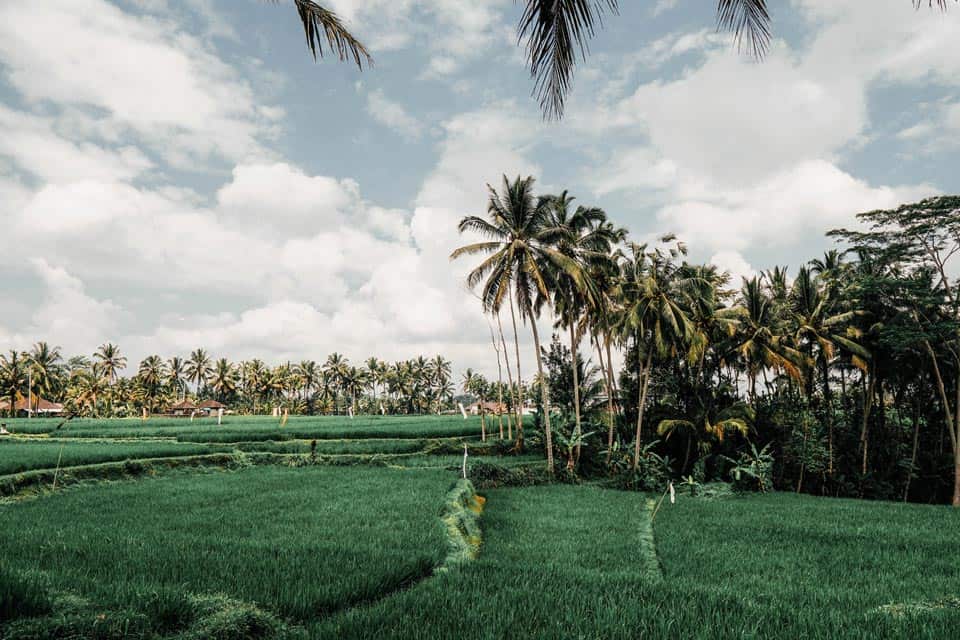 Without a doubt, Canggu is much prettier than Seminyak. It's one of the most picturesque parts of the island, with dark orange sunsets along the beachfront are the absolute highlight. After the sun goes down, you'll be treated to the most incredible pink and red skies too.
Thanks to millions of years of volcanic activity in the area, Canggu's pristine beaches also have dark volcanic sand, which is a real contrast with the deep blue of the Indian Ocean and something quite rare across the world.
Read More: Canggu Vs Ubud: Which Destination Is Better?
If you come off the beach and make your way through the town itself, there have been plenty of beautifully modern restaurants and cafes being built which add to Canggu's charm and appeal.
Keep making your way inland even further and you'll soon come across Bali's famous lush green rice paddies. No matter how long you stay on the island, or how often you come, the stacked nature of the paddies never gets old and gives you the true feeling of Bali's countryside.
On the other hand, Seminyak is much more built up and lacks the beauty you would usually associate with the "Island of Gods", a nickname for Bali.
Which Is Prettier, Seminyak or Canggu?
Canggu
Which Has Better Things To Do?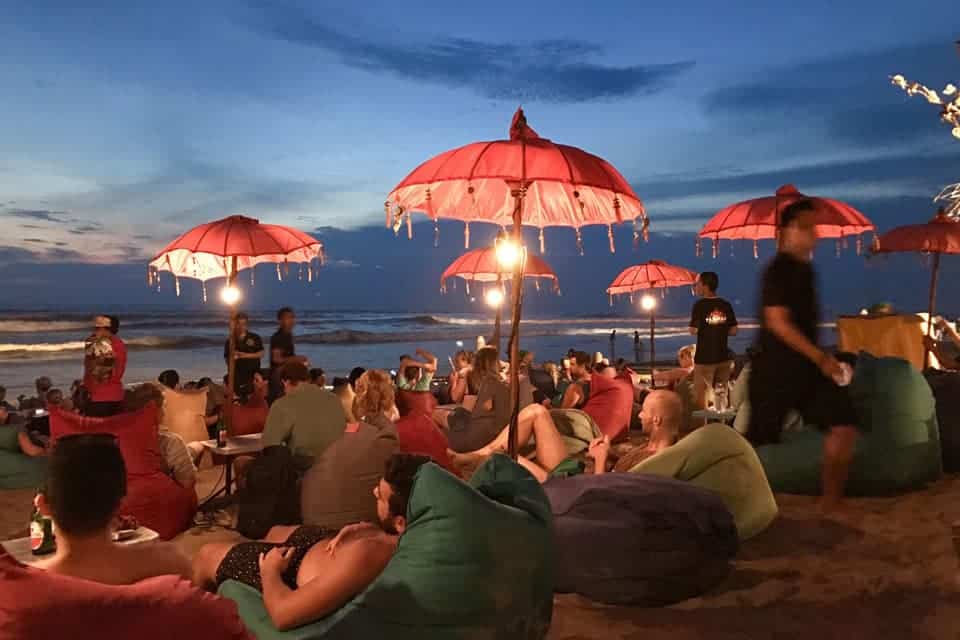 As Canggu is less developed than other areas of Bali, the vast majority of what you will do in the town is focused on either the beach, the cafes, and restaurants, or the markets.
I've already mentioned the amazing sunsets you'll be able to watch from Batu Bolong, but there are also two other beaches within the Canggu area too. Berawa Beach is a vast stretch of dark sand that for the most part is relatively quiet, and a little further up from Batu Bolong is Pererenan Beach, which is a great spot for dinner with a view.
Canggu's also a great location for health-related activities like traditional Balinese massages, yoga classes overlooking the rice fields, and even healthy cooking classes.
If you've got access to some wheels or don't mind getting a cheap taxi, Tanah Lot Temple is just 30 minutes away from Canggu, and being 300 meters offshore on top of a giant rock, it's one of the best Balinese temples on the entire island.
Read More: Ubud or Seminyak: Which Is Better?
Aside from the crazy nightlife Seminyak is famed for, there's a whole heap of things to keep you occupied when you're in the area.
If you're feeling adventurous, you can get your surfing fix down at one of Seminyak's huge beaches, and whilst you're there, there's also a long promenade that runs the entire length of Seminyak Beach and Double Six Beach, all the way down to Legian and Kuta. It's filled with beachfront restaurants and bars where you can relax, unwind and enjoy the stunning views of the ocean.
If you want to experience Balinese culture, you can pay a visit to Petitenget Temple which has stood the test of time, dating back to 1876, and is one of the few traditional landmarks in the area.
Choosing between the two is a seriously hard decision, but in terms of things to do, I think Seminyak just edges it because of its super busy nature.
Which Has Better Things To Do, Seminyak or Canggu?
Canggu
Read More: Seminyak Vs Kuta: Which Is Better?
Which Is Better To Live Long-Term?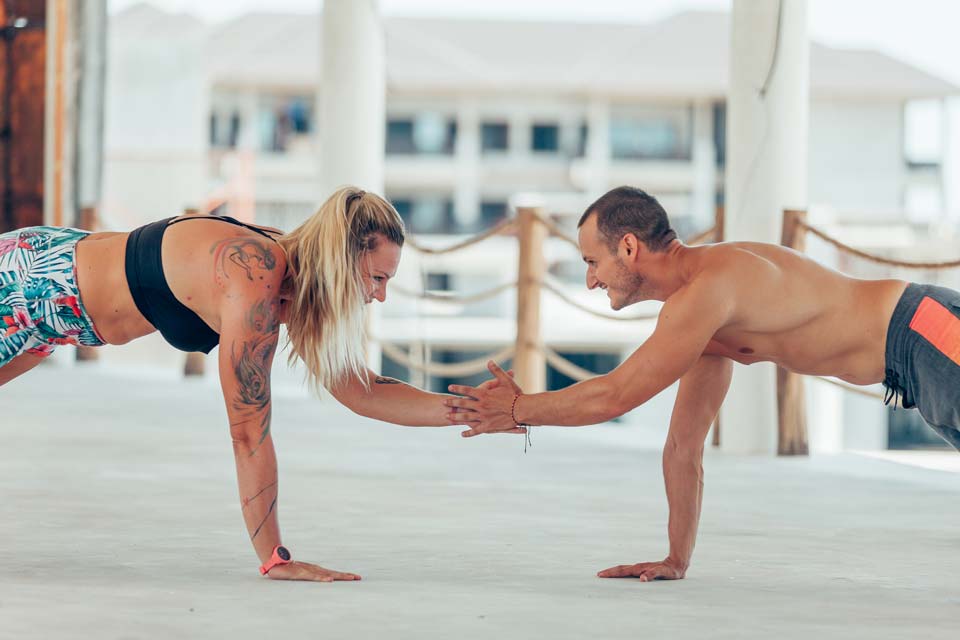 It's very hard to determine which one out of Canggu and Seminyak is better for long-term living because it entirely depends on the individual and what their lifestyle is like.
Living in Canggu would be a much more laid-back vibe, and for that reason, it has become trendy with digital nomads and expats thanks to its slow pace, healthy living options, and superb access to multiple beaches all whilst being just an hour's drive from Denpasar International Airport.
Seminyak on the other hand is far livelier with various beach clubs, nightclubs, bars, and restaurants attracting a much different crowd. If you love the hustle and bustle of Bangkok for example, there's a good chance you'd enjoy living in Seminyak over Canggu.
Read More: Is Bali Cheap or Expensive?
Be warned though, Seminyak is considerably more expensive than Canggu in terms of accommodation due to its prime location and the variety of high-end restaurants, hotels, and shops on your doorstep.
For us, we definitely prefer Canggu over Seminyak.
Which Is Better To Live Long-Term, Seminyak or Canggu?
Canggu
Which Is Better For Digital Nomads?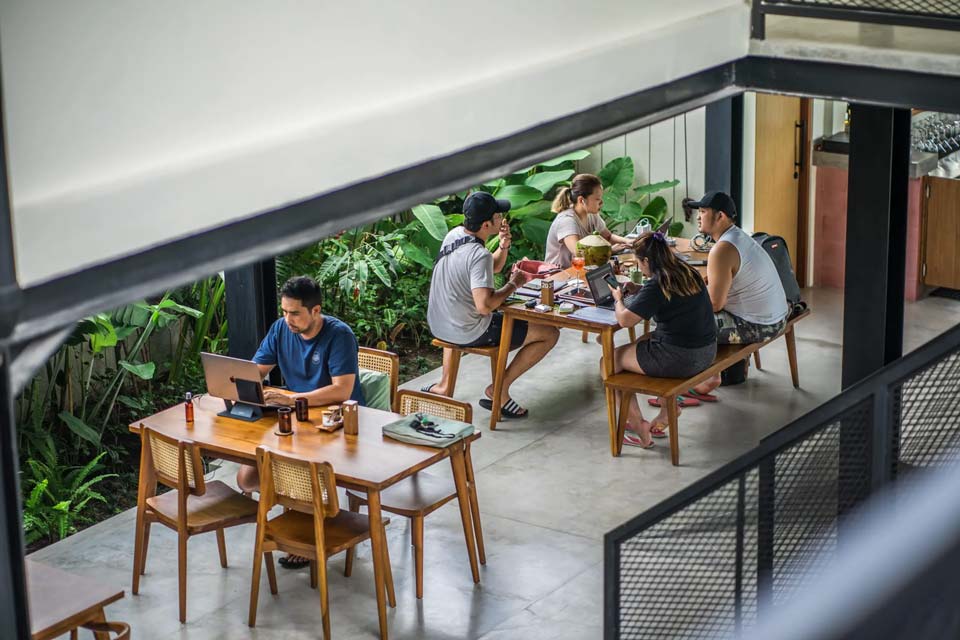 Canggu is most definitely better than Seminyak for digital nomads. To be honest, there are currently not many places in the world that can compare to Canggu if you're a digital nomad.
You'll quite literally get the best of both worlds, with Canggu having a small city feeling but right on the edge of beautiful green rice fields and the open ocean. It's not just the scenery either that makes it perfect, Canggu has exploded in recent years with hipster cafes and restaurants that are perfect for grabbing a coffee or some lunch with your laptop.
There are also several excellent co-working spaces in the town too, notably TRIBAL, Outpost, and ZIN Café. All have private workspaces for when you're in work mode with excellent fast WiFi.
Don't forget, as you're in Bali, they're also sociable too. You'll be able to meet and mingle with other like-minded digital nomads and become a part of the close-knit community really easily.
Which Is Better For Digital Nomads, Seminyak or Canggu?
Canggu
---
Canggu Vs Seminyak Comparison Table
| Category | Canggu | Seminyak |
| --- | --- | --- |
| For Staying | x | |
| Nightlife | | x |
| Shopping | | x |
| Surfing | x | |
| Aesthetics | x | |
| Attractions | | x |
| For Living Long-term | x | |
| For Digital Nomads | x | |
---
Canggu Vs Seminyak FAQs
To help you guys sum everything up and make an easier decision about whether Canggu or Seminyak is better, here is a comparison table with all the categories above.
Can You Walk From Canggu to Seminyak?
Yes, you can walk from Canggu to Seminyak. Matter of fact, the beaches of Seminyak and Canggu connect, so you can walk along the beach all the way from Canggu to Seminyak. It takes about 20 minutes to walk depending on which part of Canggu and Seminyak you are departing from and want to go to.
Is Canggu Safe?
Canggu is a safe place for tourists, with low crime and friendly locals. Basic safety precautions should be taken such as not leaving belongings unattended, exercising caution when walking alone at night, and being aware of local laws and customs.
Is Seminyak Safe?
Seminyak offers a safe and enjoyable experience for visitors, but it's best to take some simple precautions to ensure your safety. Be mindful of your surroundings, stay in well-lit areas at night and make sure not to leave any belongings unattended. Be aware of local laws and customs, respect the area and its people, and you should be able to have an enjoyable trip.
Which Is Better? Kuta, Canggu or Seminyak?
There are pros and cons to Kuta, Canggu and Seminyak. But generally speaking, Canggu is the better area in Bali to visit than Seminyak and Kuta, due to its vibrant mix of local culture and international influences, beautiful beaches for surfing, a wide array of healthy eateries, and its laid-back vibes.
---
So, Is Canggu or Seminyak Better To Stay or Visit?
Deciding between Canggu or Seminyak is pretty difficult, but as you can see, Canggu is generally the better place to visit and stay for travelers. However, both areas have their advantages and disadvantages that can appeal to different types of travelers.
If you want a more laid-back, long-term lifestyle then Canggu might be your destination. If you're on vacation and only have a limited amount of time in the area, Seminyak is probably the best option.
Whichever you choose, you'll have an amazing time because after all, it's Bali!
Disclaimer: Some of the links above are affiliate links. That means if you book or make a purchase through the links, we will earn a small commission at no extra cost to you! The money will help run this site! Thank you!