Looking for the best treehouses in Bali, worry not!
Nicknamed the island of the Gods, Bali is known for its beautiful natural landscapes from lush rainforest to idyllic rice paddies. And luckily for you, these picturesque settings are the perfect places for treehouses.
Staying in a treehouse in Bali allows you to fully immerse yourself in nature and be one with the most fundamental ways of life. It's also many people's childhood dreams!
Without further ado, here are 13 epic Bali treehouses you cannot miss!
---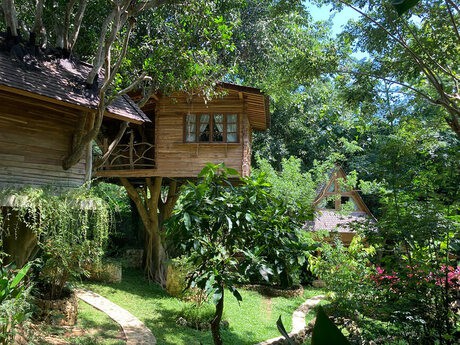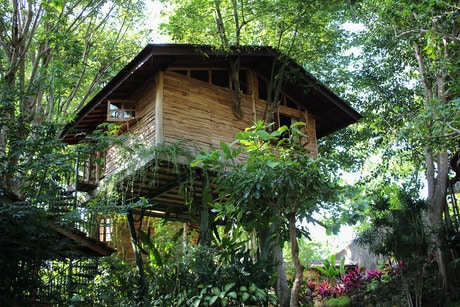 Located in southern Bali, amidst the tranquil neighborhood of Ungasan, Roots Tree House is a Bali rental that let you stay in a treehouse with an open-air view.
Roots Tree House is an eco-resort with different tree houses, where each unique treehouse has free Wifi, a comfortable bedroom, and a private outdoor space to wind out at night.
Besides, guests staying in Roots Tree House can enjoy continental breakfast, or barbeque right at this treehouse in Bali.
The swimming pool is undoubtedly the most enjoyable of all the amenities in a rental house. Roots Tree House has a shared pool, a large sun deck with multiple lounge chairs, making it a great gathering spot for family, kids, and friends.
The best thing is Roots Tree House is a pet-friendly Bali treehouse resort. So, you and your four-legged friends can have a memorable experience together.
Roots Tree House's location isn't too close to the beaches to walk on foot. But with a car rental service, you can easily go to Mealsti Beach and Karma Beach, which are both 2.1km away.
Ngurah Rai International Airport is about 9km from the property but the accommodation offers free shuttle services.
---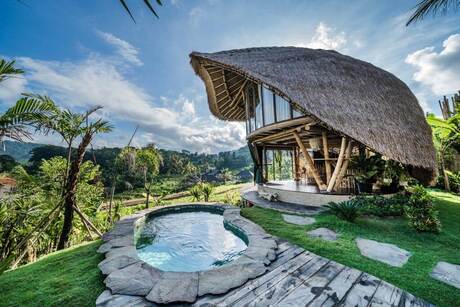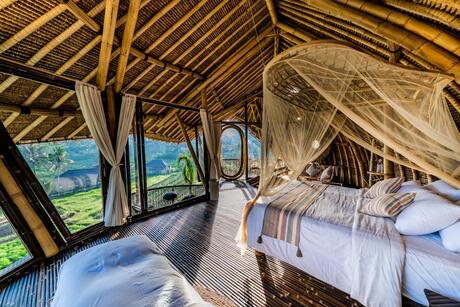 Veluvana Bali is an idyllic, peaceful, and rustic bamboo house located in East Bali with a stunning view of the Agung mountain range's southern slopes.
This Bali bamboo treehouse is one of the most eco-friendly accommodations and features an iconic Bali setting, offering guests a pristine experience.
With the views of the astonishing Sideman Valley at the front, Mount Agung's peak at its back, and the surrounding green terraced rice paddies of Jatiluwih and Tegalalang, Veluvana Bali has everything you could ask for in a treehouse villa.
Living with nature is what you can expect at the two Veluvana listings: Owl Bamboo House and Cobra House. The two-story villas are both made of green materials and locally-sourced bamboo furniture, providing an immersive experience that also supports the local economy.
You'll have access to free WiFi, a beautifully bedroom, an outdoor shower, and a private pool. This Airbnb treehouse doesn't have an air conditioner installed, so you enjoy the wind and sounds at night.
The treehouses' location is near the beautiful rice fields, therefore, you should expect insects such as mosquitoes, ants, and bugs. Just remember to put on a protective net before sleeping and keep your area clean.
Veluvana is also one of the treehouses in Bali where you can try out the iconic floating breakfast served in the pool – one of the most exciting and romantic things to do in Bali with your partner.
---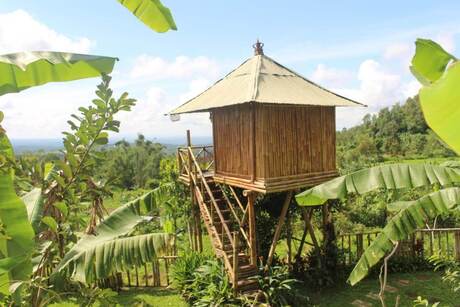 If you're looking for a budget Bali treehouse hotel, and still want to be in harmony with the nature at Bali, the Bali Tree House Pelangi is the stay you'll have to book.
Located in Bedugul, this Bali treehouse is rustic and simple, offering a village living experience where you can get a glimpse of the Bali countryside's lives during your stay.
With two types of tree houses that you can choose from, guest can choose the perfect secluded getaway.
The property provides free WiFi, a double bedroom or two single beds, a private bathroom, a garden with a place to chill, and a balcony that looks down to the jungle.
Though a very basic stay in nature, the neatness of the room and welcome of the host will make you feel comfortable. Better yet, watching the morning mist through the balcony is also an unforgettable experience.
The location of this Bali treehouse hotel is convenient for exploring some of the hidden gems of Bali. The iconic Ulun Danu Temple is a short taxi journey away, while other attractions like Nungnung waterfall and Lake Beratan are also nearby.
---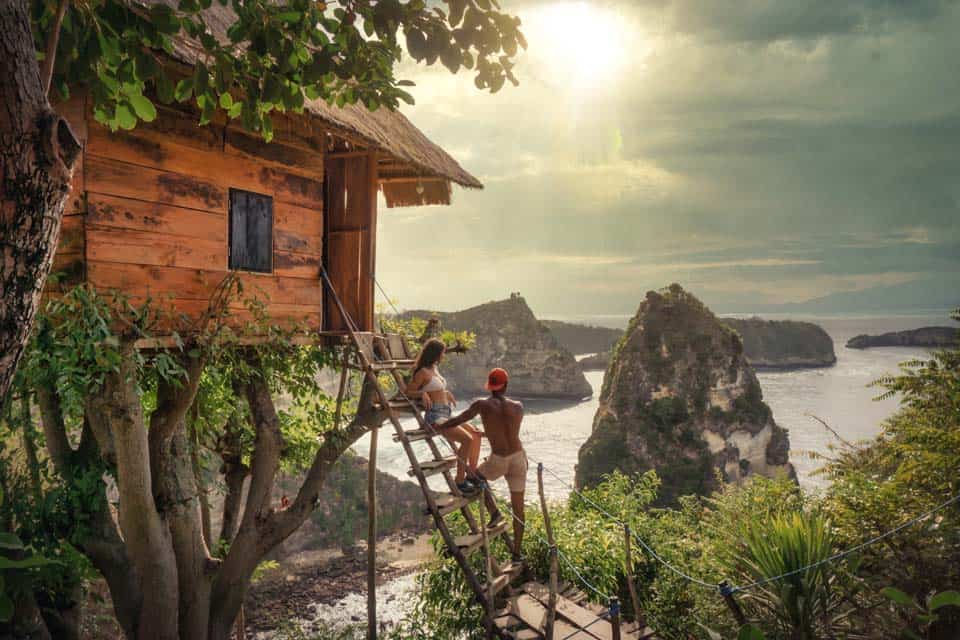 How wonderful would it be to stay in a treehouse with sweeping view of a turquoise blue sea? If you're visiting Nusa Penida, Rumah Pohon can give you that experience!
This famous Balinese treehouse is located on the island's east side. Its cozy off-the-grid living is perfect for relaxing and experiencing slow living.
From this magical treehouse, you can get spectacular views of Thousand Island viewpoint – one of Nusa Penida's most notable attractions. If you're looking for a romantic rural retreat, Rumah Pohon is a unique place to stay that you'll be still talking about a year later.
You can get up early in the morning to view the first rays of sunshine stretching up the little mountains and the sun gradually rising from the sea, or stay up late to see the sky full of stars with the dazzling moonlight beaming down on the water in this Bali treehouse.
Rumah Pohon is a once-in-a-lifetime Bali treehouse and contains three 3 huts with a shared bathroom.
It is worth noting that only one of the treehouses at Rumah Pohon offers the iconic Instagram views.
Make sure you book it in advance or risk having to find another place to stay in Nusa Penida.
---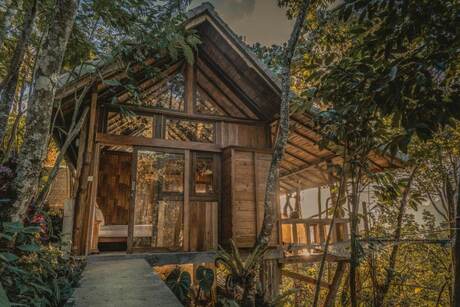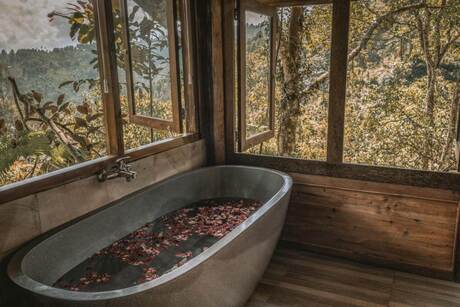 If you are planning to include the Munduk area on your Bali itinerary, the Gumi Ayu Bali treehouse hotel can be one of the budget-friendly treehouse rentals to consider. This treehouse in Bali offers a wonderful and tranquil natural setting, together with exciting experiences.
Once you're here, you'll be surrounded by many natural attractions, such as Munduk Waterfall Trail, Mount Batur, Lake Buyan, and the Munduk Bali Rice Terraces. This is a Bali treehouse for both adventurous guests and those seeking ultimate relaxation.
The rooms are built on the slope of the hill. Each room has a private balcony offering you a full view of the jungle, while some rooms even have a river view.
There'll be free WiFi, large to extra-large bed for you to choose from, and a hanging hammock on a spacious balcony for you to lie on and be zen.
---
6. Lift Bali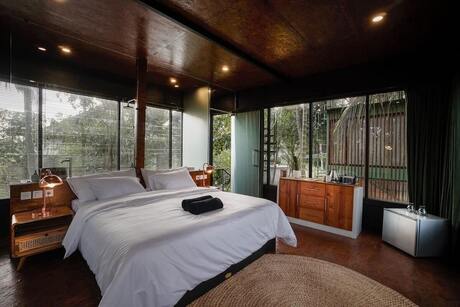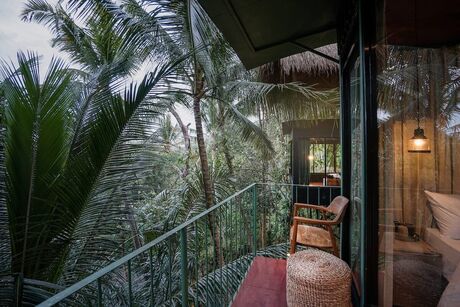 True to its name, Lift Bali is a boutique Bali treehouse hotel with a lift design that is built high up on a tree. The hotel is located in the middle of the tropical forest, with three tree houses available – George Orwell, Stanley Kubrick, and Ernest Hemingway.
This treehouse villa brings a unique experience to all guests. Located in the middle of the jungle, you can fully enjoy the natural sound of rivers and birds chirping around from here.
The Stanley Kubrick treehouse is one of the most Instagram-famous accommodations in Bali. Its chic and contemporary living room offers jungle views from all directions.
This Bali treehouse hotel brings the past and present into its design to create the perfect balance. Apart from the treetop tower, there's also a lounge area that comes with a fireplace, hammocks, and a shared stylish half-moon swimming pool.
Lift Bali's rooms are incredibly spacious and illuminated with warm yellow lights at night. There's also free WiFi and air conditioning installed, a modern bathroom, and a king bed in every tower for a goodnight's sleep.
If you want to explore all Ubud's highlights, Lift Bali is the ideal Airbnb treehouse because you are only 10 minutes from Ubud Center by motorcycle and 25 minutes by walking.
---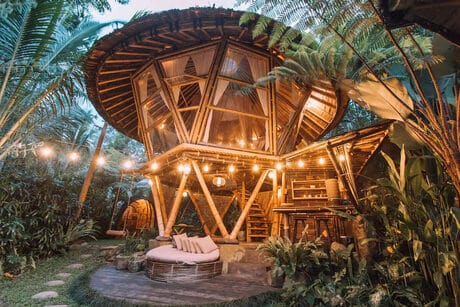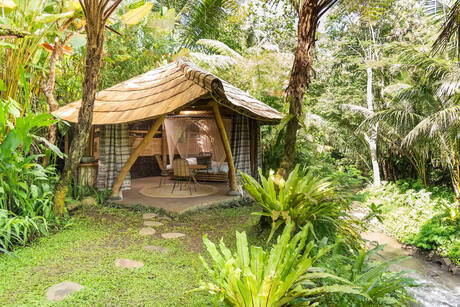 Hideout Bali consists of 6 exquisite bamboo rentals in Bali. All of these eco-friendly treehouses in Bali are located on Mount Agung, Bali's most iconic volcano.
This eco-resort is suitable for two to four guests with all kinds of needs. Whether you're with your fiancé on a honeymoon in Bali or you're planning a vacation with your family, surely Hideout Bali is one of the best bamboo treehouses in Bali that you could find. 
This treehouse promises to give you the "naked experience" with nature, in which you can play instruments all day, unwind, listen to all sounds of mother nature and forget about the hustle-bustle of the cities.
Each bamboo villa has its extraordinary elements but all of them have the utmost facilities catered for your stay: a large bedroom, an outdoor bathroom, a private garden, and a spacious outdoor space.
---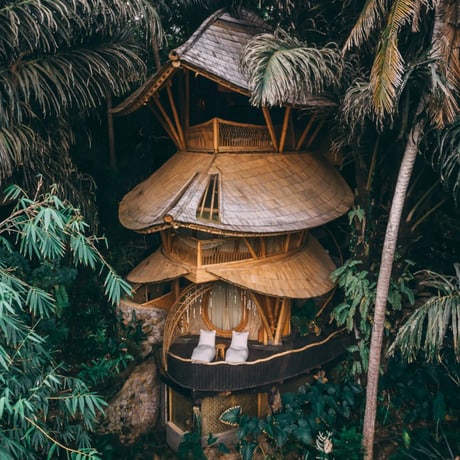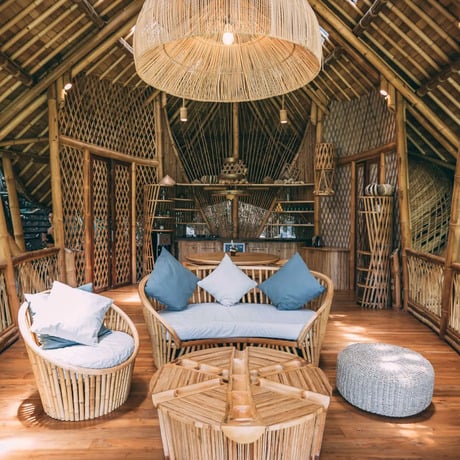 If artistic vibes and comfort are what you are looking for when choosing a treehouse to stay in Bali, then Aura House is the best treehouse you could ask for. This eco bamboo treehouse is a work of art and a luxurious playground for all guests.
Perched above the rice fields with breathtaking jungle views, Aura House is a magnificent bamboo treehouse villa made for adventurous couples seeking a romantic getaway.
Despite being a bamboo house, this treehouse has all the amazing amenities and services you need: two bedrooms, each with its private bathroom, air conditioning, a living room, a fully supplied kitchen, and a private pool with views of the surrounding forest.
If you care at all about contributing to the environment's health by lowering your carbon footprint, you'll be delighted to know that rattan, bamboo, and wood are the most used materials in this treehouse villa, making it one of the greenest treehouses in Bali.
With the open-air architecture, Aura House is a masterpiece and a great accommodation for families and couples. This Bali treehouse Airbnb is often fully-booked, you might want to plan far in advance!
---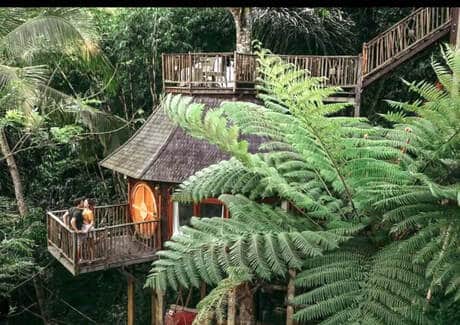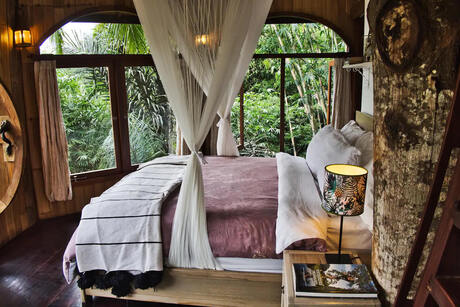 For those who love The Hobbit series, this Airbnb treehouse is a must-try when visiting Bali. Owned by a caring local family, this place isn't just any accommodation.
You can get the most out of your vacation with a large natural swimming pool and a restaurant that serves exquisite Indonesian and Thai cuisine.
The tree house is 8 meters above the ground, to which you have to cross a suspended bridge 15 meters up. That's why Hobbit Tree House emphasizes that this property treehouse isn't suitable for kids below 7 years old.
However, if you have a child that is above 7 years old, staying at this Airbnb might be a magical trip for you and your small ones. Every detail of this Bali tiny house is done with thought and consideration.
From the outside, there is a beautiful sofa, a loft, and a large balcony where you can enjoy a meal with your partner. What's more? There is a semi-outdoor bathroom and a bedroom that has three sides with an clear and open view of the forest.
Guests can enjoy swimming in a natural pool with 300 Bali native fishes and other aquatic plants, a quirky but fun experience. Don't worry about the hygiene as the pool, it is regularly cleaned with a unique bio-filter.
From the pool, guests can see a 3-meter waterfall nestled in the forested valley down below.
---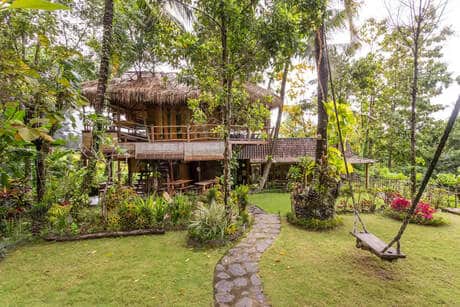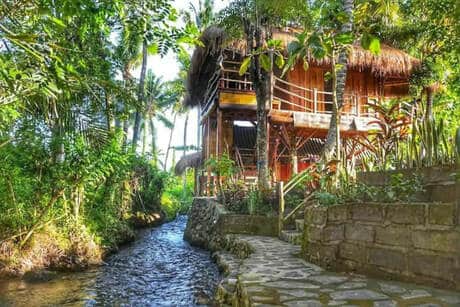 If you love trekking and exploring mother nature's mesmerizing waterfalls in Bali, Dreamy Eco Tree House is one of the treehouses in Bali that you can't miss out on.
This Bali treehouse is a hidden gem that even the locals might not know about it. Situated amongst a clove plantation, the treehouse is straight out of fairy tales.
Owned and built from natural material by a local family, the Dreamy Eco House is taken cared of seriously when it comes to sustainability.
This Airbnb treehouse can take up to 4 guests, with a queen-sized bedroom and one single bed in the common space. Dreamy Eco Tree House is a two-story house, therefore, you'll also get a large kitchen to spend quality time with your family.
The best part about staying at this tree house is walking to the waterfalls and letting your ears be full of the sounds of birds chirping every morning. The place is tailor-made for nature lovers with its utterly inspirational landscapes.
---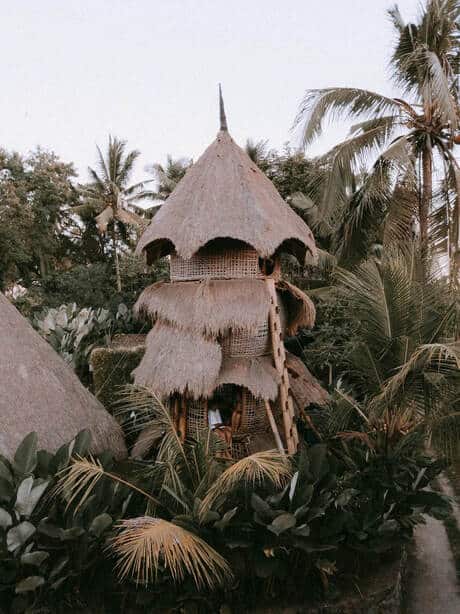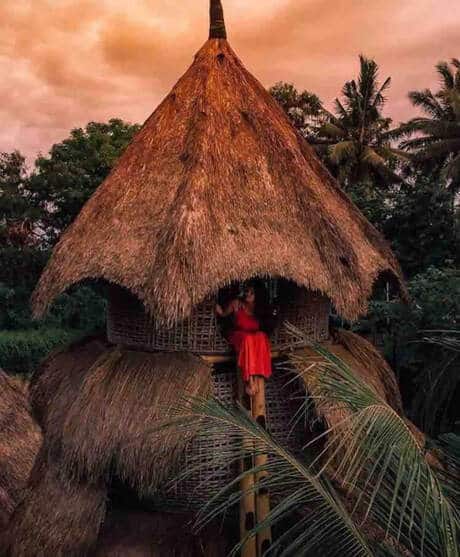 A Bali bamboo treehouse that you may have come across on the Netflix show "World's Most Amazing Vacation Rentals". Whether you have heard about it or not, it's worth spending a visit at this unique tree house.
The place is built in the middle of the rice field in Ubud, and it has different types of huts for you to choose from, guaranteeing a variety of experiences.
The most famous type of room is the bird's nest room at the top of a bamboo tower, where you have to climb a small bamboo ladder to get to the bed.
There's nothing much but a round mattress that fit the whole room; however, the coziness is just like the childhood birdnest dream.
Firefly EcoLodge has a shared pool, bar, and restaurant, which are perfect for a restful evening. This Bali bamboo treehouse might not be everyone's cup of tea since its facilities aren't much to ask for.
You'll have a shared bathroom, the bedroom is all open air and there's no air conditioning. Hence, you should expect to immerse yourself in every bit of nature while staying at this unique Airbnb.
Overall, if you're up for adventure and new experiences, come to this treehouse in Bali and see it for yourself!
---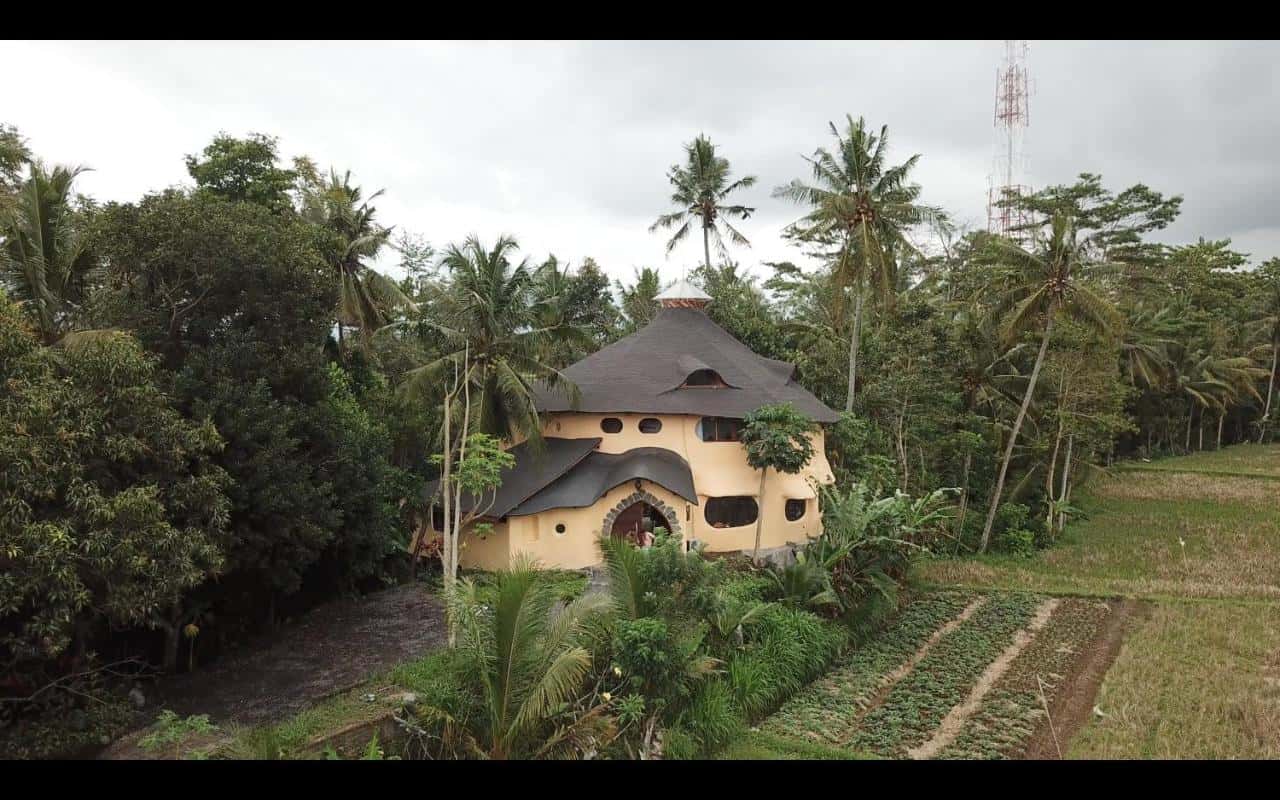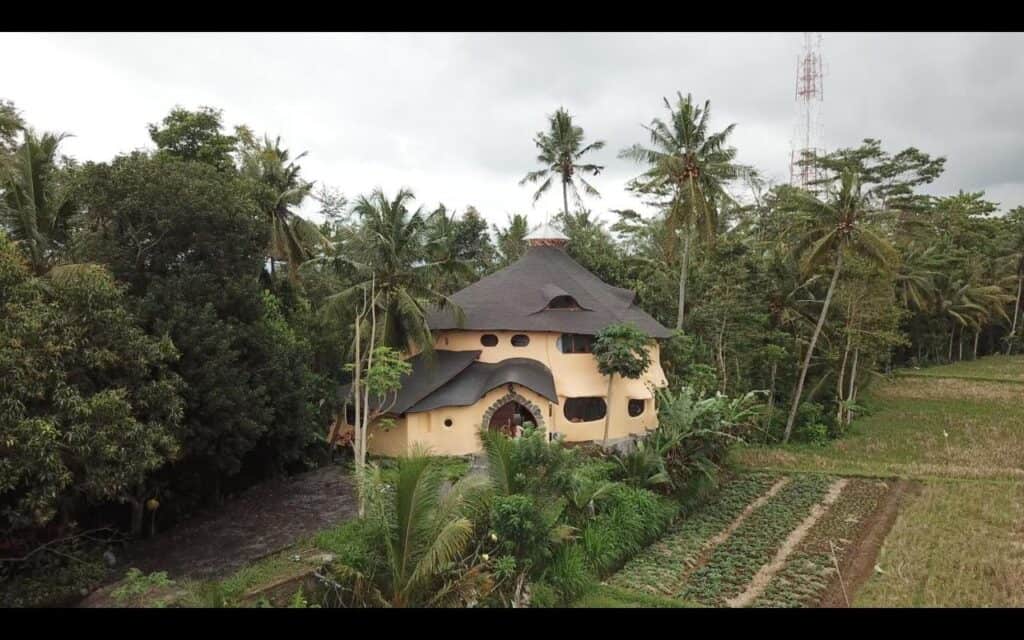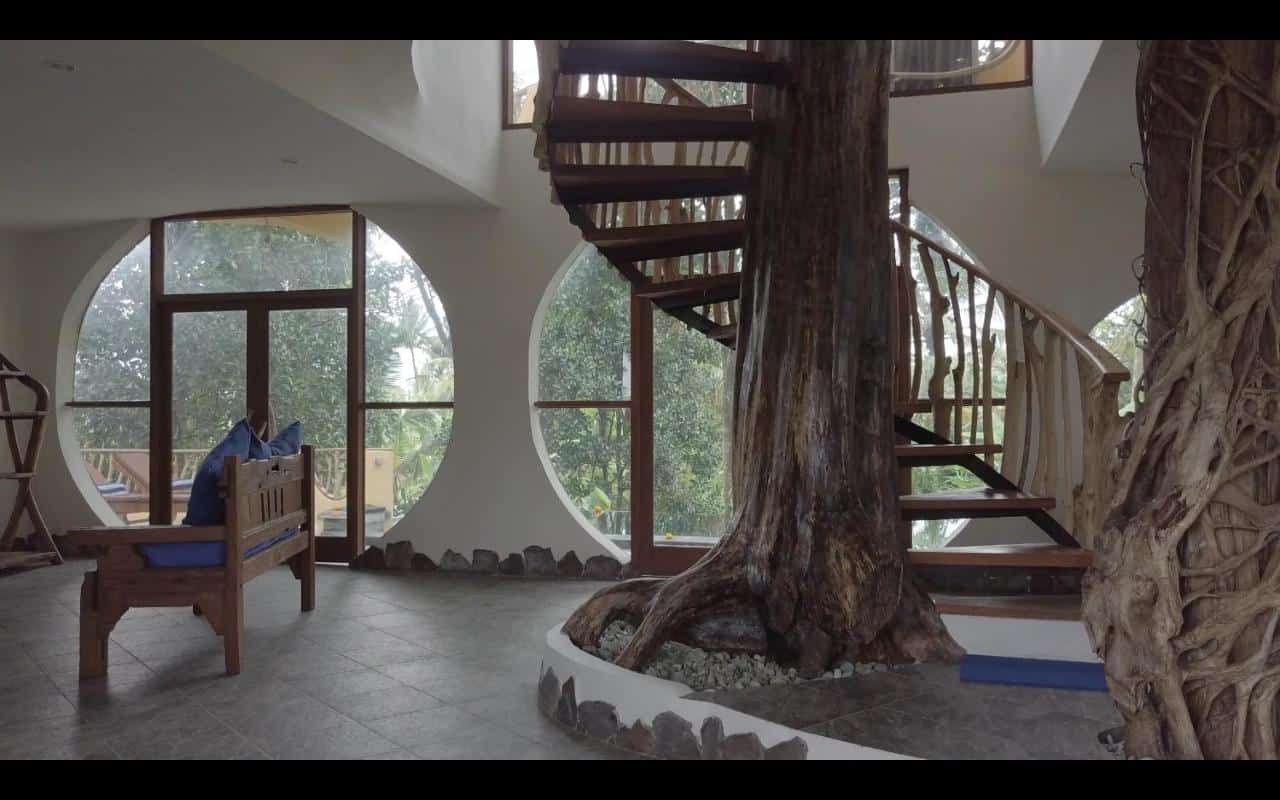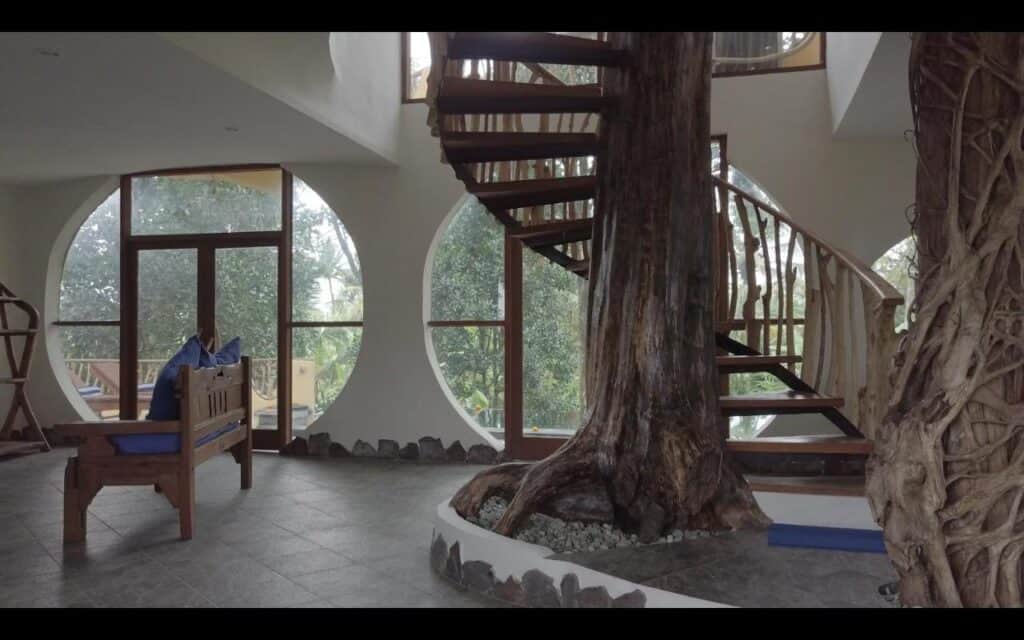 Despite being in the middle of a rice field and jack fruit tree, Villa Nautilus Treehouse, chose to bring a more modern, hobbit-style design bamboo tree house to the guests.
Villa Nautilus Treehouse is one of the hotels in Bali integrated with wooden furniture inside, you have to notice the wooden spiral staircase in the middle of the house – it's epic!
Outside is a large pool with a view of the lush rice fields and trees. This Bali private pool villa can accommodate a maximum of 15 guests with 5 big bedrooms, 3 bathrooms, a living room, and even a communal space outside for car parking.
This treehouse in Bali is a wonderful venue for family and friends to bond with so many facilities and services to explore. Besides the infinity pool, this property offers tours, classes about local culture, and bike tours for you to make awesome memories.
During the day, guests can experience local attractions easily such as visiting temples, discovering local art, and walking around rice fields thanks to its central location.
---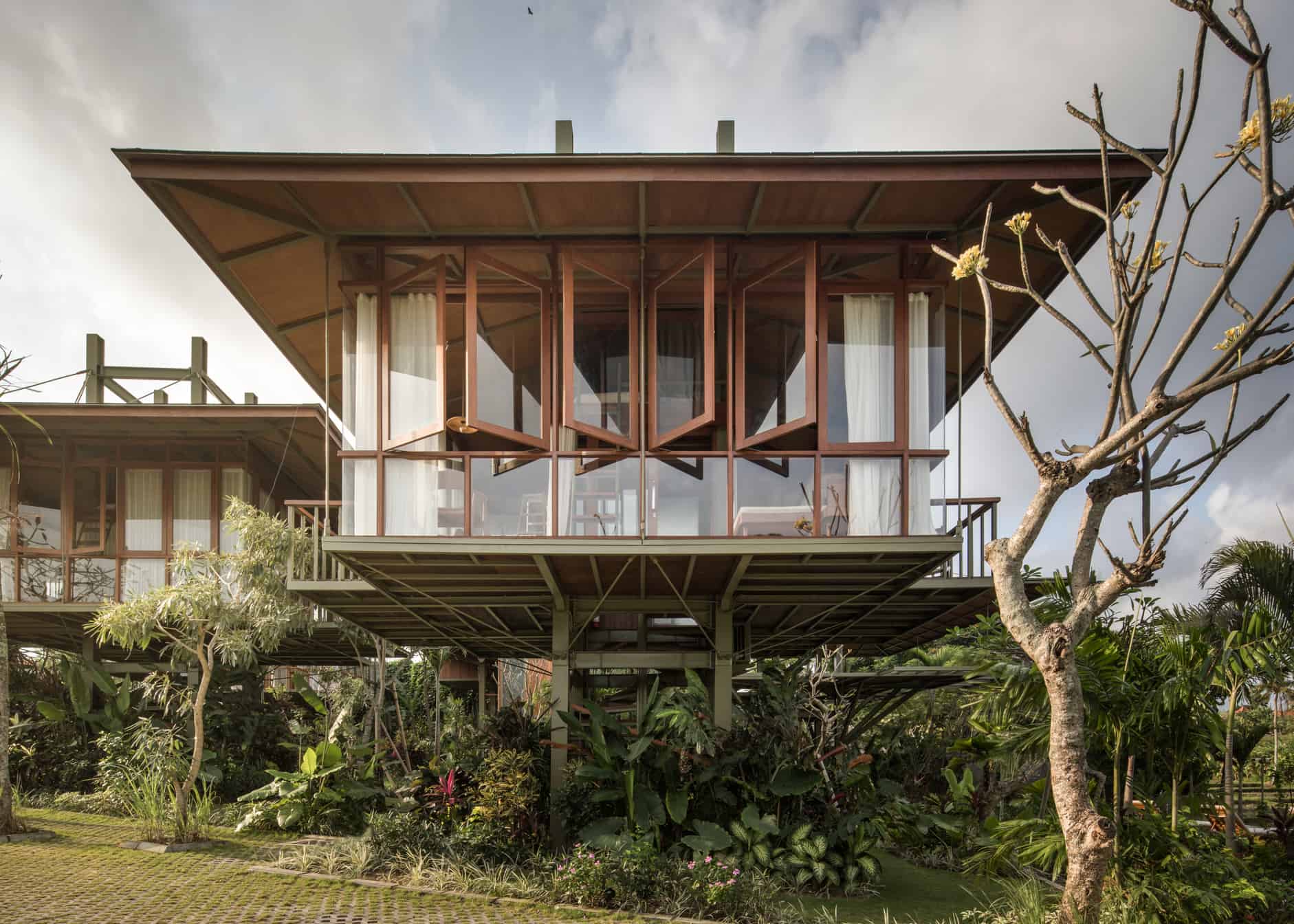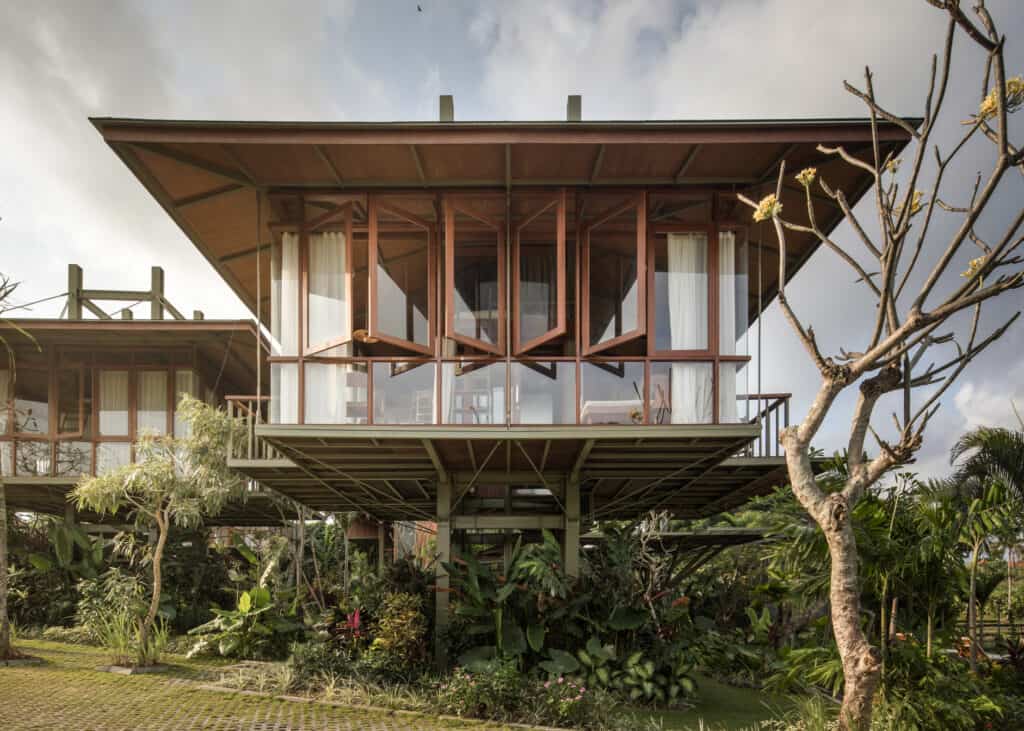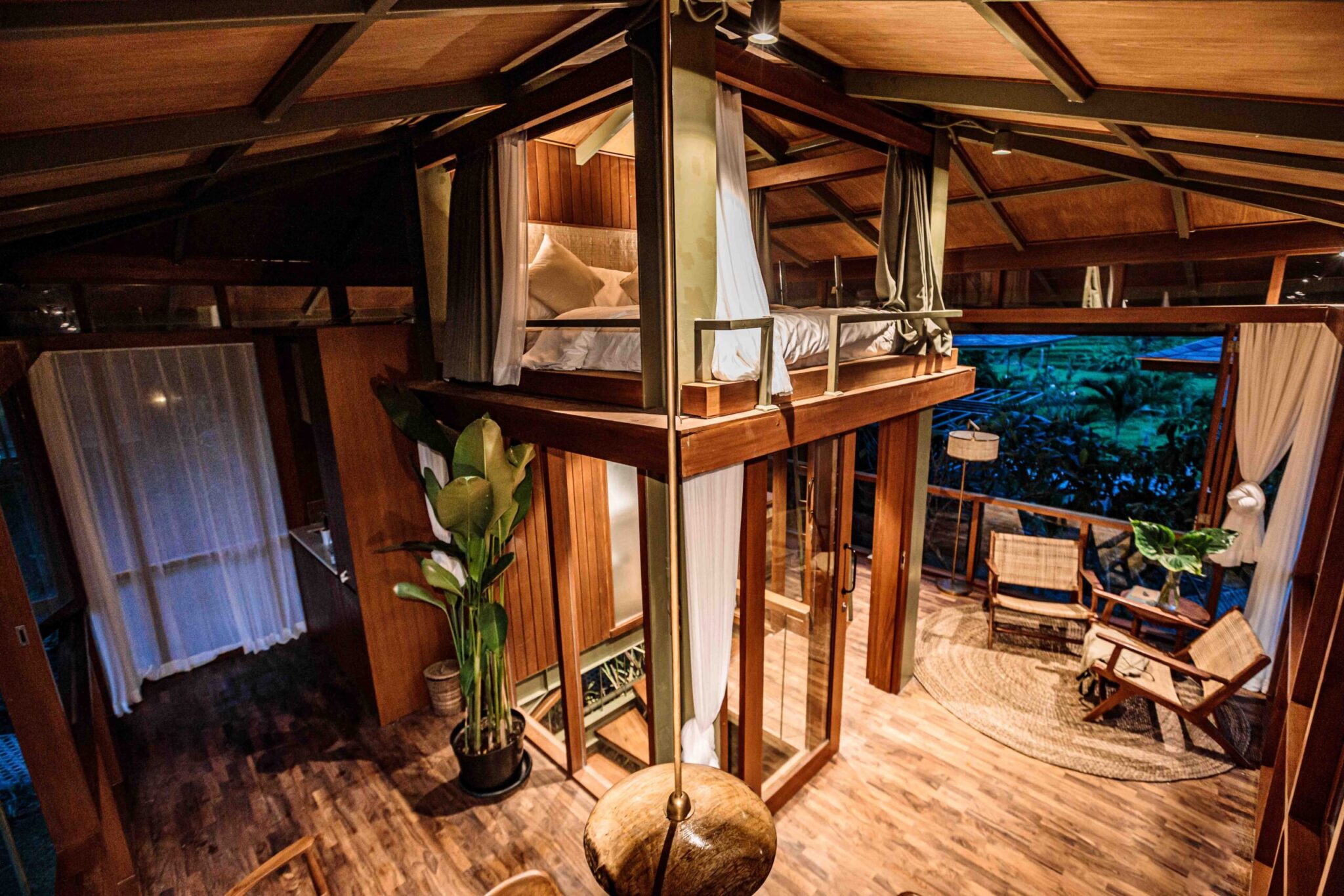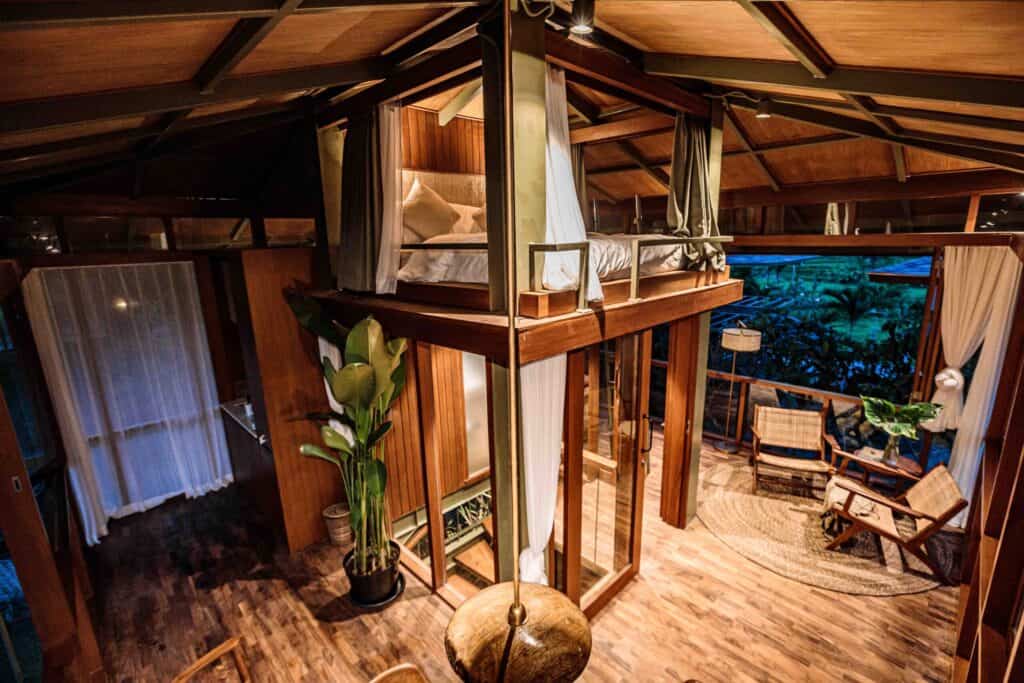 Created by two German founders of Stilt Studios – Florian Holm and Alexis Dornier, Grün Canggu is a tree house villa containing six towering studios named after Balinese local trees.
To design scalable architecture by making high-end custom-made villas more affordable to people, the founders have brought in one of the best Bali treehouse hotels in Canggu, Ubud, and Uluwatu. Grün Canggu stands as a testimony to their dedication to upscale architectural designs of a Bali treehouse.
If you love the off-the-ground experiences and enjoy the sunrise and beautiful sunset from a top view, all six treehouse rentals of Grün Canggu won't ever disappoint you.
Every studio is a playful extension by the award-winning architect Alexis Dornier with the natural elements and fantastic 360-degree views.
The prices of Grün Canggu's tree houses are affordable and fitted with all modern facilities so that you'll have just what you need for an amazing holiday.
Most of the studios in the six tree house have a double bed or a queen-sized bed on a mezzanine, while some rooms are a three-level structure.
With the mezzanine, you'll have the benefit of extra space acquired, separating two places with a small living room for each of the rooms on the ground floor.
Moreover, every treehouse villa has private balconies with a garden view or pool view for you to choose from.
If you like to cook on your vacation, there are rooms with a dining area & kitchenette or a fully functioning kitchen as well, offering a feel-like-home vacation for guests.
---
Bali Treehouses FAQs
What is the Bali Treehouse Airbnb on Netflix?
The Bali Treehouses Airbnb that was featured on Netflix's "World Most Amazing Vacation Rentals" is Firefly EcoLodge.
Are there treehouses with pools in Bali?
There are plenty of treehouses with pools in Bali, such as Veluvana Bali, Lift Bali, and more!
---
This ends our guide on the best treehouses in Bali. Hopefully, you've found the perfect one to experience the stunning nature of Bali with!
Any questions? Leave them in the comments!
Disclaimer: Some of the links above are affiliate links. That means if you book or make a purchase through the links, we will earn a small commission at no extra cost to you! The money will help run this site! Thank you!