If you are planning a trip to Bali, you might have to decide whether you want to visit Canggu or Ubud. While both places are definitely worth a visit, you might simply not have the time to visit both, especially if you only have a few days in Bali.
After spending a considerable amount in both Canggu and Ubud, we can confidently say that these are two of our favorite places in Bali, which is why we are super excited to help you decide which one you should visit.
The main difference between Ubud and Canggu lies in their distinct environment and attractions. Ubud is known as the cultural heart of Bali with its art galleries, traditional crafts, and serene rice fields, while Canggu boasts a laid-back vibe with surf-friendly beaches, trendy cafes, and vibrant nightlife.
We'll compare and contrast Ubud and Canggu in ten different categories down below, so that you will know which one is better for you on your next trip!
What Is Canggu Like?
Canggu pretty much combines the best of everything you'll find in Bali and condenses it all within a small village area. First-time visitors to Canggu will discover amazing beaches, a thriving surf culture, and the stunning rice terraces and natural beauty that have truly put this incredible Indonesian island on the map.
Canggu has become super popular within the last ten years or so, thanks to the explosion of cute cafes, boutique shops, beach bars and clubs, and restaurants all catering to the influx of tourists and digital nomads that come to seek out Canggu's lifestyle.
It's just a short 20-minute drive from the hustle and bustle of Seminyak and, therefore, within easy distance to Ngurah Rai International Airport further south and the rest of Southeast Asia.
What Is Ubud Like?
Ubud is an incredible place and the cultural heart of Bali. You get the sense that this is what the island used to be like before it boomed in popularity.
Visitors can immerse themselves in the culture of the island, with plenty of beautiful temples to visit, the Sacred Monkey Forest Sanctuary, markets galore (Ubud Art Market), glorious nature, and the opportunity to witness the intriguing traditional dance performances of the Balinese people.
Being further inland, Ubud is also a different environment in comparison to Canggu, Seminyak, Kuta, and Uluwatu. There are beautiful waterfalls to visit (Tegenungan Waterfall and Tibumana Waterfall), several excellent hikes in the area, and is slightly cooler with a different climate.
Canggu vs Ubud: How Do They Compare And Contrast?
Which Is Better For Staying?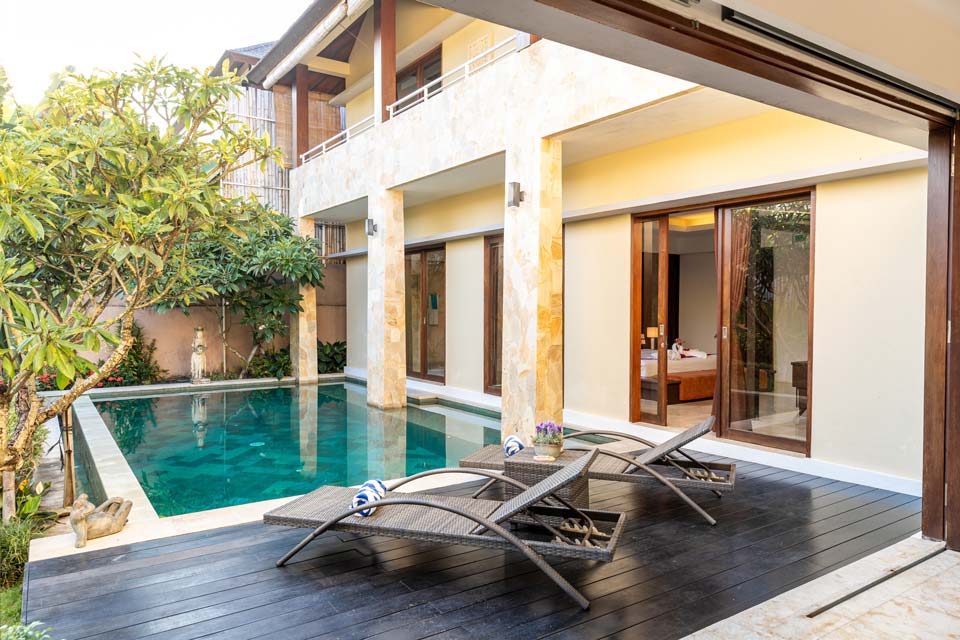 This is quite a tricky one because both Ubud and Canggu are great destinations in Bali that you can't miss out on but we prefer to choose Ubud.
Like many of Bali's popular spots, Canggu is right on the coast and has a vibrant, friendly atmosphere. You've got beautiful beaches on your doorstep, many trendy cafes and restaurants, and a surfing culture that oozes coolness.
Being a little further up the coast, you've got easier access to other places like Ubud and Tanah Lot that you'll want to visit on your trip, as well as easy access to places like Uluwatu and the airport further down the south coast.
Ubud, on the other hand, is known for its other-worldly-like atmosphere, with Balinese Hindu temples all over the place, surrounded by rice paddies and lush jungles. It feels like the town is placed slap-bang in the middle of the jungle, which is really unique.
Ubud is an excellent choice to stay in Bali if you want to get out of the craziness of Seminyak, Kuta, and Denpasar, experiencing the slower pace of life and peacefulness of the 'real' Bali.
Which Is Better For Nightlife?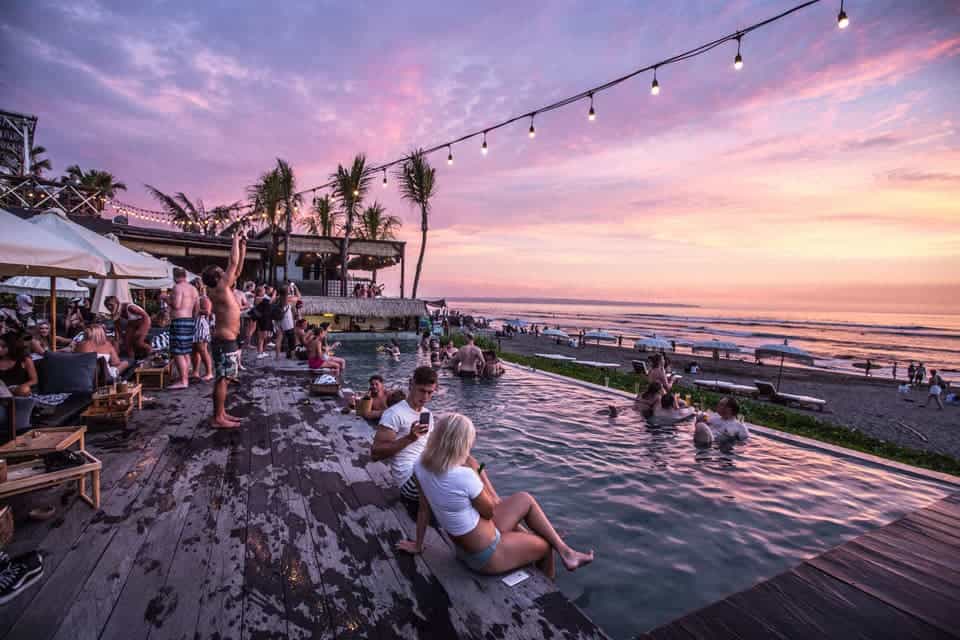 Between Canggu and Ubud, Canggu is definitely the better destination for nightlife. Not only does it have more nightlife options such as clubs and bars, but the crowd is also a little bit younger and lively.
One of the best things about Canggu is the incredible sunset that happens pretty much daily. It's the perfect start to your evening, perhaps with freshly barbecued corn on the cob washed down with an ice-cold Bintang.
Once the sun disappears beyond the horizon, you'll notice the area has come alive with a buzzing atmosphere, with popular spots like Old Man's Bar and Luigi's Hot Pizza always packed. Disguised as a bright white pizza restaurant, Luigi's practically turns into a fully-fledged nightclub with beer pong, freshly baked Neapolitan pizzas, and DJs playing well into the early hours.
Ubud has a much more subdued nightlife than Canggu. Whilst there are some bars and restaurants that stay open late, the town's overall night atmosphere is more relaxed.
Evenings and nights in Ubud are centered around good food and drinks with friends or family. Catch a traditional dance at the Ubud Palace, performed by a very proud local community. Dances like the Legong and Barong can be seen that depict Balinese Hindu tales like Ramayana.
Which Is Better For Shopping?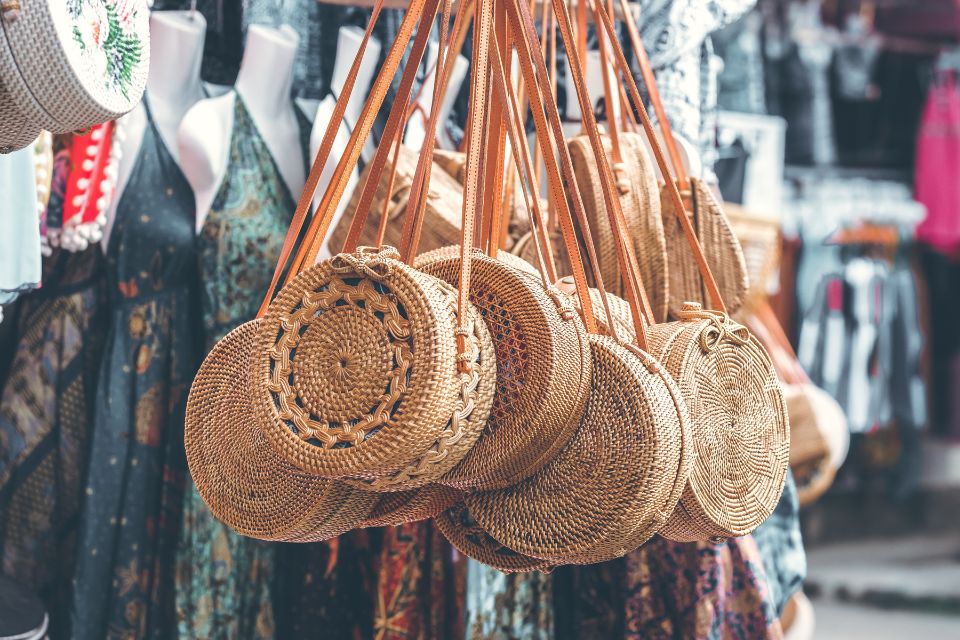 While both Ubud and Canggu are good destinations for shopping, Ubud is slightly better in that category due to its variety.
Ubud is known for its art scene, with many art galleries and hundreds of boutique independent shops selling all sorts of handmade products, arts, and crafts. Wooden carvings are popular, from ashtrays to Komodo dragons, to Balinese Hindu figures.
Dream catchers are a huge market here too, and you can find them in most shops that line Ubud's main streets. Ubud Art Market is the best place to get all of your souvenirs as it's the most popular one on the island, with the products all high quality.
Being famous for its surfing scene, Canggu, on the other hand, is known as more of a destination for you to pick up some super-cool surf-inspired t-shirts and buttoned shirts, alongside board shorts and other trendy clothing.
You'll find iconic brands like Billabong, Deus Ex Machina, and Rip Curl, together with the famous Love Anchor, a cute and chic standing market that houses various sellers of jewelry, clothing, and souvenirs.
Both destinations have a variety of boutique shops, but Ubud tends to have a better selection as it is slightly more targeted towards tourists.
Read More: How Many Days In Bali Is Enough?
Which Is Better For Culture?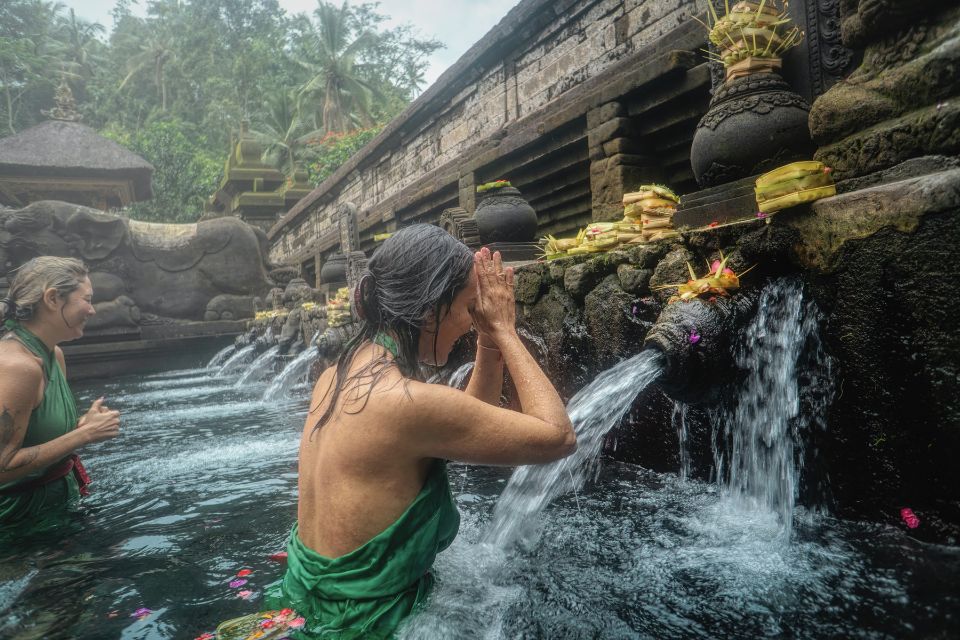 Ubud is definitely better than Canggu when it comes to culture. It's widely considered to be the best place on the entire island for Balinese culture, with traditional dance performances, local handmade arts and crafts, cleansing rituals, a monkey forest, and plenty of quaint and quirky restaurants serving up delicious Balinese and Indonesian cuisine.
One of the most unique cultural things you can do in Ubud is visit the Tirta Empul Temple. Built in the 10th century, this gorgeous, ornate complex is dedicated to the Hindu God of Preservation, Vishnu. Uniquely, tourists are encouraged to take part in the cleansing ritual making this an unmissable cultural experience whilst in Ubud.
Whilst there are plenty of things to do in Canggu, there aren't a lot of cultural attractions and things to see. That said, one of the best things you can do in Canggu in terms of culture is to head north to Tanah Lot Temple.
This sacred site is one of the holiest temples on the island for Balinese Hindus, with the temple itself perched on top of a tiny island that's only accessible at low tide. Surfing is also ingrained into the culture in Canggu, so why not give it a try from one of the many surf schools that line Batu Bolong Beach or Berawa Beach?
Which Has Better Attractions?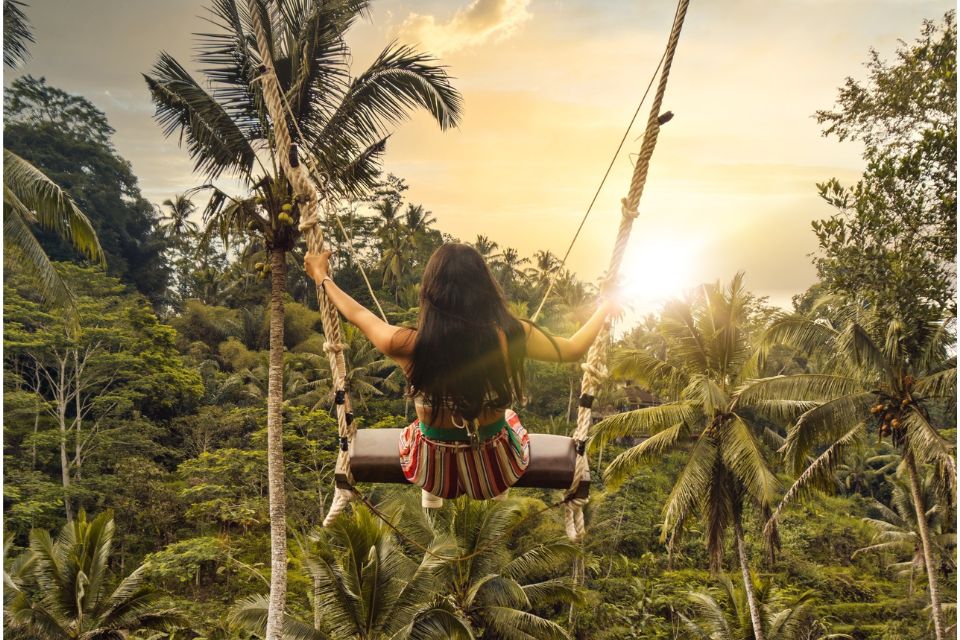 Canggu and Ubud are very different in terms of attractions, but personally, Ubud has the better attractions and things to do.
Canggu is known for its coastal atmosphere, with Batu Bolong Beach being one of the beaches in Bali with its rugged dark sand and beginner-friendly waves with good surf for surfing. If you don't fancy jumping on a board, you can either take a leisurely stroll along the beach, or you can relax on one of the many beach clubs that line the shore with a cocktail in hand.
The sunsets in Canggu are some of the best on the island, thanks to its southwest-facing beach. This is all in addition to Tanah Lot Temple and the wide range of trendy cafes (make sure you check out Crate Cafe), restaurants, and bars that are always thriving.
On the other hand, Ubud's inland location means its surrounded by pure, natural beauty. Stunning picturesque rice terraces like Tegalalang Rice Terrace (also known as Ceking Rice Terrace) and gushing river valleys provide a scenic location for hikes, and the surrounding jungle provides the local monkeys with a home in the popular Ubud Sacred Monkey Forest Sanctuary.
In addition, the region is home to some beautiful Bali waterfalls like Tegenungan, Tibumana, and Leke Leke, which can all make for an adventurous day out. Elephant Cave, or Goa Gajah as it's known in the Balinese language, is also one of Bali's most impressive natural wonders, being excavated back in 1954.
Ubud's Art Market is also one of the best attractions in Bali, giving travelers plenty of opportunities to purchase the perfect souvenir from Bali.
Read More: Canggu Vs Seminyak: Which Is Better?
Which Is Better For Honeymoon?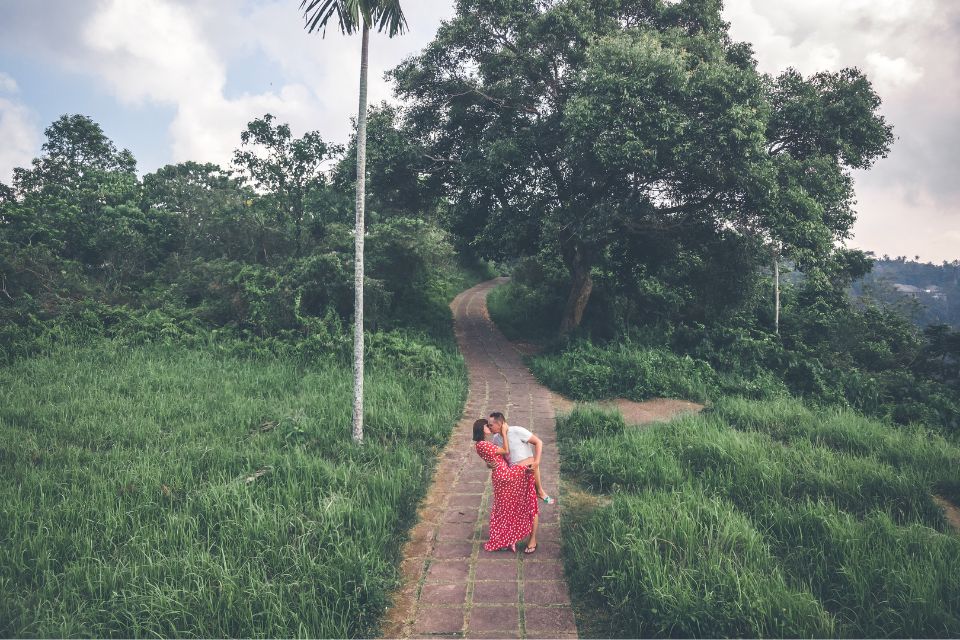 Both Canggu and Ubud are amazing places for honeymoon, and which is better generally depends on your preference of location. Do you prefer somewhere by the beach? Pick Canggu. Or do you prefer somewhere in the midst of the jungle? Then go for Ubud.
Canggu has a very laid-back, coastal atmosphere that would be ideal for a relaxing honeymoon. You'll be able to spend your days lounging around by the beach, enjoying sunset walks, swimming pools and some of the best spa experiences on the island. The town also has an amazing variety of restaurants that are perfect for romantic and intimate meals out together.
Ubud, on the other hand, offers honeymooners a more adventurous escape, with idyllic jungle surroundings providing an incredible setting for some unforgettable activities.
The natural aura of Ubud just oozes romance, with several luxury resorts basing themselves on the outskirts of the town, right between the ideals of jungle seclusion and modern amenities while still being within a suitable distance to the hustle and bustle of the town itself.
Ubud is also famed for its health & well-being resorts, meaning you're never far from a relaxing spa treatment or a yoga class at a yoga studio.
Which Is Prettier?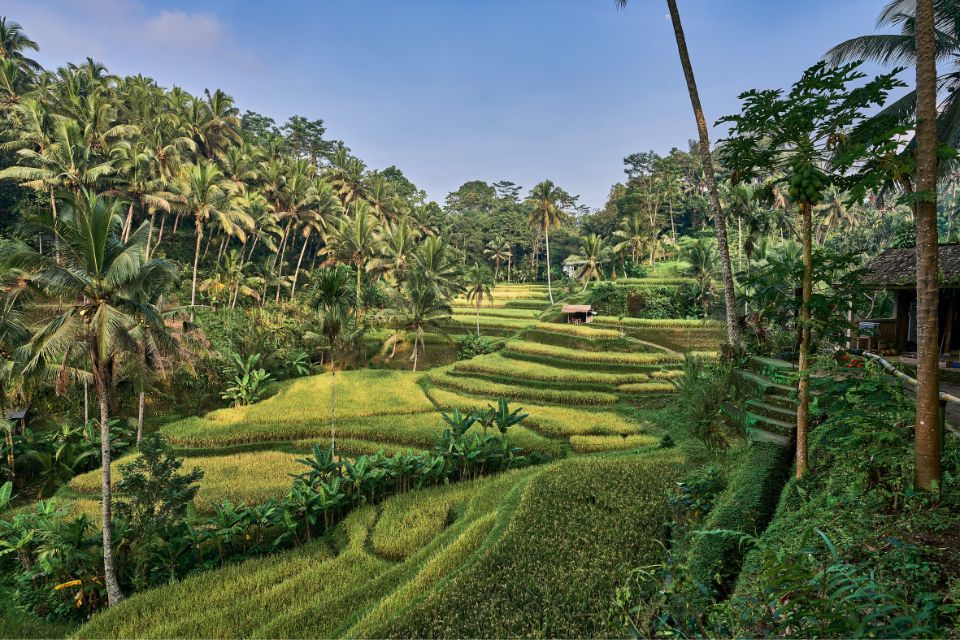 Canggu and Ubud are probably two of Bali's prettiest places. In Canggu, you've got the coastal beauty that is typical of a remote Indonesian island like Bali. With its crashing, often thunderous waves, the gorgeous hue of the deep orange sunsets, and the dark, rugged volcanic sand you find all over this region of Asia.
Further back from the coastline, Canggu, like much of Bali, is also home to plenty of surrounding rice fields that are an amazingly vibrant green and all stacked as if they were a box of Pringles.
Ubud is not far away from being in the center of the island, and with this comes more of a mountainous and tropical region. If you have a car or a scooter, you'll notice plenty of steep inclines in Ubud surrounded by jungle and forest, almost as if the town has been built immersed into the natural beauty of the island as opposed to being cleared for it. The scenery of the Ubud is captivating and very hard to beat.
Though Canggu and Ubud don't have the same type of beauty, both destinations are stunning in their own respect. For that reason, this category is a tie!
Read More: Bali's Best Infinity Pools You Can't Miss!
Which Is More Affordable?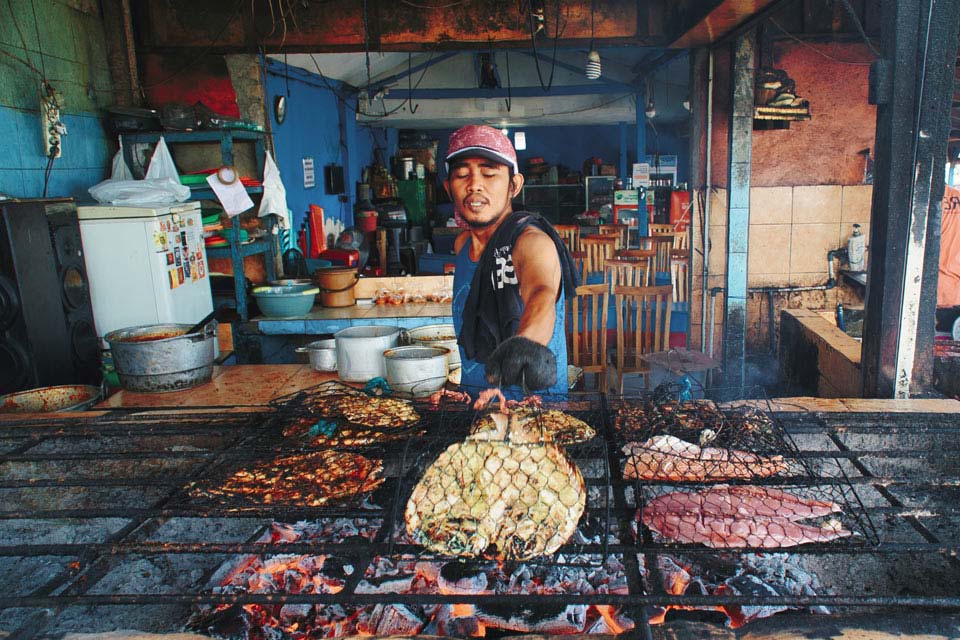 Generally speaking, Ubud is slightly more affordable in comparison to Canggu, but we're talking very fine margins, especially with living costs. Accommodation is, on the whole, a little cheaper in Ubud because there is much more variety.
If you book in advance, you'll have a nice range of homestays, guesthouses, and affordable hotels to choose from. Canggu is much smaller than Ubud and, as a result, has fewer options, and they're all usually fully booked or at least very busy, which leads to higher room prices.
In terms of bars and restaurants, both Ubud and Canggu are quite similar in the fact that both places have cheaper eateries, like local Warungs, alongside more expensive restaurants. The prices of the actual food in these establishments are pretty similar.
I would say that Ubud is slightly more expensive when it comes to things to do because a good chunk of Ubud's attractions are actually out of the center, meaning you'll either have to get a taxi or rent your car or scooter.
Which Is Less Crowded?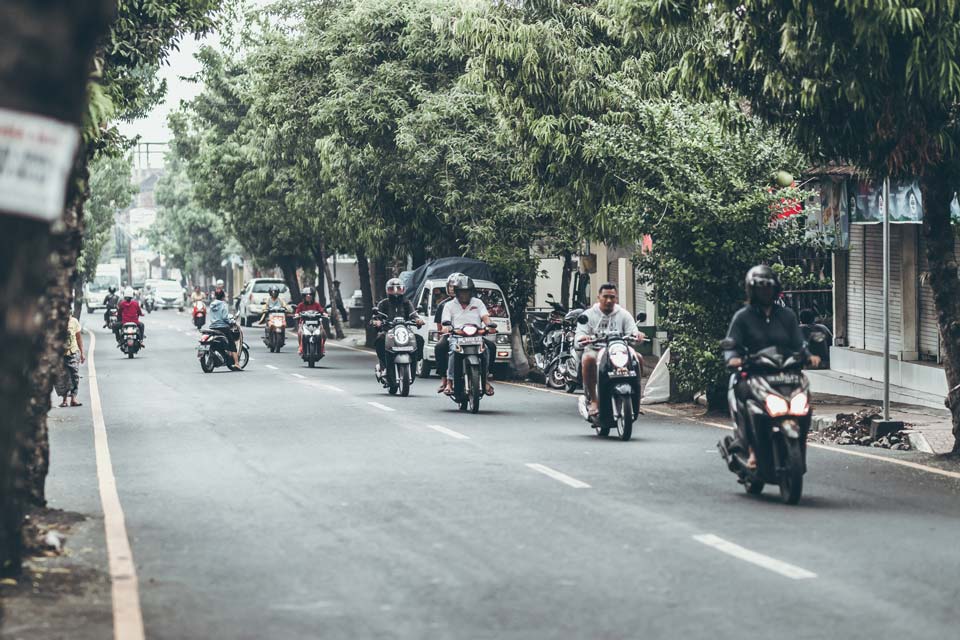 Canggu's streets are very narrow and built up, giving the impression of always being busy. Due to the popularity of the town among digital nomads and expats, the area has seen significant development in recent years.
Large-scale blocks of apartments, restaurants, and other large buildings like hotels are always popping up in areas you might not even think possible. As a result of this, Canggu can feel pretty crowded, especially down by the beach areas of Batu Bolong and Echo Beach in the evening.
Ubud offers a much slower pace of life, and because it's spread out over a much larger area, it's dramatically less busy too. That's not to say that Ubud itself is quiet.
Ubud can be very busy, too, especially around the city center areas of the Art Market and the Ubud Royal Palace. It is noticeably less frantic than Canggu, though, which is a positive.
Which Is Better For Digital Nomads?
Canggu is generally considered the better place to stay in Ubud for digital nomads, thanks to its thriving thriving digital nomad scene with plenty of co-working spaces to work from, like Outpost and Tropical Nomad Coworking.
People come from all over the world to base themselves here and get work done. You've also got an incredible number of cafes to work from as well, all serving up delicious homemade food and drinks with free wifi.
That's all not to say that Ubud isn't a good place to base yourself as a digital nomad – quite the opposite. It's excellent, thanks to the unparalleled natural beauty of the area, for when you want to close the laptop and clear your head.
The slower pace of life might suit you too; for some, the always social business of Canggu might not be your cup of tea. Ubud is also home to two Outpost coworking spaces which are great for working from, as well as several other independent spaces like Beluna too.
---
Canggu or Ubud Comparison Table
| Category | Canggu | Ubud |
| --- | --- | --- |
| For Staying | | X |
| Nightlife | X | |
| Shopping | | X |
| Culture | | X |
| Attractions | | X |
| Honeymoon | X | X |
| Aesthetics | X | X |
| Affordable | | X |
| Less Crowded | | X |
| For Digital Nomads | X | |
Canggu vs Ubud FAQs
How Far Is Canggu From Ubud?
The distance between Canggu and Ubud is about 29 km, or 18 mi. It takes about 1 hour to travel from Canggu to Ubud and vice versa.
Where should I go to Canggu or Ubud First?
You should visit Canggu first because you'll likely be already used to the busyness of the place if you're coming from Seminyak or the Denpasar area. It might ruin your experience by going from the calming atmosphere of Ubud to the hustle and bustle of Canggu.
Is Ubud Worth Visiting?
Ubud is definitely worth visiting. It's known as the cultural capital of Bali, with a vibrant arts scene, lush tropical landscapes, terraced rice fields, and Hindu temples and shrines, offering an authentic glimpse into Balinese culture.
Is Canggu Worth Visiting?
Canggu is definitely worth visiting. It's a vibrant area known for its surf-friendly, bohemian vibe and beautiful sunsets. Canggu offers a mix of relaxed beach bars, trendy clubs, live music venues, cool cafés, healthy food options, and green rice fields. It's also home to long stretches of some of the best beaches in Bali.
Why is Canggu so Popular?
Canggu's popularity has exploded recently because of its famed laid-back beach lifestyle, local food and the vibrant social scene that is there. It's also far enough from the airport yet still close enough to make flying away easy.
What is Between Canggu and Ubud? 
There isn't a lot between Canggu and Ubud, with only a few villages and small towns like Mengwi and Tabanan. You'll pass through plenty of rice fields and drive through the jungle the more inland you get.
So, Is Canggu or Ubud Better To Visit or Stay?
As you can see, comparing and contrasting Canggu and Ubud was no easy task. But personally speaking, we preferred Ubud over Canggu, simply because it is much more cultural, serene, and full of beautiful nature in the form of rice terraces and waterfalls.
However, if you are traveling to Canggu, you'll also appreciate some of its unique features, such as its surf-friendly beaches, trendy bars and cafes, a thriving community, and vibrant nightlife!
Without a doubt, there is no right or wrong answer here and we are sure you are going to love both Canggu and Ubud!
Disclaimer: Some of the links above are affiliate links. That means if you book or make a purchase through the links, we will earn a small commission at no extra cost to you! The money will help run this site! Thank you!