The stunning infinity pools in Bali are some of the most defining features of the so-called "Island of Gods". Not only are they the perfect way to cool down on a hot tropical day, but many of these infinity pools offer guests some of the most breathtaking scenery in the world – from idyllic beaches and lush jungles to towering volcanoes and ancient temples.
After having the pleasure of experiencing some of these infinity pools ourselves, we've decided to create the ultimate guide to Bali's infinity pools. Whether you're looking for a romantic escape or a spot to relax with friends, there is an infinity pool in Bali perfect for you.
So put on your swimsuits, grab a cocktail, and let's dive into the top infinity pools Bali has to offer!
---
Best Infinity Pools In Bali: Ubud
1. Hanging Gardens of Bali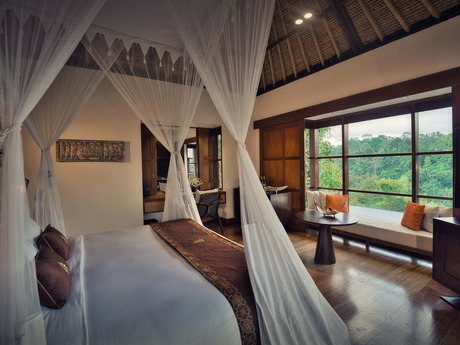 Hidden deep in the thick, luscious jungle of central Bali is the incredible resort of the Hanging Gardens.
It's quite literally the ultimate Bali destination for couples and honeymooners, with 44 super-luxurious private villas overlooking the powerful Ayung River and the surrounding jungle, boasting huge decks containing your very own private infinity pool, poolside gazebo, shower, and dining table.
On top of this, you'll also be pleased to know that you'll also have access to the resort's "spiritual core", which is the two-tiered shared infinity pool that's officially been voted as the world's best swimming pool by Conde Nast Traveler.
There's a large number of comfortable day beds for you to relax on the poolside, allowing you to take in the unique sounds, sights, and peacefulness of your location.
2. Jungle Fish Pool Bar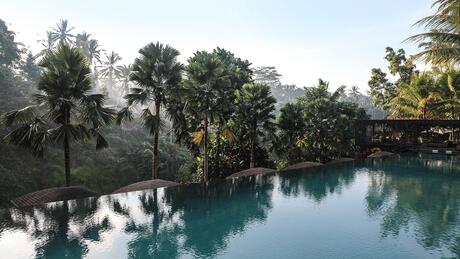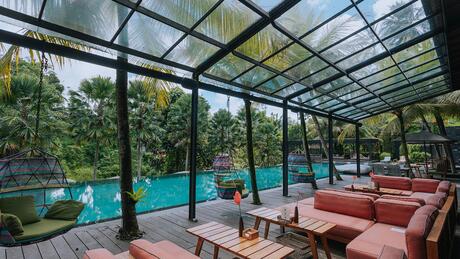 Part of the 5-star resort of Chapung Sebali, Jungle Fish Pool Bar has taken inspiration from some of Bali's best and most famous beach clubs and brought its visitors a classy yet understated pool club nestled high among Ubud's luscious green tropical jungle.
Jungle Fish's 35-meter-long infinity pool is undoubtedly the star of the show, which gives guests an amazing opportunity to capture an Instagram-worthy picture against a beautiful jungle backdrop.
The infinity pool's area is furnished with numerous stylish hanging chairs and comfortable sun-loungers and also features a cool swim-up bar where guests can enjoy refreshing cocktails and a variety of snacks.
Entrance is free of charge, but there's a minimum spend of varying amounts depending on where you sit. Dining tables, sofas, and sun loungers have a 350,000 IDR minimum spend, and larger spaces like the Cave and Hanging Bed come in at 1,500,000 IDR and 2,000,000 IDR respectively.
3. Padma Resort Ubud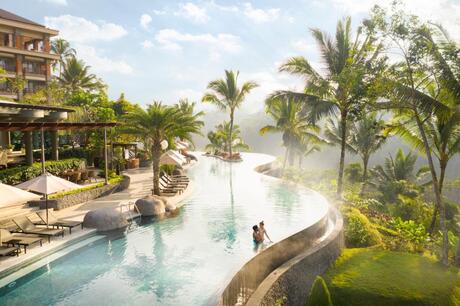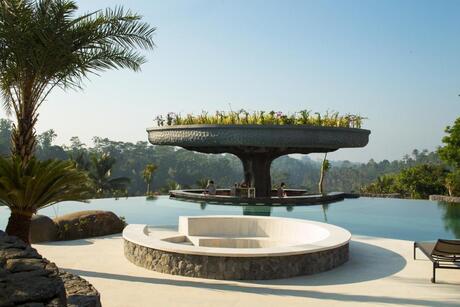 Located in the tranquil village of Payangan, Padma Resort Ubud is perched upon a stunning hillside overlooking the equally as beautiful Ayung River Valley.
Much like the Hanging Gardens of Bali's swimming pool, Padma Resort's heated infinity pool is also up there as one of the most impressive in the world. It's 89m of pure curvaceous bliss, giving guests unparalleled views of the sun-drenched valley beneath, in perfect contrast with the green jungle rising above.
Because of its size, there's a huge number of sun loungers and seating surrounding the pool area, and if you're needing a break from all of that relaxing, you can grab some freshly made drinks at the Sunken Pool Bar.
Top Tip: If there are too many people for you at the main pool, or if you're wanting a bit of quiet time with your loved one, there's also a secret infinity pool directly beneath. Here, you'll also be able to climb up into the cave, which is tucked behind the extravagant waterfall.
4. Viceroy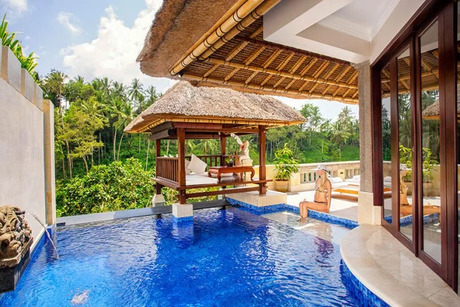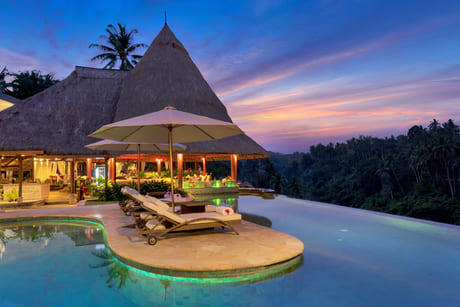 Like many of the amazing small, independent homestays and hotels you find all over Bali, Viceroy Bali is also family-owned and operated, which is a rarity due to its 5-star, luxury rating.
Only 5 minutes from the heart of Ubud, Viceroy is located in the verdant Petanu Valley which gives guests some of the best views in the entire town from its luxurious villas and iconic U-shaped infinity pool.
It's 22 meters in length and is beautifully designed, utilizing the stunning Balinese architecture with its Alangs-alangs (thatched roof) and private Balinese gazebos to create a luxurious poolside environment, complete with a swim-up bar.
The infinity pool is not heated, however, due to Bali's year-round warm climate, the water is a cool and comfortable temperature.
5. Alila Ubud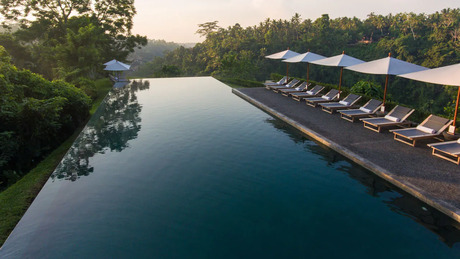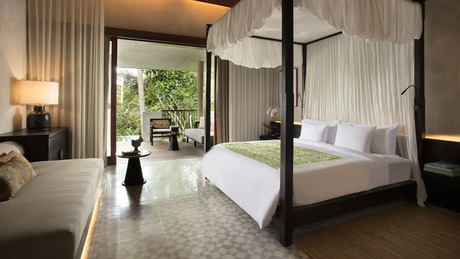 Alila Ubud is a gorgeous tranquil retreat that's completely surrounded by Bali's dense tropical jungle, with superb views of the island's longest river, the Ayung, that flows down below.
Alila's beautiful deep blue infinity pool is easily one of the best in Bali, and at 25 meters in length, you won't be short of space. It's one of Alila's central features and is primarily where a lot of guests will spend their time, relaxing with the intriguing and varied sounds of the jungle in the background.
Stay alert for the occasional visits from the jungle's residents, as the inquisitive monkeys of Ubud are prone to having a wander of the resort and pool area.
---
Best Bali Infinity Pools: Uluwatu
6. Alila Villas Uluwatu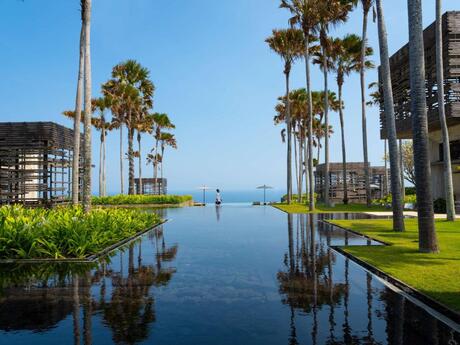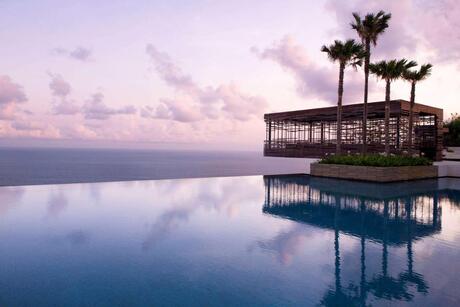 One of Uluwatu's defining features is the mesmerizing cliffs that dominate Bali's very southern coastline. Taking full advantage of these incredible natural surroundings is the grand opulence of the 65 private villas at the 5-star resort of Alila Villas Uluwatu.
The property's most impressive feature is without a doubt the massive 50-meter-long infinity pool, which seemingly extends right off of the side of the cliff. It offers guests unbeatable panoramic views of the Indian Ocean below, which almost looks as if it melts into one with the pool itself.
If you're lucky enough to be staying at Alila Villas then you'll almost certainly love its minimalist aesthetic which extends throughout the hotel. The villas are all flawless, as are the lobby area and general common areas, and there are poolside wooden cabanas to retreat to for watching an unforgettable sunset.
Read More: Best Water Villas In Bali You Can't Miss!
7. The Ungasan Clifftop Resort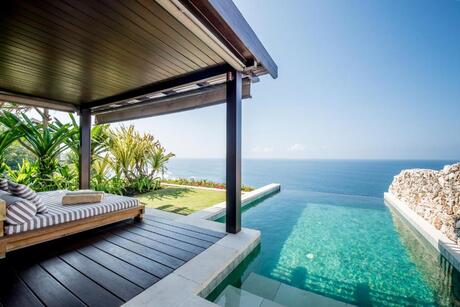 From the minute you drive down the entrance, everything about The Ungasan Clifftop Resort just oozes elegance. It's a five-star, no holds barred luxurious place to stay in Bali, with a variety of private infinity pool villas and suites to suit any party size.
Perched high up on the very edge of a cliff, The Ungasan Bali infinity pool over cliff is one of Uluwatu's best and is one of the many reasons people flock to this sky-high oasis. With its golden sands and traditional Balinese architecture, you'll also notice the famous Sundays Beach Club beneath.
The pool area is equipped with a range of high-quality, comfortable sun loungers for you to relax and soak up the beating Balinese sun, whilst enjoying the incredible views of the expansive Indian Ocean in front of you. There's also a superb poolside food and drinks service too where you can get a range of delicious dishes cooked fresh and fast.
8. Bulgari Resort Bali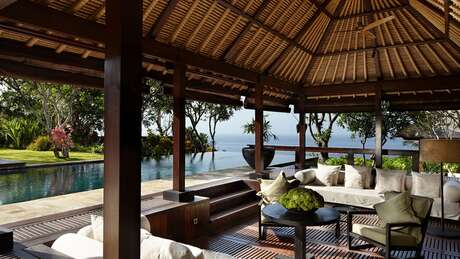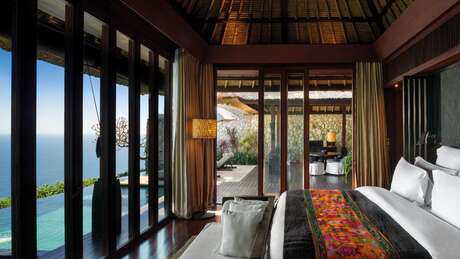 It's no coincidence that the Bulgari Resort down on Bali's Bukit Peninsula is consistently mentioned as one of the best, not only on the island but in the world.
High in the sky at almost 500 feet above sea level, the views here are spellbinding and can be seen from anywhere in the resort. They're most dramatic though by the 20-meter-long infinity pool on the resort's easternmost edge.
It's a beautifully designed pool area, with luxurious private cabanas and numerous plush sun loungers all with unobstructed views of the open ocean. If you've got the money to afford this five-star dream accommodation, then you certainly will not leave feeling disappointed.
9. Oneeighty Dayclub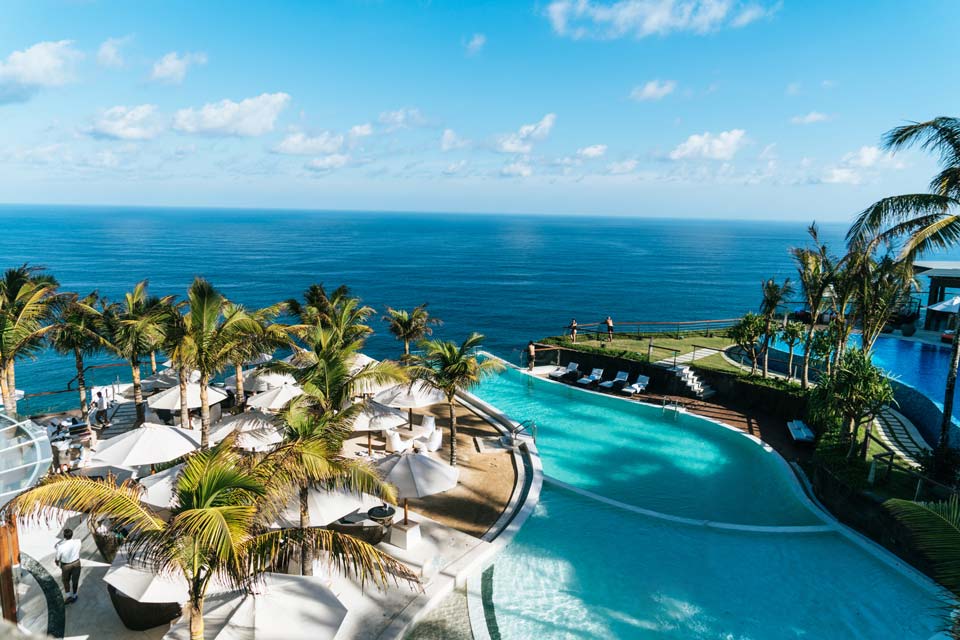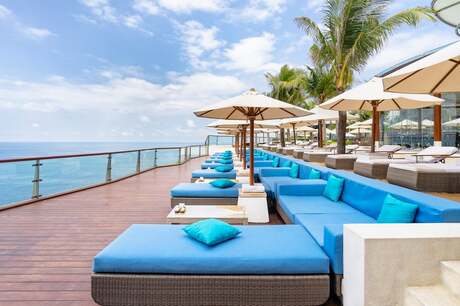 Oneeighty simply needs no introduction; if you're after the best infinity pool in Bali, then you may have just found it. It's the centerpiece of this stylish day club, appearing to blend seamlessly into the vast Indian Ocean that lies in front.
And what makes this particular infinity pool so special, is the unique glass bottom section which extends 6 meters over the cliff edge. This allows swimmers to see through the pool and down onto the jagged rocks and crashing waves of the ocean hundreds of feet below.
It's certainly a once-in-a-lifetime opportunity, but if you haven't got a head for heights, you might want to miss this pool out.
---
Best Bali Infinity Pools: Canggu
10. Citadines Berawa Beach Bali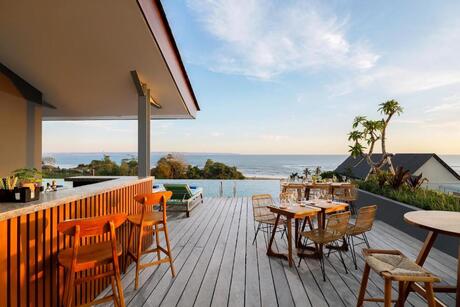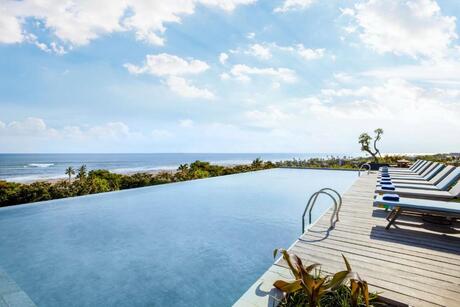 Moving up the coast and into the laidback town of Canggu, the next destination on our list is slightly different from the rest. Citadines Berawa Beach Bali is a huge four-star complex of 224 individual serviced apartments, each with its own kitchen which helps to give you that 'home away from home' feeling, but with an added sense of luxury.
The complex boasts two beautiful swimming pools, one of which is a stunning rooftop infinity pool on the 5th floor that has ample space to rest and relax, with a large number of sun loungers all conveniently facing the ocean.
After cooling off in the pool, there's a great rooftop bar too which is just perfectly placed for a cocktail or two watching Canggu's famous sunset.
11. The Lawn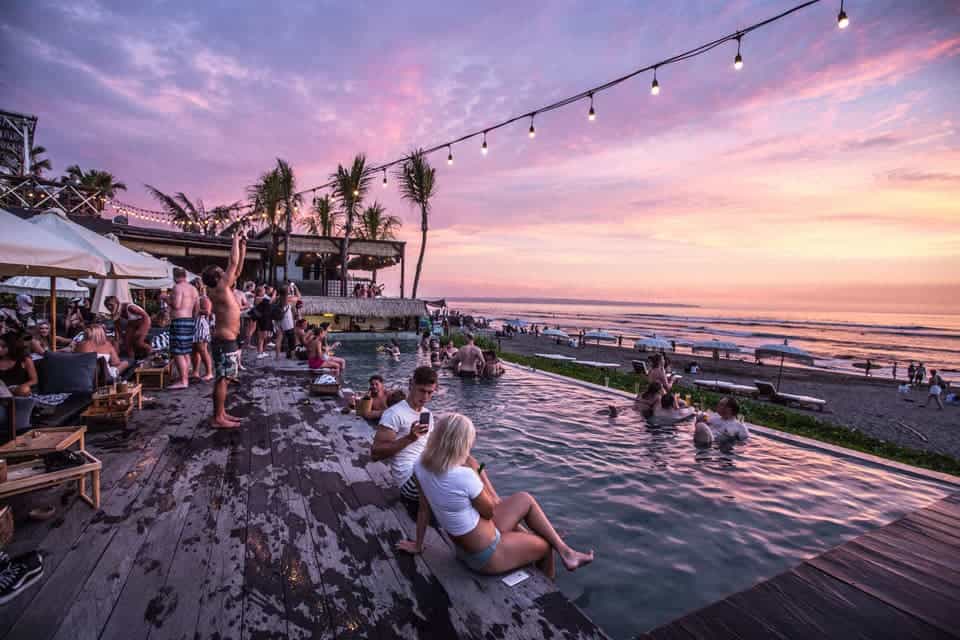 Simply put, you can't visit Canggu without paying a visit to The Lawn. It's quite literally a Canggu institution and people come from all over the island to visit this beach club, wanting to soak up The Lawn's cool and chic beachfront vibe.
Not only does it have direct access to the town's famous Batu Bolong Beach, but there's also a stunning infinity pool that's just perfect to float around in on a hot Balinese day.
Bintang in hand, and good music on tap, there's nowhere in Canggu quite like The Lawn.
Oh – and just so we've mentioned, like most beach clubs in Bali, there's a minimum spend here which varies in amount depending on where you sit for the day. So if you're planning to splash out on a day bed for 6 people, expect to spend about 3,000,000 IDR.
---
Bali's Best Infinity Pools: Seminyak
12. The Seminyak Beach Resort & Spa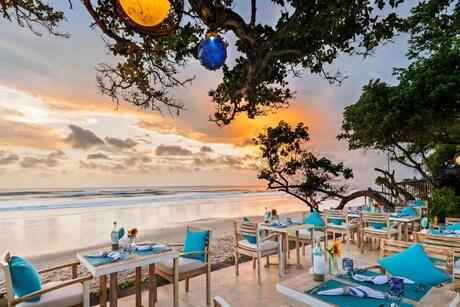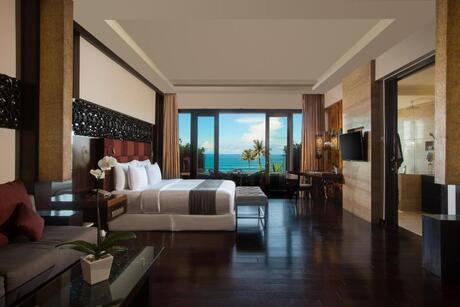 Romantic getaways don't come much better than spending a few nights at the five-star Seminyak Beach Resort & Spa. You'll be treated like royalty as you relax on the beach itself or at the resort's infamous infinity pool.
It's absolutely huge at 45 meters across and is decorated with plenty of tropical palm trees and sunbeds creating a superbly relaxing environment for when your hardest task of the day is deciding what cocktail to have.
As you're right on Seminyak Beach, you'll also get an amazing view of the sunset which you can't miss.
13. Potato Head Beach Club
Potato Head Beach Club in Seminyak is almost certainly considered one of the best beach clubs in Bali, competing only with Finn's Beach Club for the title of the best on the island. Given that Bali is known for having some of the world's best beach clubs, Potato Head's reputation as a world-class destination is definitely well-earned.
With a fantastic circular swim-up bar in its corner serving freshly made cocktails, smoothies, and other thirst-quenching drinks, the social hub of Potato Head is unquestionably its beachfront infinity pool.
Lined with exotic plants and palm trees, it's surrounded by beautiful wooden decking and plenty of seating making it the perfect place to chill out with some tasty food, good drinks, and even better music.
---
Best Infinity Pools In Bali: Kuta
14. Bali Garden Beach Resort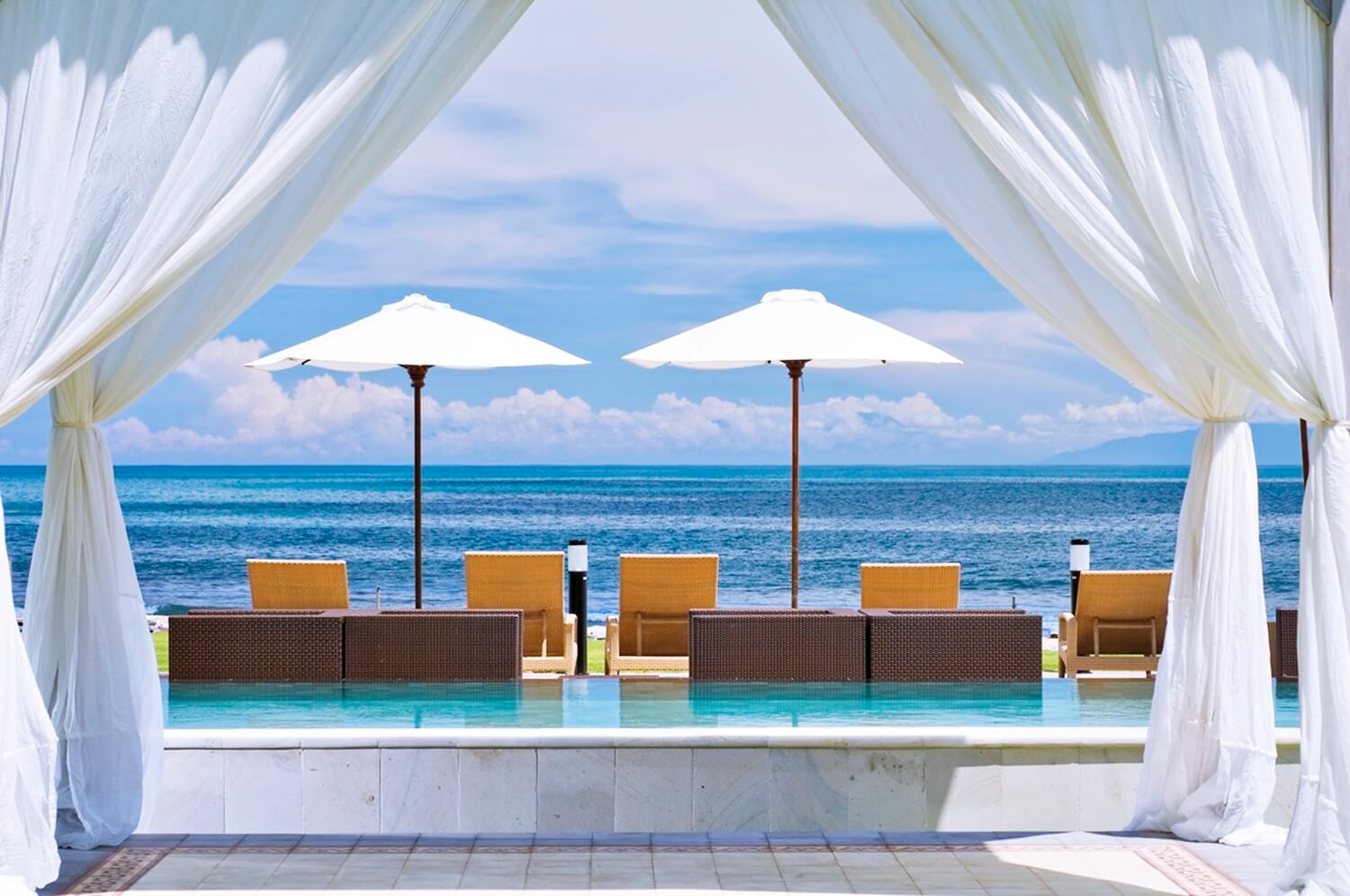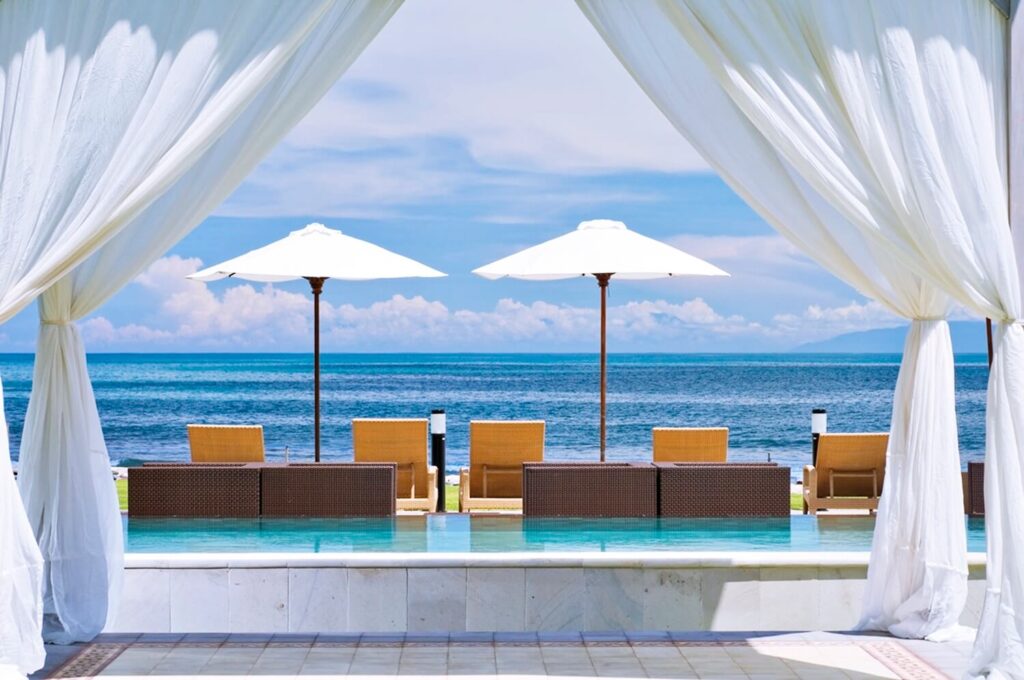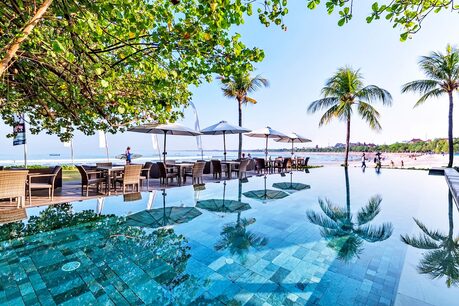 Kuta is known for being built-up and very busy, which makes the beautiful beach resorts along the coast seem even more like a quiet slice of paradise.
At Bali Garden Beach Resort, you've got one of the area's best infinity pools too, with perfectly picturesque views of Kuta Beach and its many surfers, as well as plenty of tables and chairs with parasols to protect from the intense equatorial heat.
Like many of the resorts along Bali's southwestern coast, the sunsets here are spectacular, especially whilst you're floating around in the pool, and are a real highlight of any stay in Kuta, Seminyak, or Canggu.
---
Bali Best Infinity Pools: Nusa Dua
15. The Mulia Resorts & Villas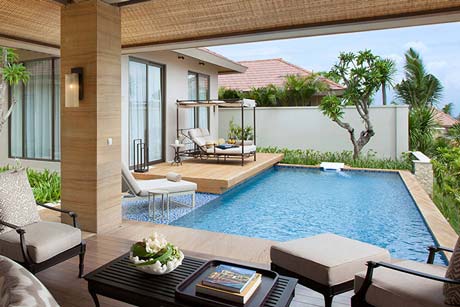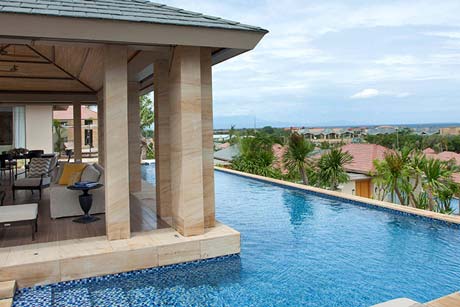 The Mulia Resort & Villas in Nusa Dua is an absolute standout in terms of luxury accommodation in Bali.
Different from the other hotels on our list, the design of the pool almost makes it seem like the resort has been built around the pool itself. It features a series of interconnected tiers which combine to create a completely unique pool design not seen anywhere else on the island.
The pool area itself is encapsulated by flawlessly manicured gardens, a host of ultra-comfy sun beds, and private cabanas allowing you to pick between tanning in the blazing sun, or chilling out in the cool of the shade.
16. The Ritz-Carlton Bali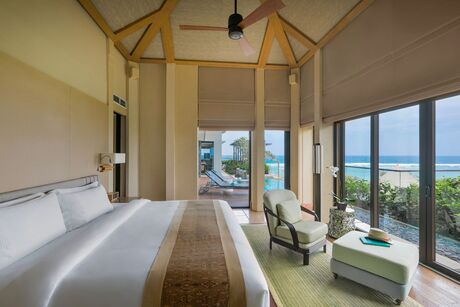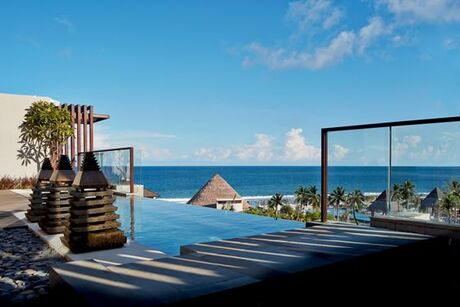 The world-famous Ritz-Carlton brings luxury to another level at its Nusa Dua hotel in Bali. One of its most iconic features is the outdoor infinity pool right on the soft sand of Nusa Dua's Sawangan Beach.
But for guests that are willing to splurge, they can stay in one of the private infinity pool villas with stunning ocean views. Private pool villas in Bali are common, but private infinity pool villas are something extraordinary and very few in between.
And as expected, Ritz-Carlton Bali offers everything top-of-the-line, from their Hydro-Vital Pool water treatment to unique spas involving traditional Balinese practices, or their personalized attentive staff to their world-class restaurants, there is nothing to not love here at the Ritz-Carlton!
If you are looking for an infinity pool villa in Bali for your honeymoon, the Ritz-Carlton is the place for you.
---
Best Infinity Pools In Bali: Jimbaran
17. AYANA Resort Bali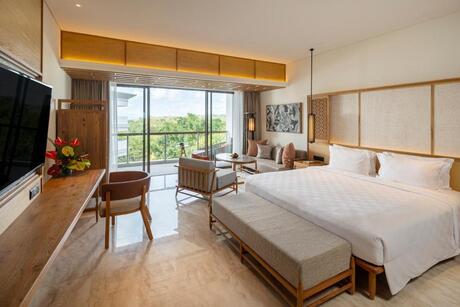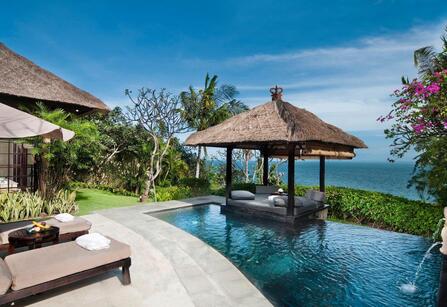 If you like your swimming pools, then AYANA Resort Bali in Jimbaran is the place for you. Boasting a mind-blowing 12 swimming pools all with different features, it goes without saying you will be spoilt for choice when it comes to picking where you'd like to cool off.
Probably the most aesthetically pleasing is the Ocean Beach Pool which is the infinity pool, giving you the impression you're actually in the ocean itself. For those wanting some privacy in their very own private cabana, the RIMBA Cabana Pool is perfect for some seclusion, whilst the UNIQUE Pool is also infinity, and gives users stunning views of the dense Balinese forest below.
18. Sundara Beach Club at Four Seasons Bali at Jimbaran Bay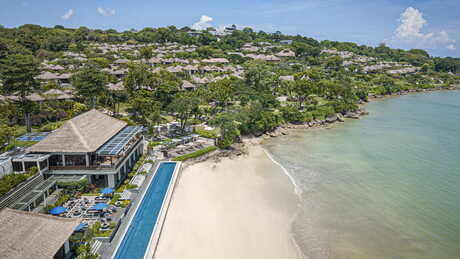 Sundara Beach Club is unique in the fact it's a part of the prestigious Four Seasons Bali Resort, similar to how Sunday's Beach Club in Uluwatu is part of The Ungasan Clifftop Resort.
Naturally then, this makes Sundara one of the best and most popular beach clubs on the island, and you only have to look at the sprawling 57-meter infinity pool to see why.
It's absolutely huge, with enough daybeds, sun loungers, and seating on its circumference to seat an army, and best of all, it's plonked right on Jimbaran Bay meaning you'll get some of the island's best beachfront views.
---
Beautiful Infinity Pools In Other Parts of Bali
19. Munduk Moding Plantation Nature Resort & Spa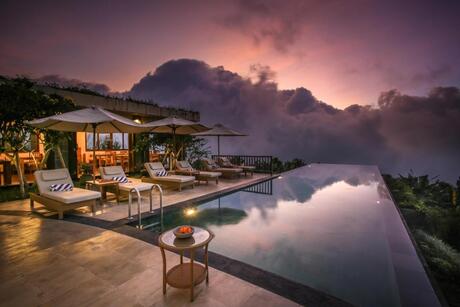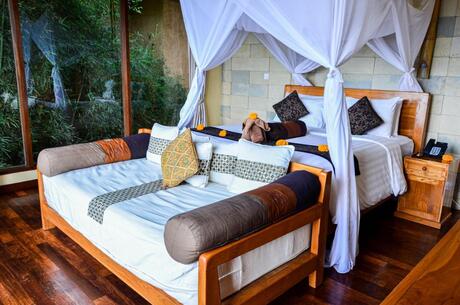 Our first eco-resort leads us to the very north of Bali, close to the busy town of Lovina, where Munduk Moding Plantation Nature Resort & Spa is located. If you're wanting some peace and tranquility away from the crowds and hordes of buzzing motorbikes, then Munduk Moding is going to be your paradise.
Munduk Moding's infinity pool is the highlight of the property, giving guests some incredible views of the surrounding jungle canopy and coffee plantations. High up in the mountains, you'll be isolated away from all distractions allowing you the opportunity to really switch off, recharge, and just enjoy your surroundings.
20. Soori Bali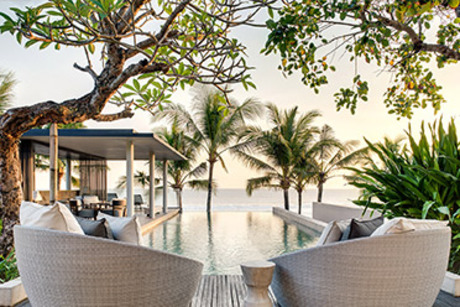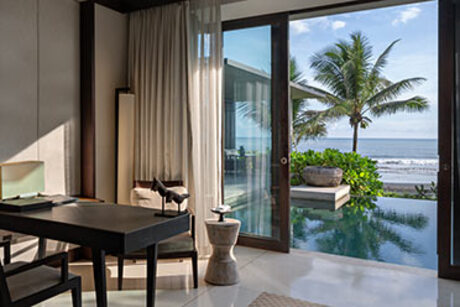 Our final infinity pool brings us to the lesser-visited southwestern area of the island, at the jaw-droppingly stunning resort of Soori Bali.
Some say that it's like the Bali of old, and we'd have to agree. It's completely unspoiled, surrounded only by swaying palm trees, the deep green valley, and the dark volcanic sandy beaches.
The beating heart of the resort is the infinity pool, which overlooks the dramatically dark beach creating a wonderful contrast that you're unlikely to find anywhere else in the world.
---
Best Bali Infinity Pools Map
Below is a map highlighting all of the infinity pools in Bali we've talked about. As you can see, there are many infinity pools on the island, so hopefully you can find the perfect one near you with this map!
---
Bali Infinity Pools Comparison Table
| Name | Location | Type | Our Rating |
| --- | --- | --- | --- |
| Hanging Gardens of Bali | Ubud | Hotel | 5/5 |
| Jungle Fish Bali | Ubud | Pool Bar/Restaurant | 4.5/5 |
| Padma Resort Bali | Ubud | Resort | 5/5 |
| Viceroy Bali | Ubud | Hotel | 4.5/5 |
| Alila Ubud | Ubud | Hotel | 4/5 |
| Alilas Villas Uluwatu | Uluwatu | Hotel | 5/5 |
| The Ungasan Clifftop Resort | Uluwatu | Resort | 4.5/5 |
| Bulgari Resort Bali | Uluwatu | Resort | 5/5 |
| OneEighty Dayclub | Uluwatu | Pool Club | 4.5/5 |
| Citadines Berawa Beach Bali | Canggu | Hotel | 4.5/5 |
| The Lawn | Canggu | Beach Club | 4.5/5 |
| The Seminyak Beach Resort & Spa | Seminyak | Resort | 4.5/5 |
| Potato Head Beach Club | Seminyak | Beach Club | 5/5 |
| Bali Garden Beach Resort | Kuta | Resort | 4/5 |
| Mulia Resort | Nusa Dua | Resort | 4.5/5 |
| The Ritz-Carlton Bali | Nusa Dua | Resort | 5/5 |
| AYANA Resort Bali | Jimbaran | Resort | 4/5 |
| Sundara | Jimbaran | Beach Club + Resort | 5/5 |
| Munduk Moding Plantation Nature Resort & Spa | Munduk | Resort | 5/5 |
| Soori Bali | Kerambitan | Pool Villas | 4.5/5 |
---
Bali Infinity Pools FAQs
What Is The Best Bali Infinity Pool Hotel?
There are many stunning infinity pool hotels in Bali, and some of the best ones are Alila Villas Uluwatu, The Ungasan Clifftop Resort, and Hanging Gardens of Bali.
What Is The Best Private Bali Infinity Pool Villa?
There are many beautiful private Bali infinity pool villas, but the best one has to be The Ritz-Carlton Bali with its infinity pool villas overlooking the ocean.
What Is The Best Beach Club In Bali With An Infinity Pool?
There are many amazing beach clubs in Bali with an infinity pool, and they are The Lawn, Sundara, and Potato Head Beach Club.
---
Conclusion: best Infinity Pools In Bali
The island of Bali is home to many stunning infinity pools, and picking the perfect one (or two) can be quite daunting.
No matter if you are looking for an infinity pool private villa in Bali, a beach club with an infinity pool, or just a nice hotel with an infinity pool overlooking the jungles of Bali, we hope our list has helped you pick the perfect one!
Disclaimer: Some of the links above are affiliate links. That means if you book or make a purchase through the links, we will earn a small commission at no extra cost to you! The money will help run this site! Thank you!