Tucked away on the very south of the island, Uluwatu is the perfect combination of breathtaking views, secret beaches, and the most serene of cliffside temples. It's also a surfer's paradise, home to some of the biggest and best waves on the planet.
If your idea of paradise is a little more relaxed, chilling on a daybed with a cocktail in hand, gazing into the endless blue Indian Ocean, then look no further than the pristine popular beach clubs in Uluwatu.
There's quite a variety to choose from which can be a tad overwhelming. Luckily, we've done all of the hard work for you.
Here's our list of the eight most epic Uluwatu beach clubs.
---
What Are The Best Beach Clubs In Uluwatu?
1. Ulu Cliffhouse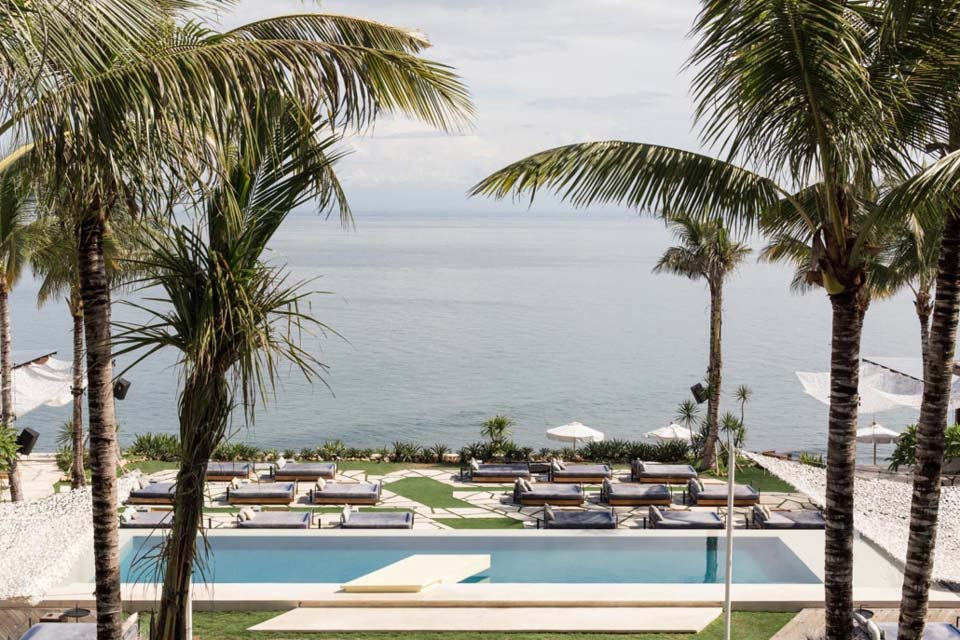 Now, we've already briefly touched on the stunning views that the southern Bukit peninsula of Uluwatu offers, and for those lucky enough to be visiting Ulu Cliffhouse, I think the views here might just be the best of the lot.
Perched 100 ft up, on top of a typically rocky Balinese clifftop, guests can admire the jaw-dropping views while lounging in the pool. This famous beach club specializes in performances from world-famous DJs, delicious drinks and even better food. It has a chilled-out vibe with its swaying palm trees and thatched bungalows, perfect for a day to enjoy the nice weather and scenery. Compared to some of the other beach clubs in Bali, Ulu Cliffhouse feels less pretentious.
That's not to say you can rock up straight off of the beach in a tank top and flip-flops though, a tidy yet casual dress code is enforced at all times, so do make a little effort if you decide to visit Ulu Cliffhouse. Swimwear is, of course, permitted because of the stunning 25-meter infinity pool available to all visitors of the resort.
2. Sundays Beach Club
With an incredible reputation, the chilled-out family-friendly Sundays Beach Club is certainly one of the best on the island. Hidden from sight, guests have to meander through the luxury resort of Ungasan Clifftop before traveling down the cliff face on a funicular to reach the beach club. Immaculate white sand awaits, with what must be the clearest strip of the Indian Ocean, just waiting for you to dive in.
As it's part of the six-star Ungasan Clifftop Resort, Sundays Beach Club have world-class cuisine. Grilled over a woodfire, freshly caught Barramundi, Snapper, and Lobster are all on offer as are salads and poke bowls for those counting the calories.
Sit by the beach bonfires with a creative cocktail, or there are even milkshakes and mocktails for non-drinkers and children, while you listen to live music and DJs. Guests also get complimentary use of a variety of water equipment like kayaks, snorkels, and paddleboards.
Now, this does come at a cost, however, and entrance fees are on the pricey side. For a day pass, it'll cost you 500,000 IDR (USD 33) per adult to enter, though this does include 300,000 IDR (USD 20) worth of food and drink credit for you to use.
3. Roosterfish Beach Club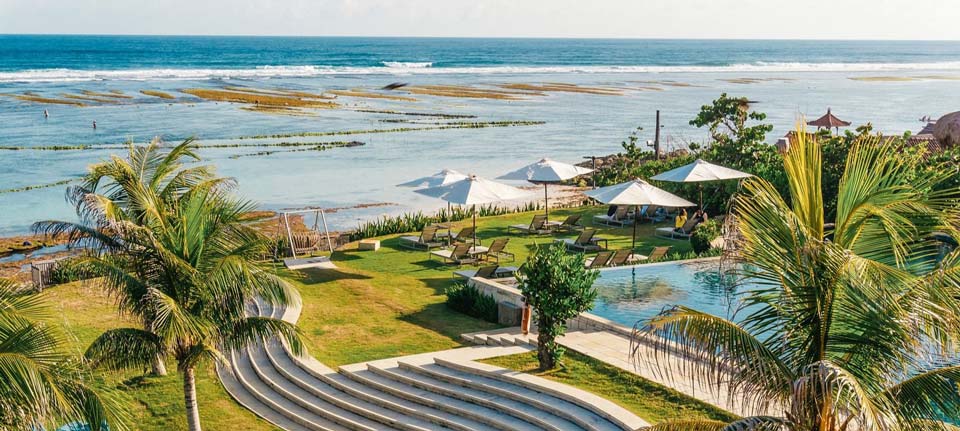 Continuing with the theme of 'hidden' beaches, the white sands of Pandawa Beach are absolutely stunning and certainly one of Bali's most picturesque. Nestled in front of a magnificent limestone cliff, this strip of coastline is home to the Roosterfish Beach Club.
Boasting a colossal pool overlooking the ocean, a live DJ performance at sunset, bamboo cabanas, and plenty of comfy sun loungers and bean bags, the atmosphere of this Uluwatu beach club is very inviting.
Head down to the beach club early, and feast on some of the delightful breakfast options including Uluwatu breakfast burritos, duck waffles, and for those a little more adventurous, local delicacies like seafood porridge and Bali's famous Nasi Goreng.
Kids are more than welcome at Roosterfish Beach Club. They pride themselves on its 'Sunday Funday' where every Sunday from 10 AM – 7 PM a huge foam party happens, complete with games and picture opportunities for the kids.
There are no entrance fees at Roosterfish Beach Club which is great. However, there is a minimum spend if you would like to use certain facilities such as bean bags, sun loungers, and daybeds.
Read More: 13 Epic Treehouses In Bali You Must Stay In!
4. Palmilla Bali Beach Club
Newly opened, this is one boutique beach club that certainly has that exclusive feel to it. Smaller than some of the others on the list, we think this actually adds to the overall vibe of Palmilla. Gorgeous wooden exteriors make way for one of the most beautiful infinity pools in Bali perched just above the beach, sun lounger, and daybeds.
For those wanting to relax on the charming, golden sands of Melasti Beach, it's incredibly easy to access. Scenic swings and hammocks have been placed throughout the beach club too, meaning you've got an incredibly Instagrammable location for the day.
The friendly staff at Palmilla Bali Beach Club is another highlight. There's always a smile on their faces and nothing is ever too much trouble. You'll notice them hard at work throughout the day, constantly cleaning tables, surfaces and serving you food and drinks (which, by the way, is magnificent).
There's an entrance fee of 100k IDR at Palmilla, though it comes with a complimentary drink or popcorn. There is also minimum spending when it comes to using their facilities, which means your bill can add up!
But for the laid-back atmosphere on one of the best beaches in Uluwatu, it is a reasonable price to pay! Oh, and did we mention, the sunsets here are also some of the best on the island? A must for your Bali itinerary.
5. Savaya Bali
Chances are if you've been in Bali for any period of time, you'll have heard people talking about Savaya. Think Ibiza superclub, mixed with unparalleled views of the Indian Ocean amongst the thick Indonesian jungle, and the elegance and grandeur that comes with being one of the leading beach clubs in Uluwatu.
The atmosphere is nothing short of electric, created by world-renowned DJs and musicians playing regular slots, and also the stunning scenery and first-class facilities guests have access to. A gorgeous infinity pool wraps around the outer edge of the club like a snake, complete with a swim-up pool bar. Now, who doesn't love a swim-up bar?
Savaya Bali also offers its guests some of the finest cuisines on the island, from fresh calamari, toasted sourdough sandwiches, sets of delectable beef sliders, and even a sharing platter of quality seafood. The drinks are superb too, with well-known favorites on offer as well as some intriguing tiki-style cocktails.
Prices are about average considering Savaya's status as one of the best beach clubs in Bali and early bird tickets to most events can be bought for 400,000 IDR (26 USD). The minimum spending for daybeds though is an eyewatering 4,000,000 IDR (267 USD).
Read More: Best Private Pool Villas In Bali, Indonesia
6. Karma Beach Club Bali
If supremely chilled beach vibes are what is needed after a night out, then Karma Beach Club Bali could be just what the doctor ordered.
With its entrance high up on top of the cliff, guests take the funicular down to reach the beach – a superb start to your Karma experience. This slowly makes way for uninterrupted views of Bali's most spectacular private beach cove, where the plushest of bean bags, day beds, and sun loungers are exclusively for guests.
As a family-friendly resort, there are plenty of activities to keep busy, with water sports equipment free to use. Karma Beach Club Bali's island-famed Suckling Pig BBQ is also one of the highlights, as is the appetizing Mediterranean-inspired food that dominates its menu. Fresh mezze platters, Greek salads, and a host of other mouth-watering dishes all come at reasonable prices.
Drinks are a little more expensive in comparison, with fantastic cocktails all set at 200,000 IDR ($13) and similar for single shots of spirits. This will be on top of the beach club's entrance fee, which reflects its private nature at 650,000 IDR ($43). But visitors can use that as credit towards the use of their facility, towels, and water sports activities.
On the weekend, Karma Beach Club has events. There are live bands on Fridays, fire dancers on Saturdays, and something they call Savage Sundays (it comes with a cabaret show)!
Read More: The Absolute Best Beach Clubs In Seminyak You Can't Miss!
7. Single Fins Bali
Opened in 20018, Single Fins is one of the oldest beach clubs in Bali. This is a slightly different option on our list, as it's more of a sunset bar as opposed to the typical beach clubs in Bali.
Watch the sun dip below the Indian Ocean horizon from their infinity pool with an ice-cold cocktail in hand while listening to live musicians and international DJs! It is an experience in Bali you won't forget!
If you're feeling a little peckish, whether it's lunch or dinner, the chefs at Single Fins have crafted a sizeable menu featuring Western favorites like tacos, quesadillas, and fresh woodfired pizza alongside Asian delicacies like Nasi Goreng, Tempe Thai salad, and satay.
There's no entrance fee which means you can enjoy the Single Fin atmosphere even if you're traveling Bali on a budget! If you are looking for a lively beach club to dance and party, then come to Single Fins on Sundays when they have international DJs and live acts!
8. El Kabron Bali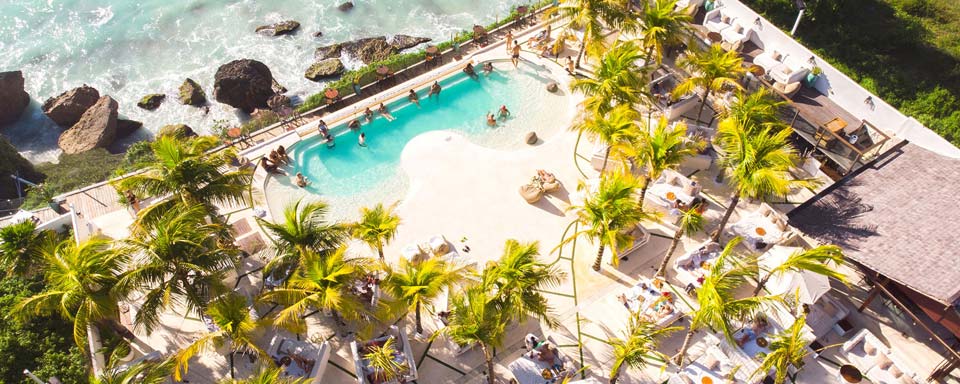 If you're longing for a splash of Spanish cuisine on the island of Bali, there's no place more worthy than El Kabron. Freshly caught seafood, tapas dishes rivaling those found on the streets of Andalusia, and deep orange sunsets to die for, all come together to create a one-of-a-kind Mediterranean restaurant-cum-beach club experience.
If El Kabron couldn't be luxurious enough, for those wanting something extra special the Hedonism Lounge boasts a wondrous infinity pool complete with lush day beds, and best of all, several sofas on the specially built sunset decking. To use these facilities there's a minimum spending of 1,000,000 IDR ($66).
Entrance to the beach club itself is completely free, as long as you comply with the relevant minimum spend rules depending on where you sit. Single-day beds are 500,000 IDR ($33) and doubles are 2,000,000 IDR ($140).
---
Uluwatu Beach Clubs FAQs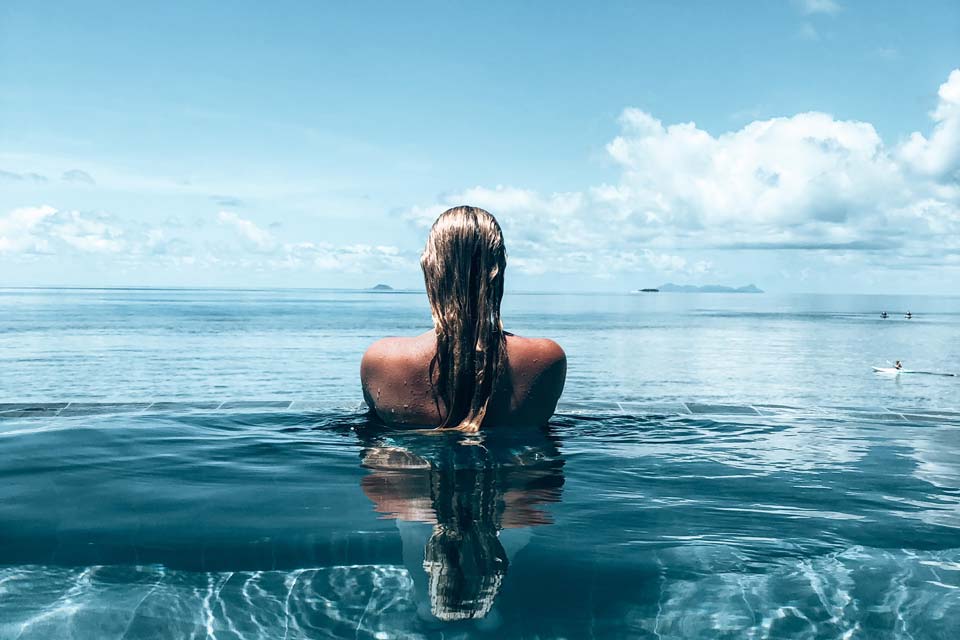 What Is The Best Beach Club For Families In Uluwatu?
The best beach club for families in Uluwatu is either Roosterfish Beach Club or Sunday's Beach Club. Both of these offer great food and plenty of activities for kids to keep them entertained!
What Is The Best Beach Club In Uluwatu For Sunset?
The beach clubs in Uluwatu are known for their sunset, and you can't go wrong with any of them. Our favorite ones are Single Fins Bali and Ulu Cliffhouse.
---
So, there we have it. An amazing variety of some of the best beach clubs in Uluwatu. From the Spanish-inspired beach lounge in El Kabron, to one of Bali's ultimate nightlife destinations at Savaya, all the way through to the family-friendly fun of Roosterfish, there's bound to be something for everyone on our list.
Disclaimer: Some of the links above are affiliate links. That means if you book or make a purchase through the links, we will earn a small commission at no extra cost to you! The money will help run this site! Thank you!