Not sure what is Bali known for? Worry not.
As one of the most popular travel destinations in the world, it is no doubt that Bali is famous for a lot of things.
From the mighty waterfalls to sacred temples nestled in the natural beauty of Bali, to the lavish beach clubs, stunning surf spots, and soft sand beaches on Bali's coastline, this small Indonesian island offers travelers a special experience unlike any other.
And for those that are still wondering whether Bali is worth visiting, we have written this guide on the 21 things Bali is famous for, so you can find out whether a Bali adventure is what you are looking for.
Though I'll warn you, after reading this, you might have the most sudden urge to book your ticket to Bali Indonesia!
Enjoy!
---
What Is Bali Known For?
For Beautiful Private Pool Villas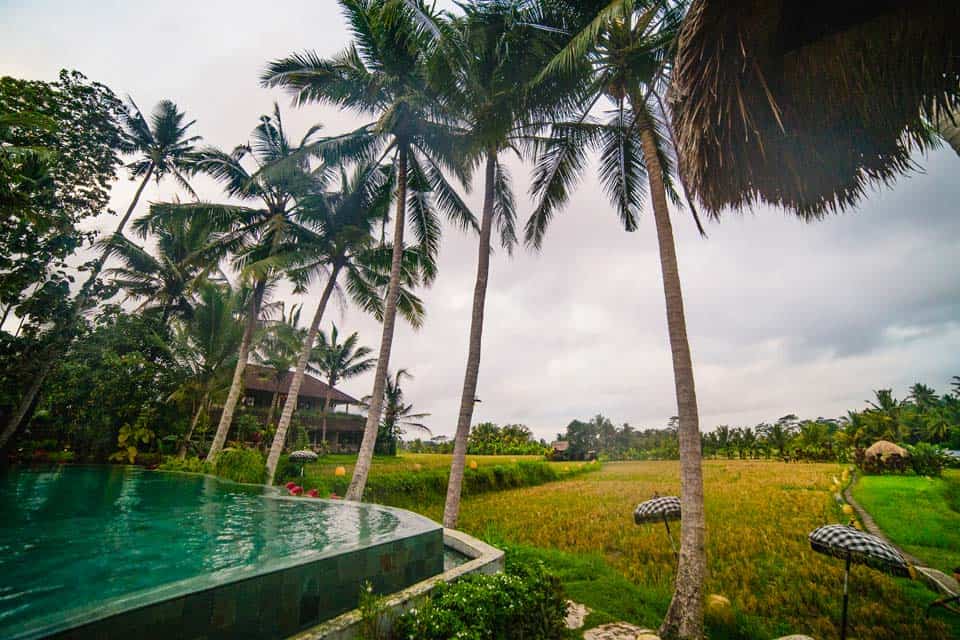 If there is one thing that keeps bringing tourists to Bali every year, it is the gorgeous private pool villas in Bali. From treehouse villas to traditional Balinese water villas and sleek modern ones, these villas in Bali are literally adult playgrounds that many can only dream of.
Guests can enjoy living the lives of kings and queens, waking up to a floating breakfast in their private pool, or just sitting out in their garden with a splendid view. Spend a whole day lounging in the sunbed, swimming in the pool and enjoying the indoor-outdoor living lifestyle.
If you are looking to live harmoniously with nature, pick a villa in the heart of the jungle of Bali or one near the rice paddies. But if you are someone that enjoys more modern amenities and being close to beach, there are plenty of villas near Canggu and Seminyak perfect for that.
The villa life in Bali is absolutely one of the best features of Bali!
Read More: 13 Best Treehouses in Bali
For Epic Waterfalls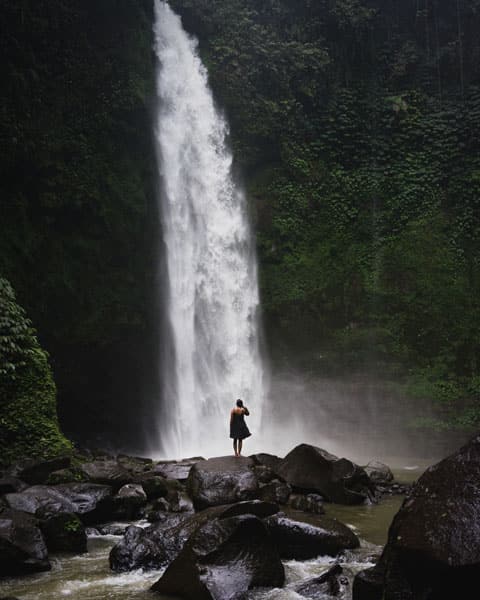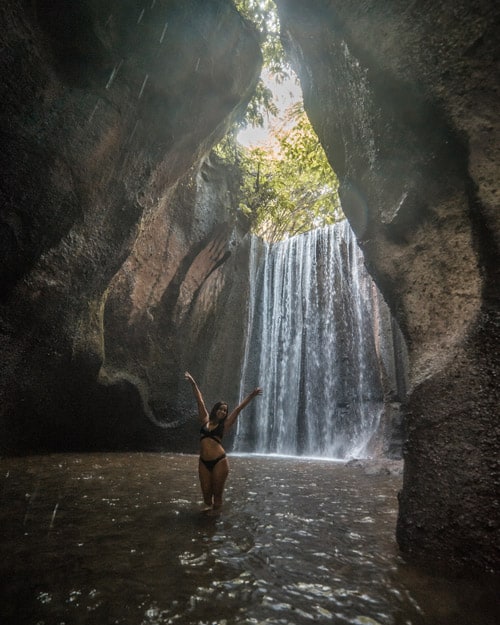 No list of what Bali is famous for is complete without mentioning its breathtaking waterfalls, many of which are situated in the idyllic nature specific to Indonesia.
If you enjoy going through the deep forest, clambering over boulders, and ducking beneath lush green canopies, then searching for the best waterfalls in Bali should be at the top of your itinerary.
There are many different types of waterfalls for visitors to enjoy. If you prefer to go swimming in them, check out Banyumala Twin Waterfalls in Northern Bali. But if you are just looking for a waterfall nestled in beautiful greenery, then check out Nungnung Waterfall.
There are plenty of unique waterfalls as well, such as the Tukad Cepung Waterfall and Goa Rajah Waterfall, which are located inside caves!
For Extravagant Beach Clubs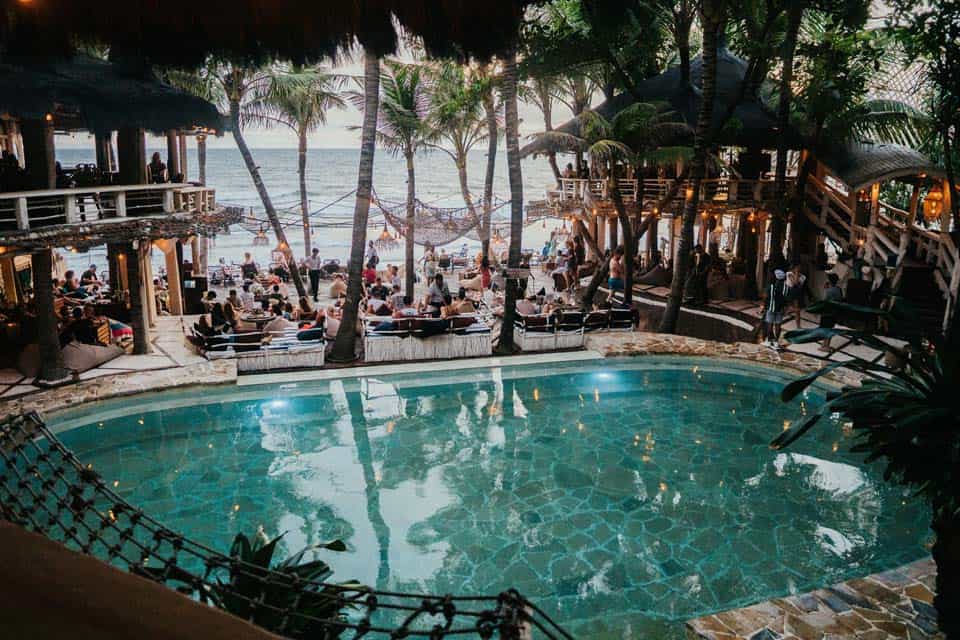 Experiencing one of Bali's famous beach clubs is something you must do on any Bali itinerary, and I am sure that will take no convincing. I mean, who wouldn't like to soak in gorgeous infinity pools, sipping on the trendiest cocktail and watching the sunset?
There are many beach clubs where you can feel like a celebrity.
The most iconic one has to be the Potato Head Beach Club in Seminyak. Here you can spend an afternoon lounging in the sofas, enjoying its international and local cuisine, before catching a magical sunset in their infinity pool.
Our personal favorite is La Brisa, which has a more shabby-chic tropical atmosphere and has various pools overlooking the ocean. Its rustic and local architectural elements are exemplary of what Bali vibes are about!
Read More: 8 Epic Beach Clubs In Uluwatu, Bali
For Its Instagram-Worthy Opportunities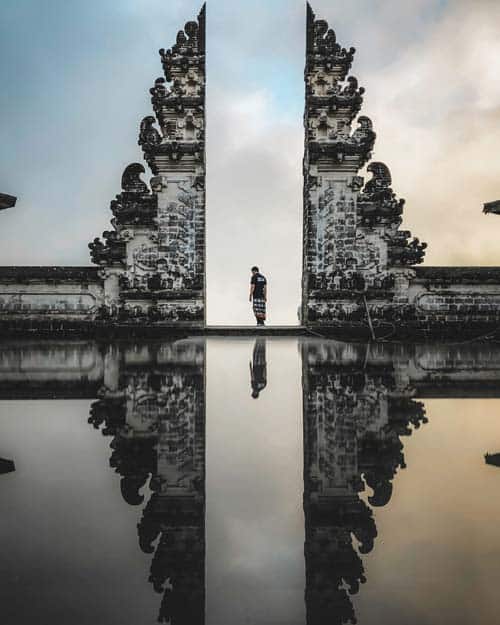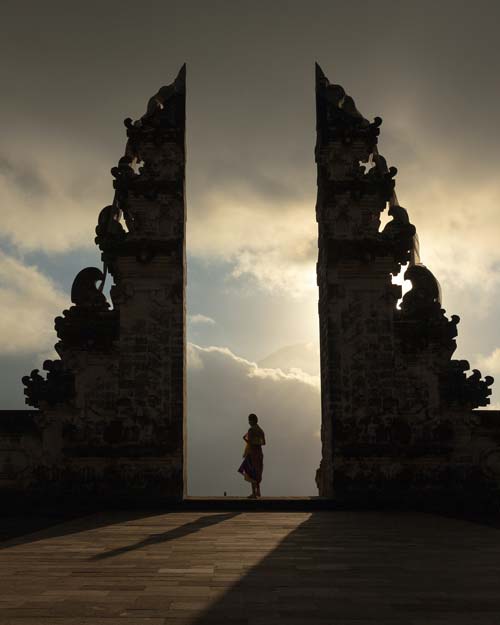 When it comes to the best Instagram-worthy opportunities, Bali is perhaps one of the places at the top of the list. The Indonesian Island is filled with picture-perfect views on every corner, from the white sand beaches to the gushing waterfalls and beautiful rice terraces.
It is impossible to come home from Bali without a full camera roll!
In fact, there are tours in Bali that are dedicated to getting the perfect Instagram photos, and for the influencers, it is something you must do in Bali.
Perhaps the most famous Instagram spot in Bali is Lempuyang Temple in East Bali. The temple perfectly frames Mount Agung Volcano, and with a small trick, you can create the perfect reflection photo. It is no wonder why this spot is known as the "Gates of Heaven"!
In the heart of Ubud, you'll find the Sacred Monkey Forest Sanctuary. Not only will you get the chance to take photos of the wild Balinese long-tailed macaque, but you get to explore the temple-like complex that they call home.
And for those that are willing to venture off the island to Nusa Penida, you'll find the iconic Kelingking Beach, which is sometimes known as the T-Rex beach due to its unusual rock formation.
For Being A Surfer's Paradise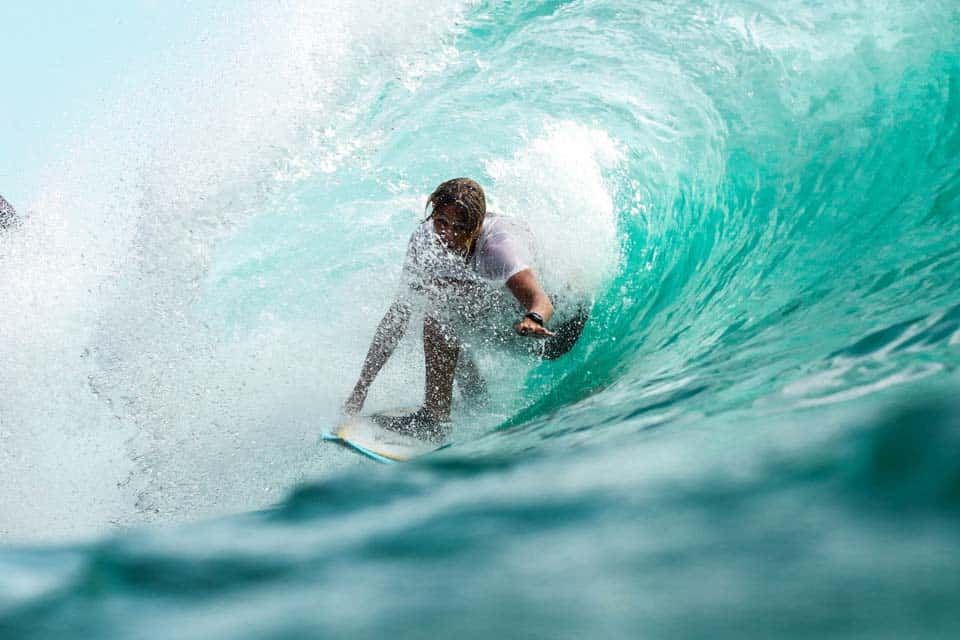 If there is one thing Bali is known for, it's for being a surfer's paradise. Beautiful beaches of varying waves dot the perimeter of the island, offering a place for surfers of any level a good experience.
The most iconic surfer town in Bali is Canggu. In fact, this hub is full of foreigners staying there for months just to enjoy Bali's best waves.
Here you'll find the most popular beaches in Bali for surfing – Batu Balong, Echo and Berawa. If you could, go surfing in Canggu during sunset. The beautiful colors and the calm waves create a surreal experience unlike any other.
And if you have never surfed before, there are plenty of surf schools in Bali willing to show you the basics!
For Lush Rice Paddies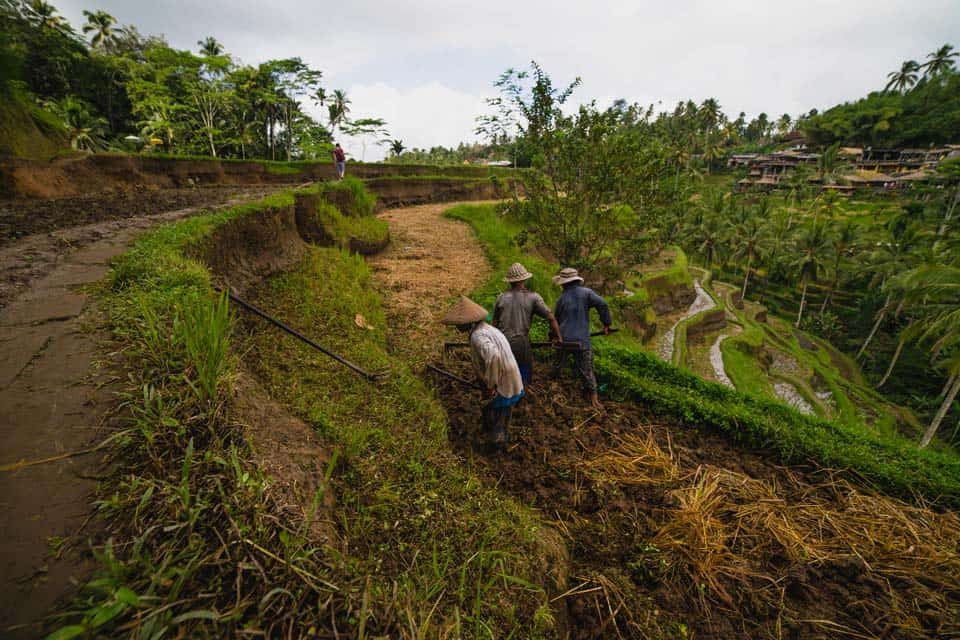 Bali's ability to find beauty in even the simplest things amazes me. Take the rice paddies and terraces for example. You've not truly experienced Bali until you have seen one of those lush rice paddies at sunset, ideally at sunset.
Not only are the rice terraces in Bali breathtaking, but they also represent an important part of Balinese culture.
The terraced pattern of the Bali rice fields is a traditional irrigation technique known as the Subak Irrigation system. This ancient method of water management may be traced back to the 9th century.
What happens is that water from the higher terraces runs off until the water gets to the bottom, irrigating everything along the way. This allows locals to farm sustainably even in the hilliest parts of Bali.
There are two places where you can witness this ingenuity:
Tegalalang Rice Terraces
Munduk Rice Terraces
Tegalalang Rice Terraces are perhaps the most famous rice fields in Bali. But being close to Ubud, it is definitely worth stopping by.
Munduk Rice Terraces in the northern parts of Bali are less touristy, which means more unspoiled nature. But the disadvantage is a long commute.
For Beautiful Soft Sand Beaches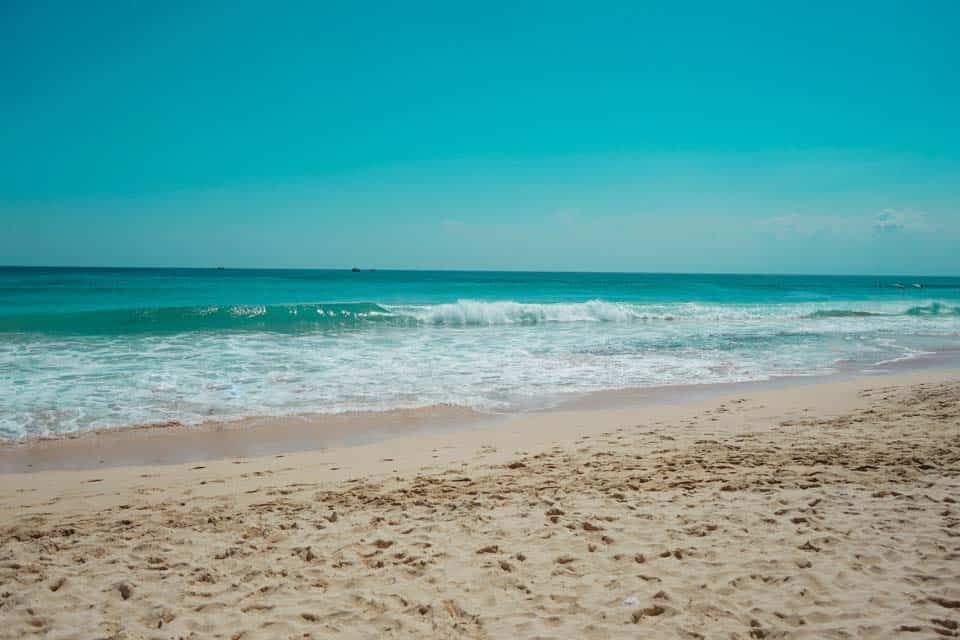 Bali's beautiful soft sand beaches are far from being the island's hidden gems.
Dotted throughout the island, these beaches are what many tourists from around the world are yearning to see. The best thing about the beaches in Balai is that they each have something different to offer.
Are you into surfing? Head to the beaches in Canggu or Uluwatu.
Want a great place to watch the sunset? Choose a beach club or head down to Double Six Beach in Seminyak.
Want a place where you can feel the energy of Bali come to life? Then check out Kuta Beach, one of the island's most popular beaches.
For Being A Digital Nomad Hub
Over the years, Bali has proven to be one of the most popular places for digital nomads to settle down. That is not surprising, given Bali's beautiful all-year-round weather, beautiful nature and friendly people.
As more and more digital nomads call Bali their home, it creates a hub of creative talent that is unmatched anywhere else in the world. Entrepreneurs, influences, business owners, the list goes on and on.
Bali has plenty of amenities that nurture the digital nomad lifestyle such as great internet speed and amazing co-working spaces. New arrivals will find plenty of other digital nomads to socialize with, forming a valuable community for bouncing off ideas or just making friends.
Bali is famous for being a digital nomad hub and workation spot and it is not stopping anytime soon.
For Wellness and Yoga Retreats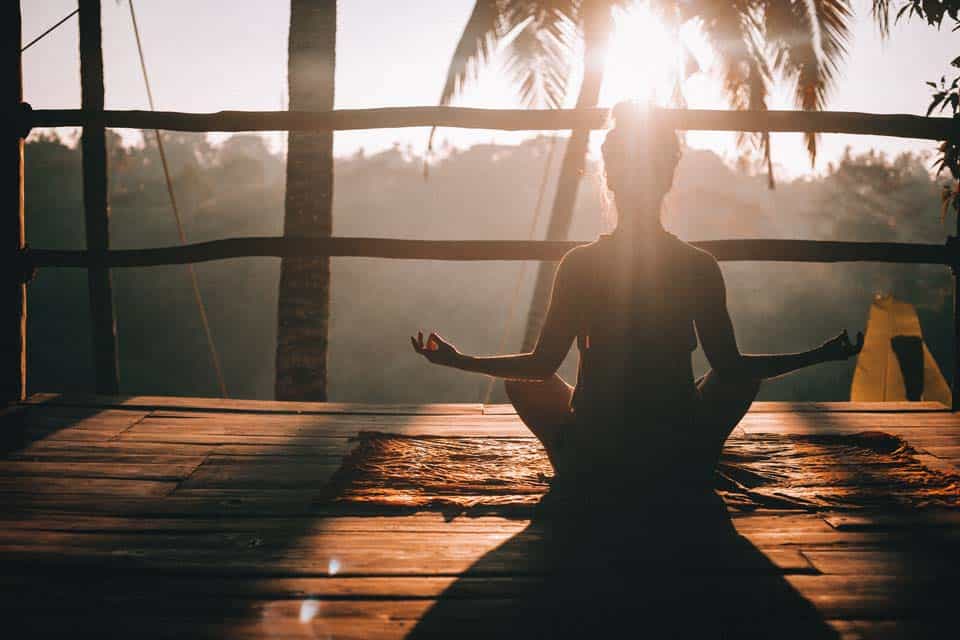 Bali is abundant in the realm of eco-chic, long-term yoga retreats. From yoga retreats in Canggu that combine vinyasa flows with culinary workshops and surf expeditions to yoga retreats in Uluwatu that include dawn sessions overlooking the stunning Indian Ocean, Bali has it all.
Head to Ubud, Bali's renowned yoga hub, for an unforgettable experience with kilometers of hazy mountains and jungles as a backdrop. Here, Bali's most restorative powers are brought to life.
Quiet natural settings and a wellness community instill a sense of well-being in anybody who takes the time to stop and appreciate the beauty.
This holistic oasis is a yogi's dream come true for beginners and advanced practitioners. If you're looking for yoga retreats anywhere around the globe, Bali should be the first place that comes to mind.
For Being An Affordable Destination
Bali's affordability is one of its most well-known features. In fact, numerous backpackers come to Bali (and Southeast Asia in general) to take advantage of its affordable living, cheap food, and numerous activities.
There are plenty of amenities in Bali that help facilitates a frugal lifestyle. Travelers can enjoy its numerous street food stalls, eat in local restaurants (warungs), and stay in one of the numerous hostels on the island.
But if you are looking for a luxurious vacation, you can also find that in Bali, especially with its unique accommodations, private tours, and high-class restaurants.
For Its Majestic Volcanoes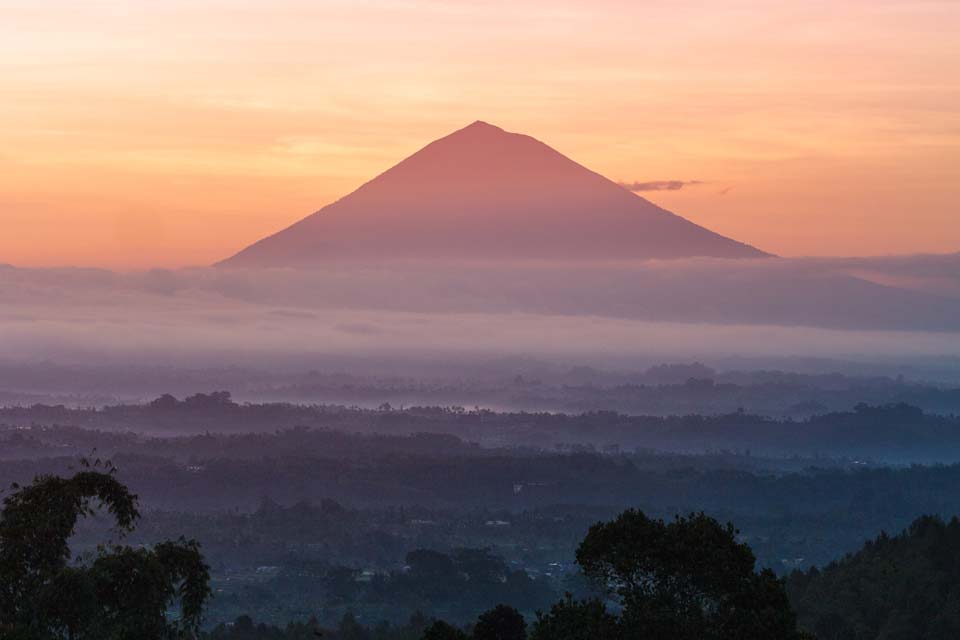 As an island in Indonesia, the country with the most active volcanoes in the world, Bali is not unfamiliar with volcanoes herself. While most tourists are unaware of the volcanoes in Bali, they are most certainly one of Bali's most famous features.
There are a total of six volcanoes in Bali – Mount Batur, Agung, Bratan, Merbuk, Patas, and Seraja.
Mount Batur is a famous tourist attraction in Bali. Tourists often do a hike in the early hours of the morning to catch the sunrise at the peak of Mount Batur and admire the crater Lake Batur. It is one of the most unique experiences in Bali.
Mount Agung is the most revered volcano in Bali and also the highest mountain at 3,031 m (~10,000 ft). It is a volcano that erupted numerous times in 2017, causing immense damage to the island. Nonetheless, the beauty of this famous Bali landmark overwatching the island is inexplicable.
For Vibrant Nightlife
The nightlife in Bali is absolutely insane. With a huge backpacker scene, plenty of travelers in their late teens and early 20s are out to have a good time. Any day of the week, you will find tons of people in the nightclubs, bars, and of course, the beach clubs.
For favorite nightclub is Hotel Mexicola, and that is where the most chill vibes are to be found. A more posh nightclub is La Favela. It is probably the island's most famous nightclub, and sometimes it is hard to get in.
For Its Magical Ancient Temples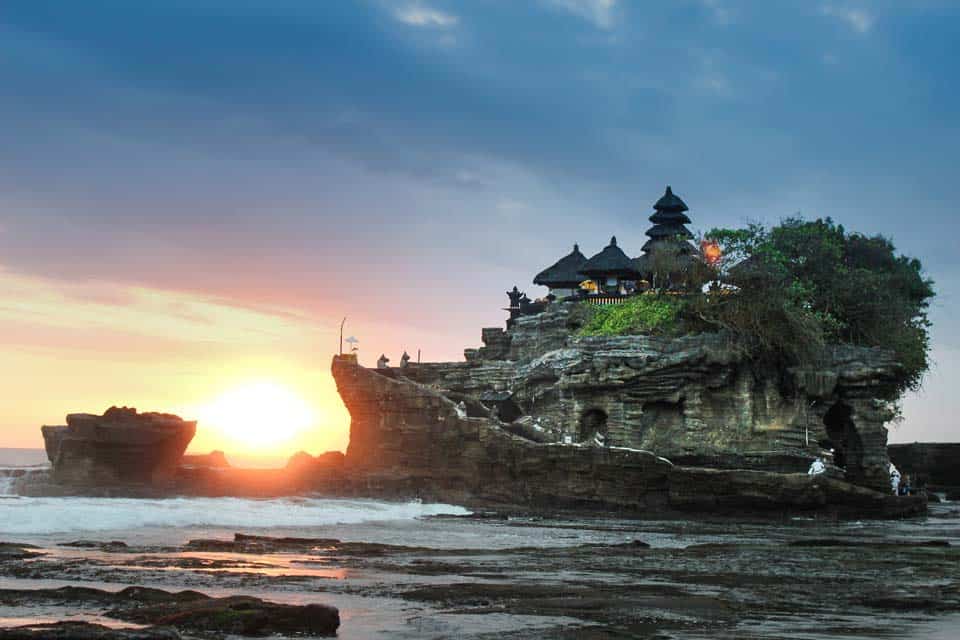 The small island of Bali is home to over not 1000, but over 10,000 ancient temples. For thousands of years, daily worship has been a huge part of indigenous life. Known as "pura" in Balinese, these Hindu Temples offer an eye-widening experience for tourists.
Many of them feature traditional Balinese designs such as a Meru pagoda with tiered roofs and a split-open gate. Their unique and iconic designs are what attract non-practitioners to visit every day, usually with a camera in their hands.
The most gorgeous temple in Bali has to be Ulun Danu Beratan Temple, which is known for its meru pagoda in the middle of Lake Bratan.
Cultural lovers mustn't miss the chance to visit Pura Tirta Empul, a temple that is known for its holy spring waters.
The Tanah Lot Temple on the western coast of Bali offers an interesting phenomenon where the tides would make part of the temple complex inaccessible. If you are lucky, you might even witness the Kecak dance at Tanah Lot Temple, a traditional Balinese dance.
And for something more dramatic, check out one of the sea temples such as the Uluwatu Temple. The dramatic cliffs make the landscape much more breathtaking.
Lastly, Bali's most unique temple has to be Goa Gajah, which is also known as the elephant cave. Goa Gajah is known for its unique ancient carvings, but I'm sorry that you won't be seeing any elephants here! You'll find a serene temple with plenty of natural beauty surrounding it though!
For Being Super Touristy
The beauty of Bali is far from being a secret, and this is evident by the 6 million-plus tourists every year. Travelers come from all over the world to enjoy a slice of what the so-called "island of the Gods" has to offer.
Though with tons of tourists every year, Bali deserves every single one of its tourists. From temples to beaches to villas, Bali is the perfect vacation for many.
If you want a quieter time, we suggest staying in less popular places, such as Sanur or Nusa Dua. You can even stay in Nusa Penida, which is an island off the coast of Bali.
For Its Iconic Bali Swings For Lush Jungle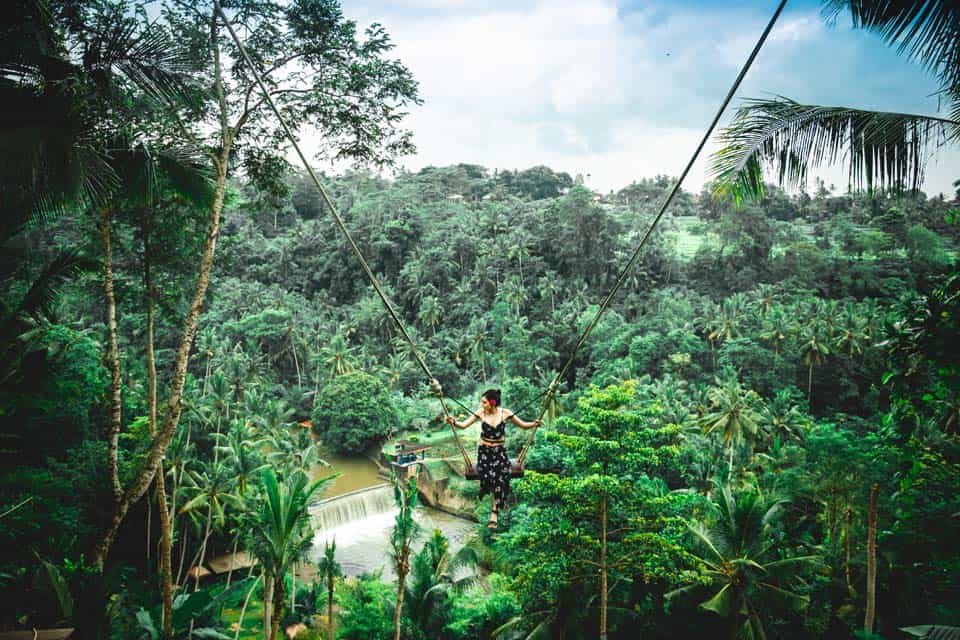 You have probably already seen it on Instagram – a young tourist swinging over the lush rice terraces and landscape of Bali's forest. It started out with just the one Bai Swing, but it has become such a phenomenon that hundreds of others have sprouted up throughout the island.
These swings aren't just some of the most instagrammable spots in Bali, but they offer tourists an escape from the bustling towns. It is often combined with other natural attractions, which is an excellent way to explore more of the less popular side of Bali.
The official Bali Swing is the one with the awesome rainforest view, and it's where a lot of the major Instagrammers take their photographs. It consists of several swings of differing heights, with more being constructed.
They look out over a lovely palm tree valley with a river, giving the place a true Bali jungle atmosphere. A trip to Bali is not complete without this epic photo!
For Balinese Poop Coffee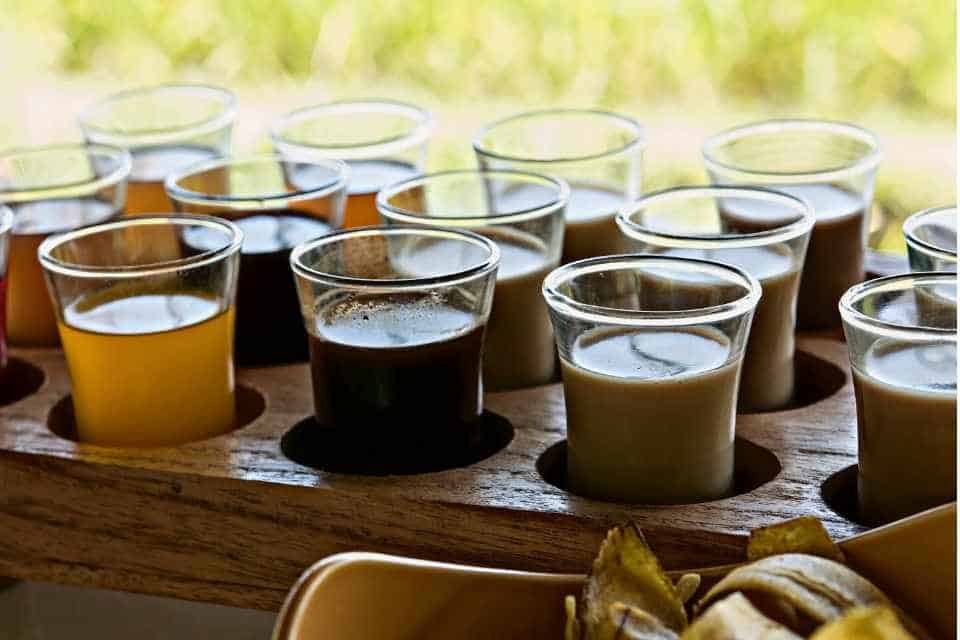 Poop Coffee is the latest phenomenon. As much as I hated typing that sentence, poop coffee, or Luwak coffee, is one of the biggest attractions in Bali. Luwak coffee simply refers to the coffee beans produced from the poop of the Luwak, a cat-like animal (civet) that is native to the region.
Luwaks are night creatures, and what they love to do at night is eat. One of their favorite foods is coffee cherries, which are high in sugar and caffeine. However, these creatures cannot digest the coffee beans themselves and end up excreting them out.
The result is coffee beans that are enriched in flavor that many people would pay a premium for.
While we thought it was quite an interesting concept, we didn't find Luwak Coffee to be anything too special. However, we might be a minority here because it is one of the biggest hits in Bali.
If you do decide to try it, make sure you go to a cruelty-free farm where the animals are treated properly!
For Its Rich Balinese Cuisine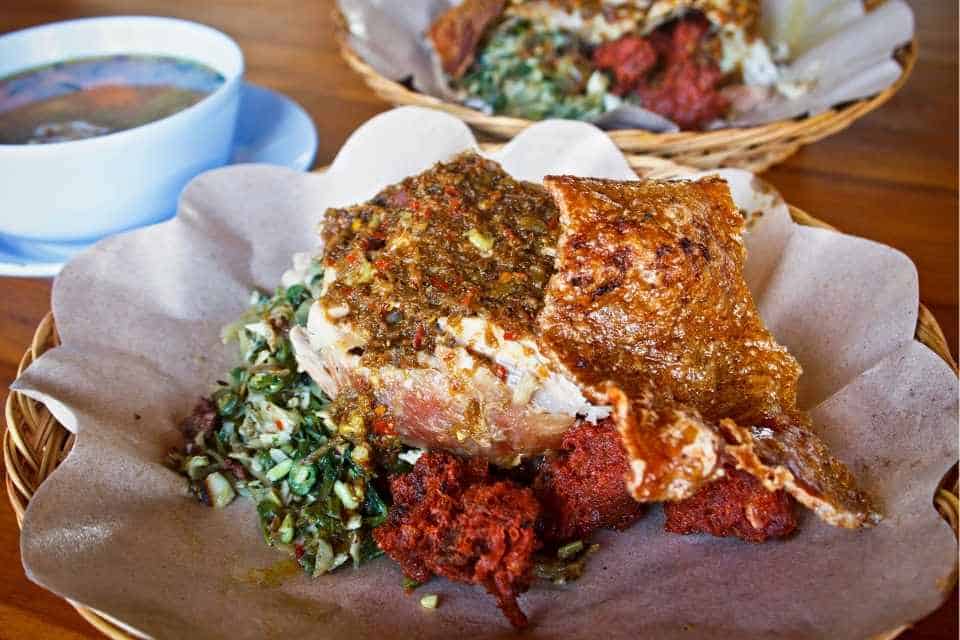 With influences from Indonesia, China, and India, Balinese cuisine has quite unique flavors. And with a predominantly Hindu population, the cuisine is mixed with traditional Hindu culinary style, which further adds a layer of complexity to Balinese dishes.
Most of the dishes involve a mixture of rice (of course), vegetables, meat, fish and tons of spices. These spices are often so flavorful and can turn any dish from regular to phenomenal.
One of our favorite Balinese dishes is Babi Guling, or suckling pig. It is a dish that is typically served only during traditional festivals. But nowadays, visitors can find a few restaurants in Bali serving this incredible delicacy.
Its soft and juicy meat with powerful spices creates an extraordinary taste, and your taste buds are guaranteed to thank you after.
For Its Friendly and Warm People
Maybe it's the nice weather all year round or the relaxed vibes of Bali, but Balinese locals are some of the friendliest people I've met on my travels. Even the ones that don't speak much English never fail to acknowledge you or just give you a smile.
On my solo trip to Bali, I cannot recall how many times people started chatting to me on the beach and how many times the host of my accommodation just wanted to chat. It might not mean much, but small gestures go a long way and you just feel so welcomed even in a foreign land.
Once you leave Bali, you won't just remember the warm sun on your skin, the unique flavor of Balinese dishes, and the beautiful beaches, but also the warm smiles you were exchanging with strangers that felt like family.
For Rich Balinese Art and Culture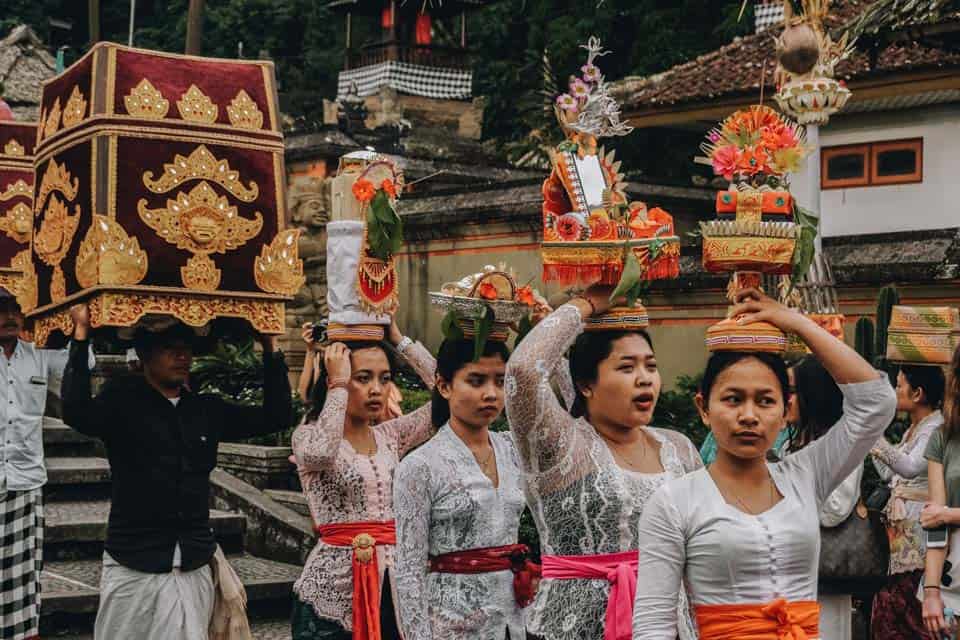 The rich history of Bali has cultivated some of the most skilled artists in the world, mainly in the form of painting and wood carving. But it wasn't always like this in Bali.
Historically, art was only created for religious purposes, to be displayed in temples and during ceremonies. Artists were not able to take credit for their work, and their creativity was severely limited.
But as Bali comes more modernized by western influence, Balinese artists started creating art for themselves. And with the mix of religious and ethnic influences, the art created is an excellent representation of the culture of Bali.
Though you'll see plenty of artisan shops in Bali, the best place to experience Bali's art scene is through the annual Bali Arts Festival, which takes place in mid-June and last until mid-July.
The event is a fantastic opportunity to see Bali's diverse culture through dance, music, and traditional attires.
For Its Incredible Weather All-Year-Round
One of the best things about Bali is its gorgeous weather year-round, with temperatures being consistently in the mid-80s to the low-90s in the daytime.
Due to its proximity to the equator, Bali's warm, tropical weather attracts a large number of tourists to the island. The water is always at a comfortable temperature, perfect for any water sports such as diving the coral reefs, snorkeling, or just swimming.
Although it is officially the "rainy season" from November to May in Bali, Indonesia, it doesn't stop travelers from all over the globe to visit between Christmas and New Year. But even during the rainy reason, most of the attractions in Bali are accessible.
Read More: When Is The Worst Time To Travel To Bali?
For Endless Shopping Opportunities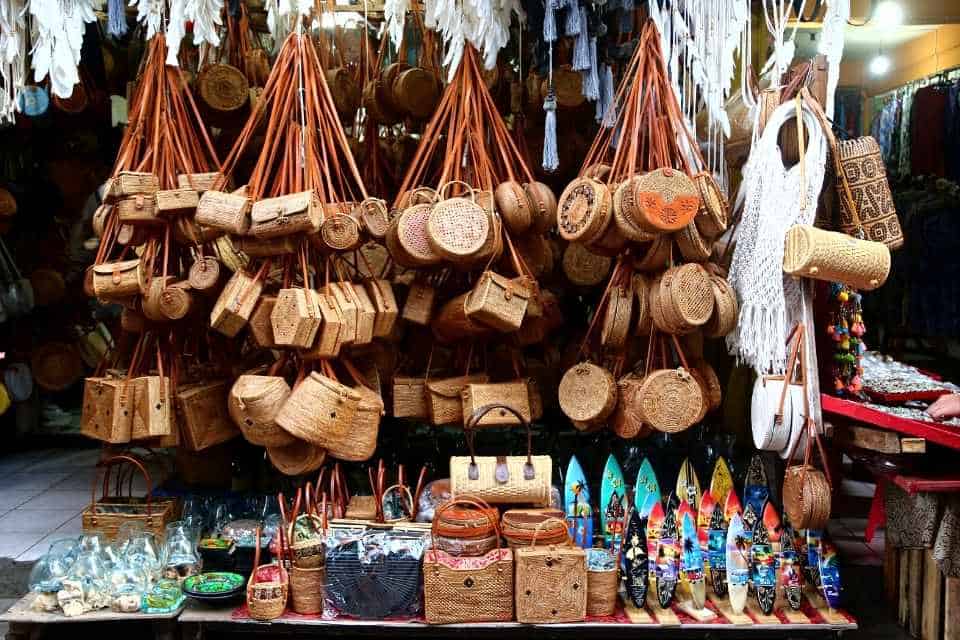 With both international designer shops and local street vendors, Bali offers a unique shopping experience.
You can go from shopping at Coach in Beachwalk in Kuta to shopping for unique wood-carved figures in Kumbasari Art Market all on the same day, probably even in the same hour.
If you are looking for Bali souvenirs, then we recommend you to check out the famous Ubud Art Market. Here you'll find many different types of souvenirs, from knock-offs to local handicrafts and artworks.
And when you are tired from shopping, head across the street to check out Ubud Palace, once the official residence of the royal family of Ubud.
---
Bali's Most Famous FAQs
What are Bali's most famous attractions?
Bali's most famous attractions are Tanah Lot Temple, Mount Batur, Sacred Monkey Forest Sanctuary, and its numerous waterfalls.
What are Bali's most famous foods?
Bali's most famous foods are Nasi Goreng, Mie Goreng, Babi Guling, and Bebek Betutu.
What are the best places to go shopping in Bali?
The best places to go shopping in Bali are Beachwalk Shopping Mall, Ubud Art Market, Sukawati Art Market, and Seminyak Village.
---
This concludes our guide on the 21 things Bali is most famous for. Hopefully, now you have a better understanding of what this small island of Indonesia has to offer!
Any question? Leave them in the comments!
Disclaimer: Some of the links above are affiliate links. That means if you book or make a purchase through the links, we will earn a small commission at no extra cost to you! The money will help run this site! Thank you!