Planning a memorable vacation to Bali? Instead of opting for a busy hotel smack bang in the middle of this bustling resort, why not book a luxury overwater bungalow in Bali?
Bali has loads of unique overwater huts and bungalows that can be rented, and which one you choose depends on your budget and how many people you're traveling with.
Note: It's important to add that the water villas in Bali are not like the typical overwater huts that you see in the middle of the ocean in places like the Maldives. Instead, the villas on this list offer a pool that you can jump into direct from your room or your living room!
To make your decision easier, I've come up with this list of the best overwater bungalows and huts in Bali – from an overwater bungalow with views of rice paddy fields and Mount Batur to one surrounded by a white sand beach after reading this drool-worthy blog post you will be itching to hop on a plane to Bali.
Consider this the ultimate guide to overwater villas and huts on water in Bali!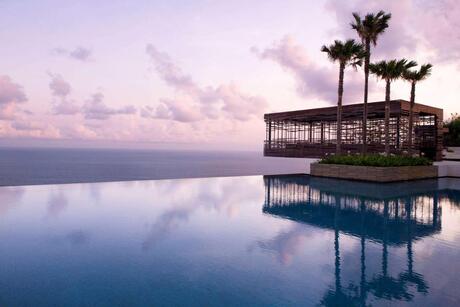 Unparalleled Ocean Views
Eye-catching Modern Decor
Luxurious Amenities and Facilities For All Guests
---
Best Bali Overwater Overwater Villas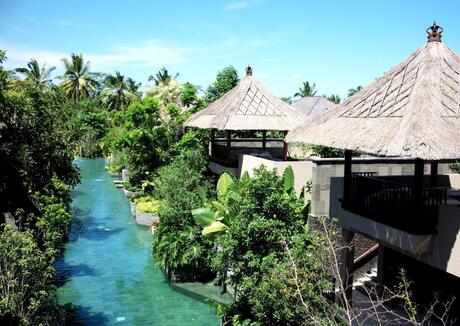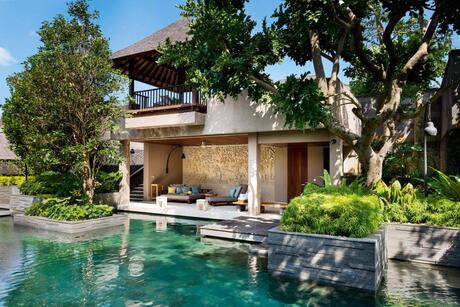 First up is Hoshinoya Bali, a tranquil oasis set amidst lush tropical scenery. The interior of this overwater bungalow in Bali is on another level – with magnificent Japanese-style beds and traditional Balinese touches! The villas here are set atop a hill overlooking a sacred river, and the Soka and Bulan Garden Pool Villas enjoy direct water access!
Hoshinoya is located in the popular tourist region of Ubud and is just 6 km from Ubud market, so it still enjoys a peaceful setting but remains within easy reach of the hustle and bustle of Ubud! It's a very sought-after Bali water bungalow and was awarded the Conde Nast Travelers Readers Choice Award 2021.
Breathtaking views are the main selling point of the Soka Garden Pool Villa – these maisonettes are nestled within a lush garden setting and boast direct pool access. And what's cool, too, is the living room on the first floor features a section that juts out over the pool!
While in the Bulan Garden Pool Villa, the pool can be accessed from the living room and the large bedroom on the second floor has views of the garden terrace.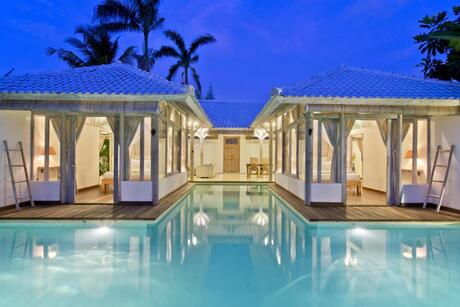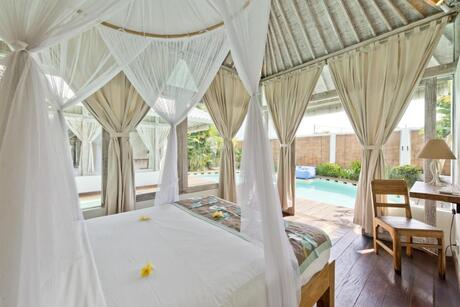 If you're after one of the best water villas in Bali that's close to the beach, look no further than Villa Laksmana Hideaway, which is situated a short distance from the lively Seminyak and Double Six Beach. Should you choose this unique villa, you will have direct swimming pool access from the open-plan dining area.
Plus, the decor is lovely, with the all-white furnishings and walls contrasting nicely with the typical Balinese wooden floors! This Bali hut on water also features a kitchen complete with a stove and all other essential kitchenware – which may come in handy if you love to cook!
You can relax at your own private pool and revel in the peacefulness of your surrounding! This two-bedroom villa with ensuite bathrooms is cocooned from the bustling Seminyak and is set back from the center of the town on a quiet lane! So you have the best of both worlds here!
Boasting landscaped gardens, Laksmana Villas is a fantastic option for a large group or a family traveling together because you can book multiple water villas within the estate! The staff here can also arrange any transfers, activities, or dinner reservations for you with ease!
With glorious beaches on your doorstep, as well as plenty of boutique stores and excellent restaurants, you won't need to venture far when staying at Villa Laksmana Hideaway! And you may not want to, as you can go straight from your comfortable living room into your pool!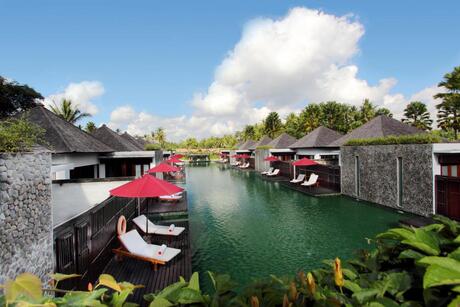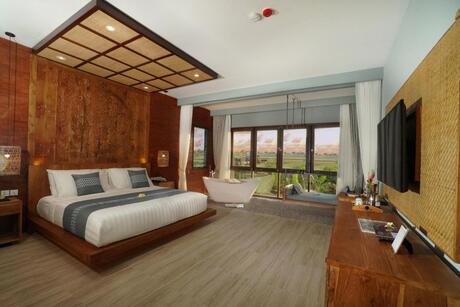 From the FuramaXclusive Villas & Spa in Ubud, guests can enjoy the sprawling views of a lush paddy field and the striking Mount Batur in the background. There's a wide range of accommodations on offer at this stylish resort, including the Premier Room, Deluxe Pool Villa, and Two-Bedroom Royal Pool Villa.
But, it's the Lagoon Pool Access option that enjoys direct access to the natural spring water lagoon as well as your own pool. This 165 sqm Bali water bungalow is tastefully decorated with lots of rich red furnishings, which gives it a traditional Balinese feel. The whole space feels spacious, with separate dining and living areas and a comfortable king-size bed.
Other facilities include a large bathroom with a separate bathtub and shower stall.
This is one of the most affordable overwater bungalows in Bali!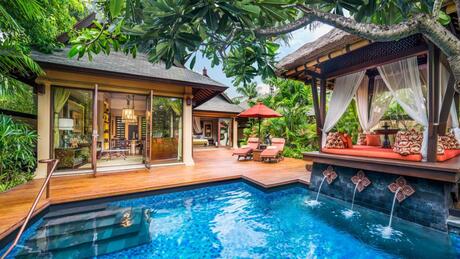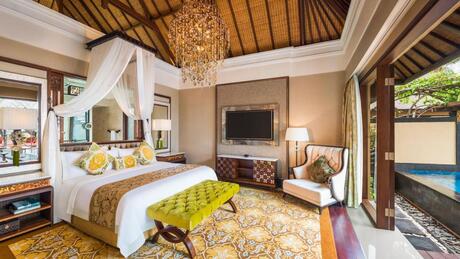 A recognizable name on the luxury hotel scene, the St Regis Bali Resorts boasts a prime position on the beachfront of Nusa Dua and is just a 5-minute drive from the fantastic Nusa Dua shopping area.
Their Lagoon Villa is one of the most spectacular overwater villas in Bali – it's large at a whopping 371 meters squared and enjoys direct access to the saltwater pond as well as your own private swimming pool and a gazebo! If you are looking for something romantic, this is the accommodation for you.
With a spacious bedroom and an extra large double bed as well as a huge ensuite bathroom, you will find it hard to leave this luxurious abode. But do try because the vibrant area of Nusa Dua is one of the most popular tourist destinations in Bali and is home to plenty of stylish restaurants and unique boutique stores!
Other features of the Lagoon Villas include a separate babysitter/butler room and a kitchenette! What's great, too, is a free return airport shuttle with a limousine is provided to all guests, and of course, complimentary WiFi is provided in all rooms and throughout the resort.
The price at the Regis Bali is inclusive of a sumptuous breakfast which includes dishes such as Foie Gras, Lobster Omelet, and Steak & Eggs – which will really set you up for the day!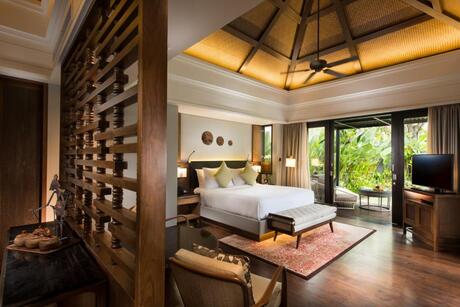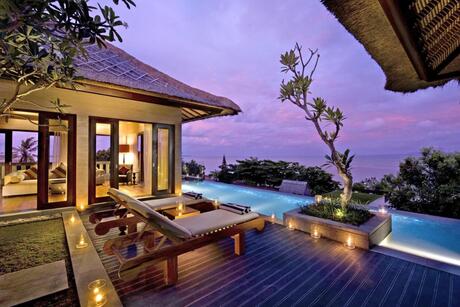 Another recognizable hotel chain is the luxurious Conrad which offers stylish places to stay across the world, but it's the centrally located Conrad Bali in Seminyak, that really steals the show for this brand because it is home to the Deluxe Lagoon Access King Room! This spacious room of 45 square meters is a firm favorite among luxury travelers because you can step straight from your terrace into Conrad's large pool!
This above-water room also features a large ensuite bathroom, coffee machine, mini bar, flat-screen TV, and super-comfy beds!
This award-winning Bali resort enjoys direct beach access to a stunning white sandy beach, and the hotel's famous lagoon pool is open 24 hours a day. So, if you stay in the Deluxe Lagoon Access Room, you can take a refreshing dip anytime you please!
Conrad Bali is a short distance away from all the shops and eateries in Seminyak, making it the ideal place to explore this iconic Bali neighborhood!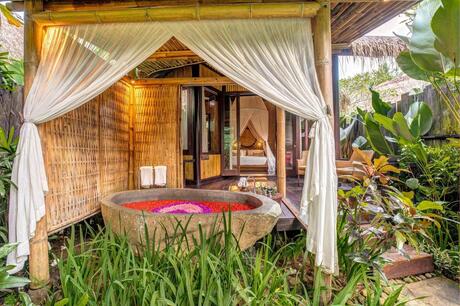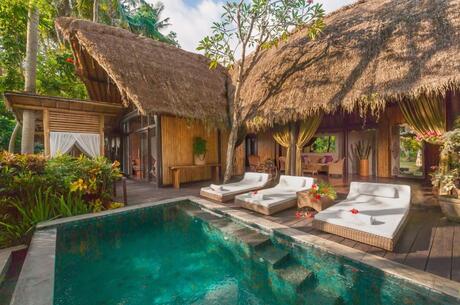 Fancy spending the night in a holistic wellness retreat nestled on the banks of the Ayung River? Well, the award-winning Fivelements Retreat Bali in Ubud has both of the above and more!
In fact, it's one of the best places in Bali to try authentic Balinese healing therapies and eat delicious plant-based food. Plus, the spacious, light-filled water huts boast some of the best views on the island, with stunning nature and lush green vegetation as far as the eye can see.
The spacious suites and villas here showcase the best of Bali design with a traditional thatched roof, wooden floors, and a large terrace that looks over either the pristine Ayung River or onto your own private garden.
The best rooms offered here are the Hillside Pool Suites and Riverview Pool Suites, both of which boast direct water access to your own infinity pool. As well as that, they offer balconies and a luxurious bathroom with a customized bathtub.
The Hillside option offers stunning garden views, while the Riverview Suites (as the name suggests) look down upon the Ayung River!
Though its location is remote, the hotel offers a free shuttle service into central Ubud.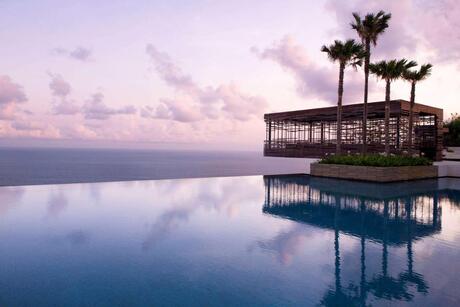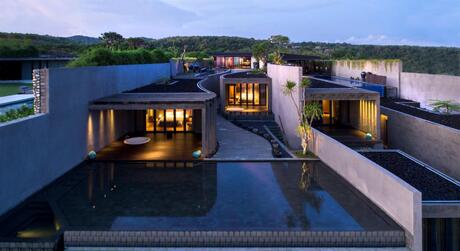 Next up is the stylish Alila Villas Uluwatu, set upon a clifftop and with a stunning 50-meter pool that overlooks the sparkling Indian Ocean. But that's not all – Alila Villas also has an art gallery that showcases modern local art, a 24-hour gym and spa, a yoga and pilates studio, and personalized butler service!
Plus, the modern Bali pool villas feature an elevated pavilion that overlooks the ocean! What a bonus! Not forgetting their outdoor dining area and huge bathrooms – this is a one-of-a-kind Bali water bungalow that simply has to be seen to be believed!
If you want direct water access from your villa, then you can choose from the Pool Villa or the Hillside Villa. The Pool Villa is 290 sqm, and you can access your own outdoor pool from the open-plan living area.
There's also an ocean-view cabana where you can sit and relax with a good book and an ice-cold drink. Back inside, the interior is eyecatching with bamboo ceilings, and it's airy with a constant sea breeze flowing through.
While the gigantic Hillside Villa offers a whopping 2,000 sqm of space and is ideal for families thanks to its spacious three bedrooms. Direct water access is from the living area onto the wooden deck and into your outdoor pool.
One of the most unique water villas in Indonesia, Alila is conveniently situated a 15-minute drive from Jimbaran Bay, where you can have a romantic seaside dinner or a refreshing swim.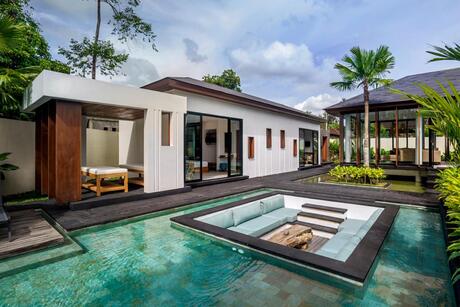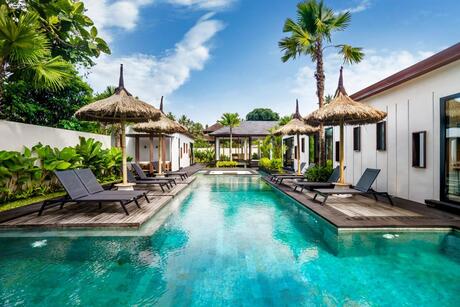 Are you after a stylish, modern overwater villa in Bali? Then, look no further than Villa Lagoon on the outskirts of Ubud!
Boasting a decent-sized private pool off the living space, the coolest thing about this pool is the sunken seating area built into the middle of it. Honestly, you have to see it to believe it!
Of course, the pool is the main talking point of this water villa in Bali, but there's also a fully-equipped kitchen, a lovely terrace, a flat-screen TV, free parking, and a separate dining area.
The five bedrooms here are stylishly decorated with a mix of modern and Balinese decor, and there's air conditioning throughout. There are plenty of amenities here to make your visit to Bali memorable.
Villa Lagoon is relatively new to the market in Ubud and has been open since early 2022! So, why not be one of the first guests to try this stunning Bali water bungalow?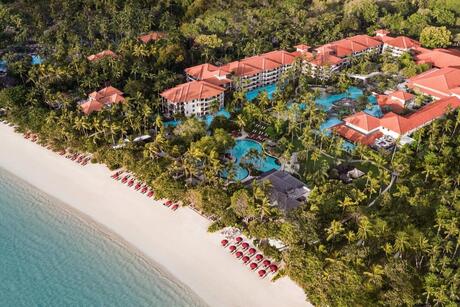 Surrounded by a breathtaking white sandy beach, The Laguna Resort is home to no less than seven large lagoon pools and is set within lush tropical gardens. Plus, the views of the Indian Ocean from throughout the property are definitely Instagram-worthy!
The beach in front of the resort offers direct access to two hidden-gem islands – Nusa Bagus and Nusa Peninsula, and the Bali Collection Shopping Gallery is just a 5-minute drive away!
A major bonus is the around-the-clock butler service The Laguna offers!
The Lagoon View/Lagoon Acess Rooms are the most popular in the resort, especially with couples looking for something romantic, because they enjoy direct access to the lagoon. They look out onto heavenly native gardens and are best described as a 'sanctuary'.
The interior is spacious and inviting, with touches of traditional decor like woven keben baskets and low-rise dulang tables.
Also, the rooms are air-conditioned and boast Next-gen TVs which will connect your mobile device, not that you'll have much time for watching TV with a lagoon outside your room!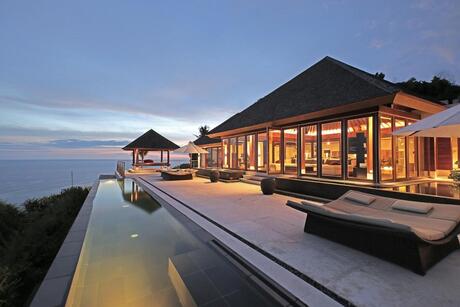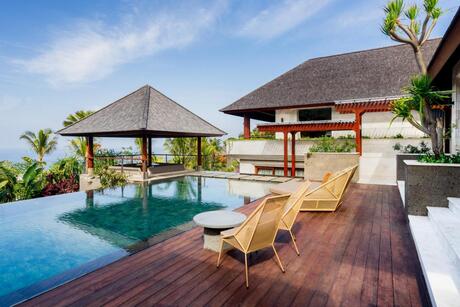 Have I saved the best for last?! Aptly named The Edge is perched on a cliff overlooking the ocean. This 5-star resort offers villas with two private pools, well-equipped kitchens, a home theater, a wine cellar, cigar lounge – they are truly the epitome of luxury!
Plus, these water hotels in Bali boast a tropical garden as well as a sundeck on which to laze! Personal butlers prepare and serve breakfast in this water villa's private kitchen.
Other facilities in the resort include free high-speed WiFi, a world-class spa, and a fitness center.
The best overwater Bali bungalow on offer at The Edge is the One-bedroom Villa, a surprisingly spacious villa with a 220 square meters interior and a 470 square meters exterior; it features both a private garden and a deck, as well as a pool which you can access directly from the living space.
The bathroom features a Jacuzzi and an outdoor rain-effect shower, talk about paradise!
---
Bali Water Villas FAQs
What Are The Best Water Villas In Bali?
Does Bali Have Any Overwater Bungalows?
Yes, Bali has overwater bungalows and water villas. But it is worth noting that they are not like the ones in the Maldives where they sit over the ocean. Overwater bungalows in Bali are situated above man-made water sources such as lagoons and pools.
---
This concludes our article on 10 of the most stunning water villas and overwater bungalows in Bali. What are you waiting for? Pack your bags, put on your bikini, and go enjoy some of these stunning hotels in Bali!
Disclaimer: Some of the links above are affiliate links. That means if you book or make a purchase through the links, we will earn a small commission at no extra cost to you! The money will help run this site! Thank you!