If you are planning a romantic vacation or a honeymoon in Bali, then you've picked the perfect place. Not only are there plenty of romantic things to do in Bali, but there are many stunning honeymoon villas in Bali that can take your memorable experience to the next level.
With a wide variety of gorgeously designed hotels and villas combined with tropical jungle, towering waterfalls, and beautiful beaches, it's little wonder why Bali is one of the top honeymoon destinations in the world.
Contrary to popular belief, Bali is a huge island and finding the perfect Bali honeymoon villa can be challenging, which is why we have decided to write this article and do all the hard work for you!
If you're unsure where you should be staying for your honeymoon in Bali, read on as I dive into everything there is to know about the endless options of romantic villas in Bali.
---
What Are The Best Honeymoon Villas In Bali?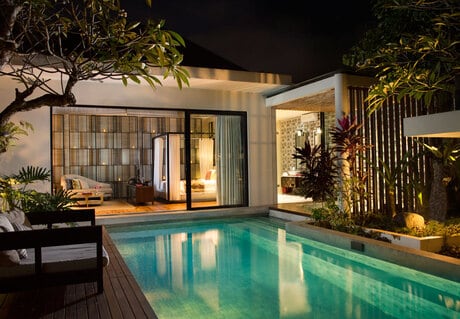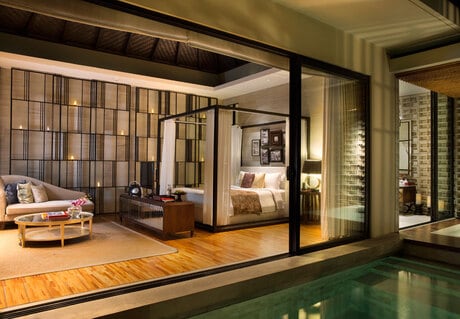 What's a list of the best honeymoon villas in Bali without having the island's very first "love-themed" private pool villas up first? Located in Seminyak's trendy and upmarket town, Berry Amour Romantic Villas is the perfect romantic villa in Bali for a honeymoon.
The resort's ethos that every love story is unique is reflected in its stunning private villas, which all have their own distinct and individual style being split into three categories; Temptation, Mystique, and Desire.
The attention to detail at Berry Amour is second to none and is completely focused on ensuring you have the most memorable time with your loved one. It's the ultimate selection of Bali villas with a private pool and jacuzzi tub, and certainly the best honeymoon villa in Seminyak.
And of course, the villa is more than happy to add any additional amenities based on your request. So whatever you can dream of for your honeymoon, Berry Amour Romantic Villas can make it happen!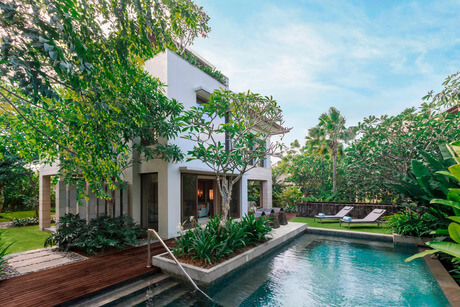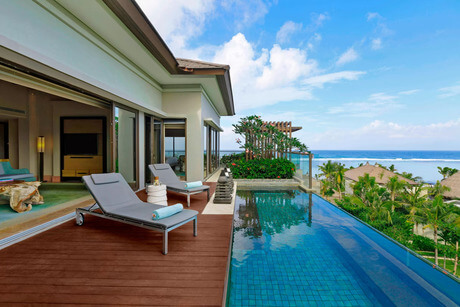 The Ritz-Carlton brand needs no introduction. It's the standard of five-star luxury no matter where you are in the world, and in Bali, things are no different. Situated on a gorgeous beachfront in Nusa Dua, the Ritz-Carlton Bali is a wonderful option for a honeymoon, especially if you plan to stay in one of the private Garden Villas.
You'll get your private outdoor pool to relax in and a huge open-plan terrace, rooftop daybed, and stunning views of the surrounding Indian Ocean. If you mention you're visiting on honeymoon, you'll get additional benefits like a romantic flower bath set and the hotel will even set you up a Bali itinerary that includes a secluded candle light dinner on the beach.
And of course, no matter which type of room you pick, you can expect a spacious bedroom with a sexy and modern design.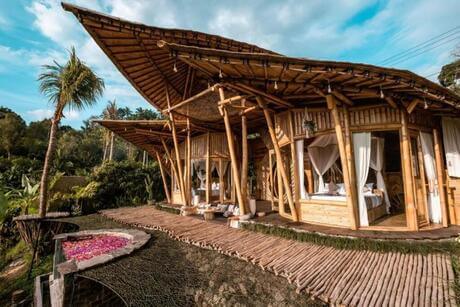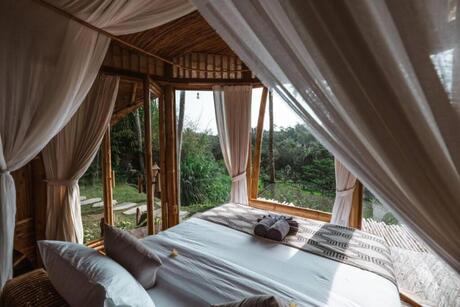 As featured in numerous popular publications like CNN Travel and Elle, Camaya Bali is a magical bamboo resort comprised of five completely individual bamboo houses, each one ideal for those after a secluded and tranquil honeymoon escape.
The gorgeous resort is completely "off the grid" and situated within a deep jungle almost an hour and a half away from Ubud.
From relaxing in your private pool with the soundtrack of the dense jungle canopy to taking a romantic moonlit walk through the nearby rice fields, or even dining under the stars with a romantic candlelit dinner, whichever activity you choose to do, Camaya Bali's staff will ensure you make the best honeymoon memories.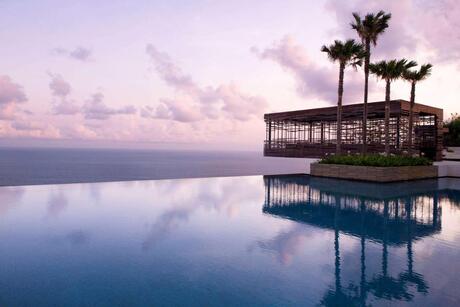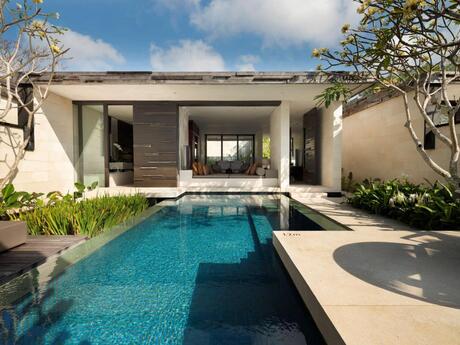 Just a short 15-minute drive (or scooter ride) from the popular Jimbaran Bay is the super luxurious villa resort of Alila Villas Uluwatu. This elegant resort is perched right on top of one of Uluwatu's famous cliffs and as a result, overlooks the imposing vastness of the deep blue Indian Ocean and creates a romantic ambiance unlike any other.
As well as the spa facilities being world-class, romantic evenings also don't come much better than dining at the resort's signature restaurant The Warung.
Inspired by the traditional roadside eateries, talented chefs have curated a seasonal menu showcasing the best of Balinese ingredients. Expect pan-fried sea urchin, Lombok chargrilled quail, and Indonesian-style young jackfruit on the menu.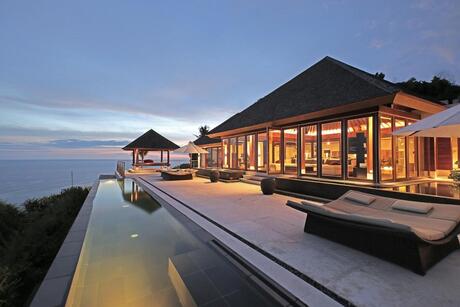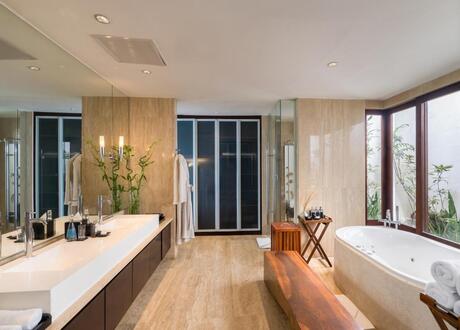 Comprised of eight gorgeous clifftop villas, The Edge is the ultimate honeymoon paradise in Uluwatu and has some of the best villas in Bali for couples. Whichever villa you choose you'll be in complete privacy and all offer state-of-the-art entertainment systems, private decking and garden areas, as well as your private pool and 24-hour butler service.
An amazing perk of staying at one of the villas here at The Edge is the fantastic Oneeighty day club (one of the best beach clubs in Uluwatu) that resides on the grounds of the resort. Home to one of the most impressive swimming pools on the island, the glass bottom allows you to see the crashing waves hundreds of feet below.
It also has one of the most famous infinity pools in Bali, with stunning views of the glistening sea.
For honeymooners looking to wine and dine on the resort, why not visit 'The Cave', an underground restaurant with a stunning seven-course tasting menu devised by Chef Ryan Clift.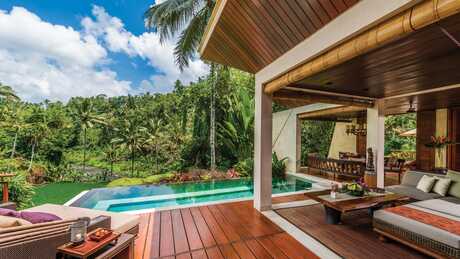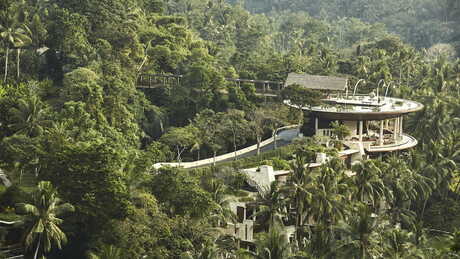 With a honeymoon stay at the Four Seasons Resort at Sayan, you'll feel like you've been transported to another world. After all, it wasn't voted the No.1 Hotel in the World in 2018 by Travel + Leisure for no reason.
From the incredible dramatic suspension bridge extending right out into the Ayung River Valley jungle, to the stunning river-view villas complete with their plunge pool, no expense is spared at the Four Seasons at Sayan.
Relax in your own private space with the luxuries of the resort to hand, or head out on a honeymoon adventure by rafting down the river or exploring traditional Balinese culture with a visit to a secret temple or a private bike tour through the island's picturesque rice fields.
Located along the ancient Kedewatan Ridge, the well-reviewed Ayuterra Resort offers amazing views of the fast-flowing Ayung River and the valley beneath. If you're looking for a honeymoon destination completely immersed in the Balinese countryside, then you've found it.
With special honeymoon packages like the option for a wine-and-dine romantic sunset dinner or a relaxing traditional Balinese spa, a stay at Ayuterra Resort will certainly leave a lasting impression on you, and the staff stop at nothing to ensure you have the best stay possible.
It's a family-run resort, which becomes immediately apparent the moment you walk into the resort thanks to the staff's utmost hospitality. Also thanks to this, it is one of the more affordable honeymoon villas in Bali.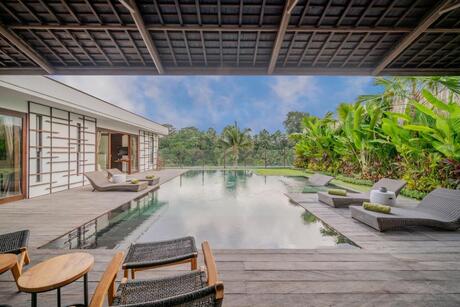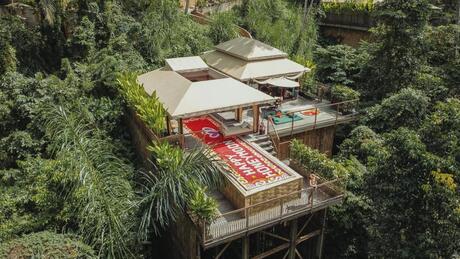 The stunning resort of K Club Ubud is a true gem in the heart of Bali's lush jungle, and the gorgeous pool villas are the star of the show. They offer the perfect blend of modern luxury and traditional Balinese architecture, with private pools and outdoor amenities making them the perfect secluded retreat for those on a honeymoon.
K Club Ubud also offers a unique and unforgettable accommodation option: luxurious hanging glamping tents. These cozy canopy tents are nestled into the trees and offer supreme views of the jungle you find yourself immersed in.
Don't think that by staying in a tent you'll be scrimping on amenities, these tents come fully equipped with super soft bedding, air conditioning, and even a private jacuzzi. If you are looking for a unique experience on your honeymoon in Bali, then make sure you check out K Club Ubud.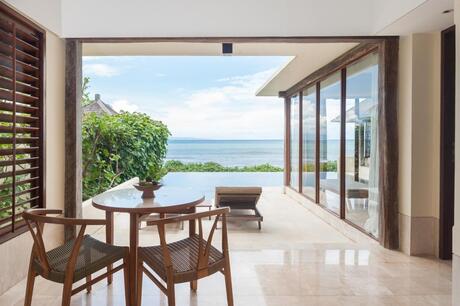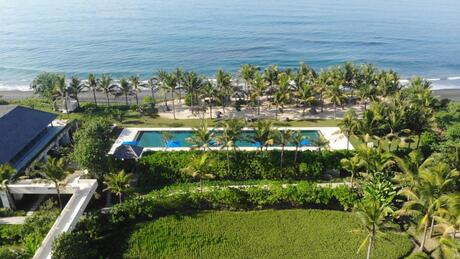 Komaneka at Keramas Beach is somewhat of a hidden gem when it comes to romantic honeymoon villa resorts in Bali. This is partly due to its location on the east coast, being somewhat far away from the main tourist hotspots of the Denpasar area and even Ubud.
Making the most of its secluded location, Komaneka has a real focus on wellness and relaxation which is the perfect combination for a calming and intimate honeymoon.
Think fragrant oils, and deep healing massages by professional therapists all with unparalleled views of its black sand beach, the neighboring island of Nusa Penida and Mount Agung before retreating back to your Ocean Pool Villa.
10. Hanging Gardens Of Bali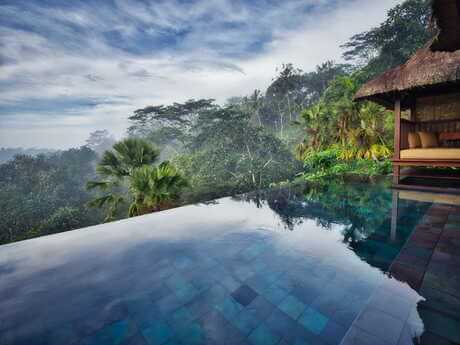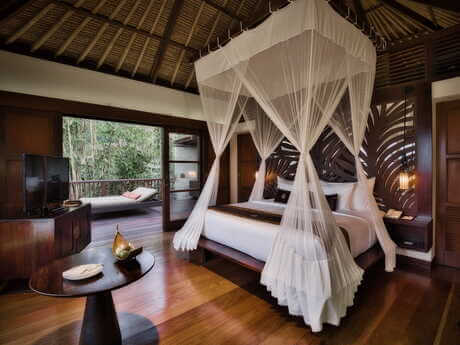 Famed the world over for its incredible infinity pool, this peaceful jungle resort in Ubud is, without a doubt, one of the best on the island. Not only is it in a spectacular location nestled right in the heart of Bali's central jungle, but the actual resort itself is just incredible five-star luxury everywhere you look.
It's all exactly what you're after on your honeymoon, and for lucky couples, the resort has two honeymoon packages for you to choose from.
Both set in the jaw-dropping luxury of the Panoramic Pool Villas, you'll also get breakfast delivered daily to your door (including a floating breakfast in your private swimming pool), couples massages, a romantic star-lit dinner, and even a round of sunset cocktails on your first night to get you in the mood.
The Hanging Gardens of Bali is surely the best private pool villa in Bali for a honeymoon.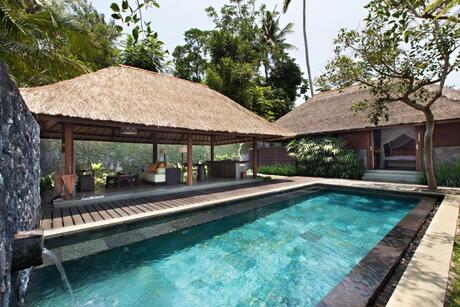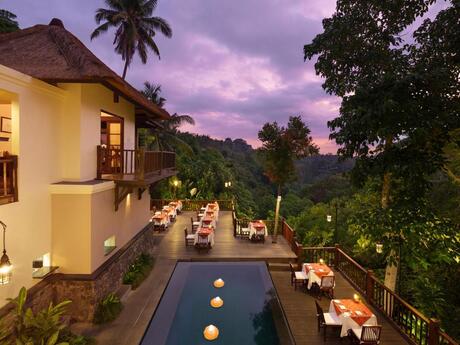 Ubud is a stunning Balinese town that looks like it belongs in Tomb Raider. The intricately carved temples, lush green tropical countryside, and endless options for luxury accommodations make Ubud the perfect honeymoon destination.
Kayumanis Ubud Private Villas & Spa is tucked away within this magical greenery and as the name would suggest, the private villas here offer guests a secluded escape that you'll never want to end.
The resort offers a wide range of romantic experiences like private star light dinners, traditional Balinese massages, and flower arrangements in your private villa. Guests can also take a cooking class, go on a romantic rice field trek, or explore the markets with a local.
Kayunmanis Ubud has so many fun activities that can make your honeymoon very memorable.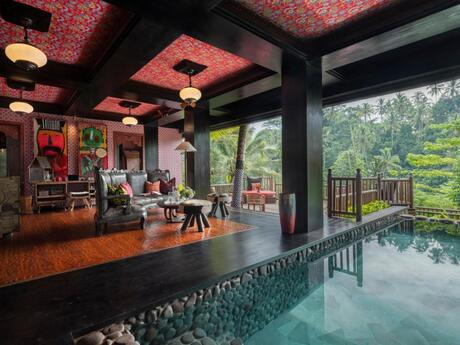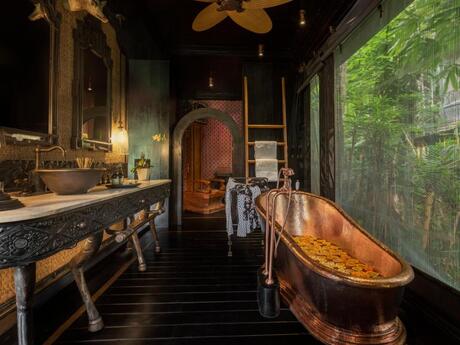 Inspired by the early European settlers from the 1800s, the beautiful 'camp' of Capella Ubud also offers lucky honeymooners an unforgettable experience sleeping under canvas. They're more like private villas than tents, however, the canvas roof and walls allow you to experience the true sense of living in the Balinese jungle.
Personalized experiences are at the heart of what Capella Ubud does, and the resort's staff are on hand to book you in for anything you may choose which is why it's the best honeymoon villa in Ubud.
Private yoga sessions, customized spa treatments, all the way through to bespoke dining experiences that you can enjoy with your newlywed are on offer, not to mention guided jungle treks, and the use of free mountain bikes to get around on.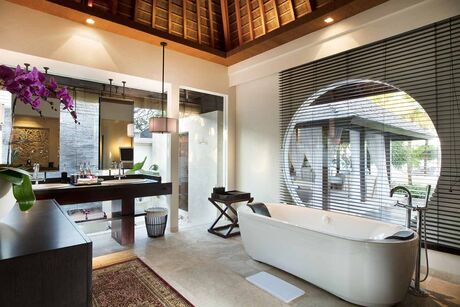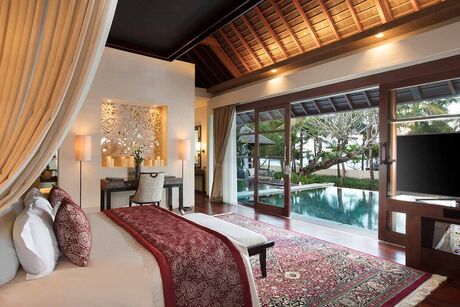 Close to the popular southeasterly beachfront destination of Nusa Dua, The Royal Santrian offers guests and honeymooners, a contemporary collection of gorgeous villas that encapsulate a true Balinese honeymoon by the sea.
Each private villa is the perfect romantic getaway, surrounded by a luscious garden and features a pool and open-air gazebo to relax in.
Honeymooners will be able to get breakfast and afternoon tea delivered directly to their beachfront villa, a selection of body treatments like hot stone massages and aromatherapy, and the most romantic dinners right on the white sand beach of Nusa Dua.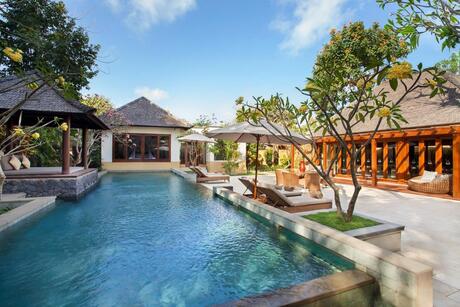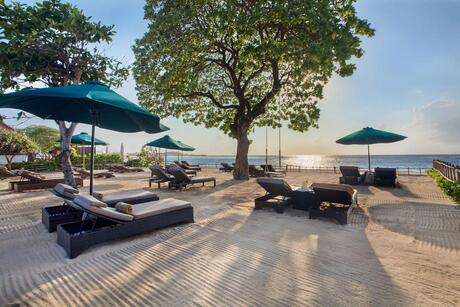 Amarterra Villas Nusa Dua is an exquisite private villa sanctuary right in the heart of Nusa Dua that delivers a complete five-star romantic escape to guests.
Inspired by the words "Amarta" meaning water and "Terra", meaning earth, you can see how the two elements have been immortalized in the foundations of the resort.
The atmosphere and surroundings are romantic in the true sense of the word, with delicate lighting throughout, and on the theme of romance, those on honeymoons or those that simply just want to show appreciation for their other half, you can get an incredible three-course dinner in the privacy of your luxury private villa.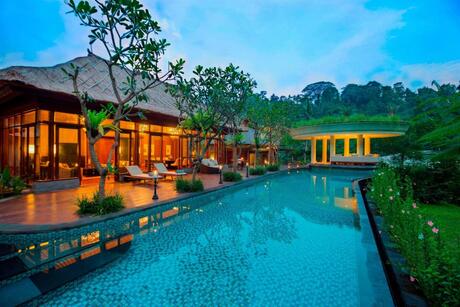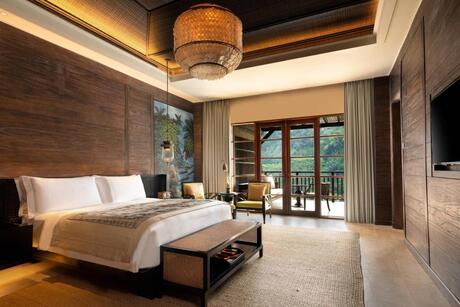 The Mandapa is a Ritz-Carlton Reserve resort which is one of the brand's flagship and most luxurious properties, and one of only a few in the world. A stay here won't come cheap, but hey, you're only on your honeymoon once – hopefully!
This breathtaking resort is the epitome of romance, tucked away in the shelter of Ubud's vibrant jungle, and guests can look forward to over 4000 square feet of pristine luxury in their very own Bali honeymoon villa with a private pool that each has either rainforest, rice paddy, or river views.
A 24-hour butler is ready to help with anything you may need, and staff will also be able to arrange activities for honeymooners such as a romantic picnic lunch by a hidden waterfall, or a couples yoga session in the pavilion.
---
Which Part Of Bali Is The Best For a Honeymoon?
Deciding which part of Bali you should go to for your honeymoon is essential to having a good time. There are many areas in Bali that are perfect for honeymoons, but there are some that are just totally awful (like Kuta). Here are some of the best parts of Bali you should go for a honeymoon.
1. Canggu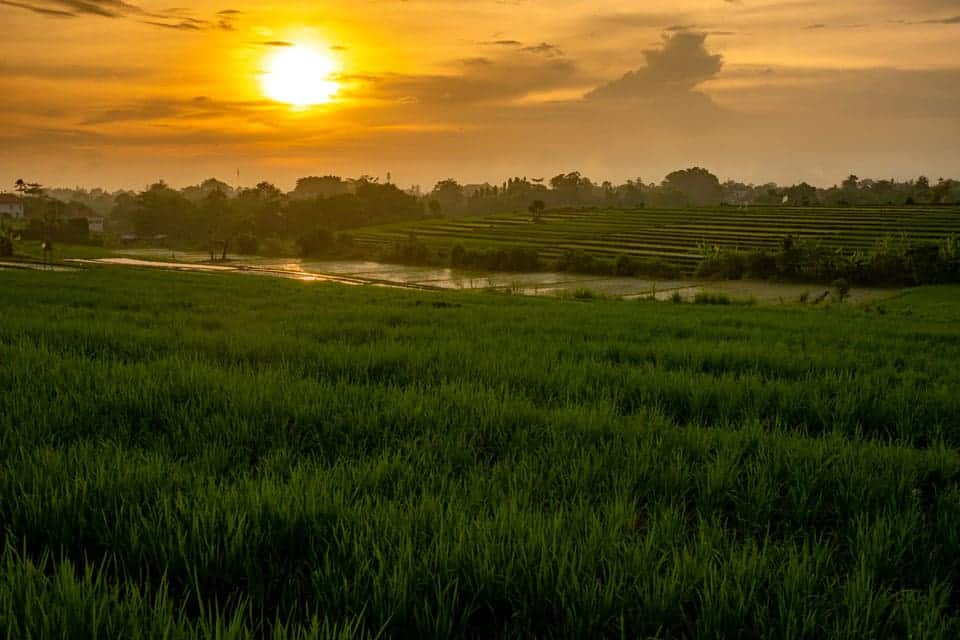 Canggu is a laid-back coastal village in Bali, known for its picturesque rice fields, world-class surf breaks, and trendy cafes. A haven for digital nomads and expats, it offers a perfect blend of traditional Balinese culture and modern amenities.
The black-sand beaches, vibrant street art, and eclectic nightlife make Canggu an attractive destination for travelers seeking a relaxed, romantic, or hip atmosphere.
| Pros | Cons |
| --- | --- |
| Some of the best beaches in Bali | Lack infrastructure |
| Laid-back and romantic atmosphere | Overcrowding and traffic in some areas |
| Amazing restaurants and cafes | |
Pros and Cons of Staying in Canggu For Your Honeymoon
2. Seminyak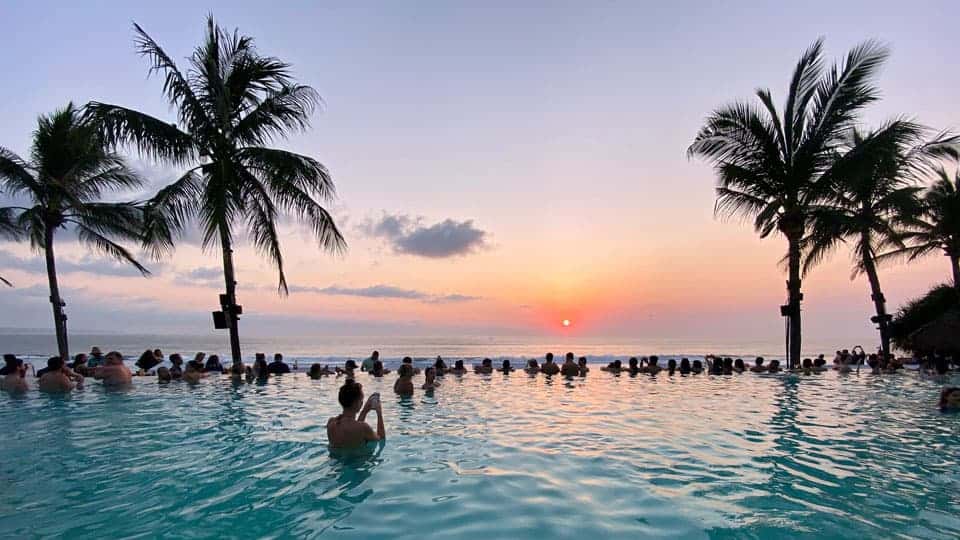 Seminyak is a stylish beach resort area in Bali, famous for its upscale boutiques, fine dining restaurants, and vibrant nightlife. With luxurious villas, trendy beach clubs, and chic bars, it attracts a sophisticated crowd seeking a cosmopolitan vibe.
The picturesque Seminyak Beach, lined with palm trees, offers stunning sunsets and is perfect for leisurely strolls or lounging on the sand.
| Pros | Cons |
| --- | --- |
| Best shopping and dining experience | Very busy and crowded at all times |
| Incredible nightlife | |
| Convenient location | |
Pros and Cons of Staying in Seminyak For Your Honeymoon
3. Ubud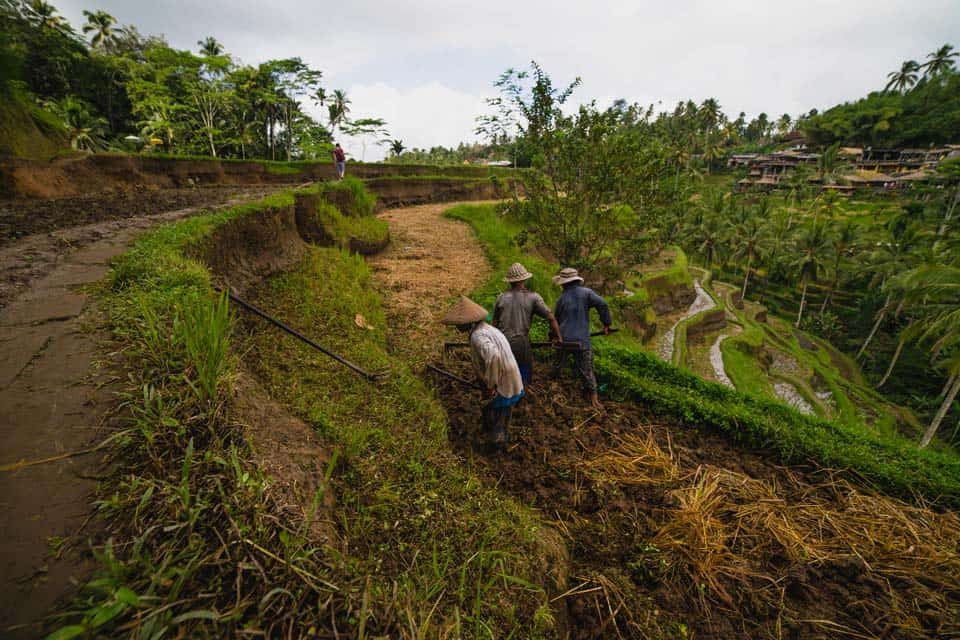 Ubud is the cultural heart of Bali, nestled among lush rice terraces and verdant rainforests. Renowned for its traditional crafts, vibrant art scene, and ancient temples, it offers a serene atmosphere that attracts spiritual seekers and nature lovers.
Home to the famous Monkey Forest and numerous wellness retreats, Ubud provides a perfect escape from the bustling beach areas, immersing visitors in Balinese culture and tranquility.
| Pros | Cons |
| --- | --- |
| Beautiful nature | Beaches are far away |
| Cultural heart of Bali | Lack of nightlife |
Pros and Cons of Staying in Ubud For Your Honeymoon
4. Uluwatu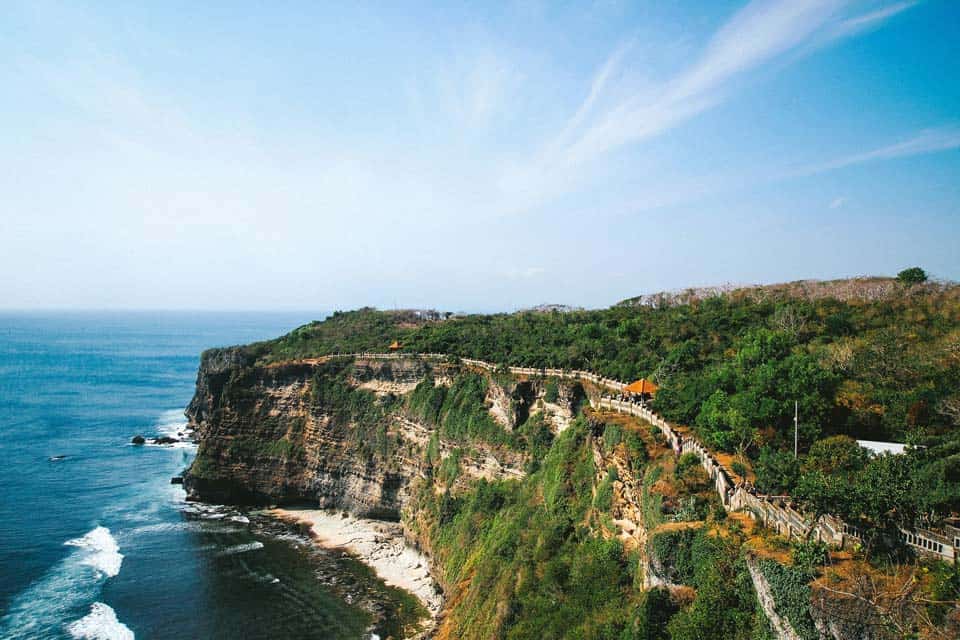 Uluwatu, perched on the rugged cliffs of Bali's southern peninsula, is known for its dramatic views, world-class surf breaks, and iconic Uluwatu Temple. This scenic area attracts surfers, adventure-seekers, and those looking for a more relaxed atmosphere.
With stunning beaches, luxurious cliff-top resorts, and spectacular sunsets, Uluwatu offers a unique blend of natural beauty and Balinese charm.
| Pros | Cons |
| --- | --- |
| Soft-sand beaches with clear water | Secluded location |
| Stunning clifftop views | Expensive accommodations |
Pros and Cons of Staying in Uluwatu For Your Honeymoon
5. Nusa Dua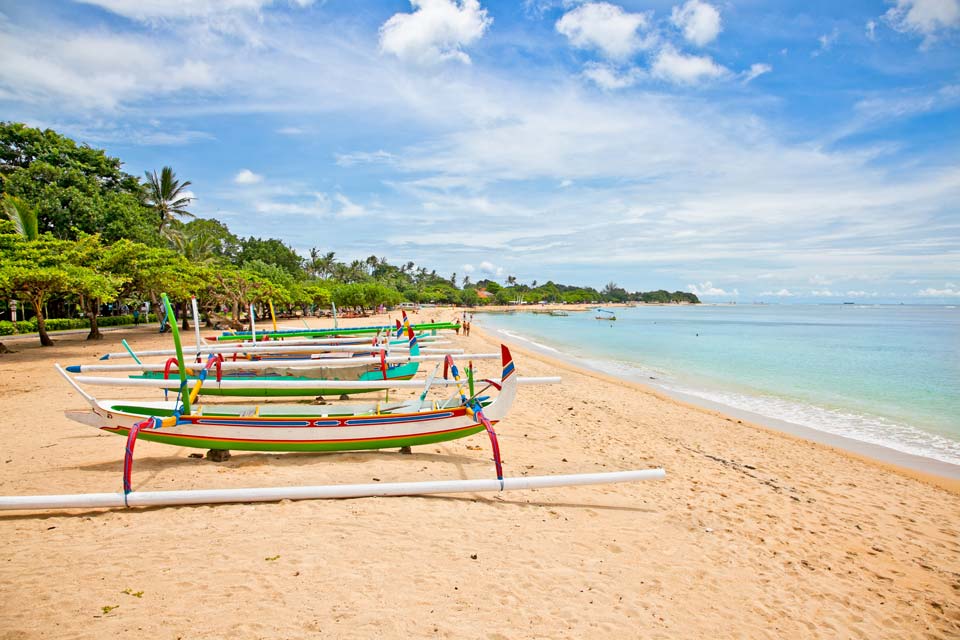 Nusa Dua is an upscale resort area on Bali's southeastern coast, known for its pristine white-sand beaches, crystal-clear waters, and luxurious hotels. Catering to travelers seeking relaxation and indulgence, it offers world-class amenities, including golf courses, spas, and fine dining options.
With well-maintained gardens, a tranquil ambiance, and cultural attractions like the Pasifika Museum, Nusa Dua is an ideal destination for those looking for a peaceful and sophisticated Balinese getaway.
| Pros | Cons |
| --- | --- |
| Relaxing atmosphere | Nightlife is limited |
| Close to the airport | Lack authentic Balinese culture |
| Amazing white sand beaches | |
Pros and Cons of Staying in Nusa Dua For Your Honeymoon
---
Map of the Best Bali Honeymoon Villas
To help you decide which is the best Bali honeymoon villa, we have created a map of all the villas we've mentioned above. Using this map, you can see where the accommodations are located, so you can get a rough idea of what's around the neighborhood, how far it is from the neighborhood, and other essential information to help you plan your visit!
---
Romantic Activities In Bali For Honeymoon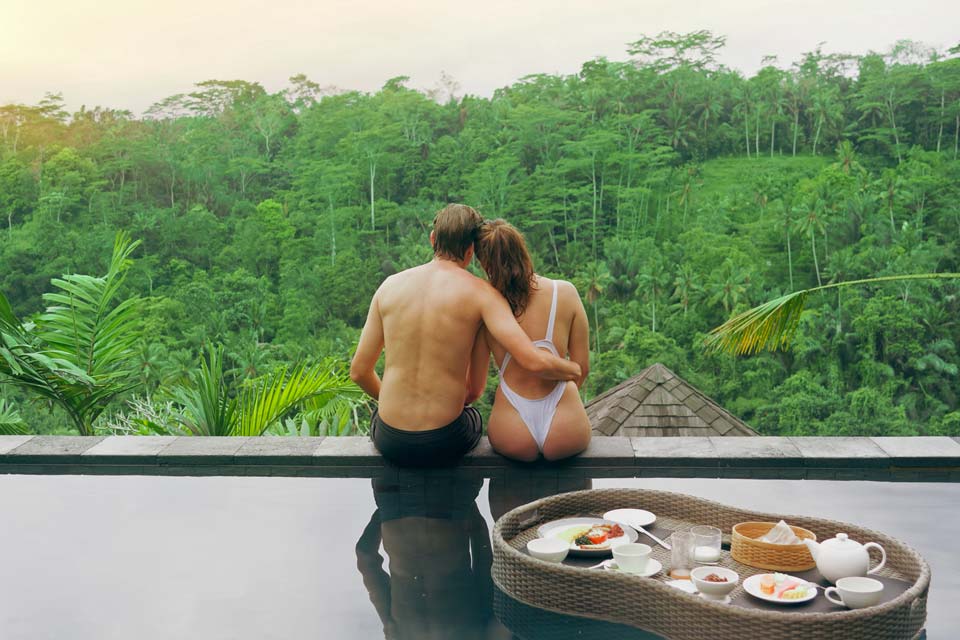 No honeymoon in Bali is complete without some activities where you can make memories and bond with your significant other. Luckily, many of the honeymoon villas in Bali offer couple activities, but there is always more that you can have.
Here are some romantic activities in Bali we recommend:
1. Private Photographer And Photoshoot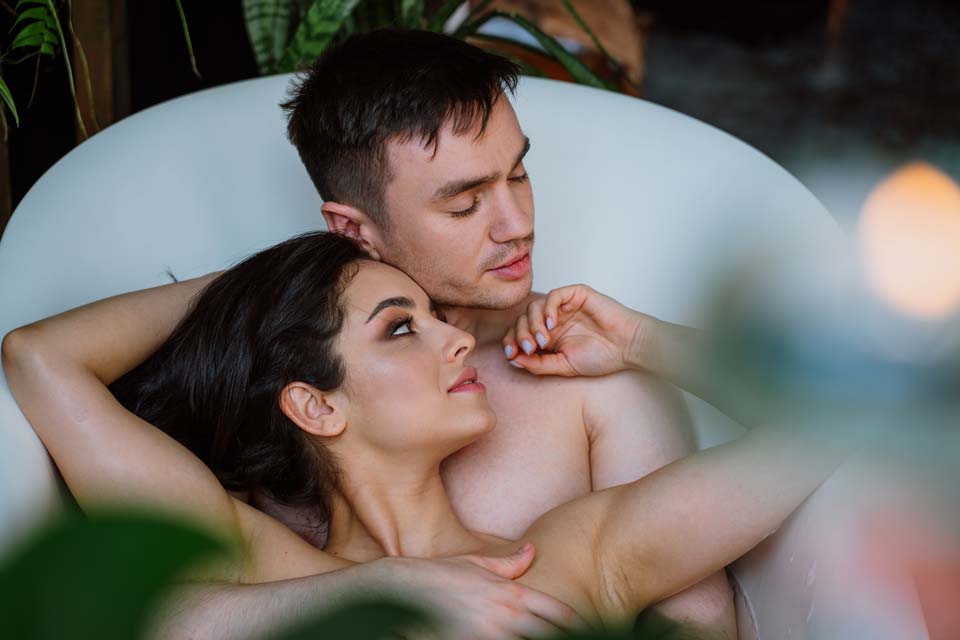 There is no better way to remember your honeymoon in Bali than to capture the memories you share between you and your loved one with a private photographer. You can have the photographer anywhere you want, whether it is at your villa or one of the attractions in Bali (Tegalalang Rice Terraces is a particularly popular spot).
2. Couple Yoga Session
A couple yoga session is one of the most popular romantic activities in Bali. Not only is this a new experience for you and your loved one, but it is one that can help you connect on a deeper level, both physically and emotionally.
It is also great stress relief, and probably much earned after a stressful wedding planning. Most of the yoga sessions are done in beautiful surrounding nature, making it even more special!
3. Trekking Mount Batur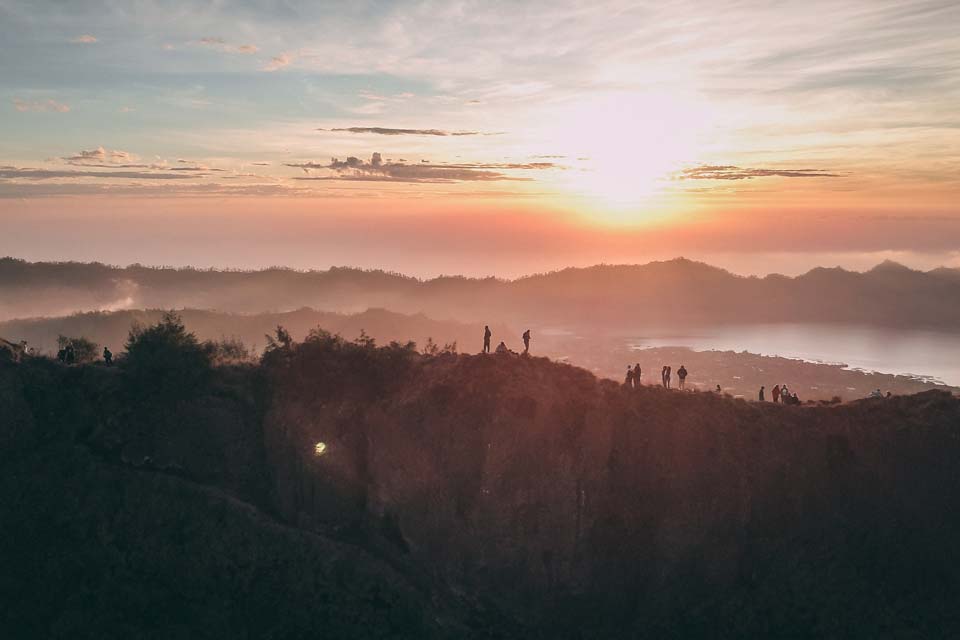 If you are a couple that enjoys the outdoors and getting your sweat on, then a sunrise trek up Mount Batur is a must. This active volcano is one of the most sacred places in Balinese culture, and visitors can climb it and enjoy the stunning panoramic views of the surrounding region.
It is one that will test your physical and mental strength, and you and your loved one will have a great time bonding with each other on the hike!
4. Bali Traditional Cooking Class
If you want something relaxing and cultural that fills your stomach, then a Balinese traditional cooking class is ideal for you. Many Bali honeymoon villas offer this as one of their honeymoon packages, but travelers are more than welcome to get their own.
Many of these cooking classes in Bali include visiting a local market, where you can see buy your fresh produce and experience a piece of daily Balinese lifestyle.
5. Couple's Massage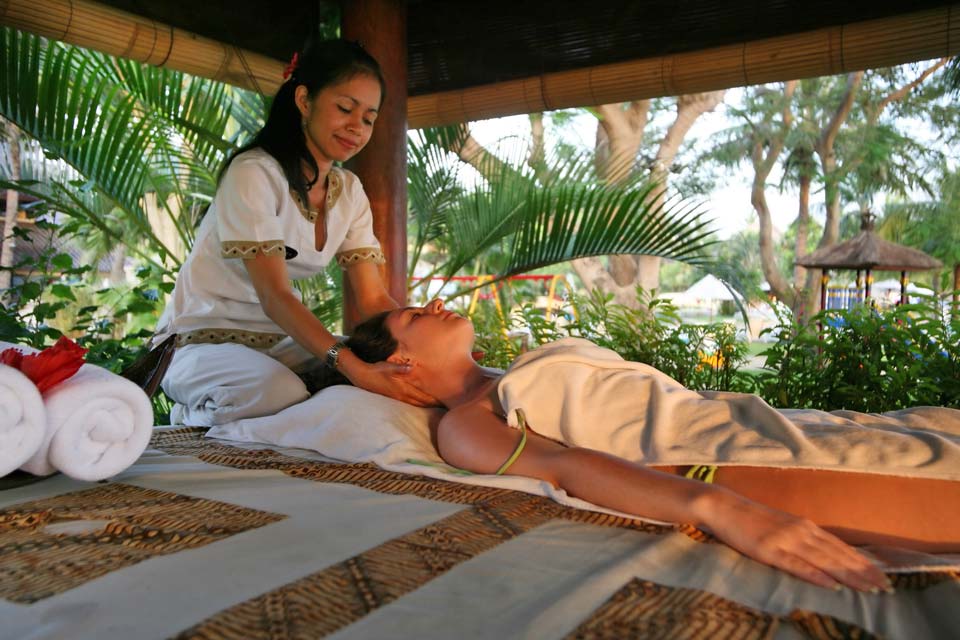 A couple's massage is almost a must for anyone on a honeymoon in Bali. It is not only a great way to relax after a stressful wedding, but it is also a great way to experience something new together. Depending on the couple's massage, it could even be an emotional bonding experience for you and your loved one!
---
Honeymoon Villas In Bali FAQS
Is Bali A Good Place For A Honeymoon?
Bali is one of the best honeymoon destinations in the world due to its beautiful natural landscapes, luxurious accommodations, romantic activities, rich culture, and warm hospitality. It caters to various preferences and provides an unforgettable experience for newlyweds celebrating their love and commitment.
How Much Does a Honeymoon in Bali Cost?
There are a lot of factors that can affect the cost of your honeymoon in Bali, but generally speaking, a honeymoon in Bali can cost anywhere from 1000 to 5000 USD. Some of the factors that you'll have to consider are the price of the flights, the price of your accommodation, the price of dining, and the price of activities.
When Is The Best Time To Visit Bali For Honeymoon?
The best time to visit Bali for a honeymoon is during the dry season, which runs from May to October. During this period, the weather is more favorable, with less rainfall and lower humidity, making it ideal for outdoor activities and beach relaxation. If you can avoid June and July, which are considered the peak travel season in Bali, you can even have a more peaceful stay!
---
Final Thoughts: Honeymoon Villas In Bali
Picking the perfect honeymoon villa in Bali can be a daunting task. Hopefully, after reading our guide, you'll know the perfect Bali honeymoon villa for your romantic getaway.
Make sure you also check out some of the romantic activities so you can create a memorable experience with your loved one on such a special occasion!
Disclaimer: Some of the links above are affiliate links. That means if you book or make a purchase through the links, we will earn a small commission at no extra cost to you! The money will help run this site! Thank you!