Nusa Penida, a small island off the coast of Bali, is becoming one of the most popular destinations in Indonesia. Why? Because Nusa Penida is the closest thing to paradise. Dramatic cliffs, turquoise water, white beaches, and famous Instagram spots (such as the Kelingking Beach), there are just so many stunning attractions on Nusa Penida.
But how do you reach this heaven called Nusa Penida? The most popular way is by ferry from Bali to Nusa Penida.
In our guide, we will teach you how you can get from Bali to Nusa Penida and what do need to know to get your transport!
---
Where Is Nusa Penida?
Before we jump into how to get to Nusa Penida from Bali, let's talk about where is Nusa Penida island. The Penida Island is situated approximately 25 kilometers (15 miles) from Bali. The shortest distance from the two islands is from near Sanur to Smoky Beach, one of the beaches on Nusa Penida.
The island is known for its rugged tropical terrain, idyllic beaches, and beautiful coral reefs that attract many visitors every year.
---
How To Get To Nusa Penida From Bali?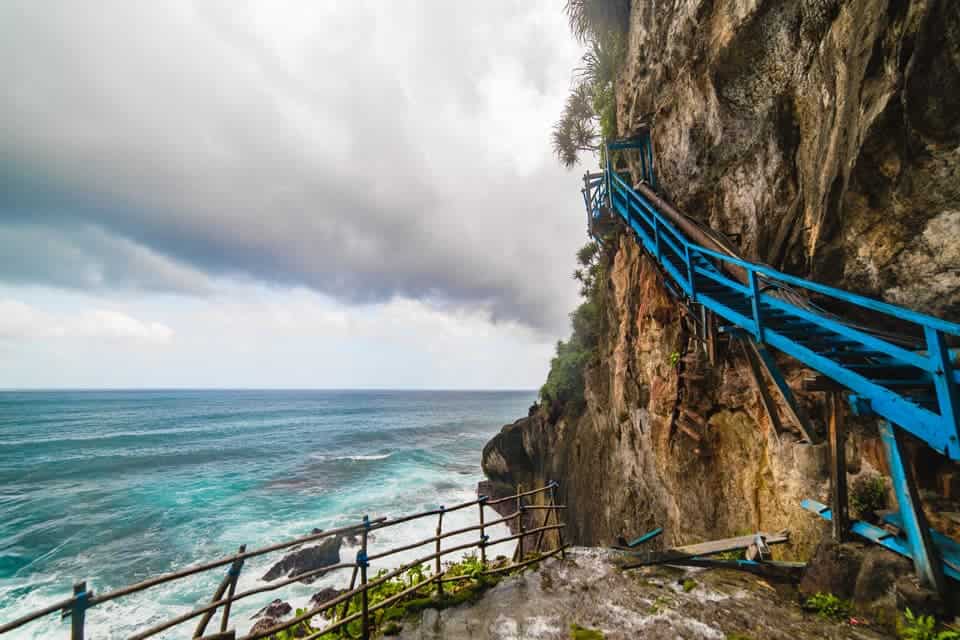 Below we will talk about the 2 different ways to get to Nusa Penida from Bali. One is the DIY cheaper way and the other one is the comfortable but pricier way. Whichever method you decide to use to get to Nusa Penida, there are a few things you need to keep in mind.
Wear something you don't mind getting wet. To get on the ferry, you will need to walk in the water to get to the boat. The water can go up to your waist so definitely don't wear a pair of jeans and nice shoes.
The ride can be very bumpy. Even though the journey is around 45 minutes, don't underestimate how uncomfortable it can get. The waves are huge and it literally feels like you are on a roller coaster sometimes. That's why I always carry motion sickness medicine in my all-purpose medicine kit.
Arrange your transport in Nusa Penida before you get there if you can. Some accommodations in Nusa Penida offer free transport from the port to their property. Depending on where you have picked to stay, it might be worth knowing if they offer transport services!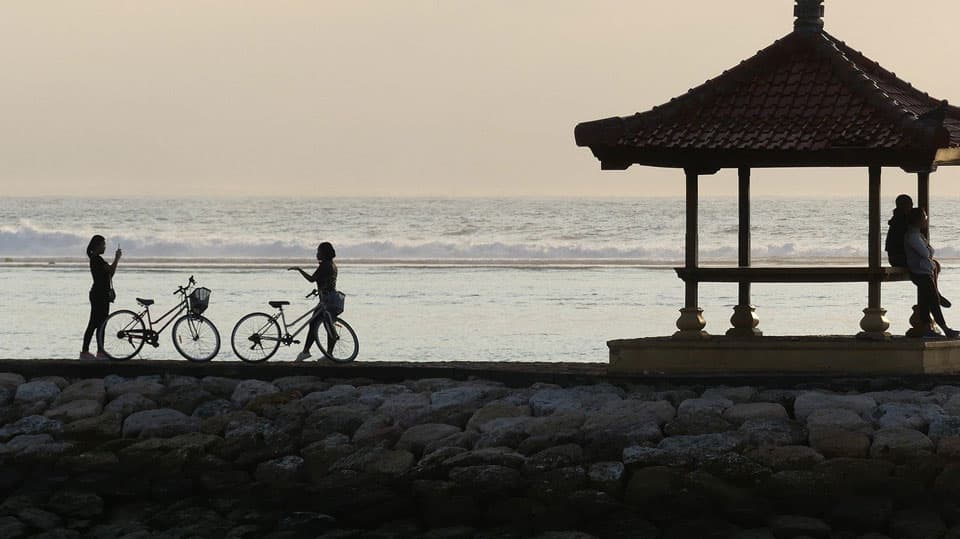 The Cheap Way To Get From Bali To Nusa Penida
The cheapest way to get from Bali to Nusa Penida is by arriving in yourself and purchasing a ferry ticket from Sanur to Nusa Penida. Though this method is a little bit more exhausting because you need to call your own taxi and buy your own ticket, it is worth it if you are traveling on a budget in Bali.
There are two Uber-like apps they use in Bali, GoJek and Grab. If you are solo backpacking Bali, order a scooter from GoJek instead of a private car from Grab, it will save you money. Set your destination as Sanur port as this is where the fast boats will be departing from.
Chances are your driver will ask you where you are going and you will tell him Nusa Penida. Then he will say he knows where to get the ticket and will take you to one of the many fast boat companies in Sanur.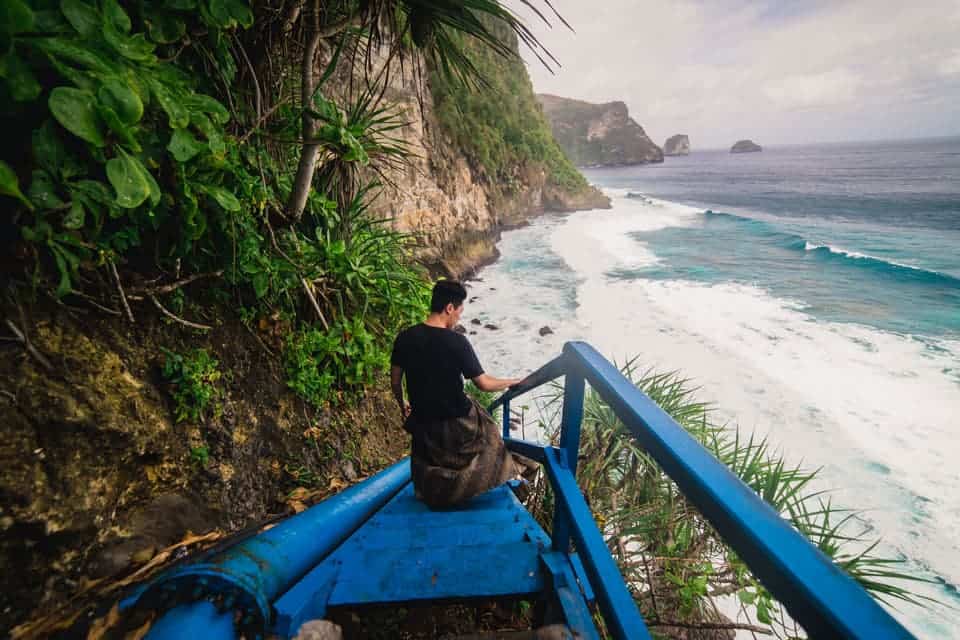 He will personally walk you over to the fast boat company and ask you to pay this much. He will always highball you because you are a foreigner and because he probably gets a commission from the company he takes you to. 
You should not pay more than 150,000 – 200,000 IDR (at the time of writing) for a one-way boat from Sanur to Nusa Penida. Those prices are already "foreigner prices". Locals pay around 50k IDR. 
If you don't agree with the price, just walk around. There are plenty of fast boat companies with different schedules for departures.
They will also try to get you to buy a round-trip ticket. I suggest not buying a round-trip ticket from that company as then you are limited to the boats you can take when you come back to Bali. When you are reading to leave Nusa Penida, just go to the harbor and buy the ticket for the next ferry to Bali.
It is also worth noting that sometimes the boats get canceled because of rough sea conditions. When we were coming back from Nusa Penida to Bali, our boat was supposed to be at 5 PM, but the company said you have to leave at 4 PM or otherwise you'll have to wait until the next morning.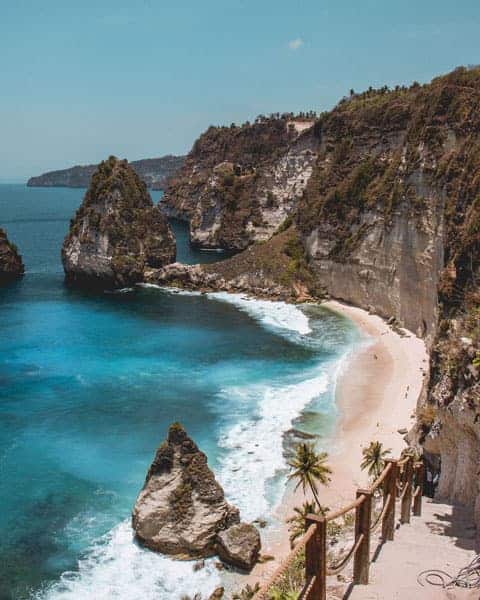 The Comfortable But Pricey Way To Get From Bali To Nusa Penida
If you are not traveling Bali on a budget and want more comfort, consider a private transfer booked directly from your hotel or online here. Your private transfer should include pickup from your hotel, ferry from Bali to Nusa Penida, and possibly even transport from the Toyakapeh port to your accommodation on Nusa Penida.
This is a great option if you are traveling with kids and want comfort!
---
Where To Stay In Nusa Penida
For a complete guide on where to stay in Nusa Penida, check here!
Best Luxury Hotel In Nusa Penida – Daphila Cottage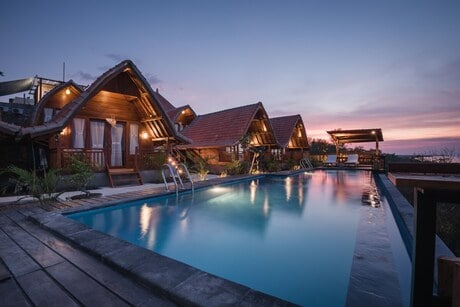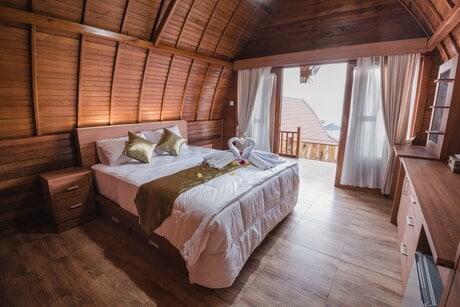 Daphila Cottage is the best hotel in Nusa Penida for stunning views. Their infinity pool overlooks the sea and the beautiful lush island below. The aesthetics of this hotel is superb with simple and modern wooden cottages. Did I mention the friendly staff that will help with organizing tours and an on-site restaurant with delicious Indonesian food?
---
Best Hostel In Nusa Penida – Nuansa Penida Hostel
Nuansa Penida Hostel is perfect hostel in Nusa Penida. An outdoor swimming pool area with lounge chairs where you can sunbathe and relax? Check. A bar and an on-site restaurant where you can eat and drink? Check. A nice common area where you can meet other travelers from different parts of the world? Also check! Don't miss out on Nuansa Penida Hostel when you are here!
---
Like this post? Don't forget to save it on Pinterest!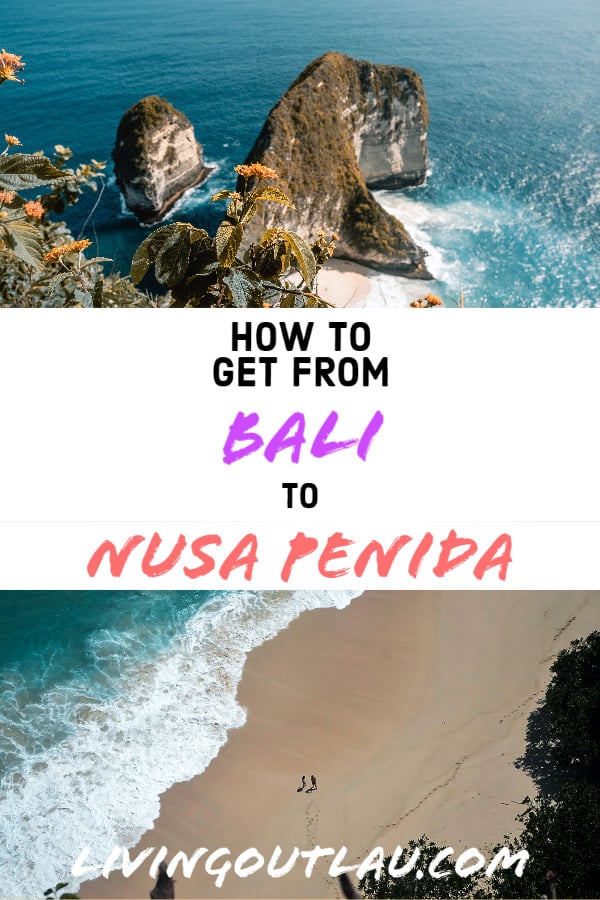 ---
I hope now you are equipped with information on how to get from Bali to Nusa Penida. Nusa Penida is one of my favorite places in Indonesia!

Any questions? Leave them in the comments!
Disclaimer: Some of the links above are affiliate links. That means if you book or make a purchase through the links, we will earn a small commission at no extra cost to you! The money will help run this site! Thank you!