Nusa Penida is a paradisaical island located about 45 minutes away from the touristy destination of Bali. Known for its turquoise water, jaw-dropping cliffs, white sand beach, and the famous dinosaur head (Kelingking Beach), Nusa Penida is becoming one of the best travel destinations.

However, as tourism only opened a few years ago, many of the infrastructures on Nusa Penida are lacking. There are no street lights, the roads are in bad condition, and its accessibility to the necessities such as food and water could be questionable.

That is why deciding on where to stay in Nusa Penida is so important.

Our guide below will give you the best hotels and hostels in Nusa Penida to guarantee that you have an amazing trip!
Want a Quick Tip on Where to Stay in Nusa Penida?
In a hurry to decide on where to stay in Nusa Penida?

Nusa Penida is still a fairly undeveloped island and lacks infrastructure. For that reason, I would recommend to not stay too far from where the harbor is, Toyapakeh.

Toyapakeh is definitely the best area to stay in Nusa Penida because it is the most developed area on Nusa Penida. Restaurants, cafes, groceries, and pharmacies are all concentrated in that neighborhood. Most accommodations are located in Toyakpakeh or within close proximity to it.
Best Hostel in Nusa Penida – Nuansa Penida Hostel

Check prices here!
Best Cheap Hotel in Nusa Penida – Asoka Bungalows

Check prices here!
Best Luxury Hotel in Nusa Penida – Daphila Cottage

Check prices here!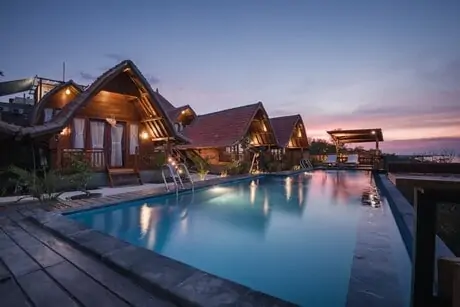 Best Place to Stay in Nusa Penida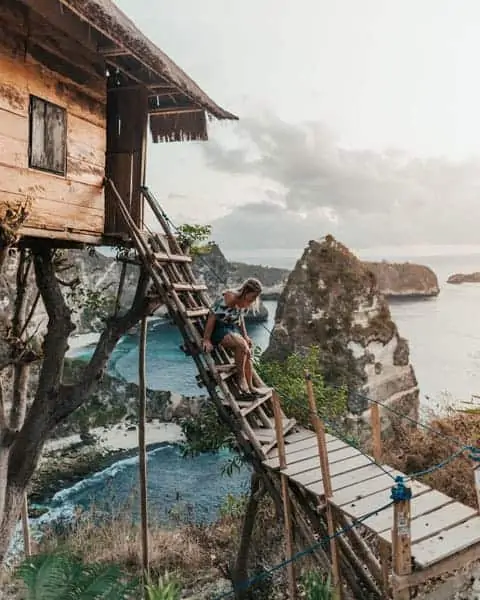 Unlike Bali, there really isn't a lot of neighborhoods to stay in Nusa Penida. The most known place to stay is in the area known as Toyapakeh, where you can get the ferry from Bali to Nusa Penida and vice versa.

Unless your accommodation is all-inclusive and can provide you with food, water, and other necessities, I highly recommend staying close to Toyapakeh.

The town doesn't have street lights once you get far out of Toyapakeh. So if you were staying outside of town and had to get come in to get dinner at one of the warungs (local restaurants), it would be difficult.

The best place to stay in Nusa Penida is at an accommodation that can provide you with everything you will need. We have chosen a few of our favorite accommodations in Nusa Penida down below!
Best Rentals & Airbnbs in Nusa Penida
1. Bunga Jepun – Penida Bambu Green Villas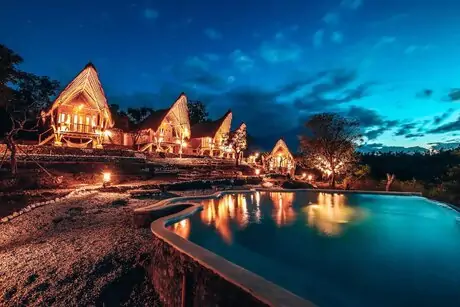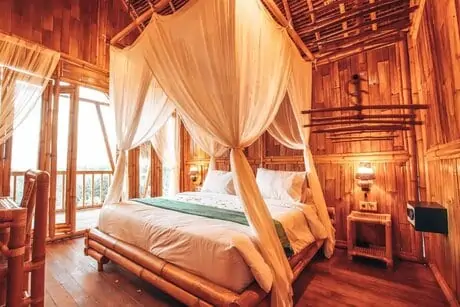 Penida Bambu Green Villa is a unique eco-friendly villa on Nusa Penida. Each villa is made using local bamboo and boasts a rustic yet charming atmosphere. Situated on a small hill, visitors can admire the spectacular mountainous views while soaking in their spacious infinity pool.

After a day of exploring Nusa Penida, guests can return to Penida Bambu Green Villa for a relaxing traditional Balinese massage or dine in their affordable and delicious on-site restaurant.

This accommodation on Nusa Penida is perfect for couples, honeymooners, or even solo travelers out to enjoy a nice outdoor experience in Nusa Penida island.

Click here for more details!
2. Safari Tent Experience @ AuthentikNusaPenida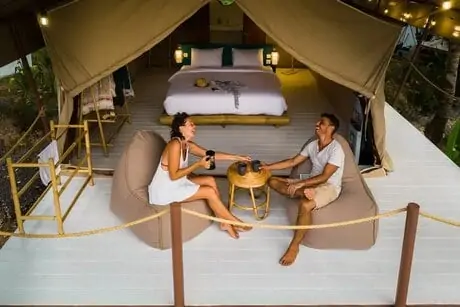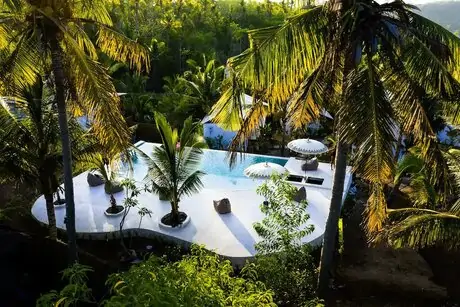 If you would like to take advantage of the pristine nature in Nusa Penida, then consider AuthentikNusaPenida. Located in the lush forest, this Airbnb in Nusa Penida allows guests to reconnect with mother nature.

Guests can enjoy a glamping experience by staying at one of their eco-friendly safari tents with air-conditioning, WiFi, ensuite bathroom with hot showers, mosquito nets, and more.

When you are not out exploring Nusa Penida or in your tent, relax in their overflowing swimming pool. Lay down in one of their sun loungers and you will see the magnificence of mother nature's creation!

This Airbnb on Nusa Penida is a great experience for couples and honeymooners, but not so for families or kids.

Click here for more details!
3. Tropical Bungalow Nusa Penida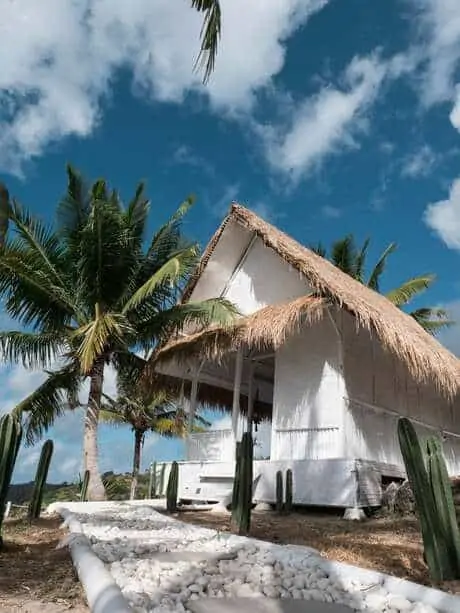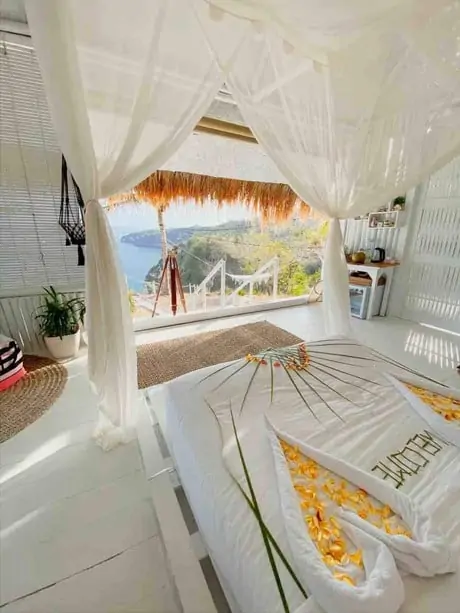 (Images Courtesy of Airbnb)

Perched on a dramatic cliff, this Airbnb bungalow soars above the oceans and offers unparalleled panoramic views. With the concept of flow and nature in mind, the open-air bungalow is nestled between hundreds of palm trees, allowing guests to be one with nature.

Because of the secludedness of this Airbnb, this is one of the best places to stay in Nusa Penida for a honeymoon. Spend your day looking at the turtles, manta rays, and even dolphins swimming by, Finish your night by admiring the beautiful starry skies on the double-person hammock!

Come enjoy the most unspoiled nature in Nusa Penida in this private bungalow with your loved ones!

Click here for more info, photos and availability!
Best Hotels in Nusa Penida
Best Luxury Hotels in Nusa Penida (Villas/Resort/Etc)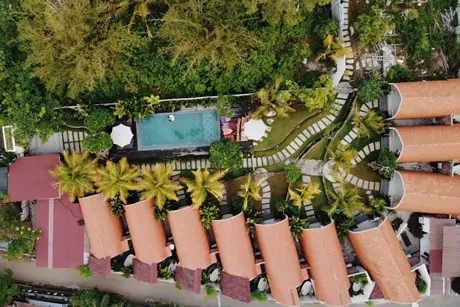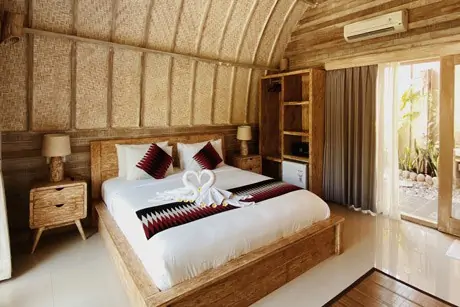 Kompyang Cottage is one of the best cottage-style accommodations in Nusa Penida. Located on the northeastern part of the island, it is within close proximity to Atuh Beach (Diamond Beach). However, Kompyang Cottage is located 30-minutes away from the harbor. But worry not, they provide free pick-up services!

Floating breakfast in their beautiful pool, refreshing outdoor bathroom, and its location within walking distance to many restaurants are some of the best features of this hotel. No wonder why this hotel has one of the highest ratings and reviews.

Click here for more details!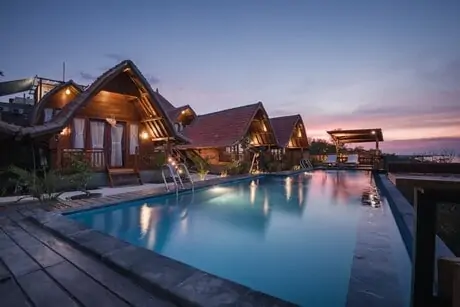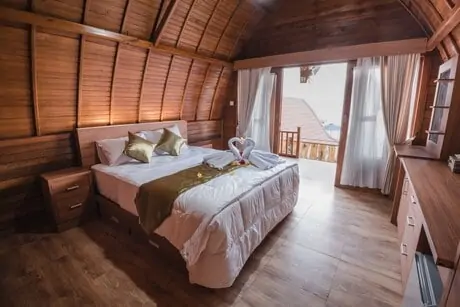 If you are a sucker for views, Daphila Cottage is the best hotel in Nusa Penida for you. Known for its breathtaking views from its clean infinity pool, you will not find a better sunset anywhere else.

Their huts are cute and the sleek wooden design of the interior is beautiful. Their on-site restaurant has some of the best authentic Indonesian food so you don't need to travel far for food. The staff is friendly and will help you organize any tours you want or arrange transportation!

Click here for more details!
3. Semabu Hills Hotel Nusa Penida
If you are looking for a tranquil place to stay in Nusa Penida, look no further. Semabu Hills Hotel is located in the quiet hills of Nusa Penida, away from the noise. Guests can relax in their beautiful infinity pool with breathtaking views of the island and the sea.

Their on-site restaurant has some of the most delicious food you will find on Nusa Penida island. They organize tours as well as free transport from and to the ferry. If you want a private driver to visit some of the best attractions in Nusa Penida such as Kelingking Beach, they can arrange that for you too!

Click here for more details!
Best Cheap Hotels in Nusa Penida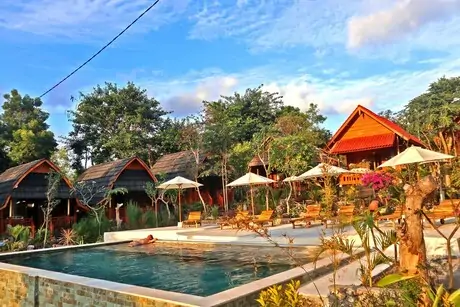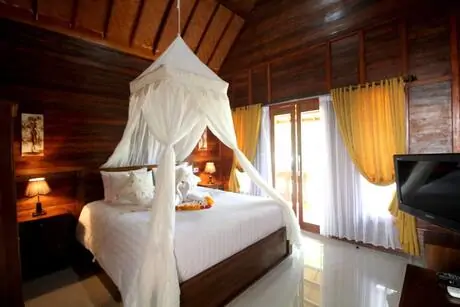 A beautiful and affordable hotel in Nusa Penida, Sunset Hill Cottage is a great option for anyone backpacking Bali or Indonesia. Tucked away in a comfortable and quiet location, but only within a 15-minute walk away from the restaurants, bars, and the beach, guests can have a perfect night's rest and be close to the action.

Click here for more details!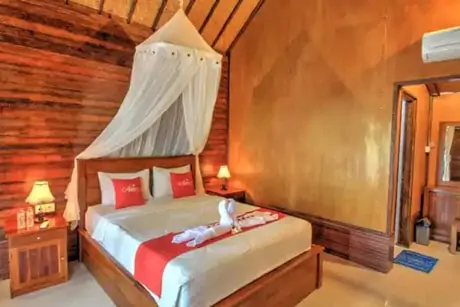 Asoka Bungalows is a family-owned hotel with some of the best services available. The owner and his family are very helpful and friendly with the guests and can help you with anything you will need on the island.

The rooms are sparkling clean and the included breakfast is simple and amazing. Each bungalow has its own relaxing outdoor seating area and if you get too bored you can jump into the swimming pool!

Its convenient location on the north part of the island has many restaurants, mini markets, and the beach!

Click here for more details!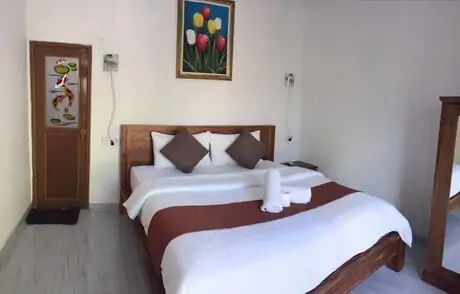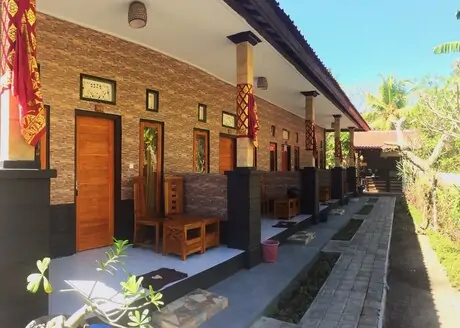 Double-G Guest House is a cheap guest house run by the husband and wife of a family. Their hospitality will turn your stay at their guest house to a stay in your second home. They go out of your way just to make sure you have a good time in Nusa Penida, such as personally driving you to a restaurant at night.

Located a few minutes from the harbor, guests can rest in their clean and spacious rooms after the turbulent journey from Bali.

Scooters or a private car can be rented from here if you want to have a day tour of the best attractions in Nusa Penida, such as Kelingking Beach, Broken Beach, Peguyangan Waterfall, Manta Point, Crystal Bay, and more!

Click here for more details!
Best Hostels in Nusa Penida
Nuansa Penida Hostel is definitely the best hostel in Nusa Penida. Outdoor swimming pool, a bar, on-site restaurant, there are so many features to love about this hostel. The shared lounge is one of the best places to meet travelers from other parts of the world.

If you want to just relax and suntan, you will fall in love with their outdoor swimming pool area. They also offer rental services for those who want to explore the island. And maybe you will meet a friend or two to share the cost of a private car?

Click here for more details!
2. Bintang Hostel and Homestay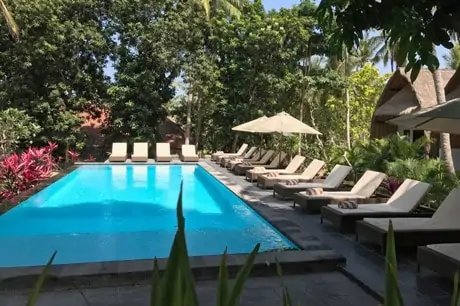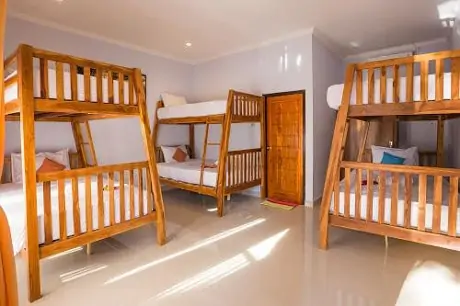 Bintang Hostel and Homestay is one of the cheapest hostels in Nusa Penida. Offering a big swimming pool area where you can relax, you will surely wonder why you are only paying so little for such a great place to stay.

The whole accommodation feels like a villa with the big outdoor area and the amount of sunlight their big and spacious rooms get. Their on-site restaurant is affordable and the staff is happy to help you with transportation around the island.

This hostel is within walking distance from Crystal Bay, one of the best snorkeling spots on Nusa Penida. However, that means it is far from the harbor but once you arrive at the hostel, you will find nothing but comfort and adventure!

Click here for more details!
Like this post? Don't forget to save it on Pinterest! ?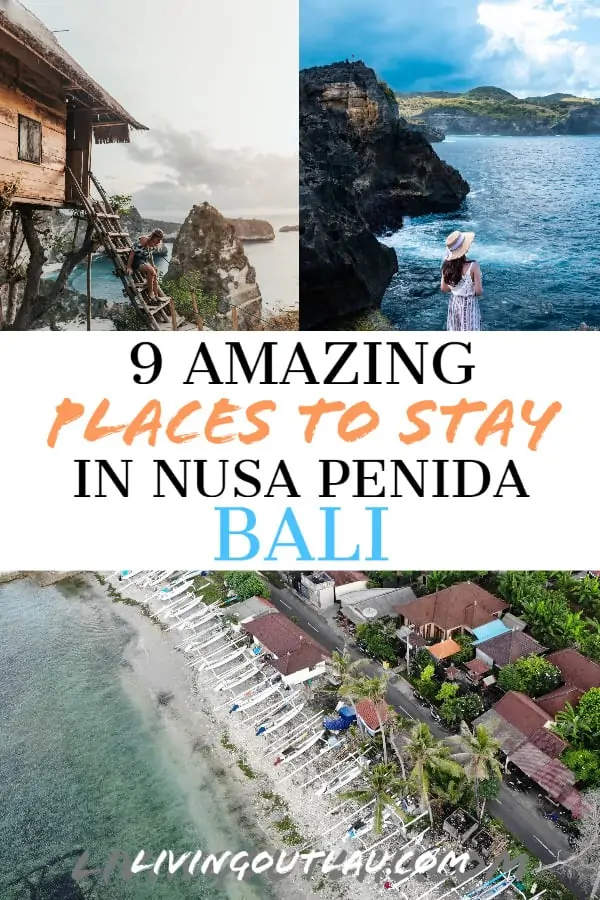 Deciding on where to stay in Nusa Penida can difficult with the various locations on the island and their accessibilities. I hope you found an accommodation you like in our guide!

Any questions? Leave a comment below!
Disclaimer: Some of the links above are affiliate links. That means if you book or make a purchase through the links, we will earn a small commission at no extra cost to you! The money will help run this site! Thank you!