Not sure what to do in Nusa Penida? Worry not!

Compared to the island of Bali, Nusa Penida's charm comes from its rustic and unspoiled elements. Untouched beaches, jagged cliffs, and lush landscapes make Nusa Penida one of the most up-and-coming destinations in Indonesia.

Nusa Penida is simply a must on any Bali itinerary.

Because Penida Island (Nusa means island in Indonesian) is fairly lacking in amenities and infrastructures, proper planning is required.

That is why we have written this post on the 17 best things to do in Nusa Penida so you can plan your visit!

Enjoy!
---
How To Get To Nusa Penida From Bali?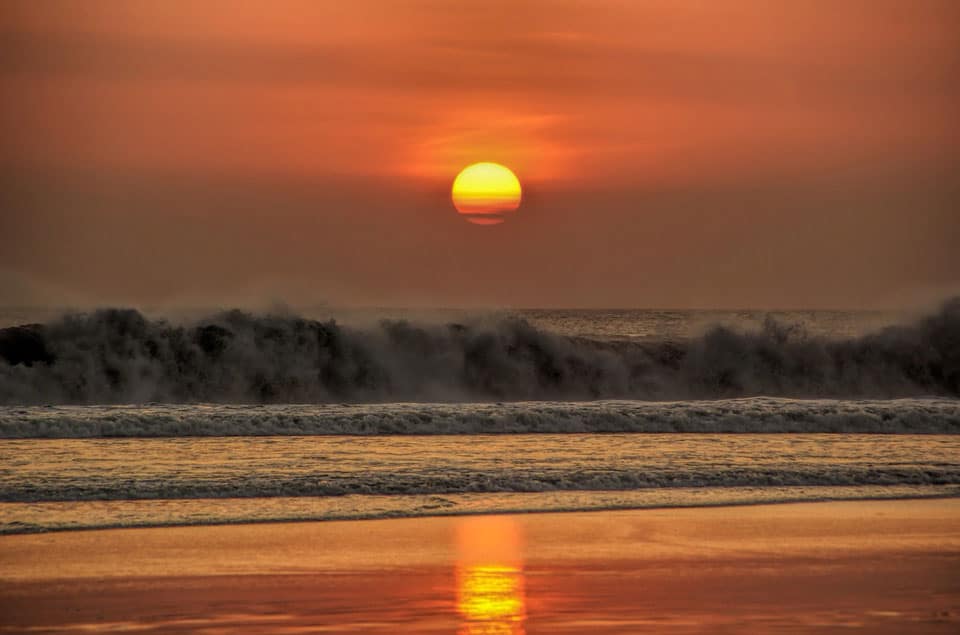 Getting from Bali to Nusa Penida is super simple. You simply need to take a taxi, a Grab, or GoJet to Sanur port and catch one of the many fast boats to Nusa Penida.
Fast boats to Nusa Penida are operated by numerous private companies, so chances are, you will find one that departs close to when you arrive. One thing you must do when you purchase your Nusa Penida ferry ticket is bargain.
Many tourists get ripped off by these so-called official fast boat companies and pay much more than what they are supposed to. If you are paying more than 200k IDR, you are getting ripped off.
That is why we highly recommend you to purchase your ticket online so you can get a fair price and avoid the stress of haggling.
The boat ride takes about 30 minutes to get from Sanur to Nusa Penida, but it is usually a pretty rough and bumpy ride. If you have motion sickness, we highly recommend taking a motion-sickness pill beforehand.
When boarding the fast boat to Nusa Penida, you have to walk in knee-high (sometimes crotch-high) water.
Just plan beforehand so you don't wet the things you don't want to!!
If you need more guidance, check out our dedicated guide on it here!
---
Nusa Penida Attractions Map
Located above is a Nusa Penida map featuring all the attractions we will be talking about. As you can see, most of the attractions are located on the perimeter of Penida Island. But the lack of infrastructure on Nusa Penida makes visiting them very difficult.
The map will allow you to properly allocate your time and plan your Nusa Penida itinerary well.
Click on the star next to the name of the map to save it onto your own personal device. That way you can use it on Google Maps when you are visiting Nusa Penida!
---
How To Get Around Nusa Penida?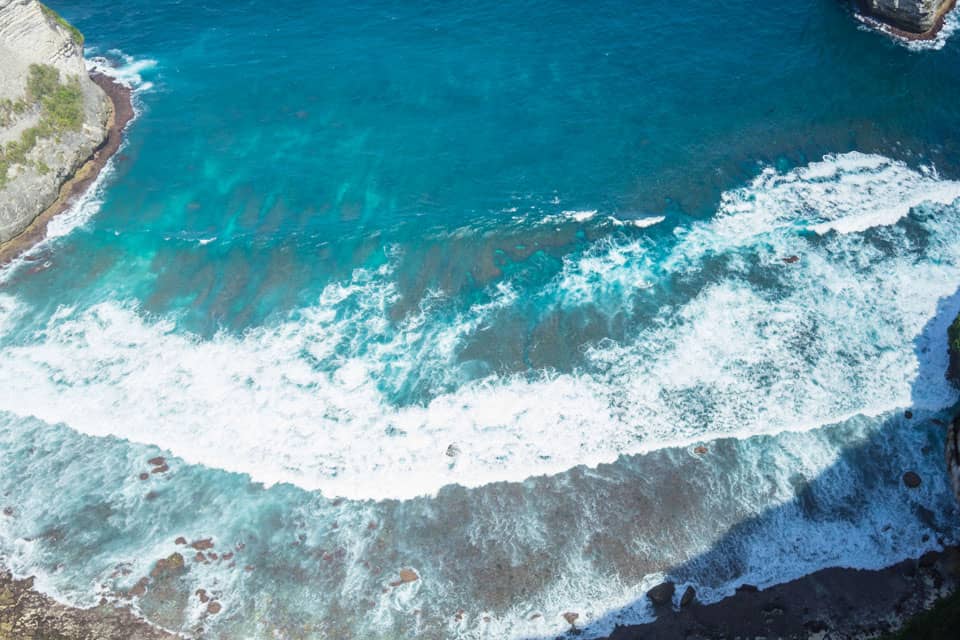 When it comes to getting around on Nusa Penida, there are only 2 options: scooters or a private car.
Because infrastructure on the island is still developing, scooters tend to be faster to get around, but many roads can often pose a challenge for them. If you are not familiar with a motorbike, then you might not want to consider this option.
On the other hand, hiring a private car and driver allows maximum comfort such as A/C and a smooth ride, but often takes longer to get to your destination. This option is also a lot more costly if you are traveling to Nusa Penida solo (though still extremely affordable compared to places like USA).
If you do decide to drive a scooter, there are certain things you must be aware of.
Some roads on Nusa Penida are nearly undrivable and are often unpaved, filled with potholes, steep, or a combination of those. You want to make sure that the headlights of your motorbike are functioning properly. There are no lights outside the main town of the island, Tojapakeh.
Cell service is also lacking in many parts of the island. If you are driving around the island, make sure you have offline maps installed either via Google Maps or maps.me. You do not want to get stranded with no cell service!
---
Nusa Penida Day Trip And Day Tours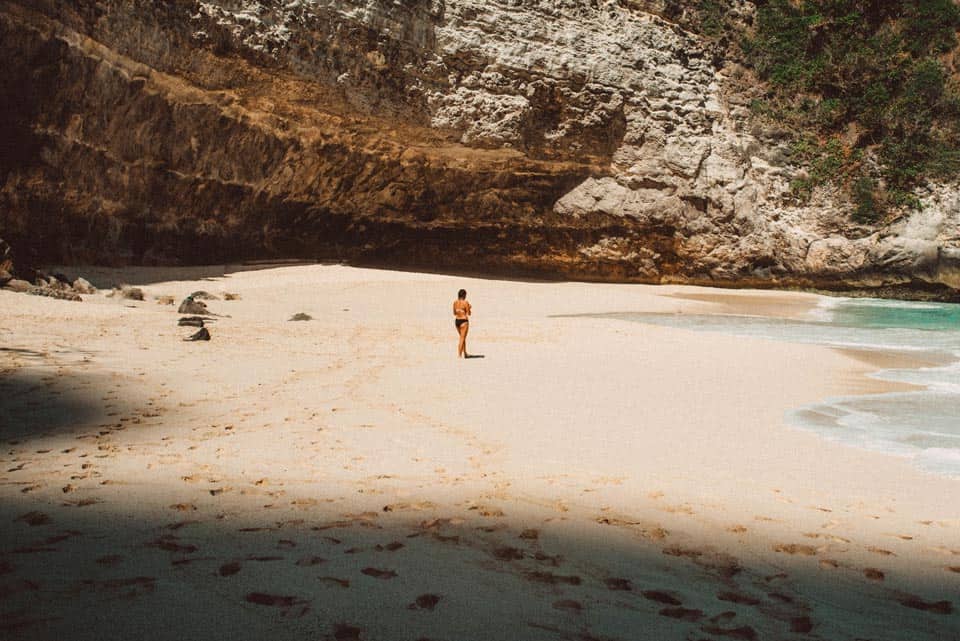 Because the island is fairly difficult to navigate on your own, many visitors decide to take one of the many Nusa Penida tours offered in Bali. These tours often consist of taking a day trip to Nusa Penida with transportation and tickets covered.
Tours are excellent options for anyone with a short time in Bali and only wants to check out the best places to visit in Nusa Penida (such as the Kelingking T-Rex Beach or Angel's Billabong). Keep in mind that because of the size of Nusa Penida, many day trips can only focus either on the west or the east side of the island.
However, you can opt to take a day tour to Nusa Penida and decide to stay an extra day to explore the rest of the island. But you will have to find a way to get around on the extra days.
---
17 Best Things To Do In Nusa Penida
1. Go Snorkeling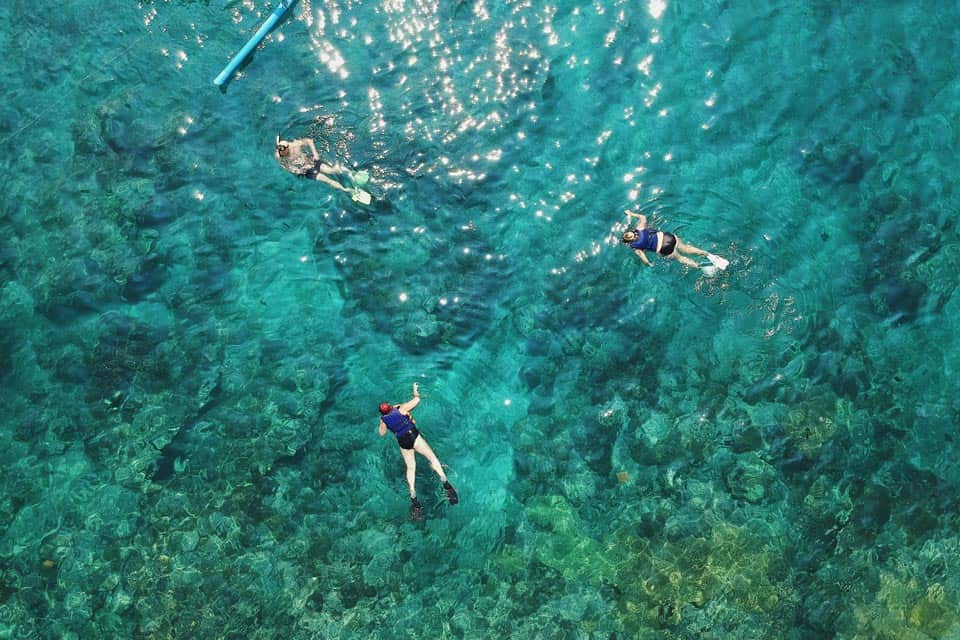 Snorkeling is one of the biggest attractions in Nusa Penida. Surrounding the Nusa Islands (Nusa Lembongan, Nusa Ceningan & Nusa Penida) are some of the most pristine marine environments in Indonesia.
Because of the island's location, nutrient-rich (and strong) currents cultivate diverse marine life and excellent coral reef conditions.
There are many places to go snorkeling in Nusa Penida, depending on what you want to see.
The most beginner-friendly location for snorkeling is Crystal Bay, a small sandy beach featuring beautiful coral reefs and crystal-clear (hence the name) water. Experienced snorkelers can rent out life jackets and snorkels from the locals that run the stores there.
Another incredibly popular snorkeling location on Nusa Penida is Manta Point. As the name suggests, this small bay is a popular location for swimming with manta rays, an incredible once-in-a-lifetime experience. However, you must go on a tour if you wish to snorkel there.
There are many other incredible snorkeling locations in the Nusa Islands such as Budhha Point (an underwater Buddhist temple) and Gamat Bay.
2. Visit Nusa Lembongan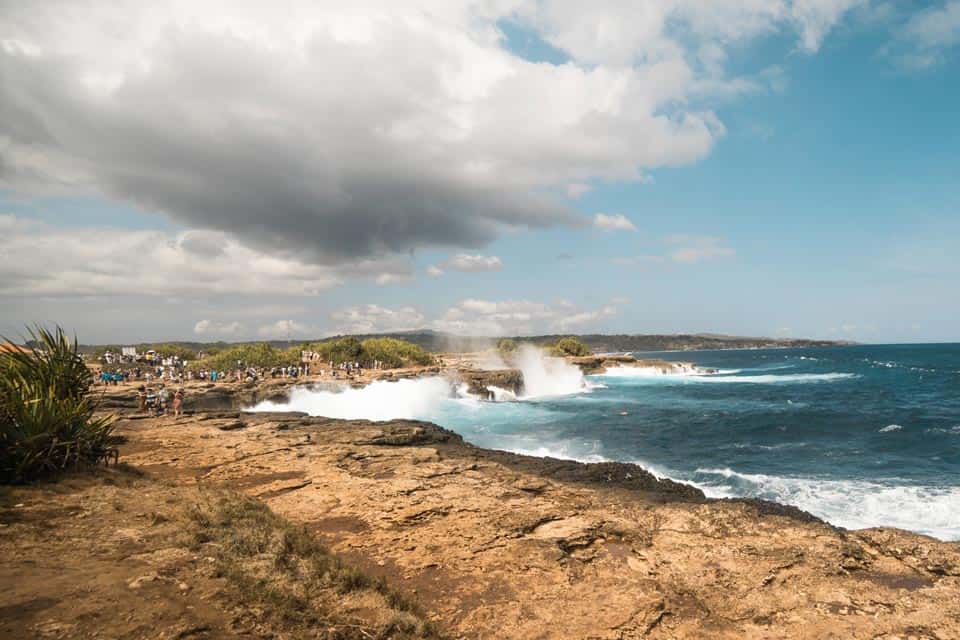 Nusa Lembongan is one of the three Nusa Islands and can be easily accessed from Nusa Penida on a short boat ride. Compared to Nusa Penida, Nusa Lembongan is much smaller but features more amenities in terms of accommodations and restaurants.
Unlike Nusa Penida where a scooter or a car is needed to get around, visitors can explore Nusa Lembongan on foot easily.
One of the must-see attractions there is Devil's Tear. The powerful waves of the Nusa Islands are forced into a small cave, creating an enormous splash and a loud road. Be careful when visiting though, you will inevitably get wet from the mist! If you are close enough to see it, chances are, the water will reach you!
There are many other things to do in Nusa Lembongan, such as chilling by the Dream Beach with a drink in your hand or visiting the Mangrove Forest. Visitors can easily spend half a day or more on the island!
3. Visit Nusa Ceningan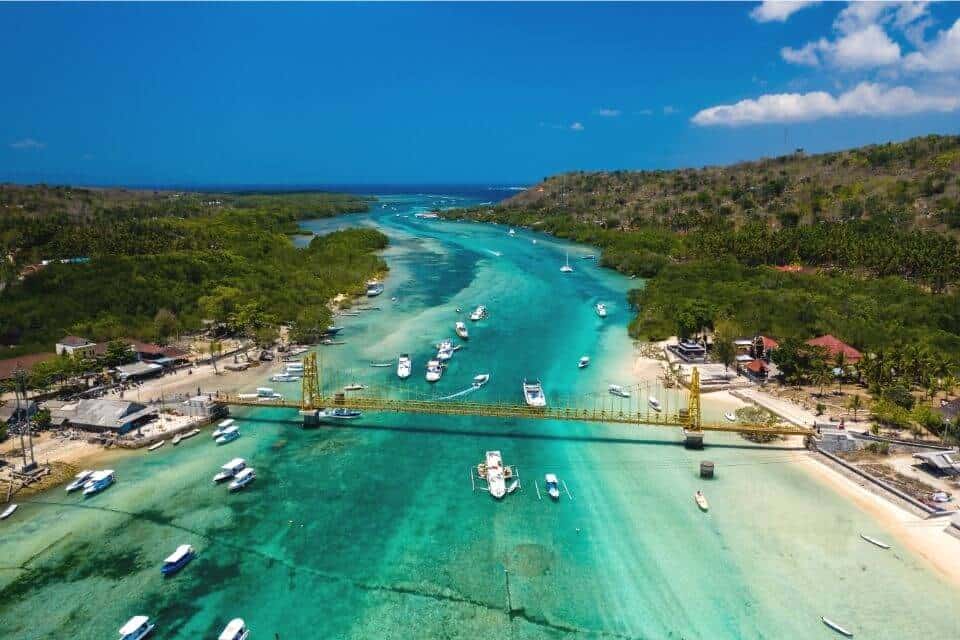 Nusa Ceningan is the smallest of the three Nusa Islands. It is connected to Nusa Lembongan by the picturesque Yellow Bridge.
Because there aren't enough things to do to spend an entire day here, we highly recommended combining your visit to Nusa Ceningan with Nusa Lembongan.
Nusa Ceningan is arguably the quietest of the three islands, and visitors can take advantage of that on beaches like the Secret Beach and Dream Beach. Come and relax on pristine and quiet beaches without having to commute for a long time!
4. Stay At The Famous Rumah Pohon Treehouse In Nusa Penida
The Instagram-famous Rumah Pohon Treehouse In Nusa Penida is a must-see for anyone wanting to take some incredible photos.
Located next to the Thousand Islands Viewpoint, the Rumah Pohon Treehouse is one of the best places to stay in Nusa Penida for anyone that appreciates magical sunrises/sunsets and dramatic landscapes.
To capture this beautiful view, we recommend staying at one of the treehouses in Rumah Pohon. Though not one of the most luxurious accommodations on Nusa Penida, guests are rewarded with panoramic sea views, birdsongs at dawn and dusk, and the opportunity to stay in a treehouse!
The sunrise at this Nusa Penida treehouse is simply unworldly. Visitors can also pay to enter the property just for photos.
Read More: 13 Best Treehouses in Bali
---
Best Places To Visit In Nusa Penida
1. Angel's Billabong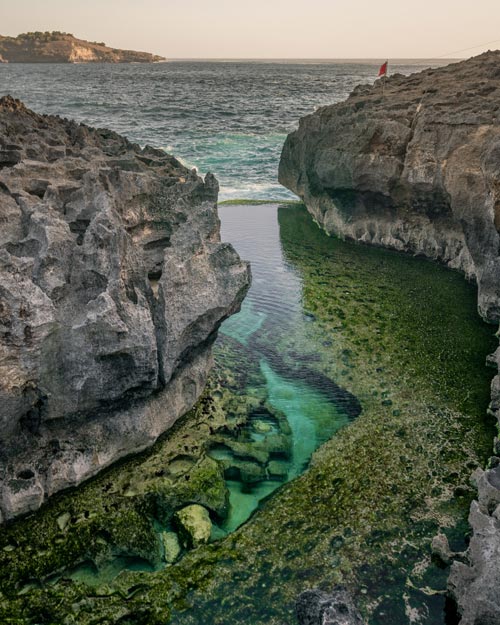 As Nusa Penida's natural infinity pool, visiting Angel's Billabong is one of the top things to do on Nusa Penida.
Because Angel's Billabong is a tidal pool, picking the proper time to visit it is essential. Visit during high tide and you won't find much to see. However, if you visit during low tide, the magical infinity pool be will at its prime for viewing. The shallow pool of water allows visitors to easily see the intricate rock formations underneath the surface.
However, during this time, it might be a little more difficult to get a dip in its refreshing water. There are a few spots that are a little deeper if you insist on getting a cold dip.
Because Angel's Billabong is frequently included on any Nusa Penida tours, visiting in the early morning or sunset can help minimize the number of tourists. Finding the perfect time when the tide's low and the number of tourists at its minimum is the key to visiting Angel's Billabong.
2. Broken Beach (Pasih Uug)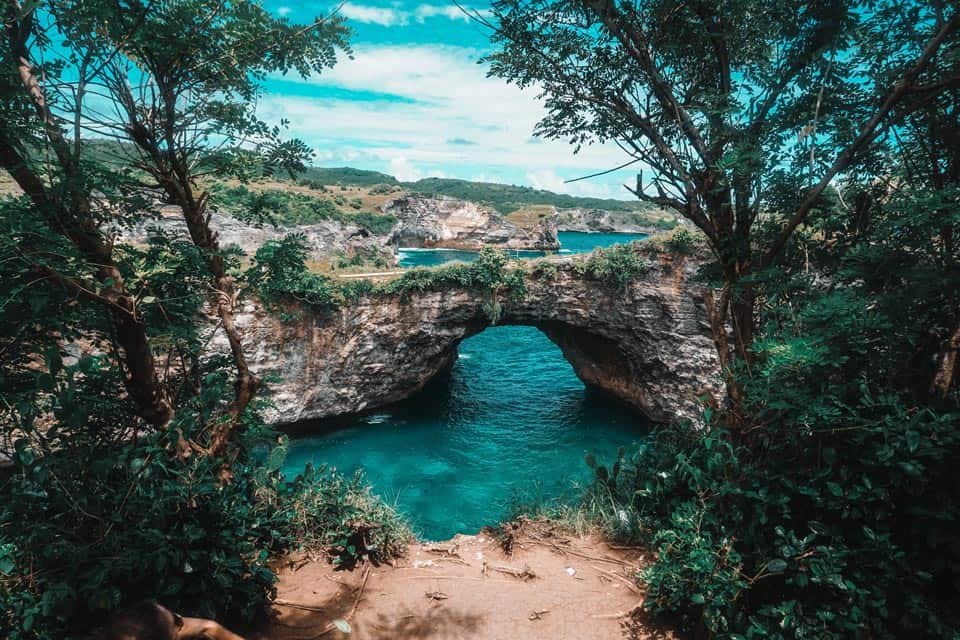 Located adjacent to Angel's Billabong is another one of Nusa Penida's must-see places – Broken Beach. This small cove earned its name from the unique archway that juts into the sea, allowing seawater to flow in and out.
Though it is impossible to go for a swim in the cove, visitors can admire this astonishing geological formation from above. If you would like to take a dip in the refreshing water, you can do so at the nearby Angel's Billabong.
There are numerous "cafes" around here for you to chill out and enjoy the scenery. Because this attraction is on the west coast of Nusa Penida, it makes for a wonderful location to catch the sunset. Just make sure you have a safe way home!
3. Peguyangan Waterfall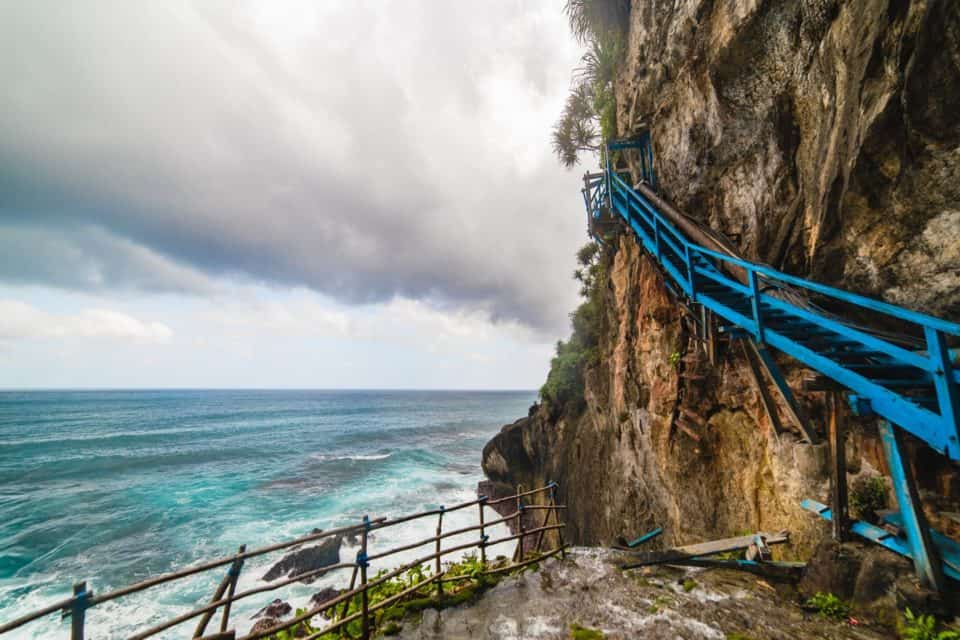 Peguyangan Waterfall is one of the few "waterfalls" on Nusa Penida. We say "waterfall" in quotes because unlike the waterfalls in Bali that are massive and powerful, Peguyangan Waterfall is small and tiny. It is a waterfall by definition because there is water falling, but don't expect anything spectacular.
Read More: Is Nungnung Waterfall the best waterfall in Bali?
However, what makes Peguyangan Waterfall one of my favorite places in Nusa Penida is not the waterfall itself but the 45-minute cliffside hike that offers the most incredible views on Nusa Penida.
After you hike down the iconic blue steps, you will reach the bottom of the Peguyangan Waterfall, where a small temple exists. Because of this, visitors must wear a sarong (rentable at the beginning of the hike) to visit. If you are lucky, you might even see locals performing a religious ceremony here.
We were told that the water at Peguyangan Waterfall is one of the main freshwater sources for the villages nearby, and many locals carry jugs of it back to the top every day!
Your adventure doesn't end at the temple because there are a few small hidden natural pools at the back of the temple. Keep going down as far as possible and you will reach these fresh natural pools with views of crashing views. You could literally spend hours here just admiring nature at its finest!
4. Tembeling Beach And Forest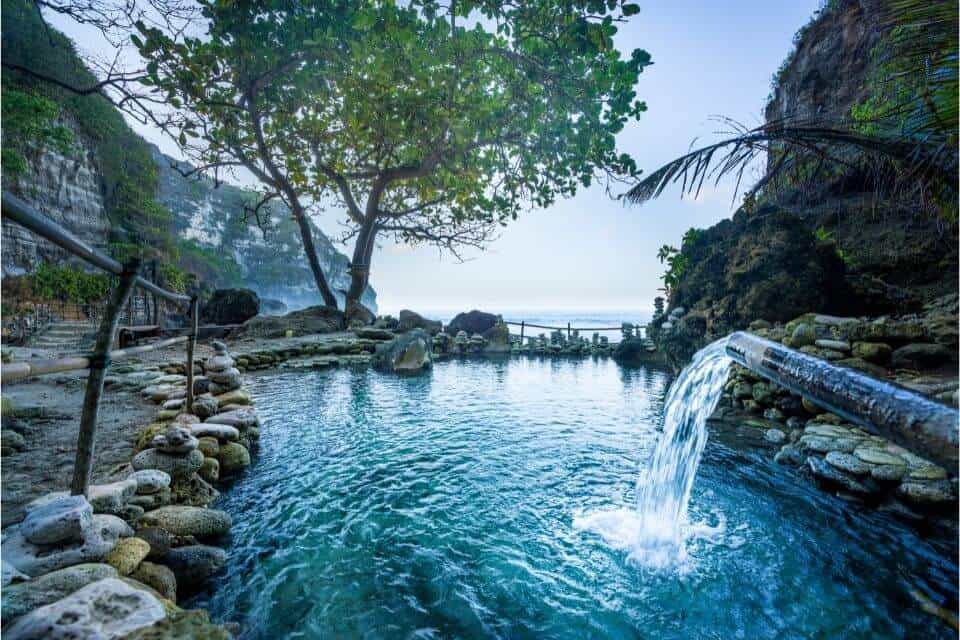 Tembeling Beach and Forest is one of the best hidden gems on Nusa Penida. That is partly because the journey to Tembeling Beach and Forest is long and treacherous. But anyone who braves the adventure is rewarded with a lush forest, refreshingly natural pools, and a beach with jaw-dropping sea views.
When you visit Tembeling Beach and Forest, you will arrive at its parking lot. Once you arrive here you can either drive your scooter down the steep, gravelly and treacherous road for about 10 minutes or walk for 30 minutes. If you aren't an experienced motorbiker, we highly recommend you to walk.
Once you arrive at the bottom, you can first explore the lush Tembeling Forest, something that is fairly unique on Nusa Penida. It looks like it belongs to the lush jungles of Ubud in Bali.
After exploring the forest, make sure you check out the two natural pools. One of these pools is decorated with traditional elements because water rituals are performed here. The second natural pool offers incredible views of Tembeling Beach.
When it comes to beaches on Nusa Penida, Tembeling Beach isn't something to write home about. Compared to Kelingking Beach or Diamond Beach, it is just average. Nonetheless, it is nice to have the option.
Be careful of the currents here and the rocks, swimming is generally not done at Tembeling Beach.
5. Goa Giri Putri Temple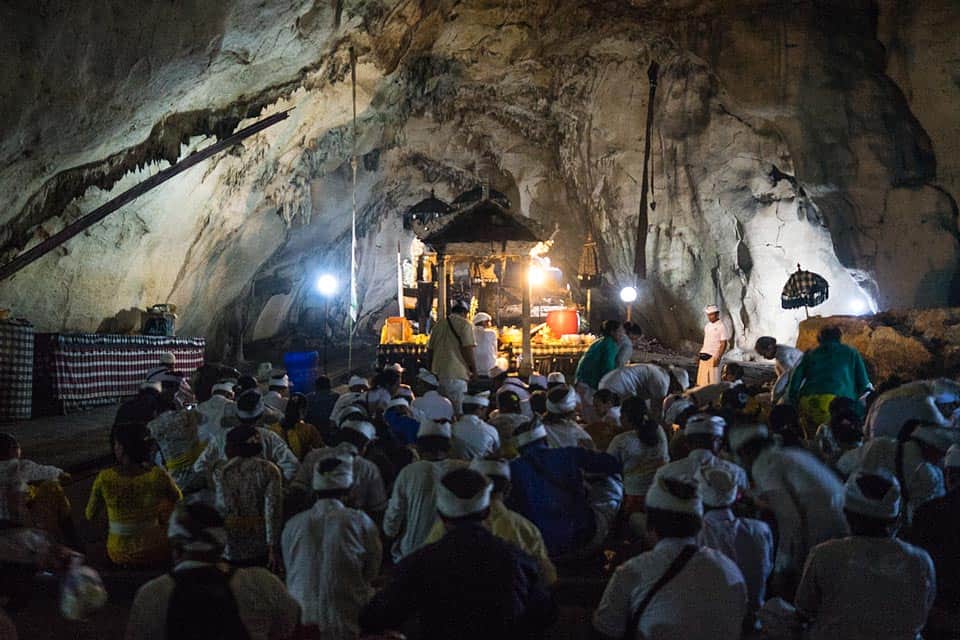 If you are tired of the dramatic cliffs and white sand beaches, why not go for a change and explore the Goa Giri Putri Temple? Unlike other temples in Bali, the Goa Giri Putri Temple is a cave temple. In fact, it is the largest cave temple on Nusa Penida.
After putting on a sarong and being blessed by holy water, jump through a tiny crack in the rocks and it will lead you inside the cave temple. Don't be intimidated by the tiny opening, the inside of the cave temple is enormous and can accommodate up to several thousand guests.
If you are lucky, you might even witness religious ceremonies that occur frequently here. If not, the strong smell of incense and the various sacred artifact will give you a glimpse of what happens here.
6. Thousand Islands Viewpoint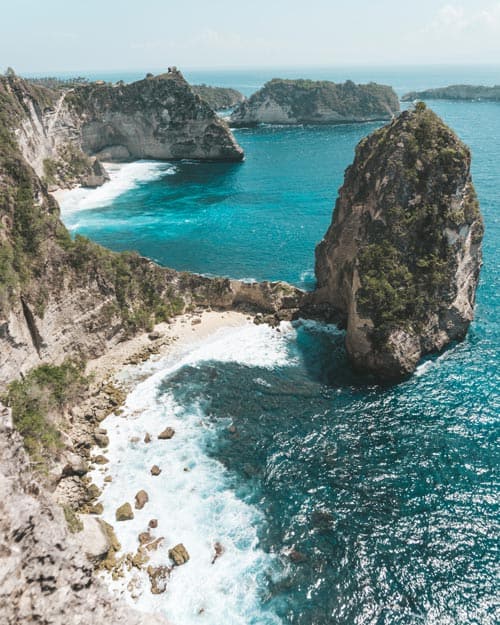 The incredible landscape at Thousand Islands Viewpoint is one of Nusa Penida's best points of interest. Situated on a hilltop, this vantage point looks over Diamond Beach and offers panoramic sea views. It earned its name from the several islands that can be seen at this location.
Because this viewpoint is located on the east side of Nusa Penida, we highly recommend planning your visit for dawn. If you can get up early enough to catch the sunrise from the Thousand Islands Viewpoint, your life won't be the same then.
Adjacent to the Thousand Islands Viewpoint is the famous Rumah Pohon Treehouse, an accommodation known for its treehouses with dramatic views. Though staying at the Rumah Pohon Treehouse will allow you the best views (including sunrise views), visitors can pay the accommodation 25k IDR (at the time of writing) to enter and take photos!
7. Seganing Waterfall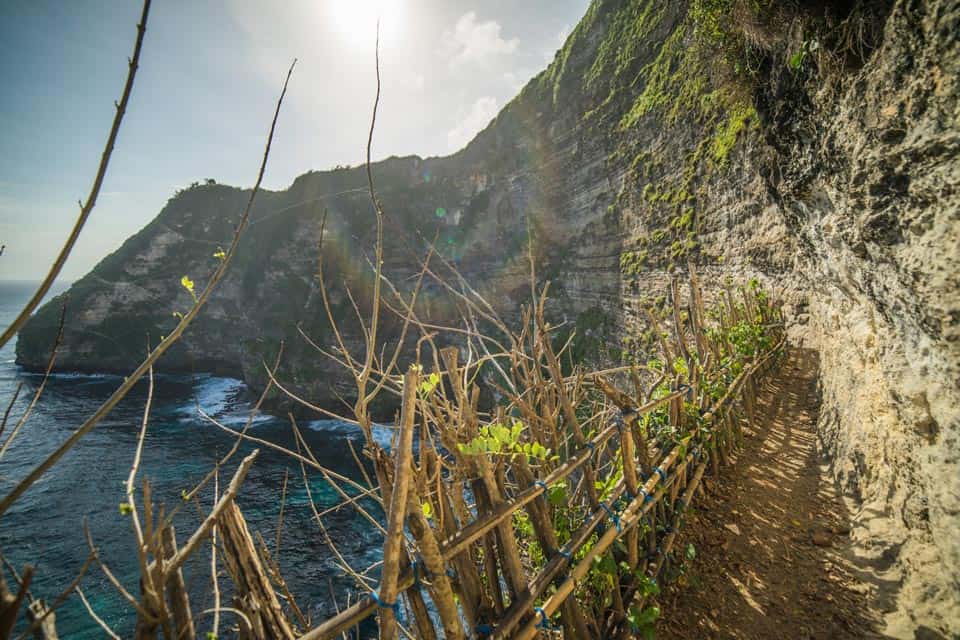 When it comes to Seganing Waterfall, the journey is more exciting than the destination. And when we mean journey, we mean being sandwiched between sheer cliffs and numerous wooden sticks (acting as a fence) as you make your way down to the bottom of the falls.
This Nusa Penida attraction is not for everyone because it requires a little bit of rock climbing in certain places and traversing through a cliffside terrain. At the end of the descent, you will reach the rather unimpressive Seganing Waterfall.
Similar to Peguyangan Waterfall, Seganing Waterfall is a waterfall by definition. A small stream of water trickles from the side of the mountain towards the sea. If you are lucky, there are some small natural pools where you can take a dip in. But generally, don't expect to swim at Seganing Waterfall.
8. Teletubbies Hill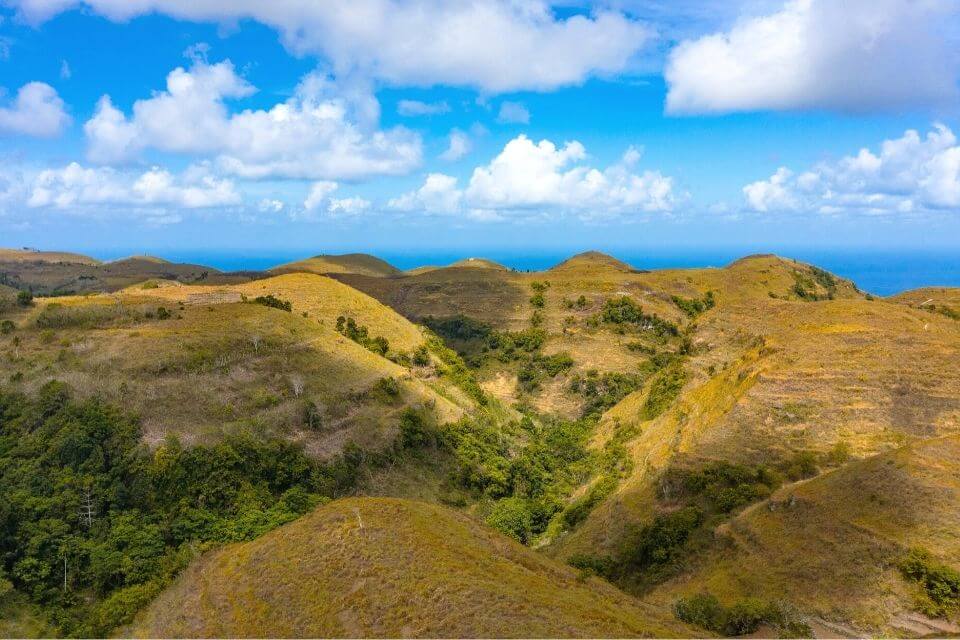 Teletubbies Hill is the only thing to do in Nusa Penida that isn't located on the perimeter of the island or involves water. Named after the hills in the show "Teletubbies", the Teletubbies Hill is a lush and tranquil spot to just chill and admire the beautiful scenery.
Here visitors will get a glimpse into the daily lives of Nusa Penida as they watch the locals work in the fields and children play on the roads. Seeing the rolling hills and rice fields at eye level is impressive. However, if you have a drone, you will unlock breathtaking views of the vast fields of contours, outlines and more.
The Teletubbies Hill is at its lushest during the rainy season. At this time, it is a charming bright green color that will bless your eyes!
9. Manta Point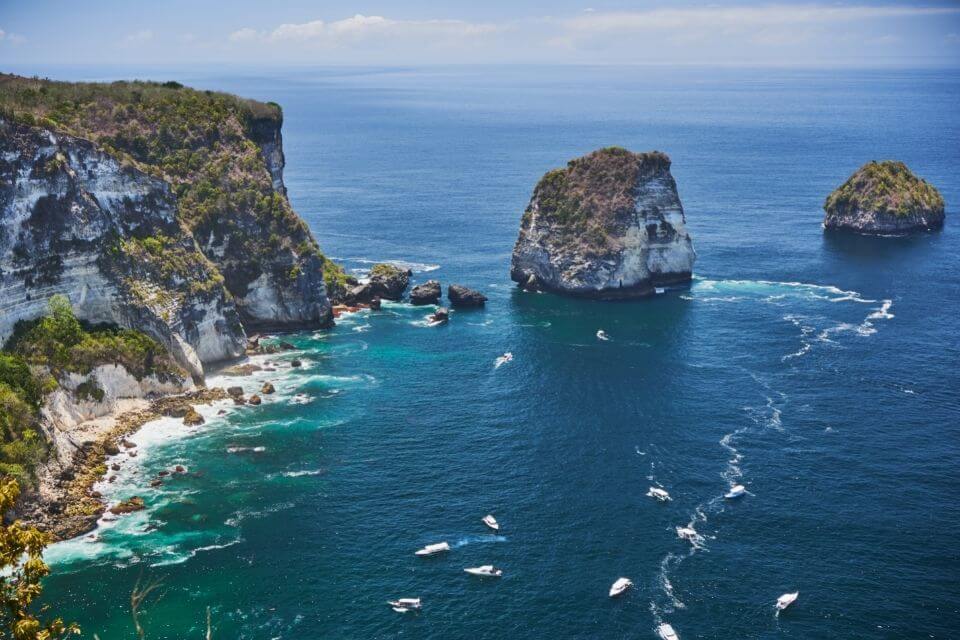 Snorkeling isn't the only way to see manta rays on Nusa Penida. Located on the southern part of the island is Manta Point, a famous snorkeling spot to see the manta rays.
However, what many don't know are the cliffs that surround Manta Point are a great spot to see the Manta Rays from above. On a clear day when the water is nice and blue, visitors can see the silhouette of these massive and exotic marine animals.
Though it doesn't compare to seeing them up and personal, it might be a good option for anyone who fears them. The cliffs at Manta Point are also an excellent spot to enjoy the overall dramatic cliffs and breathtaking views.
---
Best Beaches In Nusa Penida
1. Kelingking Beach (Nusa Penida's "T-Rex")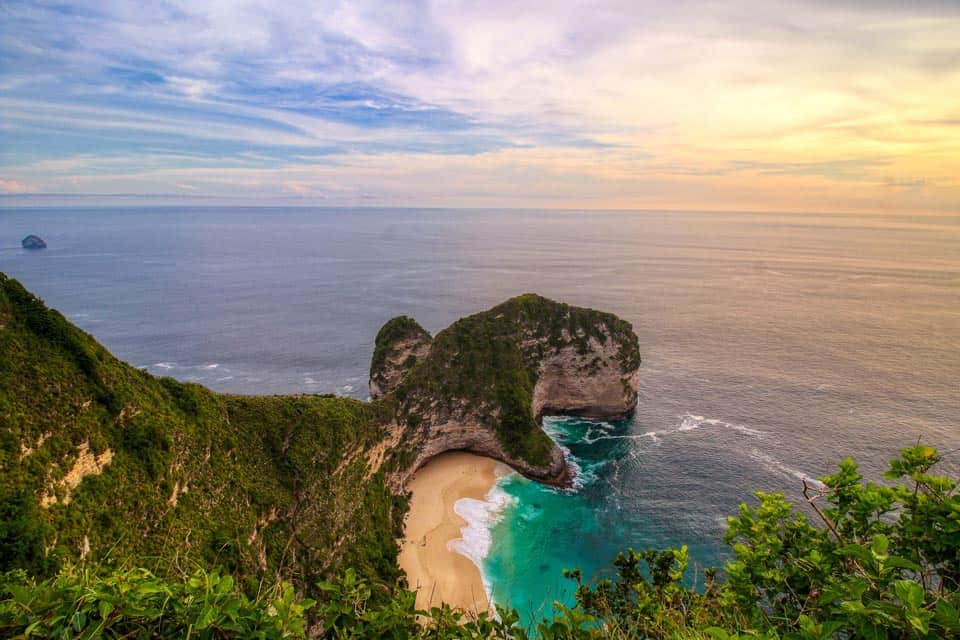 Kelingking Beach, otherwise known as Nusa Penida's T-Rex Beach, is one of the must-see places on Nusa Penida. Many visitors travel all the way from Bali (and all over the world) just to see this magnificent beach with their own eyes.
When we first discovered this place via Instagram, we knew we had to see it ourselves. Let us tell you, Kelingking Beach looks even more impressive in person.
When visiting Kelinging Beach, you can decide to admire one of nature's best creations from above or take the 45-minute trek to the beach. The viewpoint from above Kelingking Bech is enough to have you dream about it for years to come but the soft white-sand beach is equally mesmerizing.
The path down to the beach is steep and only guarded by wooden bamboo sticks. It might look somewhat dangerous but it is safe as long as you stay on the path. If it recently rained, reconsider going down to the beach as the path can be slippery.
After your long and sweaty hike, your first instinct might be to jump right into the turquoise water. However, be careful as the currents and waves are quite strong at Kelingking Beach. If you aren't an experienced swimmer, we don't recommend you to go in too deep.
Because this is the most popular thing to see in Nusa Penida, we highly recommend you to visit early in the morning or late in the evening before sunset. Kelingking Beach gets very popular in the midday when flocks of tourists from Bali come on a day trip to visit this iconic landscape.
2. Atuh Beach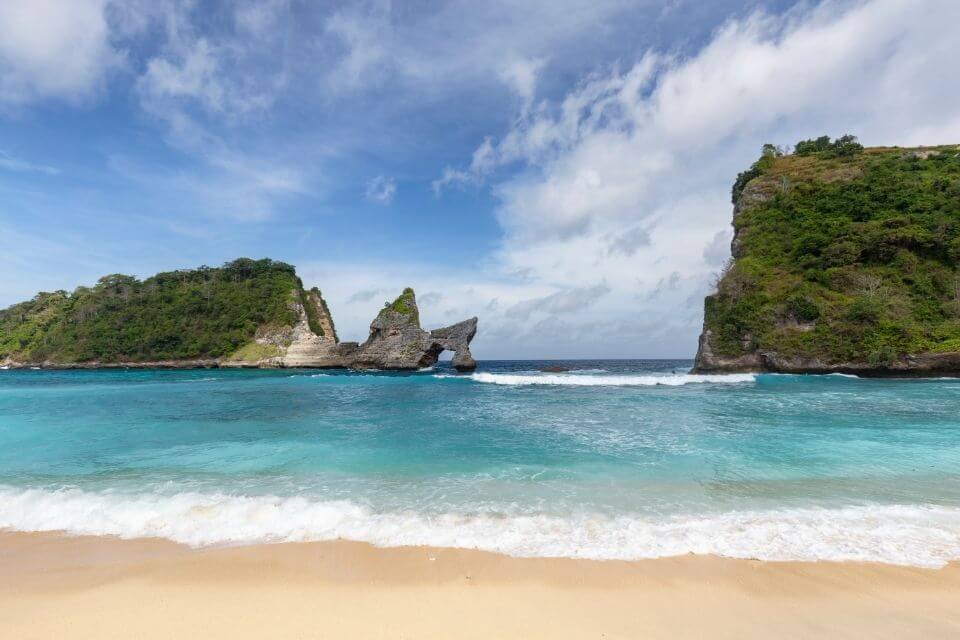 Nestled between jagged cliffs and incredible offshore rock formations is one of the most gorgeous beaches on Nusa Penida – Atuh Beach.
Located on the unpopular east side of the island, Atuh Beach is a quiet spot where visitors can swim, lay on one of the sunbeds, have some nice local food from the small beachside restaurants, or for the adventurous, go cliff jumping.
Getting there is fairly simple on the scooter until you have reached the Atuh Beach/Diamond Beach Parking Lot.
From here, visitors need to embark on a 10-mine steep hill to the bottom of the beach. Don't worry though, the hike isn't too strenuous and won't take your breath away, but the views as you approach this beautiful cove certainly will!
If you would like to swim at Atuh Beach, it is important that you visit during high tide. During low tide, the rocky shoreline will deter even the most enthusiastic swimmers.
3. Crystal Bay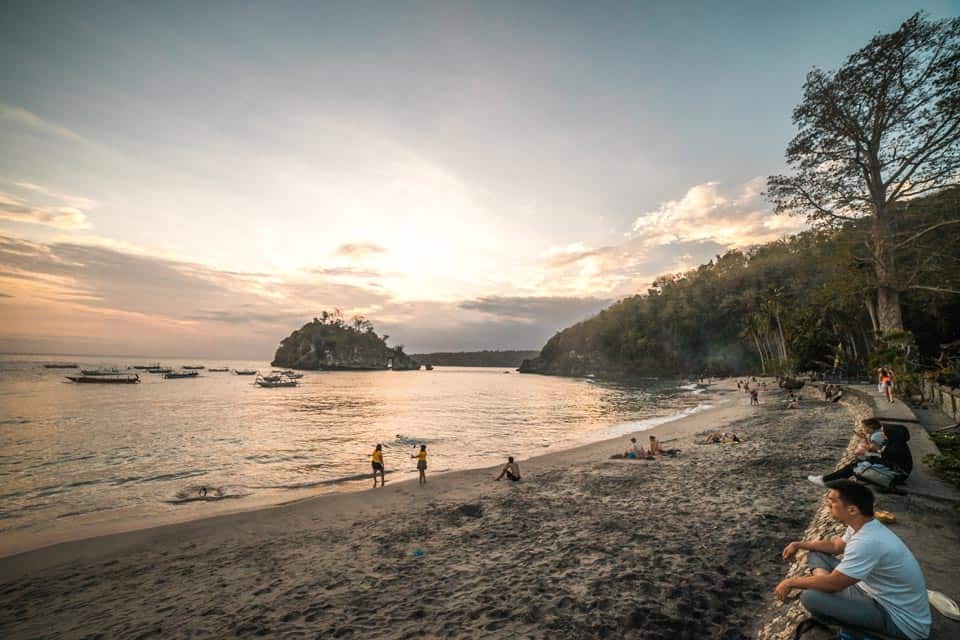 If you want to go swimming in Nusa Penida, then Crystal Bay's calm waters are perfect. Unlike many of the other beaches that suffer from aggressive waves and dangerous currents, Crystal Bay's protected cove promises a peaceful swim.
Crystal Bay is more than just a spot for swimming. Along the sandy shoreline are numerous "warungs" (small restaurants) selling typical Indonesian food such as nasi goreng and mie goreng.
After your meal, rent some snorkeling gear and explore the color coral reefs and marine life in Crystal Bay. Finish off your day with a coconut in your hand as you watch the fiery sun dip below the horizon!
4. Diamond Beach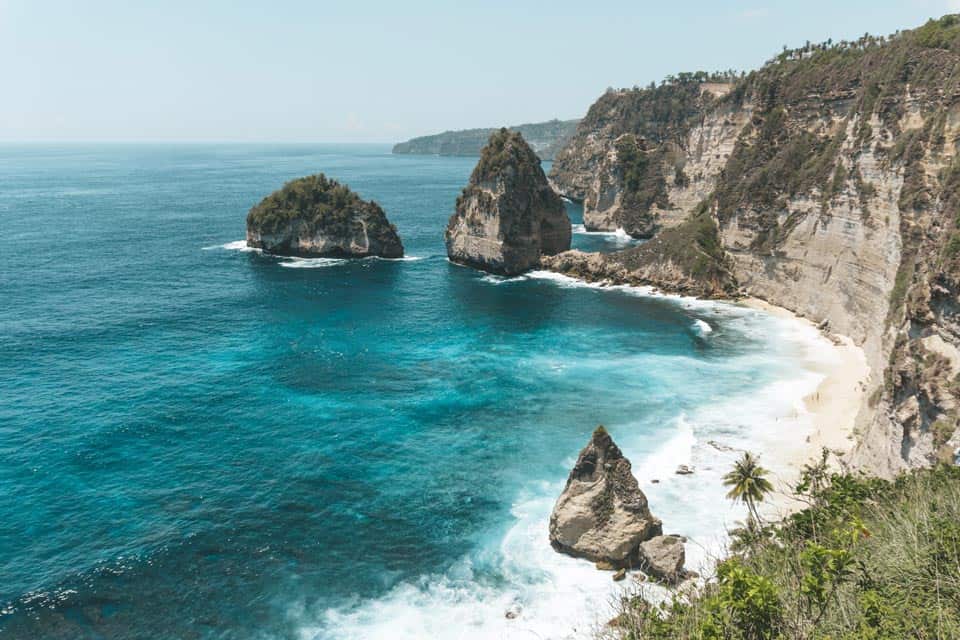 When it comes to the prettiest beaches in Nusa Penida, Diamond Beach is easily top 3. With a stone stairway leading to the soft white sand beach and the sheer cliffs surrounding it, it is almost too perfect. Combine those with the perfect blue skies and you are officially in a fairytale!
As you step on the narrow strip of untouched sand, it is an unworldly feeling to be sandwiched between a sheer rock wall and the beautiful sea.
The beach is named after the diamond-like rock formation offshore.
Though tempting, swimming in Diamond Beach is not recommended because of the strong currents. Be extra careful if you decide to go in the water at all. Because of the secludedness of this beach, you might be the only one there!
---
Where To Stay On Nusa Penida
For an in-depth guide on where to stay in Nusa Penida, please click here!
Best Hostel In Nusa Penida – Nuansa Penida
Located in Tojapakeh, Nuansa Penida is within walking distance to the ferry to/from Bali. Tojaapakeh is also the most developed part of Nusa Penida, so visitors can easily find motorbike rentals or tours for any activities on Nusa Penida.
Come enjoy a refreshing swim in their outdoor swimming pool. Dry yourself off by sun tanning on one of their charming sun loungers. Meet other travelers and go explore some of the best things to do in Nusa Penida together! Finish off the day with a chilled coconut or drink in their bar.
Nuansa Penida is the ultimate accommodation in Nusa Penida for anyone looking for the epitome of backpacking and hostel life.
---
Best Hotel In Nusa Penida – Daphila Cottage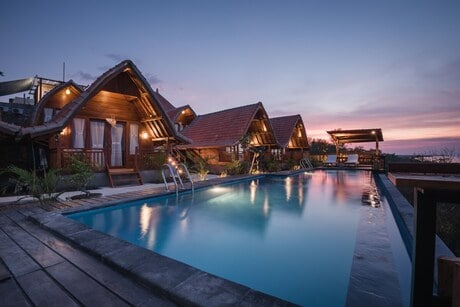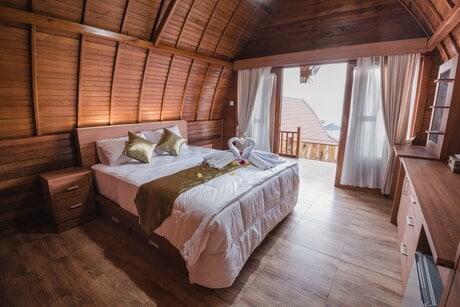 If you love a hotel with a beautiful view, then Daphila Cottage is the best place to stay in Nusa Penida for you. This hotel features a stunning infinity pool, where you can sip on a cocktail and admire the stunning sunset views every day.
When it comes to the accommodations, Daphila Cottage, as the name suggests, features small wooden huts with sleek interior designs. They also have an on-site restaurant serving authentic Indonesian food at a reasonable price, so you don't need to venture out for food.
The staff is friendly and will help you organize any tours you want or arrange transportation!
---
Visiting Nusa Penida FAQs
Is Nusa Penida Worth Visiting?
Nusa Penida is one of the most beautiful places in Indonesia when it comes to natural beauty. The island is relatively remote and has yet to be affected by overtourism, so visitors can still enjoy the pristine beaches and jaw-dropping cliffs this island is known for.
How Many Days To Stay In Nusa Penida?
If you want to see the majority of the attractions on Nusa Penida Island, it is recommended that you spend at least 3 days there. Though the island is quite small, roads aren't very developed. This means it might take you much longer to get from one place to another. If you want to just see the main sites on the island, a day trip will suffice.
---
Like this post? Don't forget to save it on Pinterest!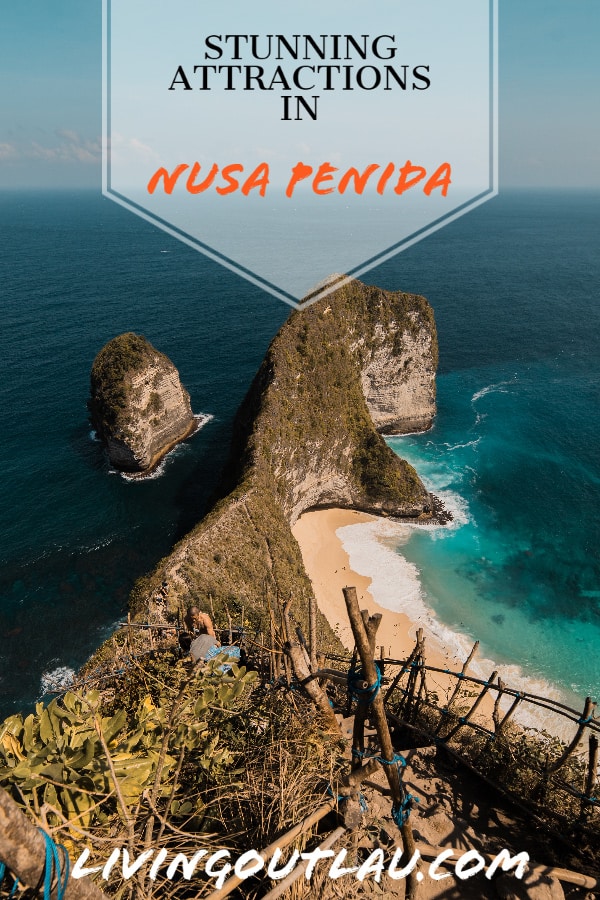 ---
This concludes our guide to the best things to do in Nusa Penida! We hope our guide has given you the information needed to plan the perfect Nusa Penida trip!
Disclaimer: Some of the links above are affiliate links. That means if you book or make a purchase through the links, we will earn a small commission at no extra cost to you! The money will help run this site! Thank you!