You are in Bali and everywhere you go people are talking about an island called Nusa Penida. You are not sure if you should check it out given the tight schedule that you have and the plans you have made.
However, if you are adventurous and love beautiful beaches, cliffs, and scenery, you will be totally missing out if you did not go.
Bali is amazing itself, but Nusa Penida blew me away. Anyone visiting Bali should definitely include Nusa Penida on their Bali itinerary.
And if you go, there are 3 places you must see on Nusa Penida! We will even tell you how to get there. 
How to Get to Nusa Penida From Bali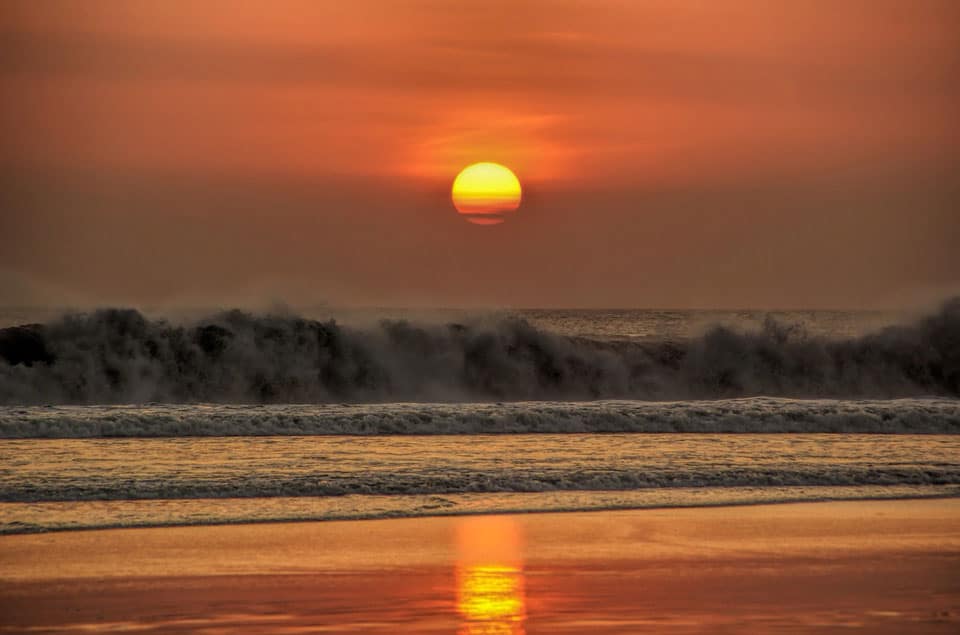 So you decided to go, but how do you get to Nusa Penida from Bali? You will have to take a Grab or GoJet (Those are the Ubers of Bali, if you don't already have those apps, download them!) to Sanur port.
The easiest way to get to Nusa Penida is to take a boat from Sanur to Nusa Penida. At Sanur port, you will hear people chanting Nusa Penida. Go up to them or they will come up to you and ask them how much is the price for a ticket to Nusa Penida.
The ticket should not cost more than 150k IDR. Some people will come up to you this is the official ticket booth, there is no such thing. They are all private companies.
If you want to save a few bucks, you could walk around bargain with the other companies. Keep in mind that there are a lot of different companies operating fast boats to Nusa Penida, use this to your advantage and try to get the best price possible!
The boat ride is bumpy and if you get motion sickness as I do, definitely take some medications beforehand.
For a complete guide on how to get to Nusa Penida from Bali, click here!
TIP: When you get on the boat to Nusa Penida, you will have to walk in the water and the water could go as high up as your crotch! Just plan beforehand so you don't wet the things you don't want to!!
How to Get Around on Nusa Penida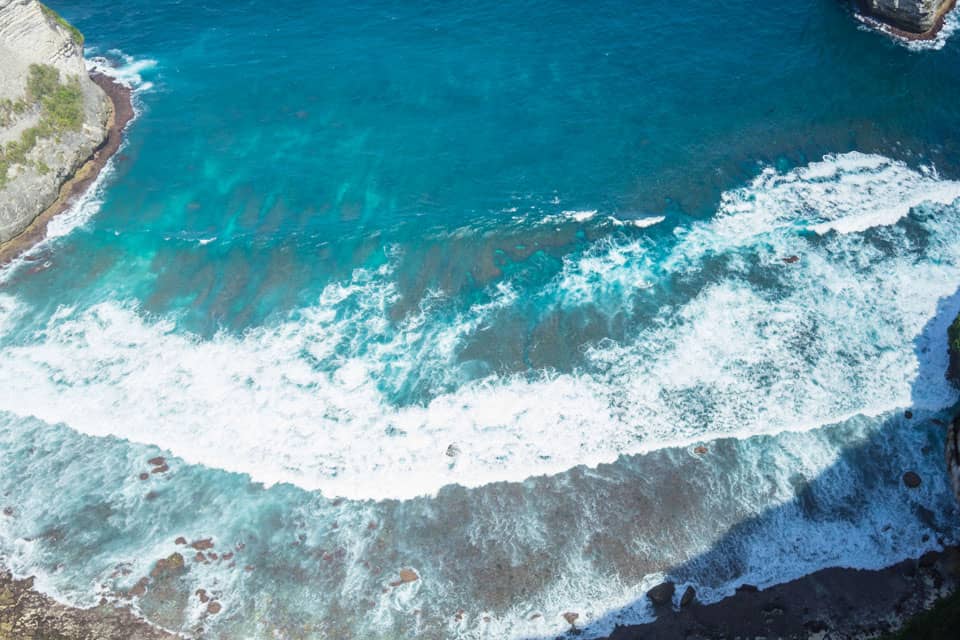 After arriving at Nusa Penida, you will be dropped off at Tojapakeh, the most developed part of the island.
There, you will be able to get a ride with the local to your accommodation, rent out scooters by the day (~60k IDR/day), or rent out a private car with a private driver! (~500k IDR/day, depending on how many people you have).
If you do decide to drive a scooter, keep in mind that some parts of the roads are nearly undrivable. Unpaved, uneven concrete, potholes everywhere, and on a steep incline or decline. But if you do want to do that (which I did, and only fell once in two days), make sure your scooter's headlights work. Because if you decide to watch the sunset at any of the major attraction points, the road back will be pitch-black.
TIP: You will not receive service the majority of the time when you are deep in the island traveling to your destination. For safety, download offline maps on your phone with Google Maps or maps.me.
What To Do In Nusa Penida
Location: East part of the Island, somewhat remote.
Time for travel: ~ 1 hour 30 minutes from Toyapakeh on scooters
Located on the eastern part of the island, Atuh beach is one of the most beautiful beaches I have been to. Incredible rock formation, huge cliffs, and turquoise water with sparkling white sand. What more can you ask for? This looks like a place straight out of a fairytale.
Due to its somewhat remote location, chances are, there will be a whole lot fewer crowds here and you can enjoy this natural wonder by yourself. Make sure you put on some sunscreen or you will be dead in an hour.
This place is easily paired with another cool destination (not top 3) nearby called Goa Giri Putri Temple!! It is a temple in a cave that is very unique on its own. Pair that with Atuh Beach and you have the perfect day trip.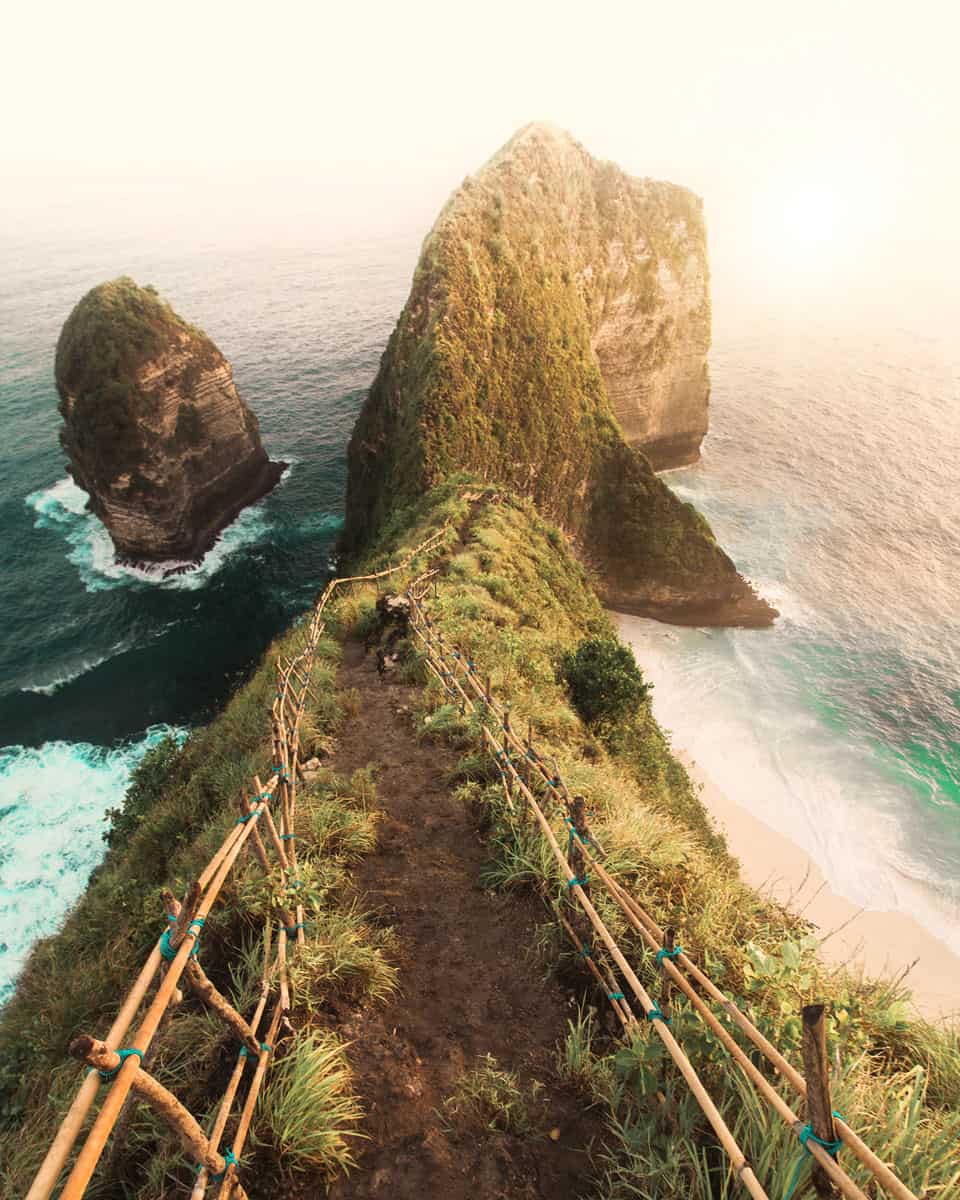 Location: Southwestern part of the island.
Time for travel: ~ 1 hour from Toyapakeh on scooters
Number two on the list is Kelingking beach. I am sure many of you have seen a picture of this sometime in your life, probably on some sort of social media. If you have not, then what are you doing with your life?
This is the spot that Nusa Penida is known for and let me tell you. It did not disappoint. One year ago I saw this on Instagram and decided I must see this with my eyes.
You could follow the dirt path all the way down to the beach but the path is steep and sometimes muddy and slippery. It takes about two hours to go up and down but the beach below is worth it!
TIP: Since this is the most popular destination in all of Nusa Penida, I highly recommend coming here in the morning to avoid the crowd. The difference of having this place to yourself or with a bunch of tourists is like day and night! 
3. Pegunyaangan Waterfall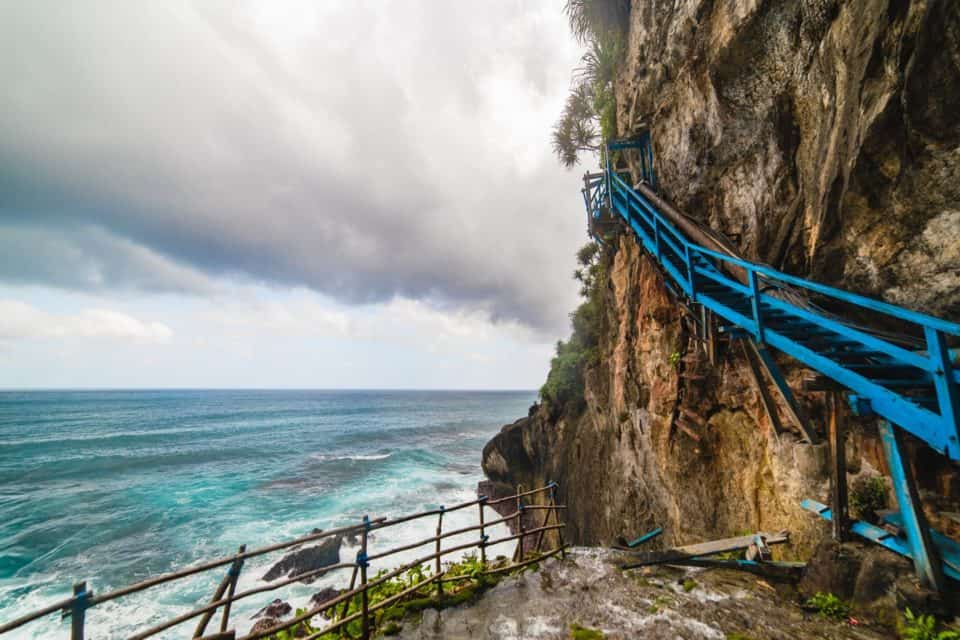 Location: Southern part of the island
Time for travel: ~ 1 hour 15 minutes from Toyapakeh on scooters
My favorite place on Nusa Penida has to be Peguyangan Waterfall. Unlike the name suggests, this is not a waterfall towering over hundreds of meters. This is actually quite the opposite.
But the charm to the Peguyangan Waterfall is the beautiful journey on the way down. And upon reaching the waterfall, you will see a small temple where the locals conduct religious ceremonies. 
The way to the bottom of the waterfall is about a 45-minute hike and it features some of the most amazing views I have ever seen in my life.  If you do successfully get down to the bottom of the waterfall, there is also a natural pool you can sit in and watch the enormous waves crash onto the rocks. 
It is definitely a place you must see in Nusa Penida!
You might even see locals filling up bottoms of water from the waterfall and carrying it back up to the top!
Looking for some tours in Nusa Penida? Here are our recommendations:
Like this post? Don't forget to save it on Pinterest! 🙂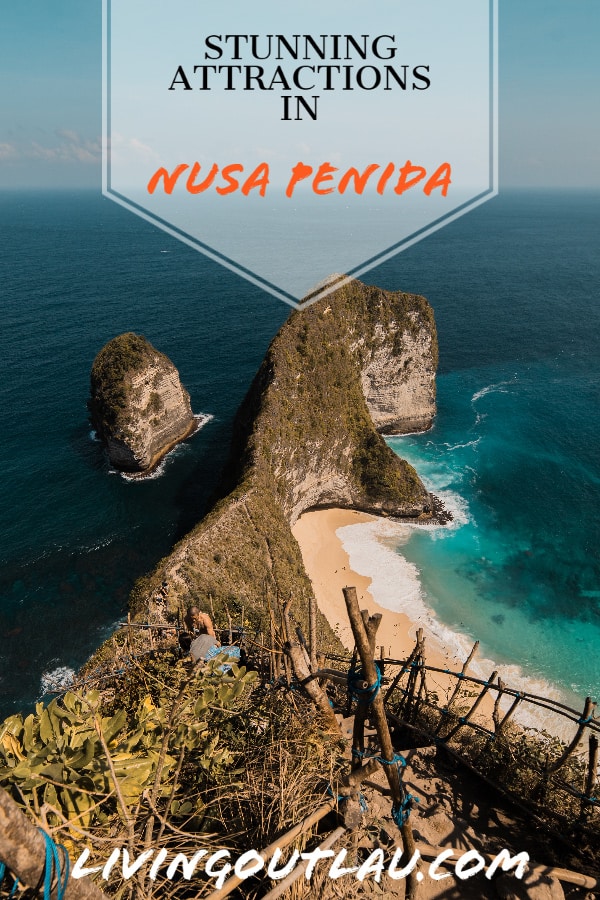 Have you been to Nusa Penida? In your opinion, what are some places you must see in Nusa Penida? Let us know in the comments below!
Disclaimer: Some of the links above are affiliate links. That means if you book or make a purchase through the links, we will earn a small commission at no extra cost to you! The money will help run this site! Thank you 🙂