Wondering when the worst time to travel to Bali? Worry not.
As someone who has lived in Bali, I've experienced Bali in all of its various seasons: rainy season, dry season, shoulder season, off season, peak season, and everything in between.
And let me tell you, picking the best or worst time to visit Bali can make or break your trip. Without further ado, let's find out when is the worst time to visit Bali and whether you should change your Bali itinerary for a different time of the year!
When is the worst time to travel to Bali?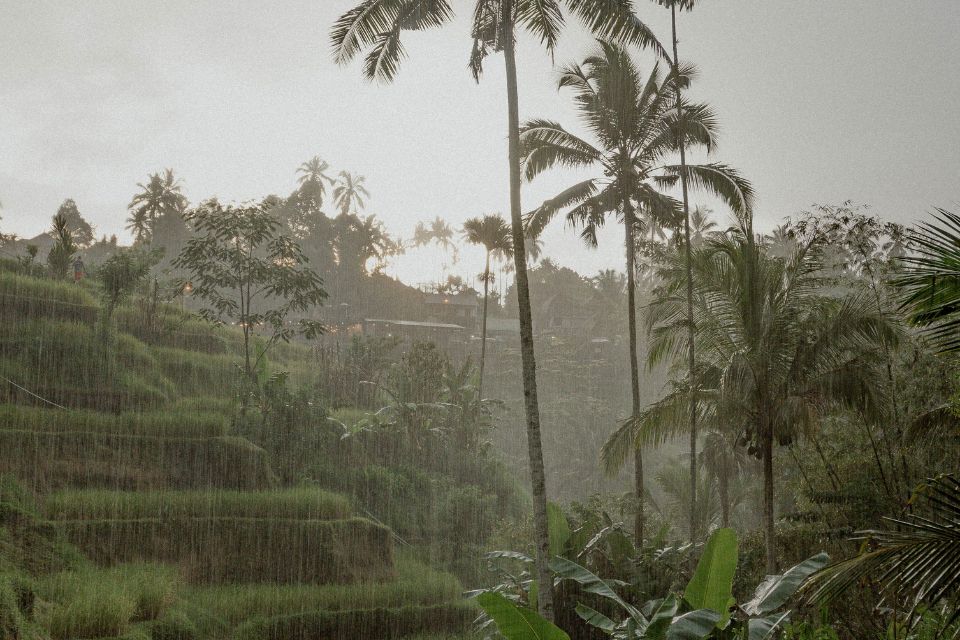 The worst time to travel to Bali is during the rainy season which runs from November through to April. Like pretty much all of Asia, Bali experiences a very wet and very intense rainy season. As you would expect, things start relatively tame in October, with only an average of 8 days with short but fierce rainfall.
Things start to get worse from November, however, and you can expect a lot of frequent and intense rainfall in the peak monsoon months of December to February. This is the peak of Bali's rainy season. Though this is usually spread throughout the day and almost always not constant.
It's pretty unlucky to get an entire day of rain but this is Southeast Asia and anything can happen weather-wise.
How Is The Monsoon Season in Bali?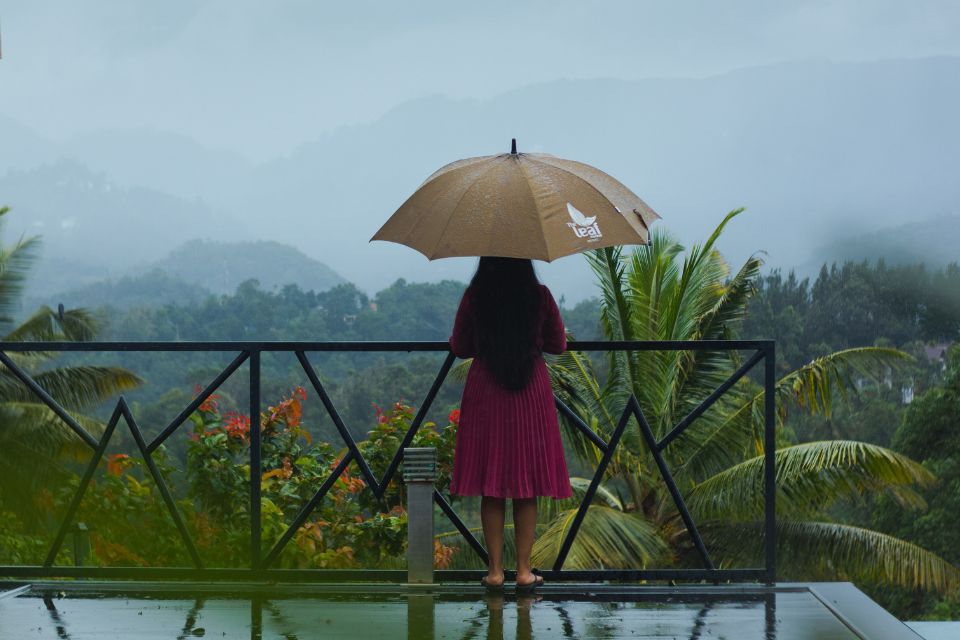 Bali's monsoon season isn't as bad as people make it out to be. There will be plenty of rainfall, but it's not constant, meaning if you'll be visiting Bali then, you can go out and about with relatively little interruption. Just because it's the wet season, doesn't mean your plans are ruined!
There are also fewer tourists on the island too which is nice. If you get caught out in a downpour on your Bali trip (which is very likely), there's almost always a little café or Warung for you to dive into and wait it out. Or you can whip out your lifesaving bright blue or yellow pullover rainproof poncho and keep plodding along.
That said, even in the worst months of Bali's wet season, the days will always be very hot and humid. It'll usually be completely overcast or have occasional sunny weather which will heat things and dry things off, albeit briefly.
Read More: Best Honeymoon Villas In Bali!
After the toing and froing of rain and sun, outdoor activities can become pretty uncomfortable, so either take respite near a beach to cool off in the sea or at least somewhere with some air-conditioning or a pool.
If you're visiting during Bali's rainy season, it's also not uncommon for travel to be disrupted by flash flooding or landslides. Because of the sudden influx of water, waves of garbage could wash up ashore on some of the beaches in Bali. It is an unusual phenomenon but something that could really ruin your holiday.
Bali's infrastructure is pretty poor outside the major cities and towns so it's important to listen to the advice of locals, possibly your hotel reception or even your scooter or car rental agency.
If there's severe weather on the way, it'll likely be the talk of the town. If you're doing outdoor activities, always plan in a remote area like Bali because the weather can be very unpredictable.
Mosquitoes In Bali
One thing that is completely relentless and an absolute pain to deal with during the monsoon season is the mosquitos. Even when you think you're safe, one will pop up out of nowhere and drink your blood like it's the last drop on Earth.
Make sure you wear insect repellent, and if possible, cover up your limbs in thin, long sleeves or trousers unless you want them ruining your Bali trip.
Read More: Renting A Scooter In Bali: What You Need To Know
Should You Still Travel to Bali During The Rainy Season?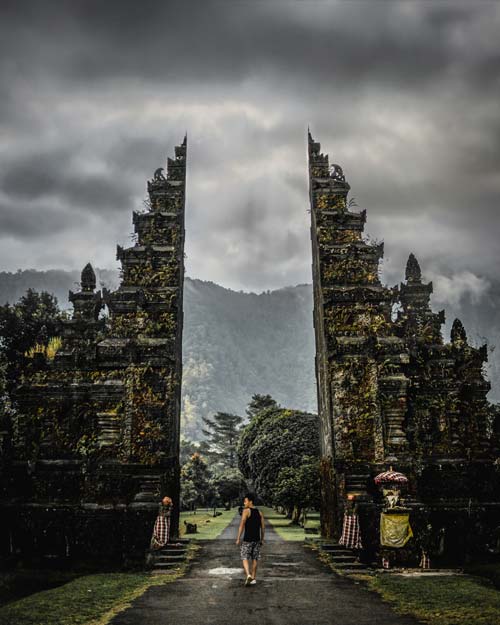 Bali is still definitely worth visiting during the rainy season. Because it is the rainy season, it is also one of the lowest seasons in Bali.
Compared to the peak season, the island is much quieter with fewer crowds to deal with. You can usually some great deals on flights and accommodation. You can even score some of the best private pool villas in Bali at a fraction of the usual price!
Another bonus to visit during Bali's rainy season is the abundance of rainfall means that the greenery is extra lush and the waterfalls exceptionally mighty. Just as long as you don't mind being caught in a few thunderstorms and downpours. After all, witnessing some extreme weather is part of the fun of traveling to a remote island in Southeast Asia, right?
Whilst you might not be able to lounge around on the beach in the blazing sun and get the best tan, the temperatures are still well into the high 20s and you'll still be able to have a memorable and enjoyable trip in the low season.
How To Make Your Travel Experience Better During The Worst Time To Visit Bali?
1. Be Flexible
The weather in Bali is infamous for being unpredictable at the best of times, let alone during the rainy season.
If you'll be on your Bali vacation during this time of year, it's important to keep your plans flexible because you never know when a thunderstorm or a downpour will come. You never know when you'll have to postpone or change your plans!
2. Pack or Purchase Appropriate Clothing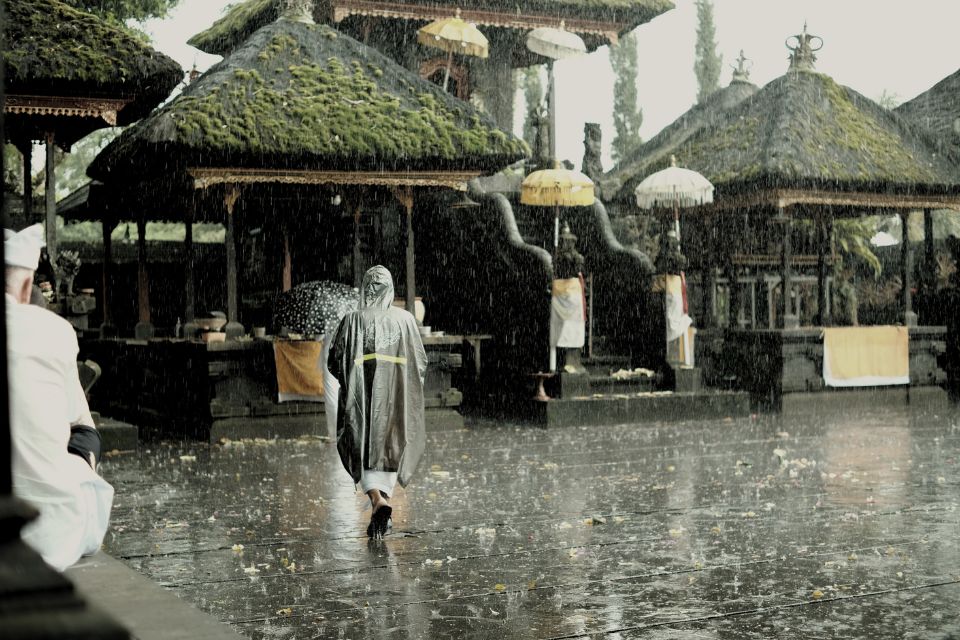 If you are visiting Bali during the wet season, pack accordingly. Waterproof jackets, a small umbrella, and waterproof bags are the ideal gear to have handy, but at the absolute minimum, you should have a disposable rain poncho that you can buy from most supermarkets in Bali.
They fold up into nothing and can be kept in your bag, under your scooter seat, or even in your pocket if their big enough. I can't tell you the number of times it saved me during my time in Southeast Asia.
3. Plan Ahead
Bali weather is hard to predict, so it is not particularly useful to know the weather forecast days in advance. With that being said, before I head out for the day, or just after I wake up, I check what the weather is going to be like on the day.
This will give you a rough idea, allowing you to plan the day's activities accordingly. If the forecast is saying rain between 12 PM and 2 PM, perhaps it's a good idea to grab some lunch during this time or dive into a temple or museum. Have a list of activities to do on your phone that you can resort to if it does start to pour down.
4. Do Something You Wouldn't Usually do
Use the rainy season to do something you wouldn't usually do. Booking on to a cooking class is always a fun activity to do whilst it's raining, or set aside the time to visit one of Bali's beautiful spas. Relax in the swimming pool, followed by a traditional Balinese massage whilst everyone else seeks shelter in a Pepito supermarket.
5. Visit Bali's Waterfalls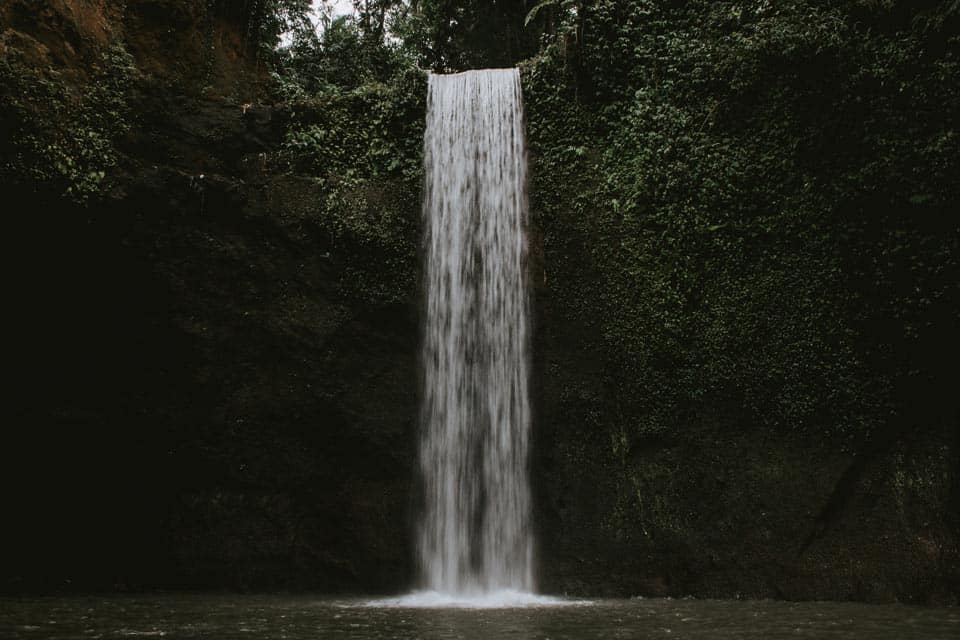 One of the best things to do during the rainy season in Bali is to visit the island's spectacular waterfalls. They're stunning at the best of times like in the dry season, but hiking through the luscious, dripping-wet jungle in search of a cascading natural waterfall is an experience you will certainly never forget.
Take caution though, some waterfalls close in the rainy season due to the sheer force of the water. Double-check which ones are open before heading out on your adventure.
Pro Tip: There are many waterfalls in Bali, our favorite ones are Nungnung Waterfall, Tengunungan Waterfall, Tukad Cepung Waterfall, and Tibumana Waterfall!
The Worst Months To Visit Bali
November in Bali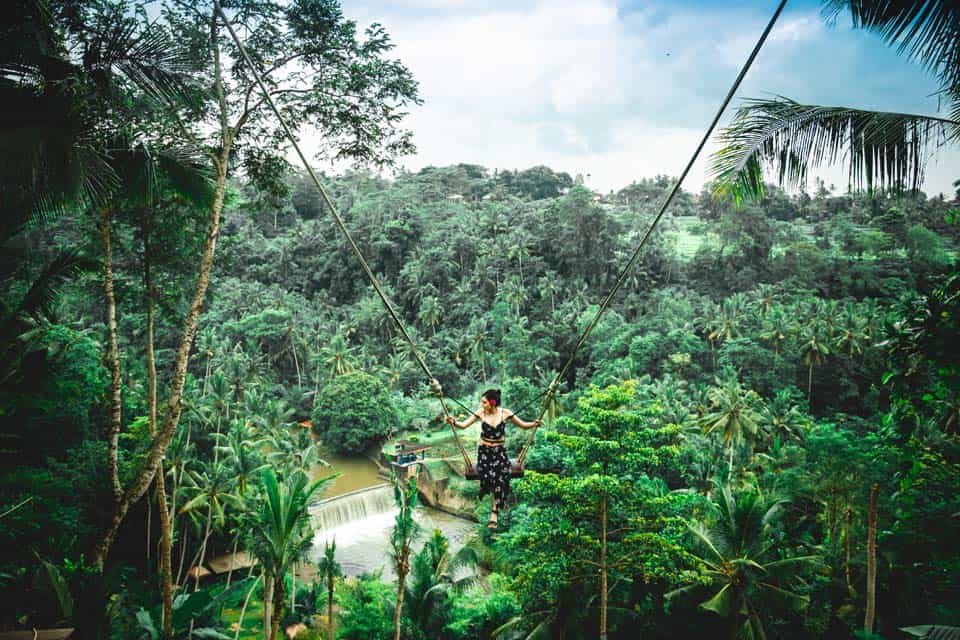 November is usually considered the shoulder season in Bali. You might find beautiful pockets of sunshine and dry spells during the earlier half of the month, but towards the end of the month, these start to peter out.
With Bali being so close to the Equator, it means that balmy temperatures are pretty much year-round, even November is no exception. It might not be unusual for the weather forecast to say cloud and rain for the next two weeks; this is completely normal for the shoulder season.
You'll notice that it's considerably warmer along the coastal areas as opposed to the highlands further inland, so be prepared for cooler temperatures if you decide to venture into Central Bali or up into the high mountains.
Average Monthly Rainfall: 150mm
Average Humidity: 80%
December in Bali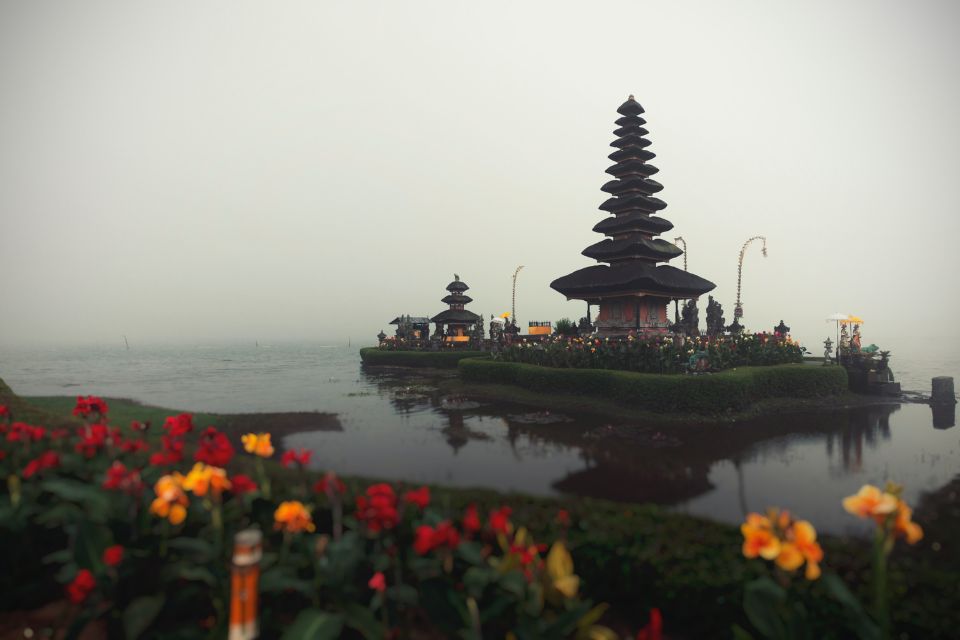 December is the peak of the annual rainy season in Bali, averaging about 15-18 days of rain which falls in various ways. Short and sharp showers are the most common, clearing up in the afternoon as the day goes on, but an all-day washout is rare but not impossible.
Even during this time, you'll still get opportunities for some much-needed sun exposure and lazy lounging on the beach or around the pool. Uluwatu and Jimbaran's beaches can be pretty windy during December which makes for some rough sea conditions and therefore very impressive waves.
Red flags are not uncommon during December on Bali's beaches.
December in Bali often sees a surge of tourists, thanks to the holiday seasons and travelers looking for a tropical winter destination.
Average Monthly Rainfall: 290mm
Average Humidity: 81%
January in Bali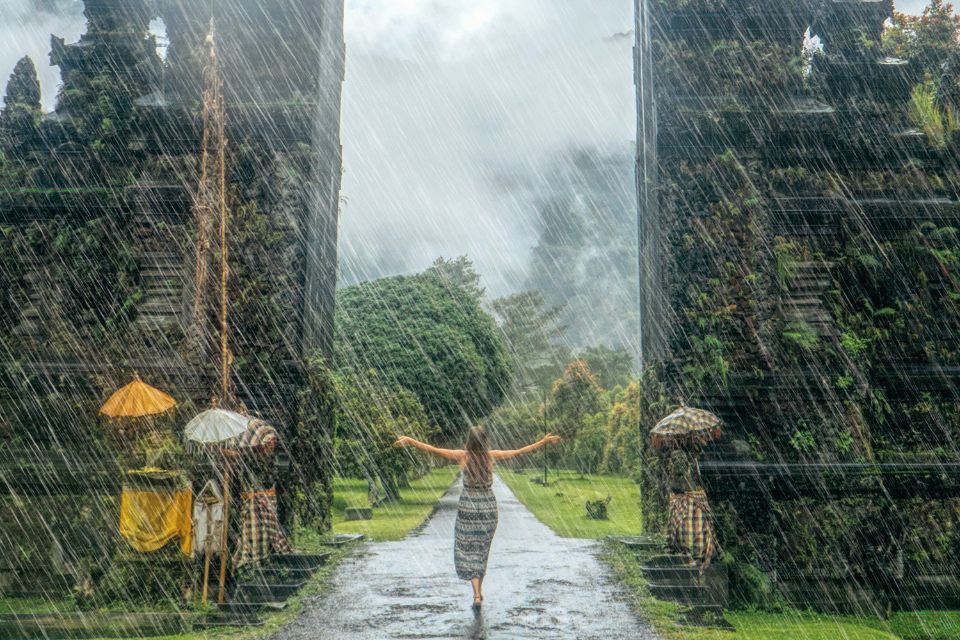 If you've chosen to visit Bali in January, congratulations because you've officially picked the wettest month to come! You can expect a whopping 20-25 days of rain, averaging out at about 350mm over the course of the month of the off-season.
For some perspective, if you think England is rainy in January, only 125mm falls on average, so well under half of what it does in Bali. The sun still does manage to shine through the thickness of the cloud, so you can expect about 5 or 6 hours of sunshine per day which will make things seriously humid combined with the precipitation.
For all of the rain that falls, January is actually Bali's hottest month too thanks to its tropical climate. Average temperatures reach up to 32 degrees, allowing you to still enjoy the best of what the island has to offer. Just remember to take your poncho!
Tourism is at one of the lowest in January because the holiday crowds just left and the weather conditions are at their worst. For the weather, this is the worst time to travel to Bali.
Average Monthly Rainfall: 350mm
Average Humidity: 82%
February in Bali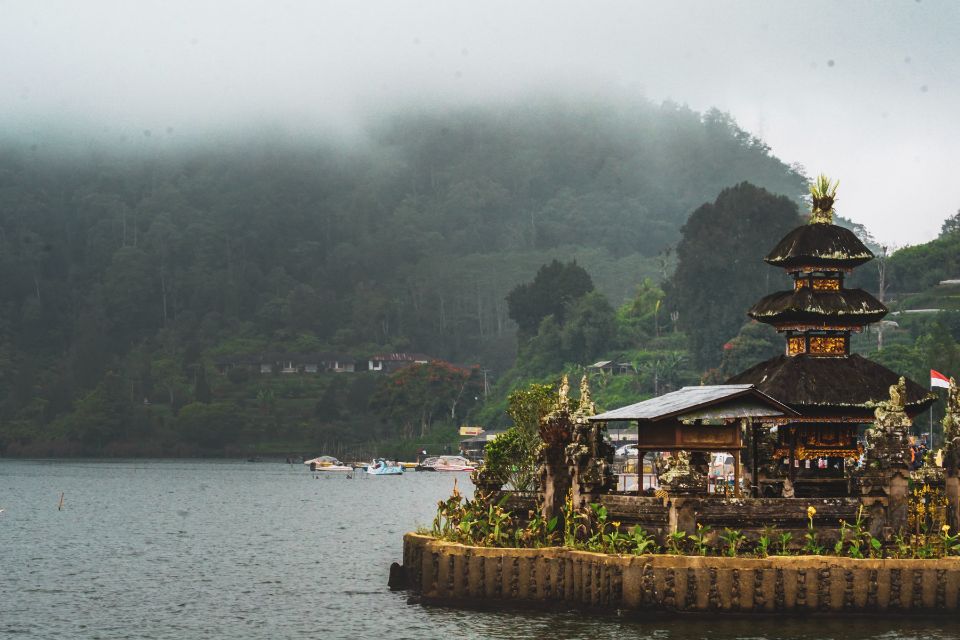 The weather doesn't get much better in February. The heavens are still well and truly open, but a little less so than in January. If you're visiting Bali in February, you can expect an average of 17-19 days' worth of rainfall throughout with slightly less falling over the month at about 280mm.
It's a significant drop-off, but it's still very much wet, hot, and humid. Mornings in February are mostly rain-free, but afternoon showers with downpours can be fairly common. The crowds on the island haven't yet returned from escaping the monsoon, so February is a great month to explore the island with less footfall, lower prices, a range of differing weather, and some great deals on hotels, flights, and day trips.
Average Monthly Rainfall: 280mm
Average Humidity: 81%
March in Bali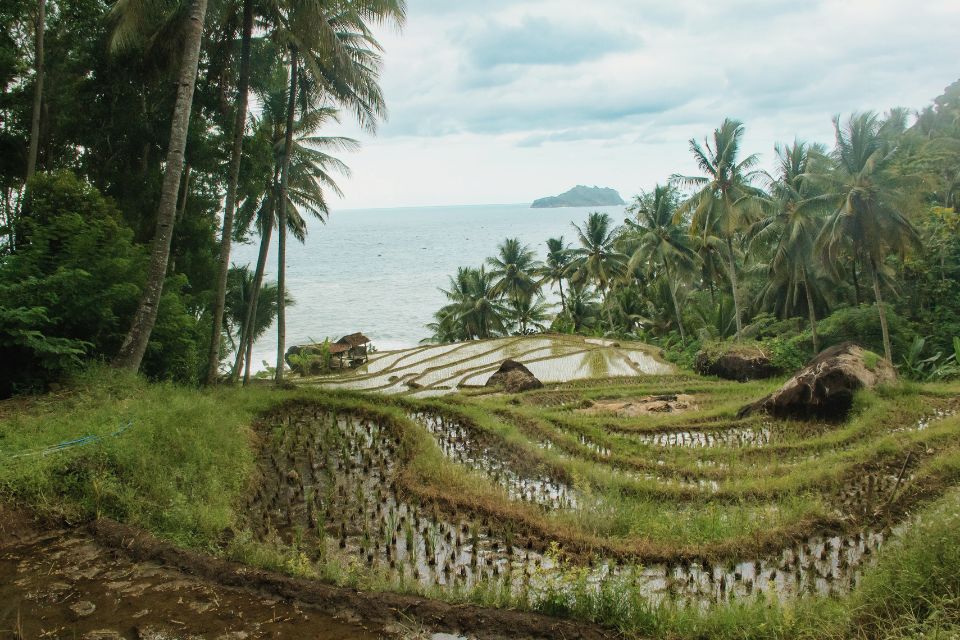 Heading into March, Bali's dry season is peeking over the horizon, but you're not out of the woods yet. Being shoulder season, there is still a significant amount of rainfall in Bali throughout March, though it tapers off towards the end of the month, so consider visiting then over the start of the month.
After 5 months of very heavy precipitation, if you head inland, you'll notice that the rice terraces, vegetation, and jungle are all bright green, luscious, and thriving. This is the best time to visit Ubud and other places inland, including the island's spectacular waterfalls.
Sunshine hours are also on the increase now due to shoulder season, with 8 hours now of basking in the sun, meaning most outdoor activities will be fine to do providing you have a poncho or coat as a precaution.
Average Monthly Rainfall: 215mm
Average Humidity: 81%
When Is The Best Time To Visit Bali?
The best time to visit is during Bali's dry season and shoulder season. The dry season in Bali runs from April to October, and the shoulder season is from April to May and September to October. The shoulder season in Bali coincides with part of its dry season.
This is because the weather is certainly at its best, with little rainfall and plenty of sunny days together with slightly cooler temperatures than in the monsoon season. This makes for great beach weather.
As Bali is a remote tropical island, there is always the chance of some rain, but fear not, because it'll definitely be brief and likely just cool things off. The sunny weather during the dry season is why it's the best time to visit Bali for outdoor activities and water sports like the many beautiful beaches, snorkeling or diving, and sunrise hikes.
June to July is also when the Bali Arts Festival is held which celebrates the traditions of Bali through handicrafts, painting, sculptures, and music. It's worth remembering that these are the school holidays for both Western countries and Australia.
Things are very busy on the island during the high season, so flights and accommodation will almost certainly be more expensive than during the rainy season.
Worst Time To Visit Bali FAQs
Is January a Good Time to Visit Bali?
January is not usually a good time to visit Bali. January is the heart of the rainy season in Bali, which means visitors can expect lots of rain, which could interrupt your itinerary. However, visiting during this time of the year has its pros, such as cheaper prices and fewer tourists.
Is October a Good Time to Visit Bali?
October is considered a good time to visit Bali. October is the shoulder season in Bali, so the weather goes from dry to wet. As long as you visit Bali in the earlier half of the year, you'll find plenty of sunshine. This time of the year is also slightly cheaper than the peak season.
Is November a Good Time to Visit Bali?
November is generally not considered a good time to visit Bali. This is the official start of the rainy season in Bali, so your itinerary might get interrupted by bad weather conditions and high humidity. It is also the holiday season for travelers from the United States, which means you won't get the cheap prices you normally would during the low season.
When is the Cheapest Time to Visit Bali?
The cheapest time to visit Bali is in January and February. These are two of the wettest months of the year with a low number of tourists. Consequently, the prices of accommodation, tours, and activities are generally lower.
What Are the Bad Months to Visit Bali?
The worst months to visit Bali are typically during the rainy season, which lasts from November to April. The weather during these months is characterized by frequent rainfall and higher humidity levels.
What Month is Bali most crowded?
The most crowded months in Bali are typically June through August. These periods coincide with the dry season and popular vacation times, resulting in an influx of tourists.
Final Thoughts
As you can see, the worst time to visit Bali is the rainy season from November to February. During this time of the year, rain is frequent and mosquitoes are common. But there are pros to visiting during the low season, such as cheaper prices on accommodations, activities, and smaller crowds.
If you do plan to visit then, plan ahead and come prepared to get a little wet!
Disclaimer: Some of the links above are affiliate links. That means if you book or make a purchase through the links, we will earn a small commission at no extra cost to you! The money will help run this site! Thank you!