If you are wondering whether you should rent a scooter in Bali, then you've come to the right place. Having visited Bali multiple times, we've had experiences with renting a scooter in Bali, driving a scooter in Bali, and getting around Bali without a scooter (let me tell you, it sucked).
Unlike what many people think, the island of Bali is actually quite big. In comparison to some of the most popular islands in Southeast Asia, it takes at least a good 6 hours just to drive from the south in Uluwatu, to the north near Lovina.
For this reason, many people choose to explore this beautiful tropical paradise on a motorbike as it's often the easiest and most efficient mode of transport to get around. Even if you don't rent one, the thought of renting one is going to inevitably come to your mind.
So in this article, we'll discuss everything there is to know about renting a scooter in Bali, so if it's your first time ever renting scooters, you'll finish reading this as a Balinese scooter professional.
Let's jump straight in.
If you have already decided to rent a scooter and just looking for a good place, we recommend checking this scooter rental company. It even delivers to your hotel in Bali!
---
Should You Rent A Scooter In Bali?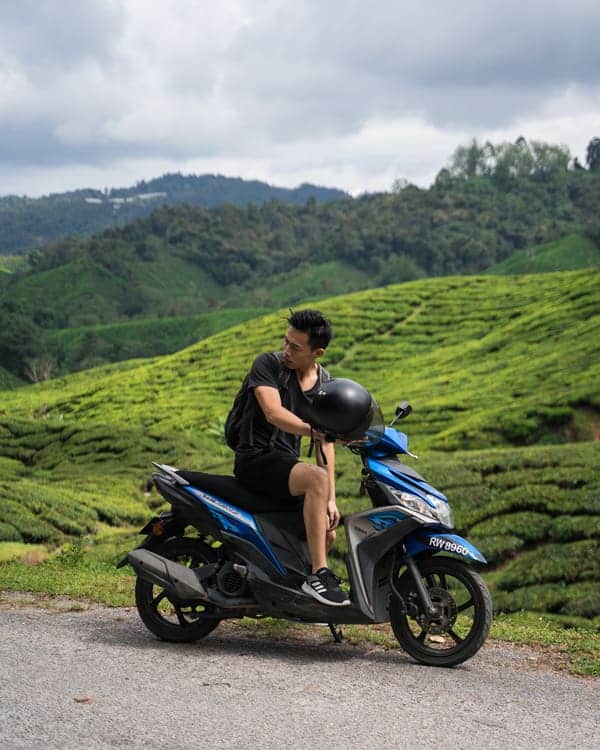 Before we jump into all the procedures and proper paperwork for renting a scooter in Bali, let's talk about whether you should or not. What are some of the pros and cons when it comes to renting a motorbike in Bali?
Cons of Renting A Scooter In Bali
1. Safety Risk
Whether you should rent a scooter or not in Bali is a hot topic of debate, especially if you have no previous riding experience. Many travelers, tourists, and locals alike generally agree that Bali isn't a good destination to begin learning how to ride a motorbike.
It goes without saying that busy roads are also a serious risk to your safety. Balinese drivers aren't particularly well-known for their safe and courteous driving manner.
2. Bad Traffic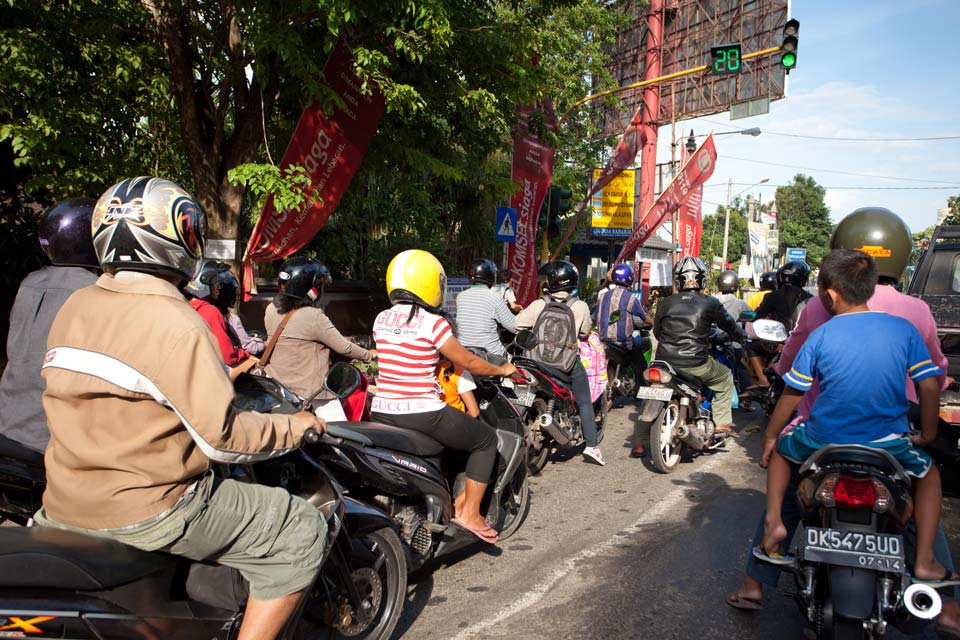 The traffic is seriously intense in the major towns and cities, and for a new rider, it can be seriously overwhelming. Even speaking as an experienced motorbike rider, it can get intense for me sometimes, especially in areas like Denpasar, Kuta, and Seminyak.
3. Lack of Storage
Storage space on mopeds is practically non-existent, so if you're a couple planning to go from one town to the next with all of your luggage, it's probably wise to reconsider. There's enough space for a helmet underneath the seat and that's about it.
If you're solo, then this might be less of an issue as you'll be able to strap your bag behind you using a think bungee cord.
4. Poor Maintenance
Scooters are the primary mode of transport for tens of millions of people in Asia, and as a result, they've been built to last. However, with high mileage also comes more frequent maintenance.
If they look old and shabby, then there's a decent chance that something might go wrong with them, which you might be liable to pay for. It won't be expensive, but it's the hassle of breaking down and finding a garage and inconveniencing your Bali trip that will be the issue.
Pros of Renting A Scooter In Bali
1. Renting A Scooter In Bali Is Very Budget-Friendly
One of the best things about renting a scooter in Bali is the fact it is so cheap. I've traveled all over Southeast Asia and I can safely say that renting a scooter in Bali is one of, if not the cheapest places to do so.
The cost of renting a scooter in Bali is the equivalent of a big bottle of beer in Bali (only a few dollars). It's incredible how affordable it is, especially when compared to Grab or GoJek (the Uber alternative in Bali).
And don't forget, you still need to fuel the bike. Luckily for you, the fuel in Bali is also peanuts meaning that the entire experience of renting a scooter for a day or two will cost half as much as a taxi (depending on your destination).
If you are traveling on a budget in Bali, renting a scooter is almost a must.
2. Complete Freedom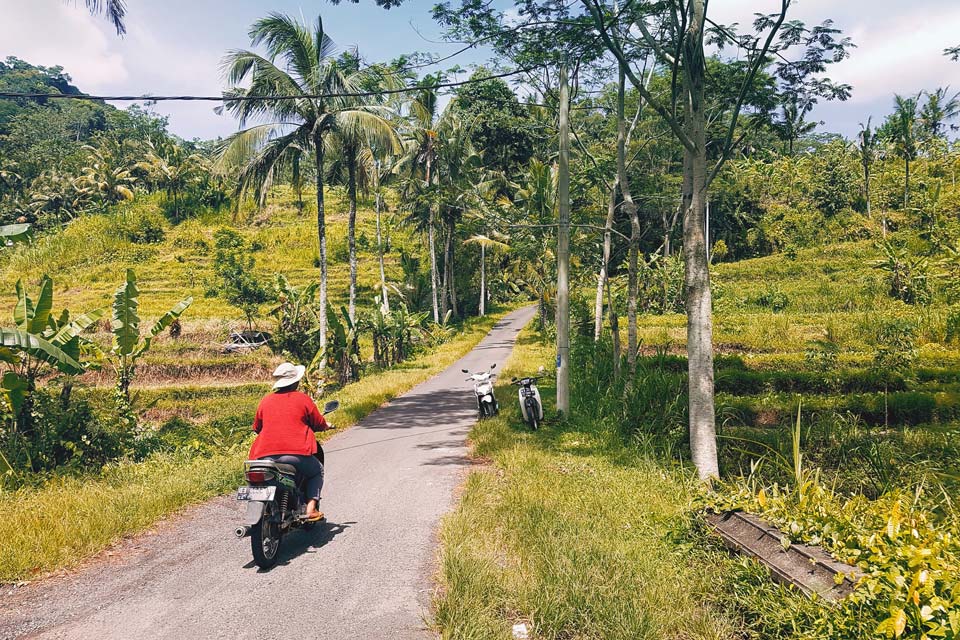 You also get complete freedom by renting a scooter, meaning you'll be able to explore the island at your own pace and on your own schedule.
Not only are pre-booked tours expensive, but they are also often rushed and limited. By renting a scooter, you can take your time at your destination, stopping off along the way, even making detours to explore the hidden gems of Bali if you would like to.
3. It's Convenient
Rental companies are quite literally everywhere around the island, even more so in the main tourist destinations meaning it's just so easy and convenient to rent a scooter. Virtually all of the people that work for rental companies deal with tourists daily and so speak really good English.
If you can't find a motorbike Bali scooter rental near you, your accommodation will usually be able to arrange one to be dropped off for you.
It is also worth noting that it's much quicker to go on a scooter than a car because of Bali's horrendous traffic jams.
4. It's A Unique and Fun Experience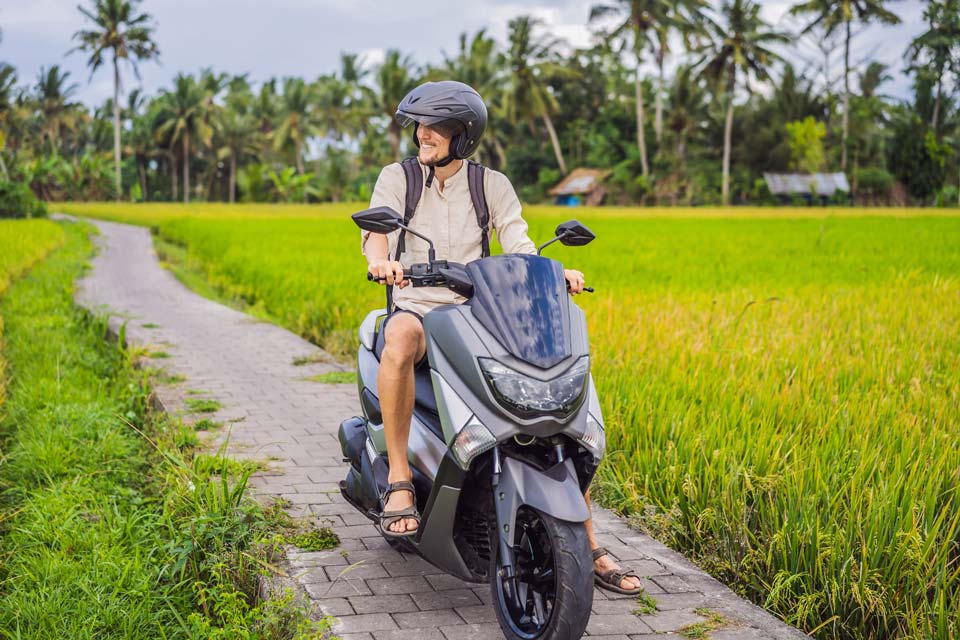 Riding a scooter is by far one of the best things about traveling in Southeast Asia. With the wind in your hair and the sun on your face, zipping around Bali on two wheels is just an adventure in itself, and for the majority of the trips you'll do on a scooter, you just simply won't want them to end.
Bali is known for its gorgeous scenery, and by being on a scooter you get to take it all in. Whether you're cruising through rice paddies, winding your way through the jungle, or flying along the coastline, you'll have the opportunity to see Bali at its absolute best.
Read More: Best Water Villas In Bali You Can't Miss!
---
What Do I Need To Rent a Scooter in Bali?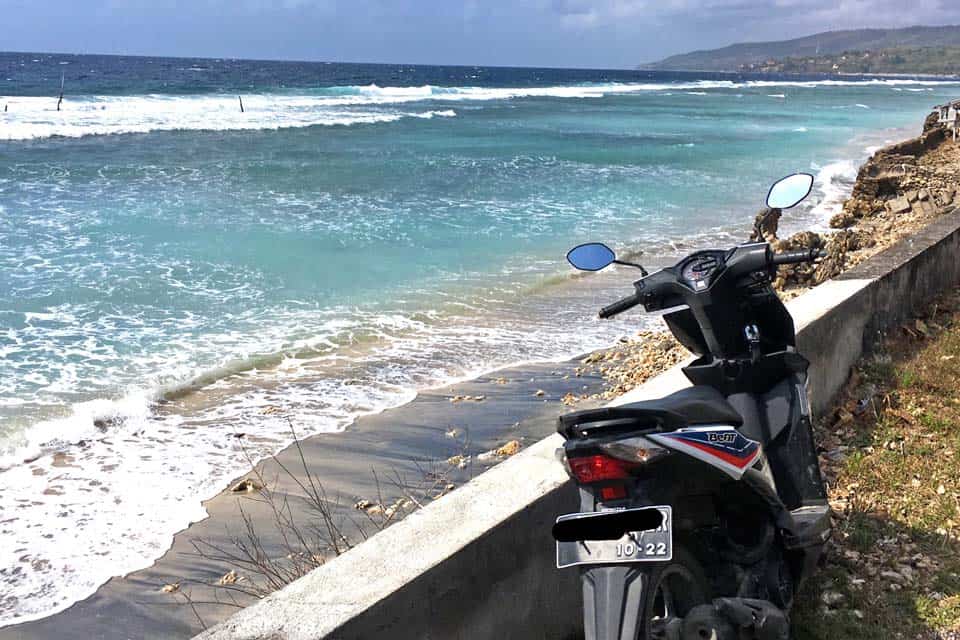 Bali is one of the easiest destinations in the world to rent a scooter. You can quite literally turn up at a rental company and ride away in less than 5 minutes.
However, to do so you will need to part ways with some form of a deposit and your personal information. The deposit is usually always either your passport, an ID card like a driving license, or a cash deposit. Don't worry, deposits are completely normal and mean that the renter has some sort of guarantee in the event of an accident.
On top of the deposit, you'll need to write down your full name, accommodation address, and your phone number. This'll usually be a WhatsApp number because this is pretty much how everyone communicates in Bali.
Finally, you'll need money to pay for the motorbike rental itself. You always pay upfront, so don't fret, you aren't getting scammed.
Believe it or not, the scooter rental companies in Bali never ask to see your International Driving Permit or anything that proves you can legally drive in Bali. Just as long as they have your documents, they can hold them against you and make you pay in case the bike gets damaged or missing.
Read More: Epic Treehouses in Bali You Need To Stay In!
---
How to Rent A Scooter In Bali?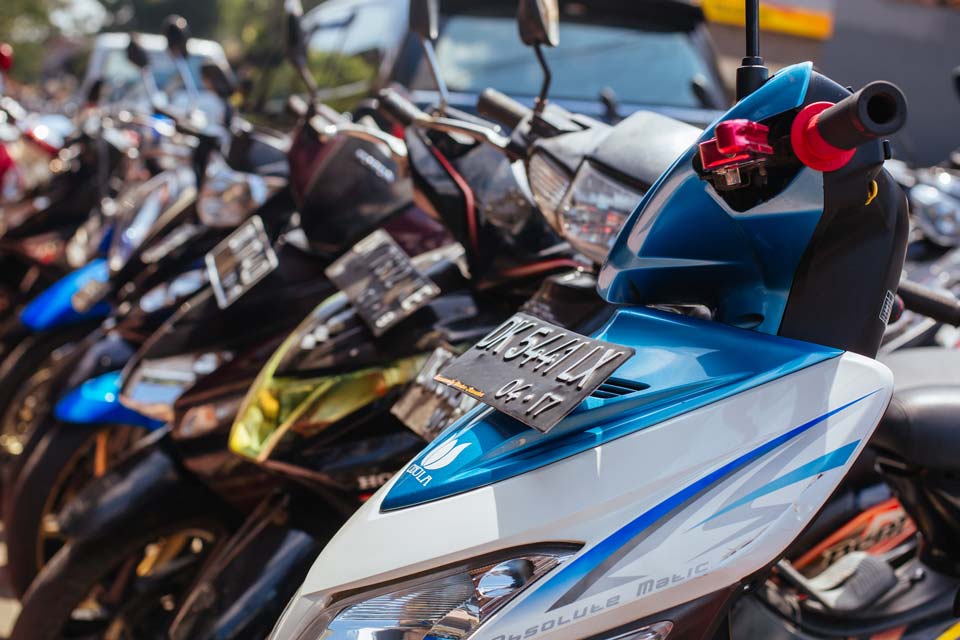 If you've just arrived and you want to rent a scooter but don't know where to begin, here's a little bit more information about how to rent a scooter in Bali.
Start by asking your accommodation if they can organize a moped rental for you. This is always the best thing to do because you have the guarantee that you won't get scammed because you're a guest of the hotel or guesthouse. If they can, you'll have a scooter dropped off at your accommodation within half an hour.
If your hotel can't organize one for you, open up Google Maps and simply search for 'scooter rental'. All of the various rental shops and companies in your area will pop up, and you can use the 'about' section to find their phone number and either give them a ring, or message them on WhatsApp.
After choosing which motorbike you want, it'll get dropped off at your hotel where you will then fill out your personal information, and hand over your deposit, and the rental fee. You'll then be free to go! It really is that simple. Alternatively, if they don't offer a delivery service, you can just make your way to one of the rental companies and walk in.
Pro Tip: Sometimes asking for your accommodation to arrange a scooter rental for you can be more costly (because the accommodation takes a referral fee), which is why we've started renting our scooters online.
Check out our recommended scooter rental company online here!
---
Bali Rental Scooter Checklist
Before you hop on your scooter and ride away, it is important to check a few things to make sure your bike is in good condition and you have everything you need. Here are some things to keep in mind.
1. Tires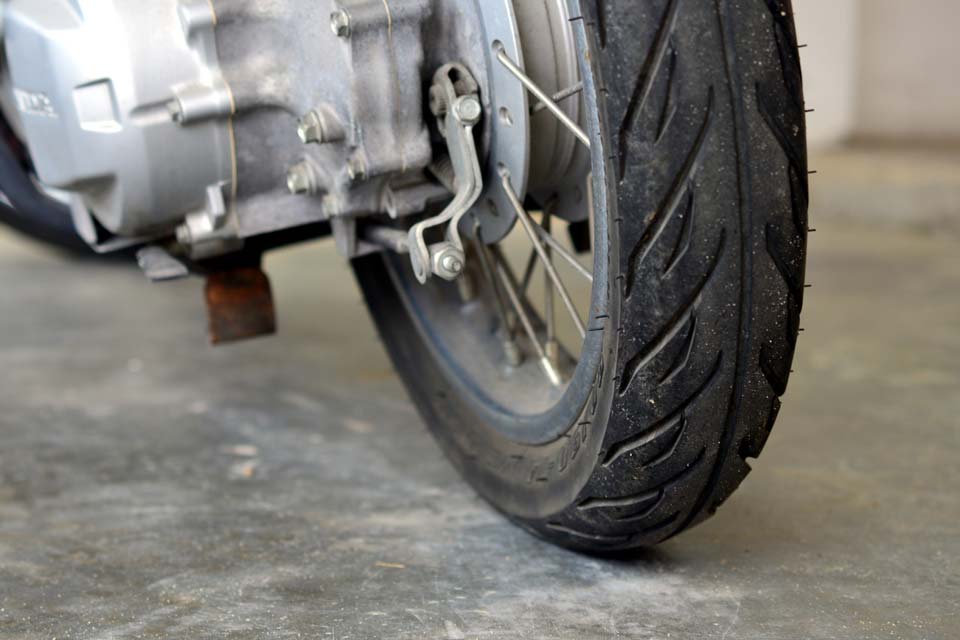 Tires are your safety net between yourself and the hard tarmac beneath. The last thing you're going to want is for a sudden downpour and you've got bald tires. This is a serious safety hazard and is not to be underestimated. Make sure both tires have good tread depth and are well-inflated.
2. Brakes
The brakes are also an incredibly important aspect of the motorbike. Bali is a very mountainous island and so you will be using your brakes a lot. Check for any signs of wear by testing them before accepting the bike. Better yet, go for a test drive and make sure they work properly.
3. Lights
If you're out in the provinces, things can get seriously dark. There are virtually no street lamps in Bali so you're going to need all of your lights in full working order. This includes your headlights, brake lights, and indicators. Check that your high beam lights work as well!
4. Engine
Before the rental agent rides off, start the engine. Look and listen for any unusual noises or rattles that may indicate something is wrong with the engine. See if any warning lights come up by the speedometer. Any light on the dashboard of a scooter is a big no-no.
5. Bodywork
Examine all corners of the moped, and take pictures and a video documenting the evidence. This is your way out should a rental company try to claim you have damaged the bike.
6. Helmet
I cannot stress enough the importance of wearing a helmet. Check it is in good working order and that the strap works correctly. Do not accept a helmet that doesn't fasten. This could potentially save your life. And please for the love of a higher being, wear your helmet when you are on a scooter!
Read More: Best Private Pool Villas In Bali You Don't Want To Miss!
---
Types of Scooters In Bali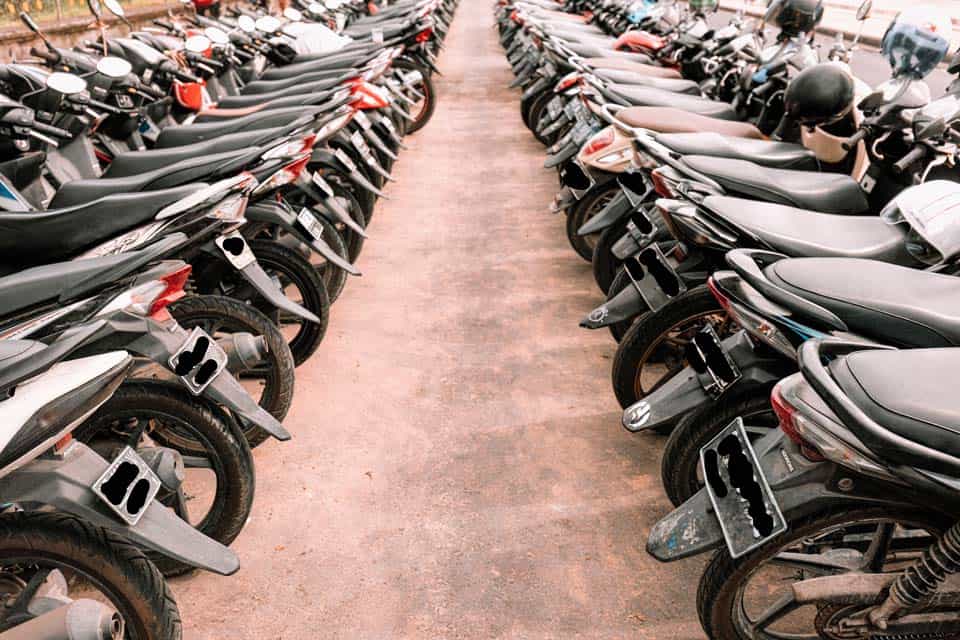 When you rent a scooter in Bali, much like a car, you'll get a choice of which one you'd like to rent. Engine's range from a small 110cc, up to a 160cc engine which is usually reserved for the bigger scooters you'll see whizzing around the island.
The smaller the CC, the cheaper the bike will be. 110cc to 125cc are great scooters for riding around town and just general riding. There's enough grunt in the engine to get up hills, even with two on the back, and will have space for a helmet underneath the seat.
Some popular examples of these smaller-engine scooters include the Honda Scoopy, Honda Beat, and Yamaha Figaro.
If you'll be traveling a further distance, or riding up to really mountainous areas like around Mount Agung and the North of the island, then you'll need something a little more powerful. Bigger engine scooters include the super popular Honda Vario, Honda PCX, and the Yamaha Lexi, whilst the largest engine mopeds are the Yamaha N-Max and X-Max.
Pro Tip: If you are a bigger driver, get a scooter with less cc. Those are usually much easier to drive and more beginner-friendly because they weigh less.
---
Renting A Scooter In Bali Without an International License
Perhaps the most common question we get is "can you rent and drive a scooter in Bali without an International Driving License?" The answer is yes, but is it legal to? No. Do the locals care? Meh, sometimes.
Foreigners without proper documentation on scooters are no rare occurrences in Bali. Matter of fact, some of the locals in Bali don't even have the proper documentation. How do we know? Well, we saw a kid half the size of a grown adult on a scooter, and they don't give driving licenses to kids (And we met some locals without them).
The scooter rental companies in Bali don't ask to see your International Driver's License, but if you get stopped by the police, they certainly will. By law, you are not allowed to drive in Bali without an International Driver's Permit.
What Happens When The Police Stops You On A Scooter Without An International Driving License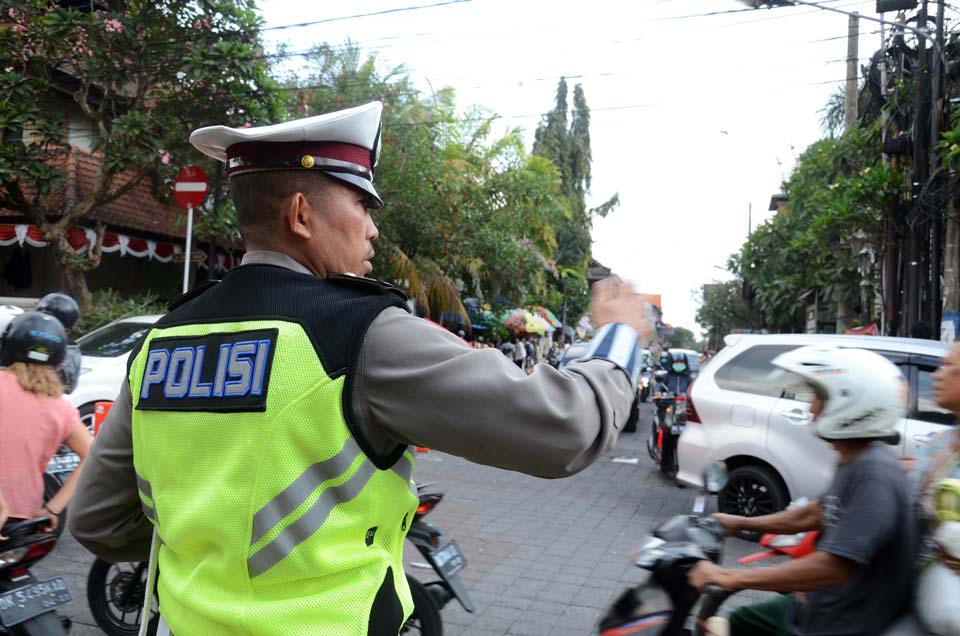 If the police stop you and you are driving without a valid International Driver's Permit (IDP), also colloquially known as an International Driver's License, then you are going to be in big trouble.
When the police stop you, they'll ask you to see your vehicle's registration, which your scooter rental company should've provided. Then he'll ask to see your license. If you can't produce the proper license or don't have one, then the police will tell you what the fine is.
From our experience, they give you a traffic violation ticket, and on it is one of the violations circled and the amount needed to be paid. The amount is usually huge, like several hundred USD. And for most of us, we won't have that amount of cash on us. So the police officer will then ask you to go to the police station with him.
At this point, you can usually just say, "Oh, I've only this much money on me", and then the police officer will take all of it as a bribe and leave you alone. I've not heard of anyone actually getting taken to the police station. Most police officers in Bali just want money and a bribe.
Read More: 20 Best Infinity Pools in Bali
Getting Your International Driving Permit
The safest and best way to drive a scooter in Bali is to have your International Driving Permit (IDP), or sometimes commonly referred to as the Internationl Driving License. The IDP functions as a translator of your license to the countries you are visiting, which means that you'll still need to be legal to drive in your own country.
And since you'll be driving a scooter, you'll need to have a motorbike license from your country plus an IDP.
Though you can get an IDP when you are in Bali already by mailing your country's offices, the best way to do it is to get it before your travels.
Note: Make sure you get your IDP from your government-affiliated company back home. There are many sites online that offer something similar to the official IDP, and some of those are scams that don't work overseas.
---
Is It Safe to Rent a Scooter in Bali?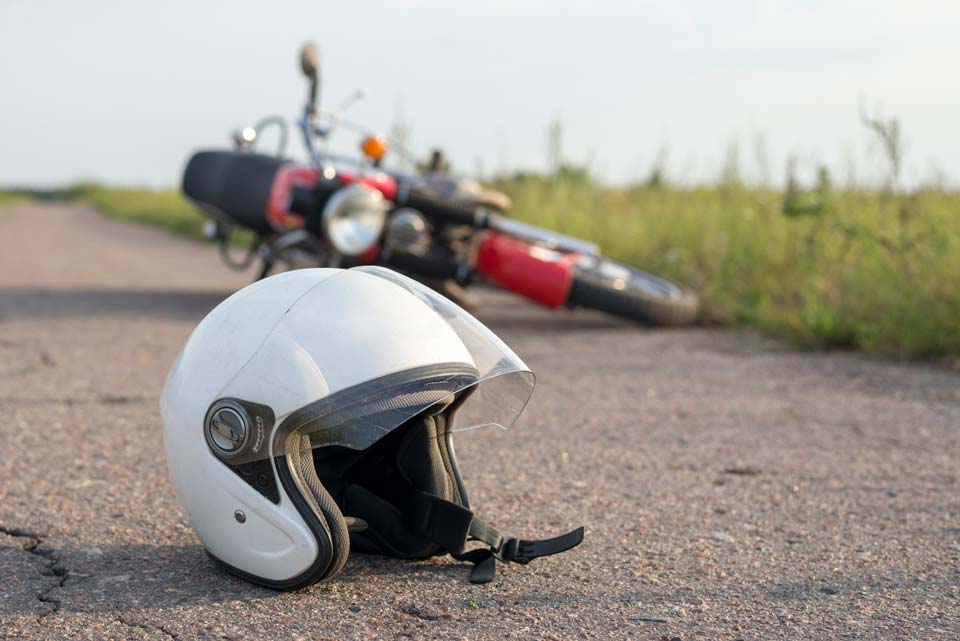 If you've got your wits about you and use common sense, then you should be pretty safe on a scooter in Bali. Outside of the main towns and cities, the roads are relatively traffic free and are well paved. But inside the cities, it's hot and busy, with cars, trucks, buses, other scooters, and pedestrians all coming out from all angles.
As a general rule of thumb, if you don't feel comfortable and confident in riding beforehand, then usually this is a pretty good hint to just steer clear. As we've mentioned, the traffic in Bali is no joke and shouldn't be underestimated.
It's also worth remembering that if something was to happen on the scooter, you will be liable. This includes damages to the rented scooter, damages to the third party, and damages to yourself.
If you don't have adequate travel insurance, you certainly won't be covered in the event of an accident. And even if you do have travel insurance but are without a valid motorbike or motorcycle license yet, then you can guarantee that your insurance won't pay out in the event of an accident.
This might also be a good point to mention the many online sources advising against giving your passport as a deposit. If you're not familiar, they often include horror stories of renters falsely accusing customers of damaging the scooter, thereby withholding the passport and leaving customers helpless. That is why it is important to rent from a reputable company.
---
Tips For Renting A Scooter In Bali
1. Get an International Driving Permit and a Motorcycle License
If you're legal to ride motorbikes back home, you'll still need an International Driving Permit (IDP) to drive a scooter in Bali. And if you don't even have a motorcycle license, it might be worth it to get it for your own safety. The saying "If you know how to ride a bicycle, you know how to ride a motorbike" is far from true.
And if you have a valid motorbike license but not an IDP, you might be able to get around it when the police stop you. The law is quite black and white but the police officer sometimes isn't.
2. Always Wear Your Helmet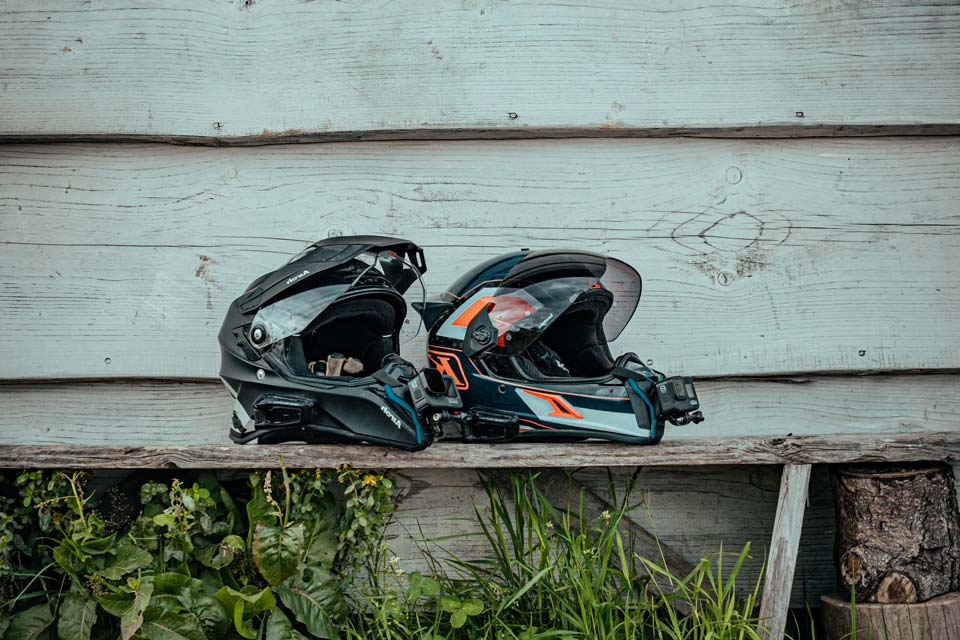 If you don't wear a helmet when you're riding a scooter in Bali, then you're an idiot. They're designed to protect you in the event of an accident, and even on the shortest of scooter rides, the potential to have an accident is always there.
According to the National Highway Traffic Safety Administration (NHTSA), helmets are approximately 29% effective in preventing fatal head/brain injuries and 67% effective in preventing head/brain injuries to motorcyclists involved in traffic crashes.
3. Check The Condition of Your Scooter Before Renting
You don't want to rent a bike that's broken, or breaking. You'll put yourself and others in danger. Check things like the tires, engine, brakes, and whether your lights work.
4. Document The Condition of Your Scooter Before Renting
Do this by taking detailed pictures of every panel, and any damage that's on the bike. This is for your benefit and the renters. It'll be your evidence if they accuse you of falsely damaging the bike.
5. Obey the Rules of the Road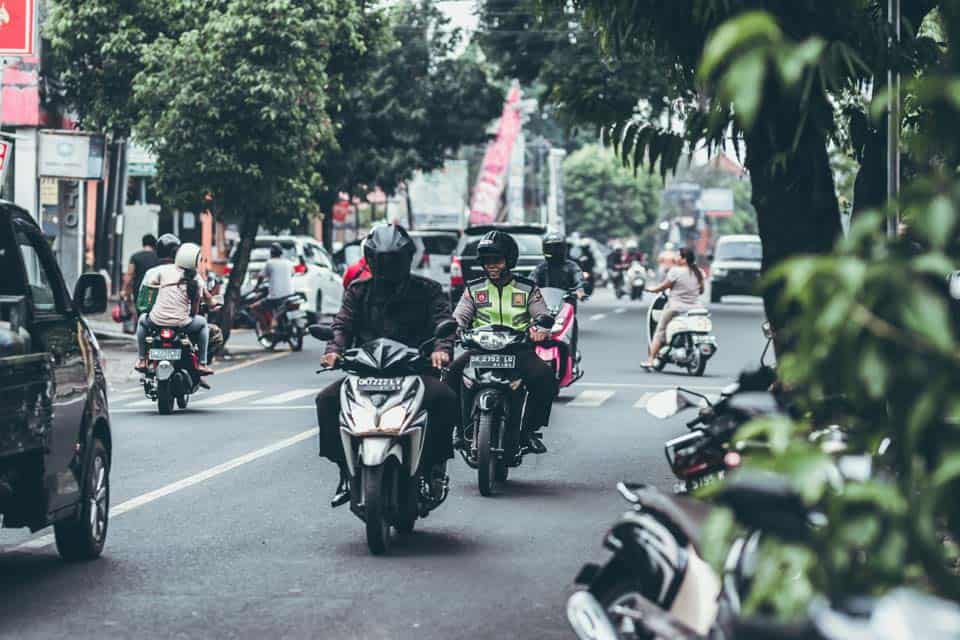 This is an obvious one and should go without saying. In any country you ride a motorbike or drive a car, always obey the local rules of the road. Not only will it keep you as safe as possible, but you also won't be a target for potential traffic police in the area.
In Bali, they drive on the left-hand side of the road, so keep that in mind you Americans!
6. Be Cautious Of Scams
There are always bad apples out there. You might encounter a shop that tries to charge you more than what the website says or try charging you for damage that you didn't cause. Always try to rent from a well-reviewed place.
7. Park Safely
Parking can be tricky in Bali. From the pedestrian point of view, it might look like you can park anywhere on the island, and that is somewhat true. The rule of thumb is as long as you are not going to be blocking someone, either other vehicles or pedestrians, you are fine.
However, some places have designated parking spots, and it is recommended that you park there, though the rule above can still apply.
---
Alternatives To Renting A Scooter In Bali
GoJek or Grab
If you've read this far and still think that renting a scooter in Bali might not be for you, then fear not as there are other, more than suitable options for getting around the island.
Though there is no Uber in Bali, travelers can get a Grab, aka Southeast Asia's answer to Uber. The app is great, and as well as ordering taxis, you can also order food. But in regards to the taxis, you get the fare upfront and you can pay through the app via a debit or credit card. There's also the option to pay cash if you prefer.
Gojek is another mobile taxi service, almost identical to Grab in what it can do, though I've found Gojek to be at least 20% more expensive than Grab in Bali.
Chartering Your Own Car and Driver
Of course, before the taxi-hailing apps like Uber, Grab, and Gojek, regular taxis were a thing, and still are in Bali. If you're on the island for any length of time, you'll see the famous BlueBird taxi chain.
They've been around for decades and can be trusted to ferry you around the island. Though watch out for the 'fake' BlueBird taxis, posing as official ones with their similar sky blue color and uniformed drivers. Those companies can often charge much higher than the official BlueBird taxis, and are known to not use the meter.
---
Where To Rent A Scooter In Bali?
If you are already in Bali, renting a scooter is extremely simple. As we mentioned, we recommend booking it online with a reputable company such as this one, and then having it delivered to you. Most scooter rental companies deliver the scooter free of charge.
Where To Rent A Scooter In Canggu?
If you are staying in Canggu, you are in luck. As one of the most tourist-friendly neighborhoods in Bali, scooter rental companies are abundant in Canggu. Some of the ones we recommend are:
Canggu Scooter & Car Rental Wira Services – Super reliable and one of the most popular scooter rental companies in Canggu. They even offer free delivery for the Canggu area.
Canggu Bike Rental – A trustworthy company to rent scooters from. They offer a wide selection of bikes, as well as free delivery to many areas in Bali (not just Canggu).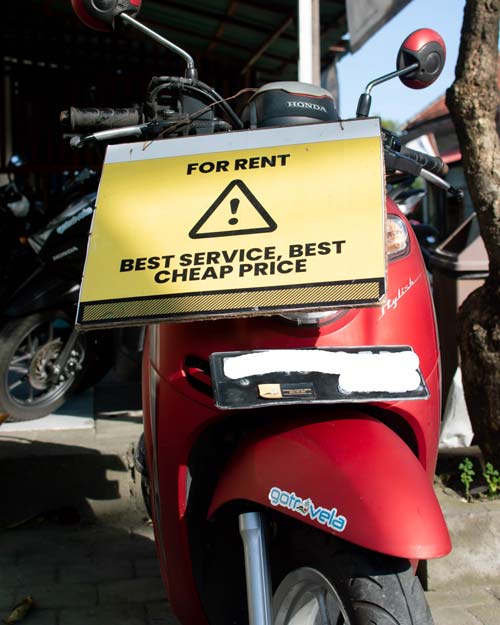 Where To Rent A Scooter In Ubud?
Ubud is in central Bali and one of the most visited areas in Bali, scooter rentals are not as abundant as in places like Canggu or Kuta. However, if you look carefully, there are still great places to rent scooter from, such as:
Aloha Ubud Scooter Rental – Great rental company with competitive rates and a decent selection of bikes. The scooters are generally all in pretty good condition.
Ubud Rent Motor Bike – P.bawa Rental – The bikes are in excellent condition and the owner is very responsive and happy to answer any questions you have. Plus, they have free and prompt delivery to any accommodation in Ubud.
Where To Rent A Scooter in Seminyak?
Seminyak has a few great scooter rental places, they are:
493 Scooter Rental – Communication is super easy via WhatsApp. The rental company has a wide variety of scooters, and all of them were in good condition. The owner is more than happy to switch out a scooter for you in case you don't feel comfortable with a certain model or don't like how it handles.
Bikago Motorbike Rental Seminyak – A great motorbike rental company with multiple shops across Bali. Their prices are generally higher, but their scooters are all really high quality. They even offer motorbike excess insurance.
Where To Rent A Scooter In Kuta?
Kuta is one of the first spots travelers stay in Bali. Consequently, it has plenty of scooter rental shops, but unfortunately not all offer bikes in good condition. Here are the ones we recommend:
Sewa Motor Bali – One of the most popular scooter rentals in Kuta, but for good reason. Their bikes are high quality, though you might find them a little bit pricier than their peers.
HR Bike Rental – Great scooter rental in Kuta with the option to put your request online and get it delivered to your accommodation. They have a good variety of motorcycles as well as clean helmets, which is a rarer occurrence than you think.
---
Renting A Scooter In Bali FAQs
How Old Do You Need To Be To Rent A Scooter In Bali?
To legally rent a scooter in Bali, you need to be at least 18 years old. However, it is not unheard of that scooter rentals don't check your age. Underage driving is not uncommon in Bali, as we've seen multiple local teenagers driving scooters around the island.
How Much Does It Cost To Rent A Scooter In Bali?
It costs about 70,000 IDR (~5 USD) to rent a scooter in Bali for a day. However, for those that are renting for a longer duration (over a week), you can often get a discount. As always, you can try to bargain but it is unlikely that you'll be able to get a much lower price.
Which Side Do They Drive On in Bali?
In Bali, which is a part of Indonesia, they drive on the left side of the road. If you're planning to rent a car, scooter, or motorbike during your visit, make sure to familiarize yourself with the local traffic rules and be cautious while navigating the roads, as traffic conditions might be different from what you're used to in your home country.
How Much Is Gas In Bali?
You can expect to pay around 15k IDR per liter of gas in Bali. Keep in mind that this changes frequently so don't be surprised if you find yourself paying a bit more.
What If I Get Pulled Over In Bali In A Scooter?
If you get pulled over in Bali in a scooter, you are likely going to be asked for your International Driving Permit, your driving license, and the registration of the vehicle. Failure to provide any of the three is likely going to end up with a fine.
Do You Need Travel Insurance When Renting A Scooter In Bali?
No, you do not need travel insurance when renting a scooter in Bali. Travel insurance only covers you if you have the proper documentation for driving a scooter in Bali, so keep that in mind before purchasing some.
How Are The Roads In Bali?
The roads in Bali can be a mixed bag, ranging from well-maintained highways to narrow, winding roads with varying conditions. In popular tourist areas and main cities, you'll generally find good quality roads. However, as you venture into more rural areas or smaller villages, the road conditions can become less predictable, with potholes and uneven surfaces.
---
Conclusion: Renting a Scooter in Bali
Renting a scooter in Bali can be one of the best ways to get around the island. However, driving in a new country, especially on a motorbike, can be very different.
Hopefully, by the end of this article, you'll need to know everything about renting a scooter in Bali, including where to get one, how to get one, what type of documentation you need, and more!
Disclaimer: Some of the links above are affiliate links. That means if you book or make a purchase through the links, we will earn a small commission at no extra cost to you! The money will help run this site! Thank you!