Bali, one of the most popular tourist destinations nowadays, has some of the most amazing beaches and spectacular waterfalls. However, most of the attractions are packed with tourists, leaving some of the natural wonders to be less enjoyable.
Some of the waterfalls such as the Tegenungan Waterfall and the Tibumana Waterfall, though magnificent in their own way, are just way too overcrowded with tourists.
Though there are some waterfalls in northern Bali such as Gitgit Waterfall that are less crowded, reaching them is a pain.
Nungnung waterfall (Air Tejun Nungnung), located only a little over an hour from the touristy town of Ubud, is still a hidden gem in Bali waiting to be discovered. It is one of the best waterfalls near Ubud.
This Nungnung waterfall guide will tell you everything you need to know from how to get there to what you need to bring for your Nungnung adventure!
---
Nungnung Waterfall Quick Facts
Entrance Fee: 10k IDR for locals, 20k IDR for foreigners, plus 2k IDR for parking
Opening Hours: 9 AM to 4 PM
Best Time to Visit: Early Morning
How Long Does It Take To Get From Ubud: 75 minutes by car or motorbike
Hiking Time From Parking Lot to Waterfall: 15 minutes
---
Why Should You Visit Nungnung Waterfall?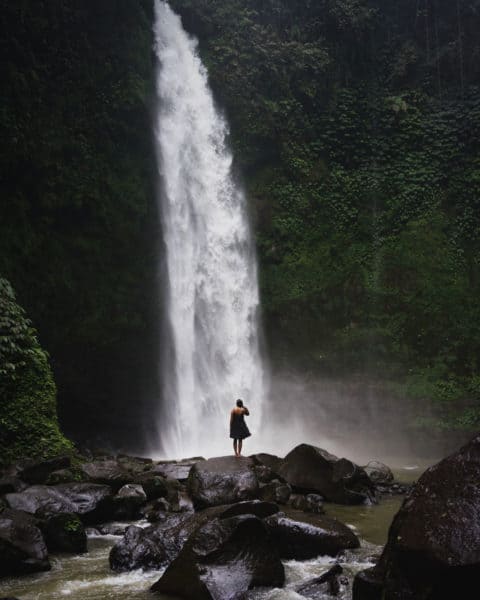 I don't recommend Nungnung Waterfall for everyone because it's not for everyone. If you are the type of tourist that likes everything nice and easy and doesn't like to make an extra effort to get the icing on the cake, then you should reconsider visiting Nungnung waterfall.
But if you are adventurous and like taking the extra effort to discover a hidden gem, then Nungnung is the waterfall for you. Cascading 165 ft (50 meters), Nungnung waterfall is one of the tallest waterfalls in Bali.

However, Nungnung Waterfall shouldn't be measured by a number. From the journey into the lush Balinese jungle to standing face-to-face with the mighty beast, the entire experience is rewarding and deserves a spot on any Bali itinerary.
A little more difficult to access than the other touristy waterfalls such as Tegenungan, Nungnung waterfall is not popular at all. In my 2-hour stay there, we saw no more than ten people visiting. That is how a natural wonder such as Nungnung Waterfall should be enjoyed, without tourists shoving selfie sticks in your face.
As of late, weddings have started to become quite popular at Nungnung Waterfall,
The entrance fee to Nungnung Waterfall is cheap at 10k IDR per person for locals and 20k IDR for foreigners so even people traveling on a budget in Bali can visit. You'll also need to pay for parking, which is 2k IDR.
At the entrance of the waterfall, there is also one of Bali's most famous attractions, the Bali swing, for anyone interested in a bit of an adrenaline rush before hiking down to the waterfall.
---
How To Get To Nungnung Waterfall?
Nungnung Waterfall is located in Badung Regency, about 75 minutes away from the touristy city of Ubud. It is possible to reach Nungnung waterfall from other main touristy cities such as Canggu, Seminyak, or Kuta, but just beware that the journey will be a little longer.

Keep in mind that Nungnung Waterfall opening hours are between 9 AM to 4 PM daily, and it is best to visit as early as possible to maximize the chances of having the waterfall to yourself.
Want another quiet waterfall in Bali? Check out Tukad Cepung Waterfall nearby!
There are 3 ways I recommend to get to Nungnung waterfall:
Renting a motorbike and driving yourself there
Perhaps the most economical option to visit Nungnung Waterfall is renting a motorbike, but it is also the riskiest. If you know how to drive a motorbike, you can rent one for an extremely affordable price in any of the major cities. Just follow the directions on Google maps and you will get to Nungnung Waterfall easily.
Renting a car and a driver for the day/half-day
This option is definitely a little more expensive than the first, but still quite affordable for a tourist. If you prefer comfort and not having the time restrictions of a tour, then this option is for you. It is quite common to rent a car and a driver in Bali due to how difficult to access some of these locations are.

If you are traveling to Bali as a group, this option might be the best alternative.
Going with a tour company to Nungnung waterfall
The last option is not as reliable because tours might not happen if there are not enough people signed up. This option is usually cheaper than renting a car if you are traveling solo. Simply go to the travel agencies in Ubud and ask if they have tours to Nungnung waterfall!
Getting Up and Down Nungnung Waterfall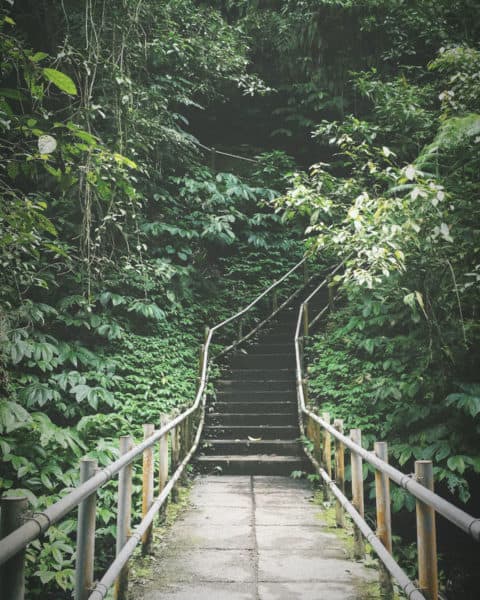 Getting to the start of the Nungnung Waterfall is only half the adventure. The real journey is about to begin!
To get to the bottom of the waterfall, you must endure a tough and long journey. The path to the bottom of the waterfall is a 500-step journey that takes you through the lush jungle and scenic views.
The way down is not so difficult and only lasts about 15 minutes. The path becomes exponentially more slippery after rainfall, but Nungnung Waterfall is also more powerful and amazing after heavy rainfall.
The way down to the waterfall might not reak much of a step, but the path back up is a lot more strenuous. The 15-minute leisure walk down becomes a 45-minute of torture on the way up.
The steps are quite high at times so I would not recommend Nungnung Waterfall to people who are traveling with their kids, elders, or anyone with mobility issues.
---
What To Bring With You To Nungnung Waterfall?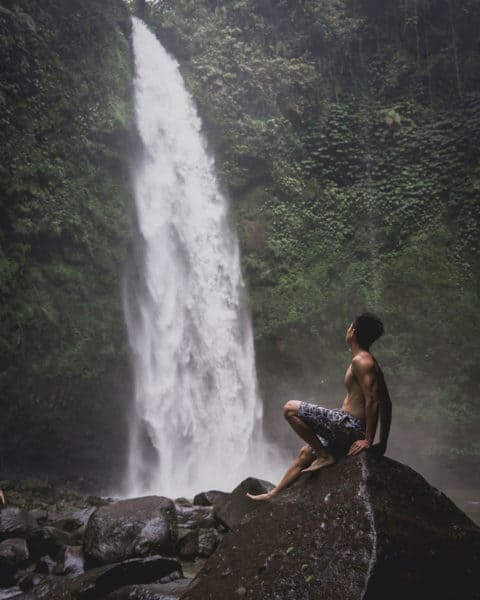 There are some specific things that you might want to bring on your trip to Nungnung waterfall.
Besides the usual water and snacks, you might want to consider bringing a rain poncho. Not only is it going to be useful when the mist of the waterfall engulfs you, but it is also extremely handy if you are coming to Nungnung Waterfall on a motorbike. Bali gets a lot of rain all year round!
My go-to rain poncho has always been the Arcturus Reusable Rain Poncho.
Because of the unavoidable mist at the bottom of the falls, we recommend bringing an ultralight dry bag to keep your things dry. It is also an all-around useful item to have when traveling in Southeast Asia.
Bring a change of clothes just in case your clothes get wet! Nungnung Waterfall is extremely powerful! Don't be surprised if you get wet even if you don't get close to the waterfall because of the mist.
Don't forget to bring your bathing suit! It can be extremely relaxing to dip in the refreshingly cold water of the Nungnung waterfall after a hot exhausting hike. Be careful if you do decide to go in, the water current can be strong at times!
Make sure to pack that camera! Nungnung waterfall is extremely beautiful in-person and in-photo. You will want something more than a phone camera to capture its marvel. My go-to camera has always been the Sony Alpha A7II Full-Frame Mirrorless Digital Camera. It is cheap and cheerful and gets the job done!
---
Where To Stay In Ubud, Bali
Because the closest touristy city to Nungnung Waterfall is Ubud, we recommend that you stay in Ubud. You can easily include a visit to Nungnung Waterfall on a typical Ubud itinerary.

Here are some accommodations in Ubud we recommend:
Best Hostel In Ubud – Kuna Bali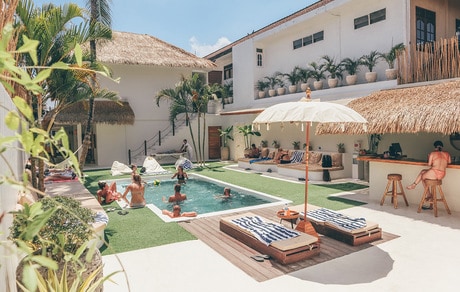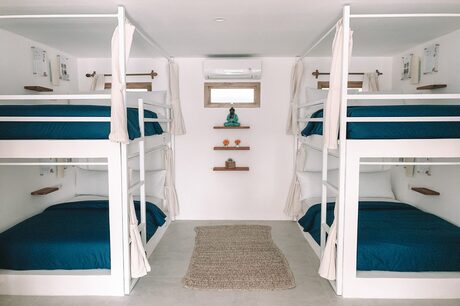 Designed with backpackers and budget travelers in mind, Kuna Bali is one of the best hostels in Ubud. Its boho chic style features white concrete, natural wood, and lush garden, offering an irresistible charm unlike any typical hostel.

This hostel features a gorgeous swimming pool, rooftop, and lounge area where guests can meet other like-minded travelers from around the world. Guests can enjoy their free massages and free yoga sessions!

Located behind Ubud Sacred Monkey Forest Sanctuary, guests are within walking distance of some of the best things Ubud has to offer!
---
Best Airbnb In Ubud – CHAYA Skai Joglo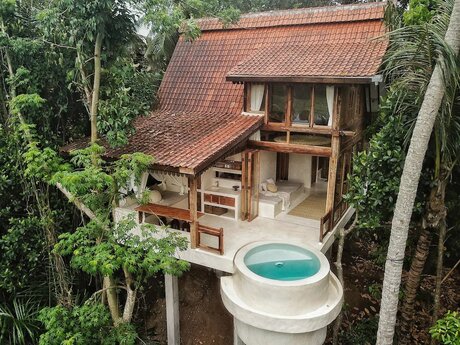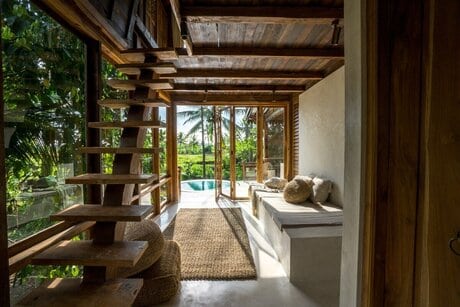 (Images Courtesy of Airbnb)

There are plenty of Airbnbs in Bali, but none offer as good value as the CHAYA Skai Joglo. Whether you are looking for a comfortable stay or a beautiful location for photos, you will find it here.

This Bali private pool villa is built using reclaimed wood from 100-year-old homes, giving it a rustic charm unlike any other place. This Airbnb floats amongst the treetops of Ubud's lushest greenery, so guests are blessed with some of the most amazing rice paddy views.

Because of the rope bridge to the entrance, open pool, and a high drop from the pool's edge, this Airbnb might not be suitable for anyone traveling with children.
---
Best Hotel In Ubud – Chapung Sebali Resort & Spa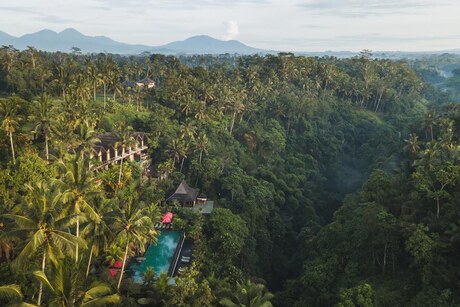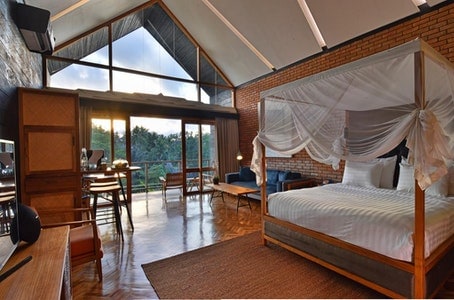 If luxury is what you are looking for then the Chapung Sebali Resort & Spa is perfect for you. Nestled in between some of the lushest jungles in Bali, guests will feel at ease as they reconnect with nature.

This hotel offers private suites and private pool villas, giving guests a variety of options when choosing where to stay.

Its most iconic feature is the Jungle Fish pool bar and one of Bali's most famous infinity pools. Sip on a cold drink as you relax by the pool and properly de-stress. The hotel also offers an amazing breakfast, top-notch hospitality, and tour services for anyone that wishes to have a tour to Nungnung Waterfall.
---
Nungnung Waterfall FAQs
Can You Swim In Nungnung Waterfall?
Technically, yes, you can swim in Nungnung Waterfall. However, most people don't because the waterfall is so powerful that it makes the currents quite strong and potentially dangerous.
How Much Is The Entrance Fee For Nungnung Waterfall?
The entrance fee for Nungnung Waterfall is 10k IDR for locals, 20k IDR for foreigners, plus 2k IDR for parking.
---
Like this post? Don't forget to save it on Pinterest!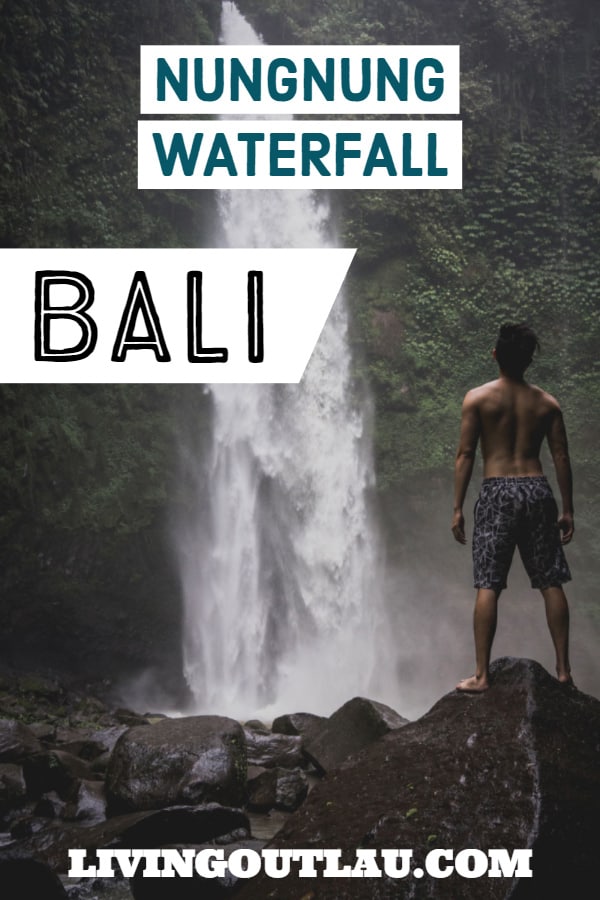 ---
Have you been to Nungnung waterfall in Bali? How did it compare to the other waterfalls? Let us know about your experience in the comments!
Disclaimer: Some of the links above are affiliate links. That means if you book or make a purchase through the links, we will earn a small commission at no extra cost to you! The money will help run this site! Thank you!