Is November a good time to visit Tulum? Most definitely!
November is officially the end of the hurricane season in Tulum, which means not only is the rain gone, but the crowd is much smaller. It is the calm before the storm as the winter crowds have not yet arrived to escape from the crippling cold of America's winter.
Find out what you need to know about visiting Tulum in November down below! Things we'll be discussing include the weather in November in Tulum, events, pros and cons of visiting, and things to do in Tulum in November!
---
Weather in Tulum In November – Quick Glance
| | | |
| --- | --- | --- |
| Average Day Temperature | 26 ℃ | 79 ℉ |
| Average Highs | 28 ℃ | 82 ℉ |
| Average Lows | 23 ℃ | 73 ℉ |
| Average Night Temperature | 22.6 ℃ | 73 ℉ |
| Average Sea Temperature | 28 ℃ | 82 ℉ |
| Average Sunshine Hours Per Day | 6 Hours | |
| Average Monthly Rainfall | 102 mm | 4 in |
| Average Rain days | 8 days | |
| Average Daylight | 11 hours 15 minutes | |
Perhaps one of the biggest concerns is what is the weather in Tulum in November like? Tulum is a town with beautiful beaches, some of the best cenotes in Riviera Maya, and plenty of Mayan ruins to explore. Because there aren't lots of indoor activities in Tulum, having bad weather in Tulum can ruin your trip.
Luckily, the weather in Tulum in November is very good. November is the month that officially marks the end of the rain season in Tulum. Visitors can enjoy nice sunny days on the beaches of Tulum, as well as the temperature that is just right for outdoor activities.
Tulum temperature in November remains pleasantly warm even at night, perfect for exploring Tulum's nightclubs and bars.
Read More: Tulum in September: Is There Good Weather?
Temperature in Tulum in November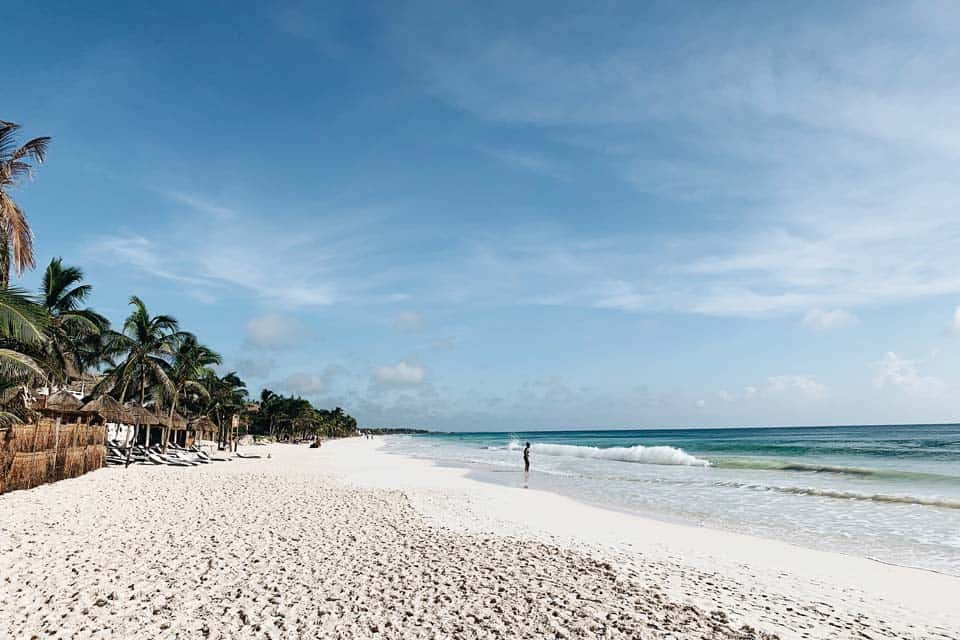 Historically speaking, one of the biggest advantages of visiting Tulum in November is its beautiful warm (but not too warm) weather. Tulum's November temperatures have slightly decreased from October's, but it is still more than warm enough to explore the outdoors.
Throughout the day, travelers can visit the remote Mayan Ruins such as Tulum Ruins and Coba Ruins without sweating like a pig. An average high of 82 ℉ (28 ℃) is also perfect for enjoying the beaches in Tulum, whether that is sun tanning or relaxing. It is not too hot or cold.
At night, the low 70s degrees Fahrenheit temperature are ideal for enjoying the evening at an outdoor venue, chatting with your friends and enjoying a nice cocktail. However, some might find the nights in Tulum in November chilly, so pack a light jacket just to be safe.
This is especially true if you are by the sea, as the breeze can get quite strong at night.
The ideal sea temperature for swimming is between 70 ℉ and 78 ℉, or 21 ℃ and 25 ℃, which isn't far from the water temperature in Tulum in November at 82℉ or 28 ℃. Remember you are swimming in the Caribbean after all so sea temperature tends to be higher.
The warm water is inviting, and travelers won't feel cold even if they are just idling in the sea.
Precipitation in Tulum in November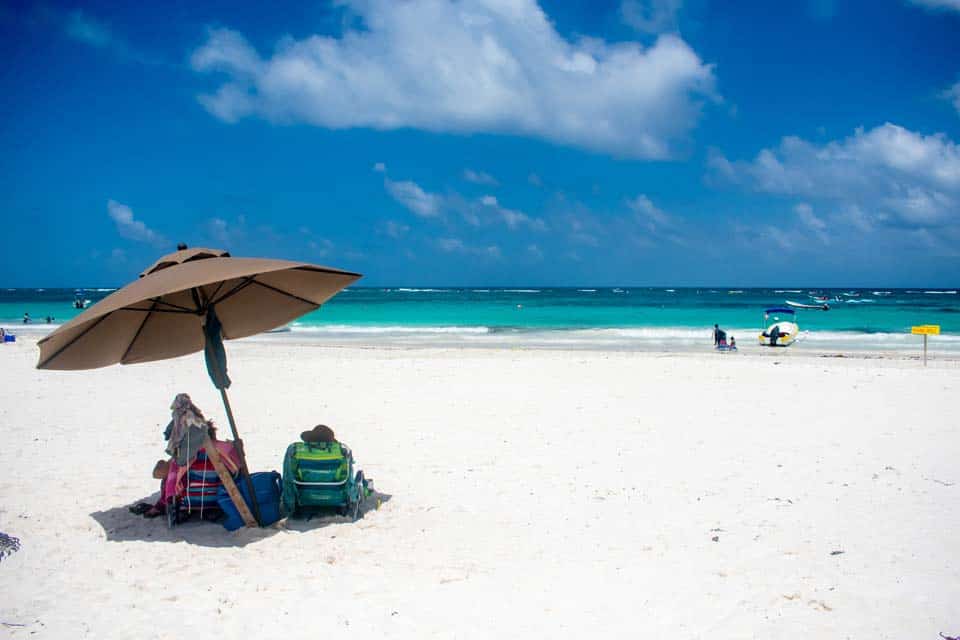 As November is the end of the rain season in Tulum, rain is occasional in Tulum. Averaging a total of 8 rain days and 102 mm of rainfall for the month of November, there is plenty of sun for visitors to enjoy Tulum.
If possible, visit near the end of November. This is the time when Tulum is fully transitioning into the dry season.
Sunshine in Tulum in November
With the winter coming, the days are starting to become shorter. But worry not, the sun still rises at about 7 AM and sets around 6 PM, giving travelers about 11 hours of daylight per day.
The average sunshine per day is around 6 hours, so there is plenty of time to explore the cultural attractions of the Yucatan Peninsula as well as some of its natural beauty.
---
Events in Tulum in November
There are no events that are happening in November in Tulum, but there are a few nationwide events that Tulum will be participating in, such as these:
Day of the Dead (Dia de los Muertos)
Day of the Dead is one of the coolest festivals in Mexico. It is usually celebrated around November 1st and November 2nd with lots of music, dancing, drinks, and costumes.
Mexicans believe that death is just a part of life, and all parts of life need to be celebrated. It is also when their deceased relatives and loved ones from back to the alive world to be with them. Hence, a lot of celebrations occur!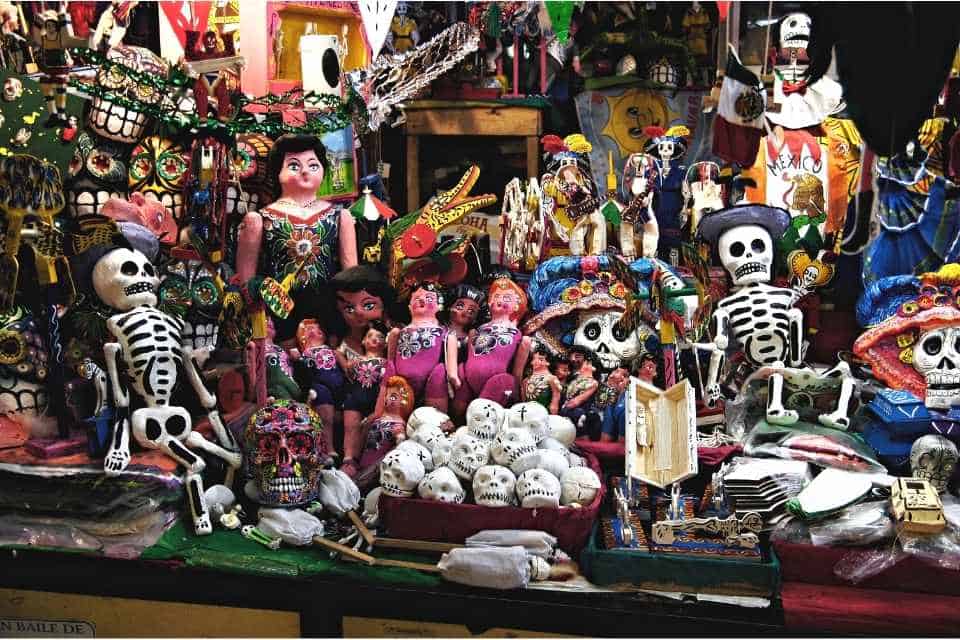 Mexican Revolution Day (Dia de la Revolución)
Mexican Revolution Day is celebrated annually on November 20. It marks the beginning of the Mexican Revolution that lasted from 1910 to 1917 against the aristocracy.
Nowadays, this day is usually celebrated with parades, markets, and festivals. Some even dress up as characters from the Revolution. Though visitors might not see much of that in the touristy town of Tulum.
---
Pros of Visiting Tulum in November
There are many advantages when you visit Tulum in November, here are some.
The weather is perfect for everything
One of the biggest misconceptions about visiting Tulum in November is that it will be cold. Its frickin' Mexico! It'll never be cold. Matter of fact, you want to visit Tulum when it is a little cooler because the summer Mexican heat can dehydrate you very quickly. Tulum weather in November is nearly perfect!
If you are visiting Tulum in August when the sun is blazing and the temperature is over 90 degrees Fahrenheit, good luck! In fact, the cooler weather in November is perfect for exploring the things to do in the Riviera Maya.
Accommodations in Tulum are much cheaper
November is considered part of the shoulder season in Tulum, sandwiched between the dreadful hurricane season and the busy winter crowds. Many of the hotels in Tulum are not at full-capacity, make it easier and cheaper to find the ideal place to stay in Tulum. Oftentimes, hotels might even offer discounts on their accommodation during this relatively quiet month.
For those planning to visit Tulum in November, just beware of Thanksgiving and the week before and after it. It is one of the biggest holidays in the United States so plenty of people travel to Mexico, especially Cancun and Riviera Maya. Make sure you book everything in advance during those times.
It is outside of Tulum's sargassum seaweed season
One of the biggest reasons to visit Tulum in November is the excellent seaweed situation. The sargassum seaweed has plagued Tulum's beaches for a few years now, due to the warming of the sea. Luckily, the season only lasts from April to August, and by the time November comes around, there should be little to no seaweed on the beaches of Tulum.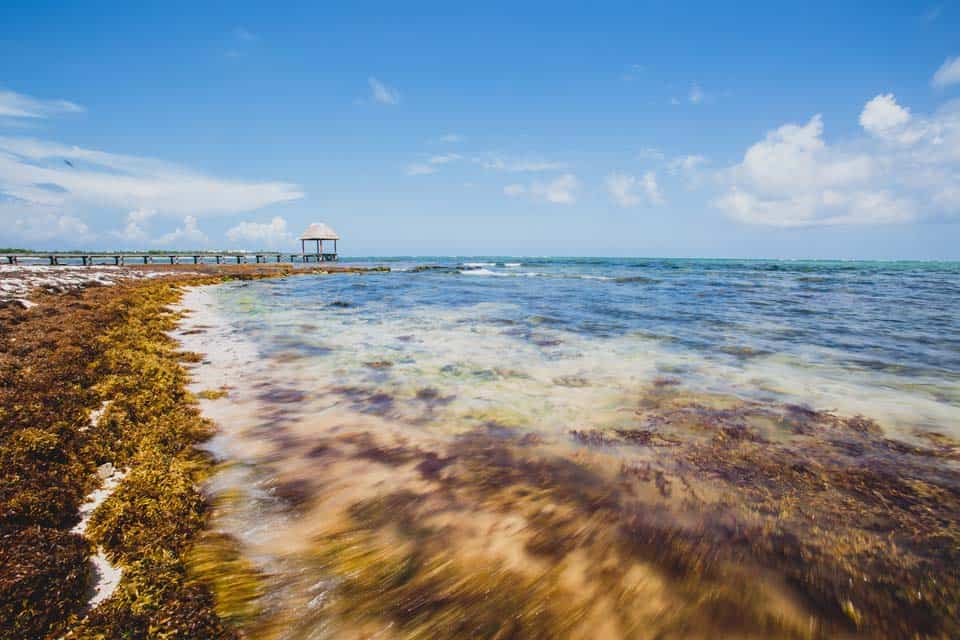 ---
Cons of Visiting Tulum in November
Solo travelers might find fewer people to socialize with
Perhaps one of the biggest disadvantages of visiting Tulum in November is the smaller crowds. Yes, it provides a more relaxed atmosphere for some. But for solo travelers that are looking to party and meet other people, November might not be the best for that.
Weather can be unpredictable
Though the weather in Tulum in November is generally nice, the end of the hurricane season marks a time with unpredictable weather. It is not unusual to have a few consecutive days of rain or cloudy weather. The temperature can fluctuate quite a bit, so visitors might find the nights cooler than they expected.
---
Things to Do in Tulum in November
Explore the Cenotes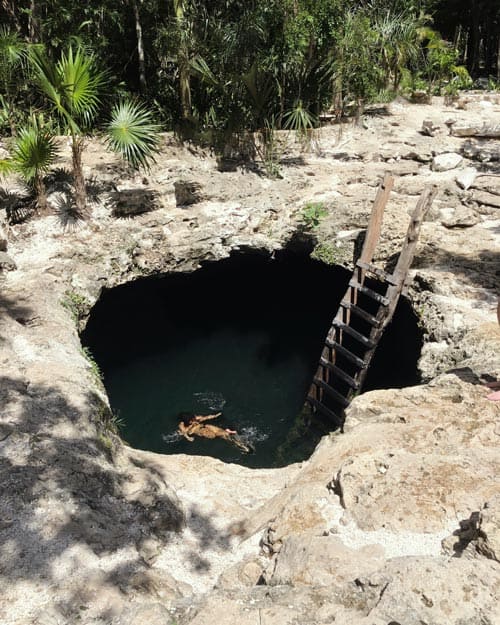 There are many things to do in the Yucatan Peninsula, but one of the most unique experiences to have is swimming in a cenote. For those that are visiting Mexico for the first time, cenotes are sinkholes naturally formed from the collapse of the weak bedrock, exposing the fresh underground water source.
Cenotes are some of the most popular attractions in Tulum, meaning that there is always a ton of tourists. Visiting them in November means there are fewer people to share these beautiful natural wonders in Mexico with!
There are many cenotes near Tulum, our favorite ones are Cenote Calavera, Laguna Ka'an Luum, and Cenote Dos Ojos!
Go Visit the Mayan Ruins
Tulum is situated in the heart of the once almighty Mayan civilization. Though now the civilization has long gone, it has left a lot of ruins for visitors to explore. These Mayan ruins showcase some of the coolest traditions of the Mayan people, and are a must when you are visiting Tulum.
Many of these Mayan Ruins are huge and require a lot of effort to see. The cooler weather of November means that exploring them won't be so strenuous!
Our favorite Mayan Ruins near Tulum are Tulum Ruins, Coba Ruins, and Chichen Itza (one of the Seven Wonders of the World and an iconic landmark in North America).
Indulge in Tulum's Fine Dining
Tulum's culinary scene is some of the best in Mexico. Many world-class chefs from around the world come to Tulum and open up restaurants next to the beautiful beaches of Tulum, creating a dining experience that is unmatched anywhere else in the world.
Visitors can enjoy quality cuisine as they listen to the sound of the crashing waves and feel the sea breeze on their face.
In November, getting a reservation at one of these fine dining restaurants in Tulum is much easier due to the smaller crowds.
Some of our favorite fine dining restaurants are Ocumare (owned by a Michelin-star chef), Hartwood, and RosaNegra.
It might be worth visiting Mexico City if you are into fine dining. Pujol is one of the very best restaurants in the world and it is in Mexico City!
Enjoy Some of the Best Beaches in Tulum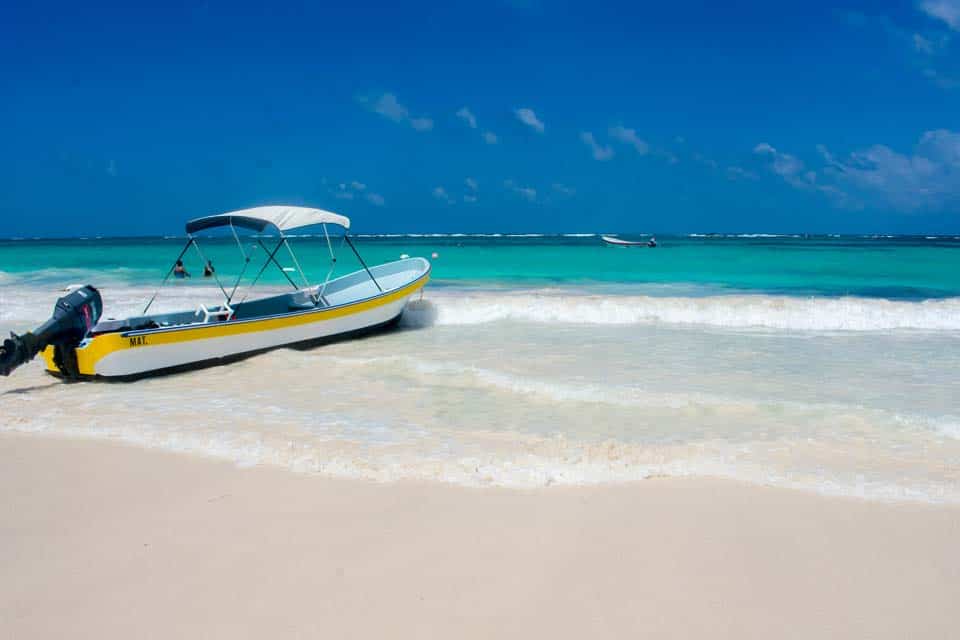 You didn't come to Mexico to not go to the beach! Did you? November is the perfect time to enjoy some of its finest beaches. The sargassum seaweed that is known to plague the Caribbean coast of the Yucatan Peninsula have now subsided.
The sunny and cooler weather is perfect for sun lounging on the white-sand beaches. And the warm water temperature makes swimming and other water activities such as snorkeling and diving very pleasant
---
Visiting Tulum In November FAQs
Is November rainy in Tulum?
November is the end of the rain season in Tulum. Though rain isn't very common in Tulum during this time, it isn't rare either. On average, it rains for a total of 8 days in November in Tulum.
Is it humid in Tulum in November?
On average, the relative humidity in Tulum in November is around 81 percent. That is quite high, considering the optimal relative humidity for breathing is around 30 to 50 percent. However, Tulum's average humidity is always high, somewhere between 77 percent to 85 percent.
Can you swim in Tulum in November?
November is one of the best time to swim in Tulum. The water temperature is at a warm 82 ℉ or 28 ℃, perfect for just relaxing in the water.
---
Explore Tulum By Month
---
Final Verdict
If you were wondering if November is a good time to go to Tulum, the answer is a YES. As the shoulder season in Tulum, it is one of the best times to visit. Crowds are smaller, the weather is perfect, and prices are more affordable!
Any questions? Leave a comment below!
Disclaimer: Some of the links above are affiliate links. That means if you book or make a purchase through the links, we will earn a small commission at no extra cost to you! The money will help run this site! Thank you!