Are you planning a trip to Tulum in April? Not sure if the weather in Tulum in April is nice?
April is one of the best months to visit Tulum. It is near the end of the dry season, which guarantees you clear skies. Expect warm temperatures in the daytime that are perfect for exploring Tulum, and cool nights that might warrant a light jacket. Crowds start to thin out in April as the Spring Break and winter crowds have left.
If you have picked April as the month to visit Tulum, you've made a good choice. But with visiting any foreign country at any time of the year, there are pros and cons.
Read on to find out everything you need to know about visiting Tulum in April!
---
Weather in Tulum In April – Quick Glance
| | | |
| --- | --- | --- |
| Average Temperature | 26 ℃ | 79 ℉ |
| Average Highs | 29 ℃ | 84 ℉ |
| Average Lows | 23 ℃ | 73 ℉ |
| Average Day Temperature | 27.9 ℃ | 82 ℉ |
| Average Night Temperature | 24.7 ℃ | 76 ℉ |
| Average Sea Temperature | 27 ℃ | 81 ℉ |
| Average Sunshine Hours Per Day | 8 Hours | |
| Average Monthly Rainfall | 45 mm | 1.8 in |
| Average Rain days | 3 days | |
| Average Daylight | 12.5 hours | |
| Average Humidity | 74% | |
Credit: Holiday Weather, Time and Date
With plenty of outdoor attractions in Tulum, having bad weather can seriously destroy your Tulum vacation. But luckily, the weather in Tulum in April is gorgeous.
Rain is very rare and the temperatures are warm (and not too hot) to explore the outdoors. Whether you are running around Tulum ruins or sitting on one of Tulum's beaches, you'll find that the weather compliments the scenery and activity.
It is out of Tulum's hurricane season, so there is no worry as to natural disasters ruining your plans.
Read more: Tulum in November: Is it a Good Time to Visit?
Temperature in Tulum in April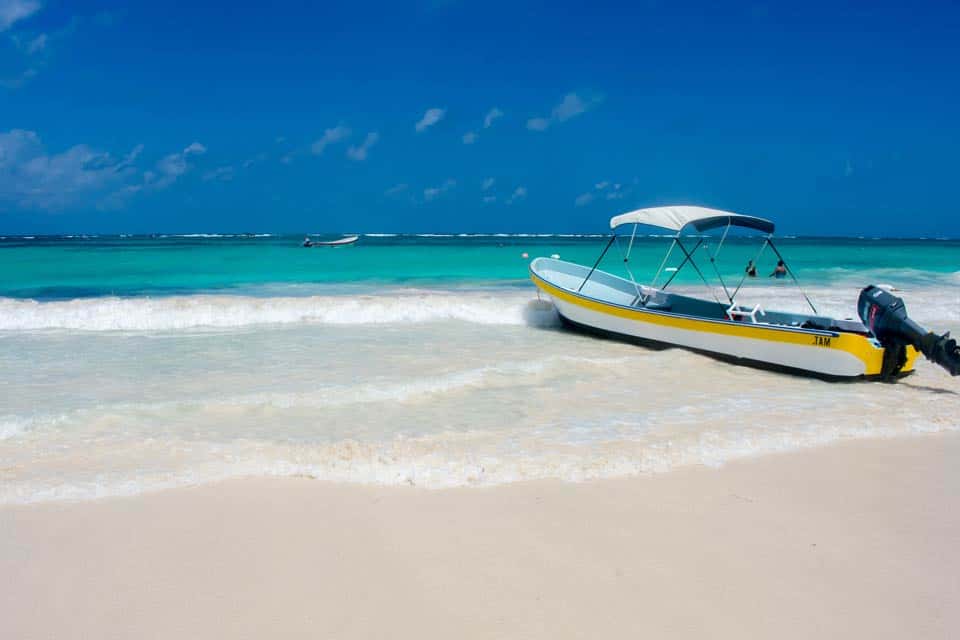 Statistically speaking, the temperature in Tulum in April is the average of the year. It isn't as debilitatingly hot as Tulum in the summer (June to August), and it isn't as cool as the winter (December to February).
But this is the Yucatan region of Mexico, so the average temperature still means it is quite hot. The average high temperature is around 29 ℃ or 84 ℉. Getting heat-related illnesses isn't uncommon, especially if you are from countries that are usually much cooler than that.
Heat waves during the months of April and May can sometimes cause the temperature to be much higher than usual.
At night, the temperature is beautiful at 24.7 ℃ or 76 ℉. This is perfect for exploring the nightlife of downtown Tulum. But if you are by the sea, we would recommend having a light jacket because the sea breeze can make it a lot cooler.
The sea temperature is starting to get a little too warm at 27 ℃ or 81 ℉ for swimming. The NCEI recommends a temperature between 21 ℃ (70 ℉) and 25 ℃ (77 ℉). But compared to the outside temperature which can go as high as around 29 ℃, it is no wonder why swimming at the beach is one of the best activities in Tulum.
Precipitation in Tulum in April
In many parts of the world, April is the heart of the spring season, which is usually marked by beautiful spring blossoms but also tons of spring showers. April is usually one of the wettest months in many parts of the world.
But April in Tulum is one of the least rainy months of the year. Out of the 30 days, visitors can expect to see rain in only 3 days and only 45 mm of it.
This is incredible, especially when compared to August, when visitors are likely to see 13 days of rain in the month.
Sunshine in Tulum in April
Thanks to Tulum's clear weather, visitors can expect around 8 hours of sunshine on average per day in Tulum in April.
The sun rises at around 6:30 AM and sets at around 7 PM, giving guests an average of 12.5 hours of daylight per day to explore Tulum and its surroundings.
The long days and abundance of sunshine make taking day trips from Tulum possible, whether that is visiting some of the cenotes in the Mayan Riviera or visiting Chichen Itza, one of the Seven Wonders of the World.
April is a great time to go lounging on the beaches of Tulum or enjoy its plethora of water sports such as snorkeling and scuba diving, thanks to its plentiful sunshine throughout the day!
Humidity in Tulum in April
The average humidity in Tulum in April is 74%. Though that is quite high, it is actually one of the lowest humidity in the entire year. That is something that cannot be helped since Tulum is so tropical and it is adjacent to the Caribbean Sea.
The humidity might make you feel quite uncomfortable, but it is also a cause of concern if you are out in the sun for too long. The high humidity combined with the daytime temperature can make it feel like it's a lot hotter than it actually says, and unaware tourists can get heat stroke or heat exhaustion if they are not careful.
---
Sargassum Seaweed In Tulum in April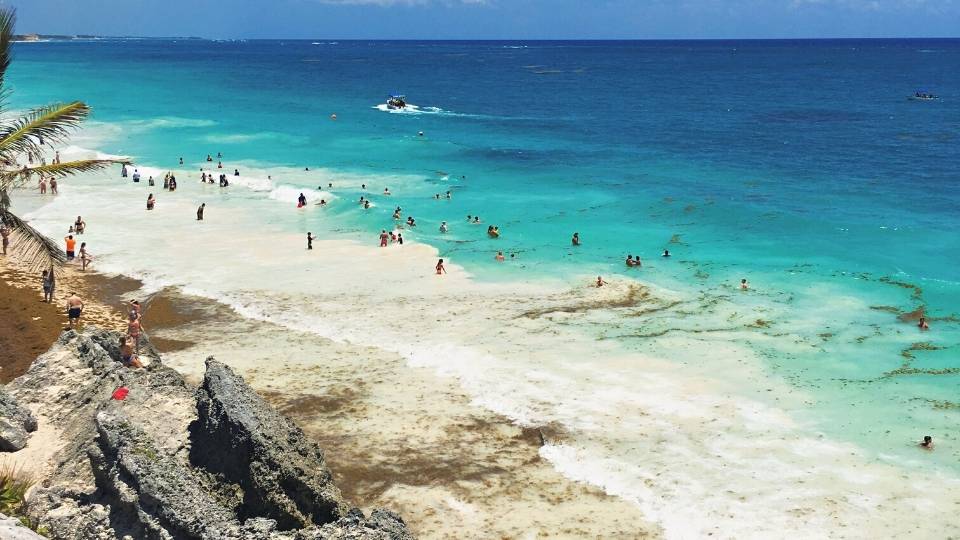 If you are visiting Tulum, chances are, you want to enjoy its spectacular Caribbean beaches. But is the infamous sargassum seaweed going to be in Tulum in April?
Unfortunately, yes, you are likely going to see a little bit of the sargassum seaweed in April. The sargassum seaweed typically starts arriving in Tulum in early April and peaks in June. Though you'll probably encounter some seaweed, you won't find huge piles of them on the beach.
Because of that, you might not encounter the sulfur-like smell (rotten egg) that the sargassum seaweed is known for.
If you do find them a little bit too much, you can always stay in a nice hotel on the Tulum Beach Zone. Most of the properties have a member of staff that cleans up the seaweed on their portion of the private-owned beach.
---
Events in Tulum in April
There are daily events in Tulum such as Temazcal, yoga, beach parties, networking events and more. But there are only two big events in Tulum in April:
El Día del Niño (Children's Day)
Semana Santa (Holy Week)
El Día del Niño (Children's Day)
Just like mothers and fathers, children also have their own special day on April 30th or every year. The holiday is dedicated to remembering the importance loving and appreciating children. Most of the event occurs in school, where parents are invited to share a day of activities and fun with their children.
Semana Santa (Holy Week)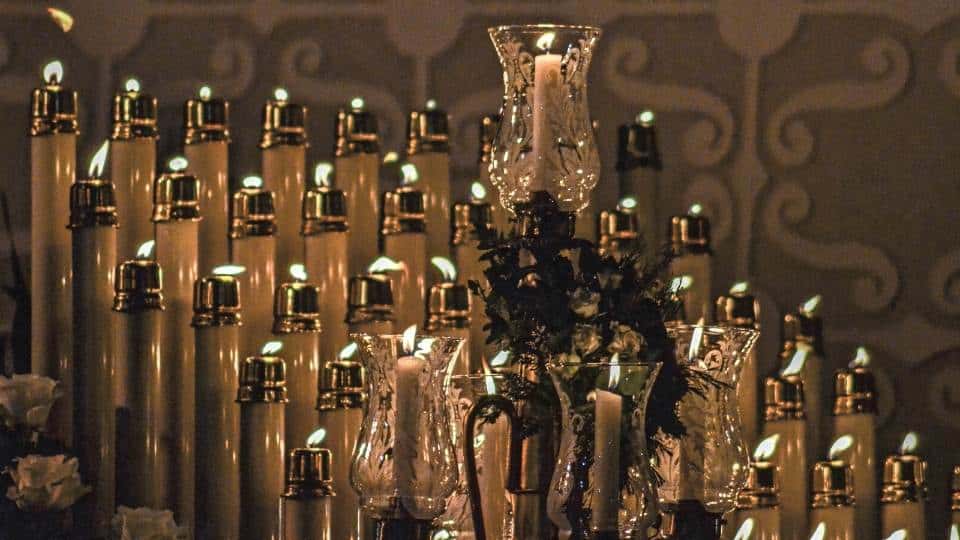 Semana Santa (Holy Week) is one of the most culturally important traditions in Mexico. To start off, locals have 2 weeks off surrounding Semana Santa and Easter. Semana Santa is referred to as the week before Easter.
Many Mexican locals use this time to travel, with most of them heading toward the beach. Tulum is especially busy during this time. If you are in Tulum during Semana Santa and the week after, make sure you book your accommodations in advance.
Religious ceremonies can be seen in churches, but foreign visitors might have a different time getting in. Street parades do happen, but usually not in the town of Tulum since it's quite touristy.
Note that the dates of Holy Week change every year, make sure you plan accordingly.
---
Pros of Visiting Tulum in April
There are many advantages when you visit Tulum in April, here are some.
One of the Best Months to Visit Tulum for Weather and to Avoid Crowds
April is a unique month in the sense that the weather is just perfect for everything. The temperatures are very reasonable and the precipitation is close to none, which means the visitors can fully enjoy their Tulum itinerary.
The winter crowds and spring break crowds have just left, and the summer vacation crowds have yet to arrive, which means you can enjoy some of the best attractions in Riviera Maya without the massive hordes of people.
Holy Semana Means Tulum Comes to Life
Holy Semana is one of the biggest events in Mexico, and with all events, Mexicans like to celebrate by partying. Most locals like to flock to the beachside towns such as Cancun and Tulum,
---
Cons of Visiting Tulum in April
The Crowds During Holy Week (Semana Santa) Could be Problematic
Though Holy Week means that everyone is out having a good time and Tulum is more lively than ever, it does come with some problems, mainly the big crowds. Most of the accommodations will be fully booked then, and typically speaking, hotels do charge a little bit higher than usual.
If you thought that you could see some money by traveling in the shoulder season on Tulum, then Semana Santa might just mess up your budget.
Plus, some of the cenotes near Tulum (Cenote Calavera for example) are very small. And when they are crowded, it diminishes their beauty.
You Won't See Whale Sharks, Turtles Nesting, or Releasing Turtle Hatchlings
One of the most popular attractions in the Riviera Maya is swimming with the whale sharks, seeing turtles nesting, and releasing turtle hatchlings into the sea. Unfortunately, April is not a month that you can do any of those three things.
Here are the months where you can experience those activities:
Whale Sharks: June to August
Turtles Nesting: June to October
Turtle Hatchlings: July to December
---
Things to Do in Tulum in April
Explore the Cenotes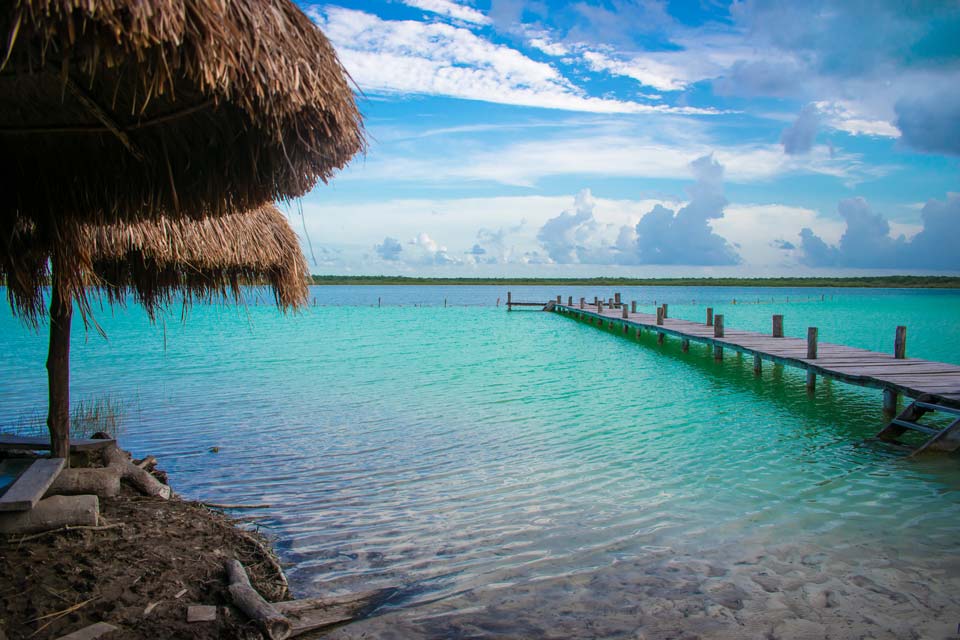 April is especially a good time to visit some of the most famous cenotes in the region. For those that are unfamiliar with cenotes, they are natural sinkholes that are the results of the weathering of weak bedrock.
Cenotes are some of the best places to go swimming in Tulum. That is because they are mostly unaffected by the outside temperature. Cenotes derive their water from underground river sources, which means the water temperature is consistent. But like all spring sources, the water is very cold.
In April, you'll find a lot fewer people in these incredible natural sights. Better yet, come early in the day and you might even have them to yourself!
Our favorite ones near Tulum are Gran Cenote and Ka'an Luum Lagoon.
Go Visit the Mayan Ruins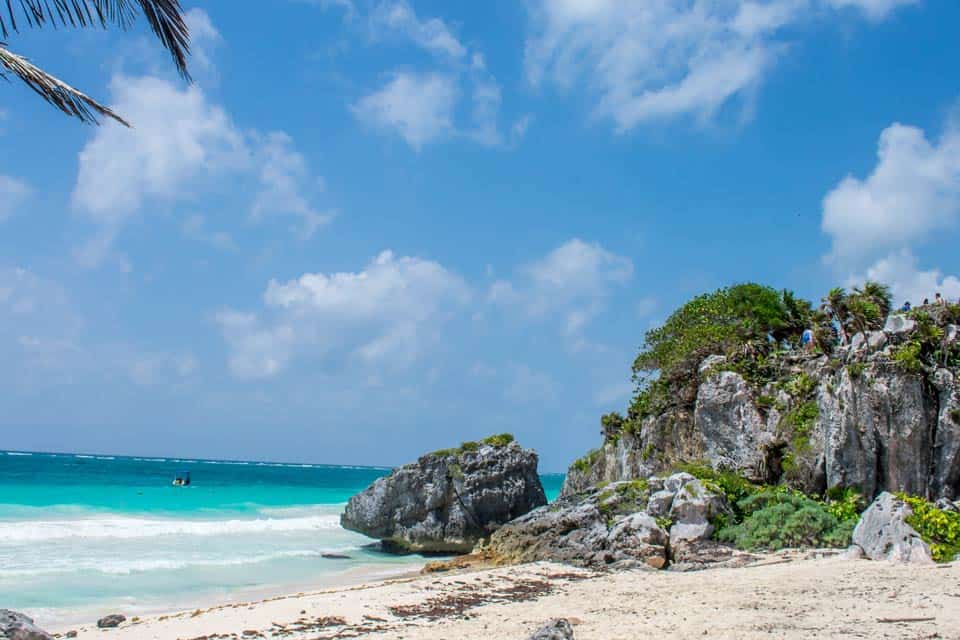 The region near Tulum was once the heart of the Mayan civilization. Sometime between the late 8th to the end of the 9th century, this incredible civilization just disappeared. No one knows exactly what happened to this Native American group, but they have left tons of ruins for us to imagine life back then.
Nowadays, visitors can plenty of Mayan Ruins throughout Mexico, Guatemala, and parts of Central America.
April is especially a good time to visit these Mayan ruins as many of them don't provide shade and take a long time to see. Some of the ones you must visit are Tulum Ruins, Coba Ruins, and Chichen Itza.
---
Tips For Visiting Tulum in April
Pack Something Warm For The Nights
Visiting Mexico and packing a jacket can be contradicting, but the April nights in Tulum can be quite cold, especially by the beach. Don't forget to pack a light jacket.
Pre-Book Everything Beforehand
Though this is technically the shoulder season in Tulum, things can get booked out because of Semana Santa. Make sure you reserve all your tours and accommodations beforehand, otherwise you might not find a place to stay or have to pay a premium for things.
When Going Out, Don't Take More Than You Need
Being a popular travel destination for international and domestic tourists, Tulum's nightlife is incredible. And although Tulum is a safe place to visit, some people do become victims of pickpockets, especially in a bar or club.
In April, thieves know how many people drink more than they can handle, especially during the holidays. We recommend just taking enough cash and your ID when going out at night.
---
Tulum in April FAQs
Is April a good time to visit Tulum?
April is one of the best times to visit Tulum. The weather is absolutely phenomenal with warm (not too hot) days and cool nights, perfect for exploring all the outdoor attractions Tulum is known for. April is near the end of the dry season, which means rain is very rare.
Is it busy in Tulum in April?
April in Tulum can be busy due to the Easter holidays. During this time, locals have two weeks off and many decide to visit beach towns such as Tulum. Outside of the Easter holidays, April is a relatively quiet month.
---
Explore Tulum By Month
---
Final Verdict
April is one of the best months to visit Tulum thanks to its incredible weather and generally smaller crowds. But if you are planning to go, make sure you book everything ahead of time, especially if your days will coincide with the Easter Holiday!
Disclaimer: Some of the links above are affiliate links. That means if you book or make a purchase through the links, we will earn a small commission at no extra cost to you! The money will help run this site! Thank you!