Not sure whether August is a good time to visit Tulum? Wondering what the weather in Tulum in August is like?
August is the heart of the summer season, making it one of the most popular months to visit Tulum. This beautiful beachside town offers travelers an escape to beautiful beaches, refreshing cenotes, and cultural Mayan Ruins.
However, visiting Tulum in August does come with its challenges, such as weather, crowds, and more.
Find out what is Tulum like in August and how you can properly plan your trip to have an incredible visit!
---
Weather in Tulum In August – Quick Glance
| | | |
| --- | --- | --- |
| Average Temperature | 28 ℃ | 82 ℉ |
| Average Highs | 32 ℃ | 90 ℉ |
| Average Lows | 24 ℃ | 75 ℉ |
| Average Day Temperature | 28.6 ℃ | 83 ℉ |
| Average Night Temperature | 25.6 ℃ | 78 ℉ |
| Average Sea Temperature | 29 ℃ | 84 ℉ |
| Average Sunshine Hours Per Day | 7 Hours | |
| Average Monthly Rainfall | 146 mm | 5.7 in |
| Average Rain days | 13 days | |
| Average Daylight | 13 hours | |
Credit: Holiday Weather
In many parts of the world, August is a month marked by beautiful weather and little precipitation. But is the weather in Tulum in August the same? A beautiful seaside town with plenty to explore, terrible weather could seriously ruin your trip to Tulum.
August is definitely not one of the best times to visit Tulum for the weather. The weather in Tulum in August is very hot. It is also in the middle of the rain season, so rainy days aren't uncommon. But to be fair, you'll be glad when it rains in Tulum in August because it'll cool down everything!
Besides the rain, it is also the heart of the hurricane season. This means your travel plans could be interrupted abruptly by something you cannot control.
With high temperatures, it does make swimming in the Caribbean Sea or one of the cenotes in Tulum very refreshing. Be careful with any strenuous outdoor activities. The hot weather and high humidity could easily wear you out and give you heat strokes.
Read more: Tulum in November: Is it a Good Time to Visit?
Temperature in Tulum in August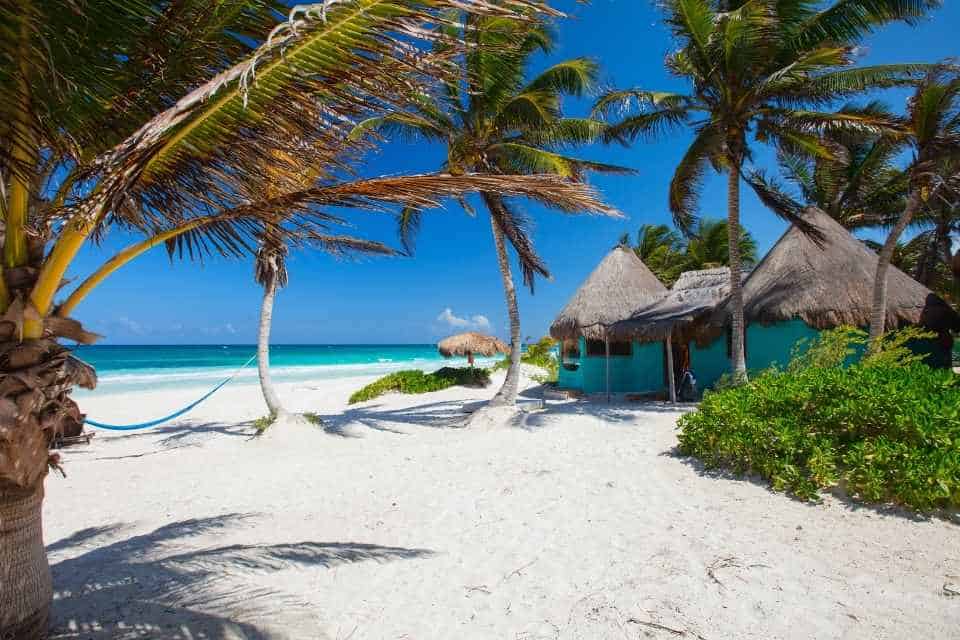 Historically speaking, the temperature in Tulum in August is one of the highest of the year. August is the peak of the summer season, and it is not surprising to see oppressing temperatures.
The average high temperature is around 32 ℃ or 90 ℉. This number might not sound too high for you as many places around the world reach over 90 ℉ during the summer.
But don't let that deceive you.
With the high humidity, 32 ℃ or 90 ℉ can easily feel much higher because your body is constantly sweating and breathing is a little bit more difficult.
The days are excruciating, but things do get better at night. With an average night temperature of 25.6 ℃ or 78 ℉, the nights are quite pleasant in just a shirt and shorts or a flowy dress.
This temperature is perfect for just sitting in one of the open-air bars by the beach, sipping on a cocktail, and enjoying a chat with your friends.
You most likely won't even need to pack a jacket to Tulum, which means you get to pack more nice clothes to take more photos!
The sea temperature is at 29 ℃ or 84 ℉. This is much higher than the recommended swimming temperature of 21 ℃ and 25 ℃. However, you have to compare this temperature with the outside day temperature, which could reach 32 ℃ (90) ℉ to 34 ℃ (93 ℉). It is no wonder why swimming at the beach is one of the best things to do in Tulum!
Precipitation in Tulum in August
If you are planning to visit Tulum in August, then you should know that August is the heart of the hurricane season in Tulum. With a total of 146 mm of rain in 13 days, Tulum is quite rainy in August.
However, like in most tropical places, though the rain is frequent, they come in short and powerful bursts. After that travelers can have the rest of the day rain-free.
To be honest, you'll grow to love the rain in Tulum in August, especially in the middle of the day when you are out exploring some of the coolest Mayan Ruins in Tulum. The rain cools down the suffocating heat of Tulum.
Sunshine in Tulum in August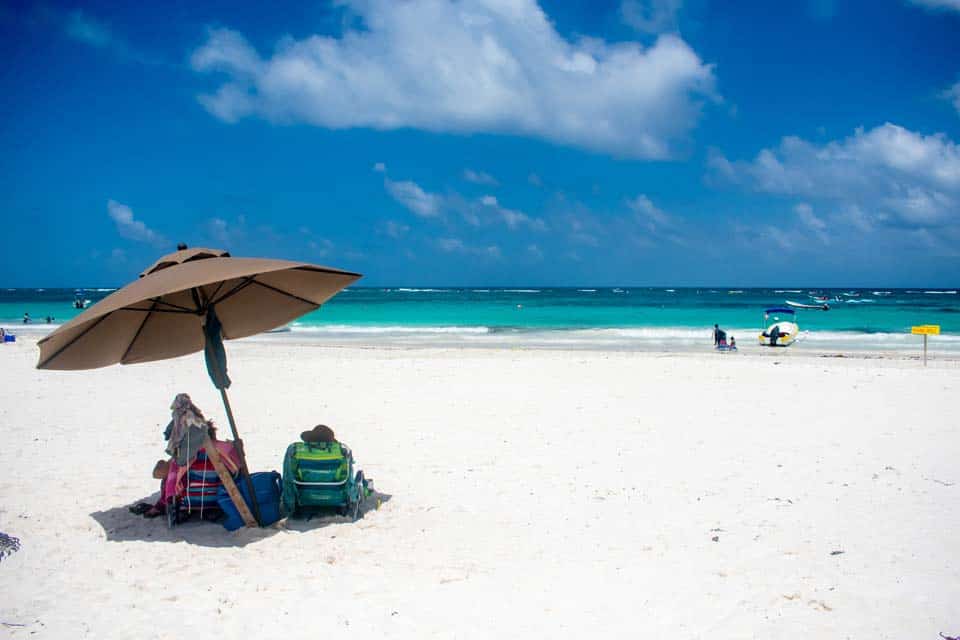 August is the peak of the summer season, which means the days are long and sunshine is plentiful. On average, the sun rises at about 6:30 AM and sets at around 7:30 PM, giving visitors an amazing 13 hours of sunlight to explore Tulum and its surrounding.
The long days make taking day trips from Tulum feasible, especially if you plan on visiting Chichen Itza (one of the Seven Wonders of the World) from Tulum. The drive from Tulum to Chichen Itza takes 2 hours.
If you have a car, you can even drive around the Yucatan Peninsula using Tulum as a base and explore all the attractions in the Yucatan easily.
The average sunshine per day in Tulum in August is around 7 hours, which means visitors have plenty of time to enjoy Tulum's water sports or just suntan on the beach. Though it rains hard in Tulum in August, the sun also shines hard.
---
Sargassum Seaweed In Tulum in August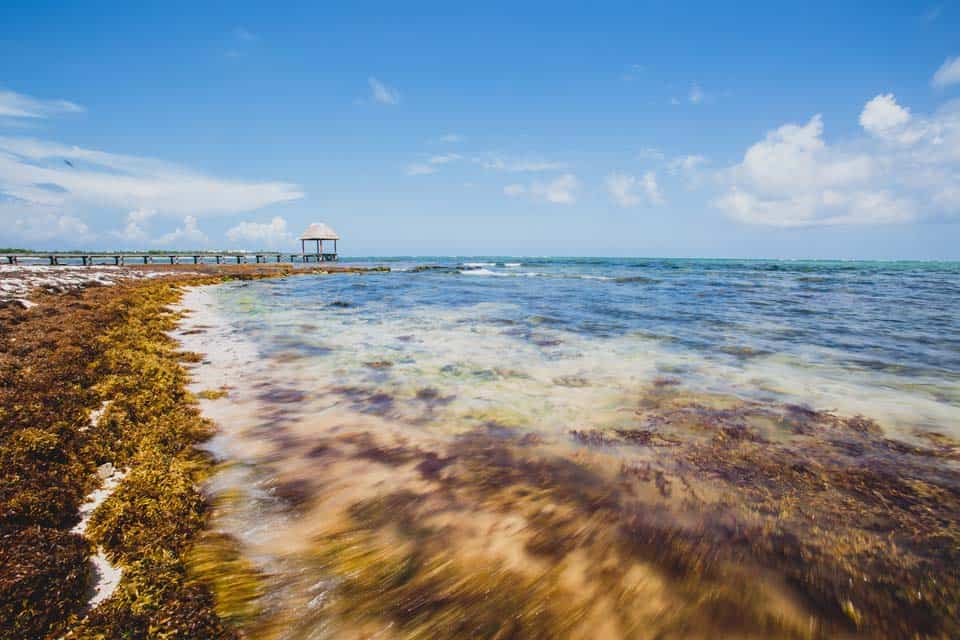 One of the biggest concerns when visiting Tulum in August is the sargassum seaweed issue. The sargassum seaweed is known to give off a sulfur-like smell, cover up the white-sand beaches of the Riviera Maya, and turn the turquoise Caribbean waters into a murky brown.
Thanks to the warming of the ocean that results in an algae bloom, the sargassum seaweed typically arrives in Tulum in early April and peaks in June. The seaweed usually doesn't completely subside until October, which means people visiting Tulum in August will probably encounter some Sargassum seaweed.
Some of the ways to avoid it are to swim on privately-owned beaches. Hotels and other establishments hire people specifically just to clear up the seaweed on their section of the beach, so beachgoers can have a pleasant time.
---
Events in Tulum in August
As the peak of the tourist season, there are plenty of events in Tulum in August.
Visitors can find anything from a cacao ceremony to yoga retreats, and even things like speed dating and other networking events. We don't need to mention the nightlife events that are abundant every night in Tulum.
As far as cultural events or festivals, there really aren't any that occur in August, except the Feast of the Assumption of the Virgin Mary. But that is just an event that is celebrated by places that practice Christianity. It isn't a cultural event like the Day of the Dead or Mexican Independence Day.
Tulum in September has many more events, such as Mexican Independence Day and Autumn Equinox.
---
Pros of Visiting Tulum in August
There are many advantages when you visit Tulum in August, here are some.
August marks the end of the summer and summer vacation for many people. Many travelers are wrapping up their summer holidays and are looking to go out with a bang! That means that people are partying harder and crazier than ever.
If you are a big fan of nightlife such as clubbing and partying, then August in Tulum is going to be hella fun for you.
Solo travelers will find plenty of company
Solo traveling during the off-season might mean that you won't find anyone to meet. But in August, the accommodations in Tulum are packed with tourists, all looking to socialize and have a good time. Solo travelers don't need to worry about not meeting anyone to talk to and share their adventures with!
---
Cons of Visiting Tulum in August
The weather isn't the best
Perhaps one of the biggest disadvantages of visiting Tulum in August is the weather. As we've mentioned, August is the rain and hurricane season in Tulum. Not only is it super hot and humid, you'll also get lots of rain and a chance that a hurricane could come by and ruin your entire vacation.
Sargassum seaweed could be an issue
In August, it is likely to see Sargassum seaweed on the beaches of Tulum. No matter how you slice it, that seaweed really puts a damper on your trip. They make the beaches smell bad, ruin the colors of the beautiful Caribbean Sea and cover up the nice white sand.
August is one of the most popular months to visit Tulum and Riviera Maya. Therefore, you'll need to make sure you have your hotels, tours, and rental car booked in advance. Otherwise, you might find out that things are completely sold out when you arrive.
The crowd also takes away from some of the natural beauty of the attractions in Riviera Maya, such as the cenotes, beaches, and Mayan Ruins.
---
Things to Do in Tulum in August
Explore the Cenotes
Tulum is home to some of the best cenotes in Riviera Maya. For those that are unfamiliar with cenotes, they are natural sinkholes that have been created due to the weathering of the weak bedrock. The results are unique swimming opportunities in so of the freshest water in the world.
And because the water in the cenotes is connected to an underground water source, the water is much cooler than the water in the sea. Plus, you won't find any seaweed in the cenotes.
In August, there is simply nothing more refreshing than a swim in one of these cenotes. But there is a caveat. Cenotes are some of the most popular attractions in Mexico, so they are usually full of tourists.
Arrive early in the day or late in the evening right before it closes to get a better chance of enjoying them in peace.
Go Visit the Mayan Ruins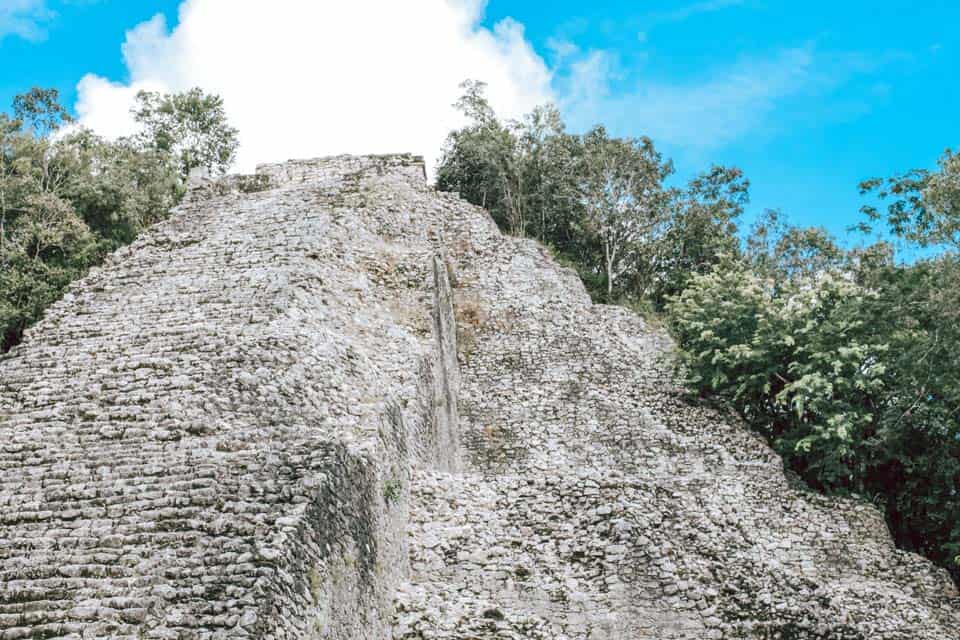 The area of Tulum was once the heart of the mighty Mayan civilization. And from the late 8th to the end of the 9th century, something mysterious happened to the Mayan civilization that caused its collapse.
Nowadays, visitors will find plenty of Mayan Ruins dotting the vast landscapes of Mexico, Guatemala, and parts of Central America.
Some of the ones you must visit are Tulum Ruins, Coba Ruins, and Chichen Itza.
Just make sure you bring enough water and a sunhat when visiting these. In August, the hot temperature and humidity are going to be brutal with the lack of shade in these ruins.
Go Enjoy Tulum's Vibrant Nightlife
Perhaps one of the best things to do in Tulum in August is to enjoy the nightlife. During the peak season, every night venue is bustling with people out to have a good time. The night is when this seaside town truly comes to life.
Visitors can get a taste of this craziness through some of the best beach clubs in Tulum, or head in town and check out the local scene.
Our favorite one is Taboo near the Tulum Beach Zone, but you'll find plenty just by walking down the only road in the area.
---
Tips For Visiting Tulum in August
Hydration is the key to life, but even more so when you visit Tulum in August. As we have warned you many times, heat and humidity in August are no joke. It isn't uncommon for tourists to get heatstroke or other heat-related illnesses in the summer in Tulum.
Pre-book everything beforehand
It's the middle of summer, and everyone and their grandmother are in Mexico. Book everything in advance to make sure you have a nice accommodation. This also includes tours because they can certainly be booked out in advance.
When going out, don't take more than you need
Enjoying the nightlife is an essential part of any Tulum itinerary, and everyone knows that, including the ones out to take advantage of tourists. Though Tulum is generally a safe place to visit, there are a few people that fall victim to pickpockets, especially in a bar or club.
And in August, thieves know how many tourists are out to drink more than they can handle. So make sure you don't bring any more than you need when going out at night, usually, we recommend just enough cash and your ID to get into places.
---
Tulum in August FAQs
Is August a good time to visit Tulum?
August is not a bad time to visit Tulum, but visitors need to be aware of the hot weather, high chance of precipitation, and big summer crowds that could affect your trip.
Does it rain in Tulum in August?
August is the hurricane season for Tulum and the Riviera Maya region, which means rain is plentiful. However, visitors will still find enough sun to enjoy the nice beaches and cenotes in Tulum in August.
---
Explore Tulum By Month
---
Final Verdict
Though August isn't necessarily the best time to visit Tulum, it is more than enough to have a fun and unforgettable vacation. As the peak summer season, make sure you plan accordingly or else you might be met with disappointment!
Hope you enjoy your time in Tulum!
Any questions? Leave them in the comments!
Disclaimer: Some of the links above are affiliate links. That means if you book or make a purchase through the links, we will earn a small commission at no extra cost to you! The money will help run this site! Thank you!