Are you planning a trip to Tulum in July? Not sure if the weather in Tulum in July is good?
Unfortunately, July is not one of the best months to visit Tulum. In fact, it is almost one of the worst. In the heart of the summer, the weather in Tulum in July is too hot and humid for exploring its attractions. This time of the year also sees huge crowds, which could drive the prices up. Lastly, the seaweed situation in Tulum in July is not ideal.
But if you plan a trip in July to Tulum, not all is lost. There are some pros to visiting Tulum in July as well, though not as many as cons.
Read on to find out what to expect on a visit to Tulum in July and how you can make the best out of it!
---
Weather in Tulum In July – Quick Glance
| | | |
| --- | --- | --- |
| Average Temperature | 28 ℃ | 82 ℉ |
| Average Highs | 31 ℃ | 88 ℉ |
| Average Lows | 24 ℃ | 75 ℉ |
| Average Day Temperature | 28.7 ℃ | 84 ℉ |
| Average Night Temperature | 25.6 ℃ | 78 ℉ |
| Average Sea Temperature | 28 ℃ | 82 ℉ |
| Average Sunshine Hours Per Day | 7 Hours | |
| Average Monthly Rainfall | 130 mm | 5.1 in |
| Average Rain days | 12 days | |
| Average Daylight | 13 hours | |
| Average Humidity | 80% | |
Credit: Holiday Weather, Time and Date
Because most of Tulum's attractions are outdoors, one of the things you must consider when planning a trip is the weather.
July is both the middle of the summer and rainy season in Tulum. That means that visitors can expect quite a bit of rain, as well as high temperatures and humidity that make sightseeing uncomfortable. The temperature is so suffocating that you might even appreciate the showers that come and cool down the ground and the air.
During this time of the year, visitors might also encounter hurricanes, though that is typically more common in September and October.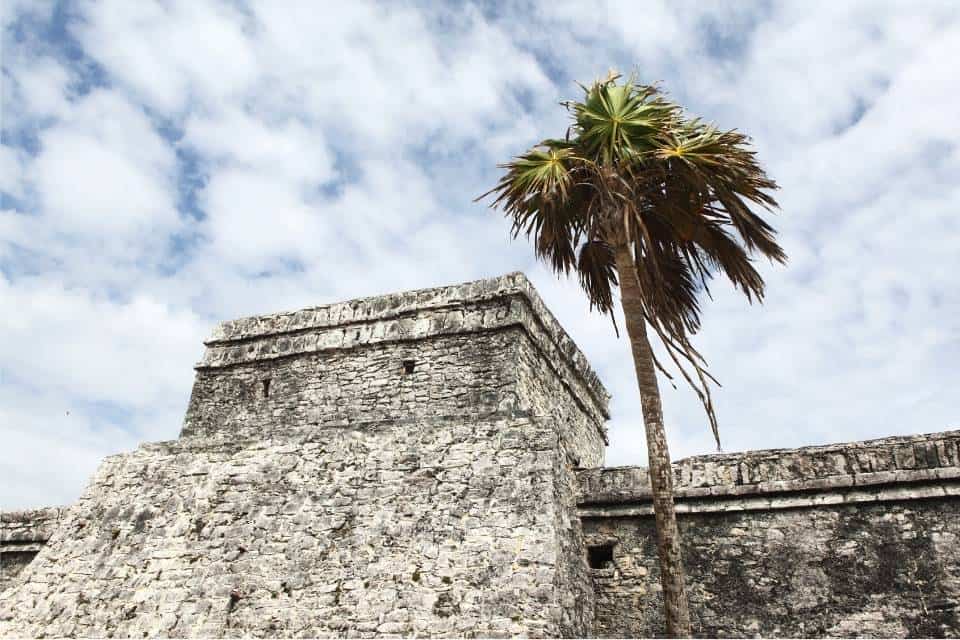 Temperature in Tulum in July
The temperature in Tulum in July is at one of the highest in the entire year. The average high temperature in July is around 31 ℃ or 88 ℉. Though this might not look too bad, it is a deadly combination with the high humidity Tulum gets.
With high temperatures like this, visitors need to be extremely cautious of heat-related illnesses such as heat exhaustion and heat stroke. Many of the outdoor attractions in Tulum such as the Mayan Ruins and the beaches have little to no shade.
The average night temperature is at a more tolerable 25.6 ℃ or 78 ℉. This is the perfect weather for enjoying Tulum's nightlife since it is just warm enough for the t-shirt and shorts combo. Whether you are partying at a beach club or having a nice drink in a lounge, the weather's going to complement your activity.
The sea temperature in July is one of the warmest in the entire year. At 28 ℃ or 82 ℉, the water is very warm for swimming. Though it is warm, it is still cooler than the outside temperature, so travelers might find some relief in the sea.
The warm sea temperature means you can swim or enjoy watersports such as snorkeling and scuba diving comfortably.
Though if the sea gets too warm (which it probably will), visitors can also check out one of the cenotes near Tulum. Since they are connected to underground water sources, the water temperature there stays consistently cool throughout the year.
Precipitation in Tulum in July
As the heart of the rain season, July in Tulum sees a lot of rain. Statistically speaking, Tulum receives an average of 130 mm of rain in 12 days. This means that there is a 40 percent chance that you'll encounter rain on any given day.
Though it is quite a bit of rainy days, it is worth noting that the tropical climate of Tulum means that the rain comes in powerful but short bursts. It usually torrential downpours for a few hours or so before the weather becomes dry again.
You do not want to be caught in the rain, but it does cool down the air and you have plenty of time to sightsee afterward.
Sunshine in Tulum in July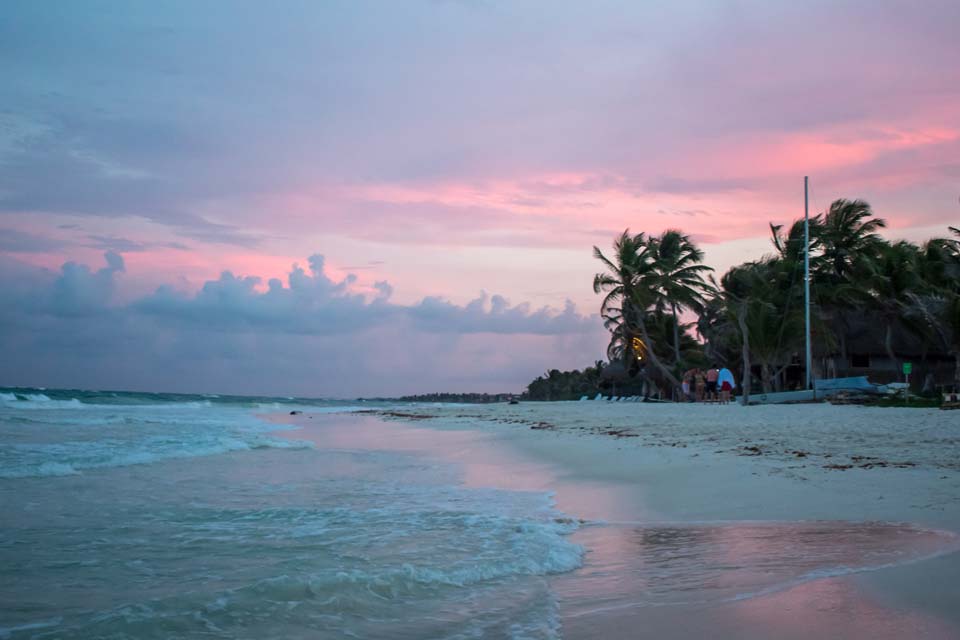 July is one of the summer months in Tulum, and being situated in the northern hemisphere, that means the days are long. On average, the sun rises at around 6:15 AM and sets at around 7:30 PM. This is a total of more than 13 hours of daylight per day.
However, though there are 13 hours of daylight per day, visitors can only expect an average of 7 hours of sunshine. That is not surprising, considering that we know there is lots of rain and clouds during July.
Nonetheless, the long days are excellent for taking day trips from Tulum. Whether you are heading out to Chichen Itza (one of the Seven Wonders of the World), or the World UNESCO Heritage Site of Sian Ka'an Biosphere Reserve, there is plenty of time in the day to explore.
Humidity in Tulum in July
Without a doubt, one of the biggest disadvantages to visiting Tulum in July is the humidity. At an average of 80%, the relative humidity in July is one of the highest of the year.
This level of humidity means that even in the cool temperatures at night, you'll feel that the air is muggy. It is the type of humidity where you need a shower… after a shower. We've been in Tulum in July, and I cannot count how many showers we took in a day.
The worse is that there is no hiding from the humidity (okay, unless you are in a Tulum resort with nice air-conditioning). Once you step out, you'll immediately feel the humidity this tropical paradise is known for.
The high humidity can dehydrate you much quicker than usual. This means that travelers need to watch out for dehydration-related illnesses, such as heat stroke. Make sure you drink lots of water and avoid the midday heat if possible.
---
Sargassum Seaweed In Tulum in July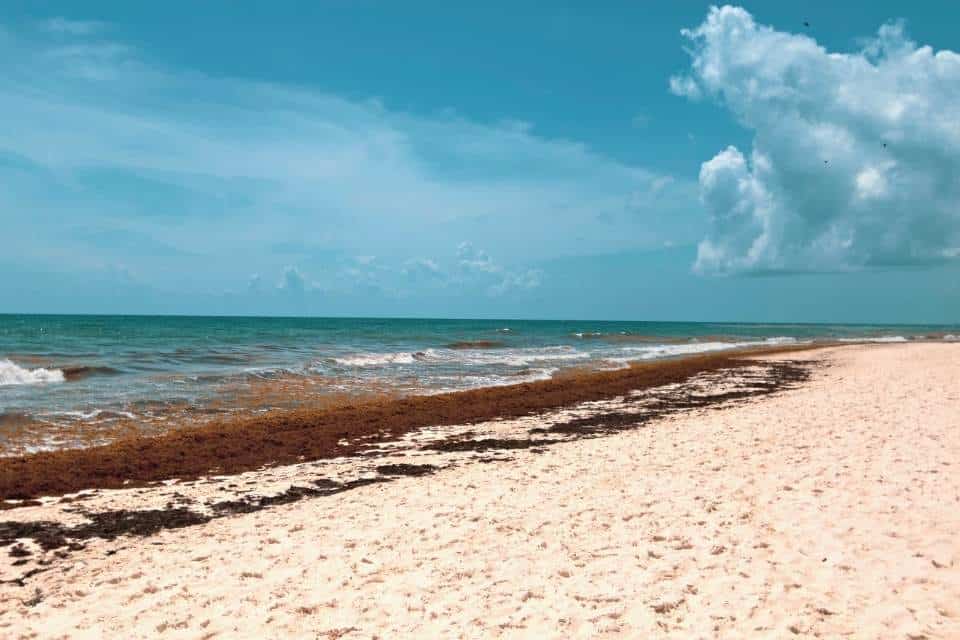 Tulum has been plagued by awful sargassum seaweed for many years now, thanks to the warming of the ocean and sea. But fortunately, there is seaweed season in Tulum, which means that there are times when the beaches in Tulum are seaweed-less.
Unfortunately, July is not one of these months. In fact, July in Tulum is one of the worst times to visit for seaweed. It is the peak season for seaweed. Visitors are nearly 100% going to encounter not just a little bit, but piles of sargassum seaweed on the beaches, and probably even in the ocean.
Not only does the seaweed ruin the beauty of the beaches, but they also give off a sulfur-like (rotten eggs) smell. So even if you just want to lay on the beach and sunbathe, you'll be disgusted by the smell!
But if you really want to swim in the beaches of Tulum, you can do so by staying in one of the high-end hotels in the Tulum Beach Zone. These hotels hire someone to clean out the seaweed off their part of the beach regularly. But still, don't expect the beaches to be 100 percent seaweed free.
We were in Tulum in July, we couldn't stand the beaches because of the seaweed, so we went exploring some of the cenotes in Riviera Maya. Those cenotes are definitely better for swimming and the open ones are even great for sunbathing!
---
Events in Tulum in July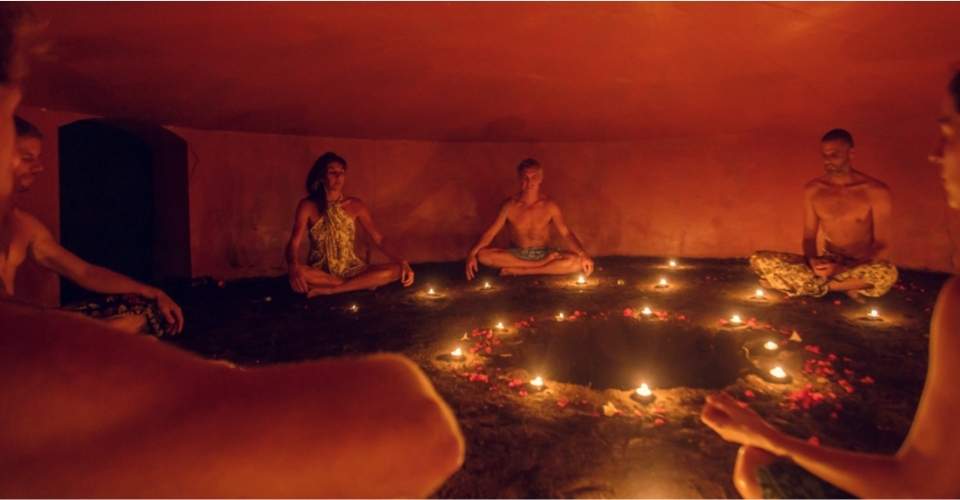 Being the summer vacation for lots of visitors to Cancun and Tulum area, there are plenty of events for every type of traveler.
If you are into wellness, there are a bunch of yoga studios and hotels that offer things such as Temazcal and yoga workshops.
But perhaps the biggest events happen at night. Visitors will find full-moon parties, epic beach clubs, and tons of nightlife venues featuring special events with international artists. In July, the city is very lively!
But unfortunately, when it comes to historical and cultural events in Tulum, there are hardly any.
---
Crowds In Tulum In July
The crowds in Tulum in July are usually quite high, but not always.
On one hand, you have all the kids that are on summer vacation, looking to have as much fun as possible before they go back to school. And because the kids are off, the parents are more likely going to take them on a family vacation, possibly to Tulum and the Yucatan Peninsula.
But on the other hand, you have the sub-optimal weather that deters many people from visiting, especially if they have been earlier in the year when the weather was nicer. This is usually more common with North American tourists, because flights are cheaper than from somewhere in Europe.
While crowds are usually quite high in July in Tulum, sometimes you might see a smaller crowd than usual.
The crowd makes sightseeing difficult, especially the place such as the cenotes where there is lot of space to begin with. We highly recommend that you visit the tourist attractions early in the morning to beat the crowds!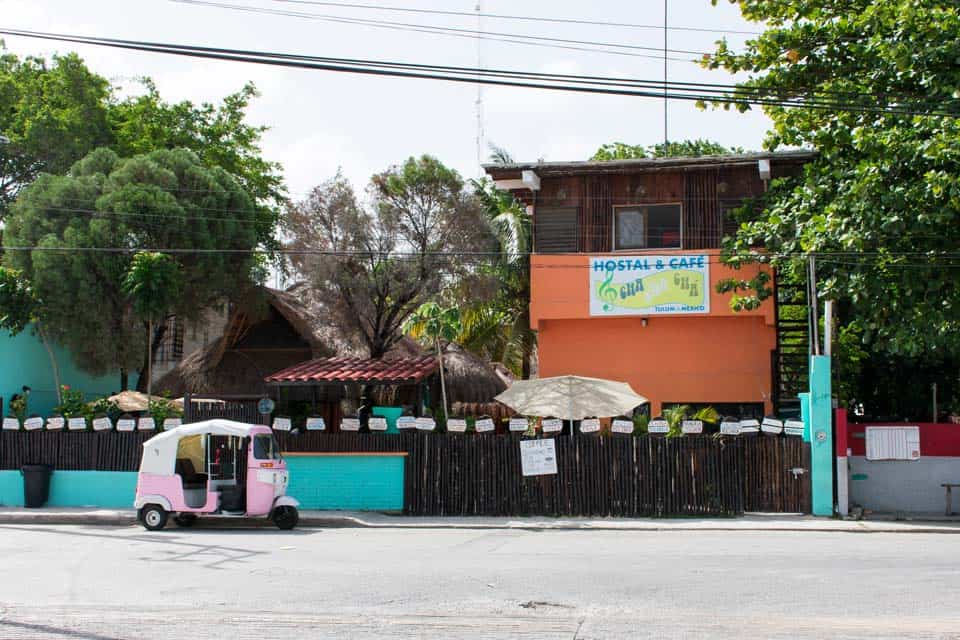 ---
Pros of Visiting Tulum in July
Here are some of the advantages of visiting Tulum in July:
You Can See Whale Sharks, Sea Turtles Nesting, and Turtle Hatchling – July is the perfect month to see these endangered species in Tulum. The whale sharks arrive in June and leave the end of August, sea turtles nest on the beaches from June to October, and their eggs hatch starting in July. July and August are the only 2 months in Tulum when you can experience these unique attractions in Tulum.
The Nightlife Is Amazing – With tons of visitors, the nightlife in Tulum in July is so much fun. Every nightclub and bar will likely be filled with people socializing and having a good time. If you like to party, July is a good time to visit!
---
Cons of Visiting Tulum in July
Here are some of the disadvantages of visiting Tulum in July:
The Weather Is Not Ideal For Sightseeing – As mentioned, the intense heat plus humidity is a combination that's going to make sightseeing in Tulum a struggle.
Might Be Hard To Find Accommodations, Especially Hostels – July in Tulum is usually packed, especially the hostels. That is because the students have their summer holidays and they love to travel, and many of them stay in hostels to travel on a budget. This means most of the accommodations, especially the budget ones like hostels, are likely going to be booked out.
---
Things to Do in Tulum in July
Cool Down in the Cenotes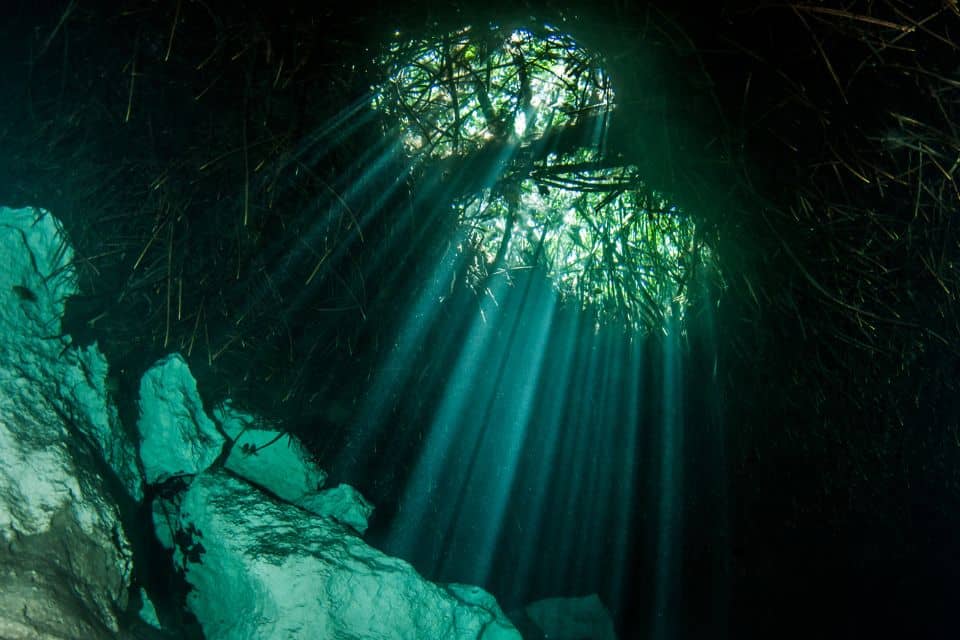 Trust me, the cenotes are going to be your favorite places to visit in Tulum if you are visiting in July. For anyone that's never been to one, they are natural sinkholes that were created due to the collapse of weak bedrock. There are three different kinds of cenotes:
Open Cenotes
Semi-Open Cenotes
Cave Cenotes
Open cenotes look like lakes because they are quite unobstructed. These are the best for swimming and sunbathing. Kaan Luum Laguna is our favorite open cenote in Tulum.
Cave cenotes are perfect for cooling down. Since they are sheltered, their water temperature is the coldest out of all the types of cenotes, but only marginally. They usually have epic cave formations which are great to explore through snorkeling and diving.
Go Visit the Mayan Ruins
Some of the biggest attractions in Tulum are the exotic Mayan Ruins. The Mayan civilization was one of the most powerful groups in the pre-Columbian era. Their legacy lasted until around the 9th century, but they have left a ton of Mayan Ruins where visitors can get a glimpse of the past.
If you are in Tulum, make sure you check out Tulum Ruins and Chichen Itza. Just make sure you stay hydrated and go early in the day to avoid the crowds. Though it is going to be a challenging visit, you can't miss it on your Tulum itinerary.
---
Tips For Visiting Tulum in July
Drink Plenty of Water – I want to avoid sounding like your mom but there's just no way around it. If you don't stay hydrated in July in Tulum, you are going to be miserable. The heat and humidity are going to make you sweat much more than you are used to, especially if you are from places like Europe.
Watch Your Belongings When Going Out – Pickpockets and thieves are very common during July, since they know that there are going to be a lot of college kids who aren't aware of the dangers when it comes to traveling in a foreign country. People do get their stuff, especially cellphones and wallets, when they are on a night out. Make sure you watch your belongings when going out and only take what you need.
Buy Some Travel Insurance – Tulum is generally very safe, but it is still Mexico. Also, since you'll be doing lots of outdoor activities and watersports, it is recommended that you at least have some travel insurance. ✔️ Check out our recommended travel insurance here!
---
Tulum in July FAQs
Is July a Good time to Visit Tulum?
July is not one of the best times to visit Tulum. This month is in the middle of Tulum's rainy season, so visitors can expect quite a bit of rain. It is also in the summer, which comes with a big summer crowd and uncomfortably high temperatures. Along with the year-round high humidity that comes with a tropical destination like Tulum and the high likelihood of seaweed on the beaches, visiting Tulum in July has many disadvantages.
Is it Busy in Tulum in July?
July is one of the busiest months in Tulum. Though the rainy weather might detour some tourists, July is one of the peak months for travel because of summer vacations. As a result, Tulum sees quite a bit of visitors in July.
What Are The Travel Seasons In Tulum?
There are three travel seasons in Tulum: the dry and peak season and (November to March), the wet and low season (May to August), and the shoulder season (April, September and October).
Does It Rain In Tulum In July?
July is Tulum's rainy season, so visitors should expect quite a bit of rain. The rain typically comes in short but powerful bursts, and you'll be glad for them because they'll cool down the temperature!
---
Explore Tulum By Month
---
Final Verdict
July is not a good month to visit Tulum because of the hot and humid weather. However, during this time, visitors do have the chance to see some of the endangered species in the region, plus the nightlife will be amazing at this time.
If you are planning a visit in July to Tulum, make sure you be extra cautious of the weather.
Disclaimer: Some of the links above are affiliate links. That means if you book or make a purchase through the links, we will earn a small commission at no extra cost to you! The money will help run this site! Thank you!