Not sure what to do in Riviera Maya, Mexico? We're not surprised.
Spanning from the South of Cancun to the Sian Ka'an Biological Reserve (Sorry, Cancun is not part of the Riviera Maya), Riviera Maya covers a massive amount of land with plenty of attractions.
It hugs the gorgeous Caribbean Coast on the east side of the Quintana Roo State, offering guests a wide variety of water-related activities. Travel inland and you will come across the majestic jungles that the indigenous Mayan civilization used to call home.
Hidden behind this lush greenery are incredible wonders such as nature sinkholes (cenotes in Spanish), diverse wildlife, and historical Mayan Ruins. There are simply too many things to do in Riviera Maya. Mayan Riviera.
That is why we have written this Riviera Maya guide, so we can share some of our favorite attractions in the region.
Enjoy!
---
Map of The Best Things To Do In Riviera Maya
Above is a map filled with all the Riviera Maya attractions we will be talking about. We have broken up the attractions into 4 categories: a general category, best cenotes, best day trips, and best beaches in Riviera Maya. Each of these categories has its own color.
For example, the color yellow is all the day trips from Riviera Maya and the color green is all the beaches. We believe this approach is the best way to plan your Riviera Maya itinerary as you can easily judge how far of a distance you might have to travel.
Click on the map to access the personalized Google Interactive Map, where you can find more details about the activities in Riviera Maya in our guide!
---
What Are The Best Things To Do In Mayan Riviera?
1. Discover Tulum Ruins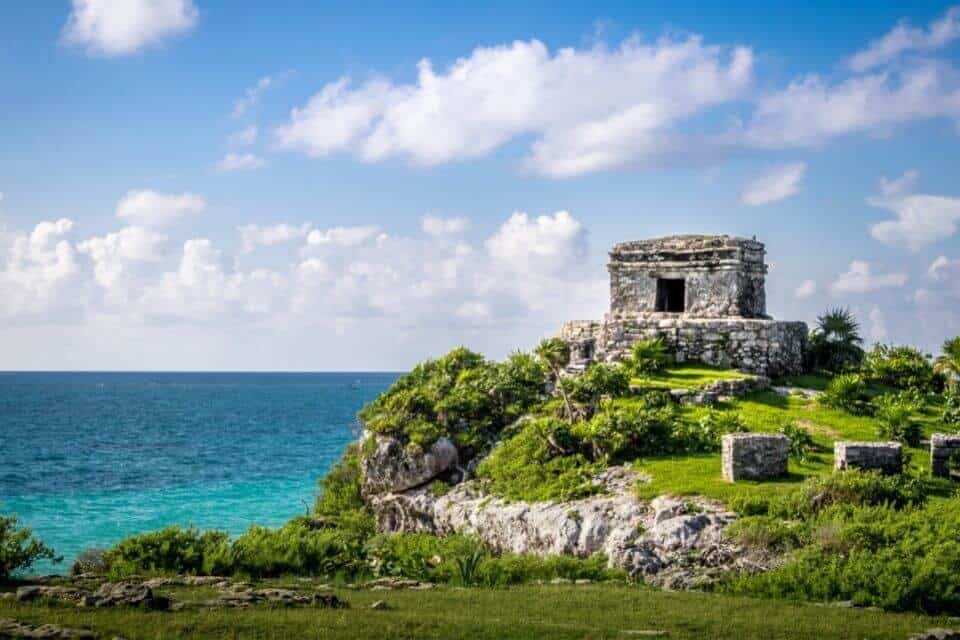 While the nearby Chichen Itza might be a grandiose Seven Wonders of the World, the Tulum Ruins offer something unique – an incredible view. Perched on top of a cliff, the Tulum Ruins overlook the turquoise Caribbean Sea.
What was once a fortified seaport has now become the site of one of the most popular tourist attractions in Mayan Riviera.
Simply said, Tulum Ruins is an exemplary example of what Riviera Maya has to offer – rich culture amidst the stunning natural landscape, this time in the form of white sand beach and glistening waters.
If you are staying in Tulum, the easiest way to get to the ruins is to hire a bicycle, which you can then use to explore the nearby beaches once you've had your fill of culture.
Arrive as early as you can, the ruins open at 8 am and soon flood with tourists – although current restrictions limit the number of visitors.
Entrance to the site costs $80 pesos, and while there is a cash machine on site, try to bring cash to purchase your ticket.
Highlights of the archaeological site include the Casa del Cenote and its small pool, the Temple of the Wind God by the cliff that features on all the postcards, and the beautiful stucco frieze of the Diving God in the boringly-named Structure 25.
There isn't much shade at the complex, so bring plenty of water and sun protection. And don't forget your swimsuit and towel so you can make use of the beach right below the ruins.

Though you can visit by yourself, we highly recommend getting a tour guide to explain to you the rich history. Otherwise, it might just look like a bunch of rocks on a cliff!
Check out our recommended Tulum Ruins guided tour here!
2. Explore Sian Ka'an Biosphere Reserve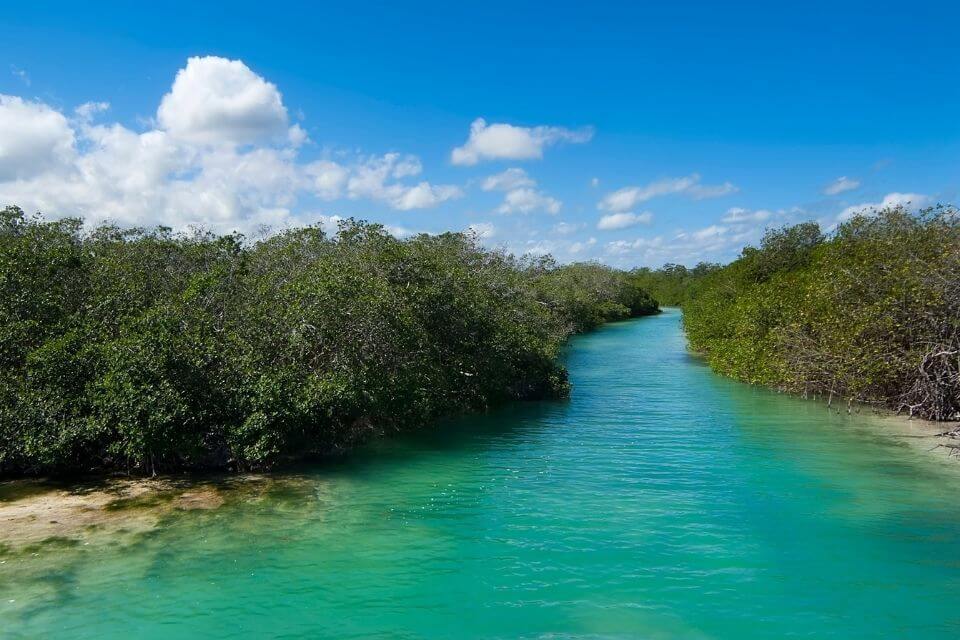 One of the best things to do on your first trip to Tulum is to explore the Sian K'an Biosphere Reserve on a boat tour. Located on the southern end of Tulum, Sian Ka'an encompasses about 1,100 square miles, and the way to truly appreciate this natural wonder is to see it by water.
In the language of the Mayan that inhabited the area, Sian Ka'an translates to "Origin of the Sky". Sian Ka'an Biosphere Reserve is a UNESCO World Heritage Site. Translating to a "learning place for sustainable development" in English, it is a place where visitors enjoy the natural world in all its glory.
It is similar to the Florida Everglades, though you can also swim at Sian Ka'an.
While out on the water, you can expect to see dolphins, turtles, manatees, and many different kinds of birds. There are certain parts suitable for swimming, and also cenotes in Sian Kaan, that the tour operator will take you to.
For a boat tour of Sian Ka'an, you can drive into the reserve from the Tulum Beach Road if you have a truck, SUV or 4X4. Once inside, you'll see plenty of tour operators along the way.
The road, however, is not suitable for cars. It is unpaved, very bumpy and usually muddy, so the easiest way is to join a tour that provides transportation from Tulum.
Check out our recommended Sian Ka'an jungle tour or this Sian Ka'an boat tour!
3. Go Snorkeling & Swim With Turtles in Akumal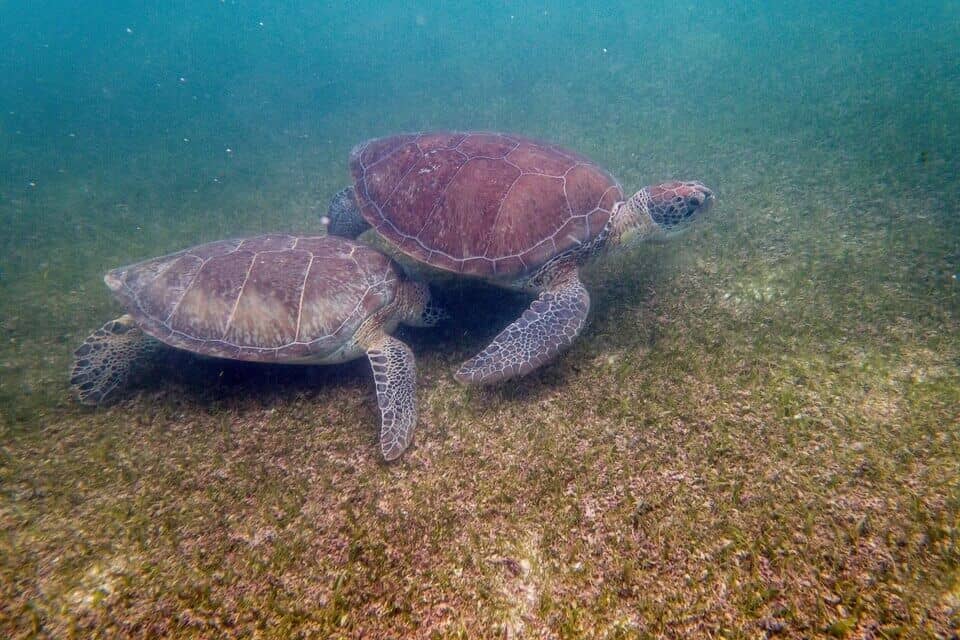 To the south of Cancun and Playa del Carmen lies the small Akumal Bay, one of the most popular places to visit in Riviera Maya. Here, dozens of endangered green sea turtles feed on the plentiful seagrass on the bay's sandy bottom.
The bay is protected by a natural reef that keeps waves to a minimum and allows the turtles a chance to relax. This also means that Akumal Bay is the perfect place for snorkelers to visit and see these majestic creatures up close.
Besides seeing the turtles up close, the beach at Akumal is broad and sandy, perfect for a day of relaxing in the sun.
When you arrive in Akumal, you are going to be swarmed by so-called "tour guides". Taking a guided tour will allow you access to a roped part of Akumal Bay. However, as the turtles are free to move, staying in this "private" part does not guarantee you to see any sea turtles.
That is why we recommend you to bring your own snorkel gear and head out into the swimming area of the bay. Ignore all the salesman trying to sell you a tour and explore independently. Life jackets are also "mandatory" and a way for the locals to make money.
We recommend renting one because all the movement in the water would scare off the sea turtles!
If you really want to go snorkeling in Akumal, visit early in the day before the sandy bottom is kicked up and the tours arrive. Also, obviously, don't touch the turtles!
Interested in a guided tour? Check out this Akumal turtles tour which includes the Tulum ruins and cenotes in the area!
4. Xcaret Theme Park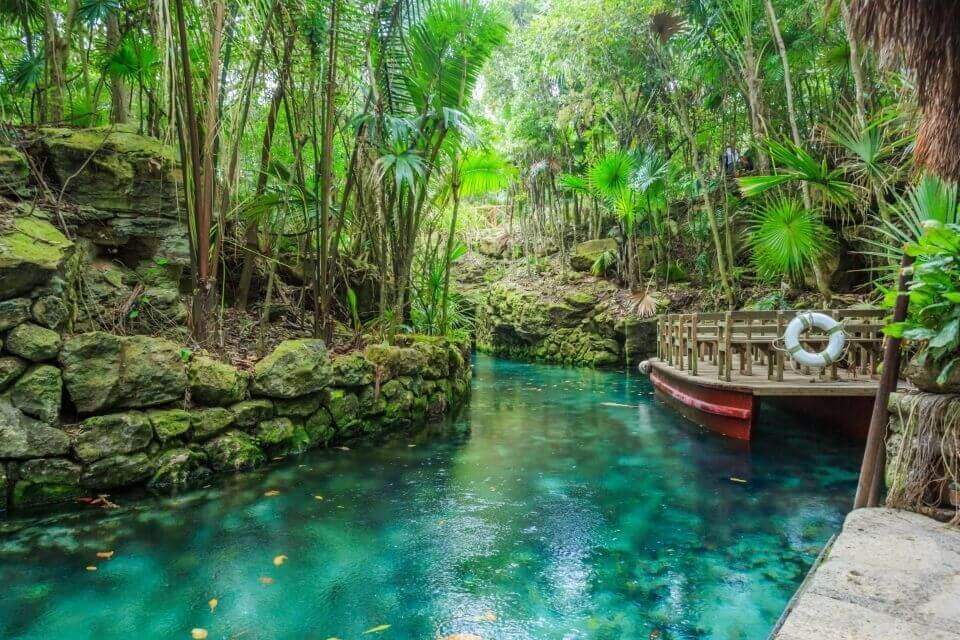 Xcaret is a world-class water, theme, amusement, and archeological park located in Playa del Carmen, perfect for travelers looking for things to do in Riviera Maya for family or kids.
This is a park unlike no other since its pristine location and celebration of Mexico's rich culture will leave visitors stunned. Besides, it offers over 50 natural and cultural attractions.
Most people visit to have the opportunity to swim in an underground river. All the equipment necessary for this activity is included in the admission fee. A beach, saltwater pool, and lagoon can be enjoyed as well.
Additionally, the park is home to an aquarium, sea turtle center, butterfly garden, aviary, Mayan Village, traditional cemetery, folk art museum, archeological ruin, and hacienda.
During the day, a series of live events highlight pre-Hispanic dances, specific ceremonies, and equestrian mastery. At night, the Mexico Espectacular presentation explores the history of the country through music, dance, and costume.
There are Regular admission to the park is about $110 for adults and $55 for kids. The plus admission, which includes a buffet lunch and drinks, is an additional $30. Some activities will incur an additional cost.
Xcaret can be reached from Playa del Carmen by public or private transportation.
Want to know more about Xcaret? Find more information here!
5. Fifth Avenue in Playa Del Carmen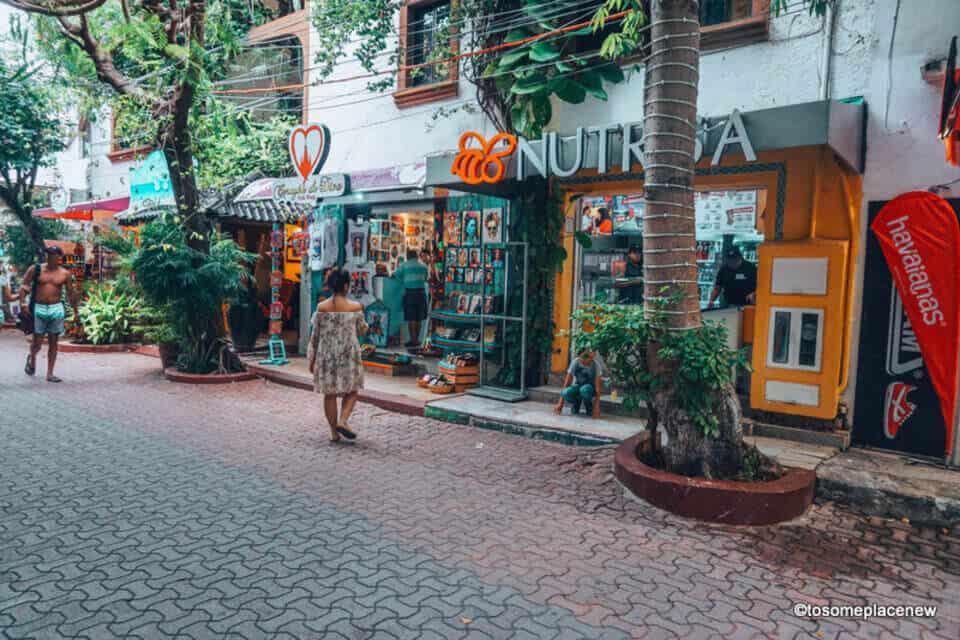 One of the popular towns in the Riviera Maya is Playa del Carmen. It is a very touristy area with a ton of all-inclusive resorts to choose from. Located here is Fifth Avenue – a bustling market street, and a must-add to any Playa del Carmen itinerary.
Fifth Avenue is a 5-mile pedestrian walkway. It is always packed with tourists from all over Riviera Maya, and nearby resorts of Playa del Carmen. The area is pretty safe and is filled with activities night and day.
There are no entry fees to the market, of course. There are local souvenir shops, restaurants, and street food vendors, shopping malls, and tour agencies, that are located inside 5th Avenue.
It takes care of all of the touristy needs like bar hopping, shopping, and tour arrangements such as car rentals for road tripping in Mexico, day tours to Tulum, Cozumel, etc.

The popular Frida Kahlo Museum is located on Fifth Avenue, and there is a restaurant in the neighborhood too. Though the Frida Kahlo Museum was nice, it isn't comparable to the one in Mexico City.
6. Explore The Island of Cozumel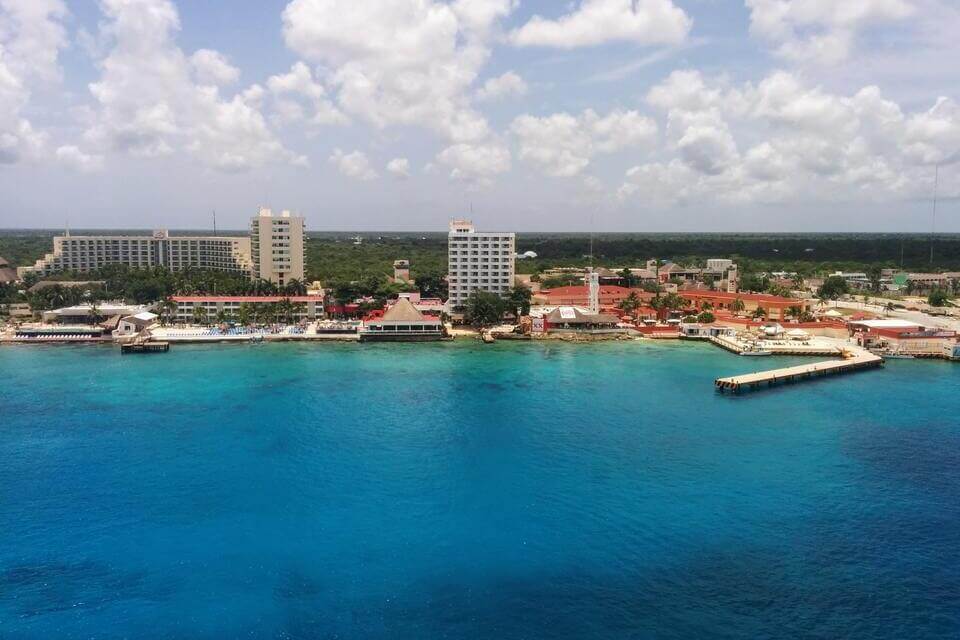 Located a 45-minute boat ride from the touristy town of Playa Del Carmen, Cozumel is the biggest island in Riviera Maya.
Known for its world-class coral reefs, stretches of stunning white beaches, and beautiful ecological reserves, Cozumel is a must-visit place in Riviera Maya for anyone looking to explore the best natural wonders in Mexico.
Come enjoy a day of swimming with dolphins and snorkeling at the Chankanaab Beach Adventure Park. Explore the San Gervasio archaeological site and learn about the rich Mayan heritage. They catch the heavenly sunset at one of the best beaches on the west side of Cozumel, such as Playa Balancar or San Francisco Beach.
Don't forget to explore Punta Sur, a 247-acre ecological park on the southern point of Cozumel that contains reefs, beaches, lagoons, and more. It is the most beautiful part of the island.
Cozumel is also known for its all-inclusive resorts, similar to some other parts of the Riviera Maya. Guests will have no difficulty finding luxury here. At the same time, pristine nature is all on your doorstep.
7. Check Out Cancun's Underwater Museum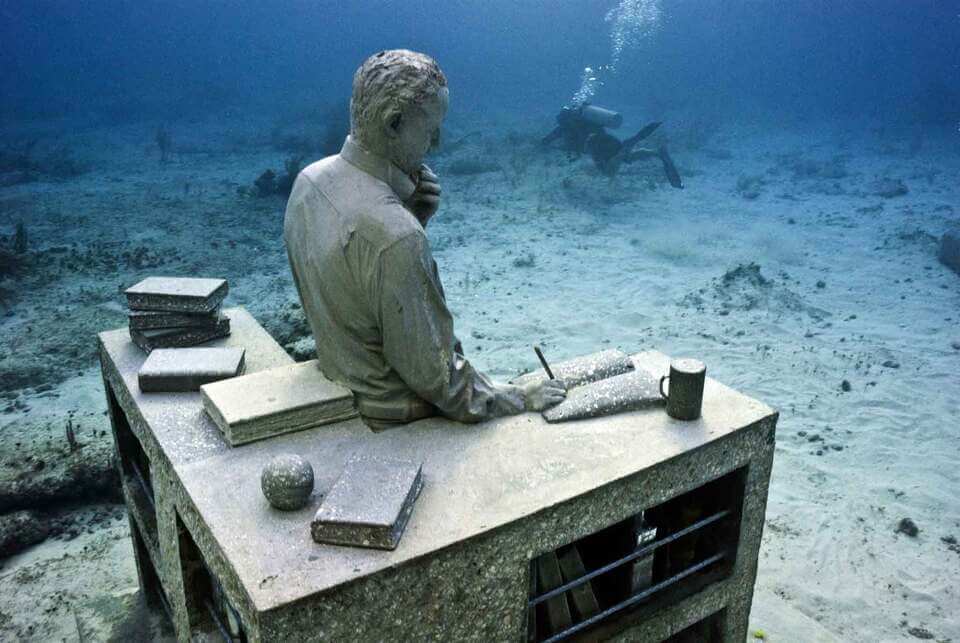 Exploring the Cancun Underwater Museum is unquestionably one of the most unique things to do in Riviera Maya. Situated between Cancun and Isla Mujeres, there are over 500 sculptures that rest at the bottom of the sea. These sculpture collectively form the Cancun Underwater Museum and is a must-see on any Riviera Maya trip.
Because the statues rest at the bottom of the sea, some of them might require scuba diving to see. However, don't worry if you don't know how to scuba dive, there are other ways to see them, such as through a tour on a glass-bottom boat or snorkeling.
Whichever way you decide to see these magnificent creations, you will be amazed at the crafts and the way they look underwater!
Check out this snorkeling tour at Cancun Underwater Museum!
8. Tulum Tower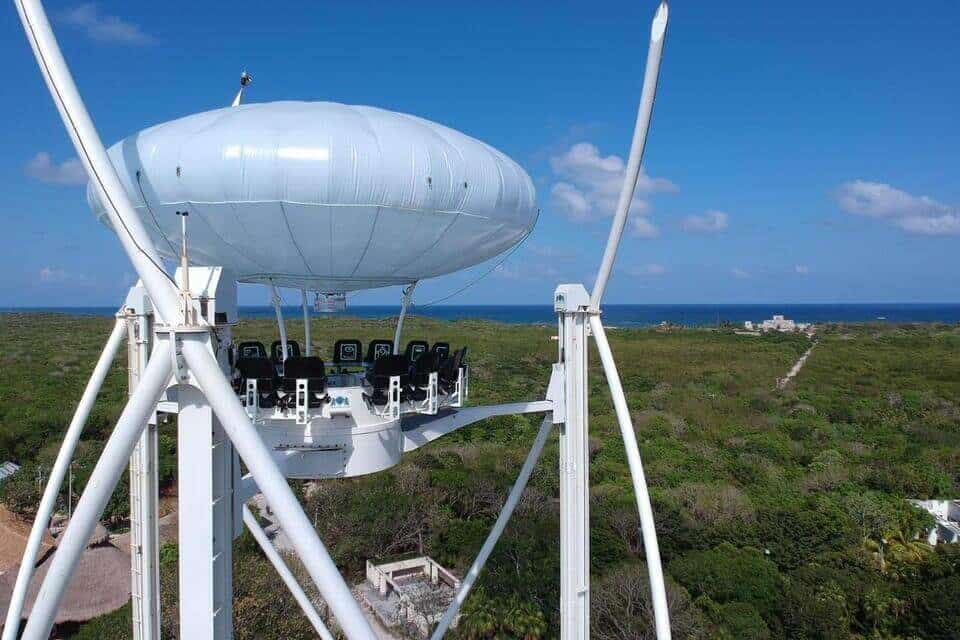 Tulum Tower is one of the newest and most popular attractions in Tulum. It is an experience that not only involves beautiful panoramic views of Tulum at 35 meters above ground, but it also involves a relaxing drink and a detailed tour. There are plenty of reasons why it is so popular.
When you first arrive at Tulum Tower, you are offered a refreshing drink and a place to store your belongings. After registering for your spot, you will get on one of the 16 seats on the revolving gondola.
The gondola will then slowly rise to 35 meters high, while slowly revolving and showing you the magnificent views.
Once you have arrived at maximum height, the tour guide will tell you about the history of the Mayan civilization and the region around Tulum. The whole experience lasts about 30 minutes but it is something that will offer lasting memories! It is one of the best things to do in Riviera Maya, Mexico.
9. Explore Puerto Morelos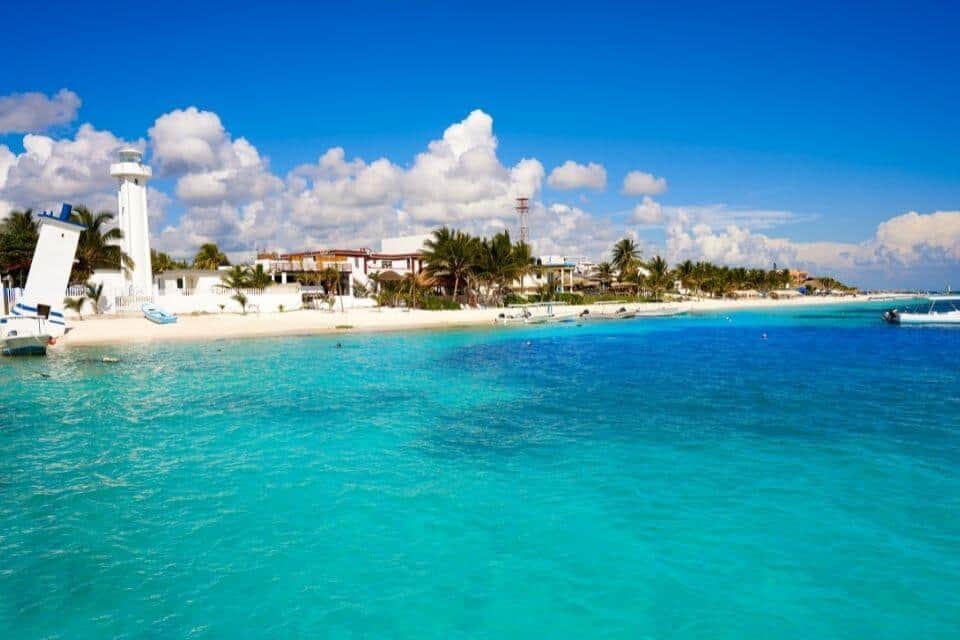 Puerto Morelos is a small Mexican port town located between the resorts of Cancun and Playa Del Carmen. Once a popular fishing village, Puerto Morelos has become a paradise for beach lovers and divers looking to explore the Puertos Morelos Reef National Park.
Unlike other parts of the Riviera Maya that are heavily westernized, Puerto Morelos retains some of its rustic charms. You won't find the western amenities and all-inclusive resorts like you would in Cancun, but rather small-sized bars and restaurants that remind you of the slow pace of the town.
If you are not sure what to do in Riviera Maya, come here for a day of relaxation. Chill by one of the best beaches in Puerto Morelos, snorkel or dive in the reefs, explore some of the nearby cenotes, or just enjoy its laid-back atmosphere. Puerto Morelos is the vacation away from vacation!
10. Sweat It Off At Tulum Jungle Gym
Another one of the newest and most unique attractions in the Maya Riviera is Tulum Jungle Gym, an eco-friendly gym on one of the wide stretches of beaches in Tulum. Here, guests have the opportunity to work out among lush jungles, soft white sand, and glistening waves.
All the equipment in the gym is made from bamboo, stone, or wood. Not only does this make the gym very stylish and unique, but it also utilizes the best of the elements around it to promote eco-friendliness.
If you ever want to break a sweat, stay fit on your vacation in Riviera Maya, or just get some stunning photos, the Tulum Jungle Gym is where you can go.
11. Swim in The Gorgeous Kaan Luum Lagoon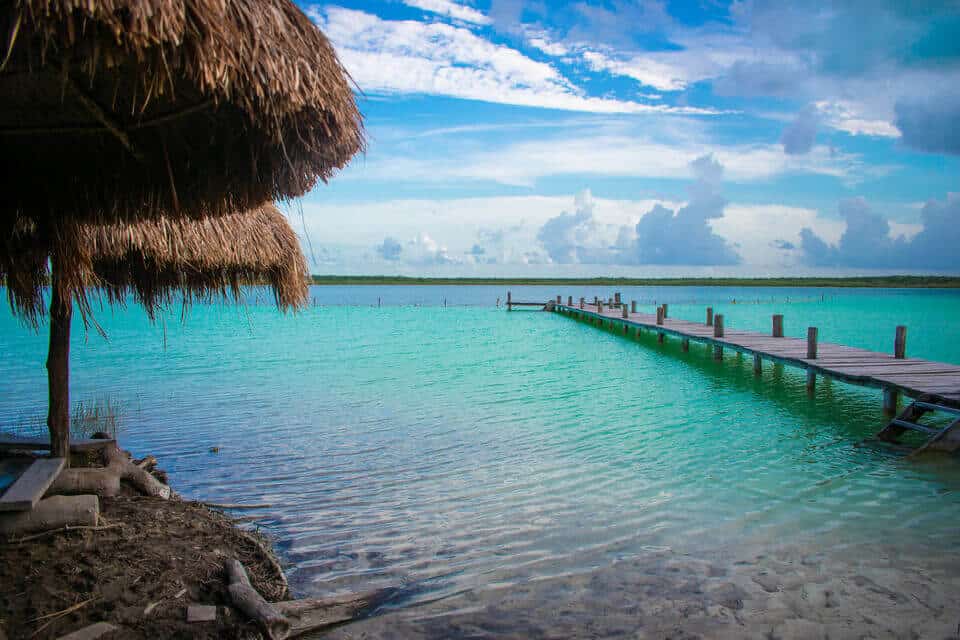 Surprisingly, the breathtaking Kaan Luum Lagoon (or Laguna de Kaan Luum in Spanish) is one of the best hidden gems in Riviera Maya. Unsurprisingly, it is one of our favorite places in Riviera Maya (even better than all the cenotes we saw).
The Kaan Luum Lagoon is a big, shallow and turquoise pool that surrounds a fenced deeper cenote. The waters here don't need any photoshopping because they are already the perfect shade of blue. However, if you take a swim in the lagoon, you will find that the water is crystal clear. It is very common to see schools of fish inside.
Spending a day here relaxing in the temperature-perfect lagoon is one of the best things to do in Riviera Maya for families, especially with the hammocks that hover slightly above water. Recently made is a small swing above water that offers visitors the best photo opportunity in Riviera Maya.
The Kaan Luum Lagoon is located a 10-minute drive or a 30-minute bike ride from Tulum center. Riding our bikes here was one of our favorite things to do in all of the Yucatan Peninsula.
12. Gran Cenote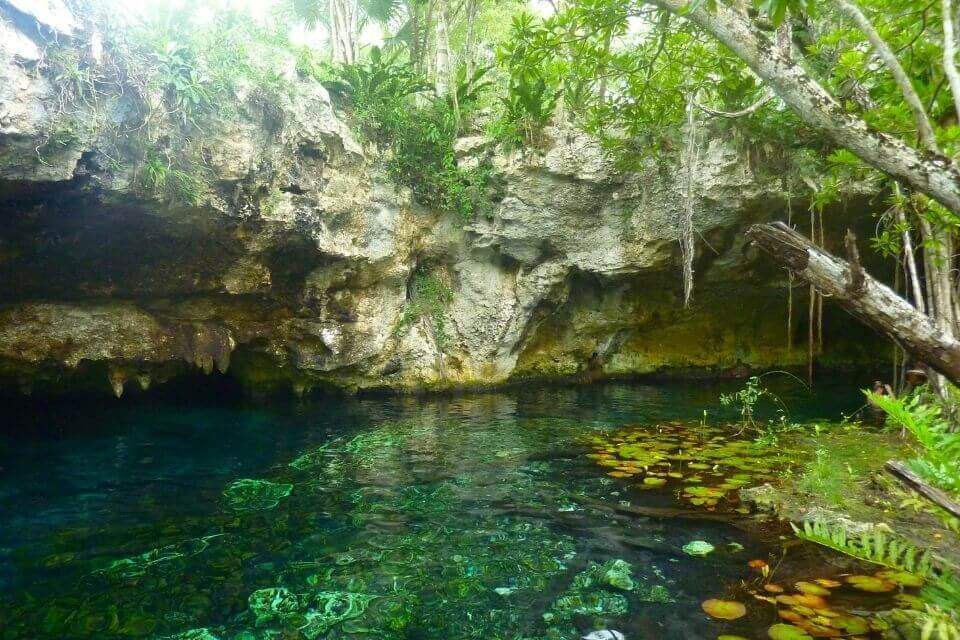 Gran Cenote is one of the best cenotes near Tulum and it is not difficult to see why. As a semi-open cenote, the Gran Cenote has numerous hidden caverns and multiple pools where visitors can enjoy the revitalizing freshwater while admiring the intricate rock formations.
There is a wooden boardwalk that connects different parts of the massive cenote, so guests can dry off in the sun after a nice swim. Visitors can rent snorkeling gear (or bring their own) and explore what's underneath the crystal clear water. It is very common to see turtles at Gran Cenote!
Because of how popular this cenote is (and how close it is to Tulum), Gran Cenote is often crowded. We recommend you to arrive early in the morning or late in the afternoon to avoid the crowds.
There are locker rentals in Gran Cenote, as well as snorkeling gear rentals and life vests rentals!
13. Cenote Dos Ojos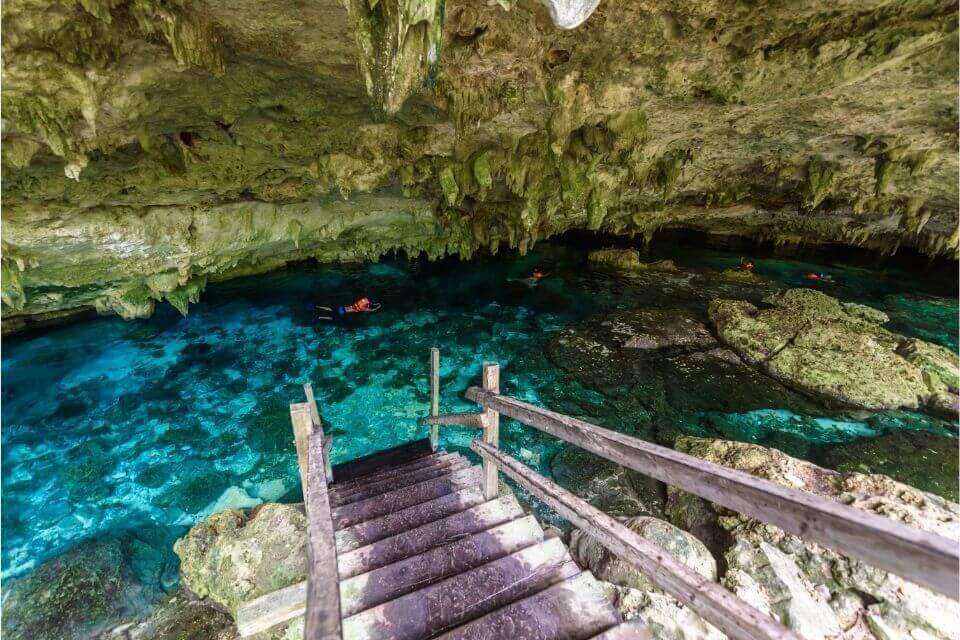 Out of all the cenotes in Riviera Maya, the two most famous ones are Gran Cenote (as discussed above) and Cenote Dos Ojos. Translating to "Two Eyes Cenote" in English, the cenote has two pools that appear like a pair of eyes when viewed from above.
Cenote Dos Ojos is one of the most popular cenotes for diving in Riviera Maya. The two pools are connected by an underwater passage that only scuba divers get to experience. If you wish to scuba dive, there are plenty of dive shops in Playa Del Carmen or Tulum that can arrange that for you.
For those that just want to have a standard cenote experience, Cenote Dos Ojos features some of the clearest waters in all of Rivera Maya. The pools are ideal for a day of lounging around, snorkeling, or admiring the stalactites and stalagmites.

There is also a bat cave that is only accessible through a guided tour, which visitors can get at the ticketing office at the entrance of Cenote Dos Ojos. Here guests will also have the option to rent life jackets and snorkeling gear. There are lockers for rentals, changing rooms, and bathrooms at Cenote Dos Ojos
Like all popular places to visit in Rivera Maya, getting there early or late in the day can help you avoid the crowds and enhance your experience. So make sure you time your visit properly!
14. Cenote Taak Bi Ha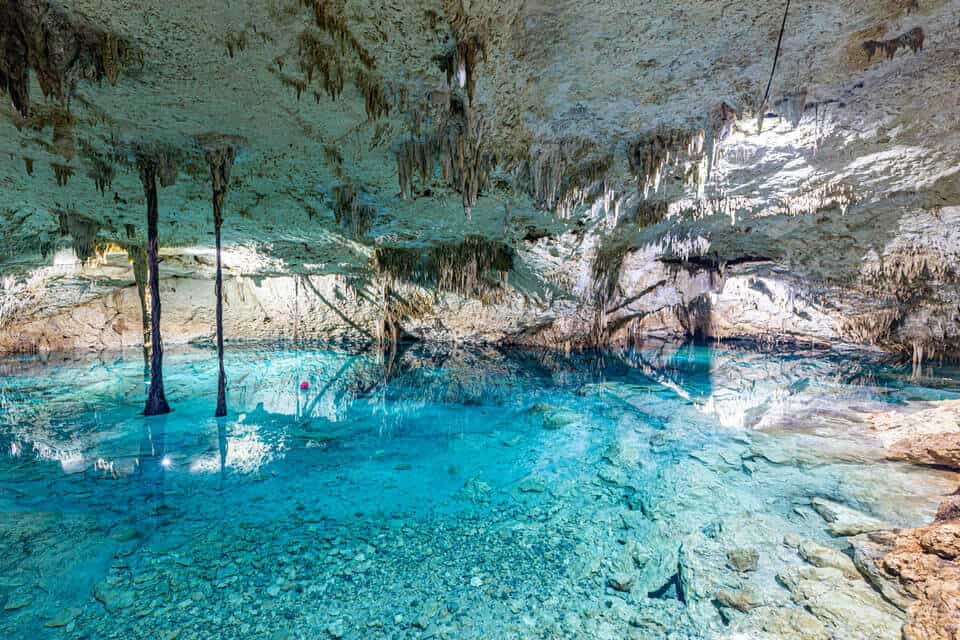 Among all the amazing things to do in the Riviera Maya, visiting one of the spectacular cenotes in the area is a must. In fact, the road from Puerto Morelos all the way to Bacalar, is lined with so many cenotes to explore, very different from one another and all offering a unique day trip from your hotel.
Cenote Taak Bi Ha is a relatively newly found cenote on the Riviera Maya. It shares the same entrance as the more popular cenote Dos Ojos but it's nestled a little further into the jungle.
It would be ideal for you to have a car to get there, or you can hire a taxi and ask them to wait for you. Make sure you agree on the price beforehand, though, if you opt for a taxi.

Cenote Taak Bi Ha is incredibly photogenic for its unique turquoise waters and the special rock formations but also for being less crowded than usual, especially if you go early morning or late afternoon.

It opens from 9 am to 4 pm (flexible hours) with an entrance fee of 350 MXN (in October 2020). Even divers love it but in order to dive, you will need to pay an extra fee and book through a dive shop that will arrange everything for you. If you don't dive, you can just swim, snorkel or enjoy the cool waters and the peaceful silence.
15. Cenote El Pit (The Pit)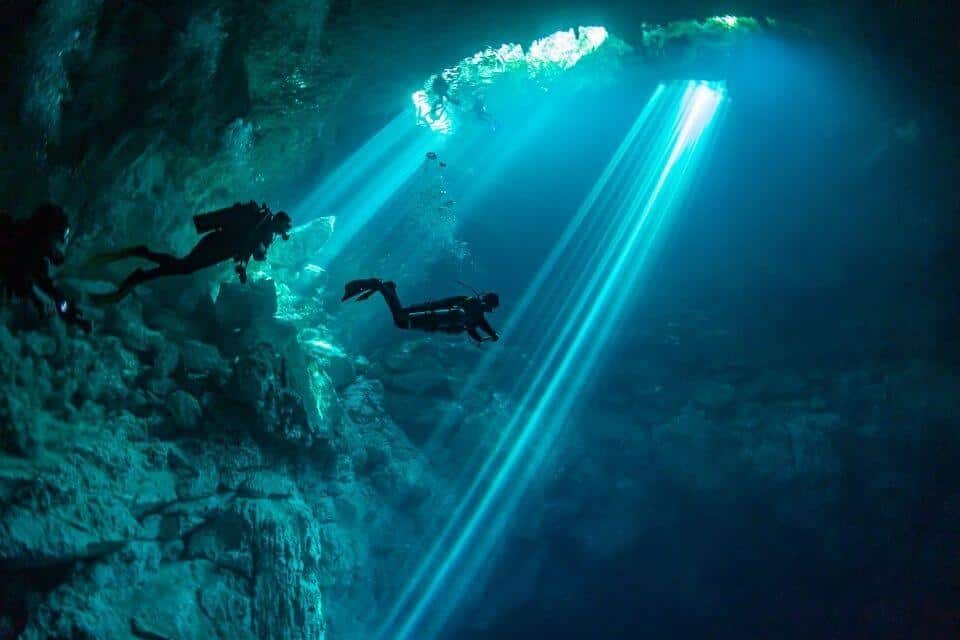 Suggested by Annika of TheVeryHungryMermaid

The Riviera Maya is known for its cenotes, natural sinkholes that can be found everywhere on the Yucatan Peninsula. Scuba divers from all over the world come to the area to dive in these beautiful underwater caves that are a sight to behold. The Pit is a favorite amongst divers despite its eerie name.
It is part of the Dos Ojos National Park about 20 km outside of Tulum. Divers can go down to 40 m and you will need an Advanced Open Water certification at a minimum to dive here.
A set of raggedy wood steps takes you down to a platform from where you enter the water. For those who don't want to carry all their gear, there is a little pulley system that can help to get tanks up and down.
The Pit is an underwater chamber full of amazing stalagmites and stalactites (watch your buoyancy and your head!) and beautiful light reflections, unlike many other cenotes which are entire cave systems.
It is extra special when diving in the Pit and passing through a hydrogen sulfide cloud and a halocline.
For the rest of the dive, remember to look up while diving in the Pit because that is where the magic happens: sunbeams breaking through the water create a beautiful show of light and shadows and a truly magical experience!
16. Cenote Calavera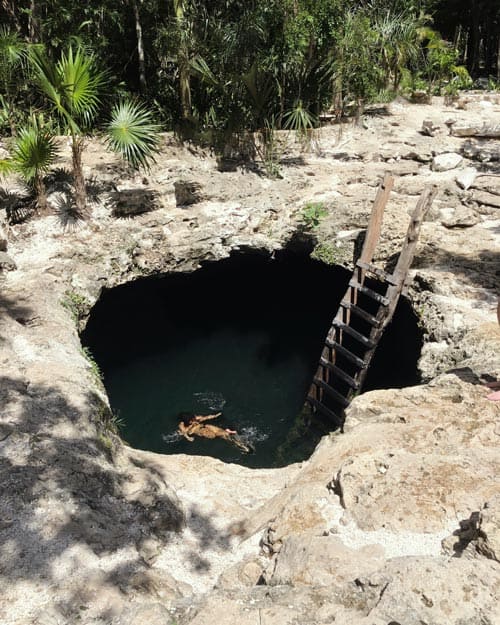 One of the most breathtaking activities in Riviera Maya is visiting its numerous cenotes. Cenotes can be open, semi-open, or fully underground. Of the semi-open variety, Cenote Calavera is easily the most mysterious option.
Known as the "Temple of Doom", this cenote will not disappoint! Several openings into the earth form a skull shape when viewed from above, and the deep dark cavern of cool water down below feels spooky if you get to swim here alone.
The water is deep enough to jump into each of the openings, and it is most exciting to drop through the small eye-holes into blackness! Diving is a popular option in this cenote and beyond. Note that self-diving is not an option; a certified dive instructor must lead visitors on a tour.
At a cost (at the time of writing) of 250 pesos, it is one of the cheap things to do in Riviera Maya. The opening hours are 9 AM to 5 PM daily. The site offers rustic facilities for changing and showering. Bring your own water and towels.
Please no bug spray or sunscreen here; the chemicals can ruin the delicate ecosystem of a cenote.
Read More: What Is Mexico Known For?
17. Take a Day Trip To Isla Mujeres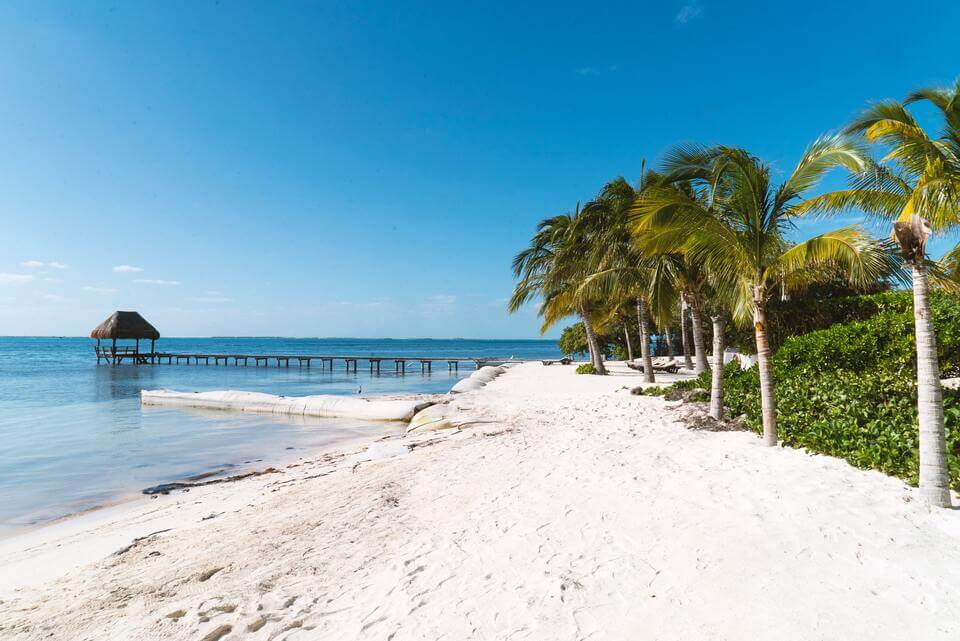 Isla Mujeres (Island of Women in English) is a nice addition to a Mexico itinerary and one of the nicest and easiest to visit islands in the Riviera Maya – for this reason, it can get quite crowded with both Mexican and foreign tourists, especially at the weekend.
A quick ferry ride from Cancun, you can opt to go there for just a day trip, or spend a few days taking in everything that the island has to offer. It is one of the best excursions in Riviera Maya.
If you are short on time, make sure to rent a scooter or – even better – a golf cart that you can drive to roam the island and visit the many beaches and other landmarks.
The most popular beach on Isla Mujeres is definitely Playa Norte, a nice white sand beach with shallow water where it is safe to swim. Punta Sur is on the other side of the island and as the name recalls it is the southern tip, located on a rather rugged coast with impressive ocean vistas.
If you fancy a bit of archeology, visit the ruins of Ixchel Temple. Finally, if you are a fan of diving or snorkeling, head to the Underwater Museum of Art – it's located about halfway between Cancun and Isla Mujeres and it is quite impressive to see!
Make sure to quickly stop by Isla Contoy, a small island of untouched natural wonders. next to Isla Mujeres.
Check out our Isla Mujeres and Isla Contoy day trip guided tour here!
18. Visit Chichen Itza, A Seven Wonders of The World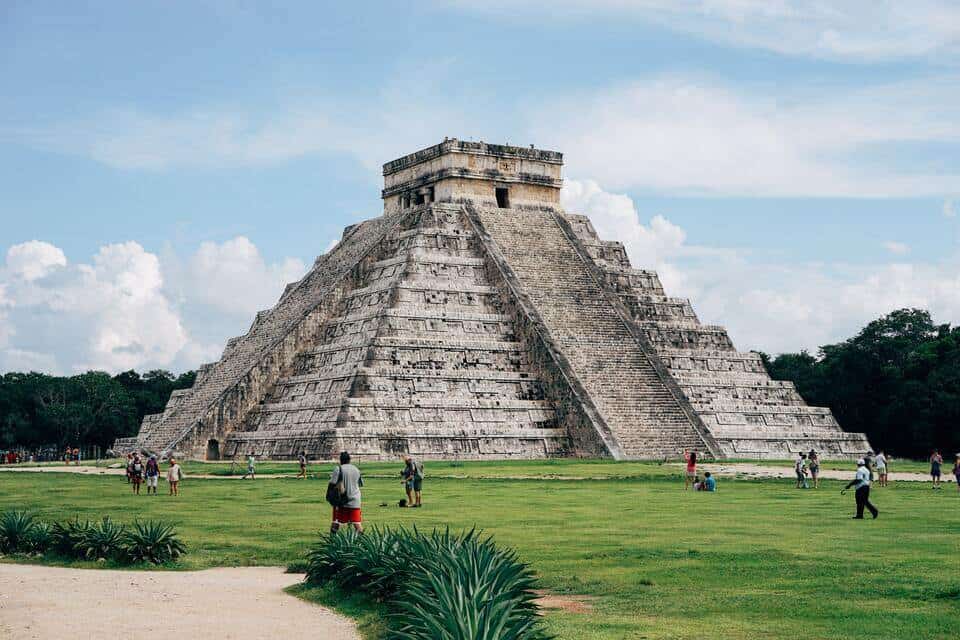 Suggested By: Pubali and Indranil from Paradise Catchers

If there is one thing to do in Riviera Maya, it is to visit Chichen Itza, the remains of a Mayan city and one of the Seven Wonders of the World.
Located in the Yucatán state of Mexico, the complex houses different monuments and structures, painting a picture of what life would have been during the Mayan civilization.
Among other structures, you will find a ball game court, the Sacred Cenote (which was used for sacrifices), central temple, church and a group of thousand columns.
However, the most iconic feature of Chichen Itza is El Castillo (or The Castle in English), but it is more commonly referred to as the Temple of Kukulcan. The four-walled pyramid is built to serve the Kukulcan, a feathered serpent deity that was worshipped by the Mayans.
The entrance fee to the Chichen Itza is 533 Mexican Pesos for adults and 80 Mexican Pesos for children (at the time of writing). Tour guides are not needed to enter Chichen Itza but they will surely enhance your experience. If you have to get only one cultural tour in Mexico, let it be this one.
If it is possible, we recommend getting to Chichen Itza as soon as it opens to avoid the massive midday crowd.
Otherwise, You can also book a guided tour from Tulum, Playa Del Carmen, or Cancun to visit Chichen Itza. Typically, these guided tours include a visit to the city of Valladolid and the nearby cenotes. Whatever you decide to do, make sure you have Chichen Itza on your Yucatan itinerary!
Check out our recommended Chichen Itza day trip tour here!
19. Climb Coba Ruins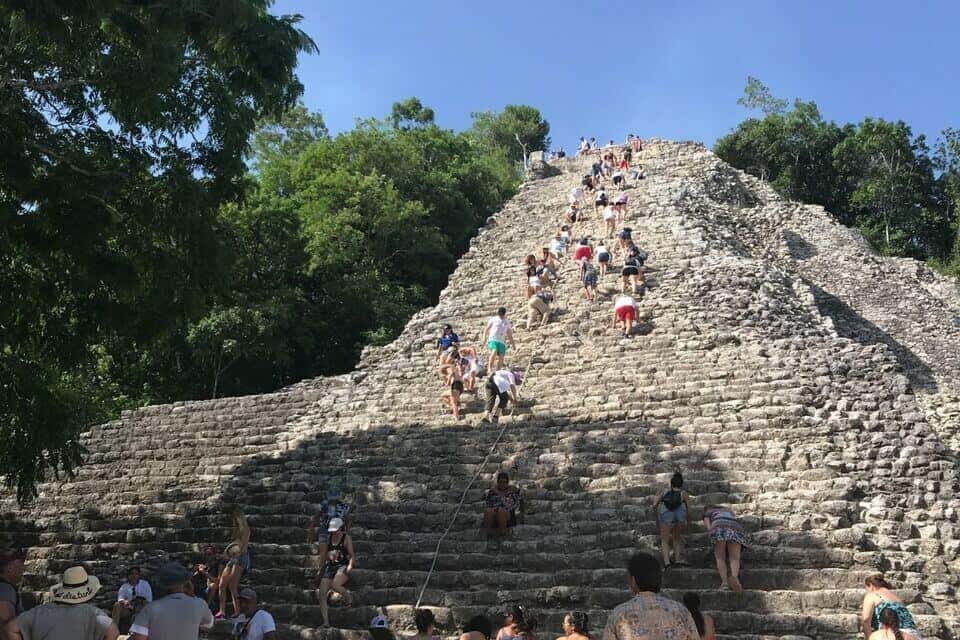 While they are less well-known than visiting Chichen Itza or Tulum, the Coba Ruins offer an unforgettable Mayan experience. Located about 45 minutes inland from Tulum, Coba is surrounded by the Mayan jungle and a lot of the appeal of this archeological site is its remoteness.
The main structures are located around 2 km from the gate, and you can rent a bicycle or hire a bike taxi if you don't want to make the trek on foot. Riding through the trees quickly becomes one of the highlights of the trip, as you can take time to stop at different sites.
Nothing compares, however, to get to actually climb the ruins! The main structure at Coba, Ixmoja, is actually taller than El Castillo Pyramid in Chichen Itza. Not only that, you are also able to climb to the top!
The stunning panoramic views of the Mayan jungles are truly breathtaking and sure to be a highlight of your trip. Take care during your climb as it is fairly steep, and the stones can be slick from wear.
The entrance to Coba is 80 pesos per person with a parking fee of 50 pesos (At the time of writing). Make sure you check out the nearby Coba cenotes as well!
Check out our recommended Coba Ruins tour here!
20. Isla Holbox Day Trip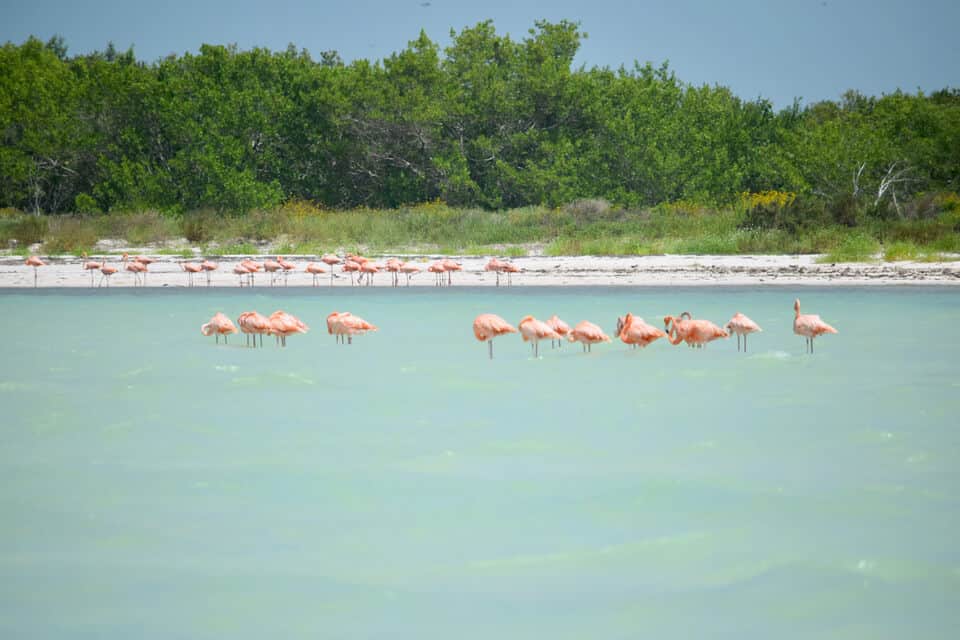 While there are many exciting things to do in Mexico, visiting the small island of Holbox is definitely top of the list. Located in the northern part of the Yucatan Peninsula, Holbox is its beautiful nature and impressive wildlife. In fact, it is part of the Yum Balam Nature Reserve.
Once you arrive at Holbox, you will notice the gorgeous six-mile-mile lagoon that separates mainland Yucatan Peninsula from Holbox. That lagoon is home to beautiful pink flamingos. The other thing you will notice is the lack of roads and the abundance of golf carts which you will have the opportunity to rent once you arrive on the island.
Holbox is Mexico's car-less island. Daily life revolves around exploring the vast Yum Balam Nature Reserve, strolling down the "main street" of Holbox, shopping at boutiques and enjoying superb seafood. Holbox is a place where visitors come to truly relax and enjoy what nature has given them.
While you're in Holbox you absolutely need to swim with whale sharks. This is one of the best spots in Mexico to see whale sharks in the wild and you might even get lucky and spot a manta ray as well.
Join a guided tour that will take you to see the whale sharks and let you snorkel and swim with them. Whale sharks are actually harmless to humans so no need to be afraid.
Find more information about the guided Isla Holbox tour here!
21. Explore Valladolid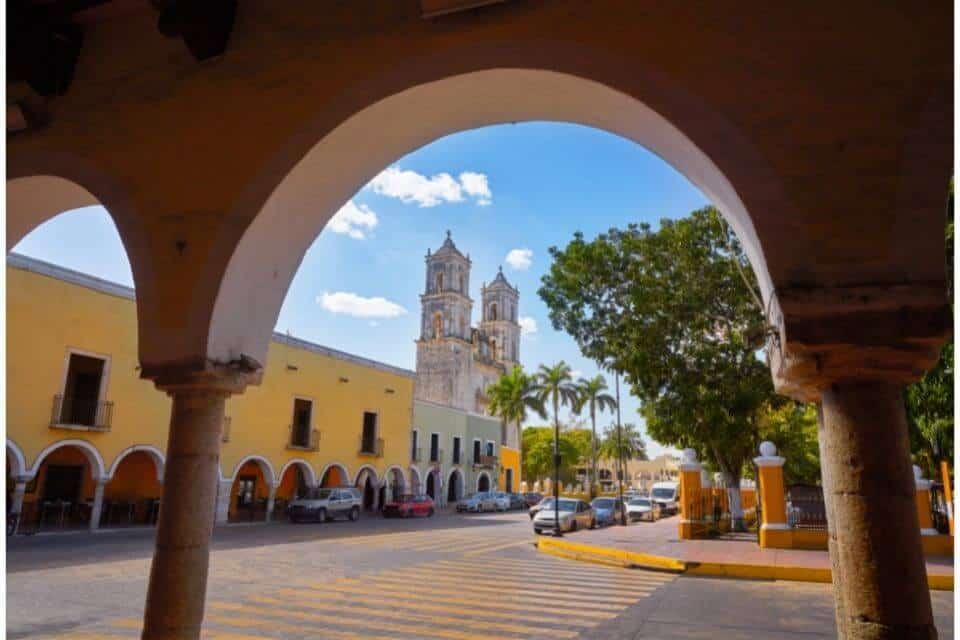 Valladolid is a beautiful colonial city located about a 1.5-hour drive from Tulum. Often time, Valladolid serves as a base for visitors that would like to visit Chichen Itza as early in the day as possible, as Valladolid is only about 30 minutes away from Chichen Itza.
However, this historical city offers a lot more than being a simple base for Mayan-ruins seekers. Haven't been crowded with tourists yet, this idyllic colonial city oozes its traditional charm. Stroll down the cobblestone streets and you will find colorful buildings that remind you of Spain. In fact, Valladolid is a name of a city in Spain!
Relax by Parque Principal Francisco Cantón Rosado, the main park of Valladolid, and just observe the daily lives of the locals. Check out some of the most renowned colonial architecture nearby, such as the 16th-century Convent of San Bernardino of Siena or the Baroque-style San Gervasio Cathedral.
Finally, finish off with a dip in the stunning Cenote Zaci, which is located right in town and a few blocks away from the main park. It is one of the cheapest cenotes in the Mayan Riviera!
22. Go On a Day Trip To Bacalar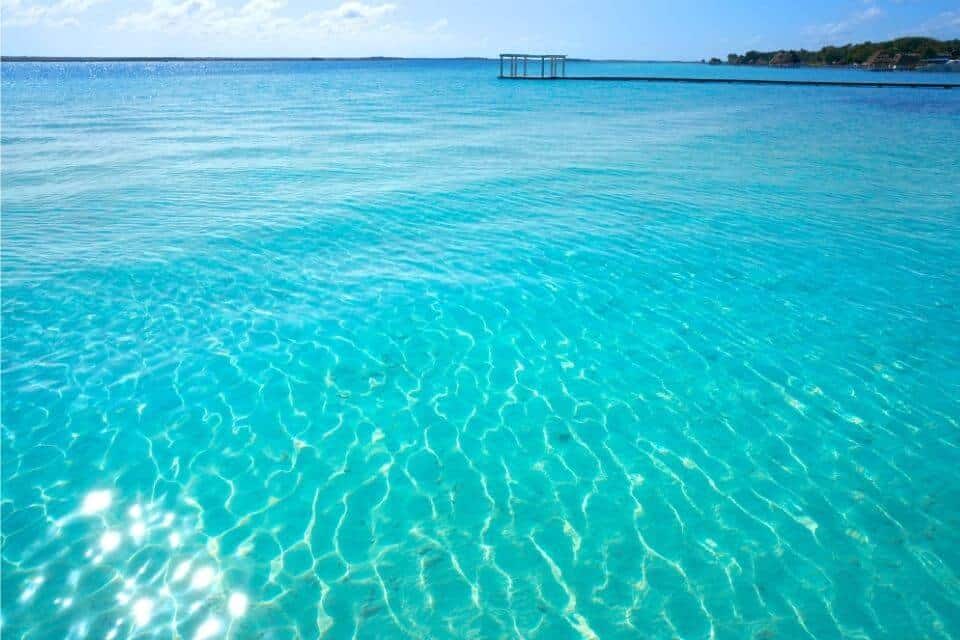 Located close to the border with Belize, Bacalar is one of the best hidden gems in Mexico. As one of the 111 Publeos Magicos, or Magic Towns in English, Bacalar showcases significant Mexican heritage. However, it isn't heritage that most visitors come here for, but the famous seven-tone lagoon.
The Bacalar Lagoon's crystal clear water is known to have a total of seven shades of blue. With white-sand sediment at the bottom of the lagoon, visitors can often see the bottom of the lagoon from above.
There are many things to do in Bacalar to explore this magical lagoon. Visitors can jump straight into its refreshing waters and go for a swim, rent a kayak and paddle far out, or take a boat tour. Finish off the day by exploring the Fortress of San Felipe, a Spanish fort built to protect this town against pirates, and a delicious seafood dinner.
23. Relax At Xpu-Ha Beach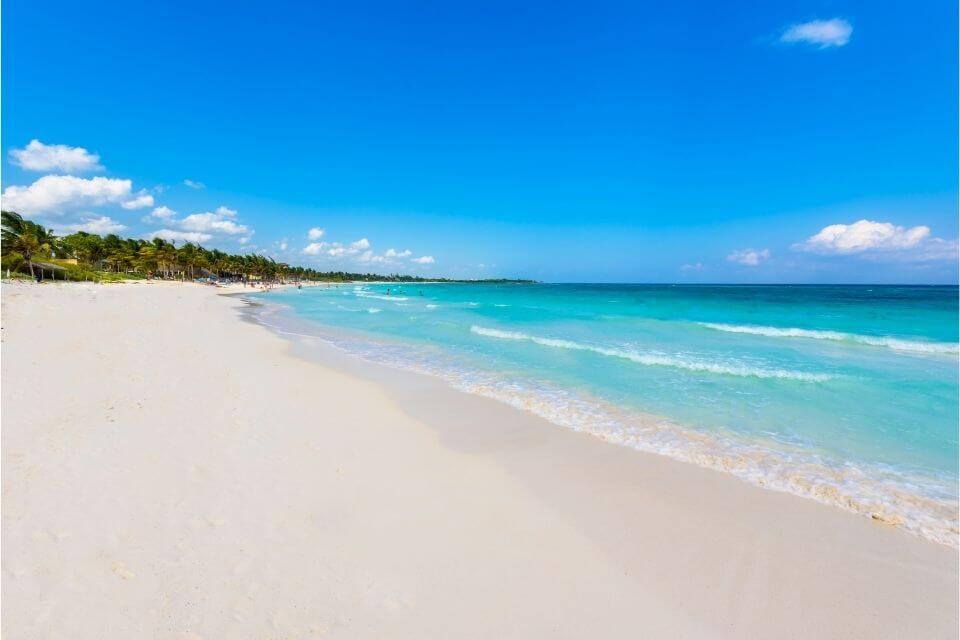 There are many beaches in Riviera Maya but none is as famous as the Xpu-Ha Beach. Located in Xpu-Ha, a small resort village between Playa Del Carmen and Tulum, Xpu-Ha Beach attracts visitors from all over the Riviera Maya.
The Xpu-Ha Beach is well-known for its clear water that is perfect for snorkeling or diving. The wide stretch of perfectly-sized sand is lined with rentable lounge chairs for visitors to relax. Visitors will also find numerous eateries to quench their hunger or thirst.
However, because Xpu-Ha Beach is one of the best things to do in Mayan Riviera, do expect a big crowd when you visit.
24. Go Swimming At Playa Paraiso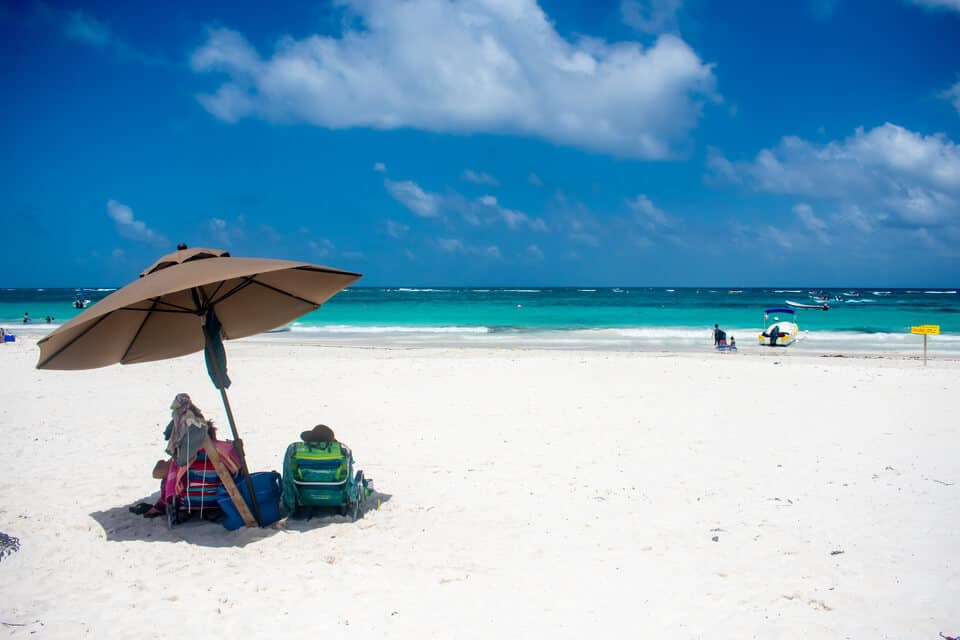 Playa Paraiso is one of the best public beaches in Riviera Maya (That means there is no entrance fee to enter the beach).

Playa Paraiso lies on the same stretch of sand as three other beaches (Playa Pescadores, Playa Santa Fe, and Playa Las Palmas), meaning that they are plenty of space for visitors to enjoy what this beach to offer. You don't need to worry about being next to someone else.
The extensive beach is lined with sky-soaring palm trees that make the beach very picturesque. You will also find small eateries where guests can get an iced coconut and sit in the shade. Guests that want to lay on a sunbed can rent it from certain sections of the beach.
Playa Paraiso is one of our favorite beaches near Tulum as it is biking-distance away. Nothing was better than jumping into its glistening waters and soothing white waves after a sweaty 15-minute bike ride. Free things to do in Riviera are not abundant, so definitely check this out when you get the chance!
25. Playa Ruinas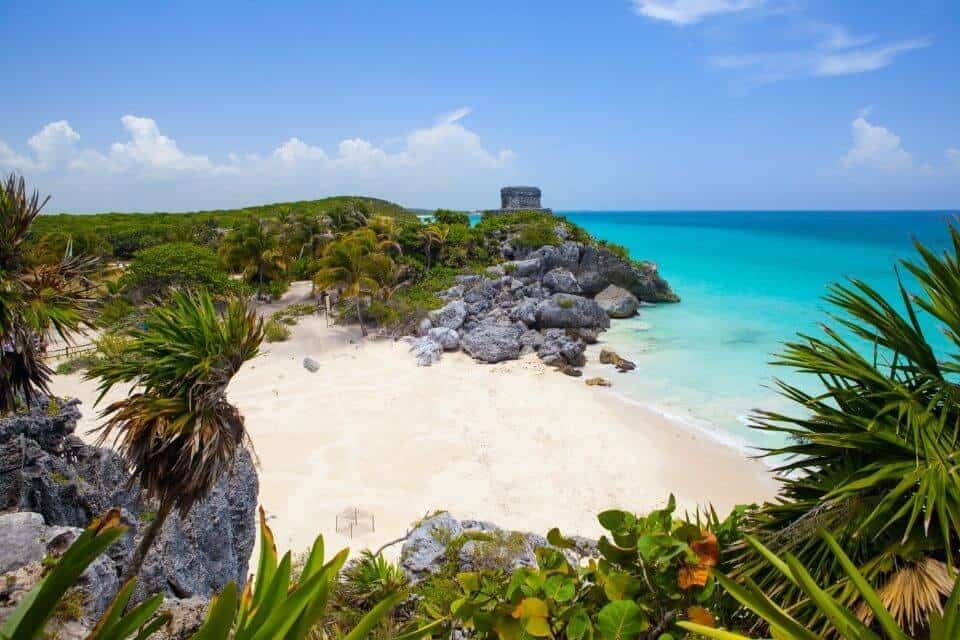 Playa Ruinas is one of the most picturesque beaches in Tulum. Situated beneath the almighty Tulum Ruins, Playa Ruinas not only offers guests a soothing dip after exploring the ancient Mayan Ruins, but incredible views of the sheer walls where the ruins are perched.
How often do you get to experience a Mayan Ruins AND the Caribbean Sea at the same time?!
The Playa Ruinas beach is one of the less crowded beaches in Riviera Maya. You won't find any refreshment stands, no one selling you coconuts, or any stalls making you a fresh mojito. It is just you, the sea, and the incredible ruins around you.
With that said, Playa Ruinas isn't as big as any of the other beaches in the area.
---
Best Time To Visit Riviera Maya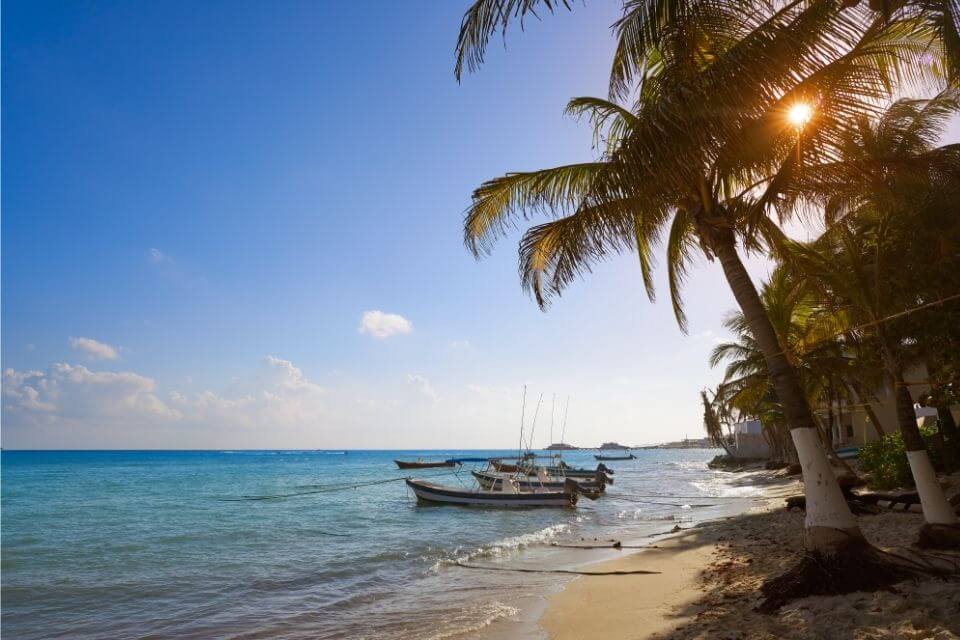 There are generally four things to consider when deciding when is the best time to go to Riviera Maya:
Temperature
Rainfall
Crowds
Sargassum seaweed condition
Temperature in Riviera Maya
The temperature in Riviera Maya is very similar to other parts of North America. It is the hottest in the summer months (July and December) and it is the coolest in the winter months (December to February).
In the summer months, the temperature in Riviera Maya is so hot that it becomes quite unpleasant for most people. Mixed in with the high humidity that is prevalent in these months, summer is not usually a good time to go if you seek pleasant temperatures.
Exploring Riviera Maya becomes quite difficult, so you are pretty much chilling by the sea or swimming in a cenote every day of your visit.
Rainfall in Riviera Maya
From the months of May to October, it is considered to be the rainy season for Riviera Maya. Rainfall is quite common during these months but it isn't the typical rainfall you'd expect in North America. Rainfall in Riviera Maya often comes in short torrential pours and then quickly becomes sunny again.
Because the rainy season coincides with the summers of Riviera Maya, the rain often alleviates some of the scorching heat during this time. The months of September and October are known to be the rainiest months in Riviera Maya.
Crowds in Riviera Maya
The busiest season in Riviera Maya is the summer months when the kids are off from school, the winter months when North Americans are escaping the cold, and during Spring Break (which is around mid-March to mid-April).
During these times, the prices are usually higher in Riviera Maya and most accommodations are fully-booked in advance. Visitors will find big crowds on the beaches and many of the sightseeing locations in Riviera Maya. Tourism is in full bloom during those months.
Sargassum Seaweed in Riviera Maya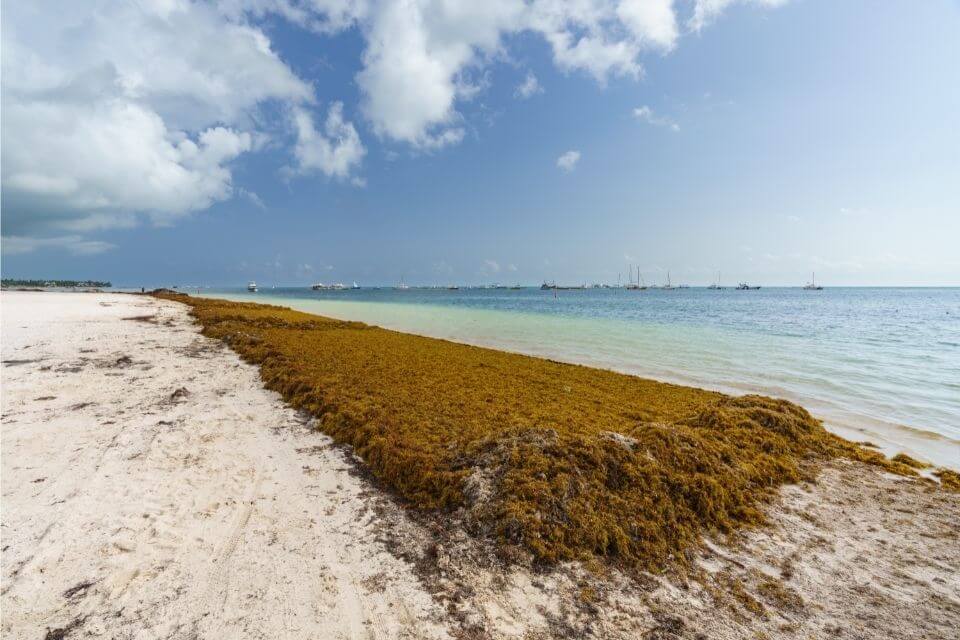 The sargassum seaweed has become one of the major factors when planning a trip to Riviera Maya. First becoming a major issue in 2018 due to global warming, sargassum is dead seaweed that washes up on the side of the beaches on the Caribbean Coast. Not only do they look disgusting in their dark brown color, but they also smell absolutely terrible.
If you encounter a large quantity of sargassum on your visit to Riviera Maya, your trip can be seriously ruined.
Luckily, sargassum season runs from May to October, and travelers visitors in other months have a good chance to avoid this issue. Visitors can also check the various beach cams along the Riviera Maya coast to see if there are lots of seaweed before booking their trip.
There is also a Sargassum Early Warning Advisory System here, but we have not been able to figure out how to use it…
Conclusion
With that said, the best time to visit Riviera Maya would generally be somewhere from November to April. These months avoid the scorching heat, heavy rainfall, and the terrible seaweed issue.
The only downside is that on cloudy days, it might be a tad too cold to sit on the beach. You might also need a light jacket for the nights. You will also need to book everything in advance as it is peak season in Riviera Maya.
But that is a small price to pay given how you can enjoy some of the best things to do in Riviera Maya wholeheartedly.
---
Where To Stay In Riviera Maya
Riviera Maya is a huge region filled with a variety of accommodations. From all-inclusive resorts to boutique hotels to trendy hostels, there are so many places to stay in Riviera Maya. However, usually, visitors say in one of the two cities in Riviera Maya, Tulum or Playa Del Carmen.
Here are the best places to stay in Tulum and Playa Del Carmen. Then we will mention some of our all-inclusive resorts in the region because they usually aren't in Tulum or Playa Del Carmen!
Best Places To Stay in Tulum, Mexico
Best Hostel In Tulum – Mayan Monkey Hotel & Hostel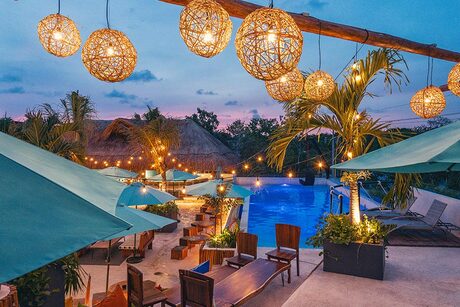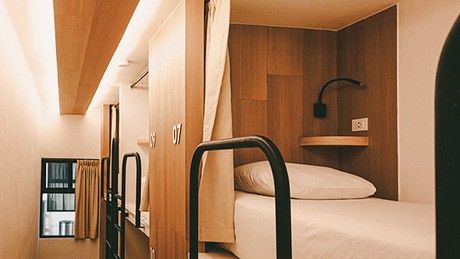 No trip to Riviera Maya is complete without enjoying some of its fantastic nightlife. Thanks to the amazing Maya Monkey Hotel & Hostel, you can do that easily.

Start your day with a free and delicious breakfast before jumping in their pool for a relaxing morning swim. Dry off on one of their sun loungers and soak in the glorious Mexican sun.

Once you are ready to explore Riviera Maya, you can take advantage of Maya Monkey Hotel & Hostel's prime location in Tulum center. Some of the best tourist attractions in Riviera Maya such as the Tulum Ruins, Gran Cenote, and Playa Paraiso beach are all within a short bike ride away.

Finished off the day with an ice-cold mojito from their on-site bar and meet travelers from around the world. This hostel is known for holding some of the best parties in Tulum!

Click here for more details!
Best Vacation Rentals in Tulum – Villa Guacamaya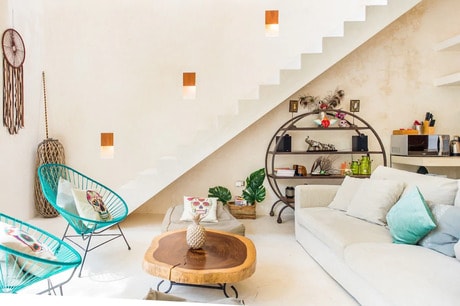 (Images Courtesy of Vrbo)

There are plenty of beautiful vacation rentals in Tulum, but none can compare to the luxury and spaciousness of Villa Guacamaya.

Featuring a total of three bedrooms and two single mattresses in the TV room, this Tulum villa can comfortably accommodate a maximum of 10 guests. If you are visiting Riviera with your family or groups of friends, you will find the space perfect for you.

Spanning a total of two floors and a roof, there is ample space for all the guests to indulge. As minimalist travelers ourselves, we particularly like the simple and cozy interior designs. When you are not enjoying the indoor spaces, go take a refreshing dip in your indoor pool, soak up the sun poolside, or work out in your private gym.

The accommodation is located far enough from the craziness of Tulum center, but close enough that it is walking distance away from some of the best Tulum has to offer. Visitors can also rent bicycles to explore the town from this vacation rental!
Best Hotel in Tulum – Delek Tulum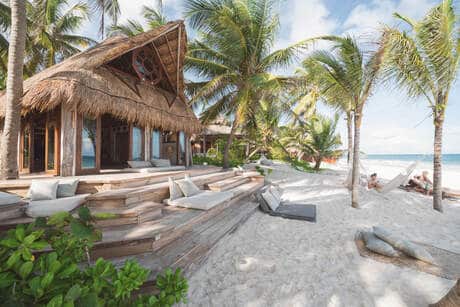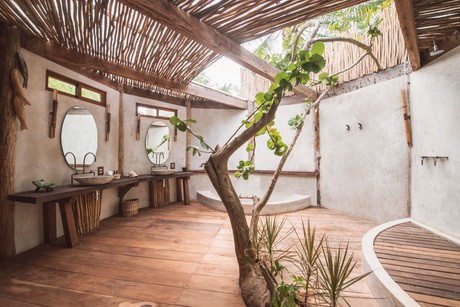 Delek Tulum is one of the 5-star hotels located in the highly desired Tulum Beach zone. It combines the best elements of Riviera Maya such as beautiful beaches and lush jungles and superb hospitality to create the perfect stay away from home.

Delek Tulum offers treehouses and beachfront villas, all beautifully designed using locally sourced materials. When you are not enjoying your private accommodation, enjoy the breathtaking Tulum Beach, which is only a few footsteps away.

Their on-site restaurant also serves some of the best food in Tulum, so there is nothing Delek Tulum cannot provide for you!
Click here for more information!
Best Places To Stay in Playa Del Carmen, Mexico
Best Vacation Rental In Playa Del Carmen – Penthouse w/ Private Jacuzzi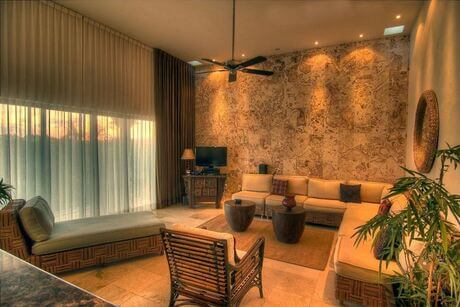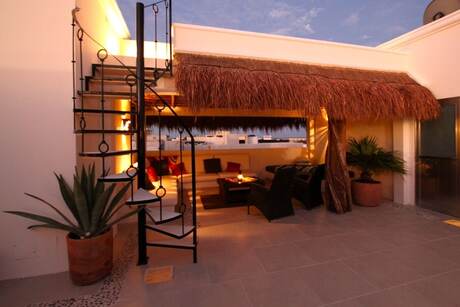 If you are looking for a luxurious stay in Riviera Maya, consider this penthouse Vrbo in Playa Del Carmen. Featuring a private rooftop with a jacuzzi, guests can enjoy a romantic evening of admiring the sunset and soaking their worries away. For days when the beach isn't too ideal, guests can take advantage of the pool on the property.

Featuring a total of 2 bedrooms and 2 bathrooms, this Riviera Maya rental can comfortably accommodate a maximum of 5 guests. Whether you are here as a family or as a couple, you will find this space enjoyable.

When you are not indulging in the deluxe amenities of this Vrbo, exploring Playa Del Carmen cannot be easier. In 5 minutes, you can walk to the best beach in Playa Del Carmen. In 2 minutes, you can walk to the famous Fifth Avenue of PDC, where you will find the best restaurants, shops, and bars.

Click here for more info!
Best Hotel in Playa Del Carmen – Mahekal Beach Front Resort & Spa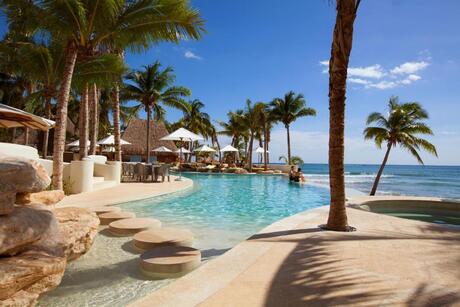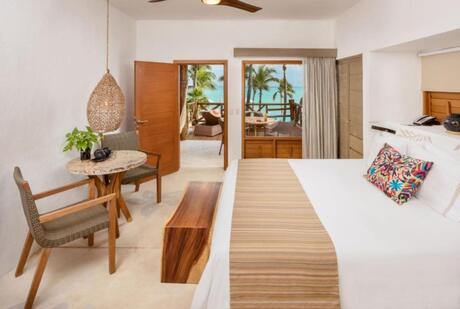 Located on the beachfront of Playa Del Carmen, Mahekal Resort & Spa is one of the best places to stay in Riviera Maya. Enjoy relaxing in one of their four outdoor pools or on the private beach. The accommodation also offers dive certification courses and tours to activities in the region.

Each room in the Mahekal Resort & Spa is spacious, air-conditioned, and decorated with Mayan elements. Each room is equipped with a hammock on the balcony, perfect to listen to the sounds of the waves or feel the breeze of the sea.

This resort also offers an on-site restaurant, so guests can really get settled in knowing all of their needs will be met.

Click here for more information!
Best All-Inclusive Resort In Riviera Maya – Dreams Riviera Resort & Spa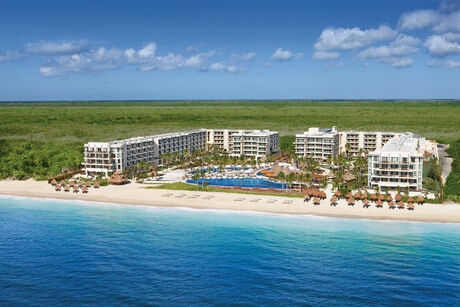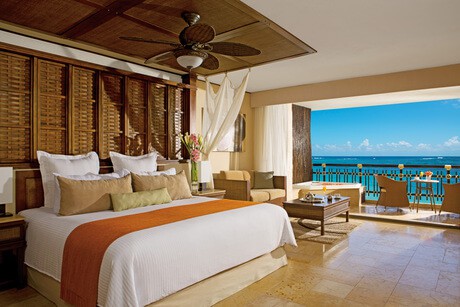 If you are looking for a place to be treated like kings and queens, then the all-inclusive Dreams Riviera Cancun Resort & Spa is the perfect place to stay. Enjoy a world-class stay surrounded by pristine Mayan jungle and the beautiful Caribbean coast.

When it comes to amenities, Dreams Riviera features an incredible spa, a massive infinity, and 6 high-class restaurants for guests to indulge in. Guests can choose between the diverse types of cuisines ranging from Mexican to Italian. There are also 7 bars on the property, including a poolside bar and a beachfront bar.

Even if you are not sure what to do in Mayan Riviera, this all-inclusive resort will keep you entertained.

Each room is meticulously designed to provide guests with maximum comfort. From the colonial-style decor to the lucrative furnishings, guests won't just find a perfect home away from home, but a paradise on earth!

Click here for more details!
---
How To Get To Riviera Maya, Mexico
The Riviera Maya is very easy to get to, thanks to the amazing international airport in Cancun. Affordable flights from many destinations around the world go directly to Cancun.
From there, visitors can easily rent a car and drive to Riviera Maya, which is a region that starts about 30 minutes south of Cancun. Alternatively, visitors can take public buses from companies such as ADO or OCC to cities in the Riviera Maya such as Playa Del Carmen or Tulum
Alternatively, visitors can take public buses from companies such as ADO or OCC to cities in the Riviera Maya such as Playa Del Carmen or Tulum.
Getting around Riviera Maya is similar. You will either need to have your own rental car or use the public (but reliable) bus system. If you are traveling short distances, there might be a colectivo (shared minivan) that can take you to your destination (ex. if you are going from Tulum town to Tulum Ruins.

Flying is possible but uncommon when getting around Riviera Maya.
---
Visiting Riviera Maya FAQs
Is Riviera Maya safe? Is it safe to go out in Riviera Maya?
Due to the amount of tourism Riviera Maya receives, that region is one of the safest areas in Mexico. However, you still need to remember that behind all the glitz and glam of Riviera Maya is one of the poorest countries in the world.
Petty crimes such as thefts and pickpockets are common, so don't make yourself an easy target by getting out of control when going out at night.
Is Cancun and Riviera Maya the same thing?
No. Matter of fact, Cancun and Riviera Maya aren't even a part of each other. Cancun is a big city on the northeastern tip of the Yucatan Peninsula. The Riviera Maya is the region directly south of Cancun, but Cancun is not part of the Riviera Maya.
Is Riviera Maya expensive?
The short answer, not really. Riviera Maya is one of the most expensive areas in Mexico. Though expensive on Mexico standards, the Riviera Maya is still very affordable for more affluent countries such as the United States or Canada.
Travelers on a smaller budget will find cheap accommodations in the region, as the Riviera Maya is a popular backpacker destination.
How to get a sim card in Riviera Maya?
Sim cards are affordable and reliable in Riveria Maya (and other parts of Mexico). There are three companies you should choose from: Telcel, Movistar, and AT&T Mexico.
Telcel is the company we recommend as it offers excellent service all over Mexico. You can hop in any mobile store in Riviera Maya and they should have a sim card for your needs.
The Cancun International Airport also sells sim cards, but they are more expensive than what you would get in the city.
---
Like this post? Don't forget to save it on Pinterest!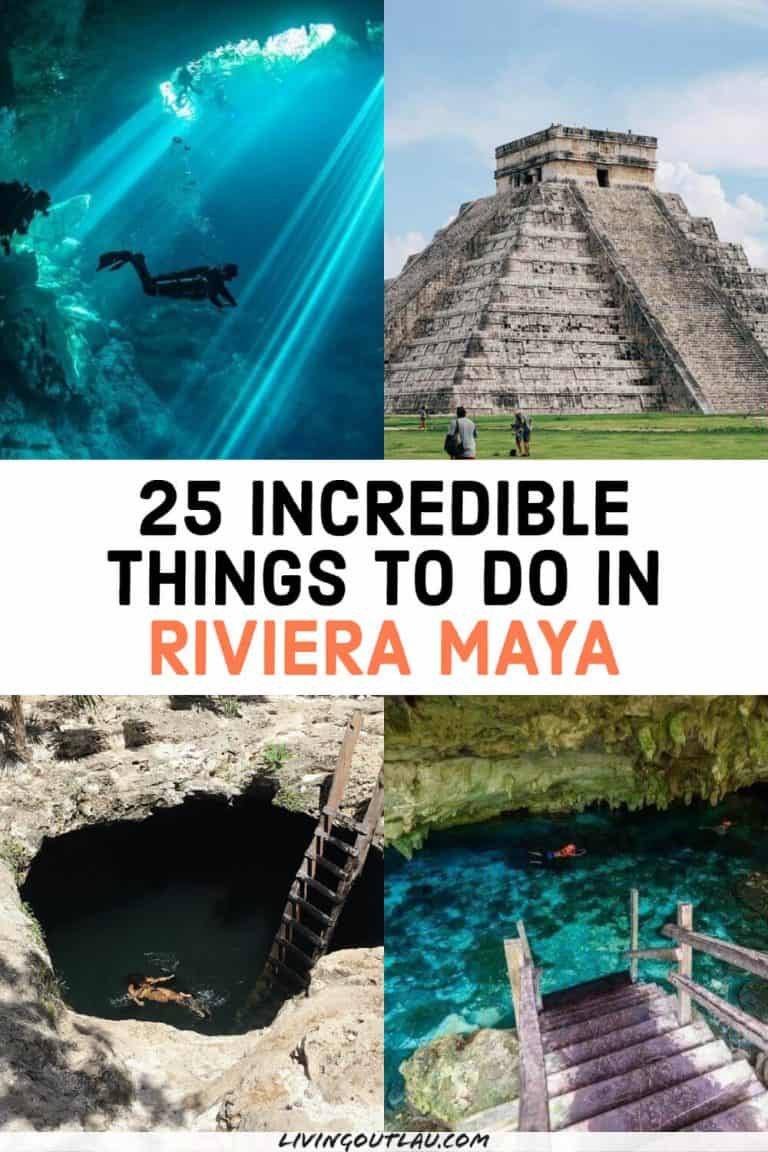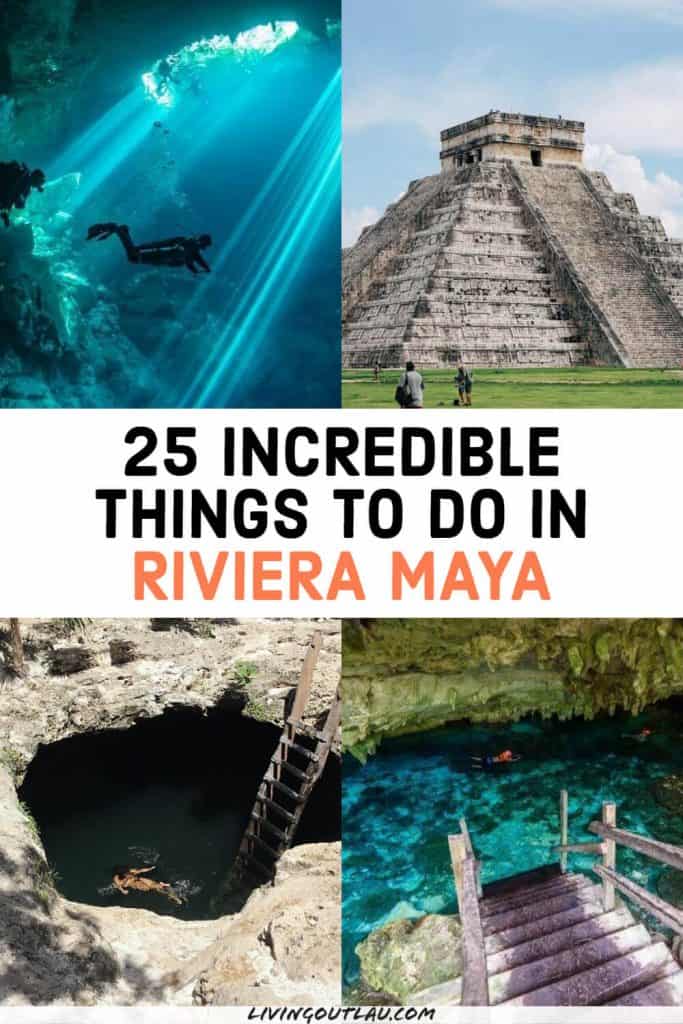 ---
This concludes our guide on the 25 best things to do in Riviera Maya, Mexico. We hope our guide has given you all the essential information to have the perfect Riviera Maya trip!

Any questions? Let us know in the comments!!
Disclaimer: Some of the links above are affiliate links. That means if you book or make a purchase through the links, we will earn a small commission at no extra cost to you! The money will help run this site! Thank you!