Not sure whether January is a good time to visit Tulum? Wondering what the weather in Tulum in January is like?
January is the heart of the dry season, which means visitors will see beautiful weather and clear skies. However, it is also the heart of winter, so the temperatures might be too cold for a tropical holiday. Generally, January is a good time to visit Tulum.
January is one of the more crowded months in Tulum, mostly due to the North American crowd seeking refuge from the cold winters.
There are lots of pros and cons when visiting Tulum in January. Read on to find out how you can plan your trip to have an incredible visit!
---
Weather in Tulum In January – Quick Glance
| | | |
| --- | --- | --- |
| Average Temperature | 24 ℃ | 75 ℉ |
| Average Highs | 27 ℃ | 81 ℉ |
| Average Lows | 21 ℃ | 70 ℉ |
| Average Day Temperature | 24.3 ℃ | 76 ℉ |
| Average Night Temperature | 21.2 ℃ | 70 ℉ |
| Average Sea Temperature | 26 ℃ | 79 ℉ |
| Average Sunshine Hours Per Day | 6 Hours | |
| Average Monthly Rainfall | 70 mm | 2.7 in |
| Average Rain days | 7 days | |
| Average Daylight | 11 hours | |
| Average Humidity | 74% | |
Credit: Holiday Weather, Time and Date
There is a reason why Tulum is such a popular destination for those seeking some winter sun. The weather in Tulum in January is absolutely gorgeous. Since this is the middle of the dry season, visitors can expect amazing warm weather and clear skies for the majority of the month.
The weather is perfect for exploring any of the attractions in Tulum, especially the ones inland that might be too hot during the summer. The water temperature is quite nice and about the same temperature as the outside air.
Temperature in Tulum in January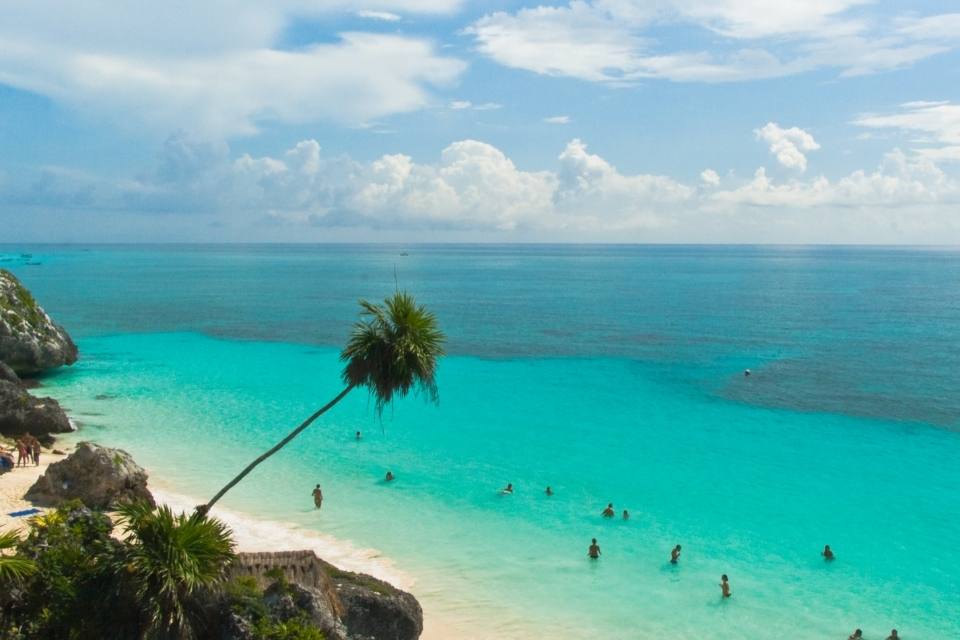 Historically speaking, the temperature in Tulum in January is one of the lowest of the year. January is the heart of the winter, and with Tulum being in the Northern Hemisphere, that isn't surprising.
Though the coolest of the year, the average high temperature still sits at around 27 ℃ or 81 ℉. You can still walk around town with nothing but a t-shirt and shorts.
In fact, this temperature is excellent for exploring some of the outdoor attractions such as the Mayan ruins and cenotes. Since most of these places are unshaded, the cool temperatures make it more pleasant to explore those sights.
At night, the temperatures are on average 21.2 ℃ or 70 ℉, which is actually the ideal room temperature. But if you are hanging around by the beach, the sea breeze could make it feel a lot cooler than it actually is. You'll need to pack a light jacket for Tulum in January.
There is a reason why Tulum is such a sought-after winter destination. The sea temperature is at 26 ℃ or 79 ℉, which is very pleasant for swimming and other water sports such as diving and snorkeling. The sea temperature is slightly lower than the average daytime highs, which means that you won't need to do the "the water is so cold" dance when you get in!
Precipitation in Tulum in January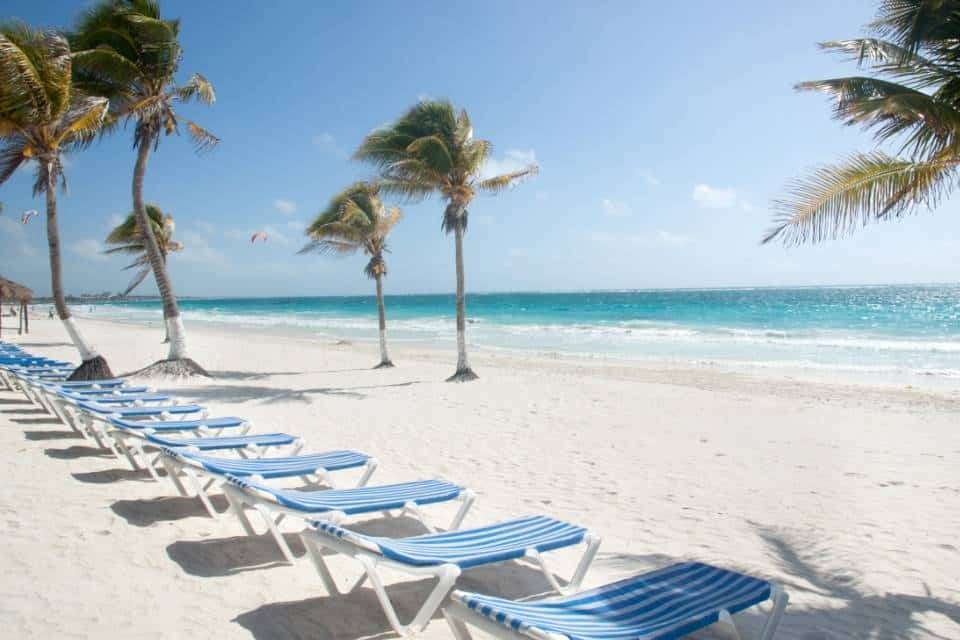 If you are planning to visit Tulum in January, you are in luck. This is the heart of Tulum's dry season, and January is one of the least rainy months of the year.
On average, visitors can expect rain 7 days out of the entire month. Though that might be nearly a 25% probability of rain per day, there is only a recorded amount of 70 mm. This means that even though you might get rain occasionally, they are either short bursts or very light rain.
This is very typical for tropical places such as Tulum.
Sunshine in Tulum in January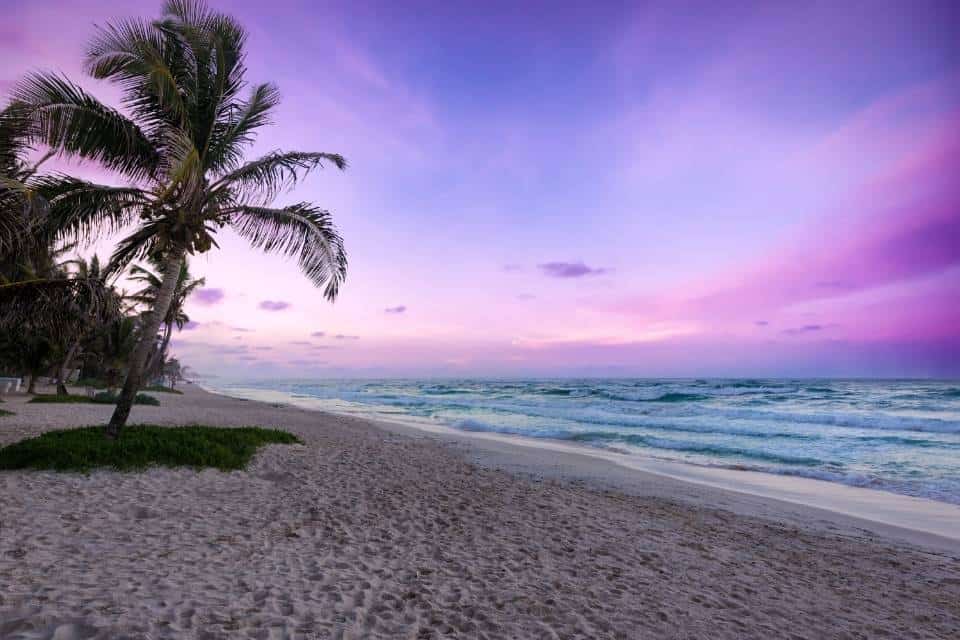 Situated in the Northern Hemisphere, Tulum's winter months correspond to shorter days. On average, the sun rises at about 7:30 AM and sets at around 6:30 PM, giving visitors only 11 hours of sunlight.
Though the days aren't as long as the summer months such as July and August, it is still plenty of time to explore Tulum and even take a day trip to places such as Chichen Itza or Sian Ka'an.
If you are renting a car in Tulum, you can use it as a base for exploring all the attractions in the Yucatan.
The average sunshine per day in Tulum in January is only 6 hours. Though it might not seem much, visitors have to consider the shorter days and the sporadic rain showers that can bring forth cloudy weather.
Humidity In Tulum In January
The average humidity in Tulum in January is 74%. This level of humidity is quite high, but it is actually one of the lowest in the year. Without a doubt, visitors will feel that the air is muggy and uncomfortable.
---
Sargassum Seaweed In Tulum in January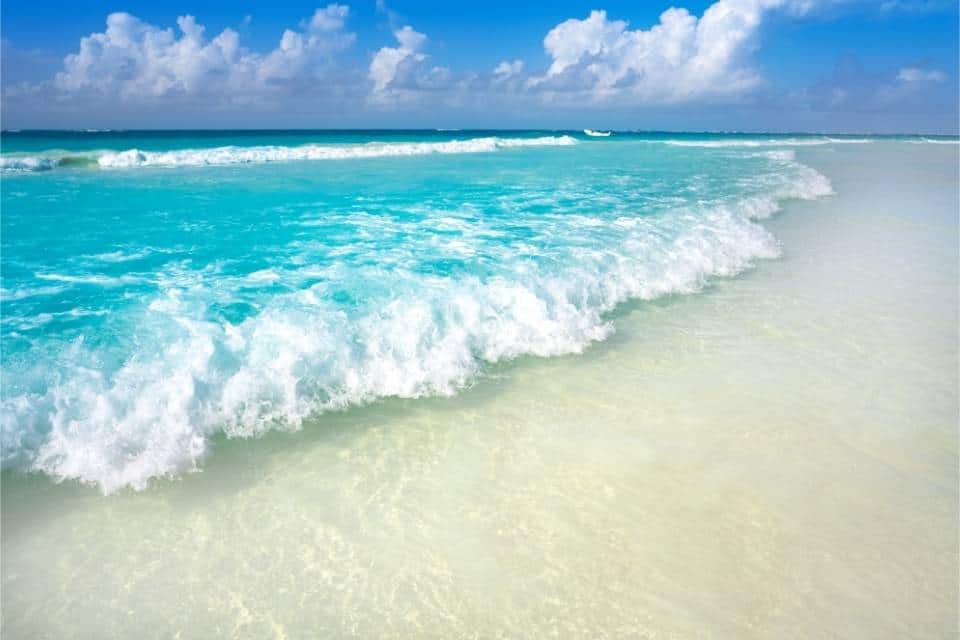 Perhaps one of the biggest reasons why visiting Tulum in January is the lack of sargassum seaweed. They are known to give off a sulfur-like (rotten egg) smell, cover up the nice beaches in Riviera Maya, and turn the glistening Caribbean waters into a disgusting brown.
The warming of the ocean creates an algae bloom, causing the sargassum seaweed to arrive in Tulum in early April. This situation peaks in June, but most years the seaweed is gone by end of October.
Visitors are very unlikely going to encounter any seaweed in Tulum in January, but that isn't a good excuse to not check out the gorgeous cenotes in the Riviera Maya region!
---
Crowds In Tulum in January
The crowds in Tulum in January are high. Tons of visitors are coming from the Northern Hemispehre to escape the bitter winter. January is one of the highest months for tourism in Tulum and the Riviera Maya region.
From the cenotes and the beaches to the amusement parks and Mayan Ruins, you'll find tons of people. To minimize the crowds, visit those attractions early in the morning.
Travelers must book their accommodations and tours ahead of time, otherwise, they run the risk of not having any available!
---
Events in Tulum in January
As the peak of the tourist season, there are plenty of events in Tulum in January.
Zamna Festival
Zamna is one of the biggest electronic music festivals in Latin America. The event usually starts on New Year's Eve and could last until early January. This is where you need to go if you want to party on your holiday!
Día de Los Reyes (Three Kings' Day)
Dia de Los Reyes, or Three Kings' Day in English, is the twelfth day of Christmas and a traditional gift-giving holiday in Mexico. This is the day when children receive presents from their parents, and the families eat together. During this day, Rosca de Reyes, or King's Cake, is typically served.
A baby Jesus figure is hidden inside the bread, and whoever gets the slice with the doll must host a party on Día de la Candelaria in February.
---
Pros of Visiting Tulum in January
The Nightlife Is Incredible – With a huge influx of tourists from the North Hemisphere, Tulum comes to life. All the night venues are getting more crowded with people out to have a good time. If you like partying, January is a great month to visit.
Perfect Time For Sightseeing – The midday heat in January isn't nearly as bad as the summer. Visitors can explore all the outdoor attractions in Tulum without easily suffering from heat-related illnesses. But just make sure you arrive early to beat out the crowds
No Seaweed – January is one of the months where there is no seaweed on the beaches. Whether you want to sunbathe or swim, January is the perfect month to do so.
---
Cons of Visiting Tulum in January
Expensive – Perhaps one of the biggest disadvantages of visiting Tulum in January is the price. January is the peak season of travel and everything from hotels to tours to flights is more in demand. This means anyone traveling to Tulum on a budget is going to have a bad time.
Can't See Whale Sharks, Turtles Nesting or Turtles Hatchlings – One of the biggest attractions in Tulum and the Riviera Maya region is to see the endangered whale sharks and sea turtles. Unfortunately, January is not the time when the whale sharks are around. Sea turtles have also finished nesting then, and the turtle hatchlings are usually all released into the sea by end of December.
You Need to Plan Far In Advance – Since Tulum and the Cancun region are popular winter travel destinations, you'll need to plan your trip early in advance. By the time you have decided you want to go (usually in fall when the first cold front hits), things might already be sold out.
---
Things to Do in Tulum in January
Explore the Cenotes
The Yucatan Peninsula is dotted with these incredible natural sinkholes called cenotes. Mayans believed they were passageways to the underworld, and used many of the cenotes for spiritual purposes. Nowadays, most cenotes are there for people to go swimming, diving, snorkeling, and just admiring the incredible geological formations.
There are many cenotes near Tulum worth checking out. Gran Cenote is the most popular one and is great for swimming and taking photos. Ka'an Luum Laguna is an open cenote that is beautiful and great for swimming. Cenote Dos Ojos is one of the best cenotes for snorkeling.
Make sure you arrive early in the day because they do get busy!
Go Visit the Mayan Ruins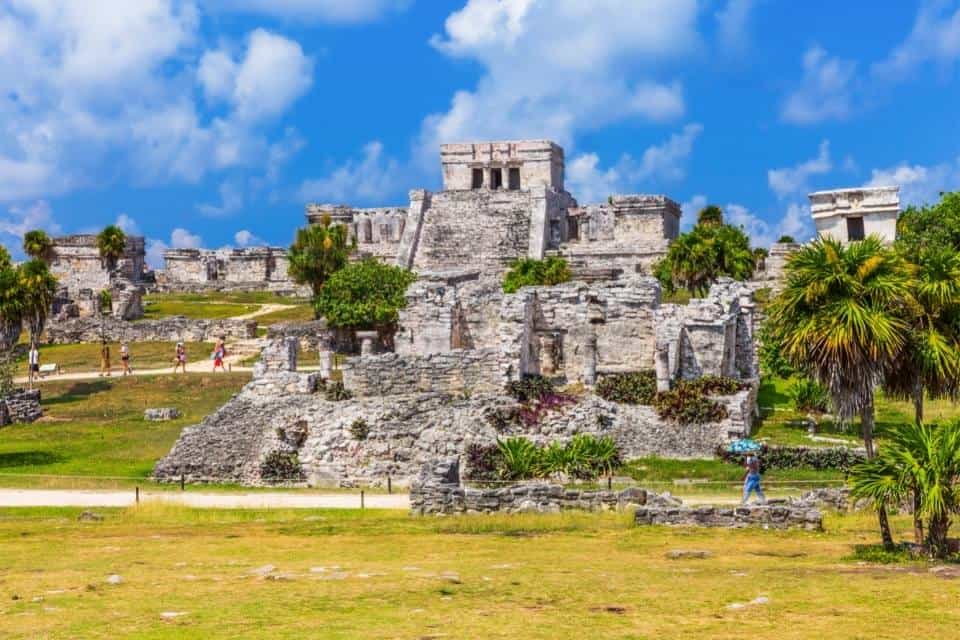 Tulum is once near the heart of the Mayan Civilization. Though they are no longer here, they have left numerous Mayan Ruins that show us their culture. Visitors can explore the nearby archaeological sites and learn about the lifestyle, beliefs, and science.
The most famous ones in the region are Tulum Ruins, Coba Ruins, and Chichen Itza, with Chichen Itza being a Seven Wonders of the World.
Just make sure you bring enough water and sun protection. Most of the sites are not shaded.
Go Enjoy Tulum's Vibrant Nightlife
If there is one thing to do in Tulum in January, it is to party it up. The nightlife in Tulum during this month is amazing, thanks to the numerous events and influx of tourists. Nightclubs are fully open with many special acts from artists from around the world. Every night venue is bustling with people having a good time. This seaside town truly comes to life during this month!
If you want a more local scene, head into Tulum downtown. The Beach Zone has more high-class clubs and bars, plus you can't beat the atmosphere which most of them are situated next to the beach. Our favorite one is Taboo!
---
Tips For Visiting Tulum in January
Pre-book Everything Beforehand – As we have mentioned, January is Tulum's high season. Don't wait to book your tours until you arrive or you might realize that there aren't any left!
Don't Take More Than You Need When Going Out – Enjoying the nightlife is an essential part of any Tulum itinerary, especially in January. However, the nightlife during this time and get hectic, and thieves know that. It isn't uncommon for tourists to fall victim to pickpockets and bag snatching. Watch your belongings and don't take more than what you need for the clubs and bars.
---
Tulum in January FAQs
Is January a good time to visit Tulum?
January is one of the best times to visit Tulum thanks to its amazing weather. During this time, you'll find warm (but not too hot) temperatures and generally clear skies with little precipitation. It is both the dry and high season, so make sure you plan your trip in advance.
Does it rain in Tulum in January?
January is the middle of the dry season in Tulum, which means that rain is few and often. But you must remember that Tulum is still a tropical place, so it isn't rare to see a few showers here and there. Generally, visitors don't need to worry about the rain in Tulum in January.
---
Explore Tulum By Month
---
Final Verdict
If you have picked January to visit Tulum, you are in luck. This is one of the best months to visit this Mexican beachside town. You can expect nice weather but a big crowd, so make sure you are prepared beforehand!
Hope you enjoy your time in Tulum!
Disclaimer: Some of the links above are affiliate links. That means if you book or make a purchase through the links, we will earn a small commission at no extra cost to you! The money will help run this site! Thank you!