Are you planning a trip to Tulum in February? Not sure if the weather in Tulum in February is nice?
In the heart of the dry season, February is one of the best months to visit Tulum. The weather is one of the best in the entire year. Visitors can expect warm temperatures (but not too warm) this and clear skies that are perfect for sightseeing. However, it is also the high travel season in Tulum, so visitors must plan their trip accordingly to make the most out of it.
Visiting Tulum in February is a great choice, but there are many things during this time that you need to consider to make your trip successful. Read on and find out find out everything you need to know about Tulum in February!
---
Weather in Tulum In February – Quick Glance
| | | |
| --- | --- | --- |
| Average Temperature | 24 ℃ | 75 ℉ |
| Average Highs | 27 ℃ | 81 ℉ |
| Average Lows | 21 ℃ | 70 ℉ |
| Average Day Temperature | 25.5 ℃ | 78 ℉ |
| Average Night Temperature | 21.9 ℃ | 71 ℉ |
| Average Sea Temperature | 26 ℃ | 79 ℉ |
| Average Sunshine Hours Per Day | 7 Hours | |
| Average Monthly Rainfall | 53 mm | 2.08 in |
| Average Rain days | 6 days | |
| Average Daylight | 11.5 hours | |
| Average Humidity | 73% | |
Credit: Holiday Weather, Time and Date
Right off the bat, from our table above, you can see that the weather in February in Tulum is very nice. The days are warm with somewhat chilly nights, but the most important part is the rare rainy days, thanks to the dry season.
When it comes to the weather, the weather in Tulum in February is nearly perfect, but some might prefer warmer days. In that case, March is the perfect month for them.
With weather like this, it is one of the best times to enjoy the outdoors in Tulum. Many of Tulum's attractions are outdoors, which are perfect for the weather in February.
February is outside Tulum's hurricane season, so visitors don't have to worry about a hurricane showing up and screwing your itinerary.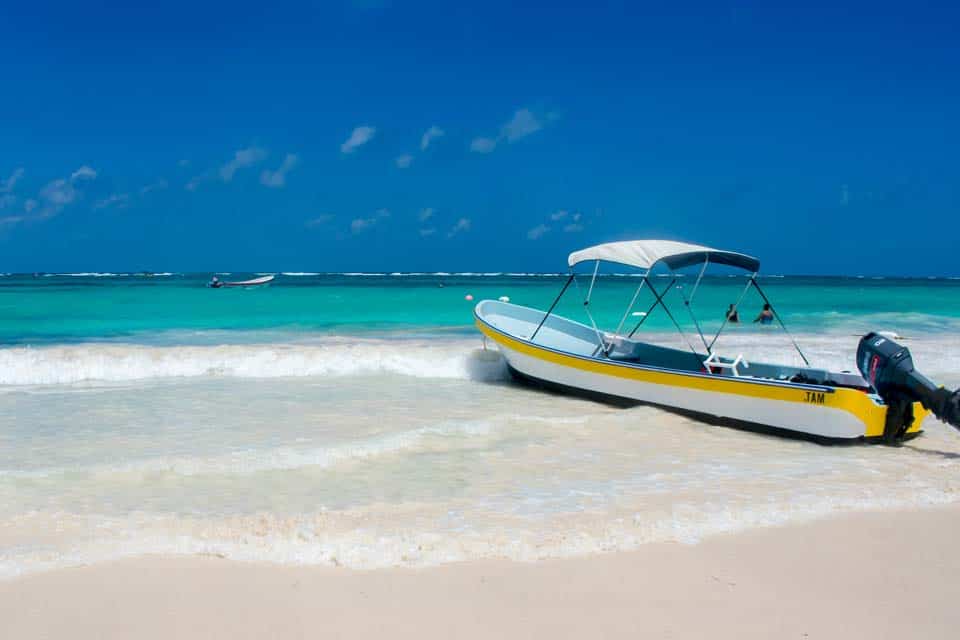 Temperature in Tulum in February
Perhaps one of the biggest reasons why crowds are flocking to Tulum in February is because of the warm temperatures. Compared to the bitter cold that most of the Northern Hemisphere receive during this time of the year, the temperature in February is warm and very comfortable for going outside.
The average high temperature in February is around 27 ℃ or 81 ℉. This is the perfect temperature for anything you do in Tulum – from just strolling around town, hitting up the beaches, or exploring the Mayan Ruins.
At night, the temperature drops considerably to an average of 21.9 ℃ or 71 ℉. This might be a bit too cold if you are just wearing a tank top and shorts, especially if you are going to be by the sea at night. When we were in Tulum in February, we made the mistake of not packing anything warm. We would suggest that you bring at least a light jacket for February.
The mild night temperature means you can dance away in the nightclubs in Tulum and not worry about getting too hot. It is very enjoyable at night in Tulum in February.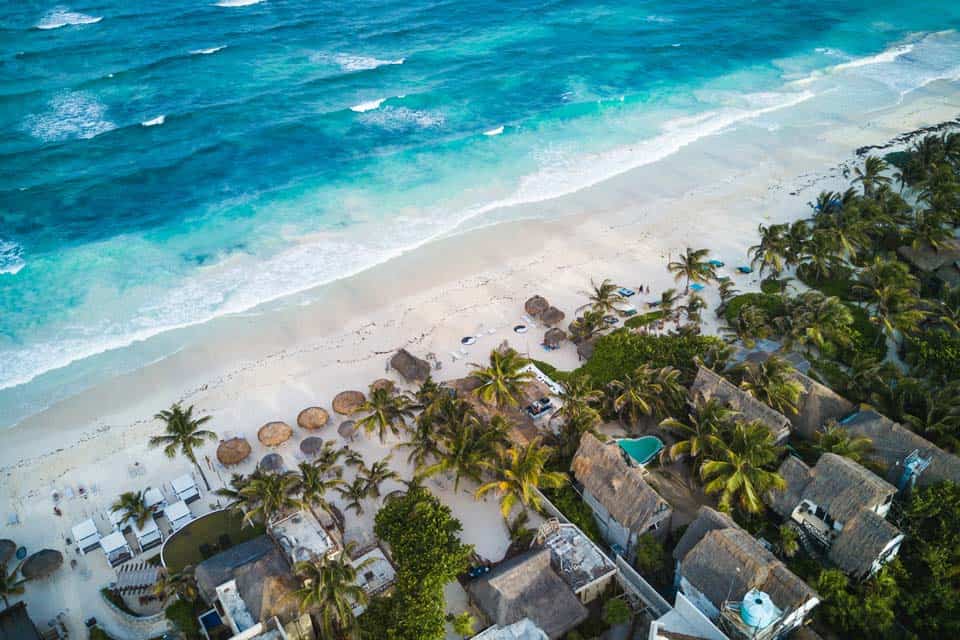 The sea temperature is at one of the coolest of the entire year. But still, it is the Caribbean Sea we are talking about, so visitors can expect an average of around 26 ℃ or 79 ℉ for swimming.
Though this temperature is supposedly only a bit cooler than the daytime temperature, we found that the water was a tiny bit cooler than expected. But you won't need to do the "the water is too cold" dance when you get in.
After swimming in it a little bit, the water temperature actually becomes quite pleasant, making it perfect for water sports like snorkeling and scuba diving.
Precipitation in Tulum in February
If you are visiting Tulum in February, you are in luck. February is one of the least rainy months in Tulum. Visitors can expect to see a total of 53 mm of rain in 6 days. To put that into perspective, that is about a total of 7 to 13 hours of heavy rain in the entire month.
Of course, the rain isn't always heavy, but it is usually the case in tropical places like Tulum. The rain mostly comes in small but powerful bursts.
The seldom rain is perfect for sightseeing in Tulum, and it keeps the moisture in the air down.
Sunshine in Tulum in February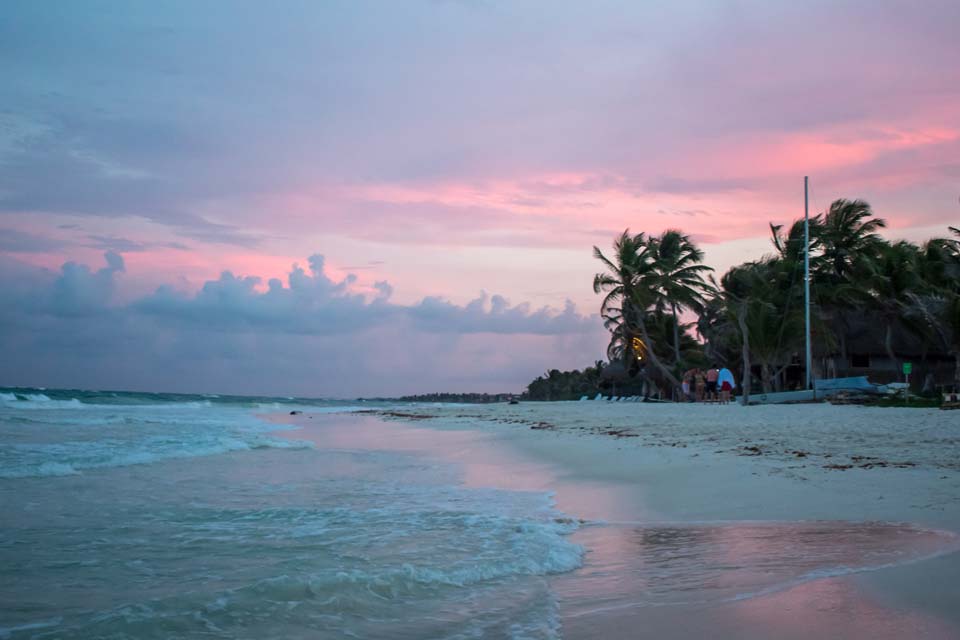 Since Tulum is in the Northern Hemisphere, the days aren't very long in February. On average, the sun rises at around 7:15 AM and sets at around 6:45 PM, giving visitors a total of 11.5 hours of daylight.
Out of the 11.5 hours, tourists can expect a whopping 7 hours of sunshine. That means most of the day in Tulum is going to be sunny, minus the small bit of cloud and rain that Tulum occasionally receives.
Though there isn't a lot of daylight, the plentiful sun makes taking day trips to places such as Chichen Itza (one of the Seven Wonders of the World) and Sian Ka'an Biosphere Reserve (a UNESCO World Heritage Site very easily.
With that much sunshine, February is the perfect time to enjoy the beaches in Tulum and go sunbathing!
Humidity in Tulum in February
The average humidity in Tulum in February is 73%.
Though that might seem quite high, it is actually one of the lowest humidity in the entire year. Without a doubt, the air will feel "muggy" to tourists. There isn't much that visitors can do about this, since Tulum has a tropical climate and is next to the Caribbean Sea.
If you aren't used to this level of humidity, know that the moisture in the air can amplify the temperature. This means hot days will feel even hotter and cold days will feel even cooler. Travelers must stay hydrated when they are out exploring Tulum.
---
Sargassum Seaweed In Tulum in February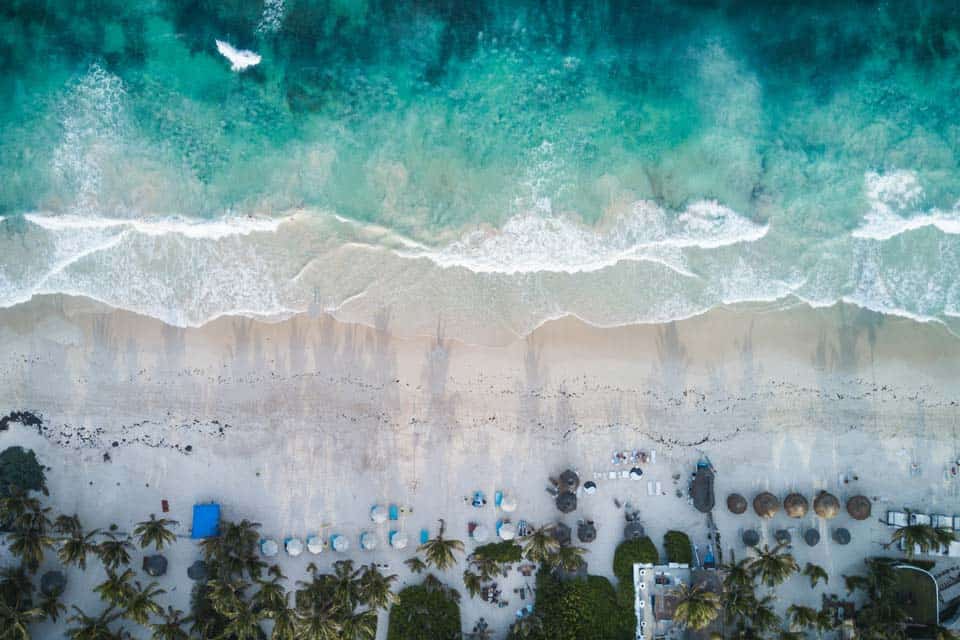 As many of you know now, the beaches of Tulum are not the same as they were. A couple of years ago, seaweed started arriving in Tulum thanks to the warming of the ocean. The seaweed is known to cause a sulfur-like (rotten egg) smell and cover up the beaches.
Luckily, there is a seaweed season in Tulum, so if visitors are arriving in the right month, they can completely avoid the sargassum seaweed situation.
So is there seaweed in Tulum in February?
Typically, there is no seaweed in Tulum in February. The sargassum seaweed season in Tulum starts in early April and peaks in June. By the time, February comes around, the seaweed that has accumulated from the previous year has all gone, meaning that visitors can enjoy the fine white sand beaches of Tulum wholeheartedly.
Combined with the warm, but not too warm temperature and cool water for swimming, going to the beach is easily one of the best activities in February in Tulum.
---
Events in Tulum in February
As a touristic town, there are plenty of events happening in Tulum every month of the year. Visitors can find wellness retreats where they have activities like Temazcal and yoga sessions.
Party-lovers will find plenty of night entertainment, from epic parties to stunning beach clubs. Since February is the high season in Tulum, you can always expect something to be happening in town.
There is also one major cultural event in February that visitors cannot miss – Carnaval.
Carnaval
Travelers visiting Tulum in February are in luck because they get to experience one the biggest festivals in Mexico (maybe even bigger than Day of The Dead and Holy Week) – Carnaval (or Carnival in English). This holiday is similar to the Carnaval celebrated in Brazil, where they are parades, dancing, music, and lots of parties.
Carnaval is big in the country, with about 225 communities celebrating this event. Many of the dances and costumes in Carnaval originate from the indigenous traditions of the region. Not only is it lots of fun, but travelers get a glimpse of some of the cool customs, a unique experience in Tulum that only happens in February.
Different parts of the country celebrate Carnival differently. Luckily in Riviera Maya, they celebrate hard! Usually, the celebrations last anywhere from 3 to 10 days!
---
Crowds In Tulum In February
The crowd level in Tulum in February is high. Due to the nice warm weather it receives, Tulum attracts a ton of visitors looking to escape the cold winter up north. In fact, this time of the year can be even busier than the summer season, which is a time when everyone is traveling because of the summer holidays.
Plus, if travelers are visiting during Carnaval, they'll experience crowds like they've never seen before. From the cenotes to the adventure parks and Mayan Ruins, all the attractions in Riviera Maya will be filled with people.
When planning your holiday in Tulum in February, it is essential that you book your accommodations and tours ahead of time.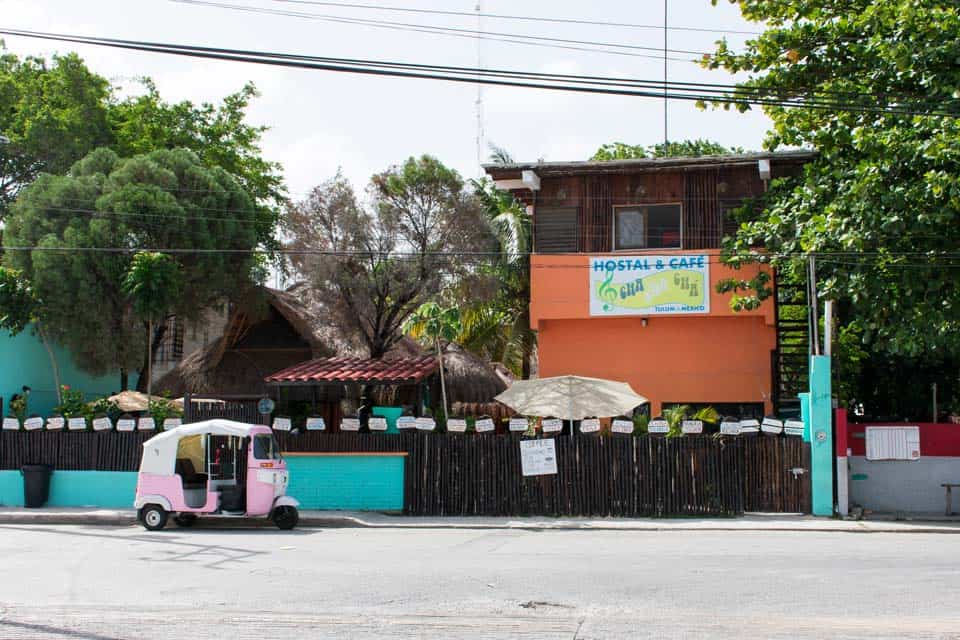 ---
Pros of Visiting Tulum in February
Here are some of the advantages of visiting Tulum in February:
The Weather Cannot Be Anymore Perfect – With warm temperatures, bearable humidity, and a low chance of rain, the weather in February in Tulum is as perfect as it gets. This is perfect for exploring everything Tulum has to offer – from swimming in the sea to sunbathing on the beach and exploring the ruins near Tulum.
Experience One Of The Biggest Festivals in Mexico, Carnaval – Carnaval is perhaps the biggest advantages of visiting Tulum in February. Not only is this a showcase of Mexican traditions, but it is a lot of fun and the town comes to life!
The Nightlife Is Amazing – With tons of tourists, the nightlife in Tulum in February is electrifying. Every night venue is going to be filled with people socializing and having a good time. If you like to party, February is a great time to visit!
---
Cons of Visiting Tulum in February
Here are some of the disadvantages of visiting Tulum in February:
It Is Very Crowded – As one of the dry months in Tulum, February already attracts plenty of visitors. Combined with Carnaval, there are more people in Tulum and the Riviera Maya than ever.
You Won't See Whale Sharks, Turtles Nesting, or Releasing Turtle Hatchlings – One of the most popular attractions in the Riviera Maya is swimming with whale sharks, seeing turtles nesting, and releasing turtle hatchlings into the sea. February is not a month when you can do any of those activities.
It's More Expensive Than Usual – The high travel season combined with the Carnaval means that hotels and tours are more in demand, hence driving up the prices. If you are a budget traveler, you might want to stay away from Tulum in February.
---
Things to Do in Tulum in February
Explore the Cenotes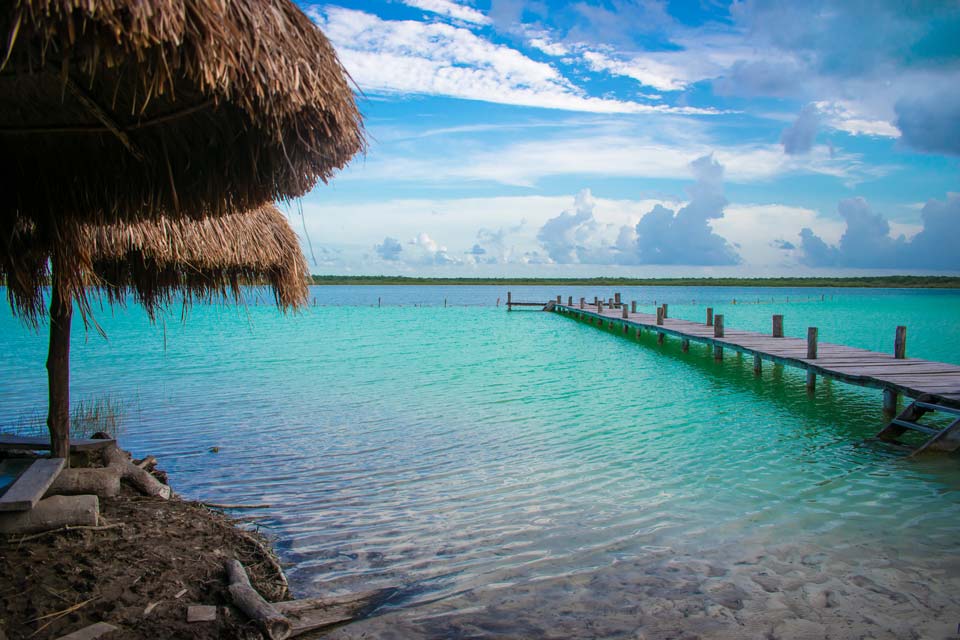 February is an excellent time to visit the stunning cenotes in Riviera Maya. For those unfamiliar with cenotes, they are natural sinkholes created by the erosion of weak bedrock that the Yucatan Peninsula is known to have.
The cenotes are linked to underground water sources, which means their temperature stays consistent throughout the entire year. Not only are they some of the best places to go swimming in Tulum, but they also have plenty of sunbathing spots depending on the cenotes you choose.
In February, you can sunbathe outside the cenotes, and then jumping into them once it gets too hot!
Our favorite ones are Ka'an Luum Lagoon and Gran Cenote.
Go Visit the Mayan Ruins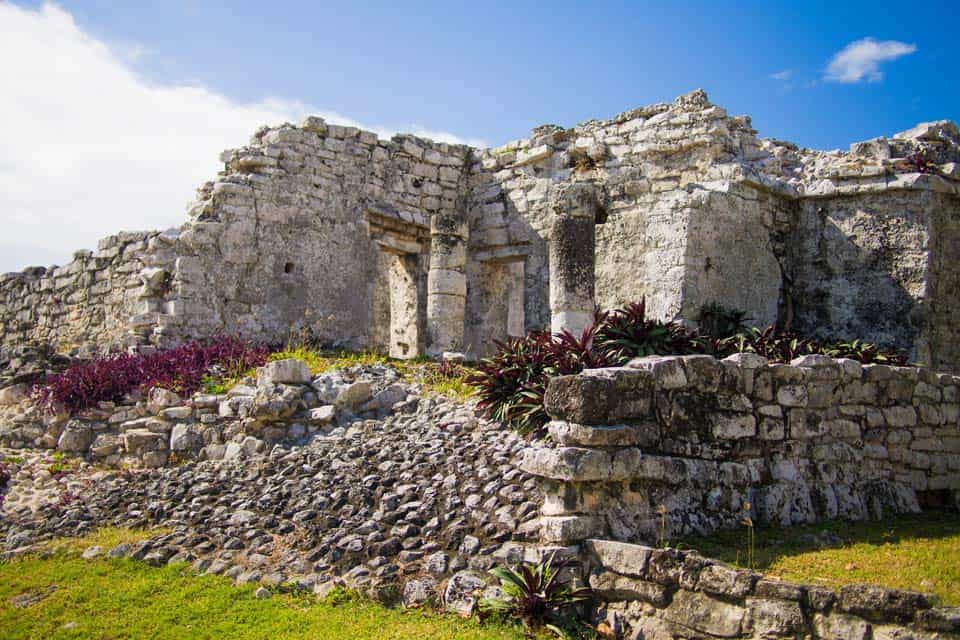 The region of Tulum was once the heart of the Mayan Civilization, one of the most powerful group of people in the pre-Columbian era. While they are no longer here to tell their triumphant stories, they have left plenty of Mayan Ruins for us to catch a glimpse of the past.
Because of the cooler temperatures in February, visitors can explore the expansive ruins leisurely and without sweating like a pig. Most of the Mayan Ruins are not shaded, and visitors will appreciate the the low relative humidity and more tolerable weather.
Some of the Mayan Ruins you must visit are Coba Ruins, Tulum Ruins, and Chichen Itza.
Relax On The Beaches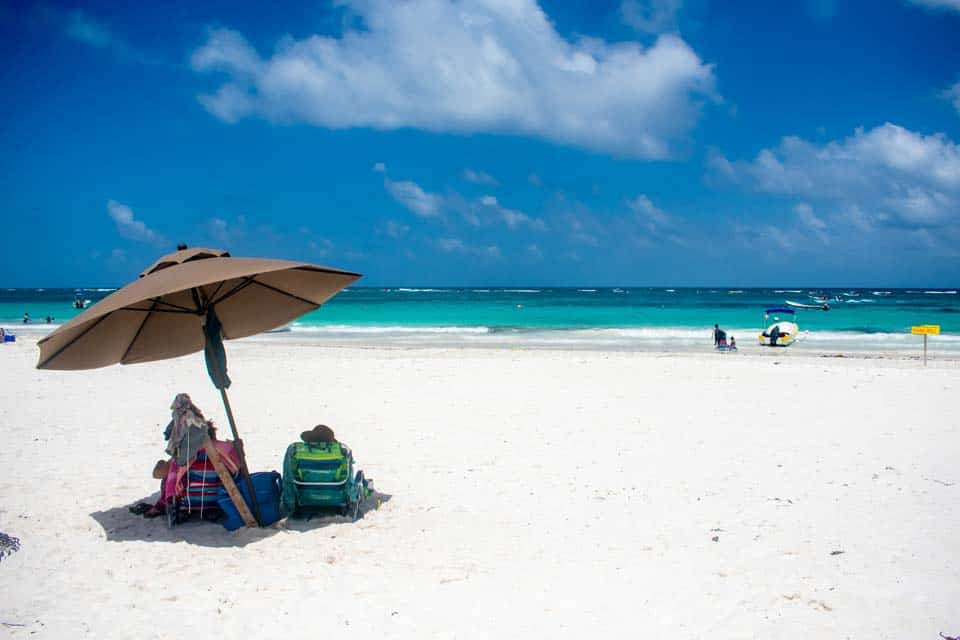 Perhaps the best thing to do in Tulum in February is going to the beaches. Febraury is one of the warmest months in Tulum when visitors won't encounter any seaweed. Once April starts to arrive (and sometimes March), the seaweed arrives and don't go away until end of October.
This time of the year is ideal for sunbathing on the beach or going for a swim in the glistening Caribbean Sea. If you are into water sports, make sure you try snorkeling and scuba diving, and don't miss out swimming with the turtles in Akumal!
And since there are so many beaches near Tulum, the crowds are unlikely going to be an issue.
---
Tips For Visiting Tulum in February
Pack Something Warm For The Nights – As much as you want to walk around with a bikini and swimming trunks, you are going to need something warmer for February, especially in the nights. This is more essential if you are staying in Tulum Beach Zone or going to spend some time there (which you totally should!)
Pre-Book Everything Beforehand – Thanks to the dry season and Carnaval, February is the peak of the travel season. Don't wait to book your hotels or you might just have to pitch a tent on the beach! Maybe not that bad, but you won't get the hotel you've dreamed of staying in!
Watch Your Belongings When Going Out – Pickpockets and thieves are very common during February, and that is because they know lots of tourists are coming down to enjoy the nice weather and the festivities. We recommend watching your belongings when going out and not taking more than what you need.
Purchase Some Travel Insurance – Tulum is still Mexico, and things can go south. Whether that is getting your stuff stolen when you are out, or just getting injured when you are doing one of the many outdoor activities Tulum offers, you should have something to protect your trip! ✔️ Check out our recommended travel insurance here!
---
Tulum in February FAQs
Is February a Good time to Visit Tulum?
February is one of the best times to visit Tulum, mainly due to its phenomenal weather. During this month, visitors can expect warm temperatures and clear skies with little rain. February is also Carnaval, a traditional Mexican holiday that is celebrated with parades, dancing, parties, and costumes!
Is it Busy in Tulum in February?
Without a doubt, February is one of the busiest months in Tulum. It is the high travel season in Tulum because of the dry weather. February also happens to have major festivities, which draws crowds from all around Mexico and the world.
Is It Rainy In Tulum In February?
February is one of the driest months in Tulum. It is in Tulum's dry season, so rain is infrequent. On average, visitors can expect rain in only 6 days of the entire month!
---
Explore Tulum By Month
---
Final Verdict
February is one of the best months to visit Tulum because of its near-perfect weather and amazing festivities. But if you plan to go, make sure you book everything ahead of time, especially if you are visiting in during Carnaval!
Disclaimer: Some of the links above are affiliate links. That means if you book or make a purchase through the links, we will earn a small commission at no extra cost to you! The money will help run this site! Thank you!