Not sure what to do in Mexico City in 5 days?

As North America's largest city, planning a trip to Mexico City, or CDMX, as it's often referred to, can be overwhelming. However, it doesn't have to be! If you do some research, plan ahead, and plan strategically, five days in Mexico City can be the perfect amount of time.
Now, the one trick to navigating Mexico City's seemingly unlimited number of things to do, see and eat, as well as its massive size, is to plan your trip neighborhood by neighborhood.
With a population of about 8.5 million people, Mexico City's traffic is legendary… and not in a good way! Planning your trip by spending one day in each CDMX neighborhood will eliminate the amount of time you're sitting in traffic, and maximize the amount of time you're enjoying this amazing city.
With that said, let's dive into our epic 5 days in Mexico City itinerary!
---
How Many Days Should You Spend In Mexico City?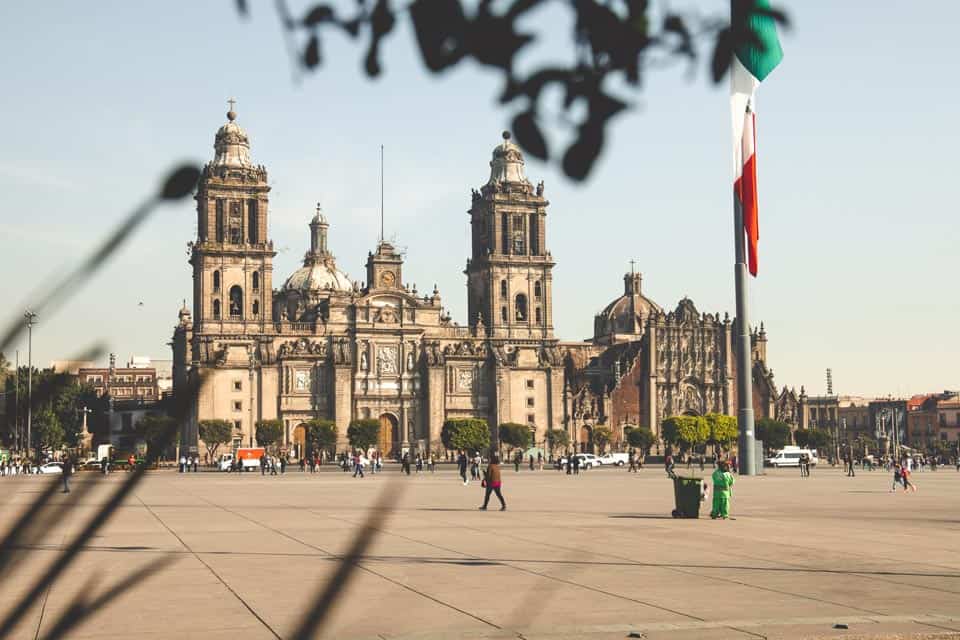 To be honest, CDMX is one of those places where you'd never run out of things to do. It's such a dynamic city, always changing and evolving, as big cities tend to do. For this reason, how many days should you spend in Mexico City depends on what you wish to accomplish. You could spend months there and not see everything you'd like to.
With that said, 5 days in Mexico City is a good amount of time to see a lot of the most famous sites and historically important places — and of course, eat a lot of tacos.
Now, does this sound familiar? I need a vacation from my vacation? Of course it does… because, sadly, so many people say those dreaded post-vacation words.
That is the kind of statement people make after trying to cram too much in during their vacation. We won't do that here. In fact, the last day of the trip is all about relaxation, and just strolling through two of the most peaceful areas of the city.
However, before getting to this very relaxing Day 5, there's a lot of ground to cover as you discover the best things to do in Mexico City.
Is this your first time in Mexico City?
Make sure you purchase some travel insurance before visiting!
---
5 Days In Mexico City Itinerary Map
As we have mentioned, we will tackle this mega-metropolitan city neighborhood by neighborhood. Above is an interactive map with each neighborhood is color-coded. If two of the same dots are the same colors, that means you visit them on the same day.
Using this Mexico City map, it is much easier to visualize how much time you will be commuting and plan your trip effectively.
Click on the star next to the name of the map to save it on your own personal device. This way, you can have all the details about the best places to visit in Mexico City on our itinerary nearby.
---
What To Do In Mexico City In 5 Days Itinerary
Day 1: Day Trip to Teotihuacan & Experience Lucha Libre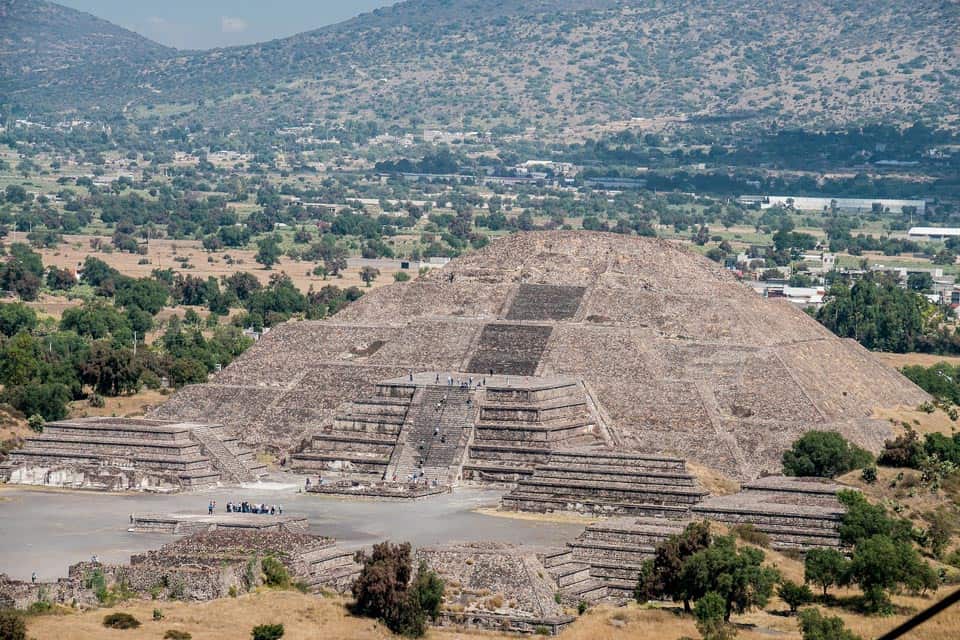 Teotihuacan is a great many things; UNESCO World Heritage Site, one of Mexico's oldest, most important archeological wonders, and well — magical! The Teotihuacan site is located in San Juan Teotihuacan, one of Mexico's 130 or so pueblos mágicos (magic towns)!
Just what is a pueblo mágico? This prestigious designation is awarded by the Secretary of Tourism in Mexico to certain special pueblos (small towns) that have noteworthy qualities including exceptional natural beauty, unique folkloric traditions and important historical value.
In the case of Teotihuacan, it's all about the history. This ancient site is about 2,000-years-old and also quite large. It is unknown who actually built Teotihuacan, but one thing for sure is that it is much older than Chichen Itza, one of the Seven Wonders of the World in Yucatan, Mexico.
Because dynamite was used for the excavation of the site, many of the structures you see today are rebuilt. It is due to this fact that Teotihuacan is not a present-day Seven Wonders of the World.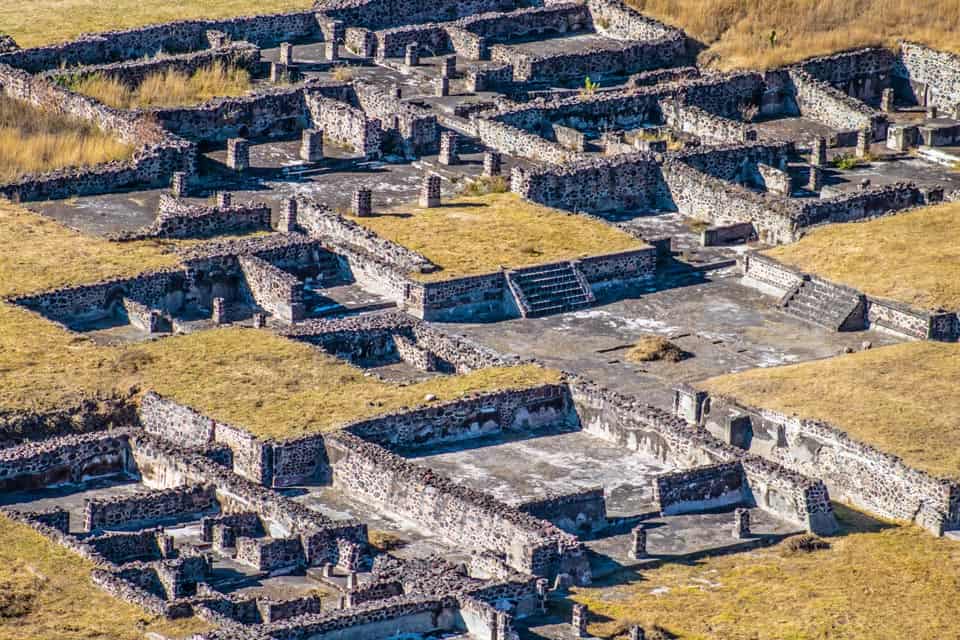 You may have noticed this Mexico City itinerary calls for spending one entire day at Teotihuacan. While this does mean you use up quite a big chunk of your 5 days in Mexico City, Teotihuacan should be a full day trip from Mexico City.
Though only located about 32 miles (50km) northeast of Mexico City, it can take from 1-2 hours to get there thanks to Mexico City's aforementioned traffic. The best course of action is to arrive at Teotihuacan right when it opens at 9 AM, which will actually serve two functions.
In addition to beating the traffic and crowds, you'll also maximize your time in the shade!
Though a tour guide is not necessary, it is highly recommended to assist you in learning the rich history of Teotihuacan. Visitors can easily find qualified tour guides at the entrance of Teotihuacan, but don't forget to negotiate the price.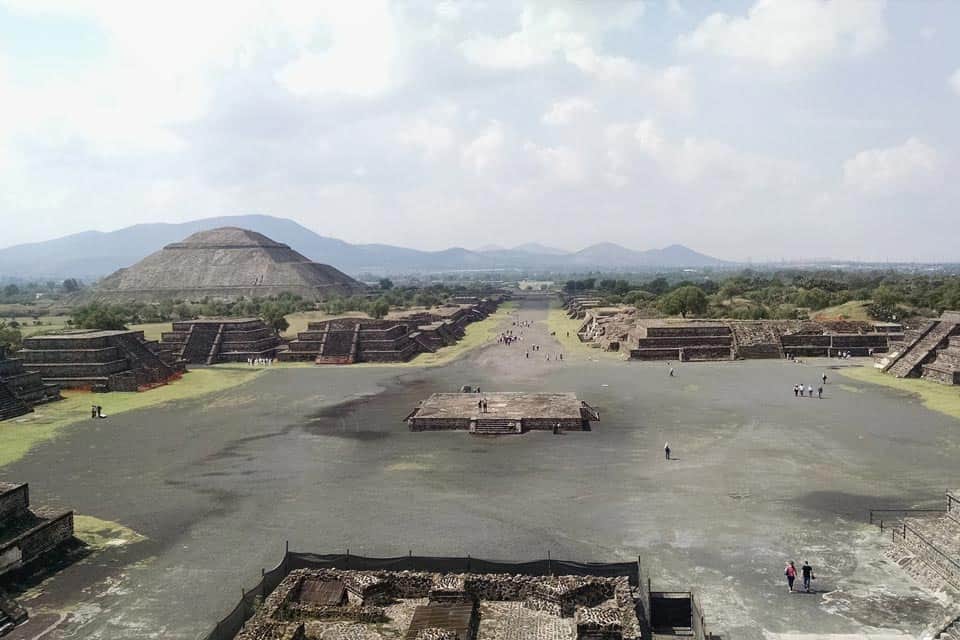 Teotihuacan, and many Mexican archeological sites, all tend to lack one common element — shade. Since these sites are so frequently studied by historians and archeologists, most trees at the sites have been cleared for their ease of study; meaning shade is at a premium for visitors.
Arriving as soon as the site opens means you can explore all the outdoor spaces, including climbing all three pyramids, Pyramid of the Sun, Pyramid of the Moon and Pyramid of Quetzalcoatl, before the midday sun arrives.
As soon as it starts getting hot, head indoors to the Teotihuacan Museum (Museo de Sitio Teotihuacán) and the semi-shaded Sculpture Garden (Jardín Escultórico).
After spending 4-5 hours at Teotihuacan, reserve some time to explore the pueblo mágico of San Juan Teotihuacán. Many also head to the nearby La Gruta (the cave/grotto) restaurant. As the name states, this traditional Mexican restaurant is located inside a cave.
Finish your first night in Mexico City by watching some live lucha libre, or Mexican Wrestling. Lucha libre is one of the most high-energy sporting events in Mexico City. It is a great way to end the night with some fun and uncontrollable laughter!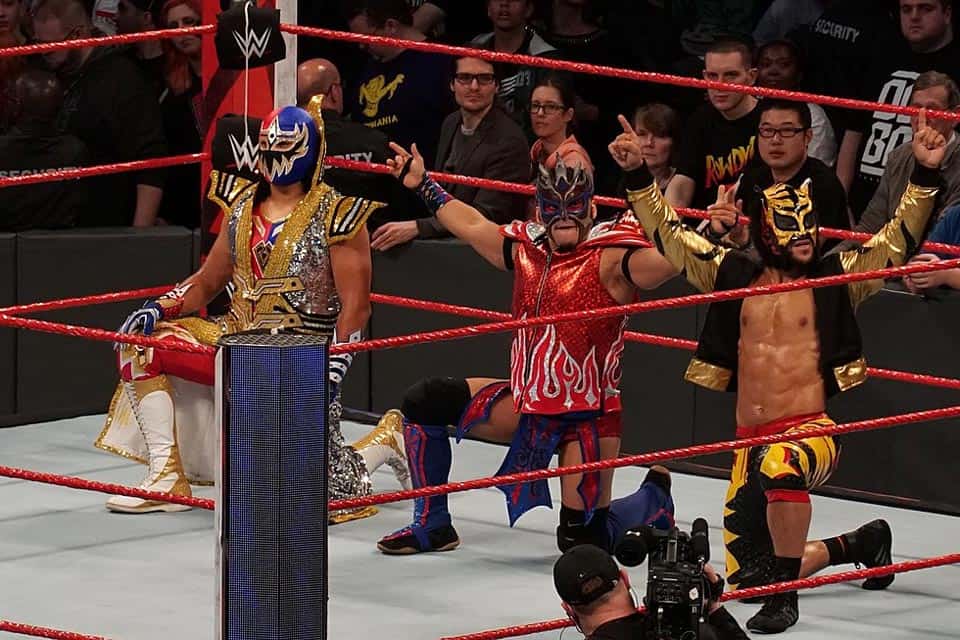 Because lucha libre doesn't happen every night of the week, you might not be able to see it on your first night in Mexico City. Worry not, there will be at least a few showings in your 5 nights in Mexico City.
There are two stadiums where you should go watch lucha libre: Arena Mexico and Arena Coliseo. Both of those are great stadiums to experience lucha but remember to check their showtimes before purchasing your ticket.
Want to save the hassle of planning your own trip to lucha libre?
Check out our recommended tour here!
Day 2: Coyoacan & Xochimilco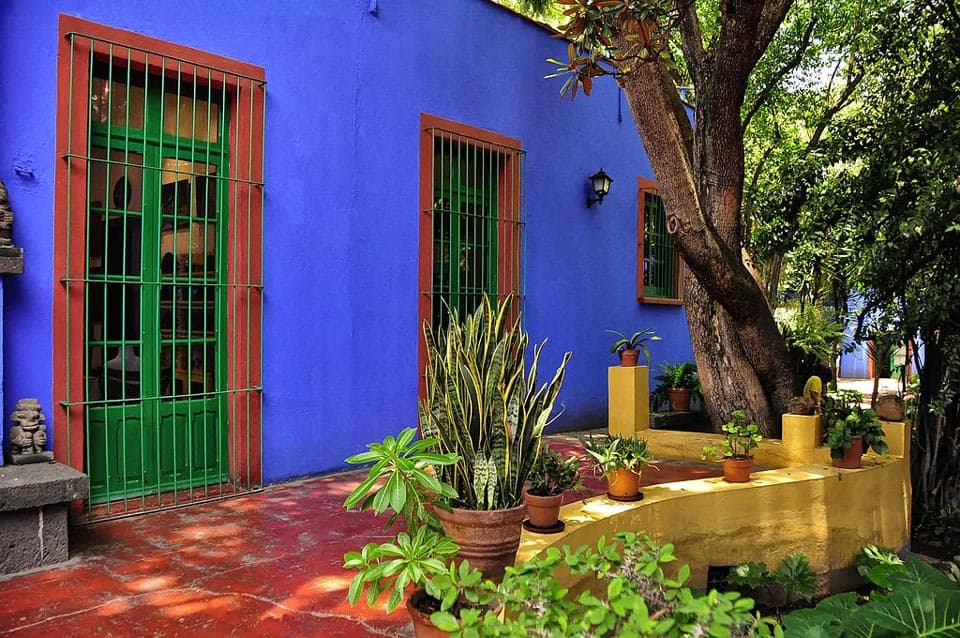 On Day 2, you'll head to the southern part of the city to explore Coyoacan, home to the famed Frida Kahlo Museum, and Xochimilco (pronounced so-chee-mil-co).
The ancient Aztec canals of Xochimilco are another one of Mexico City's UNESCO World Heritage Sites, and home to the brightly colored trajineras, or gondola-style boats.
Some visitors prefer to head to Xochilimco during the day, while others enjoy the more festive, party-type atmosphere at night. The choice is yours, though do plan to enjoy Xochilimco and Coyoacan on the same day, as their proximity to one another makes for a great one-day combo.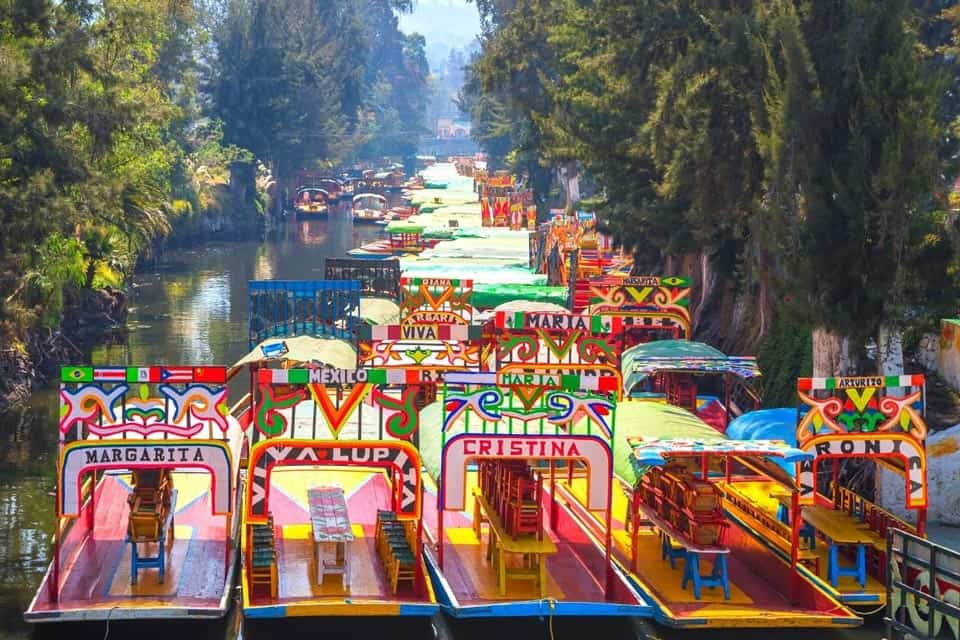 Located in southern Mexico City, Coyoacan is a colorful and beautiful neighborhood. It is home to one of Mexico City's most famous museums — the Blue House (Casa Azul) AKA Frida Kahlo Museum.
There are also other amazing, lesser-known museums like the Diego Rivera-Anahuacalli Museum and the National Museum of Popular Cultures.
As one of the oldest neighborhoods in Mexico City, Coyoacan gives visitors a chance to see what old-school CDMX looked like.
Head to the massive 16th Century Spanish cathedral, Iglesia de San Juan Bautista and historic buildings around Centennial Garden (Jardin Centenario), for what feels like a journey back in time.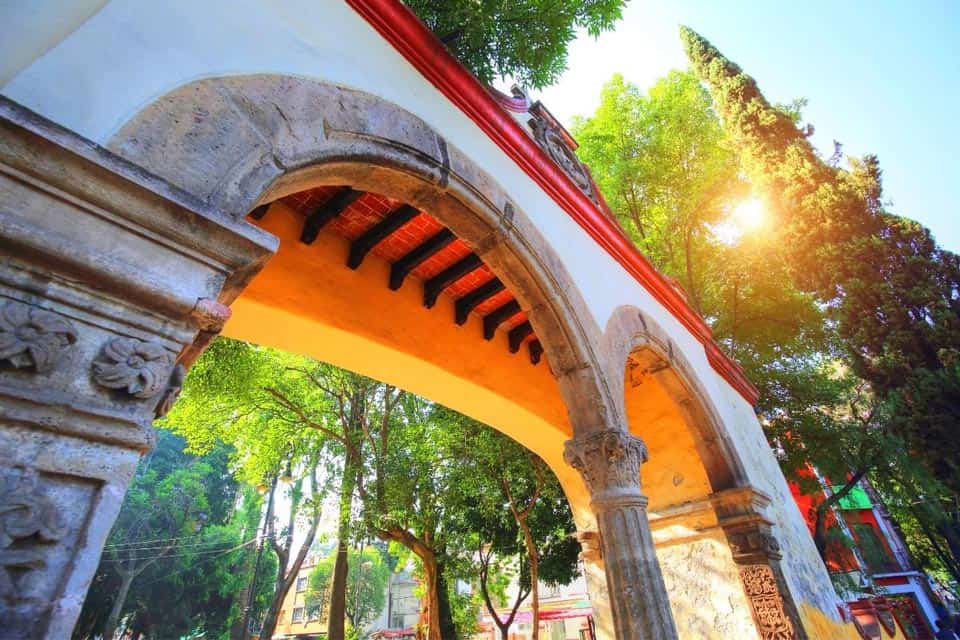 Besides its colorful streets, museums, and history, the Coyoacan neighborhood is known for three foods — tepoznieves (ice cream/shaved ice), churros and tostadas.
You'll see several tepoznieves and churros shops located around Centennial Park (Parque Centenario), the large park in the center of Coyoacan. However, for tostadas, you'll want to make your way to the lively Coyoacan Market (Mercado de Coyoacán).
Head to the center of this traditional Mexican mercado and look for the colorful tostada stalls. Take a seat and sample a few different types, like tinga de pollo (BBQ shredded chicken) and coctel de camaron (shrimp cocktail), or whatever else catches your eye.
Tired of doing it all by yourself?
Check out this full-day Coyoacan and Xochimilco tour!
Day 3: Centro Historico & Zocalo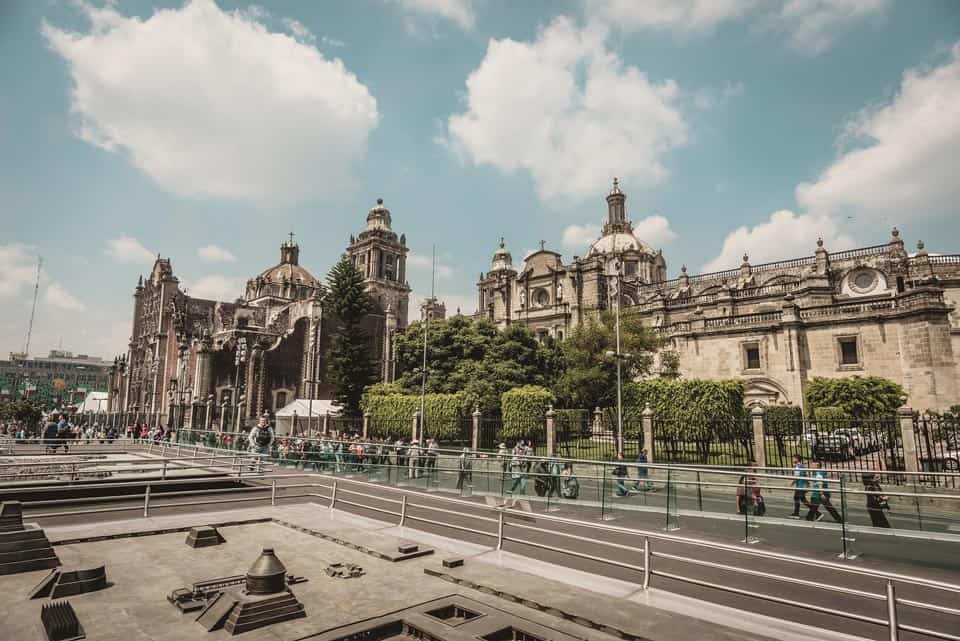 You could realistically spend weeks wandering around Centro Historico (Historic Downtown) and the Zocalo (Main Square).
For all James Bond fans out there, the famous opening sequence of the movie "Spectre" was filmed in the Zocalo of Mexico City!
With only one day though, here are five of the more well-known sites and things to do in this Mexico City's Centro Historico.
Templo Mayor (Main Temple)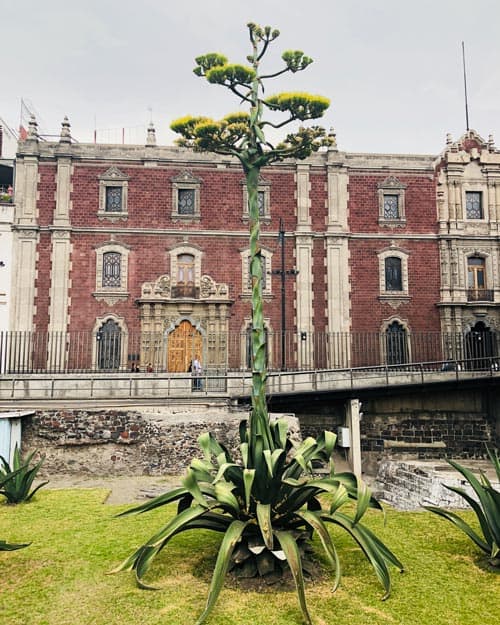 This UNESCO World Heritage site was once the location of the central temple of the Aztec empire. You can stroll the remnants of the temple and see some of its most historic archeological treasures in the onsite museum.
The Templo Mayor is located in the Zocalo, where you'll also find the Metropolitan Cathedral (Catedral Metropolitana de México) and National Palace (Palacio Nacional). Depending on how you want to divide your time, those are two other great things to do in Zocalo.
Palacio Bellas Artes (Palace of Fine Arts)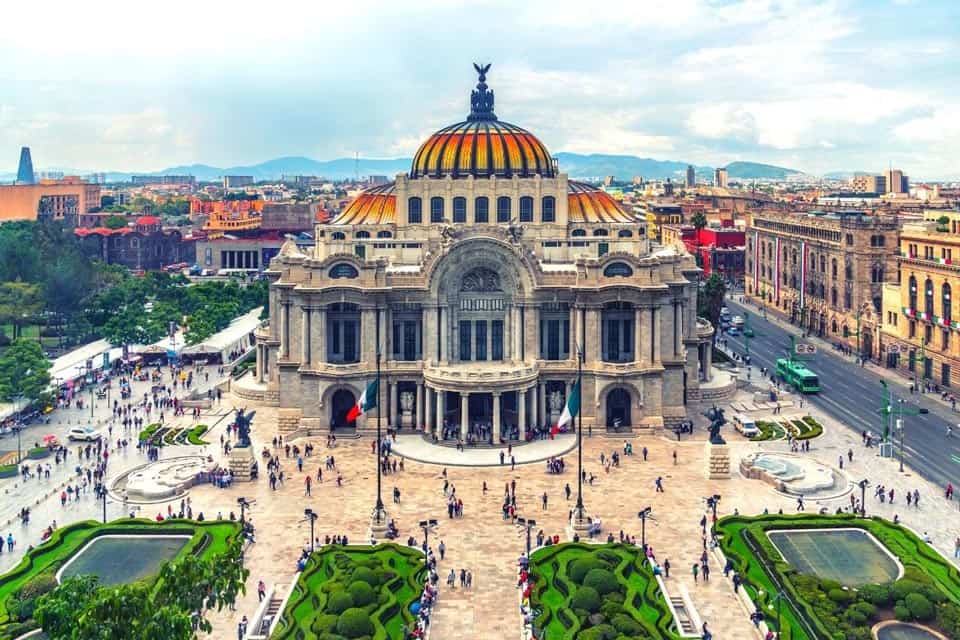 Nowadays, Palacio Bellas Artes is one of the most iconic landmarks of Mexico City. The exterior of this golden-domed, European-style building is a work of art itself; though do head inside to see the gorgeous art deco interior.
Located right next to Bellas Artes, the Alameda Central Park (Parque Alameda Central) is a well-maintained urban park with several beautiful sculptures and fountains. As Centro Historico can often be overwhelming, head to the Alameda and take a break from the CDMX hustle and bustle.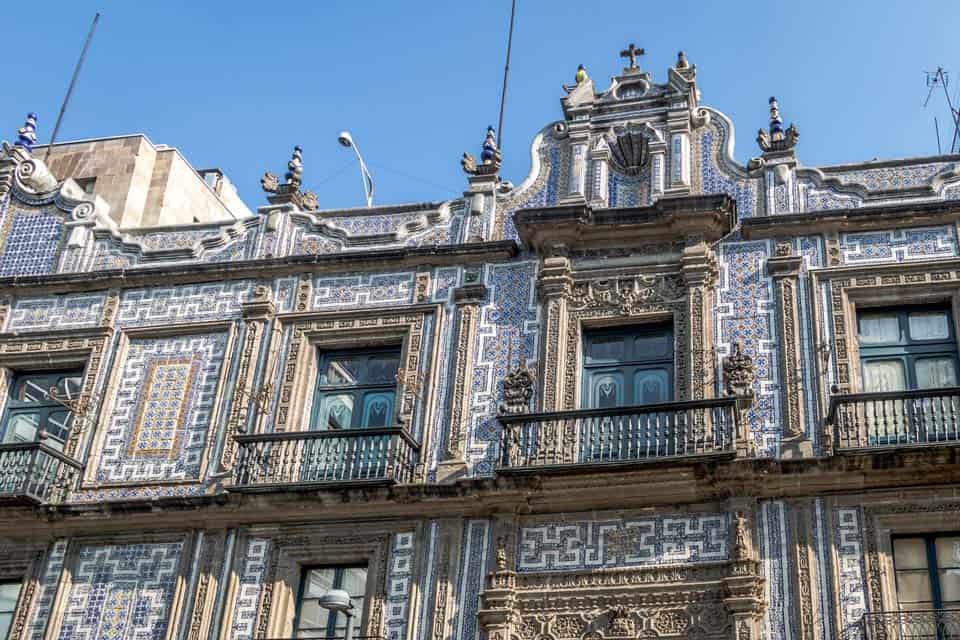 Casa de los Azulejos, or "House of Tiles," is a historic building in Mexico City's main plaza, the Zocalo. The exterior of the building is decorated with blue, yellow and white tiles, giving it its name.
Inside, the house has been converted into one of the most popular restaurants in Mexico City. The interior features an elegant baroque design with intricate paintings and gold accents, allowing visitors to enjoy traditional Mexican cuisine while indulging in its beauty.
Ask yourself this… Are you even in a proper big city if there's not a Chinatown!? One little known fact about CDMX is that there is, in fact, a Mexico City Chinatown. Though it's not very big, do take the time to stroll through and snap some pictures of the iconic red arch entryway and colorful hanging paper lanterns.
Torre Latinoamericana (Latin American Tower)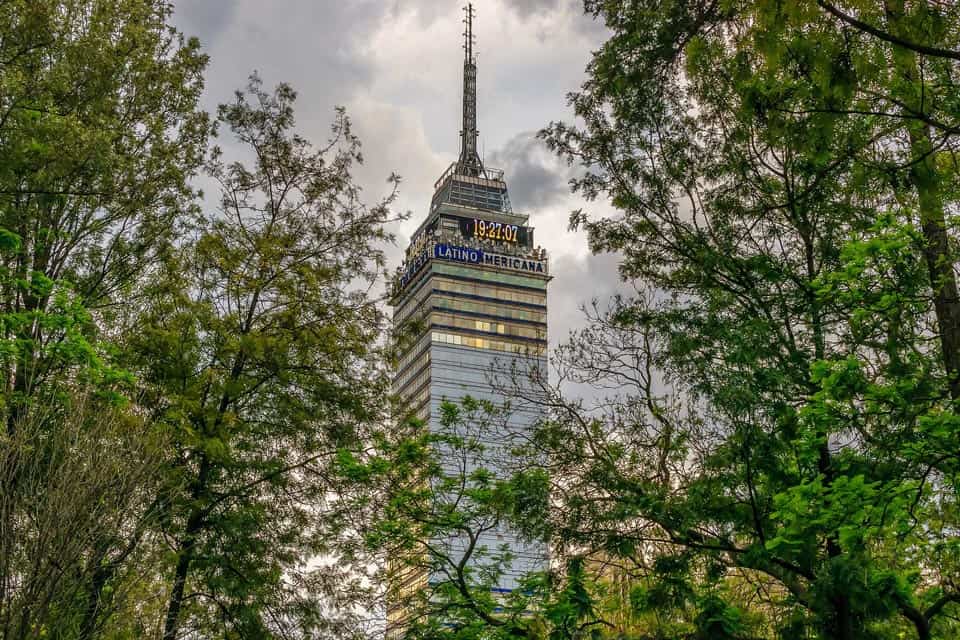 This is one of the iconic skyscrapers that make up Mexico City's skyline. On a clear day, head to Mirador Torre Latino (Lookout Platform) at the top of the tower for some amazing city views.
It costs $70 pesos ($4) to access the Mirador, so make sure you're only paying to go up on a clear day. For those who don't want to pay, head to the nearby Sears department store building and take the elevator to the cafe on the top floor, which will have a similar view.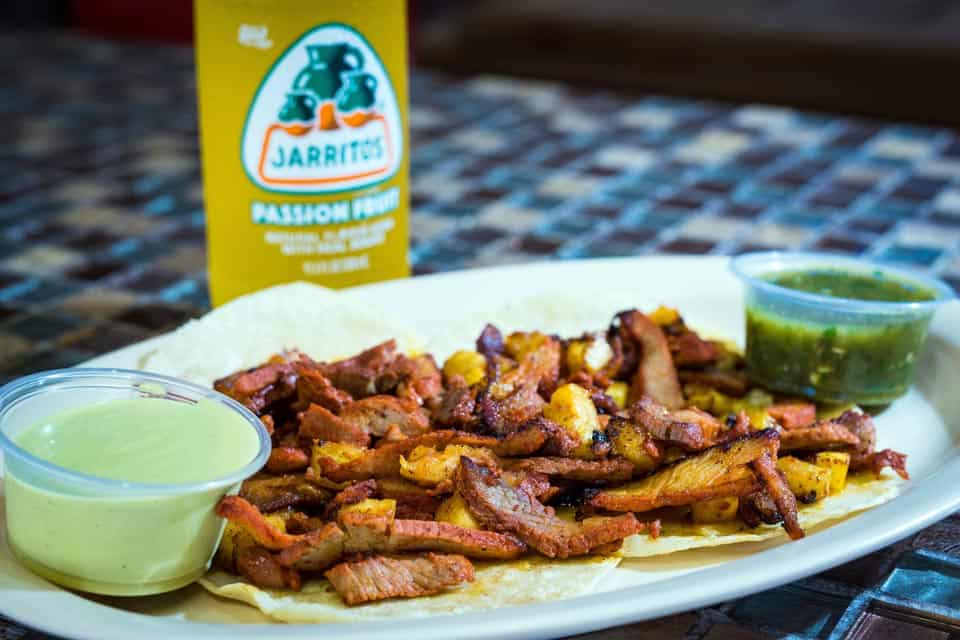 There's no shortage of amazing taquerías (taco shops) and taco restaurants in Centro Historico. Here are just some of the classics…
Tacos de Canasta los Especiales serves a unique style of taco called tacos de canasta (basket tacos). They come served from baskets, in varieties including chicharrón (fried pork skin), papas (potato) and frijol (bean). At only about 50 cents per taco, try them all and discover your favorite.
El Huequito serves Mexico City's most famous taco, the taco al pastor. These pork tacos, cooked on a Middle Eastern-style spit, and topped with pineapple, are a must-try on any Mexico City trip.
Los Cocuyos is the place if you want to eat like the locals do. This no-frills taquería serves another Mexico City classic taco, tacos suaderos. A sort of flank steak, suadero is a favorite amongst chilangos (Mexico City's locals).
If you managed to save room for dessert, head to Churrería El Moro for Mexico's beloved sweet treat, churros.
Do you love Mexican food and want a local to show you the best places?
Check out our recommended Historic Center food tour!
Day 4: Reforma, Chapultepec Park & Polanco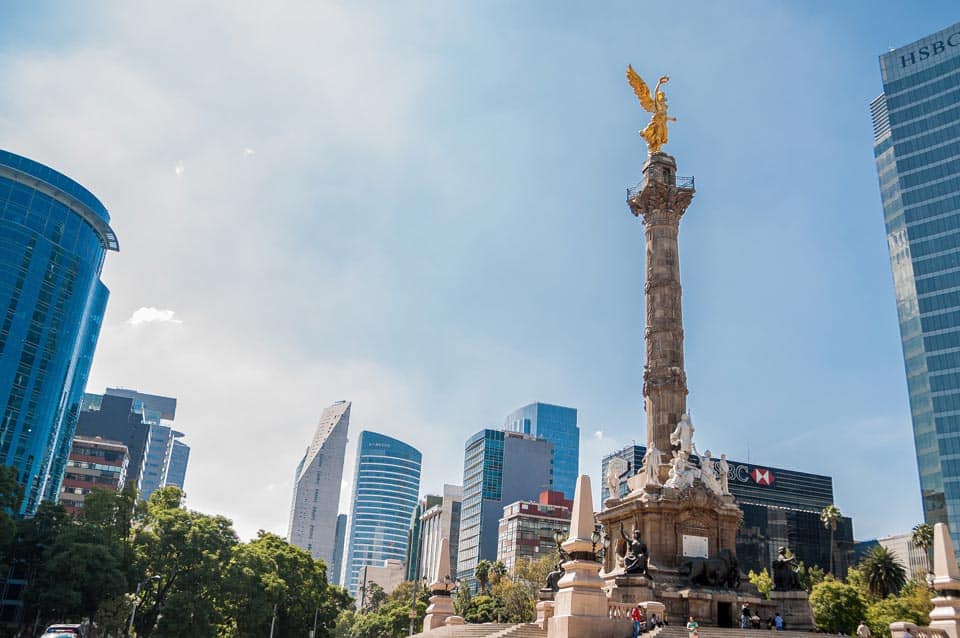 On Day 4, you'll head to one of the world's largest urban parks, Chapultepec Park (Bosque de Chapultepec). This 1,700-acre park is massive and spans the entire physical area between Reforma Ave. (Avenida Reforma) and the Polanco neighborhood.
Start the day with a stroll down Reforma Ave., and say "buenos días" (good morning) to the golden Angel of Independence (Angel de la Independencia) statue located in the center of this main Mexico City street. Keep walking, and you'll eventually wind up in Chapultepec Park.
Now, you could realistically spend an entire week in the park and not see everything! From the iconic Chapultepec Castle (Castillo de Chapultepec), nine museums, two lakes, Chapultepec Zoo, and even more, you'll have to be selective with your time.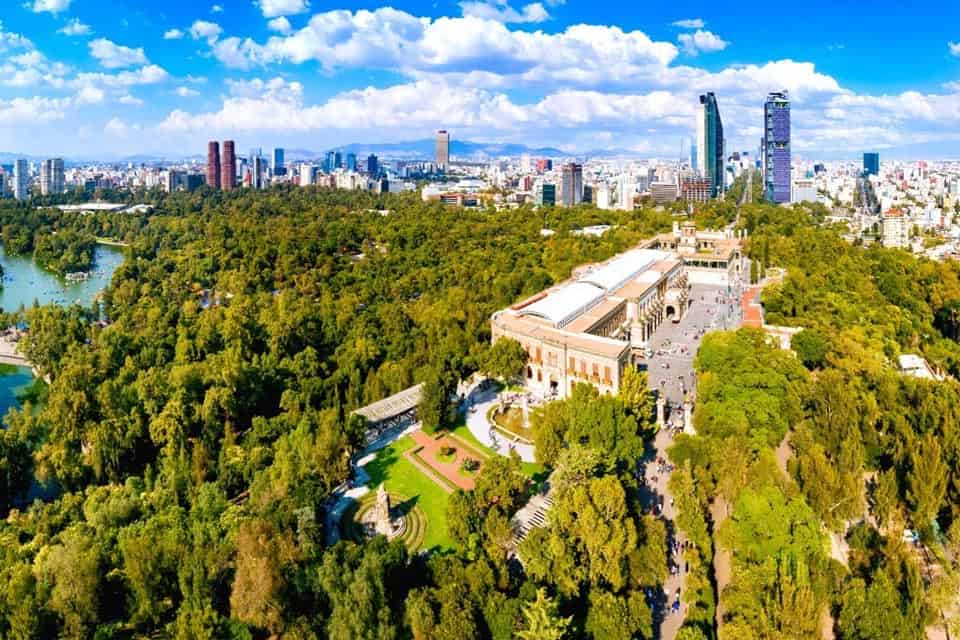 For most, Chapultepec Castle is a must-see on any Mexico City itinerary
It is special because it's the only true castle on the North American continent, as royals did once live there. The former home of the Austrian archduke, Emperor Maximilian I, and his wife, Empress Carlota, is now one of the top sightseeing locations in Mexico City.
Mexico City is home to about 150 museums.
Its most visited, the National Museum of Anthropology (Museo Nacional de Antropología), is located in Chapultepec Park. This world-class museum chronicles thousands of years of Mexican archeological history, going all the way back to the mysterious Olmec civilization.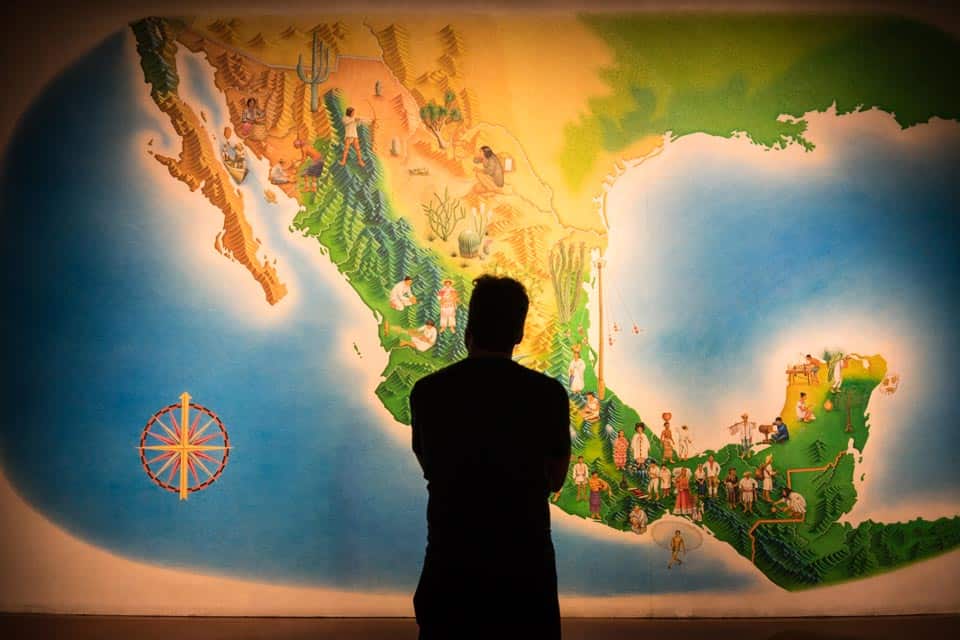 When it's time to leave the park, head to Mexico City's Polanco neighborhood — one of the poshest neighborhoods in town! The tree-lined President Masaryk Ave. (Avenida Presidente Masaryk), known as the "Rodeo Drive of Mexico," is the place to shop.
The gorgeous Soumaya Museum (Museo Soumaya), one of the nicest buildings in CDMX, and Jumex Museum (Museo Jumex) contemporary art museum, round out the best things to do in Polanco. However, do stick around this area if you want to splurge on some fine dining in Mexico City.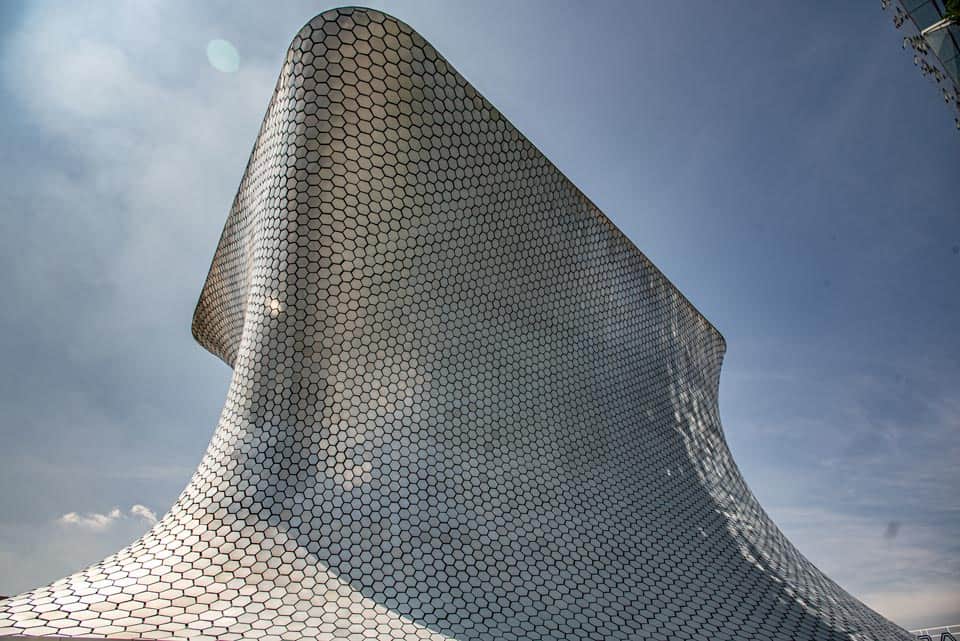 In Polanco, you'll find Enrique Olvera's famed Pujol, considered one of the best restaurants in the world by the prestigious 50 Best list. The Quintonil and La Docena restaurants also made that short list, so if you can't get a reservation at Pujol, these two make nice alternatives.
Read More: 21 Unique Things Mexico Is Famous For!
Day 5: Roma Norte & La Condesa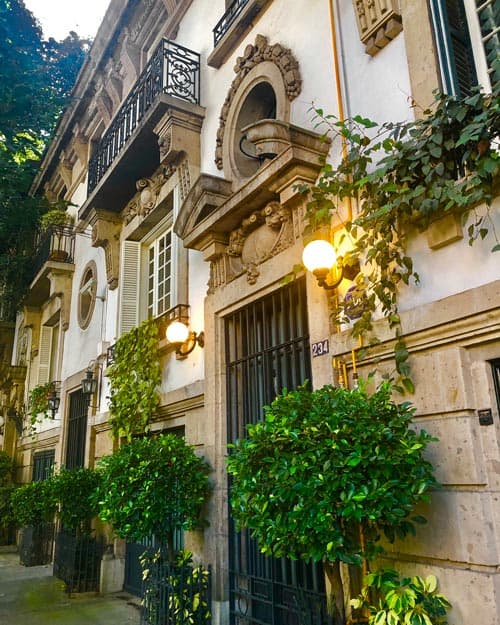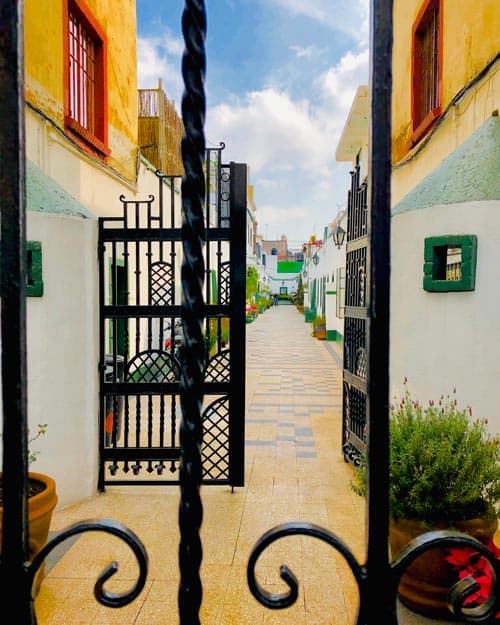 Remember at the beginning of the article… when you were told you'd have a day of rest!? Day 5 is that day. As you probably gathered, you'll be covering a lot of ground on your 5 days in Mexico City, but you'll also want to schedule in a day with, basically, no plans at all.
On Day 5, you'll spend the day enjoying the two prettiest neighborhoods in Mexico City, Roma Norte and La Condesa. These calm, urban oases make for perfect places to end an action-packed 5-day Mexico City trip.
Roma Norte (North Rome) and La Condesa (The Countess) are located right next to one other. These sister neighborhoods are quite similar, with beautiful parks, unique architecture and buildings, colorful street art, great cafes, bars and restaurants, and more.
If you're into architecture and design, head to Alvaro Obregon Ave. (Avenida Álvaro Obregón) in Roma Norte. This main street has some of the neighborhood's nicest buildings, with design esthetics ranging from colonial to art deco to classical; each one somehow nicer than the last.
Walk across Insurgents Ave. (Avenida Insurgentes), one of Mexico City's main streets, and you'll be in La Condesa. Head to the tree-lined street, Hipódromo (racetrack), for a leisurely stroll.
Heading to Oaxaca? Make sure you check out the cool mountainous town of San Jose Del Pacifico!
This pathway circles around beautiful Amsterdam Ave. (Avenida Amsterdam), one of the main streets in Condesa. Once a horse racing track, hence the name and circular shape, it's now a relaxing way to get to know La Condesa.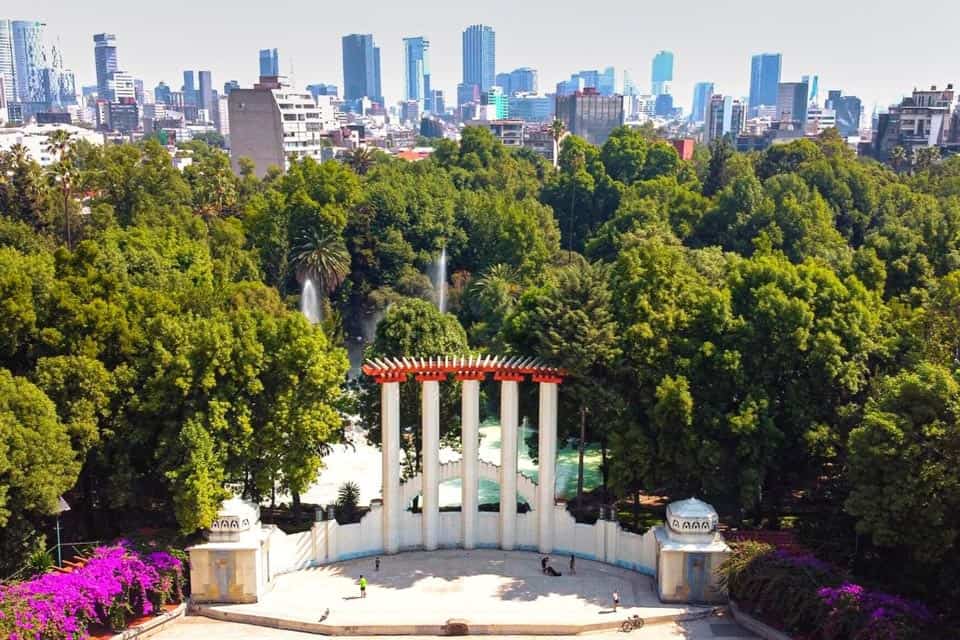 In Condesa, you'll find two of Mexico City's best parks — Mexico Park (Parque Mexico) and Spain Park (Parque España). Walk through them at your pace, before heading to one of Condesa's best cafes, taquerías and lunch spots. Some of the most popular places include Maque, El Pescadito and Lardo, respectively.
When it's dinner time, head back to Roma Norte to enjoy some of the best restaurants in this area including Rosetta and Maximo Bistrot.
For after-dinner drinks, check out two of Mexico City's best speakeasies, Casa Franca and Maison Artemisia… and if you then fancy a late-night taco run, there's no place better than Taquería Orinoco.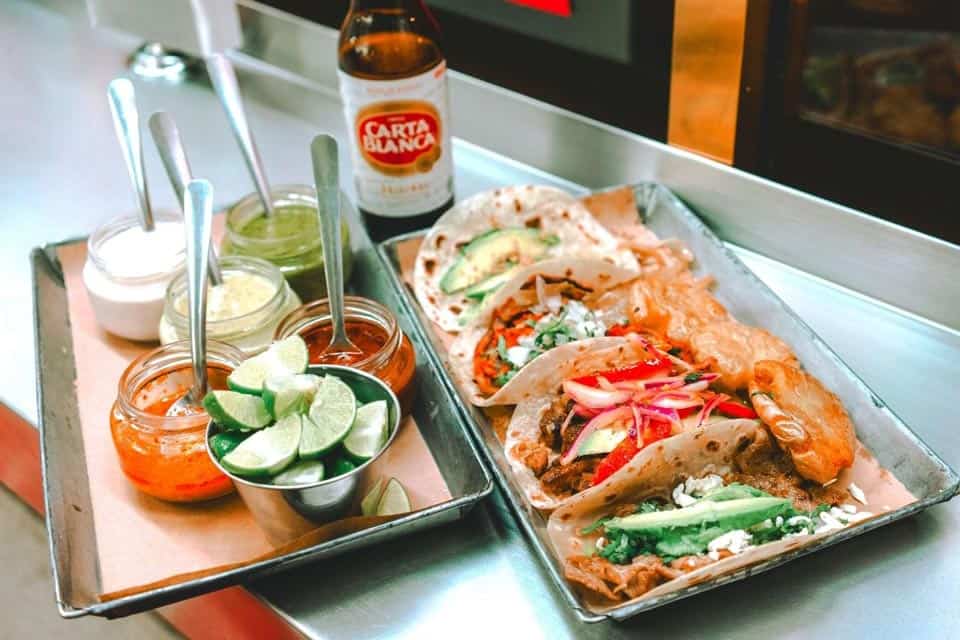 ---
Where To Stay In Mexico City
As the most populous city in North America, there are many areas to stay in Mexico City. However, not all neighborhoods in Mexico City are safe to stay and designed for tourists.
If you are visiting Mexico City, we highly recommend you to stay in one of the following neighborhoods: Centro Historic, Roma, La Condesa, Juarez, or Polanco.
Here are some specific places we recommend you to stay in CDMX:
Best Hostel In Mexico City – Casa Pepe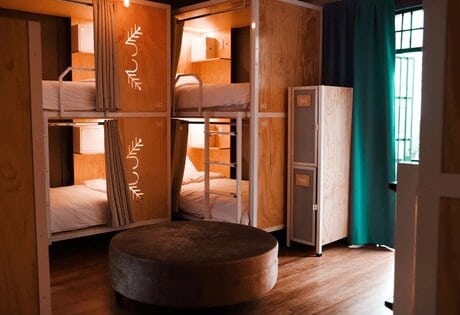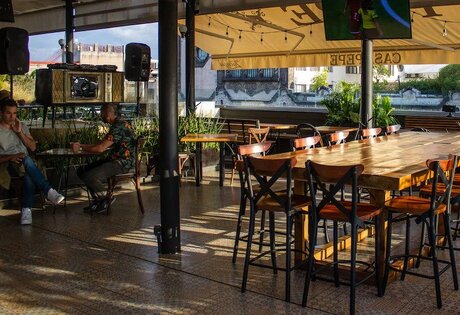 When it comes to hostels in Mexico City, the luxurious and boutique Casa Pepe is one of the best. Hostels usually sacrifice comfort and cleanliness for a cheaper price, but that doesn't happen in Casa Pepe.

In their dormitory rooms are beds featuring premium mattresses, curtains, sockets, and more for each guest. Guests that prefer a bit more privacy can pick one of their private en-suite rooms, which depending on the type, might even have a standing bathtub!

Located in Centro Historica, guests are within walking distance to the heart of Mexico City. Places like the Zocalo, the Cathedral, and the Metro are all within a few-minute walk away.
Best Vacation Rental In Mexico City – Roma Hidden Treasure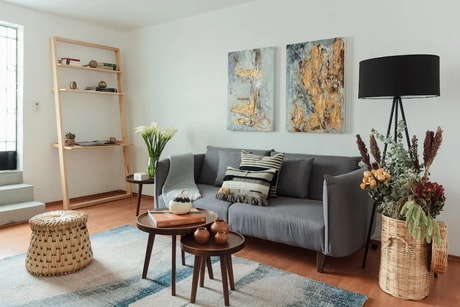 (Images Courtesy of Vrbo)

Looking for a cozy and affordable stay but don't want a hostel? Consider one of the vacation rentals in Mexico City.

This 2-bedroom apartment in Mexico City is located in Roma, one of the safest and most stylish neighborhoods in CDMX. The building itself is placed on the first floor of a historical construction circa 1915, and visitors can still see the gorgeous art nouveau influence.

Mixed in with the classic architecture of the building are some of the most contemporary and modern finishes. Guests can feel the apartment come to life the moment they step in. Besides the 2 beautiful bedrooms, guests will find a cozy living and dining room, a fully-equipped kitchen, a bathroom and a laundry room.

However, the gem of this Mexico City Vrbo is the enchanting interior greenhouse. It is the perfect place to relax after a chaotic day exploring Mexico City. The lovely houseplants will bring you a sense of serenity unlike anything else.

Its location in Roma connects visitors to every part of Mexico City. There are also many of the city's best restaurants, bars, and other attractions within walking distance.
Best Hotel In Mexico City – Hotel Zocalo Central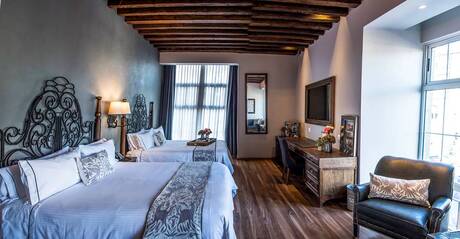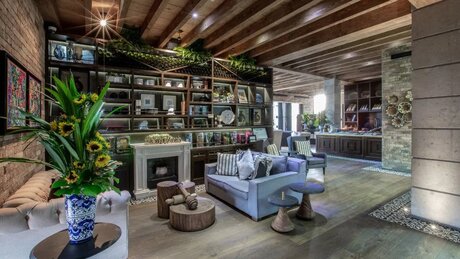 Located adjacent to the Zocalo in Downtown Mexico City, Hotel Zocal Central is the perfect base for exploring Mexico City. Within walking distance are some of the best places to visit in Mexico City, such as the Zocalo, the Cathedral, and more!
This luxury hotel in Mexico City is housed in an 1890s historical building, and the interior decor oozes charm unlike other traditional hotels. Come enjoy a delicious Mexican meal at their delicious restaurant overlooking the beautiful Zocalo.
If you are feeling lazy, lounge in your super comfy room, some of which have incredible views of the Zocalo as well!
---
Tips For Visiting Mexico City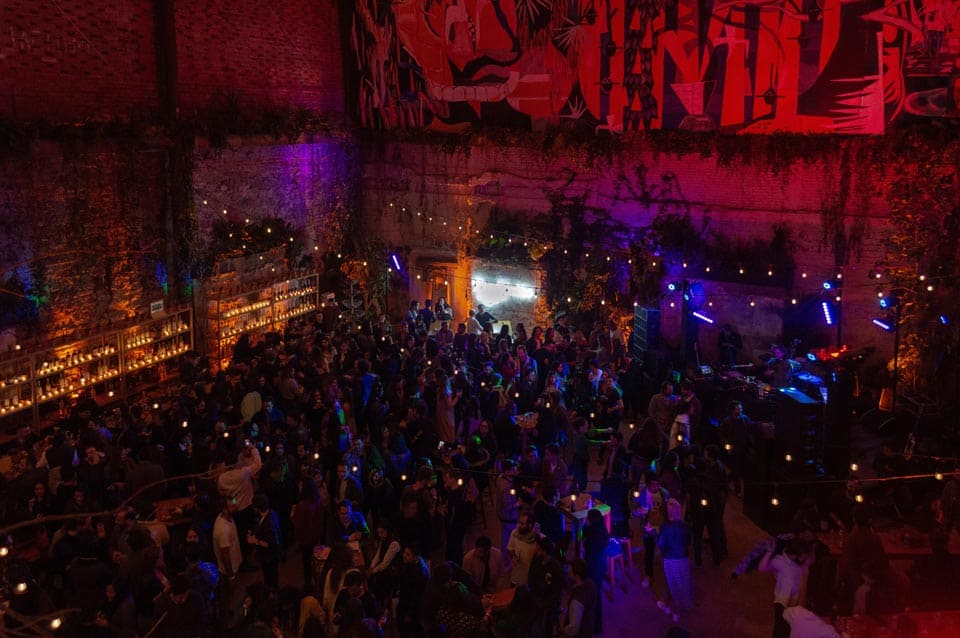 You might think that everyone would speak English in Mexico City because it is such a big city and close to America. However, that is far from the truth. If you plan on getting any street food, you will need to use your Spanish. Convenience stores? Spanish.

The more touristy the neighborhood is, the more chance that the people there will speak English, but that is not a guarantee. We recommend having a basic level of Spanish or bringing a Spanish phrasebook when you visit Mexico City.
Get a SIM card as soon as you arrive in Mexico City – They are very affordable and can be easily purchased at convenience stores such as Oxxo's. Go for companies such as Telcel, Movistar, or AT&T Unidos, they are the most reliable companies in Mexico City.

Activation might require a little bit of Spanish but you can always ask the reception of your accommodation or even the cashier of the convenience store to help you out (if they speak English).
Eat as much street food as you can! While there are many nice and high-end restaurants in Mexico, we find that street food is some of our favorite foods. It is an entirely unique experience that cannot be missed!
---
Is Mexico City Safe?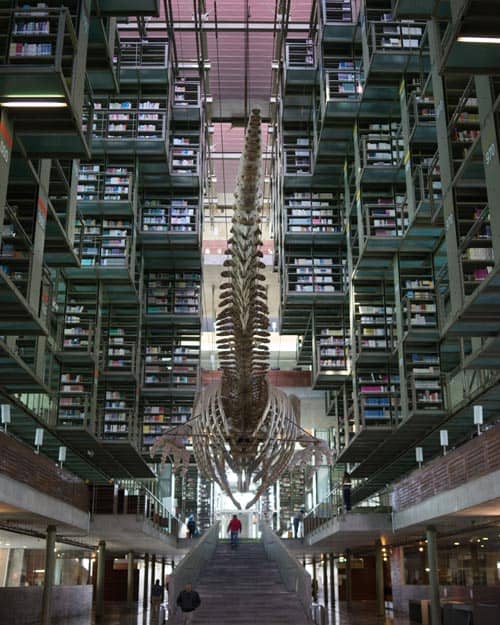 One of the most common questions asked is whether it is safe or not to visit Mexico City. While everyone's experiences differ, we can give you a bit of our opinion.
Mexico City isn't the safest city to visit in the world, not even close. Theft and pickpockets are incredibly common, especially against foreigners. However, there are some tips that can make your visit a little safer.
The Metro is one of the cheapest and most convenient public transportation in Mexico City. However, pickpockets and theft are extremely common. Keep your belongings close to you and make sure your pockets are protected. Thieves will slice your pockets and take whatever is inside.

Be extra careful if you are taking the Metro during rush hour because you will be so squished you won't be able to move and protect your belongings.
If the Metro has put you off, you might be tempted to take a taxi instead. After all, they aren't the most expensive mode of transportation. We highly recommend you to not take a taxi ever in Mexico City.

Always take an Uber if you can (that is why the SIM card is so important). Ubers are much safer compared to taxis.

Is your destination only a 15-minute walk away? Make sure you don't pass a sketchy neighborhood on the way. If you don't know if the area you are passing through, it is better to just take an Uber.
Plan on enjoying Mexico City's nightlife? You should! Similar to taking the Metro in CDMX, just be extra careful with your belongings and your drinks. Just take what you need to go out in case you do have your things stolen.
We highly recommend you to purchase travel insurance before visiting Mexico City!
---
When Is The Best Time To Visit Mexico City?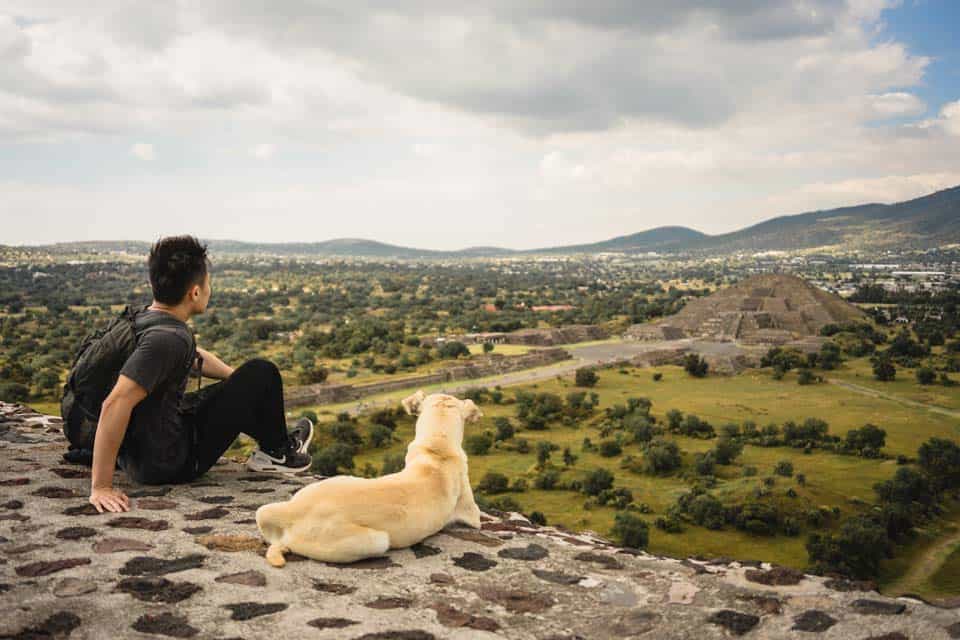 The best time to visit Mexico City is between the months of October to November and March to April.
The summer months are considered the rainy season in Mexico City, and visitors find plenty of rainy days that can hinder sightseeing. The winter months are just too chilly to explore Mexico City. Since Mexico City is situated 2,240 meters high, the winters in Mexico City are cold.
Therefore, the best time to visit is around fall and spring. However, if possible, it is worth visiting Mexico City during the Day of The Dead, one of the biggest cultural festivals in Mexico. That happens at the end of October and goes into early November.
---
Do You Get Altitude Sickness In Mexico City?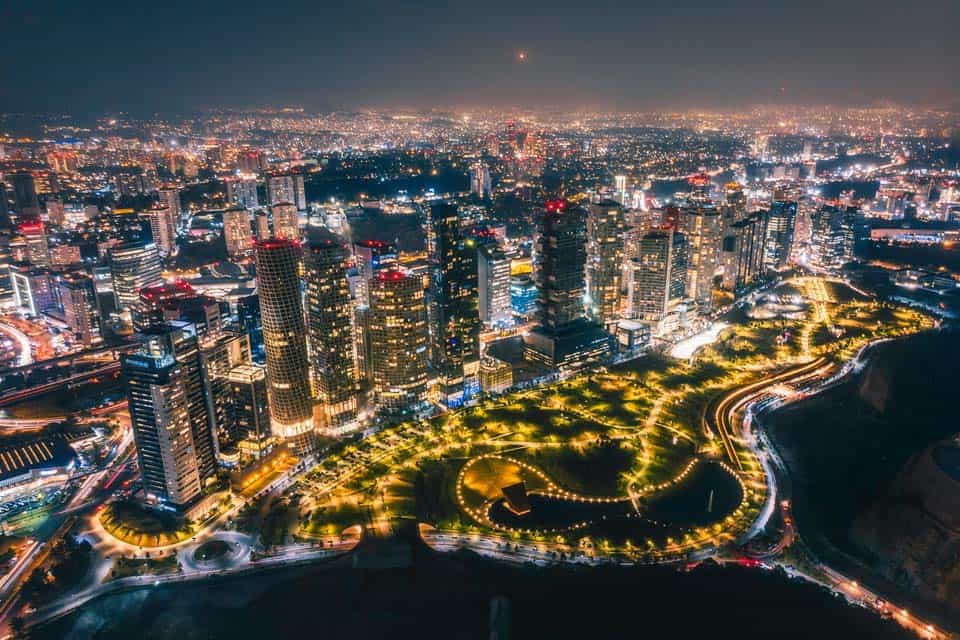 Mexico City is situated at an altitude of 2,240 meters, or 7,350 feet. According to WebMD, visitors typically start seeing symptoms of altitude sickness at around 8,000 feet. Though a sudden change in altitude could also cause some symptoms of altitude sickness.
This means that although you are unlikely to have serious symptoms of altitude sickness, you might find yourself tiring out a little bit more than usual. When I was in Mexico City, going up the stairs to my hostels was exhausting, but I was fine after a few days.
If you feel yourself getting more tired than usual, just take it easy for one or two days and your body should adjust. The altitude in Mexico City isn't high enough to be a big issues, typically speaking.
---
Visiting Mexico City FAQs
Is 5 Days Enough For Mexico City?
5 days is typically considered the perfect amount of time for Mexico City, the most populous city in the Americas. This'll give you enough time to explore all the different neighborhoods, attractions, and enjoy some of the nightlife and gastronomy.
Is Mexico City Worth Visiting?
Mexico City is one of the most unique cities in the world and it is definitely worth visiting. Not only is it super affordable, but the city has tons of history that can be seen in its architecture and stunning buildings. The nightlife is incredible and the food is one of the best in the world.
---
Like this post? Don't forget to save it on Pinterest! 🙂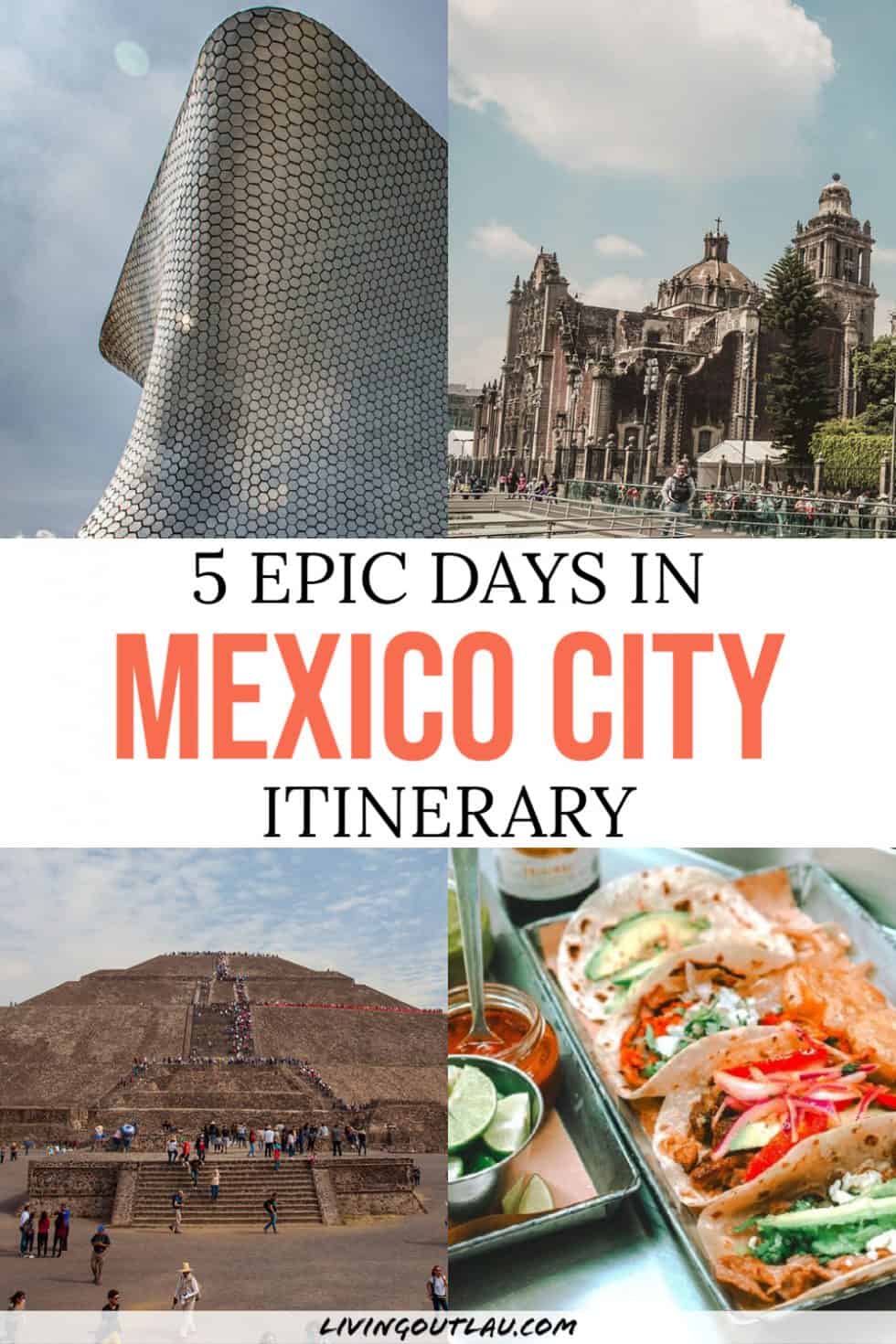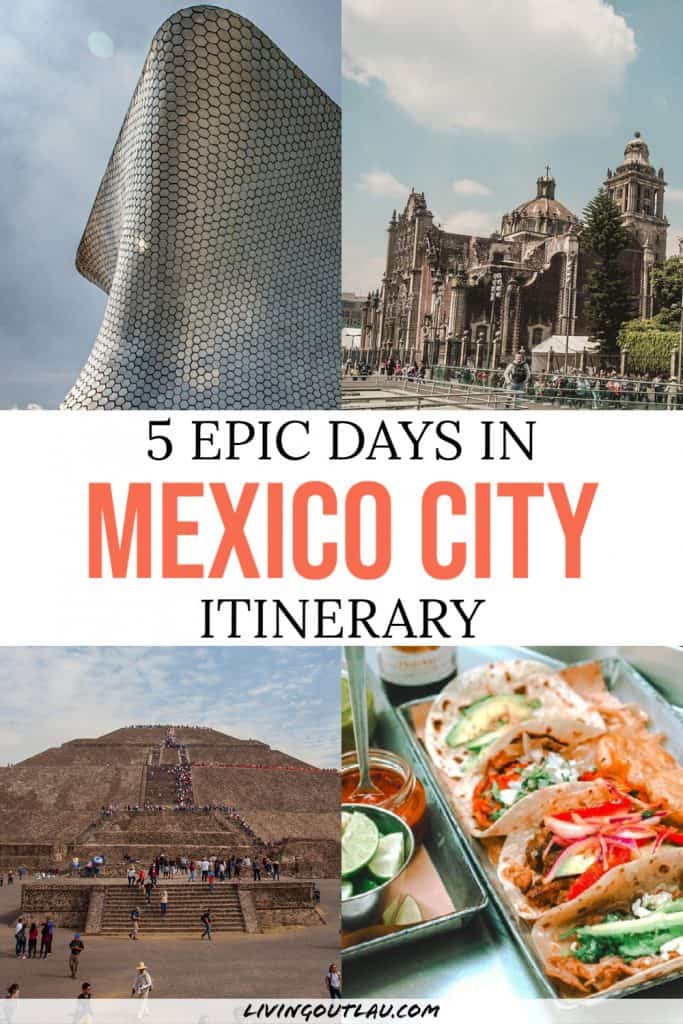 ---
This concludes our Mexico City 5-day itinerary! We hope this guide has helped you plan the perfect visit to Mexico City.

Any question? Leave them in the comments!
Disclaimer: Some of the links above are affiliate links. That means if you book or make a purchase through the links, we will earn a small commission at no extra cost to you! The money will help run this site! Thank you!