Not sure where to stay in Tulum, Mexico? Worry not.
Located in the Mexico state of Quintana Roo, Tulum is surrounded by thriving jungles, glistening waters of the Caribbean sea, authentic indigenous culture, magnificent cenotes (sinkholes) and mysterious archaeological Mayan ruins.
It is no surprise that Tulum won the Mexico & Central America's Leading Beach Destination Award for 2020.
This diversity of things to do in Tulum allows every traveler to enjoy this small beach town in the Yucatan Peninsula. Consequently, the popularity of Tulum is on the rise… exponentially.
What was once a sleepy town in the Riviera Maya is now booming with tourism, and with that came a lot of beautiful hotels and places to stay in Tulum.
That is why we have written this guide to help you pick the perfect place to stay in Tulum. In our guide below, you will find treehouses, cabanas, Airbnbs, private pool villas, hotels, hostels, and resorts in Tulum!
Enjoy!
---
Best Areas To Stay In Tulum
When you are picking a place to stay in Tulum, the most important choice is deciding whether you want to stay in Tulum Downtown or Tulum Beach, the two best areas to stay in Tulum.
While that doesn't seem like a big difference, visitors will have a completely different experience of Tulum depending on which area they decide to stay.
The distance from Tulum Beach to Tulum Town is about 7 kilometers. If you are renting a car in Tulum, then moving from one area to the other is no problem. However, if you don't have a car, the only options are getting a taxi, renting a bicycle (30 minutes), or walking (1.5 hours).
Given the hot and humid weather in Tulum, it makes it a little inconvenient to go to the beach all the time if you are staying in the center of Tulum.
Staying In Tulum Downtown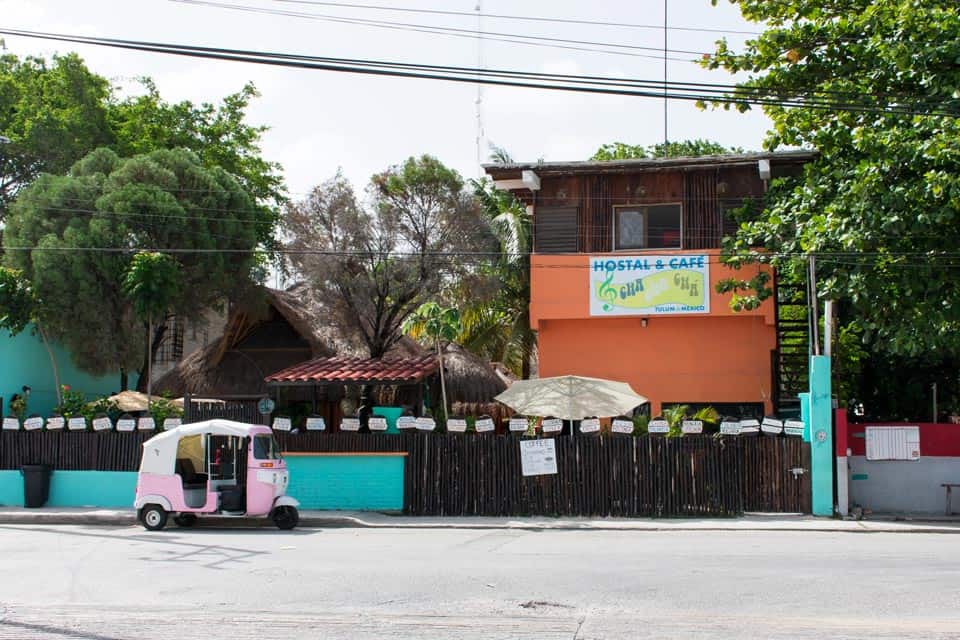 Pros of Staying in Downtown Tulum: Everything from food to accommodation is cheaper, more authentic vibes, easier to get around, awesome backpacker scene!
Cons Of Staying Downtown Tulum: The beach is far away and some of the most extravagant entertainment options (bars and restaurants) are also far away.
Tulum Town, sometimes referred to as Tulum Downtown or Center of Tulum, is the best area to stay in Tulum for backpackers or budget travelers. Though containing many cheap backpacker hostels, visitors will also find an array of beautiful places to stay in Tulum Center.
Besides more affordable accommodations in Tulum Center, food tends to be cheaper and more authentic. If you would like the experience of eating a taco from a street vendor, you can only have that in Tulum town. After all, many locals live in this area and they can't afford tourist prices!
Tulum Center is also much more well-connected than Tulum Beach. The 307 highway that connects Cancun and Playa Del Carmen passes through Tulum, making it easy for anyone coming into Mexico through the Cancun Airport (which is a majority of you).
This makes it easy to visit some of the best cenotes in Riviera Maya, archaeological ruins, and plenty of the attractions Riviera Maya is known for.
If you are backpacking Mexico, then staying in Tulum center will guarantee that you meet other like-minded travelers. The backpacker's scene in Tulum is thriving!
Staying In Tulum Beach Zone
Pros of Staying In Tulum Beach Zone: World-class dining options, extravagant accommodations, easy access to beautiful beaches, many "Instagram-worthy" locations
Cons of Staying In Tulum Beach Zone: It is nearly impossible to find affordable accommodation there. Not a lot of options when it comes to food and drinks. Seaweed season in Tulum could make the area smelly.
If your visit to Tulum is about enjoying the finer things in life (or if you are in Tulum for your honeymoon), then don't hesitate to stay in Tulum Beach.
The Tulum Beach Zone is where most of the fancy beach resorts and hotels in Tulum are located. Here visitors will find some of the finest dining options (though in our opinion, lack the authentic flavors of Mexico), upscale bars and nightclubs, spa retreats and the likes.
In a way, the Tulum Beach area is similar to Cancun's Hotel Zone, where most of the luxurious accommodations are located. However, compared to the places to stay in Cancun, the accommodations in Tulum are more gorgeous and uniquely designed.
With the way the Tulum Beach zone is set up, there is only one narrow road that runs north to south or vice versa. The nice Tulum beach hotels are all located on the eastern part of Beach road, so they all face the beautiful Caribbean Sea and have a plot of private beach as part of their property.
Because of the single narrow road, getting around the Tulum Beach area is a pain in the you know where. Public transportation doesn't run in this area (as of now) and visitors have to rely on taxis to get around. Though if you are staying in a luxurious hotel, they might sort that out for you!
---
Quick Tip On The Best Place To Stay In Tulum
Best Place To Stay In Tulum Town –
Esmeralda Boutique Hotel & Residences

Click here for more photos!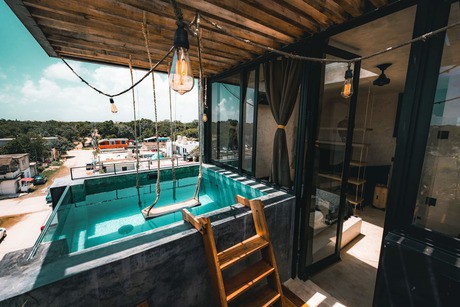 Best Place To Stay In Tulum Beach –
Casa Bonita

Click here for more photos!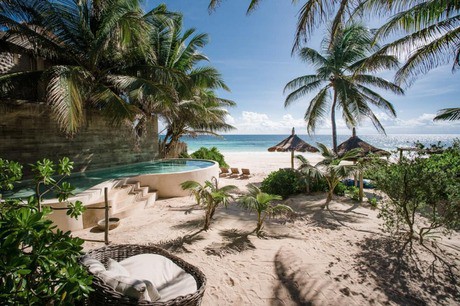 ---
Where To Stay In Tulum Town
Best Downtown Tulum Airbnbs
1. KINICH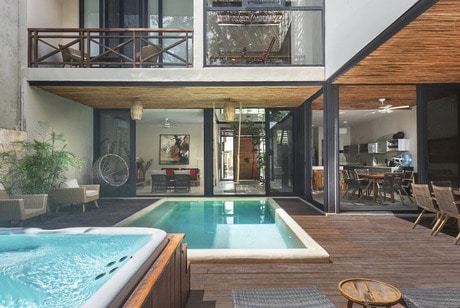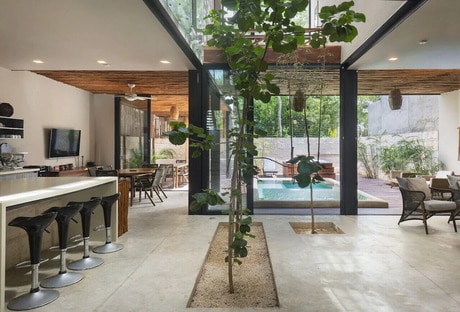 If you are looking for a luxurious villa in Tulum without spending lots of money, then KINICH might be the perfect place for you. Designed for a total of 11 guests across 4 beds, KINICH has plenty of space even for big groups and families.
Enjoy a luxurious stay in this gorgeous villa located within the upscale Aldea Zama neighborhood. Here you'll find amenities such as a pool, hot tub, loungers for sunbathing and relaxation, along with dining tables and two swings- ideal for spending your days unwinding!
At this luxurious villa, visitors can experience the essence of Riviera Maya – concrete floors and white walls create a clean yet comfortable atmosphere. For an even more remarkable getaway, guests are encouraged to enjoy local culinary delights prepared by their in-house chef – perfect for any occasion or just a great night in.
With a stunning floor-to-ceiling window design on the back of the villa, enjoy a breathtaking view of your pool and outdoor area from the inside. Other amenities include high-speed WiFi, air conditioning, and a fully equipped kitchen!
---
2. Esmeralda Boutique Hotel & Residences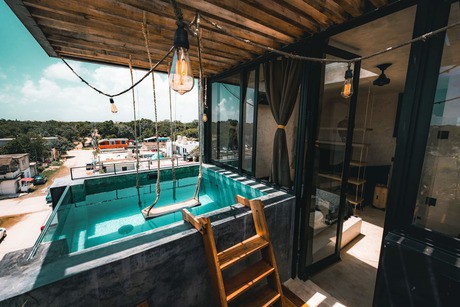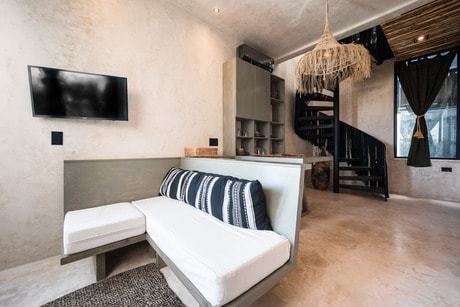 Are you in Tulum for your honeymoon? Take romance to the next level by staying at this romantic 2-story penthouse at Esmeralda Boutique Hotel! This Airbnb in Tulum features some of the most remarkable decors and it will surely make your stay unforgettable!

Without a doubt, its most jaw-dropping feature is the private pool that overlooks parts of Tulum. Hovering slightly above the pool are two swings, where guests can sit, dip their legs in the water, and feel the breeze against their wet bodies. There is no better place for an iconic Instagram photo in Tulum than that!

Though you are likely to spend most of your time sitting in that gorgeous pool, the interior of this Airbnb is far from lackluster. Stylishly decorated with locally-made furniture, this apartment is an eye candy. From the modern dining area to the L-shaped sofa, every element is meticulously constructed to provide guests with the next-level experience.

Guests can also rent bikes via this Airbnb. However, given its close proximity to some of the best things to do in Tulum Town, that might not be necessary. But if you plan on visiting the Tulum Ruins, the beach, or any of the cenotes near Tulum, then you know where you can get a bike!
Read More: The 25 Best Airbnbs In Mexico!
---
Best Downtown Tulum Hotels
1. Hotel Bardo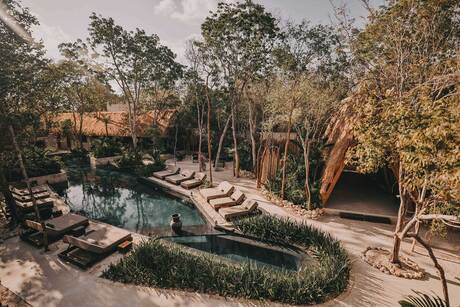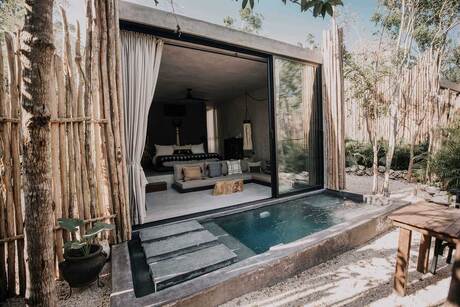 If you are ready to be pampered and treated like kings and queens, then consider Hotel Bardo, one of the best 5-star hotels in Tulum. A dreamy oasis located in the midst of the Tulum's jungle, guests will find nothing but a lavish relaxing experience.

Every room in Hotel Bardo is a private pool villa, designed to provide guests with the utmost privacy and personal paradise. The chic decor provides the calmest ambiance, allowing guests to immerse themselves in the Hotel Bardo experience.

Start your peaceful morning with a free yoga class. After you have worked up an appetite, indulge in the complimentary breakfast made from the freshest ingredients in Tulum. After you have fueled up, either go explore Tulum or enjoy a dreamy spa massage at your hotel!

This Tulum hotel is located a 25-minute walk from Downtown Tulum, but the friendly staff will help you get the transportation you need to get to any place you want in Tulum!

If you are visiting Tulum for your honeymoon, we highly recommend staying at Hotel Bardo. Its surreal setting laced with luxurious amenities and dreamy decor will turn any vacation into an unforgettable one.
---
2. Una Vida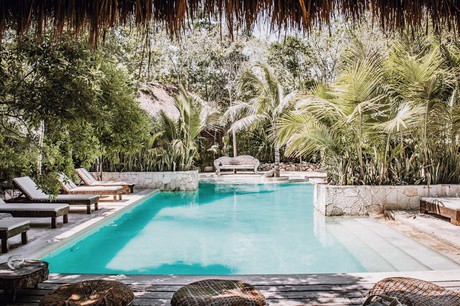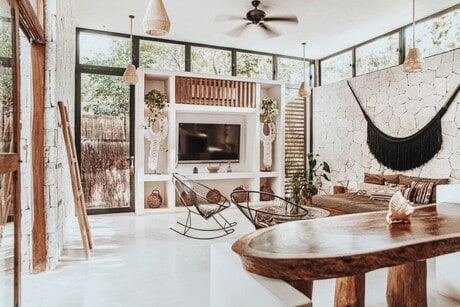 Situated in the jungles of Tulum, prepare to immerse yourself in its beautiful natural decor of Una Vida. Translating to "One Life" in English, staying at Una Vida is truly a once-in-a-lifetime opportunity.

There are a total of eleven independent villas in Una Vida, each equipped with the coziest decor to ease your mind to rest. Among tall trees, dream catchers, and locally sourced handicrafts, every day spent at Una Vida is a blessing. A few of the rooms in Una Via have their own private plunge pool, private garden, and hammocks!

Don't worry if you are in a room without a private garden or pool, there is a total of 2 delightful pools in the common areas. There is enough space in Una Vida to feel like it's your own private playground!

A short jungle path will take you to Hotel Bardo, the sister hotel of Una Vida. Here guests can enjoy some of Hotel Bardo's best facilities such as the fancy restaurant, bar, and decorated pool area!
---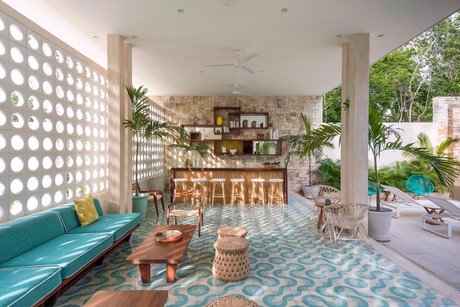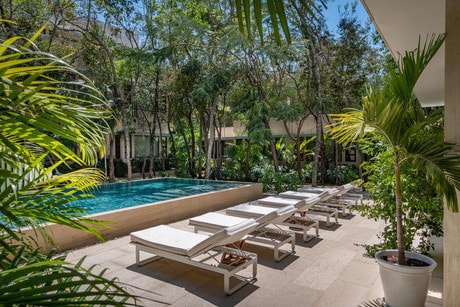 If you are looking for an affordable and serene place nestled in the jungle away from the (occasional) madness of Downtown Tulum, then Hotel Tiki Tiki Tulum is perfect for you. Featuring relaxed and natural decor, guests can easily feel at home in this beautiful oasis.

Each room is minimally decorated to eliminate distractions, allowing guests to fully immerse themselves in their stay and appreciate the lush nature around them.

Hotel Tiki Tiki Tulum features a wide variety of rooms. Depending on which ones you have selected, your room might have a hammock, a balcony, a roof, and many other amenities. Don't worry if you have not picked the perfect room, the common areas of this hotel in Tulum is sure to impress.

Soak in the large soothing pool as you admire the beautiful natural decor around you. Relax in one of their sun loungers as you achieve the perfect tan. When you are all hot and sweaty, enjoy a refreshing cocktail from the bar next to the pool. Staying at Hotel Tiki Tiki Tulum is pure relaxation!
---
Best Downtown Tulum Hostels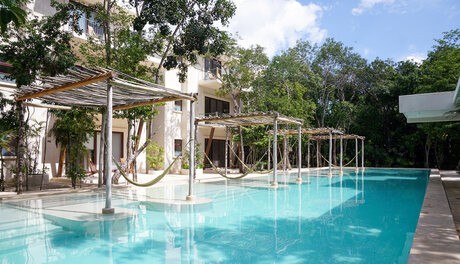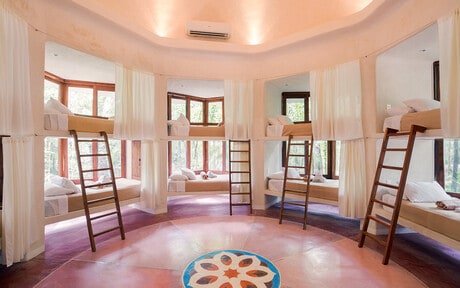 Hostels might have the negative reputation of being dirty, loud, and sometimes ugly. However, Hotel Holistika Tulum is the complete opposite. Though named a hotel, this Tulum hostel offers cozy dormitory beds in one of the friendliest environments in Tulum.

If your visit to Tulum is about tranquility and a spiritual retreat, then Hotel Holistika is ideal for you. Situated amidst some of the most pristine greenery, this accommodation in Tulum helps you truly enjoy the simpler things in life.

Here guests won't find loud parties, drugs, and music until 3 AM. Instead, they will find yoga classes, vegan restaurants, swimming pools with cozy hammocks, healing workshops, and other spiritual activities (like Temazcal). Guests will undoubtedly feel better after a stay at this incredible hotel.

For travelers that do not wish to stay in shared accommodation, Hotel Holistika Tulum also offers excellent private rooms!
---
2. Mayan Monkey Hotel & Hostel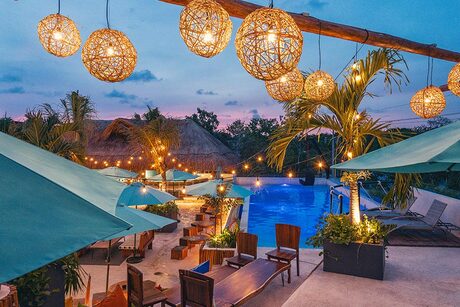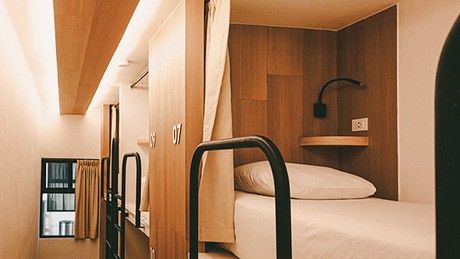 No trip to Tulum is complete without enjoying its incredible nightlife. Thanks to Mayan Monkey Hotel & Hostel, your nightlife in Tulum just got more fun!

Start your morning with a delicious complimentary breakfast and a free yoga session. Spend the afternoon by the refreshingly outdoor pool and soak in that Tulum sun.

When the sun has set, enjoy an ice-cold mojito at their stylish bar and meet some like-minded travelers. Dance the night away at one of the best parties in Tulum! Finally, fall asleep in a dreamy and air-conditioned dormitory room (or private room) and repeat the next day!

Mayan Monkey Hotel & Hostel's incredible social atmosphere is perfect for anyone traveling solo in Tulum and would like to meet other travelers. However, if you prefer a little bit of quiet and solitude you might want to stay away from this Tulum party hostel as the music can disrupt a good night's rest.
---
Where To Stay In Tulum Beach
Best Airbnbs in Tulum Beach
1. Casa Bonita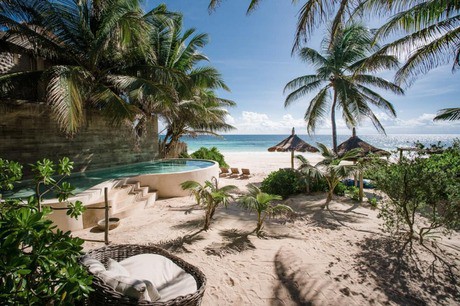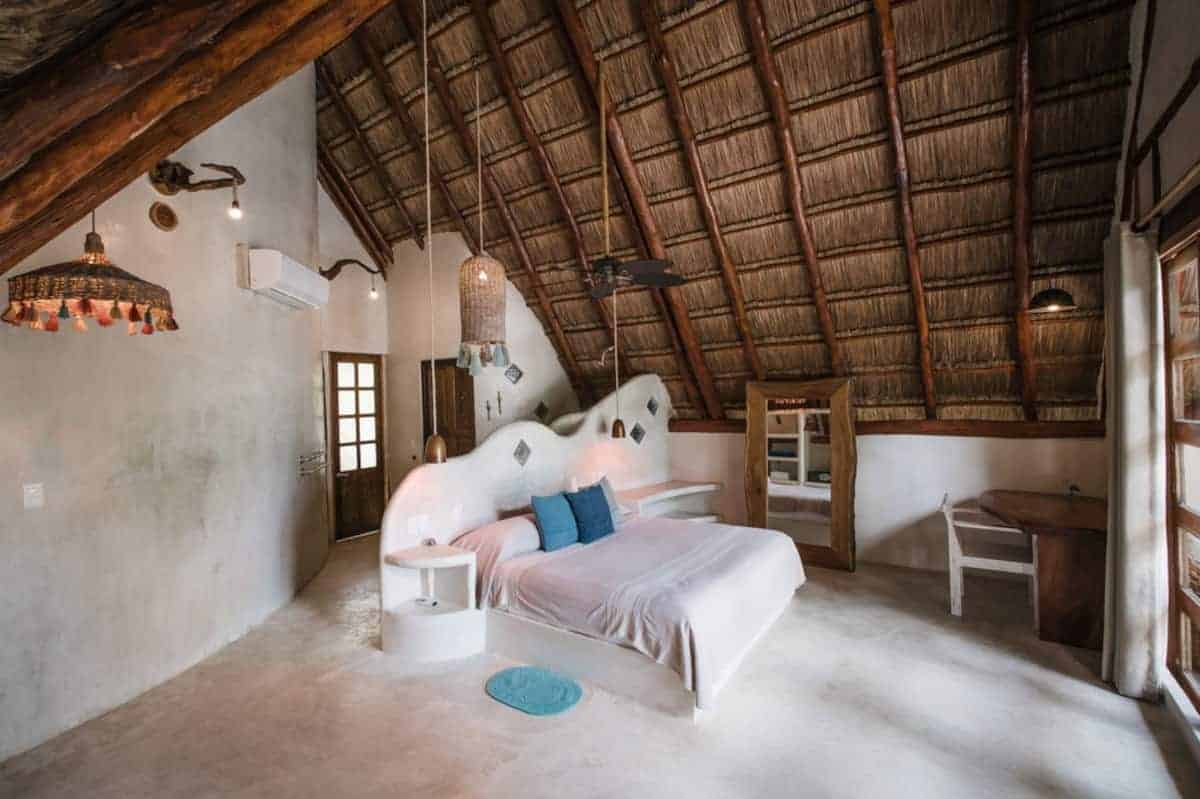 Located in the heart of the boutique hotel zone on Tulum Beach, Casa Bonita is one of the best places to stay in Tulum. This perfect getaway home is located on a piece of coveted Tulum's Beach, ideal for travelers to enjoy the turquoise waters and white sand beach in tranquility.

On the exterior of the Tulum Airbnb is the charming seaside pool, the perfect place to soak as you allow the glistening waves to mesmerize you. Adjacent to the seaside pool is a shade palapa, day bed, and beach loungers. Sea kayaks, SUP, and boogie boards are available for guests to use.

When you are not enjoying the gorgeous outdoor elements of this Airbnb, relax in the open-concept living room. With artistic and clean decor, guests will feel at ease in this beautiful vacation home.

There are a total of 3 bedrooms in this Tulum beachside Airbnb. The master suite is located on the top floor with a balcony facing the sea. Guests staying in this room will wake up to the sound of crashing waves and refreshing sea breeze.

The second suite is also located on the top floor and boasts incredible garden views. The last bedroom is on the main floor and features a king bed and ensuite bathroom!

Because of the number of rooms, this Airbnb is ideal for families or groups. However, if you are a couple traveling in Tulum, the added space and privacy will only enhance your stay!
---
2. Casa Mandala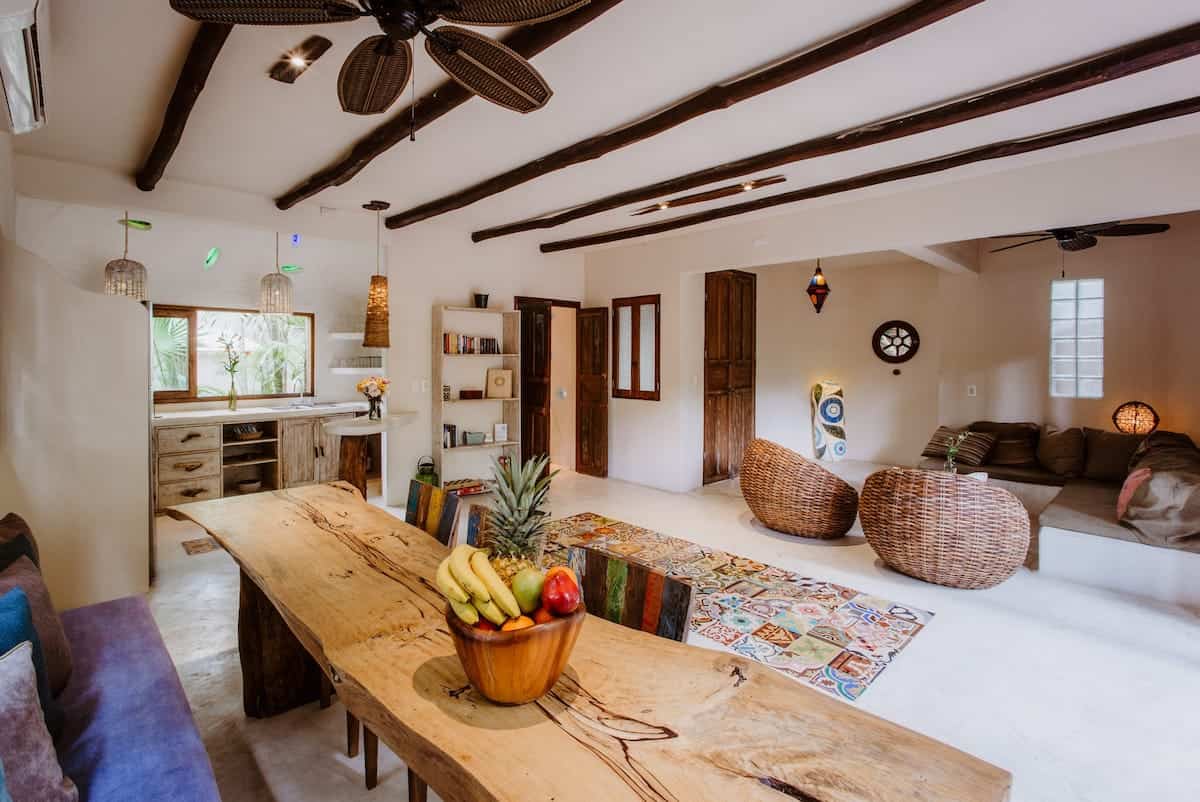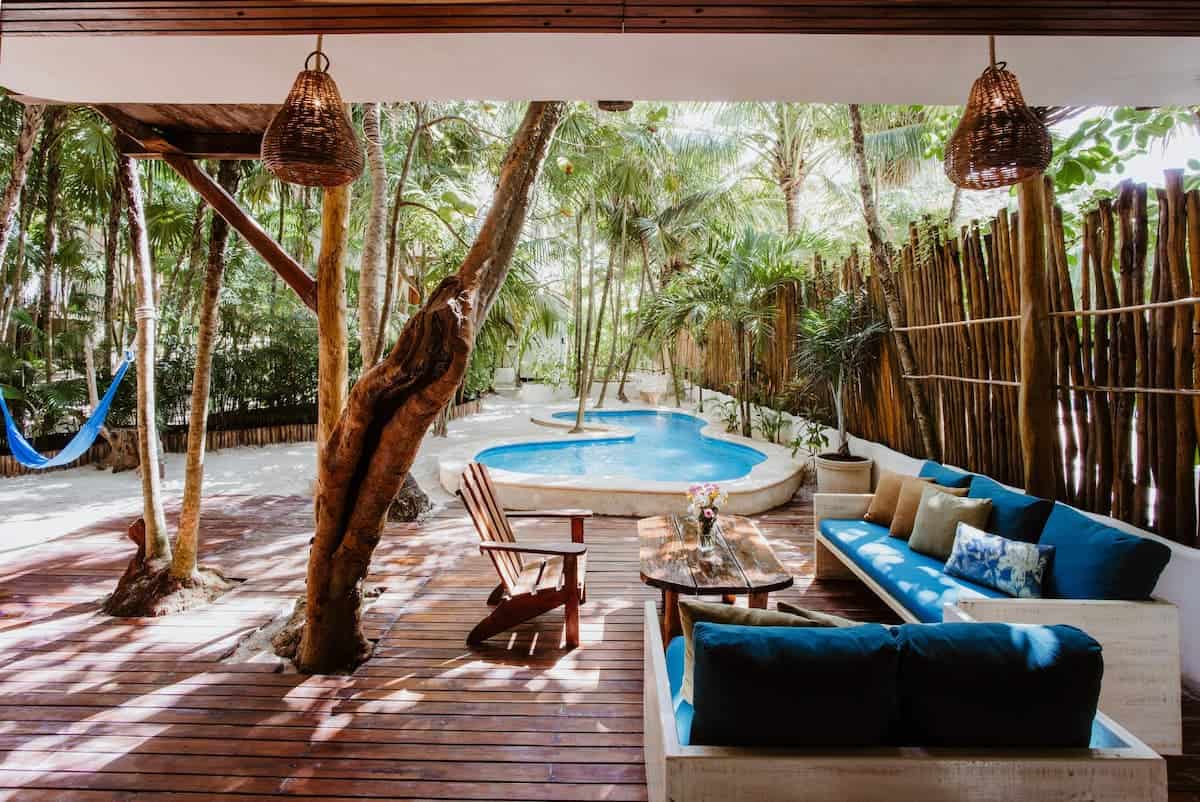 Located 30 meters from the white sand of Tulum beach, Casa Mandala is one of the best pool villas in the Tulum Beach area.

Featuring a refreshing interior decor with a complimentary color palette, guests will immediately feel at home here.

The most incredible feature of this Airbnb is the patio. Connected by glass doors, from the main floor, the patio is the perfect day to relax and enjoy the glorious Mexican sun. Here guests will find a cozy outdoor lounging area, a private pool, a hammock, a lush garden and much more!

Kids will especially love this outdoor element of this accommodation, as there are plenty of activities for them to do. Guests will also have access to boogie boards, SUPs, and sea kayaks for them to explore the sea.

With a total of 3 bedrooms, this Tulum villa can comfortably accommodate up to 7 guests. So whether you are in Tulum with family, a group, or as a pair, there is plenty of space for you to enjoy the best features of this Airbnb!
---
Best Hotels in Tulum Beach
1. Delek Tulum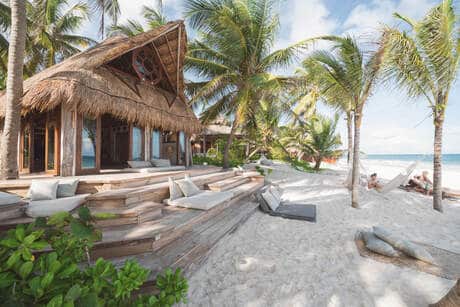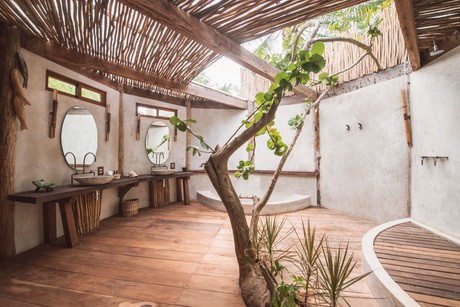 As one of the best luxury hotels in Tulum, Delek encompasses the most beautiful elements of Tulum: dreamy beaches, incredible jungles, and friendly hospitality.

With rooms such as treehouses and beachfront villas, each accommodation is a perfect balance between local flavors and luxury elements. Under the thatched roof is a fully air-conditioned room made with local clay and wood, all prepared for maximum relaxation.

When you are not soaking in your outdoor bathtub and daydreaming away, go try one of the delicious dishes in their on-site restaurants. Its restaurant is so good that non-guests travel from afar to try some of its perfectly-prepared dishes.

Delek Tulum is also located in one of the best locations in the Tulum Beach zone. Here guests are within walking distance of a multitude of the trendiest shops, restaurants, and boutiques.
The gorgeous South Tulum Beach area is literally on your doorstep. You can also easily access Tulum National Park and its beautiful Mayan Ruins and beaches like Paradise Beach and Playa Las Palmas.

Whether you are in Tulum for a special occasion, looking to explore the breathtaking landscapes, or enjoying the incredible nightlife scene, a stay at Delek Tulum is going to enhance your experience!
---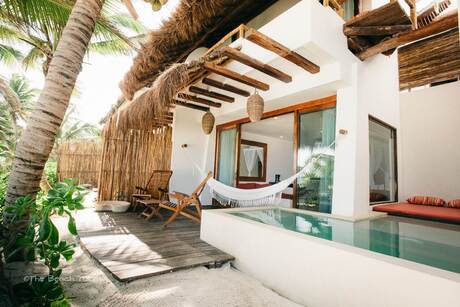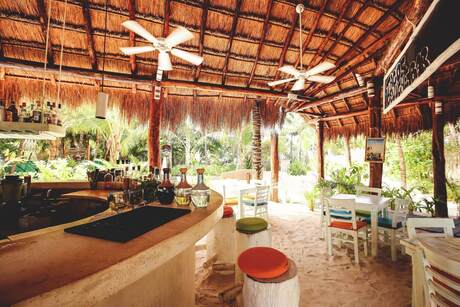 The Beach Tulum is an adults only hotel in the Tulum Beach area. As the name suggests, The Beach Tulum is the perfect Tulum hotel for anyone that would like to take advantage of the gorgeous Tulum Beach.

The Beach Tulum offers three types of accommodations, the deluxe double room, the roof top, and the junior suite. Whichever one you decide to stay in, you will be greeted with a luxury beachfront with a private pool, complemented by the clean minimalistic decor to detox your mind.

When you are not indulging in your Tulum private pool villa or the beach on our doorstep, enjoy some world-class meals at the hotel's onsite restaurant. After you are all fueled up, rent one of the complimentary bikes and explore Tulum National Park, Downtown Tulum, or the archaeological Mayan Ruins of Tulum.

The staff at The Beach Tulum is proactive and makes sure your stay is as perfect as possible. Guests that need any type of assistance in Tulum will find help from the reception staff.
---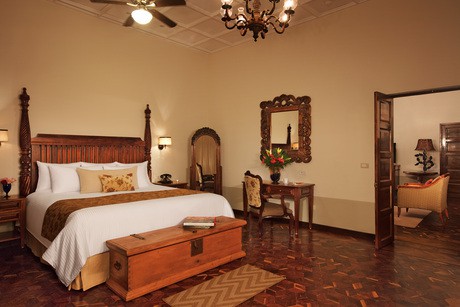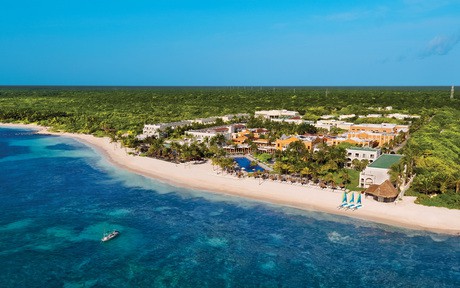 Unlike the accommodations in Cancun, all-inclusive beach resorts in Tulum are incredibly rare. But thanks to Dreams Tulum Resort & Spa, now you have nothing to worry about.

Surrounded by the lush Mayan jungles on three sides and the gorgeous beach on the last, Dreams Tulum's location is purely magical. When you are tired of the never-ending stretches of greenery on one side, just look to the other side and you will see the glistening sea.

Charming Mexican colonial architecture elements are carefully blended with upscale contemporary design, giving guests a unique decor that will never cease to impress. Each room is equipped with all the necessities to provide guests with a peaceful and comfortable stay.

Though the rooms are impressive, they are far from being the gem of this Tulum resort. There are enough amenities in this Tulum accommodation to keep the entire family entertained! Adults can enjoy the secluded adult-only section while kids can enjoy the splash park near the Explorer's Club.

Dreams Tulum also offers various water sports, allowing guests to further explore the beautiful waters of Tulum Beach. It is undeniably one of the best hotels in Tulum for families!

Though Dreams Tulum is located in a beautiful part of Tulum Beach, it is far from the most popular part of the beach zone. Guests that would like to visit the trendy Tulum Beach area or Downtown Tulum would need to get a taxi from the hotel. That is, if you decide to leave this exciting all-inclusive resort in Tulum!
---
Best Hostels in Tulum Beach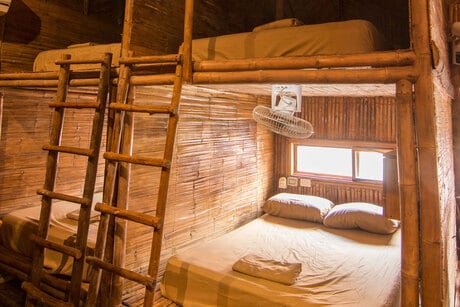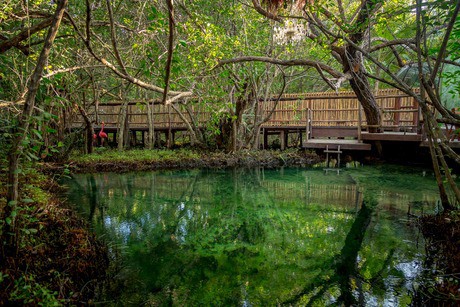 Though the Tulum beachfront area is filled with luxury accommodations, visitors will find a handful of hostels there as well. Bambu Gran Palas & Cenote is one of the few hostels in Tulum Beach area.

This beautiful hostel is known for its sustainable practices. In fact, the hostel is completely built using bamboo and coconut and runs on solar power!

This Tulum hostel's most iconic feature is the gorgeous cenote in the rear of the hostel. As nature's swimming pool, a cenote is the best place to relax after a long day in Tulum. There is also a small bar for guests to sip on a mojito as they dip their feet into the cenote's beautiful waters.

This hostel is nestled into the jungle of Tulum, but Tulum beach is located directly across the road from this hostel. It is still a 10-minute walk or so but that is nothing compared to staying in the center of Tulum.

With nature's paradise also comes a few cons to staying at Bambu Gran Palas & Cenote. Because you are in the jungle, there are quite a few insects here. Mosquitoes are abundant, especially with the cenote being so close.
---
2. Selina Tulum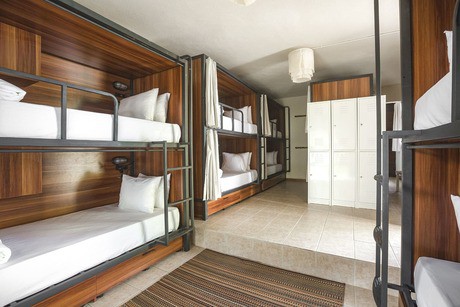 Selina Tulum is one of the newest hostels from the chain of hostels called Selina. They have hostels all over Latin America and probably more. We had the pleasure to stay at a few of them, namely the one in Cuenca Ecuador, Lake Atitlan Guatemala, and Mexico City.

The one thing about Selina hostels is that they never disappoint. Each hostel meets a high standard and Selina Tulum is no exception.

The new Selina Tulum is a gorgeous beachfront property that not only offers the easiest access to one of the best beaches in Tulum, but many trendy locations in the Tulum Beach area such as Hardwood, Gitano, Rosa Negra, Jungle Gym and more!

The price for a dormitory bed in Selina is a little higher than typical, but each bed features the necessary amenities (and more) for a comfortable stay. Guests can also enjoy the beautiful pool, cozy bar and restaurant, or the beach! For yoga lovers, there is a yoga hut for you to practice your craft.

Selina Tulum also boasts an excellent co-working environment. Digital nomads will find no headaches when using their high-speed and reliable WiFi (unlike the majority of the Tulum Beach area).

When you are not working, there are plenty of common areas and events to meet other like-minded travelers. If you are backpacking Tulum and want a comfortable and friendly stay, then Selina Tulum is a no-brainer!
---
---
Where To Stay In Tulum FAQs
Should I Stay on the Beach or in Town in Tulum?
Tulum Town is generally the better place to stay for visitors that are looking for more budget-friendly accommodations and restaurants. The downtown area is most famous for its backpacker scene, and you'll find a lively atmosphere all year round. The Beach Zone in Tulum has easy access to the beautiful beaches of Tulum and the Sea, but it is hard to find something affordable.
Can You Walk from Tulum Downtown to the Beach?
The walk from Tulum Downtown to the beach takes about 45 minutes, but it can feel much longer under the blazing Tulum sun. For that reason, most visitors opt for a bike ride instead, which only takes about 15 minutes!
---
Like this post? Don't forget to save it on Pinterest!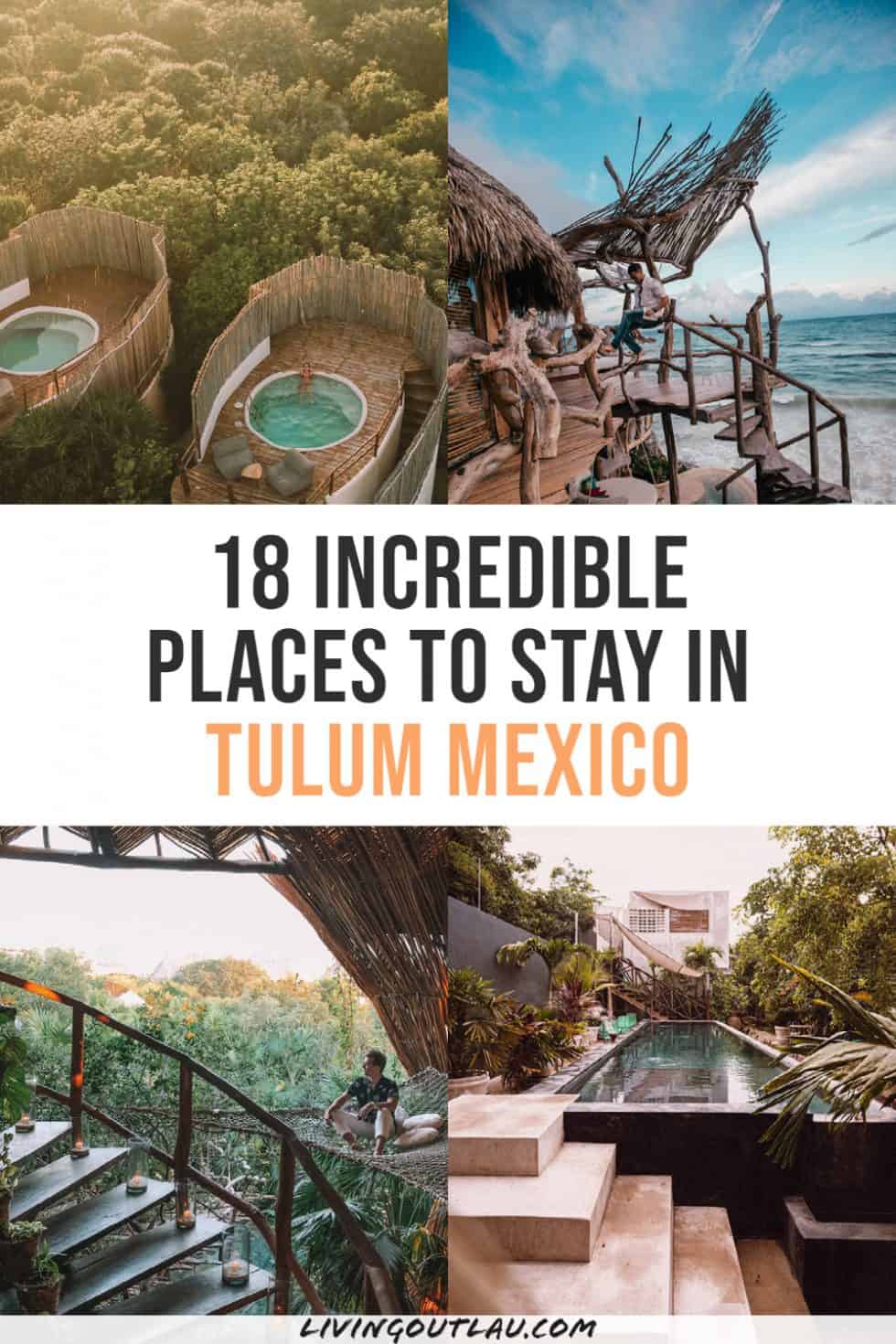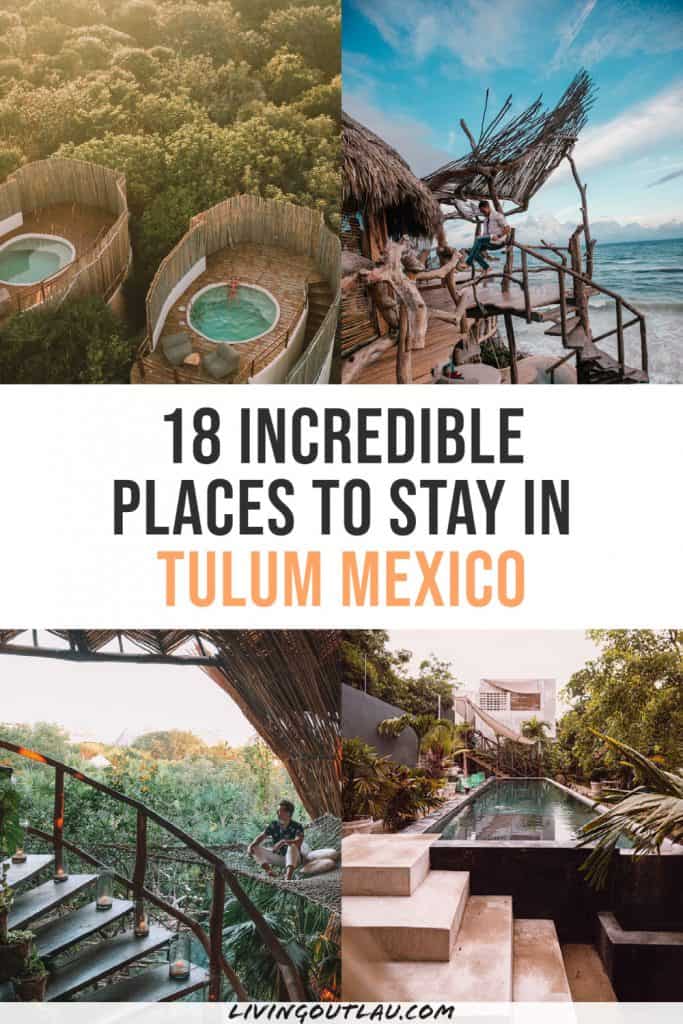 ---
Picking the perfect place to stay in Tulum Mexico is tough. We hope our guide has helped you decide where to stay in Tulum for your enchanting vacation!

Any question? Leave a comment!
Disclaimer: Some of the links above are affiliate links. That means if you book or make a purchase through the links, we will earn a small commission at no extra cost to you! The money will help run this site! Thank you!