Looking for the best Riviera Maya cenotes? Worry not.

Visiting a cenote is one of the best things to do in Riviera Maya. But nestled among the pristine beaches, mystical jungles, and ancient archaeological ruins of Mexico are over 6000 cenotes, so picking the perfect Riviera Maya cenote isn't exactly easy.

That is why we have written this Mexico blog post on the 11 most beautiful cenotes in the tourist-friendly Riviera Maya region.

So when you are done with your luxury spa in your all-inclusive resort, chugging mojitos, and sunbathing on the beach, let's go chase some cenotes!
What Is a Cenote? How Many Types Are There?
It is undeniable that cenotes are some of the most magical attractions in Mexico. However, not many know what exactly is a cenote.
By definition, a cenote is a natural sinkhole created by the collapse of the weak bedrock. In the case of the Riviera Maya, the cenotes are created by the collapse of limestone, a very porous and weak rock that is abundant in the Yucatan Peninsula. The bedrock collapses until it reaches water, where it cannot collapse any further.
Historically, ancient Mayans used these cenotes as freshwater supply sources, as they naturally collect rainwater and connect to the underground river systems.
Evidence also shows that the Mayans used cenotes for sacrificial offerings. They believed that cenotes were passageways to the underworld, a place where evil and demons resided.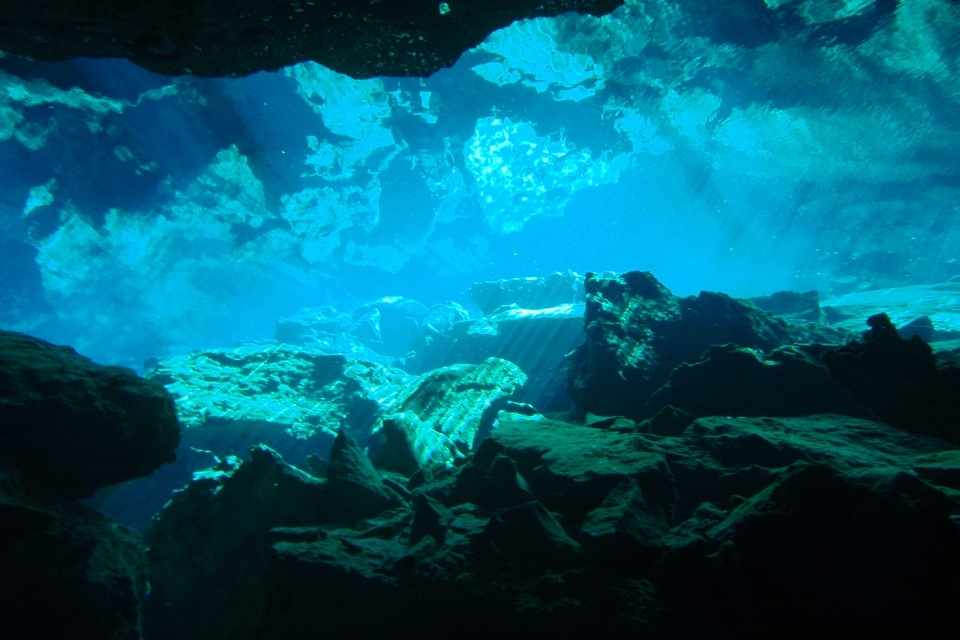 When we visited Riviera Maya, a local told us to never visit a cenote after sunset. That is because the demons that live in the cenotes will drag you into the water and drown you. Though that might just be superstitions, no cenote is open after sunset.
Depending on the way the limestone has collapsed, different types of cenotes are created. Here are the three main types of cenotes in the Riviera Maya: cave, semi-open, and open cenotes.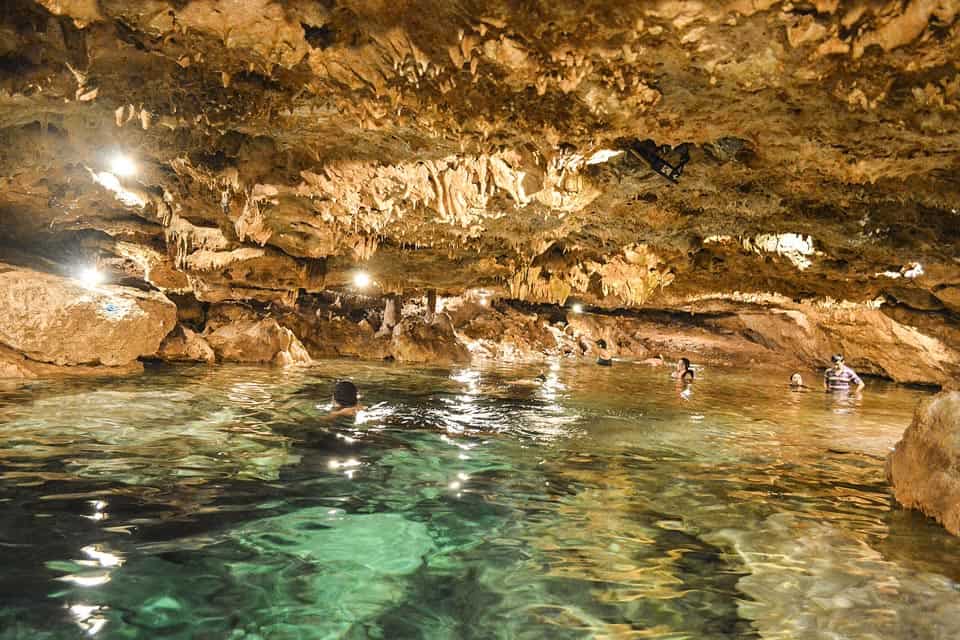 Cave cenotes are exactly what the name suggests, cenotes inside a cave. These cenotes are usually entered through a man-made passage, connecting the surface with the large underground cavern. These cenotes usually boast incredible cave formations such as stalactites and stalagmites.
Though the cave formations make cave cenotes incredibly photogenic, they are often very difficult to photograph because of the lack of a reliable light source. Oftentimes, they are only lit by dim indoor lights.
The water in cave cenotes also tends to be the coolest of all the cenotes you'll encounter, as the sunlight from the surface can't warm it up. Though the difference is not that dramatic because the water is part of a bigger underground water system!
Example of a cave cenote in Riviera Maya: Cenote Sac Actun.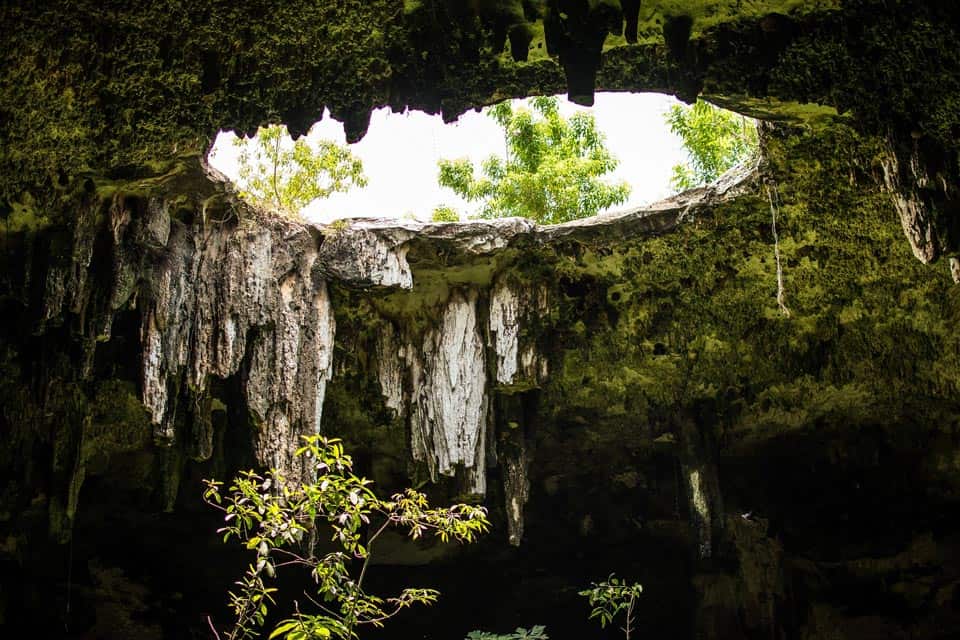 Semi-open cenotes are typically the next stage of a collapsing cave cenote. A cave cenote becomes a semi-open cenote when the top of the cavern has started to collapse, creating an open-air "lake" underground.

Semi-open cenotes are usually the most picturesque, as the sunlight allows just enough vegetation to grow and an easier time with the camera.

Visitors might find long vines stretching from the ground surface to the water surface and plenty of greenery around. The water temperature is refreshingly cold, but visitors can easily warm up with the therapeutic Mexican sun in the open spaces.
Examples of semi-open cenotes in Riviera Maya: Cenote Dos Ojos and Cenote Calavera.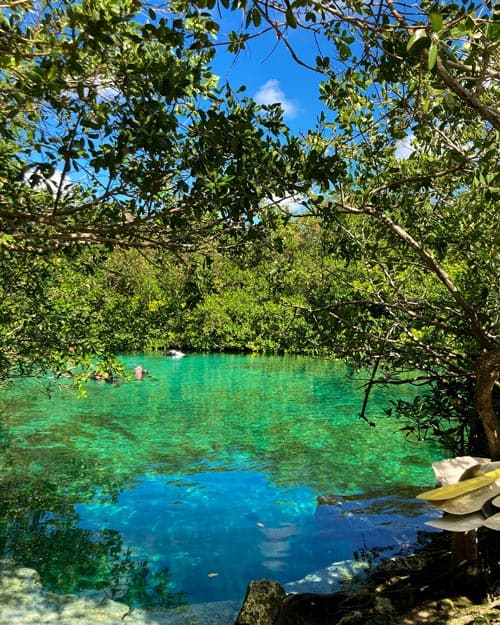 Open cenotes are the easiest forms of cenotes to understand. That is because they are pretty much lakes.
When the bedrock layer is very thin and the underground water is directly underneath the bedrock, open cenotes are created when the bedrock layer collapses. That is why on the surface, they look like lakes, though their formations are much different.
Open cenotes are the best cenotes in Riviera Maya to swim in. The wide-open space and warmer water temperature make the winning combination for a great swim. Open cenotes usually feature more marine life and small fishes are quite common in the water. The abundance of sunlight also makes the water appear crystal clear!
However, they usually aren't the most picturesque locations because there is just too much vegetation around them.
Examples of open cenotes in Riviera Maya: Cenote Crystal and Cenote Zacil-Ha.
Best Riviera Maya Cenotes Map
Above is the best Riviera Maya cenotes map that includes all the cenotes we will be talking about.

As you can see, cenotes near Tulum account for the majority of the cenotes in Riviera Maya. That is why we recommend staying at one of the accommodations in Tulum if you want to explore a lot of cenotes.

You can even visit other cenotes that are located not in Riviera Maya from there such as the ones near Valladolid or Chichen Itza, one of the Seven Wonders of the World.

Using this cenote map, you can have a better sense of how long it will take to get to each cenote and how to plan your Riviera Maya trip properly. Make sure you click the map to see more details on all of the cenotes!
Best Cenotes in Riviera Maya, Mexico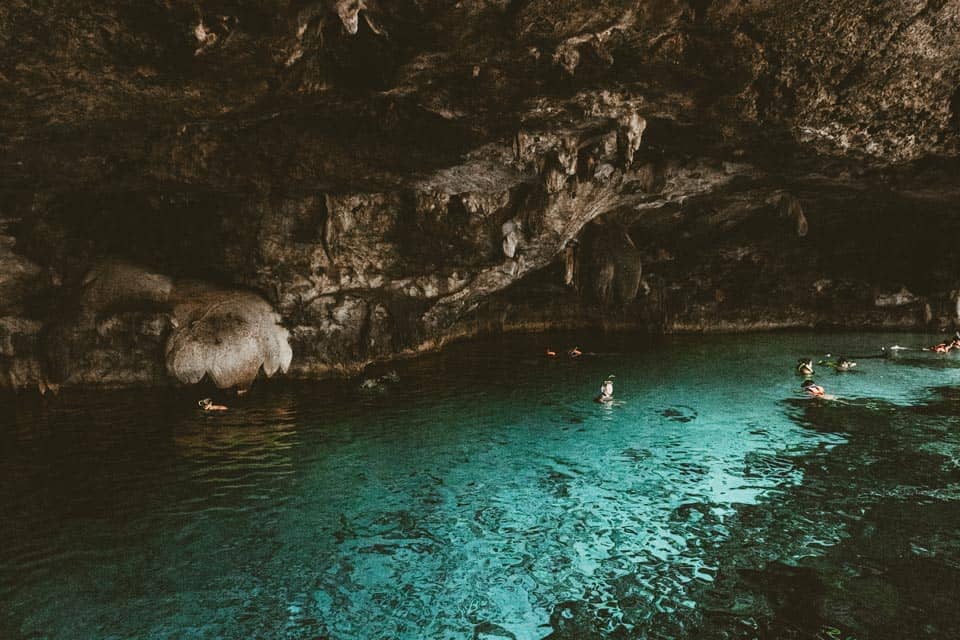 Type of Cenote: Semi-Open/Cave
Closest Major Town: Tulum
Entrance Fee: 350 MXN (~17 USD)
Opening Hours: 9 AM to 5PM
Good For: Snroekling, diving, swimming
Located about 30 minutes away from the popular Riviera Maya town of Tulum, Dos Ojos Cenote is one of the most popular cenotes in Riviera Maya. Visitors can easily visit by renting a car in Riviera Maya or taking a colectivo (shared van) on the 307 Highway from Tulum to Playa Del Carmen or vice versa.
Translating to "Two Eyes Cenote" in English, the site features two semi-open cenotes that are connected by a 400-meter-long passageway that appears like two eyes when seen underwater.
The Dos Ojos Cenote is part of one of the longest underwater cave systems in the world, and visitors can explore part of that by snorkeling and diving. Snorkeling equipment and diving guides are available for rent at the ticket booth.
The entrance fee to Dos Ojos Cenote is 350 MXN and comes with a complimentary life jacket.
We highly recommend considering diving or snorkeling in Dos Ojos cenote, as the bulk of the beauty can only be seen underwater. However, if you do decide not to snorkel or dive, the crystal-clear water and cavern formations will take your breath away nonetheless.
Because Dos Ojos is one of the most popular cenotes in the Yucatan Peninsula, bathrooms, changing rooms, and lockers are available for guests to use!
Miraculously, the water temperature at Dos Ojos is a constant 24 to 25 degrees Celsius (77 Fahrenheit) throughout the year. Therefore, Dos Ojos is extremely refreshing after wandering around in the hot Mexican sun.
Don't want to brave the Mexican public transport? Check out this recomended Cenote Dos Ojos tour!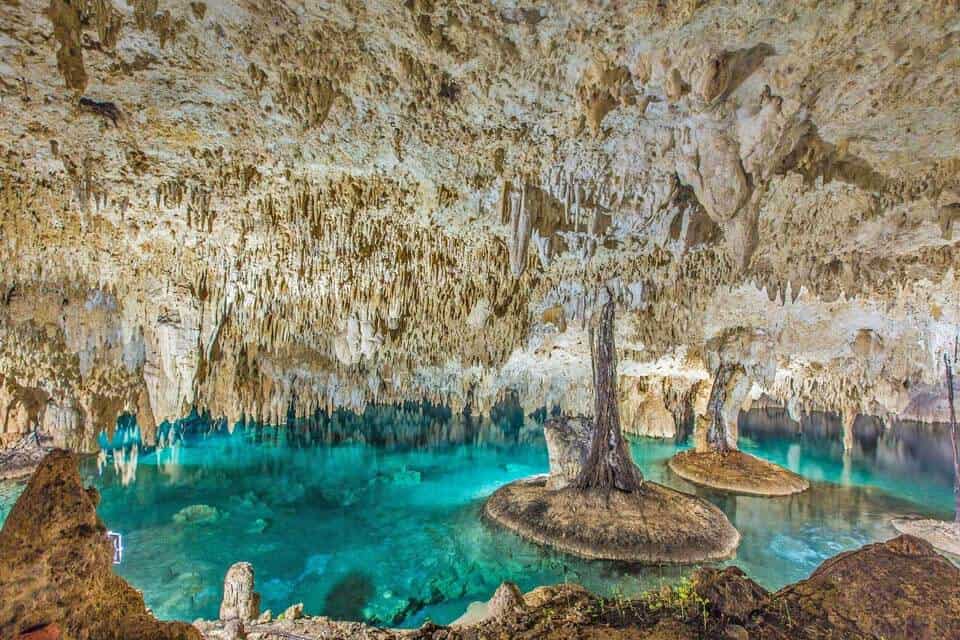 Type of Cenote: Cave/Semi-Open
Closest Major Town: Tulum
Entrance Fee: ~650 MXN (Guided Tour Only)
Opening Hours: 9 AM to 5 PM
Good For: Snorkeling, Diving
Cenote Sac Actun is home to the longest underground river and the second-longest underwater cave system in the world. A visit to Cenote Sac Actun will show you the most extraordinary elements of a cave cenote and its underground water system.
Exploring the cenote and its vast underground water cave system is only available through a guided tour, which can be arranged at the entrance of the cenote. Though a lot more pricey than any other Riviera Maya cenote, it does include the rental of a wet suit, snorkel, fins, and flashlight.
If you have any waterproof cameras or cases, make sure to bring them with you. The guide will offer to take pictures for your group but for an additional fee. You don't want to miss the opportunity to capture these intricate caverns!
Expect to swim about 1 kilometer through the extensive cave system. The entire tour takes about an hour with multiple breaks in between.
Though this isn't a cenote where visitors can swim freely, it is one that provides a unique experience another any other cenote. We highly recommend visiting Cenote Sac Actun!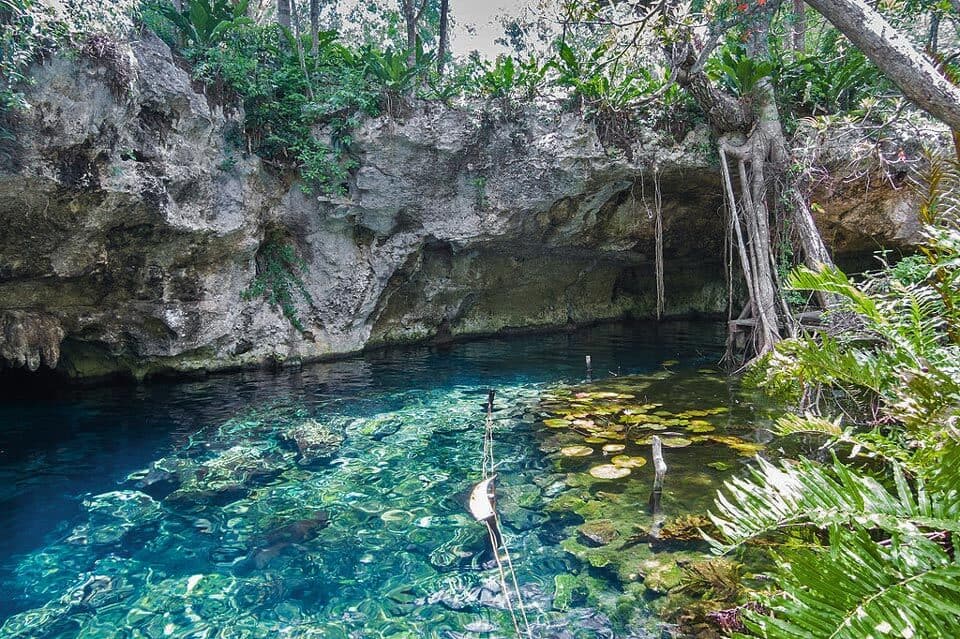 Type of Cenote: Semi-Open
Closest Major Town: Tulum
Entrance Fee: 180 MXN (~9 USD)
Opening Hours: 8 AM to 4:45 PM
Good For: Swimming, snorkeling
One of the most famous Riviera Maya cenotes is Gran Cenote. Located 3 miles (4.8 km) from Tulum en route to Coba archaeological Ruins, Gran Cenote is a 10-minute ride from Tulum.
Visitors can either rent a car, rent a bicycle, or just take a taxi from Tulum to get to Gran Cenote. Travelers on a budget in Riviera Maya can take a shared van that is heading towards Coba from Tulum.
Though the name might suggest one big cenote, Gran is made up of several pools connected by a cave and walkways. Gran Cenote is one of the best places to experience a cenote in Mexico as it offers refreshingly clean water for swimming, some cave formations, and marine life such as turtles and fish.
Snorkeling at Gran Cenote will allow you to see more of the unique cave formations here, and visitors can rent snorkeling gear at the cenote. However, we recommend having your own equipment for hygienic reasons.
Make sure you don't wear sunscreen when visiting Gran Cenote as sunscreen can damage the delicate ecosystem of a cenote. You will be required to rinse off with water before entering the water either way.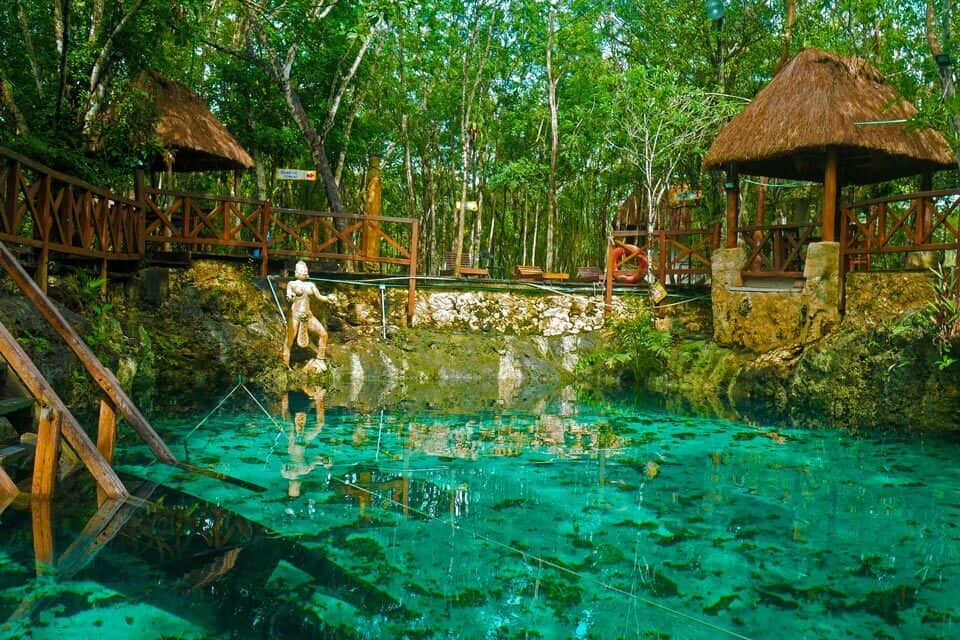 Type of Cenote: Open
Closest Major Town: Tulum
Entrance Fee: 100 MXN (foreigners), 50 MXN (locals)
Opening Hours: 10 AM to 5:30 PM
Good For: Swimming, relaxing, sun tanning, kids
Looking for a family-friendly cenote in Riveria Maya? Look no further.  Located 10 minutes away from Tulum Downtown, Zacil-Ha is a cenote that everyone in the family can enjoy. visitors can either rent a car or a bicycle, take a colectivo (public transportation) towards Coba, or even walk there.
Cenote Zacil-Ha features two beautiful clear natural pools, both equipped with thin ropes for people to hold onto. Life jackets are available for rent if you don't feel confident swimming in the cenote.
What separates Cenote Zacil-Ha from other cenotes in the area is the facilities besides the cenote. When the kids are enjoying a refreshing swim in one of the pools, the adults can relax on the sun loungers or in the shaded gazebos.
Feeling hungry or thirsty? Head over to the on-site restaurant & bar and get yourself a nice mojito and some nachos!
For those looking for an adrenaline-pumping activity, consider zip-lining over the cenote. It is a feature where you hang onto the handlebar of the zip line and let go when you are over the center of the cenote. The zip line is not too high above the cenote so everyone in the family can enjoy this activity.
Type of Cenote: Open
Closest Major Town: Tulum
Entrance Fee: 50 MXN for swimming (~2.5 USD), 200 MXN for diving (~10 USD)
Opening Hours: 8 AM to 6 PM
Good For: Swimming, snorkeling, diving, sunbathing
Anyone looking for an excellent cenote near Tulum to go swimming must not miss the open-air Cenote Car Wash. It did not earn its name from people washing their cars here, but from the car wash that used to be near the cenote back then.
The crystal clear water and wide-open space are ideal for swimming, but the main attraction to this beautiful cenote is actually underneath the water. Plenty of marine life, an underwater garden, and the cavern area lie beneath the transparent water.
Cenote Car Wash is 50 meters in depth, and anyone with a cave diving certification can explore the incredible underwater world full of intricate formations and marine life!
If you don't plan on diving or snorkeling here, worry not. The cenote's wide-open space is perfect for sun tanning and relaxing under the therapeutic Mexican sun after a refreshing swim. Adventurous travelers can also jump off the wooden platform or go on the rope swing!
A colony of baby crocodiles lives in Cenote Car Wash. If you are lucky, you might even get to see them. They are pretty small and fairly harmless, but please don't approach them!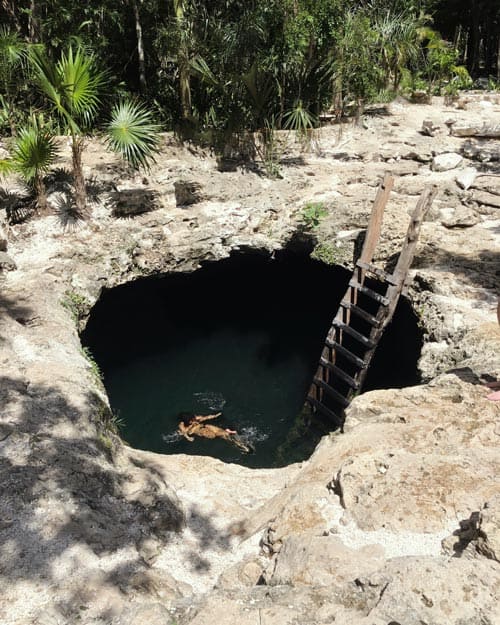 Type of Cenote: Semi-Open
Closest Major Town: Tulum
Entrance Fee: 100 MXN (~5 USD)
Opening Hours: 9 AM to 4 PM
Good For: Photos, rock jumping, sunbathing
One of the most dramatic cenotes in Riviera Maya is Cenote Calavera. The word "calavera" translates to "skull" in English but we can assure you that is not because you will find skulls here!
It earned its name from the arrangement of the two small pools and one large pool that look like the eyes and mouth of a skull when viewed from above.
Located only 3 kilometers away from downtown Tulum, Calavera is only a 5-minute ride away. You can take a taxi, rent a bicycle, walk, or even crawl (if you are determined) to get there!
The perfectly round sinkholes at Cenote Calavera offer the perfect photo-taking opportunity. The main pool also features a newly-added swing that hovers slightly above the surface of the water.
To get inside the cenote, visitors can elect to use the wooden ladder or just jump right in. In fact, rock jumping is one of the most popular activities at Cenote Calavera. Scuba diving is also an option here, but not as popular. We recommend inquiring bout it with one of the dive shops in Tulum.
Whether you are looking for a picturesque location for your Instagram photo, a place to swim, rock jump, or just sunbathe, Cenote Calavera has it all! Just remember to arrive early in the day because it can get crowded!
Type of Cenote: Open
Closest Major Town: Tulum
Entrance Fee: 120 MXN (includes access to nearby Escondido Cenote)
Opening Hours: 9 AM to 5 PM
Good For: Swimming, cliff jumping, picnic, family fun
Cenote Crystal (Cenote Cristal in Spanish) is located a quick 10 minutes from Tulum and offers a fun getaway in the most mystical jungles of Tulum.
Located somewhat off the beaten path, the open-air Cenote Crystal offers visitors a peaceful time as they soak in the refreshing waters of the cenote. It's one of the better cenotes in Riviera Maya to go swimming, but visitors looking for more than swimming can also jump off the 3 to 4 meters high platform into the water.
For those that just want to enjoy the lush greenery of Riviera Maya, there are plenty of picnic tables to sit back and relax and admire the majestic palm trees around you.
There are plenty of options to get to Cenote Cristal. Visitors can rent a car and park there for free. Otherwise, you can use public transportation and take a cheap colectivo (shared van). Of course, you can also rent a bicycle to get there.
Type of Cenote: Open
Closest Major Town: Tulum
Entrance Fee: 120 MXN (including access to adjacent Cenote Cristal)
Opening Hours: 9 AM to 5 PM
Good For: Swimming, relaxing, rope swinging
Located adjacent to Cenote Cristal is Cenote Escondido, another one of the best Riviera Maya cenotes. The name "Cenote Escondido" translates to "Hidden Cenote", and its fewer crowds certainly attest to its name.
Visit in the early hours and you are almost guaranteed to have this dreamy oasis all by yourself. The beautiful waters are excellent for swimming, and oftentimes you can see the small fishes under the water without a snorkel.
Adrenaline junkies can make use of the rope swing on the side of the cenote. It is only about 3 meters high and doesn't swing too far, perfect for anyone traveling Riviera Maya with kids.
When you are not swimming in the revitalizing cenote or flying off the rope swing, there are plenty of places to sit and relax! Make sure you bring your mosquito repellent though because mosquitos are known to be very common here.
Cenote Escondido is also a popular cenote for diving and snorkeling in Riviera Maya, as the underwater scenery is delightful.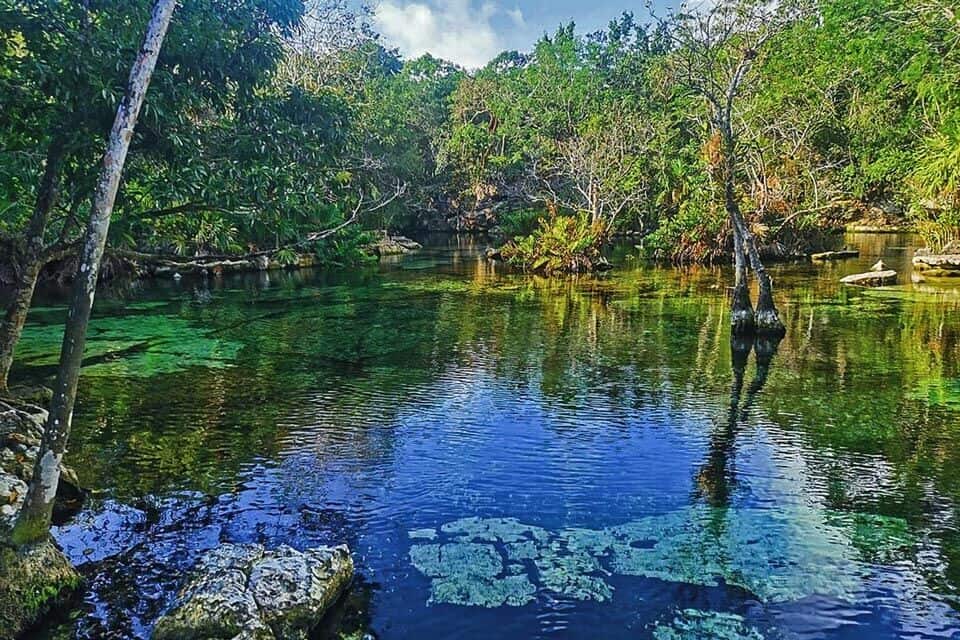 Type of Cenote: Open
Closest Major Town: Playa Del Carmen
Entrance Fee: 120 MXN
Opening Hours: 6:30 AM to 5:30 PM
Good For: Swimming, cliff jumping, snorkeling
Lying approximately halfway between Playa Del Carmen and Tulum is the gorgeous open Cenote Azul. Translating to Blue Cenote in English, Cenote Azul is known for its clear blue water that is perfect for swimming.
Besides the dreamy color of the water, what makes Cenote Azul such a great destination is its activity for everyone. The huge pool is of varying depths, allowing kids or unconfident swimmers to enjoy a refreshing swim under the Mexican sun. In the deeper parts of the cenote, visitors can cliff jump from above.
Do you wish to explore underwater? Rent one of the snorkels (or bring your own) and discover a whole new underwater world! You will see plenty of fishes in Cenote Azul, all ready to nibble on your feet and give you the perfect "pedicure".
The entrance fee for this cenote is 120 MXN Pesos and there are bathrooms, changing rooms as well as a small shop available.
Type of Cenote: Semi-Open/Cave
Closest Major Town: Playa Del Carmen
Entrance Fee: ~500 MXN Pesos (Guided Tour)
Opening Hours: 9 AM to 3 PM Monday to Saturday; 9AM to 1 PM Sunday
Good For: Snorkeling
Located a mere 15 minutes away from Playa del Carmen, Cenote Chaak Tun is the closest cenote to Playa del Carmen. Visiting Cenote Chaak Tun is easy, but visitors can only explore the cenote via a guided tour.
The 2-hour guided tour costs approximately 500 MXN Pesos per person and departs every 40 to 45 minutes. Qualified tour guides will take you through some of the most gorgeous caverns formations in the Yucatan Peninsula and provide invaluable information about the formation and history of cenotes.
All the essentials such as snorkel, wet suit, water shoes, life jacket and locker rental are included in the price. However, if you wish to take photos, you must bring a waterproof camera that will survive the journey!
If you want to appreciate the intricate cave formations and beauty of the stalactite and stalagmite, there is no better place to do it than here. However, if your goal is to relax in reinvigorating waters under the heart-warming Mexican sun, this cenote is not for you.
Type of Cenote: Open
Closest Major Town: Tulum
Entrance Fee: 100 MXN
Opening Hours: 9 AM – 5PM
Good For: Snorkeling, sunbathing, swimming, adrenaline-junkies, peace and quiet
If you are looking for your own private paradise in Riviera Maya, then visit Cenote Xunaan-Ha. This open cenote near Tulum is one of the quieter cenotes in the area, allowing visitors to enjoy the lush greenery and crystal-clear water in solitude.
Cenote Xunaan-Ha also features a few platforms where adventurous travelers can jump off from. It also has a rope swing, but it was out of service when we visited.
Swimming is unquestionably the number one thing to do in cenote Xunaan-Ha. However, if you have a snorkel, we suggest bringing it here. The water is so clear you can see the small fishes feeding on the moss or nibbling at your feet. The cenote is quite deep and the underwater landscape is quite impressive.
The cenote also features a wide area for guests to sunbathe. If you are lucky, you might find local iguanas doing the same thing!
At 100 MXN Pesos, it is a small price to pay for your own personal paradise. We do recommend visiting early in the day to increase the chances of you having the entire cenote to yourself!
How to Get to the Cenotes in Mayan Riviera?
Though dotted through the Yucatan Peninsula, many of the cenotes in the Mayan Riviera are not easy to get to. There are some that are located deep inside the jungles of the Riviera Maya, and then there are some that are within a half an hour walk from town.
Generally, we recommend one of the following three ways to get to the Mayan Riviera cenotes: bicycling, renting a car, or taking a tour.
Renting a Bicycle and Cycling to the Cenote
Cycling is a great mode of transportation, especially if the cenotes you want to visit are nearby. This is especially true for the cenotes near Tulum, such as the Gran Cenote and Cenote Calavera. This does involve cycling on a dirt road, so if you aren't adventurous, I would not recommend this.
Renting a car in Riviera Maya is one of the best ways to get around and visit as many cenotes as you want. However, you will need to have the proper documentation and the confidence to do so.
If you want the utmost comfort and convenience, consider getting tours to cenotes. Plenty of tour operators in Riviera Maya are ready to show you the best cenotes in the area.
Check out some of our recommended cenotes tours in Riviera Maya below:
Where to Stay in Riviera Maya, Mexico
If you are in Riviera Maya to see the best cenotes, we recommend staying in either Tulum or Playa Del Carmen. Both of these towns are excellent places to stay and offer plenty of activities for when you not exploring the cenotes.
Best Airbnb in Tulum – Jungle Penthouse @ Aldea Zama w/ Private Pool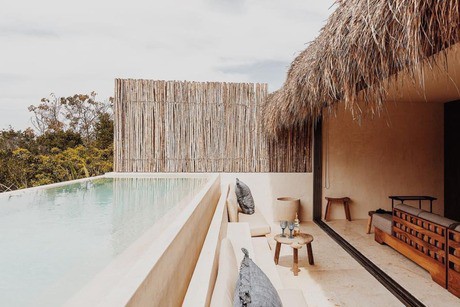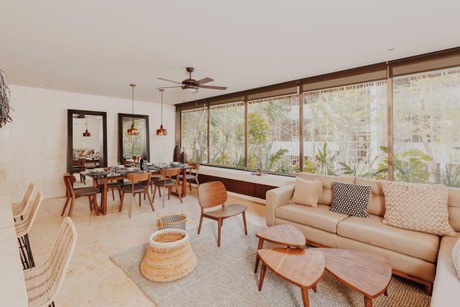 (Images Courtesy of Airbnb)

Experience the lush jungle of Tulum with this Jungle Penthouse at Aldea Zama! Located inside one of the most prestigious residential areas in Tulum, guests will find the perfect balance between luxury, comfort, and nature.

Guests staying at this gorgeous Tulum Airbnb will have access to three floors. The first floor is the kitchen, the living and dining areas, all complemented with a stylish decor that oozes charm. On the second floor of this Airbnb, guests will find 2 ensuite bedrooms aimed to provide you with the perfect night's rest.

If you haven't fallen in love with the bottom two floors, then the top floor (also the rooftop) will take your breath away. Here you will find a gorgeous infinity pool overlooking the lush jungles of Tulum, a massive sofa, and a smart TV to provide you with a relaxing lazy afternoon. Listen to the sound of the jungle as you soak in the soothing waters of the pool!

Because of this Airbnb's location near the jungle, guests must be prepared for forest-like circumstances. Bugs, spotty WiFi and rare power outages are things you must consider when picking this Airbnb. But if you are truly ready to dive deep into the unspoiled nature of Tulum, then you can comfortably make yourself at home here!

Maximum Occupancy: 6 Guests

Click here for more details!
Best Hotel In Tulum – Delek Tulum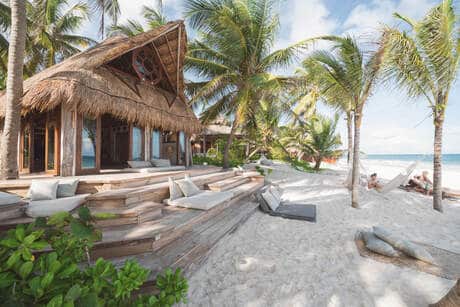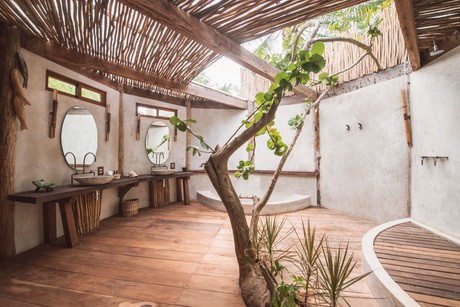 Delek Tulum is a luxurious beachfront hotel situated in the Tulum Beach zone. Encompassing the quintessential elements of Tulum such as dreamy beaches, incredible jungles and friendly hospitality, Delek Tulum is one of the best hotels in Riviera Maya.

With rooms like treehouses and beachfront villas, each accommodation is a perfect balance between local elements and luxury touches. Under the thatched roof is a fully air-conditioned room made with local clay and wood, all prepared for maximum relaxation.

When you are not soaking in your outdoor bathtub or enjoying the waves of the Caribbean Sea, make sure you try one of the delicious dishes in their on-site restaurants. Non-guests travel from far away just to try some of the perfectly prepared dishes at Delek.

Delek's ideal location in the Tulum Beach Area allows guests to visit many of the trendiest attractions in the area. Boutiques, restaurants, and shops are all within walking distance.

Whether you are in Riviera Maya for a special occasion, looking to explore the breathtaking landscapes, or enjoying the incredible nightlife scene, a stay at Delek Tulum is going to enhance your experience!

Click here for more details!
Best Airbnb in Playa Del Carmen – Private Rooftop & Pool Penthouse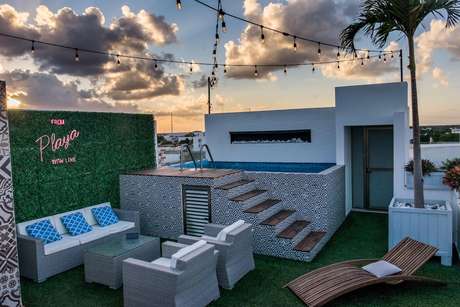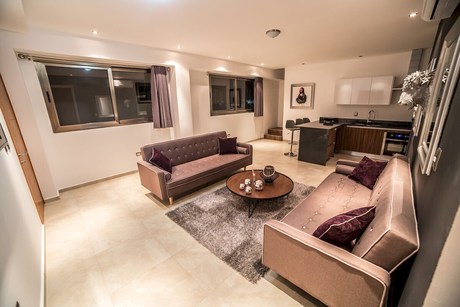 (Images Courtesy of Airbnb)

Offering guests the utmost privacy and relaxation, this Mexico Airbnb in Playa Del Carmen is the perfect vacation home for exploring cenotes in the region.

This Playa Del Carmen penthouse features an iconic rooftop and pool, which offers stunning views of Playa Del Carmen and the utmost relaxation.

Soak in the soothing waters of the pool, watch the sunrise over the Caribbean Sea, this Airbnb allows you to do those in the peace and privacy of your home.

Want to sit quietly and enjoy a cup of coffee or soak in the sun? Go on the comfortable outdoor couch. Want to make something on the grill? Just fire it up!

Though the rooftop is the gem of this private pool Airbnb, the interior is far from lackluster. Featuring 1 king bed and 3 sofa beds, this apartment can comfortably accommodate 5 guests. Its spacious living areas ensure that no one will feel cramped.

This Playa Del Carmen Airbnb is conveniently located a 3-minute walk from 5th Avenue (the most lively street in Playa Del Carmen) and a 5-minute walk from Mamitas Beach!

Maximum Guests: 5 Guests

Click here for more information!
Best Hotel In Playa Del Carmen – Panama Jack Resorts Playa Del Carmen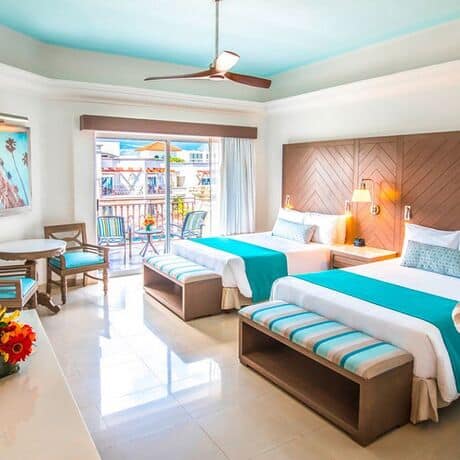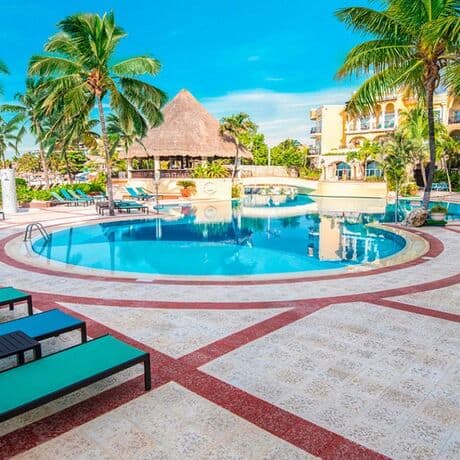 Credit: Panama Jack Resorts

Enjoy the utmost luxurious experience at Panama Jack Resorts Playa del Carmen! As an all-inclusive resort, Panama Jack Resorts PDC ensures that every visitor is treated like kings and queens.

Start the morning with a delicious international and local buffet breakfast before enjoying a relaxing swim in their spacious outdoor pool. Head over to the gym and decompress on one of their state-of-the-art machines.

When you have worked up an appetite, head over to the sushi bar and enjoy some fresh sushi. Spend the afternoon exploring Playa Del Carmen's famous 5th Avenue, which is only a short walk from the resort. Finally, finish off the night with a cocktail from the 24-hour bar. Go to bed, wake up, and repeat!

This family-friendly resort in Playa del Carmen has plenty of amenities to keep everyone in the family entertained. From the first-class spa to the kids club to #Hashtag teen's club, there is something at Panama Jack Resorts Playa Del Carmen for everyone!

Click here for more information!
Like this post? Don't forget to save it on Pinterest!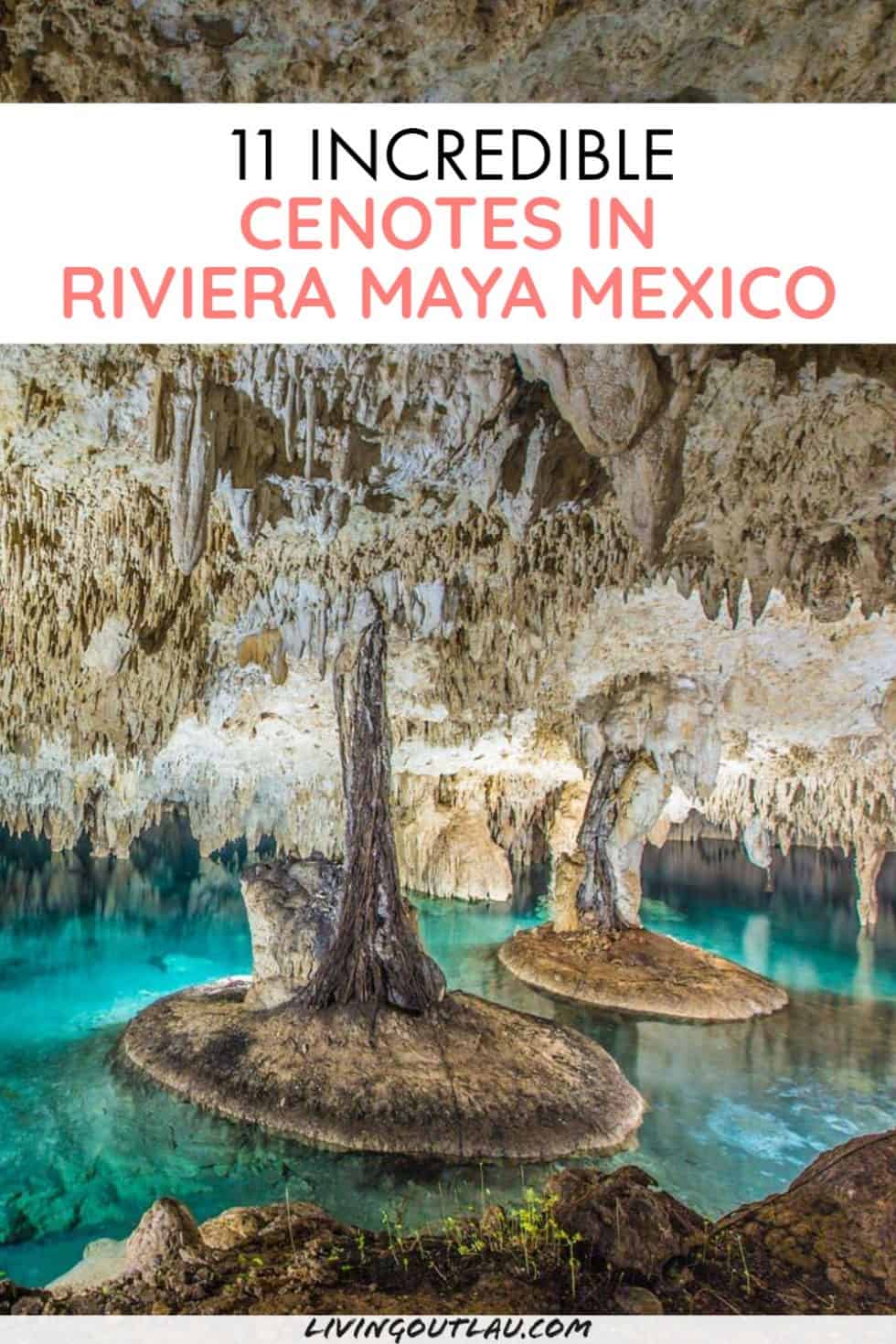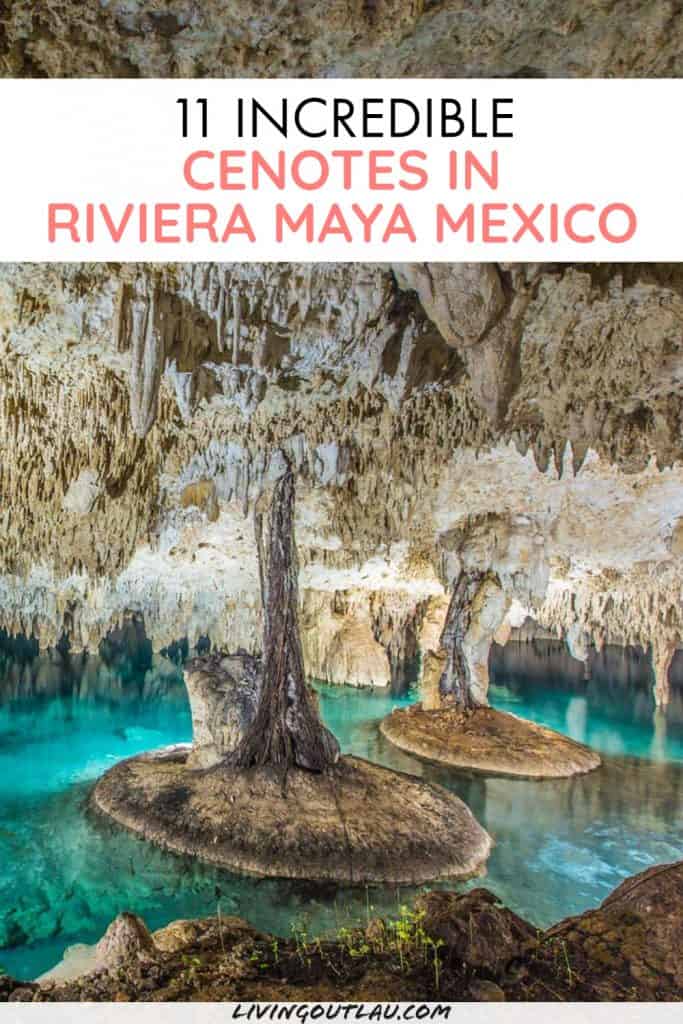 Picking the perfect Riviera cenote (or two) to visit is no easy task. We hope our guide has given you a rough idea of some of the best Mexico "sinkholes" to visit in Riviera Maya!

Any question? Leave a comment!
Disclaimer: Some of the links above are affiliate links. That means if you book or make a purchase through the links, we will earn a small commission at no extra cost to you! The money will help run this site! Thank you!