Looking for the best cenotes in Tulum? Worry not.

Dotted in between the pristine beaches, mystical jungles, and ancient archaeological ruins of Mexico are over 6000 cenotes, so choosing the perfect Tulum cenote isn't exactly a walk in the park.

That is why we have written this guide on the 17 top Tulum cenotes, so you can have a rough idea of what to expect and which ones are worth visiting.

So when you are done eating those delicious street tacos, sipping on tequila (yes, you are supposed to sip), and sun tanning on the beach, let's go check out some cenotes!
---
What Is A Cenote?
We all know that cenotes are some of the most magical places to visit in Mexico. However, what exactly is a cenote?
By definition, a cenote is a natural sinkhole created by the collapse of the weak bedrock. In the case of the Yucatan Peninsula, the cenote is created by the collapse of limestone, a very porous and weak rock that is abundant in the Yucatan Peninsula.
Ancient Mayans used these cenotes as freshwater supply sources, and occasionally as sacrificial offerings because they believe that cenotes are connected to the underworld where demons and devils live.
Because of this, when we visited Tulum, a local told us to never visit a cenote after sunset. That is because the demons in the water will drag you deep into the cenote. Though it might just be superstitions, no cenote is open after sunset.
Depending on the way the limestone has collapsed, different types of cenotes are created. Here are the three types of cenotes in the Yucatan Peninsula:
1. Cave Cenotes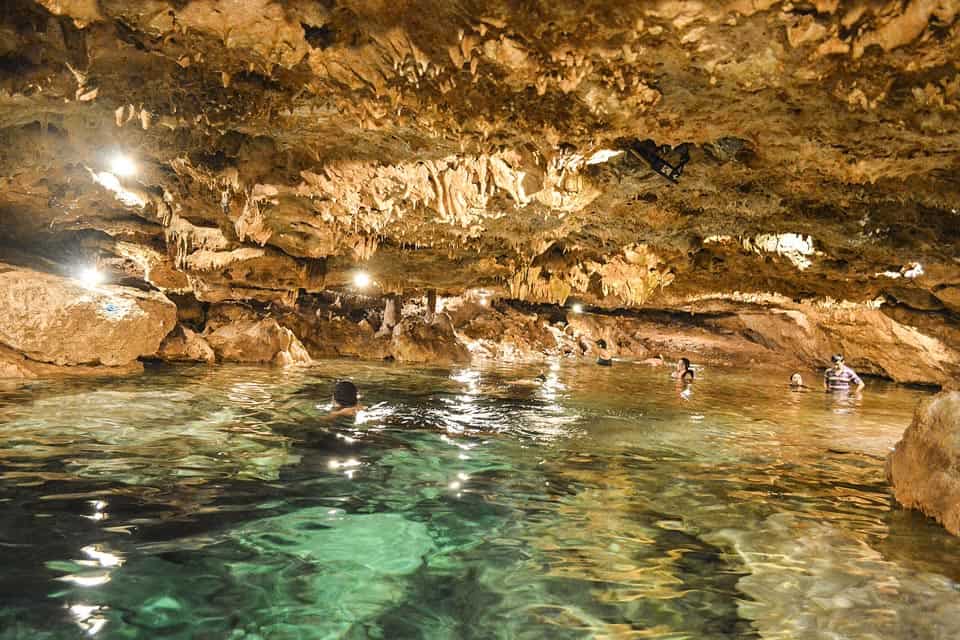 Cave cenotes are exactly what the name suggests, cenotes inside a cave. These cenotes are usually entered through a man-made passage that connects the surface with the underground cavern. These cenotes usually boast incredible geological formations such as stalactites and stalagmites.
Because cave cenotes are completely indoor, no natural light can enter so getting a good photograph is a little bit more difficult. The water in cave cenotes is also some of the coolest you will encounter, as the sunlight from the surface can't warm it up. Though the difference is not that dramatic because the water you see is part of a bigger underground water system!
Examples of cave cenotes located near Tulum are Cenote Samula and Cenote Xkeken (both near Valladolid).
2. Semi-Open Cenotes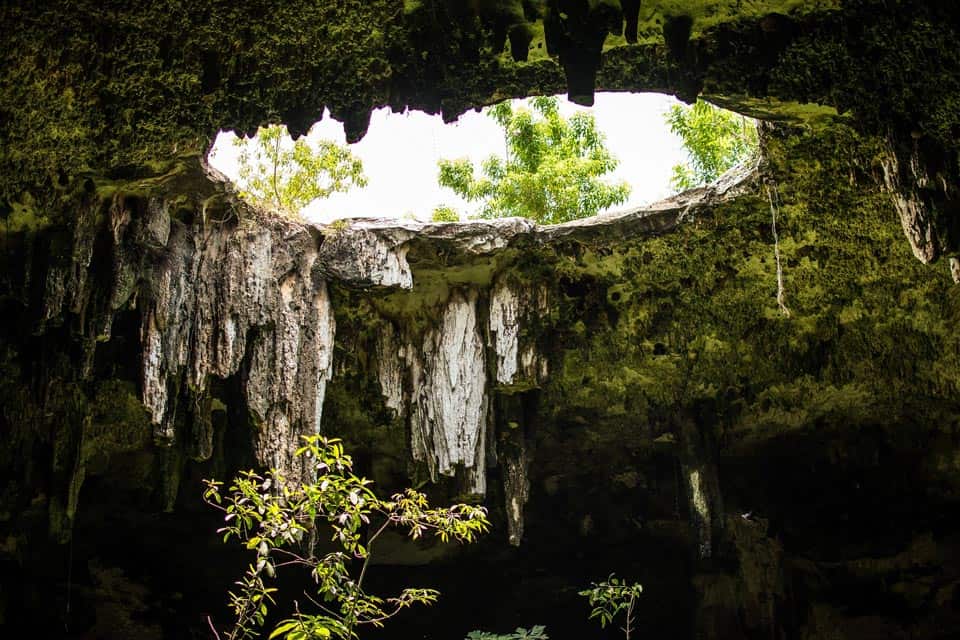 Semi-open cenotes are typically the next stage of a collapsing cave cenote. A cave cenote becomes a semi-open cenote when the top of the cavern has fully collapsed, creating an open-air "lake" underground.
These cenotes are usually the most picturesque, as the sunlight allows just enough vegetation to grow. Visitors might find vines dangling above the water surface and plenty of greenery around. The water temperature is refreshingly cold, but visitors can easily warm up from the therapeutic Mexican sun after exiting the water.
Examples of semi-open cenotes around Tulum include Cenote Calavera and Cenote Zaci.
3. Open Cenotes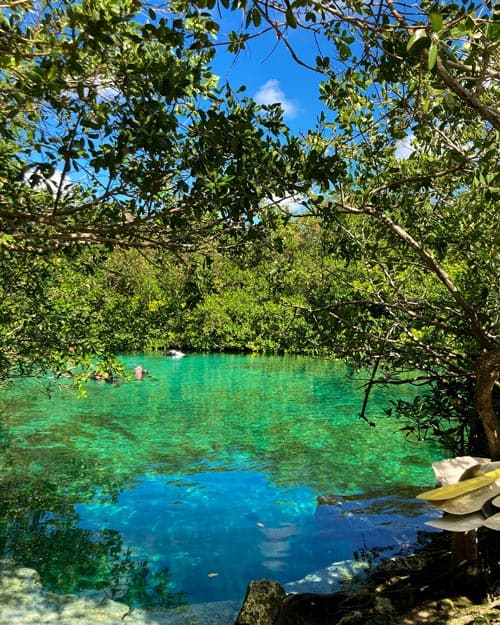 Open cenotes are the easiest forms of cenotes to understand. That is because they are pretty much lakes.
When the bedrock layer is very thin and the underground water is directly underneath the bedrock, open cenotes are created when the bedrock layer collapses. That is why on the surface, they look like lakes, though their formations are much different.
Open cenotes are the best cenotes to swim in. The space is usually much bigger than other forms of cenotes and the water temperature is much warmer. However, they usually aren't the most picturesque locations because of the abundance of vegetation around them.
Examples of open cenotes in Tulum include Cenote Crystal and Casa Cenote.
---
Best Tulum Cenotes Map
Above is a map of the best Tulum cenotes.
We have separated the cenotes by how far they are away from Tulum. The ones in orange are cenotes that are within an hour (driving) from Tulum, with the majority of them being a short bike ride away.
The cenotes in purple are ones that are further away, some as far as Vallodolid, a city 1.5 hours away. These cenotes make for an excellent day trip from Tulum and you can also explore the charming city of Valladolid!
Make sure you click on the map to find out more about these Tulum cenotes!
---
Best Cenotes In Tulum, Mexico
For the sake of this article, we'll classify the cenotes in Tulum the ones that are less than 1 hour away from Tulum.
1. Gran Cenote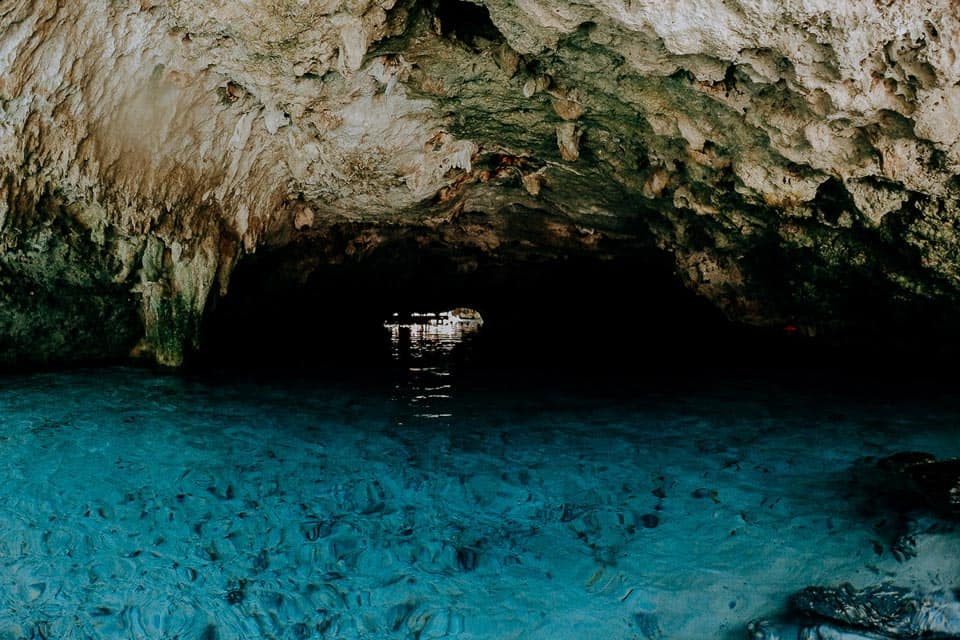 By: Jessica of UnearthTheVoyage
Type of Cenote: Semi-Open/Open
Travel Time from Tulum: 10 minutes
Entrance Fee: 180 MXN
One of the most famous cenotes in Mexico is Gran Cenote. Located 3 miles from Tulum en route to Coba Archaeological Ruins, Gran Cenote is a short journey from Tulum.

Even though the name would make you think that it's just one big cenote, Gran Cenote is actually a couple of different cenotes connected by a cave and wooden walkways. The water in Gran Cenote is so clear that you can see straight to the bottom and you can see all the different cave formations, as well as fish and turtles, swimming around.
If you are interested in snorkeling around to see the interesting cave formations and adventuring through the different passageways then you'll have a great time exploring the Gran Cenote.
The best way to get to Gran Cenote is to rent a car and drive there on your own as it's only a few minutes' drive away from Tulum. If you don't want to rent a car you can hire a taxi to take you to the cenote or you can join a group tour from one of the tour agencies in Tulum. For the adventurous, renting a bicycle and cycling there is also an option.
Once you get there you will be required to rinse off before entering the cenote to protect the delicate ecosystem of the cenote. After you've thoroughly explored the cenote there is a big grassy open area where you can dry off in the sun.
When visiting Gran Cenote, it is recommended to bring a long-sleeve swim shirt and your own snorkeling gear. You can rent snorkeling gear there but the face masks are not that great (and used by many people). The water is also extremely cold (it is cave water!) so a swim shirt will help you stay warm while you're swimming around.
2. Cenote Car Wash
Type of Cenote: Open
Travel Time from Tulum: 10 minutes
Entrance Fee: 50 MXN for swimming, 200 MXN for diving
Anyone looking for an excellent cenote near Tulum to go swimming must not miss the open-air Cenote Car Wash. Contrary to popular belief, Cenote Car Wash did not earn its name from people washing their cars here. It earned its name from a car wash that used to operate near the road next to the cenote.

The crystal clear water and wide-open space are ideal for swimming, but the main attraction to this beautiful cenote is actually underneath the water. Plenty of marine life, an underwater garden, and a mysterious cavern area lie beneath the transparent water.
Anyone with a cave diving certification can see the incredible cave formations that are deep inside the cavern passageways. Cenote Car Wash is 50 meters in depth!
If you are not diving or snorkeling here, don't worry. The cenote's wide-open space is perfect for sun tanning and just relaxing under the glorious Mexican Sun. Adventurous travelers can jump off the wooden platform or go on the rope swing.
If you are lucky, you might even see the baby crocodiles that live here. They are pretty small and fairly harmless. But obviously, don't approach them!
3. Cenote Calavera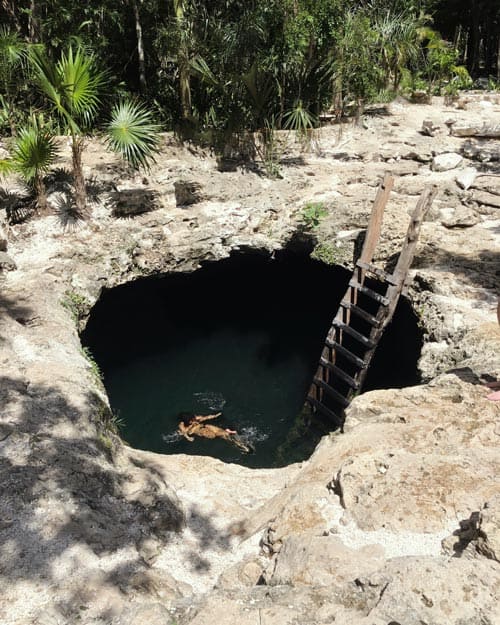 By: Bailey of DestinationlessTravel
Type of Cenote: Semi-Open
Travel Time from Tulum: 5 minutes
Entrance Fee: 100 MXN
One of the most spectacular cenotes is Cenote Calavera. Now, if you speak Spanish you might think this cenote sounds particularly daunting since "Calavera" means "skull."
The truth is the name comes from the fact that from above, the Cenote is shaped like a skull with one large opening as the mouth, and two smaller openings that look like the eyes. It is often called the Temple of Doom Cenote by tourists.
Located only a short 3 kilometers from downtown Tulum, Cenote Calavera is super easy to get to. Grab a taxi, ride a bike, or even rent a car to get there in only a matter of minutes. Even though it is very close to Tulum, Cenote Calavera is never very busy. In fact, it is possible to get the entire cenote to yourself!
You can jump into the cenote from the top, or enter more carefully on the ladder. It is also popular to go scuba diving at Cenote Calavera. In fact, scuba diving here is easily one of the best things to do in all of Mexico! It is unique, a little, eerie, and a lot of fun!
Cenote Calavera is open every day from 9 AM to 4 PM. It costs 100 MXN to visit Cenote Calavera.
4. Cenote Zacil-Ha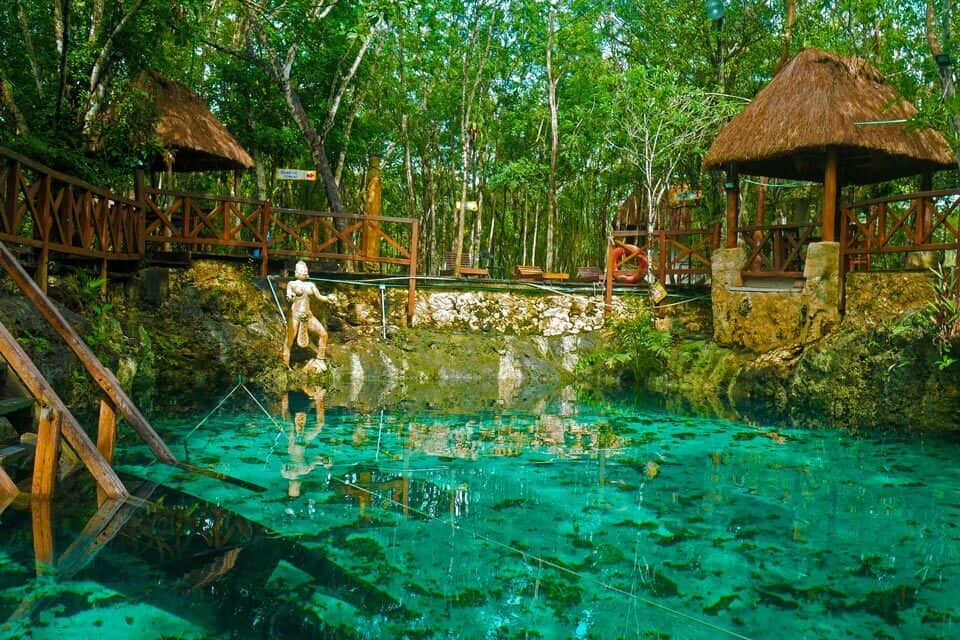 Type of Cenote: Open
Travel Time from Tulum: 10 minutes
Entrance Fee: 100 MXN (foreigners), 50 MXN (locals)
One of the most family-friendly cenotes of Tulum is Cenote Zacil-Ha. Located 10 minutes away from Tulum Downtown, visitors can either rent a car or a bicycle, take a colectivo (public transportation) towards Coba, or even walk there.
Cenote Zacil-Ha features two small pristine pools, perfect for kids to swim in. Life jackets are available for rent for anyone that doesn't feel confident swimming in the cenote.
While the kids are enjoying a refreshing swim in cenote Zacil-Ha, adults that prefer not to get wet can relax in the sun or the shaded gazebos. When you feel peckish, head over to the restaurant & bar and get yourself a nice cocktail and some food.
For those looking for an adrenaline-pumping activity, consider zip-lining over the cenote. It is a feature where you hang onto the handlebar of the zip line and let go when you are over the center of the cenote. The zip line is not too high above the cenote so everyone in the family can enjoy this activity.
Zacil-Ha is home to one of the clearest waters in not just Tulum, but all the cenotes in the Riviera Maya!
5. Casa Cenote Tulum
By: Claire of This Travel Lover
Type of Cenote: Open
Travel Time from Tulum: 20 minutes
Entrance Fee: 150 MXN Pesos
Casa Cenote is part of the largest system of underwater caves in the world which stretches through Quintana Roo, and at Casa Cenote, the cavern system leads right out into the sea.
The meeting of the fresh and salt waters creates a phenomenon in the cenote known as halocline, as the waters don't mix properly due to the different salt content. This makes the water appear hazy as you look through it, particularly noticeable if you are diving in the cenote.
While this makes the cenote a popular place for divers, you can also paddle board, kayak, snorkel or go for a swim here, as well as spot wildlife living in the mangroves and under the water – including Pancho the "friendly" crocodile who is often seen sunning himself on a rock.
The cenote resembles a lazy river in a way, it curves through the jungle and there is a slight current. You can hire a snorkel and other equipment there for an extra fee, or just pay the 150 Mexican pesos for entry if you have your own gear.
Casa Cenote is about 30 minutes' bike ride from the center of Tulum, or about 20 minutes in a taxi or car. If you are traveling in Tulum alone, you may prefer to join a tour with one of the dive companies in town for diving or snorkeling which includes transport and the entrance fee.
6. Cenote Crystal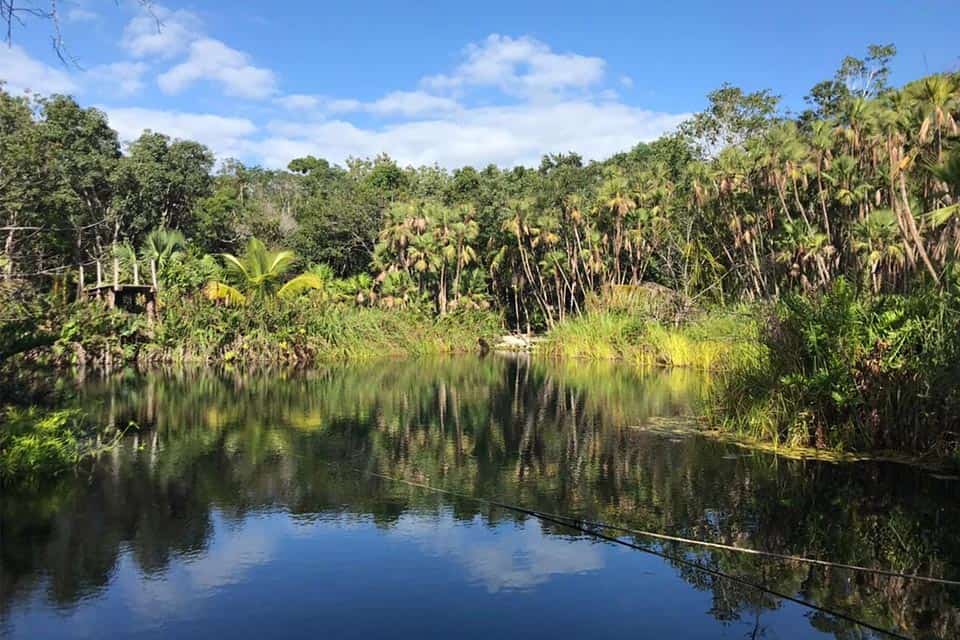 By: Daniel of LayerCulture
Type of Cenote: Open
Travel Time from Tulum: 10 minutes
Entrance Fee: 120 MXN
Cenote Crystal is located around 10 minutes from Tulum and is a great way to have a couple of hours of fun in the most mystical jungles of Tulum.
This is the perfect cenote if you are looking for things to do in Riviera Maya and want to get off the beaten track and visit a cenote with fewer tourists.
Cenote Crystal is suitable for swimming and there is a ledge from which you can jump into the water that stands at about 3-4 meters high.
On arrival, you'll see the open pool surrounded by palm trees and picnic tables which makes an ideal place to sit back and relax if you choose not to jump into the deep crystal waters. However, if you're not a strong swimmer you can always hold onto the rope in the water provided.
There are plenty of options to get to Cenote Cristal. Visitors can rent a car and park there for free. Otherwise, you can use public transportation and take a cheap colectivo (shared van). Of course, you can also rent a bicycle to get there.
Cenote Cristal is open from 8 AM to 5 PM daily but keep in mind that you'll need to arrive before 4 PM to make the last entry. The entrance fee is 120 MXN Pesos but that includes access to the adjacent Cenote Escondido, an excellent cenote in Tulum for snorkeling or diving.
7. Cenote Dos Ojos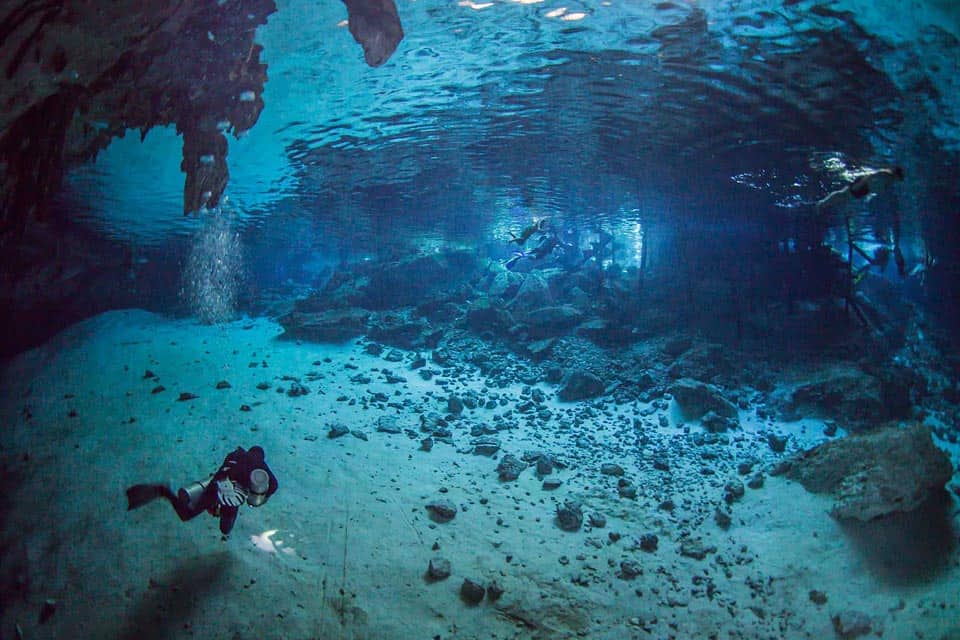 By: Chris of AquariusTraveller
Type of Cenote: Semi-Open/Cave
Travel Time from Tulum: 30 minutes
Entrance Fee: 350 MXN
If you looking for the best cenote in Tulum for snorkeling and diving, then you cannot miss Cenote Dos Ojos, translating to "Two Eyes Cenote" in English. It has one of the largest and most complex underwater cave systems, ideally for divers and snorkelers. Swimmers will also find the crystal-clear water of Cenote Dos Ojos refreshing.
Located about 20 kilometers northeast of Tulum, Cenote Dos Ojos are reachable through public transportation, a daily tour bus, or renting a car and driving yourself.
Its opening hours are 8 AM to 5 PM with an admission cost of 350 MXN Pesos per person. A life jacket is included with the admission fee but equipment for snorkeling or diving can be rented for an extra charge. Bathrooms, changing rooms, and lockers are available for your convenience.
The name Two Eyes Cenote comes from the two semi-open cenotes connected by a 400-meter long passageway. These two large cenotes appeared like eyes when seen from underwater.
Anyone deciding to visit Cenote Dos Ojos should consider diving or snorkeling, both of which can be organized by tour companies or at the entrance of the cenote. The beauty of Dos Ojos can only be appreciated underwater.
Beneath the crystal waters is the spectacular scenery that looks like it's from National Geographic. As you navigate through the cavern system, you can see impressive cave formations such as stalactites and stalagmites. You are also very likely to encounter bats and plenty of small fishes.
Miraculously, the water temperature is a constant 24 to 25 degrees Celsius (77 Fahrenheit) throughout the year. Therefore, Dos Ojos is extremely refreshing after wandering around in the hot Mexican sun.
8. Cenotes Casa Tortuga Tulum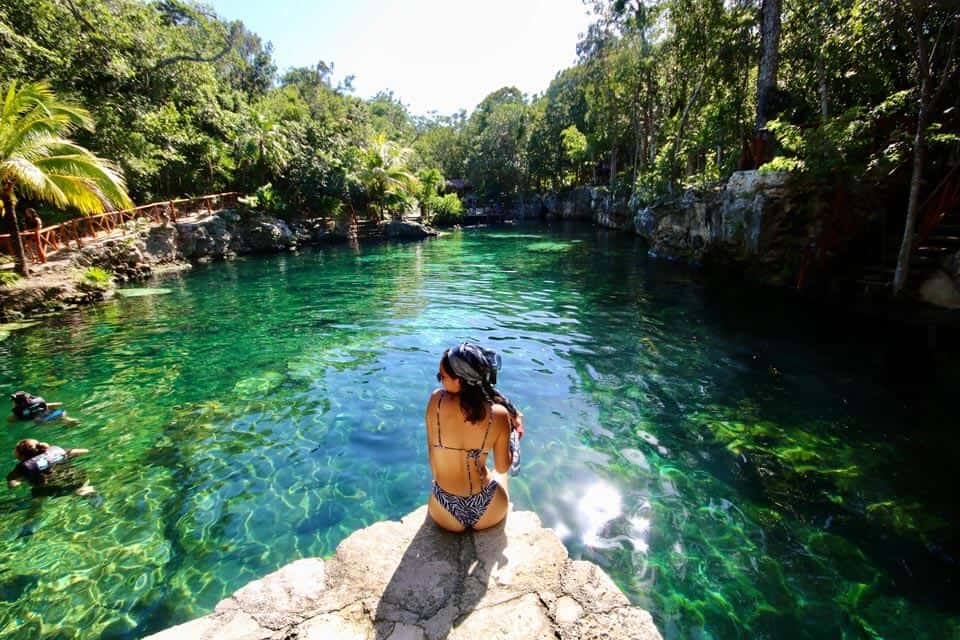 Type of Cenotes: Cave, Open
Travel Time from Tulum: 35 minutes
Entrance Fee: 600 MXN Pesos
If you prefer a cenote guided tour in Tulum, then consider checking out the cenotes at Casa Tortuga Tulum. The property features a total of 4 cenotes (2 cave cenotes and 2 open cenotes) and visitors can see all 4 in a guided tour!
The price for the guided tour is a little pricey at 600 MXN per person, but that includes the rental of a life jacket, snorkel, mask, and the guide himself. The guide will provide excellent information on cenotes in the Yucatan Peninsula and the different types of geological formations you see inside the cave cenotes.
Because this is a guided tour, everyone in the family can enjoy this unique Mexico experience. We would recommend wearing water shoes for this guided tour as you will need to walk to the cenotes.
Once you have finished your tour, you are more than welcome to enjoy the two open cenotes on the property. This allows you to enjoy them at your own pace and with a smaller crowd. One of the cenotes features a 3-5 meter cliff jump for adventurous travelers.
Because these Tulum cenotes are part of the hotel's property, guests staying at the Casa Tortuga Tulum could receive a discount for the guided tour!
9. Cenote Azul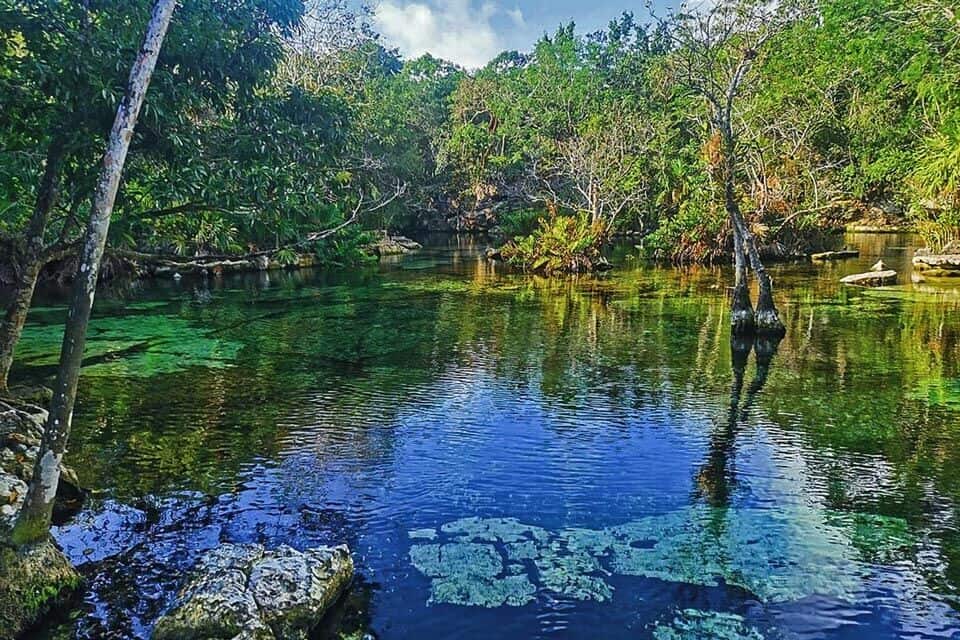 By: Victoria of GuideyourTravel
Type of Cenote: Open
Travel Time from Tulum: 30 minutes
Entrance Fee: 120 MXN
The Cenote Azul (Blue Cenote) lies between Playa del Carmen and Tulum and can easily be reached by car or shared collective.
If you're looking for a half-day trip from Tulum or an afternoon activity, this is a great place to go for all types of travelers. Whether you are a backpacker or traveling with your family, you'll love the Cenote Azul.
There are several cenotes located near Cenote Azul, so it's worth coming here to see some of the best things to do in Mexico.
As the name suggests the Cenote Azul is known for its crystal-clear blue waters and beautiful scenery. The cenote is shallow at one end which is perfect for those traveling with children and deep enough for cliff jumping at the other. This is the perfect spot for swimming or simply relaxing.
The cenote can become quite crowded during mid-day so coming early is highly recommended. It is an open-air cenote so it's very popular among tourists looking for a refreshing swim after a long hot day.
The entrance fee for this cenote is 120 MXN Pesos and there are bathrooms, changing rooms as well as a small shop available. Cenote Azul is open daily from 6:30 AM to 5:30 PM.
---
Best Cenotes Near Tulum
For the sake of this article, we'll classify the cenotes near Tulum as the ones that require an hour or more of traveling. These cenotes are typically best visited on a day trip.
1. Cenote Suytun, The "Instagram-Famous" Tulum Cenote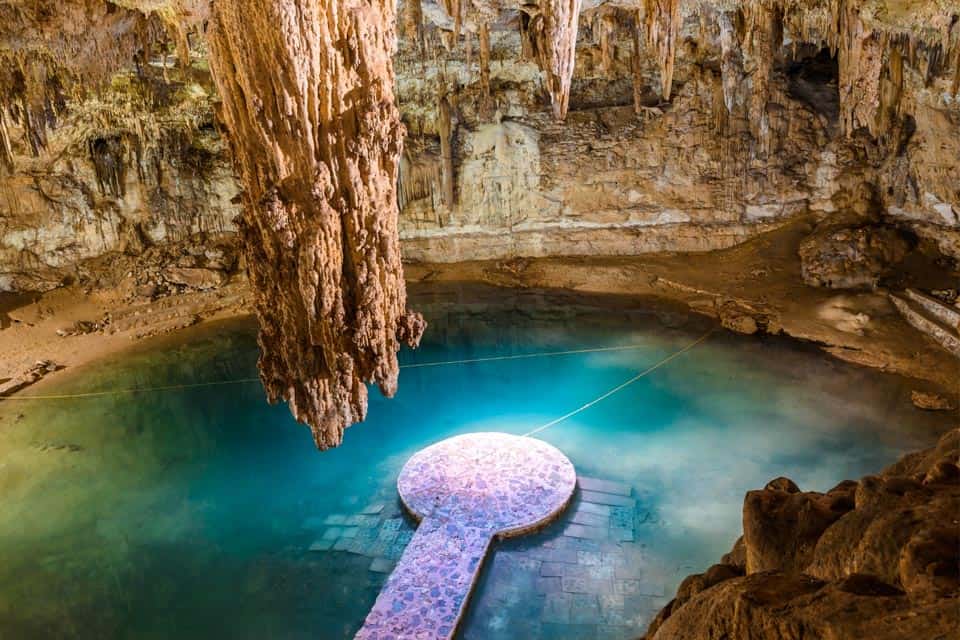 By: Shelley of Travel Mexico Solo
Type of Cenote: Semi-Open/Cave
Travel Time from Tulum: 1.5 hours (Keep in mind the time zone difference)
Entrance Fee: 120 MXN Pesos
There's no shortage of amazing cenotes to see in Tulum. At only a few dollars to visit, cenotes are the perfect thing to do when traveling to Tulum on a budget.
With so many options, you're probably wondering how to choose the best one(s). As many of the cenotes are incredibly beautiful and worth checking out, Cenote Suytun is unique in that it's an underground cenote.
Located not far from Tulum, and close to the pueblo magico (magic town) of Valladolid, Cenote Suytun is inside a cave. There is a hole above the cenote so a little light gets in, and a circular platform in the center, which makes Cenote Suytun perfect for photos. It is known as one of the most "Instagrammable" cenotes near Tulum.
As with most Tulum cenotes, if you want those Instagram-worthy photos without people in them, you'll want to arrive by about 10 AM, and preferably on a weekday rather than a weekend. This cenote isn't very big, and quite popular, so it does fill up quickly.
Cenote Suytun is located just over one hour by car from Tulum. It is about 45-minutes from Chichen Itza Mayan ruins, and many combine these two popular places for a Tulum day trip. There are also other beautiful cenotes nearby, like Cenote Zaci and Cenote Oxman.
Cenote Suytun is located on Highway Carretera 180, just east of Valladolid, Mexico. It is open daily, from 9 AM- 5 PM, and costs $120 MXN pesos to enter.
2. Cenote San Lorenzo Oxman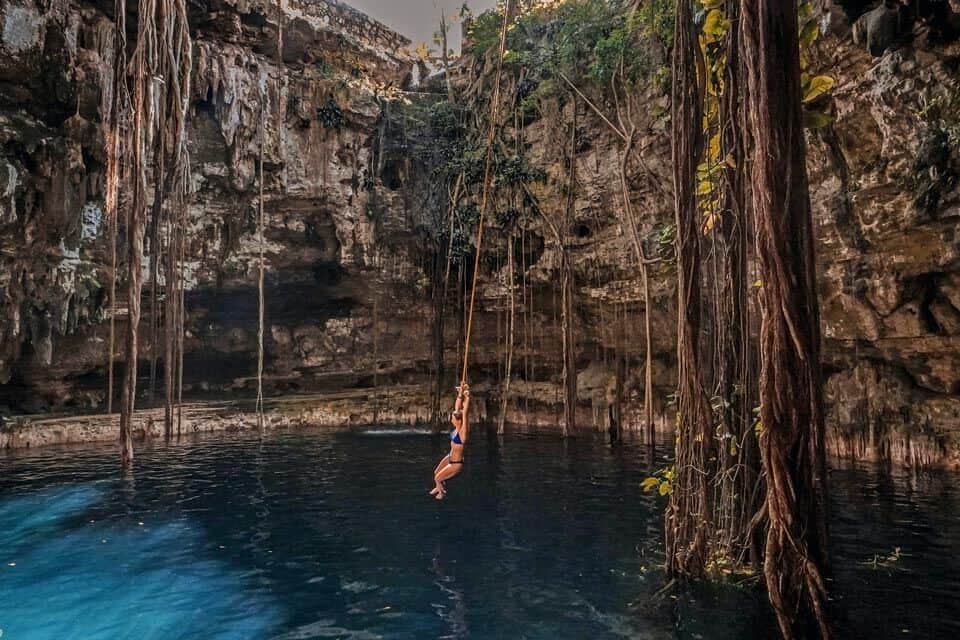 Type of Cenote: Semi-Open
Travel Time from Tulum: 1 hour 45 minutes
Entrance Fee: 80 MXN
The semi-open cenote of San Lorenzo Oxman is one of the most scenic cenotes in the Yucatan Peninsula. The underground cenote is the site of a collapsed cave. Cascading roots and vines along with the glorious sun rays enter from the surface, creating an exotic landscape that belongs on the cover of a travel magazine.
Cenote San Lorenzo Oxman is located in the Hacienda San Lorenzo, a beautiful large property that was once an agave plantation. Not only will you find Cenote Oxman here, but also a relaxing swimming pool, a restaurant & bar, and a lounging area for you to soak in the sun.
The beautiful garden of Hacienda San Lorenzo will lead you to the staircase passageway that takes you down to the cenote. Most visitors come to this quiet cenote for a nice swim, but adrenaline-junkie can have a go at the swing. The swing is completely free to use so make as many splashes as you want!
Though not popular, snorkeling is also an activity you can enjoy at Cenote Oxman. There is no snorkeling rental at the hacienda so you must bring your own equipment. Cenote diving is not possible at Cenote Oxman.
80 MXN pesos is the cost to enter the cenote and the pool area. However, if you plan on eating or drinking at their restaurant, you can select a ticket combo that includes a meal voucher to save money.
3. Cenote Xkeken (Cenote Dzitnup)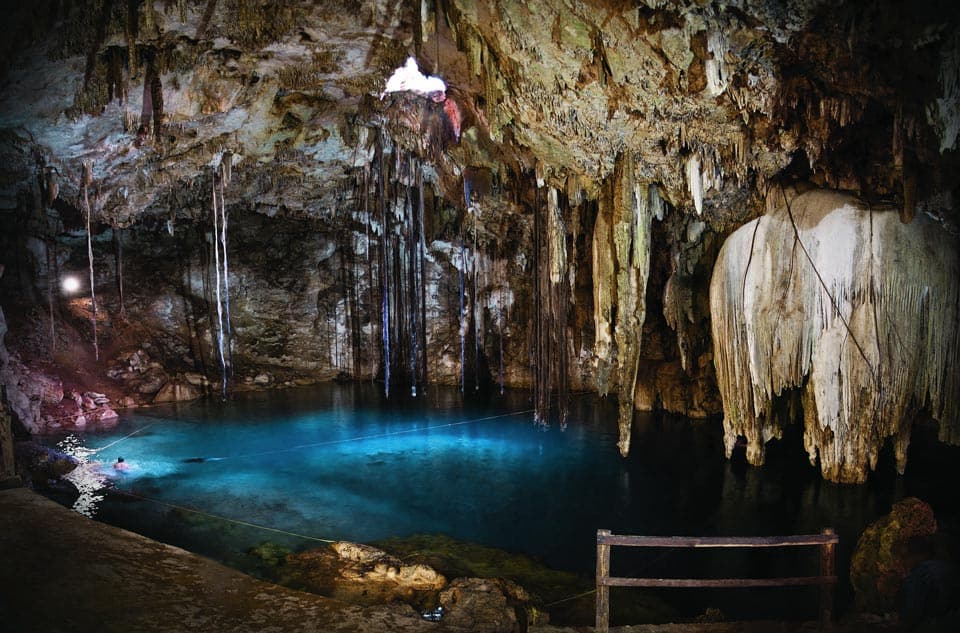 Type of Cenote: Cave/Semi-Open
Travel Time from Tulum: 1.5 hours
Entrance Fee: 80 MXN (125 if including entrance to nearby Cenote Samula)
Cenote Xkeken (also called Cenote Dzitnup) is not only one of the best cave cenotes near Tulum, but of the entire Yucatan Peninsula. Though the cavern is quite small at around 30 meters by 20 meters (98 feet by 66 feet), incredible cave formations such as stalactites and stalagmites surround this cenote.
Because the light sources inside the cave come from dimly-lit lights and a small opening at the top of the cave, Cenote Xkeken is fairly dark. The water in the cenote is cooler than most because of the lack of sunlight. At least you don't have to worry about getting sunburn!
Don't let that deter you from swimming in this cave cenote, seeing the intricate cave formations up close is an eye-opening experience. Just be careful when you enter the water because the surfaces are really slippery.
Snorkeling and diving in Cenote Xkeken are generally not recommended. Due to the low-lighting situation, visibility underwater is very low. The cenote only goes up to a depth of 20 meters.
4. Cenote Samula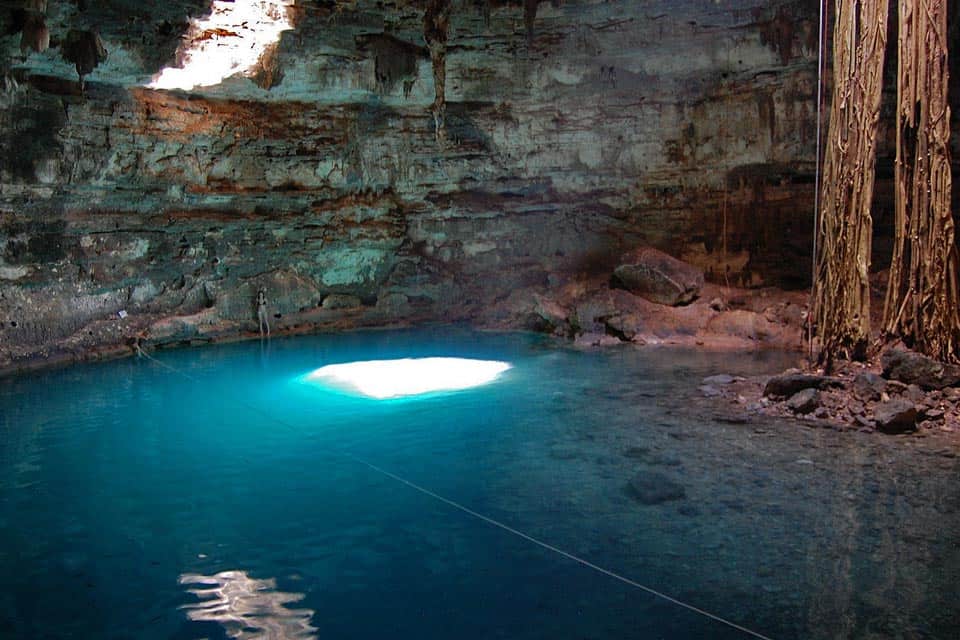 Type of Cenote: Cave/Semi-Open
Travel Time from Tulum: 1.5 hours
Entrance Fee: 80 MXN (125 if including entrance to nearby Cenote Xkeken)
Located next to Cenote Xkeken is another one of Mexico's best cave cenotes – Cenote Samula. Known for its wide-open cavern and turquoise pool waters, it is an excellent place to experience the incredible formations of a cenote.
By definition, Cenote Samula is a semi-open cenote because of the small opening at the top of the cavern. However, the opening is so tiny it provides a slither of light (and waterfall if you are lucky). Though it doesn't do much in providing warmth, it does make it a much more photogenic location. Visitors might find dramatic roots stretching from the opening of the roof to the water surface!
Cenote Samula is a popular location for swimming due to its wide spaces and smaller crowds. Like Cenote Xkeken, be careful of the slippery surfaces when entering the water.
Life vests are available for rent on-site for unconfident swimmers.
5. Cenote Zaci
Type of Cenote: Semi-Open
Travel Time from Tulum: 1.5 hours
Entrance Fee: 30 MXN Pesos
Located in the center of Valladolid, Cenote Zaci is one of the best cenotes in Valladolid. Though if you aren't staying in Valladolid (which you totally should), the journey from Tulum takes about 1.5 hours.
Cenote Zaci is a popular cenote with the locals of Valladolid, as it offers an easy escape from the scorching Mexican heat. The cenote is partially covered by a cavern, with stairs and stone walkways on the perimeter leading to a platform on the water's edge.
Because of the sunlight that enters the cave, beautiful greenery dots the semi-open cenote and offers a superb photo opportunity. Besides the excellent swimming opportunity, Cenote Zaci offers multiple platforms ranging from 1 meter to ~8 meters for adrenaline junkies to jump off from.
Small fishes live inside this freshwater cenote, so you might get a free "pedicure" when swimming at Cenote Zaci. Just remember to not put on any sunscreen when visiting Cenote Zaci. Unlike other cenotes in Mexico, no shower is required before entering. Sunscreen is detrimental to the delicate cenote environment.
The Coba Cenotes
The Coba Cenotes are three cenotes located in close vicinity of the Coba Archaeological Mayan Ruins. These three cenotes are usually combined with a visit to the Coba ruins to make the perfect day trip from Tulum.

The three Coba Cenotes are
Cenote Choo-Ha
Cenote Tankach-Ha
Cenote Multum Ha
6. Cenote Choo-Ha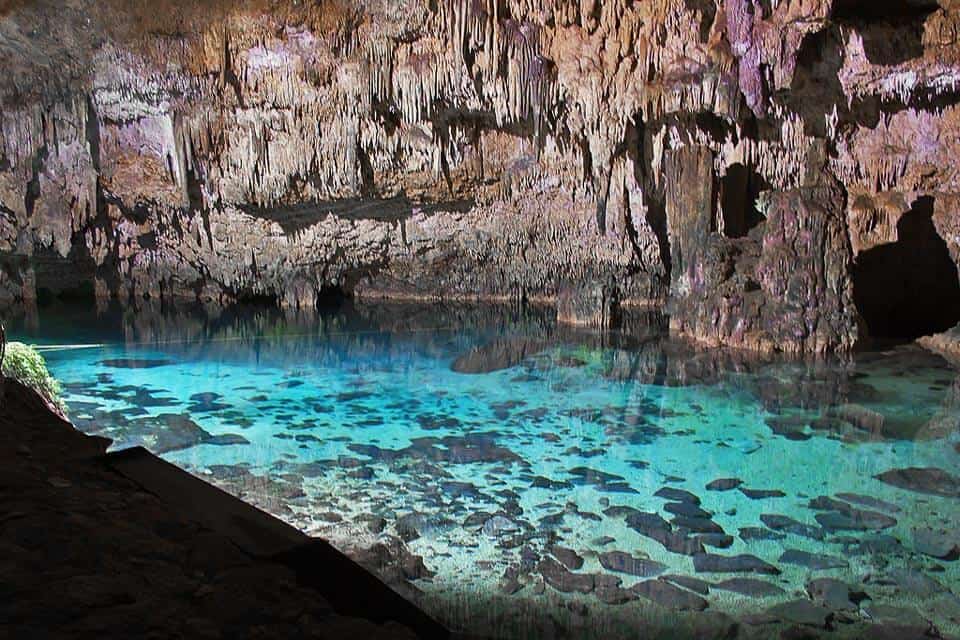 Type of Cenote: Cave Cenote
Travel Time from Tulum: 1 hour
Entrance Fee: 100 MXN
As we have mentioned, Cenote Choo-Ha is one of three cenotes of Coba. With an abundance of interesting cave formations such as stalagmites and stalactites, Cenote Choo-Ha is worth the short visit.
The entrance of the cave is a small 3 to 4-meter opening that leads underground. In terms of size, Cenote Choo-Ha is unquestionably one of the smaller cenotes by Tulum. Swimming is generally not a very popular activity at Cenote Choo-Ha because the water level is quite shallow.
However, the shallow water allows visitors to see the bottom of the cenote. There is a small part of the cenote where the water is deeper, so visitors could swim if they decide to.
Because of this, Cenote Choo-Ha is frequently empty, making the visit much more divine.
7. Cenote Tankach-Ha
Type of Cenote: Cave Cenote
Travel Time from Tulum: 1 hour
Entrance Fee: 100 MXN
Located a short walk away from Cenote Choo-Ha is Cenote Tankach-Ha (sometimes called Cenote Tamcach-Ha), another one of Coba's cenotes. Translating to "deep water" in English, Cenote Tankach-Ha is ideal for swimming, snorkeling, and jumping off the platforms into the deep water!
To arrive at Cenote Tankach-Ha, visitors must descend two flights of stairs into a cave. Once you have entered the cavern, you are rewarded with cool cave formations and pristine freshwater for swimming. Because the cenote is located deep underneath the ground, the water is a little cooler than usual.
If you have to visit one of the Coba cenotes, we recommend this one because you can get a good swim inside!
8. Cenote Multum Ha
Type of Cenote: Cave
Travel Time from Tulum: 1 hour
Entrance Fee: 100 MXN
Cenote Multum Ha is the last of the cave cenotes in Coba. While the other two cenotes (Choo-Ha and Tankach-Ha) are located adjacent to each other, Cenote Multum Ha is located an 8-minute drive from the other two cenotes.
But don't cross this cenote off your list yet!
Because of its inaccessibility, Cenote Multum Ha is often empty, allowing visitors to swim in its pristine water in peace. The interior illumination allows you to see through the water, so it might not be a bad idea to bring snorkeling gear.
Beware of the tours that come around 3 PM though, that could easily crowd the small space inside this cavern cenote.
Visitors with mobility problems should reconsider visiting this cenote because of the 18-meter high spiral staircase from the surface to the cenote.
If your goal is to go swimming in Coba, we still recommend going to Cenote Tankach-Ha, but Cenote Multum Ha will certainly not disappoint!
---
Where To Stay In Tulum, Mexico
There are places of amazing places to stay in Tulum, Mexico. Make sure you check out our full guide on where to stay in Tulum here!
Best Hostel In Tulum – Hotel Holistika Tulum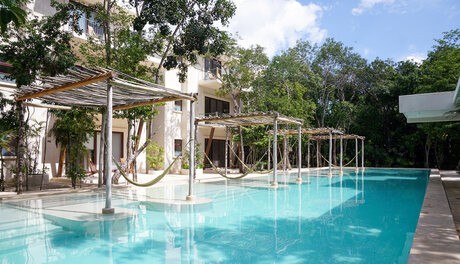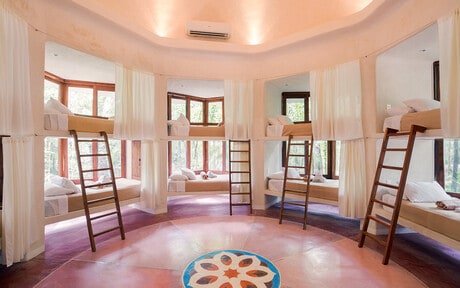 Enjoy a luxurious and social stay in Tulum at Hotel Holistika, a hostel/hotel accommodation with a focus on relaxation, luxury and wellness. Unlike most hostels in Tulum that are party hostels, Hotel Holistika Tulum prides itself in its friendly atmosphere, clean facilities, and overall coziness.

Situated amidst some of the most pristine greenery, this accommodation helps you disconnect from the noise and reconnect with yourself. Come to Holistika Tulum and enjoy the simpler things in life.

Here guests won't find loud parties, drugs, and music until 3 AM. Instead, they will find yoga classes, vegan restaurants, swimming pools with cozy hammocks, healing workshops, and other spiritual activities (like Temazcal). Guests will undoubtedly feel better after a stay at this incredible hostel.

For travelers that do not wish to stay in shared accommodation, Hotel Holistika Tulum also offers excellent private rooms!

Click here for more photos and availability!
Best Vacation Rental in Tulum – Penthouse w/ Private Pool & Rooftop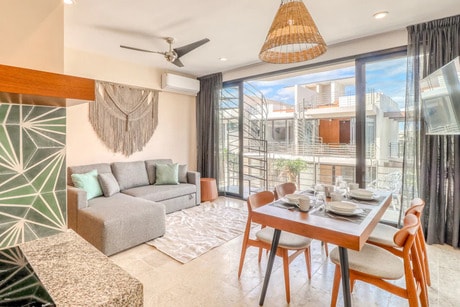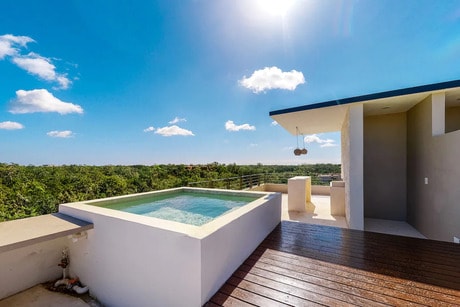 (Images Courtesy of Vrbo)

Luckily, Tulum has some of the best vacation rentals and Airbnbs in Mexico!

Experience the lush jungle of Tulum with this modern penthouse at one of the most private locations in Tulum!

Guests staying at this gorgeous Tulum vacation rental will have access to their own large living room and a well-equipped kitchenette. However, the most iconic feature is the spacious rooftop with a private pool. Admire the beautiful sunset (or sunrise) as you soak in its refreshing waters while listening to the sounds of the Tulum jungle!

This Vrbo combines comfort, luxury, and affordability all into a nice cozy 1-bedroom apartment, something that is a rare find in Tulum.

The only slight downside is its distance from Tulum center and Tulum beach, but that issue is easily solved with the abundance of taxis in the area. For its affordability and privacy, this Tulum vacation rental is truly an excellent pick.

Maximum Occupancy: 2 Guests

Click here for more details!
Best Hotel In Tulum – Delek Tulum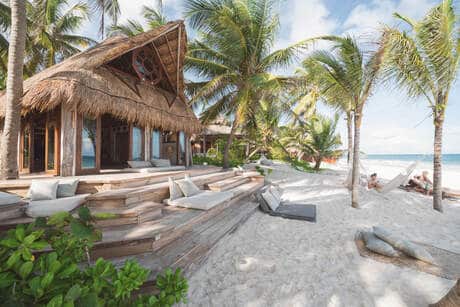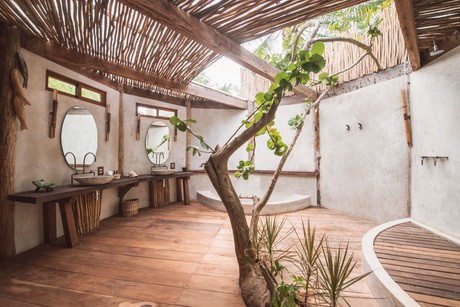 Delek Tulum is a luxurious beachfront hotel situated in the Tulum Beach zone. Encompassing the quintessential elements of Tulum such as dreamy beaches, incredible jungles and friendly hospitality, Delek Tulum will elevate your Tulum trip!

With rooms such as treehouses and beachfront villas, each accommodation is a perfect balance between local flavors and luxury elements. Under the thatched roof is a fully air-conditioned room made with local clay and wood, all prepared for maximum relaxation.

When you are not soaking in your outdoor bathtub or enjoying the waves of the Caribbean Sea, make sure you try one of the delicious dishes in their on-site restaurants. The restaurant at Delek is so well-known that non-guests travel from afar to try some of its perfectly-prepared dishes.

With its ideal location in the Tulum Beach area, guests will find a multitude of the trendiest shops, restaurants, and boutiques. The gorgeous South Tulum Beach area is literally on your doorstep.

Whether you are in Tulum for a special occasion, looking to explore the breathtaking landscapes, or enjoying the incredible nightlife scene, a stay at Delek Tulum is going to enhance your experience!

Click here for more details!
---
Like this post? Don't forget to save it on Pinterest!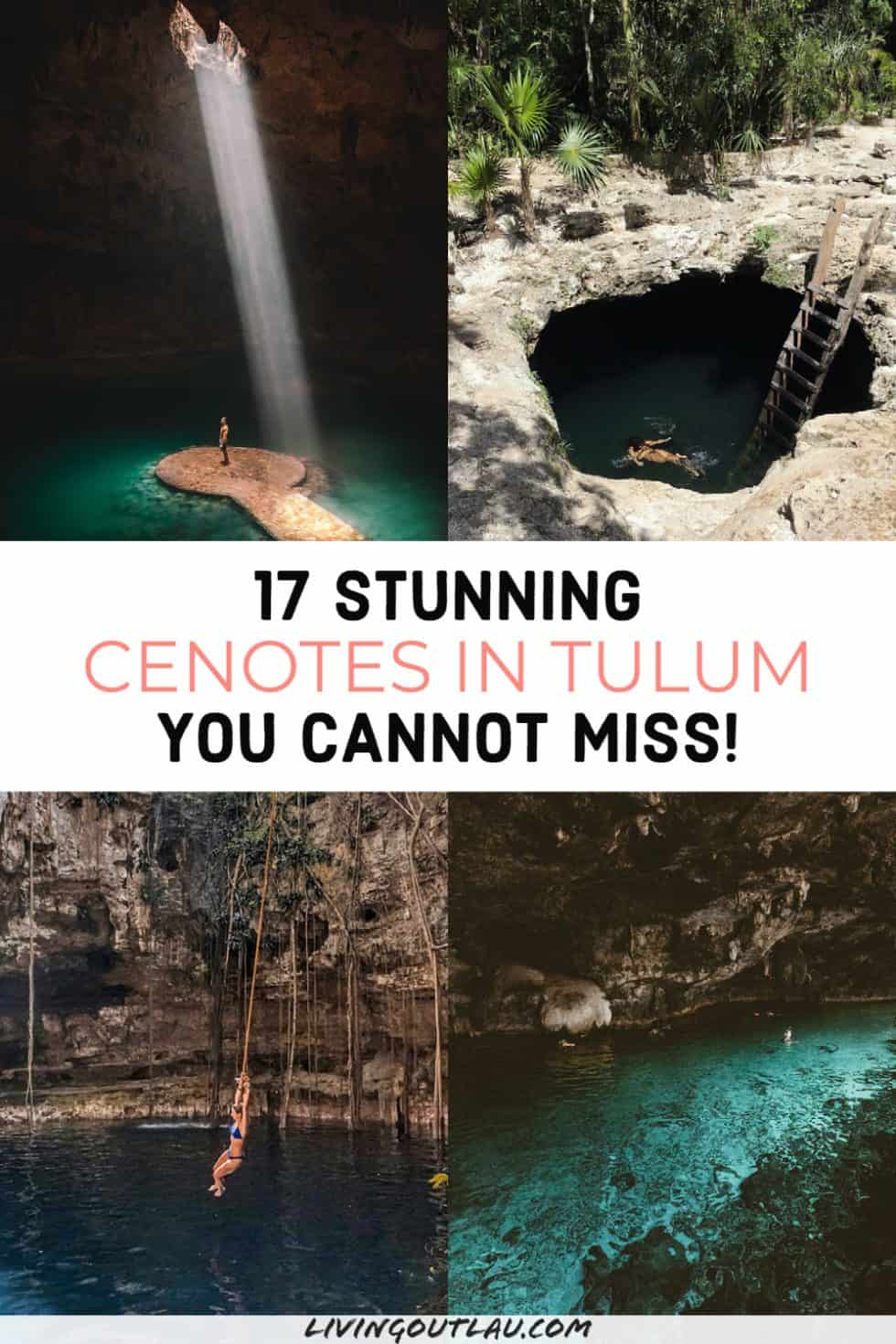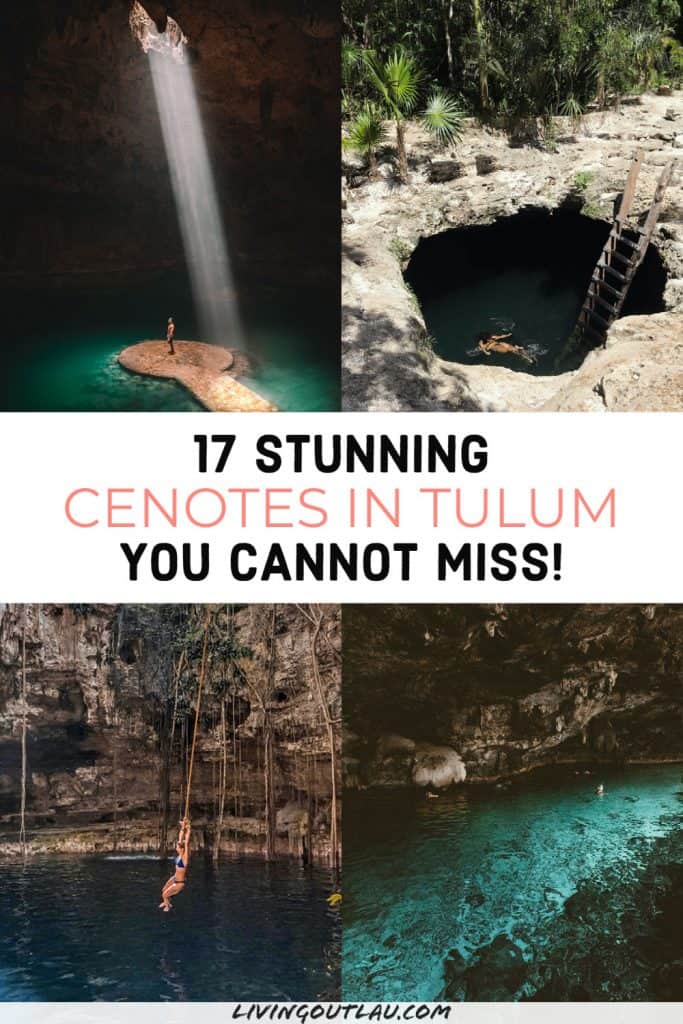 ---
Picking the perfect Tulum cenote (or two) to visit is no easy task. We hope our guide has given you a rough idea of some of the best Mexico "sinkholes" to visit in Tulum!

Any question? Leave a comment!
Disclaimer: Some of the links above are affiliate links. That means if you book or make a purchase through the links, we will earn a small commission at no extra cost to you! The money will help run this site! Thank you!