Not sure where to stay in Tulum, Mexico?
It is not so easy.
With the recent boom in tourism, Tulum is one of the quickest developing regions in Mexico. Streets that were empty are now populated with many new hotels, villas, vacation homes, and even Airbnbs in Tulum.
That is why we have written this guide on the best places to stay in Tulum, so you can save yourself the headaches of scrolling through pages and pages trying to find the perfect accommodation. That way you can have more time to pick out the things to do in Tulum and create the perfect itinerary!
Without further ado, here are the 10 best Tulum Airbnbs you cannot miss!
---
Where To Stay In Tulum? Beachfront or City Center?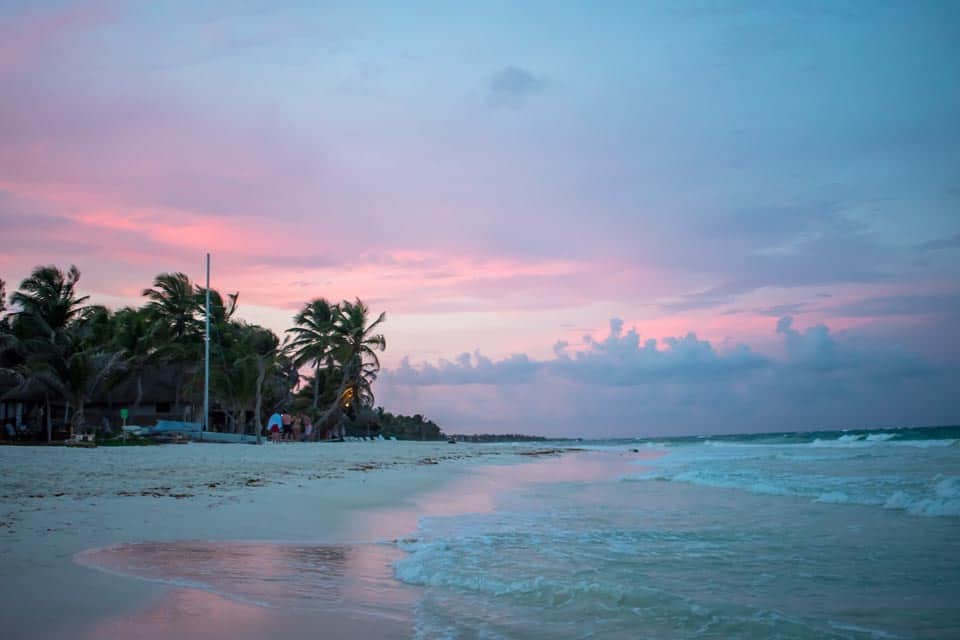 If you are deciding where to stay in Tulum, you must come across deciding between staying at the Tulum beachfront and the Tulum city center (called Tulum Centro). While each of the two places has its pros and cons, we personally like staying in the city center a lot more.
Staying on the Tulum Beachfront will feel like you are staying in Cancun, with over-the-top prices, luxurious hotels, and lots of tourists.
While that is not always a bad thing, on LivingOutLau, we want to explore more of the culture of these destinations, and it is hard to do that by staying in places where locals won't visit because the hotels cost a chunk of their salary.
Hence, our Tulum guide will focus on the accommodations in Tulum Centro, where you will find local flavors, deep Mexican heritage, and stunning accommodations for anyone traveling Tulum on a budget!
---
Want A Quick Tip On The Best Airbnb In Tulum?
Villa Vidrio (Los Amigos Tulum)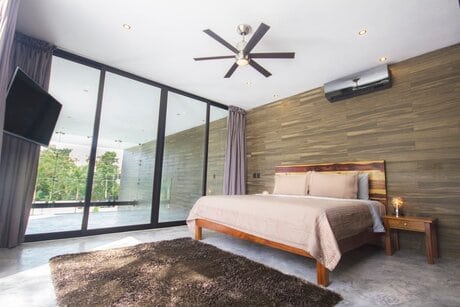 Tulum Airbnbs are abundant but finding the perfect one for every traveler's needs is difficult. But thanks to Villa Vidrio, all your headaches will be gone!

Villa Vidrio is one of the most luxurious Airbnbs you will find in Tulum. With a total of 1700 sqft of interior space and a massive garden with a beautiful swimming pool, this Airbnb is perfect for families or groups of friends seeking luxury and comfort in Tulum.

This Tulum private villa is completely kitted out with high-end furnishings and modern touches. The full glass front is a testament to its grandeur and also provides guests with a spectacular view and an ample amount of natural light.

Other features you will find at Villa Vidrio include fast Wifi, A/C throughout, a spacious terrace, a fully-equipped kitchen, and a 40″ and 60″ flat-screen TV.

When you are not indulging in this incredible Airbnb, visitors can rent bikes and explore other parts of Tulum. Tulum Centro is a short 10-minute walk away. Some of the best Tulum cenotes are a few miles away, and the beautiful Tulum beach is 3 to 4 miles away.

---
Best Luxury Airbnbs In Tulum
1. Villa Boho w/ XL Pool & Jacuzzi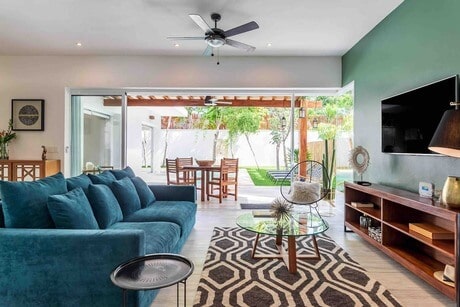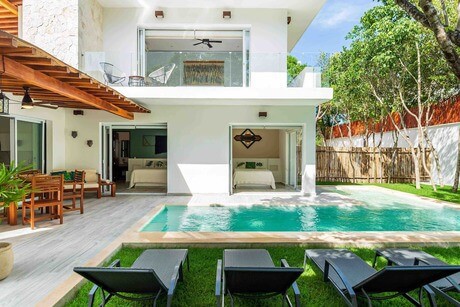 When it comes to Airbnbs in Tulum, Villa Hobo is unquestionably one of the best luxurious places to stay. Featuring a massive swimming pool (good for laps), a rooftop jacuzzi and a beautiful garden, guests will find both luxury and comfort in this Tulum villa.
While the outdoor facilities will surely impressive, the indoor ones are by no means lackluster. Guests can cozy up on the soft fabric sofa and pick something to watch on their flat-screen smart TV. Want to cook a homemade meal? Utilize their fully-equipped kitchen and show off your cooking skills!
With its 3 bedrooms, this Tulum luxury villa can fit a total of 6 guests. So whether you are traveling with friends, families, or even just your partner, you will find the perfect cozy home at Villa Hobo. Families with kids will feel extra safe here because of the 24-hour security.
This villa is located a short walk away from Tulum center, where guests will find authentic Mexican food, chic cafes, and the best bars and restaurants of Tulum.
Bicycles are also available for rent, and a personal property manager will arrange that and answer any other questions you might have about the property or Tulum at all times!

Maximum Occupancy: 6 Guests

Click here for more photos and availability!
---
2. Jungle Penthouse @ Aldea Zama w/ Private Pool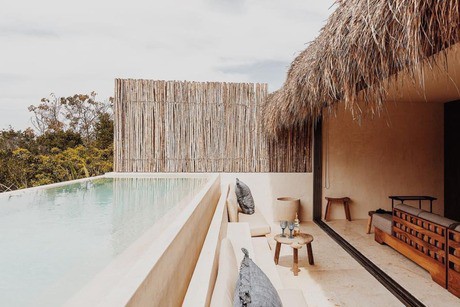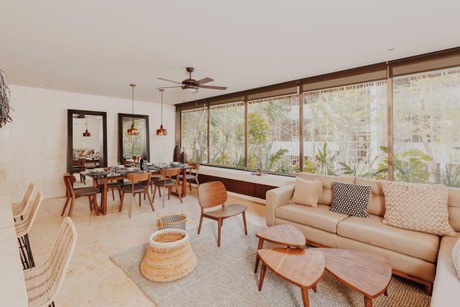 If the jungle is more your vibe than the beach, then this Jungle Penthouse at Aldea Zama will be perfect for you. Located inside one of the most prestigious residential areas in Tulum, guests will find the perfect mixture of luxury and nature.

Guests will have access to a total of three floors. On the first floor, guests will find the kitchen, living and dining areas, all completed with a chic decor that oozes charm. The second floor is where the 2 bedrooms and 2 full bathrooms are located, ready to give you the most peaceful night of sleep.

Lastly, the last floor is the roof, which is also our favorite feature in this Airbnb. Here guests will find a beautiful infinity pool, a massive sofa, and a smart TV, ideal for a day of pure relaxation. Listen to the sound of the jungle as you soak in the soothing waters of the pool!

Since this Airbnb is located near the jungle, guests must be prepared for forest-like conditions. Bugs, spotty WiFi and rare power outages are things you must consider when picking this Airbnb. But if you are truly here in Tulum to enjoy its pristine nature, then these issues aren't problems for you!

Maximum Occupancy: 6 Guests

Click here for more details!
---
3. Tulum Apartment W/ Private Rooftop & Pool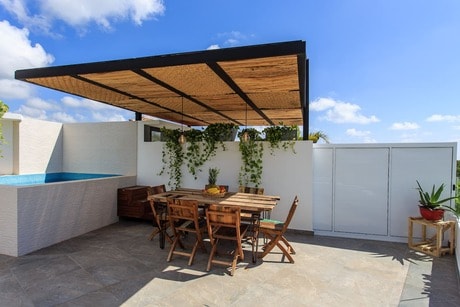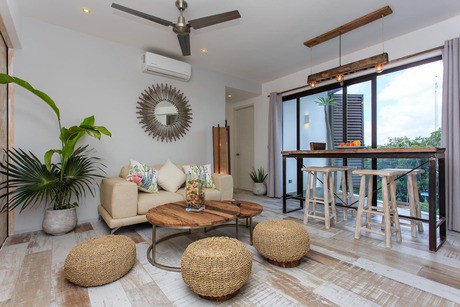 Want your own private rooftop AND private pool? Then this 2-bed 2-bath Tulum apartment is perfect for you.

Wake up to an amazing sunrise on the rooftop with a refreshing cup of coffee in your hands or watch the sunrise with a glass of chilled wine! With sun loungers, a small pool, and a comfy seating area, guests can enjoy the beautiful Mexican sun and properly relax!

The most iconic feature of this Tulum Airbnb apartment is undeniably the rooftop, but guests will also find a surplus of comfort and luxury in the modern living room, fully-equipped kitchen, or spacious bedrooms.

Located in the exclusive Aldea Zama residential neighborhood, it is a short distance away from both Tulum center and the beach. Visitors can either rent a bike or even a car if they seek extra comfort. In Aldea Zama, guests will have stunning views of the pristine Tulum jungles!

Maximum Occupancy: 4 Guests

Click here for more info!
---
4. Tropical Penthouse w/ Fast Wifi & Free Bikes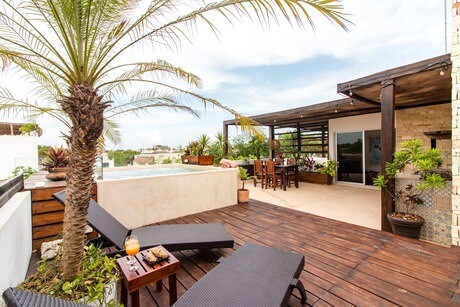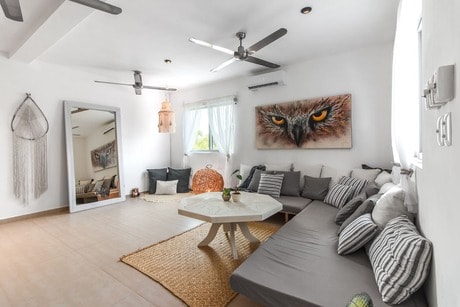 This Tropical Penthouse is the perfect Airbnb in Tulum for digital nomads, bloggers, social media influencers and other similar occupations. It features 40 Mbps WiFi, which is one of the fastest internet connections you can get in Tulum.

This tropical penthouse was featured in a travel magazine, so guests will certainly find the aesthetics very appealing. If you are a social media influencers that require stunning photos, then this Airbnb will not disappoint.

While the decor is unquestionably top-of-the-line, this tropical penthouse is no stranger to comfort. On the spacious private rooftop, guests will find a small jacuzzi, an outdoor shower, sun loungers, a shaded seating area and more!

After a tiresome day of exploring Tulum ruins and its nearby cenotes, relax in one of the floating beds custom-built for this apartment. It earned its name by making you feel like you are floating on clouds when laying on them!

Other notable features include free bike rentals (up to 4 bikes), a kitchen with 4 bar chairs, a relaxing living space, an in-person host or hostess for emergencies and online concierge services!

Maximum Occupancy: 6 Guests

Click here for more information!
---
Best Tulum Airbnbs For Couples
1. Penthouse w/ Private Jacuzzi & Views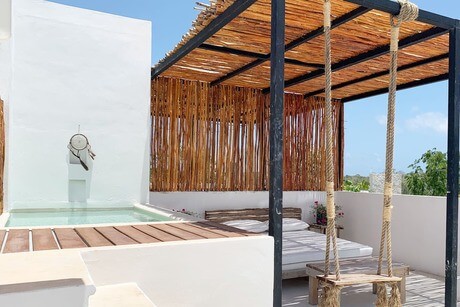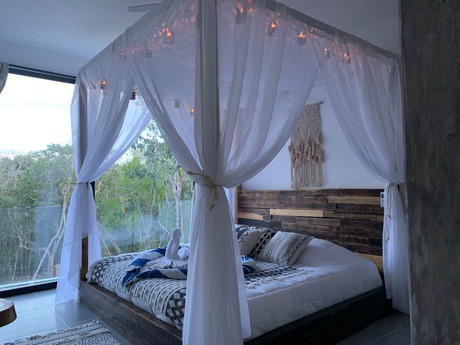 If you are traveling in Tulum as a couple, then you cannot miss this incredible penthouse. Its most stunning facility is unquestionably the rooftop, where guests will not only find a private jacuzzi, but also a 2-person bed, a swing, a grill, and a small outdoor living area.

Here guests can admire the beautiful surrounding jungle views, take an afternoon siesta (nap), cool down in the pool when it gets too hot, and enjoy a nice grill session.

You are most likely going to spend the majority of your time on the rooftop, but don't neglect the other beautiful areas of this vacation rental. In the two bedrooms, you will either find a king or queen bed, ready to rejuvenate you with the perfect night's rest.

There is also a fully-equipped kitchen with three bar chairs, a comfy living area and a 50″ flat-screen smart TV.

Since its location is quite secluded, guests will find the utmost peace and quiet in this stunning apartment. Guests are provided with free bikes so they can venture into Tulum center (5-10 minutes away) or Tulum beach (~3 miles away).

Maximum Occupancy: 7 Guests

Click here for more details!
---
2. Lia Penthouse w/ Private Rooftop & Plunge Pool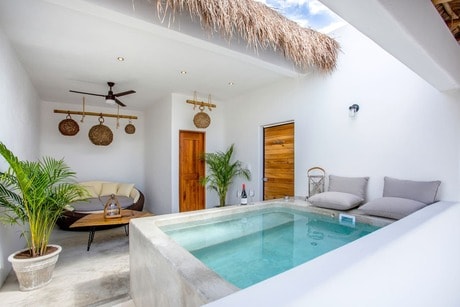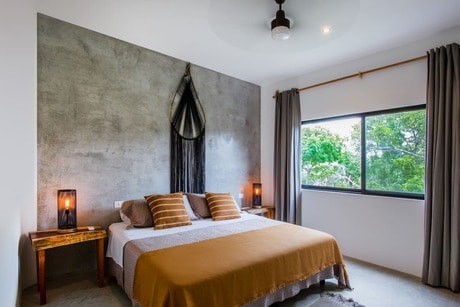 Featuring a beautiful cozy rooftop with a private plunge pool and a small seating area, Lia Penthouse is the perfect place for a glass of chilled wine and a romantic time with your partner. Coupled with incredible jungle views, if your partner doesn't swoon you, this place will!

After admiring the sunset on the rooftop, cozy up on one of the locally handmade pieces of furniture or cook some dinner in the fully-equipped kitchen.

Don't want to cook? 15 minutes away is the Tulum town center, where you will find great restaurants, bars, cafes and yoga wellness centers! Visitors can also rent a bike to shorten the duration!

Other notable features include the impressive 60Mbps WiFi, a 50″ flat-screen smart TV, a security guard, and two of the comfortable beds you will ever lay on in your life!

Maximum Occupancy: 3 Guests

Click here to find more features and availabilities of this Airbnb!
---
3. Romantic Suite w/ Private Pool & Chef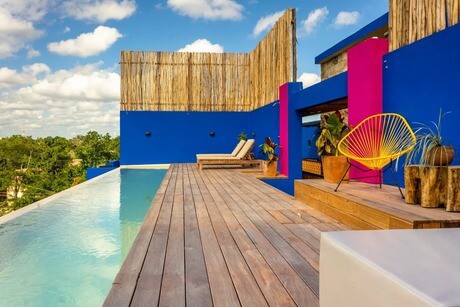 Named Folkare Tulum, this romantic 1-bedroom suite is the perfect Airbnb in Tulum for travelers looking for a memorable experience.

Designed with comfort and authenticity in mind, this small villa is sure to impress. Guests will find the abundance of natural light and the spacious living area refreshing. Relax on the comfortable couches while watching something on the 55″ smart TV or listening to music on the Bluetooth speaker.

Beside the living room is a fully-equipped kitchen with a 4-seater dining space, ideal for small gatherings or families. After you have passed the dining and living area, you will arrive at the jewel of this Tulum Airbnb – a private heated hot tub in the middle of the space.

In the daytime, this area gets an ample amount of light, perfect for relaxing or sun tanning in your privacy. There is also a hammock for guests to just sit and enjoy a cup of coffee or read a book.

After passing through the heated pool, you will arrive at the master bedroom, where you will find an irresistible king-size bed, air-conditioning, flat-screen TV and an ensuite bathroom with a rain shower.

Guests will also have access to the shared infinity pool at the roof of the building.

Maximum Occupancy: 3 Guests

Click here for more info!
---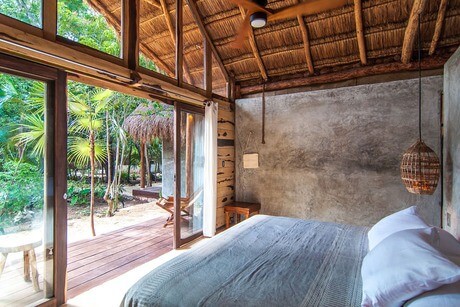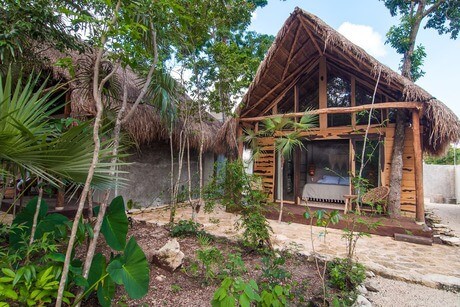 Is your idea of a romantic getaway staying in a small wooden hut surrounded by pristine nature? If so, then Acacia might just be what you are looking for. Nature lovers will find tranquility in this private cabin, which is made completely from natural and local materials.

With the utmost privacy and lack of distraction, guests can reconnect with themselves and enjoy a special moment with their loved ones. Though huts usually imply pretty rough living conditions, Acacia is quite luxurious.

Each cabin is equipped with high-speed WiFi, a very comfortable king-size bed, a spacious bathroom with organic products, a Nespresso coffee machine, A/C, a private patio, a hammock and much more. Bikes are also free for guests to borrow to explore Tulum and its surrounding areas.

Downtown Tulum is only 1 mile away and the beaches are approximately 4.5 miles away. Guests can enjoy their jungle getaway and still be not too far disconnected!

Maximum Occupancy: 2 Guests

Click here for more info!
---
5. 2-Story Penthouse + Private Pool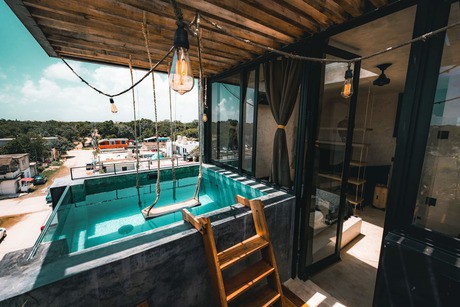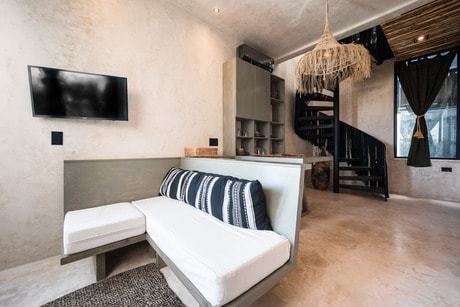 If you are seeking a romantic Airbnb in Tulum and want the most beautiful decor, then this 2-story penthouse at Esmeralda will mesmerize you!

Its most jaw-dropping feature is the private pool that overlooks parts of Tulum. Hovering slightly above the pool are two swings, where guests can sit, dip their legs in water, and feel the breeze against their wet bodies. It is one of the most beautiful photo spots in Tulum for sure.

The rest of the apartment does not disappoint. Stylishly decorated with locally-made furniture, this apartment is an eye candy and needs no hotel marketing. From the modern dining area to the L-shaped sofa, every element is meticulously constructed to provide guests with the best possible experience.

Bikes are also available for hire at this Airbnb. However, given its close proximity to Tulum center, you might not even need to (unless you are going to the beach or one of the nearby cenotes)!

Maximum Occupancy: 2 Guests

Click here for more information!
---
Like this post? Don't forget to save it on Pinterest!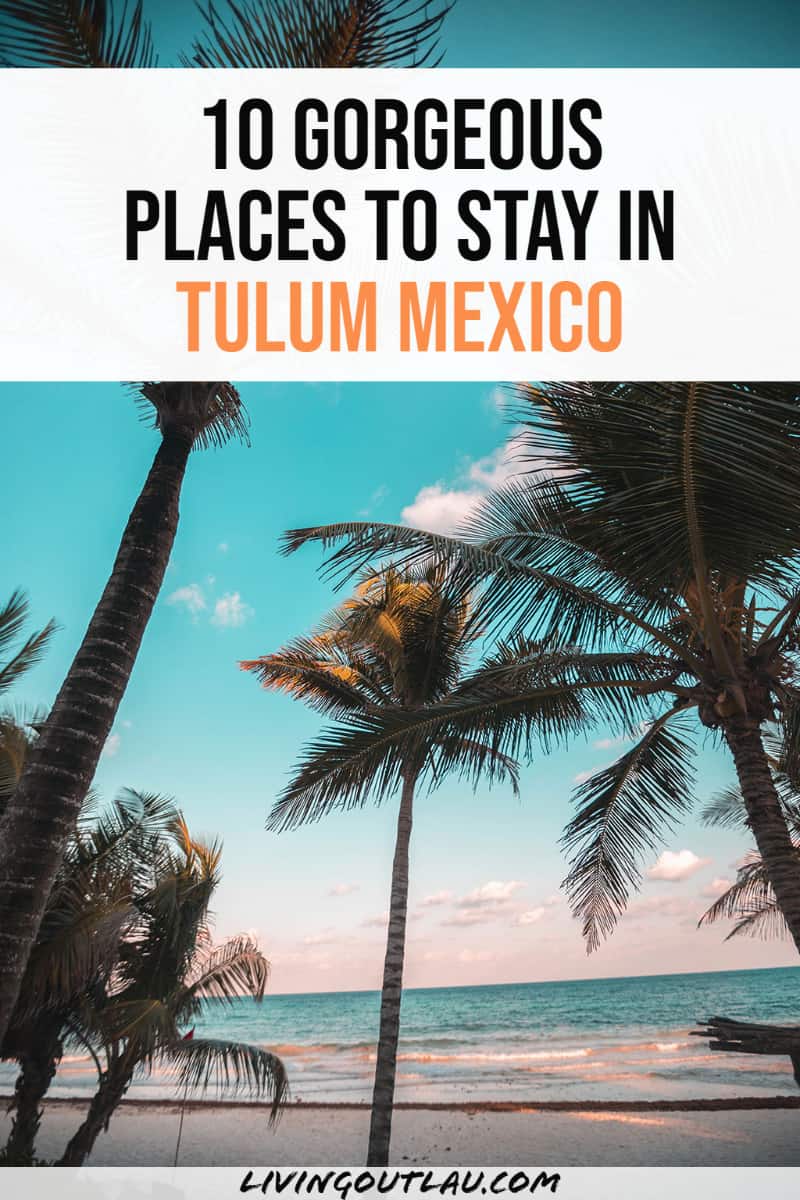 ---
With so many Airbnbs in Tulum, finding the perfect place to stay is not easy. We hope our Tulum guide has given you a good idea of the best places to stay in Tulum so you can enjoy the most out of your Mexico vacation!

Any questions? Leave a comment below!
Disclaimer: Some of the links above are affiliate links. That means if you book or make a purchase through the links, we will earn a small commission at no extra cost to you! The money will help run this site! Thank you!
All Images Of Properties Courtesy of Airbnb