The popularity of Cancun Mexico is undeniable. With pristine white-sand beaches, turquoise Caribbean waters, all-inclusive resorts, deep-rooted Mayan culture and incredible nightlife, it is no surprise why Cancun is consistently one of the top travel destinations in the world.

As a result of its popularity, Cancun is flooded with numerous hotels, resorts, and Airbnbs – some good, some great, and some just awful.

That is why we have written this guide on the best Airbnbs in Cancun Mexico, so you can easily decide where you want to stay for your Cancun getaway.

Without further ado, here are the 9 best Cancun Airbnbs!
Planning on exploring more of the Quintana Roo region? Make sure you check out the dreamy Airbnbs in Tulum!
---
Want A Quick Tip On The Overall Best Airbnb in Cancun Mexico?
Sea-Esta (Luxury Beachfront Penthouse)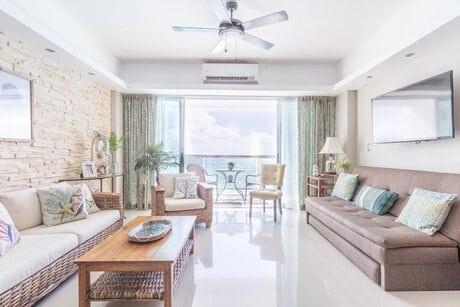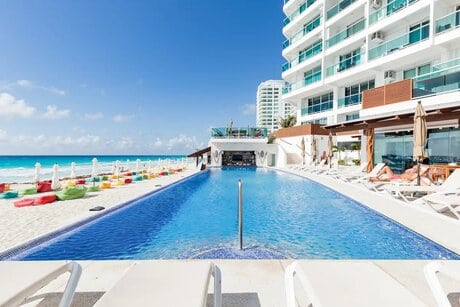 The Sea-Esta luxury beachfront penthouse is one of our favorite Airbnbs in Cancun. With a balance of modern and minimalist decor, the accommodation gives off a carefree vibe, complimenting the Caribbean atmosphere in Cancun.

The property can fit a total of 7 guests with its 2 bedrooms and 4 beds, but that might deteriorate the chill vibes of the Airbnb. The master bedroom has 1 king bed and 1 twin bed, perfect for families of three or just couples. The second bedroom has more beds and mattresses if needed.

When you are not drooling over the mesmerizing Caribbean waves from your balcony, guests can take advantage of the resort services or go in the sea. Relax in one of the sun loungers, grab a drink at one of their swim-up bars, or just take a dip in one of their infinity pools.

After a dramatic sunset, guests can take advantage of its prime location and explore the Hotel Zone, an area filled with top nightclubs such as Coco Bongo, delicious restaurants, and cute boutique shops.

With its great location, beautiful decor, and soothing vibe, this vacation home is the proper home away from home!

Maximum Occupancy: 7 Guests (1 king bed, 1 queen bed, 2 twin beds, 1 foam mattress.)
---
Best Airbnbs in Cancun For Luxury Travelers
1. The Quarry (Beachfront Penthouse)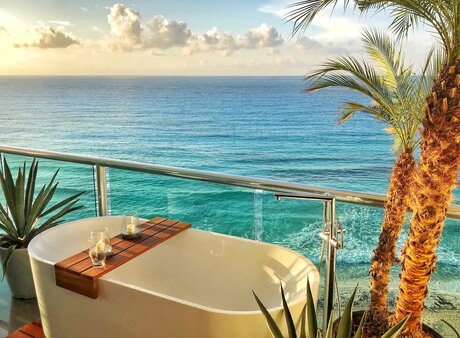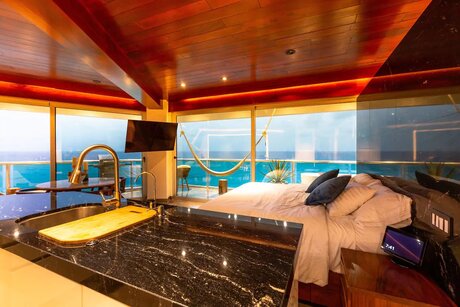 No list of Cancun Airbnbs would be complete without mentioning The Quarry, arguably the most luxurious accommodation in Cancun. Made with 70% marble, stepping into this Airbnb is like stepping into a palace, except this palace has jaw-dropping panoramic views of the pristine Caribbean Sea.

This beachfront penthouse is perfectly designed for couples who are looking for an extraordinary and private experience. Guests can enjoy private tanning session with the provided custom sun lounge beds. Better yet, soak in the outdoor bathtub located on the balcony, soothing your aching limbs and admiring the views.

This incredible Airbnb is located in the Hotel Zone, so you are within walking distance from the best nightclubs, restaurants, and shops of Cancun. Convenience and grocery stores are also located 5 minutes away, so guests are never deprived of options.

Surfin Burrito, a famous 24-hour burrito shop in Cancun, is adjacent to the property. Don't miss this local restaurant when you are in Cancun.

Maximum Occupancy: 2 Guests (1 king bed)

Click here for more details!
📖 Read More: When Is The Worst Time To Visit Cancun: Avoid These Months
---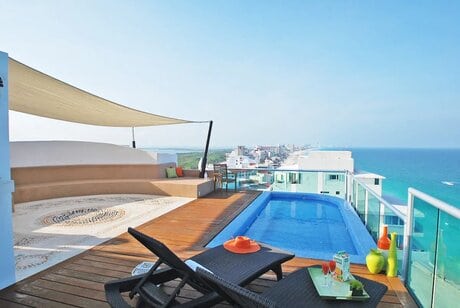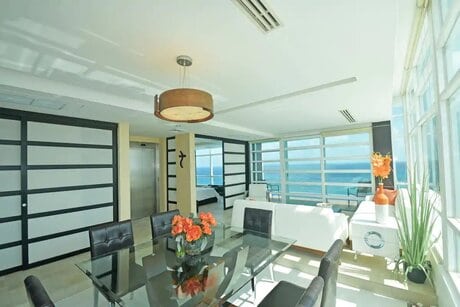 With two private swimming pools, 360-degree views, a hot tub, this penthouse Airbnb is one of the most luxurious accommodations in Cancun, Mexico!

Guests will have access to three floors in total, the roof with a small private pool and a sun lounging area, the main floor with the heated private pool and master suite, and the floor below with a queen-size bed and a private bathroom.

With so much space, this luxurious Cancun Airbnb is perfect for groups of friends, families, or even couples that want the best of Cancun.

Additionally, this penthouse is located in a resort, so guests can all access all of the resort's facilities, plus the VIP services only available to penthouse guests!

As guests to this penthouse, you will receive some additional features such as a free cooler for the beach, VIP access to nightclubs and homemade Mexican food delivered to the door! Anyone traveling to Cancun with kids can also take advantage of their babysitting services!

Maximum Occupancy: 6 guests (2 beds, 2 bedrooms)

Find out more features of this Airbnb here!
---
Best Cancun Airbnbs For Families Or Groups
1. Deluxe Three-Bedroom Beach Villa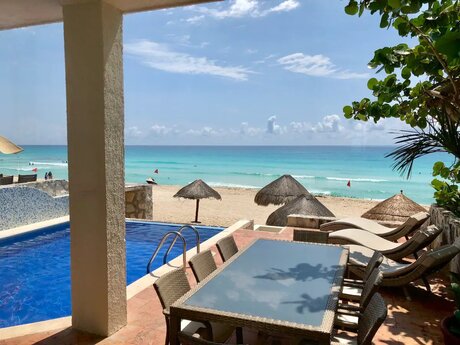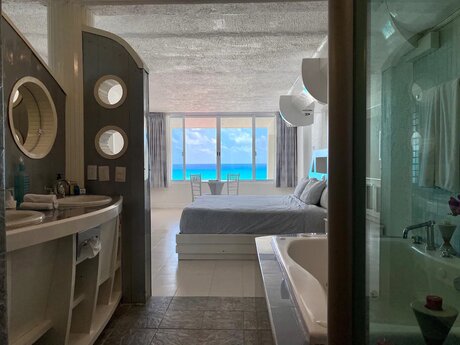 Traveling with a group of friends or a large family? Worry not. This private villa in Cancun have you covered!

Featuring a total of 3 bedrooms, 2 king, 1 queen and 2 double beds, this Airbnb in Cancun can accommodate up to 8 guests comfortably! Unlike most hotels where although there are enough beds, the common areas are really restricting. This isn't the case in this deluxe beach villa.

With 3 bathrooms, a huge living room, and an outdoor terrace with an infinity pool and sun loungers, guests can have the utmost enjoyment here. Did we mention that it is also located on one of the most beautiful stretches of beach in Cancun?
And if the beaches in Cancun are filled with seaweed, this property is situated from some of the best cenotes near Cancun!

Its family-friendly neighborhood away from the crazy Cancun nightlife will allow guests to have the proper family vacation they need.

However, if you do decide to visit the heart of the nightlife, you are no more than 10 to 15 minutes away. Here, you can have the best of both worlds!

Maximum Occupancy: 8 guests (4 beds)

Click here for more information!
Read More: Best Souvenirs From Cancun!
---
2. Exclusive Unique Villa, Few Steps From Beach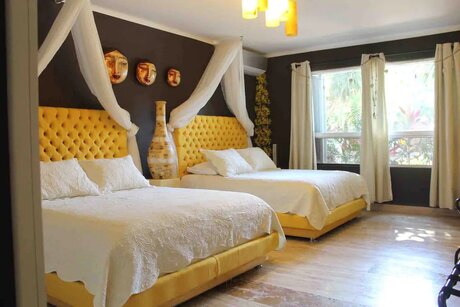 If not having a private pool for your villa isn't a big issue for you, then consider this exclusive unique villa. Featuring 6 queen size beds in a total of 3 bedrooms, this Cancun villa can accommodate up to 10 guests!

With their spacious living room and three differently decorated bedrooms and a private terrace, guests will find enough personal space in this villa even if they are traveling with several other people.

This villa is part of a bigger property, so guests will have access to the shared public spaces such as the outdoor swimming pool and sun lounging area. If you fancy a dip in the sea, it is only a few steps away from the property!

This villa is a great option if you are traveling with a big group of people, especially for how affordable it is!

Maximum Occupancy: 10 Guests (3 bedrooms, 6 queen beds)

Click here for more info!
---
Best Cancun Airbnbs For Couples
1. Beachfront Studio In Hotel Zone Cancun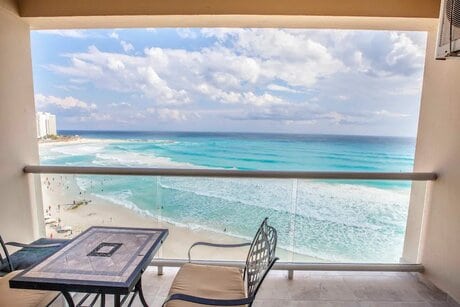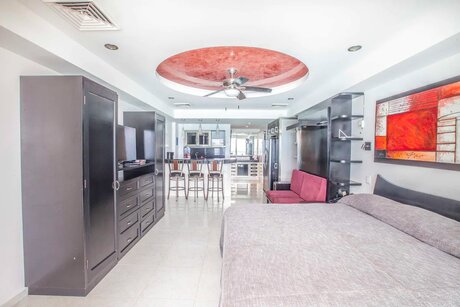 If your idea of a romantic getaway is going out at night and lounging in the sun in the day time, then this Airbnb will be perfect for you. Located within walking distance from the best Cancun attractions such as nightclubs and bars, there won't be a single dull moment on your Cancun trip.

Featuring a king-size bed and a couch that could turn into a queen-size bed, there is ample space in this studio. Anyone who likes to cook can take advantage of the fully-equipped kitchen, but if you don't, there are plenty of amazing eateries near you.

Guests can enjoy the private terrace that gets plenty of sun in the daytime, perfect for sun tanning or just lounging around. Because this Airbnb is part of a bigger resort, guests can enjoy many of the resort's facilities, such as a swimming pool, gym, sun loungers and umbrellas, a restaurant, bar and many more.

Maximum Occupancy: 4 guests

Click here for more details!
---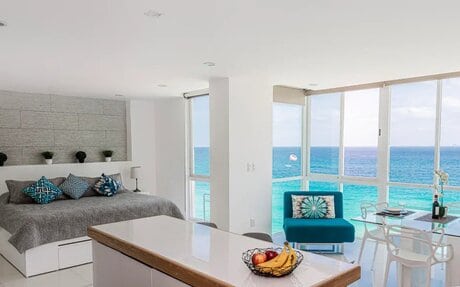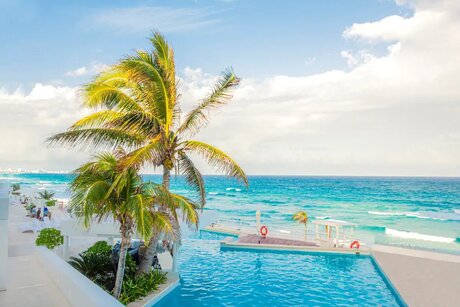 This ocean view studio is the perfect Airbnb in Cancun for couples. Featuring floor-high windows, plenty of sunlight and a small but intimate place, guests can find their paradise in this Caribbean town.

When you are not enjoying this intimate space, head down to the resort area, where you will have access to the pool, jacuzzi, and a private beach with sunbeds and umbrellas.

Located near Navios, this area is much more peaceful than the hotel strip with all the night clubs. Here you can properly enjoy your loved one's company, the beautiful natural paradise of Cancun and its fantastic resort services!

If you do wish to explore other parts of Cancun such as the nightlife area, there is a bus stop in front of the resort. Alternatively, you can call an Uber, which will be cheap and much quicker.

Maximum Occupancy: 5 Guests (1 king bed, 1 pull-out queen bed, couch)

Click here for more details!
Do you like beach views? Make sure you check out the stunning beach hotels in Tulum, Mexico!
---
Best Airbnbs in Cancun For Budget Travelers
1. Ocean View Studio w/ Balcony On Best Beach In Cancun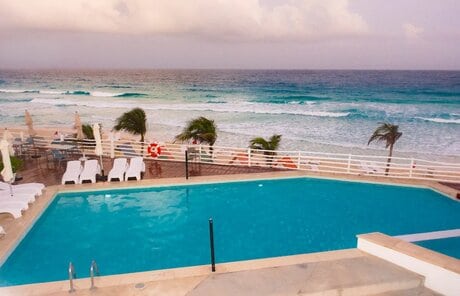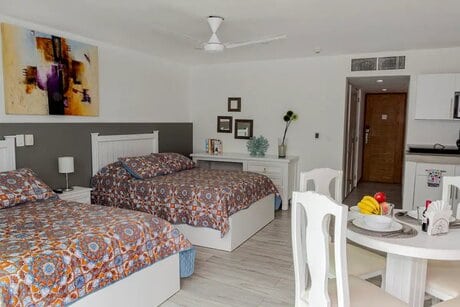 If you are looking for an excellent Airbnb in Cancun that overlooks the most serene beach in the area, then this ocean view studio will suit your needs. Here guests will find a peaceful haven in the popular resort town of Cancun.

The studio features two double beds and one roll-out twin bed, so it can fit up to 5 guests in total, perfect for anyone traveling to Cancun with family. However, if you are a couple, you will enjoy the additional space and privacy.

The modern and clean decor will never dull. But if you do seek a much stunning visual, the balcony in the studio overlooks the resort area (which you have access to), turquoise water, white sand and Nichupte Lagoon.

By being a part of the resort area, guests will have access to the pool, jacuzzi, a private beach, their sunbeds and sunroofs.

The area is also close to many restaurants and small grocery shops, as well as a bus stop that gives guests access to the entire city. The heart of Cancun's nightlife is only 20 minutes away. Many Cancun tours can also be found in close vicinity.

Maximum Occupancy: 5 Guests (2 double beds & 1 twin bed)

Click here for more info!
---
2. Luxury Beachfront & Pool Studio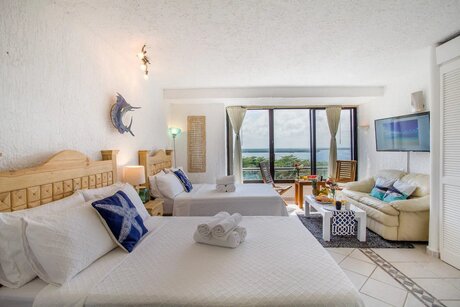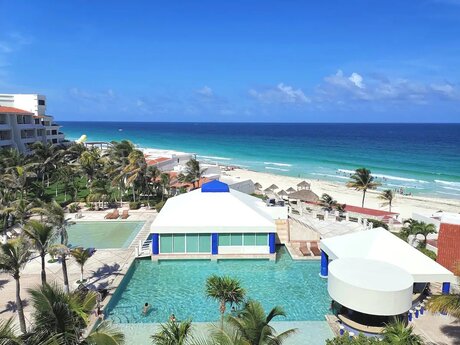 Traveling to Cancun on a budget doesn't mean you have to stay away from the beach. This compact studio is perfect for anyone that don't want to spend lots of money but still want the luxury of staying close to one of the best beaches in Cancun.

With 2 double beds, the maximum capacity of this Airbnb is actually 4 people. However, we would advise against doing that, as there is a general lack of common space (unless it's like a family of three).

Because this studio is part of a bigger resort, guests will have access to its swimming pool, private beach area, swim-up bar, gardens, tennis court, beach volleyball court, restaurants and many more.

Many restaurants and grocery stores are located near the accommodation, perfect for anyone that wants to get away from the expensive resort food. If you want to venture into town, there is a bus stop right in front of the resort.

Maximum Occupancy: 4 Guests (2 double beds)

Click here for availability and more details!
---
Like this post? Don't forget to save it on Pinterest! ?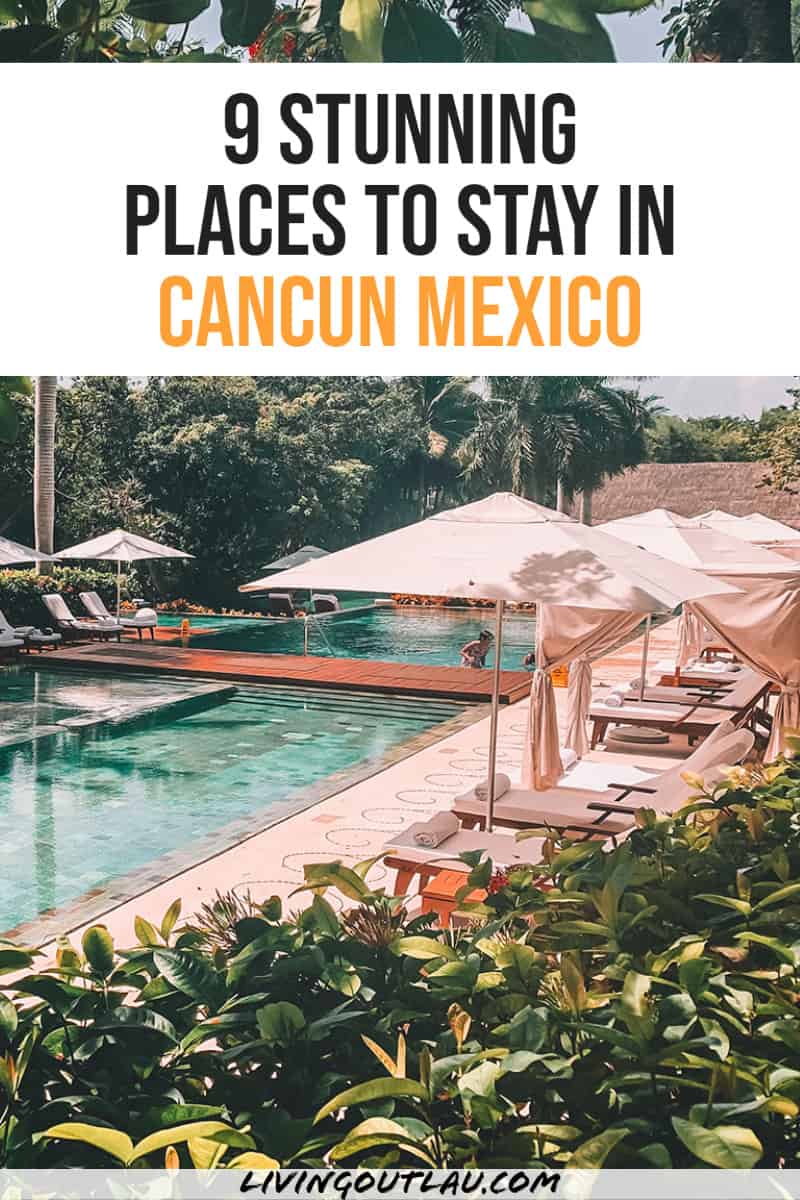 ---
With so many Airbnbs in Cancun, finding the perfect one is not easy. We hope our Cancun guide has helped you alleviate some of the headaches when picking a place to stay in Cancun!

Any questions? Leave a comment below!
Disclaimer: Some of the links above are affiliate links. That means if you book or make a purchase through the links, we will earn a small commission at no extra cost to you! The money will help run this site! Thank you!
All Images Of Properties Courtesy of Airbnb