If you are planning a trip to Tulum in October, you must wonder what the weather is like.
After all, Tulum is filled with natural wonders that need to be complemented with great weather. Otherwise, the beautiful beaches, cenotes, and Mayan Ruins of Tulum are not going to be as nice, or maybe even inaccessible.
Unfortunately, October is not one of the best times to visit Tulum. It is the transition month between Tulum's wet season and dry season, which means the weather is unpredictable and there's a high chance of rain and hurricanes.
But there are definitely pros to visiting during this month of Tulum's low season, so read on to find out how you can make the most out of your trip and what you can do in October!
---
Weather in Tulum In October – Quick Glance
| | | |
| --- | --- | --- |
| Average Temperature | 27 ℃ | 81 ℉ |
| Average Highs | 30 ℃ | 86 ℉ |
| Average Lows | 24 ℃ | 75 ℉ |
| Average Day Temperature | 27.2 ℃ | 81 ℉ |
| Average Night Temperature | 24.5 ℃ | 76 ℉ |
| Average Sea Temperature | 29 ℃ | 84 ℉ |
| Average Sunshine Hours Per Day | 6 Hours | |
| Average Monthly Rainfall | 202 mm | 8.7 in |
| Average Rain days | 14 days | |
| Average Daylight | 11.5 to 12 hours | |
| Average Humidity | 81% | |
Credit: Holiday Weather, Time and Date, Climate Data
The weather in Tulum in October is starting to cool down. Compared to the summer months such as June, July, August, and September. The temperature is much cooler, making it much more tolerable to explore the outdoors in Tulum.
But still, October is the heart of the rain season in Tulum, and visitors will have a nearly 50 percent chance to see rain on any given day. Besides being the rain season, it is also the hurricane season, which could wreck your entire vacation without much warning.
October is the transition month between Mexico's wet season and dry season, meaning that the weather gets gradually better throughout the month. Visiting in late October is more likely to guarantee you better weather than early October.
Temperature in Tulum in October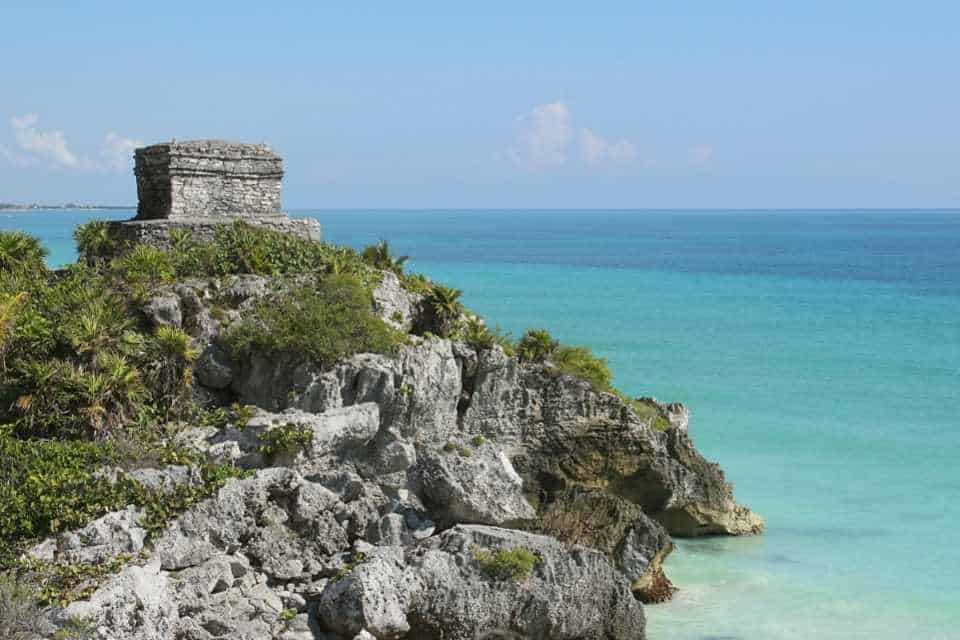 The average high temperature in Tulum in October is quite lovely at 30 ℃ (86 ℉). This is the perfect temperature for exploring the Mayan Ruins near Tulum, jumping into the cenotes, or even hanging out at the beach.
However, October is one of the wettest months in Tulum, which means the humidity will cause you to sweat like crazy. Though the temperature itself isn't too high. With the combination of the 81 percent average humidity, it is certainly going to feel much hotter.
This level of humidity will make you feel like you need a shower, right after you get out of the shower.
The temperature and humidity get more tolerable as the month goes by, so this is something to consider when planning your trip to Tulum.
The night time average temperature is glorious in Tulum. At an average of 24.5 ℃, the weather is just warm enough to go out at night in a t-shirt and shorts or a flowy dress. You are unlikely going to need something warmer, even if you are by the beach.
The sea temperature is at 29℃ (84 ℉), which is a little bit higher than the ideal sea water temperature. Though it is quite warm, it will still feel nice compared to the hot weather outside.
Precipitation in Tulum in October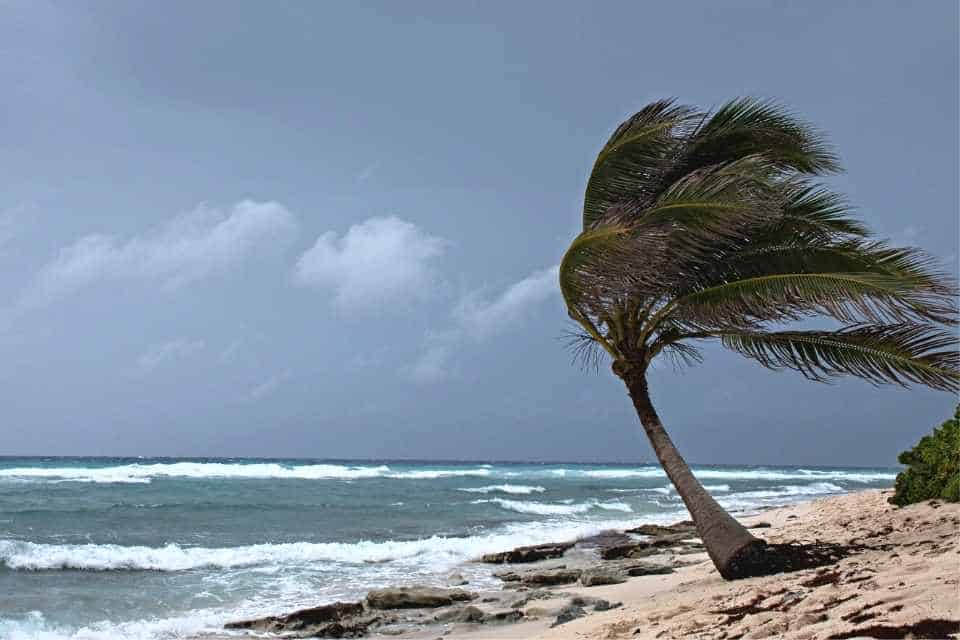 One of the biggest disadvantages of visiting Tulum in October is because of its precipitation. October is one of the wettest months in Tulum, though it does get a bit better towards the end of the month.
Out of the 30 days in the month, you can expect to see rain in around 14 of them, which is nearly half of the month. But when it rains in Tulum, it rains like in any tropical place – short but powerful bursts. This could be annoying when you are trying to follow your Tulum itinerary, but you'll still be able to see the places you want.
But what might stop your vacation in Tulum is the hurricanes. Early to mid-October is considered the heart of the hurricane season. It is not uncommon for a hurricane to ravage the Caribbean Coast of Mexico, ending many vacations short.
In 2021, Hurricane Grace annihilated the Caribbean coast of the Yucatan Peninsula, causing power outages and massive damage.
The worst is that this natural disaster is quite hard to predict, no matter how much planning you have done,
Sunshine in Tulum in October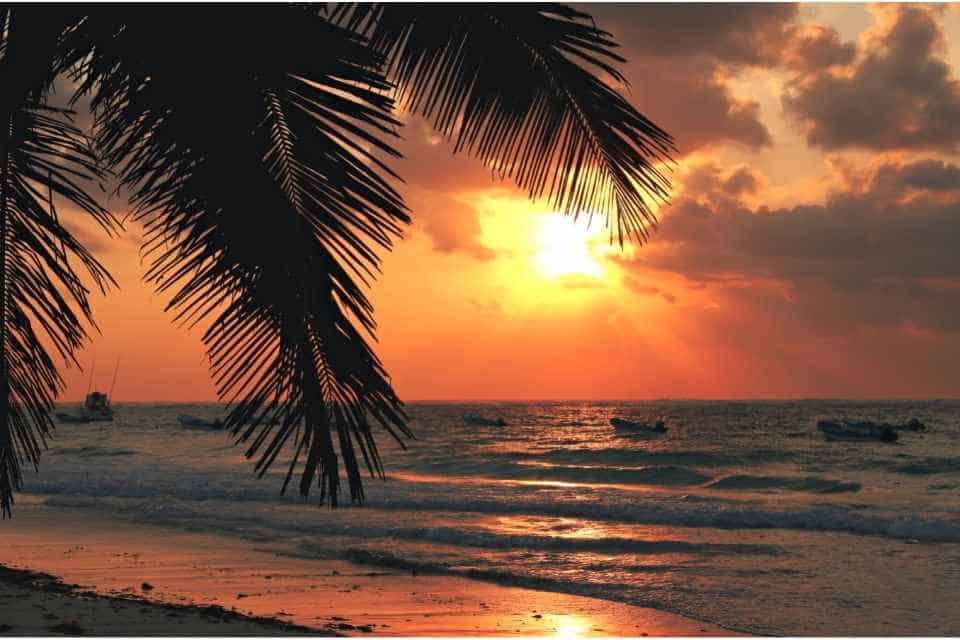 There is an average of six hours of sunshine per day in Tulum in October. With about 11.5 hours to 12 hours of daylight per day, and an average of six hours of sunshine per day, more than half the day is sunny. This certainly isn't bad considering the weather forecasts for about half the days in October to rain.
This is also another indicator that the rain in Tulum comes in short bursts.
Visitors are still able to enjoy some of the finest outdoor attractions in Tulum, whether that is exploring the ruins, going sunbathing, or trying one of the water sports such as snorkeling or diving.
---
Sargassum Seaweed In Tulum in OCtober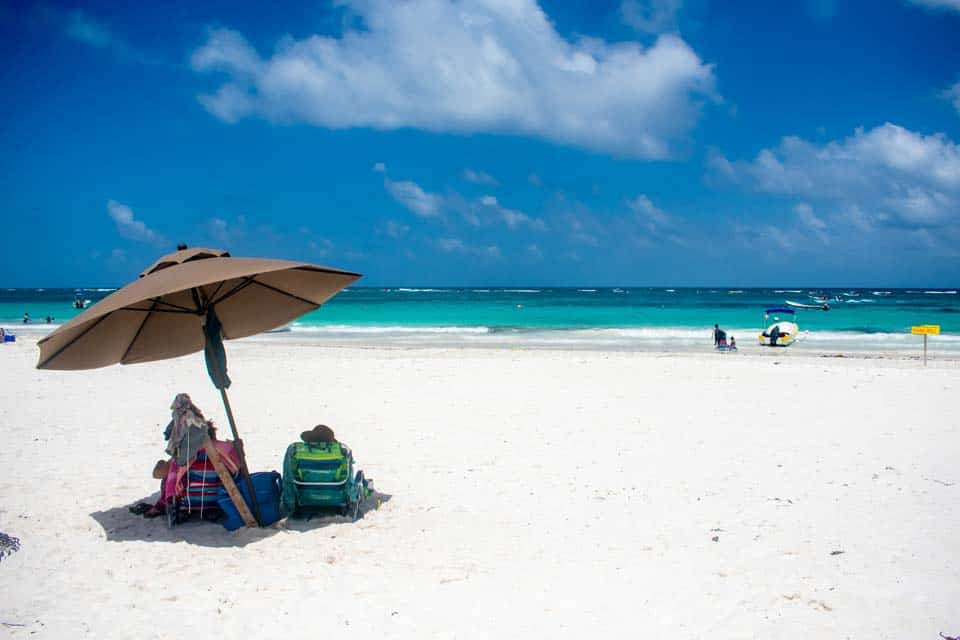 The good news is that visitors are not likely to encounter the nasty sargassum seaweed in Tulum in October. The sargassum seaweed has plagued the beautiful beaches of Tulum for many years now, giving them a sulfur-like smell and covering up the beautiful white sand. It also turns the clear blue water of the Caribbean Sea into a murky brown.
The sargassum situation in Cancun and Tulum has been getting worse throughout the years, partly due to the effects of global warming. But luckily, the sargassum season usually lasts from April to August, give or take 1 to 2 months depending on the year's weather patterns.
It is unlikely (but not impossible) that you will encounter seaweed when visiting Tulum in October.
Luckily, there are parts of Tulum Beach that are owned by private hotels, and they hire someone to clean up the seaweed every day. So if it is an issue, you could easily stay in one of the nice hotels in Tulum Beach Zone.
If you visit Tulum in October and encounter sargassum seaweeds, consider swimming in the cenotes in Tulum instead. These freshwater sinkholes are picturesque and always perfect for swimming.
---
Pros of Visiting Tulum in October
Though the weather isn't the best in Tulum in October, there are some pros to visiting Tulum in October.
Flights and Hotels Are Cheaper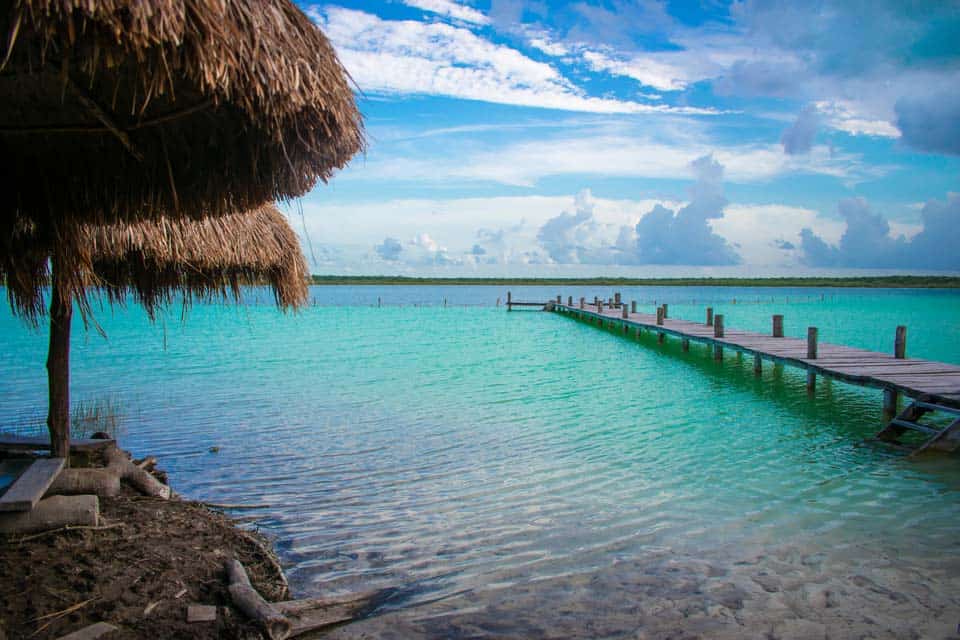 Because of the sub-optimal weather and the threat of hurricanes, flights and hotels are often less in demand in October than any other month of the year. October is the month with the fewest number of tourists in Tulum.
So what a lot of the tour agencies and hotels do is lower the prices to attract the small pool of tourists. This means you'll have an easier time booking some of the most iconic hotels in Tulum at a more affordable rate!
The bonus is that all the overcrowded places in Tulum won't be so busy anymore. You can see some of the most beautiful cenotes in Riviera Maya without getting smacked in the face by a selfie stick! What a relief!
Day of The Dead Celebration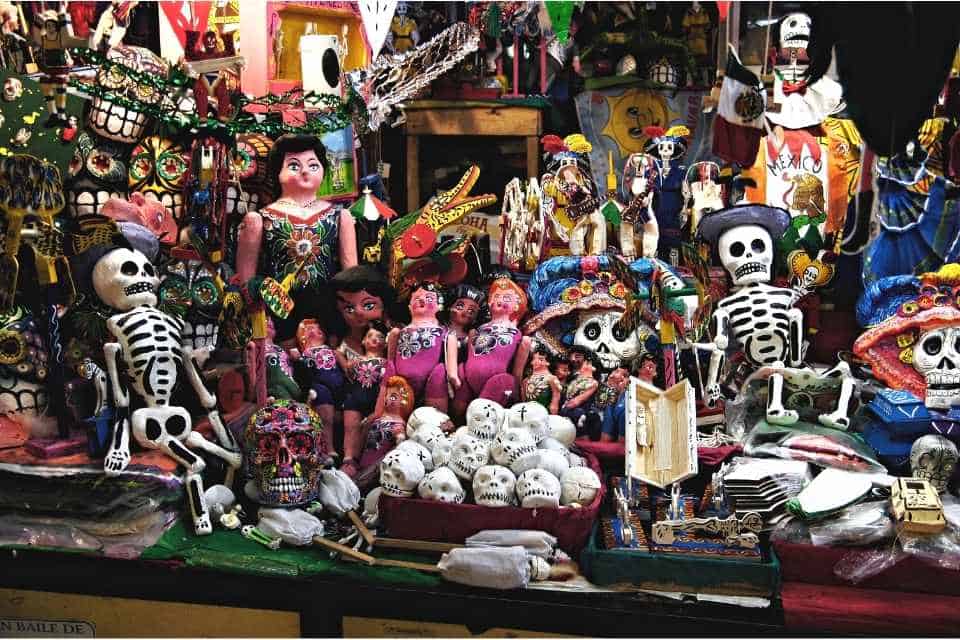 Day of the Dead (Dia de Los Muertos) is arguably the biggest celebration in Mexico. This holiday is usually celebrated from October 31st to November 2nd, but the festivities and preparation can begin weeks before that.
This holiday is celebrated with lots of music, dancing, parades, costumes, and etc.
Mexicans believe that death is just part of life, and all parts of life need to be celebrated. They also believe that Day of the Dead is when the loved ones come back to the alive world to be with them. That means it is time to party with them!
Turtle Festival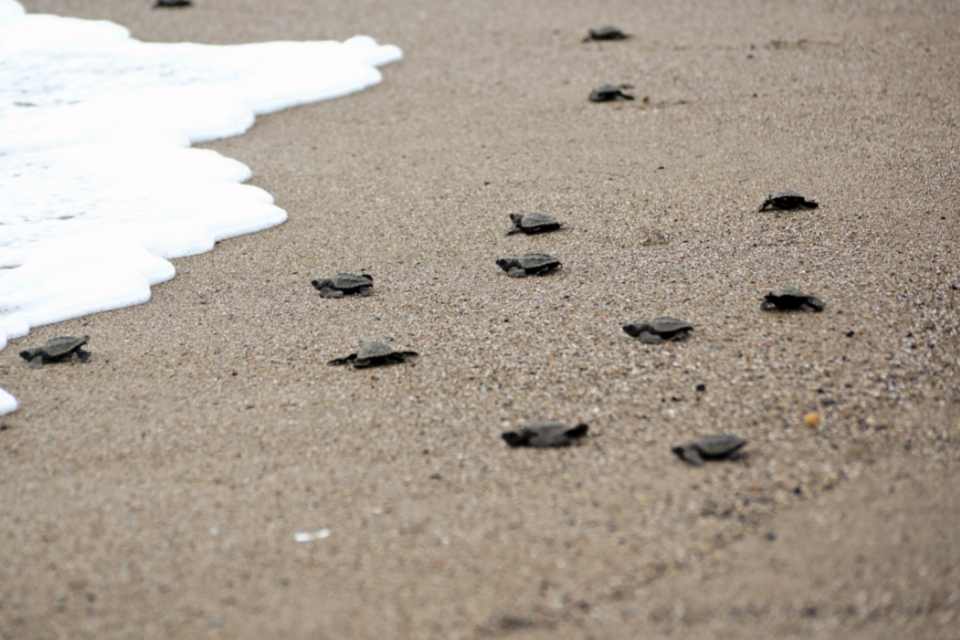 The Turtle Festival is an annual festival that occurs on the Caribbean Coast of the Riviera Maya. It is an event that aids to educate others about the sea turtles, an endangered species that call the Riviera Maya home. Events include sea turtle hatchling release, Maya ceremony, music, carnival and more!
---
Cons of Visiting Tulum in October
Visiting Tulum in October has a lot of disadvantages, here are some of the biggest ones.
You Won't See Whale Sharks or Turtles Nesting
One of the biggest attractions in Tulum is the chance to see two endangered species – whale sharks and sea turtles. Between the months of June and August, you are nearly guaranteed to see them in the sea. But whale sharks start to leave this area in September, and by October, they are completely gone.
October is also the last month to see turtles nesting. They begin nesting on the beaches of the Riviera Maya near the end of May, and finish around mid-October. If you are visiting Tulum in October, there might be a chance they are already done nestling.
However, you can still see baby turtles hatch and run into the sea in October.
The Weather Is Just Not Optimal For Sightseeing
October is a very rainy month. Combined with the high humidity and the chance of hurricanes, the weather for sightseeing in Tulum is just not ideal. When it isn't raining, the high temperature and humidity can dehydrate you, making it very uncomfortable or even deadly if you are outdoors for an extended amount of time.
Many of the outdoor attractions in Riviera Maya have no shade, so heat-related illnesses can occur. Though you are unlikely to get heat stroke in Tulum compared to the summer months, it can still happen.
And if you get really unlucky, a hurricane could come through and completely ruin your trip!
Solo Travelers Might Not Find Anyone to Socialize
Besides the unpredictable weather, October is a great month for sightseeing because there are fewer tourists. However, solo travelers might find the lack of travelers to be quite boring. If you are a solo traveler and are looking to meet other travelers in Tulum, you might have a harder time doing so during October.
If are traveling solo in Tulum in October, try to stay in one of the more popular hostels in Tulum. Even in the low season, you should be able to mingle with other guests!
---
Tulum in October FAQs
Is October a good time to go to Tulum?
October is not the best time to go to Tulum since it is the heart of the rain and hurricane season. This is the transition month between Tulum's wet season and dry season, so the weather can be unpredictable.
When is hurricane season in Tulum?
Hurricane season in Tulum usually starts around July and lasts until about late October. The months you are most likely going to see hurricanes are August, September, and early October
Is it rainy in Tulum in October?
Yes, October is the second rainiest month in Tulum, just barely behind September. You have a nearly 50 percent chance of seeing rain every day, but the rain often comes in short bursts and doesn't interfere much with sightseeing.
Is October low season in Tulum?
October is one of the lowest seasons in Tulum. The weather is not the best and the American crowd has subsided. This is the time when you'll get good hotel deals and cheap flights.
---
Explore Tulum By Month
---
Final Verdict
October is certainly not the best time to visit Tulum, but that doesn't mean you can't have a good time. The smaller crowd in October makes enjoying some of the best attractions in Tulum much more pleasant, but visitors must prepare themselves for the weather and potential storms.
Though if you have the flexibility, we would recommend you to visit Tulum in another month, such as April!
Disclaimer: Some of the links above are affiliate links. That means if you book or make a purchase through the links, we will earn a small commission at no extra cost to you! The money will help run this site! Thank you!