Are you planning a trip to Tulum in March? Not sure if the weather in Tulum in March is nice?
March is one of the best months to visit Tulum. It is in the middle of the dry season, which means visitors are likely to see clear skies and beautiful weather. You can expect warm temperatures that are just perfect for exploring the outdoors. However, March is also one of the busiest months in Tulum, thanks to Spring Break holiday.
Though there are plenty of pros, there are also plenty of cons to visiting Tulum in March. In our guide, you'll find out everything you need to know about Tulum in March!
---
Weather in Tulum In March – Quick Glance
| | | |
| --- | --- | --- |
| Average Temperature | 25 ℃ | 77 ℉ |
| Average Highs | 28 ℃ | 82 ℉ |
| Average Lows | 22 ℃ | 72 ℉ |
| Average Day Temperature | 26.4 ℃ | 80 ℉ |
| Average Night Temperature | 22.9 ℃ | 73 ℉ |
| Average Sea Temperature | 26 ℃ | 79 ℉ |
| Average Sunshine Hours Per Day | 8 Hours | |
| Average Monthly Rainfall | 37 mm | 1.45 in |
| Average Rain days | 4 days | |
| Average Daylight | 12 hours | |
| Average Humidity | 72% | |
Credit: Holiday Weather, Time and Date
Since most of the attractions in Tulum involve the outdoors, it is one of the biggest factors when considering when you should visit Tulum.
Luckily, as part of the dry season, the weather in Tulum in March is near perfect. It is one of the least rainy months of the year, and the weather is warm, but not too warm.
With weather like this, it is one of the best times to enjoy the natural attractions in Tulum, whether that'd be the cenotes, beaches, ruins, or adventure parks.
March is outside Tulum's hurricane season, which is also a good thing knowing a hurricane can't just show up and mess up your itinerary.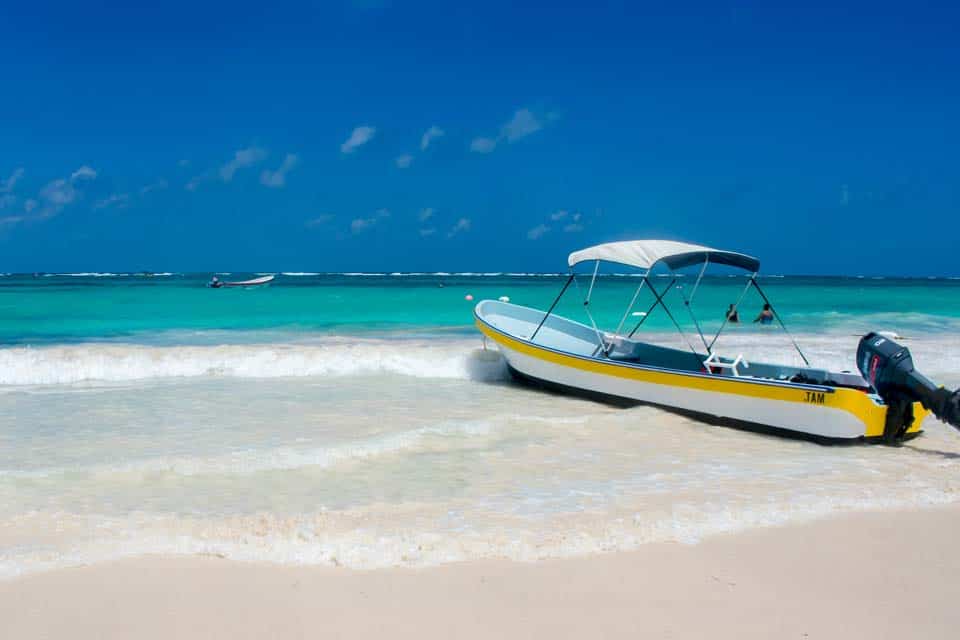 Temperature in Tulum in March
The temperature in Tulum in March is comfortable. It isn't as cold as months like January and February, and it isn't as warm as months like June and July. The moderate temperature means that it is suitable for all kinds of activities.
Still, we are talking about Mexico and the Yucatan Peninsula. The average high temperature in March is around 28 ℃ or 82 ℉. No matter if you are sunbathing on the beaches in Tulum or climbing up Coba Ruins, you'll find that the weather complements the activity.
The average night temperature is beautiful at 22.9 ℃ or 73 ℉. This might be a bit too cold for just a tank top and shorts combo, especially if you are going to be by the sea at night. Make sure you pack a light jacket when you visit in March.
But in general, this cool temperature is perfect for enjoying the nightlife in Tulum.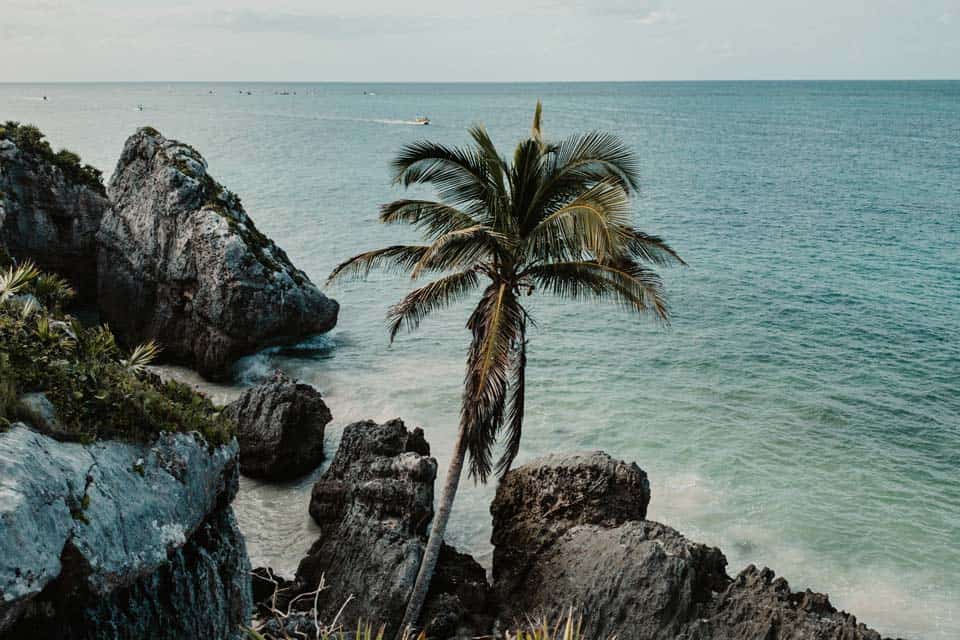 The sea temperature is starting to warm up from the winter months and is now at an average of around 26 ℃ or 79 ℉ for swimming. This is usually slightly cooler than the outside air, perfect for cooling down (if you need to).
At this temperature, it is super comfortable to go swimming or enjoy watersports such as snorkeling and scuba diving. The water visibility is also really high at this time of the year!
Precipitation in Tulum in March
March is the middle of spring in many parts of the world, and that is usually accompanied by lots of rain. Luckily, March is the driest month in Tulum, receiving on average about 37mm of rain in 4 days.
To put that in perspective, that is about 5 to 9 hours of heavy rain in the entire month! Of course, it doesn't always rain heavily, but that just says how little rain Tulum gets in March.
Sunshine in Tulum in March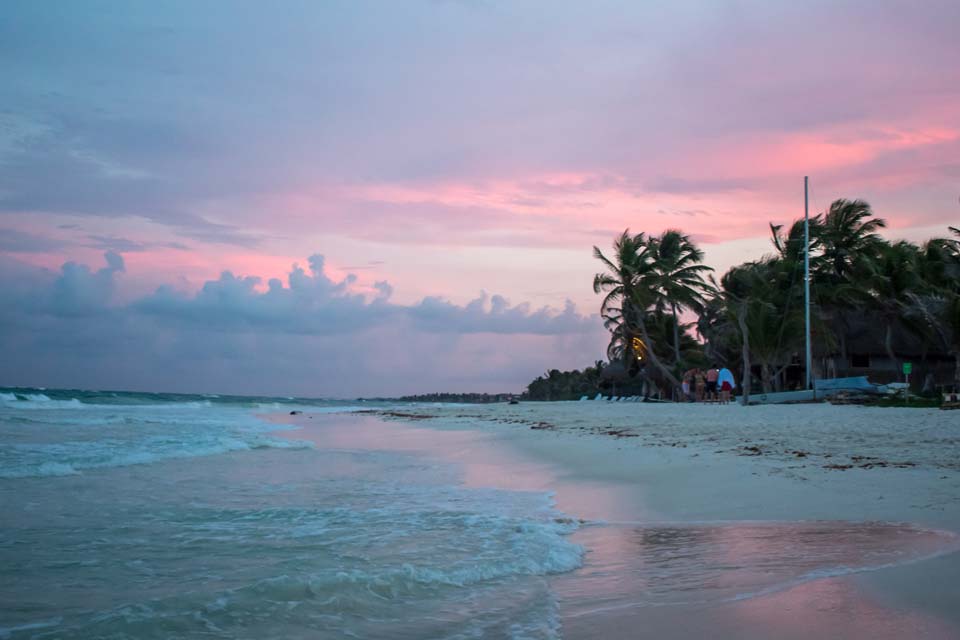 Thanks to Tulum's clear weather in March, visitors can expect an average of 8 hours of sunshine per day.
During March, the sun usually rises from about 6:30 AM to 7 AM and sets at about 7 PM, giving visitors an average of 12 hours of daylight per day to explore Tulum and its attractions.
So in other words – there is plenty of sunshine and lots of daylight for taking day trips, such as to Chichen Itza (one of the Seven Wonders of the World), or to other places such as Playa del Carmen and Cancun.
The plentiful sunshine in March is perfect for enjoying the beaches and cenotes in Tulum, where visitors can get a refreshing swim if it ever gets too hot!
Humidity in Tulum in March
The average humidity in Tulum in March is 72%.
Though that might seem quite high, it is actually the lowest humidity in the entire year. With this humidity, visitors will feel that the air is "muggy". There is not much visitors can do about this, since Tulum has a tropical climate and is situated next to the Caribbean Sea.
If you are not used to this humidity, you should know that it makes the temperature feel much hotter than it actually is. Though the temperature is moderately warm, the humidity will make you sweat a lot in Tulum. Stay hydrated and take breaks from the sun if you need to.
---
Sargassum Seaweed In Tulum in March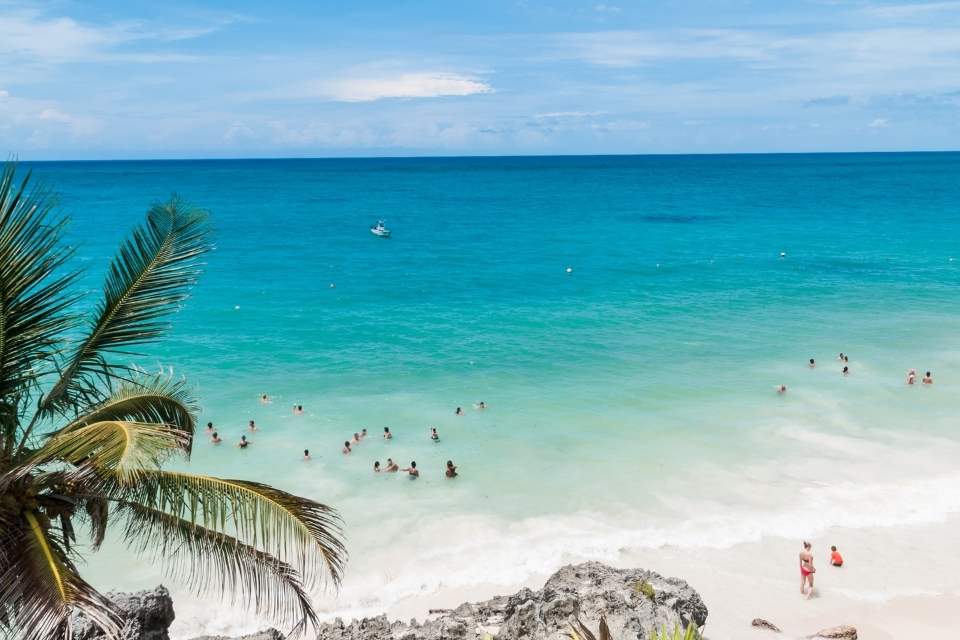 If you are visiting Tulum, you'll want to enjoy the stunning Caribbean beaches with their glistening waters and dreamy white sand. But since a few years ago, the sargassum seaweed situation has gotten a little out of control.
So is there seaweed in Tulum in March?
Typically no. The sargassum seaweed in Tulum usually arrives in early April and peaks in June. Though visitors are unlikely to find seaweed during March, it isn't impossible. The seaweed is a result of algae bloom from the warming of the ocean, and if the sea is warmer than usual, sargassum seaweed is totally possible in March.
Early March has a better forecast when it comes to not encountering seaweed on the beach.
If you do happen to find the sulfur-smelling (rotten egg) seaweed, there is always the option of swimming in one of the cenotes instead. You can also stay at one of the hotels in the Hotel Beach Zone with a private beach. Those hotels hire someone to take out the seaweed daily.
---
Events in Tulum in March
Because of Spring Break and the influx of tourists, there are plenty of events happening in March – from epic parties to networking events to things like Temazcal and yoga.
But unfortunately, there is only one big cultural event in Tulum in March:
Spring Equinox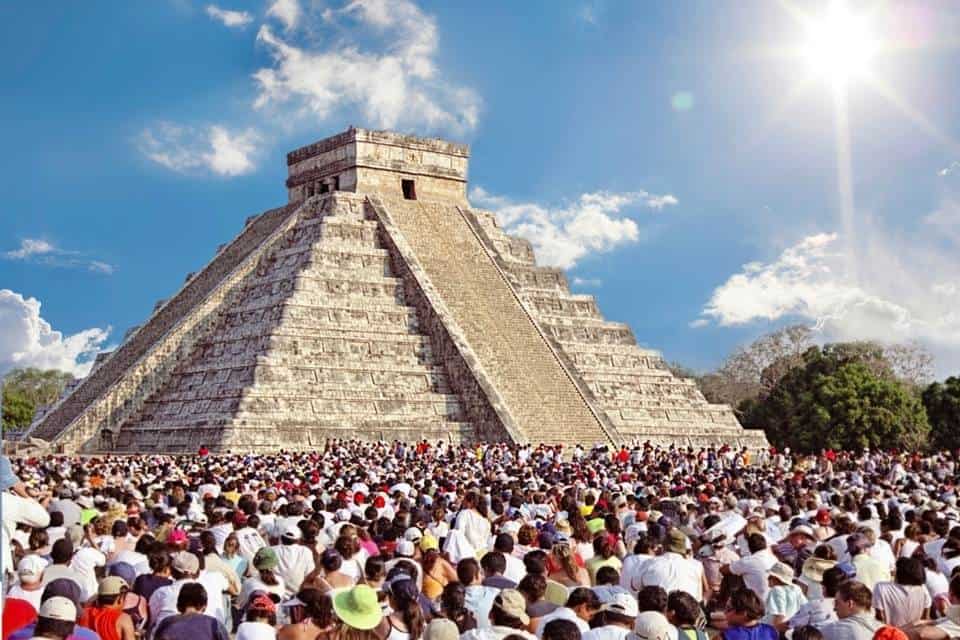 Spring Equinox occurs when the sun crosses the equator, marking the start of spring in the Northern Hemisphere. While this astronomical event has little significance in the day-to-day life of people around the world, it is a big deal in Tulum, especially in the nearby Chichen Itza Mayan ruins.
At Chichen Itza, the Mayans built a pyramid temple called the El Castillo. And during the spring equinox and fall equinox, the afternoon light hits the temple just in the right spot to create a shadow of Kukulkan (feathered serpent God) crawling down the side.
Using this, the Mayans were able to tell when the seasons when coming and the weather would change so they could plan their crops and more. It is the biggest event in Tulum in March and the archaeological site is usually filled with people at that time. Don't miss out!
---
Crowds In Tulum In March
Perhaps one of the factors travelers must consider when visiting Tulum in March is the crowd, which is one of the highest in the entire year.
Riviera Maya is one of the most popular destinations for Spring Breakers, and this usually happens near the end of March.
Americans and Canadians love coming down to Cancun, Playa del Carmen and Tulum during the Spring Break Holidays. University students are notorious for visiting this area during Spring Break, and with them usually come lots of ruckus, noise, and trouble.
Because of the Spring Break holidays, you might find that all the hotels, resorts, and hostels have been completely booked out. Tours and admission to adventure parks might also be fully booked. Plus, the attractions in Tulum are likely going to be full of tourists, which diminishes their natural beauty!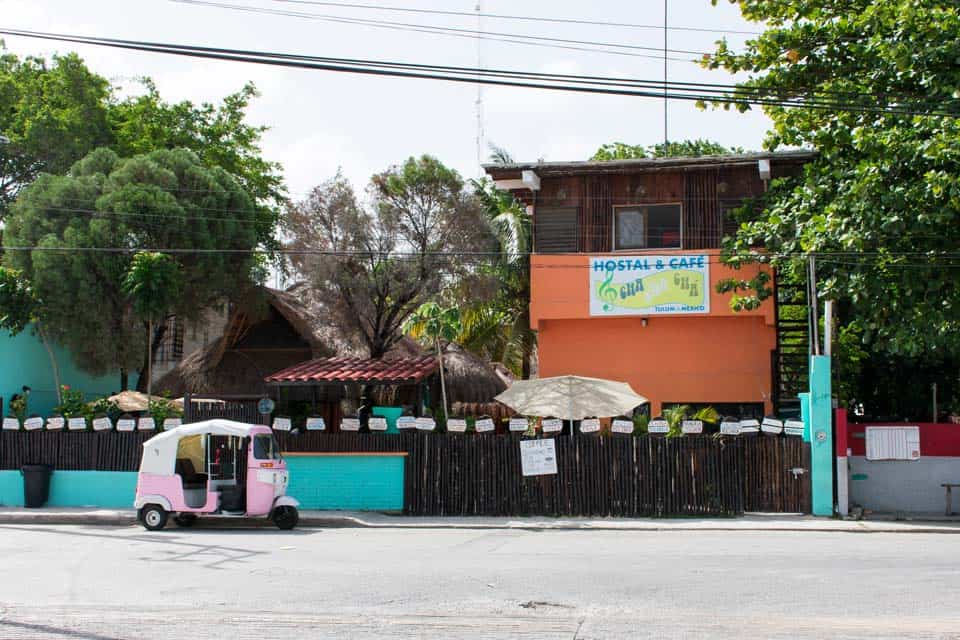 ---
Pros of Visiting Tulum in March
Here are some of the advantages of visiting Tulum in March:
The Weather Cannot Be Anymore Perfect – With moderate temperatures, low humidity, and a very low chance of rain, the weather in March in Tulum is as perfect as it gets. The nice weather is perfect for anything from swimming in the sea, sunbathing on the beach, exploring ruins near Tulum, checking out the cenotes, ANYTHING!
Seeing Spring Equinox At Chichen Itza – The Spring Equinox is a once-in-a-year astronomical event that showcases the brilliance of the Mayan Civilization. Just that alone can makes March one of the best times to visit Tulum!
The Nightlife Is Amazing – With tons of tourists (and college kids), the nightlife in Tulum in March is so much fun. Every nightclub and bar is likely going to be filled with people socializing and out having a good time. If you like to party, March is a good time to visit!
---
Cons of Visiting Tulum in March
Here are some of the disadvantages of visiting Tulum in March:
It Is Very Crowded – As one of the dry months in Tulum, March already attracts plenty of visitors. And now with the Spring Break holidays, there are more people in Tulum and the Riviera Maya than ever. Not only will visitors need to plan their vacation and book things a lot earlier, but the crowds can ruin the attractions. Make sure you arrive early in the day to minimize the crowds.
You Won't See Whale Sharks, Turtles Nesting, or Releasing Turtle Hatchlings – One of the most popular attractions in the Riviera Maya is swimming with whale sharks, seeing turtles nesting, and releasing turtle hatchlings into the sea. March is not a month when you can do any of those activities.
You Might Be Dragged Into Partying – Not everyone likes to party and get drunk, and that's okay. But if you visit Tulum in March (like we did), almost everyone you meet is going to try to get you to come out at night and party. You'll be peer pressured into partying and drinking even when you don't want to.
---
Things to Do in Tulum in March
Explore the Cenotes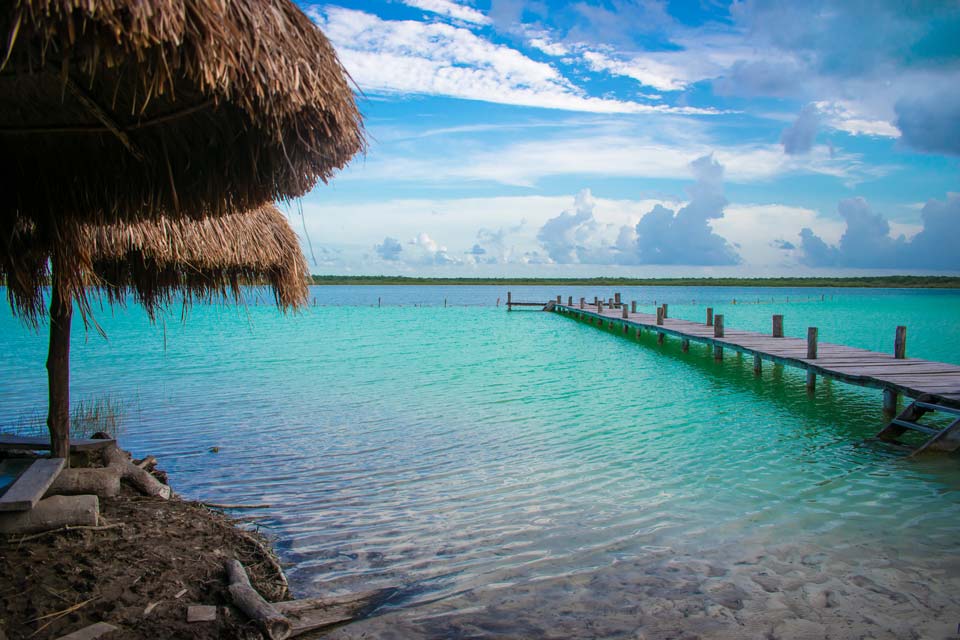 March is a good time to visit some of the incredible cenotes in Riviera Maya. If you don't know what they are, they are natural sinkholes that were created due to the collapse of weak bedrock.
Because the cenotes are linked to underground water sources, the water temperature is consistent throughout the year. They are some of the best places to go swimming in Tulum, especially if you want to cool down.
In March, you can sunbathe outside the cenotes, then jump into them for a refreshing swim once it gets too hot! Come early in the day and you might even have them to yourself!
Our favorite ones near Tulum are Ka'an Luum Lagoon and Gran Cenote.
Go Visit the Mayan Ruins
No Tulum trip is complete without visiting some of the most prominent Mayan Ruins in the region. Tulum is situated near the heart of the old Mayan civilization, and visitors can get a glimpse of the history through the ruins.
March is especially a good time to see these archaeological sites because many of them don't provide shade. The low humidity and cool temperatures will make visiting them a lot more comfortable than in August, for example.
Some of the ones you must visit are Coba Ruins, Tulum Ruins, and Chichen Itza.
Relax On The Beaches
March is one of the warmest months in Tulum when you are unlikely to encounter any sargassum seaweed. Once April hits, the seaweed is most likely going to arrive, and they don't go away until the end of October. By then, the temperature would've cooled down.
This makes March one of the best time to enjoy the beaches in Tulum. And since there are so many beaches near Tulum, the crowds are unlikely going to be an issue.
---
Tips For Visiting Tulum in March
Pack Something Warm For The Nights – Visiting Mexico and packing a jacket might seem comical, but the nights in March can be quite cold, especially if you are by the beach. We recommend packing a light jacket just in case.
Pre-Book Everything Beforehand – Thanks to the dry season and Spring Break holiday, March is the peak of the travel season. If you wait to book your accommodations, you might just have to pitch a tent on the beach! Maybe not that bad, but you certainly won't be able to get the hotel you've dreamed to stay in!
Watch Your Belongings When Going Out – Pickpockets and thieves are very common during March, since they know that there are going to be a lot of college kids drinking more than they should and not watching their stuff. Make sure you watch your belongings when going out and only take what you need.
---
Tulum in March FAQs
Is March a Good time to Visit Tulum?
March is a great time to visit Tulum. The weather is arguably at its best in the entire year with the lowest amount of rain and moderately warm temperatures. Humidity is also at its lowest in March, which makes exploring all the outdoor attractions in Tulum comfortable. However, visitors need to be aware of the crowds that can come with Spring Break.
Is it Busy in Tulum in March?
March is arguably the busiest month in Tulum due to Spring Break. North Americans like to flock to Tulum, Cancun, and the nearby areas during this time of the year. Plus, it is the dry season, which already naturally attracts a ton of tourists!
---
Explore Tulum By Month
---
Final Verdict
March is one of the best months to visit Tulum because of its near-perfect weather and great nightlife. But if you plan to go, make sure you book everything ahead of time, especially if you are visiting in late March!
Disclaimer: Some of the links above are affiliate links. That means if you book or make a purchase through the links, we will earn a small commission at no extra cost to you! The money will help run this site! Thank you!