Planning a trip to Tulum in December? Not sure if it is the right place to visit for your winter holidays? Let us help you decide.
December is one of the best times to visit Tulum. Visitors can expect beautiful weather and warm temperatures that make exploring some of the outdoor attractions in Tulum very pleasant. Coincidentally, December is the high travel in Tulum, which means visitors must plan accordingly to have a great visit.
We have written this guide so you can have the perfect Tulum vacation in December. Besides the weather, we'll talk about the seaweed, events, and much more so you can have all the information you need!
---
Weather in Tulum In December – Quick Glance
| | | |
| --- | --- | --- |
| Average Temperature | 24 ℃ | 75 ℉ |
| Average Highs | 27 ℃ | 81 ℉ |
| Average Lows | 21 ℃ | 70 ℉ |
| Average Day Temperature | 25.4 ℃ | 78 ℉ |
| Average Night Temperature | 22.2 ℃ | 72 ℉ |
| Average Sea Temperature | 27 ℃ | 81 ℉ |
| Average Sunshine Hours Per Day | 6 Hours | |
| Average Monthly Rainfall | 92 mm | 3.6 in |
| Average Rain days | 8 days | |
| Average Daylight | 11 hours | |
| Average Humidity | 76% | |
Credit: Holiday Weather, Time and Date
Many tourists flock to the beach towns of Mexico in December to enjoy its amazing weather and warm temperatures, and Tulum is no exception.
In the heart of the dry seasons, the weather in Tulum in December is generally very nice. Though there is about a 25% chance you'll see rain on any given day, the rainstorms don't last long and visitors are left with sunshine and clear skies.
The temperatures are warm, but not too hot. It is warm enough to swim in the sea in the middle of the day, but it might be too cold if the sun isn't out.
December is past the hurricane season in Tulum, so your plans are unlikely to get interrupted by natural disasters.
Temperature in Tulum in December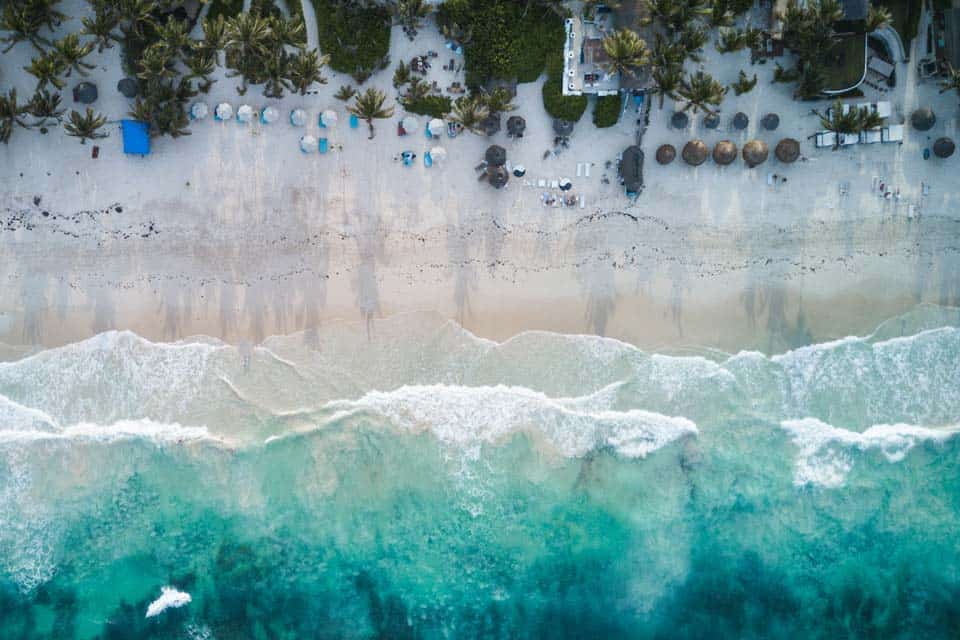 Perhaps the biggest reason to visit Tulum in December is to escape the cold that ravages America, Canada and most of Europe. Luckily, the temperatures in Tulum in December are quite warm.
Though it is one of the coldest months in Tulum, visitors can expect an average high temperature of around 27 ℃ or 81 ℉. There is no temperature better than that to go sunbathing on the beach or exploring Tulum's nearby Mayan Ruins.
It is a pleasant temperature to do all things outdoor, and visitors usually don't have to worry about catching a heat stroke or heat exhaustion like they do in the summer. You might even feel a little chilly when the sun is not out!
The night temperatures are considerably lower at around 22.2 ℃ or 72 ℉. It is perfect for exploring the nightlife of Tulum, but we recommend bringing a light jacket with you. If you are by the Tulum Beach Zone, the sea breeze can make the temperatures even lower.
One of the best things about visiting Tulum in December is that the sea is still warm enough for swimming. The sea temperature is at 27 ℃ or 81 ℉, which is pretty much the same temperature as outside. This temperature is perfect for watersports like diving and snorkeling, which are super popular activities in the Riviera Maya.
It is no wonder why swimming at the beach is one of the best things to do in Tulum!
Precipitation in Tulum in December
December is out of Tulum's rainy season and hurricane season, so visitors are unlikely to see lots of precipitation. In the entire month, there is a total of 92 mm of rain in 8 days.
Though 8 out of 30 days might sound like a lot, 92 mm of rain means that the rain doesn't last rain storm. Like all tropical places, when it rains, it pours in short bursts. Compared to the rain season in Tulum, December is definitely not very rainy at all.
Sunshine in Tulum in December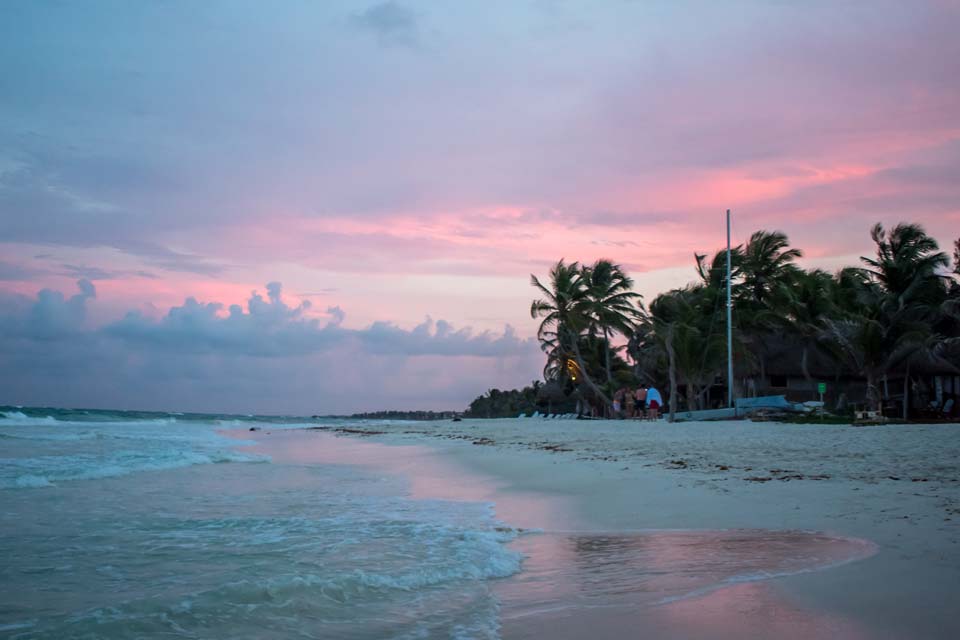 Perhaps one of the biggest concerns of visiting Tulum in December is how long the days are. December is considered the winter in the Northern Hemisphere, so the days are considerably shorter than the summer. On average, the sun rises at around 7:30 AM and sets at around 6:30 PM, which gives visitors a total of 11 hours of daylight.
Out of the 11 hours, visitors can expect to see about 6 hours of sunlight per day, which is slightly more than half.
Though this is not much compared to the other months, it is plenty enough to explore outside of Tulum and take some day trips to places like Chichen Itza (one of the Seven Wonders of the World) and Coba Ruins.
---
Sargassum Seaweed In Tulum in December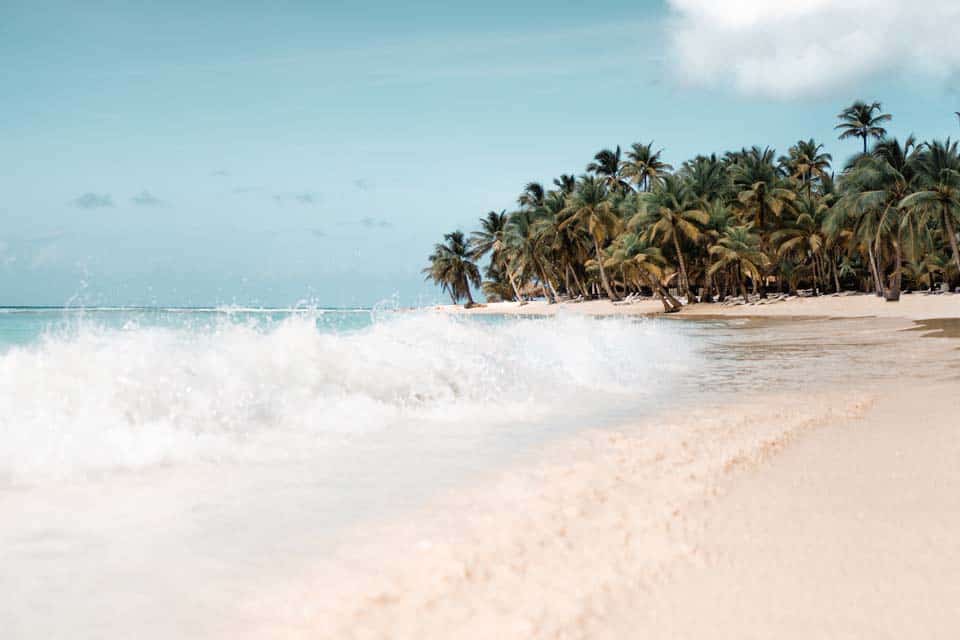 Nothing can ruin your trip to Tulum more than the sargassum seaweed. They are known to give off a sulfur-like smell, cover up the stunning beaches of Tulum, and turn the turquoise Caribbean waters murky brown.
Thankfully, the sargassum seaweed typically arrives in early April and peaks in June, with most of it subsiding sometime in October. Tourists visiting Tulum in December are unlikely to encounter any seaweed.
---
Crowds In Tulum In December
December is one of the busiest months in Tulum, especially near the end of the year. The first two weeks of December are usually the calm before the storm, because the Thanksgiving crowd has left and the Christmas holiday crowds have not arrived.
Once the second half of December arrives, Tulum becomes packed with tourists. This means that accommodations and tours are likely going to be sold out in advance. We recommend you get a head start and plan your trip as soon as possible.
Crowds at some of the cenotes in Tulum are the biggest problems because cenotes are usually quite small or enclosed. If you want to fully enjoy those natural sinkholes, then visit early in the morning to avoid the crowds.
---
Events in Tulum in December
Día de la Virgen de Guadalupe
Dia de La Virgen de Guadalupe is the biggest cultural event in Tulum in December. It is one of the most important Mexican Catholic holidays, as it celebrates the appearance of Virgin Mary to Juan Diego, an indigenous religious convert.
The event is celebrated on December 12th every year and involves a series of relay race pilgrimages, or Antorchas Guadalupanas. Runners pass down torches like in a relay race until they reach Tulum Downtown.
On this day, travelers will find plenty of music, dancing, flowers, and more!
Dia De Los Santos Inocentes
Dia de Los Santos Inocentes, or Day of the Holy Innocents, is an event that is celebrated on December 28th every year. On this day, the Catholic king honors the first martyrs, the children of Israel killed by King Herod when he tried to find baby Jesus.
Though initially an important religious holiday, now Day of the Holy Innocents has somewhat become the Mexican April Fool's Day. It isn't uncommon for people to play pranks on each other on this day.
Zamna Festival
Zamna Festival is one of the biggest electronic music festivals in Latin America. Usually taking place on New Year's Eve, the event is typically the biggest celebration in town. Many travelers choose to spend the last hours of their year before counting down at midnight to welcome the following year's arrival!
---
Pros of Visiting Tulum in December
The Nightlife Is Incredible
December is the month of festivities and Tulum's nightlife comes alive! There are numerous parties, festivals, and raves that will keep you dancing from sunset to sunrise! And because there are lots of tourists, all the night venues are packed with people out to have a good time! If you like to party, December is a great time to do so in Tulum.
Excellent Time For Sightseeing
Pleasant weather with clear skies and a low chance of rain make it a good time to go sightseeing in December. One of the biggest concerns about sightseeing in Tulum is the hot temperatures, especially since most places don't have shade. But in December, it is no longer a concern and visitors can enjoy everything Tulum has to offer – from the cenotes to Mayan Ruins and pristine beaches.
---
Cons of Visiting Tulum in December
Everything Is More Expensive And Needs To Be Planned In Advance
December is the high travel season in Tulum, especially near the end of the month. That is because people from around the world are starting to have days off for Christmas and New Years. And to avoid the cold, tourists from around the world flock to the beaches of Mexico such as Tulum.
Tulum is crowded in December, so make sure you book everything in advance. If you are traveling on a budget, it will be hard to find something affordable because the prices are typically more expensive around this time.
Cannot See Whale Sharks Or Nesting Turtles
There are two endangered species that visitors have a chance to see near Tulum – whale sharks and sea turtles. Unfortunately, December is not a month where visitors can see whale sharks because they typically leave around September. Sea turtles also finish nesting in October, so you'll just miss out on that.
However, visitors might still be able to see sea turtle hatchlings get released into the sea, which is a phenomenon that occurs until the end of December.
---
Things to Do in Tulum in december
Explore the Cenotes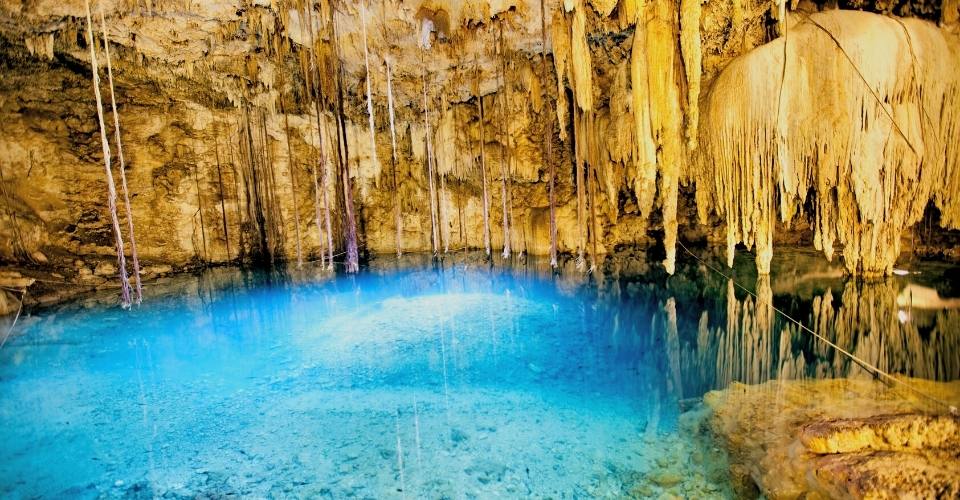 No matter what time of the year it is, exploring some of the cenotes in Riviera Maya is a must when you visit Tulum. Cenotes are natural sinkholes that were created by the weather of weak bedrock, leading to the underground river below them to be exposed. Cenotes come in three different types – cave, semi-open, and open.
Mayans believed that cenotes were passages to the underworld, and visitors can experience a part of their tradition and have a refreshing swim at the same time. Many of the cenotes are absolutely gorgeous and have lots of fish and turtles living inside. Visitors can also go snorkeling or even diving!
But since you are visiting in December, you'll need to arrive early to beat the crowds!
Go Visit the Mayan Ruins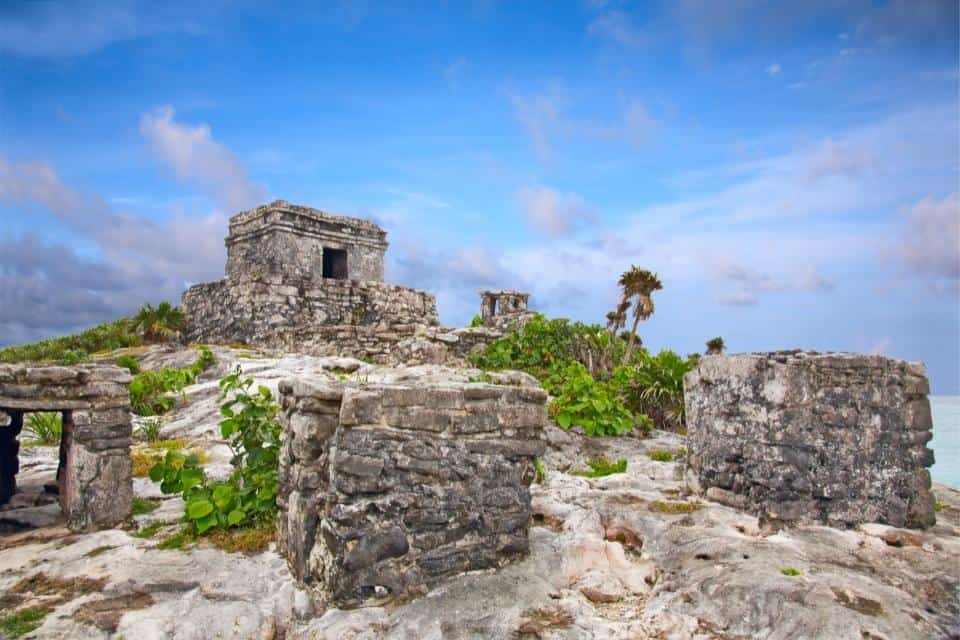 December's pleasant weather is the best time to explore the outdoors of Tulum, especially the Mayan archaeological ruins. The region around was once the heart of the mighty Mayan civilization, and they have left us a ton of ruins that offer glimpses of their culture.
Some of the ones you must see are Tulum Ruins, Coba Ruins, and Chichen Itza (one of the Seven Wonders of the World).
Go Enjoy Tulum's Vibrant Nightlife
Without a doubt, the best thing to do in Tulum in December is to enjoy the nightlife and have fun. During the peak season, every nightclub and bar is bustling with people. The night is when this seaside town truly comes to life.
Visitors can get a taste of the fabled Mexico nightlife through one of the beach clubs in Tulum, or head to town and check out the local scene.
Our favorite one is Taboo near the Tulum Beach Zone, but you'll find plenty just by walking down the only road in the area.
---
Tips For Visiting Tulum in December
Planning a visit in one of Tulum's most busy seasons comes with some challenges, here are some tips for visiting in December!
Pre-book everything beforehand – We cannot stress this enough. If you book too late, you might not find a good place to stay.
Watch your belongings when you go out – Though Tulum is generally quite safe to travel, pickpockets do happen, especially at night in nightclubs, bars, and festivals. December is one of the busiest times for thieves because they know how many tourists come to Tulum. Watch your things, especially your drink when you go out.
Pack something warm – As much as you would like to escape the cold in December, Tulum can be a little chilly at night, especially by the beach. Pack a light jacket with you!
---
Tulum in December FAQs
Is December a good time to visit Tulum?
December is one of the best times to visit Tulum. The weather is gorgeous with warm temperatures and little rain. However, it is one of the busiest months in Tulum so visitors must plan everything ahead of time.
Does it rain in Tulum in December?
December is officially the dry season of Tulum. November was the transition month between Tulum's wet season and dry season, so December usually sees little rain. The early half of the month typically sees a little bit more rain than the latter half.
---
Explore Tulum By Month
---
Final Verdict
If you are planning a trip to Tulum in December, you are in for a good time. The weather cannot be more perfect, but visitors must be aware of the big holiday crowds. Hope you enjoy your time in Tulum!
Disclaimer: Some of the links above are affiliate links. That means if you book or make a purchase through the links, we will earn a small commission at no extra cost to you! The money will help run this site! Thank you!