Are you planning a trip to Tulum in June? Wondering what the weather is like then? Is it too hot? Rainy?
Some of Tulum's most iconic attractions are outdoors. Without nice weather, exploring the beautiful beaches, cenotes, and Mayan Ruins of Tulum is not going to be enjoyable, or maybe even impossible.
Unfortunately, June is not one of the best times to visit Tulum. It is in the heart of the wet season, which means your plans might get interrupted by the rain. It is also one of the hottest months in Tulum, which could make exploring the outdoor wonders quite a challenge. Lastly, the sargassum seaweed is likely going to be present in Tulum in June.
Though the weather in Tulum in June might not be the best, it is not all gloom and doom when visiting during this month. Make sure you read on and find out how you can make the most out of your trip!
---
Weather in Tulum In June – Quick Glance
| | | |
| --- | --- | --- |
| Average Temperature | 28 ℃ | 82 ℉ |
| Average Highs | 31 ℃ | 88 ℉ |
| Average Lows | 24 ℃ | 75 ℉ |
| Average Day Temperature | 28.2 ℃ | 83 ℉ |
| Average Night Temperature | 25.6 ℃ | 78 ℉ |
| Average Sea Temperature | 28.6 ℃ | 83 ℉ |
| Average Sunshine Hours Per Day | 7 Hours | |
| Average Monthly Rainfall | 187 mm | 4.3 in |
| Average Rain days | 12 days | |
| Average Daylight | 13 hours 15 minutes | |
| Average Humidity | 82% | |
Credit: Holiday Weather, Time and Date, Climate Data, Sea Temperature Info
June is the start of summer vacations for many people around the world. It is the time when everyone packs their bags and goes exploring the world. But how is the weather in Tulum in June?
June is the official start of the wet rainy season in Tulum. This period of time is usually filled with frequent rainstorms, high humidity, and hot temperatures.
A lot of tourists tend to avoid visiting Tulum during this time, simply because the weather is just too hot to do anything. It is nearing one of the lowest seasons in Tulum, but don't expect Tulum to be super quiet. It is one of the most popular destinations in the world after all.
This is the type of weather where you need to take a shower right after you have just taken a shower. You'll be constantly sweating in Tulum in June.
Temperature in Tulum in June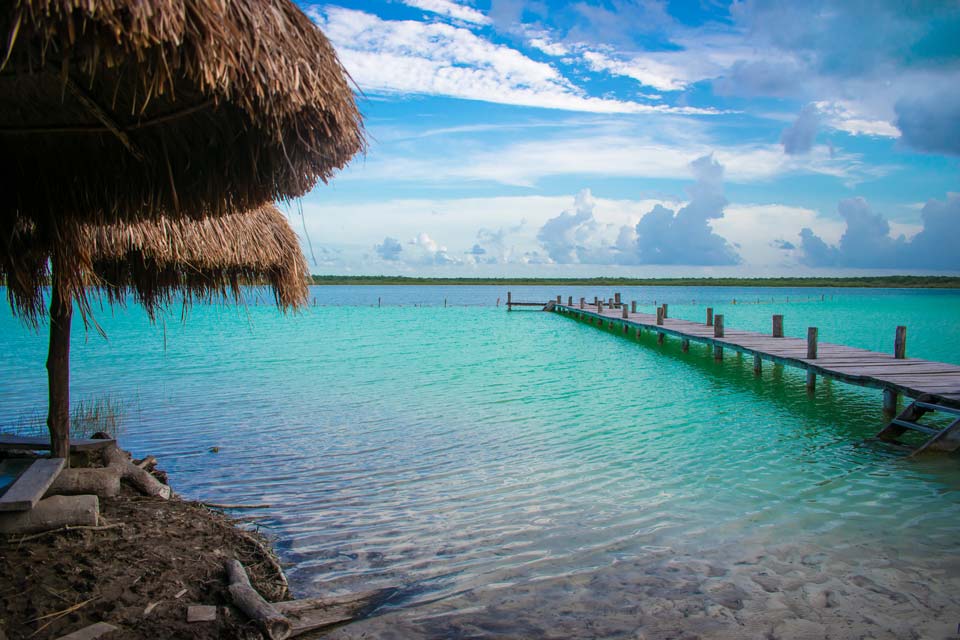 Whichever way you look at it, Tulum is hot in June. Averaging a high temperature of 31 ℃ (88 ℉), June is actually one of the hottest months in Tulum. Combined with the high humidity, your body certainly feels a lot hotter than it is.
Heat waves during this time aren't very uncommon. The region of Riviera Maya can get up to 40 ℃ or higher easily in the summer.
The nighttime temperature is a lot more comfortable at an average of 25.6 ℃ (78 ℉). This is going out in a t-shirt and shorts weather, which is perfect for enjoying Tulum's nightlife and fun beach clubs. You are unlikely going to need a sweater or anything like that at this temperature.
The average sea temperature is 28.6℃ (83 ℉), which is a little too warm to cool yourself in. And during the day, the sea temperature can rise about 1 degree Celcius. This means that even the sea might not be able to provide much relief from the oppressing temperatures of Tulum in June.
It is also quite difficult to find a pleasant experience due to the sargassum seaweed (which we'll discuss later).
If you are visiting Tulum in June, you must take advantage of the cenotes near Tulum. These natural sinkholes are connected to an underground water source, which means their temperature stays consistently cool all year round.
Precipitation in Tulum in June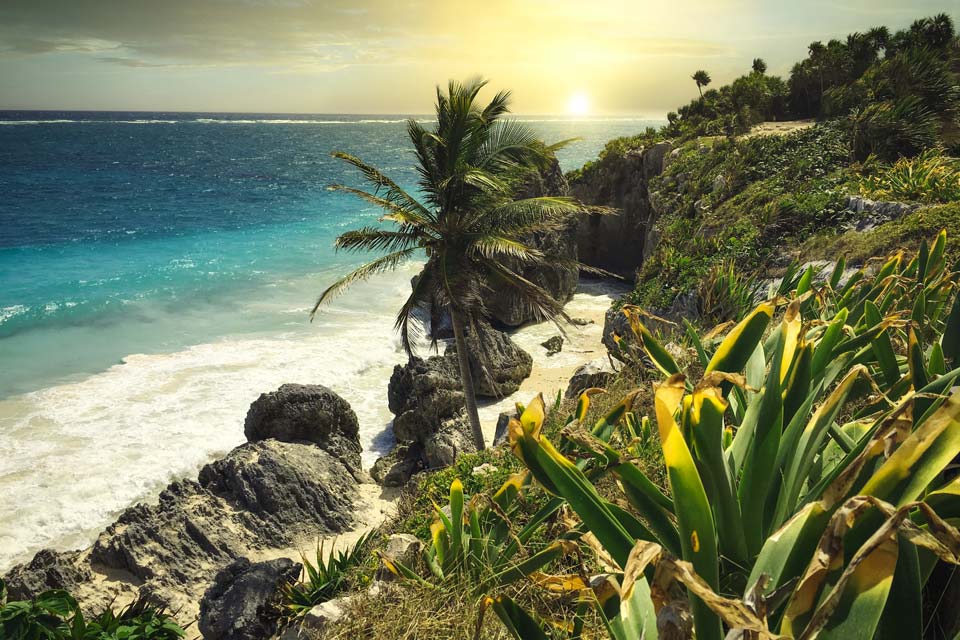 Perhaps one of the biggest concerns when visiting Tulum in June is the rain.
June is the official start of the rain season in Tulum. Though it isn't as rainy as September or October (which is hurricane season), June is still very rainy. On average, you can expect about 12 days of rain in the month, which is more than 1/3 of the days.
But just like all tropical places around the world, rain in Tulum usually comes in short but powerful bursts.
Rain might come every day, but it is unusual for it to last the entire day. Visitors should still have plenty of time to go sightseeing. You might even appreciate the rainstorms that come here and there, as they do a great job of cooling the air down.
Sunshine in Tulum in June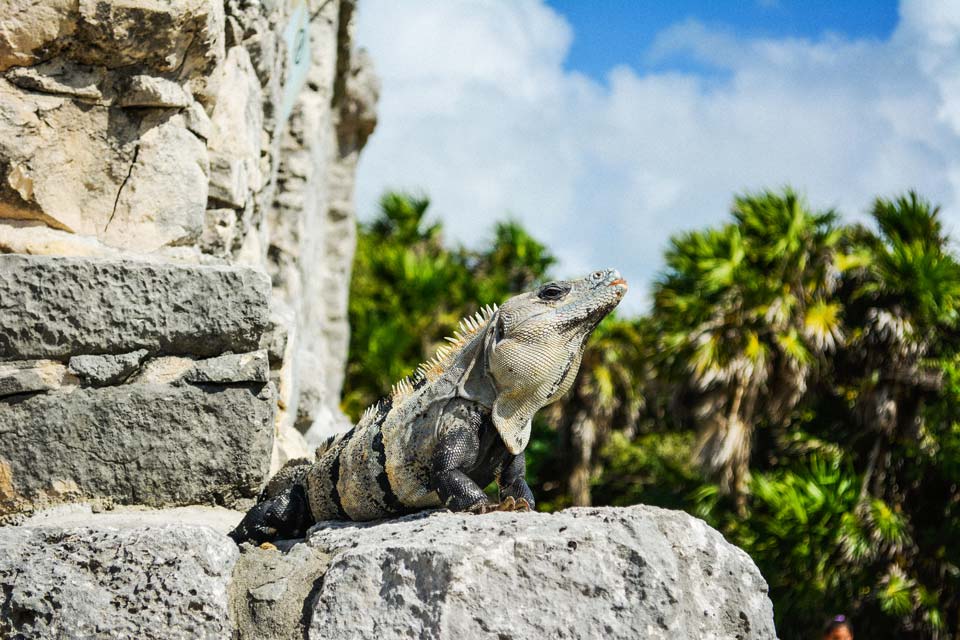 Perhaps a better indicator of how much rain Tulum receives is how much sunshine Tulum gets per day.
On average, visitors get about 7 hours of sunshine per day in June. And with a little more than 13 hours of sunlight per day, 7 hours of sunshine is not bad at all. Keep in mind that 12 days out of the 30 in the month are rainy.
7 hours of sunshine is plenty enough to enjoy all the outdoor activities of Tulum – going to the beach, swimming in the cenotes, taking a day trip to Chichen Itza, or just out exploring Tulum and all its boutiques and nice restaurants.
In fact, if you are going to sunbathe on the beach or try one of the water sports such as snorkeling or diving, make sure you put on some sun protection.
---
Sargassum Seaweed In Tulum in June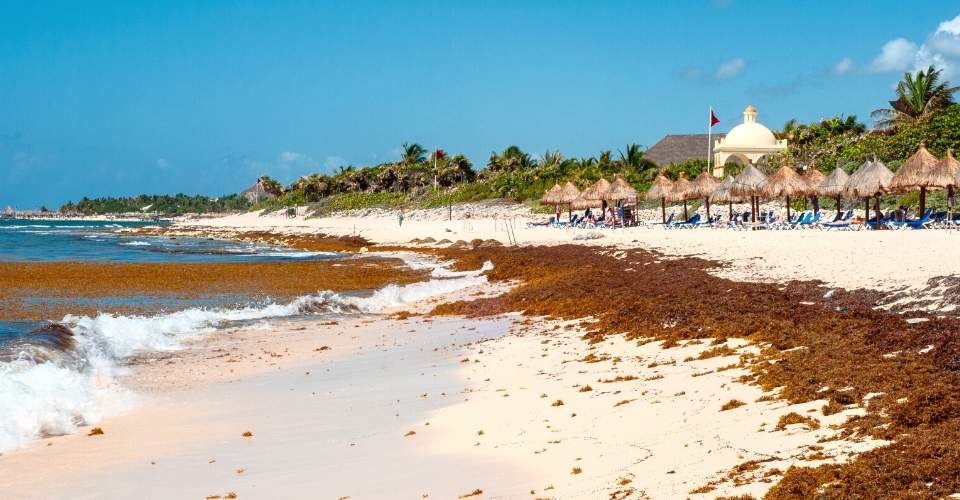 If you are visiting Tulum in June, you must be wondering whether the sargassum seaweed is going to be on the beaches.
The sargassum seaweed has plagued the beaches of the Yucatan Peninsula for many years now. They give off a revolting sulfur-like smell (think rotten eggs), cover up the gorgeous white sand, and turn the turquoise waters of the Caribbean sea into an ugly brown.
If there is one thing to avoid when visiting Tulum, it is the seaweed. The situation in Cancun and Tulum has been getting worse year after year, thanks to the effects of global warming.
And unfortunately, June is one of the worst months for seaweed in Tulum. The seaweed season in Tulum usually starts in April and lasts until August. In June, the piles of seaweed have started accumulating on the beach, and there is not much you can do about it.
You might need some luck finding a nice part of a seaweed-less beach to swim in. If you can't find some, consider staying in one of the nice hotels in Tulum Beach Zone. Many of these hotels hire someone specifically to clear up all the seaweed every morning. This guarantees that guests can enjoy the spectacular beaches Tulum is known for.
Alternatively, Tulum is a great base for exploring some of the best cenotes in Riviera Maya. Not only are they geologically unique and incredible-looking, but they are excellent for swimming as well!
---
Pros of Visiting Tulum in June
Though June isn't one of the best months to visit Tulum, there are still some pros to visiting then. Here are the top ones.
You Might Be Able to Find Deals on Hotels and Flights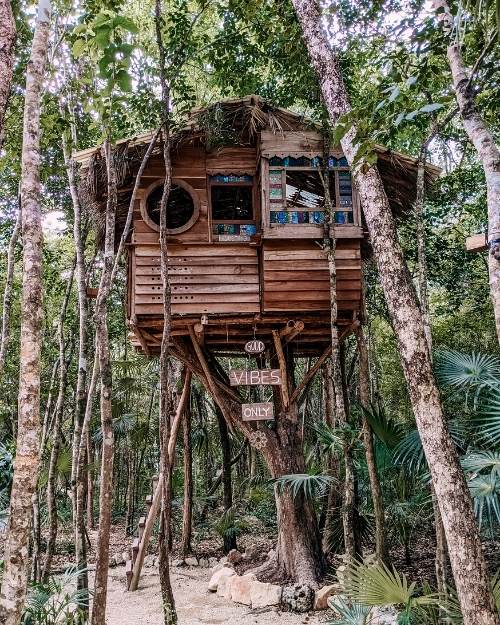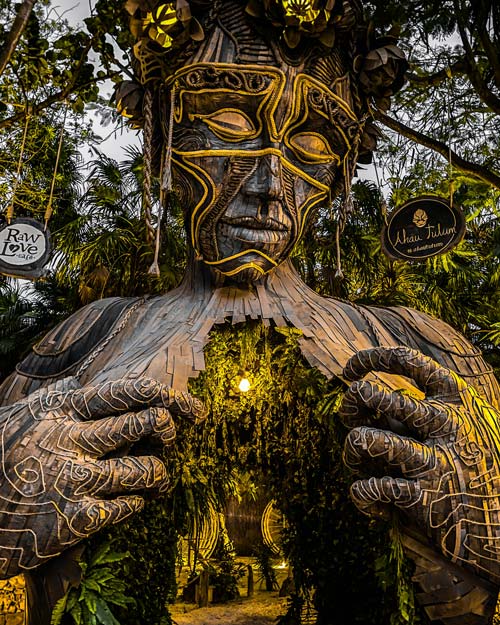 As the start of the rain season in Tulum, the crowd is starting to dwindle down. Though it is still quite busy compared to the hurricane season in September and October, it is considerably less busy than January and February.
In June, some hotels are starting to offer lower prices to attract more bookings. Hotels that were fully booked out in the dry seasons now have availability, which means you can enjoy some of the best accommodations in Tulum.
The same goes for flights and tours. You might be able to snatch a deal that can save some of your budget for this trip.
And with a smaller crowd, you can have a more stress-free time at some of the more popular attractions in Tulum!
You Can See Both Whale Sharks and Sea Turtles Nesting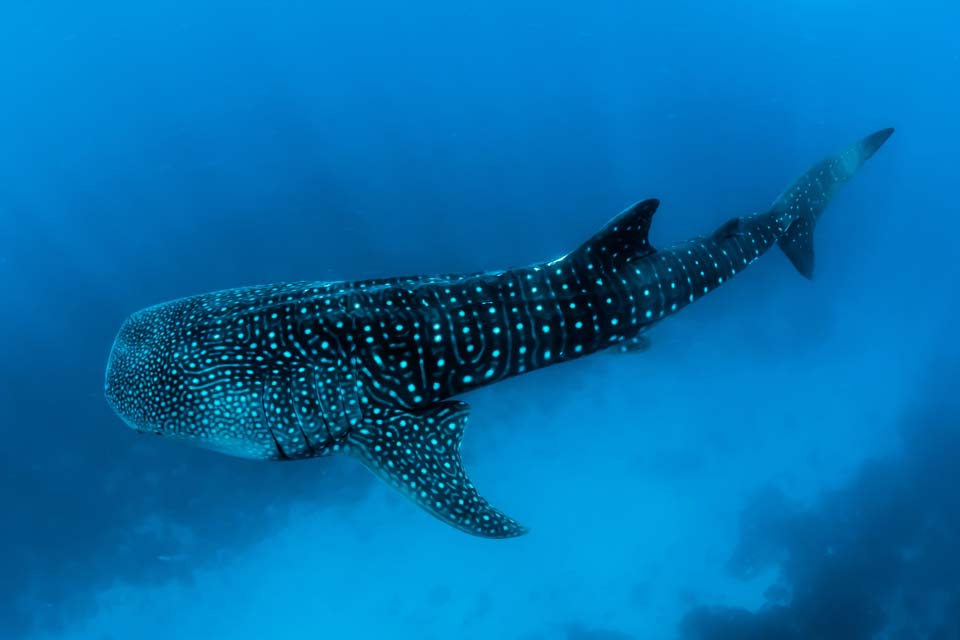 One of the best things to do in the Riviera Maya is to see two endangered species – whale sharks and sea turtles.
The whale sharks begin to arrive in May and leave at the end of September so visitors are almost guaranteed to see them in June. The sea turtles begin nesting on the beaches in May and finish at the end of October.
June is the perfect time to see both the whale sharks and sea turtles nesting.
However, only starting in the month of July do the baby turtles hatch and make their way to the sea, which means June visitors are unlikely to catch a glimpse of this extraordinary phenomenon.
And if you want to swim with sea turtles, you can always do so in Akumal. They are there all year round!
---
Cons of Visiting Tulum in June
Visiting Tulum in June has a lot of disadvantages, make sure you know them before you plan your itinerary.
There Are No Events Happening
June is a relatively boring month with not a lot of events going on. Of course, there are the crazy full moon parties and beach parties that are so iconic to this region of Mexico. But I'm talking about something more cultural.
If you're visiting Tulum in October and November, you can experience the biggest festival in Mexico – Day of the Dead.
In September, you can celebrate Mexican Independence Day and the Autumn Equinox, which brings a unique perspective to Chichen Itza, one of the Seven Wonders of the World.
But in June, there is really not much going on in terms of cultural events.
The Weather Could Make Sightseeing Difficult
As we have established before, June is hot, humid, and rainy. This combination makes sightseeing in Tulum difficult, especially since most of the attractions are outdoors with little shade or shelter.
Dehydration is a real risk in Tulum, especially during the summer months. Every year, numerous tourists fall victim to heat-related illnesses such as heat stroke and heat exhaustion.
Don't let that discourage you though! Tulum is definitely beautiful all year round and you certainly don't want to miss the opportunity to explore this exotic region.
Just make sure you drink lots of water, don't stay in the sun for an extended period of time, and put on some sunscreen!
---
Tulum in June FAQs
Is June a good time to visit Tulum?
There is not a bad time to visit Tulum but June certainly isn't one of the best times. June is the official start of the rain season. While threats of hurricanes are low, the weather is hot, humid, and rainy, which could really put a damper on things. You are also very likely going to encounter seaweed on the beaches in Tulum in June.
What is the weather like in Tulum in June?
The weather in Tulum in June is hot, humid, and rainy. It is the middle of the wet season in Tulum, so expect strong but short bursts of rain. Tulum does get a bit of sun during this time, so you can still explore the outdoors but just be cautious of extreme temperatures.
Is it humid in Tulum in June?
The tropical weather of Tulum and its location near the Caribbean Sea means that Tulum is humid all year round. As one of the wet months, June in Tulum is very humid with around 82% percent average humidity.
---
Explore Tulum By Month
---
Final Verdict
June might not be the best time to visit Tulum with its oppressing temperatures, high humidity, substantial chance of rain, and sargassum seaweed on the beaches.
Though not one of the best times, Tulum can be beautiful all year round. Just make sure you are extra cautious with the weather and know what you are getting yourself into!
Disclaimer: Some of the links above are affiliate links. That means if you book or make a purchase through the links, we will earn a small commission at no extra cost to you! The money will help run this site! Thank you!