Home of the impressive Andes Mountains, mysterious Amazon Rainforest, and complex archeological sites, there are plenty of incredible hikes in Peru that explore its geological diversity and rich culture.
With so much to explore, it can be overwhelming for anyone planning any type of hiking or trekking in Peru. Rainbow Mountain, Machu Picchu, Colca Canyon – the list goes on and on.
Our hiking guide features 19 of the best Peru hikes and treks, as well as all the information you need to do them. Finally, we finish off with safety information and a packing list to help you prepare for your hiking trips in Peru.
Enjoy!
---
Best Day Hikes In Peru
1. Gocta Waterfalls (Catarata de Gocta), One of The Tallest Waterfalls In The World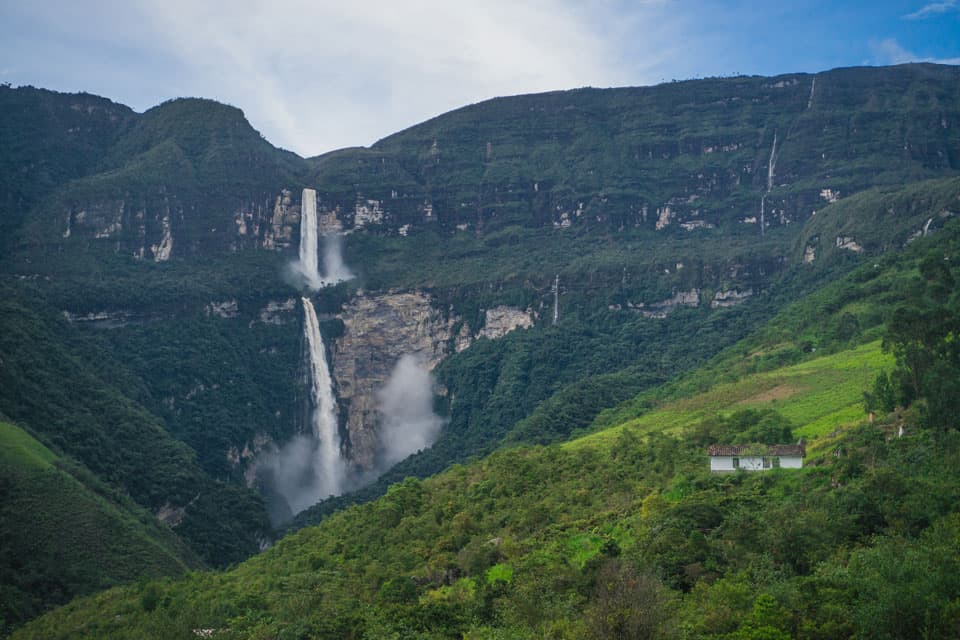 Duration: ~4 hours out-and-back
Difficulty: Moderately Easy
Maximum Elevation: ~2000 m
Nestled in the lush jungle of the Amazonas region of Peru is the almighty Gocta Waterfall (Catarata de Gocta), the third to the sixteenth tallest waterfall in the world. (Depending on how it is measured)
Many travelers aren't aware of such beauty because this attraction is located in Chachapoyas, a small city in the seldom-visited Northern part of Peru. Along with Kuelap, also known as the Machu Picchu of the North, they make up the top things to do in Chachapoyas.
Visiting this amazing waterfall is no difficult feat, as there are many travel agencies offering day tours from Chachapoyas. If you are traveling in Peru on a budget and would like to DIY, you can take public transportation from the city as well.
There are a total of three hikes for Gocta Waterfall, that is because you can either reach the lower falls, middle falls, or upper falls. The most popular option is the hike to the lower falls of the Gocta waterfalls. The 4-hour out-and-back trail starts at the small village of Cocachimba and reaches as far out as the bottom of the 771-meter waterfall.
The hike is not too treacherous, but since it is located in the cloud forest of the Amonzas, the weather can be unpredictable and rain is always around the corner. Always bring waterproof gear and don't even consider going in for a swim. It is dangerous due to flash floods (first-hand experience)!
The mist created by the 771-meter giant will be enough to give you a proper shower!
2. Laguna Wilcacocha (Wilcacocha Lake)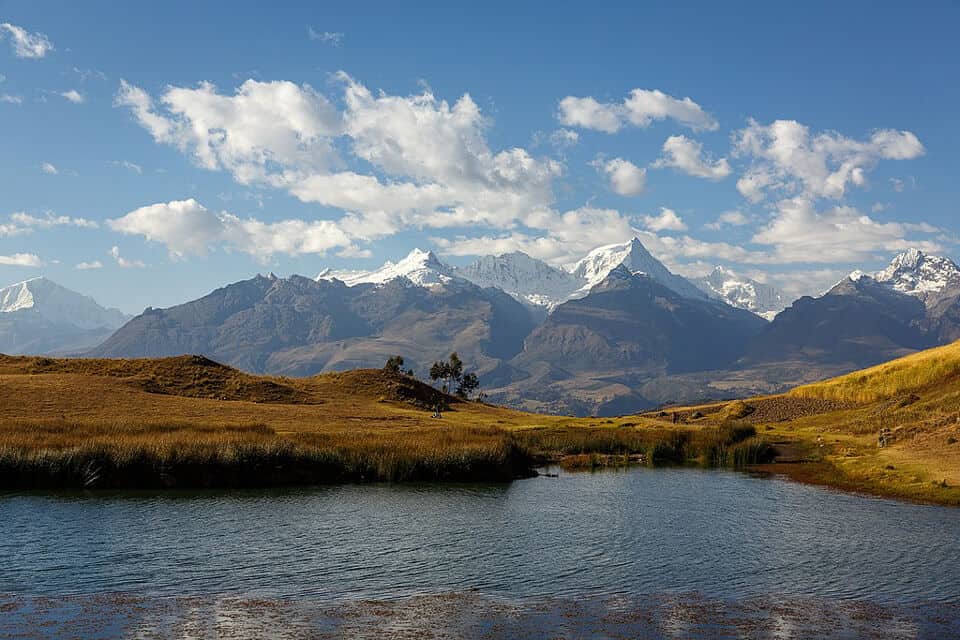 Duration: ~3 hours out-and-back
Difficulty: Easy
Maximum Elevation:3680 m
As the home of the Andes mountain range, Peru has some incredible hikes and treks. However, many of them are situated high above sea level, and proper altitude acclimation is required.
The Laguna Wilcacocha is one of the best day hikes in Peru to acclimatize to the potentially-dangerous altitude, especially for anyone that wants to do any hiking or trekking in Huaraz, the hiking capital of Peru.
To hike to Wilcachocha Lake, you would want to base yourself in Huaraz. Many travel agencies offer a tour of the lake, but honestly, that is just a waste of money. Public transportation can easily take you to the start of the trailhead for less than a few USD.
Though the trail is rather easy, do understand that it is an altitude of 3680 meters, an elevation that could easily cause altitude sickness. Though we consider this hike suitable for acclimatization, it still has the potential to cause altitude sickness.
Though one of the easier hikes in Peru, the views are spectacular. The serene lake offers the perfect foreground for the stunning mountain scenery in the distance. Make sure you pick a day with no clouds or you might not see anything!
3. Laguna Humantay (Humantay Lake)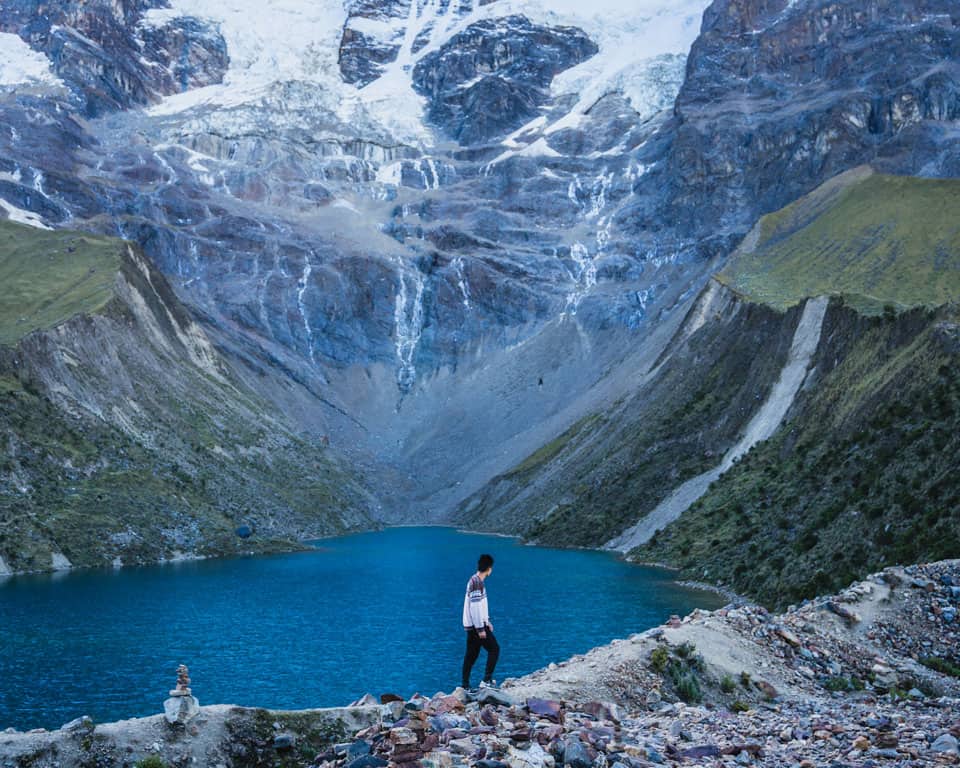 Duration: 3 hours out-and-back
Difficulty: Moderate
Maximum Elevation: 4200 m
The stunning glacial Humantay Lake, or Laguna Humantay in Spanish, is one of the most popular hiking day trips from Cusco. Nestled in the snow-capped mountains of the Andes region, Humantay Lake and its surrounding landscapes belong on the cover of National Geographic magazine.
The minerals from the rocks deposit into the lake water, giving it a surreal blue color that either looks like laundry detergent or photoshopped.
The hike to Humantay Lake starts at around 3800 meters above sea level. After a gradual incline for 1.5 hours, you arrive at 4200 meters, where the beautiful lake is situated.
Daily day tours can be found in the numerous travel agencies in Cusco. Most of them are around 80 Peruvian Soles and will include transportation, lunch, and a guide to lead the way (You really don't need one).
There are advantages to taking one of the arranged tours from Cusco but a huge disadvantage is the crowd that will be there. If there is one thing we learned from visiting Machu Picchu, it is how much a relentless crowd can ruin natural beauty.
Alternatively, you can hire a taxi from Cusco for around 75 USD a day. It is three times as much as a tour but if you are traveling with other people, not only can it be more affordable but also give you a better experience!
4. Pastoruri Glacier, A Fleeting Glacier in the Cordillera Blanca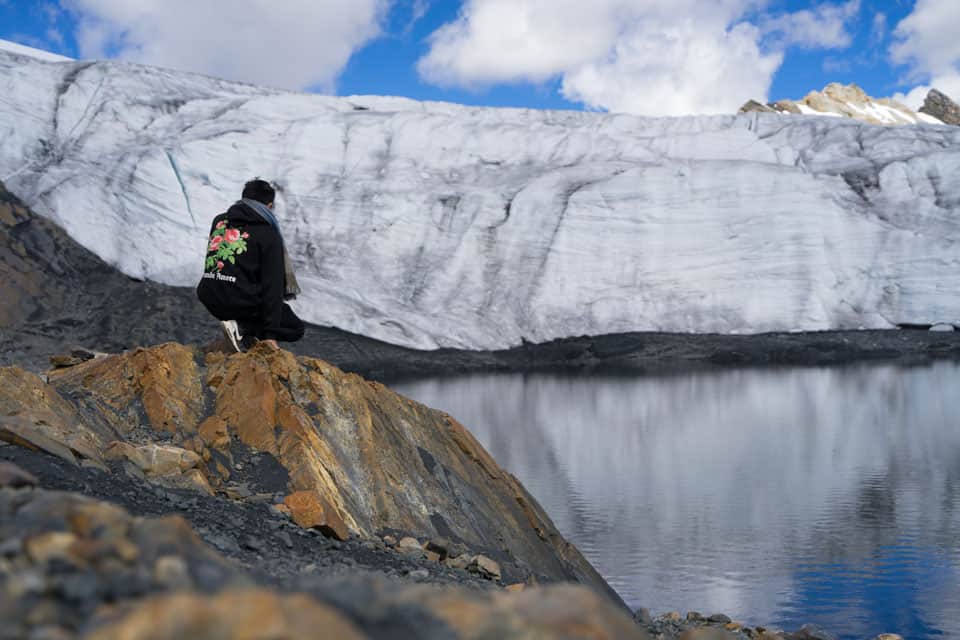 Duration: 2 hours out-and-back
Difficulty: Moderately Easy
Maximum Elevation: ~5000 m
The Peruvian Andes are the home of 70 percent of the world's tropical glacier, and no Peru itinerary is complete without a visit to at least one of them!
The one we highly recommend you to visit is Glacier Pastoruri.
By definition, the Pastoruri Glacier can no longer be considered a glacier because it no longer builds up ice in the winter. It is just a huge block of ice with fleeting memories of its once glory. Visitors used to be able to step foot on the glacier itself, but conversationist has restricted that to extend its goodbyes.
Make sure you see this before this place is no longer one of the top things to do in Peru.
Though at an altitude of 5,000 meters, the Glacier Pastoruri hike cannot be considered difficult. The marked trail is well-paved and you only ascend about 150 meters or so. If you have been doing a lot of hiking in Peru, you can reach the Pastoruri Glacier from the trailhead in around 30 minutes.
To visit the Pastoruri Glacier, you have to base yourself in Huaraz, the hiking hub of Peru. Here you will find many agencies offering day trips to the Pastoruri Glacier. Visiting the Pastoruri Glacier independently is not recommended because of how inaccessible the location is.
5. Laguna Paron (Paron Lake)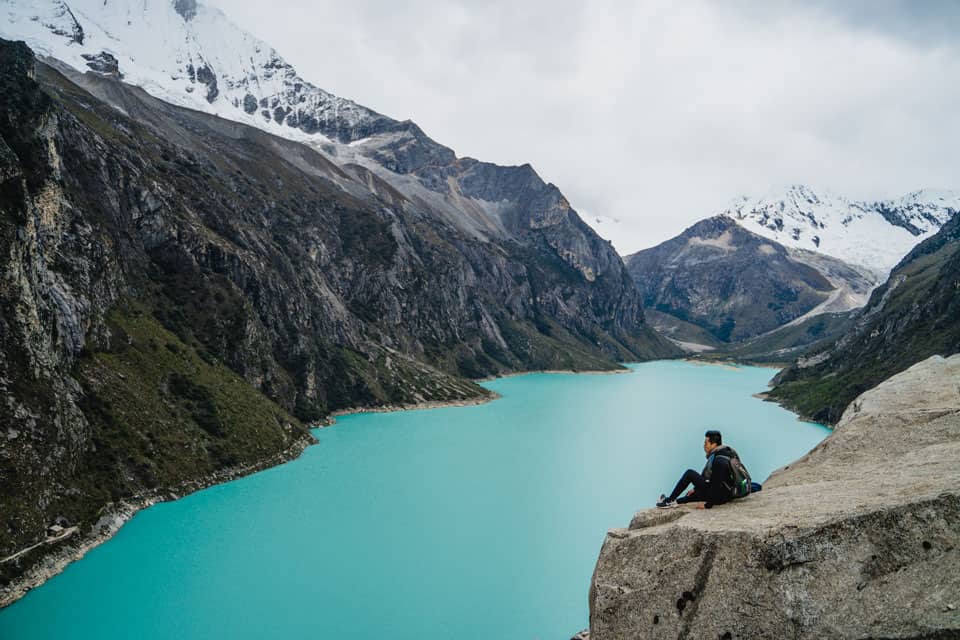 Duration: 2 hours out-and-back
Difficulty: Moderately Easy
Maximum Elevation:4200 m
As the biggest lake inside Huascaran National Park, Laguna Paron (Lake Paron) is one of the best hikes in Peru. Featuring beautiful blue glaciated water surrounded by dramatic snow-capped giants, Laguna Park offers a hypnotizing landscape unlike anywhere else in Peru.
While most of the prized views appear at the end of a treacherous hike, the trailhead of the Laguna Paron hike starts on the shore of the glacial lake, offering incredible views of the surroundings already.
Visitors can then hike up to the nearby mirador (viewpoint) along a rocky trail with numerous boulders near the end. It is at the mirador that hikers can see the famous Artesonraju mountain, the same mountain illustrated in the logo of Paramount Pictures, a famous film company.
The hike to the viewpoint is only about 45 minutes to an hour and should be fairly easy for hikers of any level of experience. It is at 4,200 meters above sea level, so some degree of acclimation is required.
The Laguna Paron hike can be done independently, though we recommend a tour because they are safer, easier, and affordable. You can easily find many travel agencies offering tours in the streets of Huaraz, just don't forget to haggle!
6. Laguna 69, The Most Beautiful Day Hike In Huaraz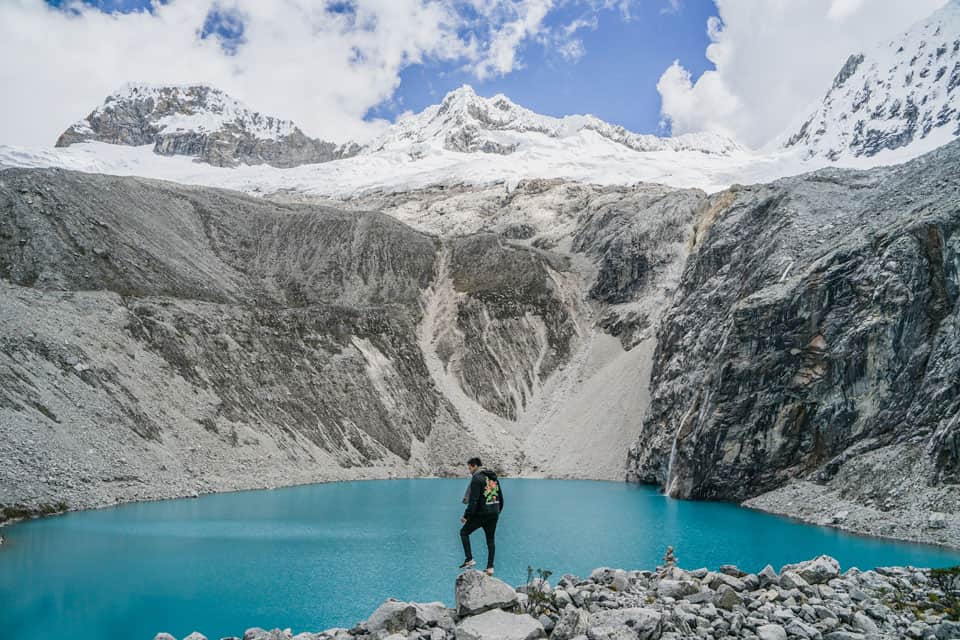 Duration: 6 hours out-and-back
Difficulty: Moderately Difficult
Maximum Elevation:4600 m
If there is a must-do day trip hike in Peru, it has to be the Laguna 69 hike (Lake 69) in Huaraz. It is a beautiful and challenging hike, high in the Huascarán National Park, a UNESCO Heritage site with outstanding natural value. The trail begins at 3900m above sea level and reaches a breathtaking 4600m.
Before attempting to hike to Laguna 69, make sure that you are fully acclimatized to the altitude, otherwise, you probably won't be able to make it to the lake.
Those who make it to Laguna 69 will be rewarded with beautiful turquoise waters that flow into the lake from the mountain glaciers. It makes for a refreshing (and cold!) swim if you fancy a dip or sit back and enjoy the view before heading back along the same trail. The whole hike takes around 5-6 hours.
It is possible to hike to Laguna 69 independently, but the lack of reliable public transport makes it much easier to join a group tour from Huaraz, which costs around 45 Peruvian Soles per person. Each person would then have to pay an additional 30 soles at the entrance of the Huascaran National Park.
Your driver picks you up at around 5 AM at your accommodation before driving for around 3 hours to reach the beginning of the trail, passing through the UNESCO listed Huascaran National Park where you may spot some vicuña, a rarer relative of the llama.
Laguna 69 is simply one of the best hikes in Peru for its spectacular views.
7. Marcahuasi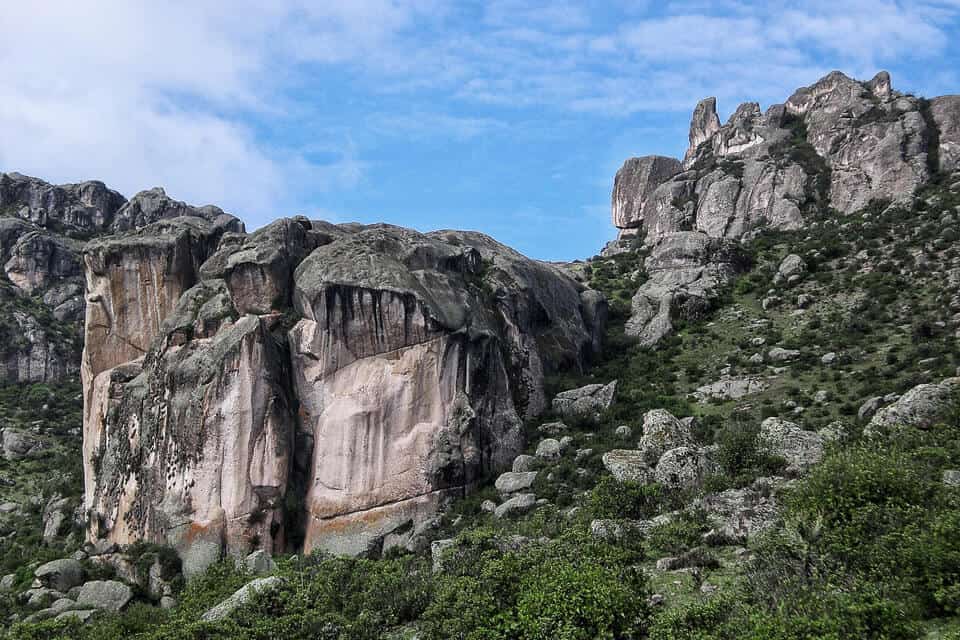 Duration: 6 hours out-and-back
Difficulty: Moderately Hard
Maximum Elevation:4000 m
Though it is not known for hiking or trekking in Lima, there is one hike that is worth the effort: Marcahuasi. At first, Marcahuasi might look like ancient Inca ruins, but historians believe that it is pre-Inca.
The hike to Marcahuasi is one of the lesser-known hikes in Peru and that's one of the things that make it special. Located at about 100 km from the capital Lima, Marcahuasi is the kind of place that not even Peruvians usually know about.
The origins of the place are unknown – to date, there is still no certainty if this is a man-made site or a natural one that was formed through erosion. Locals believe the site has cosmic energy.
Though the trail is very easy to follow and to walk, the fact that the hike starts at 3200 meters above sea level and that you gain a further 800 meters during the walk makes it incredibly hard.
You will start walking in San Pedro de Casta, and it will take you around 3 hours to reach the main site. Make sure to carry enough water and food for the day, as there is absolutely nothing and nobody (save for a few farmers near the village) along the way. Start hiking as soon as the sun rises, and plan to be back by 2:00 pm at the latest as that's when it starts raining, pretty much any day.
In order to reach San Pedro de Casta, you need to take the colectivos (public transport vans) to the Chosica stop. Once in Chosica, get a bus to San Pedro de Casta. The overall drive will take you more than 5 hours even if it is less than 100 km. The views along the way are stunning, but the road isn't exactly in good condition hence the bus moves really slowly.
Alternatively, you can try to find a tour in Lima. Given its lack of popularity, you might have to get lucky!
Though it is possible to accomplish the hike in one day, you should factor in at least one night in San Pedro de Casta due to unreliable public transportation. The village is tiny – no more than 300 people live there.
You will have to register your name at the office right in front of the bus stop – don't worry about finding it: the lady that works at the office will find you as soon as she sees an unknown face getting off the bus!
You can sleep at the Hospedaje Municipal, which is very basic (no hot water, very cold rooms) and eat in one of the two comedores (local eateries) which prepare a few basic but genuine Peruvian dishes.
If you wish to camp in Marcahuasi, there is a section named the "Amphitheater" that is popular for camping. Camping is also another popular option, but you must be well-equipped (especially for the cold) and experienced!
Don't worry if hiking is not what you planned to do in Lima, there are many delicious and cheap seafood restaurants and plenty of other things to do in Lima!
8. Huayna Picchu, One of The Most Dangerous Peru Hikes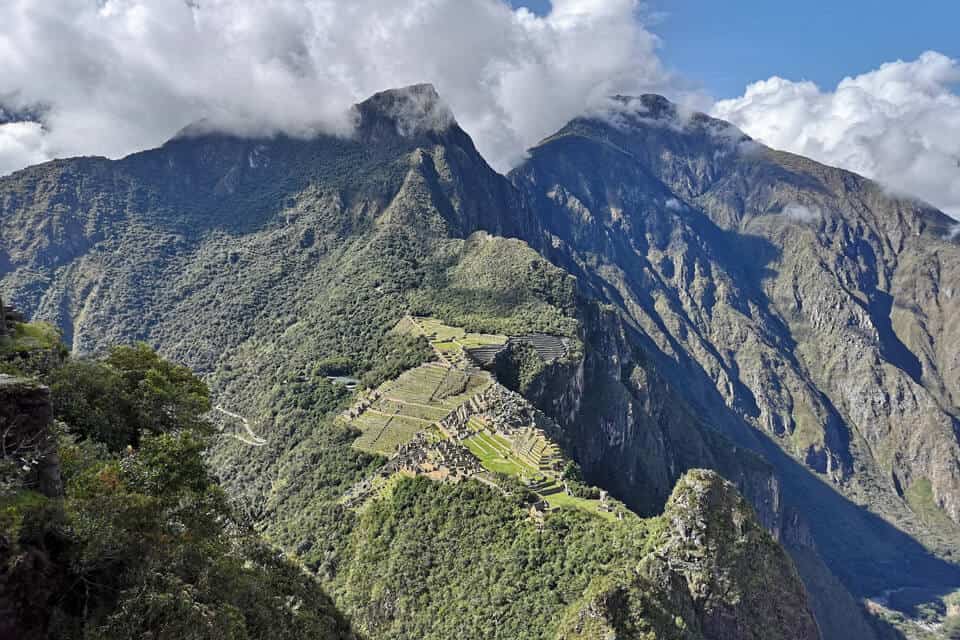 Duration: 2 hours out-and-back
Difficulty: Moderate
Maximum Elevation:2693 m
Many travelers visit Machu Picchu and do not realize that there are many hikes you can do inside Machu Picchu's archaeological site. Yes, I am not talking about the Inca Trail or the Salkantay Trek to Machu Picchu itself, but the mountains inside.
Huyana Picchu is one of the hikeable mountains in the Machu Picchu citadel. It's also known as "Wayna Picchu,'" or young mountain in the indigenous language Quechua.
The Huayna Picchu hike is a popular option for both those who are visiting Machu Picchu as a day trip but also for multi-day trekkers. At an altitude of 8,835 feet (2,693 meters), the summit gives you a spectacular view of the Machu Picchu citadel.
Due to conservation efforts, only 400 people can hike Huayna Picchu per day and reservations book up quickly. You'll want to get a permit to hike in advance and you can do so on the official Machu Picchu government website. A guide is not needed for this hike and it can be completed in about two hours.
It's a short hike but you'll have an elevation gain of more than 1,000 feet. The hike is mostly a series of steep steps so being acclimated to the altitude is preferred.
The iconic hike ends at the summit of the peak, a staggering 1,180 feet (360 meters) above the lost city of Machu Picchu. With dramatic drop-offs and steep steps along the trail, you'll want to not only be physically prepared but mentally as well.
If the weather is just right you'll have a view to remember and bragging rights that you did not only one of the most dangerous and best hikes in Peru, but also one of the most dangerous hikes in the world. Make sure you visit when there is good weather in Machu Picchu, such as during the dry season.
9. Rainbow Mountain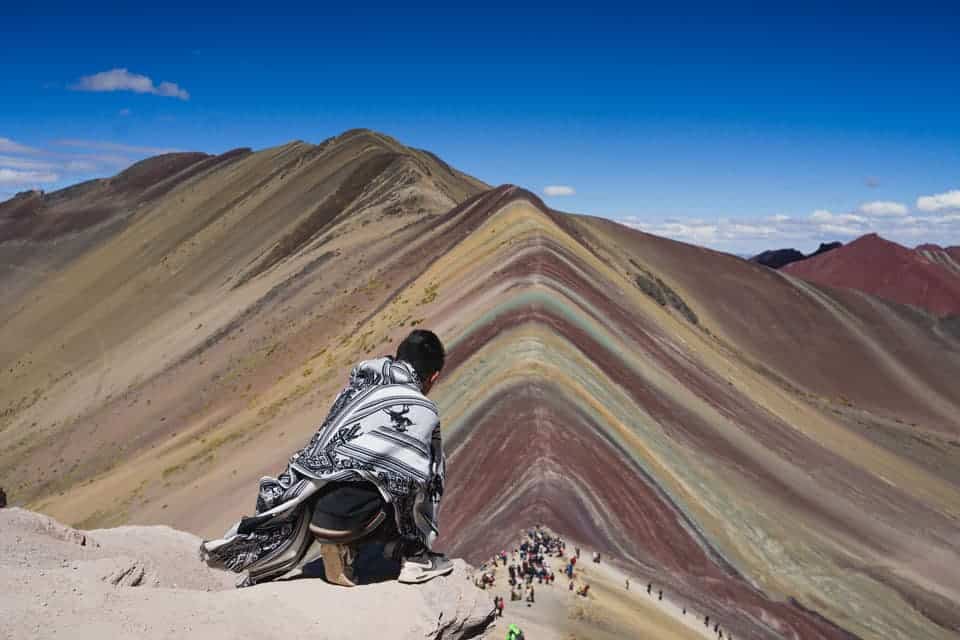 Duration: 3 hours out-and-back
Difficulty: Moderate
Maximum Elevation: 5200 m
Rainbow Mountain is one of the best day hikes in Peru. Also known as the Vinicunca or La Montaña de Siete Colores (Mountain of Seven Colors), Rainbow Mountain was only discovered in 2015 but has become very popular since then due to the mountain's unique colors.
While it is possible to do the hike on your own, it's very difficult to reach the trailhead unless you have your own car. Therefore, most people opt to join a tour from Cusco which includes transportation and a guide.
The hike itself is relatively short at 7km round-trip, but what makes it difficult is the altitude. The trail starts at just under 5,000m and goes up to 5,200m. Starting at this kind of elevation makes it much more difficult to breathe, so it's important to take your time going up.
It takes about two hours to get to the top. If you aren't up for hiking, there is also an option to take a horse up Rainbow Mountain.
Despite its physically demanding nature, the hike's breathtaking views will keep anyone motivated to the summit. The trail passes along snow-capped mountains, fields of llamas, and colorful valleys. Rainbow Mountain itself is not visible until the very end of the hike but upon reaching it, you will be rewarded with an explosion of colors.
When selecting a tour in Cusco for the Rainbow Mountain, pick one that includes extra time to explore the literally adjacent Red Valley, or Valle Rojo in Spanish. A short 30-minute hike from Rainbow Mountain is one of the best hidden gems in Peru, a place that is more stunning than Rainbow Mountain!

It is recommended to visit Rainbow Mountain in the dry season between May and September. In the rainy season, you might encounter snow and rainfall that will make the hiking path much more treacherous.

Though if you are an avid photographer, the rare sight of the Rainbow Mountain partially covered by snow is very picturesque.
10. Machu Picchu Mountain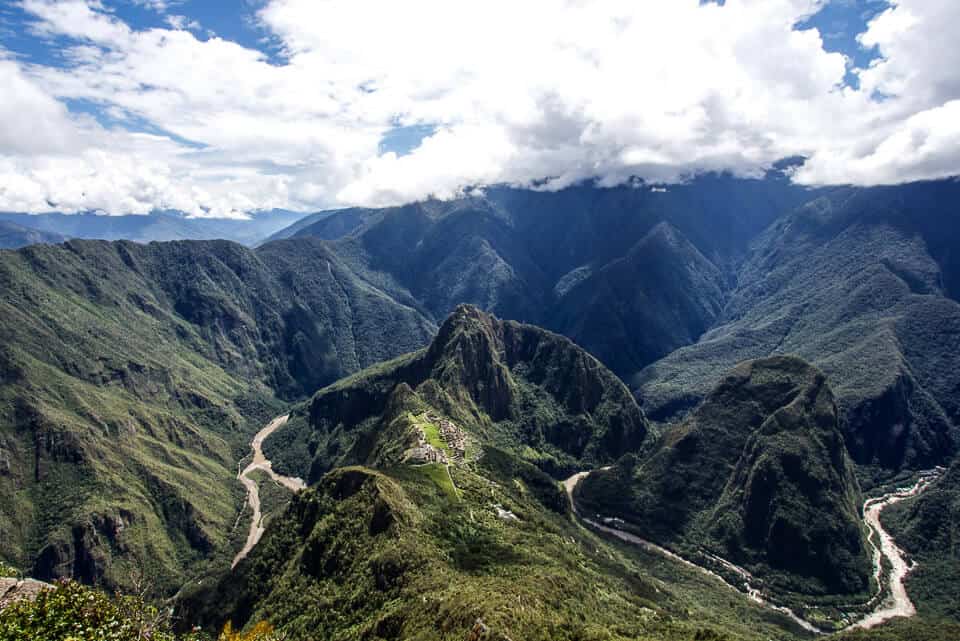 Duration: 3.5 hours out-and-back
Difficulty: Moderate
Maximum Elevation: 3082 m
By: Susan of Thrifty After 50

Visitors to the historic site of Machu Picchu have a choice of two hikes; Huayna Picchu and Machu Picchu Mountain. Machu Picchu Mountain, also known as Montana Machu Picchu, is the easier and safer of the two climbs.
It can be easily done without a guide and is suitable for all ages, the mountain is 3082m above sea level making it physically challenging if you are not used to hiking at altitude.
The hike is primarily stone steps the entire way up the mountain with a few narrow sections of the pathway that might challenge someone with a severe fear of heights.
You should allow three to four hours for the return hike as well as plenty of time on top of the mountain to enjoy the amazing 360-degree views. The view from the top makes it the perfect place for a picnic lunch.
If it is a beautiful sunny day then the climbing Machu Picchu mountain is well worth the pain of all those stairs, but you may wish to reconsider if it is cloudy as the best part about the hike is those stunning views from the top.
Tickets to both the hiking trails are purchased online and also include your entry to the Inca City. The tickets to both Huayna Picchu (400 per day) and Machu Picchu Mountain (800 per day) sell out fast and should be purchased well in advance.
On the day of your visit, make sure you carry your passport as security guards will check that the name on your ticket matches the name on your passport. You should also carry plenty of water and dress for a wide range of weather conditions.
---
Best Multi-Day Treks In Peru
1. Choquequirao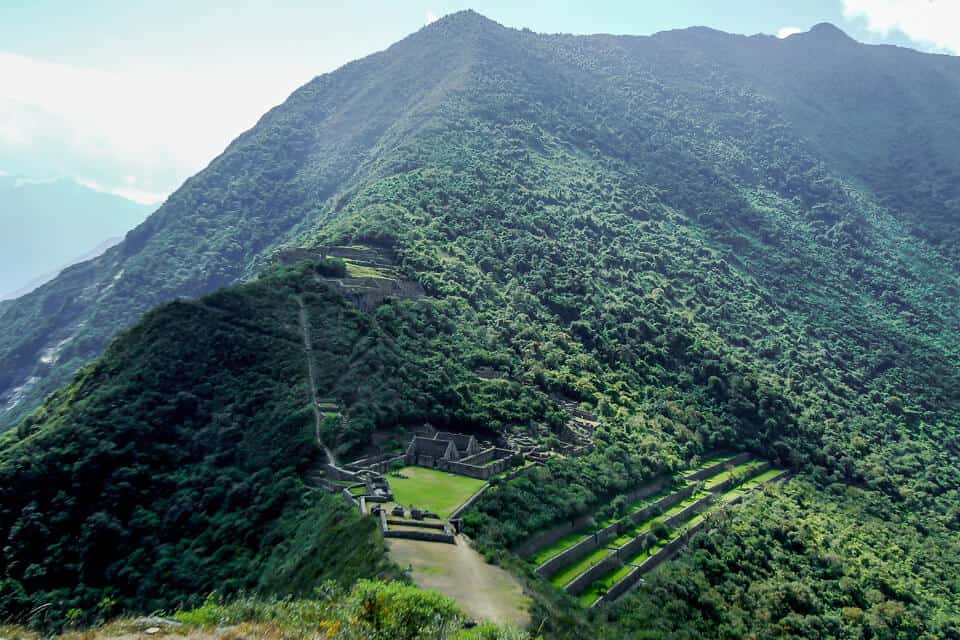 Duration: 5 days
Difficulty: Moderately Difficult
Maximum Elevation: 3050 meters
The Inca Trail to Machu Picchu might be the most famous hike in Peru, but for those in the know, there's another incredible trek that should be added to your list of must-visit places in Peru.
Meaning Cradle of Gold in the original Quechua, Choquequirao is an archaeological site located in the Vilcabamba mountain range close to Machu Picchu.
The Choquequirao trek is a challenging two days, with over 13 kilometers of steep ascent through the Apurimac Canyon – comprising a series of switchbacks and false summits and a maximum elevation of 3,050 meters above sea level – across the 32-kilometer trail.
After a brutal climb to reach the site – which sits on a flattened hilltop at 2,950 meters above sea level – you can spend a day exploring the agricultural terraces and temples of Choquequirao that have been excavated from the encroaching jungle. The best bit? There are hardly any visitors each day, meaning you might well experience it alone.
From here, you can continue on to Machu Picchu (a further five days' trekking and an additional 78 kilometers that is only for the brave and the acclimatized) or return the way you came, taking the total hiking distance to 64 kilometers.
It's possible without a guide, although you might want the hiking experience and someone to bring all the camping equipment.
The most popular trekking duration is 5 days: 2 days of getting there, one full day for exploring Choquequirao, and 2 days to return back.
2. Inca Trail, The Most Famous Peru Trek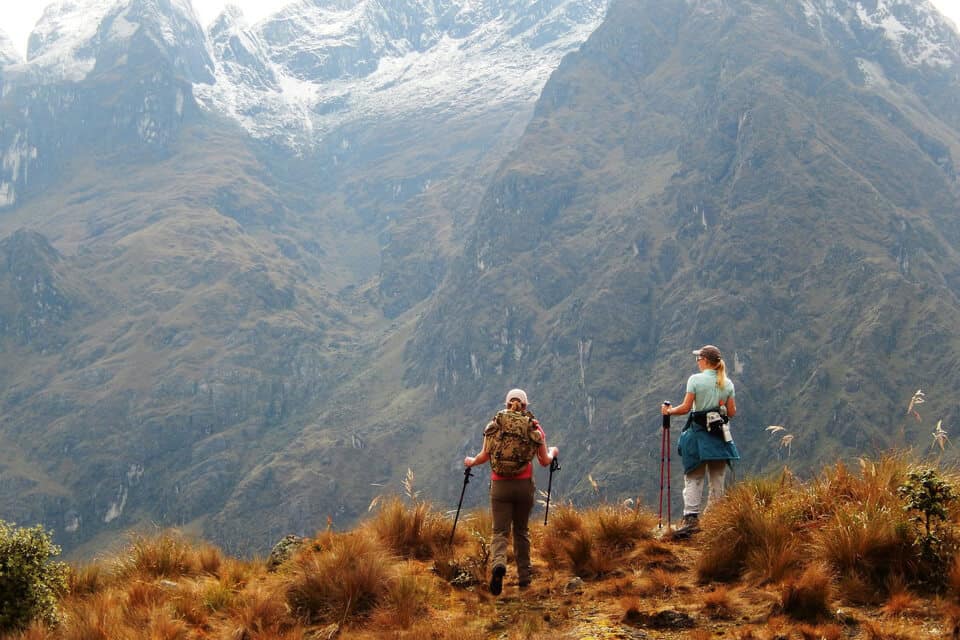 Duration: 4 days
Difficulty: Moderate
Maximum Elevation: 4215 m (Dead Woman's Pass)
There is nothing more famous in Peru than the Inca Trail and Machu Picchu.
The Inca Trail to the lost city of Machu Picchu is not only considered one of the best treks in Peru, but one of the best treks in the world. Though there are many other hikes and treks to Machu Picchu, the famous 4-day Inca Trail provides you with a cultural experience unlike any other.
Trekkers hike through the Sacred Valley of Peru using the same paths that used to connect the Inca settlements. Nowadays, most of these settlements are abandoned, and you are left with ancient Inca ruins that your tour guide will elaborate on.
The Inca Trail is unlike other treks to Machu Picchu where you arrive at the Aguas Calientes, the closest town to Machu Picchu. On the last day of your Inca Trail, you arrive through the sun gate, the exact way the Incans used to take! You don't even go through the entrance to buy the tickets; you arrive inside Machu Picchu from the mountains!
This once-in-a-lifetime experience is definitely a must-do in Peru, and it is not surprising how early in advance you have to reserve this tour. Because there are only a limited number of Inca trail permits, the classic Inca Trail books out far in advance.
We recommend booking at least 6 months in advance. While there are many online travel agencies, only a tourism agency authorized by the Ministry of Culture of Peru can take you on the Inca Trail.
The Inca trail is a high-elevation hike, so it's a good idea to spend a few days in Cusco beforehand so your body can acclimatize to the altitude. The highest point on the hike is on day 2, where you go over a section of the trail known as Dead Woman's Pass at a height of 4,215 meters above sea level.
Don't let that stop you from seeing the UNESCO World Heritage Site of Machu Picchu!
3. Colca Canyon, One of The Deepest Canyons in the World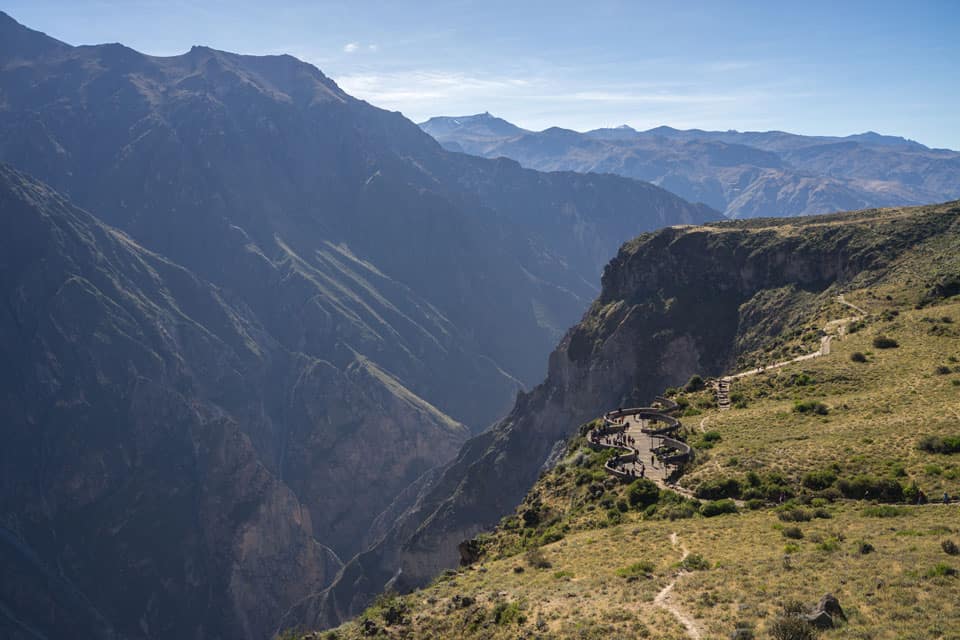 Duration: 1, 2, or 3 days
Difficulty: Moderate
Maximum Elevation: ~3,300 m
One of the most stunning Peru treks actually lies 376 kilometers away from Machu Picchu in a unique city called Arequipa. Known as the "White City" due to the construction material, Arequipa is home to the impressive Colca Canyon trek.
While most travelers know the fantastic trekking in Cusco, only a handful might know of Colca Canyon. Colca Canyon is the second deepest canyon in the entire world! And if you think the Grand Canyon in the United States would be No.1, the Colca Canyon is actually twice the depth of the Grand Canyon.
Though trekking Colca Canyon is doable without a tour, we hardly recommend choosing one of the treks offered. In the travel agencies in Arequipa, you will find tours for the 1-day Colca Canyon trek (which involves close to no hiking), the 2-day Colca Canyon trek (which we recommend), and the 3-day Colca Canyon trek (which is a prolonged version of the 2-day tour).
On the 2 or 3-day tour, you start the tour at Mirador Cruz del Condores, a viewpoint to observe the majestic condors in their natural habitat. Locals believe that condors are spiritual creatures and represent Hanan Pacha, or the heavenly world.
After the viewpoint, you are transferred to Cabanaconde, a small village where your epic hike in Peru will start.
The unique thing about the Colca Canyon trek is that Cabanaconde, the starting point of your hike, is actually the highest altitude you will reach at ~3300 meters. That is because you will spend your first day or two descending into the canyon, staying in the beautiful Sangalle Oasis, and ascending back to Cabanaconde on the last day.
Though many consider the Colca Canyon a difficult trek because you have to ascend more than 1100 meters on the last day, the relatively low elevation makes the trek a moderate difficulty. On the way back to Arequipa from your hike, you can even enjoy the nearby hot springs!
4. Lares Trek To Machu Picchu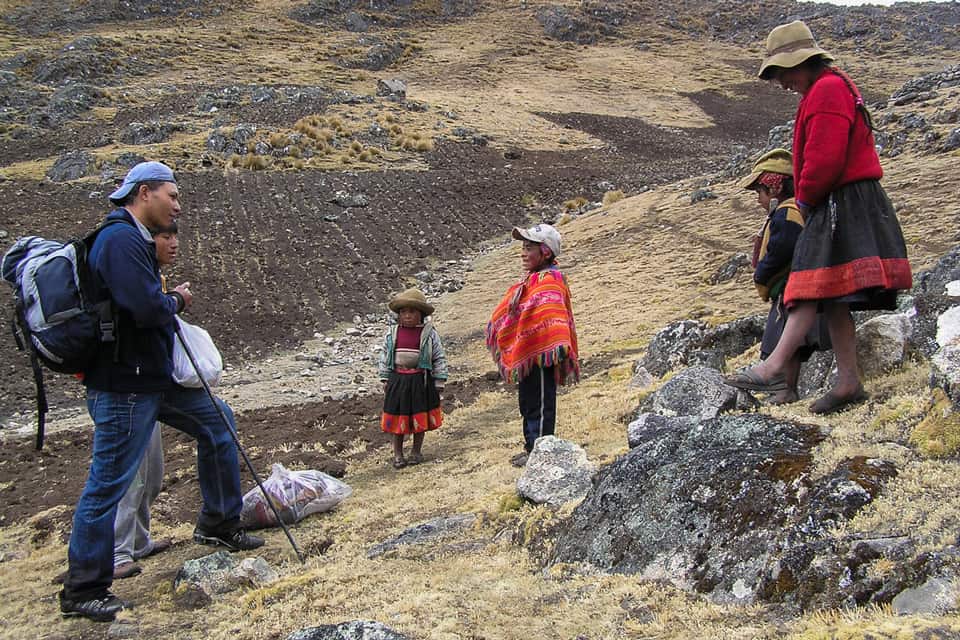 Duration: 2 to 5 days, depending on if you visit Machu Picchu
Difficulty: Moderately Difficult
Maximum Elevation: ~4,400 to 4,600 m, depending on the hiking route
The Lares region hikes are some of the best hikes in Peru simply because they are very customizable. The shortest Lares hikes are 2 days, and the longest 5 days. As a Lares region trek can take a variety of routes, you can cross a number of different passes of up to 4600m, though most are around 4400m.
The majority of the Lares Treks finish in Ollantaytambo, a town and archaeological site in the Sacred Valley where visitors can take the famous train to visit Machu Picchu.
What makes the Lares Trek in Peru so unique is not only the stunning landscapes, but also the different Quechua-speaking indigenous villages you encounter.
Until recently the Lares region of Peru was totally inaccessible by car. As a result, many typical villages remained living a traditional lifestyle high up in the mountains, largely unaffected by the world outside.
They still farm using Incan agricultural practices, among other fascinating facts. Their clothing remained the same and their agricultural practices were handed down from the Incas. Trekking the Lares route was like stepping back in time.
This mountain region near Lares contains many paths taken by the locals as they go about their daily lives, such as the herding of llamas, using them for transport, and so on.
If you are an experienced outdoors person and speak a decent level of Spanish, you should have no problems trekking through this region independently. Even though many women don't speak Spanish, the majority of men do speak some and nearly all the children.
Lares can be trekked all year round, meaning it's the perfect wet season trek should you visit the Cusco region from December through March. Tours can be arranged with the multitude of travel agencies in Cusco. Since it is an off-the-beaten-path Peru trek, you won't need to reserve your spot beforehand!
5. Akilpo-Ishinca Trek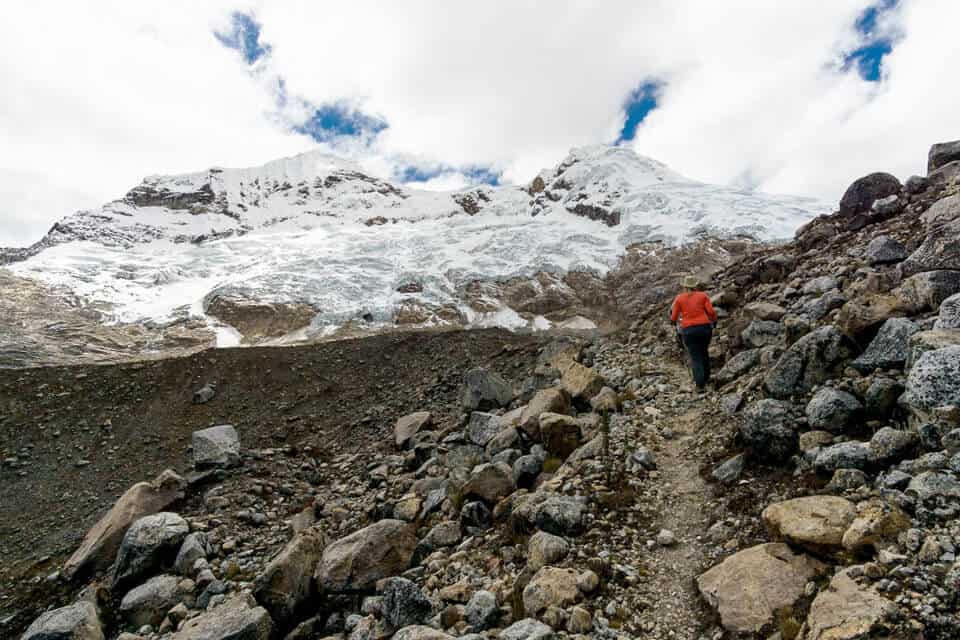 Duration: 3 days
Difficulty: Moderately Difficult
Maximum Elevation: ~5,000
By: Thea of ZenTravellers

Trekking in Huaraz Peru's incredible Cordillera Blanca range is an unforgettable experience. There is a multitude of treks that are suitable for many skill sets and desires for adventure.
One great option for those looking to do a multi-day trek amid breathtaking scenery and sky-high glaciated peaks without the crowds found on the Santa Cruz trek is the 3-day Akilpo-Ishinca route.
Leaving from Huaraz, the first day of the trek climbs gradually on a trail that winds through a picturesque valley to a beautiful creekside campsite where the starry night skies are sure to impress.
On the second day, you'll climb over a 5000m pass and walk along the stunning shores of Laguna Akilpo before arriving at Ishinca base camp where you'll spend the night with views of the impressive Toccaraju glaciers. There you can take a shower and even have a drink in the refugio (camp) if you so desire.
With most of the hard work behind you, the trail meanders mostly downhill on the third day with views of the Sierra Negra range in front of you. For those seeking a trek in the Cordillera Blanca without the crowds of some of the more famous trails, Akilpo-Ishinca is a great option for trekking in the Huaraz region.
6. Santa Cruz Trek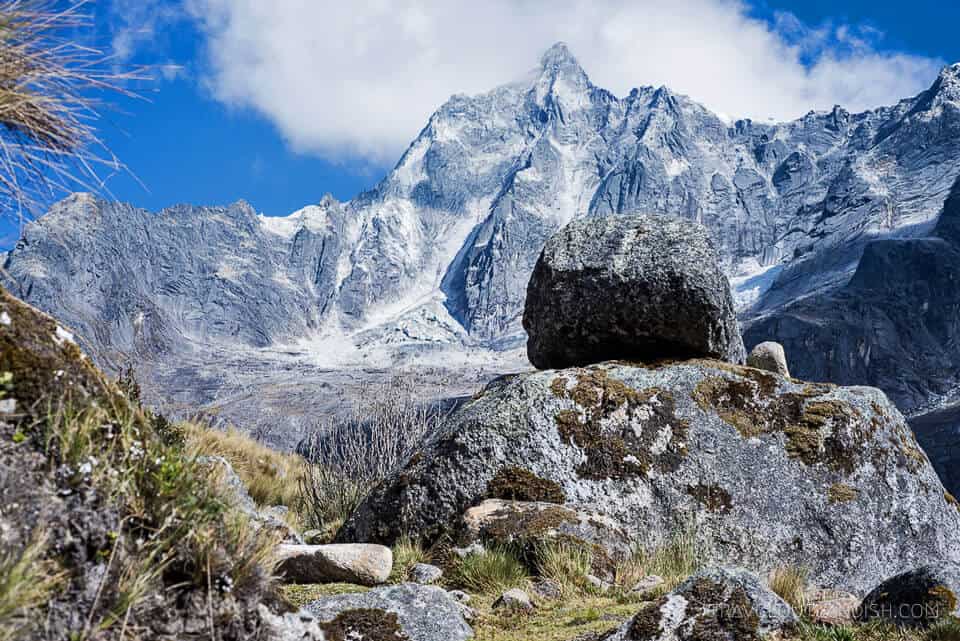 Duration: 3 or 4 days
Difficulty: Moderately Difficult
Maximum Elevation: 4750 m (Punta Union)
The Inca Trail may get all the credit, but if you're looking for one of the more adventurous treks in South America, look no further than the Santa Cruz Trek.
The Santa Cruz Trek is a 50km hike between La Vaquería and Cashapampa. Within Huascaran National Park, there are more than 400 lakes and jagged peaks climbing to 6768m. Over the course of four days, you'll get to experience many of these brilliant lagoons and high passes along the trail.
The hike hits its highest point of 4,750 meters at Punta Unión, making Santa Cruz a relatively moderate acclimatization hike for the region. The hike can also be made easier depending on where you begin; the route starting from Cashapampa is the Classic Route, but if you get dropped off at La Vaquería and hike it in the opposite direction, your uphills will be easier.
Because it's less known, the Santa Cruz trek is inexpensive whether you hike with or without a guide. Organized tours range from $150-$300, and can be easily found in Huaraz. while an independent trek can be organized for a bit less (though transport to the trailhead can be a tough logistic to navigate), you will need to rent all the gear in town.
This is not an easy trek by any means and weather can be unpredictable at such high altitudes, we recommend going with an organized tour for safety reasons.
7. Salkantay Trek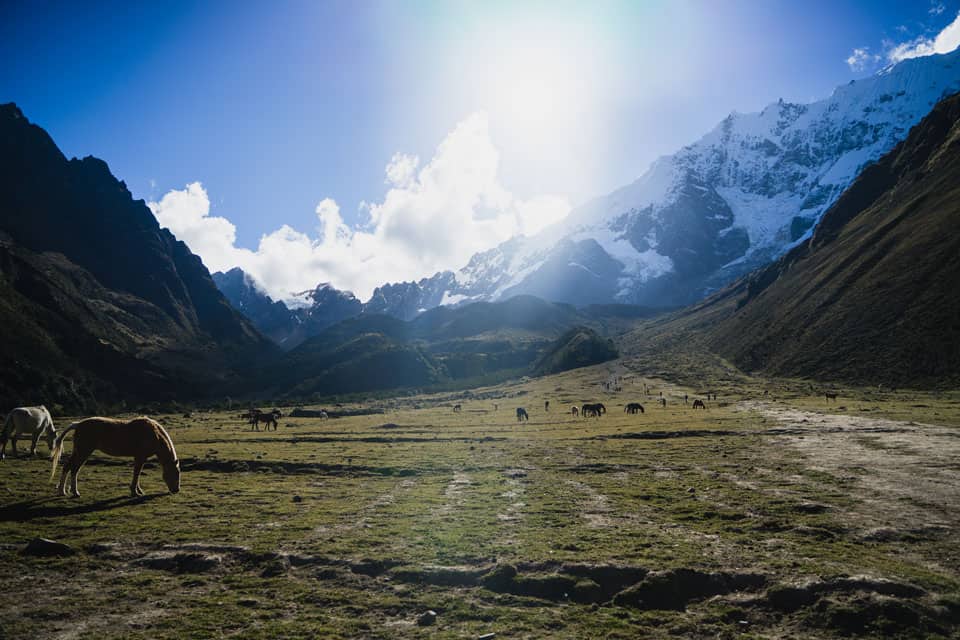 Duration: 5 days
Difficulty: Moderately Difficult
Maximum Elevation: 4600 m (Salkantay Pass)
The 5-day Salkantay Trek to Machu Picchu is the most popular Inca Trail alternative and it is not difficult to see why. Along the trek, hikers will see pastel blue glacial lakes surrounded by some of the tallest snow-capped mountains in Peru, as well as traversing through many local villages.
On the second to last day, trekkers can walk on the train tracks from Hidroelectrica to Machu Picchu town, or formally known as Aguas Calientes. Finally, on the last day, hikers rise up early to see Machu Picchu in all of its glory, the perfect reward to a tiresome 5-day trek.
Many people compare the Salkantay Trek to Inca Trail, but they are very different in my opinion. Salkantay Trail gives more stunning natural landscapes but the Inca Trail is more cultural and informative, as it passes through ancient Inca ruins.
The Salkantay Trek is also more demanding, perfect for avid hikers. Lastly, the Salkantay Trek is considerably cheaper than the Inca Trail and doesn't require booking in advance.
Stroll along the cobblestoned streets of Cusco and you will undoubtedly stumble upon many travel agencies offering the Salkantay Trek tour. Scout around and try to find the best deal and don't forget to negotiate.
I would highly recommend getting acclimatized in Cusco before attempting the Salkantay Trek, as the highest point on the hiking trail is 4600 meters.
8. Cordillera Huayhuash Circuit Trek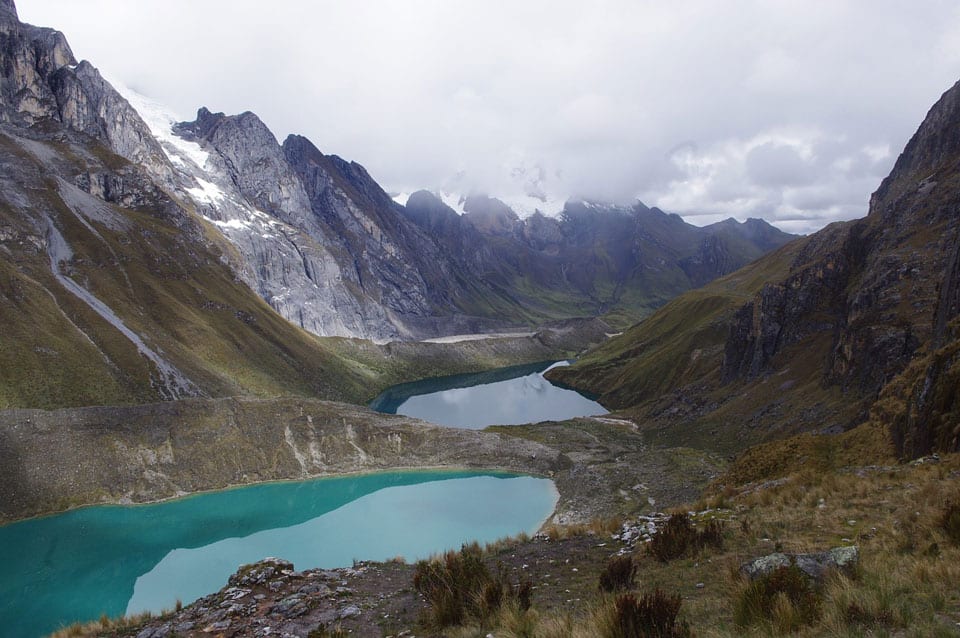 Duration: 4 to 12 days
Difficulty: Very Difficult
Maximum Elevation: 5000 m
If you are an experienced hiker looking for the ultimate trek in Peru, the Cordillera Huayhuash Circuit Trek is perfect for you. The Huayhuash Trek has been considered one of the most beautiful treks not only in Peru or South America, but the entire world. It is the dream of many hikers in the world to complete this trek!
The Classic Huayhuash Trek is a 12-day trek that takes you up to enormous ice-capped peaks, down the surreal cascading rivers, and around the breathtaking turquoise glacial lakes.
On the trek, you will see many famous mountains in Peru, such as the Yerupajá, the second-highest mountain at 6635 m. You will also see Siula Grande, a 6344 meter-tall mountain made famous by the book and movie, "Touching the Void." If you have seen that movie, you will know how stunning those mountains are!
Most of the trek involves hiking at altitudes more than 4000 meters and some passes are more than 5000 meters, so proper acclimatization is needed. Though it is possible to trek the Huayhash Trek independently, we highly advise against it, as hiking in such difficult conditions can be quite dangerous.
If you want a piece of the Huayhuash experience, there are easier treks with a duration of 4 days. If I were to decide for you, I would say go big or go home especially since this is one of the best hikes in Peru!
Tours for Huayhuash Trek can be found in the many travel agencies scattered throughout Huaraz.
9. Ausangate Trek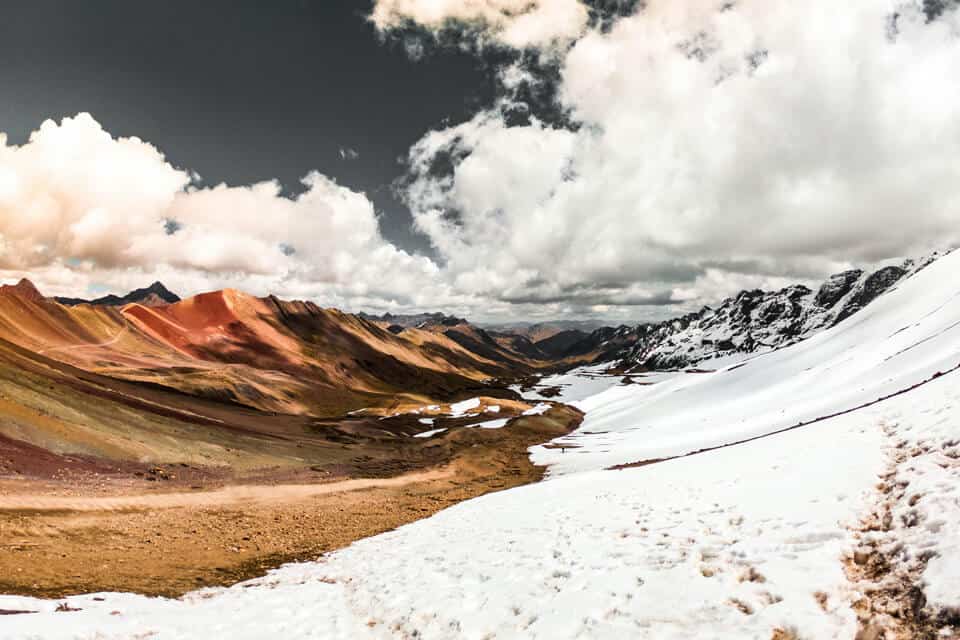 Duration: 5 days
Difficulty: Difficult
Maximum Elevation: 5161 meters (Palomani Pass)
If you enjoy tough hikes in Peru and jaw-dropping scenery with a fraction of the tourists on the Inca Trail or Salkantay Trek, then the Ausangate Trek is perfect for you.
This lesser-known 5-day circuit trek is gifted with fantastic turquoise lakes, hanging glaciers, snow peaks of the Andes, impressive waterfalls, indigenous animals such as llamas and alpacas, and even a visit to the famous Rainbow Mountain if you decide to take a short 1-hour detour.
As beautiful as it sounds, the Ausangate Trek will test your physical and mental capabilities before rewarding you with its best features.
The entire route of the Ausungate Trek is over 4000 m above sea level with two passes around 5000 m; the Palomani Pass – 5161 m and the Arapa Pass – 4850 m. Not only would you need proper acclimatization before attempting the Ausangate Trek, but being in relatively good shape is essential. The hiking days are long and many parts of the path are very physically demanding.
Though the trek can be done independently, we would highly recommend you to be prepared and experienced at hiking in such weather and altitude. There are hardly any villages or settlements along so hikers must carry camping gear and food supplies, let alone attempting to seek help in case anything goes wrong.
If you do decide to trek the Ausangate without a tour, the start and finish of the trail are at the remote village of Tinque (Tinki), about 100 km from Cusco. If you would like to go with a tour company, you can easily find a travel agency in Cusco!
---
Hiking in Peru FAQs
When Is The Best Time To Go Hiking in Peru?

Peru is divided into two seasons, the dry winter season and the wet summer season. The best time to go hiking is during the dry winter season (between April to October) when you will find plenty of sun and little rain.

How to Acclimate to The Altitude in Peru?

Altitude sickness is a high concern for hikers in Peru. Generally speaking, any altitude above 2,400 can cause altitude sickness. We recommend staying a few days in high altitudes before attempting any hiking. Drinking coca tea also helps with the altitude in Peru.

Do You Have to Take Tours to Hike in Peru?

Though most of the hikes in Peru don't require a tour guide, tours provide reliable transportation to the trailhead and back. Many of the hikes are hours away from the nearest touristy city, so the transportation from guided tours are greatly appreciated.

What to Bring For the Hikes in Peru?

If you are not doing any camping, then the only things you might need are trekking poles, a comfortable hiking backpack, and some good warming clothing.
---
Like this post? Don't forget to save it on Pinterest!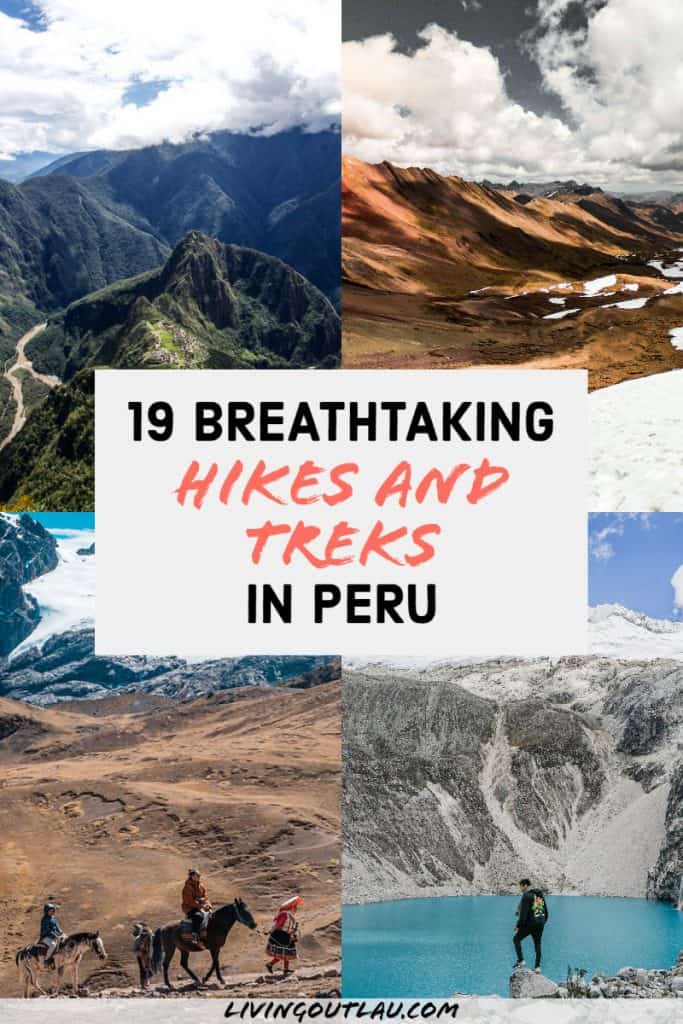 ---
This is the end of our guide for Peru's best treks and hikes. We hope you will enjoy one of the best countries in the world for hiking!

Any questions? Leave a comment!
Disclaimer: Some of the links above are affiliate links. That means if you book or make a purchase through the links, we will earn a small commission at no extra cost to you! The money will help run this site! Thank you!