Chachapoyas is the capital of the Amazonas Region in Northern Peru. Many travelers skip this city and the northern part of Peru because there are more attractions to see in Southern Peru.
But if you are reading this guide, you are planning to go to Chachapoyas or are already in Chachapoyas. Way less touristy than southern Peru, Chachapoyas, also called Warriors of the Clouds, is a place filled with history, culture and UNESCO World Heritage sites.
Chachapoyas was an indigenous tribe just like the Incans. The Chachapoyas people are believed to have existed from 800 A.D. until the 16th century when the Incans conquered them.
You will undoubtedly find many attractions in Chachapoyas, with a fraction of the tourists in places like Cusco and Machu Picchu. So let's jump straight into the 7 best things to do in Chachapoyas!
What Are The Best Things To Do In Chachapoyas?
1. Catarata de Gocta, The Best Place to Visit in Chachapoyas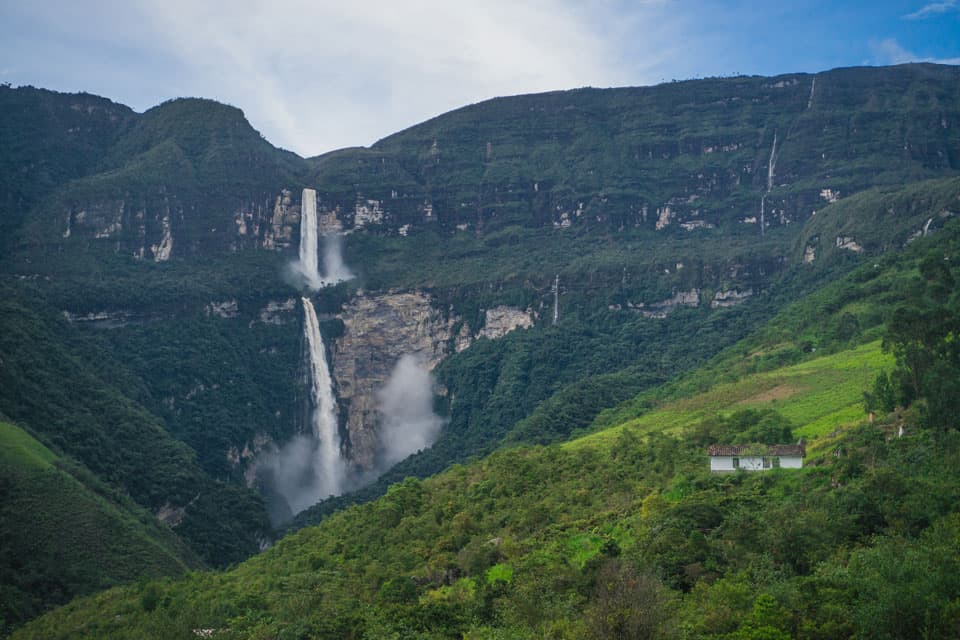 Catarata de Gocta, or the Gocta waterfalls, is one of the most popular things to do in Chachapoyas. Measuring in at 771m in height, it was the 3rd highest waterfall in the world, but now it falls somewhere between 3rd and 16th in the world, depending on how you measure it.
But one thing for sure is regardless of whether it is the 3rd or the 16th, the sheer force of the Gocta waterfalls will sweep you off your feet, especially during the rainy season.
It is one of the natural wonders in my travels that made me said: "Wow, nature is so amazing but dangerous." I was almost washed away when I visited Gocta waterfall because the water suddenly doubled in volume when we were standing underneath it.
Maybe it was because of rainfall that happened near the top but to this day we don't know what happened. It looked like we just came back from a swim. The mist was so strong my phone shut down and I had to toss it in a bag of rice for 2 days (talk about travel hacks).
How to Get to Catarata de Gocta from Chachapoyas
The way to the Gocta Waterfalls from Chachapoyas is quite simple. You have two options, to either take a guided tour, which can be found at all the travel agencies in Chachapoyas, or take public transportation.
It is fairly easy to take public transportation from Chachapoyas to Goctoa waterfalls so if you traveling Peru on a budget, this is a good option.
To get there by public transportation, you would have to go to the Chachapoyas terminal and take a bus to Cocachimba. If there is no bus to Cocachimba, which is often the case, then take a colectivo (shared van) to Pedro Ruiz and get off at Cocahuayco. At Cocahuayco, you will be able to take mototaxi (or tuk-tuk) to Cocachimba.
Once you arrive at Cocachimba, you will pay the entrance fee and embark on a 2-3 hour journey through the cloud forest to get to the Gocta waterfalls. The whole hike takes about 5-6 hours round trip, making it a great day trip from Chachapoyas. Don't forget to reward yourself with a traditional dish you must try in Peru after!
To go back to Chachapoyas from Gocta Waterfalls, there is usually transportation at Cocachimba that will take you back directly. If not, you can take a mototaxi to Cocahuayco and flag down any transportation going towards Chachapoyas. 
2. Sacrofagos de Karajia and Caverna de Quicota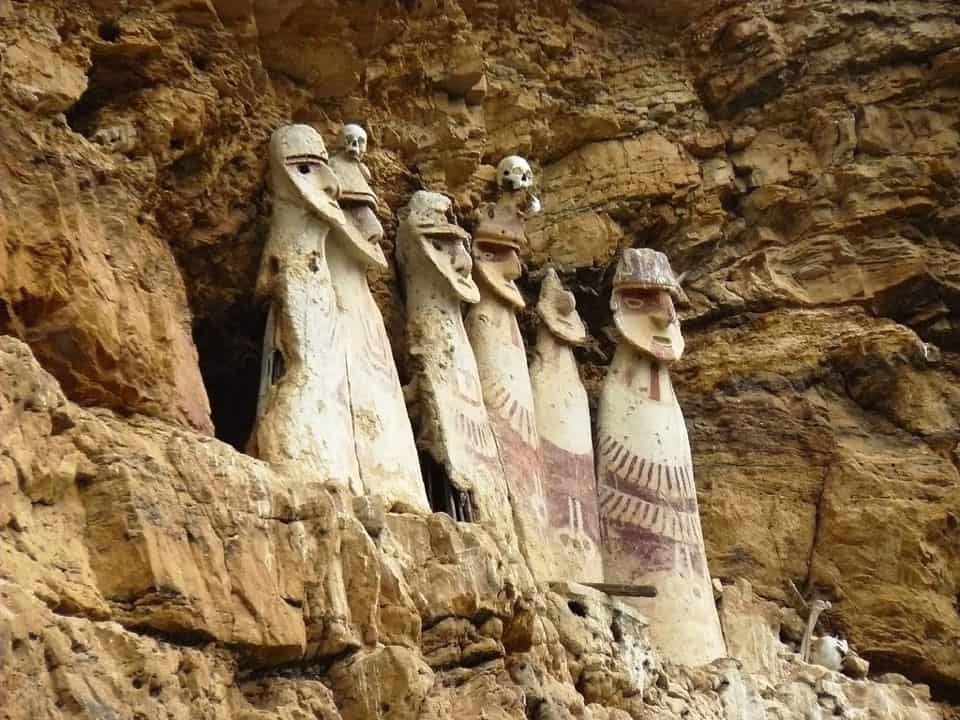 Sacrofagos de Karajia(Sacrofagi of Karajia) and the Caverna de Quicota (Cavern of Quicota) is a popular tour package that is offered in Chachapoyas.
The Sacrofaogs de Karajia and Caverna de Quicota are some of the best places to see in Chachapoyas for history lovers.
In the cavern of Quicota, you will see bats, stalagmites, and stalactite formations. But the most impressive part of Caverna of Quicota is the bones and paintings that are still in the caves. Caverna de Quicota was once a cemetery for the Chachapoyas people. 
On the other hand, the Sarcophagi of Karajia is the highest level of burial ground there is in Chachapoyas. The Chachapoyas people believe that the most important officials, royalties, and tribal leaders are to be buried in a place high and inaccessible to others.
As a result, many archaeologists believe that the buried are from the city of Kuelap, which brings us to our third top thing to do in Chachapoyas.
3. Kuelap, Machu Picchu of Northern Peru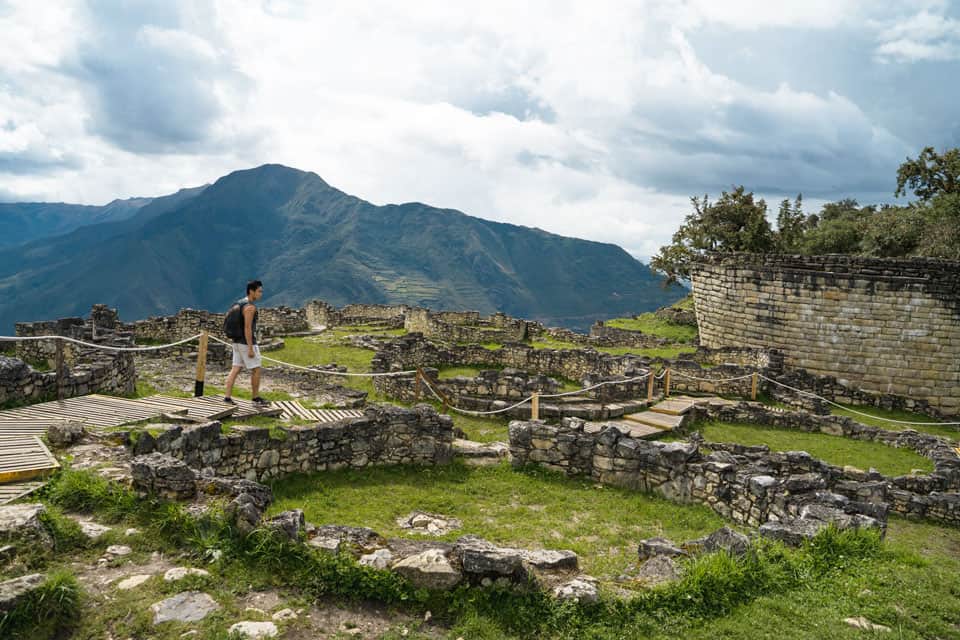 Kuelap ruins, otherwise known as the Machu Picchu of the north, is definitely the number one reason why people come to Chachapoyas. 
It is easy to see why so many people compare it to Machu Picchu. They are both ruins that were abandoned by the indigenous people, both were at a high altitude to give them a better advantage against invaders, and both are incredible engineering achievements.
Even though Kuelap was an ancient fortress with high walls that were impenetrable from the outside, there is no trace that battles actually took place there. It was simply a settlement of the Chachapoyas people that lived here from the 6th Century to the 17th Century.
The archaeological site of Kuelap is still a hidden gem of Peru and does not receive many tourists. In fact, my experience at Kuelap was much better than the overcrowded Machu Picchu and their restrictions.
How to get to Kuelap from Chachapoyas?
While finding a tour in the city of Chachapoyas should not be difficult, it is also very easy to go to Kuelap on your own. If you are afraid of taking public transportation in Chachapoyas or don't speak any Spanish, you should go with a tour agency.
To get to Kuelap without a tour, you will have to take a shared van at the bus terminal of Chachapoyas.
The van should drop you off at the ticket booth where you will buy your ticket for the cable car. Once you have your ticket, you will then board a transport shuttle to the cable car station, get on the cable car, arrive in Kuelap, then buy another ticket just for the entrance of the Kuelap ruins. The entrance ticket for Kuelap is 30 soles.
To get back to Chachapoyas from Kuelap, just take the exact same way but opposite direction.
4. Explore Revash Mausoleums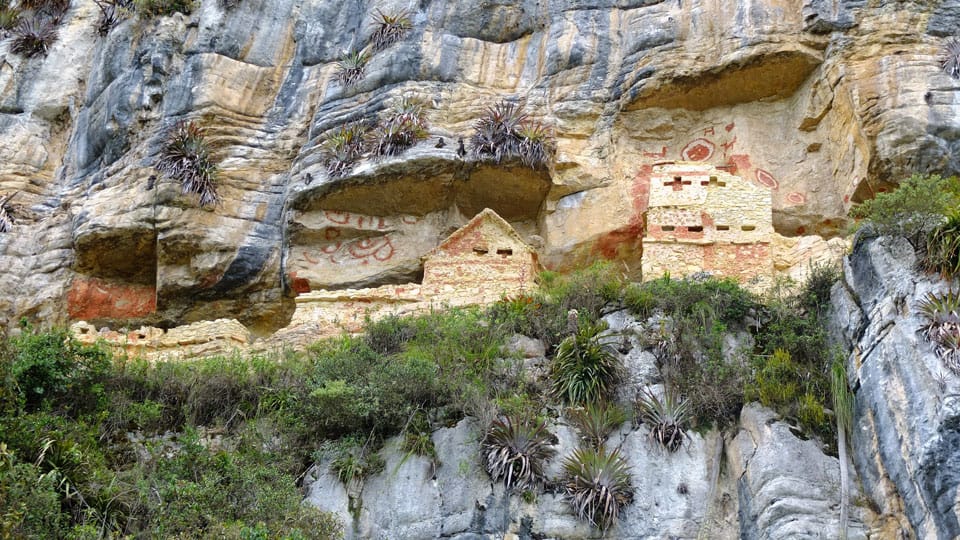 Revash Mausoleums are funerary complexes similar to the Sacrofogos de Karajia. Archaeologists believe that the people buried in Karajia were more important than the ones buried in Revash.
However, the Chachapoyas that were buried here were no common people either. These mausoleums are located high in the air and have little houses made of rock and adobe, indicating that people of importance were buried inside. 
How to Get to Revash Mausoleums from Chachapoyas?
The easiest way to do it would definitely be taking a tour from one of the travel agencies in the city of Chachapoyas. However, if you want to do it yourself and save some money, it is also quite easy.
To get to the Revash Mausoleums, you will have to take a shared van at the Chachapoyas terminal to Leymebamba and ask to get off at Yerbabuena. At Yerbabuena, you will embark on a 2-3 hour hike to get to the Revash Mausoleums.
If you take a tour, it is considerably less walking.
5. Yumbilla Falls
Though not as popular as the Gocta waterfalls, the Yubilla falls are actually much higher in altitude.
Measuring 895.5m (yes the .5m is important), it is officially the 5th highest waterfall in the world.
The difference between the Yumbilla waterfall and the Gocta waterfall is that you can literally walk to the base of the Gocta waterfall. For Yumbilla waterfall, you will see it from a distance.
However, it is definitely worth going, the Yumbilla waterfall is surrounded by lush scenery and gives off a mysterious vibe.
How to Get to Yumbilla Falls from Chachapoyas?
Like the other places to see in Chachapoyas, you can easily go with a tour company. Tour companies are located throughout the city and concentrated around Plaza de Armas.
But if you want to DIY, you can take a shared van from the Chachapoyas terminal to Pedro Ruiz, as if you were going to the Gocta waterfalls. But this time you will take it all the way to Pedro Ruiz.
At Pedro Ruiz, you will have to get a mototaxi (or tuk-tuk) to the town of Cuispes. You will want to get off at the tourist information center named Yacu Urcu. Ask the driver or the locals that live in Cuispes, they should know. If not, the location is on maps.me.
Tell the people at Yacu Urcu that you want to go to Yumbilla falls. You will have to pay an entrance of 10 soles. It is advisable to take a guide but not required.
After you pay the entrance fee, take another mototaxi to the beginning of the hike to Yumbilla falls. You can walk this part but it will add another 1.5 hours each way, on top of the 2 hours walk you will be doing to get to Yumbilla falls.
To return back to Chachapoyas, just do the exact opposite.
6. Leymebamba Museum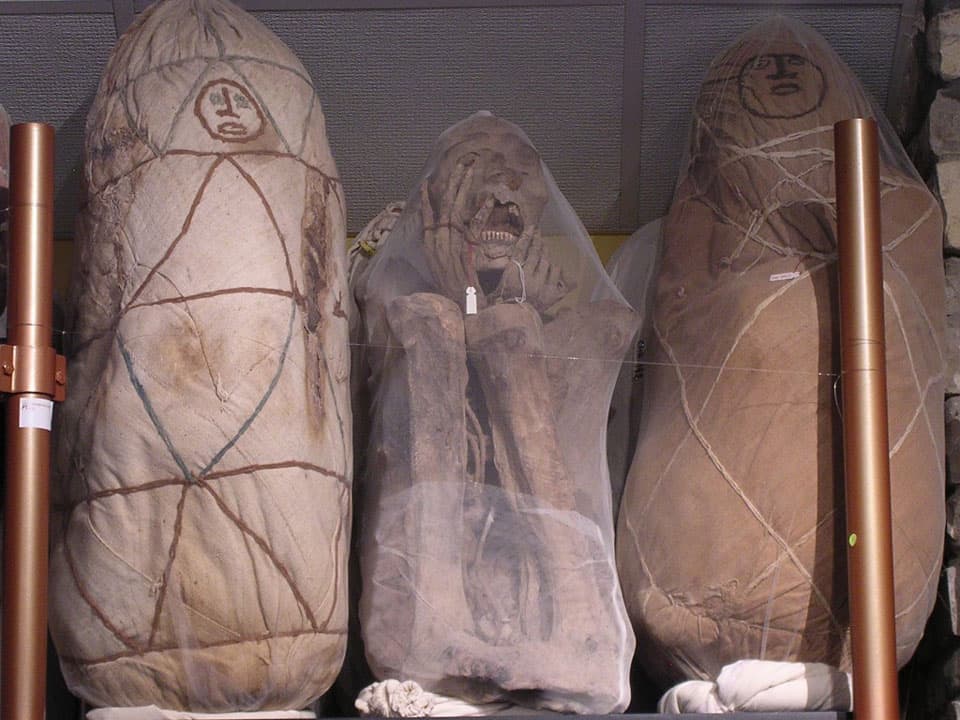 Come to the Leyebamba museum to see hundreds of mummies on display. These mummies were found in the nearby historical site, Lagunas de los Cóndores.
There are over 200 mummies that are preserved in the Leymebamba museum, many of them still kept the same expression as when they were buried. Faces of agony, pain, and fear are expressions you can find in this eerie museum.
How to Get to the Leymebamba Museum from Chachapoyas?
Like the other destinations in this guide, you will have to go to the terminal of Chachapoyas. At the terminal, you will take a shared van to the city of Leymebamba.
Once you get off the van at Leymebamba, take a taxi to the Leymebamba Museum. It is a 10-minute ride but a 45-minute walk up. On the way back, it is easy to walk back down. 
7. Cañon del Sonche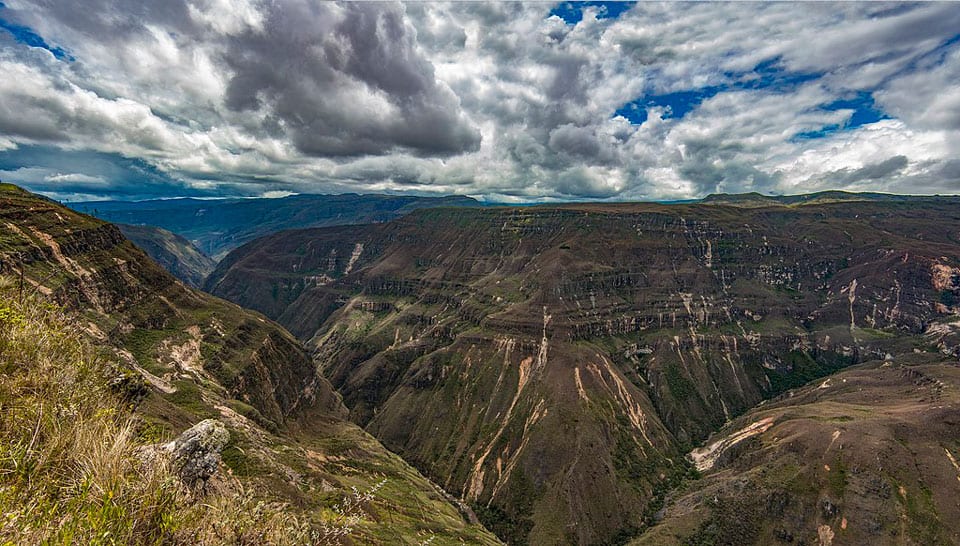 Cañon del Sonche is one of the most spectacular canyons in Chachapoyas. If you love nature and don't want to go too far out, Cañon del Sonche is perfect for you. Not only is it easy to get to, but it is also very cheap.
If you are looking for some of the best hikes in Peru, make sure you check out Huaraz.
How to get to Cañon Del Sonche from Chachapoyas?
It is very easy to get to Cañon Del Sonche so it is foolish to pay a tour company to take you. Located only 20 minutes away from the town of Chachapoyas, you can either take a taxi or a colective (shared van) for 3 soles.
To get to Cañon Del Sonche, you will have to get to the small village of Huancas (known for their pottery). To get to colectivo to Huancas, ask your accommodation where is the closest stop for the shared van. Depending on where you are located, it might be different.
Once you get to Huancas, it is a short walk there to the Mirador of Cañon Del Sonche.
Where To Stay In Chachapoyas?
Best Hostel in Chachapoyas – Chachapoyas Backpackers Hostal Boutique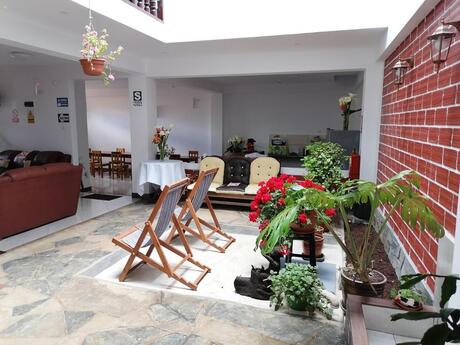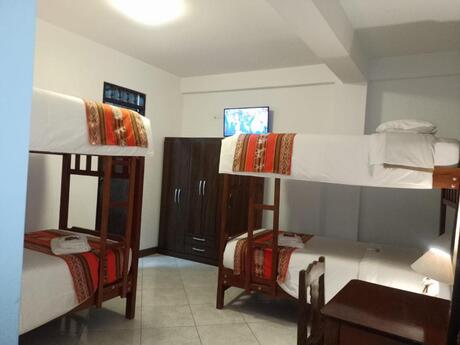 When it comes to hostels in Chachapoyas, there is perhaps no place nicer than Chachapoyas Backpackers Hostal Boutique. This accommodation features some of the most comfortable beds I've sleep in Peru, as well as cleanliness that is rare for a hostel.
The main selling point is the hot showers, which are almost always guaranteed! It is also situated near the main Plaza de Armas, so guests are not far from all the action of town.
Best Hotel in Chachapoyas – La Casa de Los Balcones
One of the best hotels in Chachapoyas (remember you are off the beaten path), La Casa de Los Balcones offers comfortable beds and clean and spacious rooms for a fair price. Guests can enjoy a good night's rest here after taking day trips from Chachapoyas.
Visiting Chachapoyas FAQs
How Many Days To Spend In Chachapoyas?
We recommend spending at least 3 full days in Chachapoyas to discover everything it has to offer. With 3 days, you can explore some of the natural wonders and ruins that showcases the Chachapoya culture.
Is Chachapoyas Worth Visiting?
Chachapoyas is definitely worth visiting. It is the capital of the Amazonas region of Peru and home to tons of natural beauty. The city offers travelers glimpses of the almighty Chachapoyas civilization through ruins and museums.
Like this post? Don't forget to save it on Pinterest!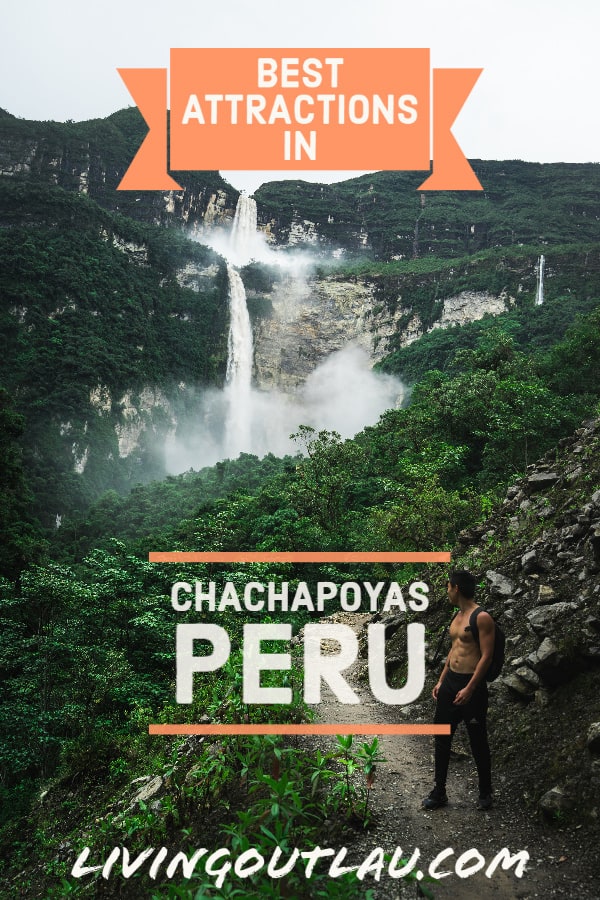 Those are the 7 best things to do in Chachapoyas! We were so surprised by the Gocta waterfall and Kuelap ruins. Have you been to any of the places? Let us know in the comments.
Disclaimer: Some of the links above are affiliate links. That means if you book or make a purchase through the links, we will earn a small commission at no extra cost to you! The money will help run this site! Thank you!