Every year, millions of tourists come to Peru for one of the most spectacular Seven Wonders of the world and UNESCO World Heritage Sites – Machu Picchu.
Visiting Machu Picchu is a must on any Peru itinerary, but the difficult question is which trail to take? The original Inca Trail that takes you to the roads that connected the Incan empire to Machu Picchu, or other alternative treks such as the Salkantay Trek?
Nowadays, the most popular route to visit the Machu Pichu ruins is through the Inca Trail. However, the government of Peru has put an effort to stop human traffic erosion on the Inca trail and Machu Picchu, limiting the number of people that can be on it. No more than 500 people are allowed on the Inca trail per day, and it is closed in the month of February.
Out of the 500 people, 200 of them are actually there for Machu Picchu, others are porters, chefs, and guides. Consequently, many other trails such as the Salkantay trail, Ausangate Trail, and many others are starting to get popular.
The demand for the Inca trail has grown over the years while supply has declined. This has caused the price to increase to about $500 to $1000 USD per person, as well as needing to book a few months in advance.
If you don't want to spend tons of money on the Inca trail, then you might want to check out the 5-day Salkantay Trek. In a way, it might even be more exciting than the Inca Trail!
---
Short History On Machu Picchu
Machu Picchu is an ancient Incan site that was abandoned hundreds of years ago and a must-see attraction in Peru. It is believed that when the Spaniards arrived and started fighting the Incan empire. The people at Machu Picchu left to help aid the war.
The Incans lost the war to the Spaniards and never had the chance to return to Machu Picchu.
The location of Machu Picchu was so secretive that the Spaniards actually never discovered Machu Picchu.
What that means is that everything you see in Machu Picchu is in its original form. No reconstruction, nothing. Just the natural course of weathering throughout the years.
---
Inca Trail vs Salkantay Trek: Which One Is For You?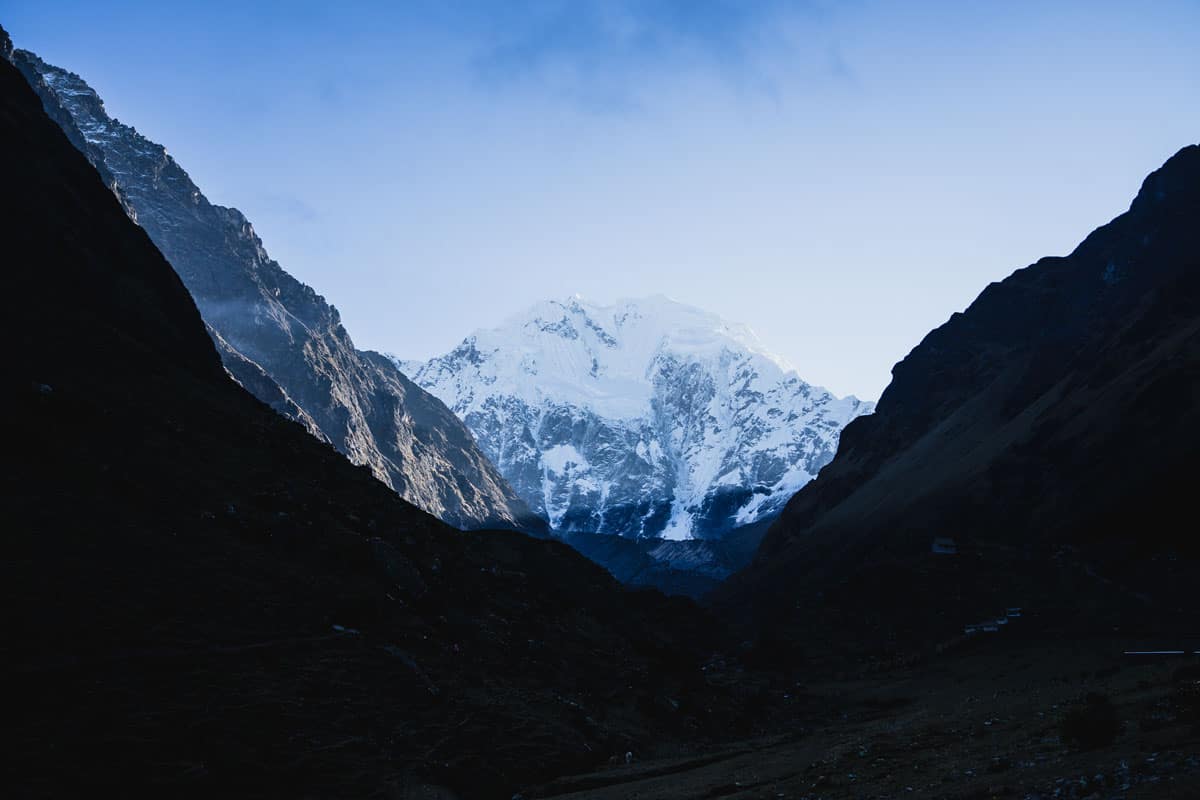 Let's understand why the Salkantay Trek is such a popular alternative to the Inca trail.
Both trails have beautiful landscapes, amazing history, and leads to one of the most visited Seven Wonders of the World, Machu Picchu.
But here's where they are different:
| | | |
| --- | --- | --- |
| | Classic Inca Trail | 5-Day Salkantay Trek |
| Length | 4 days/3 nights | 5 days/4 nights |
| Distance | 25 mi(40km) | 45 mi (72km) |
| Cost | $500-$1000 USD | $150-250 USD |
| Highest Peak | 4200m (Dead Woman's Pass | 4600m (Salkantay Pass) |
| Pros | Passes through many Incan ruins in the Sacred Valley where you can learn about the mighty Incan empire | Passes through many beautiful sceneries including the Humantay Lake and many others |
Both trails are good options for Machu Picchu. But my recommendation is that if you are a nature lover, go with the Salkantay trek. If you are more into the history and being a part of where the Incans were many years ago, do the Inca trail. Also if you are on a budget, the Salkantay trek is much more affordable.
You also need to do more preparations for the Inca Trail, such as booking well in advance and adhering to all the regulations. For the Salkantay trek, you can literally book the day before your hike.
Want to reserve your Salkantay Trek ahead of time?
Check out our recommended tour company!!
---
Salktany Trek Packing List
Great you have decided to do the Salkantay trek, you are in for some fun.
Before we get into details, let's go over the things you will need to bring on your Salkantay trek.
They will have a donkey that will carry 4-5kg of stuff for you. But make sure whatever the donkey is carrying is rugged and can get dirty. It is advised to have a big bag for the donkey to carry and a small daypack for your hike.
Here are 11 things you might want to consider bringing on your Salkantay Trek:
Extra layers (Gloves and hat, wool socks) – For the cold that you will encounter at such high altitudes. The first night you will camp at 3900m at Soraypampa. Unless you paid a lot of money, there won't be proper insulation.
Filtration Water Bottle – A filtration water bottle for the Salkantay trek will save you lots of money as well as not having to carry so much weight. Highly recommended.
Wet Wipes, toilet paper, and toiletries – For the days that you don't want to shower because it is too cold outside or they only have cold water. Also, you won't ever find toilet paper in the bathrooms.
Bathing suit – You have the option to go to the hot springs on day 3 of the trek at Santa Teresa.
Hiking pole – Salkantay trek is very challenging. You should definitely bring some if your trekking company does not provide them.
Bug Repellent – This one has Picaridin and is more environment-friendly and effective than DEET.
Sunscreen – The sun at high altitudes is very strong and dangerous to the skin. Make sure you have some on your Salkantay Trek.
Rain poncho or jacket – Weather is unpredictable at high altitudes and you will be hiking through many different biospheres. This is extremely important if you visit Machu Picchu during the rainy season.
Coca leaves – Highly recommended that you have some for your hike. The difference between hiking with coca leaves and without coca leaves is day and night.
First aid kit/medicine kit – Your tour guide should have a first aid kit as well as oxygen. But he probably won't have medicine for altitude sickness or other illnesses you might get along the way.
Passport – You CANNOT enter Machu Picchu without your passport!
---
Hiking Salkantay Trek Tips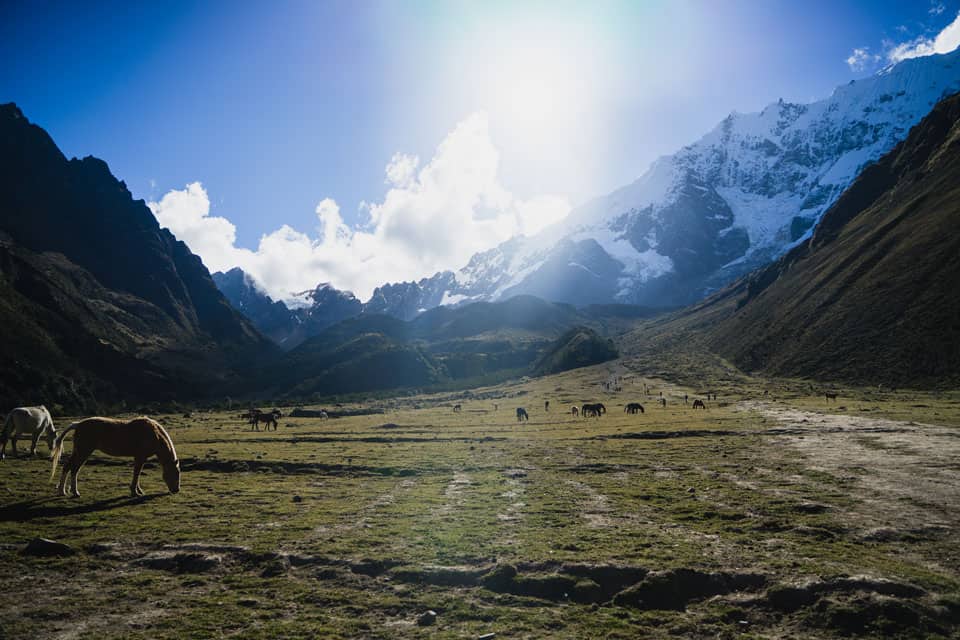 Looking back at the trek, there are some things I wish I knew before hiking the Salkantay trek to Machu Picchu.

Now I will pass down my experience and this knowledge to you.
Day 1 of the hike is extremely cold. Chances are you won't want to shower on day one because there is no hot water. This is when wet wipes will be useful.
There is the option to have hot water for showering on every day of the trek except day 1 but you will have to pay for the hot shower.
Day 2 and on you will have the option to buy Wi-Fi. But on Day 3 you should get signal when you reach Santa Teresa.
Day 3 you will arrive at Santa Teresa and there will be music, alcohol, and dancing at night.
Food is surprisingly quite good for the entire trek but it is still recommended to bring snacks. Also, when drinking any prepared beverages, make sure the chef is not using tap water.
You get to see Laguna Humantay on the way!! Talk about killing 2 birds with 1 stone.
Get acclimatized in Cusco before you start the Salkantay trek. I recommend staying for at least 2-3 nights in Cusco beforehand.
Dry season is the best time to visit Machu Picchu. If you are visiting outside of that, you should prepare for rain along the way.
---
How Hard Is The Salkantay Trail?
The Salkantay Trek is definitely not a joke. Anyone that wants to hike it should prepare accordingly. When I did the trek, I had already been in Peru for two months. I had done a lot of hiking in Huaraz, which is known as the capital of hiking in Peru.
I also hiked Colca Canyon in Peru, the world's second deepest canyon!
Even then I found it difficult on the long hiking days. My friend who just flew from Lima to Cusco and immediately did the Salkantay Trek felt like he was dying. The crazy part is that he is a marathon runner. Altitude Acclimatization is important for the Salkantay Trek.
We recommend you spend at least 2 days in Cusco to acclimate, but it depends and you really have to listen to your body.
---
The Salktany Trek To Machu Picchu: Day-By-Day Guide
Day 1: Mollepata (2900M) To Soraypampa (3900M) | 6 Hours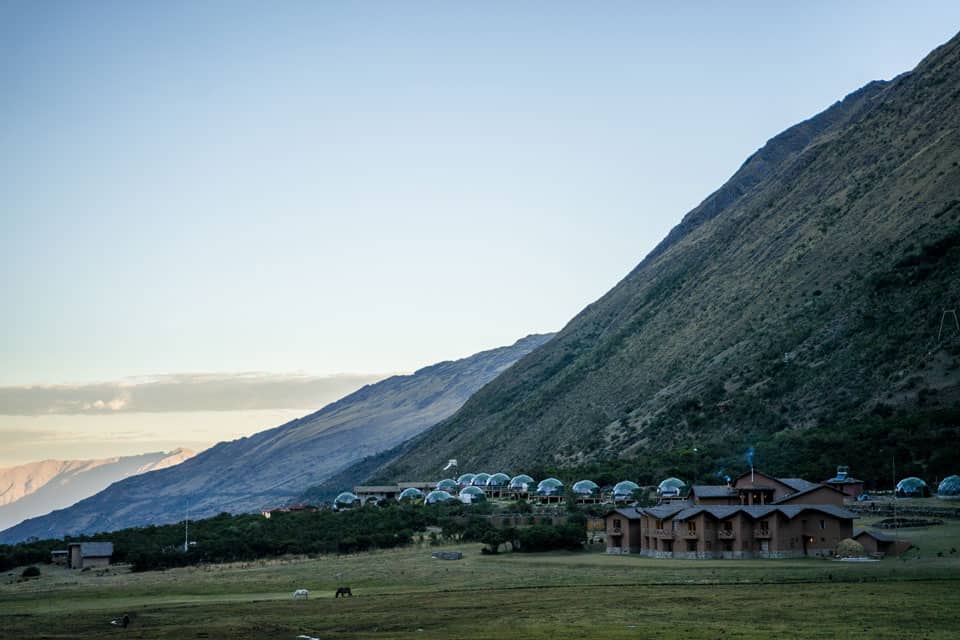 Day 1 of the Salkantay Trek begins with the tour company picking you up at around 5 AM. After getting picked up, you will then drive to Mollepata where you will have your optional breakfast. After your breakfast, you will then be driven to the starting point of the hike.
After 3 hours of ascending, you will reach your campsite of the day at Soraypampa (3900m) where you will have lunch. After lunch, you will then ascend to the Humantay Lagoon (3 hours round trip) for a total of 6 hours of hiking on Day 1.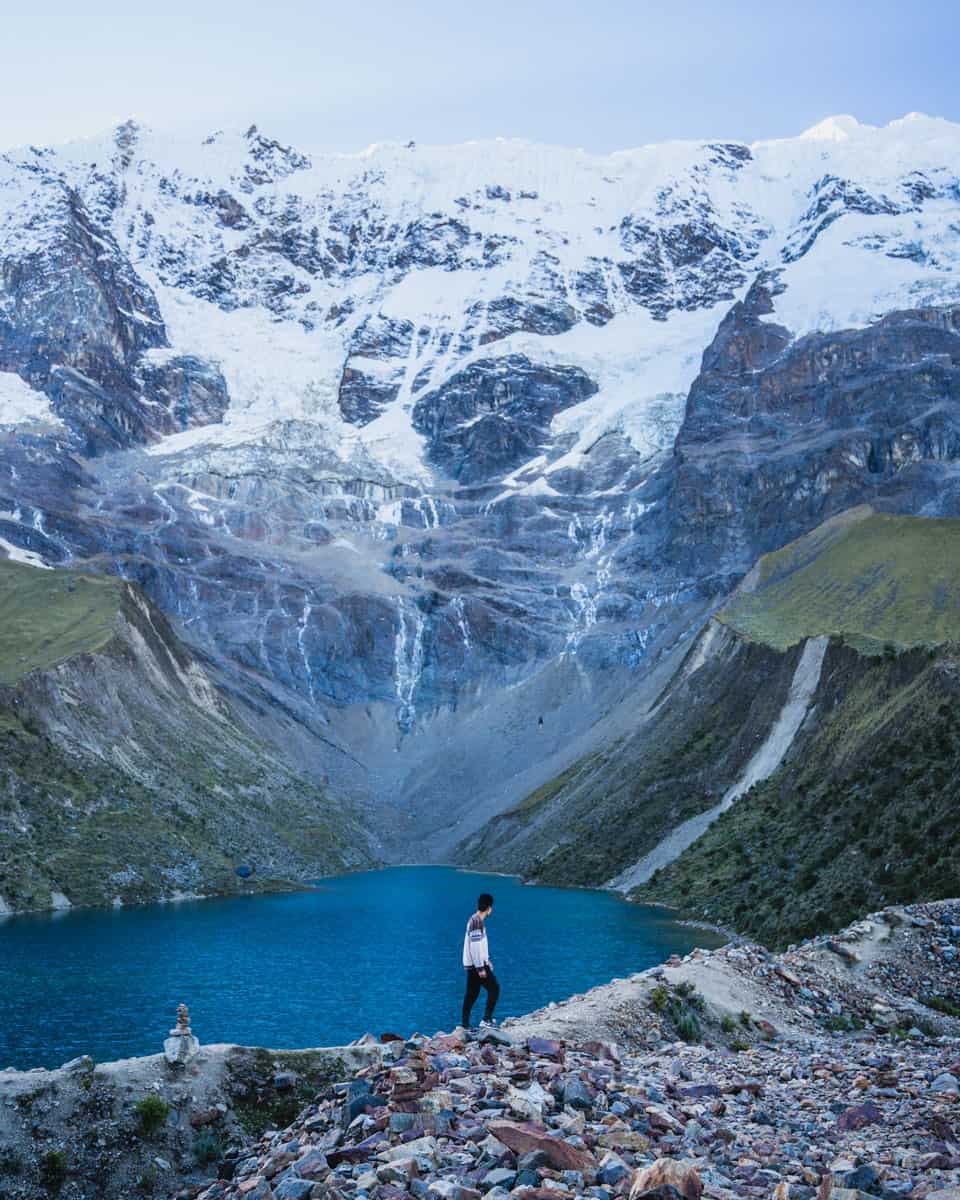 Day 2: Soraypampa (3900M) To Salkantay Pass (4600M) To Chaullay (2900M) | 9

Hours
On day 2 of the Salkantay trek, you will wake up early to prepare for the hardest day of the trek. Today you will climb through the Salkantay pass (4600 m) and face the Salkantay Mountain face-to-face. If you are not acclimatized, this will be a difficult day for you. Make sure you have enough coca tea and take it slow.
After hiking up to the Salkantay pass (3 hours), the rest of the hike is all downhill. But it is a lot of downhill, almost 6 hours of downhill. After an eternity of hiking, you will reach Chaullay (2900m) very late into the day.
Throughout the day, you will gradually transition from snow-capped mountains to a cloud forest environment. You can feel the temperature get a little hotter, the air gets more humid, and you will start to see crops and birds! Congratulations, you just finished your toughest day on the Salkantay trek.
Note: This campsite has hot water and Wi-Fi for purchase!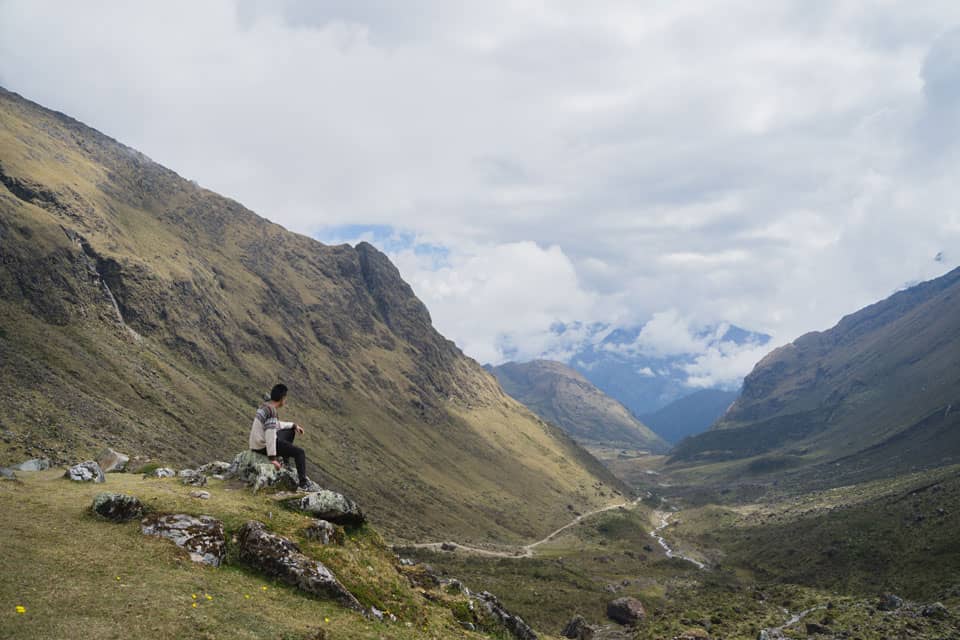 Day 3: Chaullay (2900M) To La Playa (2000M) To Santa Teresa (1550M) | 5 Hours
Day 3 is probably one of the least challenging days of the Salkantay Trek. It begins early in the morning at Chaullay and you will hike through the cloud forest to reach La Playa. On the way, you will see many different species of plants and animals. You will encounter fruits where you can just pick off the trees.
After around 5 hours of hiking, you will arrive in La Playa where you have lunch. After lunch, there will be transport that takes you from La Playa (2000m) to your campsite in Santa Teresa (1550m).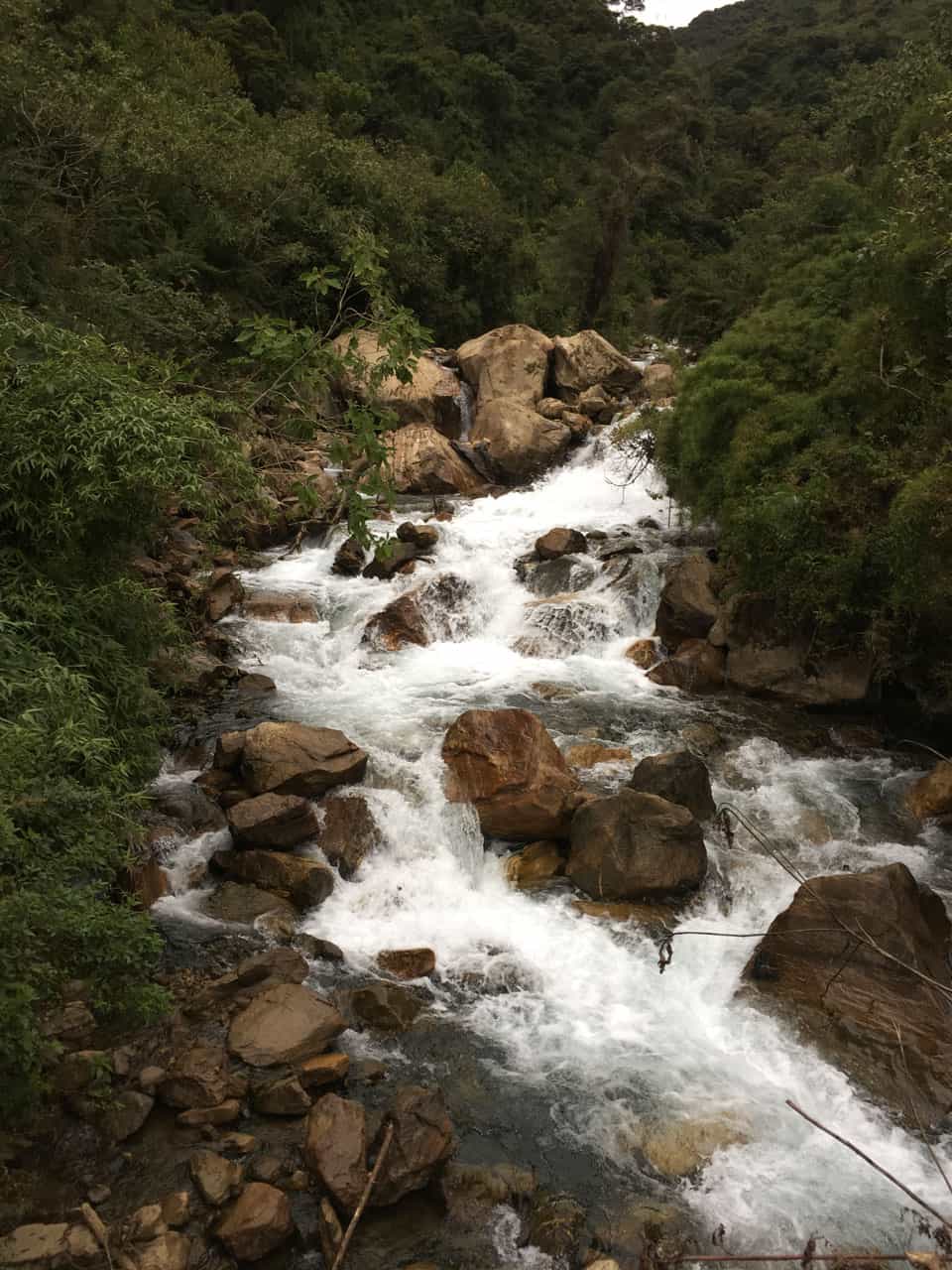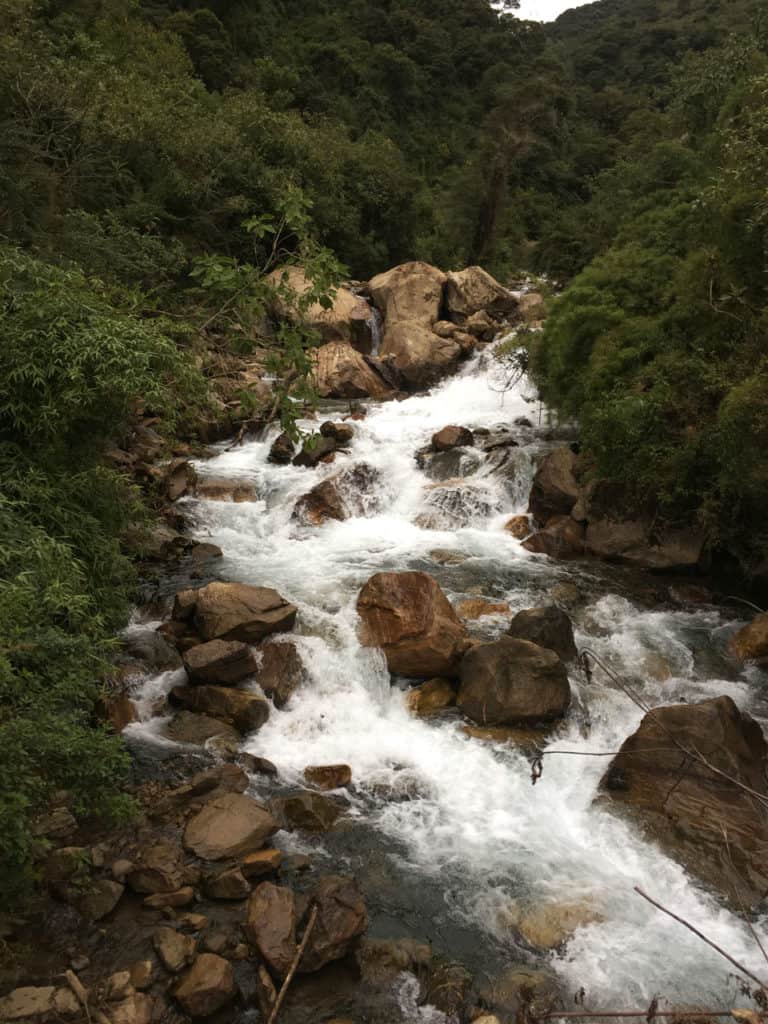 At Santa Teresa, the weather is very tropical. When you arrive, you will have the option to visit the nearby hot springs for an additional charge. Hope you brought your bathing suit! If not, you can wander around town until it is time for dinner!
Note: Some tour companies will camp in La Playa and go to Llactapata ruins the day after. When I did my Salkantay trek, we were told we had the option to do that if we wanted. However, the tour guide said we cannot because they had already booked everything. Make sure you confirm with your tour company about this before buying it with them.
Day 4: Santa Teresa (1550M) To Hidroelectrica To Aguas Calientes (2040M) |5 Hours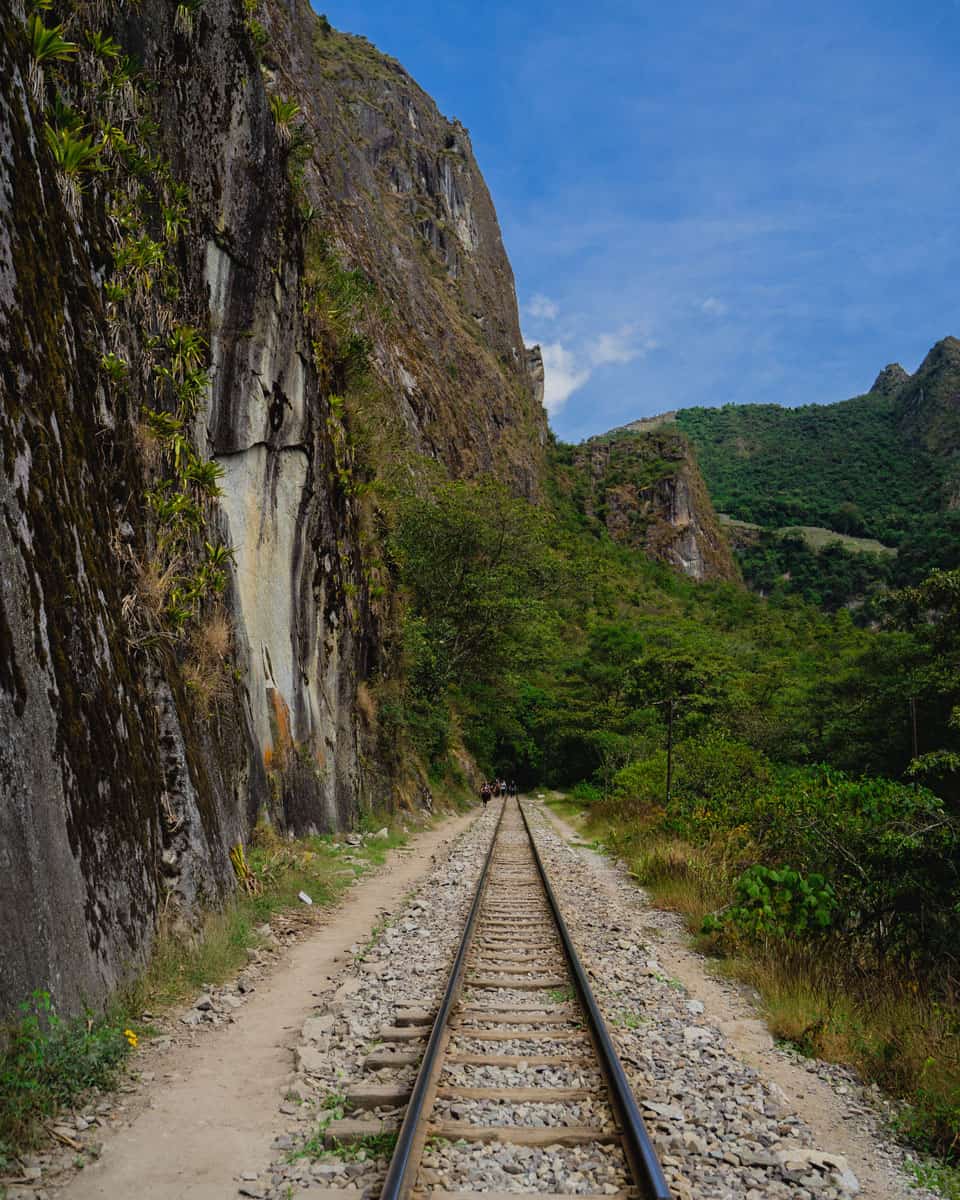 Congratulations, you have made it to Day 4 of Salkantay Trek!!
Day 4 is another fairly easy day so don't worry. In the morning, you have the option to hike to Hidroelectrica (1-1.5 hours) or take transport for an additional charge. After you arrive at Hidroelectrica, you will have an early lunch and prepare for the remaining of the hike.
You will also have the option to leave anything you don't need at Hidroelectrica because you will be coming back to the same place tomorrow.
For the remaining of the hike, you will be walking along the train tracks through the lush mountains! Occasionally, you will see trains pass by so make sure you stay on the side.
The hike should take about 3 hours from Hidroeletrica to Agua Calientes.
Agua Calientes is also called the Machu Picchu town and it has everything you need.
Tonight you will be sleeping in a nice hostel with WiFi and hot water!! You earned it!
At dinner time, your tour guide will give you your ticket for Machu Picchu and tell you your entrance time. He will also introduce you to the guide you will be having inside Machu Picchu.
Day 5: Aguas Calientes (2040M) To Machu Picchu (2430M) To Hidroelectrica | 5 Hours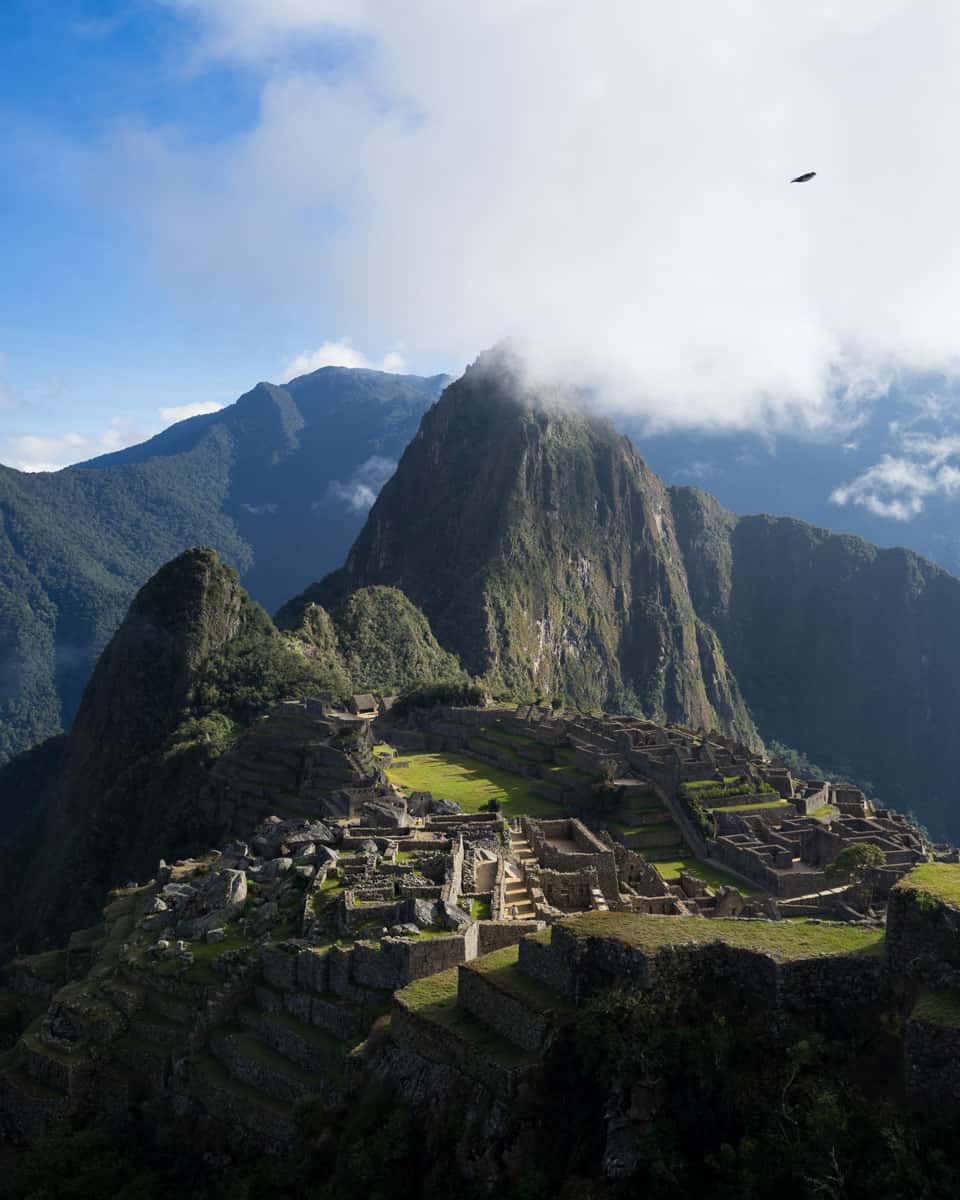 Congratulations! You've made it to the last day of your 5-day Salkantay Trek! After 4 long days, you are finally there!
But wait you are not done, you have to hike all the way up to Machu Picchu on Day 5 of the Salkantay trek. There is an option to pay for a bus from Agua Calientes to the entrance of Machu Picchu, but you didn't hike 4 days on the Salkantay Trek just to pay for transport, did you?
The hike from Agua Calientes to Machu Picchu is 2 hours up and is definitely a difficult surprise considering how easy the last 2 days have been. Depending on what time your entrance is, you will have to start hiking accordingly.
After you arrive at the entrance of Machu Picchu, you will meet your tour guide and go in Machu Picchu with him.
And there it is.
One of the Seven Wonders of the World, Machu Picchu, with its years of history, stands in front of your eyes. It is everything you have seen in pictures and more.
There your tour guide will give you an explanation of Machu Picchu and walk you through the ruins. After the tour, you are allowed to wander in the ruins.
Note: Machu Picchu has a one-way system. This means you cannot go back to an earlier stop. Your guided tour ends at the bottom of the Machu Picchu ruins and you CANNOT go back up (unless you have a ticket that includes Huayna Picchu Mountain or Machu Picchu mountain). If you want to take your time with photos or head to the Inca Bridge, you will have to go before your tour. Don't make the same mistake I did.
After visiting Machu Picchu, you will get back to Hidroelectrica where you dropped your belongings off the day before. You will walk on the same train tracks you did coming here and the route takes about 3 hours. Don't miss your bus at Hidroelectrica going back to Cusco!
---
Where To Find The Cheapest Salkantay Tour In Cusco
If you are planning on doing the Salkantay Trek have an extra day or two to book your tour from Cusco, you will save lots of money! We don't recommend booking your Salkantay Trek tour online in advance because you can easily end up paying double.
Because there is no limit as to how many people can be on the Salkantay Trek, it's USUALLY not difficult to find trekking tours even for the next day.
To find the cheapest tour for the Salkantay Trek, it is imperative that you book through one of the tour agencies in Cusco. There are around a hundred tour agencies in Cusco, and each offers something slightly different at a slightly different price.
Make sure you go around and ask as many tour companies as you can to find one that is suitable for your budget. Depending on supply and demand the price can fluctuate easily. And don't forget to haggle!
---
Where To Stay In Cusco
Picking where to stay in Cusco is imperative for having a good experience because of the altitude. Therefore, we have written a separate guide on where to stay in Cusco here.
Best Hostel In Cusco – Nao Victoria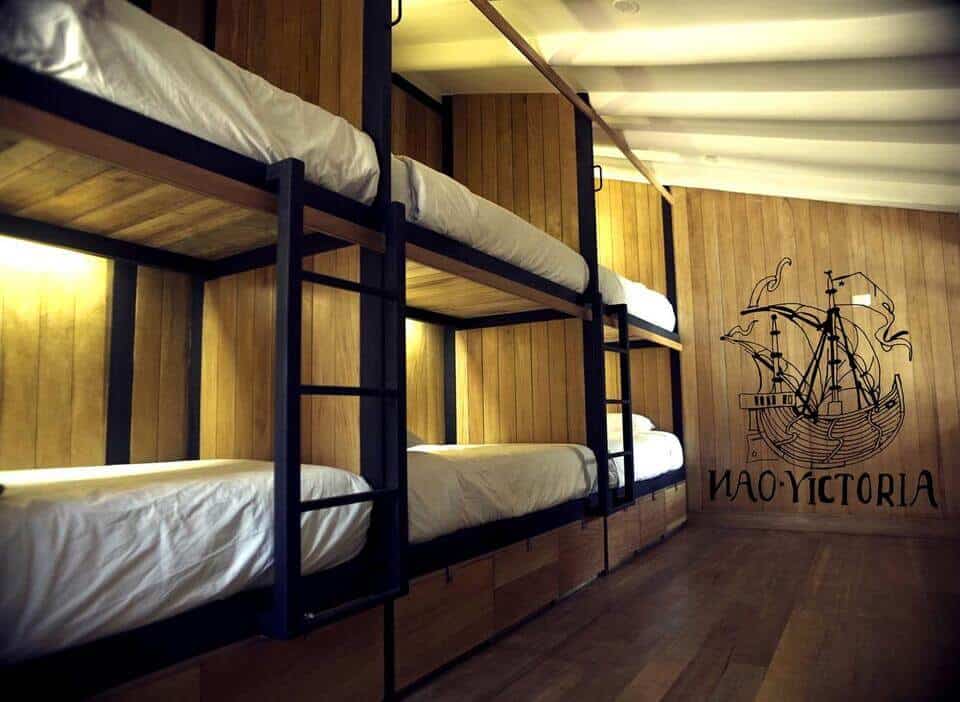 From its modern decoration to a spotless environment, Nao Victoria hostel is an experience like no other. Not only are you provided with the typical amenities one would expect from a hotel, but we also give it that extra touch of home! Each bed comes complete with your own light source and curtains for privacy as well as an electric socket if needed.
The staff here become more than just employees; they become family the moment you step foot through those doors. They're always willing and able to provide helpful tips on how best to explore Cusco or make arrangements for Machu Picchu tours – making it one of the top hostels in town!
Best Hotel In Cusco – Casa Cartagena Boutique Hotel & Spa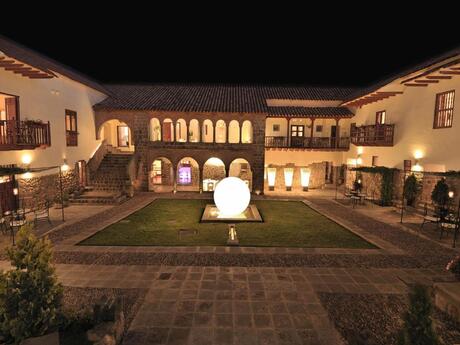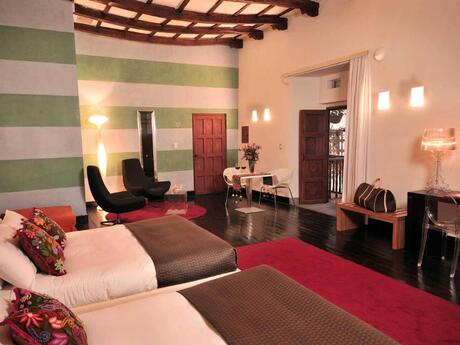 When it comes to boutique hotels, Casa Cartagena Boutique Hotel & Spa is a stand-out! With only 15 rooms, guests will receive individualized attention from the staff and develop lasting relationships.
Its prime location just two blocks away from Plaza de Armas square makes exploring Cusco's best easy and accessible. After your day of sightseeing, come back for some R&R with their exquisite courtyard or opt for a spa service or gym workout session. To top off an already perfect stay – enjoy delicious Peruvian fare at their on-site restaurant!
---
Like this post? Don't forget to save it on Pinterest!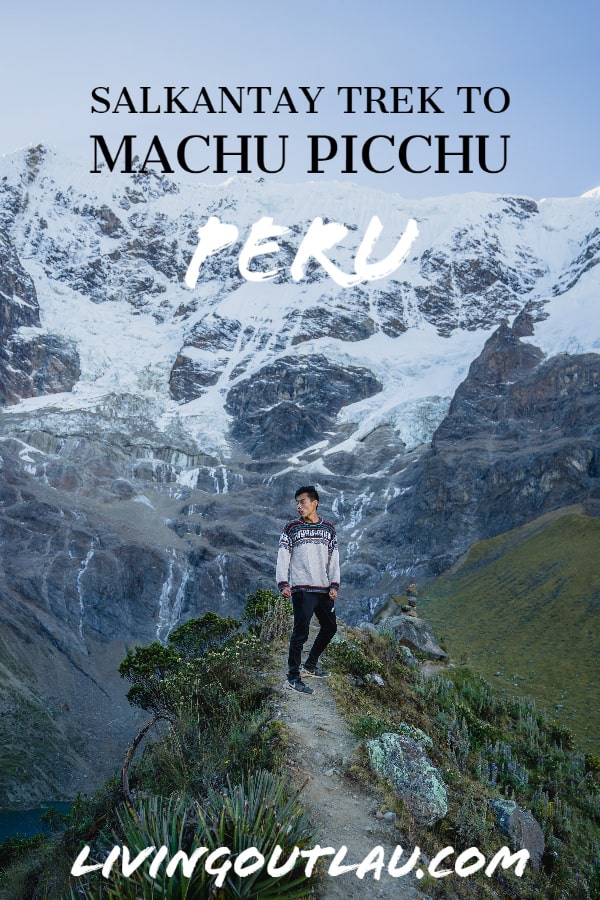 ---
Have you done the Salkantay Trek and hiked to Machu Picchu?

Let us know in the comments!
Disclaimer: Some of the links above are affiliate links. That means if you book or make a purchase through the links, we will earn a small commission at no extra cost to you! The money will help run this site! Thank you!