Machu Picchu, one of the Seven Wonders of the World, is surely on many people's bucket list.

But as one of the most iconic landmarks in South America, there are lots of rules and restrictions when visiting, especially since Machu Picchu has become an endangered UNESCO Site.

We had to buy an entire set of tickets just to be able to enter Machu Picchu to take pictures. Don't ruin your Machu Picchu trip by making some of the same mistakes we did.

Not sure what to know before going to Machu Picchu?

Don't worry, here are 13 important things to know before visiting Machu Picchu based on personal experience!
What to Know Before Visiting Machu Picchu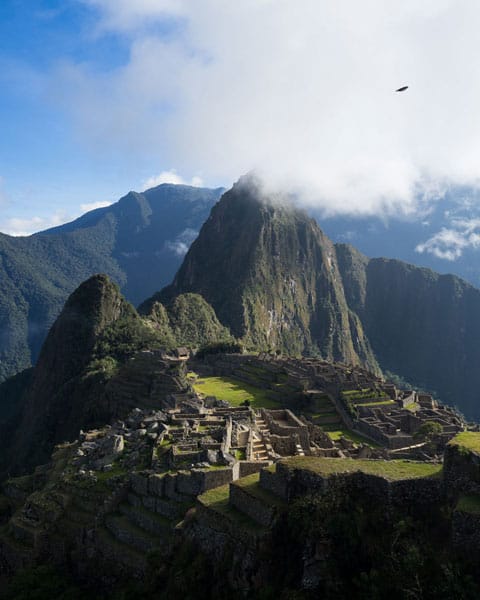 1. Bring Your Passport to Machu Picchu!
You will need your passport to enter Machu Picchu! So make sure you have it with you on the date of the visit! Don't leave it in your hotel in Aguas Calientes (Machu Picchu Pueblo)!
2. Buy Your Ticket in Advance and Aim For The Earliest Entry
Make sure you buy your ticket in advance and aim for the 6 AM entry. The later it gets, the more crowded Machu Picchu gets. Don't let the crowd ruin your experience at Machu Picchu!

Buy your Machu Picchu ticket here on the official website.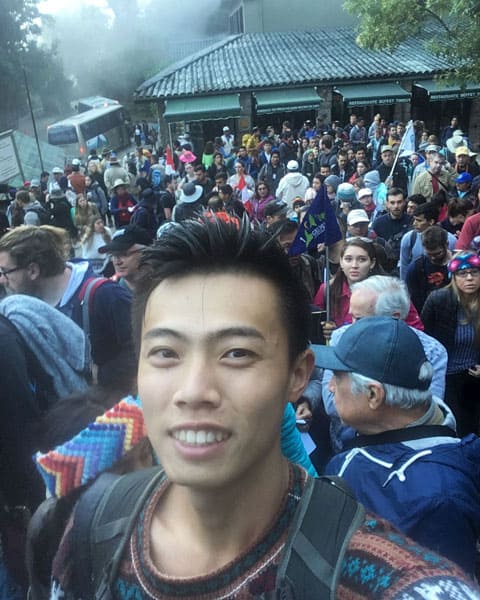 3. The Last Entry to Machu Picchu is at 2 PM
If you were planning on getting your picture-perfect shot at sunset in Machu Picchu, well bad news, you can't. The last entry is at 2 PM and you must be out by 5:30 PM.

If you have no option but to visit in the afternoon, just make sure you make it there before 2 PM!
4. Most of Machu Picchu is One-Way!
This is where we messed up big time!

We entered Machu Picchu early in the morning at 7 AM with a tour guide. The tour guide shows us the famous guardhouse where everyone takes the most iconic picture of Machu Picchu. However, it was really foggy that day and we wanted to wait for the fog to clear up.

So we said no problem, we will come back when we are done with the tour.

We finished the tour at the bottom of the ruins and tried to go back the same way we came from.

"No puede pasar, una via" the guard yelled. That means you can't pass, it's only one way.

We tried arguing and telling the guard we didn't know and the tour guide never said anything.

It didn't work.

We had to leave and re-enter and buy another ticket for 152 soles. Luckily they weren't sold out that day.

Note: You can only re-enter for free if you are doing the Huayna Picchu or the Machu Picchu hike.
5. You Can Hike Up From Aguas Calientes to Machu Picchu
If you are looking to save money or want the satisfaction of hiking to a Seven Wonders of the World, you can actually do that from Aguas Calientes otherwise known as Machu Picchu Town! The bus ride is $24 dollars one-way so it is definitely a good idea to at least hike back down.

Where is the route? Download the app maps.me and it will show you the trail from Aguas Calientes to Machu Picchu.

It takes about 2 hours to hike from Aguas Calientes up to Machu Picchu.

If you are interested in doing a longer trek to Machu Picchu, check out my Salkantay trek guide! It is one of many ways to get to Machu Picchu!
6. Buy Your Bus Ticket Early to Make sure You Can Get There For Your Entry Time
Not only do the tickets to Machu Picchu sell out, so do the tickets for the bus to Machu Picchu from Aguas Calientes.

Make sure you buy your ticket early the day before or even two days before just to be sure. The cost is 24 USD one-way and they only accept cash.

Also, make sure you get to the bus station early in the morning. If your bus is at 5:30 AM, get there at least 45 min to 1 hour earlier to make sure you can get on that bus. Yes, that means getting there at 4:30 AM.
7. There Are no Bathrooms inside Machu Picchu
There are absolutely no bathrooms inside Machu Picchu. The only one that they have is at the entrance so make sure you take care of business before you enter! I wished I was warned about this before entering!
8. Machu Picchu Can Be Foggy in The Morning
Machu Picchu can be very foggy in the morning around 6 AM and 7 AM. This makes it hard for people who wake up early to avoid the crowd but also want to get a good picture as well.

Of course, you have the option of getting there early and waiting until the fog disperses.

What do you choose? More tourists but a better view? Or fewer tourists but a foggy view?
Personally, we think that the first entrance at 6 AM is the best time of the day to visit Machu Picchu, simply because you get to enjoy it with fewer crowds!
9. You Need to Bring a Physical Copy of Your Ticket to Machu Picchu
Don't forget to bring a physical copy of your ticket to Machu Picchu. You are not allowed in without a physical copy of your ticket.

Luckily for you, many accommodations in Aguas Calientes will print out your online ticket for you!
10. You Can Get a Passport Stamp Outside Machu Picchu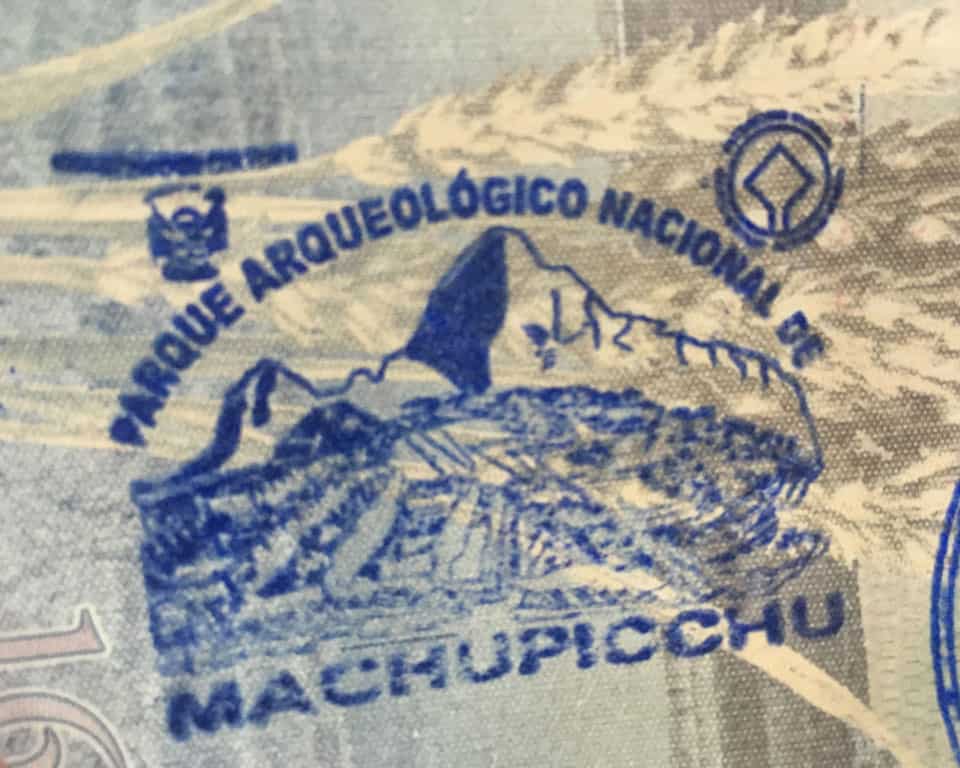 As one of the most iconic landmarks in the world, visitors have the opportunity to get a FREE passport stamp! Out of every little thing that they charge, you would think a stamp would cost money but it is totally free!

You can find the stamping station right outside the exit of Machu Picchu, close to the bathrooms. Don't leave Machu Picchu without having a stamp from Peru's most famous landmark!
11. Reserve Your Huayna Picchu And Mountain Machu Picchu Ticket Way in Advance
Did you know there are three types of Machu Picchu tickets? One just for the Machu Pichu ruins, one for the ruins and Huayna Pichu (the big mountain behind when looking at the ruins) and one for ruins and Machu Picchu mountain (the one opposite of Huayna Picchu).

If you are interested in hiking the Huayna Picchu, which is one of the coolest hikes in Peru, you have to reserve your tickets weeks in advance before they only have 400 entries per day.

If you are interested in hiking the Machu Pichu mountain itself, you also have to reserve weeks in advance because there are only 800 entries per day.

The official Peruvian website for reserving any type of Machu Picchu ticket is here.
12. It is "Required" to Have a Tour Guide to Enter Machu Picchu
On the government website, it says that a tour guide is required to enter Machu Picchu. But from our experience, no one checks.

The amount of people that are entering at the same time makes this a difficult law to enforce.

It is definitely good to have a tour guide to explain to you all the history of Machu Picchu but it also restricts you from walking around freely.

If you are looking for a guide, you can easily get one in Agua Calientes at any of the tour agencies. Do not get a guide at the entrance, it is a lot more expensive.

Want to secure a tour guide before going to Machu Picchu? Check out our recommendations:
13. Machu Picchu Is at an Altitude of 2430 Meters. Altitude Sickness Should Not Be a Concern
Many people heard of horror stories concerning the altitude in Peru, especially in Cusco. Many have said they weren't able to follow their Peru itinerary because altitude sickness had debilitated them for days.

Luckily, Machu Picchu sits only at 2430m, a lot lower than Cusco's 3400m. If you don't feel well in Cusco and want to cancel visiting Machu Pichu, you might be better off going to Aguas Calientes (2040m). Within a day or two, you will feel a lot better and Machu Picchu will only be a few steps away!
Where to Stay in Aguas Calientes (Machu Picchu Town)
Best Hostel in Aguas Calientes – Ecopackers Machu Picchu Hostel
Ecopackers Machu Picchu Hostel is a very basic accommodation but has all the necessities you need. Featuring clean and spacious rooms as well as a bar and a pool table on the terrace, Ecopackers is a great place to meet other travelers. A very standard breakfast is also included.

Click here for more details!
Best Airbnb in Aguas Calientes – Susanna Boutique w/ Mountain Views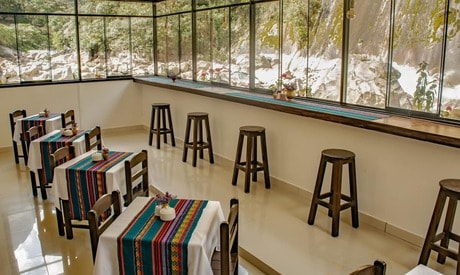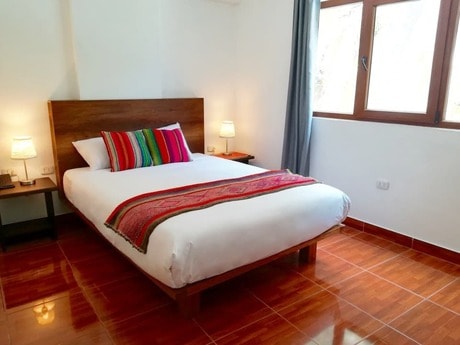 If you are looking for a cozy accommodation with amazing views of the surrounding landscapes, then Susanna Boutique Hotel is perfect for you.

This family-owned accommodation in Machu Picchu Town is 3 minutes away from the bus station and train station, giving guests easy access to these transport hubs. Town Center is only a short 5-minute walk away.

This Aguas Calientes Airbnb features a comfortable double bed in a spacious room with big windows of the roaring Urubamba that surrounds the town. Guests can watch its marvel every morning as they eat their delicious free breakfast!

Click here for more details!
Best Luxury Hotel in Aguas Calientes – Tierra Viva Machu Picchu
Tierra Viva Machu Picchu is one of the best and most modern hotels in Aguas Calientes. Located a short 5-minute walk away from the busy town center, you are surrounded by lush views but never too far from the action. Their delicious breakfast is the perfect way to start your morning to Machu Picchu!

Click here for more details!
Like this post? Don't forget to save it on Pinterest!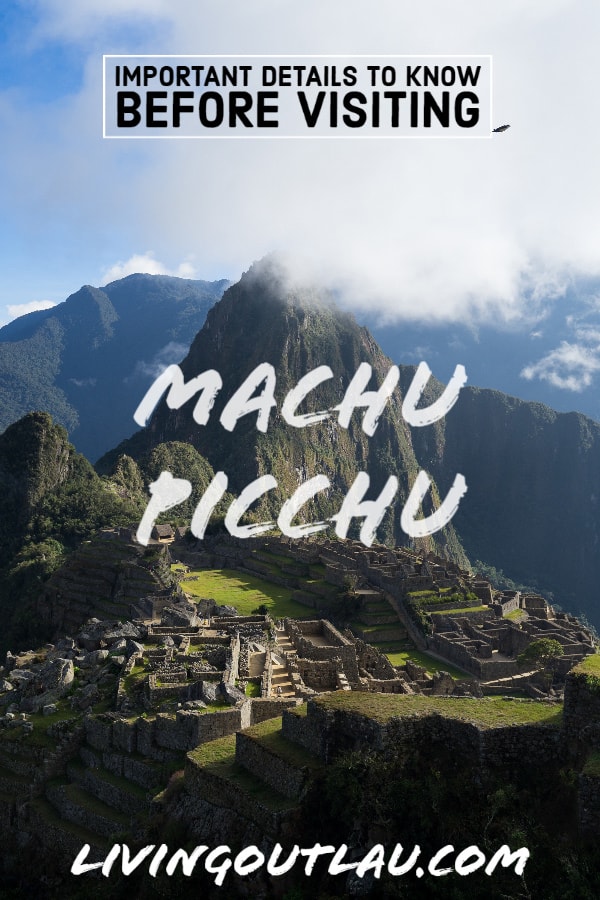 I hope this guide helped you get the best experience you could possibly have at Machu Picchu. Have you been to Machu Picchu? We would love to hear your opinion in the comments down below!
Disclaimer: Some of the links above are affiliate links. That means if you book or make a purchase through the links, we will earn a small commission at no extra cost to you! The money will help run this site! Thank you!