Not sure how to do the Colca Canyon trek? Worry not.
Colca Canyon, the second deepest canyon in the entire world, is one of the best places to visit in Peru. At a depth of 3270m deep, it is twice the depth of the Grand Canyon in the United States. However, most travelers come to Peru strictly for Machu Picchu, completely ignoring the fact that one of Peru's best hikes is just a bus ride away.

Don't skip Colca Canyon.

In our guide, we will give you all the information you need to determine whether hiking Colca Canyon is worth it, where to find tours, what you need to pack, and lastly, our experience doing the 2 day Colca Canyon trek!
Enjoy!
---
Is Colca Canyon Worth Hiking?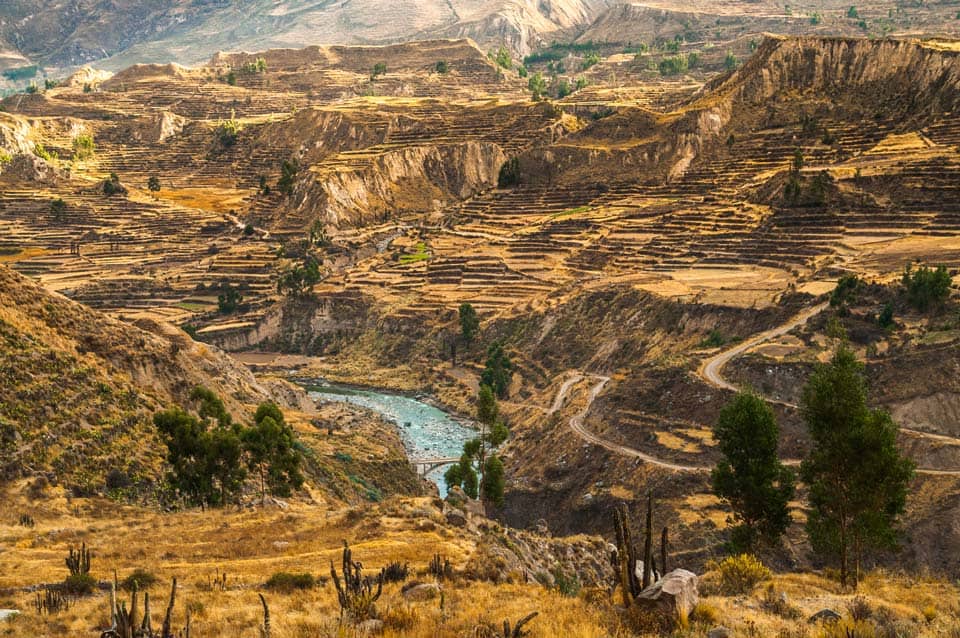 Before you take out your credit card or run to the nearest tour agency to book your Colca Canyon hike, is Colca Canyon even worth the visit?
The answer is an unquestionable YES! (That is why I wrote this guide to be fair!)
Hiking Colca Canyon is one of the best things to do in Peru, as it allows you to experience some of the most gorgeous mountainous landscapes of Peru. Its depth, at twice that of Grand Canyon's, is absolutely unworldly.
Not only that, but hikers can also see the condors with their own eyes, a type of bird that is sacred to the Incans. They believe that condors are messengers of the skies or Heaven.
Hiking Colca Canyon is both a cultural and physical experience that must not be missed in Peru!
---
Guide To Colca Canyon 2-Day Tour
The map above is the route that all 2 days 1 night Colca Canyon trekking tour takes. It starts close to Cabanaconde, heads down towards San Juan De Chuccho for lunch, then finally to Sangalle Oasis for the first day. On the second day, you return back to Cabanaconde through a different route.
The 3-day 2-night tour also takes the same route, but you stop at Sangalle Oasis on the second day instead of the first.
Trekking Colca Canyon Tour Companies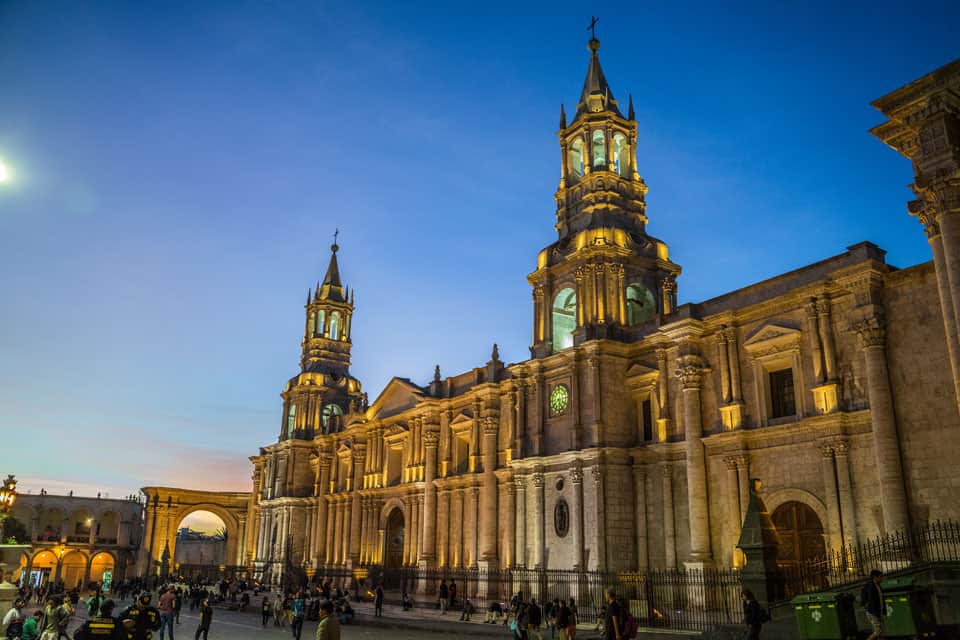 If you want to experience Colca Canyon, it is most convenient to base yourself in Arequipa.
There are many Colca Canyon tour companies throughout Arequipa. Most of them are concentrated in the Plaza de Armas, the iconic center square that every Peruvian city has.
In Plaza de Armas, you will find close to a dozen tour companies. Scout around, negotiate and pay attention to the details of the tour they offer.
We scouted around and realized that they all go the same route, the only difference is the accommodation and equipment (hiking poles and headlamps). More pricey companies will have better accommodations and offer free trekking poles and headlamp rentals.
We went with one of the cheaper ones and our accommodation was basic but enough. It also had a swimming pool where we could relax in after a day of hiking
There are shared accommodations and private accommodations. If you are traveling with a partner, just know there is the option to pick a private room for a little bit more money.
Do You Need to be Acclimatized for Colca Canyon?
With the highest elevation being 3287m above sea level at Cabanaconde, it is very important that you become acclimated to avoid altitude sickness.
However, with that said, chances are you won't need to do any additional acclimation as Arequipa is at 2,335 meters high. If you stay a few days in Arequipa before doing the Colca Canyon trek, you will be more than fine!
---
How Many Days To Trek Colca Canyon?
The Colca canyon 2-day trek isn't the only option for visiting Colca Canyon. In fact, there are three ways:
1 day Colca Canyon tour (day trip)
2-day Colca Canyon trek
3-day Colca Canyon trek
1 Day Colca Canyon Tour (Colca Canyon Day Trip)
The Colca Canyon day trip tour is a popular option for travelers that do not have much time or do not want to do any hiking.
The tour usually includes transport to the Mirador Cruz del Condor (at the top of the Colca Canyon) where you spend some time observing the condors soaring in the sky and over the beautiful Colca Canyon. You have lunch in a nearby town and then return to Arequipa.
The drive from Arequipa to the viewpoint is about 4 hours (not including breaks for breakfast, lunch, and etc), so be prepared for a long day ahead of you.
Colca Canyon 2 Day Trek
The Colca Canyon 2-day trek is the most popular option for exploring Colca Canyon. Not only does this tour let you see the condors at the top of the Colca Canyon, you get to hike all the way down to the bottom and then back up.
It is one of the best ways to fully understand the magnificence of Colca Canyon. The tour starts very early in the morning as the bus journey is very long. You will stop for breakfast before going to the Mirador Cruz del Condor. After, the bus will take you to Cabanaconde, where the trek starts.
The trek starts with a descent into the Colca Canyon where you will stay at the Sangalle Oasis. On day 2, you will rise early in the morning to hike back to Cobanaconde. On the way back, you can enjoy the La Calera hot springs near Chivay. The tour also stops a Yanque, a small village with a high indigenous population.
Colca Canyon 3 Days 2 Nights Tour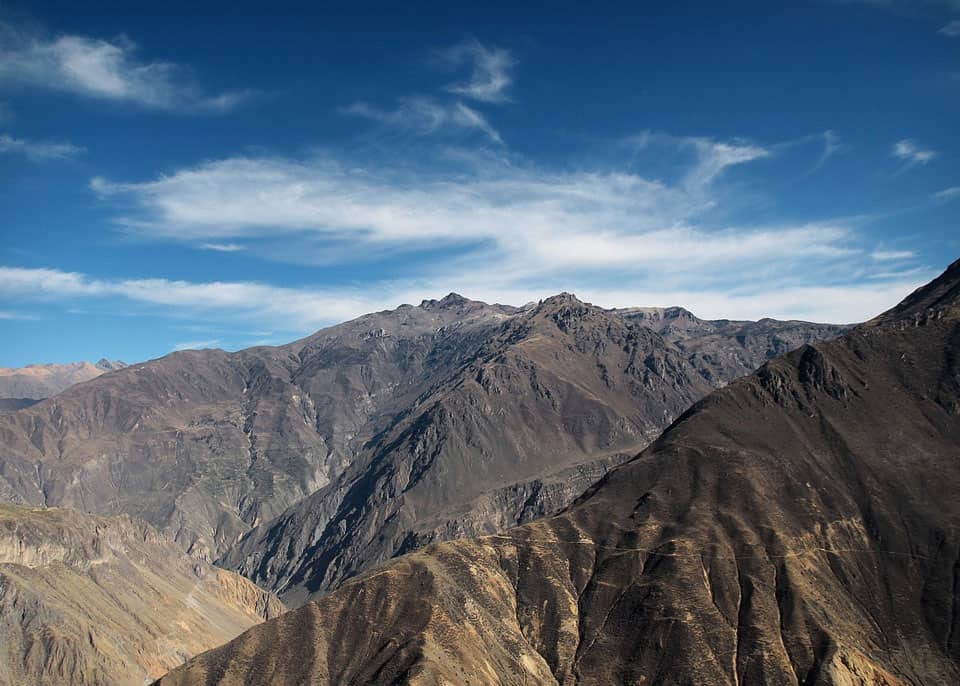 The 3 days 2 nights Colca Canyon tour stops at all the same places as the 2-day 1-night tour, but the days are much shorter and you will have more chances to enjoy nature in Colca Canyon.
You will still visit Yanque, the hot spinrgs, and the Mirador Cruz del Condor. It is highly recommended if you are a beginner hiker or have a few weeks in Peru!
Want to secure your Colca Canyon tour before you arrive? Here are some tours we recommend:
DIY Your Colca Canyon Trek
We didn't do the Colca Canyon trek on our own so we can only give an outside point of view. It seems it is fairly easy to DIY as long as you know the routes. The accommodations along the route can be easily booked in advance on booking.com.
However, we recommend having at least some experience with hiking in remote areas, as well as a high level of Spanish because no one will speak English out there. You will also need to brave the unreliable Peruvian public transportation, especially in those regions.
If you are planning on doing the Colca Canyon trek yourself, we recommend that you install offline maps from maps.me and Alltrails.
---
Colca Canyon Trek Packing List
The Colca Canyon hike is not so tough in terms of difficulty (at least that's what we thought). However, if you are doing the 2 days 1-night trek, you will suffer extreme sunny conditions on the first day and extremely cold conditions on the morning of the second day.
Therefore, I recommend packing some of these essentials:
Sunscreen – You will be hiking in the sun for about 6 hours in the sun with no shade. Bring one or look like a tomato.
Toiletries – Make sure you have toilet paper. It is not provided by the accommodation.
Swimsuit – There is a swimming pool in the Sangalle Oasis where you can swim after your first day of hiking.
Cash – There are places to buy water and snacks on the hiking trail. Also, there is a 70 soles entrance fee to the Colca Canyon that must be paid in cash.
Portable Battery – Electricity is shut down in the accommodations after 8 PM. Not sure if that is because we got a cheaper tour or if that's with every tour company
Warm clothing – When you are in the valley of the canyon, it can get really cold when the sun is not out.
Snacks and Water – There are snacks and water for sale along the way but they will be 3 times the normal price.
Light Portable Travel Camera – One of my favorite portable cameras that gets the job done! You don't want to miss the photo opportunities at Colca Canyon!
Hiking Poles – Hiking poles are not only essential to the Colca Canyon trek, but for any hiking in Peru. We recommend you to get a nice quality one if you plan on exploring the mountains in Peru.
---
Our Experience Hiking Colca Canyon In 2 Days
Day 1 of Colca Canyon Trek: Descent to the Sangalle Oasis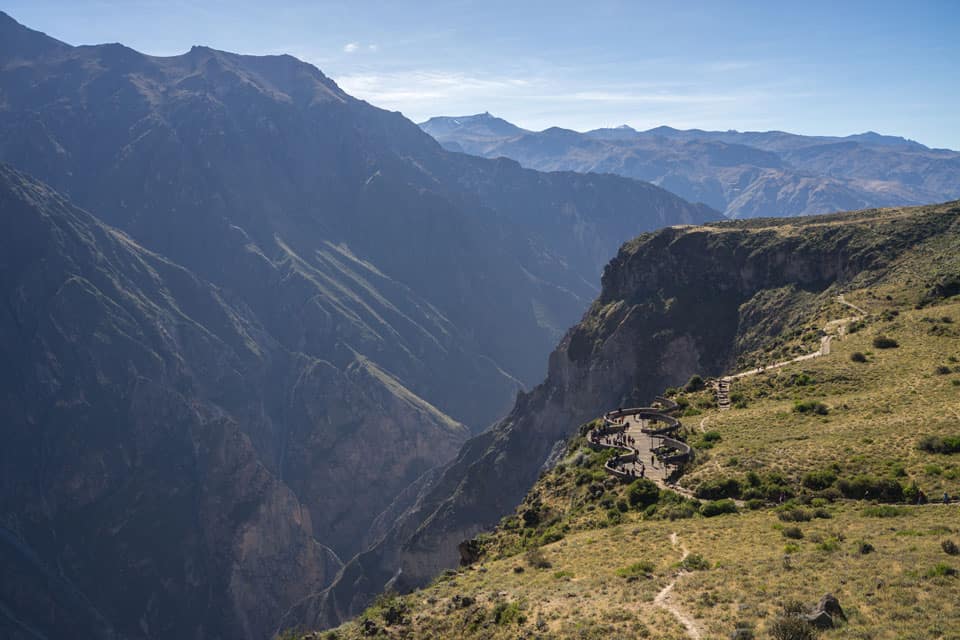 Day 1 of the Colca Canyon trek started with a 3:30 AM pickup at our accommodation. Then we were driven for a few hours to a town where we had breakfast (included in tour).
After breakfast, we were transported again for a few hours to Mirador Cruz del Condores, the viewpoint to observe the symbolic Condors. They are viewed as spiritual creatures and are used to represent Hanan Pacha, or the heavenly world, in indigenous culture.
Luckily for you, you will get to see them soaring in the skies over the Colca Canyon at the viewpoint. We spent about an hour there, taking pictures and admiring the beautiful canyon.
Here you will also find vendors from local villages selling various Peruvian items such as sweaters, scarves, and etc.
After an hour at the Mirador Cruz del Condores, we got back on the transport and headed near Cabanaconde, where the trail started. You have the option to purchase wooden walking sticks there, for those interested. They are cheap and will help you with the 6-hour descent that you are about to do.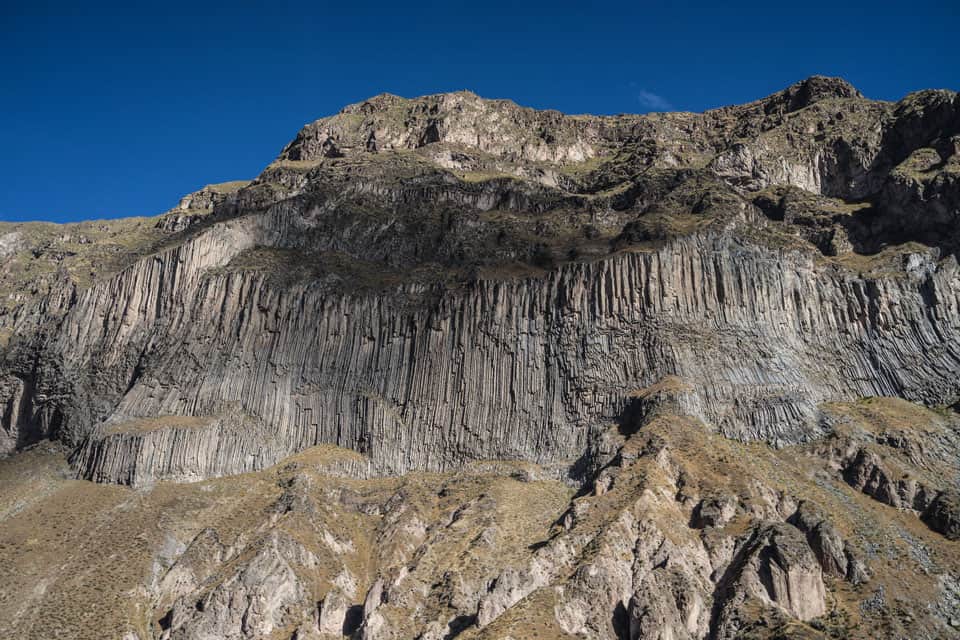 The first part of the trek is heading toward San Juan de Chuccho. It takes about 3-4 hours of constant descent on very sandy terrain. It is very easy to slip and fall in this part.
At San Juan de Chuccho, you will have your lunch. We had alpaca meat stir fry with rice as well as quinoa soup. I couldn't believe that my first time having alpaca meat would be in a tiny village at the bottom of Colca Canyon. Apparently, alpaca meat is one of the traditional foods of Peru!
After lunch, we lay on the grass and took an afternoon nap for 30 minutes or so before heading towards our final destination, the Sangalle Oasis.
After another 2 hours or so of downhill, we arrived at Sangalle Oasis. The view was more than phenomenal on the way and our tour guide was telling us about the flora and fauna in the region.
At Sangalle Oasis, we were put into our own private double bedroom. It had a cold shower, a toilet, and a bed. Very basic but it had everything we needed, except for toilet paper.
However, we have been traveling in Peru for close to 2 months now and always carry toilet paper with us. If you forget to bring some, there is a store in Sangalle where you can purchase toiletries and more.
There was a swimming pool on-site but we didn't go in the swimming pool as the sun set early at the bottom of the canyon. Without the sun, it felt like winter. We relaxed and waited for dinner, which was more quinoa soup and pasta with tomato sauce.
In the nighttime, we were able to see the stars clearly because there was no light pollution. It is the perfect place to try to capture the Milky Way on your camera or see it with your own eyes! 
Day 2 of Colca Canyon Trek, Uphill to Cabanaconde
At 4:30 AM, we started our hike toward Cabanaconde. Day 1 was all descending, so logically day 2 was all uphill. Sangalle is located at 2,100m above sea level while Cabanaconde is located at 3287m above sea level.
In 3-4 hours, we ascended more than 1100 m. So when people say Colca Canyon was hard, this is what they meant. However, after doing the some intense hiking in Guatemala, nothing could compare. And if you have done the Salkantay Trek to Machu Picchu, Colca Canyon will seem easy in comparison.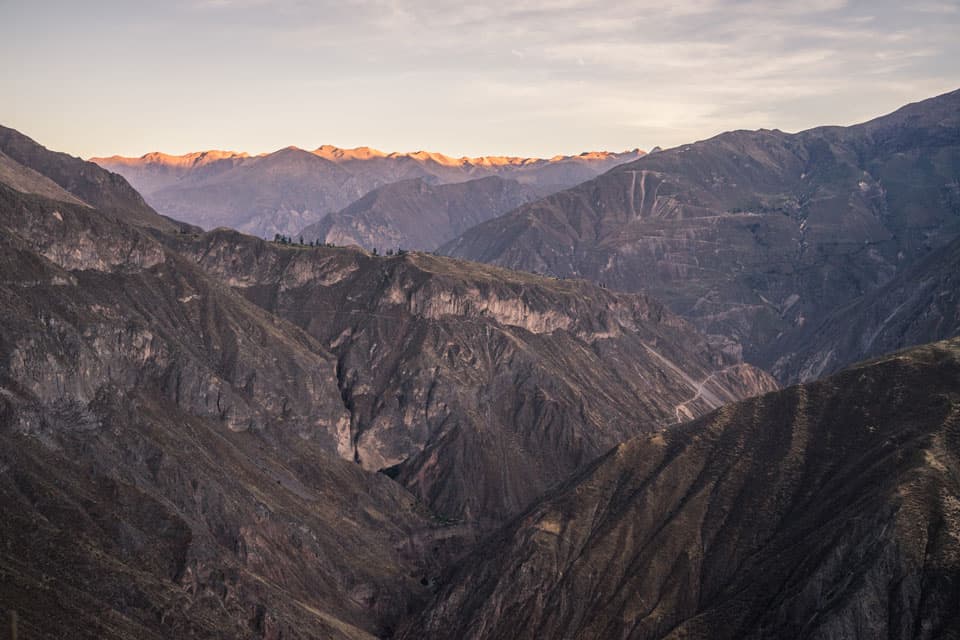 3-4 hours of uphill hiking flew by as we watched the sun rise behind the beautiful mountains. One by one they lit up, leaving a miraculous sight that will ease the pain of the countless switchbacks.
After ascending back to the top of the canyon, we were taken to a Peruvian grandmother's house. She made us homemade breakfast while we sat in her dining area. Our transport arrived shortly after breakfast and we were taken to a few more viewpoints before heading for lunch (not included) and then back to Arequipa.
---
Best Time To Hike Colca Canyon
The best time to hike Colca Canyon is during the dry season, which typically runs from May to end of October. Because the path is very steep, hiking in the rainy season is not recommended.
In the dry season, you can also expect very little clouds, which means you have better views of the condors as well as the starry sky!
If you happen to be hiking in the rainy season, make sure you plan accordingly!
---
Where To Stay In Arequipa
Because Arequipa is the closest touristy city to Colca Canyon, staying in Arequipa will give you the options to find tours as well as plan your own trek if you wish. Here are some of the best places to stay in Arequipa!
Best Hostel in Arequipa – Los Andes Bed & Breakfast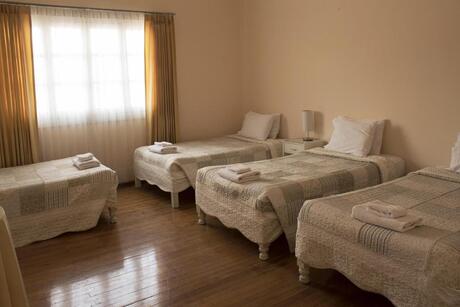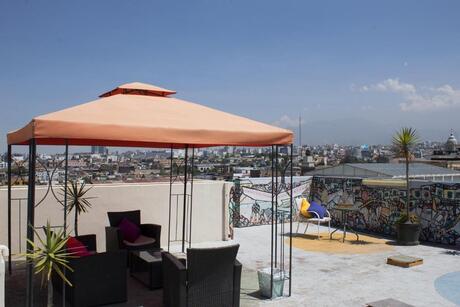 Los Andes Bed & Breakfast is one of the best hostels in Arequipa.  Located next to the main plaza (Plaza de Armas), guests can have easy access to the best attractions in Arequipa. The continental breakfast is included. 24-hour reception. The common area is very social to meet other travelers. A great option for backpackers.
---
Best Luxury Hotel in Arequipa – Katari Hotel At Plaza de Armas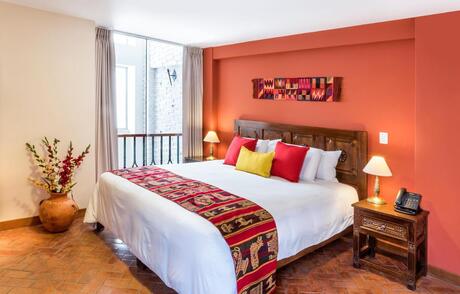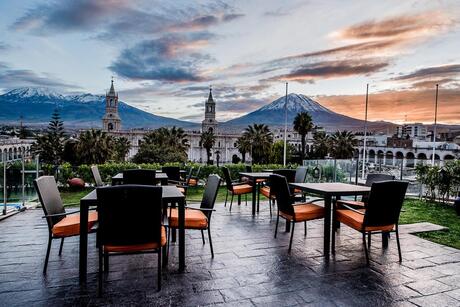 Located in Plaza de Armas right across from the historic cathedral, Katari Hotel is the best place to view the architectural masterpiece. The roof provides a panoramic view of the city that is better than any viewpoint you can find. The rooms are clean, spacious, and well-lit. The breakfast included is phenomenal.
---
Hiking Colca Canyon FAQs
Can You Hike Colca Canyon Without A Guide?
Yes, it is totally possibly to hike Colca Canyon without a guide, but many travelers choose to go with a tour company since this region is quite remote. If you want to hike independently, make sure you packing accordingly and book your accommodations in advance.
Is The Colca Canyon Hike Difficult?
The Colca Canoyn trek is a fairly difficult hike. Not only is it a multi-day trek that involves lots of elevation gained, you are hiking in high altitude. Plus, there is completely no shade on the trail to protect you against the harsh sun.
---
Like this post? Don't forget to save it on Pinterest!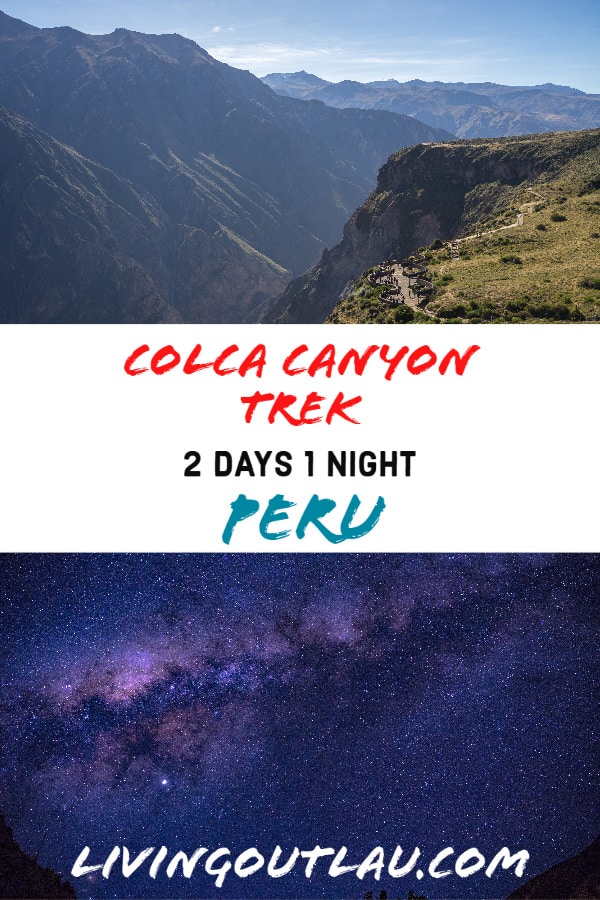 ---
I hope this guide answers all the questions you have about doing the Colca Canyon 2 day trek with a tour company. Colca Canyon was definitely one of the best hikes I have done in Peru. Don't miss it!
Disclaimer: Some of the links above are affiliate links. That means if you book or make a purchase through the links, we will earn a small commission at no extra cost to you! The money will help run this site! Thank you!