One of the best reasons to visit Peru is gastronomy. In fact, Peru has been one of the best culinary destinations in the world for many years now.
The wide variety of climates, ecosystems, and environments allow for a wide variety of fresh ingredients to be grown, making Peruvian cuisine very diverse with exotic flavors.

In the coastal region of Lima, fresh seafood produces some of the best Peruvian ceviches in the world. While higher up in the mountains in the city of Cusco, traditional Inca dishes such as alpaca meat and cuy (guinea pigs) are more common.
In the southern part of Peru near Pisco, you will find a region where they produce liquor called Pisco. Peru has so much diversity when it comes to food.

In fact, the capital of Peru, Lima has 2 of the top 50 restaurants in the world – Maido, and Central

There are over hundreds of Peruvian dishes. Which one should you try when you are visiting Peru? That is why we have compiled this list of our 30 favorite traditional foods you must try in Peru.

Enjoy!
If you want to sample the finest Peruvian cuisine and learn more about its food culture,
check out our favorite food tour in Lima here!
(You learn how to make ceviche & Pisco Sours!)
---
Traditional Peruvian Dishes
1. Aji de Gallina (Peruvian Chicken Stew)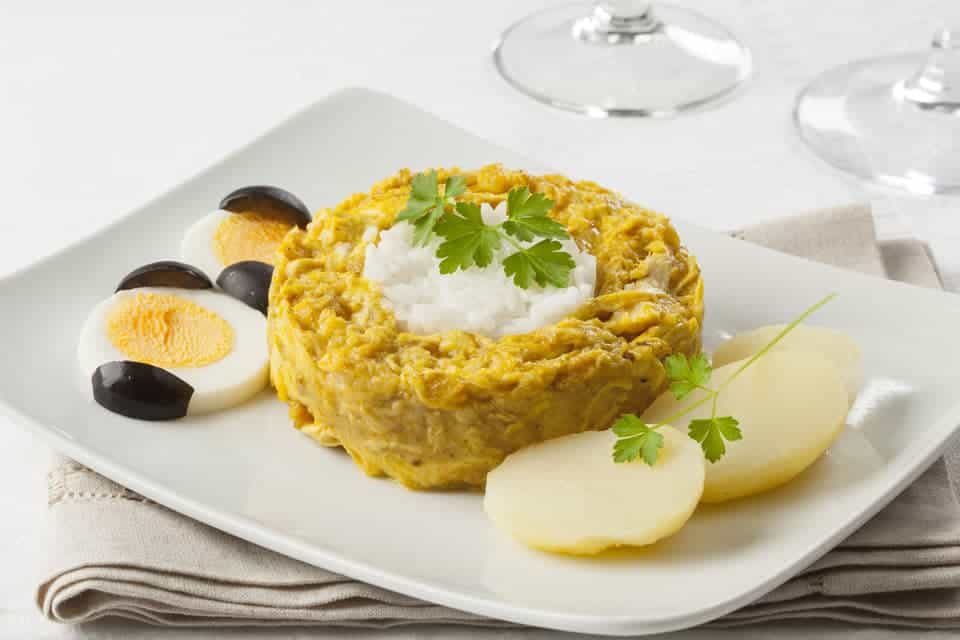 Aji de Gallina is a Peruvian stew made with chicken and cooked with yellow chili peppers, walnuts, garlic, turmeric, and other spices. The dish traditionally comes with half a hard-boiled egg.
The Aji de Gallina was believed to be introduced to Peru in the 16th century by the African slaves. Now it has become a staple dish in Peruvian cuisine.
At first glance, you might think this dish is packed with flavors. Actually, the taste is quite mild. The yellow chili peppers are not as spicy as you think they are. The flavors are just enough and not so salty that you have to drink glasses of water afterward.
Where can you find Aji de Gallina?
Most restaurants will have Aji de Gallina on their menu. But if you are trying to get it cheaply through "menu del dia" (menu of the day, usually with drinks and soup included), you may have to look around.
Generally, Cusco has some of the best Aji de Gallina. My favorite was from a restaurant in Cusco named Pachapapa!!

Address: Carmen Bajo 120, Cusco 08003, Peru
Hours: 12 PM – 10 PM Daily
2. Alpaca Meat, An Exotic Traditional Peruvian Food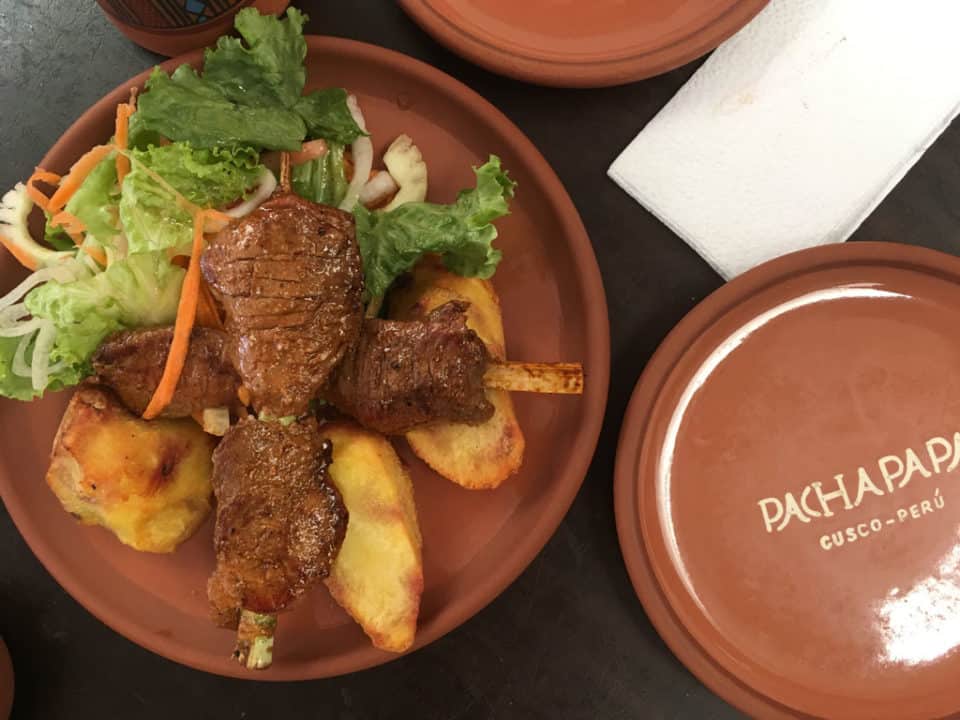 Yes! You can eat alpaca meat in Peru.
Alpacas (and llamas) are considered sacred animals to the Incas and historically only consumed during celebrations and festivals.
Nowadays, those cute little animals running around the city of Cusco and in the Andean mountains are actually popular traditional Peruvian food, especially among tourists. Alpacas are too cute to eat but we had to try them, and boy were they delicious! Sorry not sorry!
Like beef steaks, there are different parts of the alpaca that will have different tenderness and taste. A good alpaca meat/steak is tastier than some of the best steaks I have ever had!
Where can you find alpaca meat?
The only city in Peru where I encountered alpaca meat was Cusco, the ancient capital of the Incas. Many restaurants will offer grilled alpaca (Alpaca a La Plancha) but those are usually bad cuts and aren't as tasty. The best alpaca meat I had in Peru was at Pachapapa in Cusco.
The alpaca skewers at Pachapapa were sensational! If you get the chance, make sure you try this dish when you visit Cusco!

Address: Carmen Bajo 120, Cusco 08003, Peru
Hours: 12 PM – 10 PM Daily
Want to know what else you shouldn't miss when you visit Peru? Check out our detailed 2-week Peru itinerary!
3. Anticuchos, The Unusual Peruvian Street Food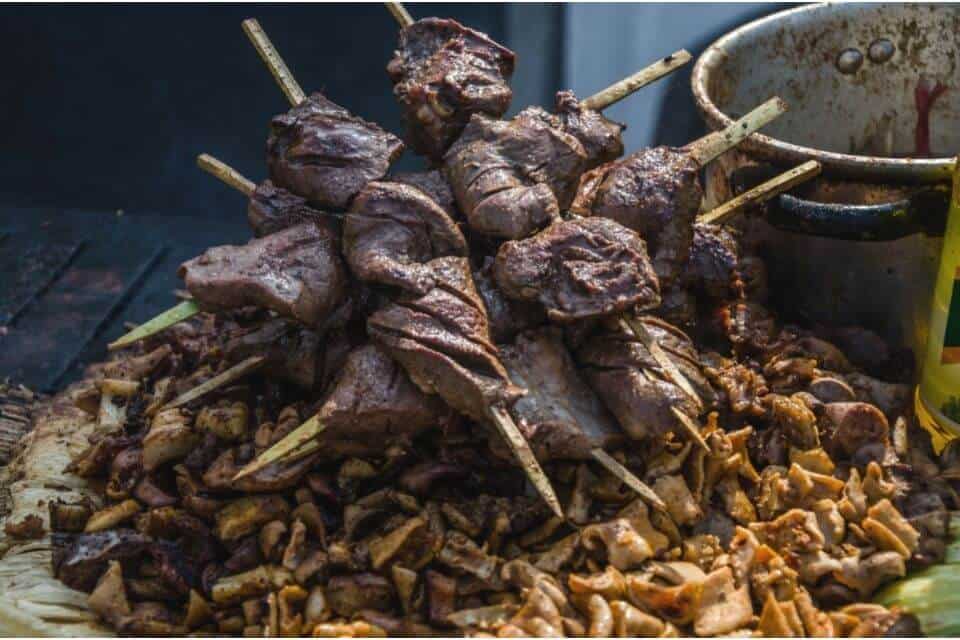 At first glance, Anticuchos looks like your typical shish kebab or just your regular skewers. While that is true, they are not your typical chicken or beef. Anticuchos are typically made with the heart or the liver of a cow.
It is sometimes called anticuchos de corazón (de corazón translates to "of heart" in English) because the most common type is made with the heart of a cow.
I still remember ordering it for the first time and getting really excited for some beef skewers. But when I bit into it, I knew something was off completely. The tenderness and the taste were nothing like what I was expecting.
It felt like I was eating street food in Southeast Asia again.
Even if you are not into that type of stuff, Anticucho is a Peruvian street food you must try. It originated from the Andes part of the region and has been a traditional food for a very long time.
Where can you find Anticuchos?
You can find Anticuchos easily on the street. Anticuchos are very common street food in Peru, especially in Cusco or near the beach. Just make sure you pick the street cart with more people so you know the meats are a little fresher.
Make sure your meats are cooked thoroughly, or you might end up in the hospital with typhoid fever or salmonella (speaking from experience)!
4. Arroz Con Pato (Rice With Duck)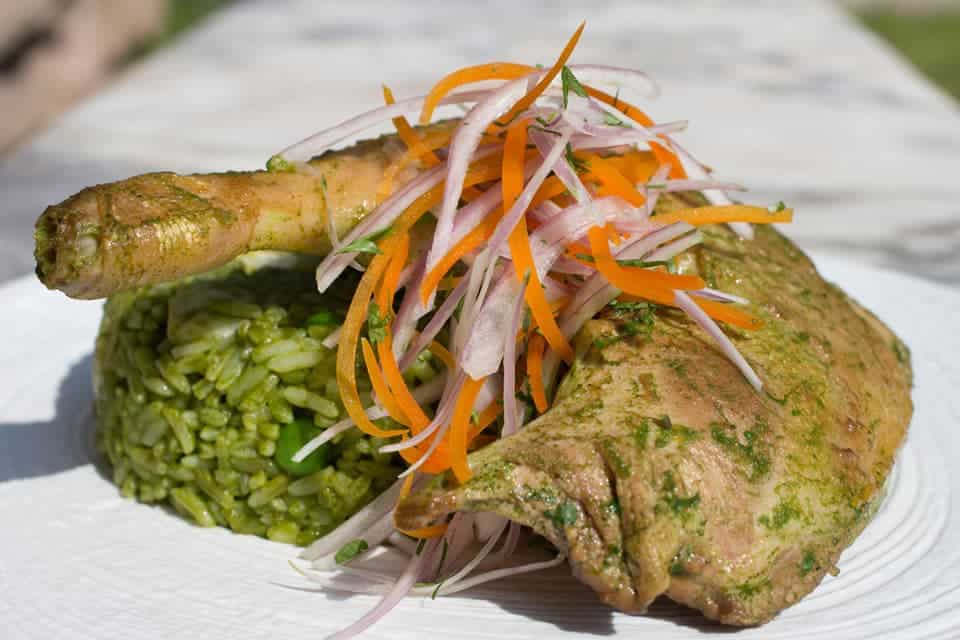 Arroz con Pato (Rice with Duck), is a traditional Peruvian dish from a city in Northern Peru called Chiclayo. Over time, this dish has become so popular that you can find it almost everywhere in Peru.
Many species of ducks are native to Peru. With the arrival of new ingredients such as rice, onions, and cilantro, all of these ingredients are cooked with the duck to create a rich flavor.
The original Arroz con Pato can be easily found in Chiclayo, where the rice is green due to the spinach and cilantro they put in it.
Where can you find Arroz con Pato?
If you want to find the traditional Arroz con Pato, you will have to go to Chiclayo. The only problem is that Chiclayo is off the tourist path and there is not much to do there.
Lima, the gastronomical capital of Peru, has some amazing Arroz con Pato as well. If you decide to try Arroz con Pato in Lima, you have to go to Fiesta Restaurant Gourmet!

Address: Av. Reducto 1278, Miraflores 15074, Peru
Hours: 12 PM – 3 PM, 6 PM – 11 PM Daily
5. Caldo de Gallina (Hen Soup)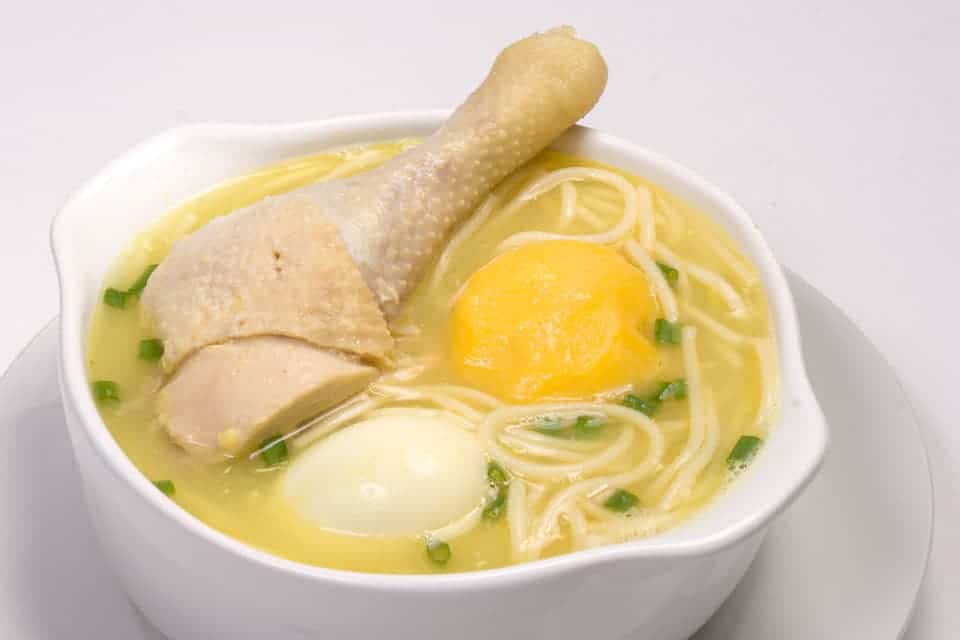 Caldo de Gallina, or Hen Soup, is one of the oldest traditional foods in Peru.
The traditional soup consists of hen (not chicken), noodles, hard-boiled eggs, different types of potatoes (Peru has over 3,500 types of potatoes), and Chinese onions. The hen is usually cooked in the soup for hours so the flavors of the hen can come out.
Keep in mind that you can also get Caldo de Pollo, which is chicken soup. You might think they are the same thing but it is not. Hens are kept in the wild and eat everything organic in Peru, chickens are not.
As a result, the meat of the hens will be much tougher and tastier.
Where can you find Caldo de Gallina?
You can find Caldo de Gallina throughout the entire country. It is a very popular dish. However, my recommendation is to eat it in Cusco because Cusco is really cold.
The warmth of the soup and the flavor of the hen will be the perfect dinner after doing the Salkantay trek to Machu Picchu or other hikes in Peru.
6. Causa Rellena
The Causa Rellena, sometimes referred to as a layered potato casserole, is a unique traditional dish with lots of history from Peru. On the surface, it looks like a cake stuffed with vegetables, kind of like a healthy dessert that your parents tricked you into eating when you were a kid.
In reality, it is a dish made with two slices of yellow potatoes with different kinds of ingredients stuffed in the middle. The filling in the middle can be a permutation of chicken, salad, or seafood. Some call this the Peruvian version of potato casseroles.
In English, Causa Rellena translates to a stuffed cause. This translation literally does not make any sense unless you know the history behind it.
Back in the Pacific war, Peru was fighting Chile alongside Bolivia. When supplies and food came short during the war, the women would go around villages asking for whatever they could get.
With more than 3,500 types of potatoes in Peru, it shouldn't surprise you that they were able to gather some potatoes and vegetables such as corn, cabbage, and carrots.
With all the ingredients, the women made what is today known as the Causa Rellena for the soldiers. And when the women were handing the "stuffed causes" to the tired soldiers, they would say "This is for the cause". Hence, the name Causa Rellena was born.
Where can you find Causa Rellena?
Causa Rellena or Peruvian potato casseroles can be found throughout all of Peru, but Lima definitely has some of the best I have ever tried.
Punto Azul in the beautiful and safe neighborhood of Miraflores is the restaurant to go to if you are in Lima. Not only does Punto Azul have some killer Causa Rellenas, but it also has some of the best Peruvian ceviches!

Address: Calle San Martin 595, Miraflores 15074, Peru
Hours: 11 AM – 4 PM Daily, Closed on Mondays
While you are at Punto Azul in Miraflores neighborhood of Lima, why don't you check out the other attractions in Miraflores?
7. Charqui (Dried Alpaca or Llama Jerky)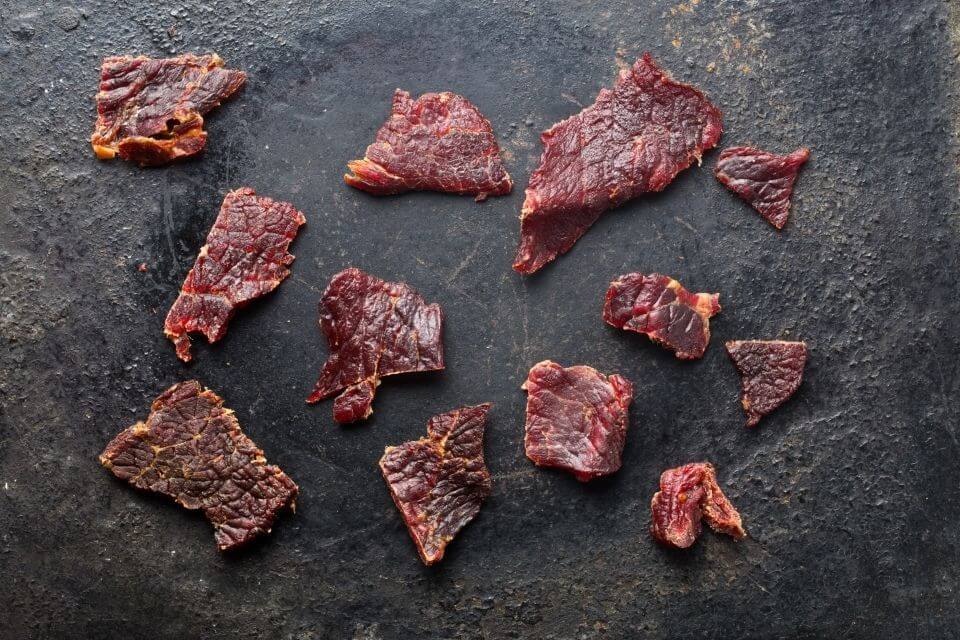 If you thought you were done with alpaca meat, then you are wrong. Charqui or Ch'arki in the indigenous language in Peru is alpaca, llama or a mixed jerky.
Do I need to say anymore? This is one of the most authentic Peruvian snacks to try! You can even take some with you back home or for your Machu Picchu hike!
Where can you find Charqui?
Charqui is going to be hard to find if you are not looking for it. It won't be in restaurants, stores on anything like that. Your best bet is the mercados or markets around town. You can try finding it in the Mercado Central de San Pedro in Cusco.

Address: Tupac Amaru, Cusco 08003, Peru
Hours: 6 AM – 6 PM Daily
8. Chicharró

n

, A Delicious But Unhealthy Food You Must Try in Peru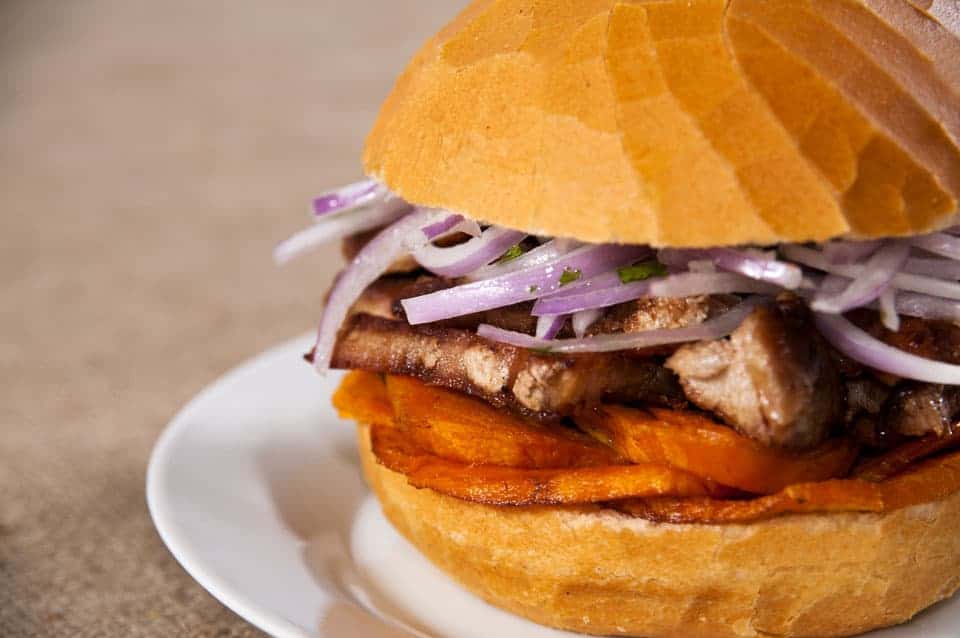 Chicharrón is a classic dish made of fried pork belly or pork rinds. This is probably the dish you want to stay away from if you have any sort of heart problem. It is no joke how unhealthy (but tasty) this dish is.
In Peru, you can often find street carts selling Chicharrón, either just the meat or in a sandwich. You can usually tell when you start to smell it from a street away. When the pork is deep fried in its own fat, the smell will have you salivating before you even see it.
Chicharrón is also a popular Peruvian breakfast dish. The Peruvians really know how to start their mornings right!
But in my opinion, chicharrón definitely smells better than it tastes. But don't let that discourage you, you must try this food in Peru at least once.
Where can you find Chicharrón?
Typically the street carts will sell some decent quality Chicharrón. But if you are looking for some of the best ones I have ever tasted, you have to go to a place called El Chinito in Lima. They have some amazing Chicharrón (sandwiches).

Address: Av. Almte. Miguel Grau 150, Barranco 15063, Peru
Hours: 8 AM – 9 PM Daily except Sundays when it is open from 8 AM – 1 PM
9. Cuy (Guinea Pig), A Classic Peruvian Dish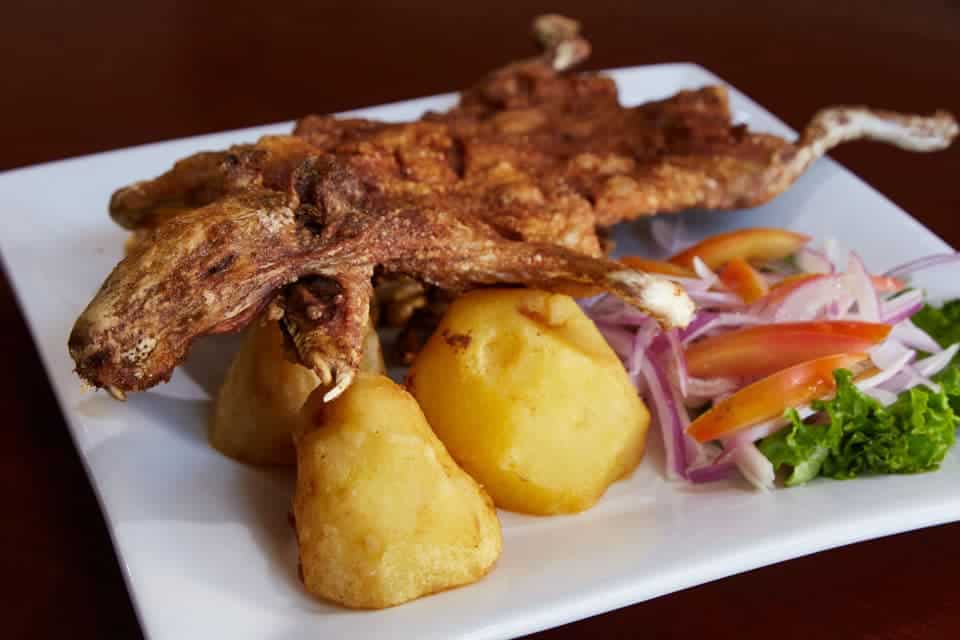 If there is one dish Peru is known for, it is Cuy, or guinea pig. Probably the most famous Peruvian food, guinea pigs are not actually pigs unlike the name suggests. They are rodents like rats and hamsters.
Cuy has been a Peruvian delicacy way before the Incans or the Spanish came around. Guinea pigs were more popular than typical livestock such as cows or pigs because they were much easier to breed and more nutritious.
Cuy is one of the most popular dishes in the Andes. For that reason, the city of Cusco will have some of the best Cuys you will ever find. The best place I had guinea pig was at Pachapapa in Cusco. They also have some of the best Aji de Gallina and Alpaca meat.

Address: Carmen Bajo 120, Cusco 08003, Peru
Hours: 12 AM – 10 PM Daily
10. Leche de Tigre (Tiger's Milk)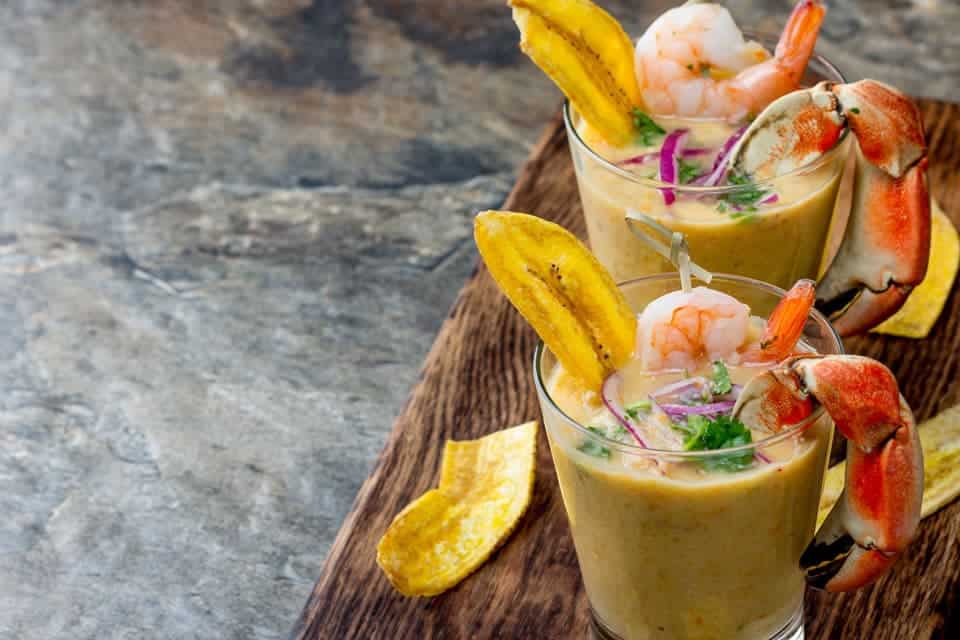 Leche de Tigre, or tiger's milk, is commonly confused for the leftover juice of Peruvian ceviche. However, that is not entirely accurate.
Leche de Tigre is prepared beforehand using a fish stock made with actual fish, a lot of lime juice, salt, and pepper to give it some spice. The resulting juice itself is sometimes consumed straight or sometimes used as a sauce for ceviche or other kinds of seafood.
Many Peruvians believe that the Leche de Tigre is a restorative drink, a drink that will give strength back to the user. Some also believe that it is an aphrodisiac.
Where can you find Leche de Tigre?
Lima! You should only try Leche de Tigre from Lima. It has some of the freshest seafood in all of Peru. Go to Astrid & Gaston and you won't be disappointed.

Address: Avenida Paz Soldan 290 Av. Paz Soldán 290, San Isidro, Lima, Lima 15073, Peru
Hours: 1 PM – 3:30 PM, 7 PM – 11 PM on Tuesday to Saturday, 11 AM – 4 PM on Sundays, Closed on Mondays
11. Lomo Saltado, A Popular Dish in Peru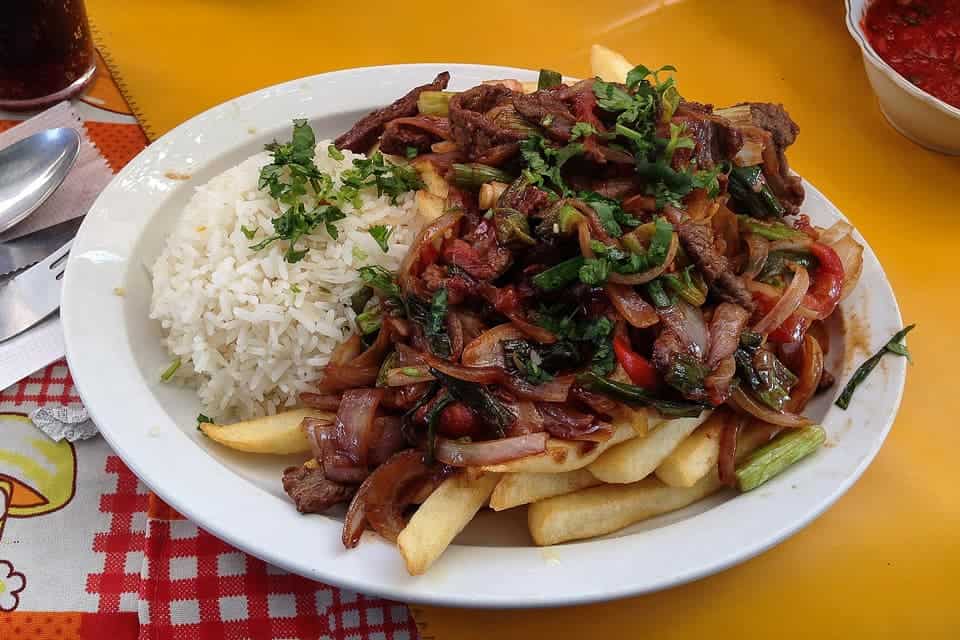 Lomo Saltado is a local Peruvian dish that many Peruvians enjoy daily. It is usually made with beef strips marined in soy sauce, onions, peppers, cilantro, tomatoes, and other ingredients.
From the photo, it might look like the typical stir-fried beef that you get at a Chines takeout. In fact, there is some truth to that. Lomo Saltado originates from "chifa" traditions, or the Chinese part of Peruvian cuisine.
Unlike typical stir-fry which is just rice and beef with vegetables, Lomo Saltado comes with french fries and is usually served over rice. The potato fries are the Peruvian influence on the Chinese stir-fry, hence the name "chifa".
This is the dish you want to try if you don't want to get stomach problems like food poisoning or stomach issues when traveling Peru.
Where can you find Lomo Saltado?
Literally everywhere!! Lomo Saltado is one of the most typical dishes in Peru. You will often find it as a menu of the day option for lunch!
12. Papas a la Huancaina, The Classic Peruvian Appetizer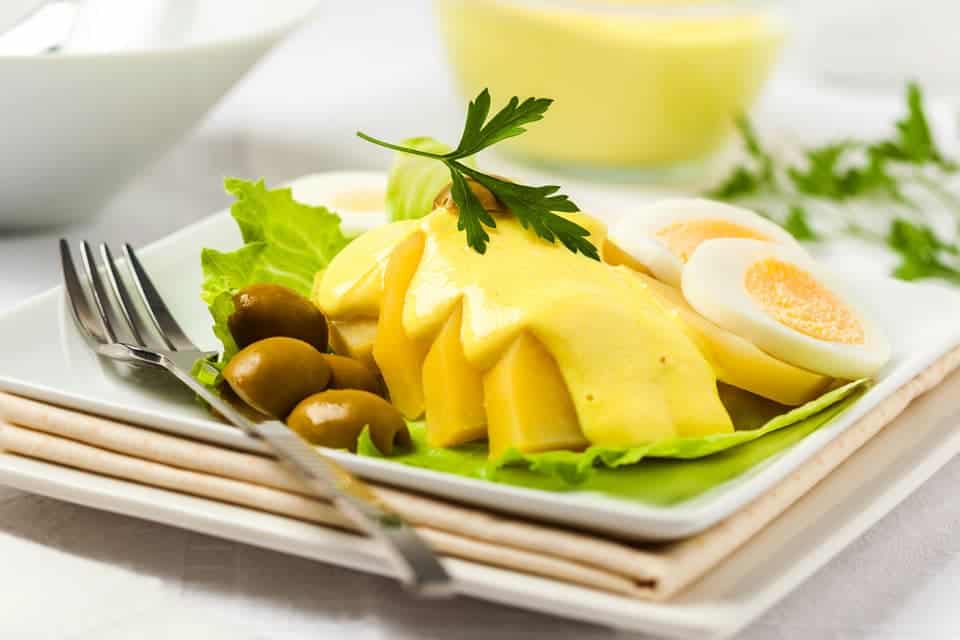 Papas a la Huancaina is a popular Peruvian appetizer that originates from Lima. The potatoes are boiled and served with a spicy cheese sauce made from queso fresco and Aji Amarillo, a type of yellow chili pepper native to Peru. The dish is served cold and often accompanied by lettue and olives.
The yellow sauce is called Huancaina, hence the name Papas a la Huancaina. It is one of the few vegetarian Peruvian foods.
Where can you find Papas a la Huancaina?
Pretty much everywhere in Peru. Papa a la Huancaina is a popular appetizer and you can find them easily in restaurants, even the cheap ones that offer a menu of the day!
13. Peruvian Ceviche, Peru's National Food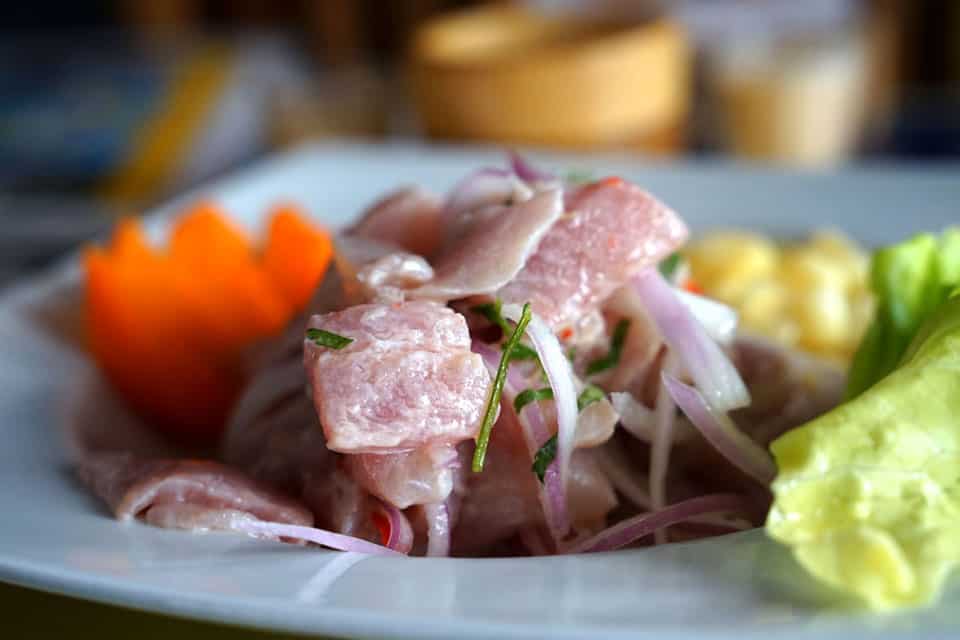 Peruvian ceviche is the national dish of Peru. It is the one dish you must try when you visit this gastronomically diverse country. In fact, many travelers come from all over the world just to get their hands on some of the freshest Peruvian ceviches. It is that good.
In fact, sampling ceviche from different restaurants is one of our favorite things to do in Peru!
But what exactly is ceviche (sometimes called cebiche), and is it safe to eat? The answer is YES.
Ceviche's most important ingredient is the fish, followed by the quality of the lime. The lime in Peru is unique to the region and much more suitable for making ceviche than any other lime.
The acidity of the lime juice actually cooks the fish, killing all the harmful parasites and bacteria.
That is how strong Peruvian limes are!
Combined with other fresh ingredients such as red onion and cilantro, the Peruvian ceviche gives off a flavor that is unique in its own ways. Traditionally, it is made with chili peppers to give it some spice, making the Peruvian ceviche much different than any other ceviche.
Where can you find Peruvian Ceviche?
Good peruvian ceviche requires fresh and fatty fish, so it would make sense that the coastal city of Lima has some of the best ceviches. Near the coastal region, they typically use sea bass as the fish for ceviche. But if you have ceviche in Cusco, the fish they use is usually trout.
Trout is not a fatty fish and contains many bones, making trout ceviche one of the worst dishes I have ever tried in Peru.
Trying Peruvian ceviche doesn't mean you have to spend a lot of money. There are many good and affordable places for Peruvian ceviche in Lima. My favorite place is definitely Punto Azul in Miraflores.

Address: Calle San Martin 595, Miraflores 15074, Peru
Hours: 11 AM – 4 PM Daily, Closed on Mondays
14. Pollo a la Brasa (Rotisserie Chicken)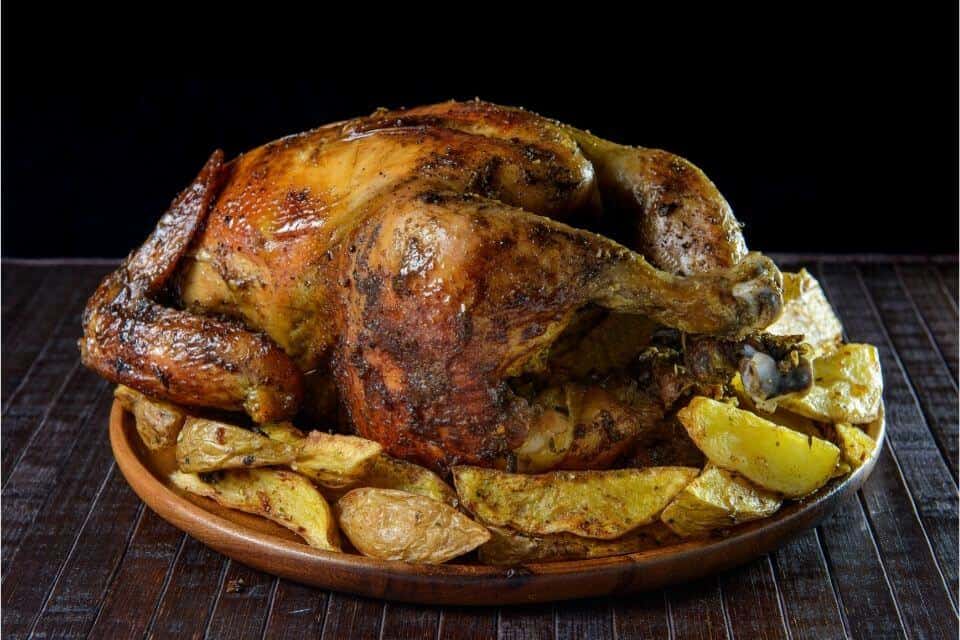 Pollo a la Brasa (sometimes referred to as Peruvian chicken) is simply known as rotisserie chicken or roasted chicken in the United States. It is a dish that originates from Peru and was only served in high-end restaurants historically.
Nowadays, it is one of the cheapest and most consumed classic Peruvian dishes, especially for lunch and dinner.
Where can you find Polla a la Brasa?
They are one of the most popular Peruvian foods, so you can pretty much find them everywhere. When you walk down the streets of Lima or Cusco, you might see them being roasted in front of a restaurant!
15. Rocoto Relleno, The Most Spicy Food in Peru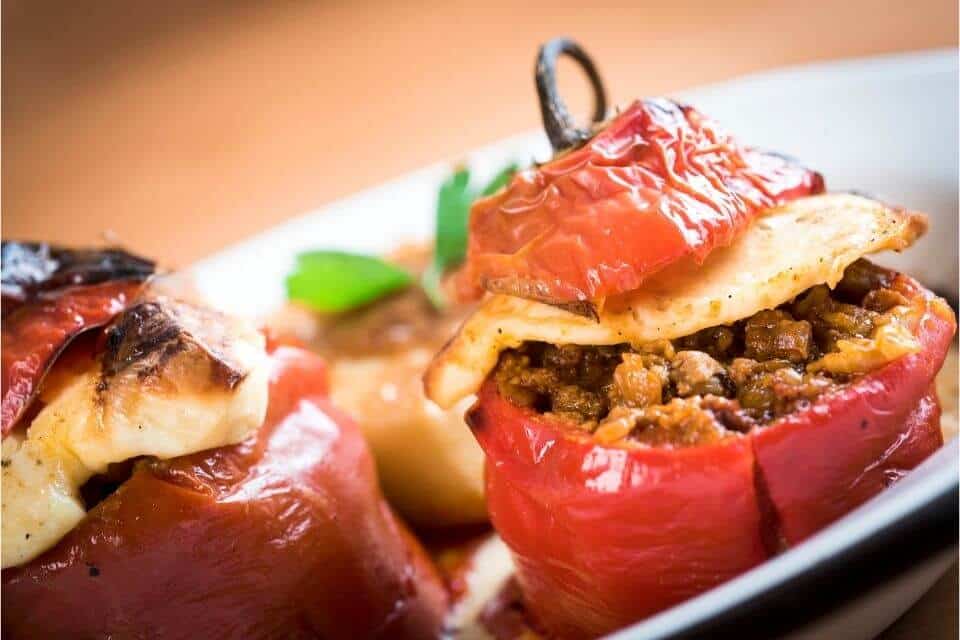 Rocoto Relleno, or stuffed pepper in English, might look like the typical stuffed pepper that you can find in other countries. But don't be fooled by its innocent appearance.
Is Peruvian food spicy? A rocoto pepper is a least 10 times spicier than a jalapeño when raw. If you like spicy food, then this is the one food you must try in Peru. If you can't handle it, my advice is to stay away from it.
Rocoto Relleno is stuffed with minced meat among other ingredients and then topped with melted cheese. The taste is great if you can handle the spiciness.
Where can you find Rocoto Relleno?
Rocoto Relleno is popular in the city of Arequipa, a city one-night bus away from Lima or Cusco. Arequipa has many local restaurants known as Picanterias. My favorite one to try Rocoto Relleno is Picantaria La Capitana.

Address: Calle Los Arces 209, Urbanización, Cayma 04014, Peru
Hours:12 PM – 5:30 PM Daily EXCEPT Thursday when it's CLOSED
16. Tiraditos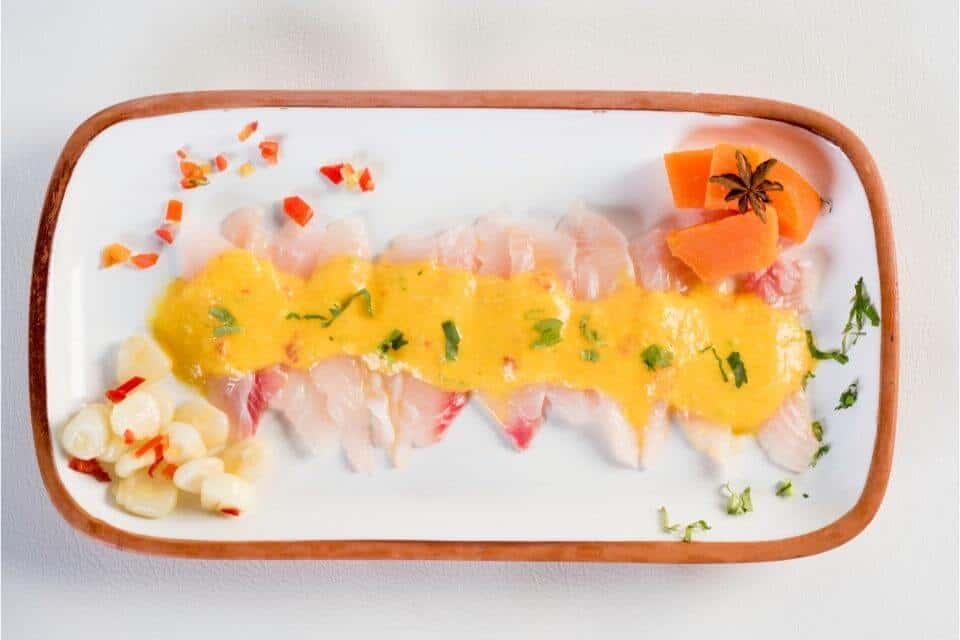 Tiraditos look like the Peruvian form of sashimi from Japan. In fact, tiraditos are what many considered to be a fusion of Japanese and Peruvian food, or Nikkei as they call it in Peru.
It combines the sashimi from Japan and the tiradito sauce from Peru. The tiradito sauce is a spicy sauce usually made from a mixture of lime juice, various seasonings, peppers, and sometimes even rocoto.
Like ceviche, the main ingredient is raw fish. The difference between the tiraditos and the ceviche is that ceviche is submerged in the sauce before it is served. Tiraditos are not.
The sauce of tiraditos is poured on top right before it is served, therefore the fish is still uncooked. You can taste the freshness of the fish much better in tiraditos than in ceviche.
Where can you find Tiraditos?
The city of Lima has some of the best tiraditos due to its geographical location on the coast. Many seafood restaurants will serve a fairly decent tiradito but I had my favorite tiraditos at La Mar.

Address: Av. Mariscal La Mar 770, Miraflores 15074, Peru
Hours: 12 PM – 5:30 PM Friday to Sunday | 12 PM – 5 PM Monday to Thursday
17. Trucha Frita (Fried Trout)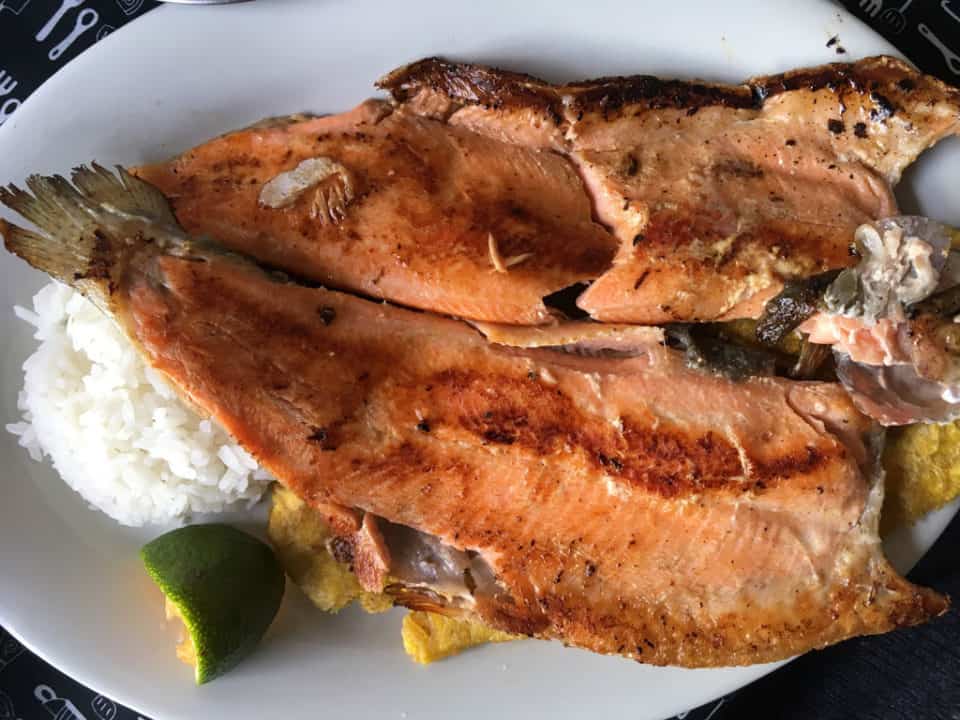 Trucha Frita (fried trout) is a typical cuisine from the Andes of Peru.
The Andes mountains provide freshwater resources where trouts can easily reproduce. Many cities up in the Andes (such as Puno) will have trout farms. If you are lucky enough, you can even catch your own trout at one of these trout farms and have it cooked in front of you.
Peru is one of the largest exporters of rainbow trouts. They have shipped trouts all over the world including the United States, Europe, and many other countries. Trouts in Peru are considered some of the best trouts in the entire world.
Fried isn't the only version of trout you can have in Peru. Visitors can also try grilled trout (a la plancha), with garlic and lemon, and many more!
Where can you find Trucha Frita?
Trucha Frita can be easily found throughout all of Peru, but I recommend eating at places closer to the Andes Mountains. Cities like Puno and Cusco will have some of the freshest trouts you will ever encounter.
Trucha Fritas are usually offered as one of the options for the menu of the day. These restaurants can be found easily throughout the cities.
18. Chupe de Camarones (Peruvian Shrimp Chowder)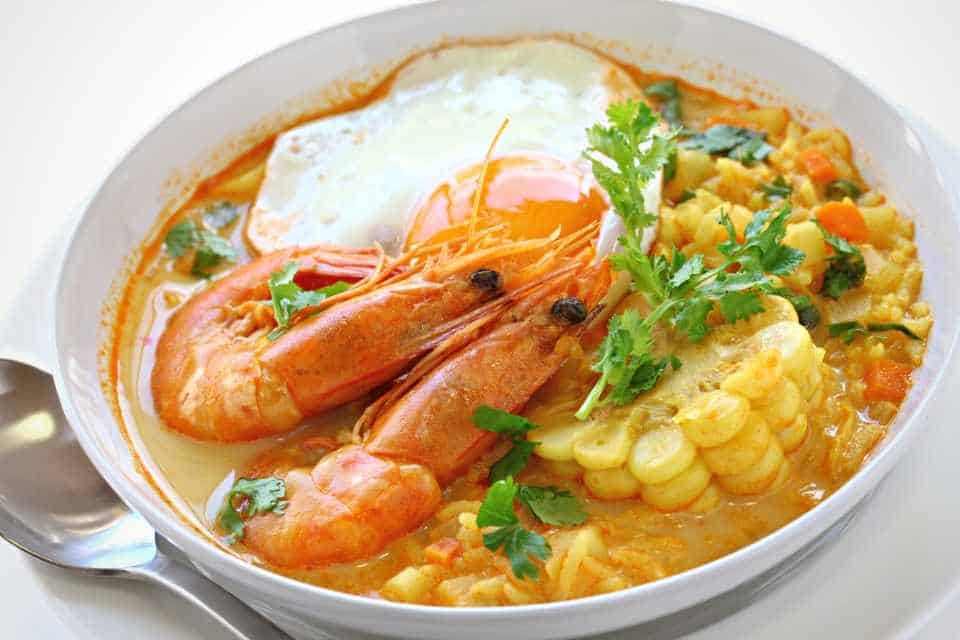 Chupe de Camarones, or Peruvian Shirmp Chowder, is a traditional soup developed by the Incas. For a long time, the Incas have used fresh shrimp to make a soup, but that soup never had milk and eggs to make it thicker. It wasn't until the Spaniards brought eggs and milk did the Peruvian Shrimp Chowder evolved to what we see today.
So what is in Chupe de Camarones besides shrimp? This chowder typically includes a ton of vegetables such as corn and potatoes, which makes it super hearty. And like the majority of Peruvian cuisine, spices are added to it. For Chupe de Camarones, rocoto chilies are typically used.
This Peru food is quite versatile in the way that it can be both a starter or an entire entree. And surprisingly, it is mostly seen as an entree in Peru because of how many ingredients go into making it.
Where to try Chupe de Camarones?
The Chupe de Camarones originates from Arequipa, a historic city in southern Peru. So your best bet is to try it at one of the authentic Peruvian restaurants (picanterias) there.
Our favorite one is La Nueva Palomino, which is located near the historic centre of Arequipa. The restaurant also serves some banging rocoto relleno!
Address: Leoncio Prado 122, Yanahuara 04000, Peru
Hours: 12 PM – 5 PM Daily
19. Cancha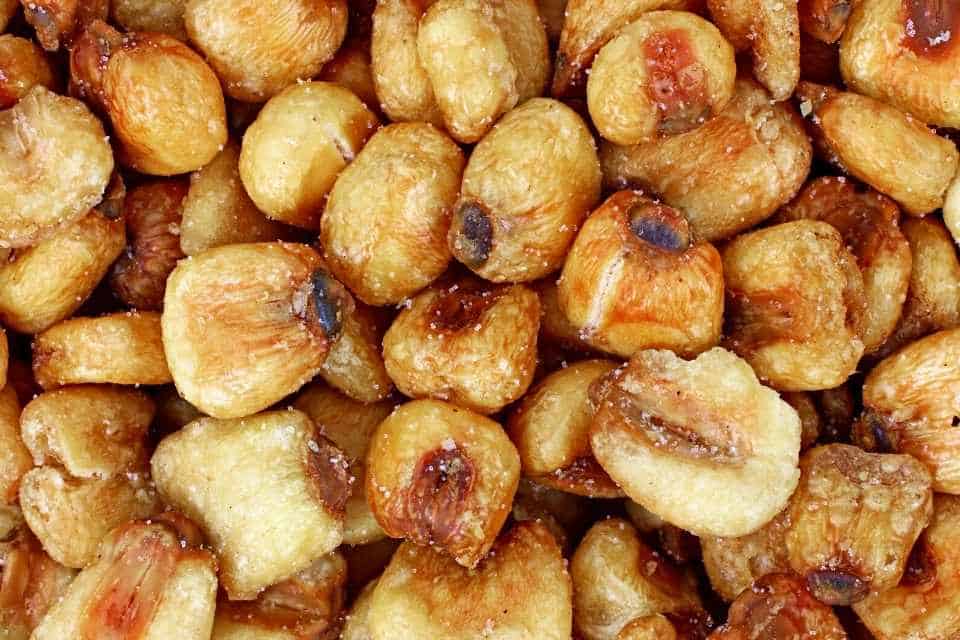 Cancha is one of the most popular snacks and appetizers in Peru. It is similar to the peanuts you might get as appetizers at restaurants. In Peru, they have canca, which is simply just corn nuts. Spoiler: they are not actually nuts.
Corn nuts are absolutely some of the strangest snacks in Peru. They are made by roasting or frying corn kernels until the kernels have become crunchy. Afterward, they are seasoned lightly with salt.
Sometimes you'll find cancha that has been overdone. At that point, they are almost as hard as a rock and can break your tooth if you are not careful.
Cancha goes well with beer, similar to the peanuts you might get at a pub. You can also get them in a bag, but those are definitely not as good. It is worth a try because of its uniqueness, but don't expect them to blow your mind.
---
Best Drinks in Peru
I have to be honest when I first went to Peru I was overwhelmed by the various types of drinks. Food will always be familiar, a chicken will always look like a chicken, and beef will always look like beef. But drinks are some things that will confuse you.

Here are some of the drinks in Peru that you must try. We have also written a separate guide on the best drinks in Peru here! Make sure you check it out!
20. Chicha Morada, The Most Popular Pervuian Drink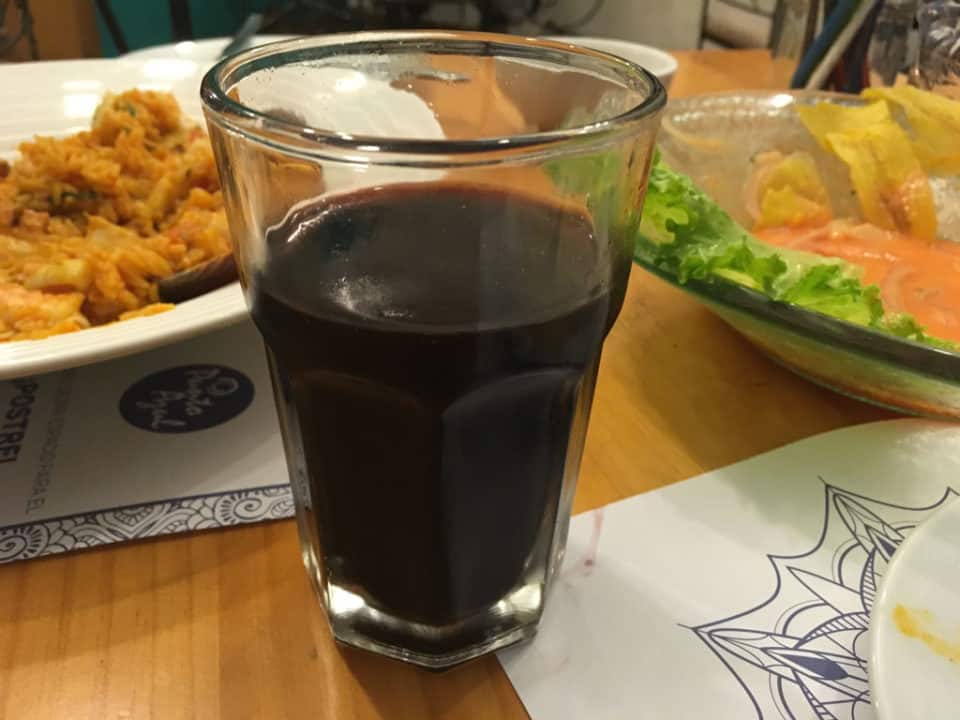 Chicha Morada is the number one local drink in all of Peru. I can guarantee that you will find it in every restaurant that you encounter. You will find it on the streets, in the markets, in a cheap restaurant, or even in the fanciest restaurants.
Peruvians drink Chicha Morada like it's water.
Chicha Morada is made using purple corn grown in the Andes mountains. Yes, there is a thing called purple corn. In fact, Peru has 55 different varieties of corn.
Chicha Morada is a mildly sweet drink that tastes like some kind of expired grape juice. One thing for sure is that it definitely has its own unique taste.
Can you believe that the Incans used to drink chicha?
Where can you find Chicha Morada?
In Peru, you don't find Chicha Morada. Chicha Morada finds you. You can run and you can hide, but Chicha Morada will find a way to you.
You can find Chicha Morada in literally every restaurant in Peru.
21. Chicha de Jora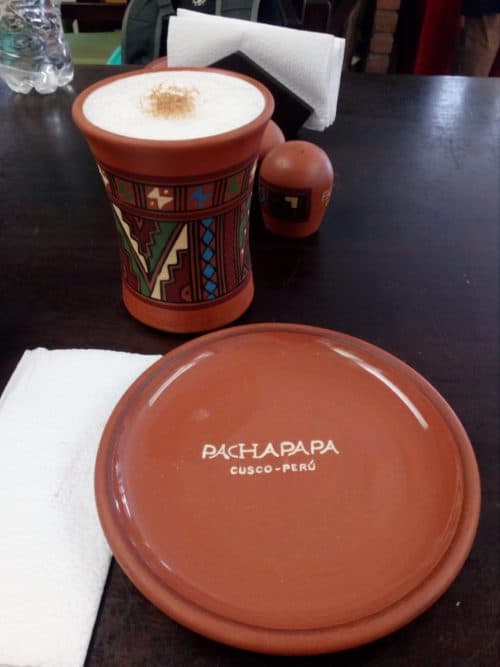 Chicha de Jora is pretty much Chicha Morada's cousin, except that Chicha de Jora is fermented and has alcoholic content. Jora is a type of yellow corn found commonly in the Andes mountains.
The process of fermentation is very similar to the fermentation process of European-styled beers. However, Chicha de Jora usually contains only around 1-3% alcohol.
Chicha de Jora is known as the corn beer of Peru.
Where can you find Chicha de Jora?
Chicha de Jora is a lot harder to find than its counterpart, Chicha Morada. I have only seen Chicha de Jora is some of the fancier restaurants. The restaurant that had the best Chicha de Jora was Pachapapa in Cusco.

Address: Carmen Bajo 120, Cusco 08003, Peru
Hours: 12 PM – 10 PM Daily
22. Inca Kola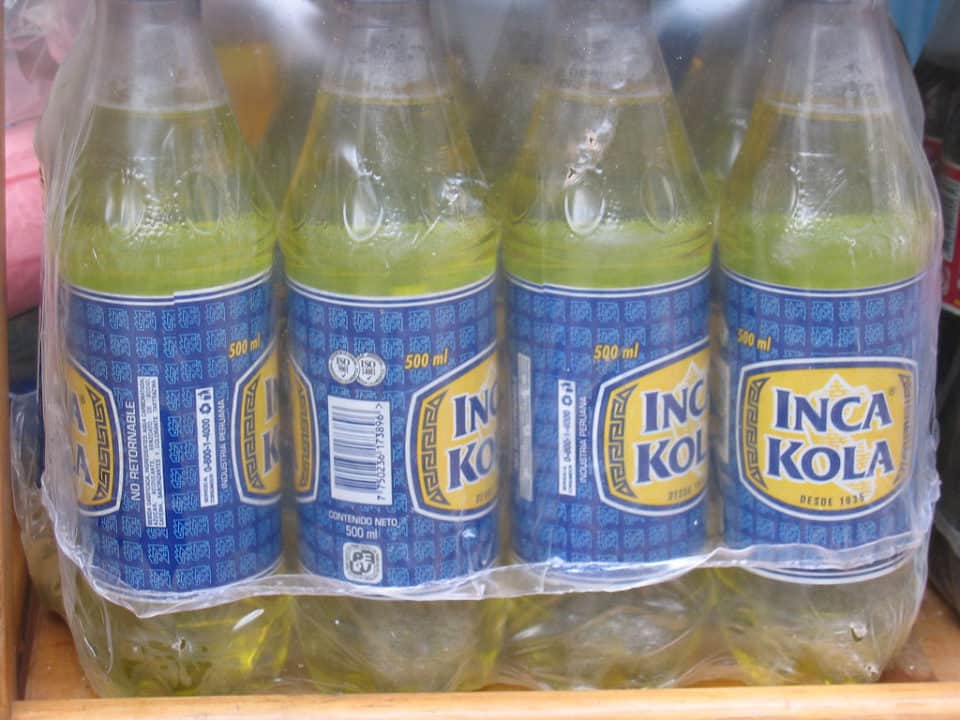 The second most popular drink in all of Peru after the Chicha Morada is definitely the Inca Kola. Inca Kola, with a yellowish appearance, might not look appetizing at first. But once you take a sip of it, you will understand what the hype is all about.
Inca Kola is a drink that originates from Peru but can now be found in many parts of the world. Many say it has a bubblegum flavor to it.
Honestly, at first taste, yes it has hints of bubblegum flavor to it. But soon your brain forgets about it due to the heavy amount of sugar and high-fructose corn syrup they put into Inca Kola.
Where can you find Inca Kola?
Literally everywhere in Peru. Restaurants will have it. Bars will have it. And grocery stores will have more than you will ever need.
23. Mate de Coca (Coca Tea)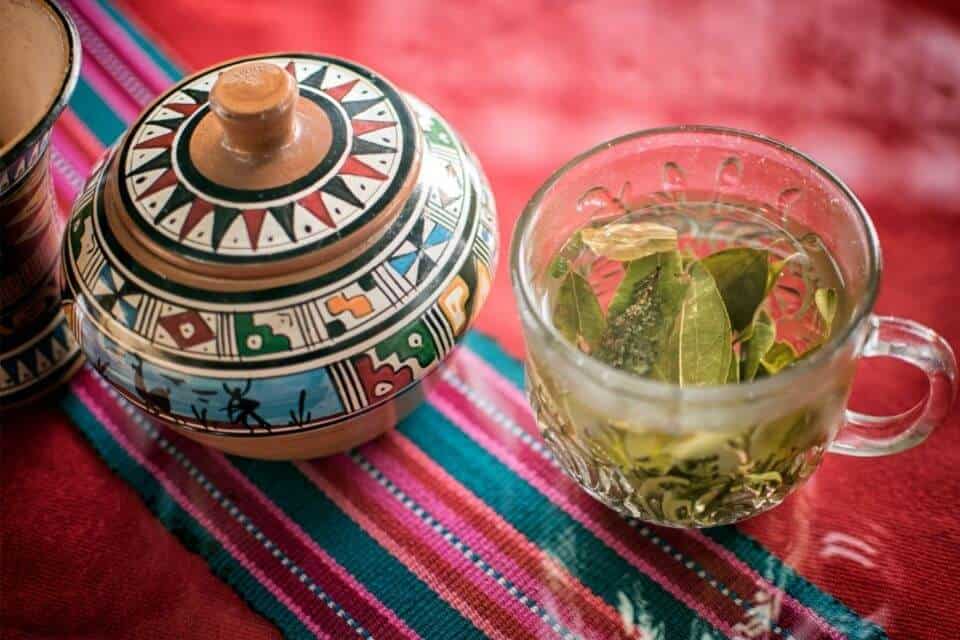 Mate de Coca, or coca tea, is a traditional drink that originated in the Andes. There are certain myths surrounding coca leaves and if they actually contain cocaine or not. The answer is YES. The cocaine alkaloid content in coca leaf ranges between 0.5 and 1 percent.
Coca leaves are used to make cocaine. And if you ingested coca tea or coca leaves in Peru, you are at risk of failing any upcoming drug tests. Many countries such as Canada and Netherlands consider coca leaves the same as cocaine!
And if you fly into Singapore airport with coca leaves, you might receive the death penalty! Even though the actual amount in coca leaves is minuscule compared to actual cocaine.
History says coca leaves were used by the Incas to help build some of their ruins such as Machu Picchu. The coca leaves give them the energy to work for long hours a day and can suppress hunger in large quantities.
The Incas believed that coca leaves were sacred, and only royalty could have access to them.
Nowadays, coca leaves are used to give people a little extra boost. They are also known as Peruvian coffee. Coca leaves will help you overcome the high altitude in many regions of Peru.
And most definitely don't hike in Huaraz without having a few coca leaves with you.
Where to find coca tea/leaves?
You can easily find coca leaves at markets and stores around Peru. Cusco is the best and easiest spot to find them. You can pay 1 sol for a huge bag of coca leaves in the central market in Cusco.
Coca tea can be found at restaurants and hostels. There are also tea bags they sell in supermarkets.
24. Pisco Sour, The National Drink of Peru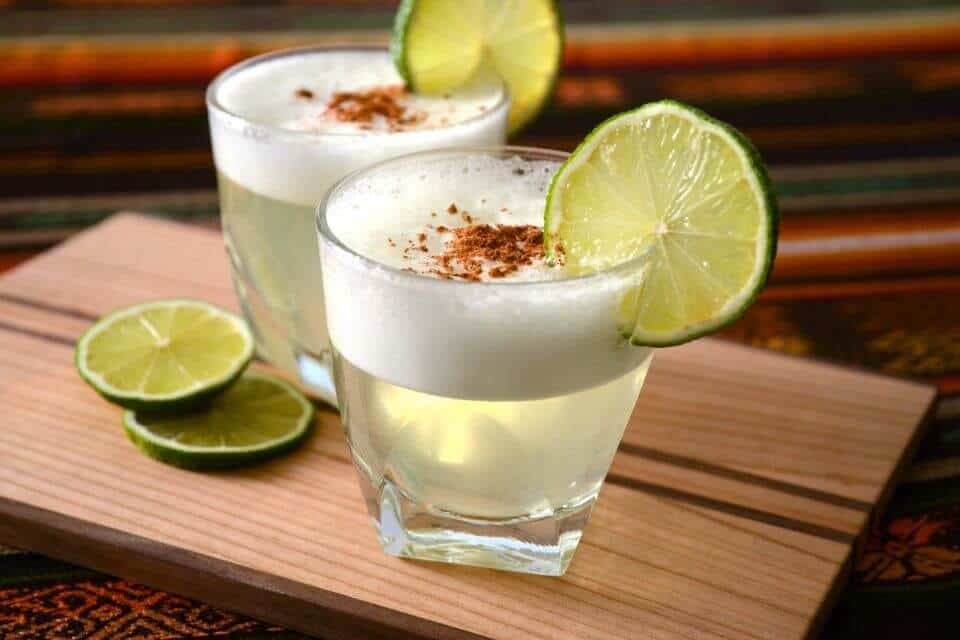 Now let's get to our favorite drink in Peru, the Pisco Sour! Pisco sour is an alcoholic drink that uses Pisco as the base liquor. Different ingredients such as fresh lime juice, syrup, bitters, and egg white are then added to it.
Yes, you got that right. Raw egg whites are added to the drink, creating that foamy substance you usually see at the top of a Pisco sour.
However, unlike the name sounds, the drink itself isn't really that sour.
Peruvians love their Pisco sour so much that they named it after the city of Pisco, similar to the city Tequila in Mexico!
Where can you find Pisco sour?
Lima has some amazing Pisco sours. But obviously, you can also visit the city of Pisco to sample the drink directly from the source. It is one of the most popular things to do in Ica!
---
Traditional Desserts in Peru
No meal is complete without a nice dessert. Luckily for you, the amazing traditional desserts in Peru will send your taste buds to heaven. Here are some desserts you must try in Peru.
25. Arroz Con Leche ("Rice Pudding")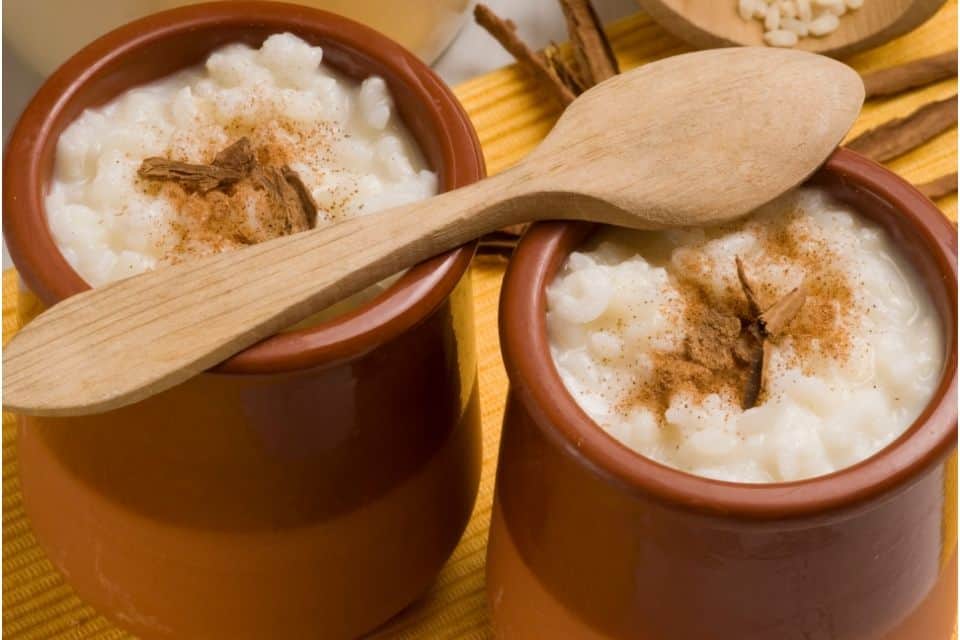 Arroz con leche is the Peruvian form of rice pudding. However, they are known to be a lot sweeter than their western counterparts. Arroz con leche is not the fancy dessert that you have in a French bistro. In fact, it takes pride in its simplicity.
Arroz con leche is simple and delicious but not too heavy on your stomach. It is the go-to dessert when I am stuffed from eating other delicious food Peru has to offer.
Where to find Arroz con Leche?
Many bakery shops, or pandeleria in Spanish, will sell arroz con leche. With a proclaimed origin of Lima, your best bet would be to try it there.
26. Lucuma Ice Cream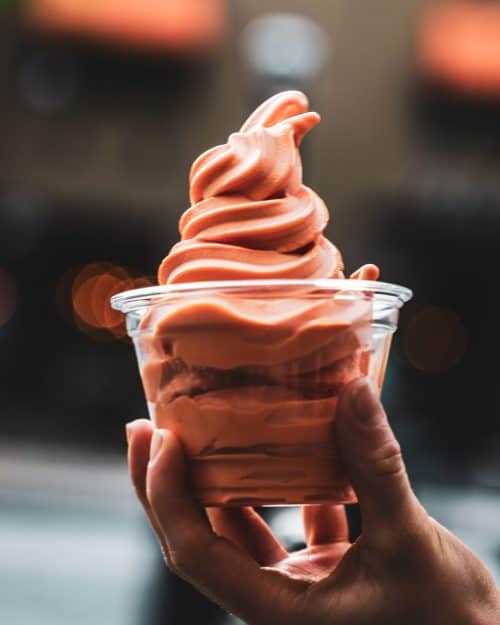 Is there any other dessert better in the world than the classic ice cream? The answer is YES!!
A lucuma ice cream!
Lucuma is a fruit native to the regions of Ecuador and Peru with many known health benefits. When eaten raw, the fruit is very dry and not very tasty. But for some miraculous reason, when you put it into a milkshake or an ice cream, it suddenly becomes a gastronomical masterpiece.
Where can you find lucuma ice cream?
You can find it in most ice cream shops in Peru. However, my favorite lucuma ice cream was definitely from Curich Cremoladas in Lima.

Address: Bolognesi 759, Miraflores 15074, Peru
Hours: 9 AM – 10 PM Daily
27. Picarones, Popular Dessert Street Food in Peru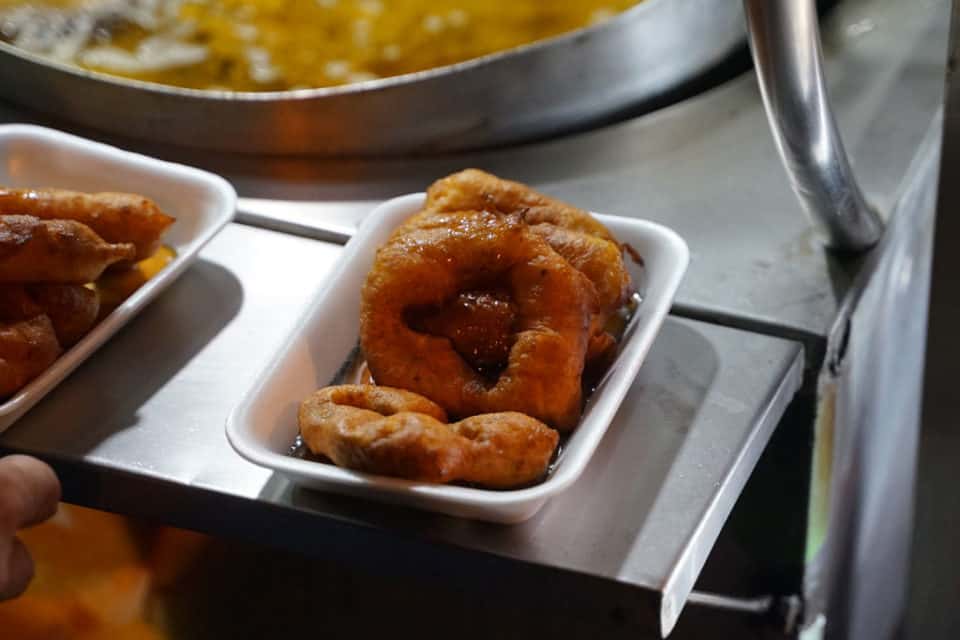 If you have been on the road for too long and miss the donuts from Dunkin Donuts, fear not. Picarones, or what I call the Peruvian donuts, will have your cravings satisfied.
Picarones are made from squash and sweet potato, making the donuts themselves mildly sweet. Then they are fried until they are nice and crispy on the outside and served with syrup.
Picarones are common street food in Peru.
Go to your nearest Plaza de Armas (the name of the main square of every Peruvian town) and you will be able to find these sweets quite easily. If you are in Lima, head to Puente de Los Suspiros or Parque Kennedy and you will find quite a few places selling them!
28. Queso Helado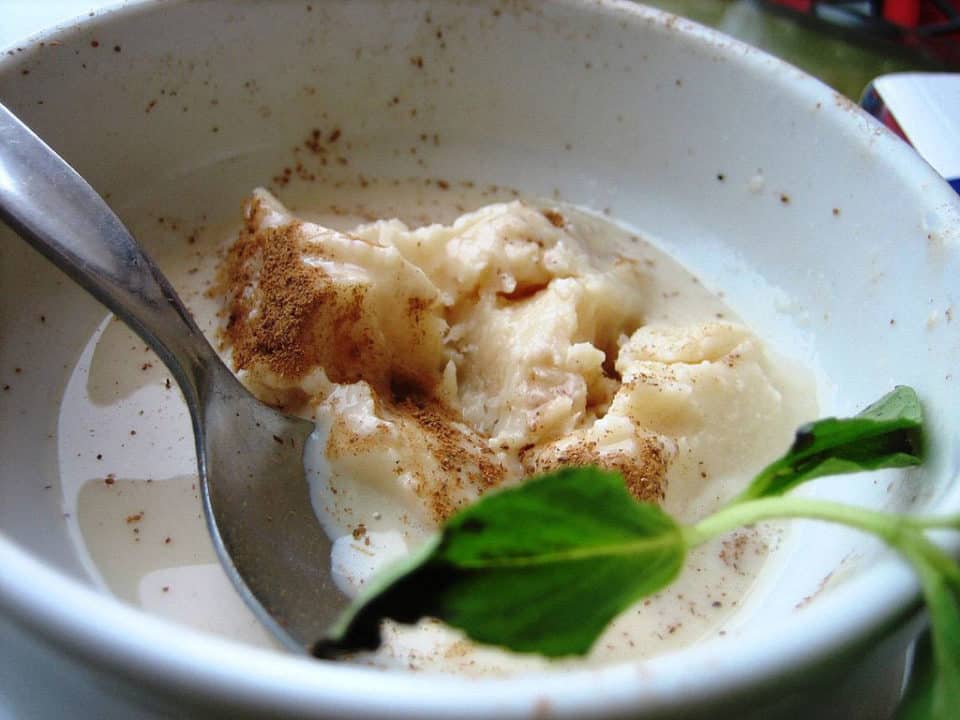 Queso Helado, translated literally to frozen cheese, is a dessert strictly from the city of Arequipa in Peru. I mean strictly. I was not able to find it in any of the big cities like Lima or Cusco.
It is such a popular dish that every 4th Sunday of January, it is "Day of Queso Helado". Yes, Queso Helado has an official day of celebration like Day of the Dead in Mexico or Thanksgiving in the United States.
That's how big of a deal Queso Helado is.
A little misleading but Queso Helado actually does not contain any cheese. It is a Peruvian dessert that is made with condensed milk, through a very complicated procedure.
Where can you find Queso Helado?
I am sure there are vendors that sell Queso Helado throughout Peru but I was only able to find them in Arequipa!! My favorite Queso Helado was in an old traditional picanteria called Tipika Restaurante.

Address: Av. Luna Pizarro 407, Arequipa 04001, Peru
Hours: 12 PM- 5 PM Daily
While you are in Arequipa, make sure to check out Colca Canyon. It is twice the height of the Grand Canyon in the US!
29. Suspiro a La Limeña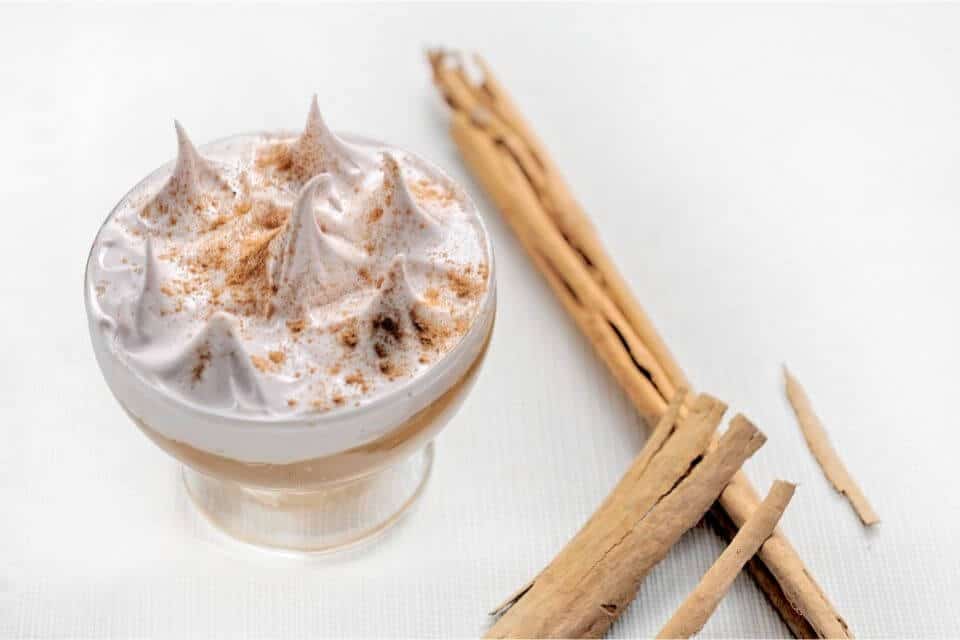 Suspiro a la Limeña, or sigh of the Lima lady, is a traditional Peruvian dessert that should have some interesting history. However, the history of the Suspiro a la Limeña is actually quite simple.
A poet named Jose Galvez tried this dessert that was made by his wife and found it sweet and light, "like a woman's sigh." Just like that, the dessert has been called Suspiro a la Limeña ever since.
Suspiro a la Limeña is made out of manjar blanco, which is something made out of milk, sugar, almond vanilla, and egg yolks. Sometimes manjar blanco is referred to as Peruvian dulce de leche (caramelized milk or milk jam).
Where to find Suspiro a la Limeña?
Many dessert shops around Peru will sell Suspiro a la Limeña. But the best place to try it is definitely where it originated from, Lima. The shop called El Buen Gusto is one of the most famous pastry shops for Suspiro a la Limeña.
It is also one of the Peruvian desserts that have achieved decent international fame. We've seen several places around the world that sell Suspiro a la Limeña, but none as good as the ones from Peru!
Address: Torre Tagle 249, Lima 15074, Peru
Hours: 8 AM – 8 PM Monday to Saturday, closed Sundays
30. Alfajores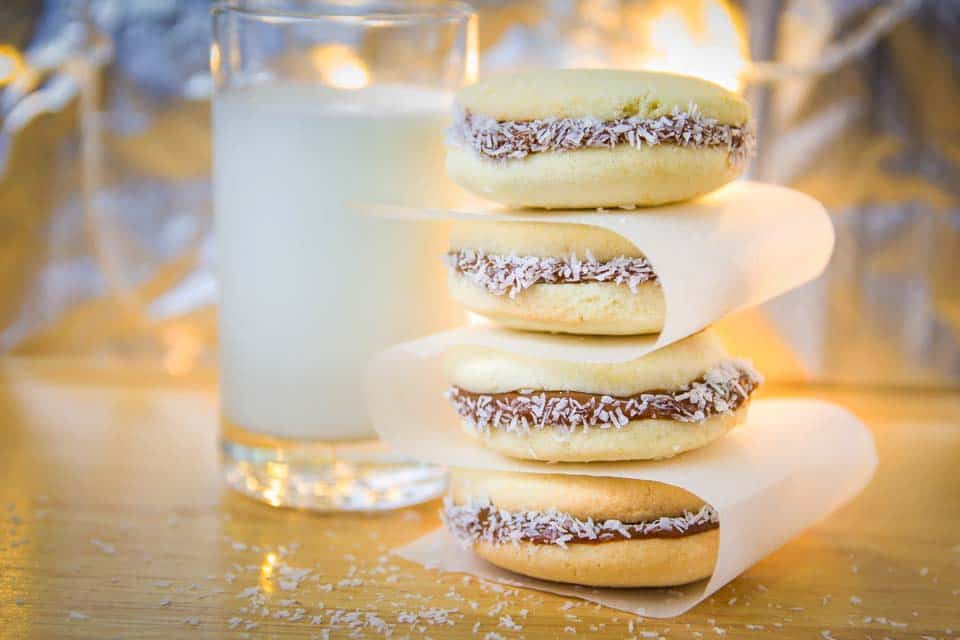 Alfajores is one of the most popular sweets in not just Peru, but most of South America. That is because this traditional confection was brought over by the Spanish, which had colonized most parts of South America at some point.
Though technically Spanish in origin, the South American variant is a bit different.
In Peru, alfajores consist of two round sweet biscuits made with wheat flour or corn starch joined by dulce de leche (commonly known as manjar blanco in Peru) in the middle. In Chile, alfajores is even known Chilean Oreos, and to be fair, the concept is similar but with different ingredients.
If you are looking for a sweet snack to give children, alfajores is a popular option. They are also great Peruvian souvenirs, if you can get your hands on some good ones.
You can sometimes find alfajores in the supermarkets of Peru. But if you really want a good one, then you should go to a alfajores-specialty shop like La Casa del Alfajor. There is a shop in Lima.
Address: Mal. Balta 626, Miraflores 15074, Peru
Hours: 9 AM – 8 PM Monday to Saturday, 11 AM – 7:30 PM on Sundays
---
Where To Try Traditional Foods in Peru?
While there are many amazing Peruvian restaurants around the world, nothing can compare to trying Peru food in Peru itself.
Generally speaking, the traditional food in Peru is pretty good in all Peruvian cities. But because the best dishes come from the freshest ingredients, some cities outshine others.
The three cities that offer the best Peruvian dishes are
Lima, Peru's Capital
Lima, the capital of Peru, is arguably the best to try Peru dishes. With 2 out of the 50 best restaurants in the world, it is no surprise that the food in Lima is absolutely spectacular.
Its geographical location next to the Pacific Ocean promises fresh and meaty saltwater fishes that aren't available deeper inland. In Lima, trying typical foods in Peru with seafood is a must.
Lima is commonly known around the world for being the city with the best food in South America.
Cusco, The Ancient Capital of the Incan Empire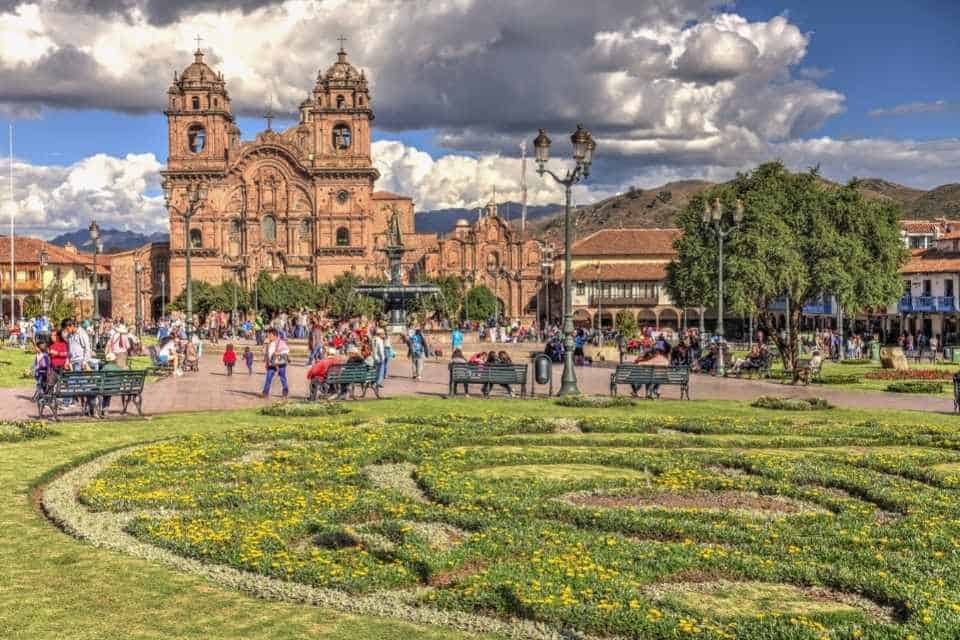 Up in the Andean Mountains of Peru, Cusco offer a completely different gastronomical experience. Without fresh fish from the Pacific Ocean, the locals rely on river fishes such as trouts and livestock such as cuy (guinea pig).
Alpaca is also widely consumed here, as their fur offer protection from the cold and their meat offers valuable nutrition. The food scene in Cusco offers more authentic Peruvian food, and many of the dishes here have been consumed by the indigenous communities for hundreds of years.
Arequipa, The Birthplace of Many Authentic Peruvian Foods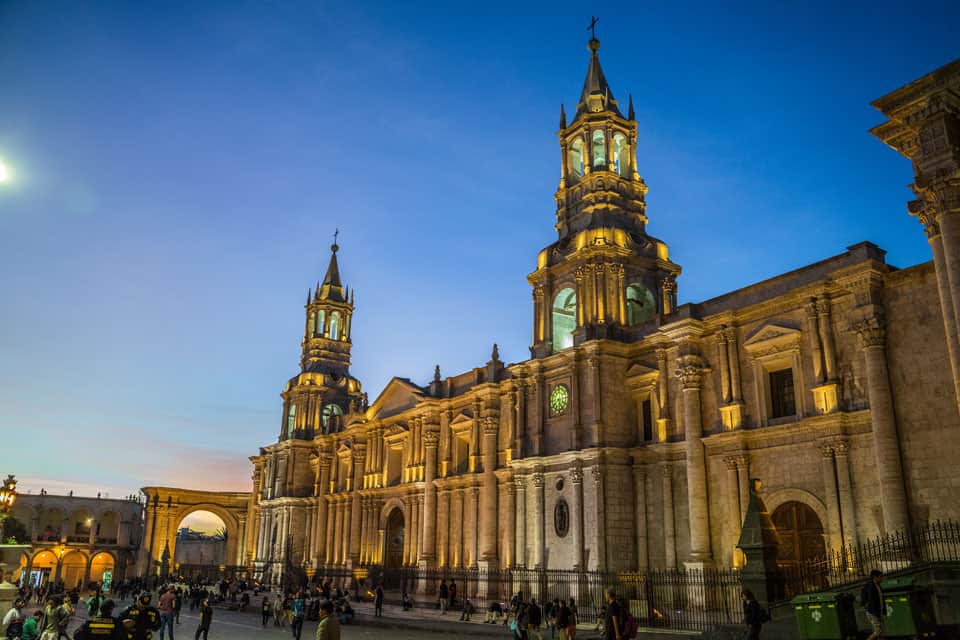 Lastly, we have the city of Arequipa, a city that is the birthplace of many traditional Peruvian dishes. Though Lima might have bigger and better restaurants, Arequipa is where the heart of the Peruvian culinary experience resides.
Travelers will find traditional restaurants (picanterias in Spanish) that still prepare the dishes with old-school methods such as open-fire cooking. Not only will you find the most authentic flavors of Peru in these picanterias, but you will leave knowing you have not spent a lot of money.
---
Peru Food FAQs
Where is the best city to try authentic Peruvian food?
In our opinion, the best city to try authentic Peruvian food is Lima just because there are so many options. However, you shouldn't miss cities such as Cusco and Arequipa as well.
Are there any dishes you shouldn't miss when visiting Peru?
Yes! Don't leave Peru without trying ceviche, cuy, chicharron, chicha morada, coca tea, pisco sour, and queso helado!
Is the food in Peru expensive?
The food in Peru is generally very affordable, but it can be expensive depending on where you go. For travelers trying to save money, take advantage of menu del dia offers, something typical restaurants in Peru will offer. Menu del dia usually includes a soup, a main meal, a drink, and sometimes even dessert.
Is Peruvian food spicy?
Peruvian food is known to be flavorful, but part of that flavor definitely comes from its spiciness. A popular ingredient for Peruvian food is Aji Amarillo, a yellow chili pepper that is native to Peru. Aji Amarillo sauce gives some of the iconic tastes that Peruvian cuisine is so famous for! If you want to experience the spiciness of Peruvian cuisine, try Rocoto Relleno!
---
Like this post? Don't forget to save it on Pinterest!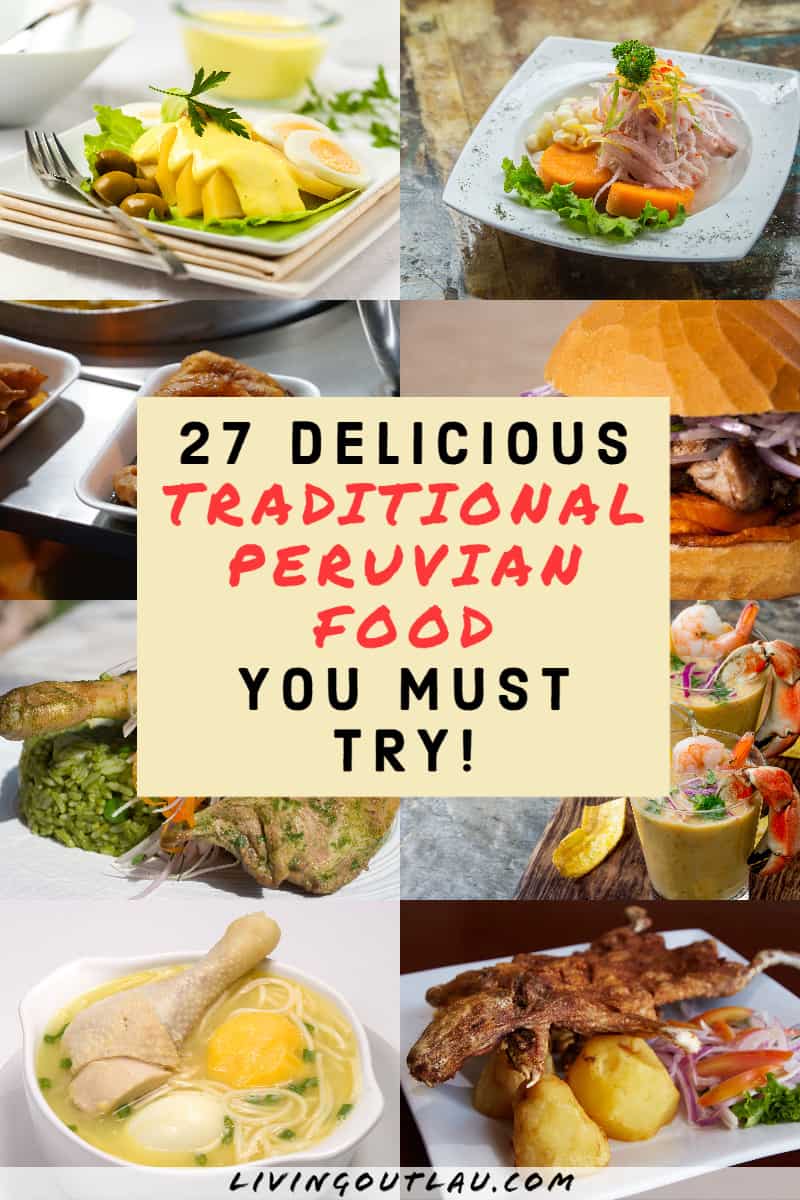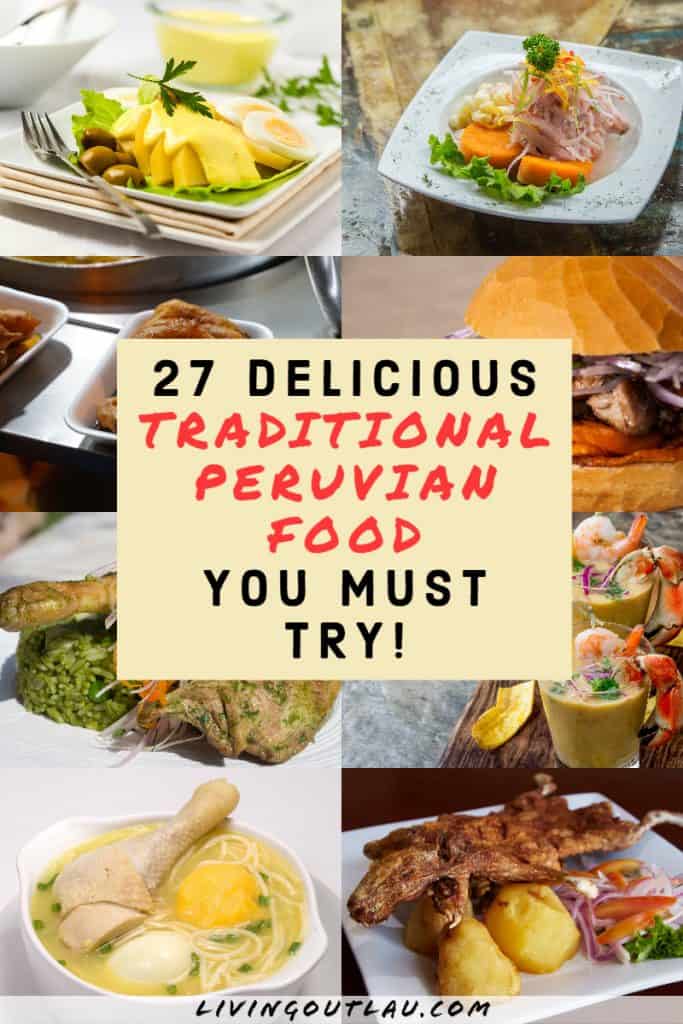 ---
There you have it, the 30 traditional Peruvian foods that will make you fall in love with Peruvian cuisine. Have you tried any of these? Which one is your favorite?
Disclaimer: Some of the links above are affiliate links. That means if you book or make a purchase through the links, we will earn a small commission at no extra cost to you! The money will help run this site! Thank you!