Not sure what to do in Miraflores Lima, Peru?
As one of the most affluent districts in Lima, Miraflores is filled with some of the best attractions in Lima. Amazing restaurants, stunning landscapes, nice parks, the list goes on and on.
With so many things to do in Miraflores Lima, it is easy to get overwhelmed, especially if you only have a short time in Lima.
Below we have compiled a list of our personal favorite attractions in Miraflores, Peru. Hopefully, this will help plan your exciting Peru itinerary.
Enjoy!
---
What To Do In Miraflores: 17 Best Attractions
1. Stroll Down The Miraflores Boardwalk (Malecón de Miraflores)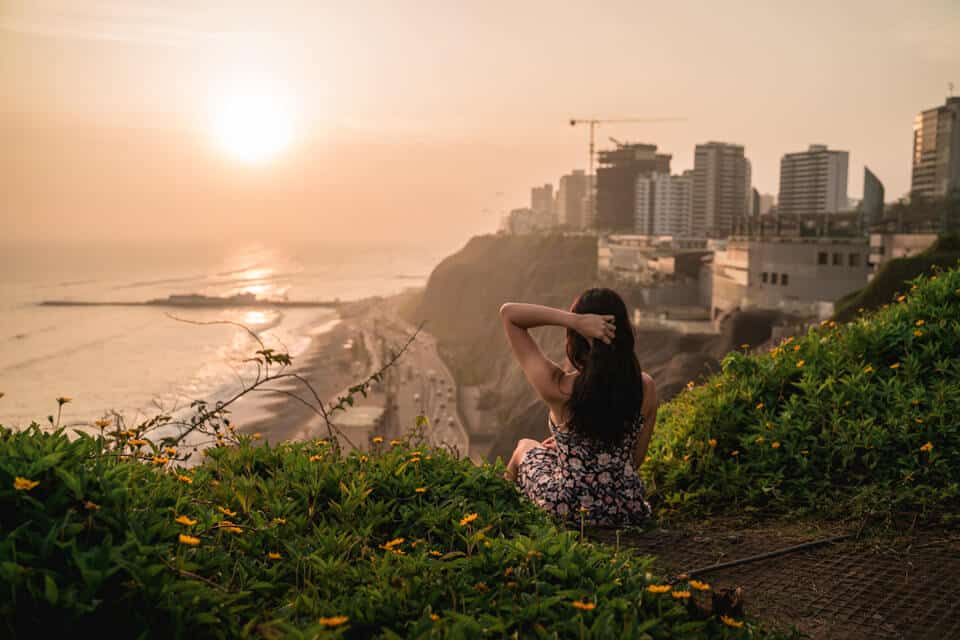 If there is one thing to do in Miraflores Lima, it is to stroll down the ~6-mile long malecón, an elevated walkway situated above the dramatic cliffs overlooking the stunning Pacific Ocean.
Sometimes also referred to as the Costa Verde, this path is one of the most popular places in Lima due to its wide stretches of green spaces, calm atmosphere, and surreal sunsets.
On any given day, you will find numerous tourists and locals strolling along the malecón, enjoying the breezy ocean air and admiring the panoramic views. The walkway is also a popular location for joggers and bikers to escape the bustling city and get some exercise outdoors.
2. Go On A Bike Ride on The Malecon
Because the Malecon is so long, one of the best ways to explore it is on a bike. Not only does the path offers stunning views, but the ocean breeze you get from being on a bike is just spectacular.
There are many bike rental companies throughout Miraflores for anyone interested in biking the malecón. Though we haven't rented one ourselves, we have heard great reviews for Mirabici. One of their locations is located right on the malecón!
If you want more than just a bike ride, there are biking tours in Miraflores that offer a professional guide telling you about Lima and Peru as you explore the neighborhood on a bike!
Want to explore Miraflores and Barranco on a bike with a local guide?
Check out our favorite biking tour in Miraflores here!
3. Go Shopping in Larcomar Shopping Center, Lima's Fanciest Mall
Nested in the stunning cliffs of Miraflores is Larcomar, one of the most luxurious shopping malls in Lima. Featuring more than 80 shops, Larcomar is the place to go if you want to do some shopping in Miraflores.
Its unique location offers breathtaking seaside views and adds a touch of romanticism whether you are doing some shopping, eating at the food court, or going on a date at the cinema.
Though the price is quite steep for even the most mundane dish, having the mystical ocean as your backdrop when munching on your greasy fries does make a difference.
A shopping mall is definitely not on our Peru bucket list, but Larcomar is unlike any other shopping mall that we have been to. Visitors can spend the whole day here, shopping, eating, going to the cinema, and admiring the views.
4. Take A Day Trip to Swim With Sea Lions
Perhaps one of the most unique experiences in Lima is swimming with sea lions. Located off the coast of Callao (a neighborhood near the Lima airport) is a group of islands known as the Palomino Islands. This group of islands is home to a massive colony of sea lions and sea birds, and visitors can swim with them in their natural environment!
To get to the Palomino Islands, you must take a boat tour from Lima. We highly recommend choosing one that includes a wetsuit (such as this one) because you will be in the water for quite a long time, otherwise you might be too cold to enjoy the experience fully.
Interested in swimming with the sea lions in Lima?
Check out our recommend tour here!
5. Eat at Maido, One of The World's Top 50 Restaurants
If you are not sure what to do in Miraflores, may I suggest eating till you can't walk?
In Arequipa, our tour guide said there are three reasons why travelers come to Peru. The first one is Machu Picchu (obviously), the second one is gastronomy, and the third one is the diversity of the landscapes.
While we have seen the deserts in Ica, the Andes in Huaraz, and Machu Picchu itself, we were not exposed to the delicious Peruvian dishes until we came to Lima.
To our surprise, Lima has a total of 2 of the top 50 restaurants in the world. Maido, one of the top 50 in the world, is also considered the best restaurant in Latin America. Guess where Maido is located? The friendly Miraflores district in Lima, Peru!
Maido offers a unique Nikkei experience, the perfect fusion between authentic Peruvian cuisine and Japanese cuisine. Their philosophy believes in combining the best of two worlds to create a "third dimension", the complex Peruvian Nikkei cuisine.
The food here is inexplicably phenomenal, and along with other small touches creates the iconic Maido experience. Though Maidos is expensive, it is relatively cheap compared to some of the top 50 restaurants in other parts of the world.
We recommend you to reserve 2 months in advance to secure your table!
6. Indulge in Peruvian Ceviche, The National Food of Peru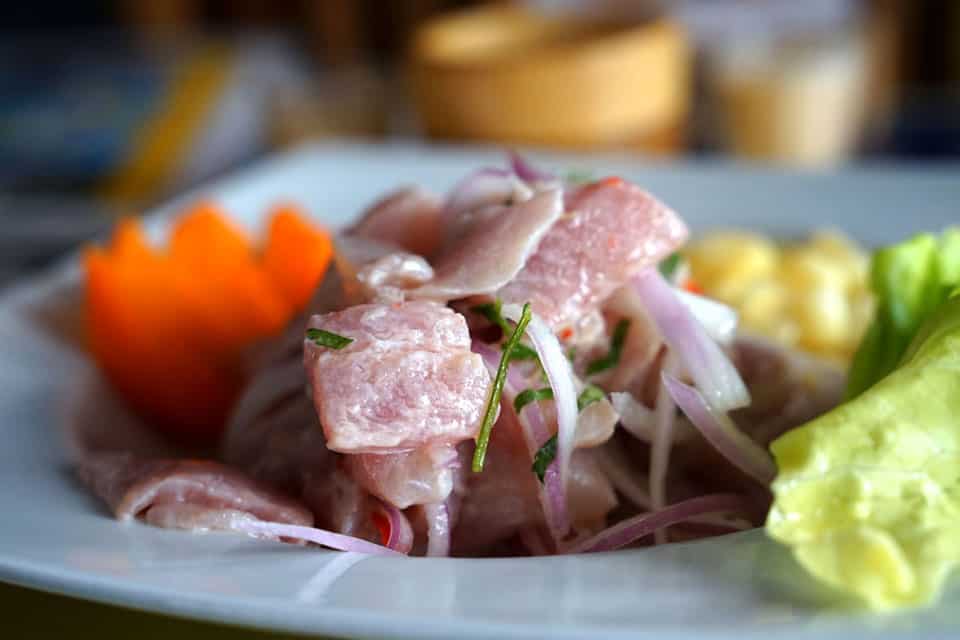 If there is one Peruvian dish that I could have every day of my life, it would be the Peruvian ceviche. This national dish of Peru is exemplary of what Peruvian cuisine is about – simplicity, superb ingredients, and bursting flavors.
For anyone unfamiliar with the Peruvian ceviche, it is a popular dish made using raw fish "cooked" primarily in Peruvian lime juice. The acidity of the Peruvian lime is so strong that it essentially kills all the harmful bacteria in the raw fish, creating a dish that is fresh and flavorful.
Every bite of this national dish of Peru reminds you of the sea, as the fish retains most of its flavor. Combined with the unique flavors of the Peruvian lime and a few spices, you have yourself a simple master dish.
As a coastal city, Lima is blessed with some of the freshest fatty fish in the world. There is honestly no better place in the world to try this magical dish Peru is most known for. Luckily for you, having the Peruvian ceviche doesn't have to be expensive.
Read More: Best ceviche restaurants in Lima
7. Visit Huaca Pucllana, A Pre-Incan Archaeological Ruin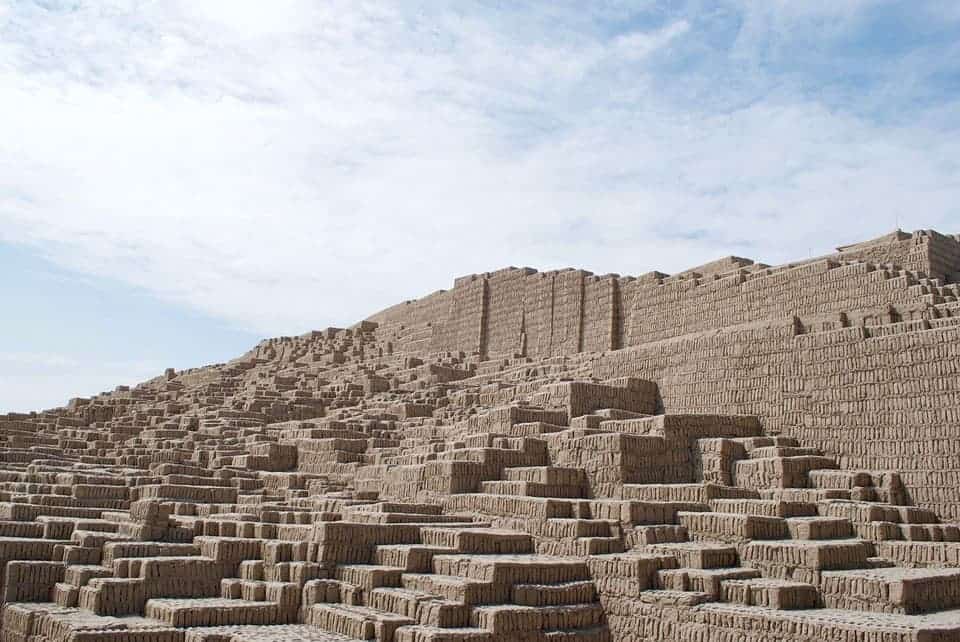 Located in the heart of the Miraflores district is one of the oldest archaeological sites in Peru – Huaca Pucllana. At first glance, this site looks less impressive than Machu Picchu or even Kuelap in Chachapoyas. That is because this ruin actually dates back to sometime between 200 AD to 700 AD, almost 1000 years before the Inca empire.
This pre-Inca run features a great adobe and clay pyramid made from seven staggered platforms and was once the administrative center of the Lima culture indigenous group.
At around 700 AD, the Lima culture group was conquered by the Wari culture. Under the Wari's rule, Huaca Pucllana became a burial site for nobility. In 2008, tombs were discovered in Huaca Pullcana.
Admission Cost: 15 Peruvian soles (but it comes with a guide)
Opening Hours: 9 AM to 3:30 PM daily except Tuesdays an Thursdays when it's closed.
8. Visit Love Park (Parque Del Amor)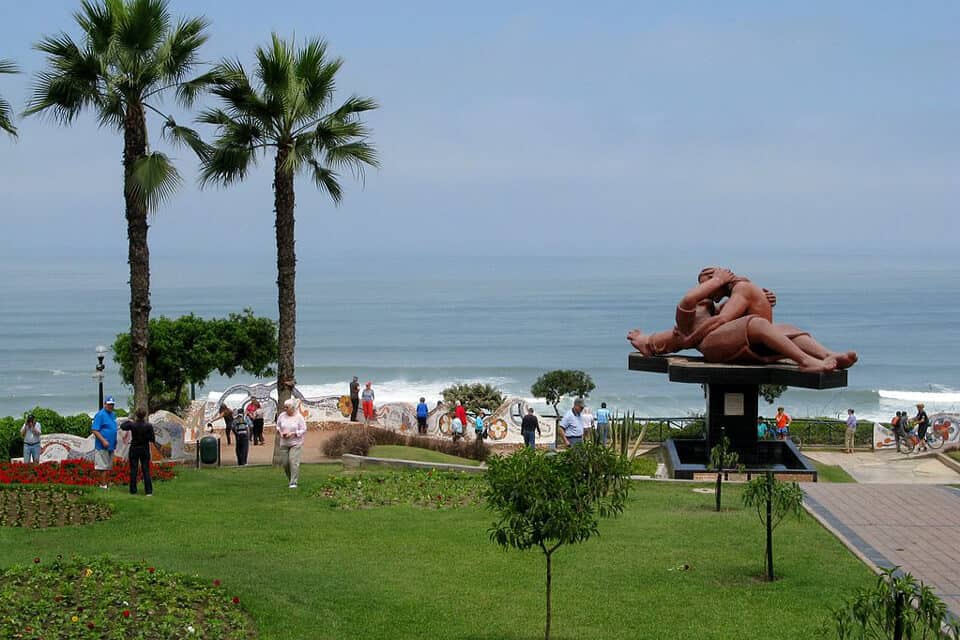 Along the beautiful malecón of Miraflores is one of the most beautiful parks in Lima – the Love Park, or Parque del Amor in Spanish. Featuring a kissing statue, mosaic walls, and views of the Pacific Ocean, the Love Park is a relaxing romantic place for dates and couples.
Lovers and soon-be lovers can sit on one of the benches and enjoy a nice chat while enjoying the ocean breeze. If you are hungry, there are several snack stands nearby to keep you at the top of your performance!
9. Go Paragliding Off of Lima's Picturesque Coast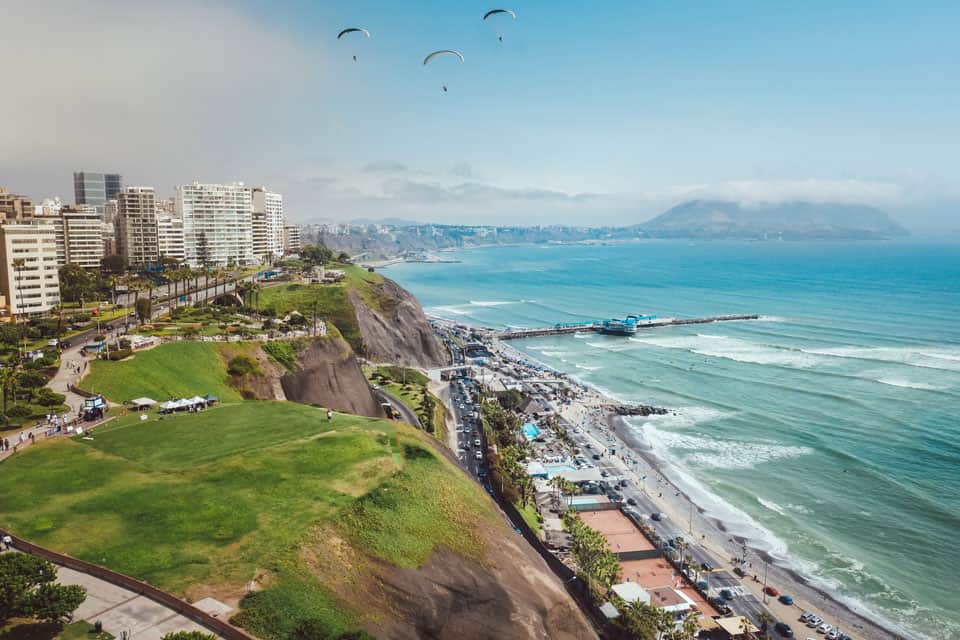 If the view from the malecón is not breath-taking enough, why not go paragliding. The perfect mixture of fun and sightseeing, paragliding is one of the most popular activities in Miraflores, Peru.
As you stroll down the malecón, it is not unusual to see paragliders over the beautiful coast of Lima. You don't have to watch from the sidelines, as there are many paragliding schools right on the malecón.
Simply head over to Parque Raimondi near the Love Park and you will find yourself multiple paragliding companies. We recommend Parapuerto Miraflores – APIPT. No reservation is required but it is wise to give them a phone call to make sure the weather is okay for paragliding!
10. Pet Some Cats At Kennedy Park, The Central Park of Miraflores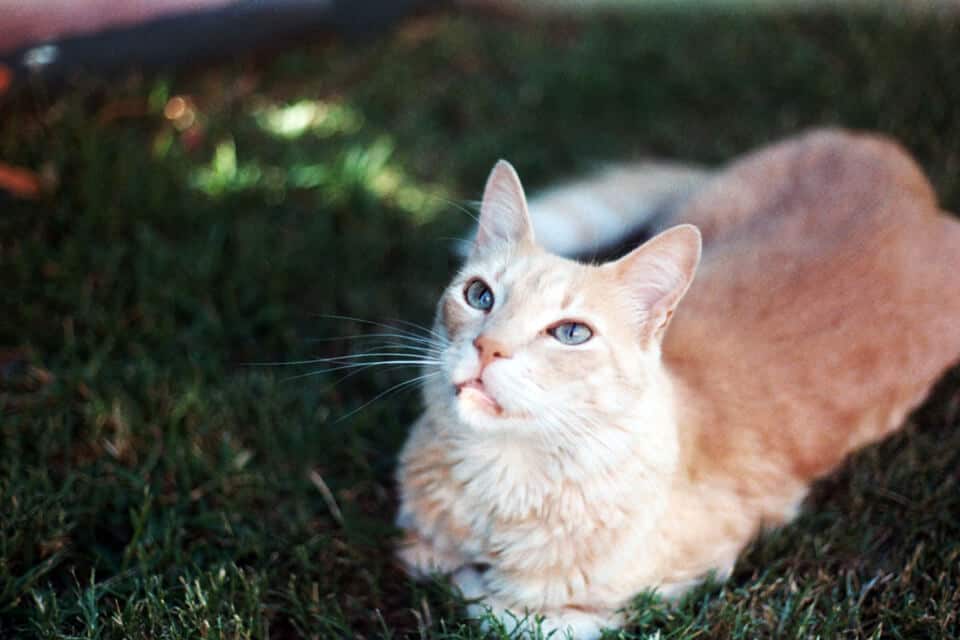 While there are many things to do in Miraflores Peru, there is only one if you are a cat-lover – visiting Kennedy Park or Parque Kennedy in Spanish.
Kennedy Park is the home of numerous stray cats. But unlike stray cats that are not taken care of, these stray cats in Kennedy Park are well-maintained. Park officials periodically do check-ups, feed them, and give them water.
These stray cats stroll around the park and approach anyone that has food. However, they are by no means aggressive. Even if you don't have food, they are always up for a nice belly rub or a head scratch. Don't worry about being scratched by them, they are the most docile cats we have ever encountered.
If you see a cute one that is just dozing off on the side, don't approach him/her. Imagine someone entering your house and waking you up from your sleep, you wouldn't be too happy, would ya?
Kennedy Park in Miraflores is pretty much like a cat cafe in Japan, but the cats are living happy lives and free from captivity!
Besides the adorable cats, there is the popular Sunday night dance. A speaker is set up and locals dance the night away, sharing laughter and having fun!
11. Go On a Food Tour and Discover Peruvian Cuisine!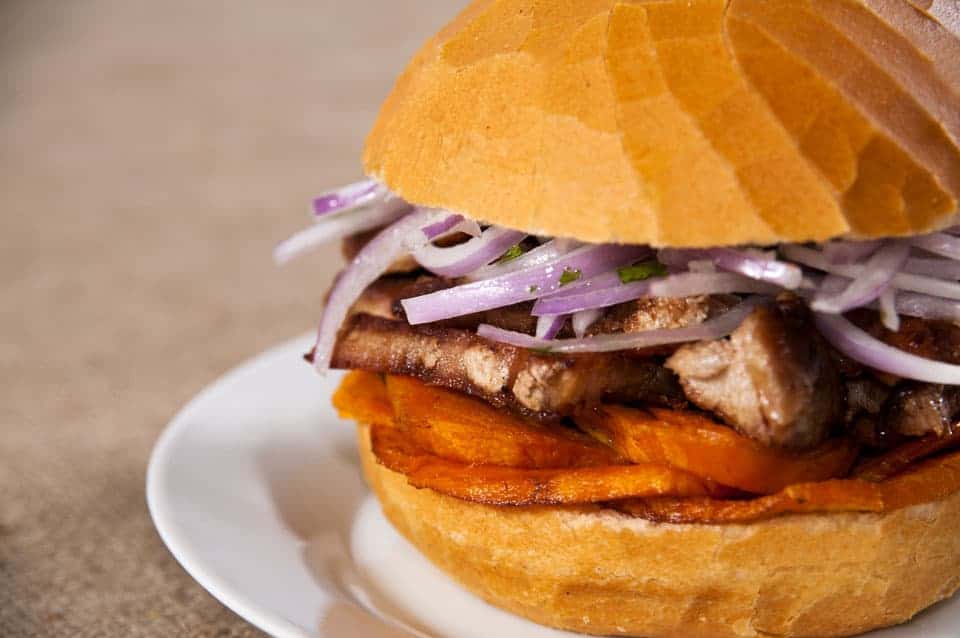 Sorry that half the things to do in this guide are about eating, but you just cannot pass up on the incredible Peruvian cuisine, especially when you are in Lima, the best place to try it. Tackling the Peruvian gastronomy solo is a daunting and overwhelming task, that's why we recommend you go with a local tour guide.
A local tour guide will give you the history of some of the best Peruvian dishes, take you to a local market, and let you try some of the authentic flavors of Peru!
Check out our recommended Miraflores food tour here!
12. Check Out The Crafts at The Miraflores Indian Market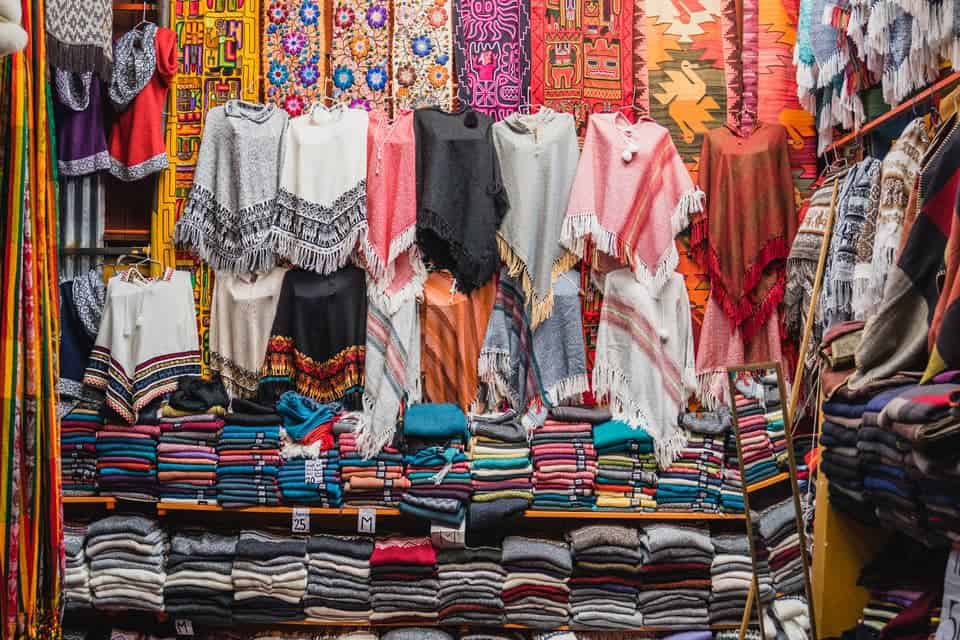 No Peru trip is complete without a visit to one of its artisan/craft market. Luckily for you, there is the perfect one in Miraflores – the Miraflores Indian Market.
A huge market with anything from alpaca sweaters to hats to t-shirts to other miscellaneous crafts, the Miraflores Indian Market is the perfect place to see what the local craft scene is like. If you are looking to purchase some souvenirs, this is the perfect place to do so.
Like many markets in South America, quality can be an issue. Many vendors will claim that their textile or clothing is 100% (insert adjective here), but that isn't the case most of the time.
The most popular souvenirs from Peru are alpaca products – hats, sweaters, ponchos, and others. The most precious of which is the 100% baby alpaca products, sometimes costing as much as a few hundred dollars.
We do not recommend you to search for any high-quality alpaca products at the Miraflores Indian Market. If you do intend on purchasing some, please go to Cusco, as their selection is much cheaper and of higher quality.
Nevertheless, a stroll down Miraflores Indian Market will expose you to the amazing crafts Peru is known for!
Don't forget to negotiate… and negotiate again when you visit the Miraflores Indian Market.
13. Learn How to Surf at One of Miraflores Beaches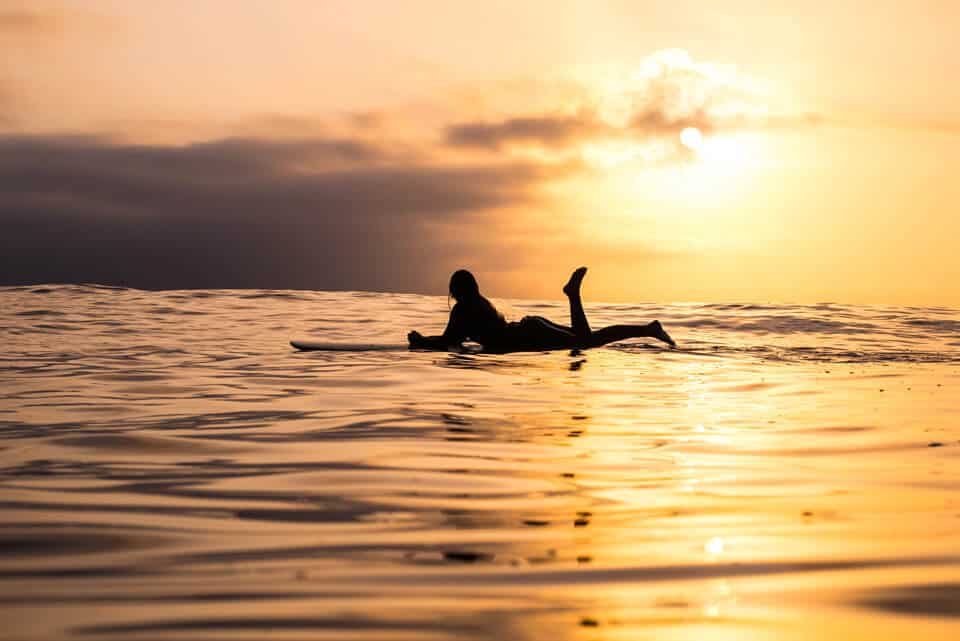 Behind the dramatic cliffs in Miraflores are some of the most beginner-friendly surfing beaches in Peru. One of the most popular beaches for surfing in Miraflores is Makaha Beach, or Playa Makaha in Spanish.
Dozen of surfing schools line up on the beautiful rocky beach with wetsuits and boards available for rent. Classes are available, and so are 1-on-1 private lessons.
Unlike other surfing beaches in Peru such as Mancora in the North, the surfing beaches in Miraflores are less crowded, perfect for beginners.
Though we haven't taken a lesson in any of the surfing schools, we have heard great reviews for Willy's Surf School.
14. Take A Free Walking Tour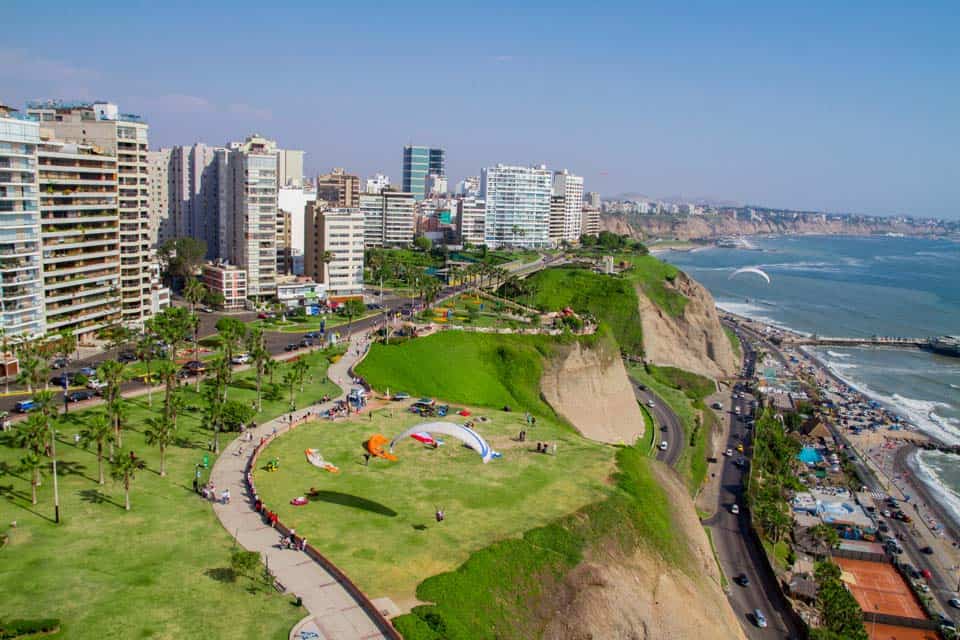 If this is your first time in Miraflores, discovering the neighborhood might be a little bit intimidating. There are many hidden gems in Miraflores scattered throughout, and finding them alone can be difficult. Luckily, there are many free walking tours in Lima that help travelers discover Miraflores.
These tour guides are professional locals with a passion for their country, and the best part of is – it is completely free! Tips are voluntary and appreciated, but you don't have to tip anything if you don't think your time was worth it.
So if you are looking for free things to do in Miraflores, check out this free walking tour here!
---
Things To Do In Miraflores At Night
1. Try Pisco Sour (The National Drink of Peru) at One of the Best Bars in Miraflores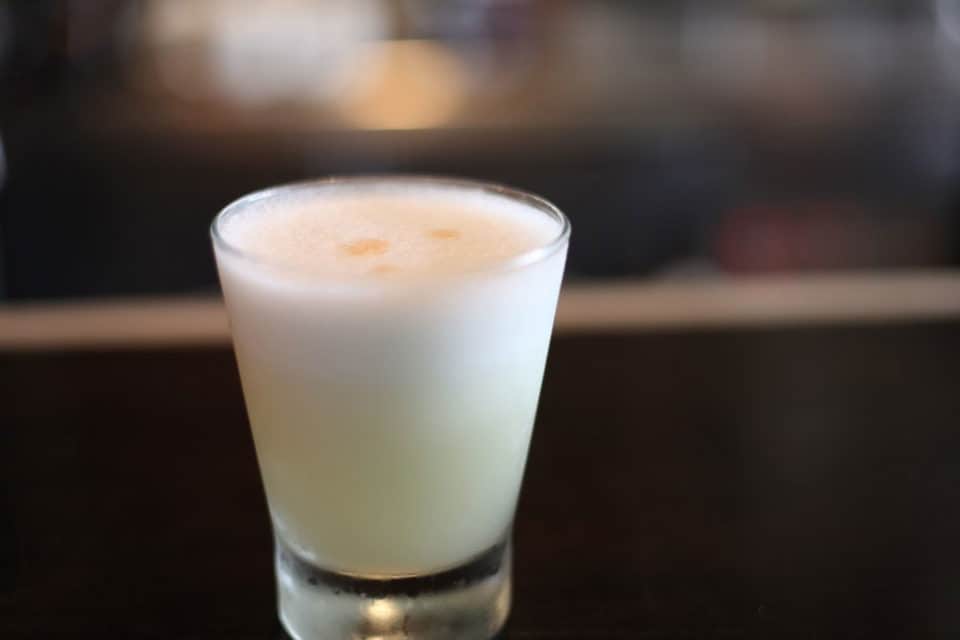 Pisco Sour, the national drink of Peru, is an alcoholic beverage you must try on your Peru trip. The name of the cocktail comes from pisco, which is the base liquor used, and the term sour comes from the citrus elements used.
At first glance, this drink might not look appetizing. Because raw egg white is one of the ingredients, creating a thick white foamy layer at the top of the drink.
However, this doesn't stop local Peruvians from indulging in their favorite alcoholic drink. In fact, they love it so much that the first Saturday of every February is National Pisco Sour Day.
Luckily for you, there are plenty of bars in Miraflores serving some of the nation's best Pisco sours. The one we highly recommend is Bar Capitán Meléndez. Its friendly atmosphere along with carefully crafted Pisco sours makes it one of the best places to visit in Miraflores at night.
Are you traveling solo in Lima?
Check out this super fun and cheap bar crawl in Miraflores!
2. Dance Salsa at One of The Nightclubs in Lima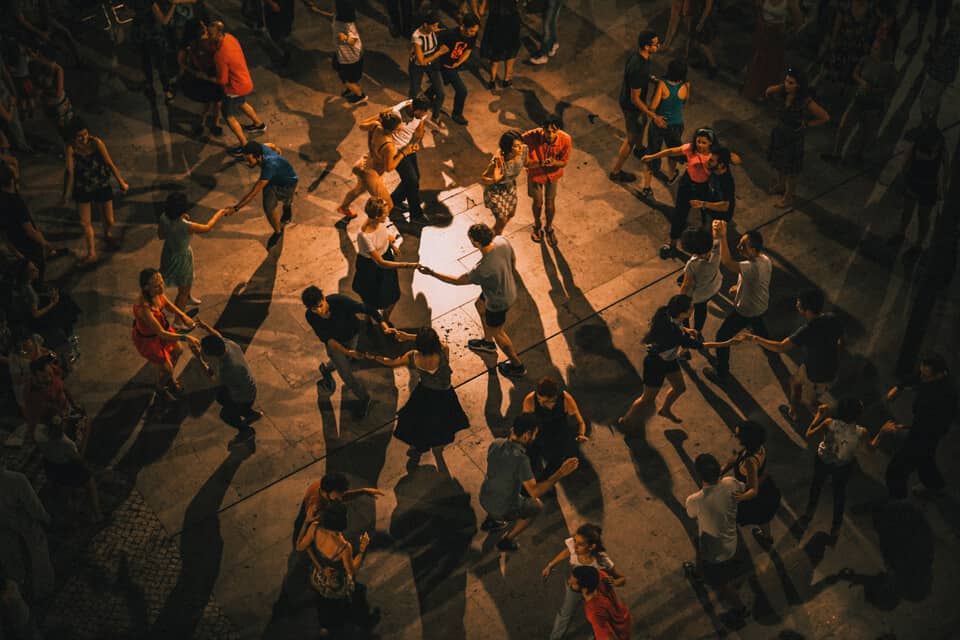 If you are traveling in South America, learning how to dance salsa is essential to surviving in the nightclubs. From the small towns to the big cities in South America, salsa dancing is a huge part of the culture. Though Colombia is definitely the prime location for salsa dancing, Lima's salsa scene is quite amazing.
Though you might want to take some salsa classes to unlock your full potential, local Peruvians are very accepting of foreigners trying to learn. Since this is a partner dance, if your partner is experienced, you can both still have a lot of fun.
If you don't want to dance salsa, you can just admire the art. The quick movement of the feet, the sway of the hip, everything about this dance is hypnotic to watch.
If you ask a local how did they get so good at dancing salsa, chances are they will tell you they were dancing salsa when they came out of their mother's womb!
The best place to dance salsa in Miraflores Lima is unquestionably Son de Cuba. It is a place with good music, decent drinks, and a fun atmosphere!
3. Relax and Admire The Night View of Costa Verde From The Malecón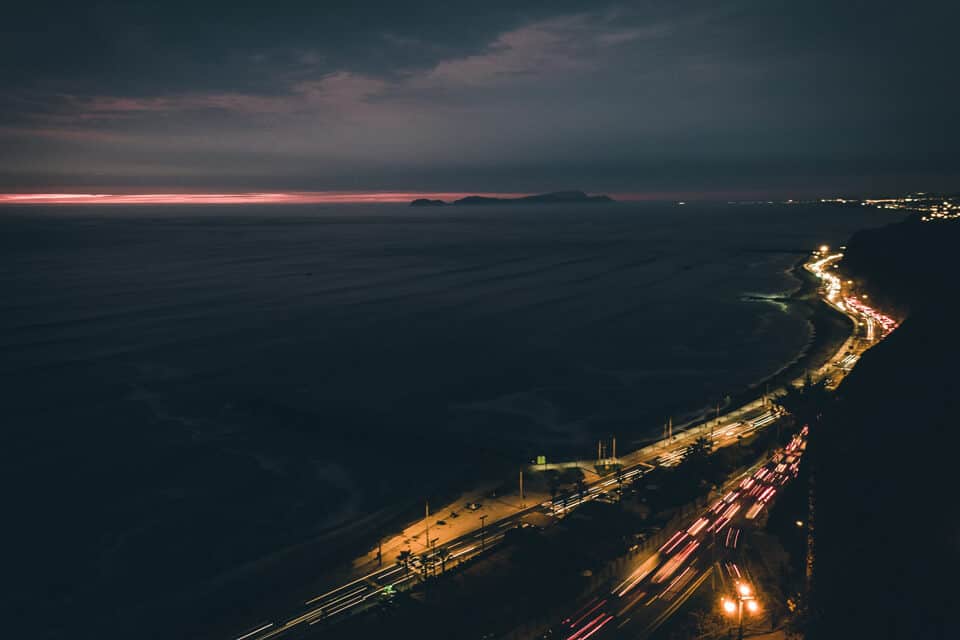 Though the nightlife in Miraflores is amazing, you don't always have to go to a bar or club at night. In fact, one of my favorite things to do in Miraflores at night is to simply stroll along the malecón.
I know we have mentioned this malecón numerous times throughout our post, but visiting it at night is very different from seeing it in the day.
If you simply want to unwind and look into the abyss that is the Pacific Ocean at night, the malecón is the perfect place to do it. Bonus: the malecon is also a very safe part of Lima!
Traveling doesn't always mean doing something exciting all the time. Simply doing nothing or very little at night will help you enjoy your travels more, especially if you are traveling for a long time!
---
Things To Do In Miraflores Map
Above is an interactive map featuring all of the attractions we've mentioned. Click on the star next to the name of the map to save it to your personal device. This way, you can use it to help you navigate the city when you are in Miraflores, Lima!
---
Where To Stay In Miraflores, Lima
Best Hostel in Miraflores, Lima – Pariwana Hostel Lima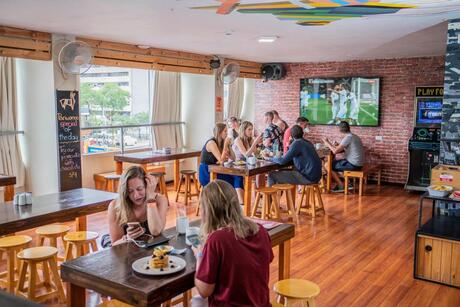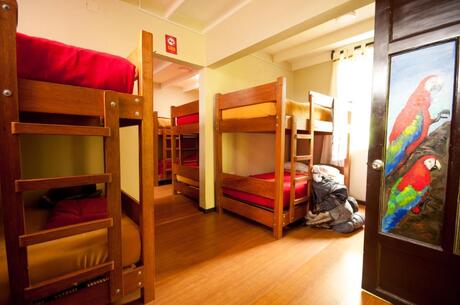 If you are backpacking Peru, you are in luck. There are plenty of amazing hostels in Miraflores, Lima. Our personal favorite is the Pariwana Hostel Lima, a famous hostel chain in Peru.

Featuring comfortable beds, an on-site restaurant, a bar, a shared lounge, and an outdoor roof terrace. The hostel is in no shortage of common areas where guests and socialize and meet other solo travelers.
If you are traveling solo in Peru and not sure where to stay in Lima, go for Pariwana Hostel Lima.
---
Best Rental Apartment In Miraflores – Exclusive Oceanfront Penthouse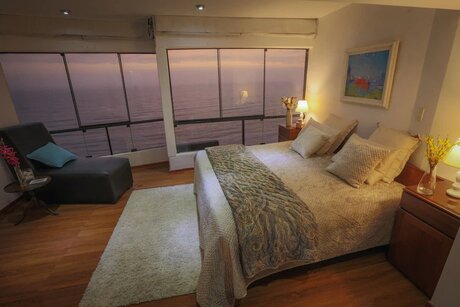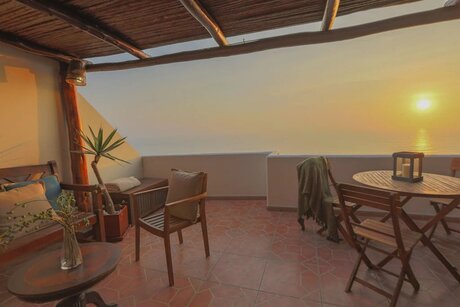 (Images Courtesy of Vrbo)

Live like kings and queens in this exclusive three-story oceanfront penthouse in Miraflores.

Located adjacent to the Miraflores Malecon, guests are within walking distance of many of the best things to do in Lima. Wander around the Malecon and enjoy its peace and quiet before heading back to your cozy apartment every night.

This 2,600 sq-ft rental apartment has a total of three floors: the living room on the 11th floor, the three bedrooms on the 12th floor, and the terrace on the roof. Amenities include high-speed internet, two 55″ smart TVs, a barbecue and more.

Enjoy your own personal paradise on the rooftop terrace, where you can catch the glorious sunset every day. It is the perfect place to chill out and relax (ideally with a glass of wine) after exploring Lima.
---
Best Luxury Hotel in Miraflores, Lima – Miraflores Park, A Belmond Hotel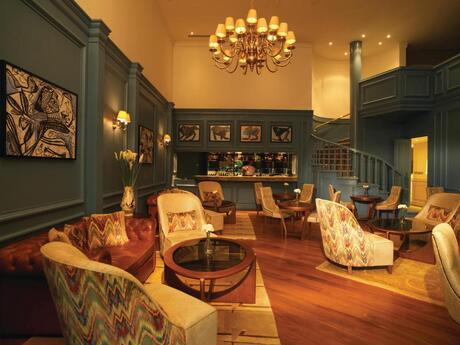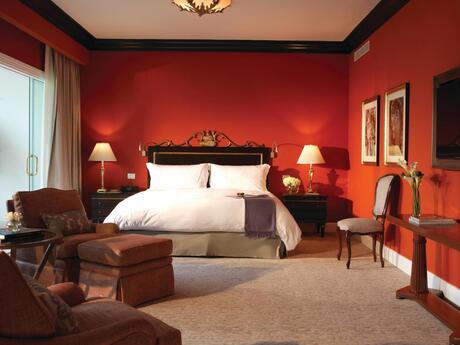 If you are visiting the City of Kings (a nickname given to Lima), then what could be better than getting treated like a king. Luckily, at the 5-star Miraflores Park Hotel, you can enjoy a luxurious stay. Each room features charming modern decor, and the bathrooms are completely decked out with expensive marble.

The hotel contains an outdoor swimming pool with panoramic ocean views, wellness services, and a restaurant and bar serving spectacular Peruvian food and Pisco Sours.
Wake up every morning with a nutritious breakfast buffet while indulging in the excellent views, and go to bed every night after a relaxing spa treatment!

If you want to live like kings and queens, then don't miss this luxury hotel in Miraflores!
---
Visiting Miraflores Lima FAQs
Is Miraflores In Lima Safe?
Miraflores is one of the most wealthy areas in Lima, and as a result, it is also one of the safest. There is heavy police presence, and crime is low compared to the rest of the city.
Is Miraflores or Barranco Better?
Miraflores and Barranco both have their own attractions. Miraflores is known for its beautiful coastline, peaceful parks, and incredible restaurants. Barranco is just one neighborhood away from Miraflores, so it also has the a stunning coastline. But the neighborhood is mostly known for its graffiti, trendy restaurants, and nightlife.
---
Like this post? Don't forget to save it on Pinterest!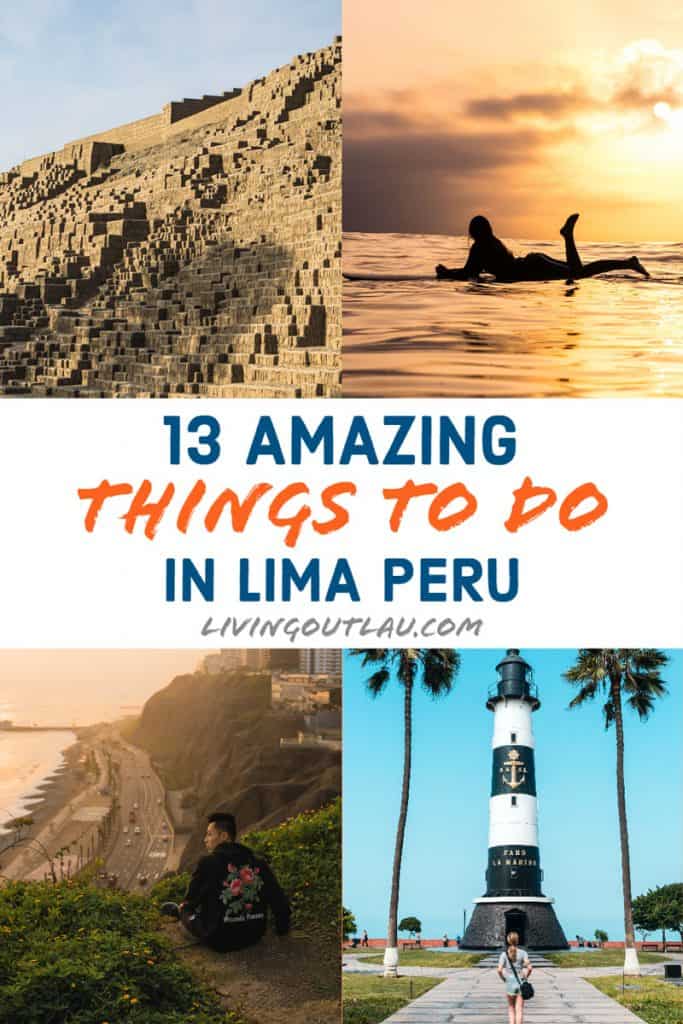 ---
Here are the best things to see in Miraflores, Peru. I hope this Miraflores blog post has at least given a rough idea on how to plan your Lima itinerary!

Any questions? Let us know in the comments!
Disclaimer: Some of the links above are affiliate links. That means if you book or make a purchase through the links, we will earn a small commission at no extra cost to you! The money will help run this site! Thank you!