Not sure what to buy from Peru? Worry not.
As a huge country with rich history, diverse terrain, and incredible gastronomy, there are plenty of Peruvian souvenirs and gifts to buy. Matter of fact, it might be a little bit overwhelming to navigate through the gift shops and mega markets in Peru.
In the Andean region of Peru, you will find a variety of handmade alpaca products. Near Cusco, the rich history of the Inca Empire has left a lot of indigenous traditions such as instruments and trinkets. There are plenty of things to buy from Peru.
That is why we have written this Peru souvenirs guide so you can have great memorabilia to remember your epic Peru trip!
Enjoy!
---
13 Best Peruvian Souvenirs You Cannot Miss!
1. Alpaca Clothing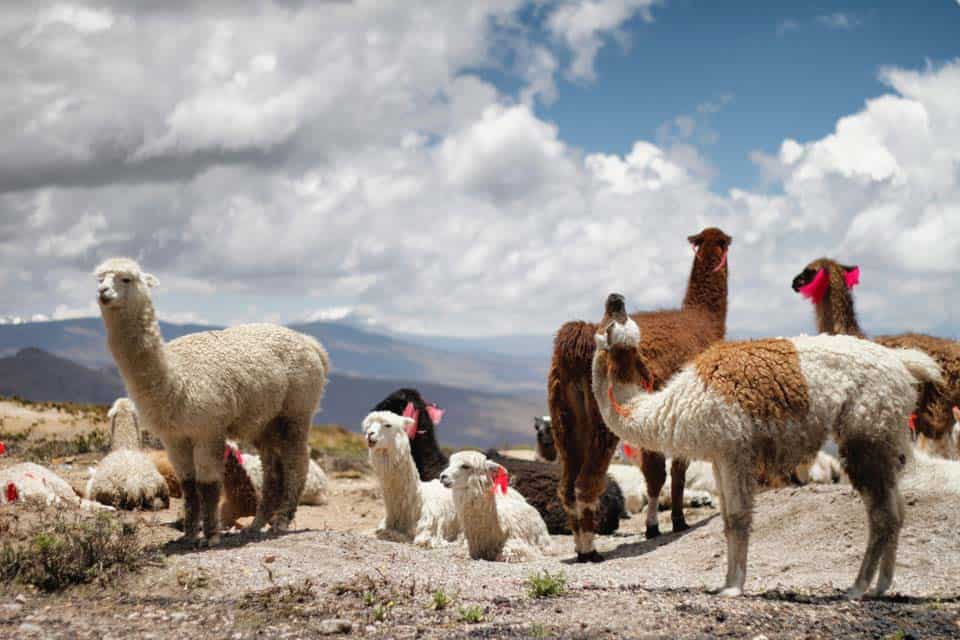 Peru is home to 87 percent of the world's alpaca population, so it shouldn't be surprising that alpaca clothing and related products are the best things to buy from Peru. Not only are alpacas very popular, but their fur is highly desired around the world.
When compared to wool, alpaca wool fibers are warmer, softer, and feel better on your skin. If you dislike wool because it often makes your skin itch, then alpaca products are the ideal alternatives. Not only that, alpaca fibers are more lightweight and water-resistant. There is literally nothing to not love about alpaca products!
If you are purchasing alpaca clothing, chances are, you want the article of clothing to be made from baby alpaca fur. Unlike popular beliefs, baby alpaca fur doesn't refer to the age of the alpaca, but rather how fine the fibers are. Baby alpaca fur is the softest and best type of alpaca fur.
Travelers will find plenty of alpaca products in the markets, but if you want authentic baby alpaca fur, you would want to go to a reputable store. Locals know how popular these souvenirs are and try to scam tourists by claiming something is made with baby alpaca when it is not.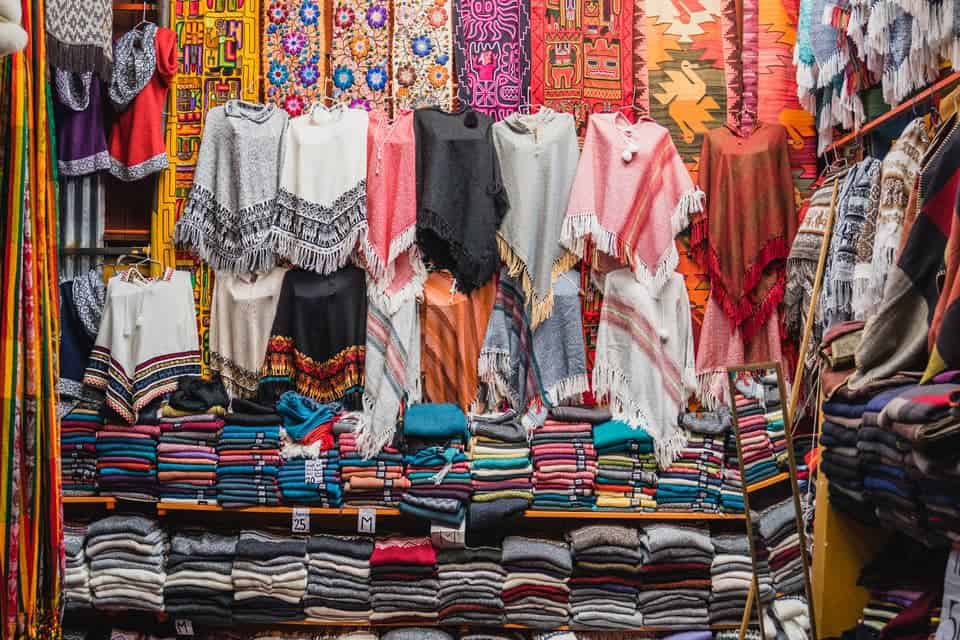 Alpaca Scarves
If you want baby alpaca products, then alpaca scarves are perfect. Because they are not so big, they won't cost a fortune and you still get to experience genuine baby alpaca fur. But if you don't want to splurge, normal alpaca scarves will also be super warm, especially when compared to scarves made from polyester or wool.
Alpaca Sweaters
Getting an alpaca sweater is almost like a rite of passage for Peru. If you walk down the historic centre of Cusco, you can easily spot the gringos just from the alpaca sweaters they are wearing. (Yes, I was one of them!) Not only will they help you brave the cold in the Andean mountains, but they are surprisingly fashionable with its nice colors and cool patterns.
If you want something cheap to buy from Peru as souvenirs, then alpaca sweaters are the way the go.
Alpaca Ponchos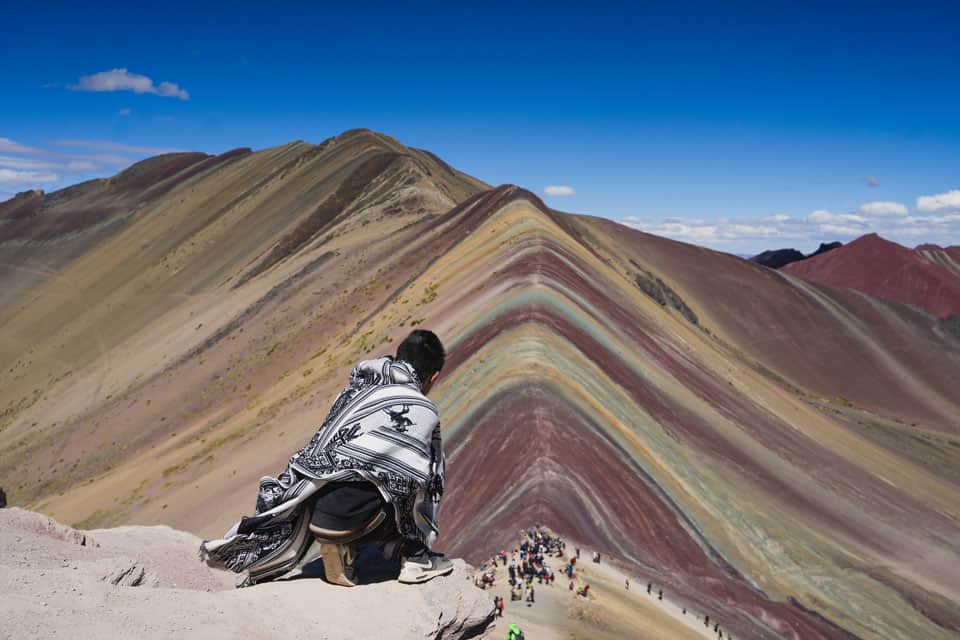 There are alpaca products in every form of product imaginable. If you want to return from Peru in style, why not get one of the iconic alpaca ponchos. They are warm, fashionable and really take your Instagram photos to the next level.
But unlike the name suggests, alpaca ponchos aren't made with 100% alpaca fur simply because that would be too expensive. They are usually a mixture of different fibers such as cotton, polyester, wool, and alpaca.
Though super iconic in Peru, just keep in mind that people will give you a strange look if you wear it back at home. But if you need some cool wall decoration, they will certainly do the job!
---
2. Chullo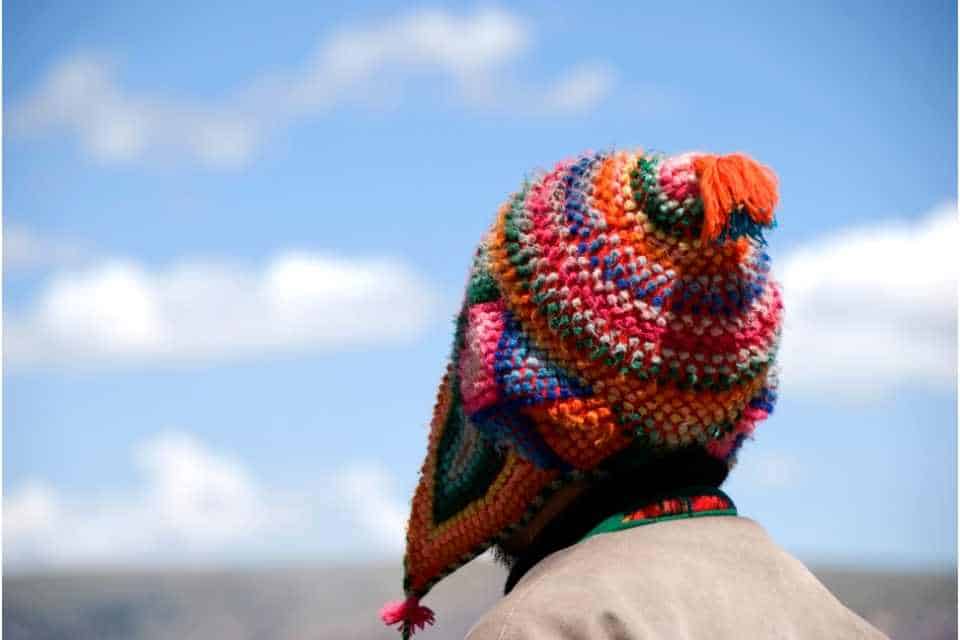 If you have a friend back home that always gets cold ears during the winter, then he or she will love getting a chullo. A chullo is essentially a vicuna, alpaca, llama, or wool hat that is worn in the coldest parts of Peru. They come in all different sizes, colors, and patterns, so you can find one that matches your friend's style.
All Chullos come with earflaps and some will even come with a string to tie it at the bottom for extra security and added warmth. They are a great accessory for anyone that spends a lot of time outdoors in the cold, and they are also a great souvenir for anyone that visits Peru.
It also doesn't cost a fortune to buy, and the gift will go a long way for the recipient!
---
3. Pisco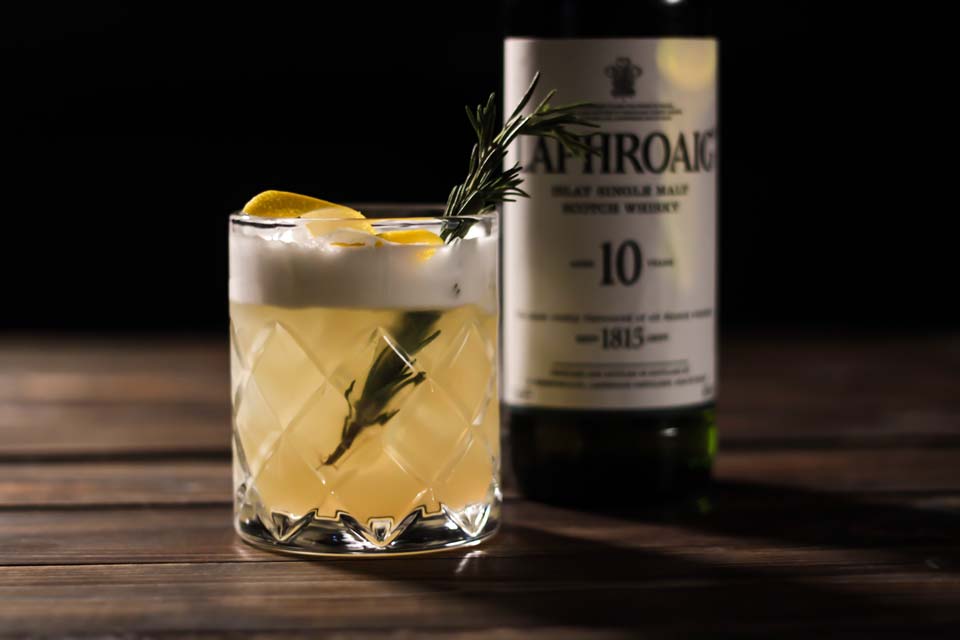 Alcoholics let me see your hands up! Pisco is a type of colorless or yellowish-to-amber colored brandy made from distilling fermented grape juice. It is a strong, dry liquor that can be enjoyed on its own or mixed in with other drinks.
Pisco is a great souvenir for anyone that visits Peru. Not only is it a delicious drink, but it is also an important part of Peruvian culture. Pisco is often used in traditional Peruvian cocktails such as the Pisco Sour (the national drink of Peru) and Pisco Punch, and it is also a popular base for other alcoholic drinks.
Did you know that there is a town in Peru called Pisco? It is one of the day trips you can take from the city of Ica.
If you are lucky enough to find some Pisco at a lower price than usual, buying a bottle as a souvenir is a great way to show your appreciation for your trip to Peru!
If you have friends or families that are into spirits, then this is the perfect gift for them.
---
4. Peruvian Pink Salt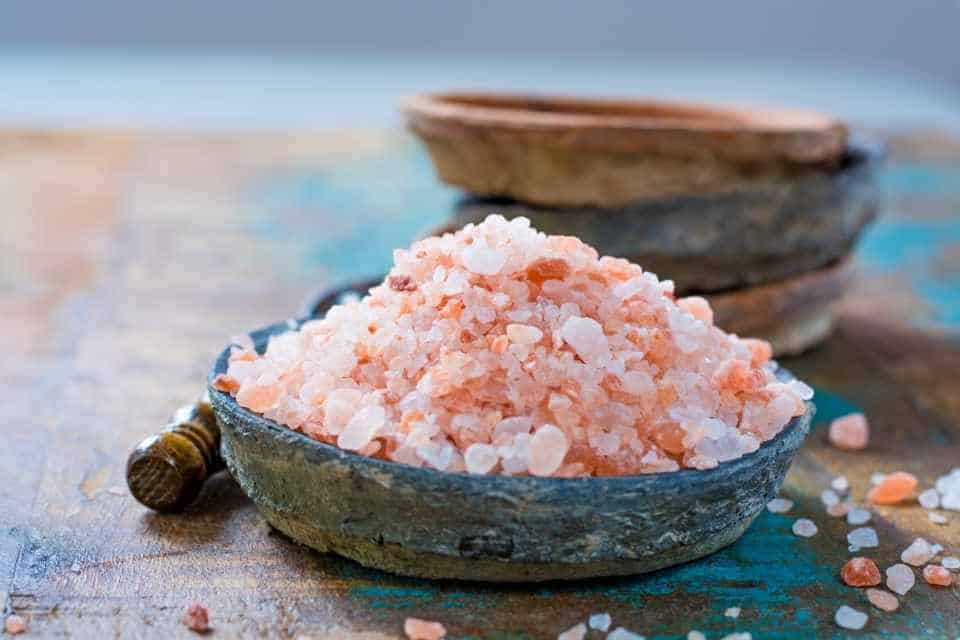 Peruvian Pink Salt is a type of salt that is harvested only in the Maras Salt Mine in the Sacred Valley. It is a pinkish-brown color and has a very high concentration of minerals, including magnesium, potassium, and zinc. The salts are hand-mined from the mines and then hand-milled to create a more finely-ground product.
The Maras Salt Mine is best visited as a day trip from Cusco, but getting there independently is hard. Check out our recommended Maras guided tour from Cusco here!
Peruvian Pink Salt is often used in Peruvian cuisine, both as a seasoning and as a condiment. It is also popular as a beauty product, as it helps to condition hair and nails. If you are shopping for a special souvenir for your friends or family members visiting Peru, buying them a bottle of Peruvian Pink Salt is the perfect choice!
---
5. Textiles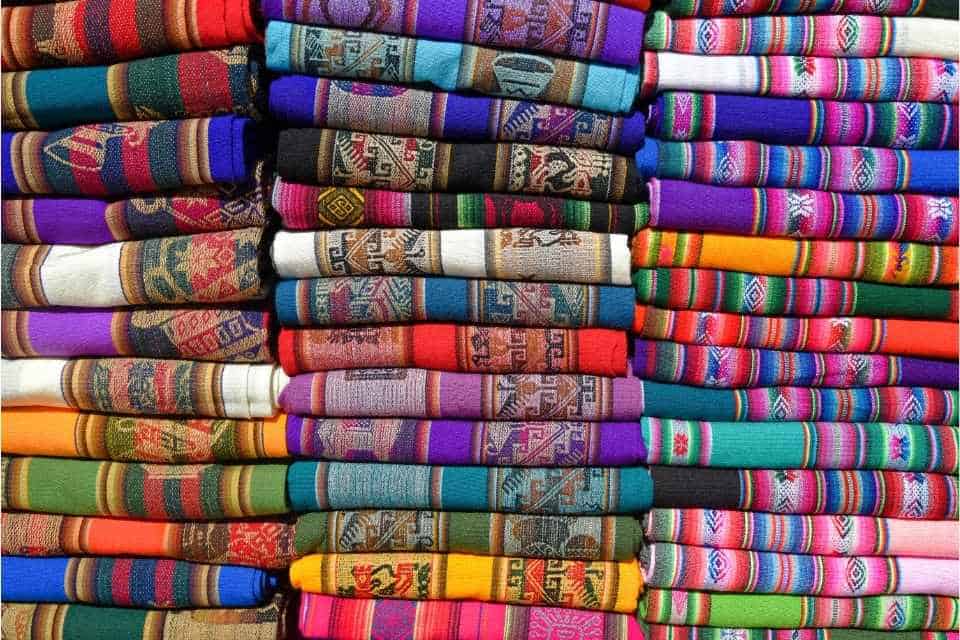 If you go to any artisan market or souvenir shop in Peru, chances are, you will find loads of traditional textiles. Textile markets are a big part of Peruvian culture, and there are countless textile shops throughout the country.
From alpaca and llama woolen sweaters to brightly-colored cotton dresses, Peruvian textiles are some of the most unique and beautiful that you will ever see.
Many of them are handwoven and use intricate geometric patterns and motifs from Quecha, one of the indigenous cultures in Peru. They make great gifts for friends and family, and can be used either as decorations or as practical items.
Some of our favorite Peruvian textiles are:
Backpacks
Purses
Carpets
Duffel Bags
---
6. Organic Chocolate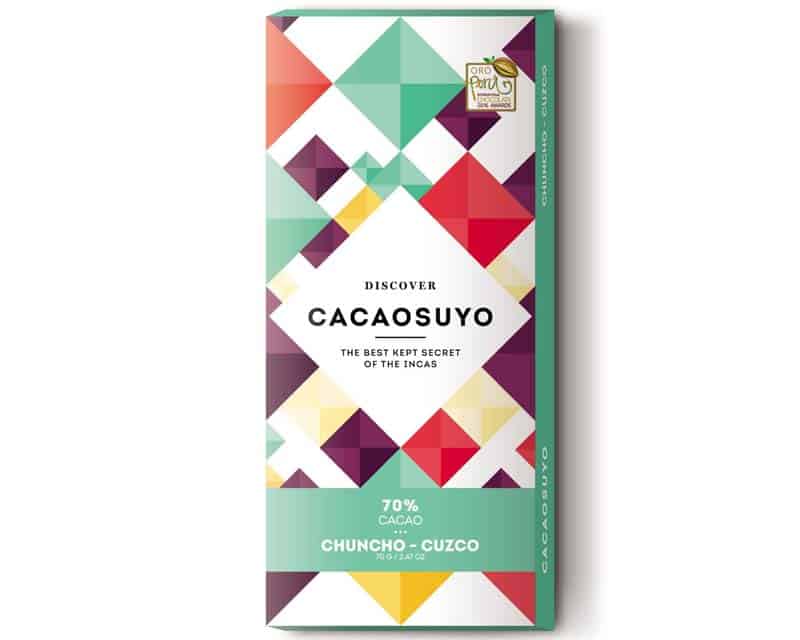 When you think of the best souvenirs from Peru, you probably won't think about chocolate. But in fact, Peruvian chocolate is one of the best chocolate makers in the entire world. The diverse terrain of Peru has allowed it to be an incredible cacao producer for many generations.
Cacaosuyo, one of the best chocolate brands in Peru, has won several international chocolate awards. Like many of the other chocolate brands in Peru, its bean-to-bar techniques are immaculate, and anyone that loves quality will certainly fall in love.
---
7. Toro de Pucará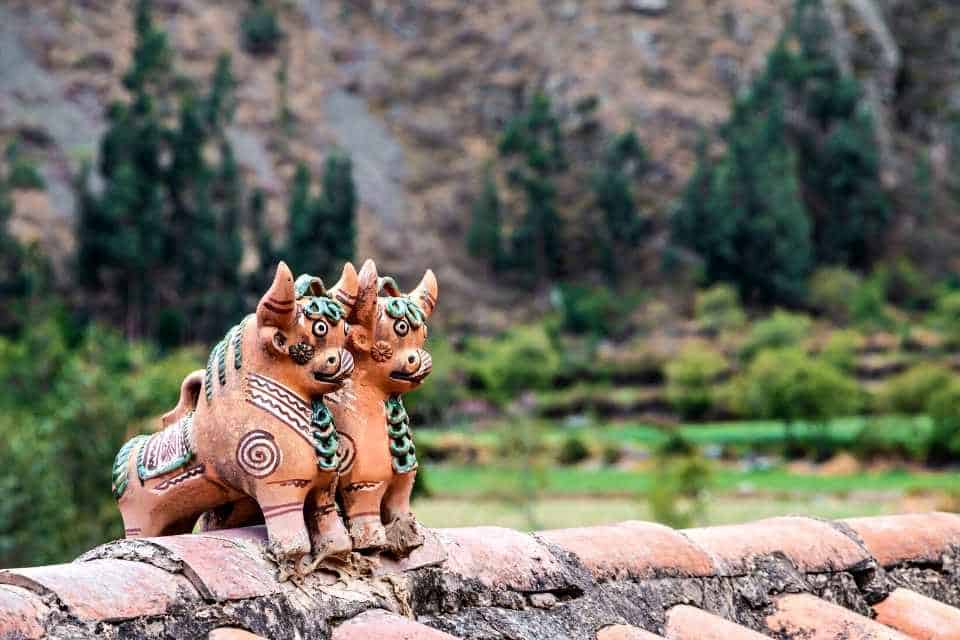 If you want a unique Peru souvenir, then check out Toro de Pucara (sometimes called Torito de Pucará), an iconic ceramic figure that originated from the Pucara region of Peru near Puno.
The Toro de Pucara is often used in ceremonies and rituals as indigenous people believe that they bring prosperous harvest, protection, fertility, and happiness. They are especially popular as gifts for weddings.
If you visit the Andean towns of Peru, you will often see a pair of bull figurines on the rooftops of houses. It is said that the pair of bulls will bring good luck and protection to the household.
---
8. Inca Cross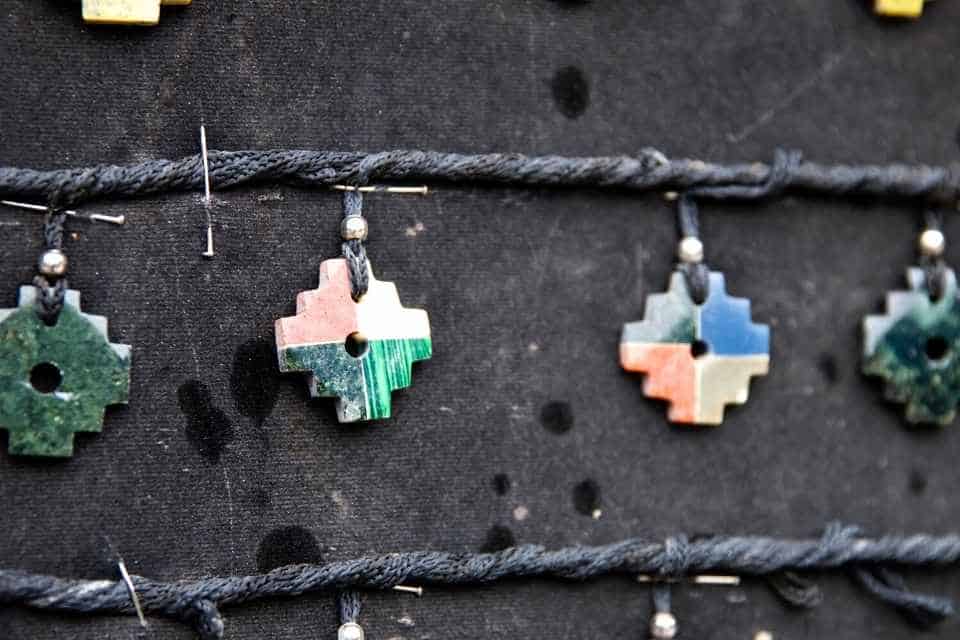 The Inca Cross (also known as the Chakana or the Andean Cross) is one of the most meaningful trinkets to the indigenous Quechua people. On the surface, it looks like a plain necklace with random colors. However, under the surface, the Inca Cross is the foundation of the Inca Empire and an important symbol. It represents the dynamic of the universe and the life within it.
The cross is separated into 4 quadrants with 3 steps each, creating a unique geometric shape. Each quadrant and square represent something different, so altogether 12 principles make up the key to Inca life. The center of the cross is hollow and is said to represent Cusco, the heart of the Inca Empire.
The first quadrant is believed to represent the tiers of the world:
Uqhu Pacha – Death and the Underworld
Kay Pacha – Human life and present world
Hanan Pacha – Heavenly world where gods and celestials live
The second quadrant is said to represent the sacred animals of the world:
Snake – Representing the underworld
Puma – Represent power and the human world
Condor – Representing the heavenly world and the sky
Did you know? While it is not easy to see snakes and puma, you can easily see condors on a Colca Canyon hike!
The third quadrant represents the 3 commandments of the Incas:
Don't lie
Don't steal
Don't be lazy
The last quadrant represents the basic human principles:
If you want to go beyond the "I love Peru" T-shirts and want something unique to remember your trip, then the Inca Cross is ideal. 
---
9. Coca-Related Products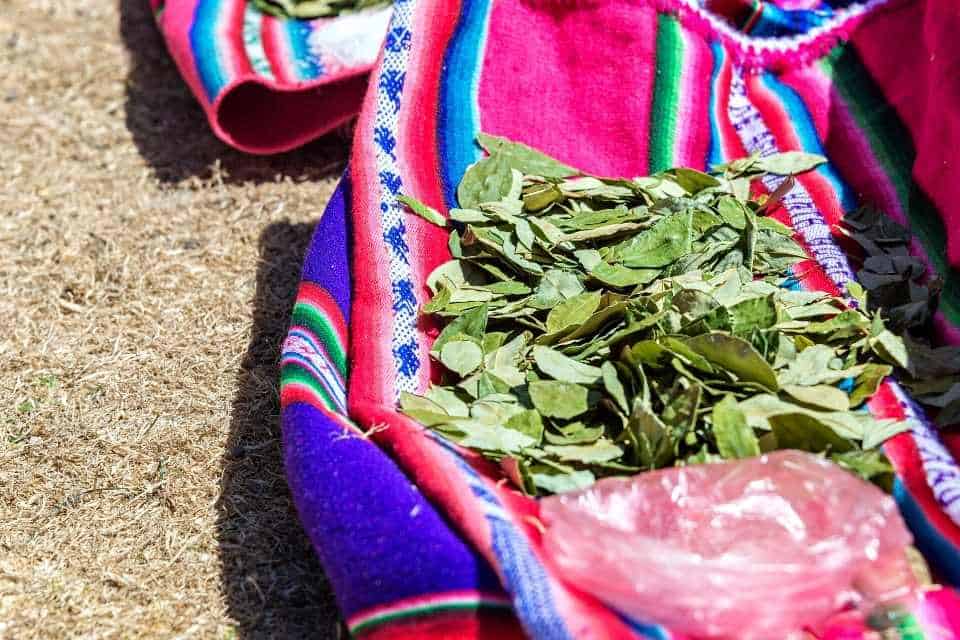 If you are traveling Peru for a long time, you will notice how important coca leaves and their related products are to the locals. Sometimes referred to as Peruvian coffee, coca leaves and coca tea are something that local Peruvians ingest every day.
If you are doing any hikes in Peru, make sure you pack some with you. Coca leaves are natural remedies for altitude sickness. You can just chew on them while you are doing some of the high-altitude treks, such as the ones in Huaraz.
Fun fact: The immaculate Inca buildings in Cusco, as well as Machu Picchu, was built by Incans munching on tons of Coca leaves. It gives them energy and curbs their appetite, so they can work longer and harder!
Though a great way to remember Peru, it is important that you read up on your country's regulations before trying to bring some back. Coca leaves have a minimal trace of cocaine so it isn't uncommon for countries to classify them as illegal substances.
If you really want some, then you can buy coca candies. They are usually easier to bring back legally.
---
10. Indigenous Musical Instruments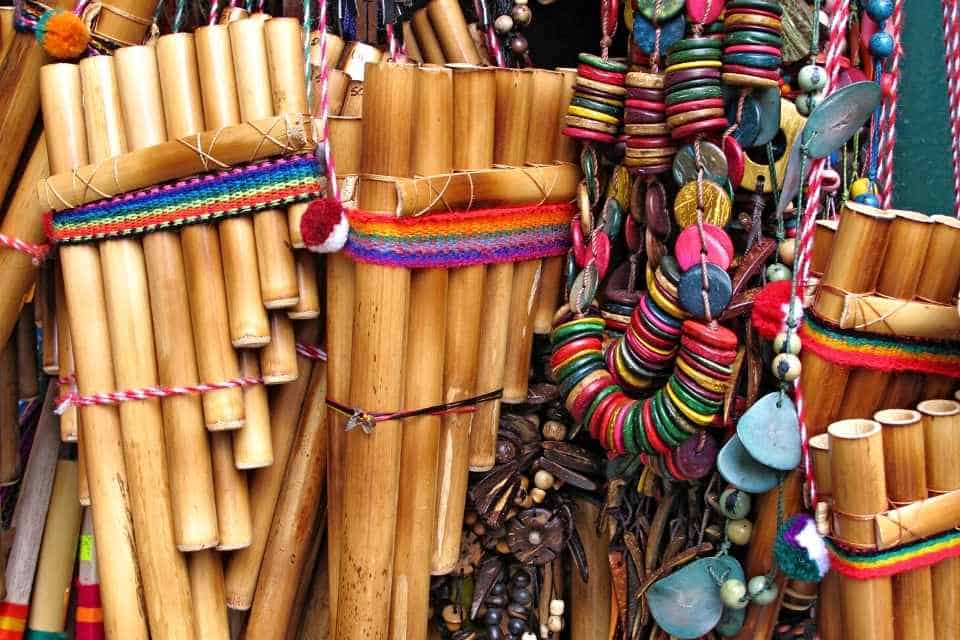 There is no indigenous musical instrument more iconic than the panpipe, otherwise known as the pan flute. First developed in the Lake Titicaca region, these wooden flutes were believed to be used for herding goats.
Nowadays, the panpipe is a mainstay of Andean and Indigenous music and is used in many different ways, such as in religious ceremonies and for entertainment.
The Andean pan flute comes in many different sizes, shapes, and tunings, so no two panpipes are exactly the same. If you are interested in learning more about the panpipe, you can check out some of the workshops that are available in the Andean towns of Peru such as Cusco. Not only will you find the unique sounds of Peruvian music, but some of the best panpipes for sale as well.
---
11. Coati Dung Coffee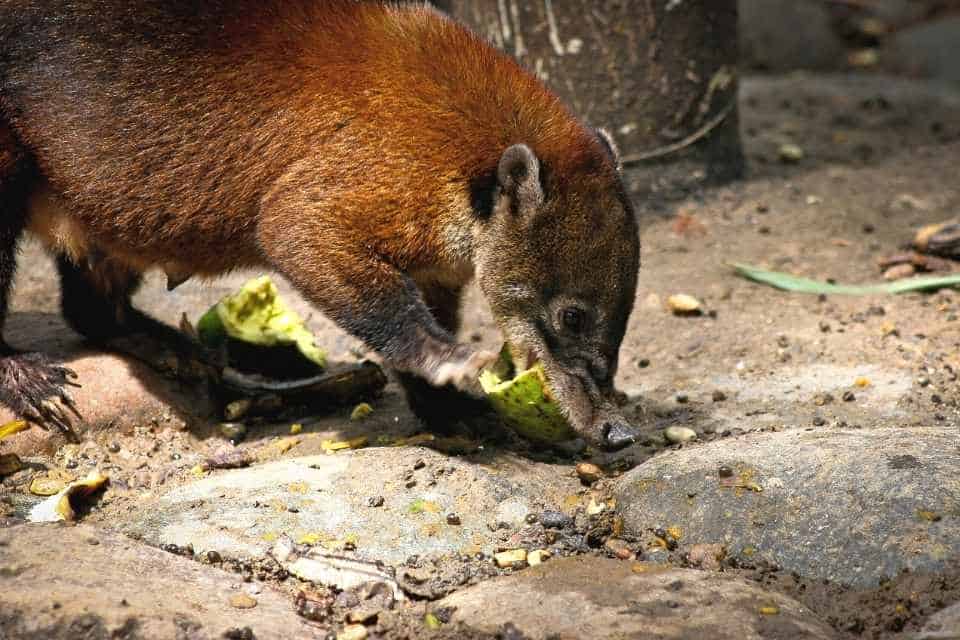 Peru is home to a very special type of coffee called the Coati dung coffee. This special type of poop coffee is produced by harvesting the coffee beans from the poop of Coatis, after they have ingested raw coffee beans.
Poop coffee has become increasingly popular around the world, thanks to the extra flavor the poop of the animal provides (I can't believe I just type that sentence).
In fact, Coati dung coffee is one of the most expensive types of coffee in the world. You can only find this type of coffee in Central America and South America, as Coatis are native to those regions. If you have a coffee lover back at home, then this unique Peruvian gift will certainly go a long way.
Note: When purchasing Coati poop coffee, go for a brand that does not mistreat the animals. Better yet, check out one of the coffee plantations yourself!
---
12. Paintings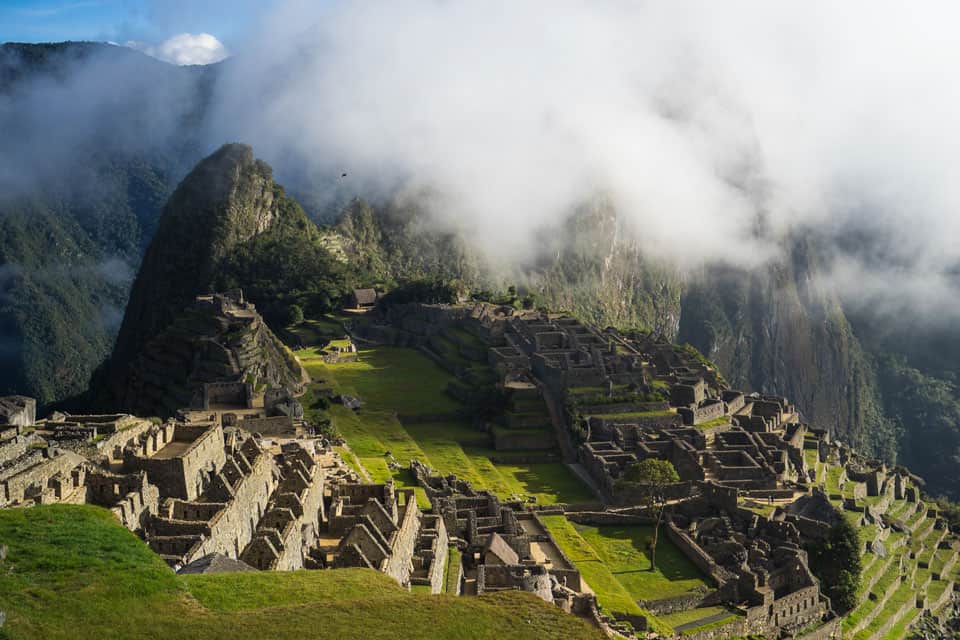 If there is one thing that will bring back the sweet memories of your Peru visit, it is the gorgeous landscapes of the Peruvian ruins, mountains, and historic streets. Imagine having a gorgeous painting of Machu Picchu sitting in your living room. Is there anything better than that?
Planning to visit Machu Picchu? Check out our Machu Picchu tips and learn from our mistakes!
There are plenty of galleries as well as street markets that sell incredible paintings made by local artists. It is an excellent way to support the local talent and get something unique for your trip.
---
13. Alpaca and Llama Dolls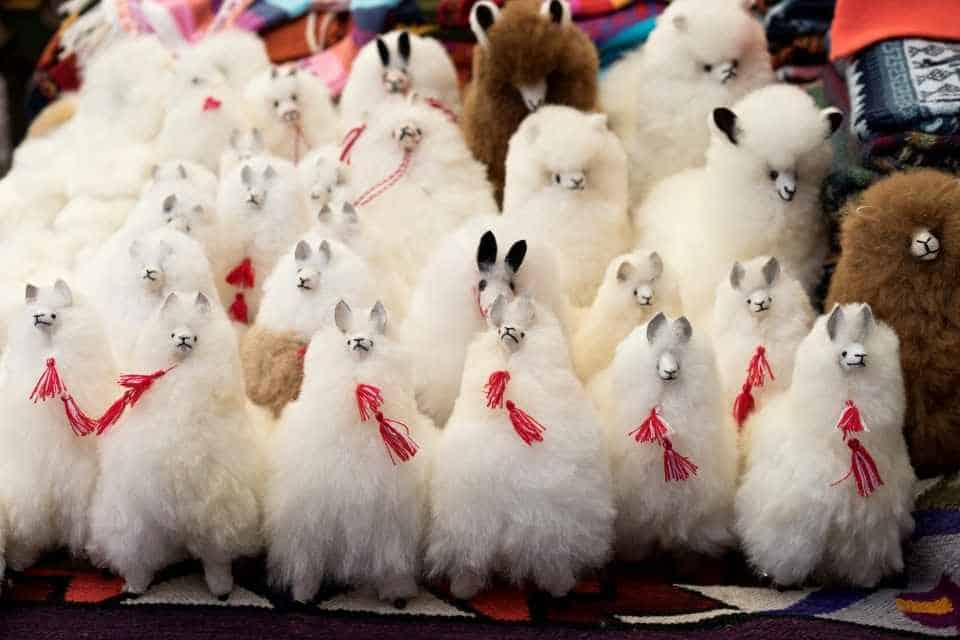 Last but not least, if you want something small but aren't a fan of the typical keychain or fridge magnet, then the alpaca and llama dolls are perfect for you. This is your chance to take those cute fluffy animals that roam the Andean mountains back home!
The alpaca dolls come in different sizes and shapes. You can either have them as a cute key chain or in a small teddy bear size. The small teddy bear size ones are perfect for small children!
---
Tips For Buying Souvenirs From Peru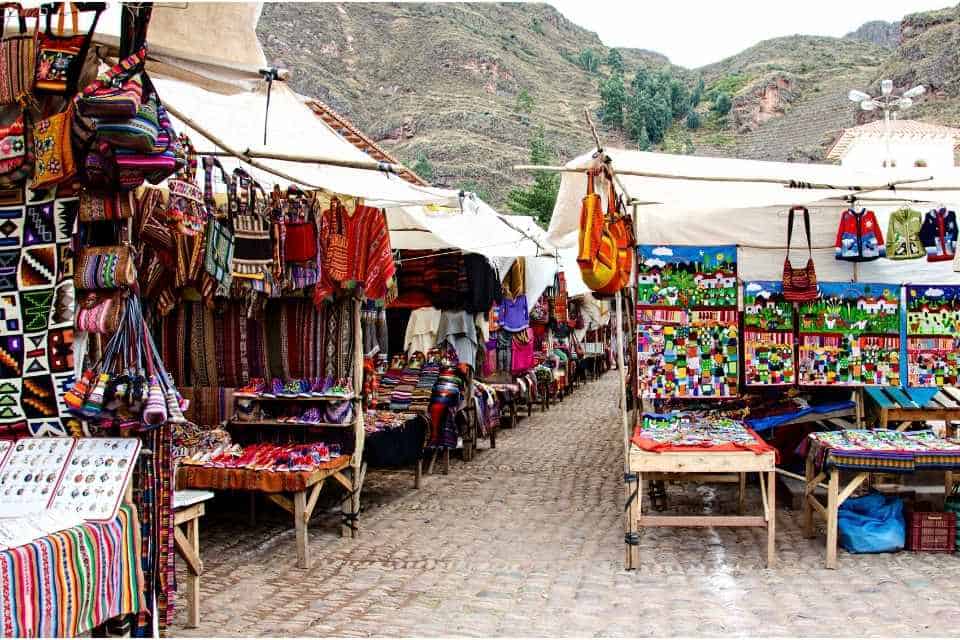 Because Peru is a fairly poor country, much of the local's income comes from tourists whether through tours, accommodations or souvenirs. While there are many authentic Peruvian souvenirs out there, there are plenty that are "fake" or not what the vendor claims they are.
Here are some tips you can follow when shopping for souvenirs in Peru!
If the price is too good to be true, it is probably too good to be true. You are not going to get baby alpaca scarves for 10 USD, it is just not going to happen.
If you want to buy some premium alpaca merchandise, go to a reputable store. You will find plenty of shops in markets claiming to sell high quality alpaca items, but that is probably not exactly accurate. Top-tier alpaca products should only be bought at reputable shops.
Don't forget to haggle. Haggling is a must if you are shopping in the markets of Peru, especially if you are a foreigner. If you see an item without a price tag, the price is definitely negotiable.
Did the vendor say it was handmade? Chances are, it is not. Handmade products are becoming increasingly hard to come by, especially affordable ones. That alpaca sweater you got for 35 soles is probably batch-made in a factory somewhere that isn't Peru.
Browse around before you buy anything. There are hundreds of stalls selling the same souvenirs across Peru. You might be tempted to buy as soon as you stumble upon some, but trust me, wait. You will often find better deals and quality later on. Cusco is THE BEST place in Peru for souvenirs as there are plenty of local markets. Lima is the second best place, but you should only buy from Miraflores Indian Market.
---
Peru Souvenirs FAQs
What Is The Best Thing To Buy From Peru?
Because Peru is home to the largest population of alpacas, authentic alpaca products are the best things to buy from Peru. However, just make sure you find a reputable dealer, especially if you intend on buying baby alpaca products.
Can You Bring Coca Leaves Home From Peru?
We highly suggest you not to take coca leaves home as souvenirs from Peru. Depending on where you are taking them, the legality of those coca leaves could be in a grey area.
---
Like this post? Don't forget to save it on Pinterest!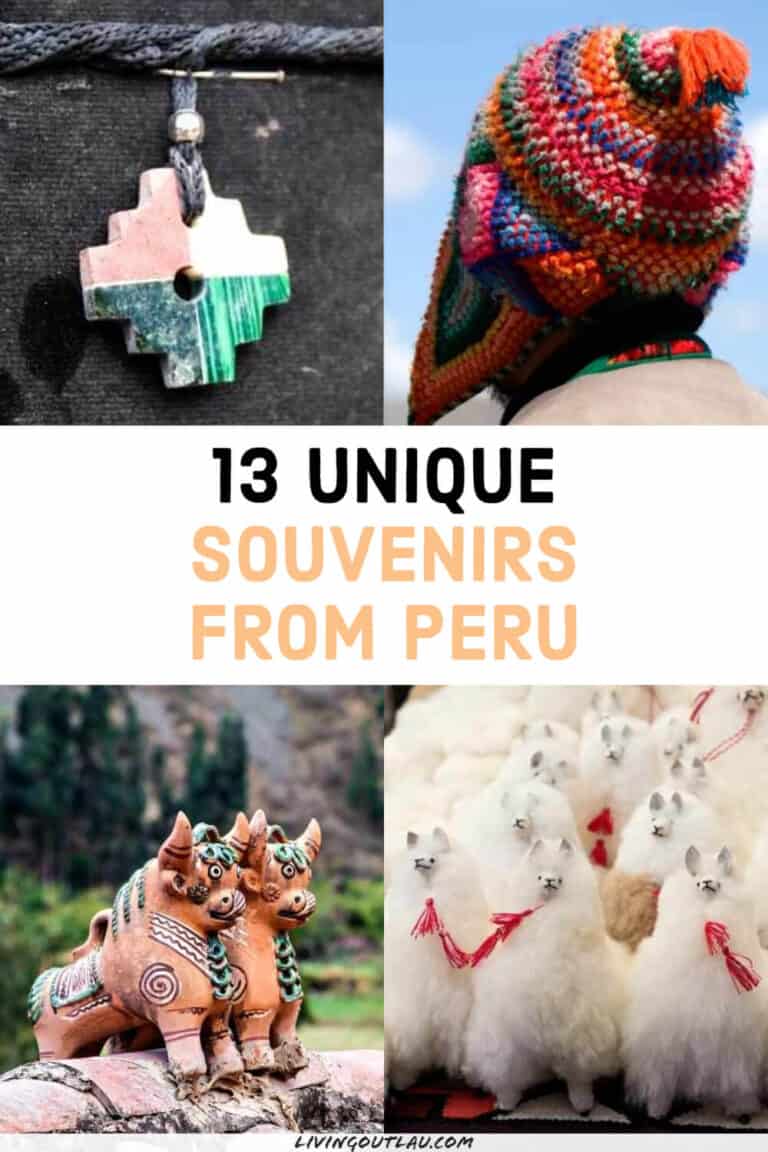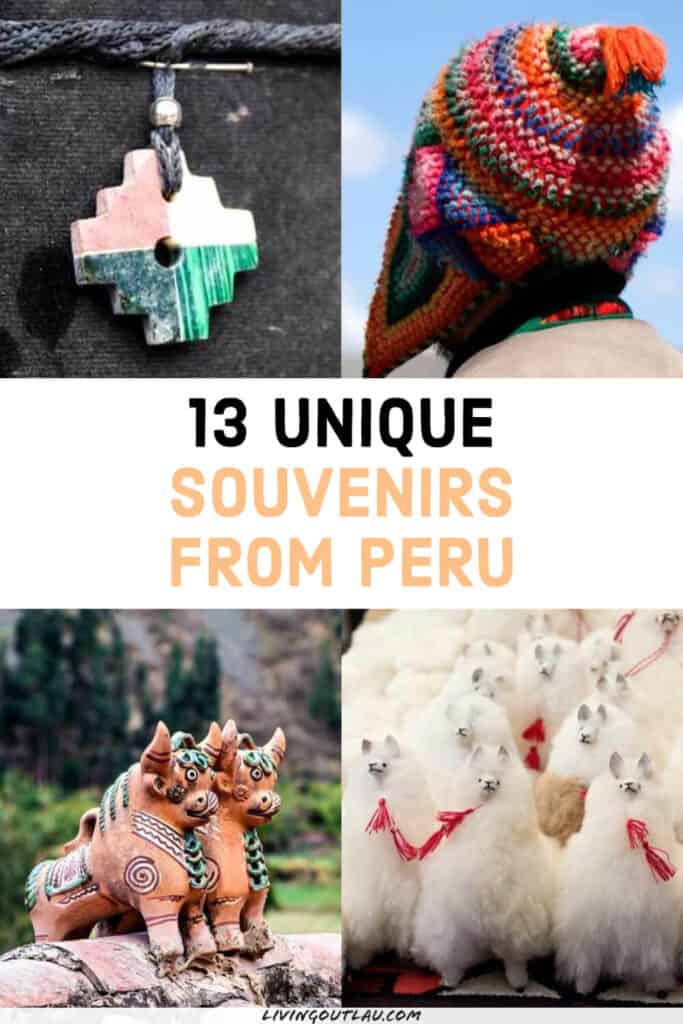 ---
That's it – the best souvenirs from Peru you need to buy. We hope you have found something to gift your loved ones or to remember your trip.
Any comments? Leave them in the comments!
Disclaimer: Some of the links above are affiliate links. That means if you book or make a purchase through the links, we will earn a small commission at no extra cost to you! The money will help run this site! Thank you!