Planning your next vacation in Peru? Do you want to spend 2 weeks in Peru? Great choice!

Peru is my favorite country by far and I am excited to share with you everything about it on our 2 week Peru itinerary.

From the diverse and stunning landscape to the delicious and exotic Peruvian cuisines, the charm of Peru is irresistible. It was so irresistible that my intended 1-month Peru trip turned into 2.5 months!

Without further ado, let's see the Peru highlights in our 2-week itinerary!
---
Where To Fly Into? Lima or Cusco?
The first question many travelers have when planning their trip to Peru is whether they should fly into Lima or Cusco. Both cities seem like a good starting point for your 2-week Peru adventure.

In general, it really does not matter too much. In our Peru travel itinerary, you will visit both Lima and Cusco. If you fly into Lima first, you will see Cusco at the end of your trip. If you fly into Cusco first, you will save the country's capital for last. In terms of what you see on your trip, it doesn't make a big difference.

However, there are certain advantages of flying in Lima over Cusco.
Flights to Lima are significantly cheaper than flights to Cusco. I don't know if this is always the case but every time I have looked for flights to Peru, flights to Lima are always cheaper. But if you are flying out of Cusco at the end of your 2 week trip in Peru, it doesn't make a big difference in price.
It is easier to acclimatize to the altitude if you start in Lima, especially if you plan on taking a bus to Cusco. Situated 3,400 meters above sea level, altitude sickness is inevitable in Cusco, especially if you fly into it from a sea-level city. If your plan is to fly from Lima to Cusco anyways, it doesn't make a big difference.
When I spent 2.5 months backpacking in Peru, I took a bus to Cusco. The slow and steady increase in elevation helped me adjust to the altitude much easier.
---
Peru 2 Week Itinerary Map And Overview
Above is a personalized map for your two weeks Peru itinerary. Our itinerary will focus on the southern part of Peru, where most of the best attractions such as Machu Picchu and Rainbow Mountain are located.

The Northern parts of Peru do have their own charm but they are off the beaten path. If you have more time, I recommend you to include them in your Peru itinerary.

In crimson red are the places you will visit in Peru. They are numbered from 1 to 6, with number 1 as Lima and number 6 as Puno. This is the order you will follow for your Peru vacation.

If you have more than two weeks in Peru, check out the extra attractions we have indicated with the blue stars.

You will notice that there is a pin in Bolivia. That pin is the Uyuni Salt Flats. Though it is far away, there are tours from Puno (number 6) all the way to the Salt Flats in Bolivia. If you have a few extra days, consider adding it to create a Peru and Bolivia itinerary.

Make sure you click on the map as it will take you to the full interactive map where you can find out more about each of the places to visit in Peru.
---
2 Weeks In Peru: The Perfect 2-Week Peru Itinerary
Day 1-2: Lima (Peru's Capital)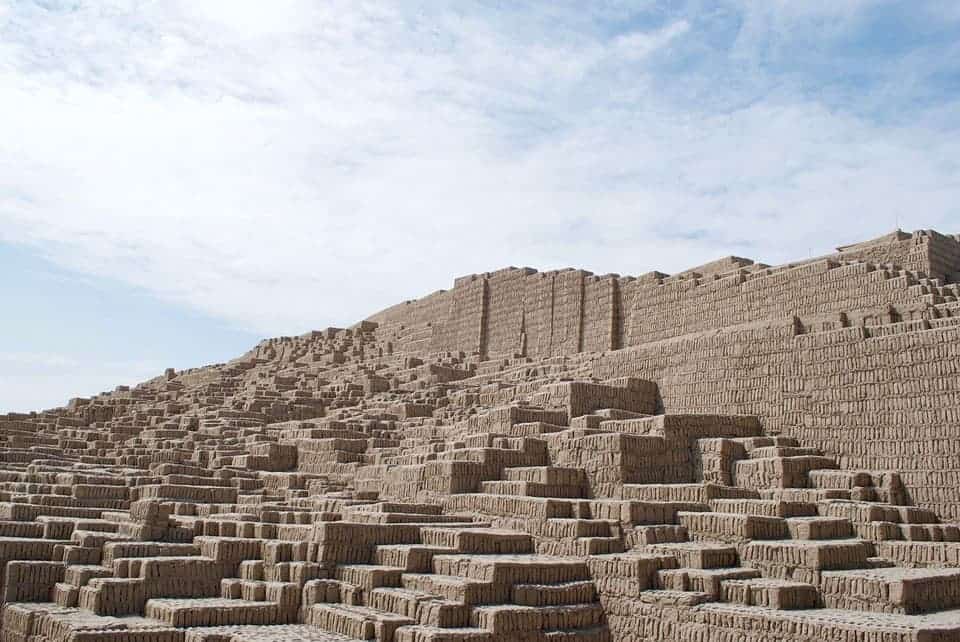 Welcome to Peru, my favorite country in the entire world! Are you ready to see the best places in Peru?? Luckily for you, you are in Lima, Peru's capital. Featuring the perfect balance between Peruvian culture and a metropolitan city, Lima is a great introduction to Peru.
Lima is a place where you won't find too many culture shocks because it is a big city that has adapted to many of the western cities. Here you will find international food, lots of English-speaking locals, and a little bit of culture.
For anyone that wants an introduction to indigenous ruins before they visit the famous Machu Picchu can visit Huaca Pucllana.
Things To Do In Lima, Peru
Explore the Historic Center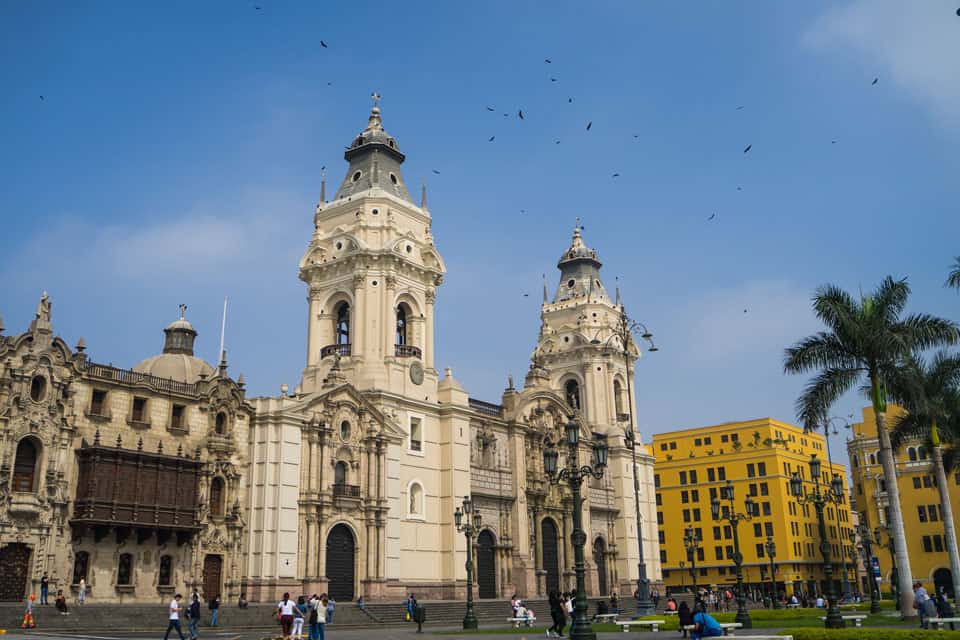 Explore the old town of Lima and learn why the city is called "The City of Kings". You are more than welcome to do a self-guided tour but I highly recommend a free walking tour with a local guide.
The service is free and tips are voluntary. So if you are unsatisfied with their service, you are not obligated to give them any money! However, it is a great way to learn about the history of Peru from a local expert and give something back in return!
Eat Delicious Peruvian Food!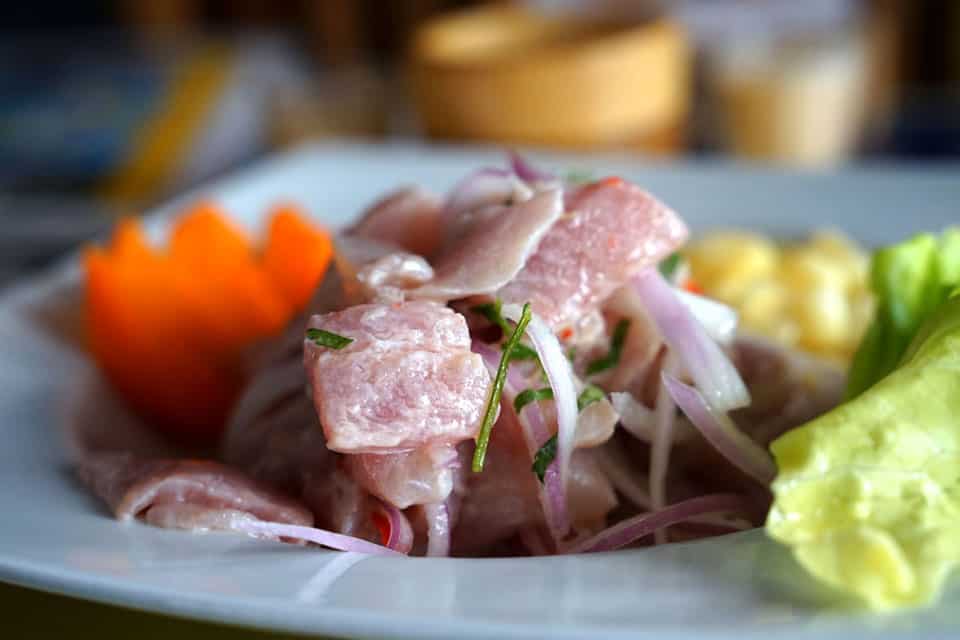 Did you know that Peru is one of the top gastronomy destinations in the world? With 2 of the top 50 restaurants located in Lima, the flavors of Peruvian cuisine are absolutely orgasmic.
Part of the reason why I stayed for 2.5 months in Peru is because of the food. Luckily, there are many hikes in Peru to shed off that weight! If you like seafood, you must try ceviche, Peru's national dish!
The best part about ceviche is that is it doesn't have to be expensive! Here are some restaurants with amazing ceviche in Lima. Don't forget to try Peru's national drink, the Pisco sour, when you get the chance! It is one of Peru's most popular drinks!
It is difficult to explore all the incredible food and restaurants in Lima, and that is why we recommend taking a guided food tour with a local expert. This food tour allows you to sample some of the best Peruvian dishes, shows you the best restaurant in Barranco, and teaches you how to make pisco sour and ceviche!
Walk along the Promenade in Miraflores!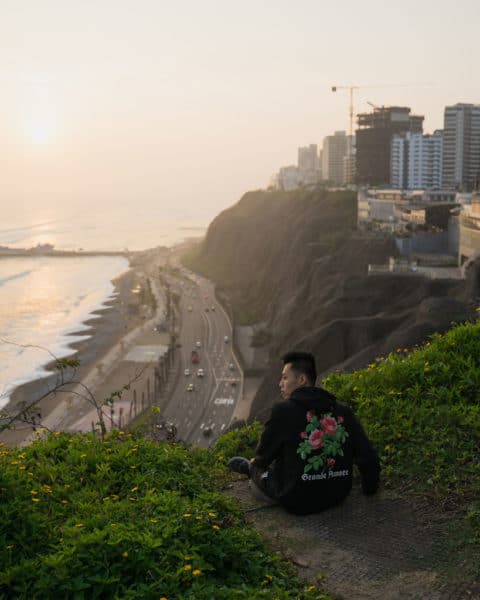 The promenade in Miraflores (also known as the Malecon) is absolutely one of the most breathtaking places to visit in Lima. With endless views of the Pacific Ocean and romantic parks such as Love Park, the promenade is one of the best places to take your loved ones.
The promenade is situated above some dramatic cliffs, making it the perfect spot for some dope photos!
After visiting the promenade in Miraflores, either head to Barranco for some more amazing views and food or head to Kennedy Park, a park where numerous cats roam freely!
Where To Stay In Lima, Peru
Selecting the right place to stay in Lima is imperative to have a good experience. That is because parts of Lima are still unsafe. Poverty exists in many parts of Peru and it is no exception in Lima.
The one surprising characteristic is that the historic center (centro historico) of Lima is dangerous at night. Usually, the center of a city is the safest part of a city but it is the opposite in Lima. Foreign visitors should stay near the "suburbs" of Lima, namely Miraflores and Barranco.
Miraflores and Barranco are the most beautiful and safest neighborhoods in Lima. There is no doubt that they are the best places to stay in Lima.
Here are our recommendations in Miraflores and Barranco:
Best Hostel In Lima – Pariwana Hostel Lima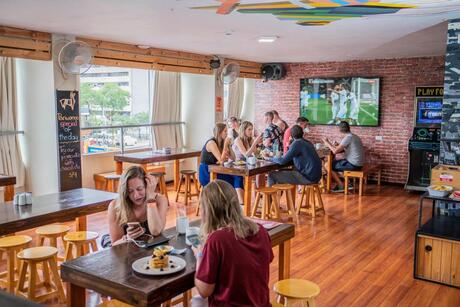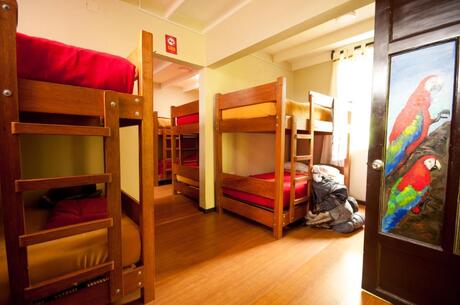 Pariwana Hostel is one of the best hostels in Lima for any type of traveler. Are you traveling solo and wanting to meet other travelers? There are a bar and a ping pong table on the terrace for socializing. Are you traveling for work? You can take advantage of their business center.
The dormitory and private rooms are both clean and spacious
Located in the safe neighborhood of Miraflores, you will have access to nightlife and some of the best seafood restaurants in Lima.
Best Hotel In Lima – Miraflores Park, A Belmond Hotel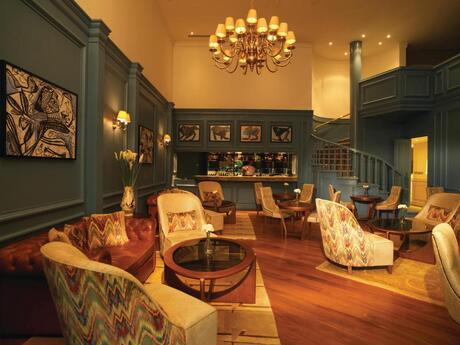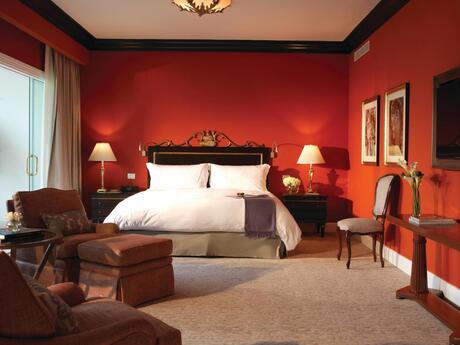 Miraflores Park is one of the highest-rated hotels in Lima and it is not surprising why. This 5-tar hotel is guaranteed to offer guests a luxurious stay, especially with its charming rooms and bathrooms decked out with expensive marble.
The hotel is situated on the promenade, so every day guests can wake up to sweeping ocean views and a nutritious breakfast buffet. If you want to feel like kings and queens on your trip, Miraflores Park is the place to stay in Lima.
Best Rental Apartment In Miraflores, Lima – Exclusive Oceanfront Penthouse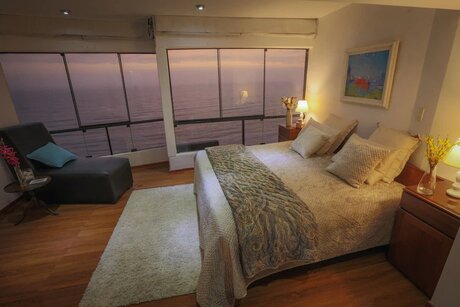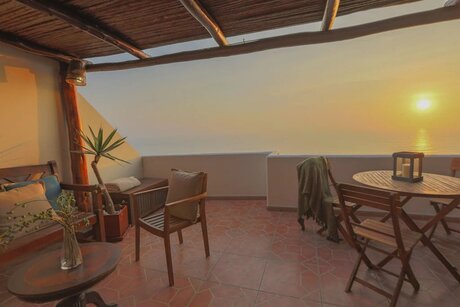 (Images Courtesy of Vrbo)

If you are looking for a cozy home in Miraflores to take advantage of the beautiful coastal views, then look no further. This exclusive Oceanfront Penthouse in Lima is everything you will need.

Located adjacent to the Miraflores Malecon, guests are within walking distance from many of the best things to do in Lima. Before heading back to your cozy apartment every night, wander around the gorgeous Malecon and take in that deafening silence and peace.

This 2,600 sq ft rental apartment has a total of three floors: the living room on the 11th floor, the three bedrooms on the 12th floor, and the terrace on the roof. Amenities include high-speed internet, two 55″ smart TVs, a barbecue and more.

There is no better place to watch the sunset in Lima than your own private rooftop, ideally with a cup of coffee or a glass of wine!
---
Day 3-5 (3 Days): Ica, Huacachina, Paracas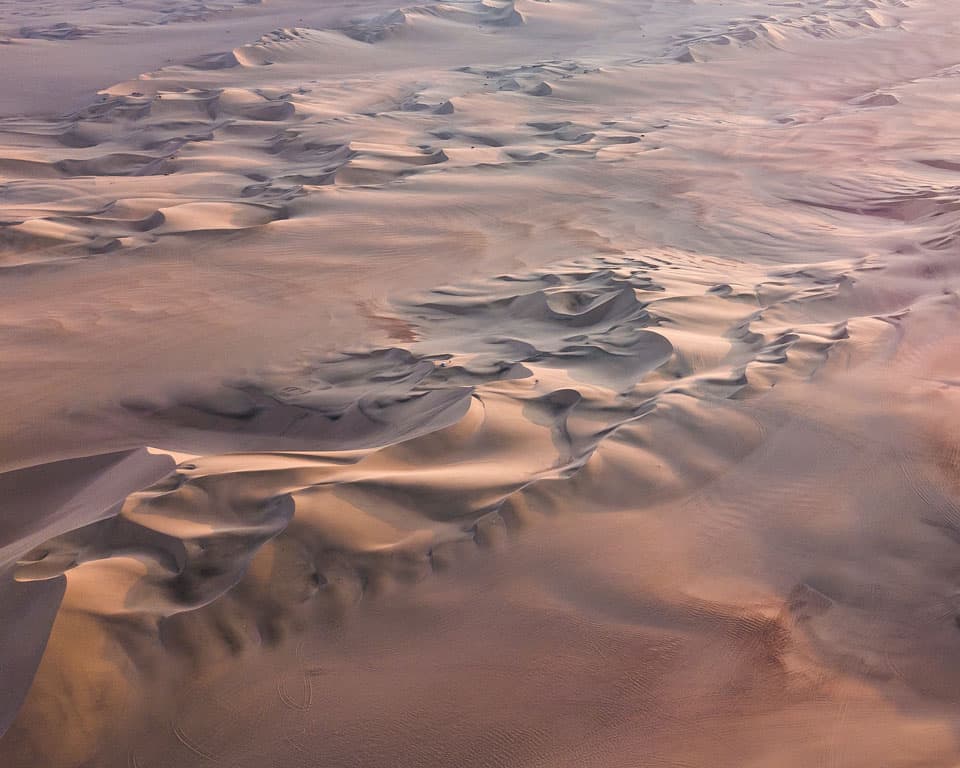 After your visit to the country's capital, you will move south into a completely different environment: the desert region.
This area is drastically different from the dramatic cliffs of Lima. Featuring silky sand dunes that stretch beyond your eye's reach, the landscape in this region is absolutely mesmerizing.
This region is also known for its wine, the Huacachina Oasis, and the wildlife that resides in Paracas.
To get to Ica, Huacachina, or Paracas, you have to take a bus from Lima. I recommend the company Soyuz. A clean and economical bus company, Soyuz provides amazing service in this region.
Update: Soyuz is no longer in operation because of the challenges endured in 2020, for more info on buses to Ica, Huacachina, or Paracas, check here.
If you are short on time, it is possible to do a day trip from Lima to Ica, Paracas, and Huacachina, but only with a guided tour. If that is something you wish to do, check out this day trip from Lima!
Where To Stay? Ica? Huacachina? Or Paracas?
Before you embark on your adventures, you need to pick the perfect place to stay. Ica, Huacachina, and Paracas are located close to each other but all provide a distinct experience.
Ica, the cheapest place to stay out of the three, is a local city. Here you will find low prices on accommodations, food, and culture. No wonder why it is the most popular to stay for budget backpackers.
Huacachina, otherwise known as the breathtaking oasis, is only located 15 minutes away from Ica on a tuk-tuk. The journey costs less than a few dollars but the prices in Huacachina are substantially higher. There are hardly any locals that live in Huacachina because the prices are just too high. Huacachina is also the spot to party!
Paracas is a coastal city located on the edge of the Pacific Ocean. As the home of the Paracas National Reserve and Isla Ballestas, Paracas is a must on any Peru itinerary. But is it a good place to stay? Depends. Paracas is a rather quiet town with not much to do at night. The only pro is staying in Paracas is that you get to hear the waves of the Pacific Ocean as you fall asleep!
Personally, I stayed in Ica for the prices and because I love immersing myself in local life.
Whether you've decided to stay in Huacachina, Ica, or Paracas, here are some accommodations we recommend in the area:
Best Hostel In Ica/Paracas/Huacachina – Ica Adventures II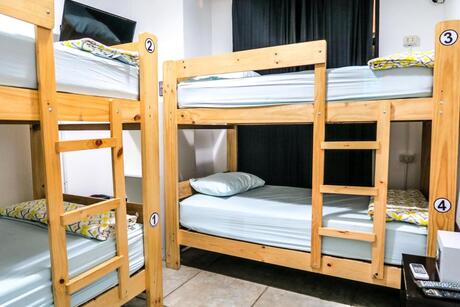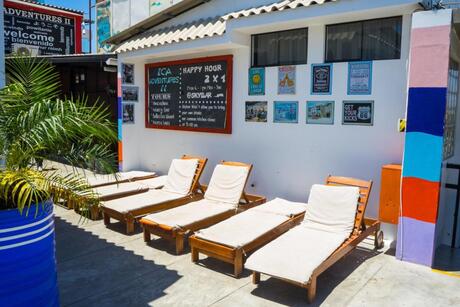 Located in Ica, Ica Adventures II is a hostel for budget travelers. With comfortable beds, a rooftop terrace, and an amazing breakfast, you can't get a better deal anywhere else! No wonder why it is one of the highest-rated hostels in Ica!
Best Hotel In Ica/Paracas/Huacachina – Hotel El Huacachinero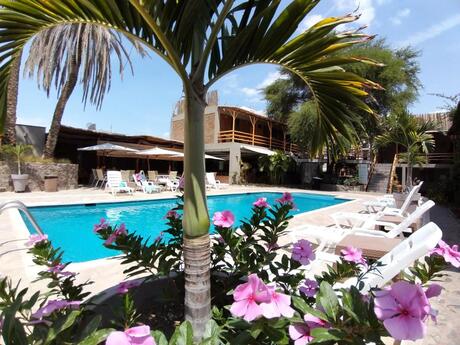 Located in Huacachina, Hotel El Huacachinero is a hotel close to the action. Featuring an outdoor swimming pool where guests can relax and admire the soft and silky dunes around them, Hotel El Huacachinero is one of the best hotels in the area.
Their breakfast is the perfect way to prepare yourself for a day of exploring!
Best Airbnb in Ica – 3-Bedroom Apartment Next To Huacachina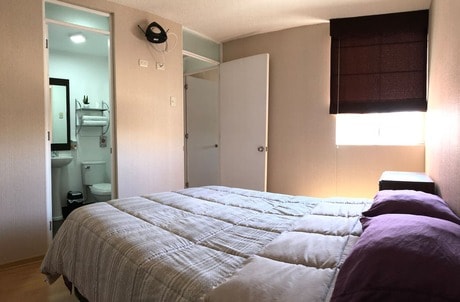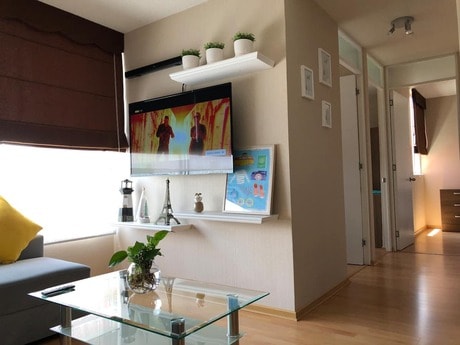 (Images Courtesy of Airbnb)

Cozy apartments can be difficult to find in Ica. But luckily, with Airbnb, there are plenty of vacation rental options.

This 3-bedroom apartment Airbnb in Ica can fit up to 5 guests, perfect for families traveling in Peru. With amenities like air-conditioning, fast WiFi, smart TV, and a fully-equipped kitchen, this Airbnb ensures your stay is as perfect as it can be.

This Ica Airbnb is located very close to Huacachina, perfect for anyone planning to spend more time there. Ica's main shopping center is also a short walk away!
Things To Do In Ica/Huacachina/Paracas
For a complete list of things to do in the area, please check here!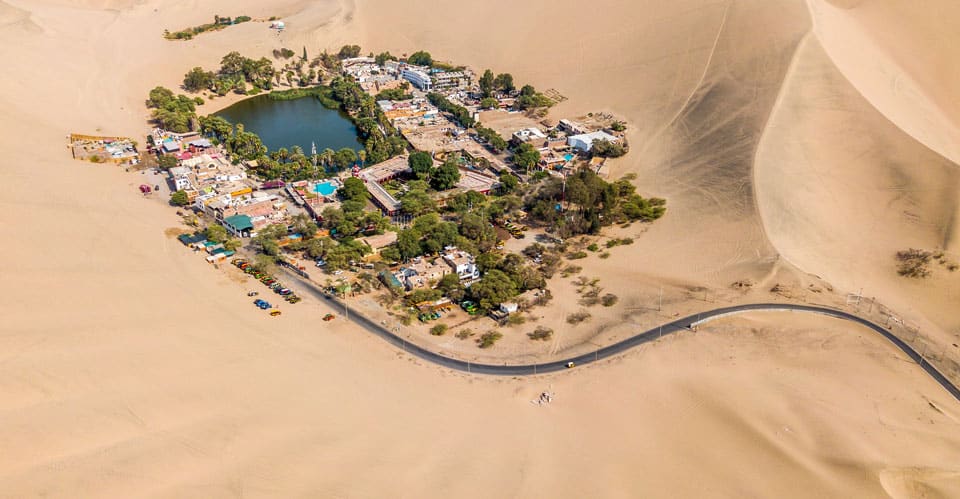 If you aren't already staying in Huacachina, a visit is something you must do. A stunning oasis in the middle of Ica, visitors come ride dune buggies or try sandboarding on Huacachina's pristine dunes!
I highly recommend coming to Huacachina during sunset. Hike up the dunes and watch the sun set behind the magical dunes as the skies burn with vibrant colors.
They say people hallucinate in the desert and see things they aren't supposed to. Well, the view here is something I can't even believe with my eyes.
Looking to go sandboarding and ride dune buggies at sunset?
Check out our recommended tour here!
Ballesta Islands (Isla Ballestas) and Paracas National Reserve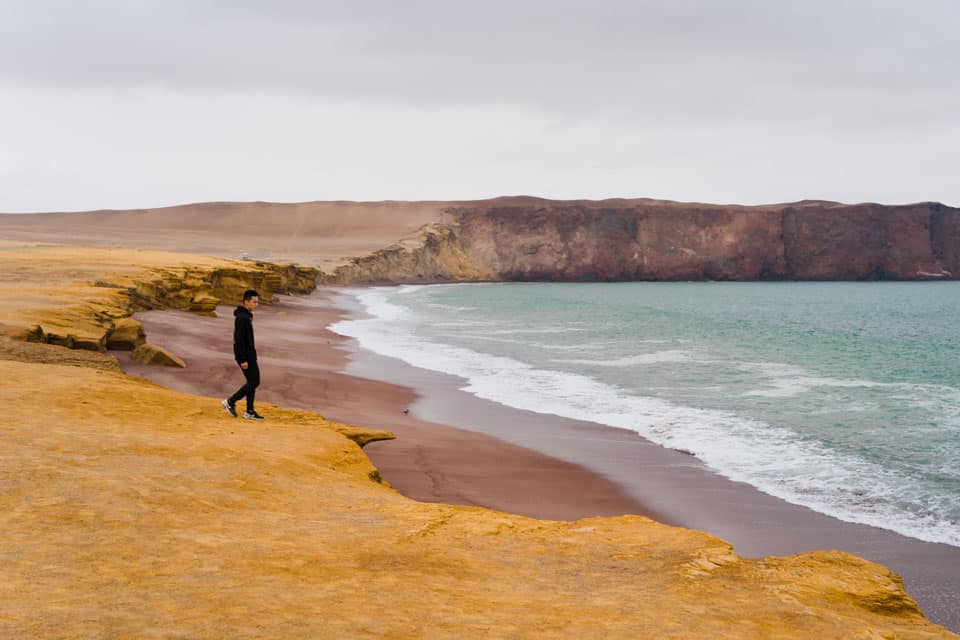 Both located in Paracas, you can easily knock two birds with one stone in a single visit. Isla Ballestas are a group of islands closely located off the coast of Paracas. Here is the home of many South American species such as penguins, sea lions, and blue-footed boobies. It is definitely one of Peru's highlights!
Paracas National Reserve is a huge protected area spanning 335,000 hectares. It is a magical place where the turquoise water of the Pacific Ocean meets the desert. If you are an avid photographer, the Paracas National Reserve will be a paradise for you. Don't miss this bucket list item in Peru!
If you are not staying in Paracas, you might want to secure your Ballesta Islands tour in advance. They leave early in the morning so you don't have much time to purchase the tickets ahead of time in person.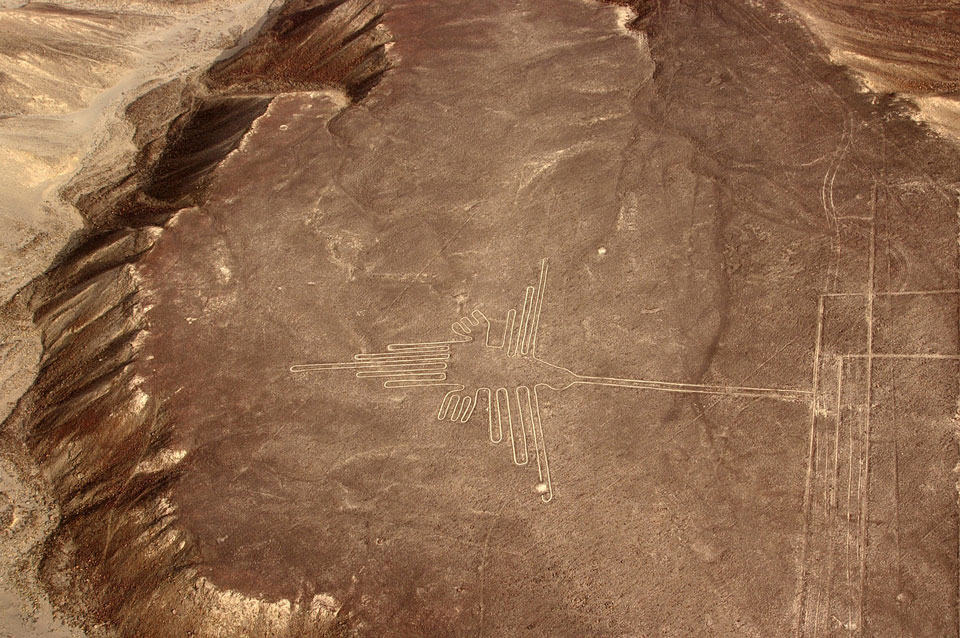 Located about 2 hours southeast of Ica are some of the earth's biggest mysteries. Figures of animals, plants, and other objects are etched into the sand, spanning an area of about 50 square kilometers.
To this present day, the mystery of the Nazca Lines has not been solved. Who made them? What were they for? Were there terrestrial beings?

If you want to see the Nazca Lines, I highly recommend seeing it in the air on a plane. Tours can be found in Huacachina and Paracas but you might want to consider booking in advance to secure your spot, especially if you are visiting in peak season.
---
Day 6-11 (6 Days): Cusco (Capital of the Incas) and Machu Picchu
How To Get From Ica To Cusco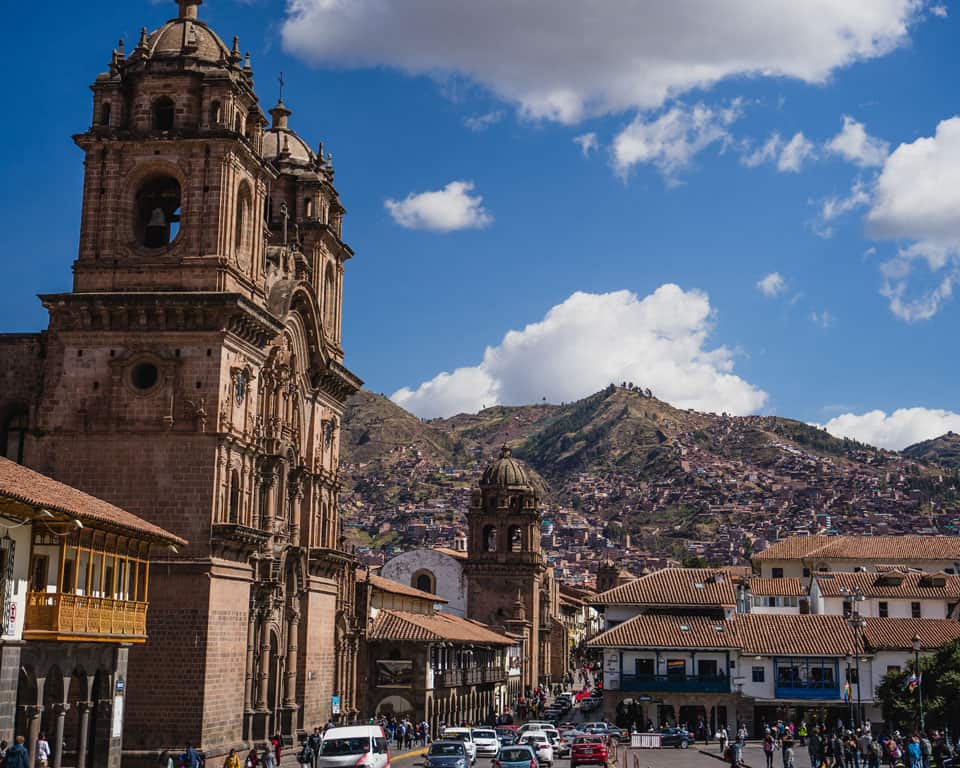 The next stop on our 2 week Peru itinerary is the capital of the Inca Empire, Cusco. But how do you get there?
If you look at the map, Ica and Cusco are on opposite sides of the country. The fastest way to get there would be to get back to Lima and take a direct flight to Cusco.
The other option is to take a bus. There are buses that run from Ica to Cusco daily. However, let me warn you. Even though taking a bus is the most economical way, the journey is about 17 hours long.
You will start close to sea level and arrive at 3,400 above sea level. As you ascend higher, your body adjusts to the level of oxygen. Taking a bus to Cusco is a great way to acclimate to the high elevation.
To check the bus schedule, use busbud.com and enter your route.
Things to Do in Cusco, Peru
Cusco was once the capital of the mighty Inca civilization before getting conquered by the Spaniards. Inevitably, you will see lots of remains of the Inca empire in Cusco. Matter of fact, many of the buildings you currently see are built by the Incas!
Situated in the Andes, the surrounding area is filled with natural wonders as well as Inca ruins. We will spend a total of 6 days in Cusco exploring the many unworldly attractions and acclimating to the altitude.
Here are some of the best things to do in Cusco, Peru.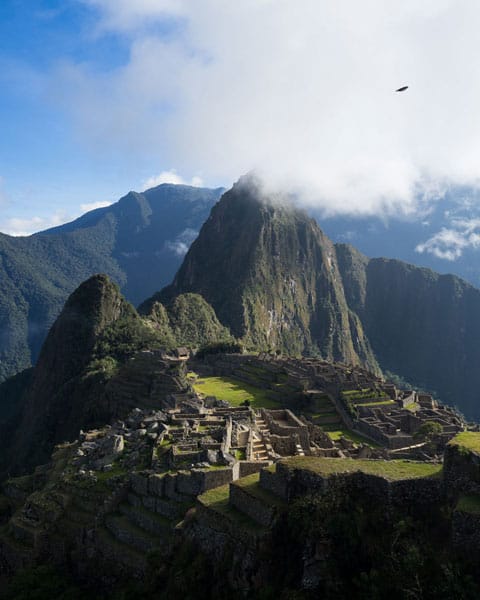 Let's talk about the elephant in the room, Machu Picchu. An abandoned ancient Inca ruins untouched by the Spaniards, Machu Picchu is one of the most spectacular Seven Wonders of the World. It is also probably the most famous thing about Peru!
Did you really think our Peru itinerary would not include Machu Picchu
However, there are several things I need to clear up about Machu Picchu.
Machu Picchu is not located in Cusco. In fact, it is located extremely far from Cusco. One of the main reasons why Machu Picchu was never discovered is because it was so inaccessible.
It is totally feasible to visit Machu Picchu in 1 day from Cusco. However, I would highly not recommend it because of the cost and your time of arrival at Machu Picchu. If you do want to visit in 1 day, you must take a train from Ollantaytambo to Aguas Calientes, then take a bus from Aguas Calientes to Machu Picchu, and then come back the same way.

You will arrive at Machu Picchu midday, which is not considered the best time to visit Machu Picchu because of the number of tourists. Bunched up like sardines in a can, you will get smacked in the face by selfie sticks and pushed by aggressive visitors.
Interested in seeing Machu Picchu in one day?
Check out this Macchu Picchu tour from Cusco!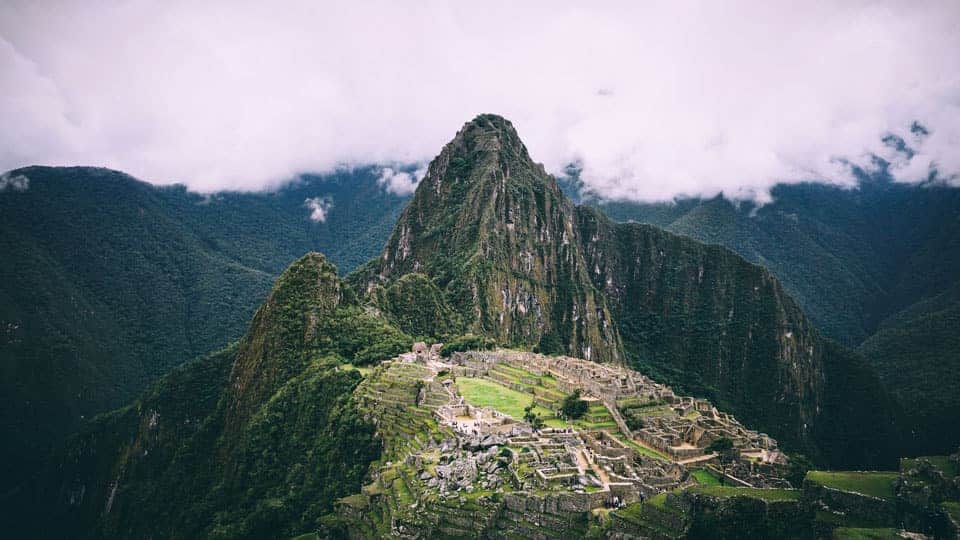 The cheapest option to visit Machu Picchu will take 2 days. You will spend one night in Aguas Calientes, otherwise known as Machu Picchu town. The way to do it is to take public transportation to Hidroelectrica. Hike two hours from Hidroelectrica to Aguas Calientes, stay the night there and then visit Machu Picchu early in the morning.

After visiting Machu Picchu, go back to where you were dropped off at Hidroelectrica to get a van back to Cusco. We highly recommend doing it this way to save money, have a better time at Machu Picchu, and not tire yourself out completely.
Visit Machu Picchu as soon as you arrive in Cusco. Why? Because Machu Picchu is about 1,000 meters lower in elevation than Cusco. Visiting Machu Picchu first might actually help you acclimate to the high elevation of Cusco and prepare you for other future activities.

These are tips you only get from someone that has been in Cusco and Machu Picchu for a long time!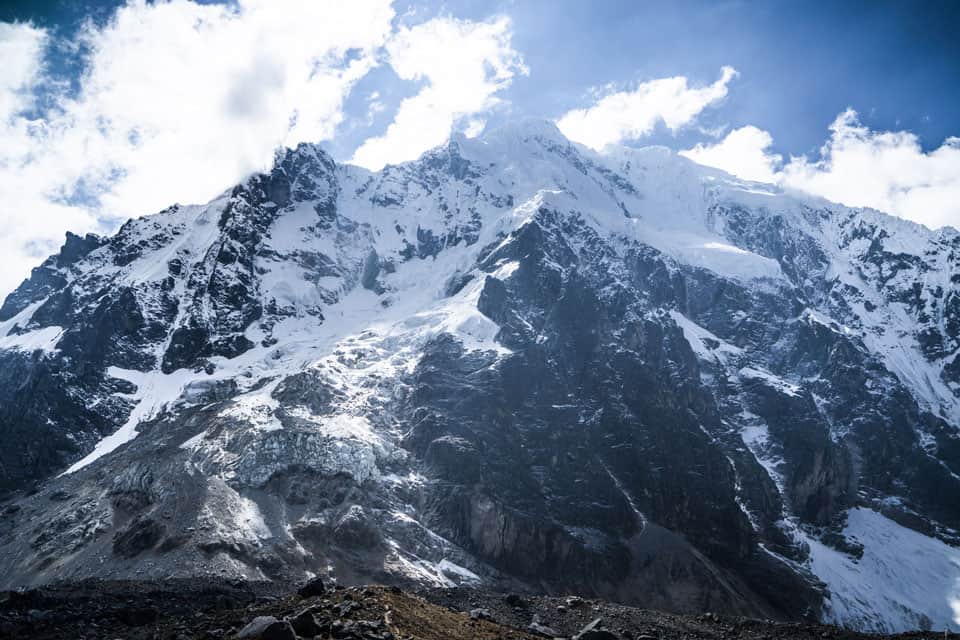 If you are doing the Inca Trail, Salkantay Trail, or any other treks to Machu Picchu, make sure you are acclimated beforehand. You might need more than two weeks in Peru in that case.
Sacred Valley (Namely Moray and Salineras de Maras)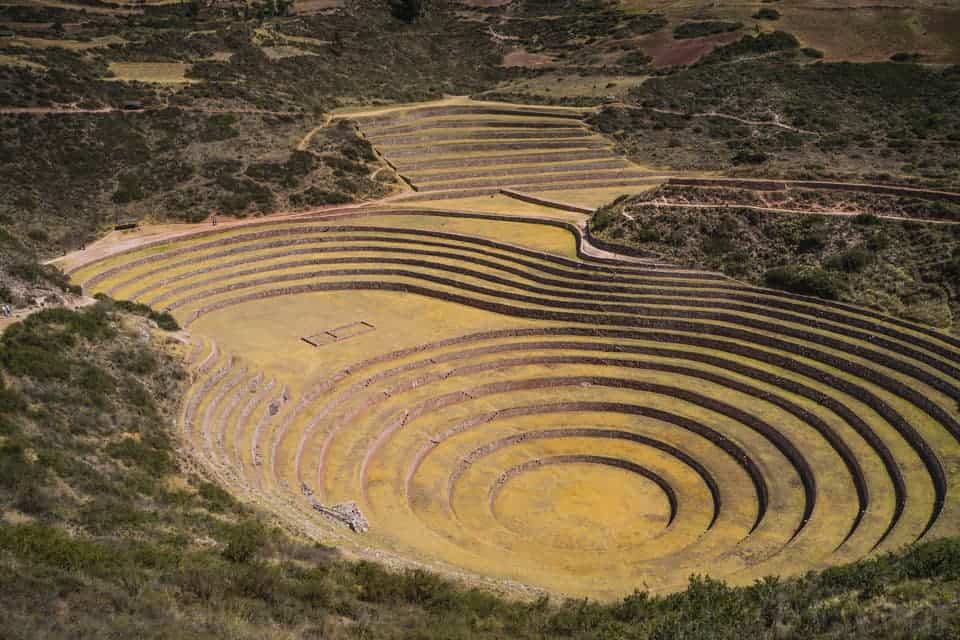 The Sacred Valley receives its name from the numerous Inca ruins that start from Pisac all the way to Machu Picchu, stretching about one hundred kilometers long. Before the ruins became ruins, they were ancient Inca settlements and villages where numerous activities such as mining and agriculture took place.
The Sacred Valley is a huge open area and technically it is free to enter. Because its attraction lies in the numerous ruins that are spread out across this lush valley.
The two places you must visit in the Sacred Valley are Moray and Salineras de Maras.
When the Moray ruins were first discovered, archaeologists thought that Moray Ruins were an amphitheater with circular levels. Later as more research was being done, they discovered that Moray was actually an agricultural lab.
Each level was a different climate and by testing out where the crops grew best, the Incas could optimize their output!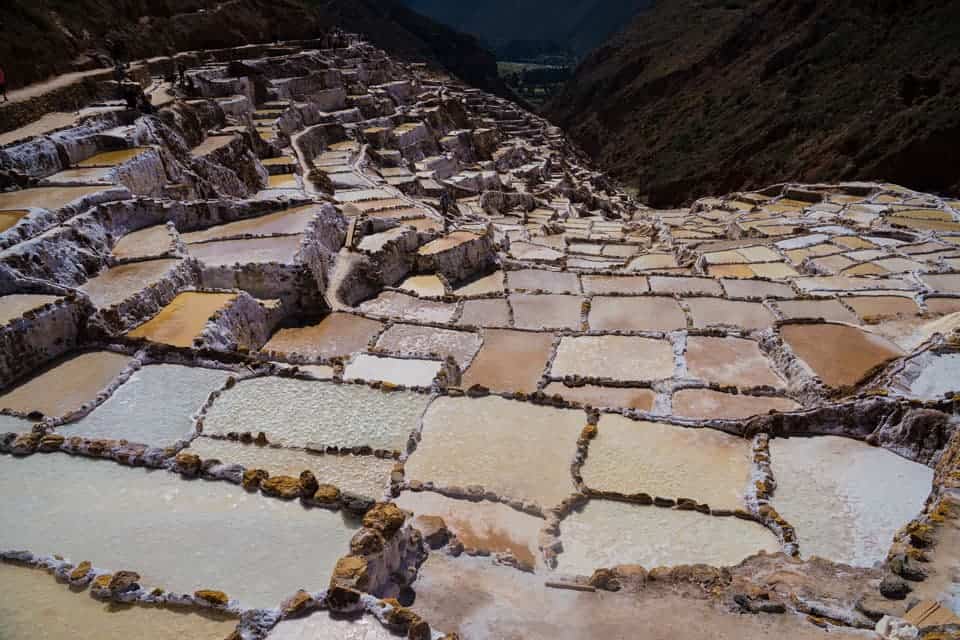 Though not exactly an Inca ruin, the Salineras de Maras is an active salt mine that Inca used for mining salt. Nowadays, visitors are allowed to enter and see some of the salt ponds close up! It is one of the few places on Earth that produces pink salt!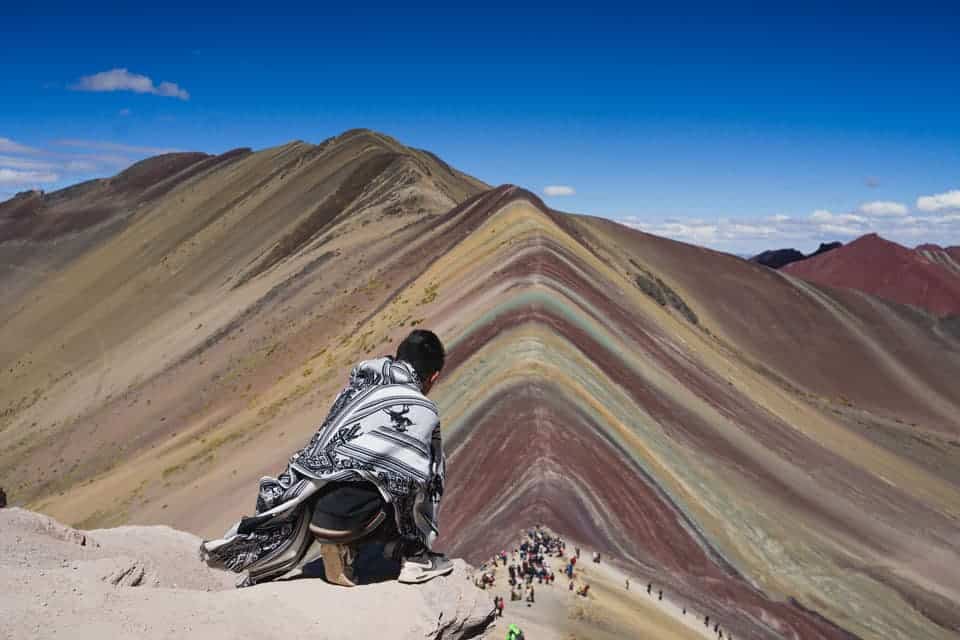 You've probably seen this natural wonder somewhere on the Internet before arriving in Peru. The Rainbow Mountain, or Montaña de Siete Colores, is one of the most Instagram-worthy spots in Peru. Before visiting Rainbow Mountain, I doubted if the colors are actually that vibrant in real life. To my disappointment, they were not.
The colors you see on the photos of the Rainbow Mountain are usually over-edited in post-processing. However, the colors are definitely more vibrant on a sunny day!
Try to find a tour in Cusco that leaves earlier than usual to beat the crowd. Having an unworldly place like the Vinicunca Rainbow Mountain to yourself is an unforgettable experience.
Alternatively, visitors can hike the lesser-known Palccoyo Rainbow Mountain, an equally beautiful location in the mountains of Peru.
Shopping for Peruvian Souvenirs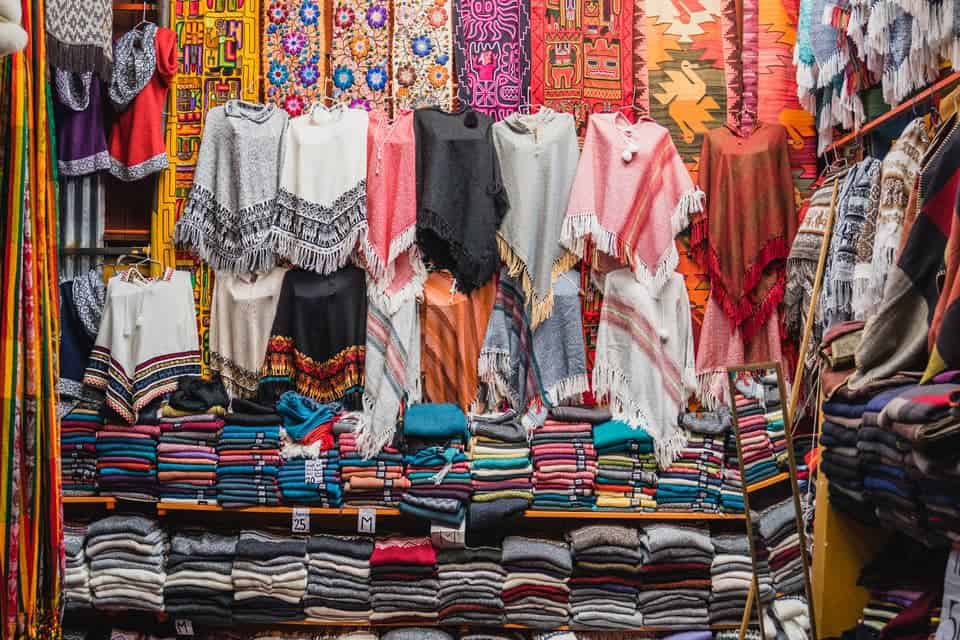 Cusco is the hub for all local artists, merchants, and vendors. Without a doubt, it is the best place to get yourself some Peruvian souvenirs to remember your trip by.
Alpaca products such as sweaters and scarves are abundant, and visitors don't have to spend a ton of money to buy something of decent quality. However, if you are interested in the legendary 100% baby alpaca stuff, expect to pay a fortune!
Read More: How To Get To Machu Picchu From Cusco: All Ways Explained!
Where To Stay In Cusco, Peru
Because of the high elevation in Cusco, it is a lot trickier to find the perfect place to stay. For example, you might need an oxygen-enriched room to help with altitude sickness. Therefore, we have written a complete guide on where to stay in Cusco here.
Best Hostel In Cusco – Nao Victoria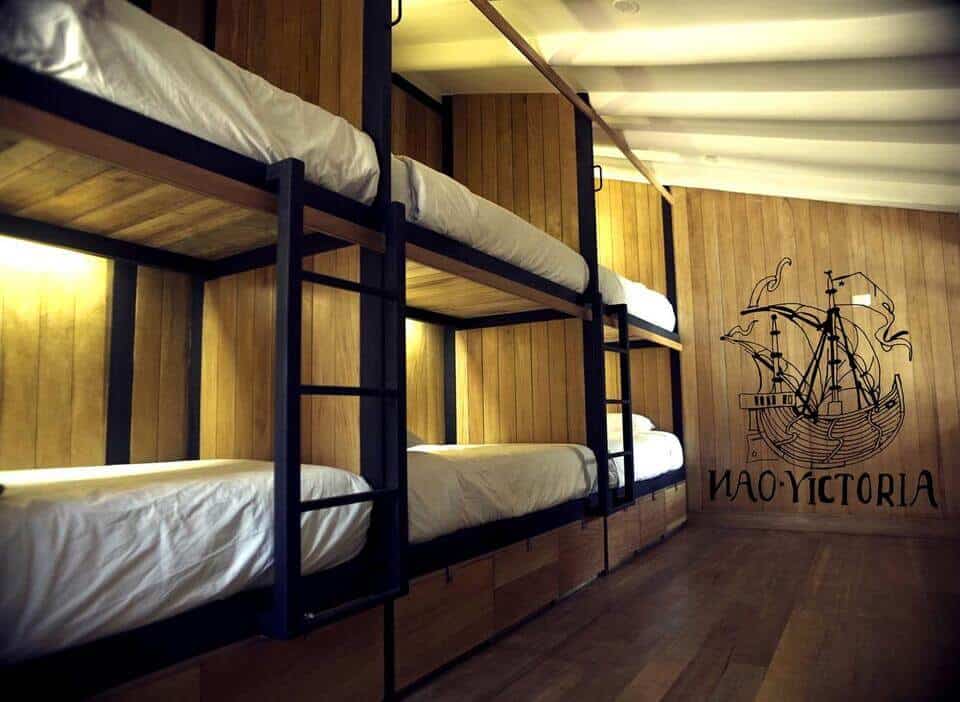 Closely located to Cusco's best sights, Nao Victoria is one of the best places to stay in Cusco. The main square Plaza de Armas is located a few minutes away. Though its location is amazing, it isn't even close to Nao Victoria's best features.
The hostel's stylish and modern decoration along with its cleanliness makes it feel like a hotel more than a hostel.
Each dormitory bed is equipped with individual lights, a curtain, and an electric socket. The staff becomes your best friend on your arrival day and helps you with your visit to Cusco, including information about Machu Picchu.
Best Hotel In Cusco – Tariq Boutique Hotel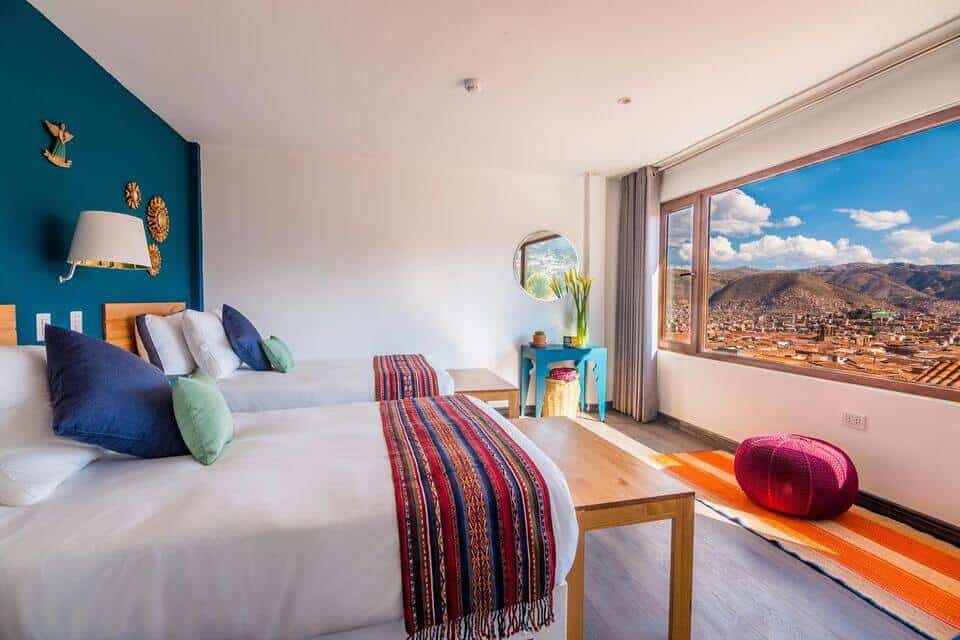 Tariq Boutique Hotel is my favorite hotel in Cusco and it is easy to see why. The boutique hotel is small enough to get the individualized attention you need in case you fall ill. Their rooms have huge windows with jaw-dropping panoramic views of Cusco.
It is also much more affordable than all the other "big name" hotels in the area!
Best Vacation Rental in Cusco – Unique House in Historic Center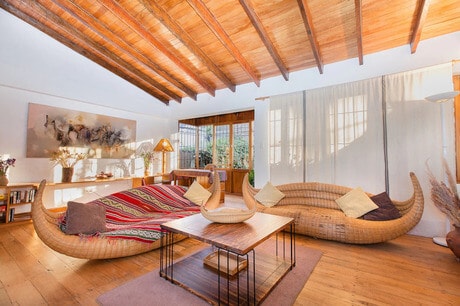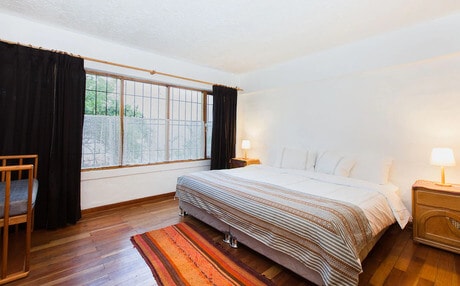 (Images Courtesy of Vrbo)

If you are looking for a cozy getaway in Cusco, then consider this Cusco vacation rental. Located on a quiet street in the historic center, visitors are far enough from all the noise, but close enough to visit on foot.

If you want to venture outside of the historic center, you can elect to visit Sacsayhuaman Incan Ruins. The short 30-minute walk offers insight into the lives of people outside of the historic center, as well as training you for the upcoming hikes in Cusco.

Inside this 3-bedroom apartment is a unique decor offering glimpses into Peruvian culture. For example, the couches are shaped like the boats you will find on the Titicaca Lake near Puno.

There is also a garden and a terrace for guests to enjoy the glorious Cusco sun. Guests wanting to make a homemade meal can utilize the well-equipped kitchen.
---
Day 12-13 (2 Days): Puno and Lake Titicaca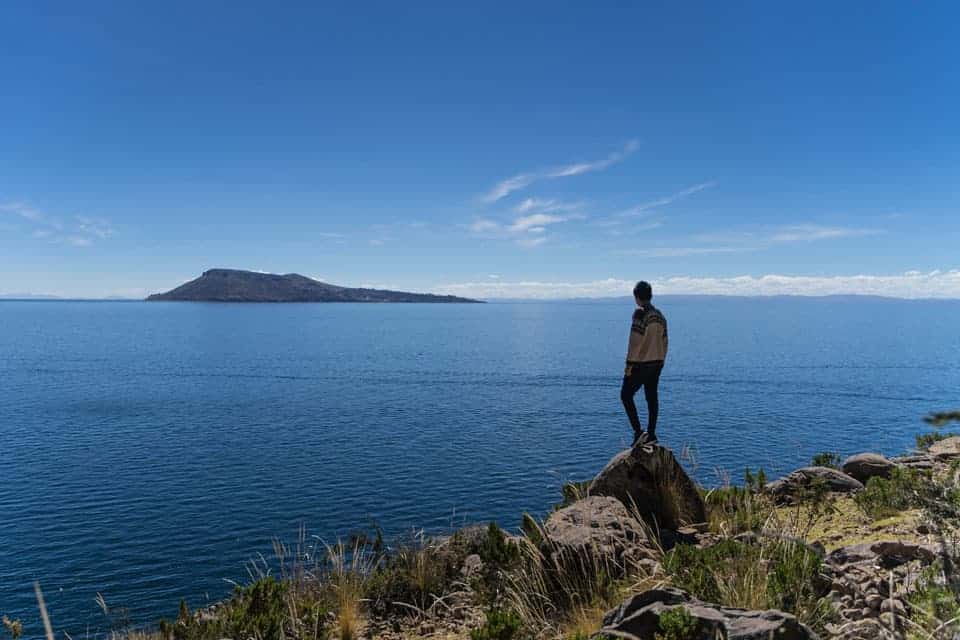 Puno is the next stop on your Peru 2 weeks itinerary. We saved this city as the last place on our Peru trip because the city is located more than 3,800 meters above sea level. If you thought Cusco's elevation was high, Puno is a whole new ball game.
But after spending several days in Cusco, you will be ready for the elevation of Puno. Located on Lake Titicaca, one of the biggest lakes in South America and the highest navigable lake in the world, Puno is considered Peru's folkloric capital.
You can also find tours to Uyuni Salt Flats from Puno!
Things To Do In Puno, Peru
Lake Titicaca and Uros Floating Islands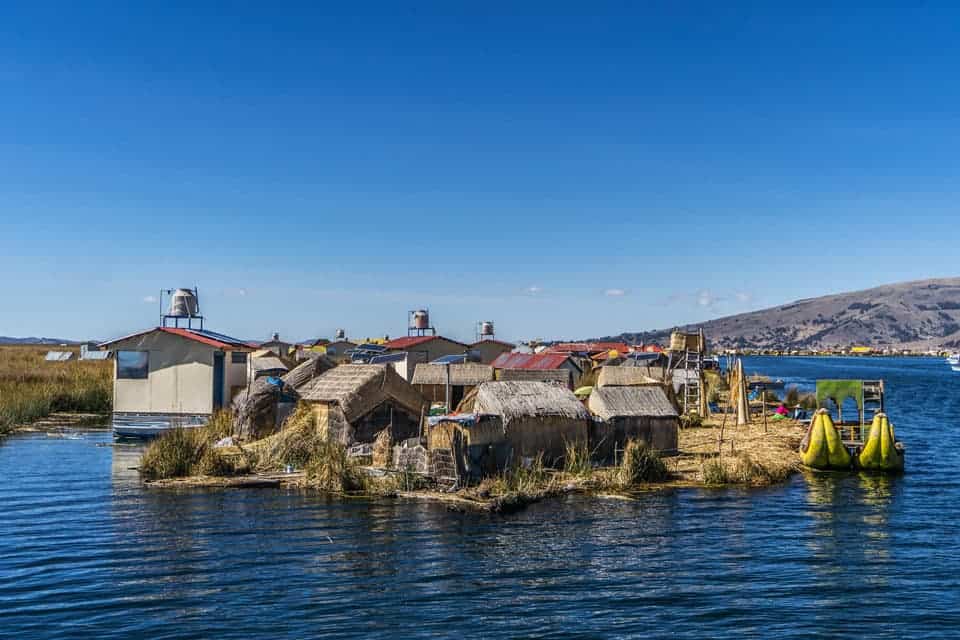 Not only is Lake Titicaca the highest navigable lake in the entire world, but it is also the home of the Uros Floating Islands, an archipelago made of artificial man-made islands.
A visit to the Uros Floating Islands is a must on any Peru itinerary. Each individual island is made by totora, a plant of thin leaves that grows in the lake. The composition of the totora is exactly what makes the islands floatable.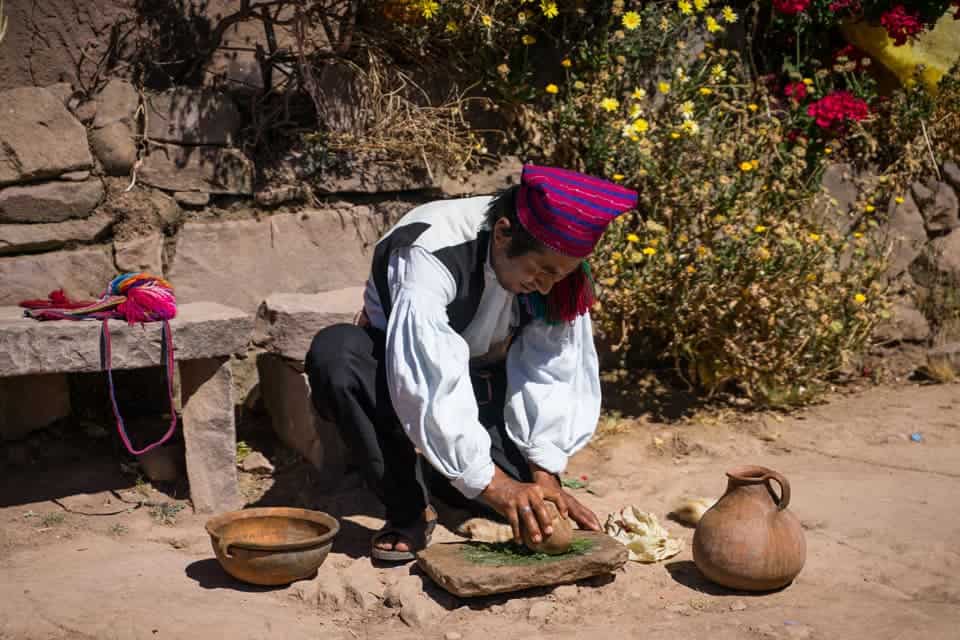 Travelers can also visit the Taquile Islands located on Titicaca Lake, where a group of indigenous Quecha-speaking people lives!
Besides the interesting history and science, the views are spectacular on Lake Titicaca. You can see across the border to Bolivia and some of the snow-capped mountains!
Where To Stay In Puno, Peru
Best Hostel In Puno – Inka's Rest Hostel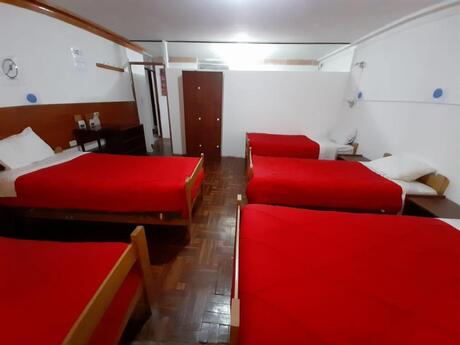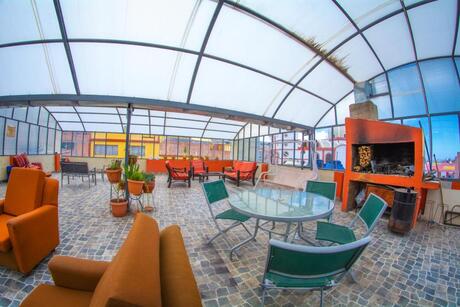 Inka's Rest Hostel is one of the few good hostels in Puno. Featuring comfortable single beds in dormitory rooms, guests can finally have undisturbed sleep. The showers are hot, which is something rare for a cheap hostel. Their free breakfast is also very tasty and filling.
Common areas have Netflix and computers for all your relaxation needs, and the owners are super friendly!
Best Hotel In Puno – Tierra Viva Puno Plaza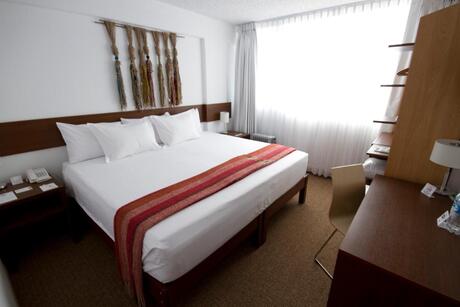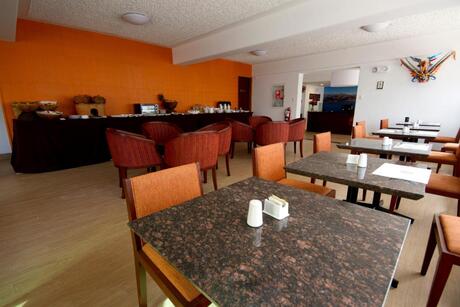 Located next to Puno's main plaza, Tierra Viva Puno Plaza is one of the prime hotels in Puno. Everything from the spacious rooms and comfortable beds to the helpful staff was amazing. You cannot go wrong with this hotel in Puno!
Best Airbnb In Puno – Uros Titicaca Sleep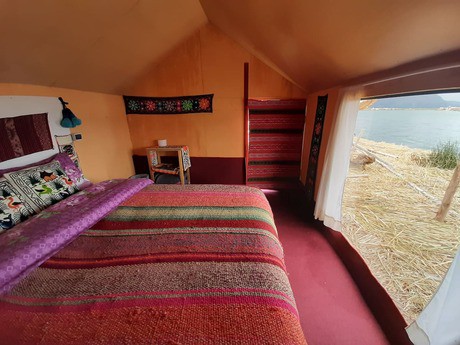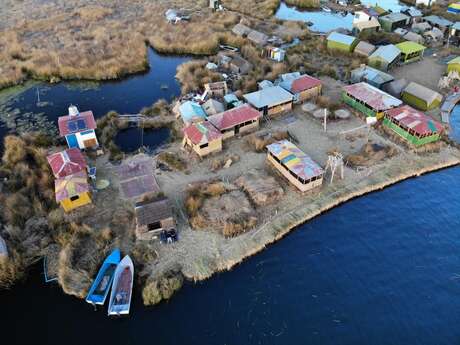 (Images Courtesy of Airbnb)

One of the most unique experiences you can have in Puno is to stay at one of the Uros Floating Islands in Lake Titicaca. Thanks to Airbnb, you can rent a vacation rental there!
By staying at one of the houses on the man-made artificial floating islands, guests can learn the inhabitant's ancestral traditions. Guests will sleep in complete tranquility as they drift off to the sound of the soothing lake.
We highly recommend you to stay at one of the floating islands, at least for one night!
---
Day 14: Back To Cusco for Your Flight
It is highly recommended that you leave from a city different than the one you came in. If you came into Peru from Lima, then exit in Cusco and vice versa.
If your flight out of Cusco is at night, you can take one of the morning buses from Puno to Cusco. If your flight leaves in the morning or afternoon, you should leave in the night on Day 13 to arrive in Cusco early morning. Either way, check busbud.com for all bus schedules.
It will be sad to leave such a beautiful country but don't worry, you can always come back. Northern Peru has plenty of hidden gems such as Chachapoyas for you to explore next time!
---
More Than Two Weeks In Peru?
Do you have more than two weeks in Peru? If you have 3 weeks in Peru or even 1 month in Peru, here are some recommendations to add to your Peru itinerary.
Huaraz, The Hiking Captial of Peru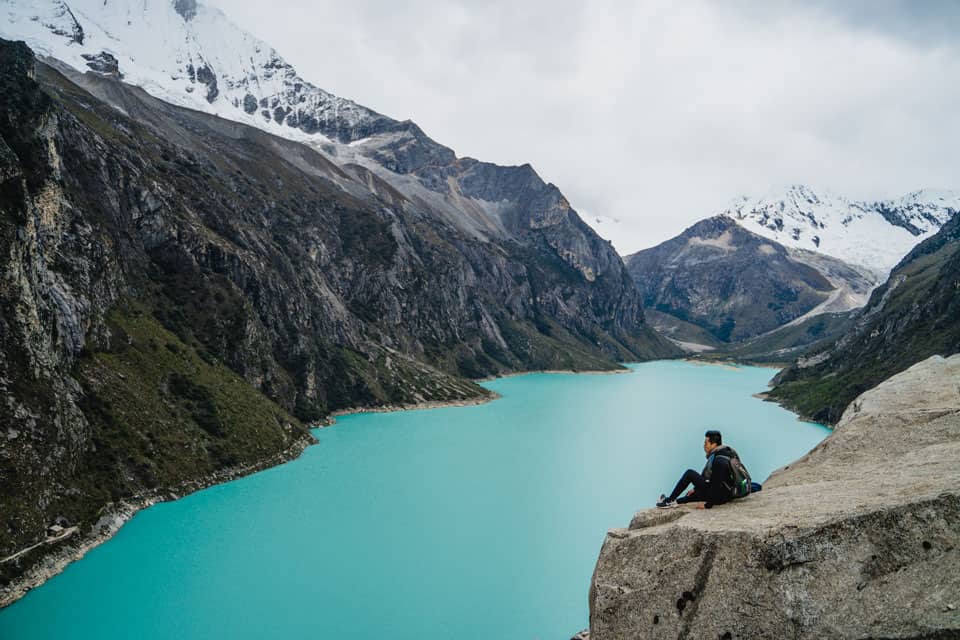 Are you an avid hiker? If you answered yes to that question, then you must visit Huaraz! Located about 8 hours away from Lima on a bus, Huaraz is a small local city surrounded by stunning snow-capped mountains.
There are many gorgeous day hikes in Huaraz such as Laguna 69 and Lake Paron, but the most incredible ones are the multi-day treks that take you on extensive journeys on the Cordillera Blanc.
Arequipa, Peru's White City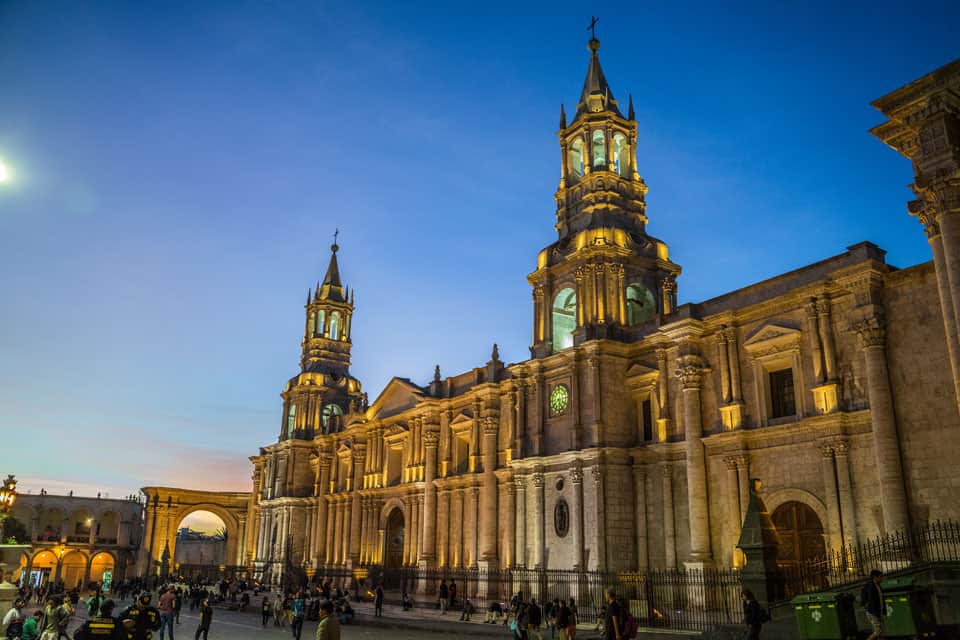 Arequipa is known as the white city of Peru because of the sillar (a type of white volcanic rock) used in the construction of the buildings.
The city is filled with so much history that the historic center is crowned as a UNESCO Heritage Site. Visitors coming to Arequipa cannot miss the mysterious Monasterio Santa Catalina. Stretching over an entire block, the Santa Catalina Monastery is one of the most fascinating religious buildings.
Travelers also cannot miss Colca Canyon. A canyon with twice the height of the Grand Canyon in the United States, the marvelous natural wonder will take your breath away!
Salar de Uyuni (Uyuni Salt Flats)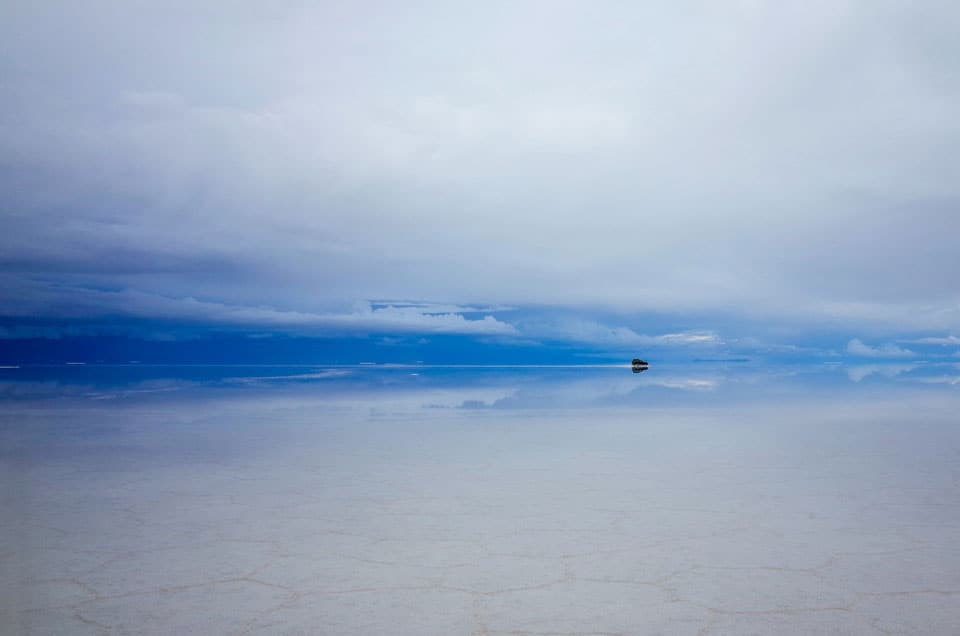 If you want to visit the magical Uyuni Salt Flats in Bolivia, it is completely feasible with a few-day trip from Puno. If you are not sure why the Salt Flats are so impressive, read here!
You will find many tour agencies in the historic center of Puno offering tours to Uyuni Salt Flats.
Combine Salar de Uyuni for a perfect Peru and Bolivia itinerary!
---
Peru Cost of Travel: How Much Does Peru Cost For 2 Weeks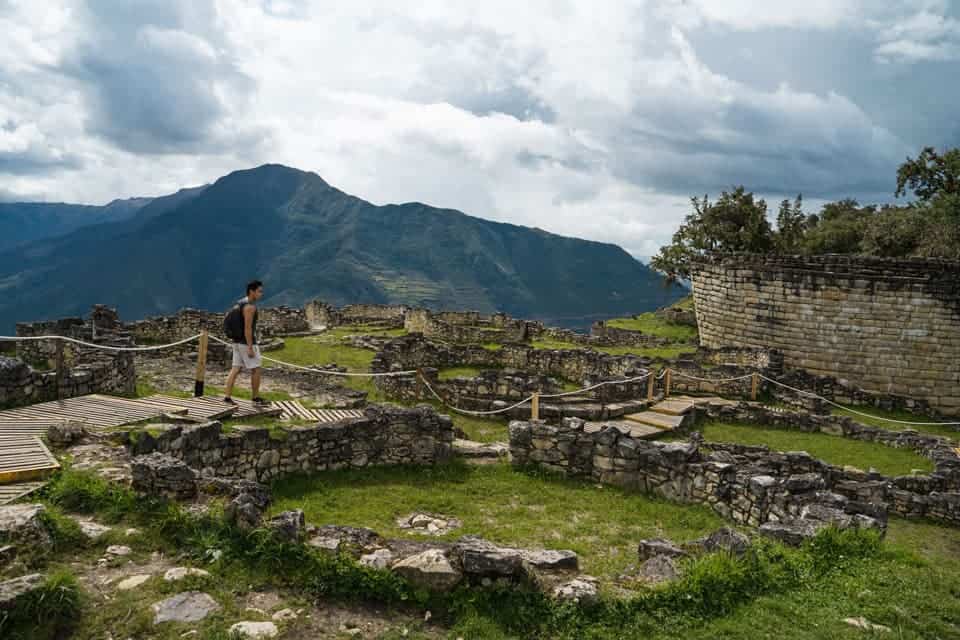 The truth is, Peru can be cheap, but most visitors don't find it that way. Why? Because they fall into tourist traps. They eat at tourist-targeted restaurants, shop from tourist-targeted vendors, and get scammed easily.
The cost of travel in Peru doesn't have to be high if you know where to look. If you are a budget backpacker, you can live comfortably off of 35 USD a day. A hostel in Peru costs around 10 USD, a meal 4 to 5 USD, and the rest for transportation and attractions.
However, if you are not keeping track of money and go to places designed for tourists, a meal can cost 10-15 USD and a hotel can cost a few hundred USD.
So the question of how much money to take to Peru for 2 weeks really depends on what type of traveler you are. If you are a budget traveler, 50 USD a day will be more than enough (not including the flights). If you prefer to travel luxuriously, you can spend a few thousand dollars in 2 weeks.
---
Is Peru Safe?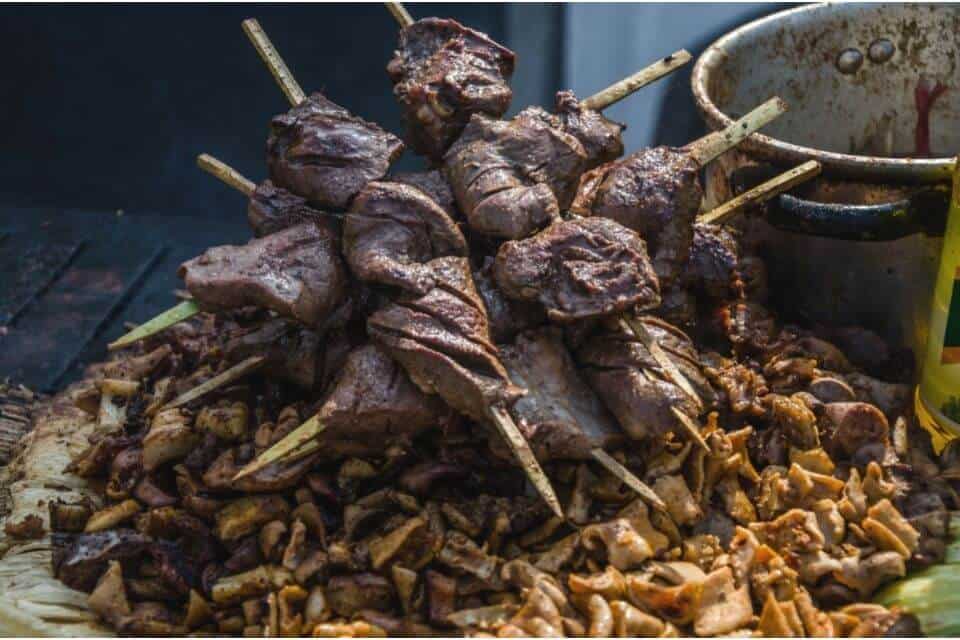 Peru is one of the safer countries in Latin America, but since it is still a poor South America country, there are inherent dangers when traveling in Peru. Some of the most common types of dangerous situations you'll encounter are:
Altitude Sickness – Altitude sickness is common for tourists, especially those visiting Cusco or anywhere near the Andes Mountain. Make sure you acclimatize properly to minimize your risk.
Pickpockets and Thefts – This is fairly common in Peru, especially in nightclubs, bars, and other tourist areas. Be aware of your surroundings and stay alert.
Robberies – Not as common as the other types of risky situations, but robberies have occurred to multiple travelers I've met in Peru, with most of them happening in Lima.
Food Poisoning – It is bound to happen to travelers that are backpacking Peru. Avoiding street food will help with food poisoning, but there is no guarantee.
If you are visiting Peru (or any South America country), we highly recommend that you get travel insurance. It'll also give you the peace of mind to fully enjoy this beautiful country!
---
Getting Around Peru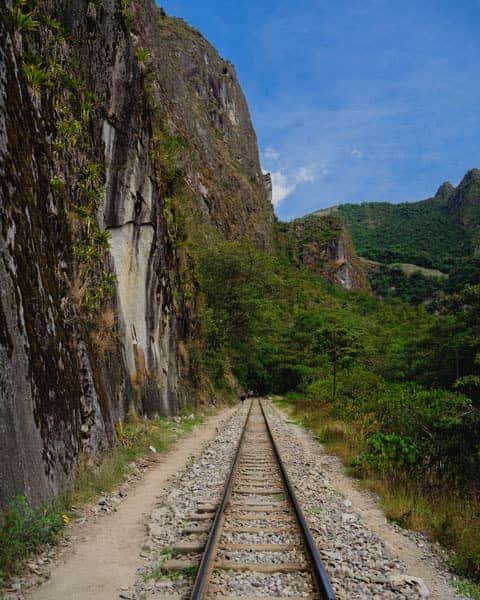 If you are traveling for a few weeks in Peru, you will inevitably have to use some of its public transportation systems. Even though the big cities such as Lima, Cusco, and Arequipa have Uber, you can save some money by knowing how to use public transit.
For most of the cities, you will be staying in the historic center, an area where it is walkable. It is rare that you will need to take public transportation inside the city. If the distance is short, I recommend Uber for safety and convenience.
If you are traveling between cities, you must take long-distance buses. There are many different long-distance bus companies and they all have distinct features. Some are more comfortable while others are more secure.
You can check the schedule of all the long-distance buses here, as well as buy the tickets online so you don't have to go to their office.
Here are some of the most reputable long-distance bus companies in Peru:
Movil Bus is my favorite long-distance bus company in Peru. It is affordable and comfortable. Most seats recline enough so you can sleep comfortably. VIP seats are also in each and every bus for anyone that would like more space and more reclination.

My favorite part of Movil Bus is the amazing food they provide on the journey!
Cruz Del Sur is probably the most luxurious bus company in Peru. Their buses are comfortable, their amenities are sufficient, and they have amazing security. However, the only downside is the price!
Though I haven't been on an Oltursa bus (because I keep picking Movil for their food), I have heard great things about it as well. It is a little more pricey than average but cheaper than Cruz Del Sur!
Soyuz (No Longer in Operation)
Soyuz is the best bus company for traveling up and down the Peruvian coast near Lima, Paracas, Ica, and Nazca. It is a no-frills company. They don't offer food or anything but your time on the bus should not be longer than a few hours! The company has been replaced by PeruBus.
Is Peru Hop Worth it?
First-time travelers in Peru that are looking for ways to get around will inevitably stumble upon Peru Hop, a private company responsible for transportation and tours in Peru.

Peru Hop is specifically targeted at tourists (because they are pricey) so you will not see any locals on their buses. Using their service is definitely guaranteed to be more expensive than using any of the Peruvian bus companies. However, there are some pros to using Peru Hop.
Peru Hop will pick you up at your accommodation and drop you off at your accommodation in the next city. If Spanish is not your strength, don't worry, the staff in Peru Hop is fluent in English.
Each bus has an English tour guide that will give you a little bit of information about the place you are going to (and sell you their tours). They are also the safest bus company in all of Peru, with GPS tracking of the buses. This is especially important if you are traveling to Peru with kids or elders.
---
Packing List For Peru 2 Week Itinerary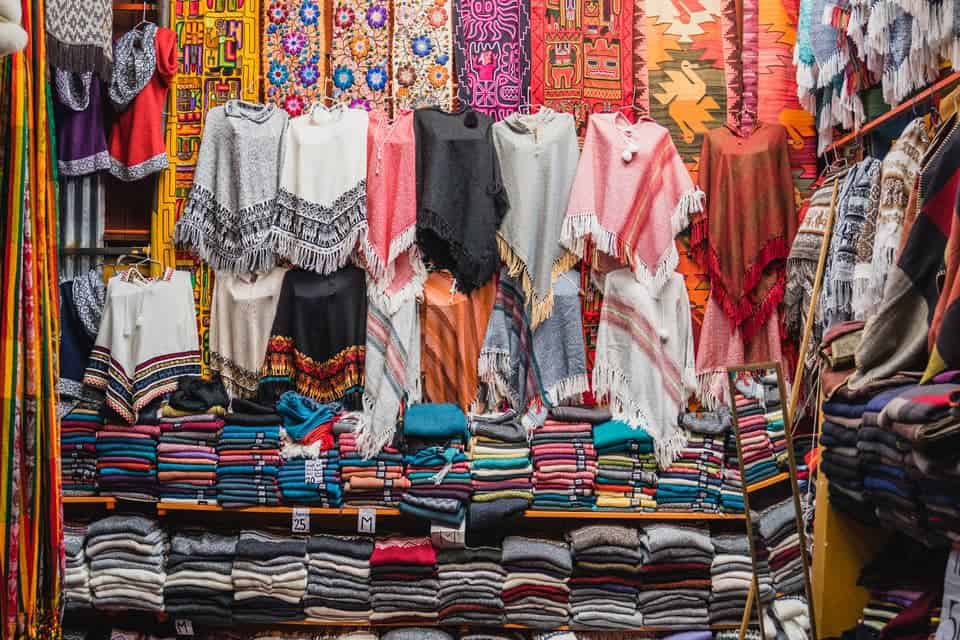 For your 2 weeks in Peru trip, you will experience high elevation, long bus journeys, and possibly extended hikes.
Consequently, you will need a specific packing list in Peru to endure those conditions.
After spending 2.5 months backpacking in Peru, here is what I would recommend you to pack.
Sunscreen – The sun at high elevation is much more detrimental than at low elevation. Pack some high-SPF sunscreen to protect yourself.
Melatonin, Ear Plugs, and Blindfold – These items are essential to help you get proper sleep on the long bus journeys. You will be doing a lot in our 2-week itinerary for Peru so you will need to get as much sleep as possible!
Filtration Water Bottle – One of my favorite traveling items. With this filtration water bottle, you can drink tap water and any water source you encounter on hikes!
Proper Rain Jacket (Him/Her) – The weather can be unpredictable in Peru, especially at high altitudes. Pack a light rain jacket so you will be ready when Pachamama (Mother Earth) decides to throw some rain at you! Here are some of the best light rain jackets.
Travel Medicine Kit – A travel medicine kit will contain the first-aid items needed when you fall ill. With a variety of medicine, you will be prepared for many different scenarios!
Altitude Sickness Remedy – Altitude sickness is a serious issue in Peru. This natural altitude sickness remedy will help prevent and alleviate altitude sickness. However, I do recommend getting a proper prescription from your doctor or purchasing altitude sickness medicine one of the pharmacies in Peru. They are abundant!
Warm Wool Socks – Wool socks are essential when traveling to cold places. Due to the high elevation of most places in Peru, it will be cold at night. Not only will wool socks keep you warm in bed, but you can also wear them on hikes!
Compact Travel Camera – You don't want to miss the stunning attractions in Peru but you also don't want to be carrying a dumbbell-like camera with you. A nice compact traveler camera is the way to go!
Warm Clothing – As I said with the high elevation, Peru will be cold even in the summers. It is possible for the temperature to drop below freezing in the summer at high altitudes! Please pack some warm clothing! OR buy alpaca products in Cusco!
---
Best Time To Visit Peru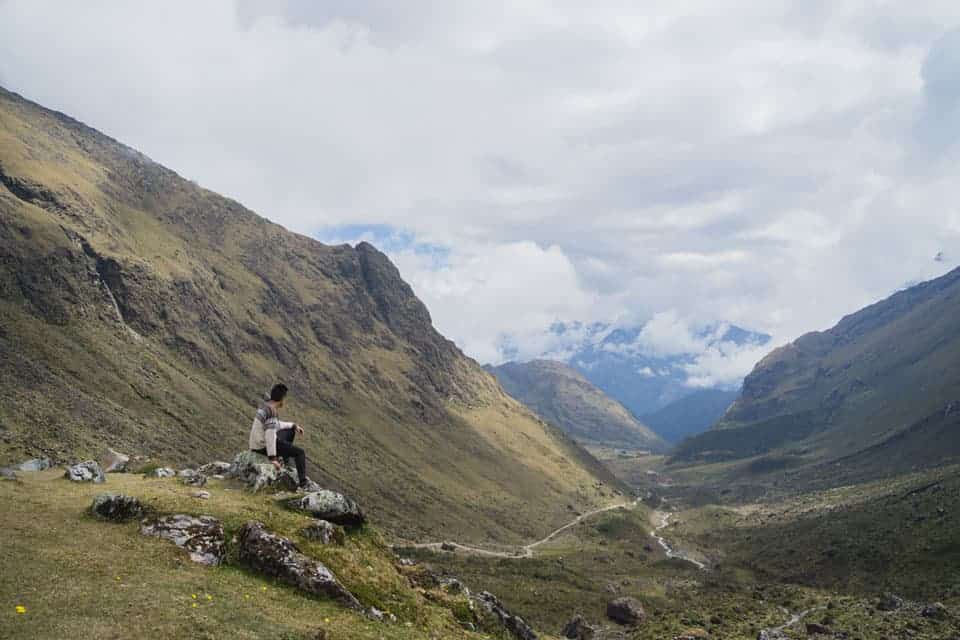 Winter is by far the best time to visit Peru. You will have clear skies in the daytime and cold nights. Winter also corresponds to the dry season in Peru so you won't see lots of rainfall. However, winter is also the peak season. Winter in Peru is from May to October.
Summer, or the wet season, is from November to April. During this time, you will see fewer tourists and heavy rainfall. The Inca Trail is closed in February because February is usually the month with the heaviest rainfall.
---
Visiting Peru FAQs
Is 2 weeks enough in Peru?
Though Peru is a massive country, many of its highlights are concentrated in the south. As a result, 2 weeks in Peru is just enough time to get a taste of the best it has to offer, from the gastronomical capital of Lima to the Andean Mountain Range to the once-mighty Inca Empire.
How many days do you need for Machu Picchu?
Seeing the actual Machu Picchu is a few-hour activity, but getting to it is the difficult part. While it is possible to visit in 1 day from Cusco, it is expensive, exhausting, and not very enjoyable. It is recommended to visit Machu Picchu in 2 days, but if you can, you should definitely hike the 4-day classic Inca Trail.
---
Like this post? Don't forget to save it on Pinterest!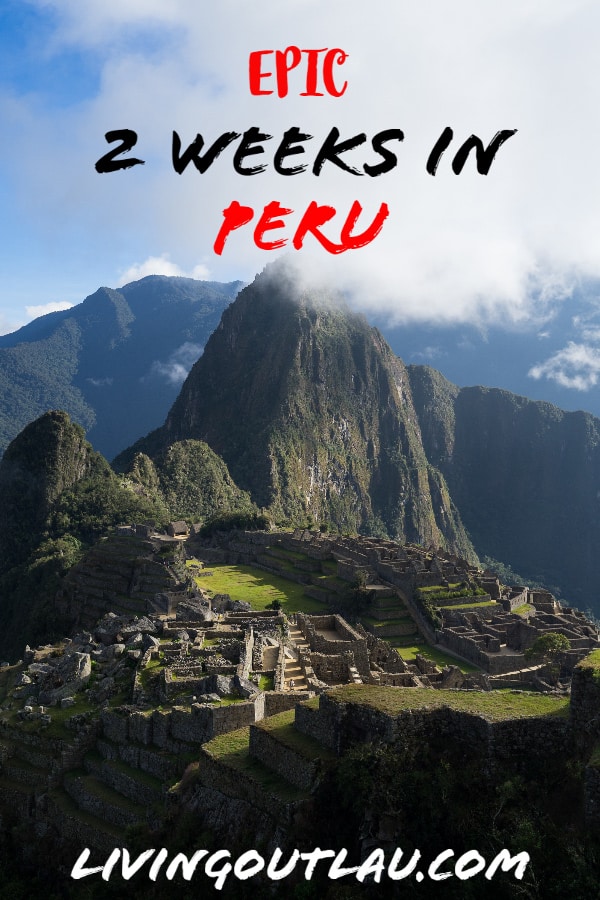 ---
This is the end of our 2 week Peru itinerary! I hope this at least gave you a rough idea of the things you can do in Peru in 2 weeks.

Any questions? Leave a comment!
Disclaimer: Some of the links above are affiliate links. That means if you book or make a purchase through the links, we will earn a small commission at no extra cost to you! The money will help run this site! Thank you!