Not sure what to do in Jardin, Colombia? Worry not.

Jardin, a beautiful small town located 4 hours South of the city of Medellin, is a tourist destination that many people skip when traveling in Colombia.

However, the word is out and many tourists are now flocking to Jardin for some of the best waterfalls, hikes, and exotic caves. What to do in Jardin Colombia when there are so many great attractions?

Below we have selected the 9 top things to do in Jardin and you will see why Jardin is a place you must visit in Colombia!
Jardin Colombia Attractions Map
Located above is a map of all the best things to do in Jardin, Colombia. As you can see, not all of the attractions are located in the city. In fact, some like Chorro Blanco and Cueva Del Esplendor are located quite far away.
Using this map, we hope that you are able to plan out how many days you are going to be staying in Jardin. To see all of its main attractions, we recommend staying around 3 days. Every one of these three days will involve some sort of hiking, so free feel to stay longer if you wish to space out the hikes.
Make sure you click on the map to see more details about each Jardin attraction!
Jardin is a charming sleepy town (very much like Salento or Barichara). Beautiful colonial buildings and charming cobblestone streets dot the small walkable town. It is not hard to spend quite a few days in Jardin, Colombia!

What To Do In Jardin: 9 Best Things To Do In Jardin, Colombia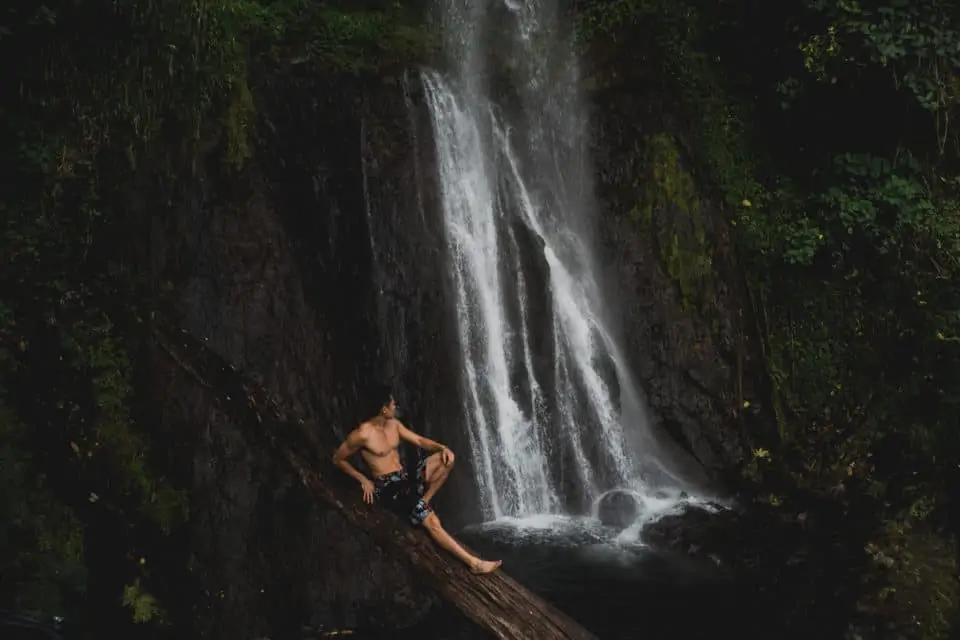 To be honest, I had never heard of Chorro Blanco until I arrived in Jardin. I can bet almost no travelers have heard of Chorro Blanco before they arrive.
Chorro Blanco is a gigantic waterfall located in a secluded part of the lush environment in Jardin. It is so hidden that you will not be able to find Chorro Blanco on Google Maps.
But that only piqued our interest. Typically waterfalls are overrun by tourists. If you have visited the waterfalls in Bali Indonesia, you will understand. Chorro Blanco is a waterfall that rarely sees any tourists.
We were pleasantly surprised by Chorro Blanco when we arrived, despite the difficult way to get there. It is how a waterfall should be enjoyed, in isolation and at one with nature. Don't miss out on Chorro Blanco, it is our favorite thing to do in Jardin.
How to Get to Chorro Blanco from Jardin?
Getting to Chorro Blanco from Jardin is quite complicated but worth the effort. I have written a completely separate guide for Chorro Blanco here.
Long story short, it will be a full-day activity that can take about 4+ hours of hiking, depending on which route you take.
2. Discover A Waterfall In A Cave At Cueva Del Esplendor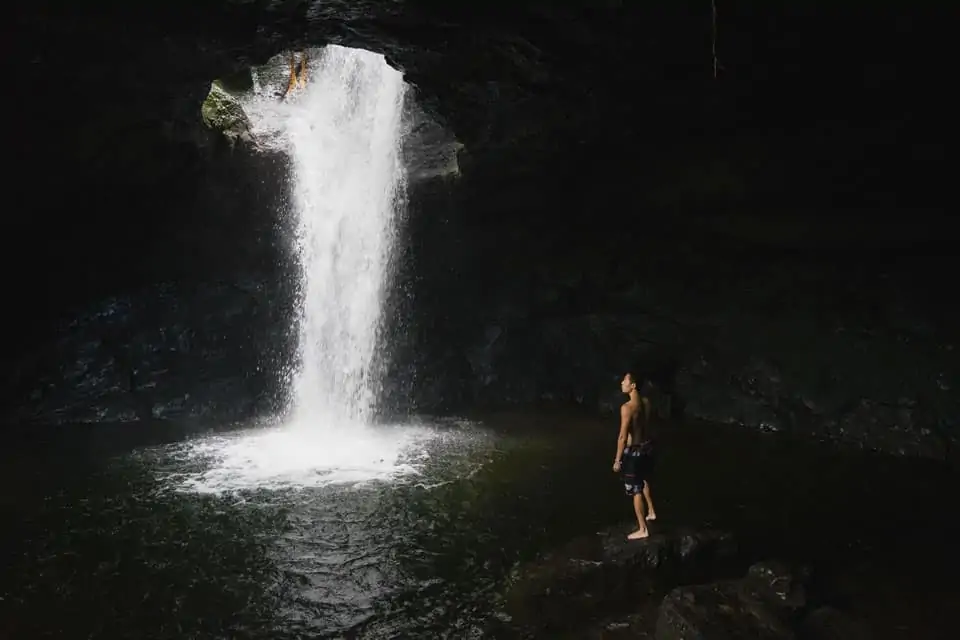 Now Cueva Del Esplendor is the opposite of Chorro Blanco. Before I even arrived in Jardin, I heard from many travelers that you have to see Cueva Del Esplendor when you visit Jardin.
Cueva Del Esplendor did not disappoint.
A huge waterfall enters through the opening of the cave, powerful enough to wash away anything in its way. It is no doubt one of the best places to visit in Jardin.
You can swim in the waterfall if you want but because the water sees no light, it is freezing!
How to Get to Cueva Del Esplendor from Jardin?
There are three ways to get to Cueva del Esplendor from Jardin – tour agency, public transport, and mototaxi.
The easiest way is through a tour agency. I highly don't recommend this way unless you don't feel comfortable with hiking for 4-5 hours because you will be grouped with a bunch of people. The cave is not that big and it will be crowded.
The other option is to take public transport at the bus terminal. The shared jeep takes you quite far up the road but you will have to hike the last 1.5 hours on your own.
The only problem with that is on the way back it will be difficult to find transportation and you might have to hike for 3-4 hours to get back. The way back is mostly downhill and passes through some amazing scenery so it isn't that bad.
The last option is taking a private taxi (mototaxi). They drop you off at the same place as the Jeeps but you will have flexibility as to when you want to leave. You will have to let the driver know you will be coming back after a few hours so he will wait for you.
3. Get A Panoramic View Of Jardin At Cafe Jardin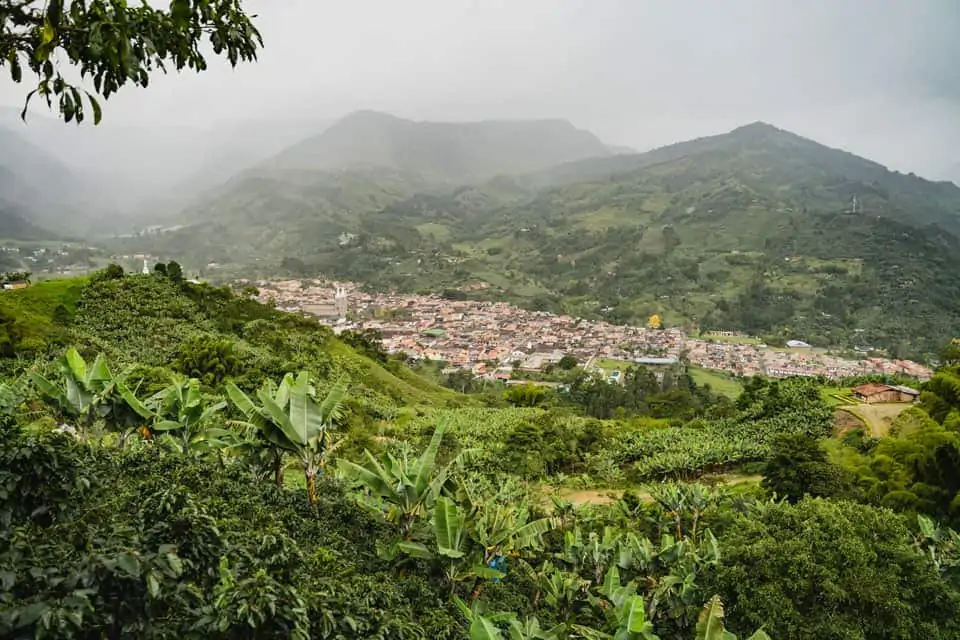 When you are not hiking or chasing waterfalls, take a break at one of the beautiful cafes called Cafe Jardin.
Cafe Jardin is located up in the mountains of Jardin and in my opinion, is the BEST viewpoint there is in Jardin. Not only will you get a panoramic view of Jardin from above, but you can do that while enjoying some Colombian coffee and sweets at an incredibly cute cafe.
After you are done being amazed by the beauty of Jardin, the "I love Jardin" sign is conveniently located adjacent to Cafe Jardin. Time to tell your Instagram followers you are in Colombia!
How to Get to Cafe Jardin from Jardin?
There are two options to get there: hike via Cristo Rey or take a mototaxi.
The first one is to hike via Cristo Rey which takes about 30-45 minutes. The way is entirely uphill. I recommend you to do a loop starting with Cascada La Escalera, then to Cafe Jardin, then Cristo Rey, and finally returning back to Jardin.
The second way to get to Cafe Jardin is through one of the mototaxis in town. You can flag them down and pay a small price for them to take you there.
4. Take A Short Hike To The Double Waterfall Cascada La Eesclera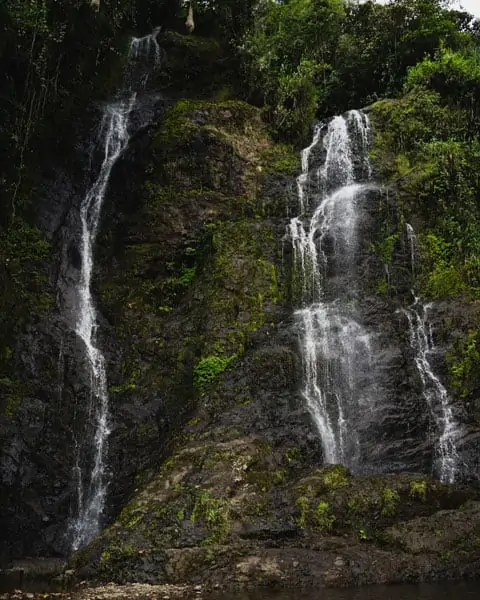 Want to go see some of Jardin's most beautiful natural wonders but don't want to hike for hours? Then the waterfall Cascada La Escalera is perfect for you.
Though not as impressive as the waterfalls in Cueva del Esplendor or Chorro Blanco, you get what you paid for (or hiked for).
If you come after rainfall, the Cascada La Escalera will be much more impressive.
How to Get to Cascada La Escalera?
Cascada La Escalera is conveniently located 45 minutes away on foot from the city center of Jardin. Travelers usually stop by Cafe Jardin after visiting Cascada La Escalera to enjoy some delicious snacks and coffee before making the full loop and returning to Jardin.
5. Ride A Wooden Cable Car At Garrucha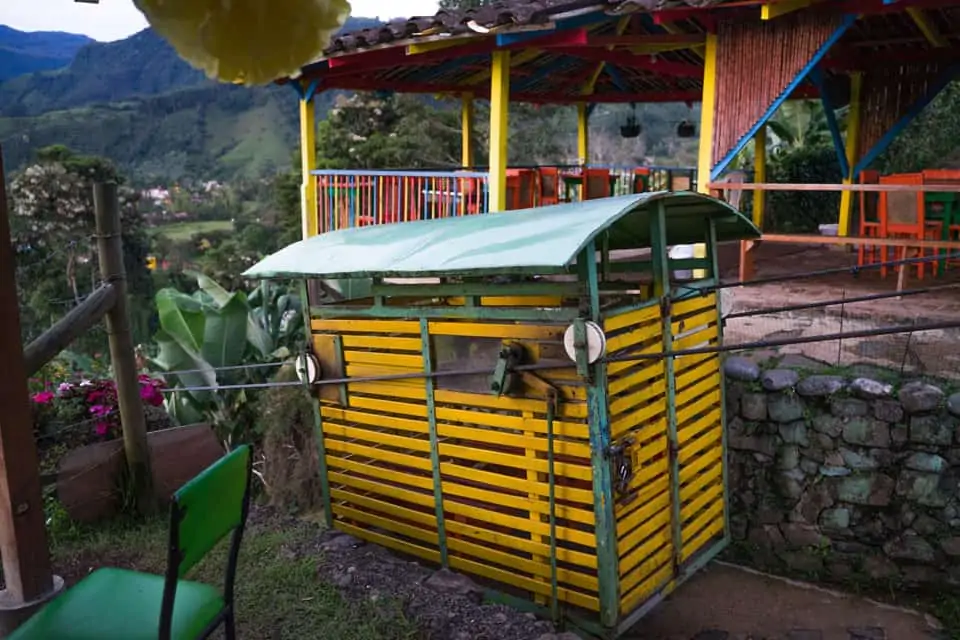 Only the bravest shall attempt this dangerous activity. The WOODEN cable car Garrucha is one of the most extreme things you can do in Jardin.
JUST KIDDING.
This wooden cable car is safe and is used by the locals to transport both passengers and goods up to the viewpoint. The cable car ride lasts about 5 minutes but you are flying (slowly) through the banana and plantains trees. It was quite an experience.
At the top of the cable car, you have a viewpoint where you can see the entirety of Jardin as well as a restaurant where you can get food and drinks.
However, I still much prefer Cafe Jardin over Garrucha.
How to Get to the Garrucha?
To arrive at Garrucha, you can take the scenic route through Charco Corazon (a cute little river), which will take you about an hour.
Or option 2 is the less scenic route which takes about 30 minutes from the center of Jardin.
Option 3 is to take the wooden cable car from the town of Jardin.
6. Check Out The Viewpoint At Cristo Rey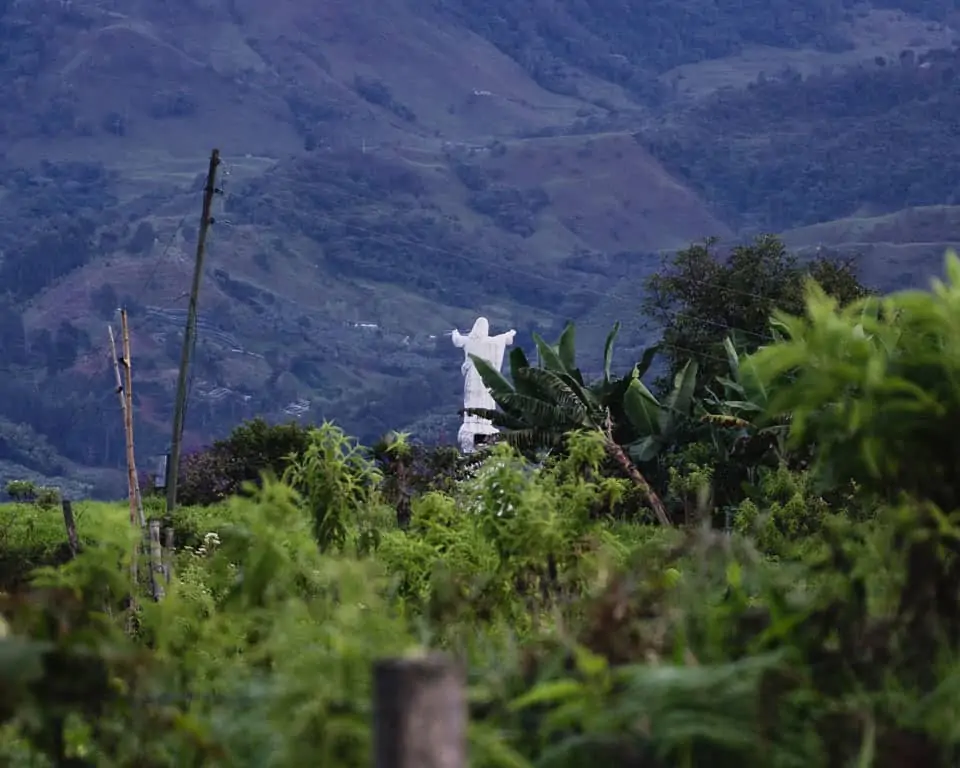 Jardin is full of beautiful viewpoints and Cristo Rey is one of those.
It is a statue of Christ Rey that can be seen anywhere from town. Come here and check out the beautiful white statue. Take a picture of it with the beautiful town of Jardin as your background!
How to Get to Cristo Rey?
A short 30-minute hike from the city center of Jardin will take you to Cristo Rey. There are options to arrive on horseback and vehicles as well.
7. Take A Dip At The River Charco Corazon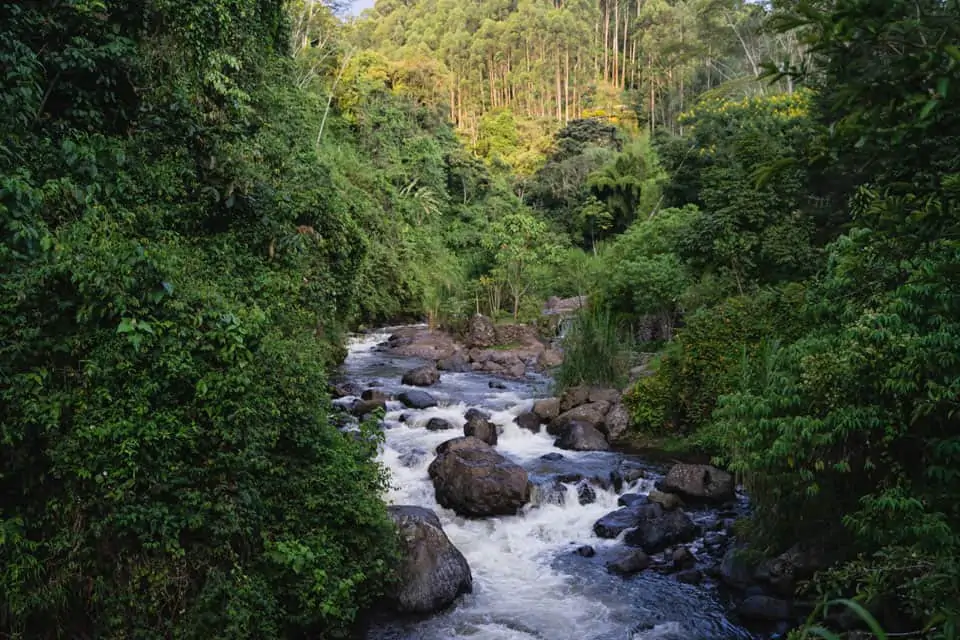 Charco Corazon is the river the borders the southern border of Jardin. You have the option to swim in several places but just be careful as the river gets quite strong especially during the rainy season.
But obviously, you are more than welcome to just walk by and admire its beauty! That is what most visitors do, especially if they are not visiting during the summer months!
How to Get to Charco Corazon from Jardin?
It's super easy and quick (30 minutes) to get to Charco Corazon from the town center of Jardin. Google maps will take you to the right place if you put Charco Corazon!
8. See The Basilisa Of The Immaculate Conception At Town Center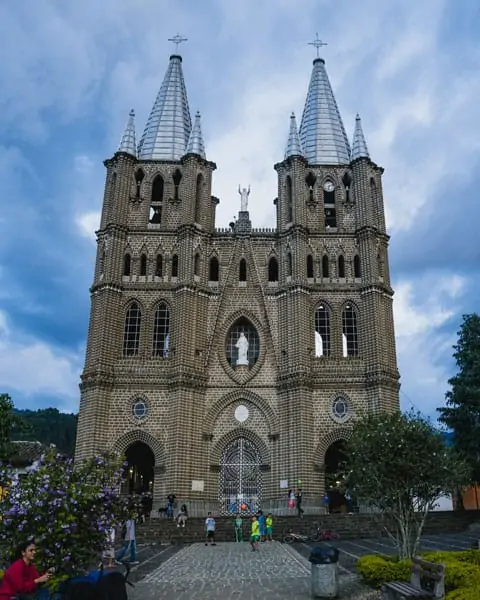 In every town, there is a magnificent church that stands in the center of the town square.
Jardin is no exception.
The Basilica of the Immaculate Conception is Jardin's iconic church. Built by the "sins" of the local people, the church is a beautiful piece of art. The high ceiling inside and the detailed paintings are definitely some things worth checking out.
The Basilica of the Immaculate Conception is one of the best attractions in Jardin!
Luckily for you, it is conveniently located in the town center so you can't miss it!
9. Explore A Man-Made Bat Tunnel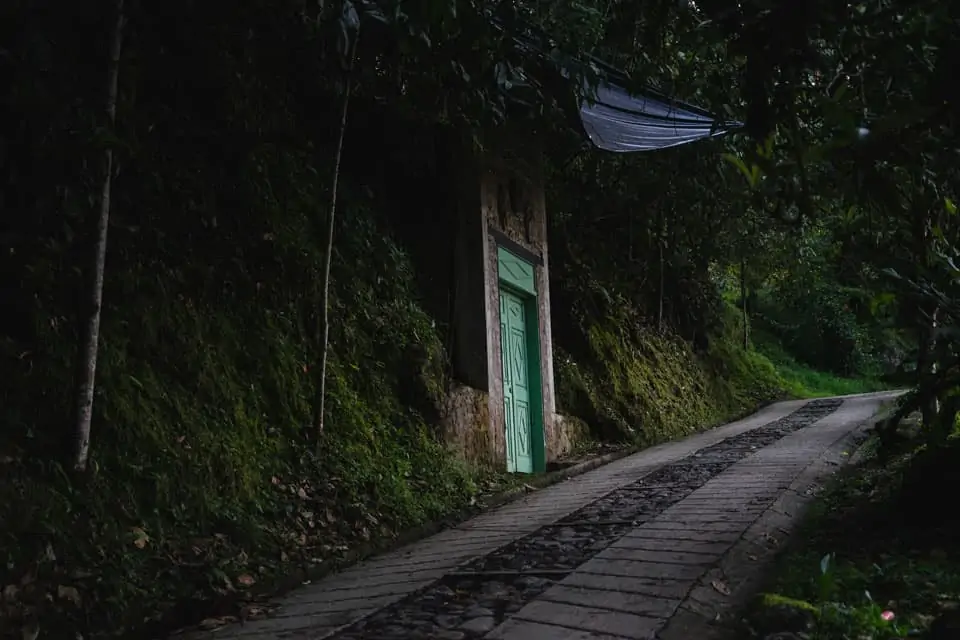 The bat tunnel is a unique thing to do in Jardin. It is a hidden attraction so not many people know about it. But if you ever walked the scenic route to Garrucha, you will notice this greenish door that doesn't look like it belongs there.
That is because it doesn't. The owner of the Bat Tunnel carved the entire thing by himself. (You can call him Batman.) The whole experience is very surreal as he takes you through the cave and shows you all the bats that live inside! Don't be afraid though, they don't bite.
The end of the cave leads you to a hidden waterfall!
How to Get to The Bat Tunnel from Jardin?
The Bat Tunnel is next to the Charco Corazon and on the way to the Garrucha (if you are doing the short hike). Visitors can find the owner of the bat tunnel at the Eco Parque Camino De Piedra!
How Many Days to Stay in Jardin?
Anyone planning a Colombia itinerary must wonder how many days to stay in Jardin. After staying nearly a week there, we can guarantee you that 3 full days is more than enough.
Jardin is a small town and requires less than a few hours to walk around. The only reason why a few days is needed is to see the natural wonders around Jardin such as waterfalls and caves.
One full day should be spent at Cueva del Splendor. Another one should be spent hiking to the various viewpoints near Jardin (such as Cafe Jardin and Garrucha). A third day is optimal for just relaxing and exploring the town. There are some nice restaurants in town.
There are plenty of hikes to do around Jardin, so feel free to stay longer if that is something you enjoy!
Where To Stay In Jardin Colombia
Best Hostel In Jardin – Creo Ecolodge Jardin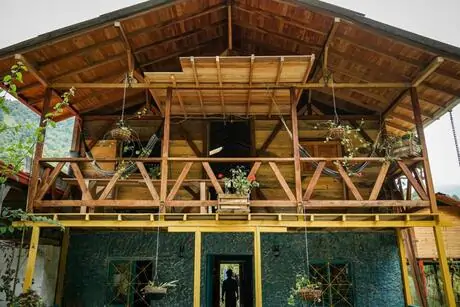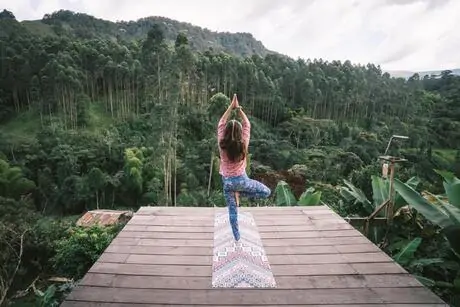 If you are visiting Jardin, chances are, you want to enjoy the pristine nature this charming town has to offer. There is no better place to do so (affordably) than Creo Ecolodge Jardin.
Located 2 kilometers away from the center of Jardin, the hostel is situated in the most gorgeous setting in Antiquoia. Wake up to sweeping views and a complimentary breakfast to start your day, then go to bed every night listening to nature's tune. The hostel is also environmentally friendly and sustainable, so what is there not to love?

Click here for more details!
Best Airbnb In Jardin – Jardin 203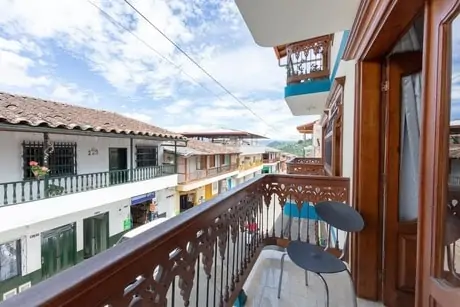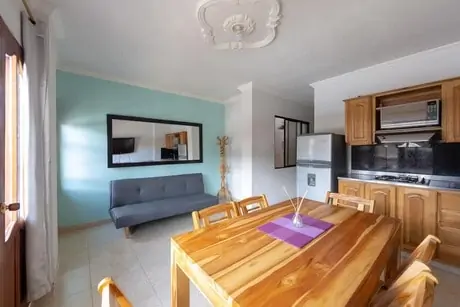 (Images Courtesy of Airbnb)

This charming town in the Antioquia Department of Colombia is filled with beautiful houses. Luckily for you, you can stay in one of those via Airbnb.

This Jardin Airbnb is the perfect place to stay when visiting Jardin. Featuring 2 bedrooms, a maximum of 5 guests can comfortably enjoy its various amenities such as a fully equipped kitchen, laundry room, TV, and a balcony with incredible views.

When you are not enjoying the Colombian sun on your private balcony, exploring Jardin is easy. This Airbnb is only located half a block from Jardin's main park!

Click here for more details!
Best Hotel In Jardin – Casa Passiflora Hotel Boutique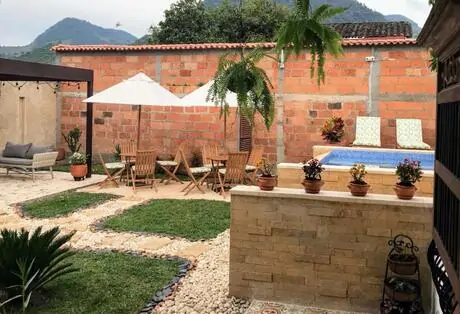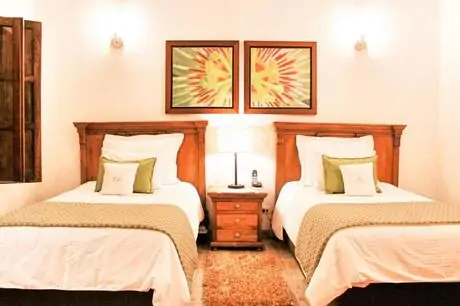 With the quality of a luxury hotel, it is surprised that Casa Passiflora Hotel Boutique offers such high quality at a low price. Everything from the interior decor of the hotel to its friendly staff is just perfect. Did I mention the gorgeous courtyard with the exciting whirlpool?

Click here for more details!
Like this post? Don't forget to save it on Pinterest!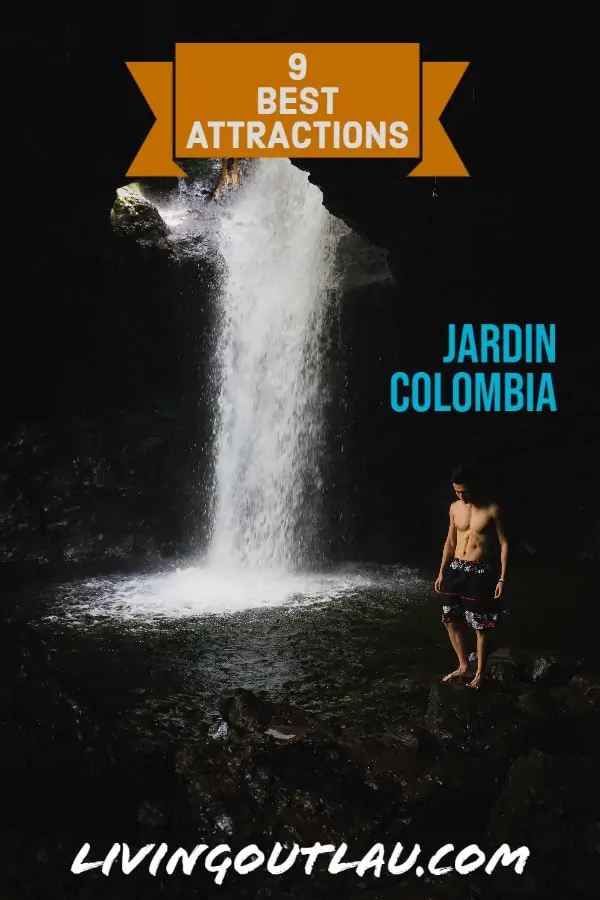 Those are the top 9 things to do in Jardin Colombia. I really hope you get to do at least a few of the popular ones.

As we said, Jardin was our favorite town in Colombia so we hope you enjoyed or will enjoy it!

If you have any questions, leave a comment or contact us via email!
Looking for more Colombia inspiration? Check out our other Colombia content!
Disclaimer: Some of the links above are affiliate links. That means if you book or make a purchase through the links, we will earn a small commission at no extra cost to you! The money will help run this site! Thank you!