Not sure what is Colombia known for? Worry not.
This South American country has one of the most unique landscapes in the world. From the stunning Caribbean Beaches in the North to the exotic Amazon Rainforest in the East and the Andes Mountains in the South, there are many things Colombia is known for.
Combined with its troubling history, Colombia is one of the most unique travel destinations in the world.
So let's jump into the guide and find out what Colombia is famous for!
---
What Is Colombia Known For?
1. For Salsa Dancing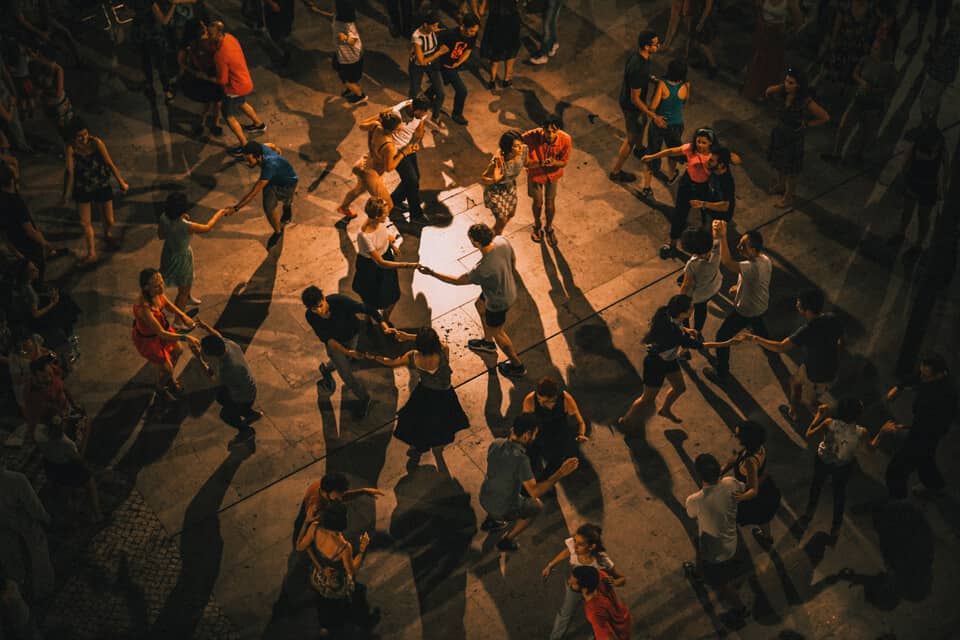 If you have ever visited Colombia, you'll know how much the locals like salsa dancing. It's a huge part of the culture and one of the things Colombia is most famous for.
At all hours of the day, you'll find people dancing salsa, whether that would be in the parks, in a dancing school, or in one of the many salsa clubs around the country.
If you are visiting Colombia and want to immerse yourself in the salsa culture, make sure you check out Cali. This city is known as the 'Salsa Capital of the World' and hosts some of the biggest salsa festivals in South America, such as the Cali World Salsa Festival.
2. Home of the World's Tallest Palm Trees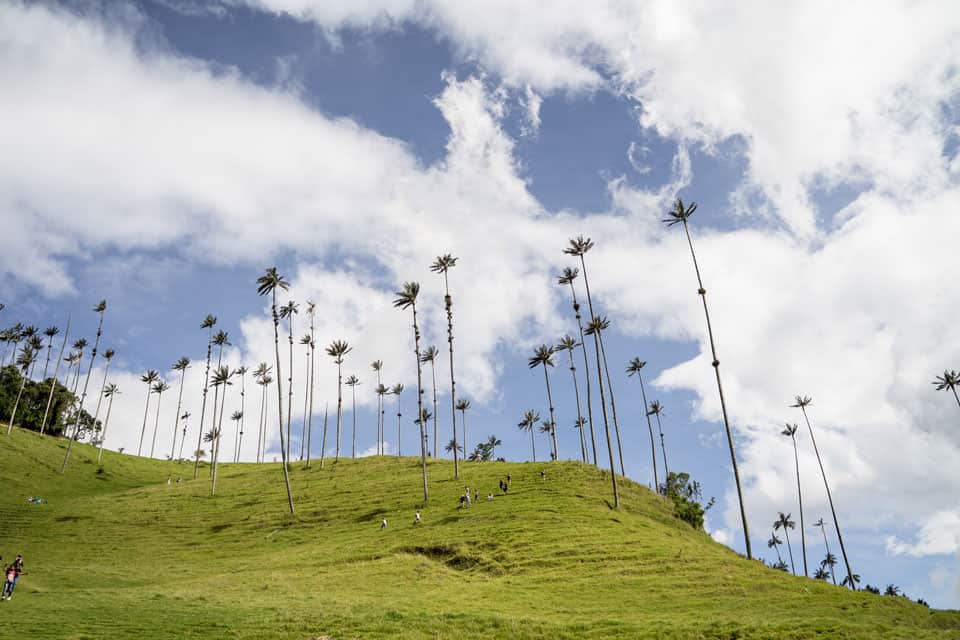 In the heart of the famous Colombia coffee region lies the stunning Cocora Valley. Part of the Los Nevados National Park, Cocora Valley is home to the world's tallest palm trees, the Quindio wax palms.
The Quindio wax palms can grow up to 60 meters tall and are the national tree of Colombia. One of the best ways to experience these palm trees is by hiking Cocora Valley. The loop is a good 4 to 5-hour hike but it showcases some of the natural beauty of the Quindio Department of Colombia!
It is one of the popular day trips from the quaint town of Salento!
3. For Colombian Coffee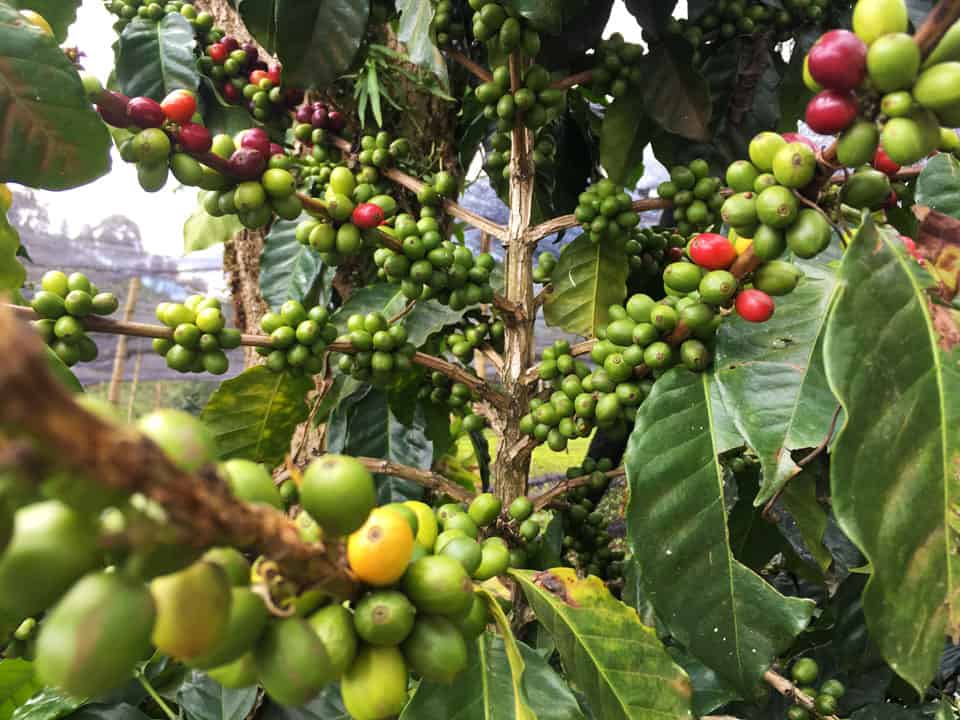 The most famous product from Colombia is definitely coffee, with the country being one of the biggest producers in the world. It is even more impressive, considering that the majority of the coffee beans are the superior Arabica type.
Thanks to the mountainous regions of Colombia's coffee triangle, the high altitudes, tropical climate and rich soil, create the perfect conditions for coffee plants to thrive.
And the farmers who grow and harvest the coffee beans are true masters of their craft. They have passed down their knowledge and expertise from generation to generation, ensuring that only the finest beans are used. It is one of the places where all the coffee beans are still hand-picked to ensure their highest quality.
The good coffee in Colombia is usually exported internationally for more profit, so if travelers want the best coffee, they must go to a coffee plantation. There are plenty near the towns of Jardin, Salento, and Filandia!
4. For Tayrona National Park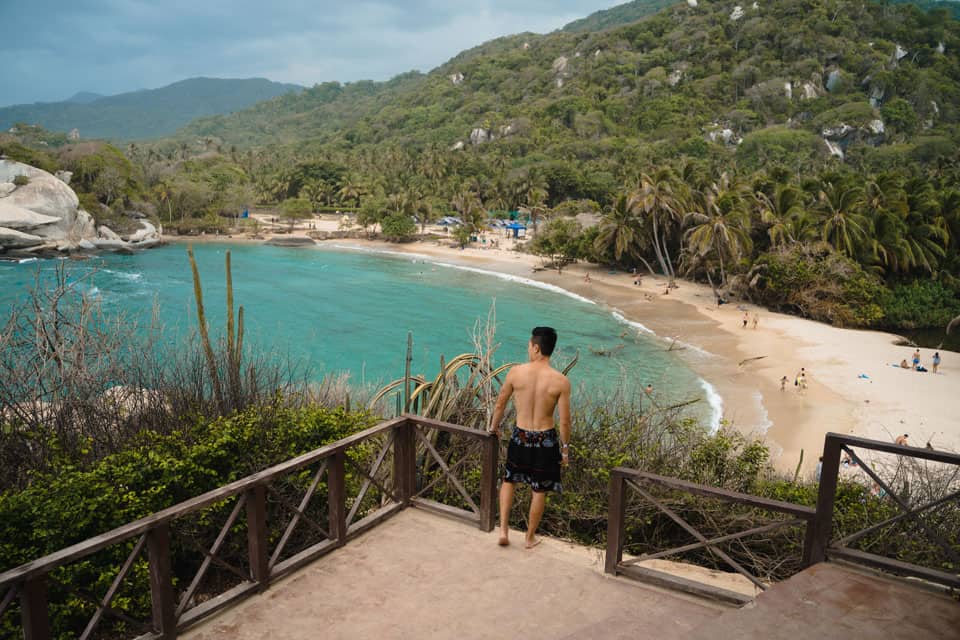 There are many national parks in Colombia, but perhaps the most famous one among tourists is Tayrona National Park. It is located in the Sierra Nevada de Santa Marta Mountains and is home to a huge variety of flora and fauna. The park is also situated adjacent to the Caribbean Sea, so visitors are going through the rainforest onto pristine beaches!
There are a number of different hiking trails that travelers can take to explore the park. The most popular trail is the one that leads to Cabo San Juan, which is a beautiful sandy beach that is perfect for swimming, relaxing and snorkeling.
There is a watchtower that juts into the ocean, allowing visitors to sleep in a hammock or camp inside Tayrona National Park. This is where you can listen to the waves as you sleep and catch the early sunrise on the next day, all detached from modern civilization.
5. For Zipaquira Salt Cathedral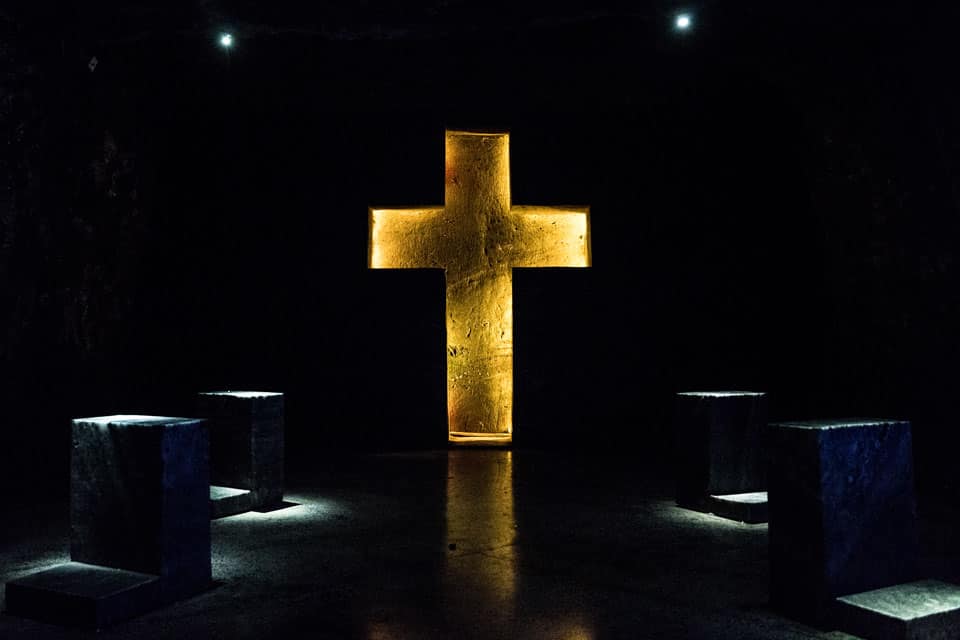 Zipaquira Salt Cathedral is one of the most famous landmarks in Colombia and is known as the First Wonder of Colombia.
This underground Roman Catholic church was built within a salt mine around 1954. It initially acted as a place of worship for miners who prayed for safety and luck with their work.
The main chamber of the cathedral is 60 meters underground and contains the largest underground cross in the world.
The tunnels are estimated to be around 200 meters deep (660 feet) and are able to accommodate about 10,000 people. It is truly one of the most incredible engineering feats in Colombia.
On the Easter holidays, the Zipaquira Salt Cathedral is especially busy with thousands of people attending services. To visit Zipaquira Salt Cathedral, it is recommended that you take a day trip from Bogota, the capital city of Colombia.
6. For Tejo, The National Sport of Colombia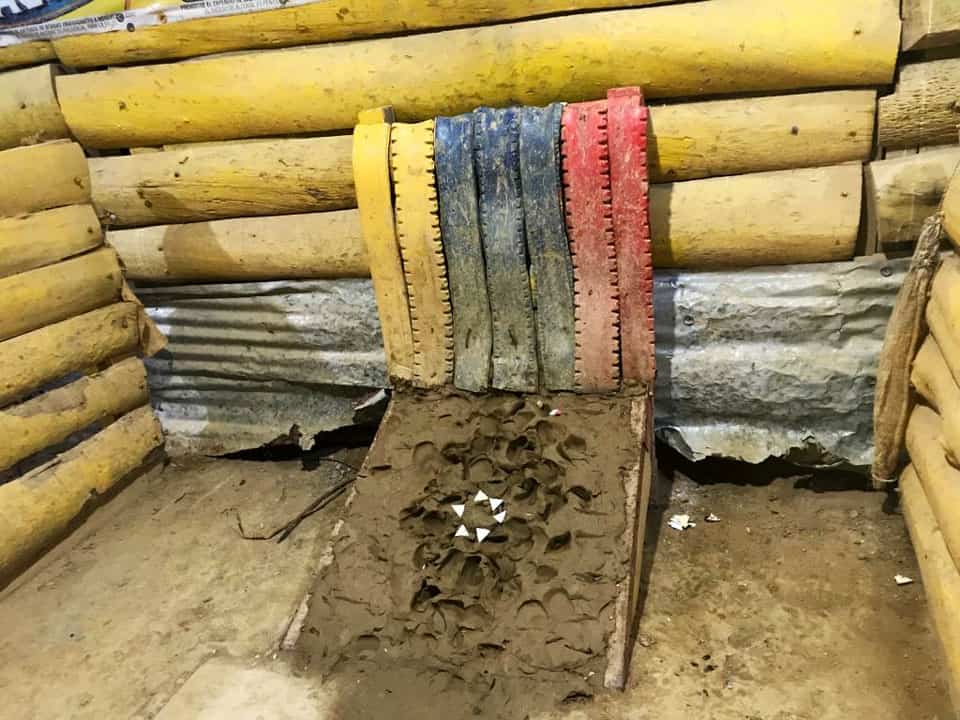 Tejo is thought to have originated in pre-Columbian times among indigenous people living in what is now Colombia. It was originally played without explosives, but somehow the sport adopted a more exciting version throughout the years. Tejo quickly became popular among the Colombian people, and eventually became the national sport in 2000.
Tejo is played on a rectangular field, with a small target at one end and explosives surrounding it. The object of the game is to throw your disc at the target and detonate the explosives around it. Doing so will earn you the maximum amount of points.
Tejo can be played in bars, and is often accompanied by drinking and betting. If you're looking for something unique to do while in Colombia, why not give Tejo a try?
7. For Entertainers Such As Shakira and Sofia Vergara
Perhaps the most famous person from Colombia is Shakira, one of the world's most famous singers, songwriters, and dancers. Shakira was born in Barranquilla, Colombia, a city on the Caribbean Coast.
For those that don't shake their hips often, Shakira is widely considered one of the most successful Latin American artists of all time. She has sold more than 140 million albums and has won multiple Grammy Awards and Latin Grammy Awards.
Her music has not only inspired many Latin American artists but is also loved by everyone in the world!
Sofia Vergara is one of the most prominent American TV stars and models. She was the most well-paid actress in American television from 2013 to 2020.
8. For Medellin, The City of Eternal Spring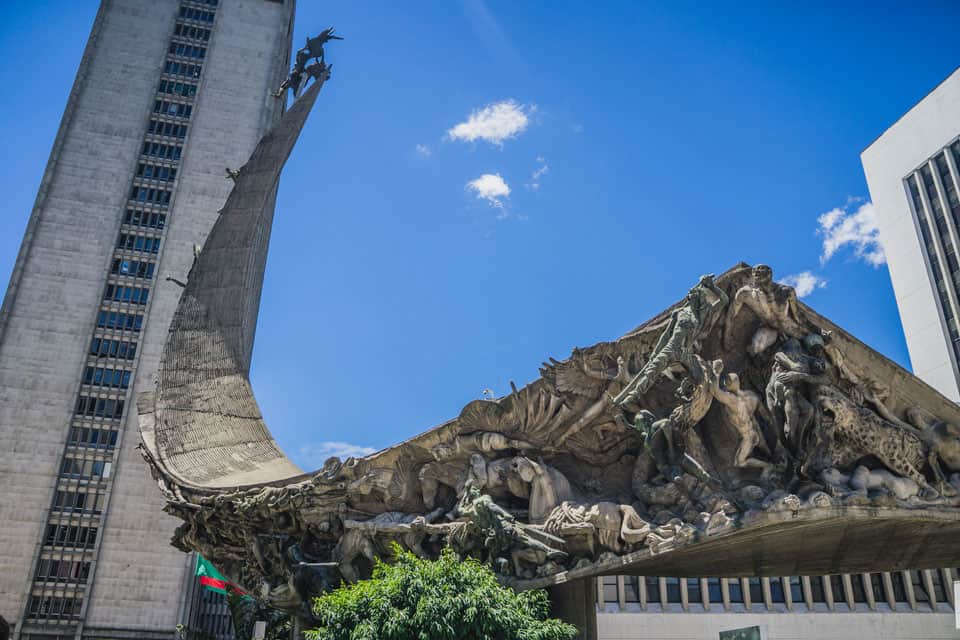 One of the most famous cities in Colombia is Medellin. Known as the City of Eternal Spring, Medellin is famous for its beautiful all-year-long weather. Because of that, Medellin has attracted plenty of digital nomads and expats to call this city home.
But perhaps the most infamous thing about Medellin is its troubling history. Medellin was once the home of Pablo Escobar, one of the world's most notorious drug lords. In fact, in 1993, TIME Magazine named Medellin the most dangerous city in the world. And there was no denying that, its homicide rates were the highest ever.
Today, however, the city has transformed itself into a thriving metropolis with vibrant nightlife and a popular workation destination. Locals have not forgotten the past but instead, use it to inspire them to perform better and do better.
When you are in Colombia, make sure you check out Comuna 13, once the most dangerous neighborhoods in Medellin that has now changed for the better.
9. For The Lost City Trek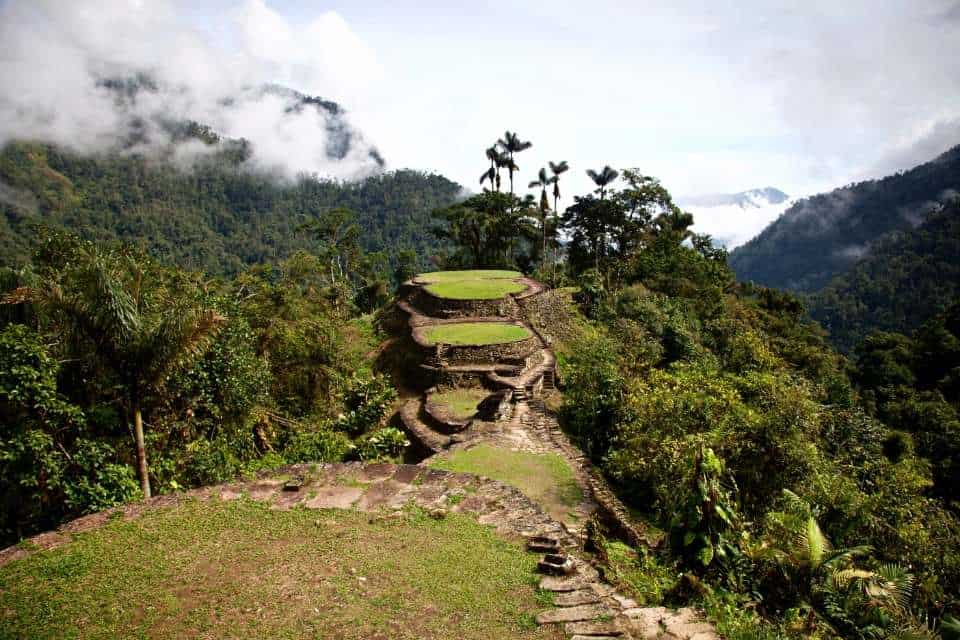 While Colombia is full of beautiful hikes that discover its heritage and gorgeous landscapes, there is nothing that can compare to the Lost City Trek. The Lost City Trek is a four to five day hike that takes you through the dense rainforest and up to the ruins of Ciudad Perdida, or The Lost City.
The Ciudad Perdida was built by the Tairona people and is believed to have been constructed around 800 AD, making it one of the oldest ruins in the Americas. The city was abandoned during the Spanish Conquest and wasn't re-discovered until 1972.
Since then, the Colombian government has placed great importance on protecting this site as it is a key part of Colombia's history. The hike itself is no easy feat but it is definitely worth it as you get to see some of the most beautiful scenery in Colombia and learn about its oldest traditions.
Hiking Ciudad Perdida is definitely one of the bucket list items for Colombia!
10. For Penon del Guatape (Guatape Rock)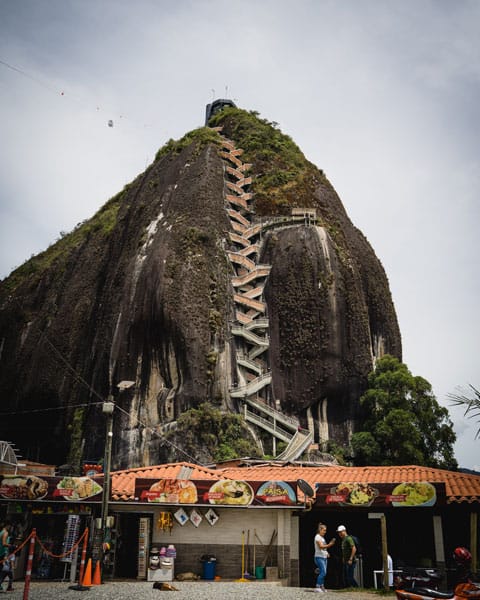 If you ask an Instagrammer what is Colombia known for, you'll most like get Penon del Guatape as the answer. This iconic rock formation juts 220 meters into the sky, standing out like a skyscraper in a rural village.
The best part about Penon del Guatape is that you can hike to the top of it! There is a staircase with about 700 steps on one side of the mountain that visitors can use to reach the summit.
It's quite a physical challenge and can take 30 minutes to get up there, but it is definitely worth it as you get to enjoy the incredible views of Penol Reservoir and its blue waters.
Visitors can take a step further and take a helicopter ride above Penon del Guatape. This unique opportunity really showcases how unique the rock formation is amidst the lowlands of the region.
11. For The Amazon Rainforest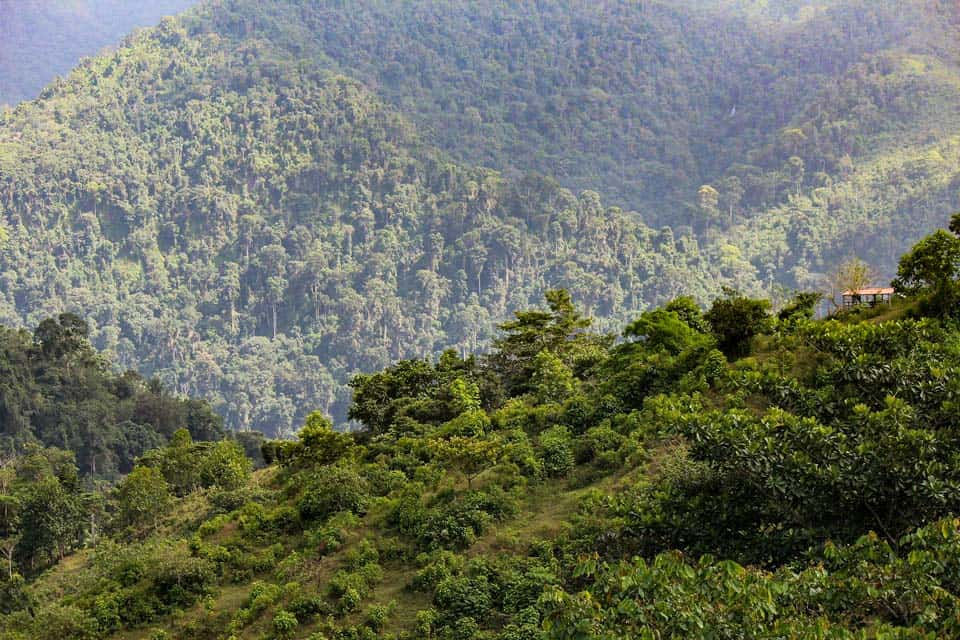 Colombia is home to 10 percent of the Amazon rainforest, the world's largest tropical rainforest. The Amazon rainforest covers over 6.9 million square kilometers and extends across eight countries.
Colombia has the third largest area of the Amazon rainforest within its borders, after Brazil and Peru. The Amazon rainforest is a key part of Colombia's environment and ecology and is home to many unique plant and animal species. It is also an important source of livelihood for many indigenous people who live in the area.
Visiting the Amazon rainforest is a truly unique experience and is one of the things that Colombia is famous for. There are many tour operators that offer tours into the rainforest, which vary in length and activities. Leticia is one of the best places for tourists to go to experience Colombia's Amazon Jungle!
12. For Cartagena's Colorful Historic Town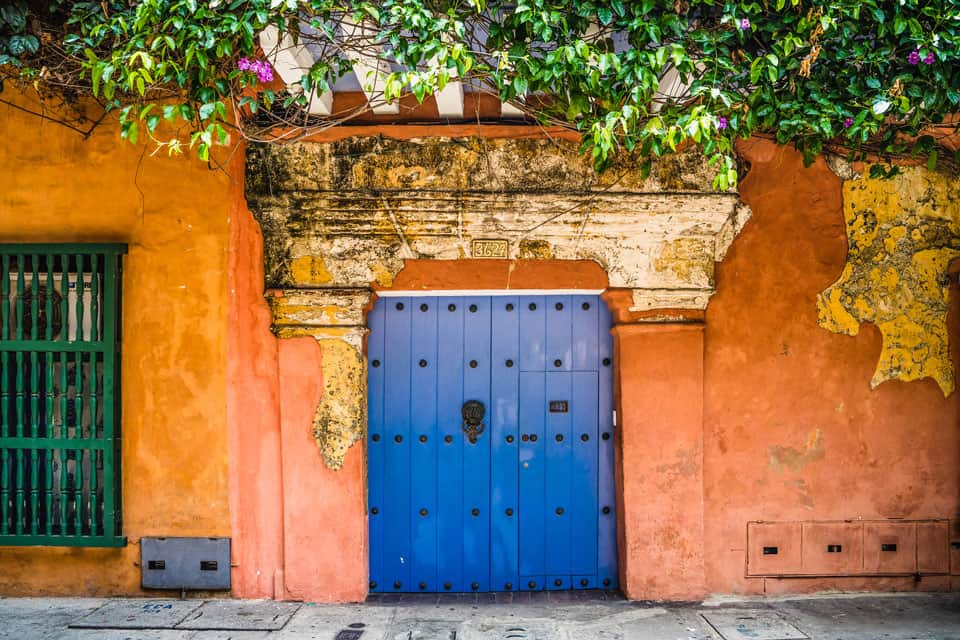 Cartagena is a city on the northern coast of Colombia that is famous for its colonial walled city, which is a UNESCO World Heritage Site. It is the only city in South America that has such an extensive fortification system.
The historic center of Cartagena is full of colorfully painted buildings, plazas, and churches. Stroll along the charming streets and you'll encounter some Palenqueras, a group of women from a township 45 minutes from Cartagena known as Basilio de Palenque. It is home to some of the first free Black slaves in the Americas and a vital part of Colombian culture.
One of the most iconic landmarks in Cartagena is the Castillo de San Felipe de Barajas, a Spanish fort built in the 16th century to defend against pirate attacks. Today, the castle serves as a museum and offers stunning views of the city.
Visiting Cartagena's Old Town is like stepping back in time and witnessing what life was like during Colombia's colonial period. It is truly a unique experience that should not be missed!
13. For Its Epic Nightlife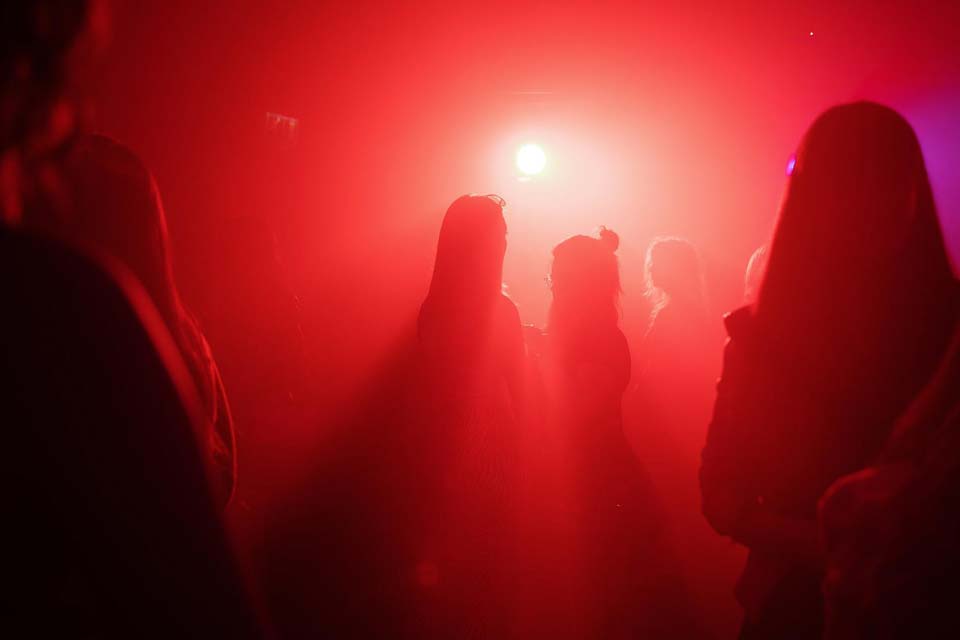 No matter what city you're in, you can always find a party in Colombia. The nightlife here is legendary and there's something for everyone, from wild clubs to more laid-back bars and restaurants.
And if there is one thing about Colombian people, it is that they know how to party and have a good time. You can find them dancing until the early hours of the morning, either to reggaeton or salsa music.
So if you're looking for a good time and want to experience some of the best nightlife in South America, then you need to come to Colombia. Medellin is the city for nightlife in Colombia. Trust us, you won't be disappointed.
14. For The Delicious Colombian Cuisine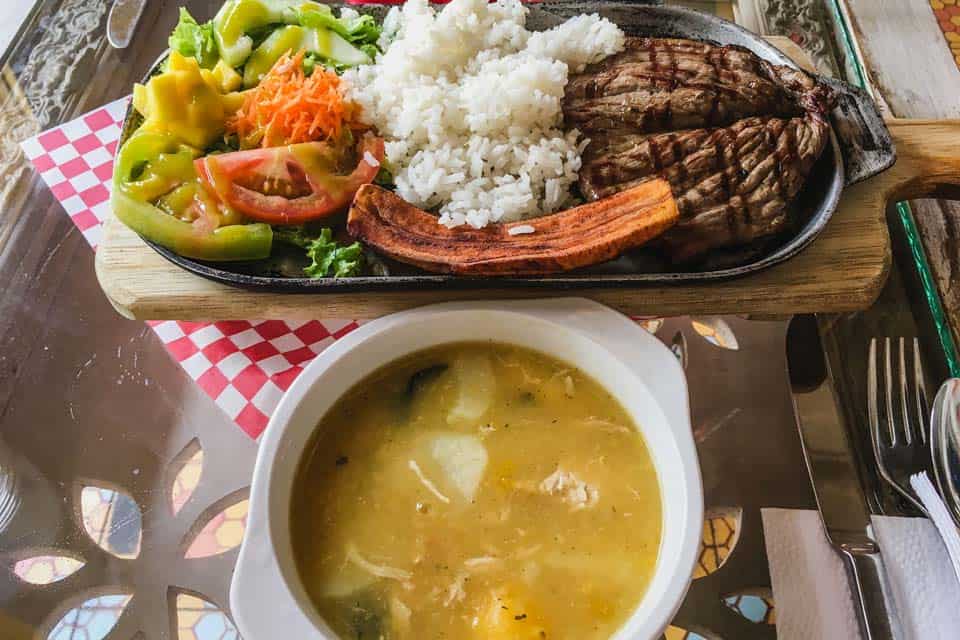 A country with a mix of indigenous, European and African influences, it shouldn't surprise you that Colombian food is quite unique. Different regions of Colombia have different specialties.
For example, in the Antioquia department, visitors can find Bandeja Paisa, a typical dish that includes beans, rice, meat, plantain, arepa, and avocado. In Bogota, visitors are more likely to find Ajiaco, a Colombia and chicken stew to combat the cold of this Andean city.
The country's biodiversity provides fresh ingredients that cultivate an intense flavor that is unique to Colombian food. The country is also home to many different kinds of fruits and vegetables that are used in Colombian dishes. One example is the lulo, a citrus fruit that is often used to make juices and cocktails.
One thing is for sure, you will not go hungry in Colombia. There's something for everyone to enjoy, whether you're a vegetarian or meat lover. And of course, don't forget about the incredible Colombian coffee that you can find literally everywhere!
15. For Gabriel Garcia Marquez
Colombia is world famous for being the birthplace of one of the most celebrated authors of all time, Gabriel Garcia Marquez. He is best known for his novel One Hundred Years of Solitude, which has been translated into over 45 languages and sold over 50 million copies worldwide.
The book is the perfect example of a genre of writing called magic realism, depicting a realistic world with magic elements and blurring the lines between reality and fantasy.
He was awarded the Nobel Prize in Literature in 1982, becoming the first Colombian to ever receive this prestigious honor.
So if you're a fan of literature or just want to learn more about Gabriel Garcia Marquez, then be sure to add Colombia to your travel list.
16. For Caño Cristales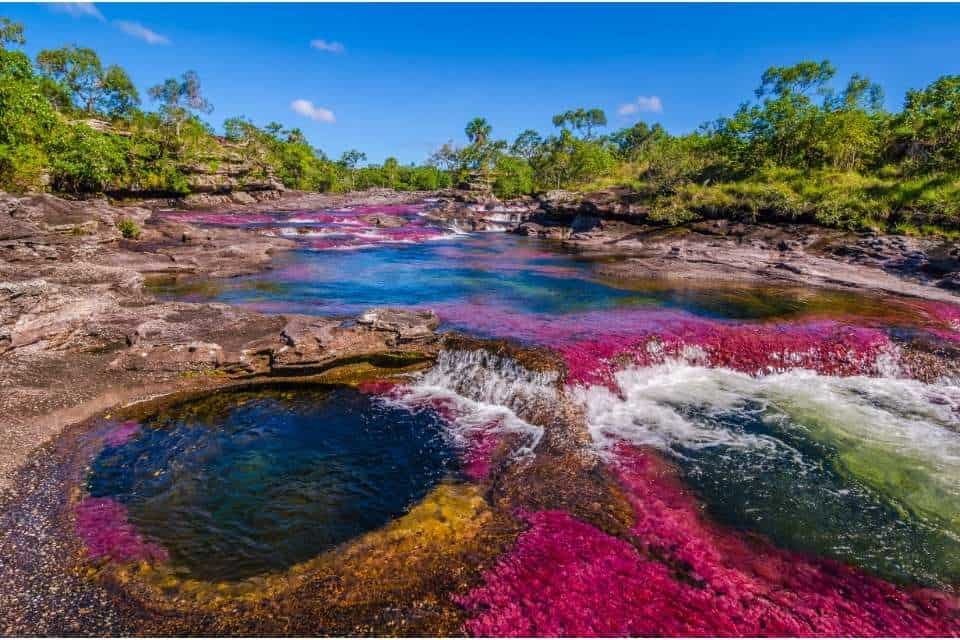 One of the most unusual attractions in Colombia is the famous Caño Cristales. This river is located in the Colombian National Park of La Macarena and is often referred to as the "River of Five Colors" or the "Liquid Rainbow."
This is due to its different colors, which range from yellow and green, to blue and red. It is truly a sight to behold and definitely one of the most beautiful places to visit in Colombia.
Tucked away in the mountain range of Serranía de la Macarena, Caño Cristales is one of the best hidden gems in Colombia. But if you don't mind exploring remote parts of Colombia to see some spectacular sights, then you need to add Caño Cristales to your list.
17. For San Andres Island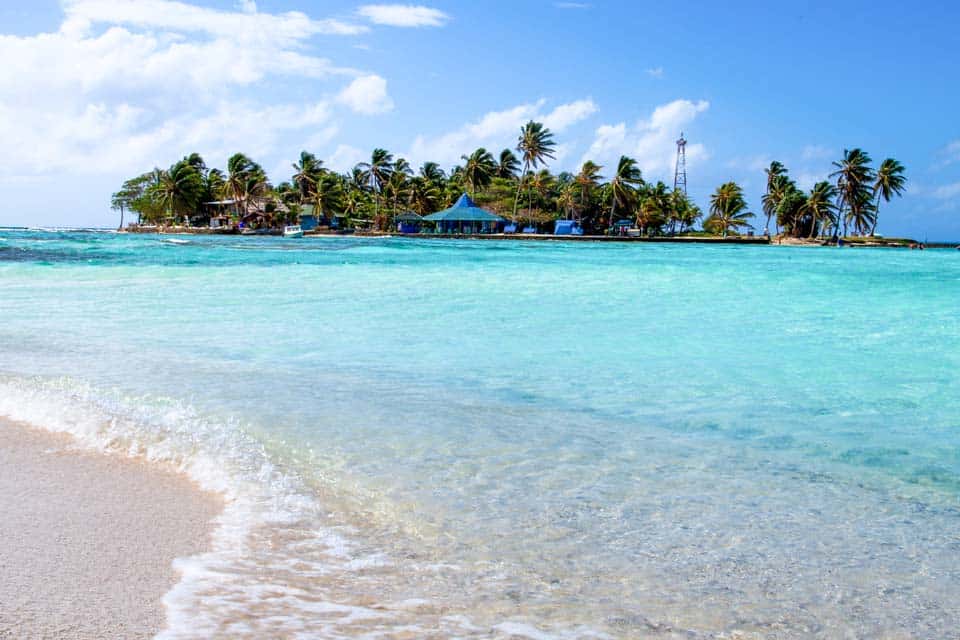 It is no doubt that Colombia is famous for its beautiful Caribbean beaches and glistening waters that are perfect for swimming. However, the best beaches in Colombia aren't on land, but rather on an island off the coast of Nicaragua known as San Andres.
This island is part of an archipelago that includes two other islands, Providencia and Santa Catalina. With its unique blend of culture that combines Latin American, English and Creole influences, San Andres is quite unique.
San Andres is known for its white sand beaches, crystal clear waters, and laid-back atmosphere. With stunning coral reefs and rich marine life, scuba diving and snorkeling are some of the best activities on San Andres. But visitors can also just relax on the beach with a good book.
If you're looking for a place to relax and escape the hustle and bustle of city life, then San Andres Island is the perfect place for you.
18. For High Quality Emeralds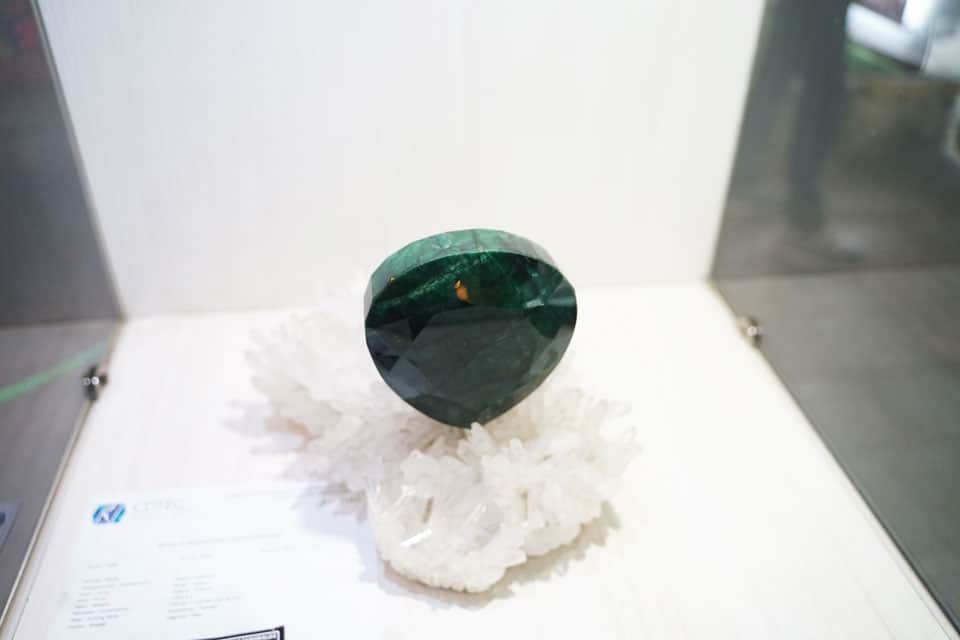 When it comes to gemstones, Colombia is home to some of the finest emeralds in the world. Compared to its competitors (Brazil and Zambia), Colombian emeralds generally have less iron and impurities, which make them much more beautiful and valuable.
Emeralds are about 20 times rarer than diamonds, and the Colombian variety makes it even more desirable. This means that Colombian emeralds are some of the most expensive gemstones money can buy.
If you are looking for an expensive (but meaningful) souvenir or a gift to someone you love, then make sure you check out some of the emeralds in Colombia!
---
Things Colombia Is Famous For FAQs
What Festival is Colombia Famous for?
The most famous Colombian festival is El Carnaval de Barranquilla, a folkloric celebration that dates back to the 19th century. The world-famous festival is It is considered the biggest festival in Colombia.
Who are Colombia's Most Famous Singers?
There are plenty of most famous singers from Colombia. Some of the most well-known ones are J. Balvin, Maluma, Shakira, Juanes, Carlos Vives, Karol G and Sebastian Yatra.
Who are the Most Famous Athletes From Colombia?
The most famous athletes from Colombia are Egan Bernal, the first Latin American to win the tour de France and the youngest rider to do so since 1909.
Who is the Most Famous Artist from Colombia?
The most famous artist from Colombia is Fernando Botero. In fact, you can see his work all over the country. In Bogota, there is a museum dedicated to him called the Botero Museum.
---
If you were wondering what Colombia is famous for, we hope our article has answered that question. Colombia is still one of the best hidden gems when it comes to travel, we hope this article will inspire you to visit Colombia!
Disclaimer: Some of the links above are affiliate links. That means if you book or make a purchase through the links, we will earn a small commission at no extra cost to you! The money will help run this site! Thank you!