A welcoming country with a traumatic past, Colombia has transformed and is becoming a top travel destination in South America. As the 25th biggest country in the world, it might be difficult to improvise your Colombia trip on the spot. 
As a result, I highly recommend that you have a Colombia itinerary before you arrive. I have spent close to 2 months backpacking Colombia and exploring the hidden and best places to visit in Colombia: Lost City Trek, Cocora Valley, Cartagena, Bogota, Medellin, Guatape, Salento.
I have done it all.
Below is my personal 3 week Colombia itinerary. Though 3 weeks in Colombia might seem too long for most people, I can guarantee you will wish you had more time!
This Colombia travel itinerary assumes you will start in Medellin, but you can come from any of the big cities such as Cartagena or Bogota and do a loop.
---
How Many Days in Colombia Should You Spend?
If you are reading this Colombia travel guide, you must wonder how much time is needed to see this massive country. After all, is three weeks enough time to cover this gorgeous country?
Well, to be fair, if you want to cover every corner of any country, three weeks will probably not be enough, and that goes for Colombia as well.
But generally speaking, three weeks is enough time to see the best of Colombia, but definitely feel free to spend more time if you want. This itinerary will cover middle to northern Colombia, which is where most of the best places to visit are.
If you have more time, there are plenty of places down south that are worth visiting such as Cali, Tatacoca Desert, and more!
---
Colomba Itinerary Map
This is the basic outline for the Colombia 3 weeks itinerary. I suggest that you fly to Colombia through one of the major cities (Bogota, Cartagena or Medellin) and out through another. That way, you can maximize your time in your three weeks in Colombia.
Click on the star next to the name of the map and you'll be able to save this Colombia itinerary right onto your personal device. It can you figure out which is the next stop on your trip.
---
What to Do in Colombia in 3 Weeks: Detailed Itinerary
Day 1-3 (3 Days): Medellin
Welcome to Colombia! Are you ready to see the best places in Colombia? Luckily for you, you are in Medellin, the city of eternal spring.
In 1993, Medellin was announced as the most dangerous city in the entire world. It used to be a place where the name of the city would strike terror into anyone's heart, a place where tragedies such as bombing, assassination, kidnapping, and many more terrible things happened daily.
Nowadays, Medellin has become one of the most popular tourist destinations in Colombia. Safety in Medellin is no longer a major issue in most parts of the city; trendy restaurants and places are popping up here and there, and the nightlife in Medellin is one of the best in the world.
I recommend spending 3 days in Medellin so you will have enough time to cover all the essentials of the city.
Note: Many of you might know about Pablo Escobar and his influence on the city and Colombia in general. Pablo Escobar is a very sensitive topic in Colombia, so try not to say its name when you are in the city. It was less than 20 years since all the crazy things happened.
Things to Do in Medellin
There are many things to do in Medellin, here are the ones we recommend:
FREE Walking Tour to Learn About the History of Medellin
There is no better way to know the city of Medellin than a FREE tour with a local. The tours run off of tips, so you know that tour guides will work extra hard to give you the best tour they can.
There are many free walking tour operators in Medellin, but the one we recommend is Real City Tours. You can find more information on their website here.
Comuna 13 was the most dangerous part of the most dangerous city in the world. However, nowadays, it has become a completely different place. Long gone are the days of violence and crime.
The city itself is trying to forget the terrible past it had and trying to build something better for the future generation. When visiting Comuna 13, you will see a lot of graffiti and street art revolving around the theme of hope, transformation, and a brighter future.
It is important that you have a tour guide with you when visiting this neighborhood. Even though the safety in that area is much better, that are a lot of things underneath the surface that tourists do not understand.
It is also an excellent way to give back to such a motivating community.
Guatape and Piedra del Penol
Guatape and Piedra del Penol is the most popular day-trip from Medellin. Often at times, you will see Guatape and Piedra del Penol put together, making you think it is actually the same place.
Piedra del Penol is a huge rock formation soaring into the sky about 15 minutes away by car from the colorful town of Guatape. After visiting Piedra del Penol, many people spend the rest of the day exploring Guatape town before heading back to Medellin.
It can be done easily without a guide but you will have to take Colombia's public transportation. Make sure you also speak some basic Spanish.
Prepare to shed tears if you decide to come to the Memory Museum. It is full of heartfelt tales of the Colombia conflicts and all the wars and tragedies it has experienced.
It will definitely give you a better understanding of how the Colombian conflict affected the lives of local people.
Spend a Night Out in El Poblado
El Poblado is the party district of Medellin. I don't know exactly what it is with Colombians, but they KNOW how to party. Come to El Poblado for an unforgettable night.
If there is a dish that Medellin is famous for, it is Bandeja Paisa. It is one of the most famous dishes from Colombia, but especially so in the Antioquian Department where Medellin is located.
The traditional dish consist of red beans cooked with pork, rice, ground meat, fried egg, arepa, avocado, and our favorite, chicharron (crispy pork). But perhaps the most iconic feature of this dish is the huge portion. One dish is enough for two people!
There are plenty of places to try this iconic Colombian dish, but for your first time, you can't go wrong with one of the famous Mondongo's restaurants.
Where to Stay in Medellin
Best Hostel In Medellin – Los Patios Boutique Hostel
One of the best value-for-money hotels/hostels in Medellin! Los Patios offers amazing amenities such as an outdoor gym, co-working spaces, rooftop bars, and many other beautiful luxuries. Spanish classes? Tours? Anything you will need, Los Patios has you covered.
Best Hotel In Medellin – 574 Hotel
574 hotel is one of my favorite hotels in El Poblado, the most affluent neighborhood in Medellin.

When staying in El Poblado, you have the risk of staying up all night due to the crazy partying. 574 Hotel is located just far enough from all the craziness, but still close enough to the action. The included breakfast was beyond delicious.
---
On my Colombia travel itinerary, you will head to the town of Jardin after Medellin. Jardin is a hidden gem of Colombia and many other Colombia itineraries tend to skip it.
Don't skip Jardin.
Jardin is a beautiful little town surrounded by lush scenery on all sides. Waterfalls, caves, hikes, everywhere you go, you are in the stunning nature that Colombia is known for.
My favorite part of Jardin was definitely just going on a hike and picking up whatever fruit we found on the way, plantains, coffee beans (there are so many in that region), oranges, guavas, and more!
I would not be surprised if Jardin becomes your favorite town after spending 3 weeks in Colombia!
Things to Do in Jardin, Colombia
The most popular thing to do in Jardin is definitely Cueva del Esplendor, which is a waterfall in the cave. It is impressive but we didn't like it as much as some of the other activities. It was very unique though.
Make sure you check out our full guide on Jardin before you go!
The Chorro Blanco waterfall is the hidden gem of Jardin. It is a waterfall that is not even located on Google Maps. But that means you will have this natural beauty in complete privacy. When was the last time you had a waterfall to yourself?
Going to Chorro Blanco is definitely a full-day activity. Before going, read this guide to make sure you don't get lost going to Chorro Blanco.
Cueva del Esplendor is the most popular tourist activity in Jardin and it is easy to see why.
A lengthy hike into the spectacular nature and you are rewarded with a huge waterfall inside a cave. It is like nothing I have ever seen before.
There are tours in the city that take you close to the cave, but you will still need to hike for maybe another hour or so. If you DIY and take public transportation, the hike will be much longer.
Cafe JARDIN is located up in the hills of Jardin. Travelers can decide to take a mototaxi from the town or hike for 40 minutes.
Come to Cafe JARDIN for a panoramic view of Jardin while enjoying some of the local Colombian coffee from the region.
Better yet, come at sunset and watch the lush scenery of Jardin imprint an image you will never forget. But make sure you bring some mosquito repellant!
At Cafe JARDIN, you will also find the famous "I love Jardin" sign!
Garrucha is another viewpoint where you can see the entirety of Jardin. To arrive at Garrucha, you can either take a short hike or take their homemade wooden cable car!
Don't worry, the cable car is quite secure and no accidents have happened as far as I know.
Garrucha is also a good place to watch the sunset and have a drink or two while doing it, though I prefer Cafe Jardin.
Cascada Escalera is a double waterfall located very close to the town center of Jardin (45 minutes). Though not as impressive as the other waterfalls such as Chorro Blanco, it is still worth the short hike into nature.
A good short hike (30 min) from Jardin's town center takes you up to the Mirador Cristo Rey, where there is a giant statue of Cristo Rey statue and incredible panoramic views of Jardin and the surrounding greenery!
When we visited, we didn't quite get to the statue itself because there were wild dogs along the way. We believed those were owned but they were barking ferociously at us so we just turned around.
Where to Stay in Jardin, Colombia
Best Hostel In Jardin – Creo Ecolodge Jardin
Reconnect with nature at this amazing hostel in the outskirts of Jardin with Creo Ecolodge Jardin. Located about 2 kilometers away from the town city, guests can enjoy the best nature Jardin has to offer.
Wake up every morning with nothing but zen in your mind and a delicious complimentary breakfast in your stomach. Then spend the day exploring the best of Jardin before falling asleep with nature.
The hostel is also environmentally friendly and sustainable, so what is there not to love?
Best Hotel In Jardin – Casa Passiflora Hotel Boutique
Casa Passiflora Boutique Hotel is one of the highest-rated hotels in Jardin and it is not hard to see why. Located near the main park of Jardin, each room features a sun terrace where guests can observe the daily lives of the locals.
The hotel also has a bar, garden, a restaurant, and some rooms even have a hot tub!
---
Day 7-9 (3 Days): Salento and Filandia, Colombia's Coffee Region
No Colombia trip would be complete without a visit to the famous coffee region of Colombia. In our Colombia 3 week itinerary, you will head to Salento after Jardin.
Salento is a town you must visit in Colombia due to its location in the coffee region of Quindio.
Back to Salento.
Salento itself is quite a small town with not much to do. There are some cute coffee shops especially around the main square and Calle Real. Salento is also known for their trouts (trucha in Spanish) so definitely give that a try.
We have written a full guide on Salento and the things to do here, make sure you check it out here.
Things to Do in Salento, Colombia
Hike Valle de Cocora (Cocora Valley)
Valle de Cocora (Cocora Valley in English) is the top thing to do in Salento and why many people decide to come to Salento in the first place.
It is home to the tallest palm trees in the world. The wax palm trees, some towering over 60 meters tall, are found in only a few places in the world, and Valle de Cocora is one of them.
There are two loops you can do in Valle de Cocora to see the palm trees. One is the long loop that takes about 5 hours to complete and you have to pay twice to pass "private property". The other is a 30-minute direct route that takes you directly to the best viewpoint for the wax palm trees.
The long route is a nice hike but nothing too special. The views aren't too spectacular but you do cross several cool suspension bridges along the way. My recommendation would be to take the direct route and see the wax palm trees and get out. You don't have to pay anything if you take the short route.
Salento is located in the coffee region of Colombia. It would be a shame to not do a coffee tour before you leave.
Coffee tours can be easily found throughout the abundant travel agencies in Salento. If you are visiting during the high season, you might be able to simply show up at one of the coffee farms and participate in a tour.
Come and learn about every step of the process of producing a good cup of coffee, but also make sure you buy some good quality organic coffee at these coffee farm tours to take home as souvenirs!
Filandia is a cute colonial town 30 minutes away from Salento. The nature there is much more spectacular and is not as touristy as Salento. Make sure you eat at the famous restaurant Helena Adentro, visit the double waterfall, and check out some of the viewpoints (miradors) for sunset.
If you are not tired of waterfalls after visiting Jardin, guess what? There is one in Salento too! Santa Rita waterfall is located about 90 minutes away from the city center. It is a beautiful waterfall located in the lush greenery of Colombia.
Where to Stay in Salento, Colombia
Best Hostel In Salento – Coffee Tree Boutique Hostel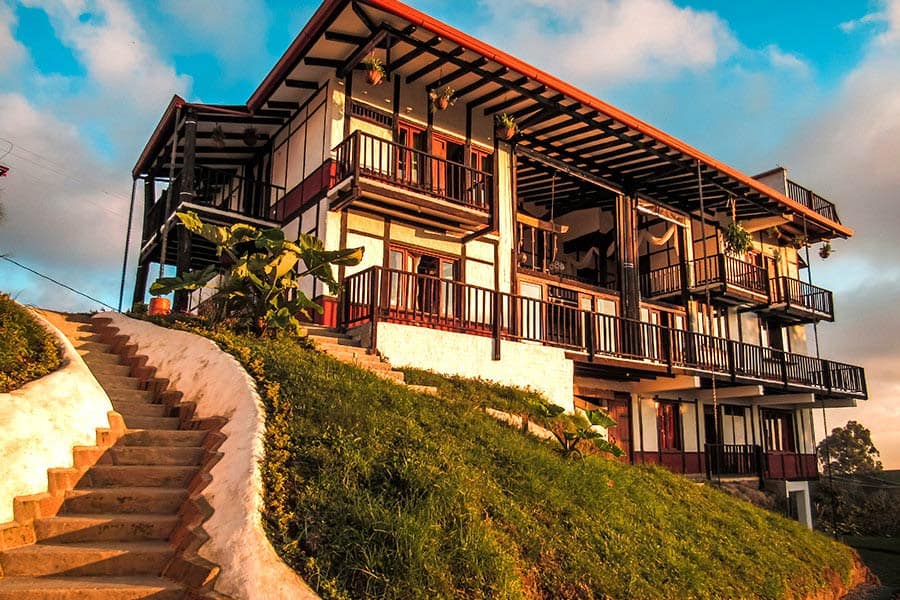 Coffee Tree Boutique Hostel is one of the most gorgeous hotels in Salento.
From the beautiful garden to the amazing breakfast to the balconies overlooking the lushest scenery in Colombia, this hostel is built for backpackers. A mixture of a boutique hotel and a hostel, guests will find comfort and affordability here.
Best Vacation Rental in Salento – Real House Salento
Salento is filled with gorgeous white tiles and colorful roof houses, and visitors can stay in one of them via Airbnb.

With 3 bedrooms, this Salento vacation rental can accommodate up to 9 guests, allowing them to enjoy incredible amenities such as a beautiful backyard with coffee plants, a smart TV with Netflix and more!
---
Day 10-12 (3 Days): Bogota, Colombia's Capital
Welcome to Bogota! As the capital city of Colombia, Bogota is a place you must visit on your Colombia vacation. You will spend a total of 3 days in Bogota! Filled with history, art, and great food, Bogota has attracted travelers from all over the world.
Bogota has been through hell and back and now it has finally become a touristy-friendly destination.
However, when I visited, it didn't feel that way.
Many of the places are dirty and some of the tourist attractions are dangerous.
For example, the area La Candelaria, the "historical district" of Colombia, is quite dangerous to walk in at night.
Monserrate, one of the best viewpoints of Bogota, is only safe to arrive in an Uber.
Bogota is filled with Colombian history that you cannot get anywhere else. My recommendation is definitely to see all the things you need to see and get out.
Things to Do in Bogota
Free Walking Tour/Biking Tour
The free walking tour/biking tour is one of the best ways to know the city of Bogota. The "free" tours are led by locals and they tell you about the history of Bogota as well as some of the best things to do, places to eat, things to see.
Don't miss the free walking/biking tours. You can find more information here.
The Zipaquira Salt Cathedral is one of the best day trips from Bogota. The cathedral is located an hour away from Bogota in the town of Zipaquira and can be easily reached by bus.
The biggest underground cross in the world exists in the Zipaquira Salt Cathedral. As the First Wonder of Colombia, it is definitely something that should be on your Colombia itinerary.
Botero Museum and Gold Museum
Bogota is known for its extensive amount of high-quality museums. For example, the Gold Museum in Bogota, or Museo de Oro, contains the largest collection of gold in the world.
Another museum such as the Botero museum contains the sculptures and artwork of the famous Colombia artist Fernando Botero. His artwork is controversial and definitely worth checking out.
Monserrate Viewpoint (Sunset/Night)
Monserrate is the best viewpoint in all of Bogota. The only trick is that the surrounding area is extremely dangerous at night so you would have to take an Uber. Come at sunset and wait till the sun completely disappear to watch the city of Bogota glow!
Eat at Andres Carne De Res
Andres Carne De Res is one of the most famous restaurants in Bogota. Featuring some of the best meat dishes, live music, and entertainment, Andres Carne De Res is a popular spot for locals and tourists alike. The food is above average but it is very pricey. However, the experience of eating at a high-class restaurant is well worth it.
Visit the Waterfalls Surrounding Bogota
Bogota is surrounded by waterfalls on all sides. The easiest one to get to is definitely Waterfall Rio Archbishop, followed by Cascada la Chorrera, and then Salto Del Taquendama. All the waterfalls are impressive and I would recommend going to Salto Del Taquendama if you have the time.
Visit the Sunday Flea Market at Usaquen
If you are visiting Bogota on a Sunday, head over to Usaquen for one of the best flea markets in Colombia. Featuring handicrafts, souvenirs, and all types of weird and amazing things, the Usaquen market is a fun activity for everyone in the family.
Where to Stay in Bogota
Due to the safety concerns of La Candelaria area, none of my recommendations will be in that area.

For a full guide on where to stay in Bogota, check out our other post here.
Best Hostel In Bogota – Selina Chapinero
If you are looking for a chic hostel with lots of charm, there is no better place to stay than Selina in Chapinero.
With amazing common areas and on-site restaurants, Selina makes it easy to meet fellow travelers. When you don't want to socialize, each dormitory bed features its own curtain, giving you the privacy that is rare in a hostel.
Best Hotel in Bogota – bs Rosales
bs Rosales is one of the most highly-rated hotels in Bogota and it is easy to see why. Featuring big rooms, dreamy beds, amazing breakfast, sleek interior decor, there is nothing not to love about bs Rosales.
Its location in Cahpinero allows visitors to explore some of the finest culinary delights in Zona G easily, and the historic center is only a short taxi ride away.
---
Day 13-15 (3 Days): San Gil, Colombia's Adventure Capital
Known for some of the most adrenaline-pumping activities, San Gil is the adventure capital of Colombia.
To arrive in San Gil, you will have to take an overnight bus from Bogota. It is the most economical way. You also have the option to fly from Bogota if you are short on time or don't like night buses
Besides heart-racing activities, there are activities for travelers who want to take it easy. The beautiful colonial town of Barichara is only a short bus ride away. Las Gachas is a beautiful river filled with naturally-made holes where you can sit in and relax.
San Gil has more than just adventurous activities.
Things to Do in San Gil, Colombia
For a complete guide on things to do in San Gil, check out our separate San Gil travel guide here.
Level 5 White-Water Rafting on Rio Suarez
The most popular activity in San Gil is definitely the level 5 white-water rafting on Rio Suarez. Level 5 rafting is extremely rare to find in the world and is the highest level where you can go rafting. There are inherent risks involved in activities like this so make sure you listen to the guide and take extra precautions.
If you are with kids, there is also a level 2 rafting that everyone can participate in.
Las Gachas was one of the most unique places to visit in Colombia.
To put it simply, they are little holes in a running riverbed where you can sit and relax. It is like having your own bathtub there. Las Gachas was definitely one of my favorite activities in San Gil to relax after all the crazy activities I have been doing.
How did those holes develop? I am not entirely sure. It has something to do with the minerals in the water.
Make sure you come on weekdays unless you want to socialize with the locals. Las Gachas is a popular weekend hangout spot for Colombians.
Cueva Del Indio/Cueva De La Vaca
The region of San Gil has many caves you can explore. The 2 most popular ones are Cueva Del Indio and Cueva De La Vaca. The two caves are completely different from each other.
Cueva Del Indio is the more adventurous and fun cave. It features parts where you have to jump into water, swim, and tight spaces. At the end of the cave, you have the option to do a 5.4m jump into the water in the darkness.
Cueva De La Vaca is the junior league of Cueva Del Indio. You don't need to swim, the spaces are less tight, and it's just a fun experience for everyone involved. If you are traveling with kids, I would recommend doing the Cueva De La Vaca over Cueva Del Indio.
One of the most beautiful waterfalls tucked into the lush environment of Colombia. It is easy to pair a visit to Juan Curi waterfall with a visit to the Cueva Del Indio.
You can also do canyoning at this waterfall but tours will have to be obtained in San Gil.
Barichara is a beautiful sleepy town less than an hour away from San Gil. Beautiful architecture, amazing scenery, and good food are some of the things you will find in Barichara. Come and spend half a day wandering around, but make sure to visit Salto del Mico when you are in Barichara.
Where to Stay in San Gil, Colombia
Best Hostel In San Gil – Hostel Trip Monkey
Hostel Trip Monkey is a family-owned hostel in San Gil and you can really tell. The owners are very friendly and helpful and make sure every guest has a pleasant stay. The breakfast is phenomenal. The outdoor common area is the perfect place to relax after a long day.
Best Hotel In San Gil – Hotel Castillo Resort
Though not a super high-end hotel, I had to include Hotel Castillo Resort in my recommendations.
It is an amazing place with a great outdoor swimming pool, a tanning area, a delicious buffet breakfast, and spacious rooms. For an affordable price, this resort is excellent value for money. Some locals come from other parts of Colombia just to enjoy the amenities of Hotel Castillo Resort.
---
Day 16 (1 Day): Santa Marta
Welcome to Santa Marta, one of the biggest port cities in Colombia. Can you believe you have already been in Colombia for 2 weeks?
Santa Marta has its specific charm and not a lot of people fall in love with it.
I didn't for sure.
However, that doesn't mean it is not a place worth seeing just for a day.
Besides, most hostels allow you to store your bags if you stay there, making your journey into Tayrona National Park much easier. The accommodations here usually come with a pool and a bar. Nothing beats a cold drink, especially a coconut, to fight the Colombian heat.
Some places in Santa Marta are also dangerous at night. To be on the safe side, ask your accommodation which areas you should avoid!
Some Colombia travel guides might recommend going to Minca after Santa Marta.
Having been to Minca myself, it is a run-down Jardin. Most people go to Minca for hikes and nature, but at this point, I think you've had enough. It is time to relax on some of the best Colombian beaches on the Caribbean Sea.
Things to Do in Santa Marta, Colombia
Parque de Los Novio is a nice park surrounded by restaurants and bars. Sometimes there will be live entertainment as well. Great place to get something to eat or drink, but expect to pay gringo prices.
Camellón Rodrigo de Bastidas Park
A nice park right by the beach where you can swim. Come relax, enjoy the sun, people watch, or even take a dip in the water with the locals.
Tairona Gold Museum – Casa de la Aduana
A FREE museum that tells the stories of the indigenous people that lived in this area. Though the museum is not too big, it is filled with interesting facts and history.
Definitely don't miss this one since it is FREE!
** The Lost City Trek is a 5-day trek into the rainforest of Colombia. You will discover a "lost city" of the indigenous people that used to live there.
If you have time to spare or you are spending more than 3 weeks in Colombia, consider the Lost City Trek an exciting option to add to your itinerary.
Where to Stay in Santa Marta, Colombia
Best Hostel In Santa Marta – Masaya Santa Marta
Hostel Masaya Santa Marta is cheap hostel prices with the quality of a hotel. Featuring two swimming pools, a beautiful terrace with a bar and amazing views of Santa Marta, it is the perfect place to stay in Santa Marta. Guests wanting a delicious breakfast to start their day can purchase it at a small cost.

Masaya also offers private rooms at affordable prices.
Best Hotel In Santa Marta – Alko Hotel Cotona
Alko Hotel Cotona is an amazing 4-star hotel in Santa Marta for an affordable price. The rooftop with a jacuzzi, swimming pool, and cocktail bar is one of the best places in Santa Marta to be. The rooms are spacious and clean and the hotel is located in a good neighborhood.
---
Day 17-18 (2 Days): Tayrona National Park, Where Jungle Meets the Caribbean Sea
As you approach the end of the 3 week Colombia itinerary, it is time to properly relax on the best Colombia beaches.
Some say Tayrona National Park (Parque Tayrona in Spanish) is one of the most beautiful places in Colombia and I for sure had my doubts before going there. Places with a big name like that seem to be overrun with tourists and only look good in photos, such as Machu Picchu in Peru.
After spending 2.5 days in Tayrona National Park doing nothing but relaxing on the best beaches in Colombia, I can say Tayrona is one of my favorite places in Colombia.
The best beach in Tayrona National park has to be Cabo San Juan. With a beautiful watchtower that juts into the turquoise Caribbean Sea, Cabo San Juan offers unparalleled views. The waves are calm and are just the perfect place to suntan on the sand or go for a nice swim!
If the idea of sleeping in hammocks or tents right next to some of the most amazing Caribbean beaches sounds good to you, you definitely don't want to miss Tayrona National Park.
You can do hikes in the jungles of Tayrona and observe the native animal species that live there and then arrive at a secluded white sand beach the next minute. We heard some howler monkeys, which were quite terrifying especially in the middle of the night!
Tayrona National Park is a well-protected area of Colombia and therefore comes with many restrictions. For example, every February the Tayrona park is closed.
If you would like to camp in Tayrona National Park, read our Tayrona National Park camping guide before going.
---
Day 19-21 (3 Days): Cartagena, Colombia's Most Beautiful City
To arrive at Cartagena, you will need to take a 5-hour bus from the Santa Marta bus terminal to Cartagena, and to get to Santa Marta from Tayrona, you will need to take a bus as well. Check on busbud and buy your ticket ahead of time.
So that means you will arrive in Cartagena quite late a night.
But you have finally made it, the last stop of our Colombia itinerary for 3 weeks, Cartagena.
In the Caribbean Gem of Cartagena, you will immediately notice that the city is nothing like any of the cities you have been to in Colombia. Cartagena was one of the most important cities in protecting Colombia against invasions, hence you will see many fortresses and even the historical center is inside a wall.
Demographically, Cartagena is very diverse due to its history. You will see many different ethnic groups living here such as the Palenqueras (the women with bowls of fruits on their heads)!
Things to Do in Cartagena Colombia
FREE Walled-City Walking Tour
No better way to know the city and understand its history than through a guided tour by one of the locals. The FREE walled-city walking tour is funded by voluntary donations at the end of the tour. You can give as little as nothing to as much as your entire bank account.

If you want to learn more about the tour, click here.
If the tour wasn't enough, take some time to walk around the colorful alleys within the walled city. Every street is filled with colonial-style colorful buildings, Palenqueras (black women in colorful dresses with bowls of fruits on their heads), and historical Colombian landmarks.
Watch the Sunset at Cafe Del Mar
Cafe Del Mar is the only restaurant that sits on top of the walls of Cartagena. Its elevated location above the ground and right next to the Caribbean sea makes it the best place to watch the sunset.
Beware though, Cafe Del Mar gets crowded during sunset and the prices are geared toward tourists.
Castillo de San Felipe de Barajas
Castillo de San Felipe de Barajas is a historical fortress that was built on top of a hill for its strategic advantages. Its superb location gave the defending team many advantages over the approaching enemies.
Nowadays, you can walk the fortress and explore the intricate tunnels the Spaniards set up for communication inside the fortress.
Mud Volcano (Volcan de Lodo el Totumo)
The mud volcano, or Volcan de Lodo el Totumo in Spanish, is a popular day trip from Cartagena. The mud inside the volcano is filled with minerals and it's said to have "healing and therapeutic powers". Come and enjoy the feeling of weightlessness and get a massage from one of the locals.
Warning: they are not shy.
Bioluminescent Plankton at Playa Blanca
Located a little over away from Cartagena is a stunning beach called the Playa Blanca. Many people come here for a day trip or stay for a day or two and relax on the beaches.
At night, there are tours that take you out to see the bioluminescent plankton in the area. These planktons make the ocean look like it has lights. Pretty cool thing to check out if you haven't seen one before.
Rosario Island is the perfect day trip from Cartagena. This off-the-beaten-path attraction is home to some of the clearest waters and most gorgeous beaches near Cartagena.
Even though Cartagena has a few nice beaches near Bocagrande, the ones at Rosario Islands are incomparable! You'll also find some stunning beach clubs to relax during the day and party the night away!
Casa en el Agua is an island hostel located about 2 hours from Cartagena! It is quite a unique experience so check it out if you have extra time!
Where to Stay in Cartagena, Colombia
Best Hostel in Cartagena – Viajero Hostel Cartagena
Viajero Hostel Cartagena is arguably the most popular hostel in Cartagena and it is not hard to see why. Set inside a revamped 19th-century building, visitors can get an authentic atmosphere at its core.
The hostel is located inside the Old Town, so right at your doorstep are historical churches, important landmarks and more! If you are traveling solo in Cartagena, its on-site bar and frequent events will guarantee that you won't be alone! It is easy to make friends to go exploring the city with, which is great to help you stay safe in Cartagena!
Best Airbnb in Cartagena – Seaview Loft
(Image Courtesy of Airbnb)

If your idea of the perfect stay in Cartagena involves lounging on a hammock and admiring the gorgeous sea views, then this Cartagena Airbnb is perfect for you. Featuring a hammock overlooking the sea in the living room, guests will find the utmost comfort here.
When you are not relaxing in your 1-bedroom apartment, exploring Cartagena is easy due to this Airbnb's location inside the historic Old Town!
---
3 Week Colombia Trip Budget
If you are planning on spending 3 weeks in Colombia, you must wonder how much money will you need. Luckily, if you are traveling to Colombia, you already know how affordable it is.
No matter what type of travel budget you have, you can a way to enjoy what Colombia has to offer.
Low Budget Travel in Colombia
Budget travelers and backpackers in Colombia typically spend around 30 to 40 USD per day. With a budget like that, expect to stay in a hostel, eat locally, take public transportation, and do most of your tour independently without a tour guide.
When getting from one city to another, you will need to take long-distance buses and not domestic flights. Though frugal, Colombia is still very enjoyable on a low budget.
Mid Budget Travel in Colombia
Because of the low cost of living, mid budget travel in Colombia is quite comfortable and lavish. For about 60 to 80 USD a day, you can afford a comfy private room at a decent hotel, three meals at local restaurants, and the ability to take Uber and taxis.
You can go out at night and buy a few drinks per day and you will still be within your budget. As long as you are conscious of not going to tourist-only establishments your medium budget will give you lots of flexibility.
Luxury Travel in Colombia
Luxury travel in Colombia is not impossible, but not very uncommon. That is because even the most expensive hotels in Colombia will cost around 300 USD per night.
If you want to splurge, you can expect to spend over 400 to 500 USD per day.
That would include a luxurious 4 to 5-star hotel, meals at Colomb's finest restaurants, private tours and private transport. Colombia isn't a country where you will have a significantly better experience just because you splurge.
---
Safety Tips For Traveling In Colombia
As beautiful as Colombia is, there are proper precautions that should be taken when you travel there.
The safety of Colombia has improved drastically over the years. Nowadays, most travelers would consider Colombia safe to travel.
The touristy area in most of the cities are safe at all times, but exercise extra precautions at night.
Bogota is the only city where safety was a concern. It is easy to accidentally walk into a neighborhood that is not safe. In addition, the main touristy area "La Candelaria" is not so safe at night. Try to use Uber in these areas.
Pickpockets are probably more of a concern than armed robbery, especially at bars, clubs, and public transportation. Keep an eye on your belongings in crowded areas.
It is worth noting that there is occasionally civil unrest in Colombia, especially during times of political elections. Just recently, there has been quite a bit of conflict in Colombia.
If you are visiting, we definitely recommend considering getting travel insurance.
---
3 Weeks in Colombia Trip Packing List
For your 3-week Colombia itinerary, you will be going from the hottest beaches in Colombia to the Andes mountains in Bogota.
The weather will go from suffocatingly hot to freezing cold, especially at night. Hence, you will need to have a comprehensive packing list.
Outside of the regular packing items you need for every trip, you should pack:
Sunscreen – Saves you from skin cancer and looking like a tomato. Better pack some for your Colombia trip.
Insect Repellent with Picaridin – Colombia is very tropical and humid. There are tons of insects and mosquitos. Pack some so you don't come back looking like you broke out in hives!
Filtration Water Bottle – One of my favorite traveler items. It will save you money from buying water, and will also save you in dire circumstances.
Rain jacket (Him/Her) – The weather can be unpredictable in Colombia. Even when you are traveling in the dry season, there is always a possibility of rain. Pack a lightweight rain poncho or jacket at all times to stay dry!
Travel Medicine Kit – A travel medicine kit will contain the first-aid items needed when you fall ill. With a variety of medicine, you will be prepared for many different scenarios!
Warm Clothing – The Andes region of Colombia is high in elevation. If you plan on visiting any of the cities on your trip to Colombia (such as Bogota), you will inevitably need some warm clothing.
---
Best Time to Visit Colombia
Colombia's relative location to the equator results in two seasons: the dry season and the wet season.
However, the weather could differ drastically in the country because of the different topographical regions. What I mean is that the weather in the Andes will differ from the weather on the Caribbean coast.
It is difficult to pinpoint the best month to visit Colombia. Generally speaking, Colombia is a great country to travel year-round.
Rainy season does not mean that it will rain the whole day. Usually showers only last a few hours.
In the Andes, the rainy season is in the months of May to July and October to December. On the Caribbean coast, however, the months with the heaviest rainfalls are September and October.
Another factor to consider when visiting Colombia is when is peak season? When is Colombia the most expensive to travel?
Colombians love to travel and they have lots of holidays during the months of December and January. These are the peak seasons in Colombia and prices soar during these months. Hotels are full, beaches are crowded, and tour availabilities decline.
If you are backpacking Colombia or traveling on a budget, I recommend not taking a trip to Colombia in December or January.
Overall, Colombia's weather is the best from December to March, but aim to avoid the high season to save money!
---
Getting Around Colombia
I am happy to say that getting around in Colombia is quite easy. Their long-distance bus system between the cities is very reliable. However, you must consider the distance between the cities you are traveling to. Colombia is a big country – 2 times the size of the US State of Texas.
Inevitably, there are going to be some bus journeys such as the ones on our 3 week Colombia trip that will take several hours. It is recommended to take these long bus journeys at night so you don't waste your entire day on a bus.
The best bus company (from my experience) is Bolivariano. You can purchase their bus tickets at the bus station in the respective city. Apparently, you can also bargain for your bus ticket in person to get a lower price, though I did not try that when I was in Colombia.
Keep in mind that you might be traversing through the Andes on your bus journey. The roads are windy and the driver will be aggressive.
For all bus journeys, we recommend buying the ticket online here, this will save you the time you need to get the ticket at the bus terminals, which can sometimes be far from the center of the city.
The other obvious option to get around Colombia is by flying. There are budget airlines such as LATAM that will offer affordable domestic flights. Sometimes the flights are even cheaper than the bus tickets!
---
More Than 3 Weeks in Colombia?
Do you have more than 3 weeks in Colombia? Worry not! Colombia has enough attractions to keep you excited for months! If you are planning on staying for more than three weeks, here are some places I recommend:
We talked briefly about Minca in our Colombia itinerary because it is a popular day trip for anyone visiting Santa Marta and Tayrona National Park. Minca is located in the Sierra Nevada mountains region of Colombia.
This small village is home to various hikes to do and gorgeous waterfalls, perfect for anyone looking to escape the hustle and bustle of the city life. The giant hammock that hovers over the canopy in Casa Elemento is something worth seeing on your Colombia trip.
As the capital of Salsa dancing in the world, Cali is a place you must visit if you are into Salsa dance. If you are not a big dancer yourself, you are still more than welcome to just admire from the sideline. It is mesmerizing what the Colombians can do with their hips! Shakira was right about their hips not lying!
The Tatacoa Desert is one of the most stunning landscapes in Colombia. Unlike the typical deserts that are covered by sand dunes, Tatacoa's most iconic features are the dry and rocky canyons that span across. The Tatacoa Desert is also one of the darkest places in the entire world, the ideal place for stargazing.
---
Colombia Itinerary FAQs
---
Like this post? Don't forget to save it on Pinterest!
---
This concludes our 3 week itinerary in Colombia. I hope it has at least given you a rough idea of how to spend your 3 weeks in Colombia.

Any questions? Leave them in the comments!
Disclaimer: Some of the links above are affiliate links. That means if you book or make a purchase through the links, we will earn a small commission at no extra cost to you! The money will help run this site! Thank you!