A welcoming country with a horrendous past, Colombia has transformed and is becoming a top travel destination in South America. As the 25th biggest country in the world, it might be difficult to improvise your Colombia trip on the spot. 
As a result, I highly recommend that you have a Colombia itinerary before you arrive. I have spent close to 2 months backpacking Colombia and exploring the hidden and best places to visit in Colombia: Lost City Trek, Cocora Valley, Cartagena, Bogota, Medellin, Salento. I have done it all. 
Below is my personal 3 week Colombia itinerary. Though 3 weeks in Colombia might seem too long for most people, I can guarantee you will wish you had more time! 
This Colombia travel itinerary assumes you will start in Medellin, but you can come from any of the big cities such as Cartagena or Bogota. 
Colombia Itinerary Step-By-Step Map
This is the basic outline for the Colombia 3 weeks itinerary. I suggest that you fly to Colombia through one of the major cities and out through another. That way, you can maximize your time in your three weeks in Colombia. 
3 Weeks In Colombia: The PERFECT 3-Week Colombia Itinerary
Day 1-3 (3 Days): Medellin, Once the Most Dangerous City in the World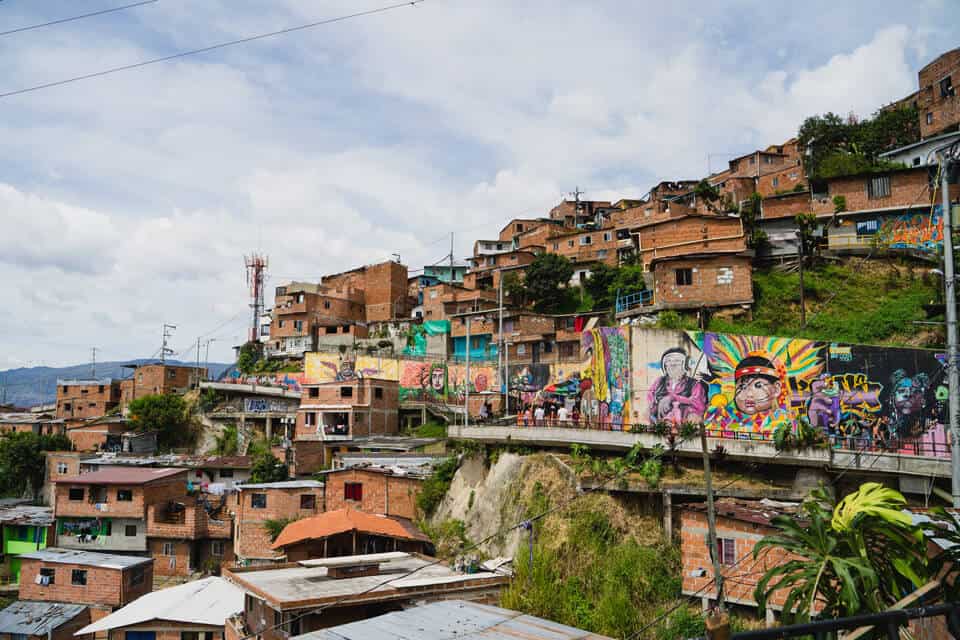 Welcome to Colombia! Are you ready to see the best places in Colombia?? Luckily for you, you are in Medellin, the city of eternal spring.
In 1993, Medellin was announced as the most dangerous city in the entire world. It used to be a place where the name of the city would strike terror into anyone's heart, a place where tragedy such as bombing, assassination, kidnapping, and many more terrible things happened on the daily.
Nowadays, Medellin has become one of the most popular tourist destinations in Colombia. Safety is no longer an issue in most parts of the city; trendy restaurants and places are popping up here and there, and the nightlife is one of the best in the world.
I recommend spending 3 days in Medellin so you will have enough time to cover all the essentials of the city.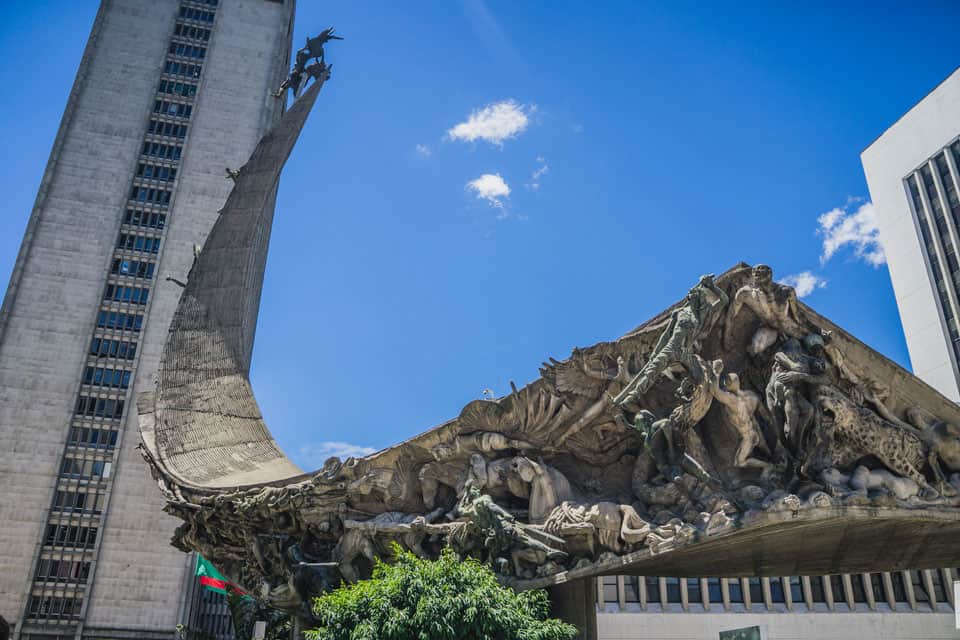 If there are things you must do in Medellin, they would be getting to know the history of Medellin by visiting Communa 13, and taking a day trip to Guatape and Piedra del Penol.
1. FREE Walking Tour to Learn About the History of Medellin
There is no better way to know the city of Medellin than a FREE tour with a local. Don't worry, the walking tour is very professional and the tour guides make their money off of tips.
You can find more information on their website here.
2. Communa 13
Communa 13 was the most dangerous part of the most dangerous city in the world. However, nowadays, Communa 13 has become a completely different place. Long gone are the days of violence and crime.
The city itself is trying to forget the terrible past it had and trying to build something better for the future generation. When visiting Communa 13, you will see a lot of graffiti revolving around the theme of hope, transformation, and a brighter future.
Visit Communa 13 in the daytime, preferably with a tour guide. FREE Communa 13 Graffiti tours can be found here. You do not have to pay a dime for the tour but a tip at the end is appreciated.
If you prefer a private tour for more individualized attention, check out our recommendation here.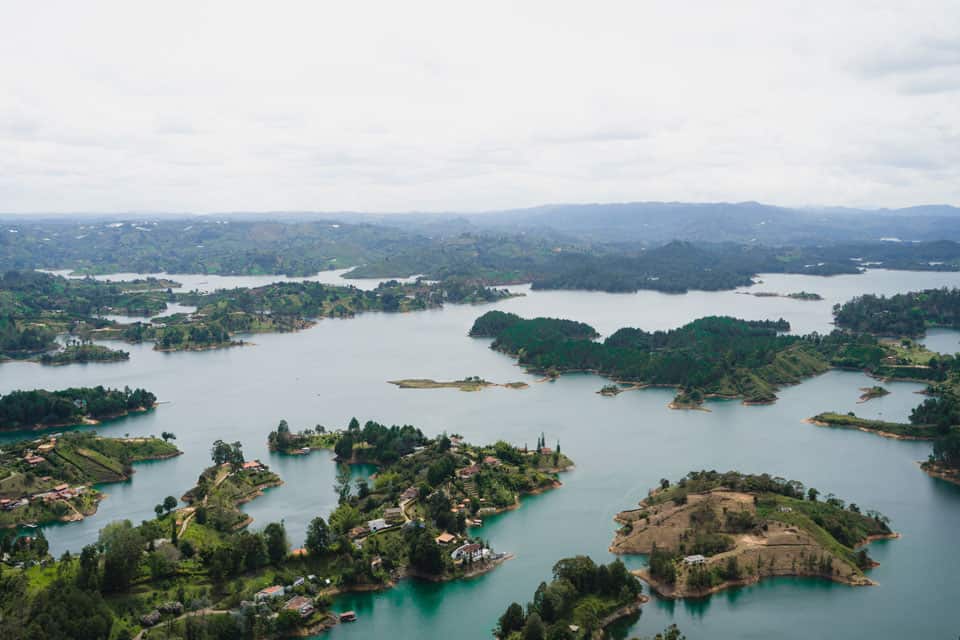 3. Guatape and Piedra del Penol
Guatape and Piedra del Penol is the most popular day-trip from Medellin. Often at times, you will see Guatape and Piedra del Penol put together, making you think it is actually the same place. Piedra del Penol is a huge rock formation soaring into the sky about 15 minutes away by car from the colorful town of Guatape.
It can be done easily without a guide but you will have to take Colombia's public transportation. It will also help tons if you speak Spanish.
Here are some tours we recommend for Guatape and Piedra Del Penol if you don't feel comfortable:
4. Memory House Museum
Prepare to shed tears if you decide to come to the Memory Museum. It is full of heartfelt tales of the Colombia conflicts and all the wars and tragedies it has experienced. It will definitely give you a better understanding of how the Colombian conflict affected the lives of local people.
5. Spend a Night Out in El Poblado
El Poblado is the party district of Medellin. I don't know exactly what it is with the Colombians, but they know how to party. Come to El Poblado for an unforgettable night.
6. Arvi Park
If you are allergic to the concrete in Medellin or aching to go into nature, then I would recommend Arvi Park. Accessible with the intricate cable car system of Medellin, Arvi Park can be done as a half-day trip.
It is definitely nothing impressive and you actually have to pay a tour guide to go into some of their designated trails. Without paying, there isn't much to explore.
For that reason, I would not recommend spending your time at Arvi Park considering your next destination on this Colombia itinerary is full of nature. 
Where to Stay in Medellin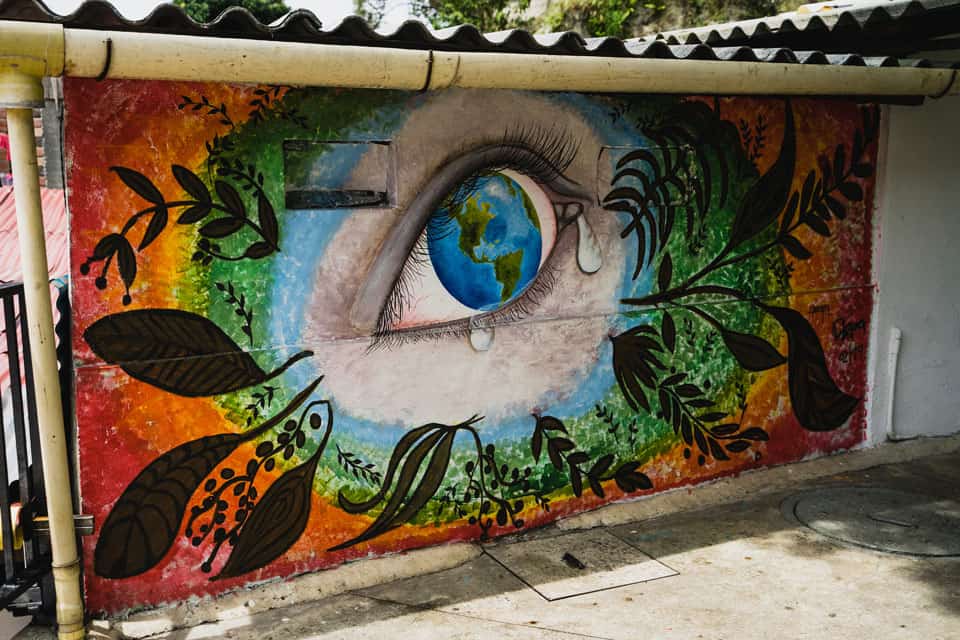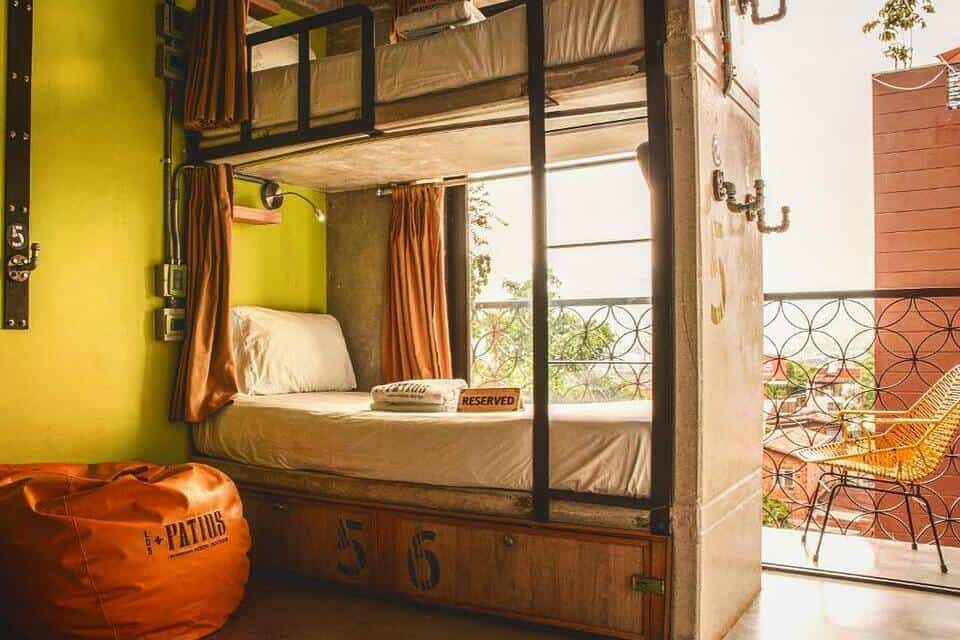 One of the best value for money hotels/hostels in Medellin! Offering amazing amenities such as an outdoor gym, co-working spaces, rooftop bars, and many other beautiful luxuries. Spanish classes? Tours? Anything you will need, Los Patios has you covered.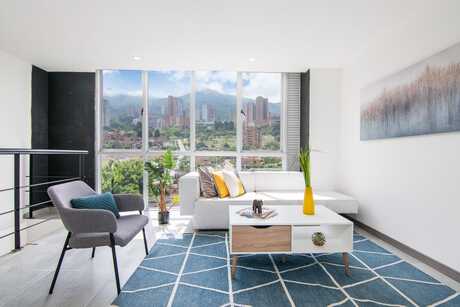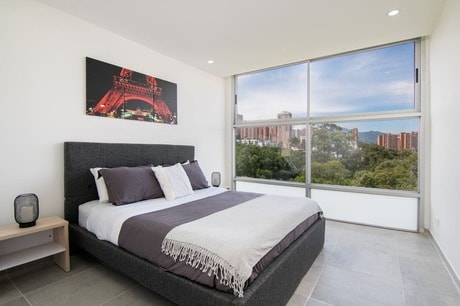 (Images Courtesy of Airbnb)
If you are looking for a cozy Airbnb in Medellin with a spectacular view, then look no further. This exclusive duplex is exactly what you need.
Featuring 2 bedrooms, a maximum of 4 guests can enjoy the wonderful amenities of this apartment such as its floor-to-ceiling windows, relaxing balcony, fully-equipped kitchen and more!
This Medellin Airbnb is located next to Lleras Park in Poblado, so guests are staying at one of the most upscale neighborhoods in Medellin!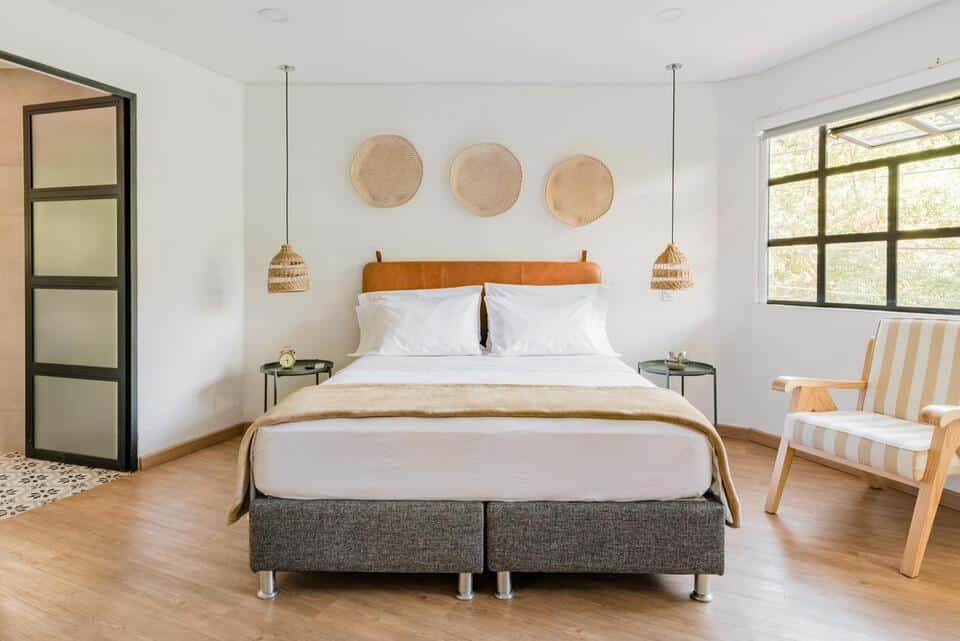 574 hotel is one of my favorite hotels in El Poblado, the most affluent neighborhood in Medellin.
When staying in El Poblado, you have the risk of staying up all night due to the crazy partying. 574 Hotel is located just far enough from all the craziness, but still close enough to the action. The included breakfast was beyond delicious.
Day 4-6 (3 Days): Jardin, The Hidden Gem in Colombia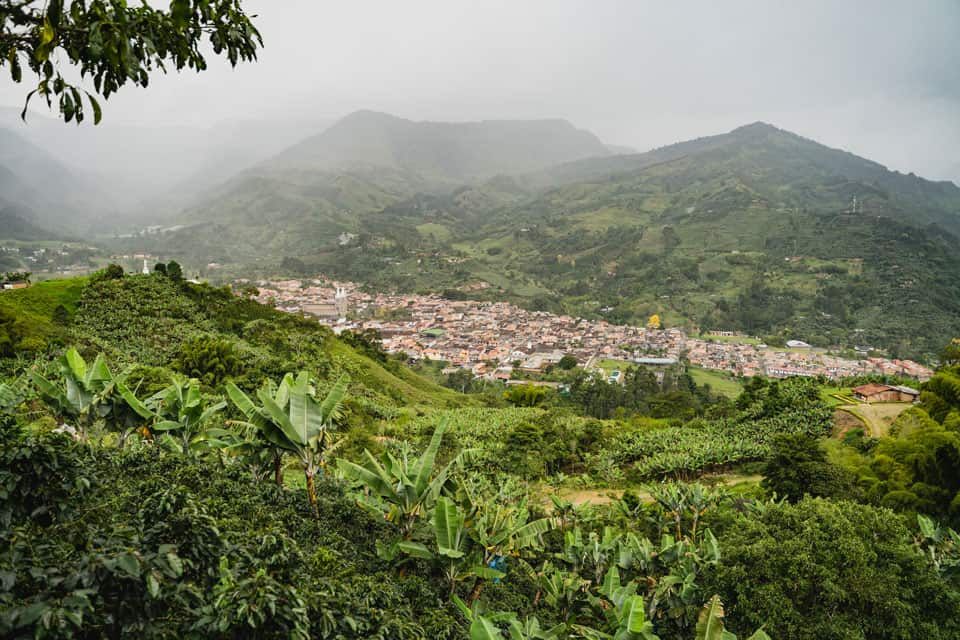 On my Colombia travel itinerary, you will head to the town of Jardin after Medellin. Jardin is a hidden gem of Colombia and many other Colombia itineraries tend to skip it.
Don't skip Jardin.
Jardin is a beautiful little town surrounded by lush scenery on all sides. Waterfalls, caves, hikes, everywhere you go, you are in the stunning nature that Colombia is known for.
My favorite part of Jardin was definitely just going on a hike and picking up whatever fruit we found on the way, plantains, coffee beans (there are so many in that region), oranges, guavas, and more!
I would not be surprised if Jardin becomes your favorite town after spending 3 weeks in Colombia!
Things to Do in Jardin, Colombia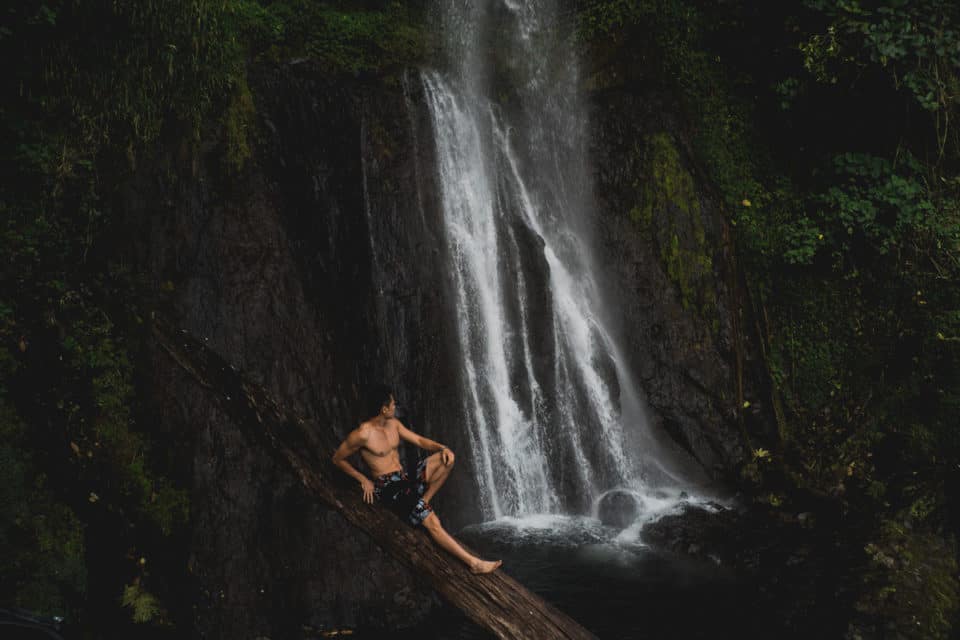 The most popular thing to do in Jardin is definitely Cueva del Esplendor, which is a waterfall in the cave. It is impressive but we didn't like it as much as some of the other activities. It was very unique though.
1. Chorro Blanco Waterfall
The Chorro Blanco waterfall is the hidden gem of Jardin. It is a waterfall that is not even located on Google Maps. But that means you will have this natural beauty in complete privacy. When was the last time you had a waterfall to yourself?
Going to Chorro Blanco is definitely a full-day activity. Before going, read this guide to make sure you don't get lost going to Chorro Blanco.
2. Cueva Del Esplendor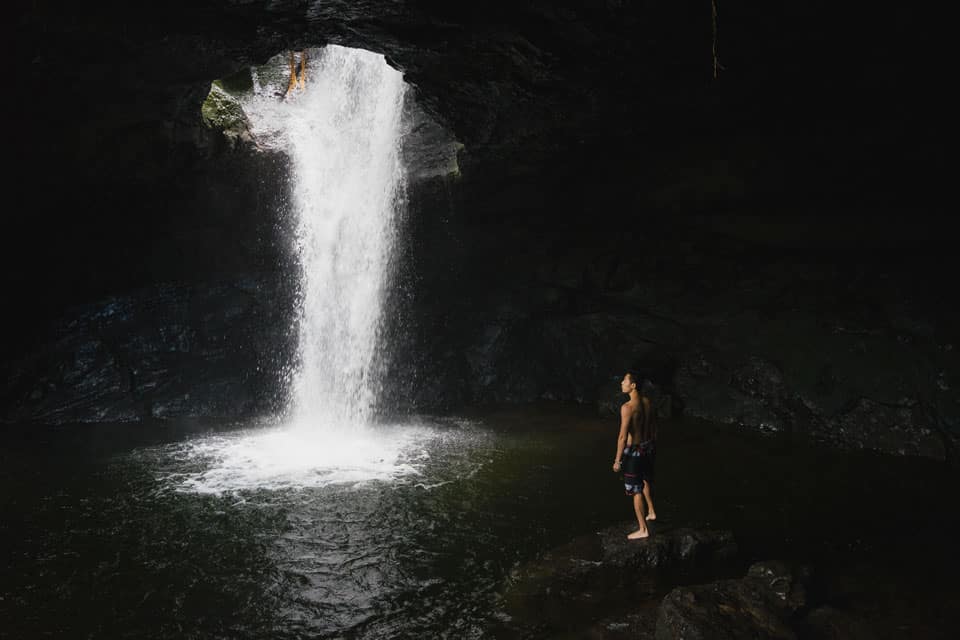 Cueva del Esplendor is the most popular tourist activity in Jardin and it is easy to see why.
A lengthy hike into the spectacular nature and you are rewarded with a huge waterfall inside a cave. It is like nothing I have ever seen before.
There are tours in the city that take you close to the cave, but you will still need to hike for maybe another hour or so. If you DIY and take public transportation, the hike will be much longer.
3. Cafe Jardin
Cafe Jardin is located up in the hills of Jardin. Travelers can decide to take a mototaxi from the town or hike for 40 minutes.
Come to Cafe Jardin for a panoramic view of Jardin while enjoying some of the local Colombian coffee from the region.
Better yet, come at sunset and watch the lush scenery of Jardin imprint an image you will never forget. But make sure you bring some mosquito repellant!
At Cafe Jardin, you will also find the famous "I love Jardin" sign!
4. Garrucha
Garrucha is another viewpoint where you can see the entirety of Jardin. To arrive at Garrucha, you can either take a short hike or take their homemade wooden cable car!
Don't worry, the cable car is quite secure and no accidents have happened as far as I know.
Garrucha is also a good place to watch the sunset and have a drink or two while doing it, though I prefer Cafe Jardin.
5. Cascada la Escalera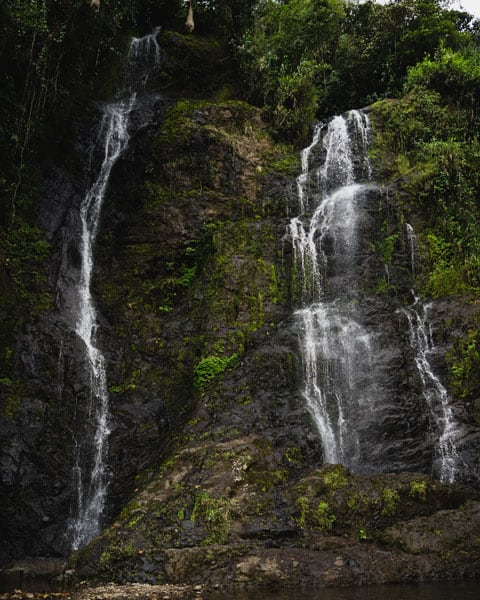 A double waterfall located very close to the town center of Jardin (45 minutes). Though not as impressive as the other waterfalls such as Chorro Blanco, it is still worth the short hike.
6. Mirador Cristo Rey
A good short hike (30 min) from Jardin's town center takes you up to the Mirador Cristo Rey, where this is a giant statue of Cristo Rey statue and incredible panoramic views of Jardin and the surrounding greenery!
Where to Stay in Jardin, Colombia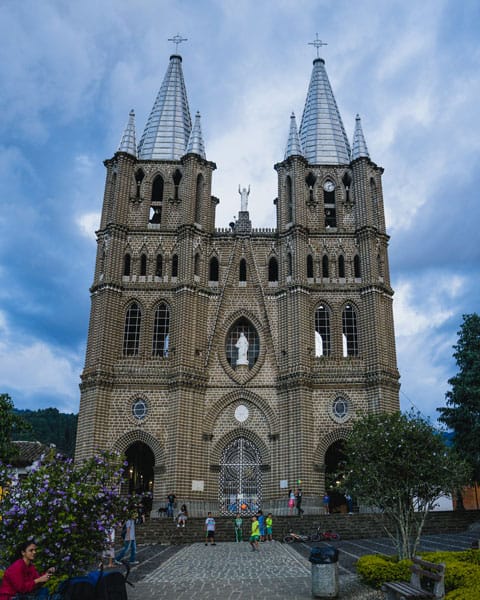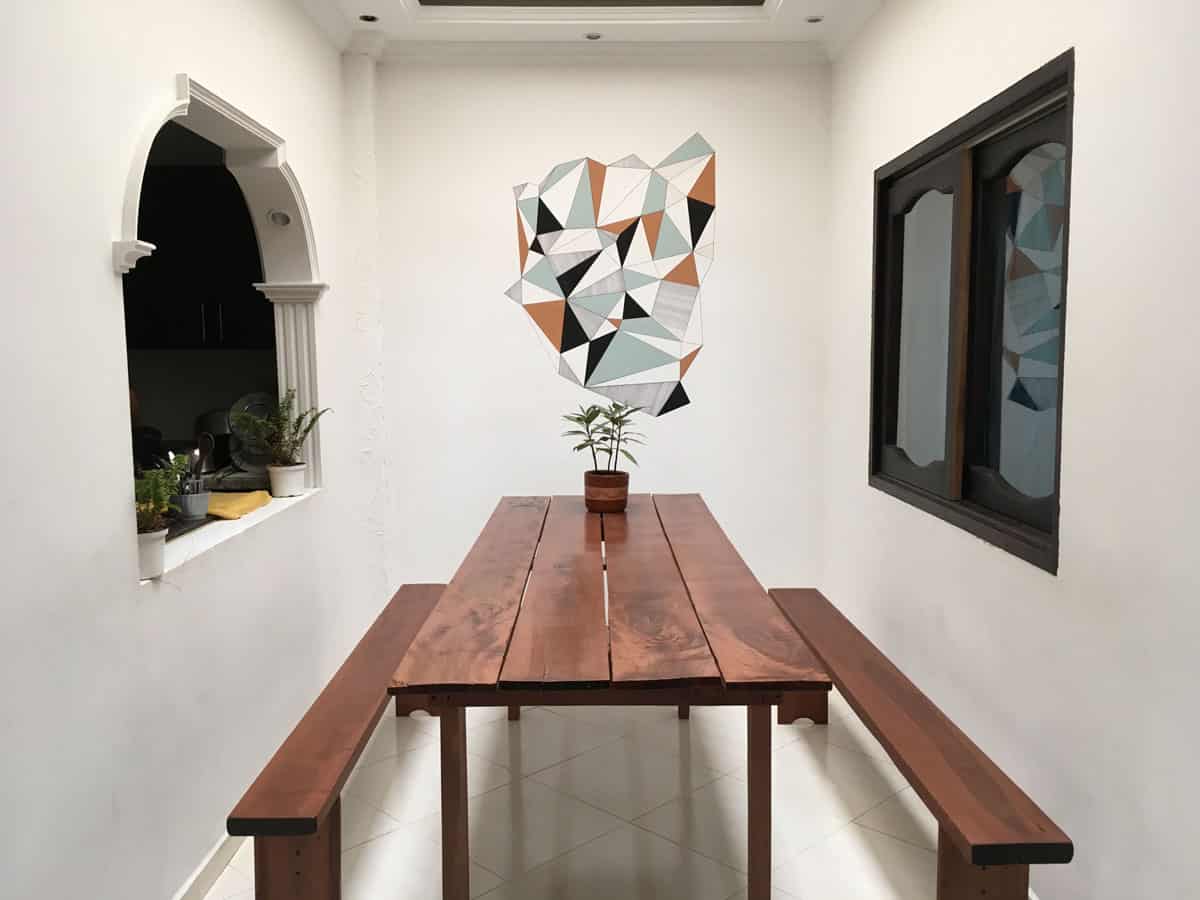 An amazing, clean and modern hostel with a standard breakfast included. Tea and coffee available for free throughout the day. The terrace also has beautiful views of Jardin. Don't forget to try their newly-opened restaurant!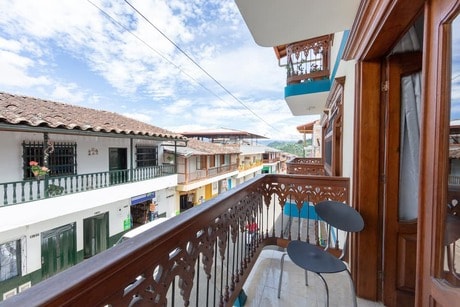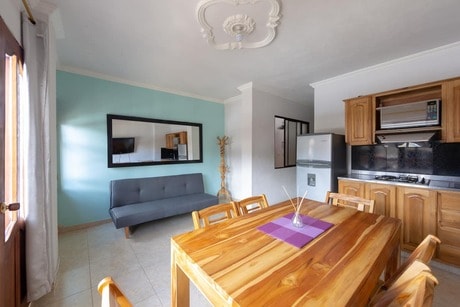 (Images Courtesy of Airbnb)
This charming town in the Antioquia Department of Colombia is filled with beautiful Airbnbs. 
Jardin 203 is the perfect place to stay when visiting Jardin. With a total of 2 bedrooms, a maximum of 5 guests can enjoy its various amenities such as a fully equipped kitchen, laundry room, TV, and a balcony with incredible views.
When you are not enjoying the Colombian sun on your private balcony, exploring Jardin is easy. This Airbnb is only located half a block from Jardin's main park!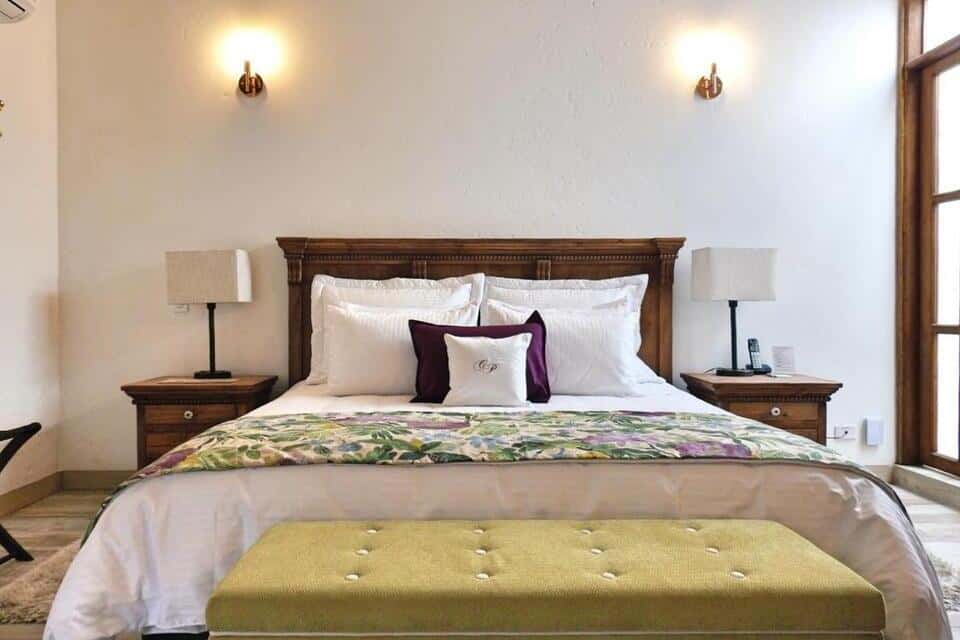 Casa Passiflora Boutique Hotel is one of the highest-rated hotels in Jardin and it is not hard to see why. Located near the main park of Jardin, each room features a sun terrace where guests can observe the daily lives of the locals. The hotel also has a bar, garden, a restaurant, and some rooms even have a hot tub!
Day 7-9 (3 Days): Salento and Filandia, Colombia's Coffee Region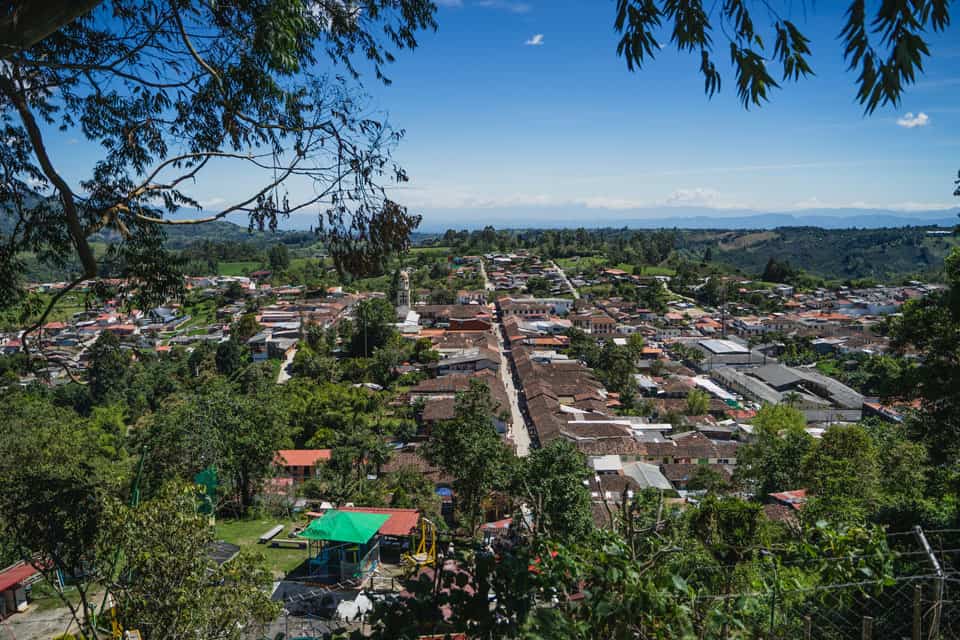 No Colombia trip would be complete without a visit to the famous coffee region of Colombia. In our Colombia 3 week itinerary, you will head to Salento after Jardin.
Salento is a town you must visit in Colombia due to its location in the coffee region of Quindio.
I came to Colombia (especially Salento) expecting some of the best and cheapest coffee in the world. Well, everywhere you go in the world, people are crying over Colombia coffee and saying it is one of the best.
Well here's the honest truth. I went on a coffee tour in Salento and I was disappointed. The coffee farm informed me that the coffee in Colombia is some of the worst, because all the good quality coffee is exported. So if you came to Colombia to look for good coffee, you lucked out.
Back to Salento.
Salento itself is quite a small town with not much to do. There are some cute coffee shops especially around the main square and Calle Real. Salento is also known for their trouts (trucha in Spanish) so definitely give that a try.
Here is a full guide on things to do in Salento. 
Things to Do in Salento, Colombia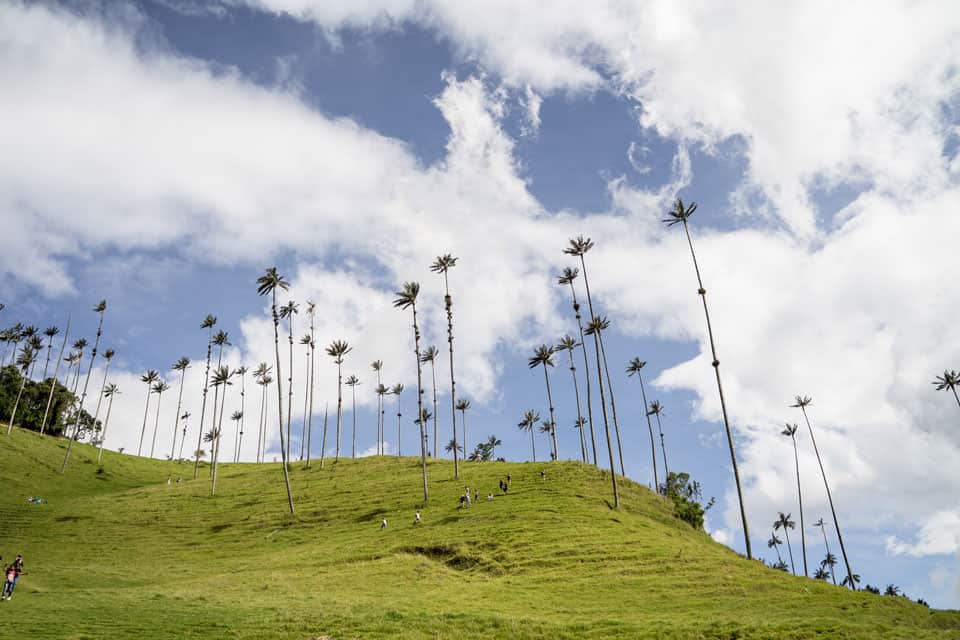 1. Hike Valle de Cocora
Valle de Cocora is the top thing to do in Salento and why many people decide to come to Salento in the first place. Wax palm trees, some towering over 60 meters, are found in only a few places in the world, and Valle de Cocora is one of them.
There are two loops you can do in Valle de Cocora to see the palm trees. One is the long loop that takes about 5 hours to complete and you have to pay twice to pass "private property". The other is a 30-minute direct route that takes you directly to the best viewpoint for the wax palm trees.
The long route is a nice hike but nothing too special. The views aren't too spectacular but you do cross several cool suspension bridges along the way. My recommendation would be to take the direct route and see the wax palm trees and get out. You don't have to pay anything if you take the short route.
2. Coffee Tour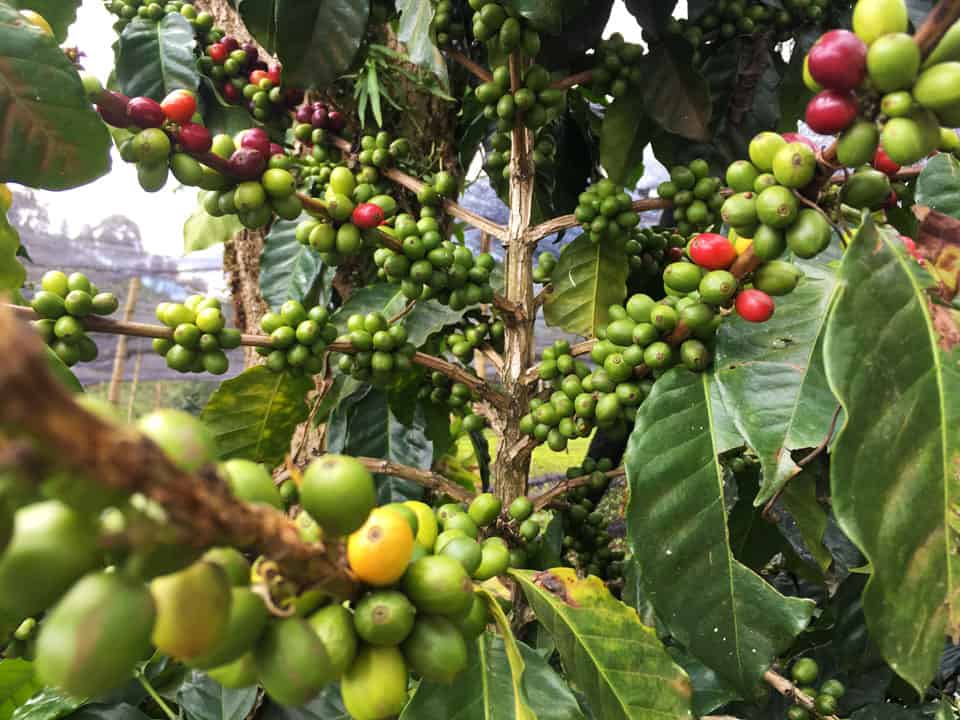 Salento is located in the coffee region of Colombia. It would be a shame to not do a coffee tour before you leave. Coffee tours can be easily found throughout the abundant travel agencies in Salento. Come and learn about every step of the process of producing a good cup of coffee.
You can also buy some good quality organic coffee at these coffee farm tours.
3. Day Trip to Filandia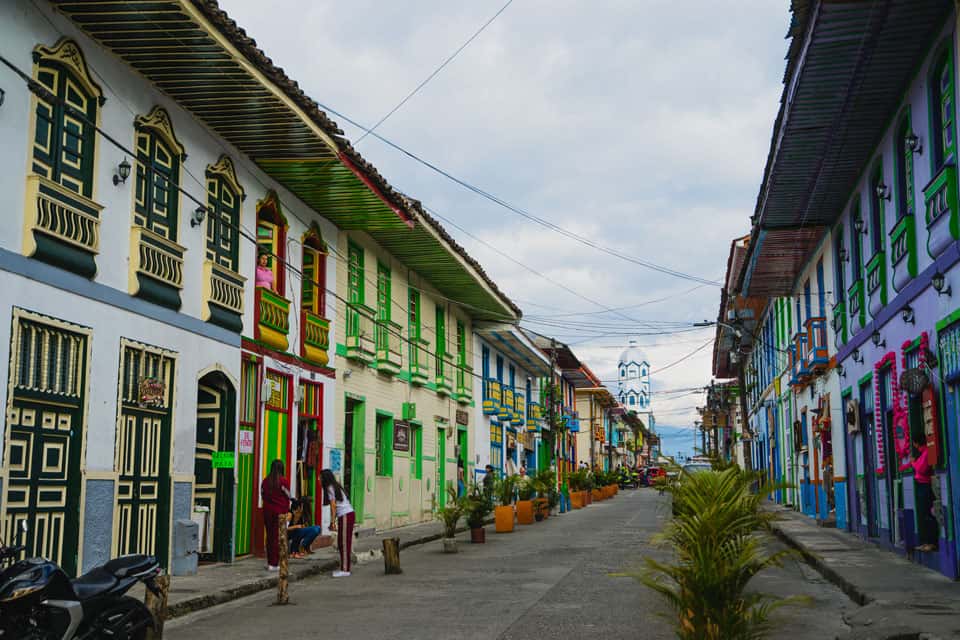 Filandia is a cute colonial town 30 minutes away from Salento. The nature there is much more spectacular and is not as touristy as Salento. Make sure you eat at the famous restaurant Helena Adentro, visit the double waterfall, and check out some of the viewpoints (miradors) for sunset.
4. Santa Rita Waterfall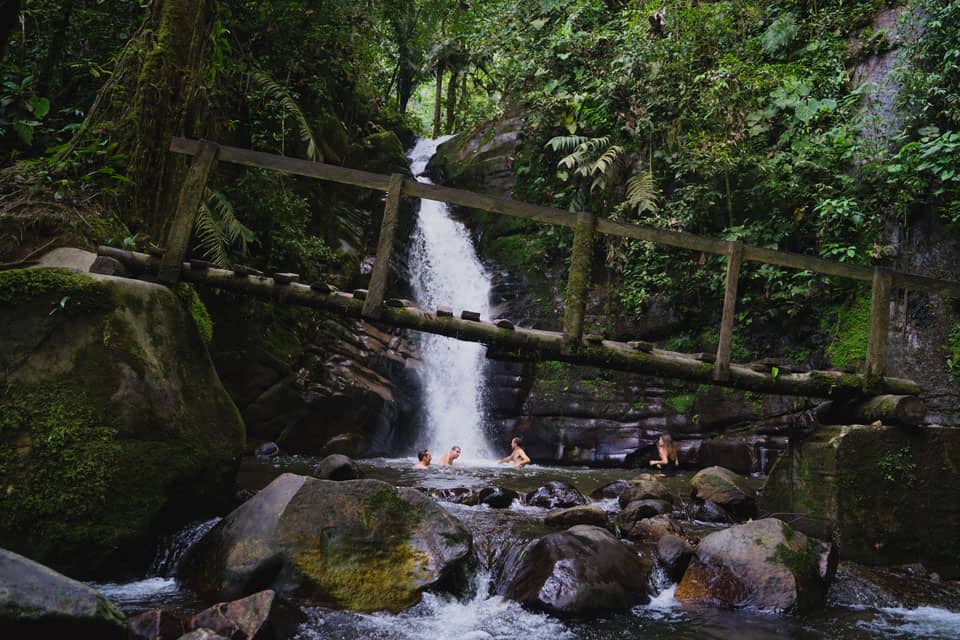 If you are not tired of waterfalls after visiting Jardin, guess what? There is one in Salento too! Santa Rita waterfall is located about 90 minutes away from the city center. It is a beautiful waterfall located in the lush greenery of Colombia.
Where to Stay in Salento, Colombia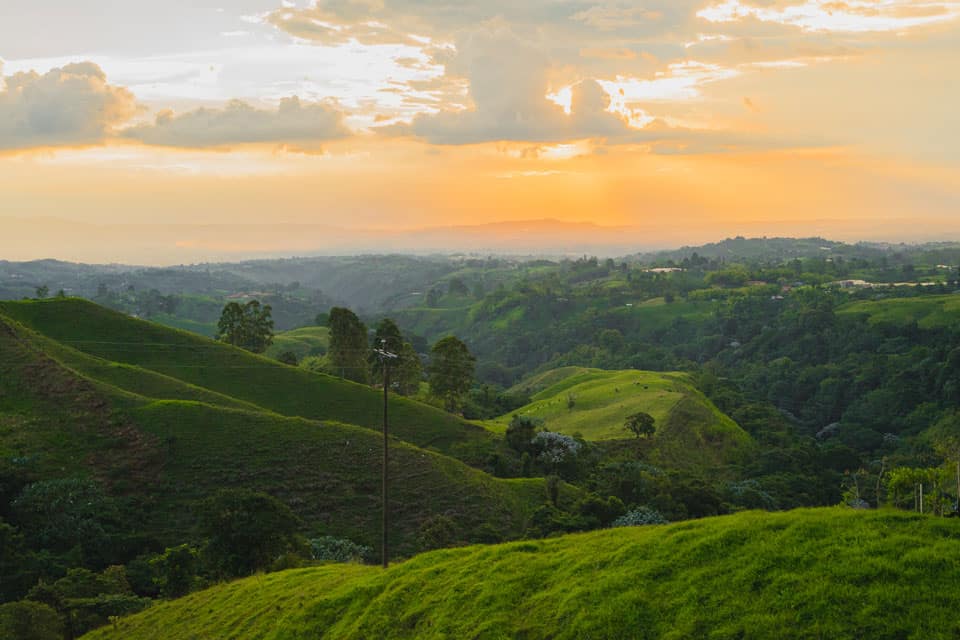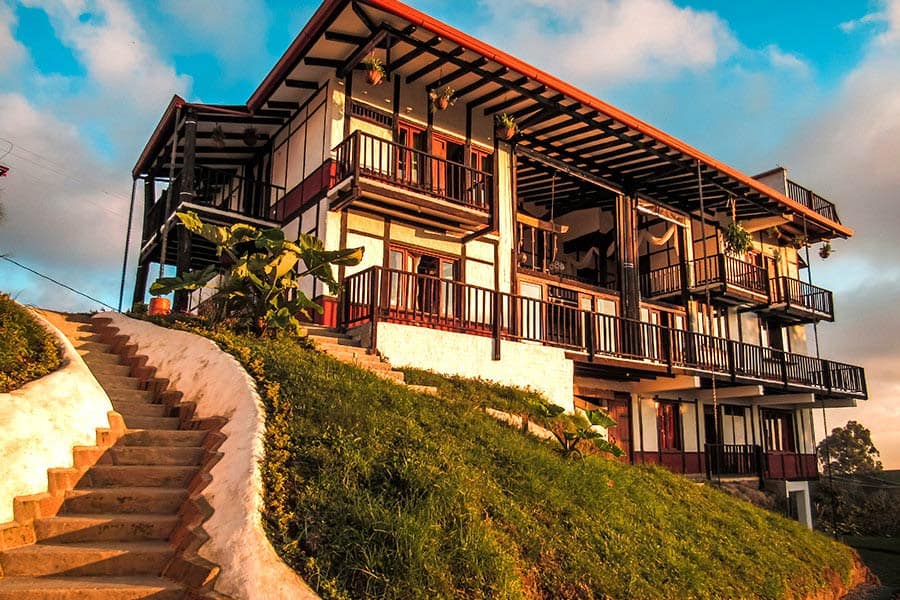 Low-Budget Recommendation
Coffee Tree Boutique Hostel is one of the most gorgeous hotels in Salento. From the beautiful garden to the amazing breakfast to the balconies overlooking the lushest scenery in Colombia, this hostel is built for backpackers. A mixture of a boutique hotel and a hostel, guests will find comfort and affordability here.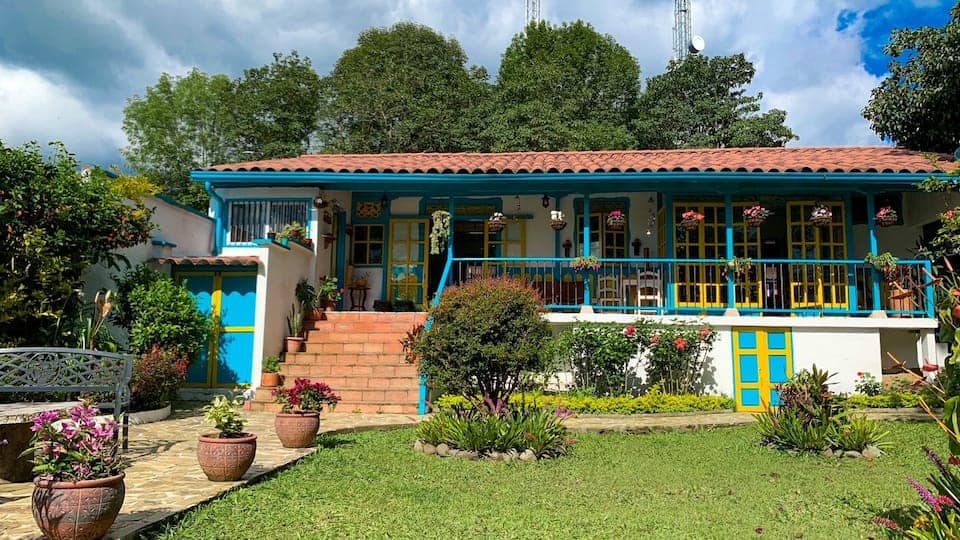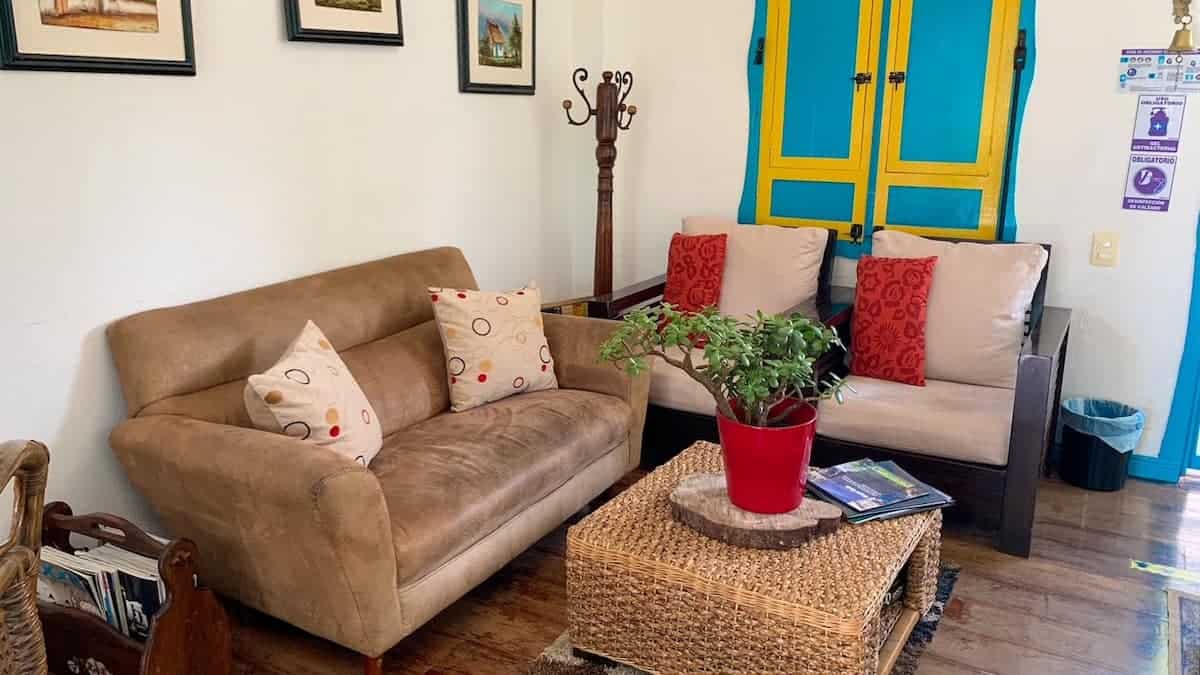 (Images Courtesy of Airbnb)
Salento is filled with gorgeous white tiles and colorful roof houses, and visitors can stay in one of them via Airbnb.
With 3 bedrooms, this Salento Airbnb can accommodate up to 9 guests, allowing them to enjoy incredible amenities such as a beautiful backyard with coffee plants, a smart TV with Netflix and more!
Located in the center of Salento is Posada Casa Salento, one of the coziest hotels in Salento. The space is clean and spacious, with balconies that overlook the city. Salento isn't a place known for luxury but if you want something near it staying at Posada Casa Salento will help!
Day 10-12 (3 Days): Bogota, Colombia's Capital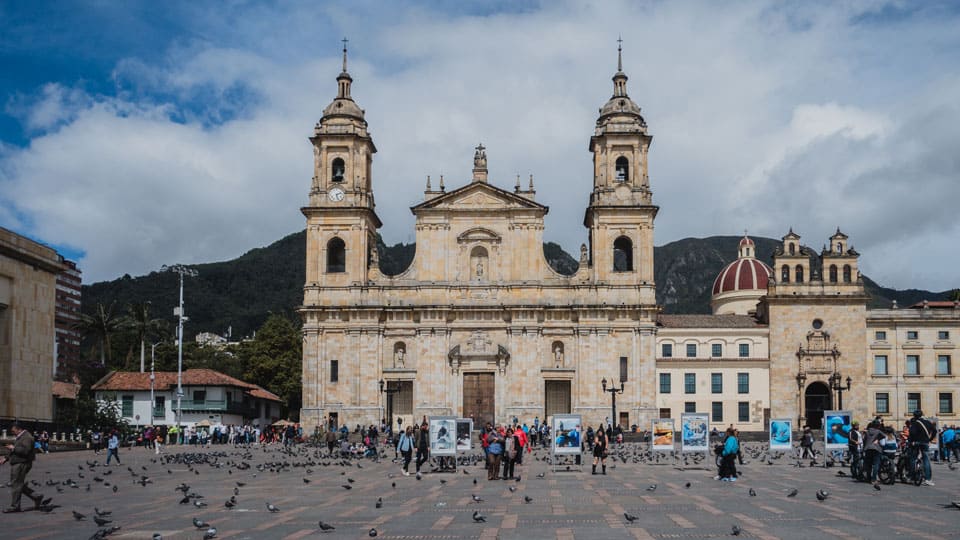 Welcome to Bogota! As the capital city of Colombia, Bogota is a place you must visit on your Colombia vacation. You will spend a total of 3 days in Bogota! Filled with history, art, and great food, Bogota has attracted travelers from all over the world.
Bogota has been through hell and back and now it has finally become a touristy-friendly destination.
However, when I visited, it didn't feel that way.
Many of the places are dirty and some of the tourist attractions are dangerous. For example, the area La Candelaria, the "historical district" of Colombia, is quite dangerous to walk in at night. Monserrate, one of the best viewpoints of Bogota, is only safe to arrive by an Uber.
Update: Uber is now banned in Colombia (January 2020). However, you can still use Uber-like apps such as Beat, Cabify, or Didi for your travel needs!
Bogota is filled with Colombian history that you cannot get anywhere else. My recommendation is definitely to see all the things you need to see and get out.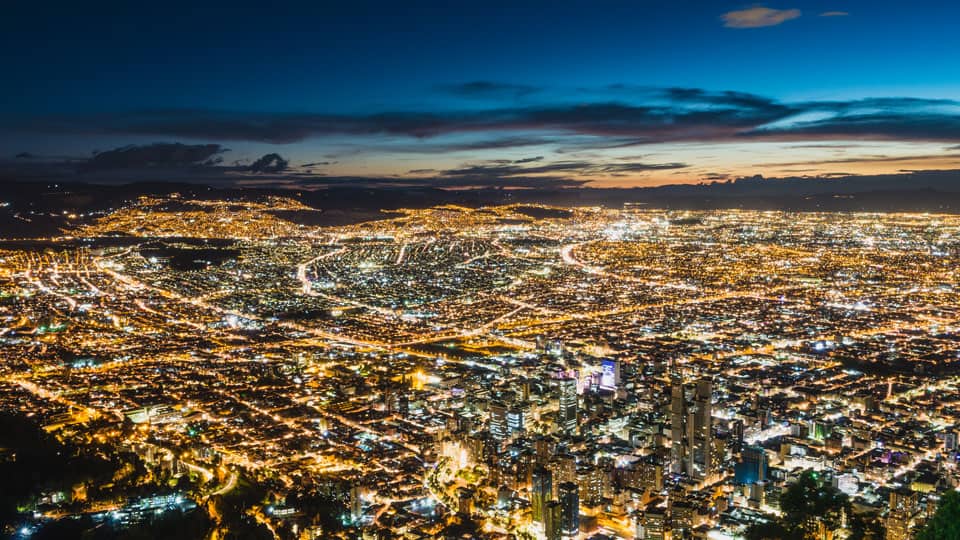 1. Free Walking Tour/Biking Tour
The free walking tour/biking tour is one of the best ways to know the city of Bogota. The "free" tours are led by locals and they tell you about the history of Bogota as well as some of the best things to do, places to eat, things to see.
Don't miss the free walking/biking tours.
You can find more information here.
2. Zipaquira Salt Cathedral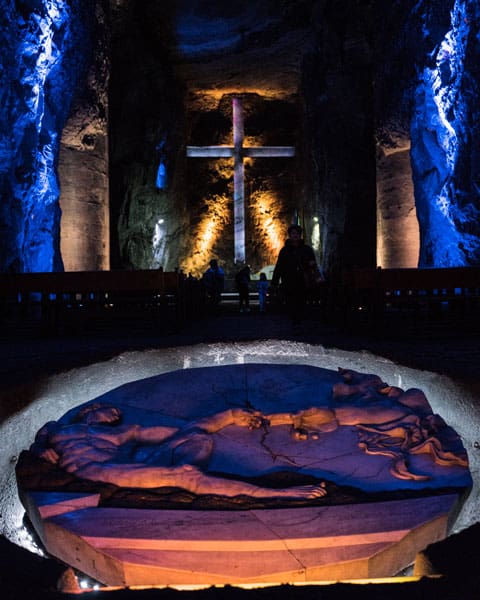 The Zipaquira Salt Cathedral is one of the best day trips from Bogota. The cathedral is located an hour away from Bogota in the town of Zipaquira and can be easily reached by bus. 
The biggest underground cross in the world exists in the Zipaquira Salt Cathedral. As the First Wonder of Colombia, it is definitely something that should be on your Colombia itinerary.
3. Botero Museum and Gold Museum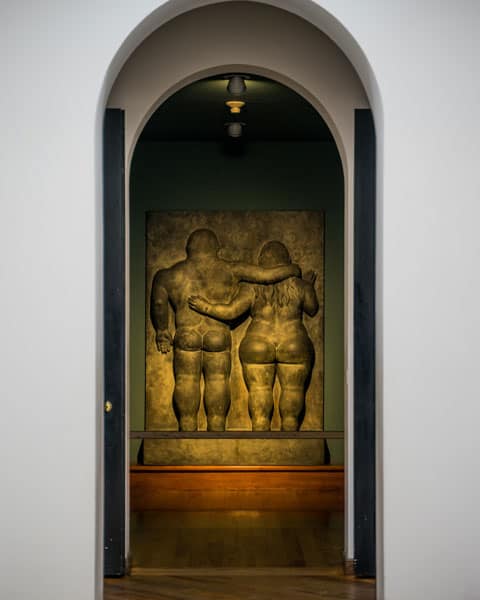 Bogota is known for its extensive amount of high-quality museums. For example, the Gold Museum in Bogota, or Museo de Oro, contains the largest collection of gold in the world.
Another museum such as the Botero museum contains the sculptures and artwork of the famous Colombia artist Fernando Botero. His artwork is controversial and definitely worth checking out.
4. Monserrate Viewpoint (Sunset/Night)
Monserrate is the best viewpoint in all of Bogota. The only trick is that the surrounding area is extremely dangerous at night so you would have to take an Uber. Come at sunset and wait till the sun completely disappear to watch the city of Bogota glow!
5. Eat at Andres Carne De Res
Andres Carne De Res is one of the most famous restaurants in Bogota.  Featuring some of the best meat dishes, live music, and entertainment, Andres Carne De Res is a popular spot for locals and tourists alike. The food is above average but it is very pricey. However, the experience of eating at a high-class restaurant is well worth it.
6. Visit the Waterfalls Surrounding Bogota
Bogota is surrounded by waterfalls on all sides. The easiest one to get to is definitely Waterfall Rio Archbishop, followed by Cascada la Chorrera, and then Salto Del Taquendama. All the waterfalls are impressive and I would recommend going to Salto Del Taquendama if you have the time.
7. Visit the Sunday Flea Market at Usaquen
If you are visiting Bogota on a Sunday, head over to Usaquen for one of the best flea markets in Colombia. Featuring handicrafts, souvenirs, and all types of weird and amazing things, the Usaquen market is a fun activity for everyone in the family.
If you are looking for company for some of these activities, check out some of the tours we recommend: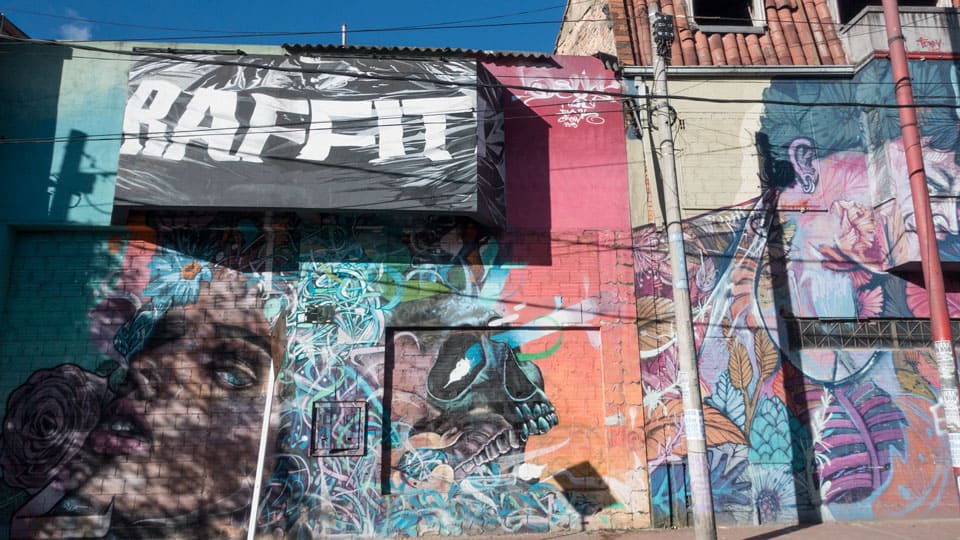 Due to the safety concerns of La Candelaria area, none of my recommendations will be in that area.
For a full guide on where to stay in Bogota, click here.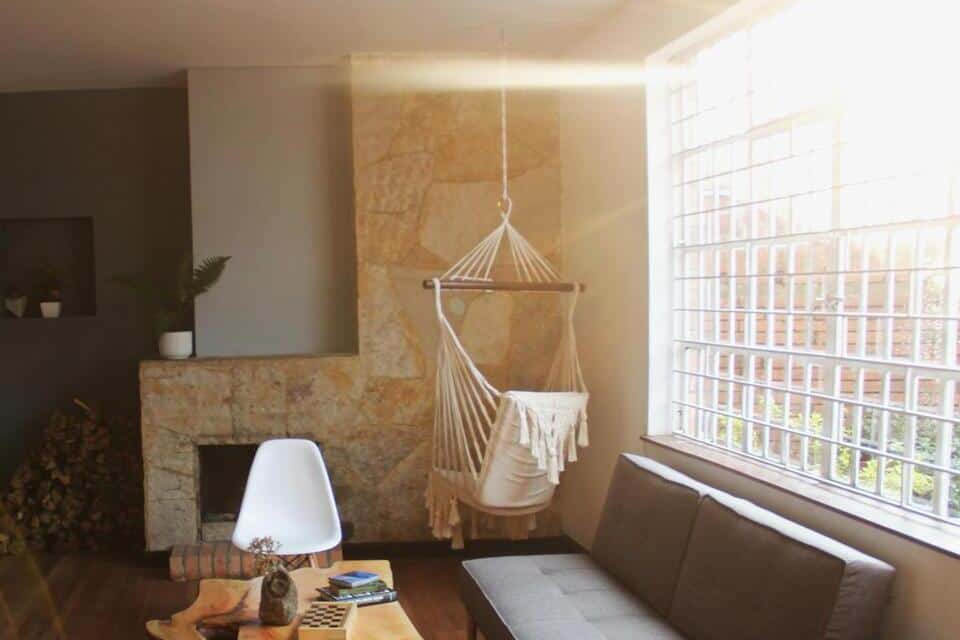 With only a maximum capacity of 18 guests, staying at Aurora Hostel is like becoming part of the family. The cozy environment allows the perfect opportunity to met other fellow travelers. When you don't want to socialize, each dormitory bed features its own curtain, giving you the privacy that is rare in a hostel.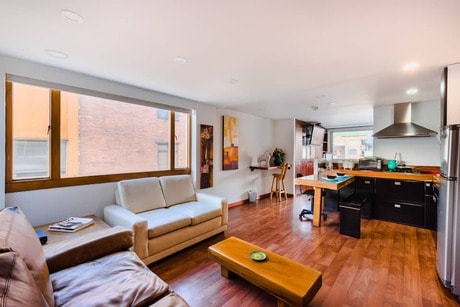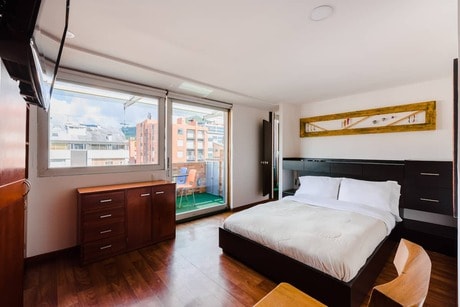 Day 13-15 (3 Days): San Gil, Colombia's Adventure Capital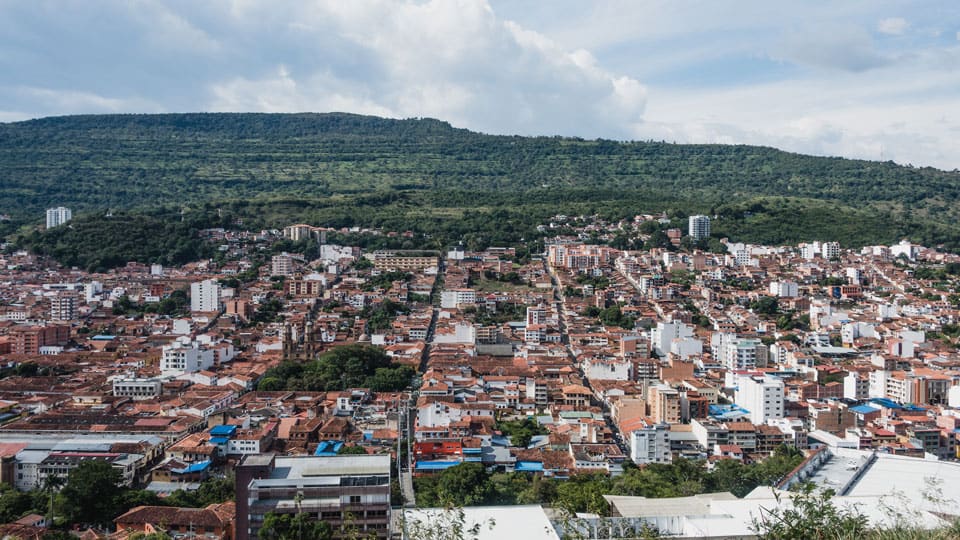 Known for some of the most adrenaline-pumping activities, San Gil is the adventure capital of Colombia.
To arrive in San Gil, you will have to take an overnight bus from Bogota. It is the most economical way. You also have the option to fly from Bogota if you are short on time or don't like night buses.
Besides heart-racing activities, there are activities for travelers who want to take it easy. The beautiful colonial town of Barichara is only a short bus ride away. Las Gachas is a beautiful river filled with naturally-made holes where you can sit in and relax. 
San Gil has more than just adventurous activities.
Things to Do in San Gil, Colombia 
For a complete guide on things to do in San Gil, click here.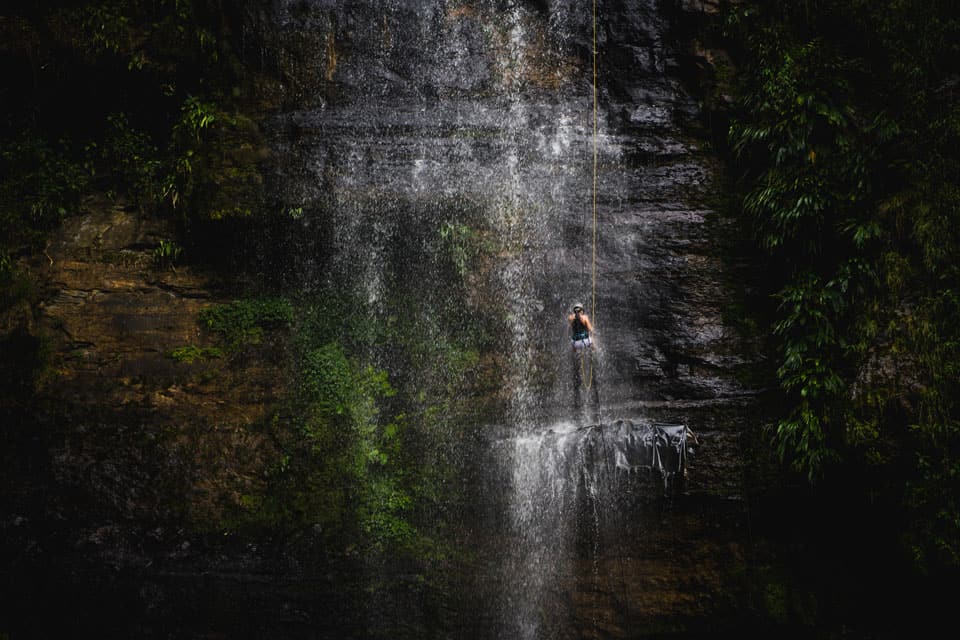 1. Level 5 White-Water Rafting on Rio Suarez
The most popular activity in San Gil is definitely the level 5 white-water rafting on Rio Suarez. Level 5 rafting is extremely rare to find in the world and is the highest level where you can go rafting. There are inherent risks involved in activities like this so make sure you listen to the guide and take extra precautions.
If you are with kids, there is also a level 2 rafting that everyone can participate in.
2. Las Gachas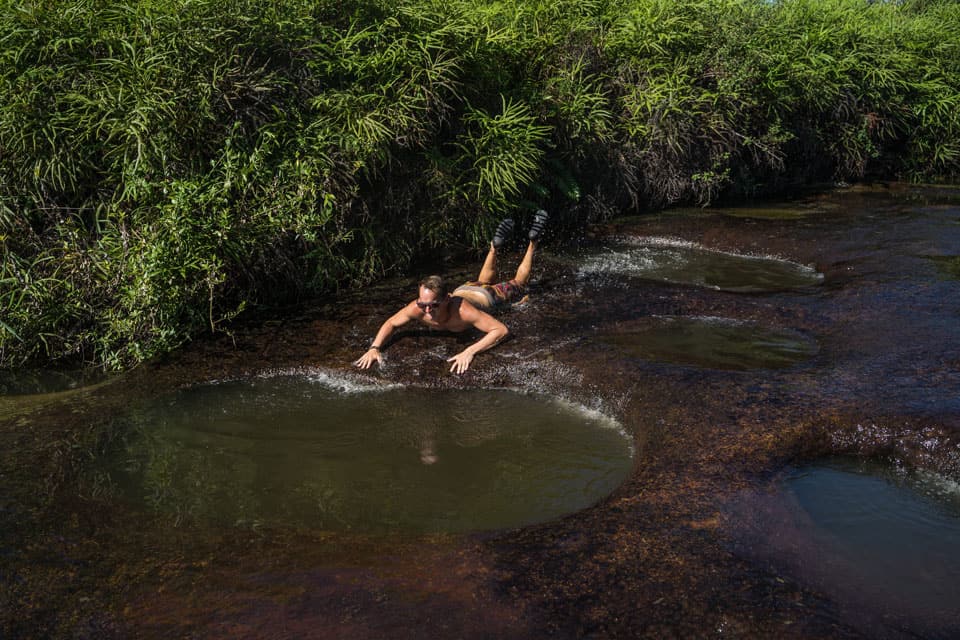 Las Gachas was one of the most unique places to visit in Colombia. To put it simply, they are little holes in a running riverbed where you can sit in and relax. It is like having your own bathtub there. Las Gachas was definitely one of my favorite activities in San Gil to relax after all the crazy activities I have been doing.
How did those holes develop? I am not entirely sure. It has something to do with the minerals in the water.
Make sure you come on weekdays unless you want to socialize with the locals. Las Gachas is a popular weekend hangout spot for Colombians.
3. Cueva Del Indio/Cueva De La Vaca
The region of San Gil has many caves you can explore. The 2 most popular ones are Cueva Del Indio and Cueva De La Vaca. The two caves are completely different from each other.
Cueva Del Indio is the more adventurous and fun cave. It features parts where you have to jump into water, swim, and tight spaces. At the end of the cave, you have the option to do a 5.4m jump into the water in the darkness.
Cueva De La Vaca is the junior league of Cueva Del Indio. You don't need to swim, the spaces are less tight, and its just a fun experience for everyone involved. If you are traveling with kids, I would recommend doing the Cueva De La Vaca over Cueva Del Indio.
4. Cascada Juan Curi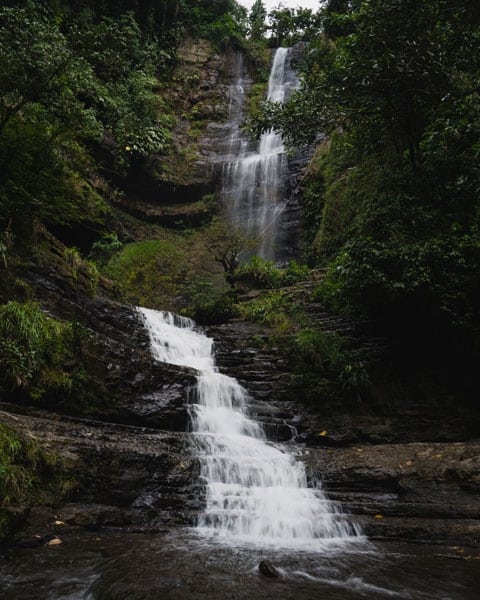 One of the most beautiful waterfalls tucked into the lush environment of Colombia. It is easy to pair a visit to Juan Curi waterfall with a visit to the Cueva Del Indio.
You can also do canyoning at this waterfall but tours will have to be obtained in San Gil.
5. Barichara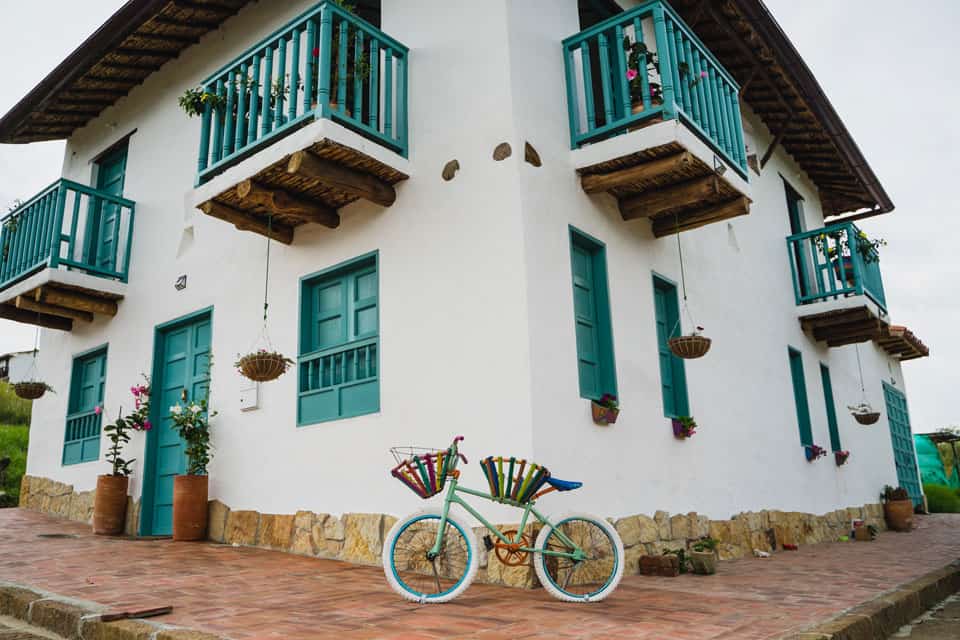 Barichara is a beautiful sleepy town less than an hour away from San Gil. Beautiful architecture, amazing scenery, and good food are some of the things you will find in Barichara. Come and spend half a day wandering around, but make sure to visit Salto del Mico when you are in Barichara.
Where to Stay in San Gil, Colombia
Hostel Trip Monkey is a family-owned hostel in San Gil and you can really tell. The owners are very friendly and helpful and make sure every guest has a pleasant stay. The breakfast is phenomenal. The outdoor common area is the perfect place to relax after a long day.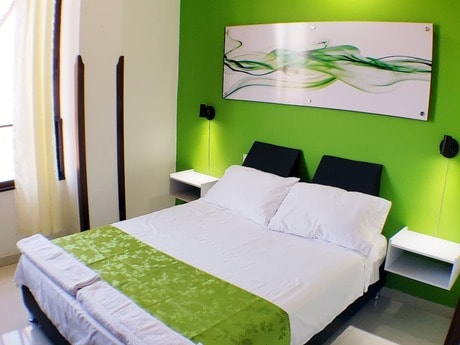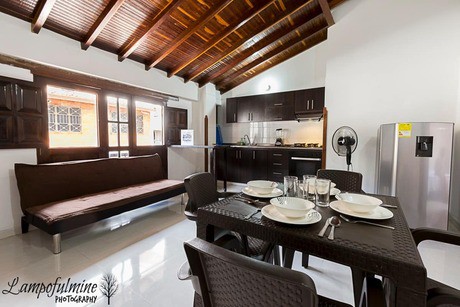 (Images Courtesy of Airbnb)
If you are looking for a cozy accommodation in the center of San Gil, then consider this Airbnb. 
Featuring a fully-equipped kitchen, a spacious living/dining area, and one bedroom, this Airbnb can offer up to 3 guests a comfortable stay.
This San Gil Airbnb is located one block away from the main square of San Gil, so visitors can within walking distance to some of the best things to do in San Gil.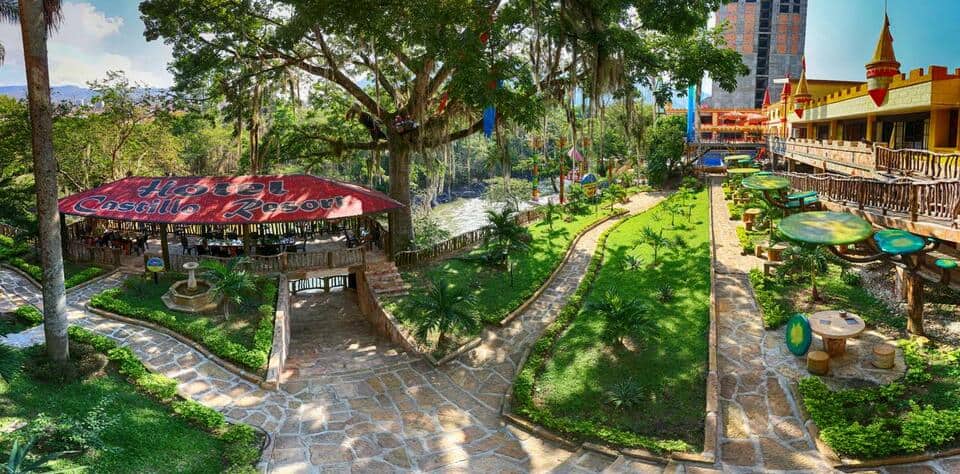 Though not a super high-end hotel, I had to include Hotel Castillo Resort in my recommendations. An amazing place with a great outdoor swimming pool, a tanning area, a delicious buffet breakfast, and spacious rooms. It has everything you need for a cheap price. Good value for the money you spend. 
Like this post? Don't forget to save it on Pinterest! 🙂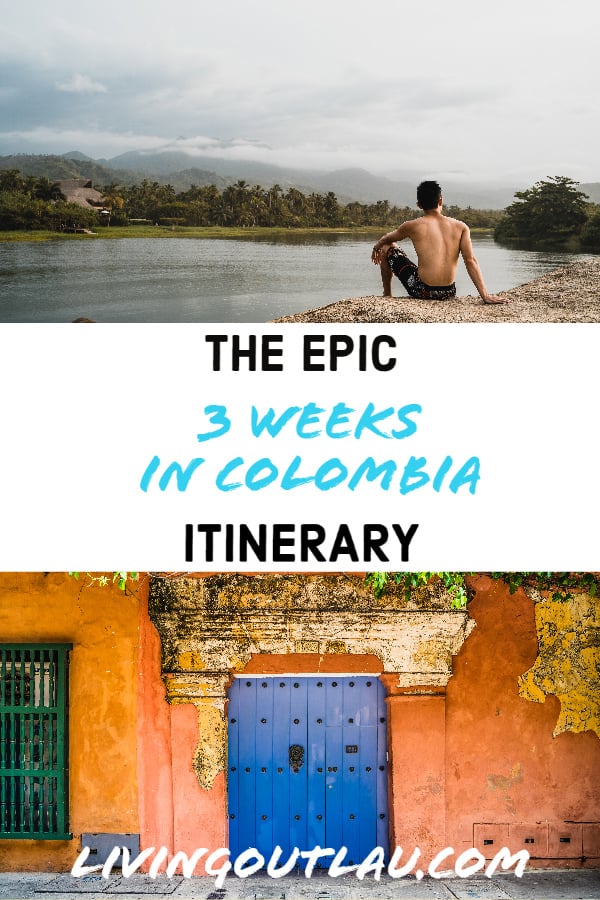 This concludes our 3 week itinerary in Colombia. I hope it has at least given you a rough idea of how to spend your 3 weeks in Colombia.
Any questions? Leave them in the comments!
Disclaimer: Some of the links above are affiliate links. That means if you book or make a purchase through the links, we will earn a small commission at no extra cost to you! The money will help run this site! Thank you 🙂